Personal style is a powerful way to express yourself and make a positive impression. While style can provide us with the opportunity to show our best selves, it can also have a negative impact – in the sense that clothes can make use look older than we are.
Continue reading to learn some of the most common style practices that age women.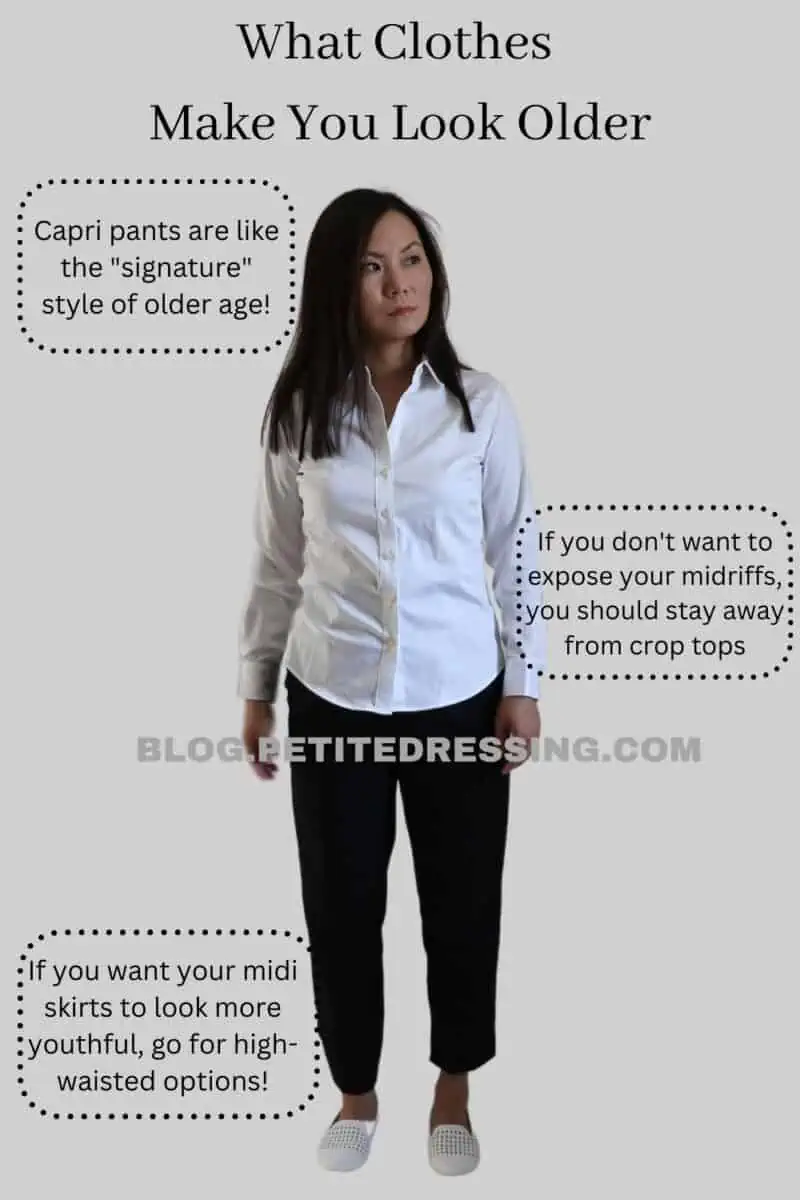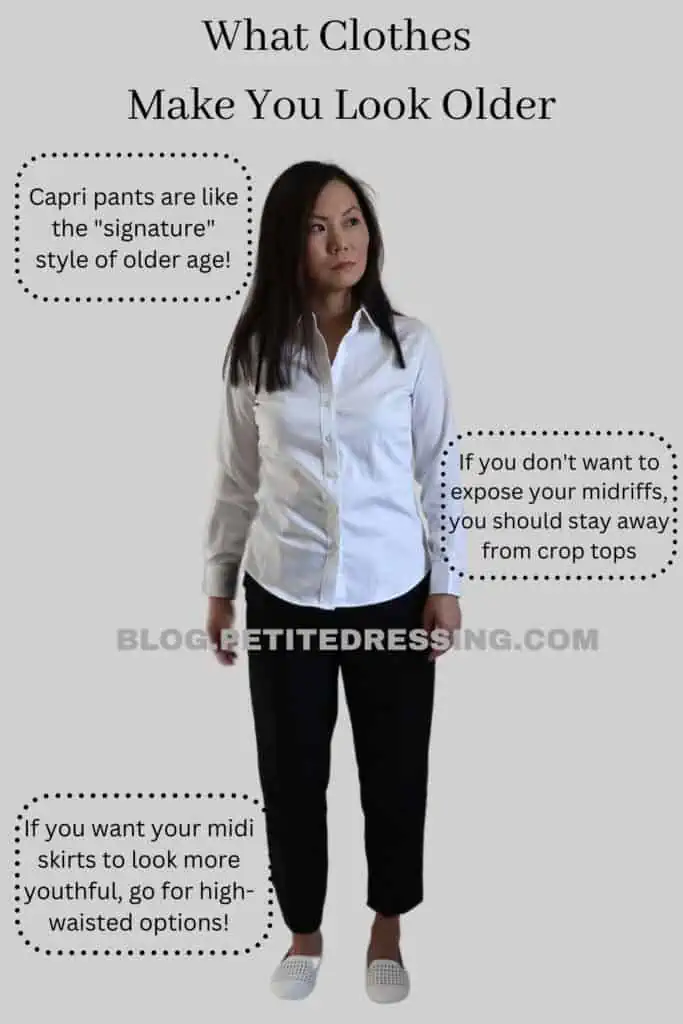 Capris
This is number one on our "what not to wear" list if your goal is to avoid looking older!
Some of the well-known clothing brands that cater to mature ladies especially love making capris year after year, so that probably means there is a market for this kind of pants amongst the older ladies.
However, capri pants are like the "signature" style of older age!
Yes, these pants can be very comfortable, and convenient, but they are an awkward length that hardly looks good on women of any height.
Besides, these can look disastrous on someone with short legs, because, they can totally make your legs look cut-off.
It's not that capris will never work. Like everything else, there are exceptions. However, it takes a lot of thoughts and effort to make them look good. If you want to save yourself all that effort, it's much easier to ditch the Capri length and go with full length pants which can easily make you look younger.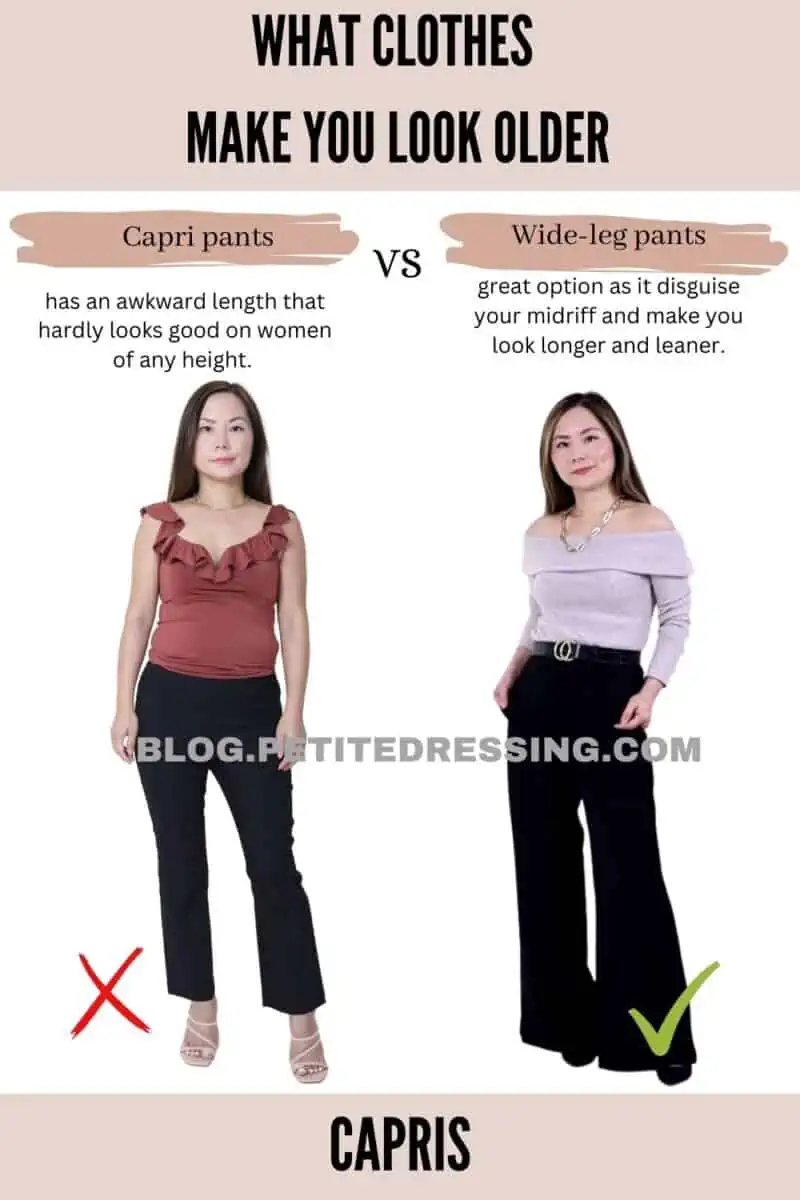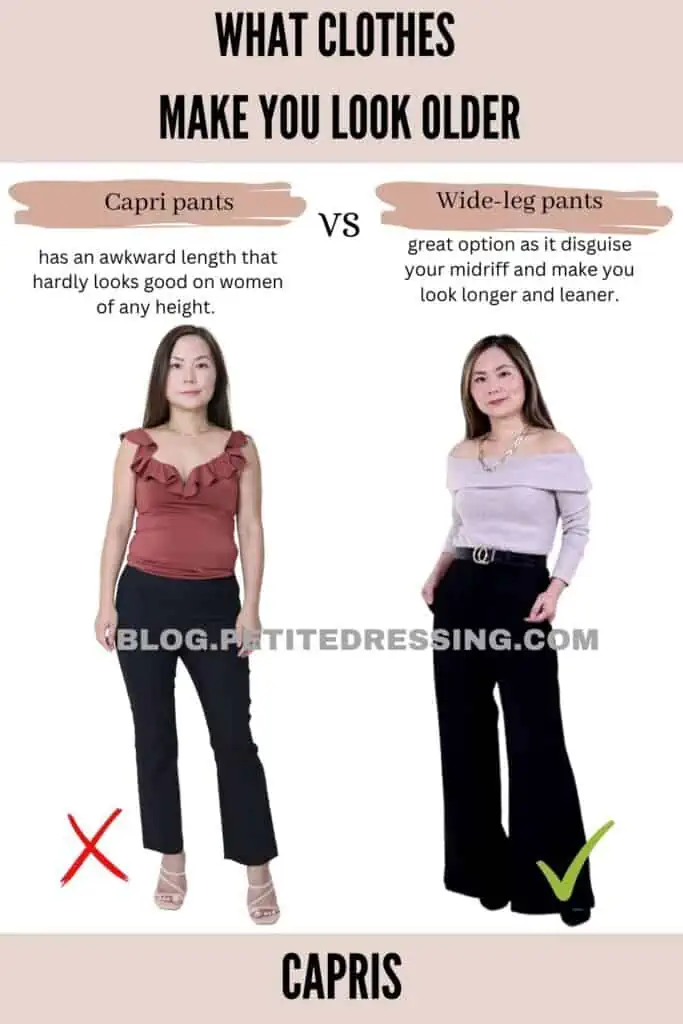 Tunic Tops
Tunic length is another style that can easily add 10 years to your age.
As we age, it's totally normal that we gain weight, especially around our tummy or on our bum. Therefore, plenty of mature ladies assume that in order to hide that muffin top or bigger bum, it's necessary to wear something that covers everything, such as a tunic top.
Sure, if you don't want to expose your midriffs, you should stay away from crop tops. On the other hand, if your top is too long, like the tunic, it can also make you look much older than you actually are!
The issue is when you wear these tops, you lose your waist definition, and they can turn you into a "long body and short leg" shape that nobody wants.
There ARE ways to make tunic tops work, i.e. you literally need to make sure everything else in your outfit looks youthful and up-to-date.
But, if you don't have a lot of time to figure out how to make it work, the easiest is to skip the tunic length and get a shorter top!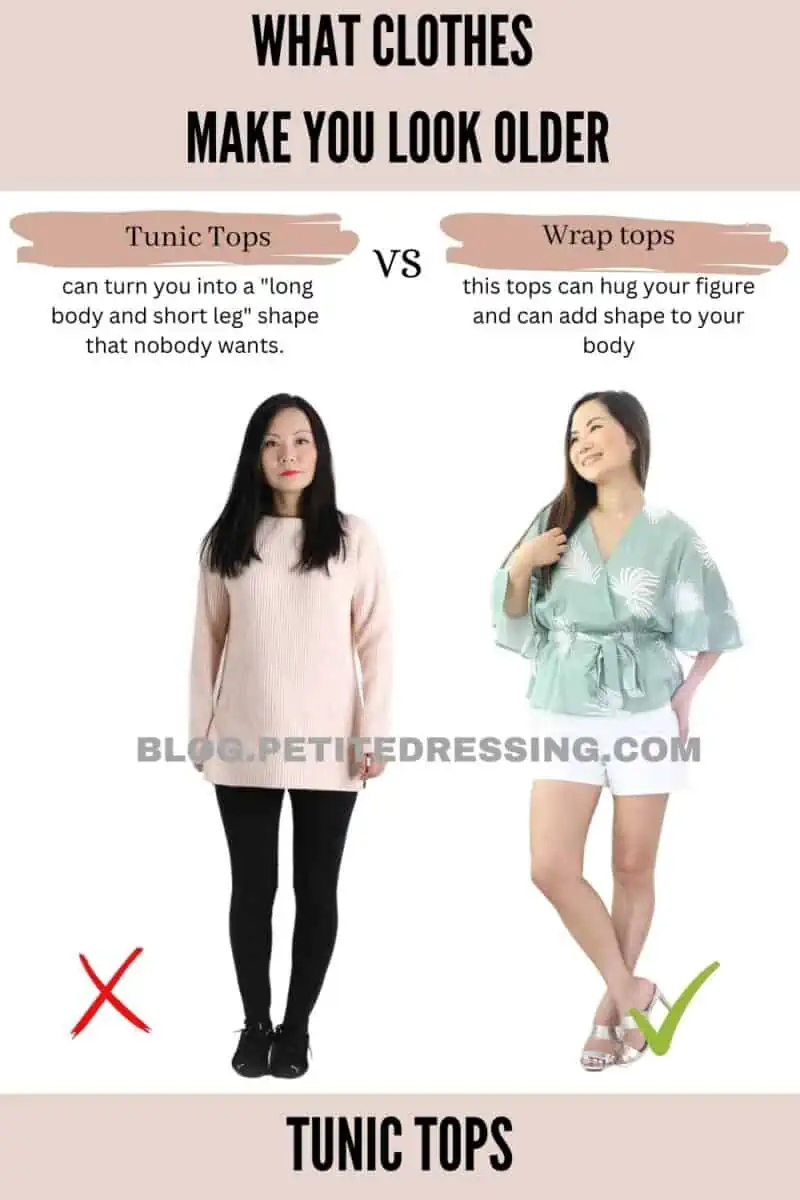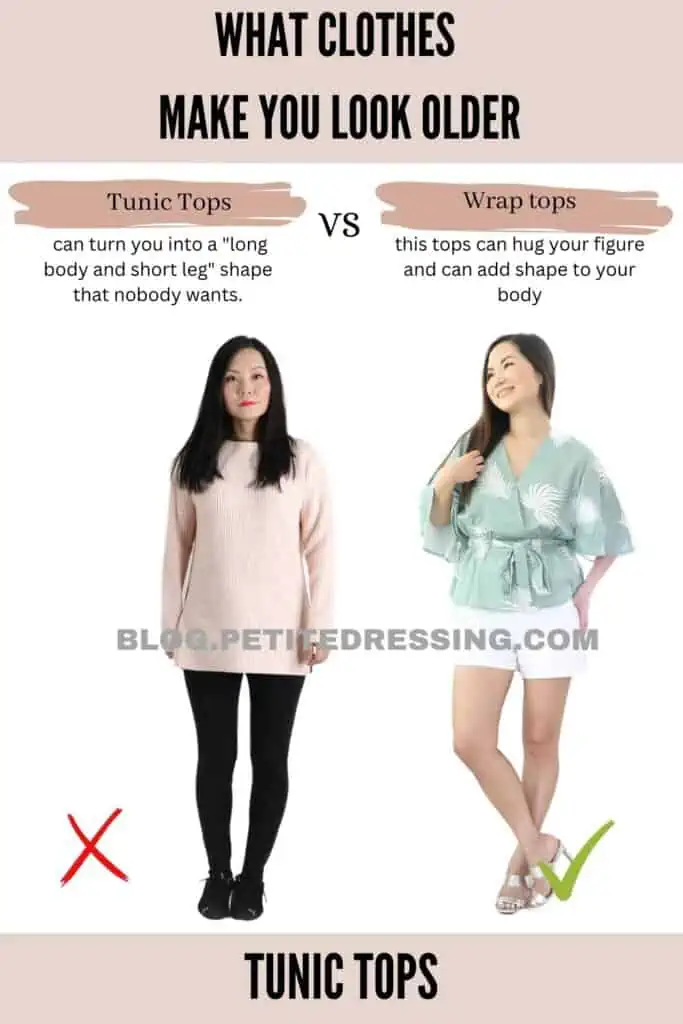 Midi Skirts
Midi-length skirts have been trending for quite some time, and while they can definitely look great and flattering on many body types these longer-length styles can also make you appear older.
This particularly pertains to skirt styles that are long and give a frumpy aesthetic.
Typically a longer hem length looks frumpy when the longer length is paired with a silhouette that's too voluminous or flowy – losing the shape of the body.
If you want your midi skirts to look more youthful, go for high-waisted options!
The higher waist style elongates the leg line and makes the body look longer and leaner as opposed to frumpy and older.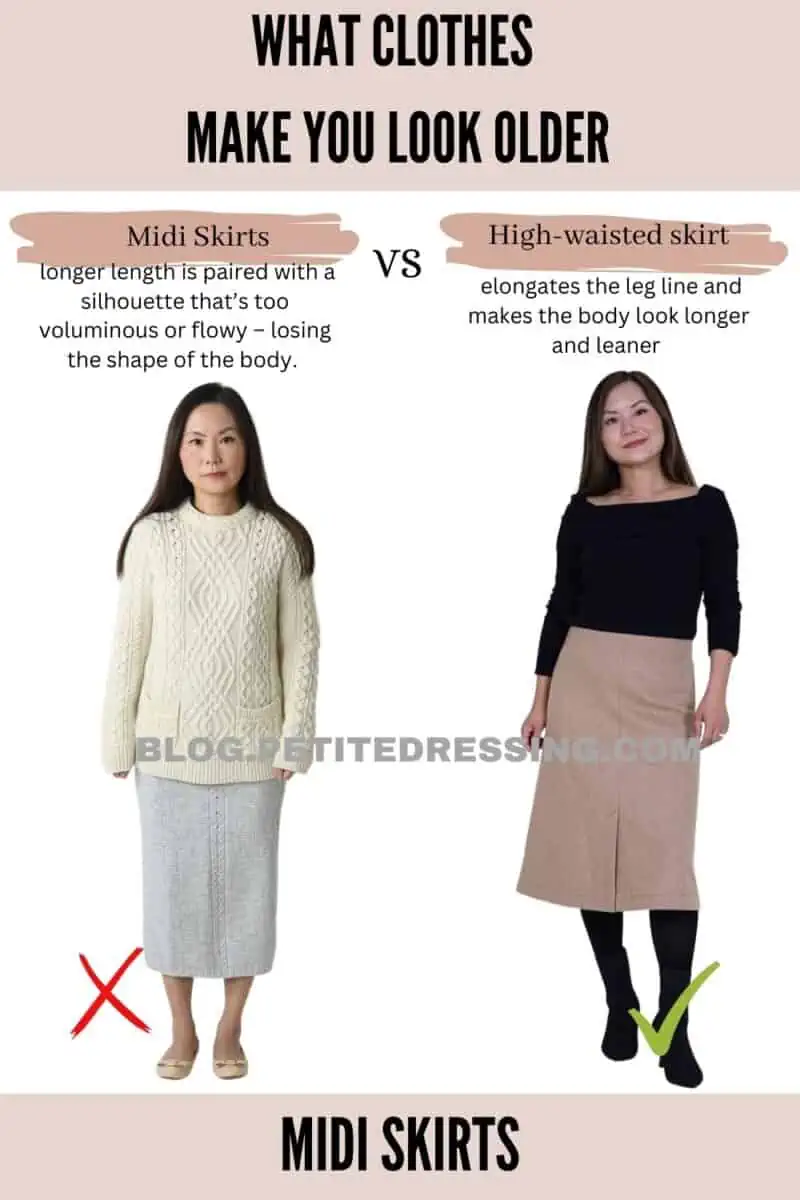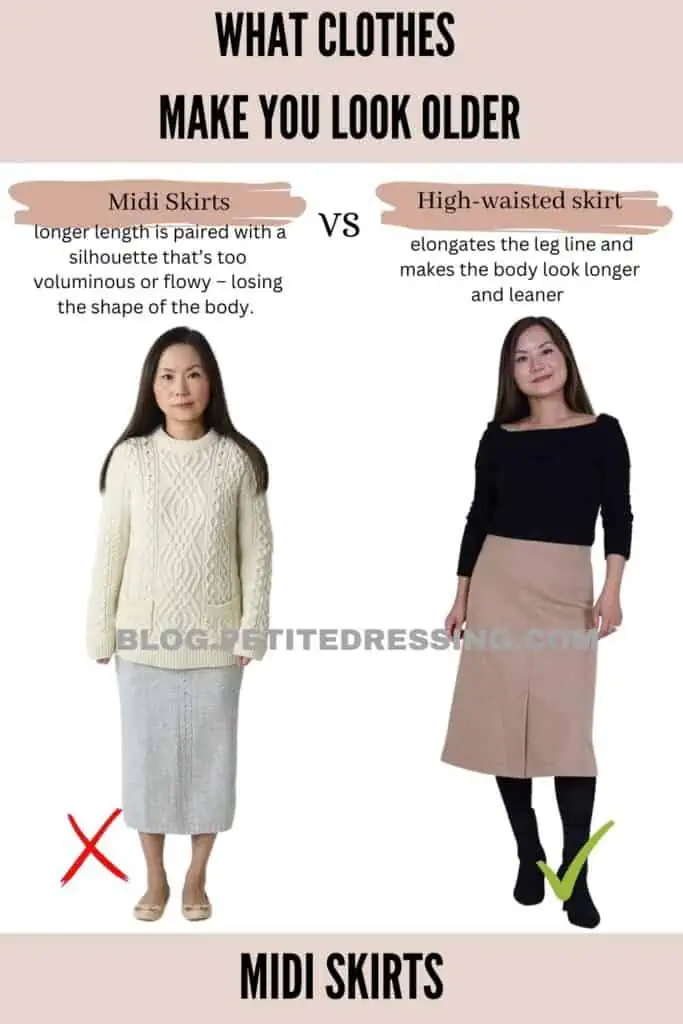 Midi dresses
Same as midi skirts, it's no surprise that midi dresses can also age you.
Instead, favoring lengths that are JUST above the knee tends to be the most flattering on all body types and help give a more youthful appearance.
That being said, if you want to wear some of these longer-length styles without looking older there are a couple of things to pay close attention to.
First, is the silhouette or shape. Choose options that show the outline of the body to avoid that frumpiness, like an A-line midi dress.
Second, go with a midi dress that has a slit! This is a wonderful design that can add the right amount of "spice" to your midi dress to make you look youthful, while not looking revealing!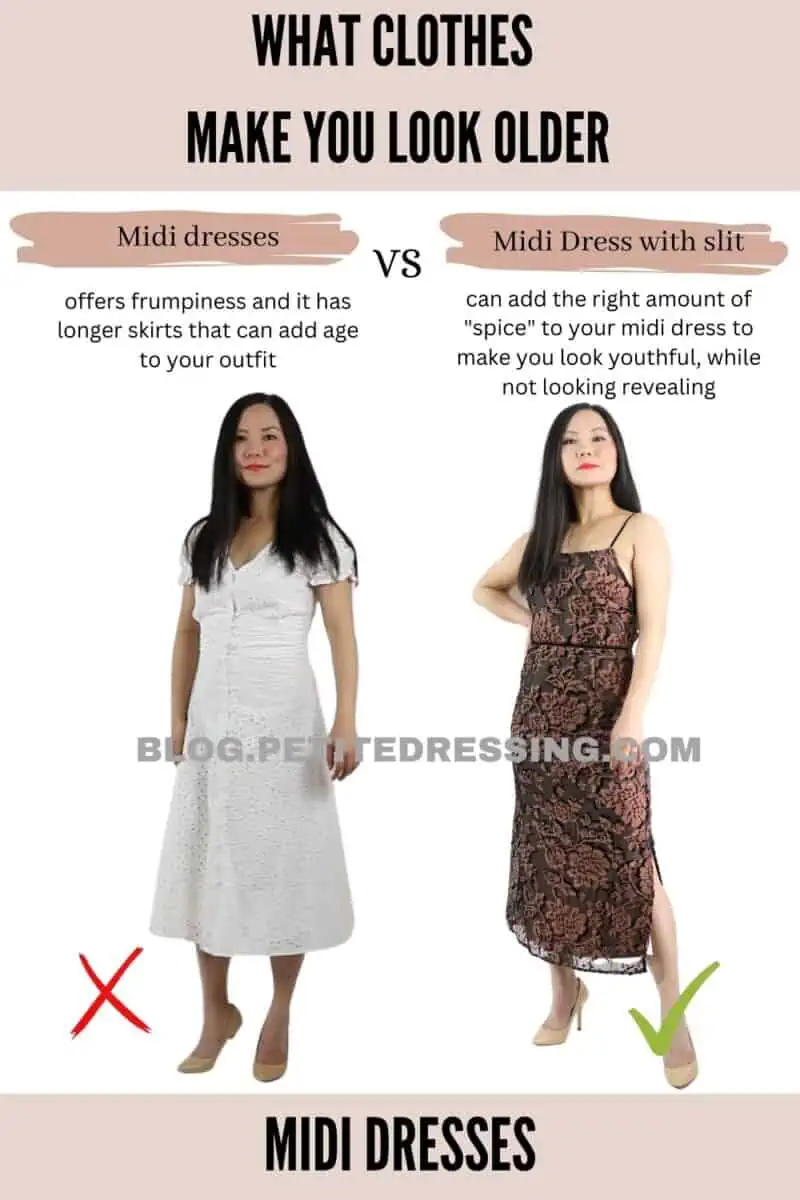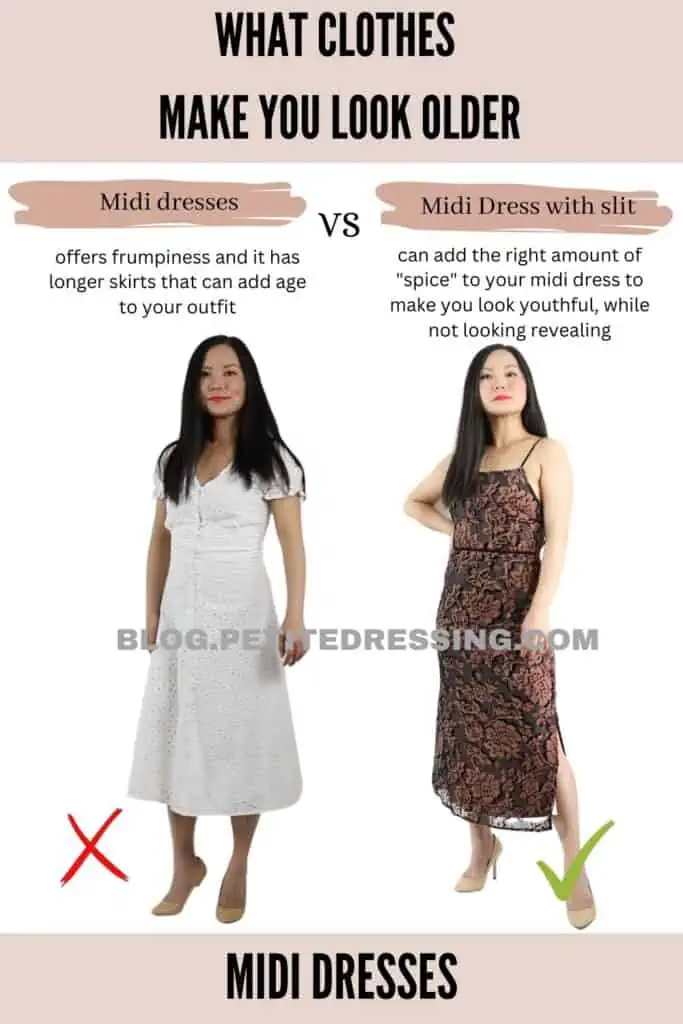 Ill-Fitting Bras
Regardless of your age, wearing bras that don't fit properly is a quick way to look older and less polished.
Not to mention, as we age our bodies change – especially the chest area of the body.
That's why it's SO important to get fitted regularly and make sure to adjust sizing and new bras as necessary.
Most style experts suggest getting resized at least once a year, even if it's just checking to ensure the current size is correct.
Pay close attention to the bras in your wardrobe, the styles that best suit you may change over the years as well. The proper fitting and style bras make a major difference in your overall look.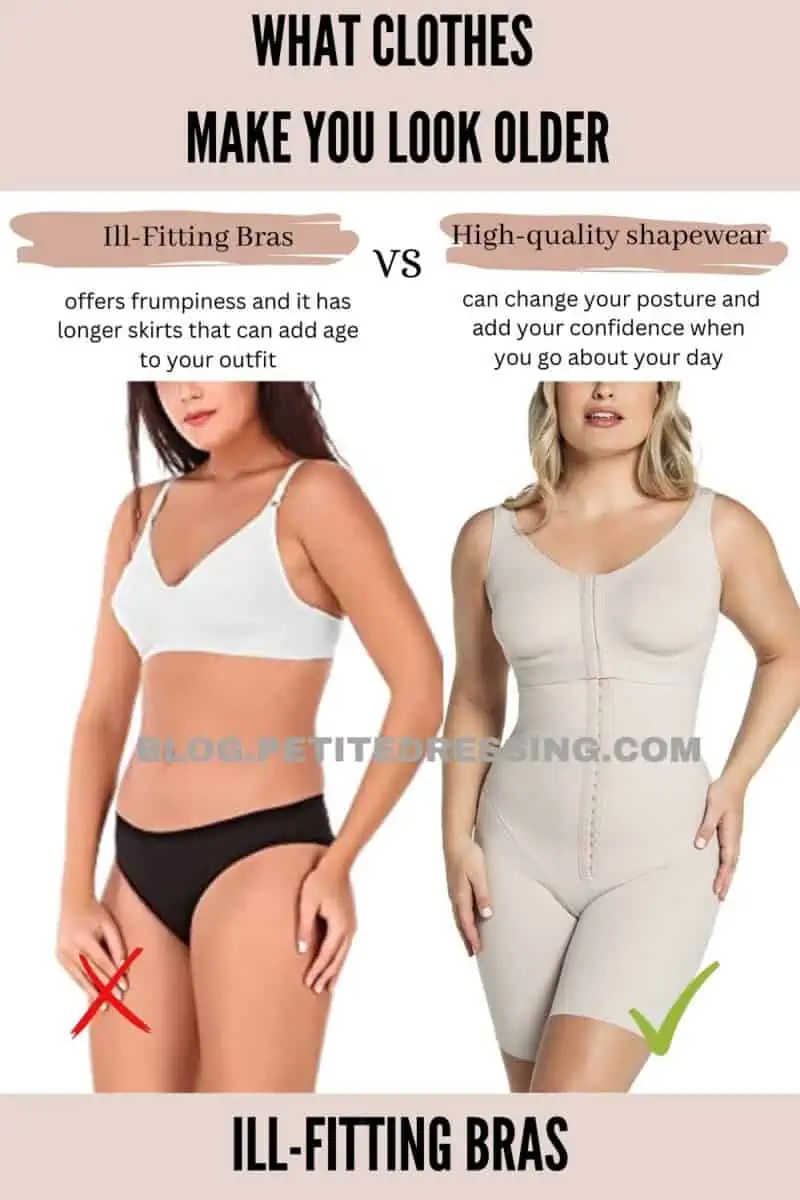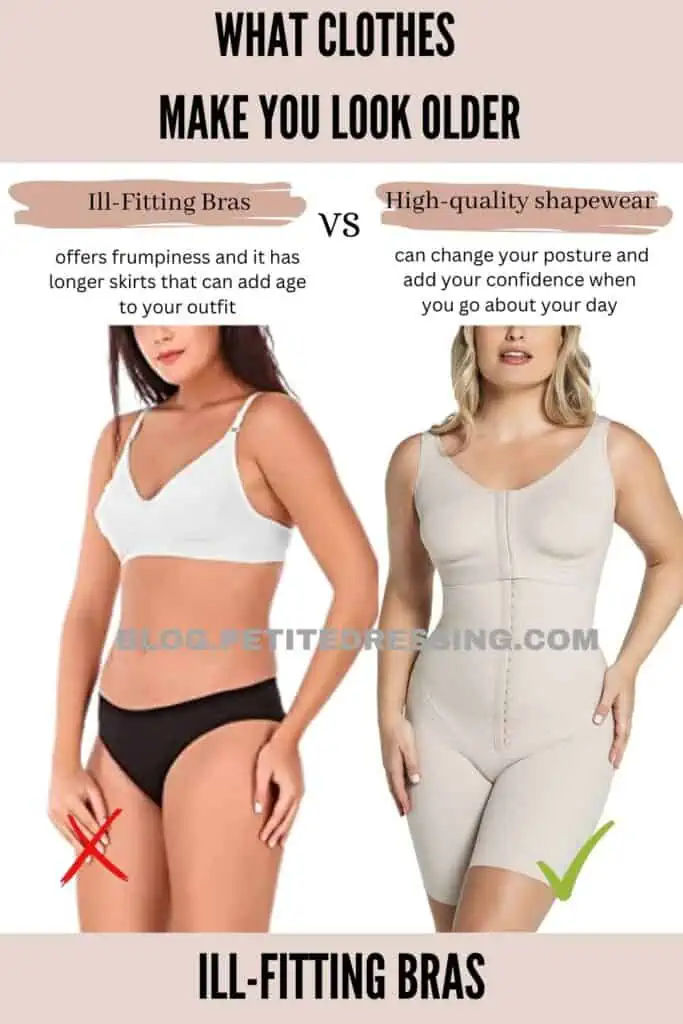 Never Wearing Color
So many people feel as though they have to stick to dark colors, like black, as they get older.
Of course, black is always a classic, easy color choice it's not the only one.
However, black isn't and shouldn't be the only color in your wardrobe.
In fact, never wearing color can play a big role in making you look older than you are.
That being said, it's a good idea to start adding more color to your wardrobe (if you don't already). Find a couple of colors that flatter your skin, hair and eye colors and work the color into your wardrobe that way. Even if it's just adding a couple of color pieces, it can make a huge impact on your overall style.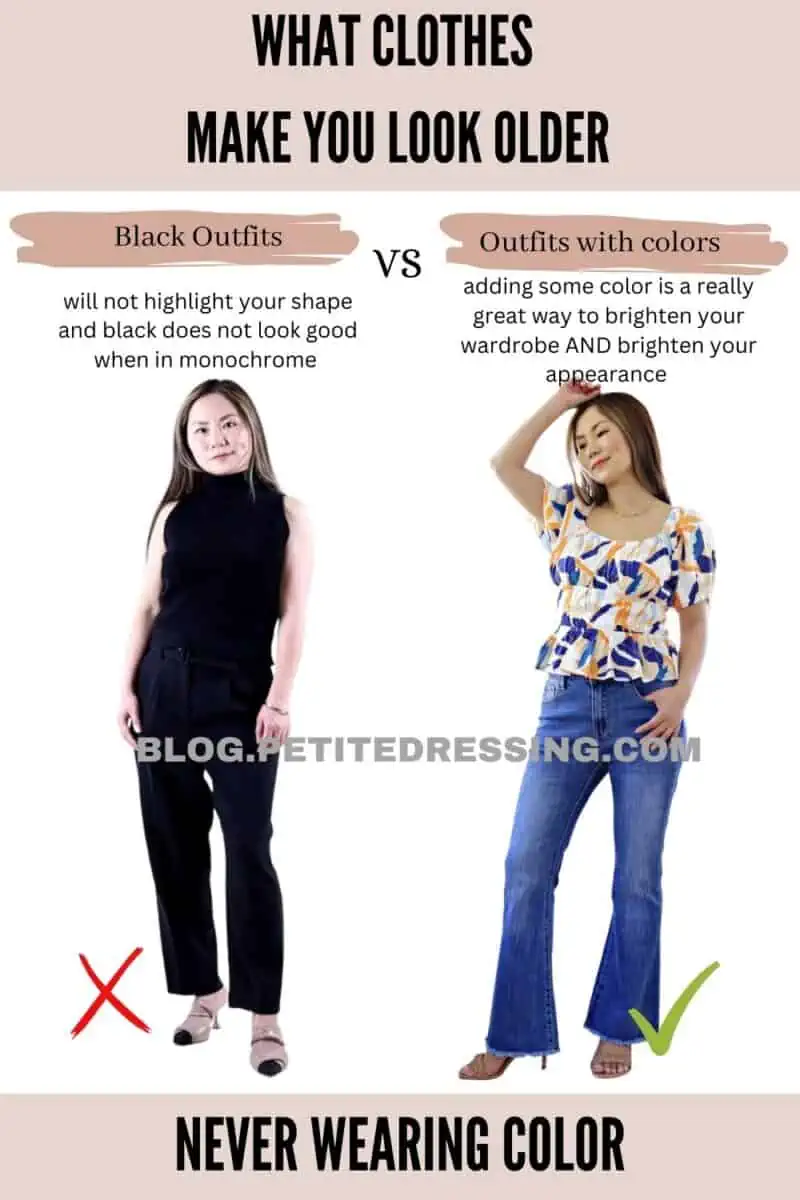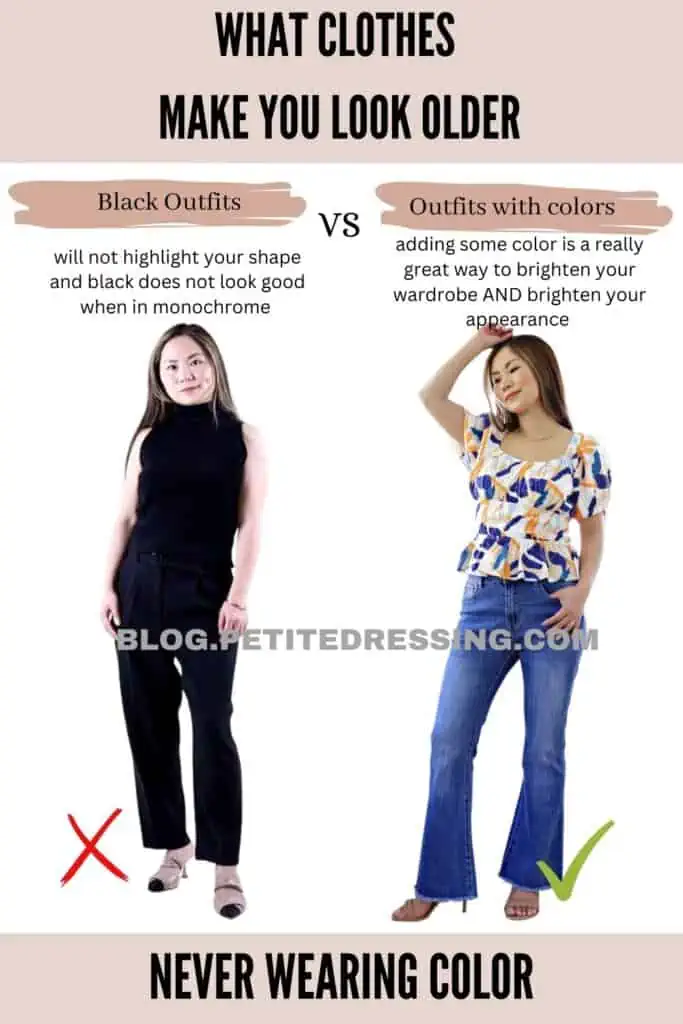 Baggy Clothing
Sure, wearing bagging clothing may be 'comfortable' but it often gives an older aesthetic to an outfit. T
This is particularly true when clothing that isn't meant to have an oversized fit, is baggy.
This is where having an understanding of the proper fit of a garment. You've likely run into garments that are designed to have a looser or oversized fit, this is much different than intentionally wearing something baggier than it is meant to fit.
As we get older, it's always recommended to opt for more tailored clothing options.
Not only do they show your shape a bit better but they also offer a more polished, youthful vibe that can be quite impactful.
Go through your wardrobe to make a thorough determination as to whether or not the fit of the clothing is proper in the majority of your clothing.
If you've been wearing pieces that are a couple of sizes too big, now is a great time to either get those items tailored to fit better or move on to better options altogether.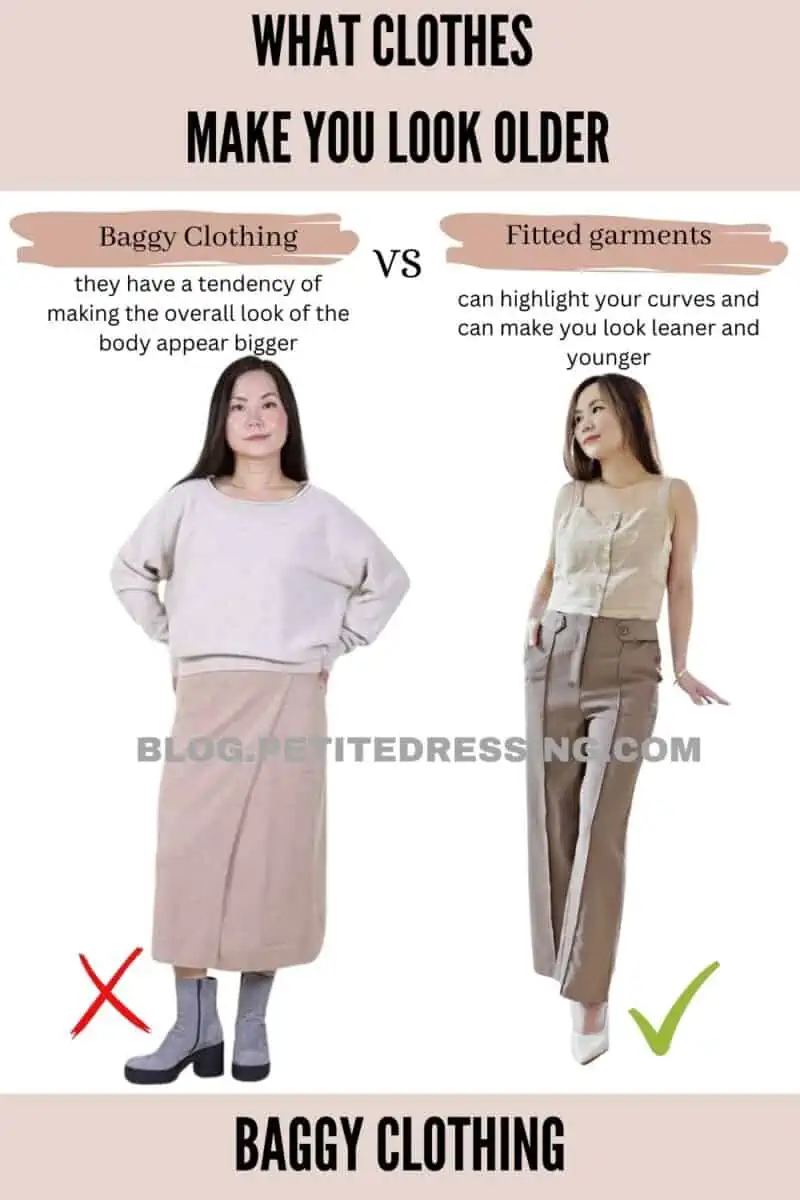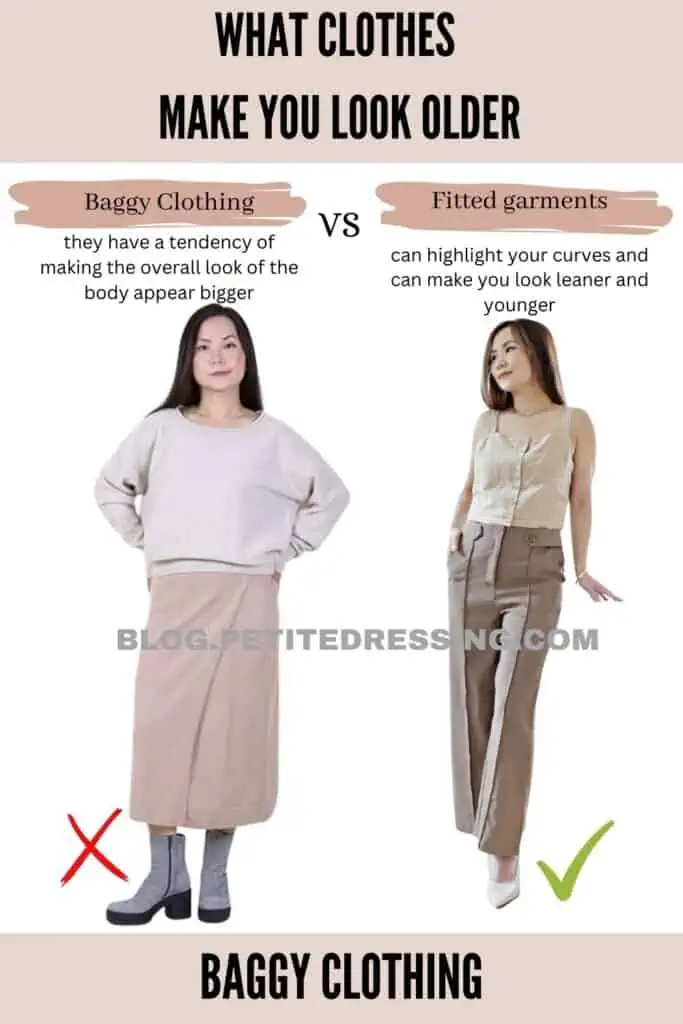 Dressing Too Matchy-Matchy
Obviously, we want our outfits to look great and put together but there is a difference between creating an outfit that goes and one that's overly matchy-matchy.
While 'matching' is a great way to style an outfit, overdoing it with matching pieces tends to look older and outdated.
Try breaking up some of those matchy-matchy pieces to create a more modern twist to an outfit.
For example, if you have a sweater set you always wear as the 'set' try separating the pieces and wearing them individually with different items from your closet.
Another example is with accessories.
Instead of wearing the same color handbag, bracelet and shoes – break up the colors or patterns for a whole new look. This is something you can really begin to have fun with!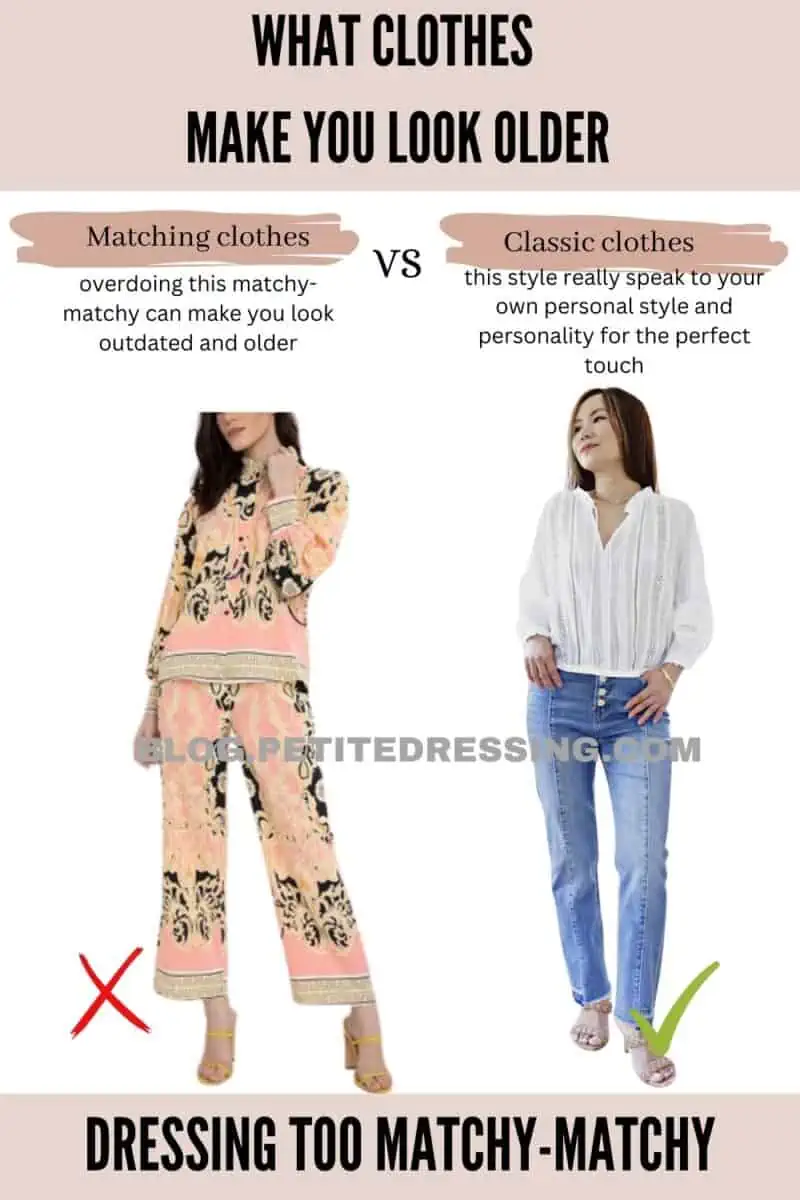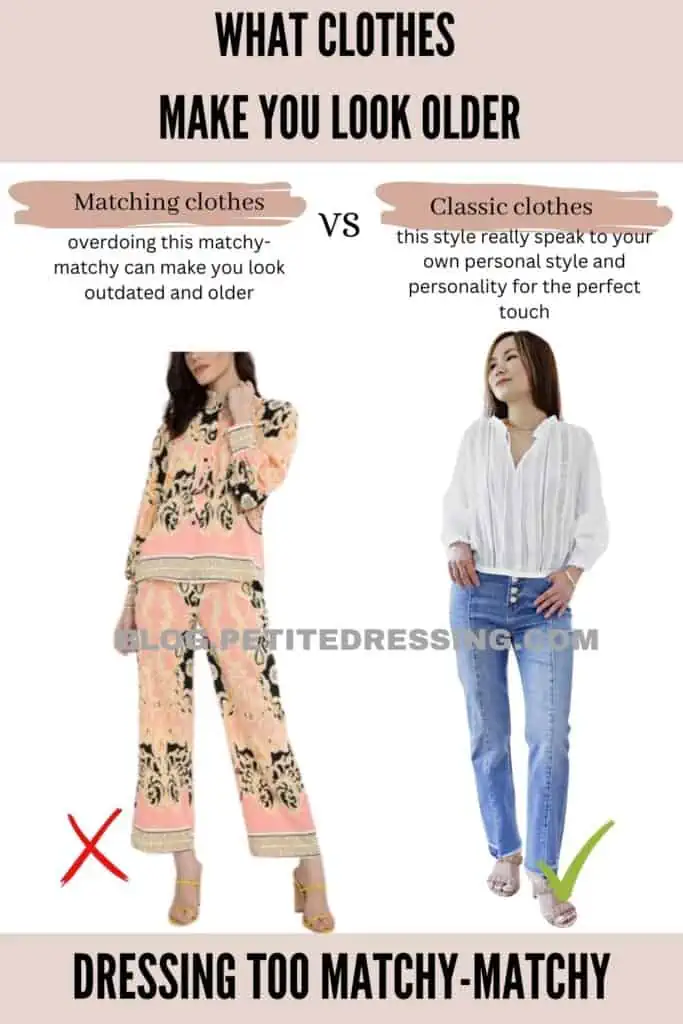 Frumpy Footwear
It had to be said. Especially because footwear plays such a huge role in the overall look of an outfit.
The age old saying "shoes make or break an outfit" isn't just reserved for menswear, but definitely applies to women's fashion as well.
Any shoes that give that outdated, frumpy look are going to instantly age an outfit (and you).
These types of shoes can be anything from outdated styles to shoes that are too bulky and create a frumpy aesthetic to the body. Ditch the frump and stick with shoes that are modern and sophisticated.
Even more classic, simple shoe styles can be a better option for an overall much more youthful appearance. Fortunately, if comfort is an issue there are now plenty of brands and styles that offer the comfort factor and look stylish.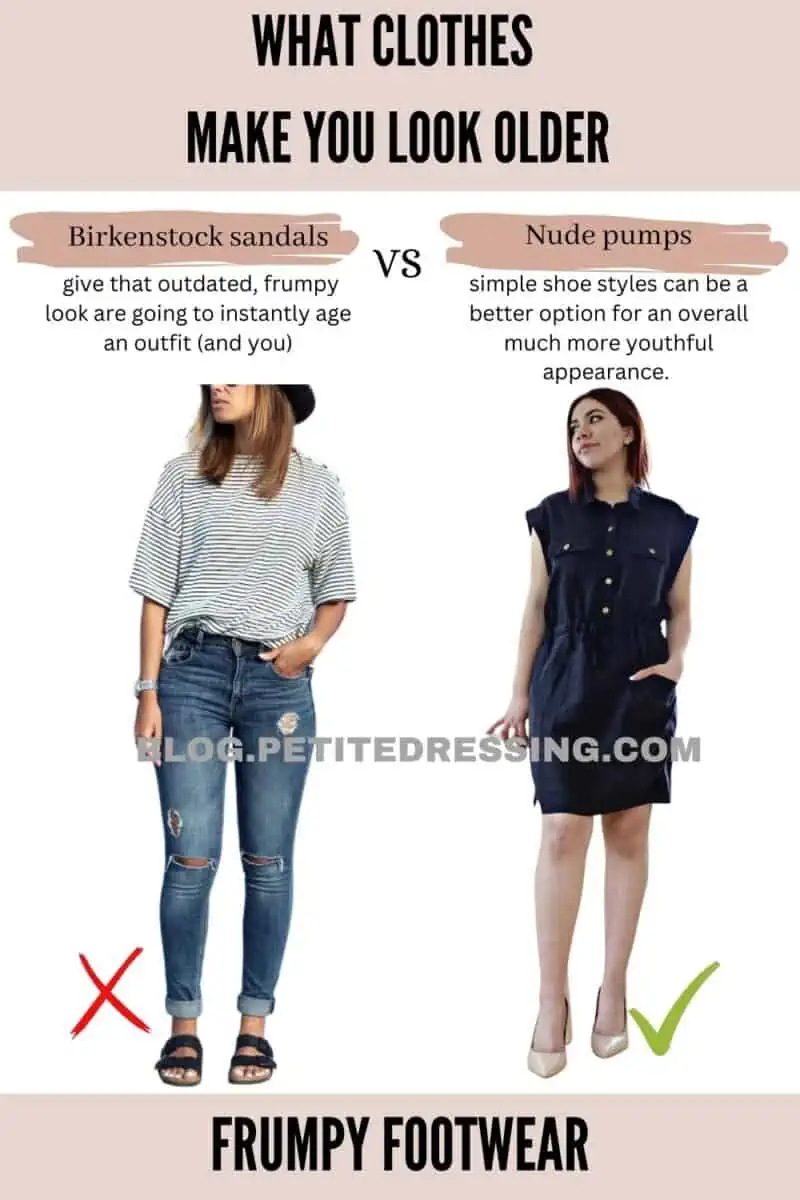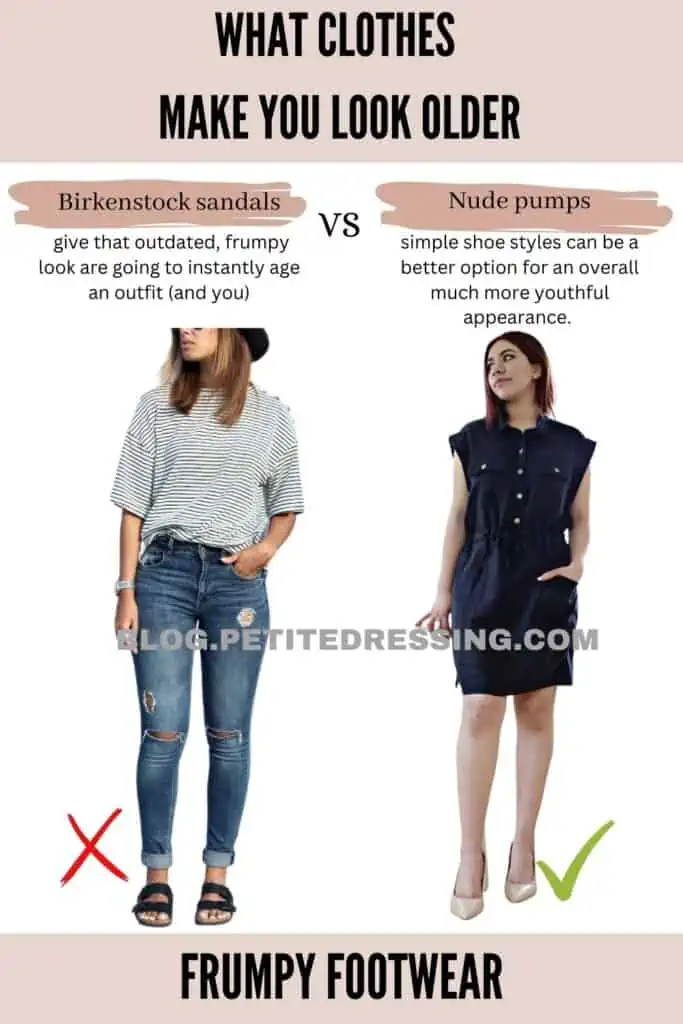 Out of Date Glasses
Even the glasses worn can have an effect!
The way we dress really is all about the details that are combined to create the entire look and play a role in how old, or young, we appear.
This is why glasses, and sunglasses, also play a role. Really anything that we 'wear' whether it's big or small is something to pay close attention to.
If you're still wearing glass frames that were on trend many years ago, it may be a good time to get an updated pair to add a more youthful touch.
Wearing Too Many Accessories
Having fun with fashion doesn't have an age, but there is such a thing as wearing 'too much' as we get older. This is particularly because overdoing it with clothing, especially in the accessory department, can overwhelm the body and look outdated rather quickly.
Take a tip from Coco Chanel herself and take one item off before leaving the house.
This will help ensure you're not overdoing it with accessories and dating yourself.