If you are searching for this topic, you might understand what I am going through. I am one of those girls who always have trouble looking for jeans. Why? I have short legs, so I need extra short petite jeans.
I know I am not alone. Running a petite store, I always get inquiries from customers who told me they are 4'11 or 5 feet tall, and they have the hardest time to find extra short petite jeans.
That is what has prompted me to put together this post and share with girls who need them.
First of all, let's get to the bottom of this. Why is it so hard for petite girls like us to find extra short petite jeans?
Then, let's look at the brands and retailers that carry jeans of extra short inseam that could fit petite girls with shorter legs.
Next let's talk about what style are best for girls with short legs
Finally, I'll share with you some tips and tricks to make your legs look longer.
Let's dive right in.
First things first, if you are looking for extra short jeans or pants, I presume you are petite.
What is petite? Petite is a French word that is translated into small or tiny in English literally. There is some common misconception that the word petite women is referring to skinny and slender women, but that is not the definition of petite in the fashion world.
What does petite mean in fashion and clothing? According to Wikipedia, a petite size is a standard clothing size designed to fit women of shorter height, typically shorter than 162 cm (5 ft 4 in). They need to be adjusted accordingly to fit petite women properly.
Note that petite is really just talking about the height, and not referring to the weight.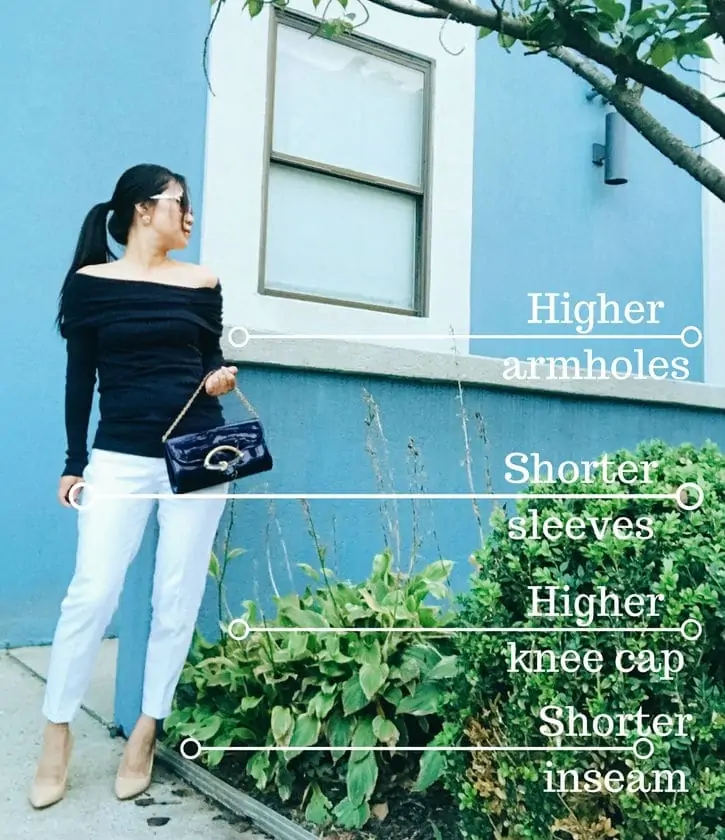 If you need extra short pants or jeans, here are the two most common reasons.
First, if you are under 5 feet tall, most likely you will need extra short jeans or pants.
Second, it has something to do with your vertical body type, i,e, how long your legs are relative to your torso. If you happen to have either long torso or long rise, you legs are likely to be relatively shorter. Therefore, chances are you need extra short jeans or pants.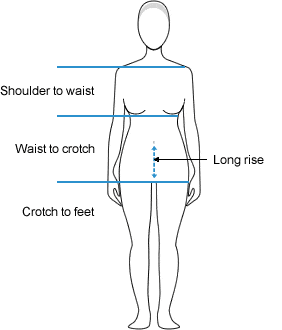 I fall into the second category. I am 5'2″ and I have long rise, so I really need extra short petite jeans.
Which one are you?
If there are already so many petite designers making clothing labeled as petite sizes for shorter women, then why is it so hard for us to shop extra short petite jeans/pants?
Because in order for the designers to cut petite sizes, they need to make clothes according to models who can represent the body measurements of the petite population. Guess who that would be? Most designers go with models who are 5'4″ (or 5'3″ sometimes).
What that means is if you are shorter than that, chances are you may find petite sized pants are still too long for you. If you are 4'11", your inseam will be much shorter than the petite model who is 5'4″.
Since we are on the subject, what does inseam mean?
Inseam is the length of the inner leg, measured from top of the thigh to the ankle.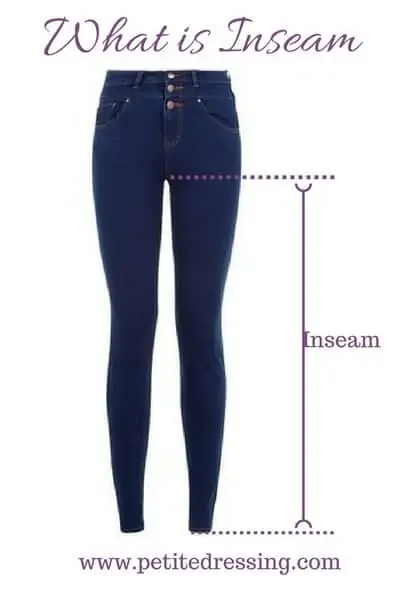 How do you know your inseam?
To find out, you should pick out a pair of pants or jeans in your closet that fit you well and take the measurement from it, while laying it on the floor or in bed (or on any flat surface). Start from the crotch, and stretch the tape down the pants till you reach the bottom of the inside of one leg, where it touches the ground when you wear it.
The measurement from the crotch of the pants to the hem is your inseam length.
The reason we call them "extra short" jeans is because they are shorter relative to the "standard" petite size pants. Since those are made to fit petites around 5'4″ tall, they are not short enough for us.
When I say extra short pants and jeans, I am talking about under 26 inch inseam, typically 24, 25 and up to 26 inches. There is plenty of retailers and petite brands which make 26 inch and above inseam for their petite sizes, and there's fewer who make 24″ and 25″.
Banana Republic
I love their selection of petite jeans because they are very reasonably priced, and every season they constantly update their new petite jeans including extra short inseam. These from current season are all 24″ inseam.
Madewell
Their petite line has gotten more popular recently, and they are now giving petite women more choices. They make jeans length from extra short to full length. Lots of their ankle length jeans are 26″-27″, but I have found their cropped length of 23″ inseam, which should fit women with shorter legs. Their full length could be 29″ inseam.
Old Navy
They make different styles of petite jeans for women who need extra short length. Their typical petite ankle jeans is 25″-27″ inseam, and you can most likely find some styles of 25″ inseam for those of us looking for extra short pants.
If that is still too long for you, go with their cropped style, which length is 24″.
ASOS
ASOS is one of the best stores to find short length jeans for petite women. The reason I recommend them is you can tell exactly how long they look on a petite woman from their model pictures, because they only use petite models (around 5'3″) for their petite jeans.
I can proudly say that I am doing my share to come up with the solution for my fellow petite girls who need extra short petite jeans. Our store was founded to make up for the gap of what is missing on the current petite size market. Whatever is hard to find at other petite designers or retailers, we try to get them for our petite customers.
This is 5 feet tall petite blogger Marisa in our distressed denim. When we were discussing our collaboration, she picked out these jeans but she was not sure if she would need to hem them because of her height. If she had to send them to the tailor, then she'd lose the details of the hem. I assured her this would work. Sure enough, it turned out to fit her like a glove and she was very much thrilled she finally found the perfect extra short petite jeans.
We carry inseam starting from 24″ to 28 inches for not just jeans, but also pants and even jumpsuits.
Distressed Petite Jeans 25″ inseam $139 (Petite Dressing)
Topshop
They come across as a young and hip fast fashion brand. If fast fashion is not your thing, don't jump into the conclusion to rule them out yet. I like how inclusive this brand is. They make 30″ inseam jeans, which to me are very long and only those lucky petites blessed with really long legs can wear. But, you can also find extra short petite jeans from this brand with 24″ inseam. You won't know if you like them until you give them a chance to try.
NYDJ
This is a pretty popular jeans brand that makes a wide selection of petite size jeans including extra short jeans. Their style include straight leg, cropped, boot cut and flare, so pretty they got anything you might be looking for. What I like about them is you can find them at all the major retailers like Nordstrom, Macy's, Saks Fifth Avenue, Dillard's, as well as discount retailers such as 6pm and TJMaxx. No matter what your budget or preferred style is, it's likely you can find an extra short jeans to fit your need.
Liverpool
This brand make jeans and pants for both regular and petite sizes. I was so thrilled to discover this brand because they carry extra short petite jeans of 25″ inseam!
Other than their own website, you can also find them at Zappos and Nordstrom.
Now, I want to talk a little about Zappos. I'm sure you have heard of Zappos as a shoe store online, but did you know you can find petite clothing there too?
I didn't know about this until quite recently, and I was so excited. I have been shopping at Zappos since I don't even remember when- to give you an idea, way before they got acquired by Amazon in 2009. So, that was a long, long time ago!
I don't know when they added the petite clothing collections to their website, but I am loving it. The best part? You can find your inseam quickly and easily.
When you go to their petite clothing collection, on the left side panel you will find the inseam choices. There you go, you can choose extra short pants from 24 inch inseam to 25.5 inch inseam.
Loft
Loft and Ann Taylor are sister brands, but I have found Ann Taylor are more tailored for petites with longer legs. In comparison, Loft is more friendly for short girls like us. Their inseam length has wide variation to fit petite women of different height. I found some styles of 24.5 inch inseam to 25″ inseam, which should be idea for those looking for extra short petite jeans.
Inseam is not everything to a pair of pants. Inseam is actually the easier part of the problem to solve. Because if the pants are too long, you can always take to your tailor and have them shortened. Problem solved.
What cannot a tailor fix?
The style.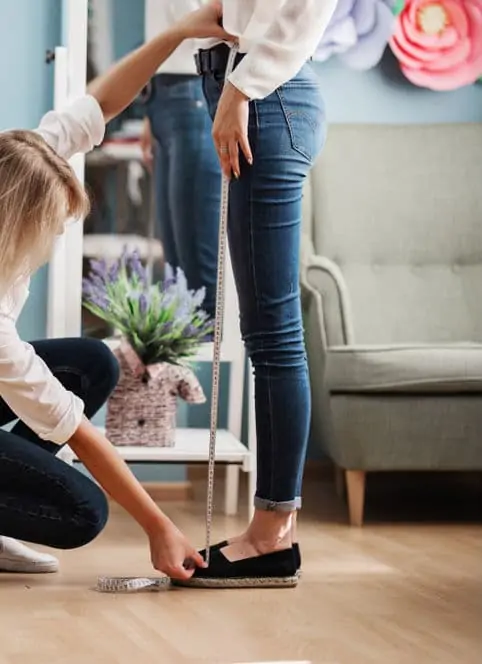 Not all pants are created equally flattering to petite women. Lot of short girls have the misconception that as long as the jeans are short enough, then they will look just fine on them. That is not the case.
Now, let's talk about how petite women should pick out the right style and stay away from those unflattering ones.
I have another post on "5 Must Have Jeans for Short Women", which recommends the top 5 styles that look the best on petite women. One thing they have in common is that they make your legs look longer. That is the number one priority when you are picking out the jeans and pants style.
If your legs are short, there are certain styles that you should stay away from.
The trickiest style for you is cropped wide leg pants.
Ok, here we are talking about two things at the same time. Number one is cropped length and number two is wide leg pants. If a pant has one of these two, it is already tricky enough for short legged girls. First, cropped length can make your legs look cut off. Second, anything wide will horizontally expand you and make your legs look even shorter. If they are both? You should stay away.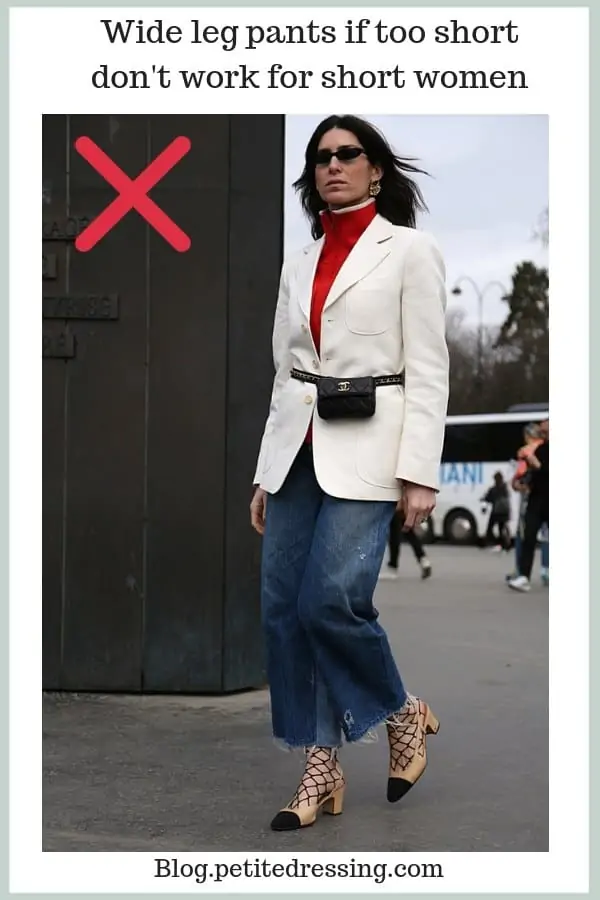 Now, if you absolutely love wide leg pants, you should read my post "A Short Girl's Guide to Petite Palazzo Pants". The key concept is to go for the long style and wear them with high heels of similar color, like one of our favorite petite bloggers Carly (5'3", follow her Instagram@carlygala).
This way, the length of the pants and the heels will add a few extra inches to your height, and people cannot tell if that comes from your legs or your pants and heels!
Finally, I want to share with you some tips to make your legs look longer.
We cannot change our height or the actual length of our legs, but what we can do is to change the proportion of our body through styling and make our legs appear to be longer.
In order to do so, the easiest thing you can start right now is to color blend your pants and jeans with your shoes. The picture below is petite actress Sammie wearing black skinny jeans from Petite Dressing. She is 4'8". Do you see how much longer her legs look by wearing similar color shoes?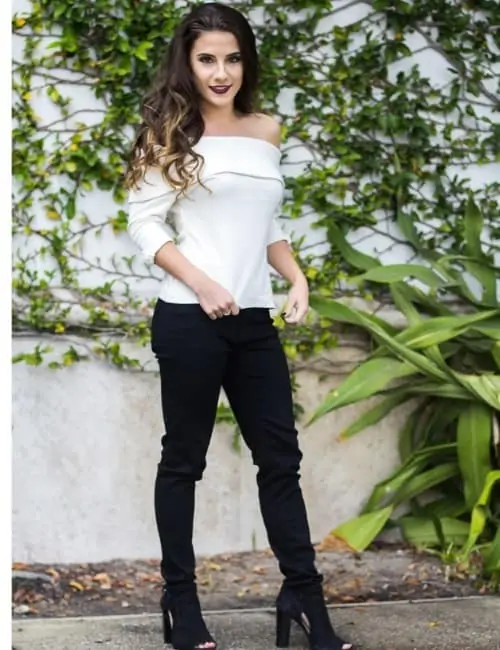 By mixing the color of your pants with your shoes, you are creating an unbroken vertical line that looks like an extension of your legs from the distance. That is the most flattering way to style your pants.
Not only pants and jeans, this also applies to stockings and leggings in winter times. Wearing stockings that match or are close to the color of your skirt or dress and wearing shoes or boots of the same color will make you look instantly taller.
If you are wearing a dress with bare legs, then nude heels (or pumps that looks closest to the color of you skin) do an amazing job to extend your legs. If a petite girls could only own one pair of shoes, it should be nude pumps ! If you have fair skin, nude pumps literally just look like an extension of your legs.
If you have short legs, you should own many pairs of high heels and I hope you genuinely love high heels! I personally prefer to wear heels whenever I can.
The most flattering shoes for women with short legs are those with low vamp. What is low vamp?
It may sound too technical to talk about measurements of the shoes, but have you seen those pumps which show a little bit of toe cleavage?
Those are the low vamp shoes I'm talking about. Because they cover less of your feet, they make your legs look longer.
I understand there are times we all need to wear flats, despite our love for heels. For instance, I walk 20 minutes to the train station in the morning, flats just make it so much easier.
The best flats for girls with short legs are those with pointy toes. Don't underestimate this one inch difference at the tip of your shoes, they can make your legs look instantly longer.
If you want to hear more about these kind of tips, I have a detailed post on this topic "6 Best Tips on How to Look Taller".
It's not easy for us shorties to live in a world where clothing are primarily designed to fit taller people, but I hope these tips and tricks have helped you and inspired your style. Leave a comment below if you have some further thoughts you want to share with fellow petite girls.