Looking for petite maternity clothes? There are so many changes that have happened to you physically (and perhaps mentally as well) since you got pregnant, the last thing you want to stress about is what to wear with your ever growing baby bump! I know exactly what you are going through, because I have been there myself.
Finding the right petite maternity clothing is not an easy task. Actually, I should say for petite women, it is never easy to find clothing of the right petite size that fits you and flatters you, even before you got pregnant. Now that you have the baby bump, it seems to be a mission impossible to find the right petite maternity dresses, maternity jeans and tops that are good quality and affordable.
Being 5'2", I understand how frustrating and disappointing for petite women to find the right clothing at almost any stage of their lives. Here is a few tips that have helped me through my pregnancy to find nice petite maternity clothes without having to overspend (you will have a million other places to spend that money after baby is born!) and I want to share with you these top tips.
Recommended shopping list for petite maternity clothes
First things first, I want to share with you the list of what you will need for petite maternity clothing.
1 Wrap dresses
Wrap dresses are my personal favorite. They are universally flattering and work especially well for the petite body frame. They hug your body at just the right places and show off your curves without being too revealing. Plus, they are good for the office, date night, and really any occasions you can think of. They should be your wardrobe staple regardless you are pregnant or not.
After I was pregnant, I found wrap dresses to be the most versatile piece in my closet that adapted very well to my pregnancy. Here is why:
First, they are normally made of soft and flowy fabrics such as silk or soft polyester, which is perfect for pregnant women.
Second, wrap dresses can accommodate your growing baby bump! I'm not even talking about wrap dresses in petite maternity clothing section- I was wearing the same DVF wrap dresses before I got pregnant! They lasted me through the first 2 trimesters and very few people noticed I was pregnant!
Therefore, if you have wrap dresses in your closet before you got pregnant, they will work perfectly for the first several months of your pregnancy. As your bump grows, just loosen up the strap and you will continue to wear it until much further along in your pregnant months.
2 Maternity Jeans
If jeans is your weekend staple, then you must own several pieces of petite maternity jeans. The important thing is to make sure you get them in petite sizes. I was frustrated to notice most petite designers do not make maternity jeans, which doubles the challenge for women with short legs. That said, I was able to find a few maternity clothes specialty stores who actually make maternity jeans for petites.
I will keep adding to the list, if I discover more. If you have found other maternity jeans brands, please leave a comment and share with your fellow petites!
3 Maternity pants
These are just as important as the maternity jeans! As you go through different trimesters, your belly and waistline will continue to stretch and very soon you will need to look for petite pants in the maternity department. Normally, the retailers or brands who carry petite maternity jeans will also have petite size maternity pants for you to choose.
4 Maternity workout pants
It is super important that you stay active during the pregnancy! Whether you want to keep your regular exercising routine for a while or you are thinking of doing prenatal yoga, getting the maternity size work out pants is necessary.
This is by no means an exhaustive list of what you will need in terms of petite maternity clothing, but these are the most important ones. Every one has their own personal preference as to what they find necessary while they go through pregnancy, but these items are typically needed by the most.
Now, I want to share with you how to shop smart on your journey of shopping for petite maternity clothing.
1. Be a value shopper.
That doesn't mean you should only buy the cheapest stuff you can find, but it means you should always look at how much use you can get from an item before you decide how much you are willing to spend. (From my personal experience, this actually applies not only shopping to petite maternity clothes, but also shopping in general. )
Here is the logic, many petite women will not have a noticeable baby bump until midway through pregnancy (4 or 5 months+ or sometimes even later)! So, that means you only need petite maternity clothes for about 5 months. If you happen to be due in winter, that means you will need petite maternity clothing for more than one season. If you get the petite maternity dresses for the summer, soon you will have to switch to thicker layers for the fall and winter. Therefore, if a dress costs $150, that may sound like a steal for a non-maternity dress. However, if you are only going to wear that for a two months, the value you can get out of it instantly changes!
Of course it is totally up to you how much you would like to spend, and I am not discouraging you from buying designer name petite maternity clothing. If you have the budget, by all means! Trust me- I know pregnancy is hard work! So why not give yourself the pleasure and enjoyment of designer brands once in a while? Just always keep in mind to be a value shopper and shop for the items at designer maternity clothing stores that you can get most value out of.
2. Mix existing pieces
Your regular petite clothing can still last for a while, before anyone discovers your baby bumps. If you have relaxed fit cardigans or sweater, they can work pretty well as layers to your petite maternity dresses in the fall. That will not only save you money, but also create fresh looks and excitement. Have you thought of exploring your husband (or partner)'s wardrobe? Please do so, if you haven't thought of that. His loose shirts and T-shirts can be really comfortable maternity sleepwear for you, to say the very least.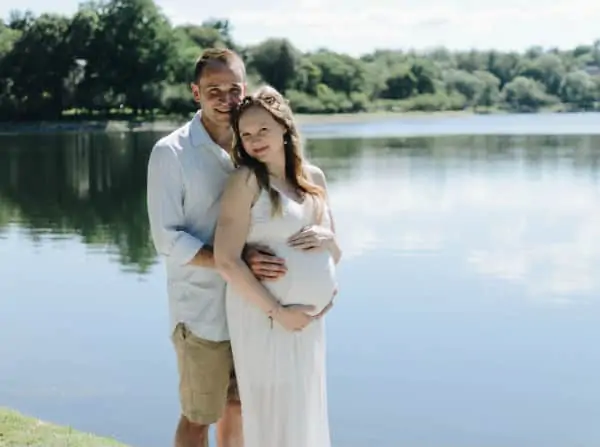 3. Be creative
Pregnancy is the fun time you might find some creative ways to create your own petite maternity clothing you might not have thought of otherwise. For example, I picked out a couple of larger size bright color long T-shirts at Old Navy made of 100% cotton, and they hit just about 15 inches above my knees. They were so comfortable that I ended up wearing them as my petite maternity dress for casual occasions over the summer. Also, a regular sized tunic may work as your petite maternity dress before the baby bump gets too noticeable.
Also, if you like beautiful and colorful clothes before you got pregnant, there is no reason why you should stop wearing them when you are pregnant. Petite maternity clothing should not be boring or plain at all. Don't hesitate to explore stores like Nordstrom, which has a ton of maternity clothes that make a pregnant woman look pretty.
We also have another post to give you comprehensive guide on 5 Best Places to Shop Petite Maternity Dresses.
4. Invest in a few staples
Along the same lines as being a value shopper, investing in a few wardrobe staples that will mix and match with anything else will save you a lot of money. The petite maternity clothing you will probably always need are petite maternity pants and jeans. You can also wear them at different occasions, plus, they work in different seasons from summer through winter. So, even if you have pay a little bit extra, they are worth it.
5. Size up smartly
So you know that your baby bump will continue to grow throughout the pregnancy. Therefore, picking the right size for your petite maternity clothing is important to accommodate the changes in your body in the months to come. If you are looking for a pair of petite maternity jeans, get a pair with expanding panels or an elastic waist bands. They are not only more comfortable, but also more adaptable in the few months to come as your waistline continues to expand.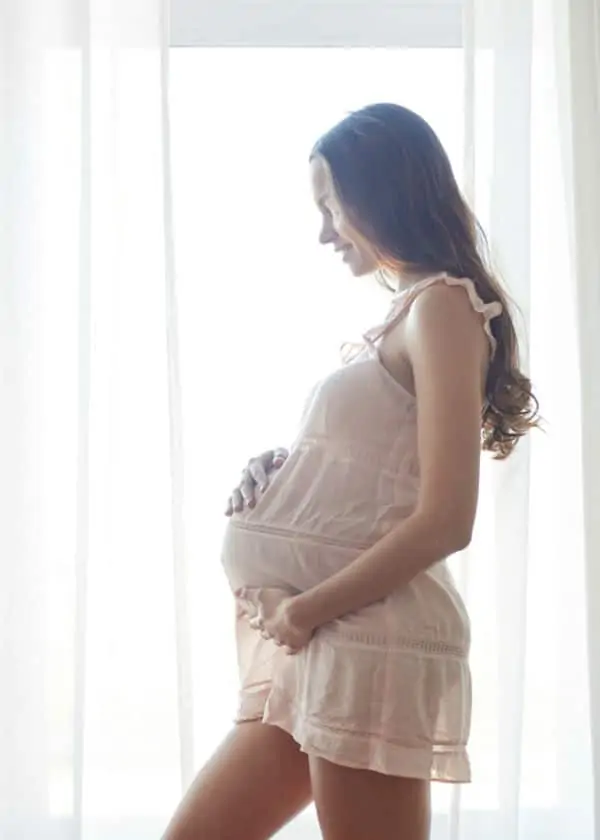 Use the same criteria when you are looking for a skirt or dress to make sure you don't grow out of your petite maternity clothing too quickly and buy more. However, we are by no means recommending petite women to wear oversized petite maternity clothing, because that will not be flattering to your small frame and will make you look overwhelmed by the clothing.
Pregnancy is such a sweet and special period in your life, it is truly worth going through it with the petite maternity clothes that make you look and feel good. Now that you know the tips, enjoy shopping and welcome your little one in a happy mood!