CHARACTERISTICS
If you have a rectangle shape, you generally have the following body traits:
You have a very athletic frame.
Your hips, waistline, and shoulders are pretty close in terms of width.
You have little to no waist definition.
You may feel like you look straight up and down.
You gain weight evenly but may gain more weight through the upper back or neck.
You tend to have flatter buttocks
Even though many rectangle-shaped women have a small bust, it's not uncommon for some to have big breasts.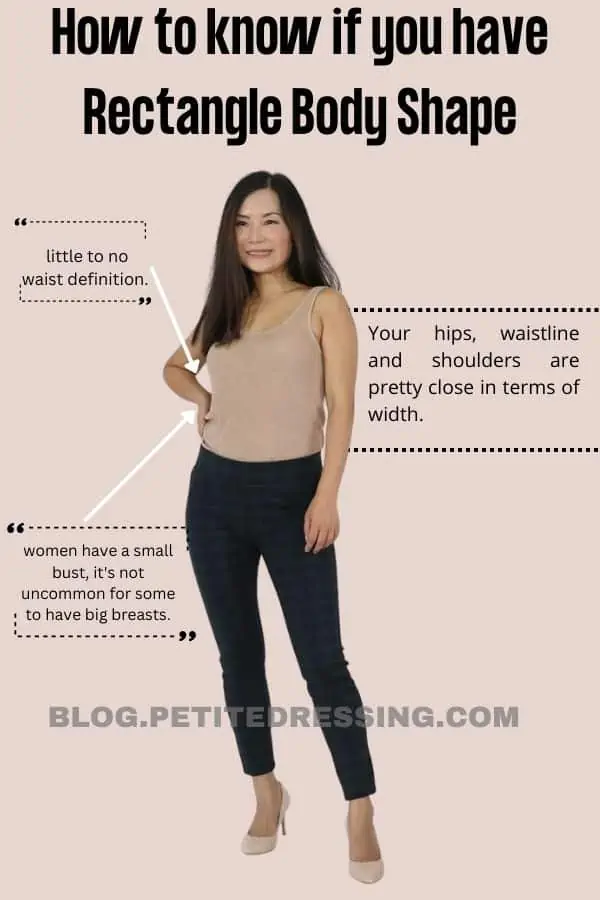 In one word, the rectangle shape women have a "boyish figure".
Rectangle vs Apple
It is totally possible for the rectangle-shaped body to have a full chest. Even though a lot of rectangle-shaped women like the supermodels I am about to tell you across as bony instead of flesh, there are some rectangle-shaped ladies who do have full chests.
So, sometimes she might be wondering am I an apple shape or a rectangle shape?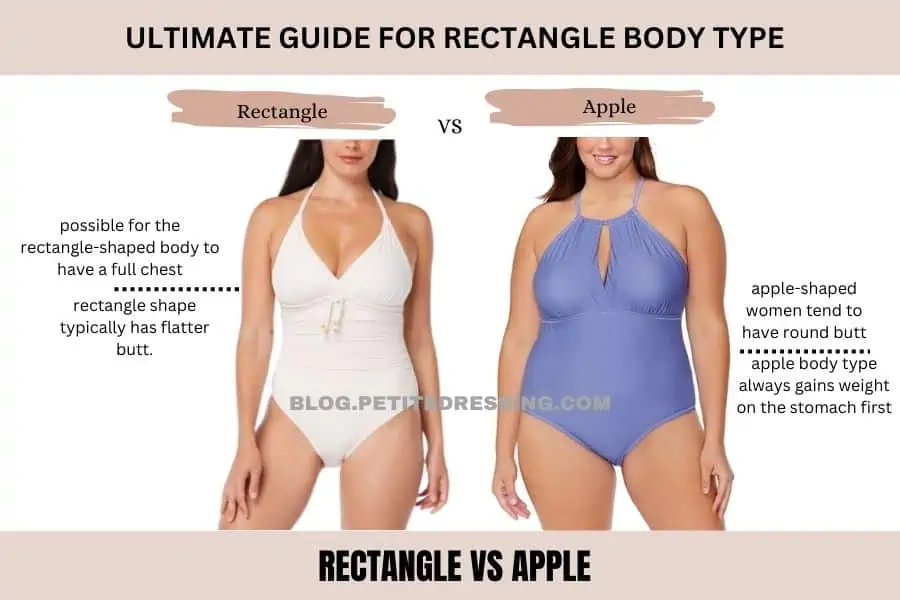 Even though both the rectangle body type and the apple body type do not have a waists definition, the main difference is that the apple body type always gains weight on the stomach first.
Also, the apple shape tends to have a protruding stomach when they gain weight, whereas the rectangle will just look like a fuller rectangle.
Last but not the least, apple-shaped women tend to have round butt, but rectangle shape typically has flatter butt.
STYLING GOAL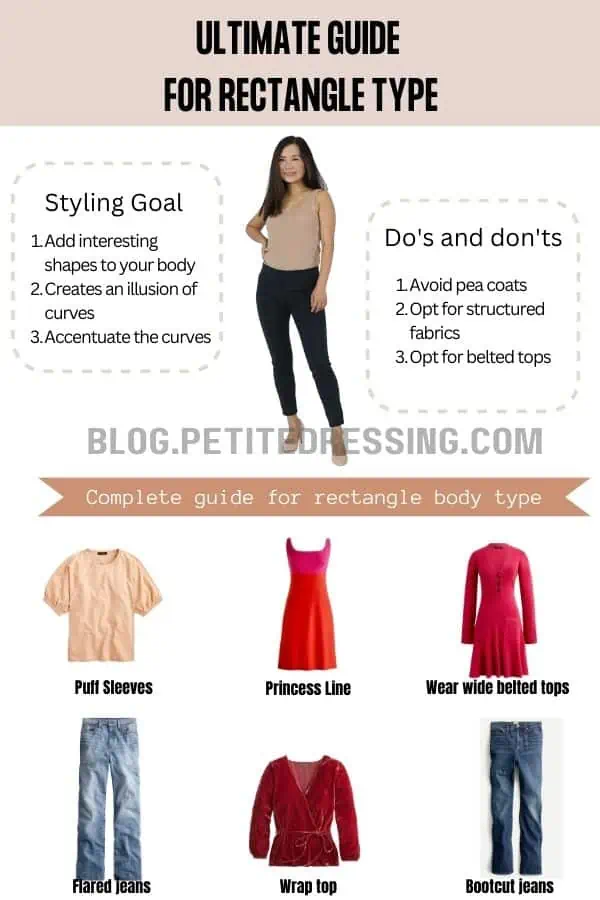 Because the rectangle shape does not have much curves, this body type is similar to a dress form, which is how the clothes are made according to.
However, the lack of curves may happen to be the one thing that most rectangle shaped girls are self-conscious about. So, to flatter your shape, your goal should be to
Add interesting shapes to your body to break up that straight up and down rectangle.
Creates an illusion of curves to make your boyish shape look more voluptuous through what you wear.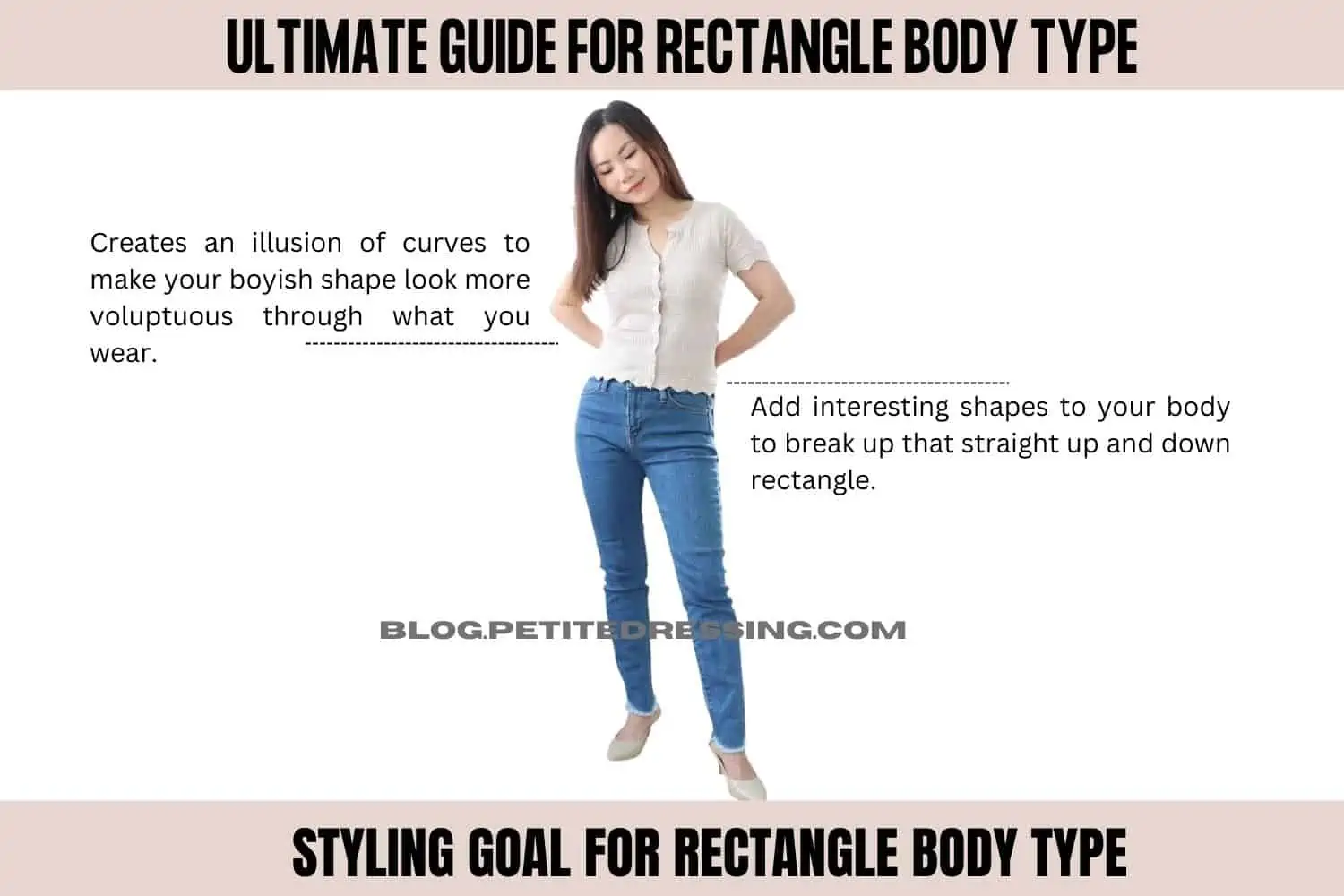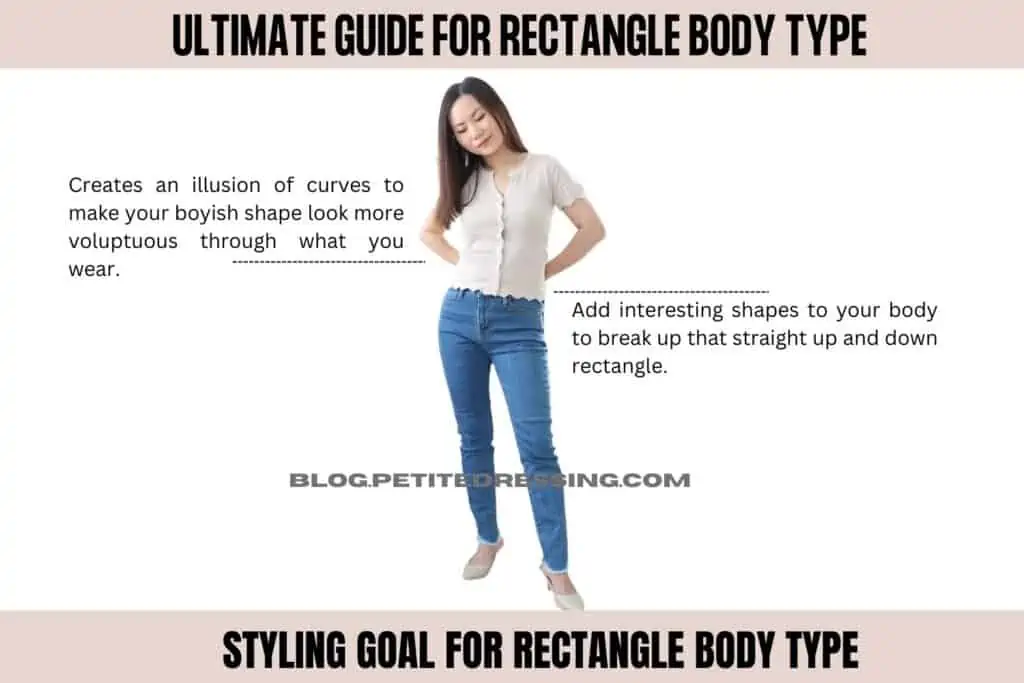 DRESSES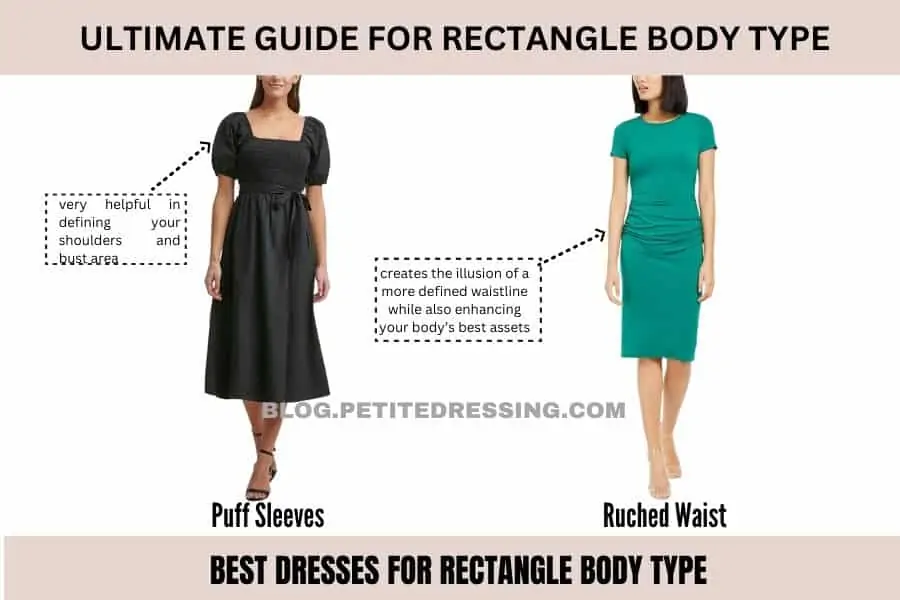 In general, shorter length always looks great on rectangle body type. You are most likely to have long and lean legs, so you should not hesitate to show off those assets through mini dresses and high heels.
Now, what kind of dresses add shape to the rectangle body?
Puff Sleeves
Puff sleeve dresses are not just pretty but are also very helpful in defining your shoulders and bust area. The puffiness of the sleeve is a subtle way to make your shoulders seem wider than your hips.
Puff sleeve dresses are usually paired with smocked waist dresses and such a style works best for rectangle body shapes. Choose a fabric that's slightly stiff on the puff sleeves to secure a sharp silhouette.
Ruched Waist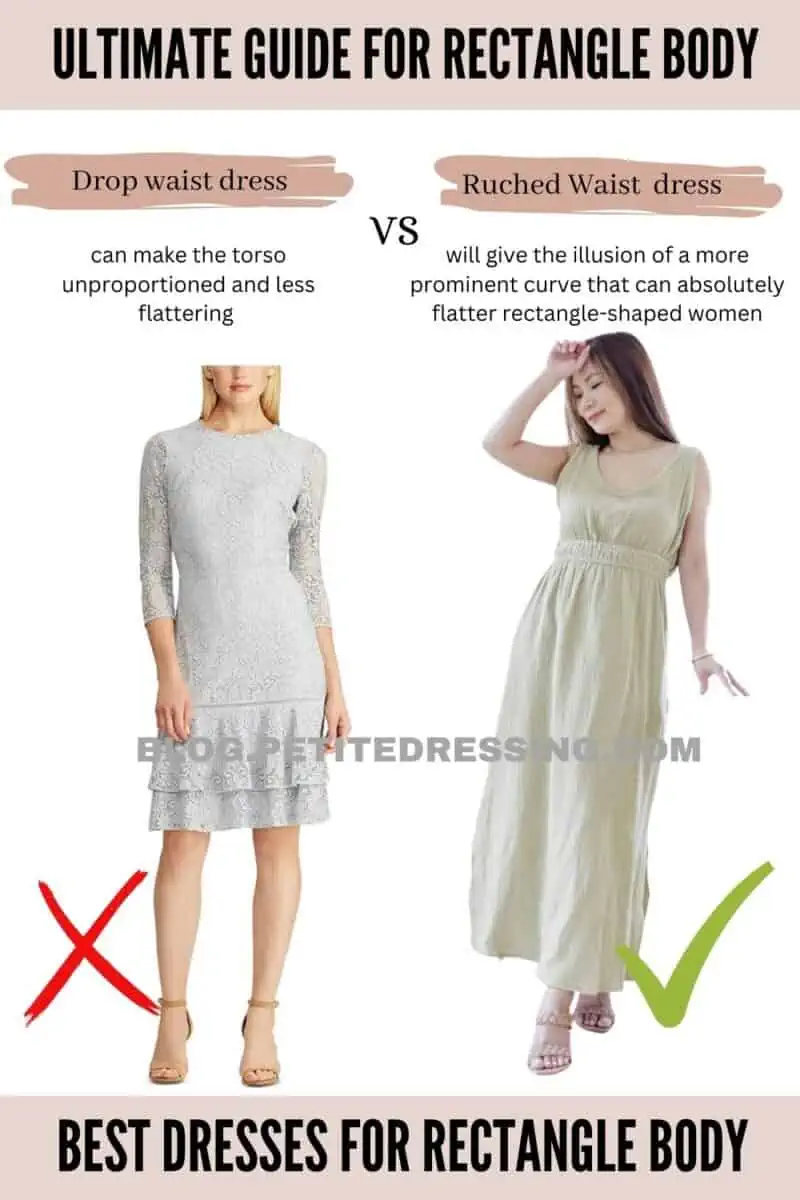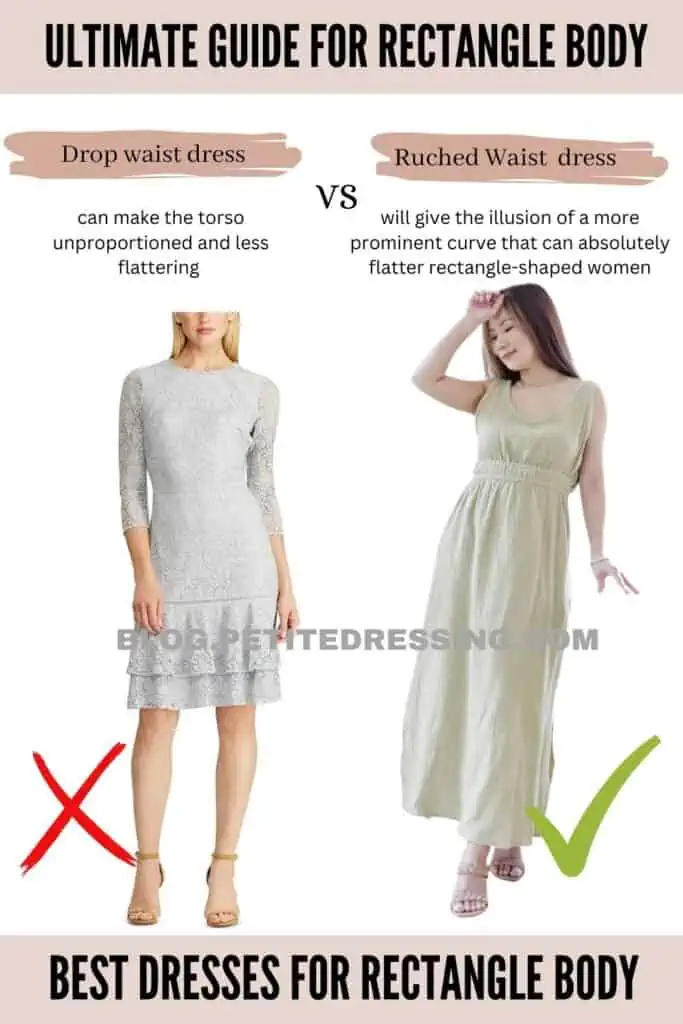 The right ruched design will give the illusion of a more prominent curve that can absolutely flatter rectangle-shaped women. However, if you opt for a ruched seam that goes at the center of your torso, you may end up hiding one of your best features which is your flat tummy.
So to make sure you choose the proper ruched waist dress for your figure, consider a ruched seam that goes horizontally on your waist or vertically on both sides of your waist. These two can do wonders in creating the illusion of a more defined waistline while also enhancing your body's best assets.
X-Line
The special function of X-Line dresses focuses more on making the shoulders look broader, the waistline slimmer, and the lower body more voluminous. Such features will alleviate the shortcomings of rectangle bodies and enhance their best features.
If you're flat-chested, you may want to try going for an X-Line dress that has a plunging neckline. The line it will create will draw balance to the upper half and midsection of your body specifically.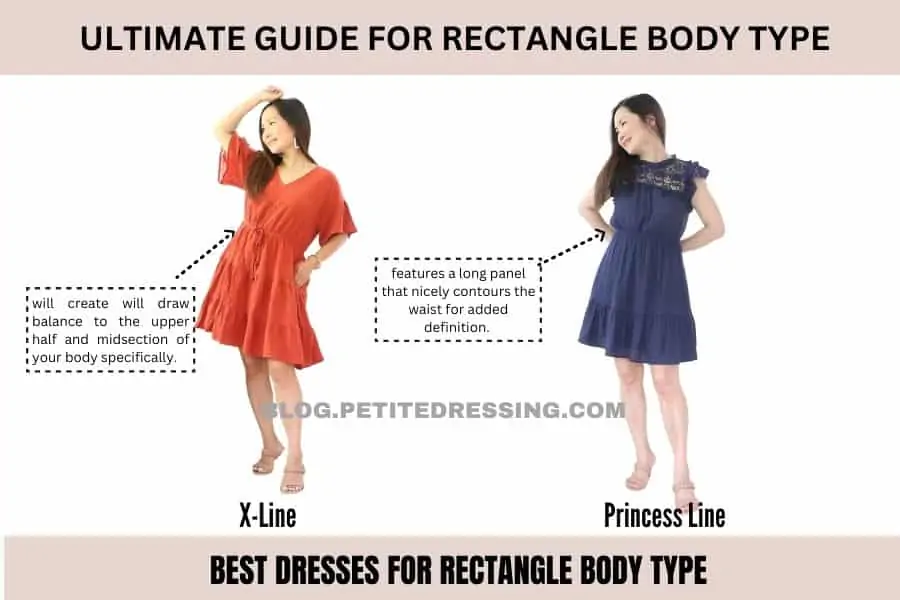 Princess Line
Fitted dresses such as princess line dresses are deemed very flattering on rectangle body shapes. It features a long panel that nicely contours the waist for added definition.
The seamless line that closely snugs the waist doesn't break the line of your figure. This makes your body look longer, slimmer, and curvier.
Flounced Hem
Instead of the usual straight strips of ruffles in fabric, a flounced hem has a more circular flow to it so it's an efficient way to break the straight lines of rectangle body shapes. As the fabric flows down softly on your body, it subtly enhances your body shape without hiding your best features.
The key to choosing the perfect flounced hem dress for your figure is to go for flowy fabrics like silk, softy cotton, or chiffon.
Color blocking dresses
The easiest way for the rectangle-shaped women to add shapes is through wearing a color blocking dress. When the dress has color blocks with strong contrast with one another, it naturally leads people to believe you naturally got those contrast and thus it subtly enhances your body shape without hiding your best features.
A-line dresses
This is the most universally flattering shape of all dresses. It suits almost any body types, and the wonderful part is for each body type, it is flattering for a different reason- I find that quite fascinating.
The A line dress has the silhouette of an A, as suggested by the name. That is why it is a very flattering dress for the rectangle body type.
If you happen to be a plus size rectangle shape, the A line dress can define your waist without drawing too much attention to your mid section. They are absolutely wonderful for your shape.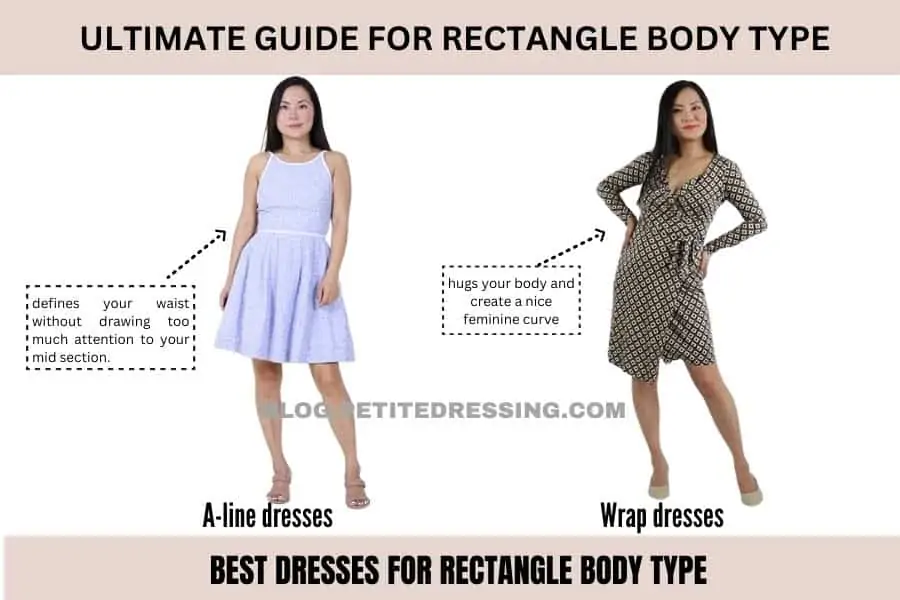 Wrap dresses
They hug your body and create a nice feminine curve, while making you look taller at the same time. Wrap dress accentuates cleavage and waistline, which visually adds curves to the look. Bold prints give a voluptuous illusion.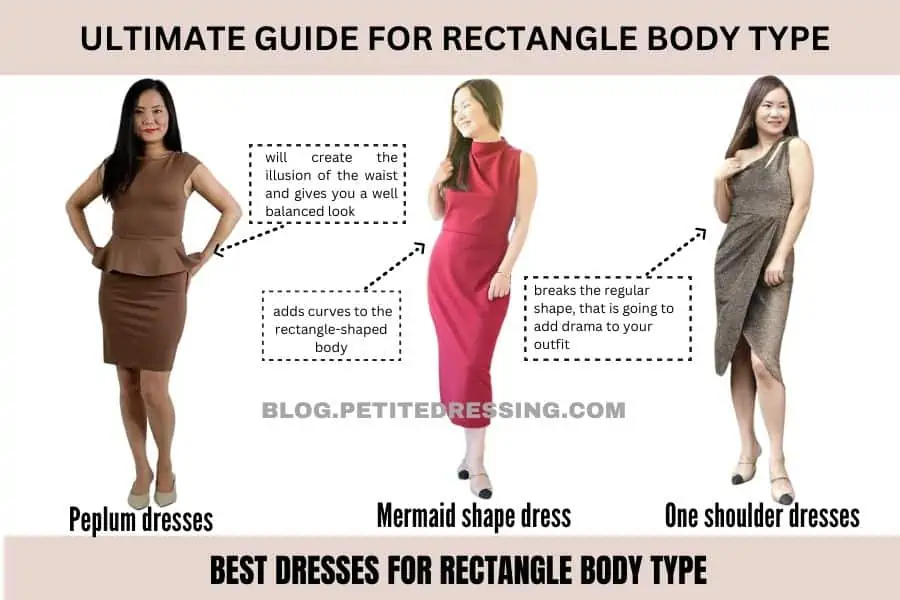 Peplum dresses
The peplum dress looks good on the rectangle body shape, because it call attention to the waistline, giving more balance to the look.
Since you don't have a naturally defined waist, the peplum dress will create the illusion of the waist for you with the way it flares out right above your hips.

Mermaid shape dress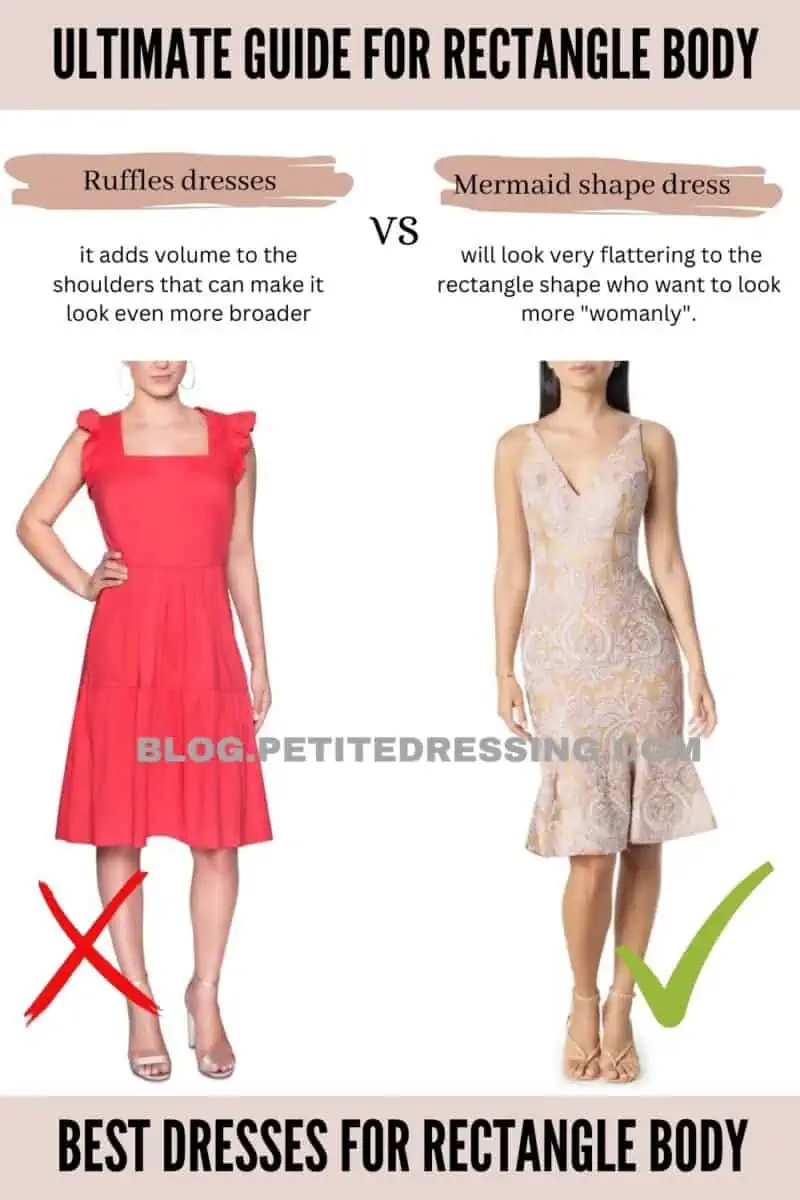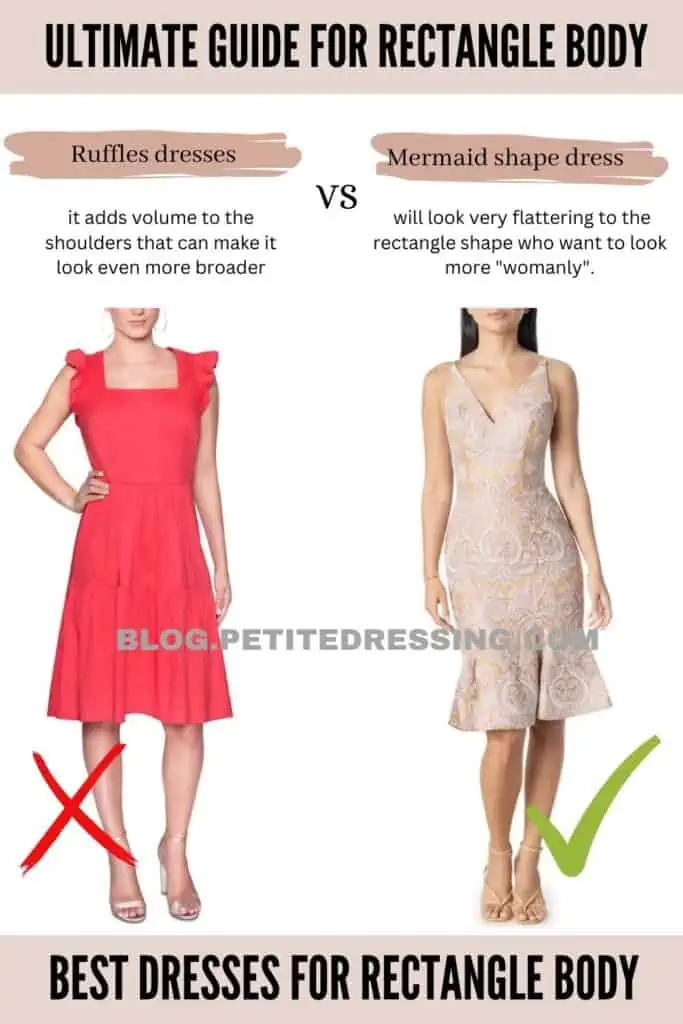 The reason is quite obvious. Nothing is more feminine that the mermaid shape. If you want to add curves to the rectangle-shaped body, then you got to give the mermaid dresses a try!
Not just the mermaid gowns, but also daily dresses with the mermaid cut will also look very flattering to the rectangle shape who want to look more "womanly".
One shoulder dresses
Whenever the dress breaks the regular shape, that is going to add drama to your outfit, which is exactly what the rectangle body needs.
JEANS
Most rectangle shape have is slender and firm legs, so jeans is your chance to really make your assets stand out!
Even though your athletic build allows you many choices when it comes to jeans, I highly recommend you look for jeans that adds shapes! How does that apply to jeans? I'm about to give you the specifics.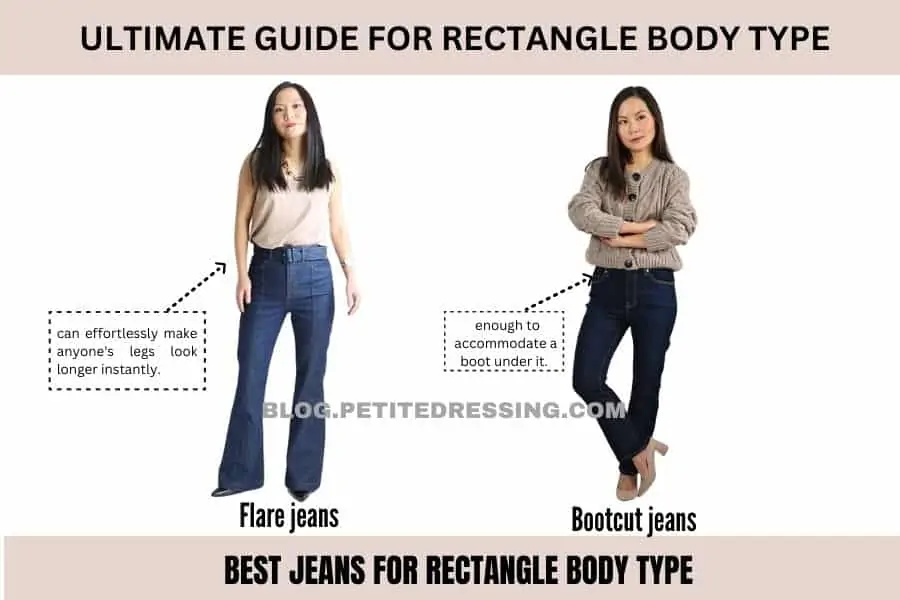 Flare jeans
The flared jeans undoubtedly are the most flattering leg shape for any body type. The cut can effortlessly make anyone's legs look longer instantly.
As a rectangle body shape that is blessed with long legs, making them look even longer may not be your top priority, but they do add shapes to your legs and balance out your straight body.
Choose flare jeans with a wide waist band to create the illusion of a defined waist.
Bootcut jeans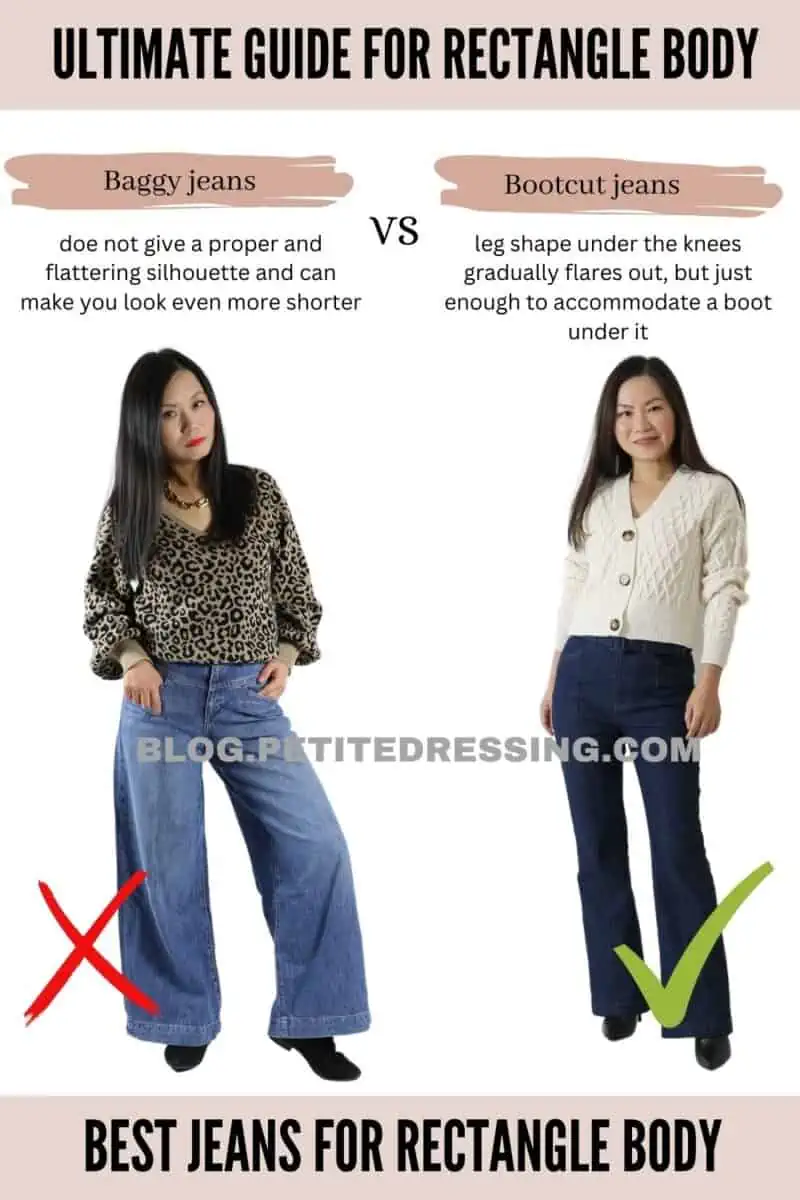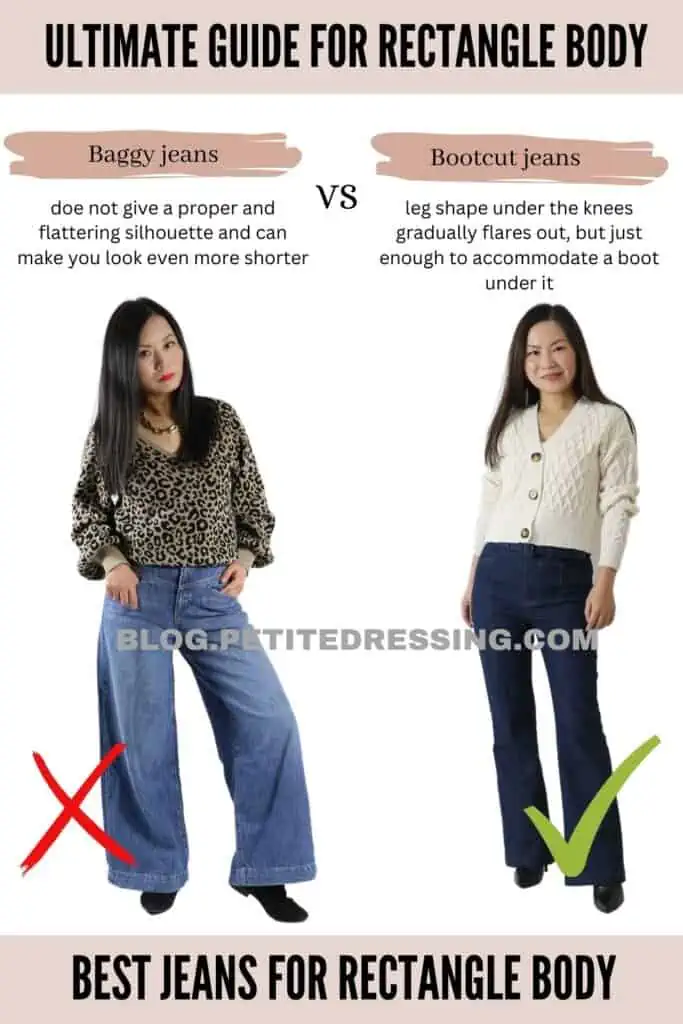 Bootcut jeans is the cousin of flare jeans, but it has a less dramatic flare. The boot cut is tailored so that the leg shape under the knees gradually flares out, but just enough to accommodate a boot under it.
Jeans with pocket details
If you prefer more feminine style, for instance, you want your buttocks to look less flat, then the best jeans for you are those with pocket details.
Pockets with flaps will add extra volume and will make your butt look less flat. Slit pockets also help to give you more curves back. Whiskering at the hips will add the illusion of curvier hips and will add fullness to your bottom.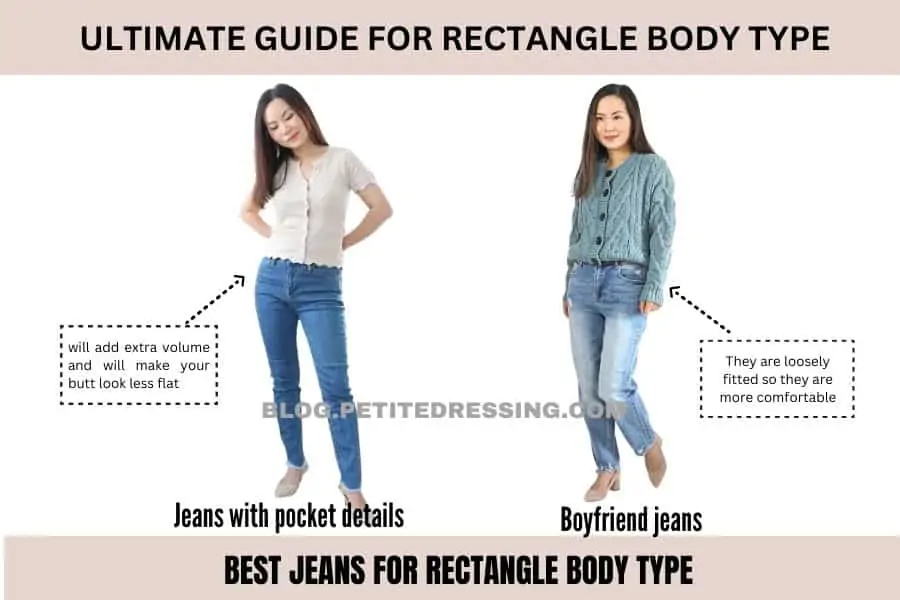 Boyfriend jeans
Boyfriend jeans might look good on you, given your athletic frame. They are loosely fitted so they are more comfortable, especially when you are outdoors or doing chores around the yard.
Because they are relaxed fit, they do not add curves to your butt. Just keep in mind that boyfriend jeans are not as feminine as the other leg-shape jeans I mentioned earlier.
TOPS
So, your goal here is to create curves through the tops you wear. In general, add flutter or princess sleeves for a more dramatic effect will look great on you. Shirts with a fitted waist and embellishments around the bust and shoulders will give you a more curvaceous appearance.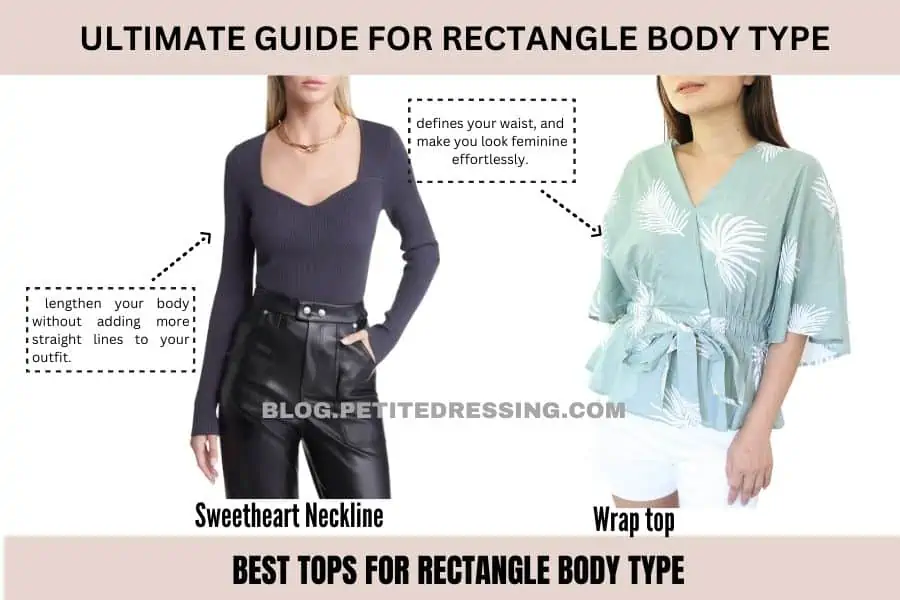 Sweetheart Neckline
Tops that feature a sweetheart neckline draw emphasis to the shoulders and collarbones for it has a wider opening around the upper part of your body. This is a great style hack to lengthen your body without adding more straight lines to your outfit.
Additionally, the curves from the heart-shaped neckline not only give your overall look a nice feminine touch but also visually lifts your bust area for a more contoured shape. Lighter colors and delicate floral prints would nicely complement your rectangle figure.
Wrap top
The wrap top is a heaven sent to the rectangle body type because it not only defines your waist, but also make you look feminine effortlessly.
Belted top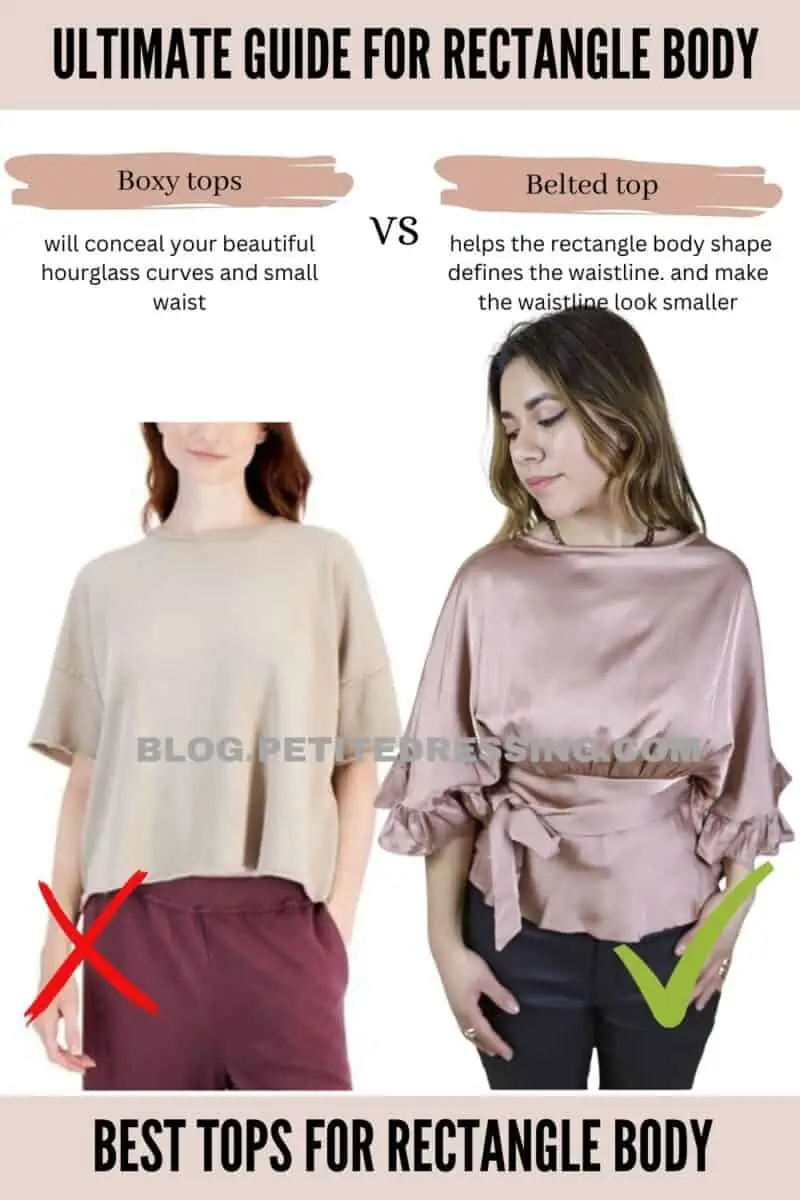 The belted top helps the rectangle body shape defines the waistline.
Tops with belted or gathered waists make your waistline look smaller. If they have fullness around the bust and hips then that will create the effect of a very feminine hourglass figure.
If you want to enhance the effect, wear a wide belt to further emphasize the waistline and a padded bra to draw more attention to your curves.
In fact, adding a belt to the outfit is one of Jane Fonda's favorite looks. Her signature look is to wear billowy tops that add volume to the bust with a snug fitting waist to balance out her athletic feature.
Structured top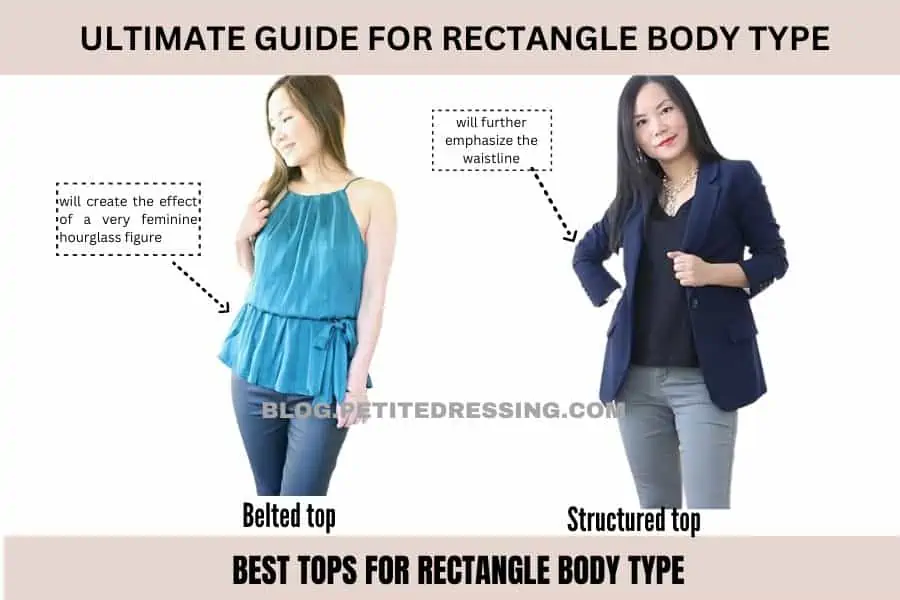 Jackets with full or structured shoulders and a nipped-in or belted waist enhance your waistline. Draw attention to your bust with pockets or details.
SKIRTS
Once again, the concept of adding shape is applicable when it comes to the best skirts for the rectangle body shape.
In addition, the rectangle shape should find skirts with details, seaming or pockets that add the illusion of curves to your hips.
Flounce skirt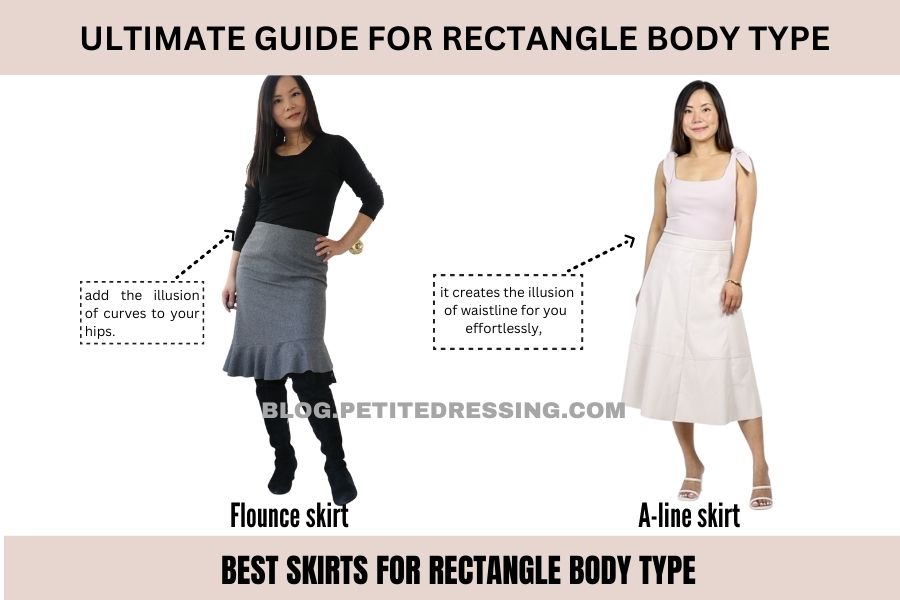 Remember how I mentioned the mermaid shape is the most feminine shape? The flounce skirt has the same concept. That's why they are one of the best skirts for the rectangle body shape.
Aline skirt
Similar to the fit and flare dress, the fit and flare skirt also adds the A shape to your bottom half to break up the straight line of your natural body. Better yet, because it flares out on your hips, it creates the illusion of waistline for you effortlessly,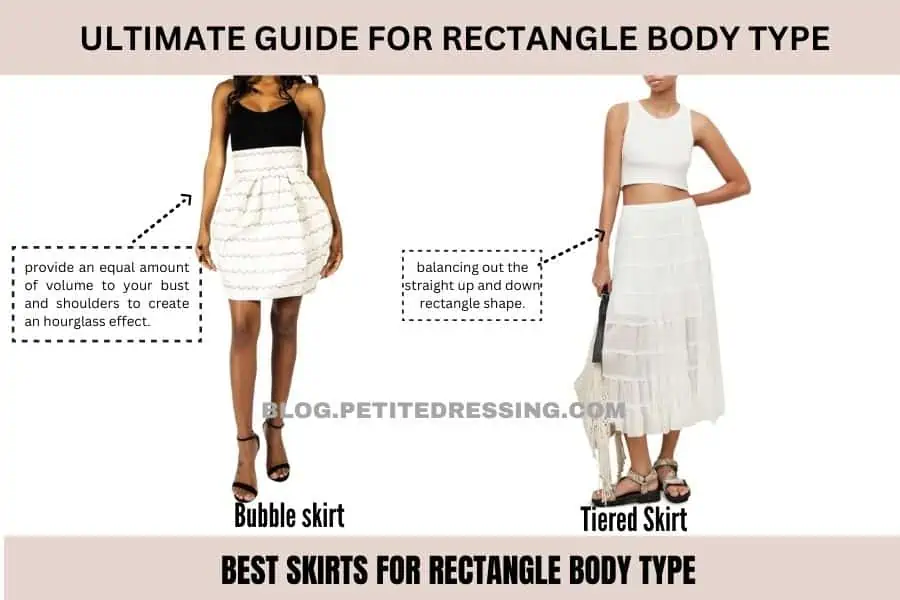 Bubble skirt

Choose full or bubble skirts of any length. Pair with shirts that provide an equal amount of volume to your bust and shoulders to create an hourglass effect.
Tiered Skirt
Tiered skirt is another interesting shape that will add more drama to your body, thus balancing out the straight up and down rectangle shape.
COATS
Ideally, your coat should either be hip-length or slightly below-the-knee length. Hip-length coats will add definition to your hips while long coats can help elongate your legs and highlight your slim figure.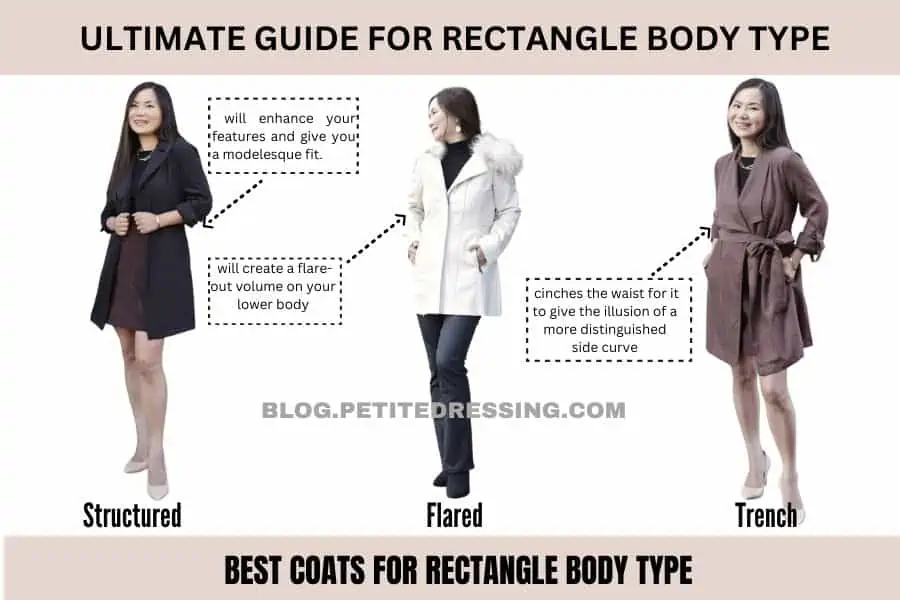 Structured
A structured or tailored coat is definitely a rectangle body shape must-have! Since rectangle body shapes mostly have lean bodies and an athletic build, a structured fit will enhance your features and give you a modelesque fit.
It amplifies the shoulders and skims more fitted by the bust and waist to give definition to your natural figure. You may opt for structured coats with big pockets or side flaps to distract attention from your straight up and down figure.
Flared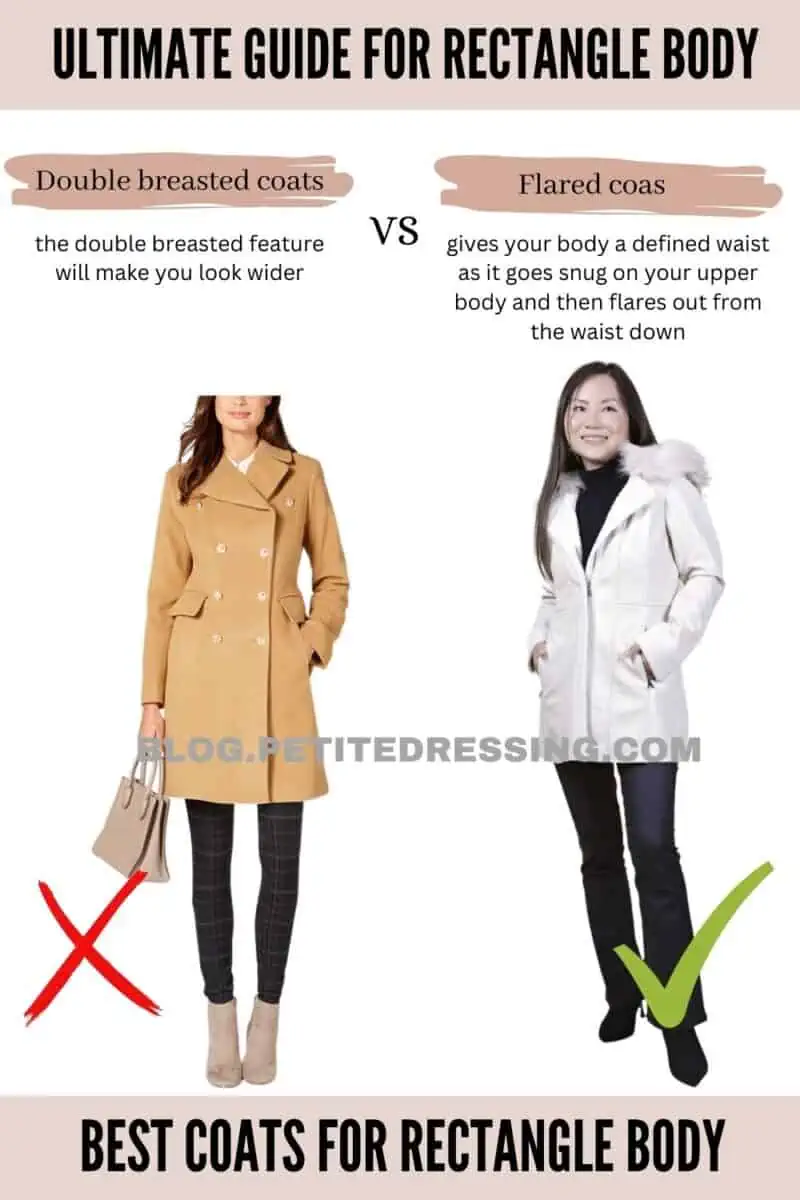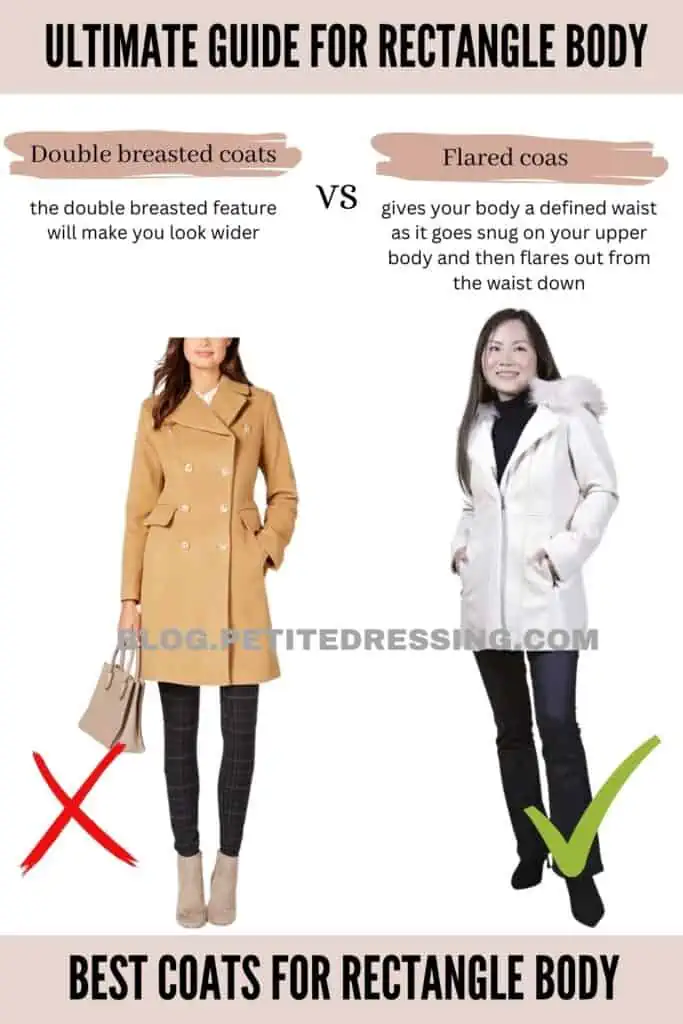 This strategically gives your body a defined waist as it goes snug on your upper body and then flares out from the waist down. The key here is to have the waist area secured with a belt or tight enclosure button/s.
Flared coats are best worn closed so the enclosure on the waist area will create a flare-out volume on your lower body. However, if you choose to wear your coat unbuttoned, it can still serve its purpose of defining your figure as it skims the sides of your body and flares on the sides of your hips.
Since flared coats are universally flattering for rectangle body shapes, you have the freedom to choose the design and colors you want. Although darker colors are ideal because it visually gives more depth to the overall look.
Trench
The details that trench coats have are very flattering on rectangle body shapes. Its huge collars, wide lapel, epaulets, and belt give rectangle figures a nice overall balance for a more evident feminine shape.
It creates a nice silhouette wherein the belt firmly cinches the waist for it to give the illusion of a more distinguished side curve. The oversized buttons can also help add more shape by neutralizing the straight lines of your rectangle-shaped body.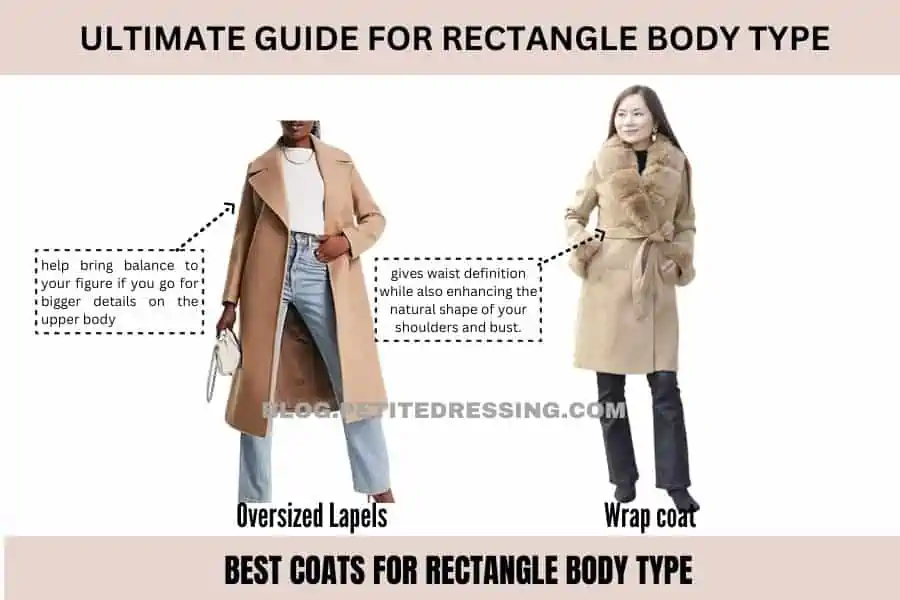 Oversized Lapels
Rectangle-shaped bodies have almost equally the same width of shoulders, bust, waist, and hips so it would help bring balance to your figure if you go for bigger details on the upper body. Coats with wide and oversized lapels visually add volume to your shoulders and bust to get rid of your body's straight line up to down.
Wide lapels are also quite timeless so you can definitely experiment with different looks with an oversized lapel coat. The size of the lapel will definitely attract attention so it'll be the visual key point of your outfit.
This will help distract the eyes from the lack of curves on rectangle-shaped bodies. Instead, it will create a visual illusion of a more defined silhouette.
Wrap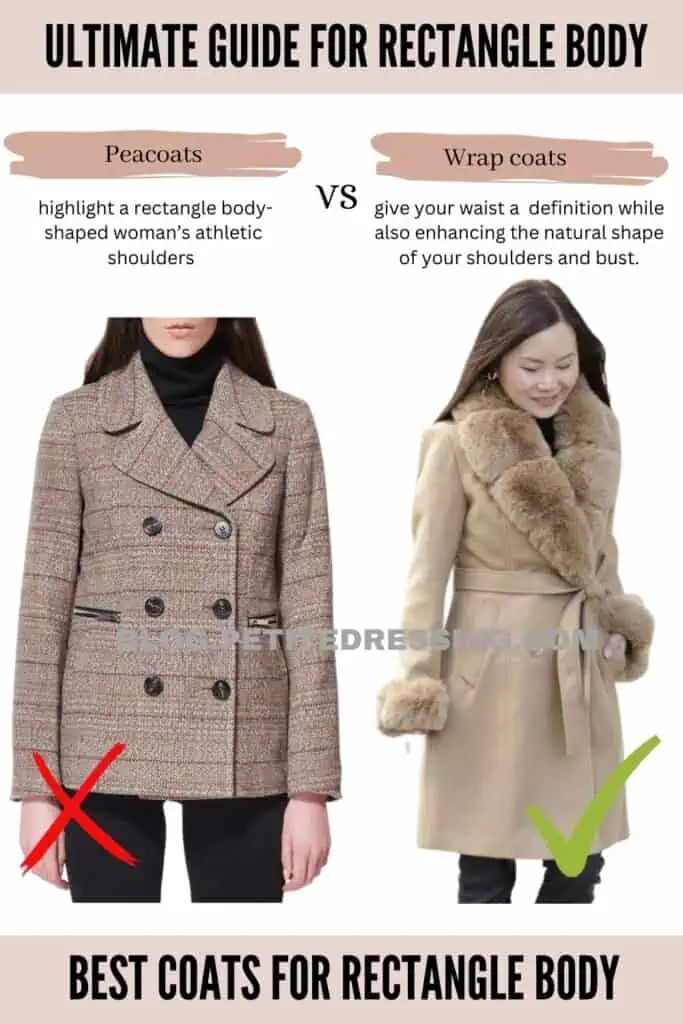 Wrap-style coats are very flattering on rectangle-shaped silhouettes due to their fitted upper half and tie waist belt. The tie belt hugs the waist securely to give it more definition while also enhancing the natural shape of your shoulders and bust.
Neutral-colored wrap coats would look amazing on rectangle body shapes because it subtly accentuates the figure with not too many embellishments going on. It's also quite effortless to style since it can look good on pretty much any clothing piece.
Caution with Pea Coat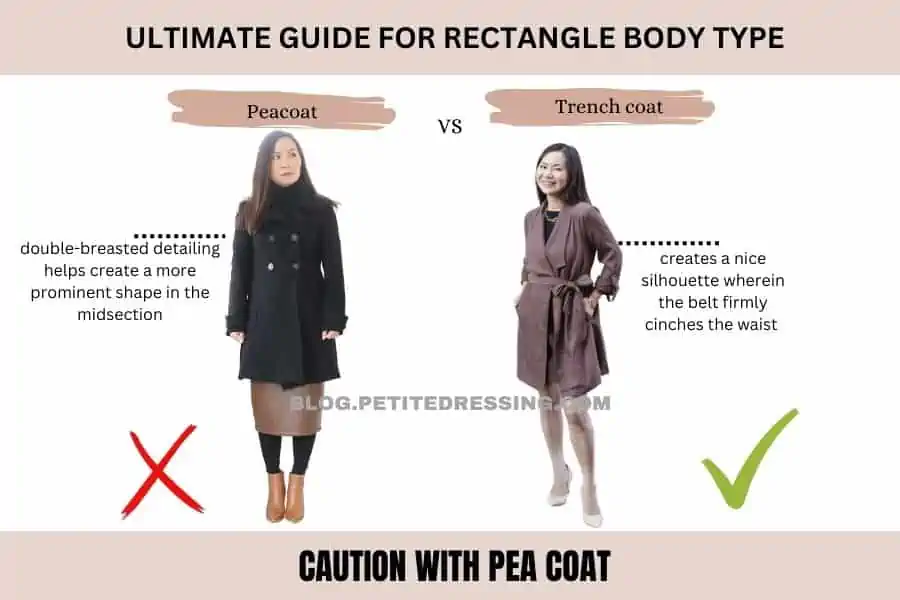 These are structured coats featuring a double-breasted silhouette with a very similar style to what sailors and navies wear. Pea coats can perfectly highlight a rectangle body-shaped woman's athletic shoulders which makes it a great go-to coat.
However, you need to be extra careful with pea coats because if you end up with a size that's too big, it may give you a boxy figure. The double-breasted detailing helps create a more prominent shape in the midsection by slightly cinching the waist so it's important to choose the right fit for this coat to serve such a purpose.
JACKETS
Avoid boxy silhouettes because they will not only hide your natural figure but will also make you look wider and bigger. The key to rocking your rectangle body figure with a jacket is to choose one that has flattering seams for added definition.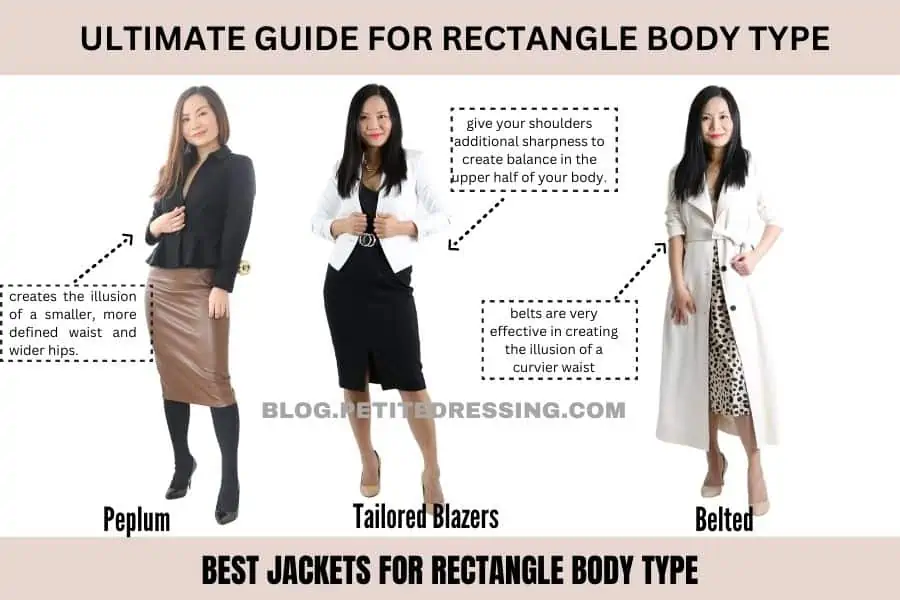 Peplum
Peplum jackets feature a short overskirt sewn around the waistline level. This type of fabric cut strategically creates the illusion of a smaller, more defined waist and wider hips.
The flare also gives a nice feminine touch to your entire style ensemble! If you're looking for a jacket or blazer to perfectly complement your skirts, trousers, or dresses, peplum jackets are the way to go.
Don't hesitate to go for those with a more dramatic flare. The bigger the flare, the more definition you get for your waist and hips.
Tailored Blazers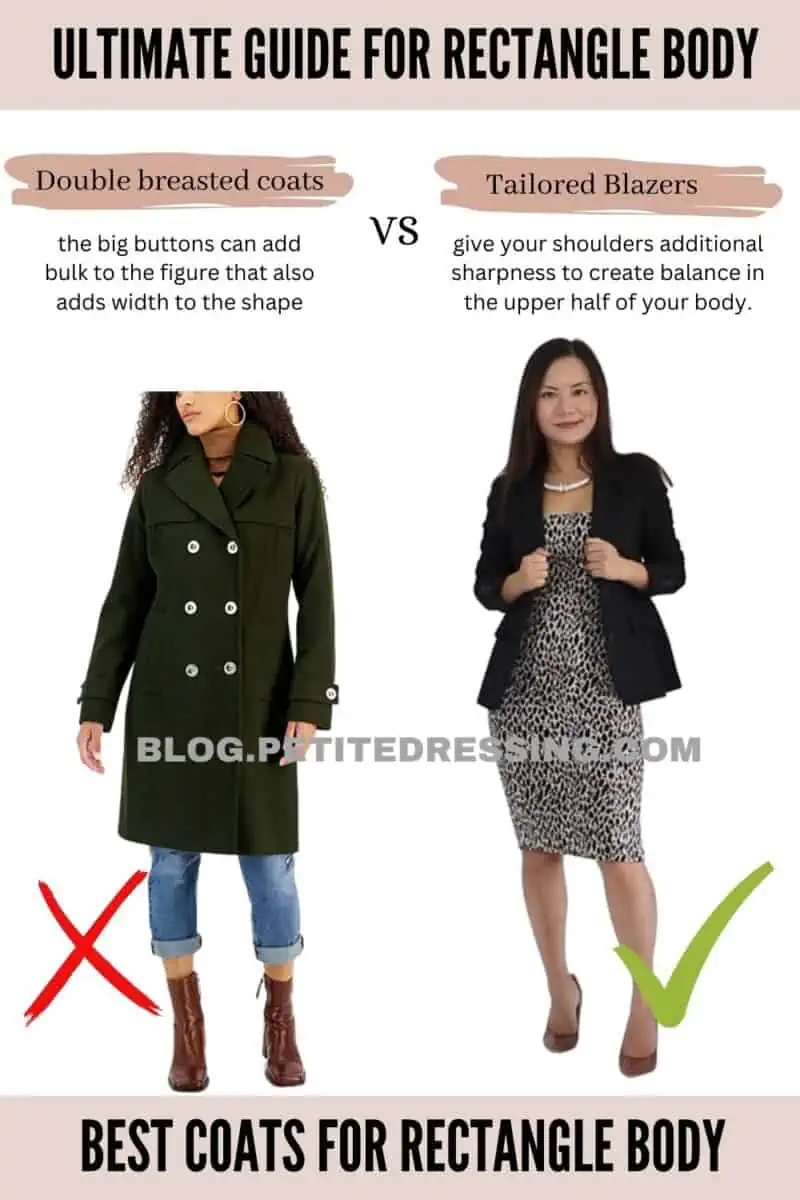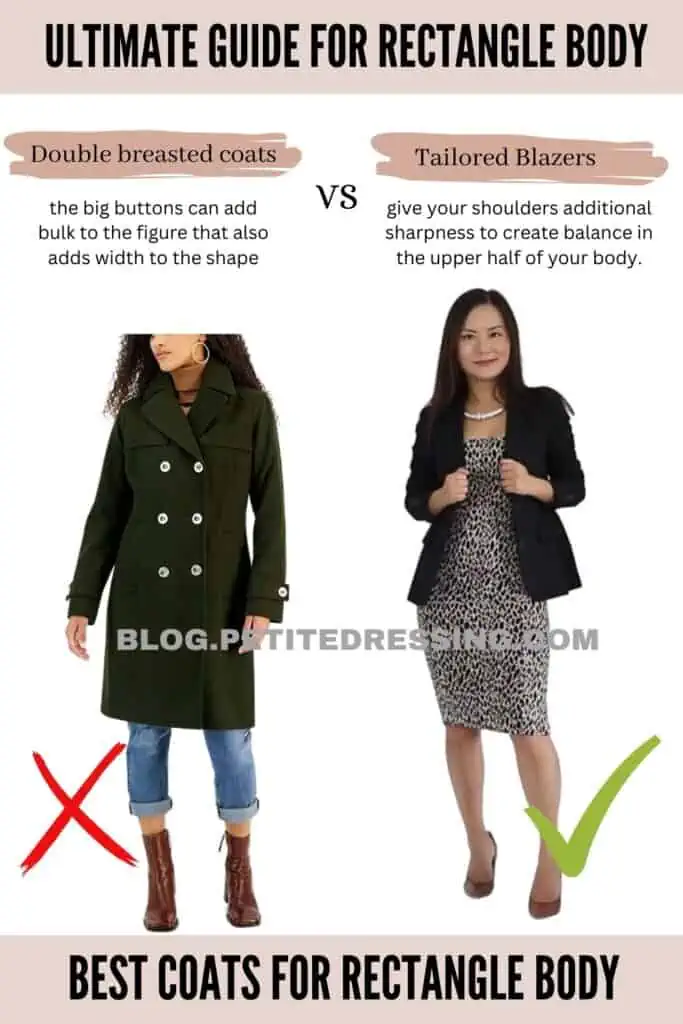 To give the visual illusion of curves from the bust to the waist, you may opt for blazers that have deliberate seams. Tailored blazers offer a snug fit right under the bust area all the way to the waist which highlights your lean body's best features.
The shoulder line is also one of the specialty features of tailored blazers because the seam along the shoulders is very structured. This will give your shoulders additional sharpness to create balance in the upper half of your body.
Belted
Since rectangle body shapes don't really have much waist definition, belts are very effective in creating the illusion of a curvier waist. A belt that's around 3 cm to 5 cm thick should be the most ideal to tightly cinch the waist.
The beauty of belted jackets is that you can play around with the belt adjustment to match your preference. Securing it tighter will give you a slimmer-looking waist or tie it a bit higher (around the midriff) to make your legs look longer.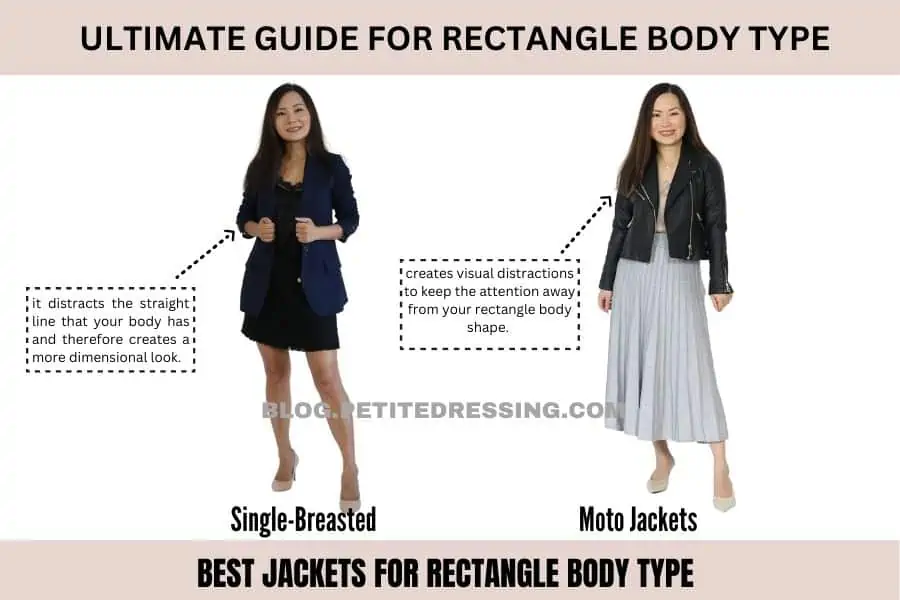 Single-Breasted
The single-button enclosure on this blazer is one quick and easy trick to draw emphasis to your waist. As it is fastened tightly around the waist area, it distracts the straight line that your body has and therefore creates a more dimensional look.
Single-breasted jackets are very versatile as it is one of the easiest wardrobe pieces to style. It's a nice touch to your everyday work wear or a sophisticated cover-up for your night dresses.
Moto Jackets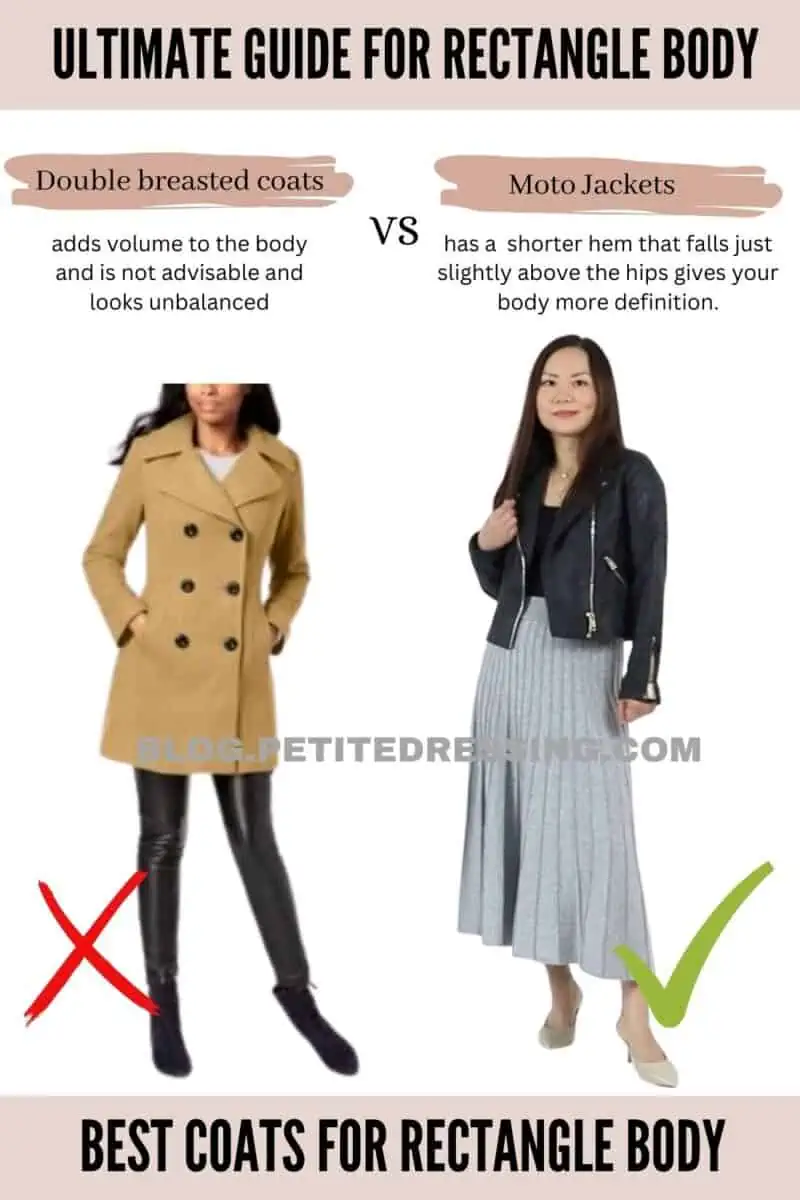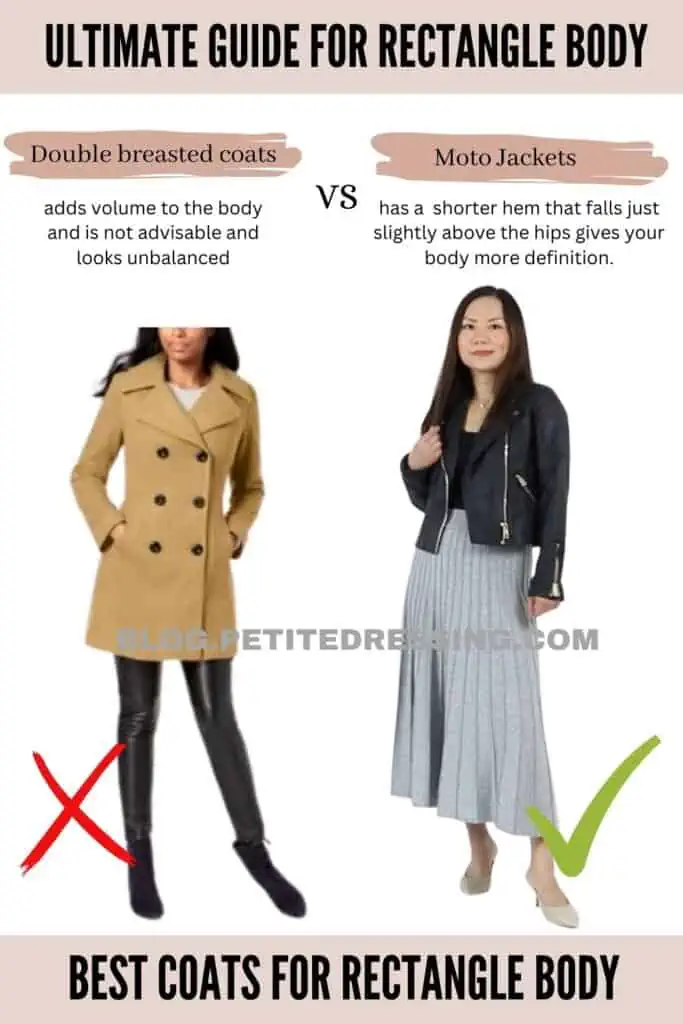 Motorcycle leather jackets are not only very flattering for rectangle body shapes but also an extremely edgy fashion piece that instantly amplifies your look! The shorter hem that falls just slightly above the hips gives your body more definition.
Additionally, the zippers, buckles, and metal fasteners balance the look by creating visual distractions to keep the attention away from the straight up and down lines on your rectangle body shape.
Moto jackets work great both when worn open or closed. However, fully closing your moto jacket gives a snug fit which is more ideal if you'd like to look curvier.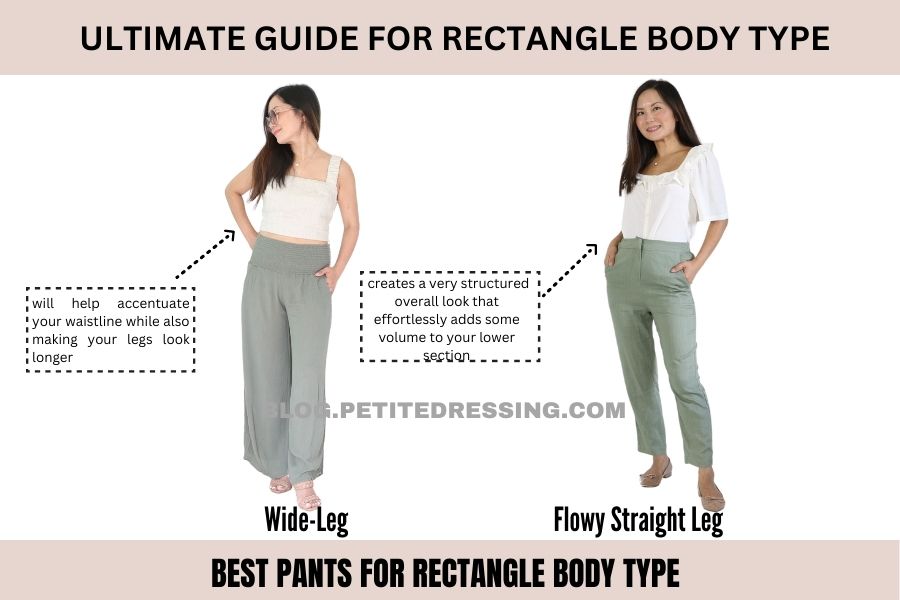 PANTS
The goal is to look for a pair of pants that will subtly add more volume to the lower body, most particularly the hips and the buttocks. Your strength would be your slim and long legs so your pants should enhance this best feature.
Wide-Leg
Mid-rise wide-leg pants will help accentuate your waistline while also making your legs look longer. And because it offers more volume, the lower body looks more proportionate with the upper body.
The key to properly choosing your wide-leg trousers would be the fabric.
Avoid thick fabrics because they tend to give you a boxy look that would only make the lack of your curves more apparent. Flowy wide-leg pants are ideal because the way it flawlessly skims the legs breaks the straight line of a rectangle body shape.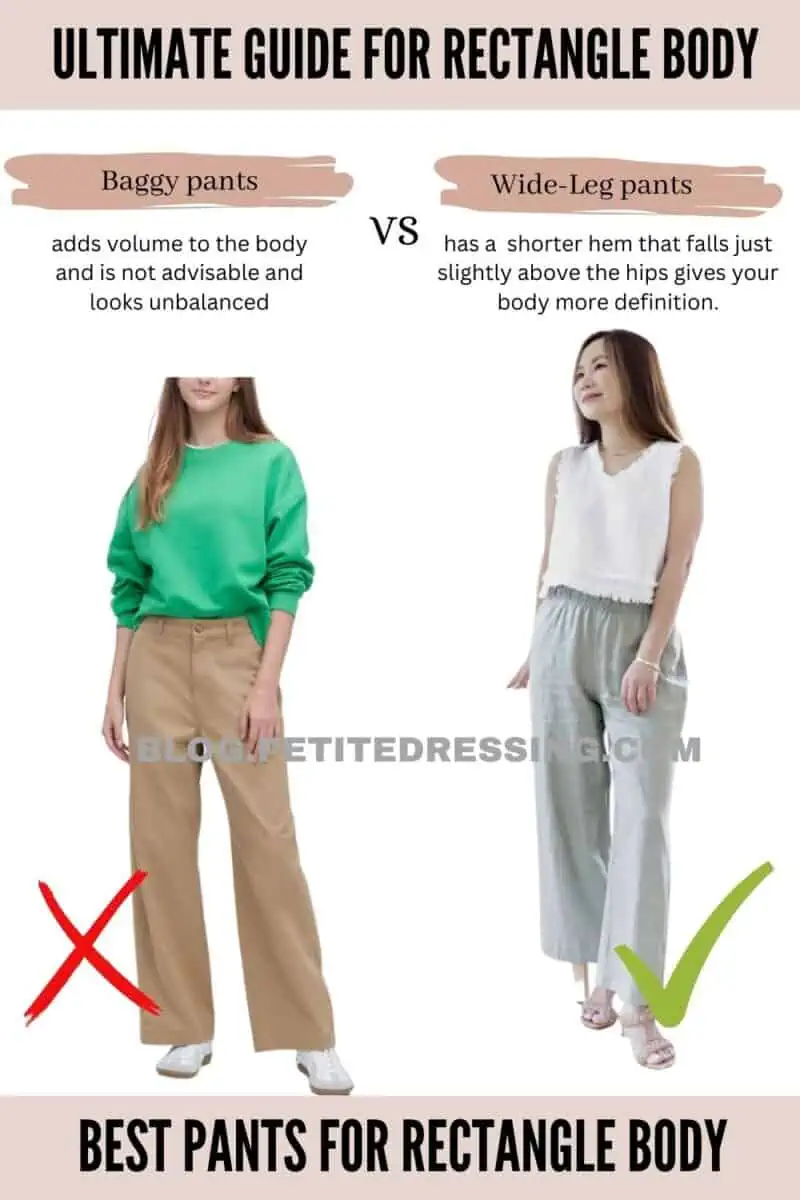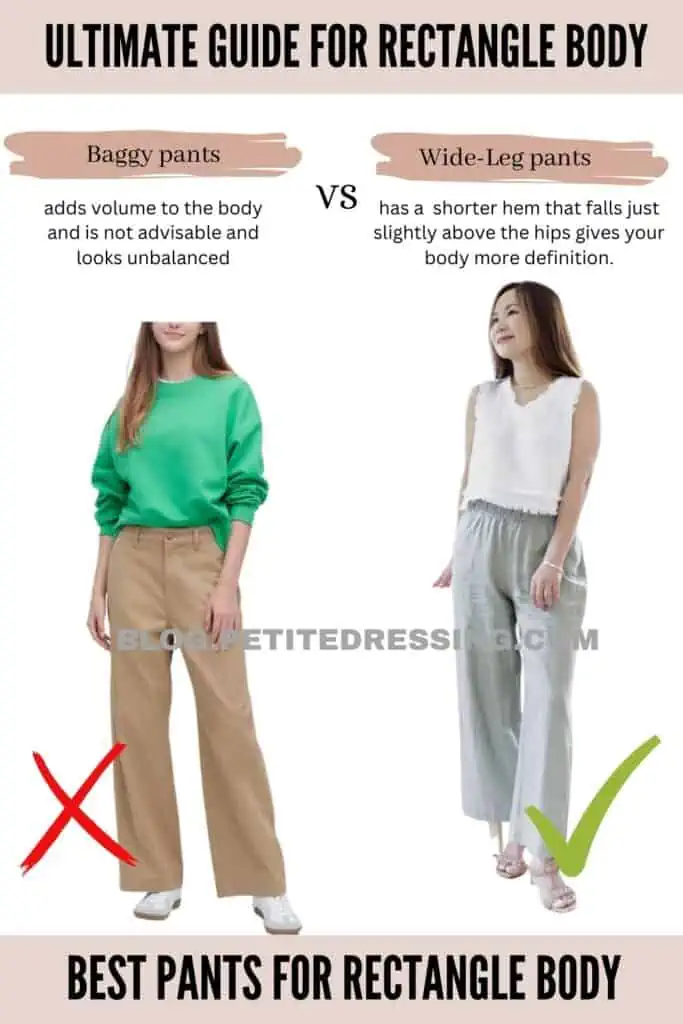 Flowy Straight Leg
If you want something that offers the comfort of wide-leg pants but skims slightly tighter like skinny pants, flowy straight-leg trousers should be your best option.
It features a comfy fit that's not too loose or too tight. This relaxed fit creates a very structured overall look that effortlessly adds some volume to your buttocks and hips and elongates your legs.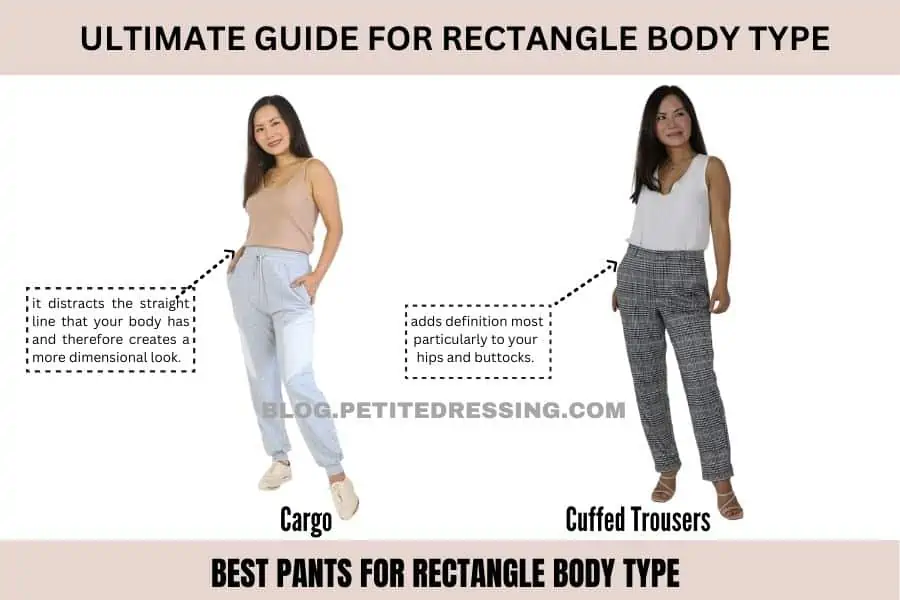 Cargo
It pretty much serves the same principle as harem pants by adding more volume to the lower body. As for cargo pants, their bulky pockets can create a more prominent shape on the sides and back of your lower body.
Its pockets usually have overlap buttons that visibly add volume to your figure. If you're into street-style fashion, you are going to love cargo pants for your rectangle-shaped body!
Cuffed Trousers
The cuffs at the bottom of the pant leg are great in drawing emphasis to the natural shape of your lengths. As the fit naturally skims your lower body, this also adds definition most particularly to your hips and buttocks.
What you need to be careful with is the length of the cuffed trousers you'll go with. Try to go for a pair that ends just right above the ankle (around 4 cm to 8 cm gap).
Going for the right length will help elongate the appearance of your legs. It will also create better proportions to neutralize the longer torso that most rectangle-shaped bodies have.
SWIMSUIT
Rectangle body shapes can look great in swimsuits because of their athletic features! The key to making your figure stand out is to look for swimsuits that create curvy lines for better body definition.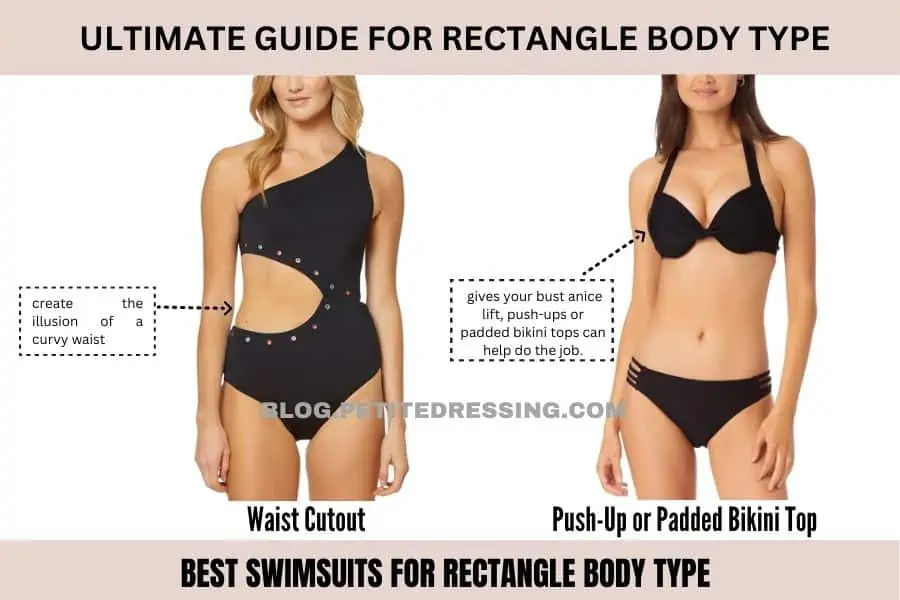 Waist Cutout
Rectangle body shapes have little to almost no waist definition so if you'd like to create the illusion of a curvy waist, go for cutout designs! One-piece swimsuits that scoop a cutout design on the sides of the waist can help you achieve this look.
The cutout can feature laces or straps. You can opt for skimpy monokinis for this to enhance your figure.
Push-Up or Padded Bikini Top
Another feature that rectangle body shapes have would be a small or flat bust. To be honest, this is nothing to be conscious about but if you'd like to give them a nice lift, push-ups or padded bikini tops can help do the job.
The key is to choose a bikini top that fits perfectly well. Wired push-ups tend to be uncomfortable when the fit is not right so make sure that the fit is not too loose nor too snug.
Ruffled Bikini Top and Bottom
Ruffles and other types of fabric flounces will instantly add volume and depth to your figure. Going for ruffles on your bust and the hip area will give your overall look more shape and balance.
This style will also make your waist appear smaller and more defined. You can play with colors and prints for this style because it's universally flattering for rectangle body shapes!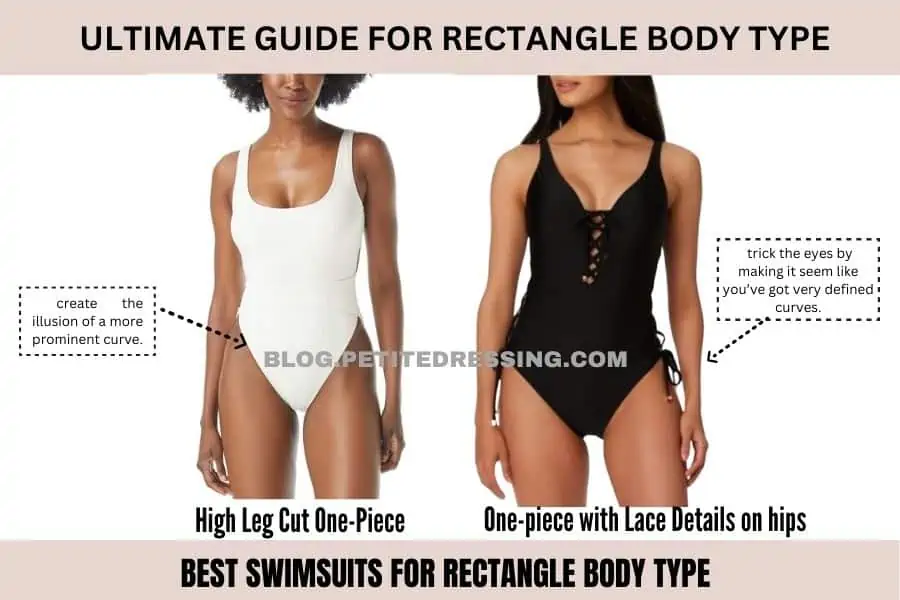 High Leg Cut One-Piece
Baring your hips is also a very efficient way to create the illusion of a more prominent curve. This will make your hips appear wider and your waist smaller.
Since high-leg cuts already draw much attention on their own, you may want to opt for plain colors or subtle prints when choosing a design.
One-piece with Lace Details on hips
Just like the styling principle of high-leg cut swimsuits, one-piece swimsuits that feature lace details on the sides of the hips also trick the eyes by making it seem like you've got very defined curves.
This is another option if you want a sexier or a bit more daring piece!
SHOES
The goal is to create more curves for a dimensional and balanced look. Go for a pair of shoes that will break the straight lines of a rectangle body shape.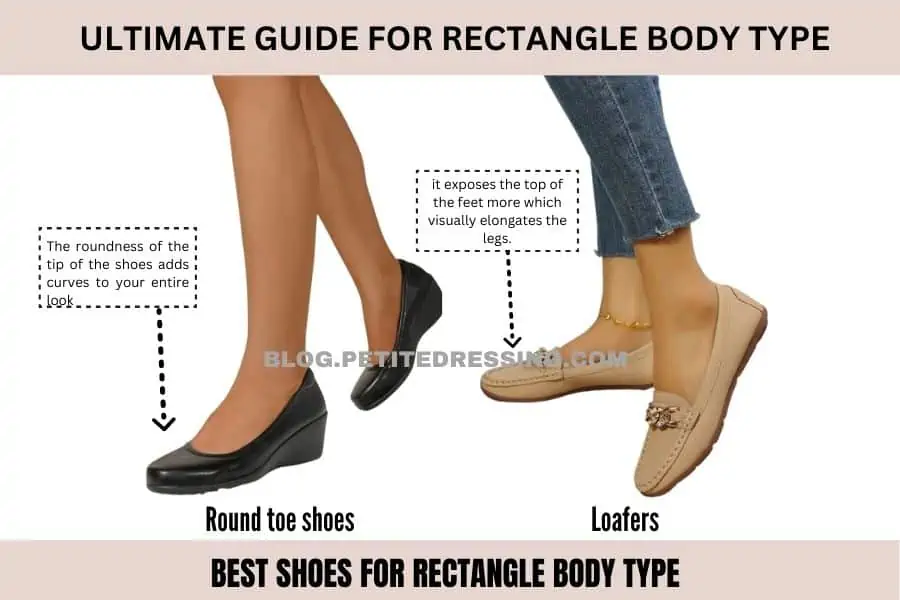 Round toe shoes
Ballerina shoes, ugg boots, and round sandals are perfect examples of round toe shoes. The roundness of the tip of the shoes adds curves to your entire look and therefore eliminates the appearance of very straight lines.
Loafers
Loafers are a good option too because of their roundness. Since loafers are low and laceless, it exposes the top of the feet more which visually elongates the legs.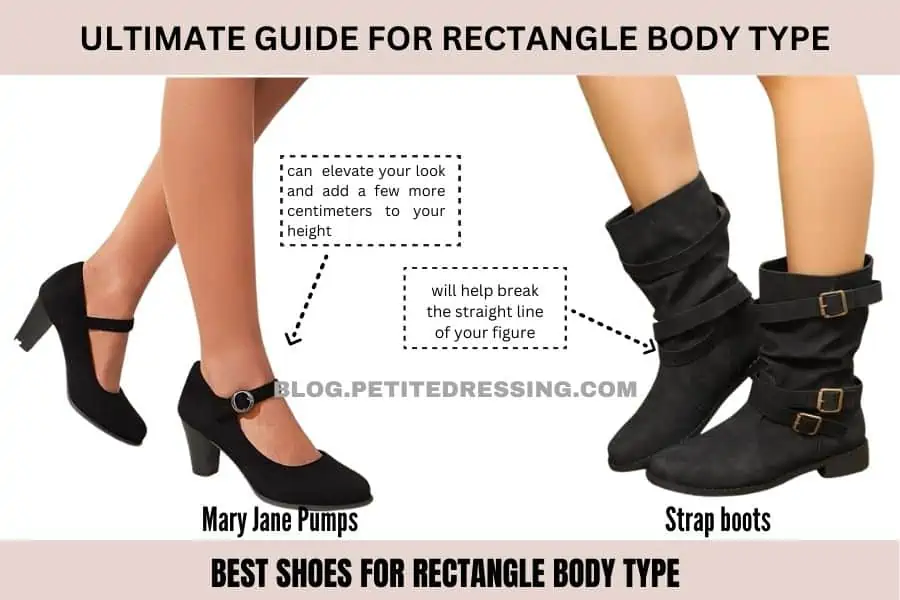 Mary Jane Pumps
If you would like to elevate your look and add a few more centimeters to your height, Mary Jane pumps would perfectly complement your rectangle body figure. The round tip and typically chunky heels of Mary Janes help draw more curves and dimensions to your look.
Strap boots
Boots that feature strap details balance out the athletic vibe that your rectangle body shape has. It sneaks in a bit of a feminine touch while still keeping the edginess of your look!
The strap details will also help break the straight line of your figure. You can opt for ankle-length or calf-length boots since these will also highlight your slender legs.
Rectangle Shaped Celebrities
I have always felt the best way to understand what works on a certain body shape and what doesn't is by observing real life examples. So, who are the rectangle shaped celebs?
As I mentioned, the rectangle shape is known as the model shape. As you can imagine, a lot of the famous models we have heard of have the rectangle body type. That means, if you happen to be a slender rectangle shape, you will have similar body type as the super models like
The list goes on and on.
Not just models, there are also plenty of Hollywood actresses with the rectangle body type. My favorites are Kim Cattrall and Kate Hudson, both very well dressed ladies!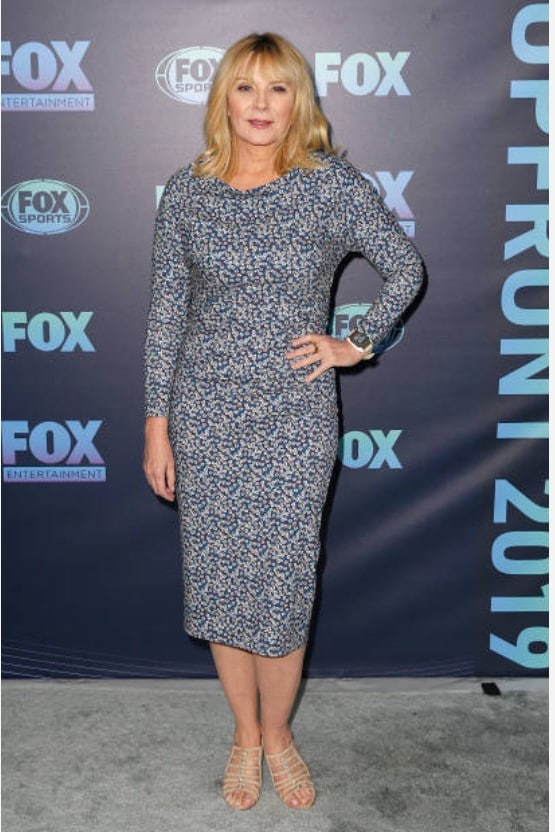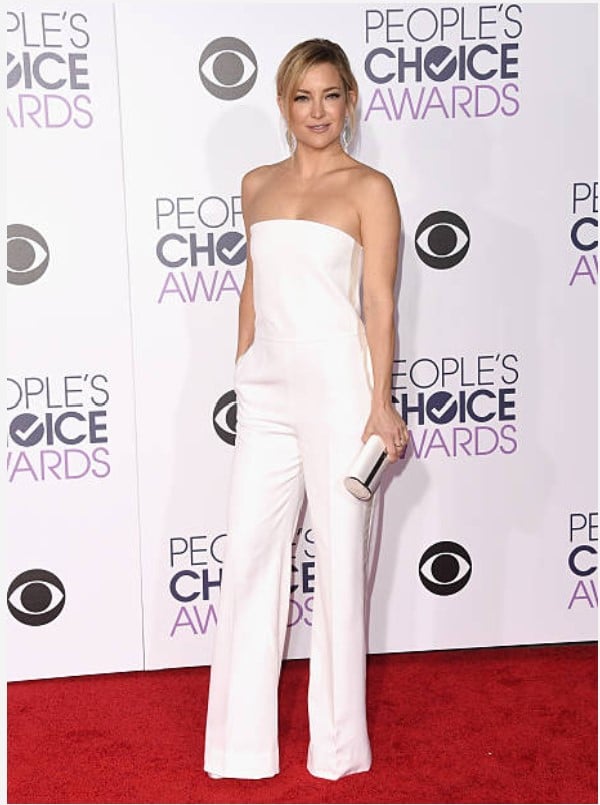 If you are over 50, Jane Fonda is an amazing actress with a rectangle body type. Even though she is in her 80s, she still keeps stunning us with her fashionable looks on or off the red carpet. I am in love with her style, and you should look her up to find some style inspiration too.