Do you have rectangle shape? You are very lucky because you have the shape of the models!
There are many different ways to call the rectangle body shape. Some people call this pencil body shape, banana shape, H shape, or straight body shape. Regardless how it is labeled, the key is that you do not have much curves. In other words, you come across as straight up and down.
Can the rectangle shape have full bust? Totally possible. Even though many rectangle shaped women have small bust, it's not uncommon for some to have big breasts. Then how do you know you are not a rectangle shape not an apple shape, since both do not have much waist definition?
I will talk about this in a minute. First things first, let me start with
What is Rectangle Body Shape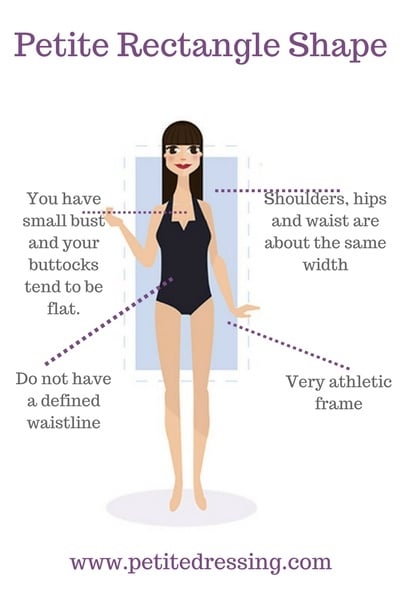 If you have a rectangle shape, you generally have the following body traits:
You have a very athletic frame.
Your hips, waistline and shoulders are pretty close in terms of width.
You have little to no waist definition.
You may feel like you look straight up and down.
You gain weight evenly, but may gain more weight through the upper back or neck.
You tend to have flatter buttocks
In one word, the rectangle shape women have a "boyish figure".
I have summarized the key points of how to dress the rectangle body type in this video. After you watch this video, I highly recommend you read the full post get all the details.
Now, what about the rectangle with full chest?
This post may contain affiliate links, which means we earn a small commission (at no cost to you) if you follow the links and make a qualified purchase, which enables us to keep creating amazing free content for you. Thanks! Click here to learn more.
Rectangle vs Apple
It is totally possible for the rectangle shaped body to have full chest. Even though a lot of rectangle shaped women like the super models I am about to tell you across as bony instead of flesh, there are some rectangle shaped ladies who do have full chest.
So, sometimes she might be wondering am I an apple shape or rectangle shape?
Even though both rectangle body type and apple body type do not have waists definition, the main difference is that apple body type always gain weight on the stomach first.
Also, the apple shape tend to have a protruding stomach when they gain weight, whereas the rectangle will just look like a fuller rectangle.
Last but not the least, apple shaped women tend to have round butt, but the rectangle shape typically has flatter butt.
Rectangle shaped celebrities
I have always felt the best way to understand what works on a certain body shape and what doesn't is by observing real life examples. So, who are the rectangle shaped celebs?
As I mentioned, the rectangle shape is known as the model shape. As you can imagine, a lot of the famous models we have heard of have the rectangle body type. That means, if you happen to be a slender rectangle shape, you will have similar body type as the super models like
The list goes on and on.
Not just models, there are also plenty of Hollywood actresses with the rectangle body type. My favorites are Kim Cattrall and Kate Hudson, both very well dressed ladies!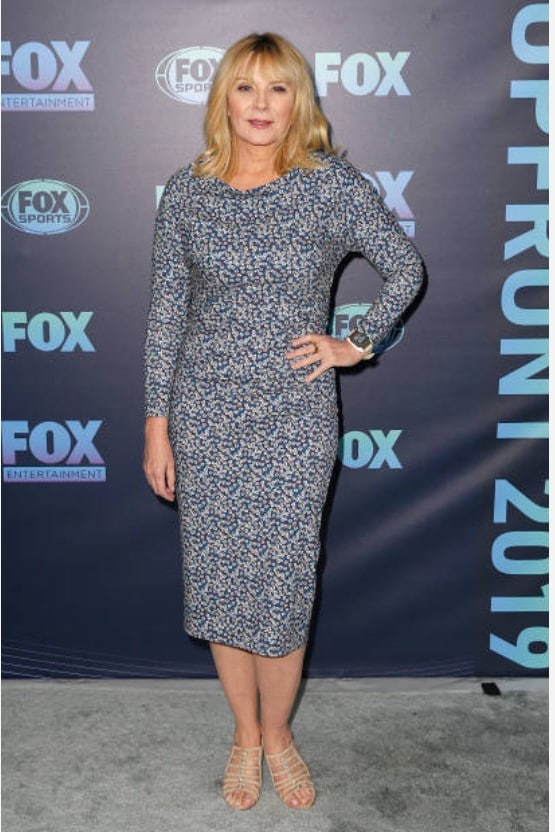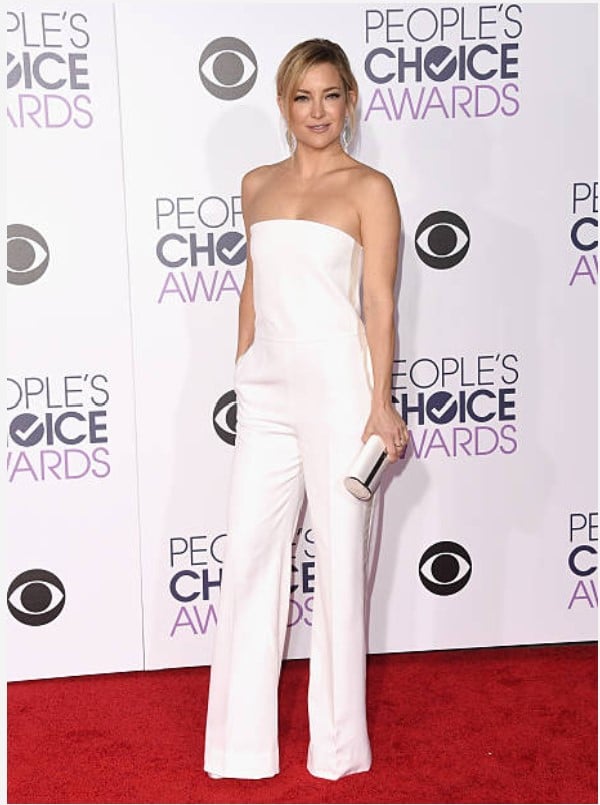 If you are over 50, Jane Fonda is an amazing actress with a rectangle body type. Even though she is in her 80s, she still keeps stunning us with her fashionable looks on or off the red carpet. I am in love with her style, and you should look her up to find some style inspiration too.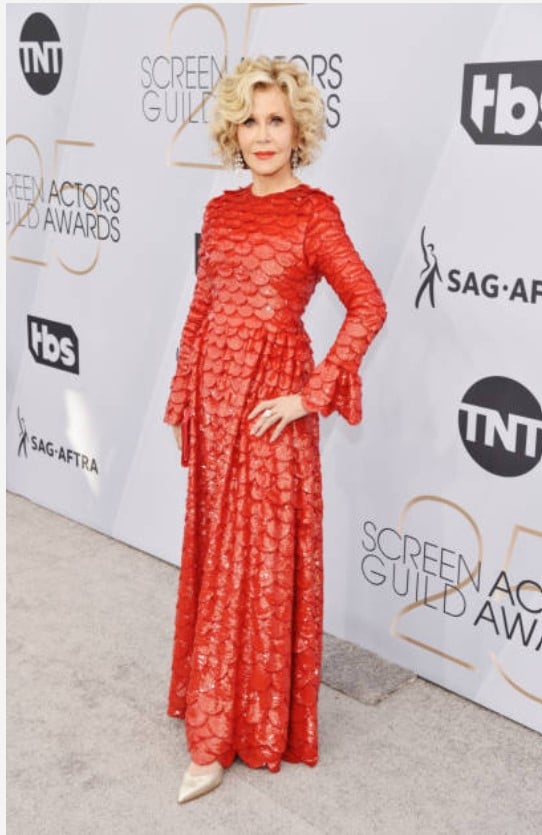 What is your strengths and weaknesses?
Each body type has its own strengths and weaknesses. With the rectangle shape, what I wanted to mention is that your strength may happen to be also your weakness. Does that sound confusing? I don't blame you, but I will tell you why in a second.
Many stylists talk about rectangle body shape as the easiest to dress body type, which is why the fashion industry prefers models to be the rectangle shape.
The rationale?
Because the rectangle shape does not have much curves, this body type is similar to a dress form, which is how the clothes are made according to.
What that means is that almost ANY clothes would look good on you. That is definitely your big advantage as a rectangle shape.
However, it is one thing to walk down the runway and make every piece of clothing look flawless, it is another thing that you want to look straight up and down in everyday life. In fact, the lack of curves may happen to be the one thing that most rectangle shaped girls are trying very hard to camouflage.
So, there you go, your strength and weakness is quite obvious- depending on how you look at it!
A typical rectangle body shape has an athletic build and long and lean legs, one of your best assets. Featuring Kelly, 5'3″, follow her on Instagram.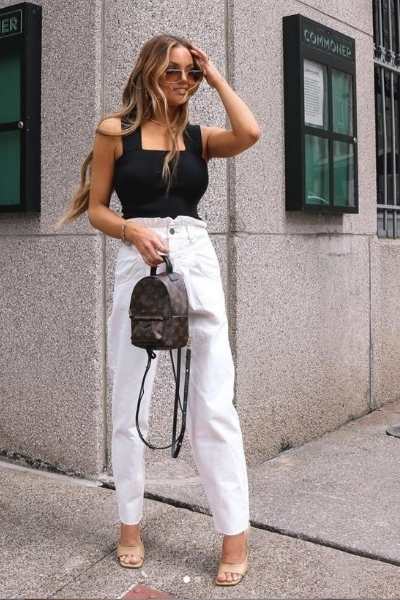 How to Style a Rectangle Body Type
Whether you are looking for a coat, dress, or jeans, if there is only one word you remember on the best outfit for rectangle body type after reading this post, then it has to be "shapes"!
You need to add interesting shapes to your body to break up that straight up and down rectangle.
This concept applies to your top, outerwear, your pants, jeans and dresses. Basically anything you are looking to wear, first take a look at the shape.
When you add shapes to your body, that creates an illusion of curves thus making your boyish shape look more voluptuous through what you wear.
To create the illusion of curves is to make the waist look smaller and butt look fuller. Asymmetrical styles give a natural waistline. The asymmetrical dress gives that visual break adding volume and balance. One shoulder shirts and dresses give lightness to the look.
Best Dresses for Rectangle Body Type
In general, shorter length always looks great on rectangle body type. You are most likely to have long and lean legs, so you should not hesitate to show off those assets through mini dresses and high heels.
Now, what kind of dresses add shape to the rectangle body?
Color blocking dresses
The easiest way for the rectangle shaped women to add shapes is through wearing a color blocking dress. When the dress has color blocks with strong contrast with one another, it naturally leads people to believe you naturally got those contrast and thus breaks up the up and down shape of the rectangle
A-line dresses
This is the most universally flattering shape of all dresses. It suits almost any body types, and the wonderful part is for each body type, it is flattering for a different reason- I find that quite fascinating.
The A line dress has the silhouette of an A, as suggested by the name. That is why it is a very flattering dress for the rectangle body type.
If you happen to be a plus size rectangle shape, the A line dress can define your waist without drawing too much attention to your mid section. They are absolutely wonderful for your shape.
Wrap dresses
They hug your body and create the nice feminine curve, while making you look taller at the same time. Wrap dress accentuates cleavage and waistline, which visually adds curves to the look. Bold prints give a voluptuous illusion.
Peplum dresses
The peplum dress looks good on the rectangle body shape, because it call attention to the waistline, giving more balance to the look.
Since you don't have a naturally defined waist, the peplum dress will create the illusion of the waist for you with the way it flares out right above your hips.

Mermaid shape dress
Both Kim Cattrall and Kate Hudson LOVE to wear mermaid shape gowns on the red carpet. The reason is quite obvious. Nothing is more feminine that the mermaid shape. If you want to add curves to the rectangle shaped body, then you got to give the mermaid dresses a try!
Not just the mermaid gowns, but also daily dresses with the mermaid cut will also look very flattering to the rectangle shape who want to look more "womanly".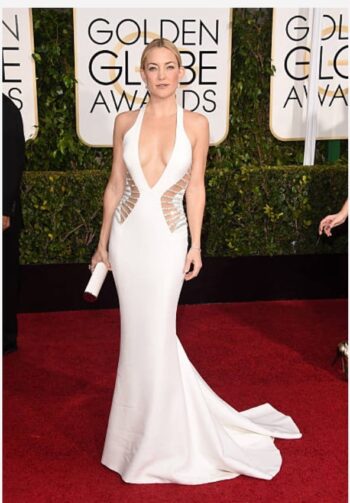 One shoulder dresses
Whenever the dress breaks the regular shape, that is going to add drama to your outfit, which is exactly what the rectangle body needs. Kate Hudson is an expert of using asymmetric neckline such as the one shoulder dress to flatter her rectangle body type.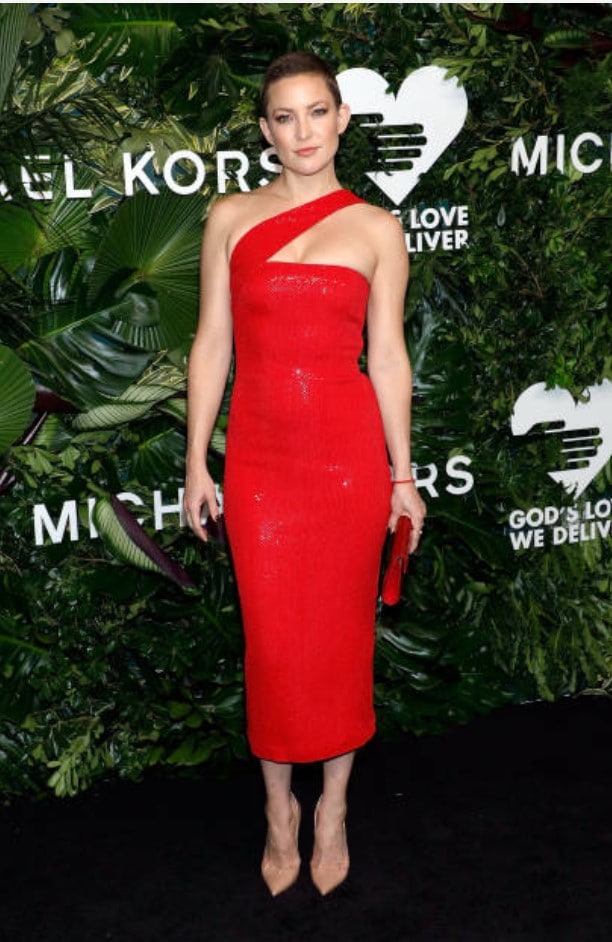 Best Jeans for Rectangle Shape
As I mentioned, one of your best assets that most rectangle shape have is slender and firm legs, so jeans is your chance to really make your assets stand out!

Even though your athletic build allows you many choices when it comes to jeans, I highly recommend you look for jeans that adds shapes! How does that apply to jeans? I'm about to give you the specifics.
Flare jeans
The flared jeans undoubtedly is the most flattering leg shape for any body types. The cut can effortlessly make anyone's legs look longer instantly.
As a rectangle body shape which is blessed with long legs, making them look even longer may not be your top priority, but they do add shapes to your legs and balance out your straight body.
Choose flare jeans with a wide waist band to create the illusion of a defined waist.
Bootcut jeans
Boot cut jeans is the cousin of flare jeans, but it has a less dramatic flare. The boot cut is tailored so that the leg shape under the knees gradually flares out, but just enough to accommodate a boot under it.
Jeans with pocket details
If you prefer more feminine style, for instance, you want your buttocks to look less flat, then the best jeans for you are those with pocket details.
Pockets with flaps will add extra volume and will make your butt look less flat. Slit pockets also help to give you more curves back. Whiskering at the hips will add the illusion of curvier hips and will add fullness to your bottom.
Boyfriend jeans or not?
Boyfriend jeans might look good on you, given your athletic frame. I'm not against you wearing boyfriend jeans, because after all they are loosely fitted so they are more comfortable, especially if when you are outdoors or doing chores around the yard.
Because they are relaxed fitted, they do not add curves to your butt. Just keep in mind that boyfriend jeans are not as feminine as the other leg shape jeans I mentioned earlier.
Best Tops for Rectangle Shaped Body
So, your goal here is to create curves through the tops you wear. In general, add flutter or princess sleeves for a more dramatic effect will look great on you. Shirts with a fitted waist and embellishments around the bust and shoulders will give you a more curvaceous appearance.
Wrap top
The wrap top is a heaven sent to the rectangle body type because it not only defines your waist, but also make you look feminine effortlessly.
Belted top
The belted top helps the rectangle body shape defines the waist line.
Tops with belted or gathered waists make your waistline look smaller. If they have fullness around the bust and hips then that will create the effect of a very feminine hourglass figure.
If you want to enhance the effect, wear a wide belt to further emphasize the waist line and padded bra to draw more attention to your curves.
In fact, adding a belt to the outfit is one of Jane Fonda's favorite looks. Her signature look is to wear billowy tops that add volume to the bust with a snug fitting waist to balance out her athletic feature.
Structured top
Jackets with full or structured shoulders and a nipped-in or belted waist enhance your waistline. Draw attention to your bust with pockets or details.
Best Skirts for Rectangle Body Shape
Once again, the concept of adding shape is applicable when it comes to the best skirts for the rectangle body shape.
In addition, the rectangle shape should find skirts with details, seaming or pockets that add the illusion of curves to your hips.
Flounce skirt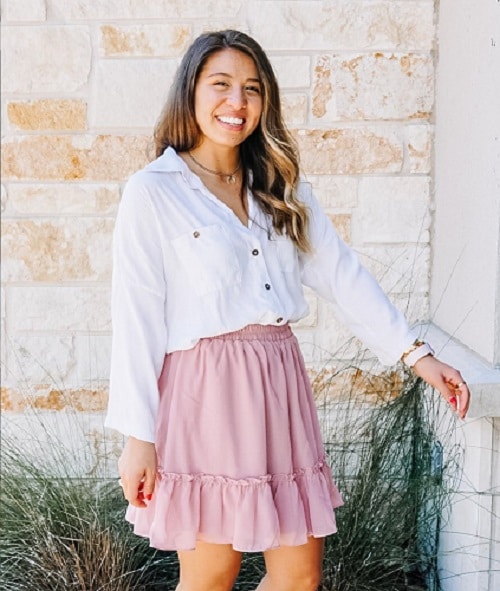 Remember how I mentioned the mermaid shape is the most feminine shape? The flounce skirt has the same concept. That's why they are one of the best skirts for the rectangle body shape.
Aline skirt
Similar to the fit and flare dress, the fit and flare skirt also adds the A shape to your bottom half to break up the straight line of your natural body. Better yet, because it flares out on your hips, it creates the illusion of waistline for you effortlessly,
Bubble skirt

Choose full or bubble skirts of any length. Pair with shirts that provide an equal amount of volume to your bust and shoulders to create an hourglass effect.
Tiered Skirt
Tiered skirt is another interesting shape that will add more drama to your body, thus balancing out the straight up and down rectangle shape.