Do you have rectangle body shape?  Wondering how you should dress to flatter your particular body type? What if you are also short, are there styling tips particularly for petite women? You have come to the right place! I will cover all of these in this post.
There are many different ways to call the rectangle body shape. Some people call this pencil body shape, banana shape, H shape, or straight body shape. Regardless how it is labeled, the key is that you do not have much curves. In other words, you come across as straight up and down. 
Do you feel like that is you? If you are not sure, read the following.
What is Rectangle Body Shape
First things first, let's take a look at what is a rectangle shape.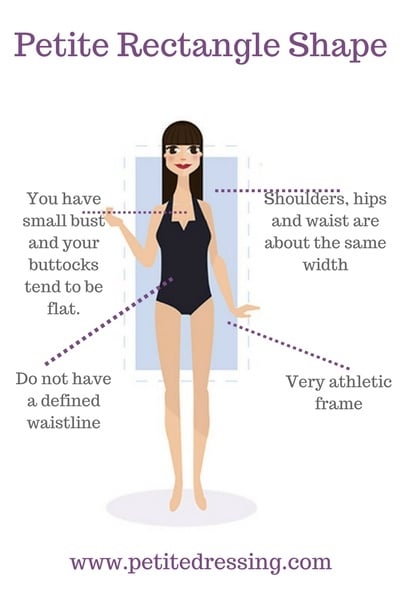 If you have a rectangle shape, you generally have the following body traits:
If you are petite rectangle shape, you have a very athletic frame.
Your hips, waistline and shoulders are pretty close in terms of width.
You have little to no waist definition.
You may feel like you look straight up and down.
You gain weight evenly, but may gain more weight through the upper back or neck.
On the other hand, you have small bust and your buttocks tend to be flat.
In one word, petite rectangle shape women have a "boyish figure", and above are the typical features of petite body shape. 
However, because human body have some many different variations, most likely not one body would fit into all features of one body type.  If you feel like you have some but not all of the traits above, it is possible you are a combination of inverted triangle and other body types. 
Rectangle shaped celebrities
I have always felt the best way to understand what works on a certain body shape and what doesn't is by observing real life examples. So, who are the rectangle shaped celebs?
One thing you may have heard of is that the rectangle body shape is also known as the model shape. That means, if you happen to be a slender rectangle shape, you will have similar body type as the super models like Miranda Kerr and Kendall Jenner .
What if you are petite (short)? There is still plenty of petite actresses with rectangle shaped body. Natalie Portman, Sarah Jessica Parker, Nicole Richie, and Reese Witherspooon amongst the most famous of Hollywood.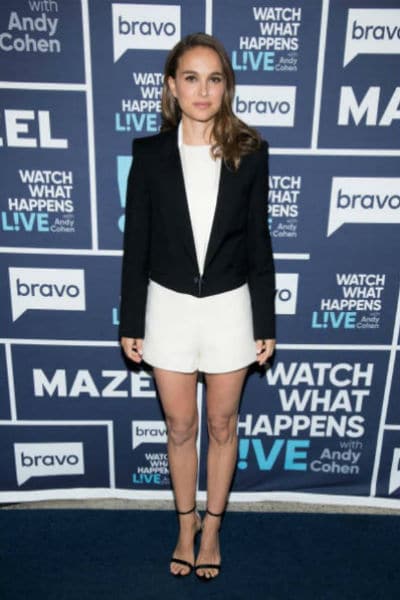 What is your strengths and weaknesses?
Each body type has its own strengths and weaknesses. With the rectangle shape, what I wanted to mention is that your strength may happen to be also your weakness. Does that sound confusing? I don't blame you, but I will tell you why in a second.
Many stylists talk about rectangle body shape as the easiest to dress body type, which is why the fashion industry prefers models to be the rectangle shape.
The rationale?
Because the rectangle shape does not have much curves, this body type is similar to a dress form, which is how the clothes are made according to.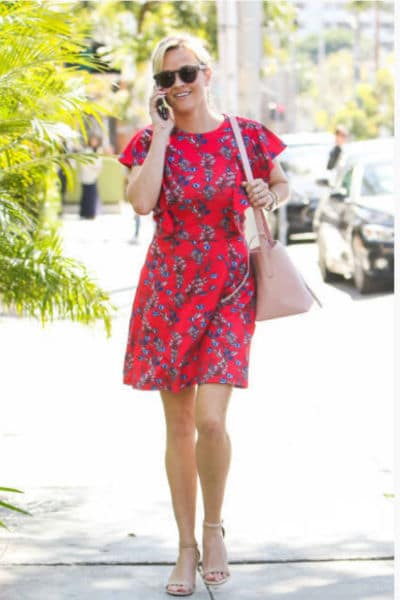 What that means is that almost ANY clothes would look good on you. That is definitely your big advantage as a rectangle shape.
However, it is one thing to walk down the runway and make every piece of clothing look flawless, it is another thing that you want to look straight up and down in everyday life. In fact, the lack of curves may happen to be the one thing that most rectangle shaped girls are trying very hard to camouflage.
So, there you go, your strength and weakness is quite obvious- depending on how you look at it!
Besides the straight body shape, your athletic build and long legs are also your best assets. That is probably most obvious with Sarah Jessica Parker in her Sex and the City days!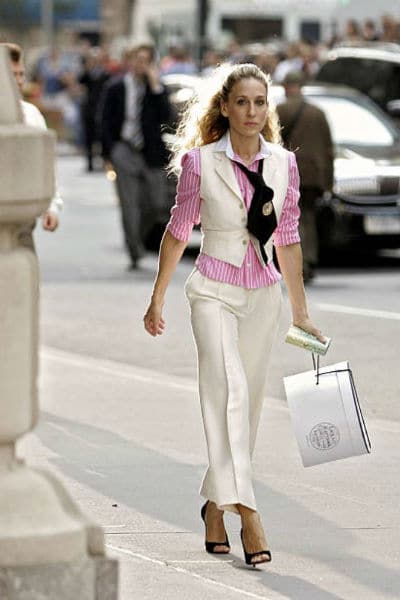 How to style a rectangle body type
To most rectangle shaped women, the key to dress the straight up and down body shape is to create an illusion of curves thus making your boyish shape look more voluptuous through what you wear.
To create the illusion of curves is to make the waist look smaller and butt look fuller. Asymmetrical styles give a natural waistline. The asymmetrical dress gives that visual break adding volume and balance. One shoulder shirts and dresses give lightness to the look.
Best Dresses for Rectangle Body Type
1.A-line dresses are the heaven sent for rectangle shaped body!
2. Wrap dresses are most flattering to petite women with rectangle shape
They hug your body and create the nice feminine curve, while making you look taller at the same time.  Wrap dress accentuates cleavage and waistline, which visually adds curves to the look. Bold prints give a voluptuous illusion.
3. Peplum dresses call attention to the waistline, giving more balance to the look.

Shorter length always looks great on petite women in general.  The best length is 5 inches above your knees.  Especially with rectangle shape women who most likely have long and lean legs, you should not hesitate to show off those assets through mini dresses and high heels.
Matching set of shorts and shirt are perfect to rectangle body shape. Shorts emphasize the beautiful legs, while cropped top gives the accurate cutting on waist, thus breaking the body shape H column of rectangle shape.
Best Jeans for Petite Rectangle Shape

Your athletic build allows you to wear boyish clothes as well as a wide range of feminine styles, so you have many choices when it comes to jeans.
Choose pants with a wide waist band and full or slightly flared legs. Flap rear pockets, pronounced hip pockets and cargo pockets will add curves to your lower half.
Boot cut jeans with mid or high rise waist will make you look more feminine. Whiskering at the hips will add the illusion of curvier hips and flap-type back pockets will add fullness to your bottom. 
Boyfriend jeans might look good on you, given your athletic frame.  However, for petite women, we generally do not recommend boyfriend jeans that is too loose or too big, as that will overwhelm your small body frame. 
On the other hand, if you prefer more feminine style, for instance, you want your buttocks to look less flat, then the best petite jeans for you are those with pocket details.  Pockets with flaps will add extra volume and  will make your butt look less flat.  Slit pockets also help to give you more curves back.
Best Tops for Petite Rectangle Shape

Tops with belted or gathered waists make your waistline look smaller.  If they have fullness around the bust and hips then that will create the effect of a very feminine hourglass figure.
If you want to enhance the effect, wear a wide belt to further emphasize the waist line and padded bra to draw more attention to your curves. lowing tops with draping in the body and sleeves and a wide banded waist help create the illusion of an hourglass figure too.
Billowy tops that add volume to the bust with a snug fitting waist will balance out your athletic feature.  Add flutter or princess sleeves for a more dramatic effect.  
However, because of your petite height, you should stay away from too much fluffiness to avoid being swamped by the clothes. Shirts with a fitted waist and embellishments around the bust and shoulders will give you a more curvaceous appearance.
Jackets with full or structured shoulders and a nipped-in or belted waist enhance your waistline. Draw attention to your bust with pockets or details. Choose a jacket with a pocketed or flared bottom.
Best Skirts for Rectangle Shape

Choose full, tiered, or bubble skirts of any length. Pair with shirts that provide an equal amount of volume to your bust and shoulders to create an hourglass effect. Find skirts with details, seaming or pockets that add the illusion of curves to your hips