Looking for cruise wear for women? I presume you are ready for warm weather! Ditto, girl! Whether you're getting out of town for a beach vacation around the holidays, or you're getting your spring and summer wardrobe on point, you will want to keep reading.
When we think of cruise wear, we often think of vacations, cruises, etc. But the truth is what you wear to a cruise can translate into your casual spring and summer wardrobe. It's a great way to maximize your wardrobe, too! Versatility is key after all.
Knowing where to invest with cruise wear can be tricky. When you're traveling, you want pieces that pack easy and transition from activity to activity easily. To make your shopping a bit easier, I wanted to give you some tips on the best pieces to wear on a cruise, specific for petite ladies! I'm sharing a few must have items on a cruise that every petite woman needs to have in her wardrobe. Every piece is versatile and can be worn on a cruise, vacation or even when you're out and about during the summer months. Of course, each piece will help you to build a great foundation that allows you to establish a better vacation wardrobe from here.
On that note, let's dive into it!
Cruise Wear for Women 101: Sundresses
I'm a big believer in dressing being a big part of every petite woman's wardrobe. They're SO easy to wear, being that they're just one piece (no matching required), and dresses tend to fit a petite frame much easier than separates. That being said, sundresses are a cruise wear must. As much as I would like to tell you all you need is one petite sundress in your vacation wear collection, the truth is you will want more than one. Because sundresses are so easy and comfortable to wear, I'm willing to bet you will be reaching for your sundress(es) often.
There are, however, a couple of tips to keep in mind when choosing sundresses for cruise or other vacation as a petite woman. We have another post on "7 Best Sundresses for Petite Girls" which talks about everything you want to know about petite sundresses. For starters, these are the most important things you should keep in mind.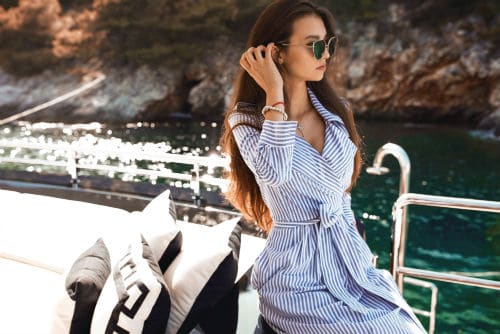 1 Consider the length of the sundress!
I don't have to tell you length is the biggest struggle for petite women, especially when it comes to dresses. Now don't be confused, petite women can wear a variety of different dress lengths. Short sundresses never fail a petite girl. But, you don't have to limit yourself to just short dresses. Yes, petites can definitely wear maxi sundresses on a cruise! If you are still wondering how short women can pull off the maxi look, read our guide on how to wear maxi dresses if you are petite.
Whatever you choose, I suggest sticking to dresses specifically made for petite women. Fortunately, there are a ton of designers and brands that now offer petite sundresses. The length is going to be much more accommodating to your petite frame right off the rack. But don't be afraid to get dresses altered to flatter your petite shape. Length is an easy fix for a seamstress and can make a huge difference in how flattering something is on you.
2 Don't overwhelm your petite shape.
This is HUGE when you're a petite woman. The downside of sundresses is that many of them are very flowy and loose fit. As much as those styles are "comfortable" they can overwhelm a petite woman. When your shape is overwhelmed by an ill-fitting dress it does the opposite of flatter. That being said, focus on choosing sundresses where we see YOU. Opt for dresses that have a defined waist, figure hugging silhouette, etc. This is going to allow you to play around with different sundress lengths without the dress completely swallowing you up!
3 Choose versatile colors/patterns.
If you're anything like me, it's hard to resist a statement making sundress. Something about the warm weather always has me drawn to bold colors and prints. Sundresses are an opportunity to have a lot of fun with colors, patterns and prints however you will want to make sure sundresses you are choosing are versatile. There's nothing worse than having a gorgeous cruise wear dress that can only be worn one way or to one occasion. Focus on colors that mix into your existing wardrobe seamlessly to maximize the versatility.
We also have another post specifically talking about How to Choose the Best Sundresses for Short Girls.
Wide Brim Hats
Spending time on a beach, outside, or on a cruise means you will be outside in the sun. Obviously you want to enjoy the beautiful weather while you can but it's important to protect your face from the strong sunshine. That's exactly why wide brim hats are another cruise wear essential. Well that and because they're SO cute. One of my favorite style hacks is throwing a hat on. Even if you have a pretty simple outfit on, adding a hat to the mix instantly transforms the look and makes you look put together.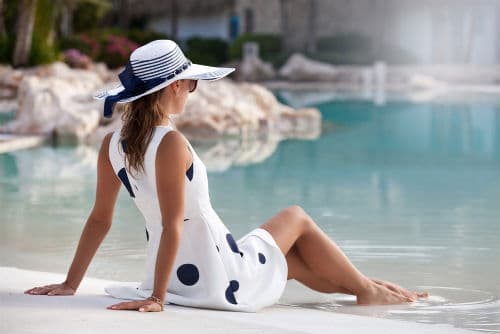 The reason you want a wide brim hat is to keep yourself a bit more covered from the sunshine. Now, just how wide brimmed the hat is up to you and your personal style preferences. However I find panama hats to be one of the more wearable type of wide brim hats. When you start to get into hats that are very large with extreme brims it gets harder to wear them on an everyday basis.
In terms of choosing the right color for hat to wear on a cruise, I suggest sticking to neutral colors – for obvious reasons. Think tan, beige, black, brown for your cruise wear hats. The only thing I'll say to consider when selecting a neutral color hat is how often you will be in the sun. Black can make you feel TOO hot, particularly when it's on top of your head, when you're spending a lot of time outdoors. If you're thinking about what you should wear on a cruise, I'm going to assume you will be spending a great deal of time outdoors, which is why you may want to skip an all-black hat. If you like black, think about choosing something like a panama hat in a beige color with a black ribbon around it. This gives you the best of both worlds!
Rompers and Jumpsuits
The thing about cruise wear is you want pieces that are really easy. No one wants to feel fussy in their vacation look! That's why dresses are so great. But I know that you won't want to wear a dress every single day, that's wear rompers and jumpsuits come into play. One of the things I love about rompers and jumpsuits is they really give you the same ease of a dress being just one solid piece. Plus, petite rompers and jumpsuits can easily be transitioned from day to night. Hence why you will definitely want to add a romper, jumpsuit OR both into your vacation wardrobe.
Petites should consider similar attributes choosing a romper or jumpsuit as you do with a sundress. They're very similar in that way. In order for short girls to pull off the jumpsuit look on a cruise, the fit is key. You want to make sure the jumpsuit is well fitted. I want to clarify that well fitted does not mean tight. In fact, the best jumpsuits for cruise are probably the wide leg ones, which make sure you are comfortable and not too hot during your trip. Those made with linen, cotton or other light weight fabrics are perfect for you to wear on the cruise, because they are breathable and flowy.
In terms of the color, you can never go wrong with a pastel or neutral hue. If you want to up your style one step further, then opt for tropical prints, which will fit the theme of your cruise like no others!
I suggest, much like with sundresses, sticking with rompers and jumpsuits made for petites to ensure the right fit. It's rare you will need alterations when choosing a romper from the petite clothing stores. We have another post talking about where to find and how to style jumpsuits for petite girls.
Rompers come in all different shapes, styles, etc. but as a petite woman you will want to focus on rompers that have a defined waistline. If there is no definition in the waist it's going to be shapeless and, in turn, won't be very figure flattering on your shape. Plus, when there is a defined waistline on a romper it makes the look feel much more put together.
Neutral Sandals
Sandals are a clear must have for cruise wear. You don't want to wear boots! When you're selecting sandals for your petite vacation wardrobe, it's essential that you choose a neutral color to have as one of the foundation pieces. Now, neutral sandals can mean a lot of things because there are a lot of different colors that are associated with being a neutral color. I believe every petite woman needs to have a neutral sandal that's close to their natural skin color. Why? When you have a sandal that matches your skin color it gives the illusion of a longer line on your legs, instead of your leg getting cut off by the shoe. As a petite, the longer the lines the more flattering it is for us!
As a petite girl, I personally wear heels as much as possible, for obvious reasons. But I understand when you are on a cruise, comfort is key. You will be walking to explore local excursions and perhaps dance as well. So, you want to avoid heels that are too high. You want to choose shoes that can add a couple of extra inches but can also sustain some walking without killing your feet. Wedges, block heels and padded sandals are great choices to bring to your cruise.
Everyone's neutral sandal is going to be a different color. Some women are confused when they hear the word 'nude' in relation to a shoe color and often think it's a very light beige tone. This just isn't the case, and it's the reason I stress focusing on finding a color that matches closely to YOUR skin tone.
Read our post on the "Best and Worst Shoes for Short Girls".
Beach Tote Bag
Let's face it ladies, we always need a bag with us! There are necessities we need to have on hand at all times. In terms of vacation wear, a beach tote bag is going to be your new BFF. Tote bags are great for cruise wear needs because of their size and ease. You don't want a bag that feels fussy or is hard to get into. Plus, when you're in vacation mode, you'll likely be carrying more than you do in your typical daily life. Totes have adequate room without a ton of fuss.
I know you're probably think 'ok, well what color tote bag should I get?' I'm glad you asked! I suggest opting for a neutral color for your beach tote bag. Similar to selecting a hat to wear to the cruise, you want your tote bag to go with everything you wear so you don't feel like you need to have 10 different bags for each outfit. Light toned neutrals are a great option for beach tote bags.
Another thing to take into consideration when choosing a beach tote bag is the fabric it's made of. The reason most beach-specific tote bags are less fussy is because of the lightweight fabric they are made of. Keep that in mind when choosing yours! You don't want to feel weighed down by your back when you're enjoying a vacation.
Swimsuits
Don't worry I didn't forget about swimwear! Cruise wear can't be completed without at least one swimsuit on the list. As much as so many women dread the thought of shopping for swimsuits, it's a necessity to round out your summer wardrobe. Personally, I like to have at least a couple go-to swimsuits that I always feel comfortable wearing. It's important to feel as comfortable as possible in your swimsuits – I know it's hard but it allows you to enjoy the moment so much more when you are!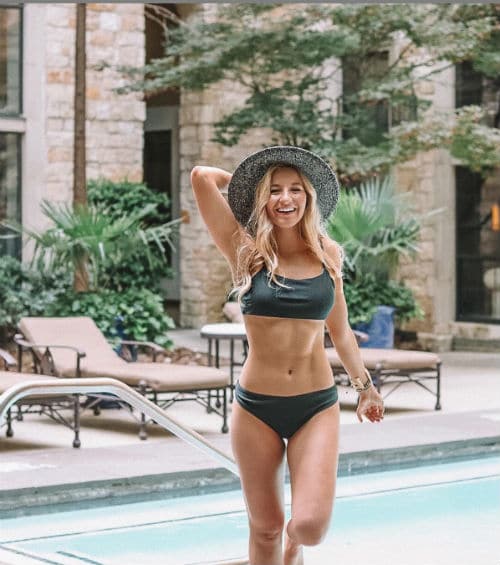 To find the best swimsuit(s) for you and your petite shape I suggest trying on a bunch of different styles, colors and fits. There's a little trial and error to finding the suits you feel the most comfortable in but once you find it, it makes wearing a swimsuit so much more enjoyable. We have a post talking specifically about the "Top 10 Swimsuits for Short Girls", which shares with you the hacks and tricks you need to know to find the right swimwear for petites. For starters, choose high waisted and high leg bottoms for the best leg elongating effect!
Fortunately most swimsuits work for petites, whether they're designed to cater to a petite shape or not. That being said you will still want to try them on before making your final decision.
Pashmina
Even if it's hot during the day, night time temperatures can drop no matter where you're traveling to. That's why you won't want to leave home without making sure you have a pashmina (or something similar) in your cruise wear line-up. Pashminas are ideal to wear on a cruise, because they're so easy to pack, they barely take up any space, and they're fuss-free when you need a little added warmth. Those nights that get a bit chilly and you just need a little something…enter: pashmina.
When you're shopping for a pashmina, make sure it's not made of a fabric that's really heavy. What you should wear on the cruise is light in colors and fabrics because it's for warm weather locations. It's not likely you're going to need a wool pashmina. Instead, stick to something that's flowy and soft instead. I also recommend choosing a pashmina that's not too oversized so that it isn't too much when you're a petite. Chances are you will want to try on a few different pashminas to find the right fit, but keep the general petite style tips in mind when selecting the one for you.
Now that you know the foundation pieces you need for your vaccation wear, happy cruising!