If you are short like me (I'm 5'2″), you might be wondering how to make a maxi skirt look flattering on a petite girl. What I discovered is, if worn the right way, maxi skirts can very well elongate the petite figure of a short woman and be one of the most flattering pieces in your wardrobe.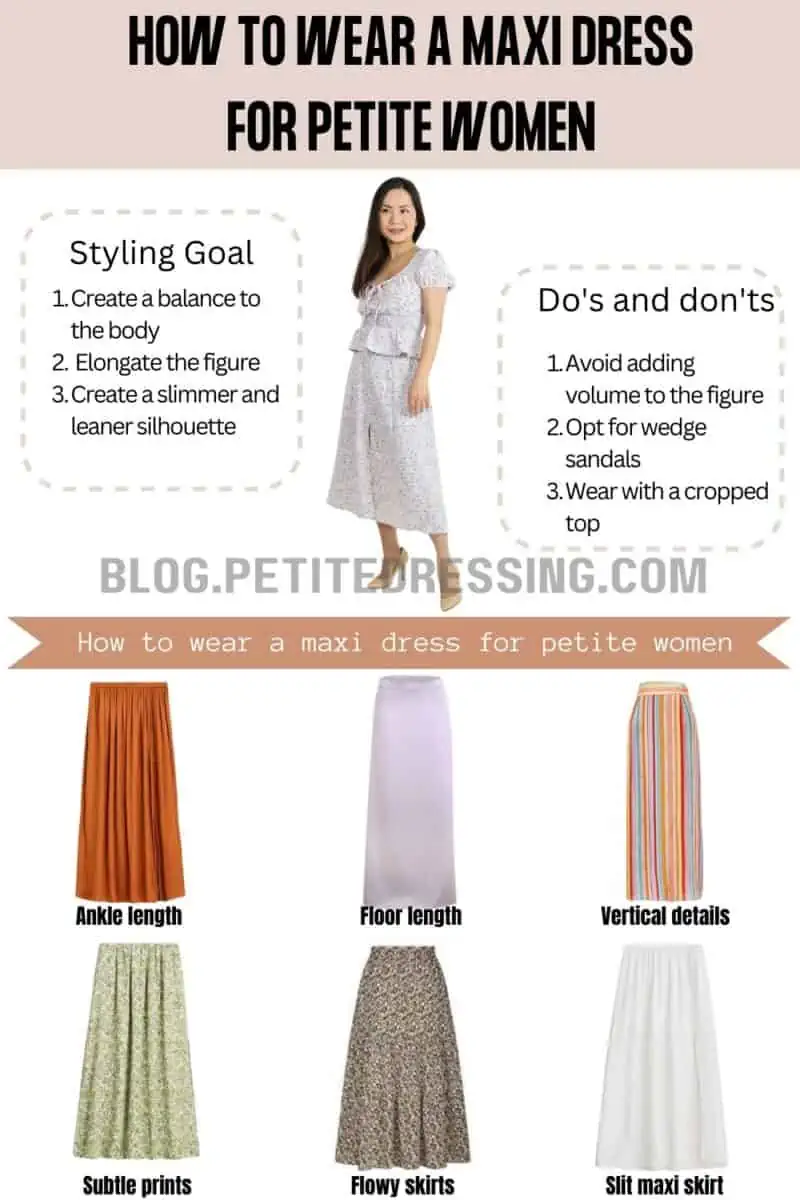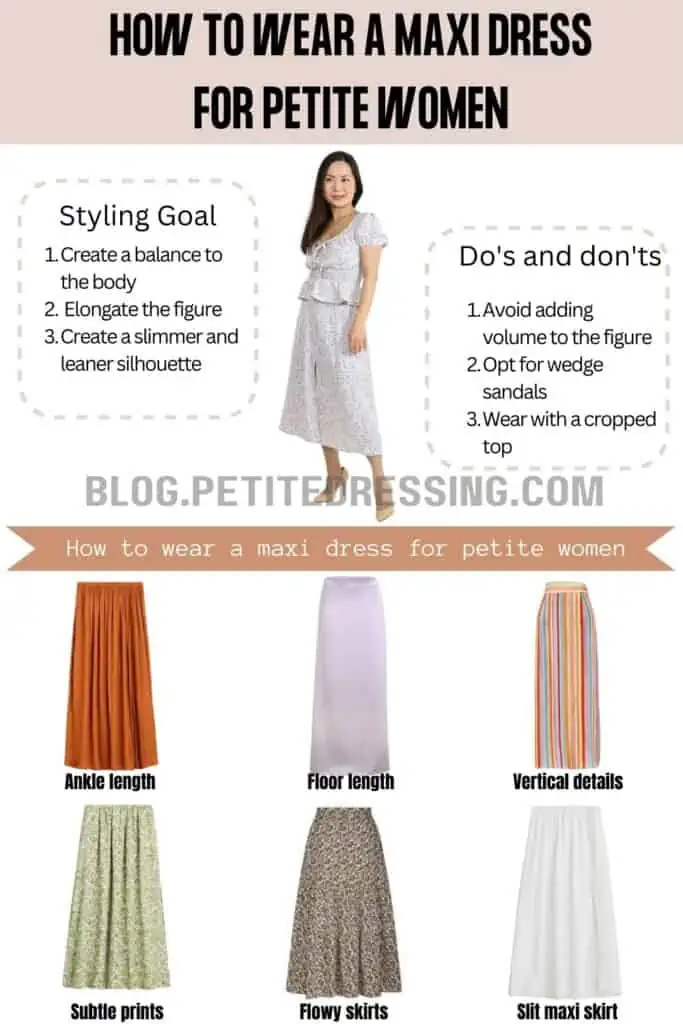 LENGTH
In order for a short woman to look good in petite maxi skirts, the length needs to be right.
Ankle length
This is the easiest length of petite maxi skirts to wear for a short woman.
If you are wearing flats or sandals with no heels, you probably do not want the skirts to be dragging on the floor.
In that case, ankle length is ideal, as you can easily pull it off without the danger of tripping on the fabrics and falling.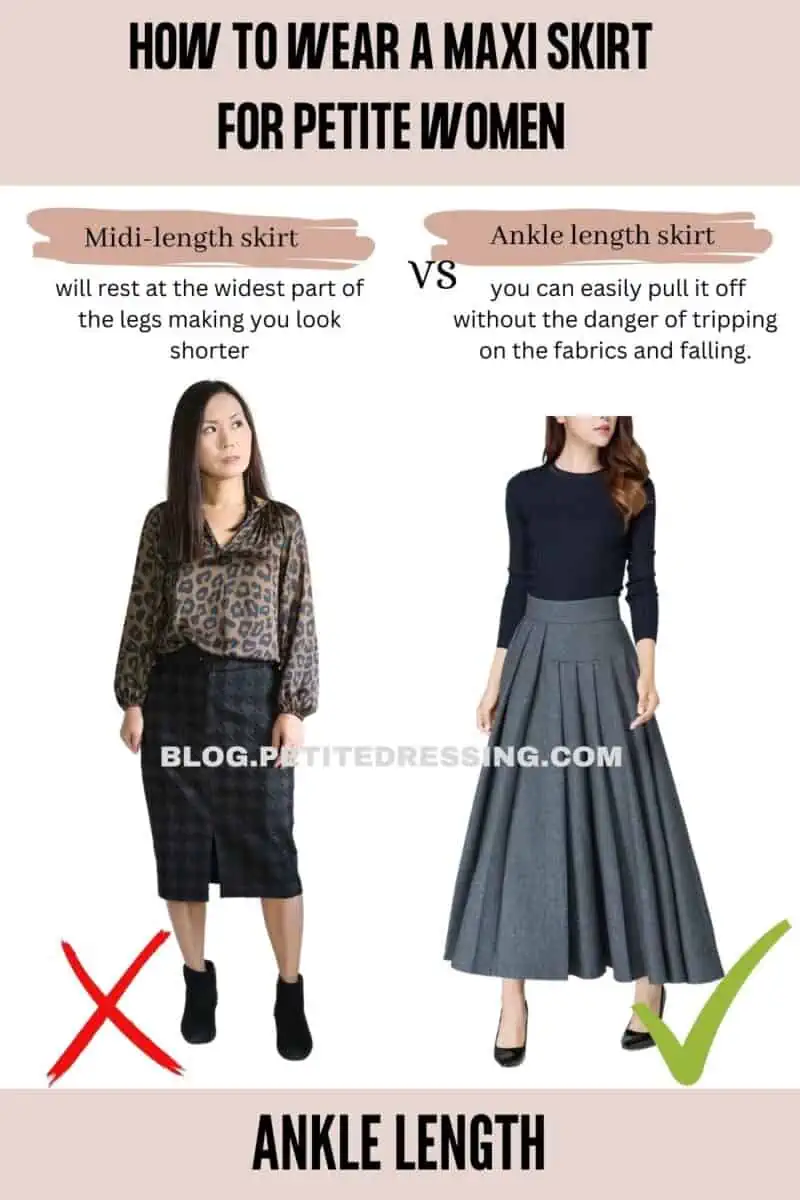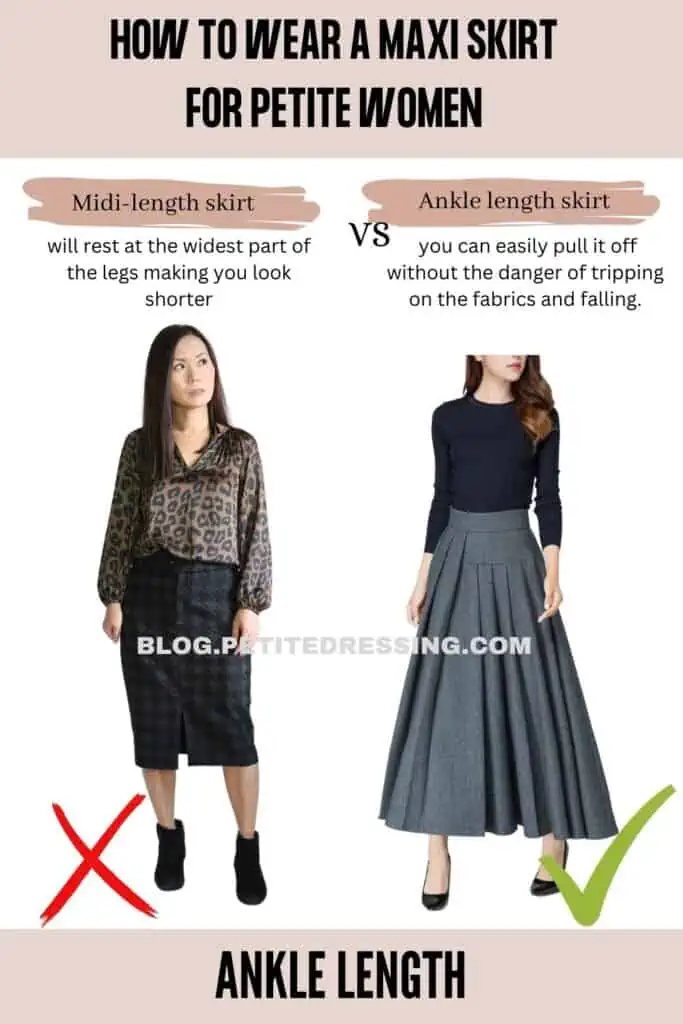 Floor length
If you are wearing it with heels, you can also consider going a bit longer than ankle, i.e. brushing off the floor.
The ideal length is for the hem of the skirts to be slightly above your heels without making it difficult for you to walk.
This is actually the most effective way to elongate your legs!
The reason is that your legs are only as long as your skirt. When you are wearing (almost) floor length skirt, your skirt is covering up part of your feet, making your feet appear to be part of your legs.
This is the best way to maximize your leg length for a petite girl.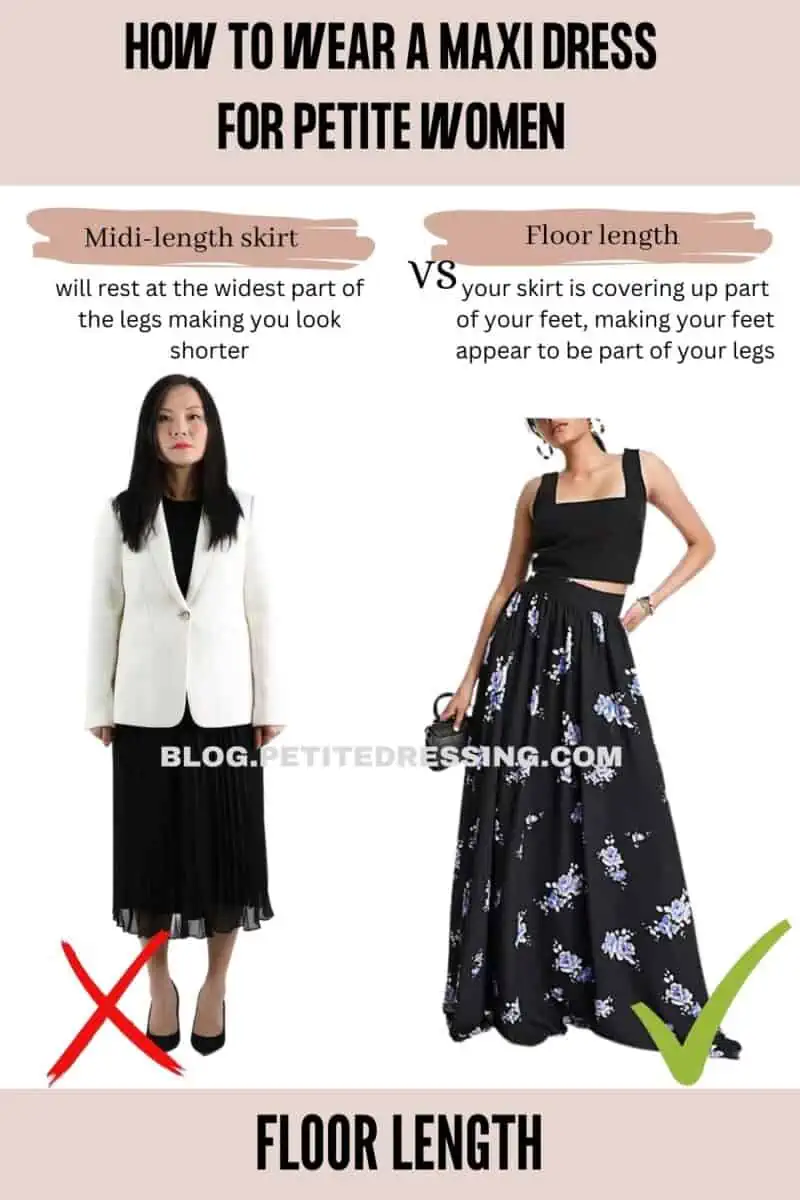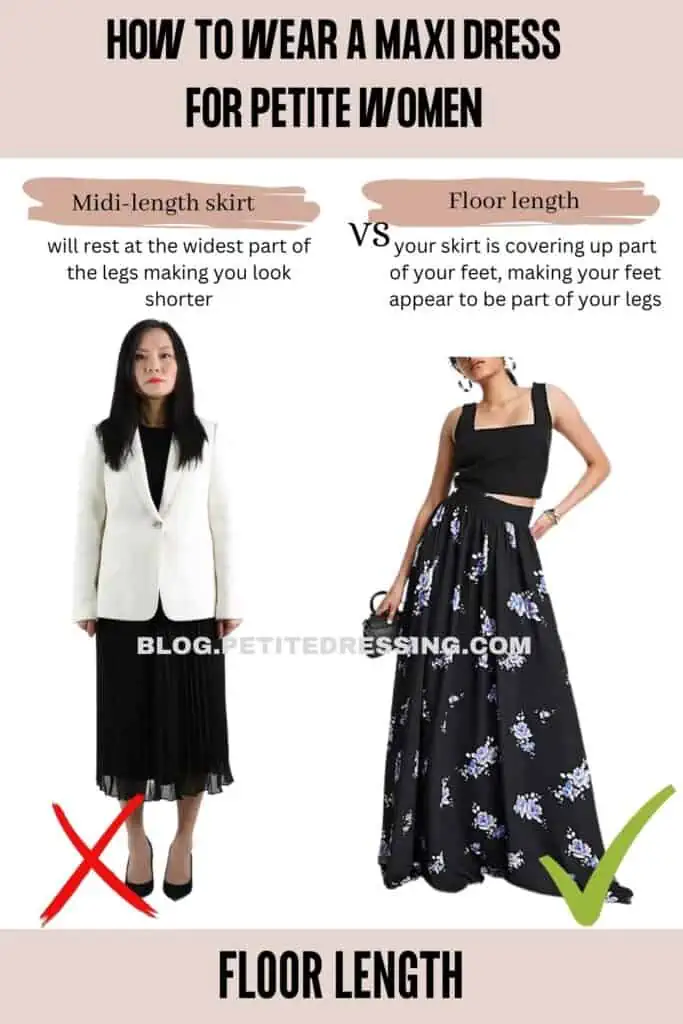 Avoid midi
When your maxi skirt is too short (anything on your calves), it becomes a "midi" length.
That is the length you do not want.
The reason is this length will make your legs look cut off and lose the point of wearing maxi skirts.
STYLE
Not all maxi length skirt look good on petites. Because we are shorter, it is quite easy for us to look overwhelmed in the extra fabrics from the long skirt. Here is what you should look for or avoid, when you are wearing or looking for a maxi skirt.
Wear with a cropped top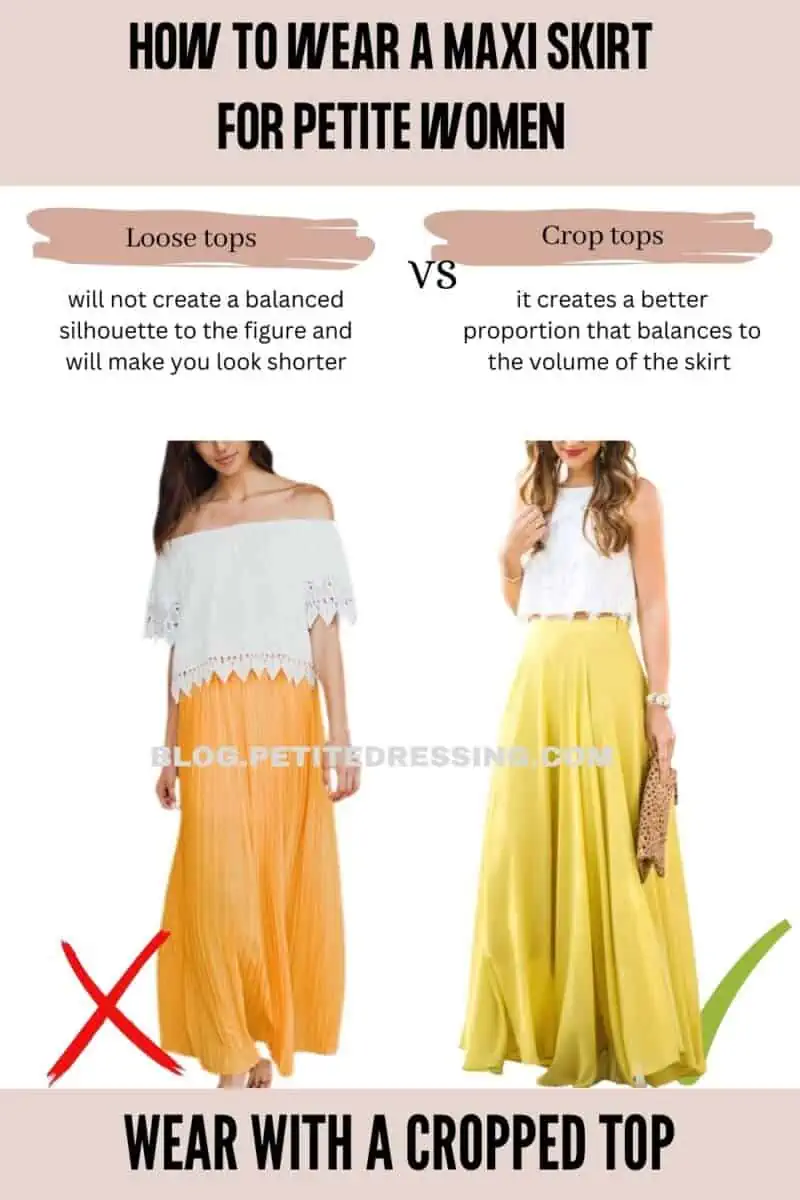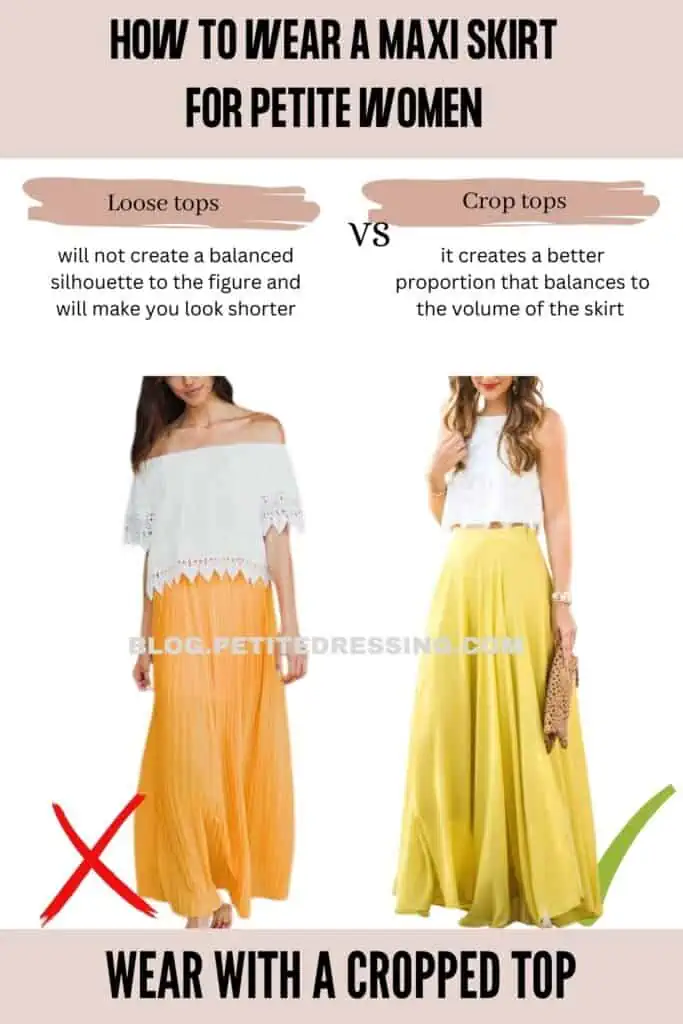 Okay, here is the thing most girls may not realize. What you wear on top is equally or even more important than the maxi skirts themselves. Why? The top changes the proportion of your entire outfit.
Proportion is probably the most important concept in petite styling tips. There is many ways to create a better proportion, but ultimately, it comes down to one thing.
That is, to make your body likes like 1/3 to 2/3 ratio (the "Rule of Thirds").
What I mean by that is your top should look like 1/3 of your body while the legs should look like 2/3.
When you are wearing maxi skirts, your bottom is extended because of the length of the skirt, which makes it easy to create the 2/3. What you need to do is to make sure your top makes up no longer than 1/3 of your body. The best tops to achieve this? A crop top.
Slit maxi skirt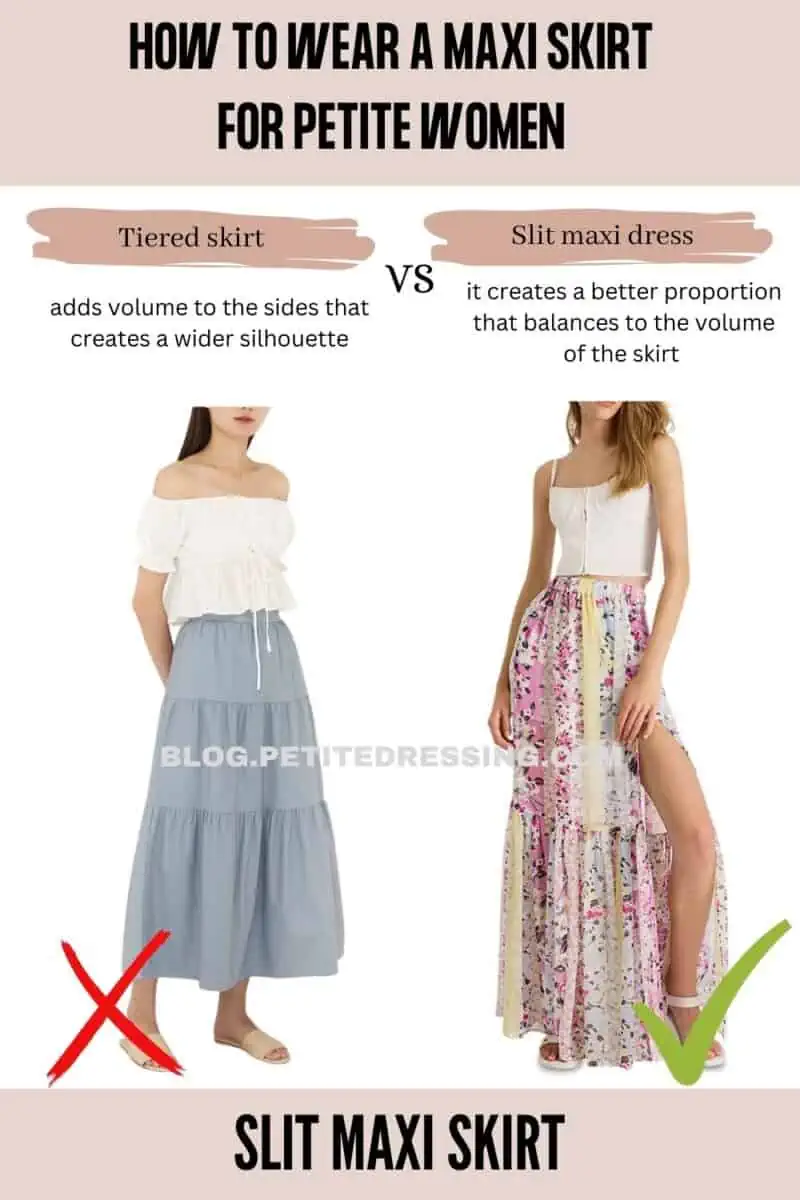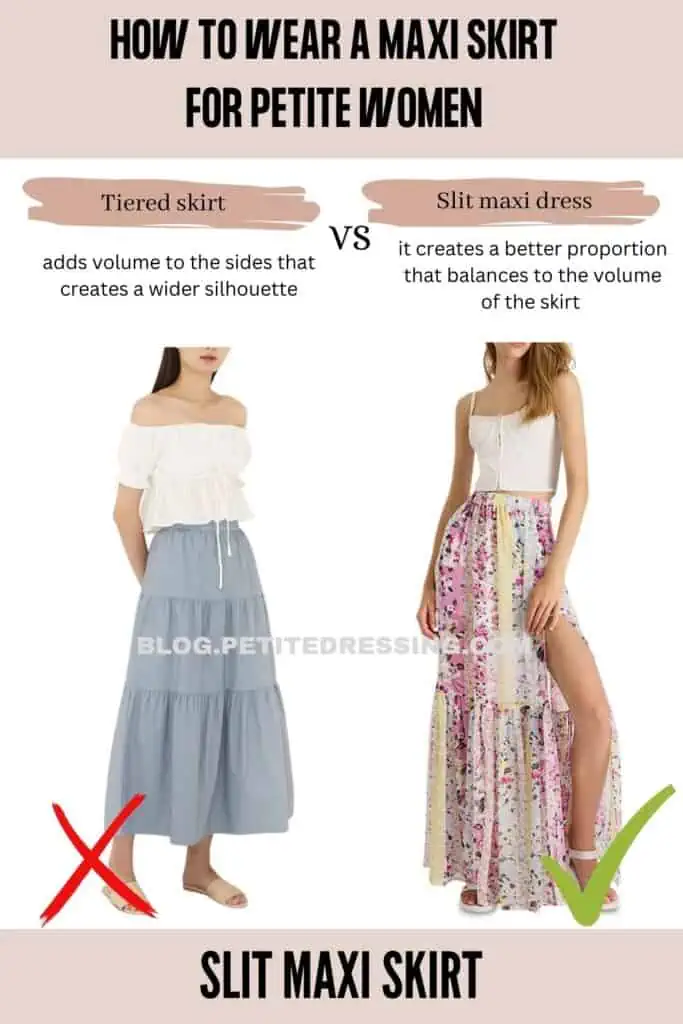 The key reason that maxi-length skirts could be a challenge for short women is that there is too much fabrics in the bottom half, thus it is easy to create the impression of bottom heavy. For petites, what you want is the opposite, i.e. you always want people to focus on your face and upper body instead.
One smart way to counter that is to wear petite maxi skirts with slit. The slit could be in the front or on the side. That is a personal preference. Either way, the slit will show some of your leg skin, especially while you are walking.
What a simple slit will do for you is it will break the impression of too much fabrics in your bottom half, and create the illusion of longer legs for short women.
Vertical details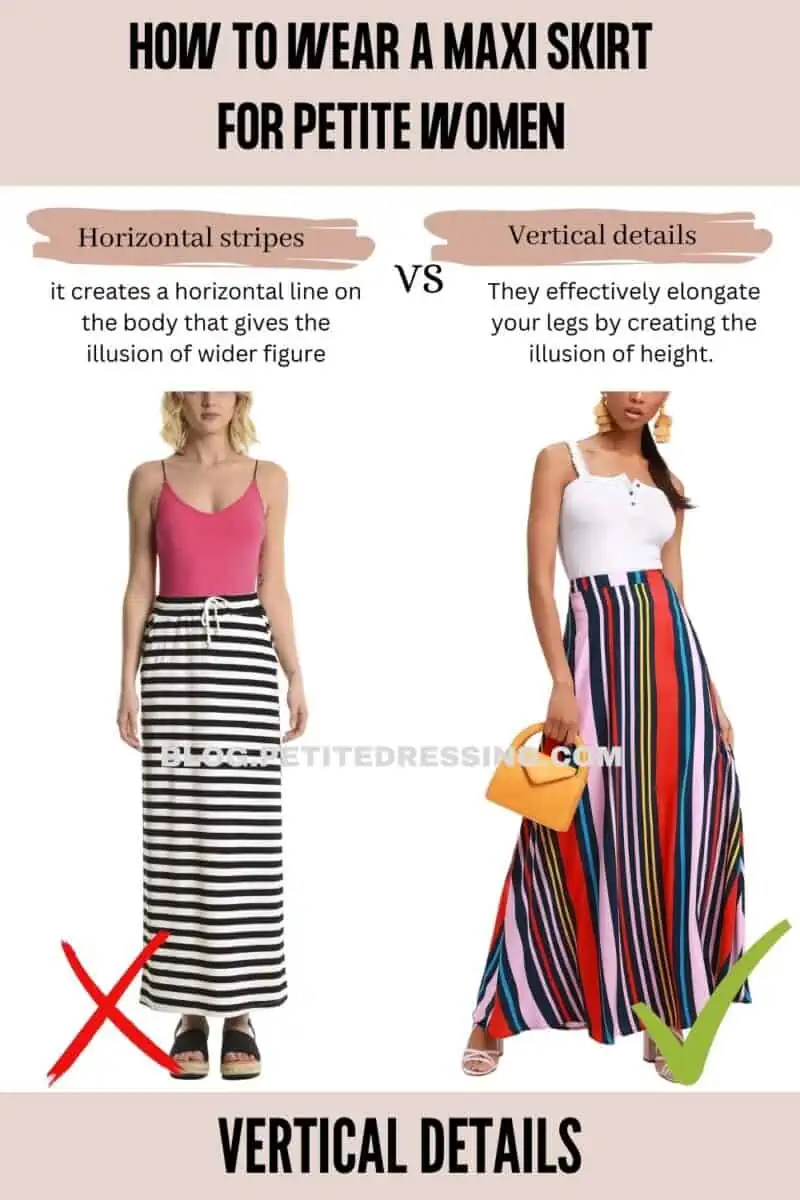 Vertical details are the best friend of a short woman. It comes in many different forms.
The easiest to identify are vertical stripes or prints that extend vertically. Or, you could look for any details that draw eyes up and down, such as a row of vertically aligned buttons. They effectively elongate your legs by creating the illusion of height.
Monochromatic color
In general, monochromatic dressing is the most flattering way of styling colors for a short woman, so that means if you match the color of your skirt with the color of your top, it will be one of the most flattering color combinations on a petite girl.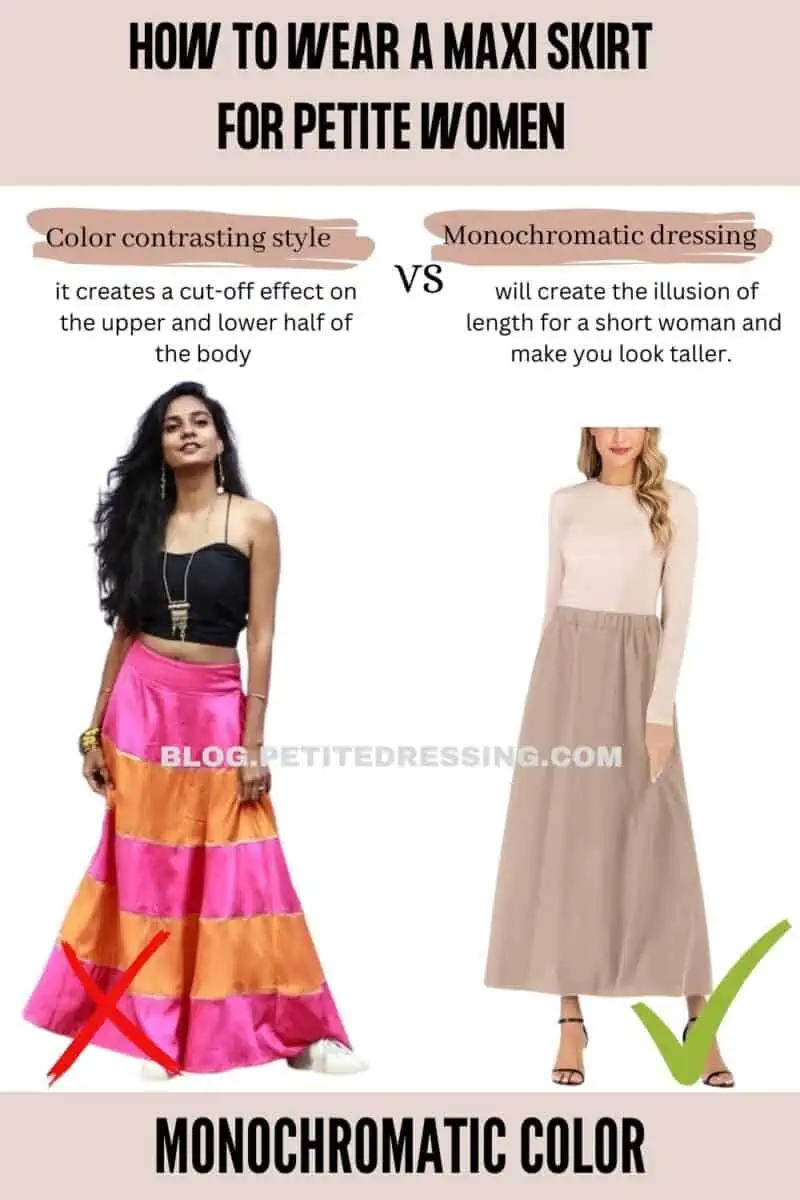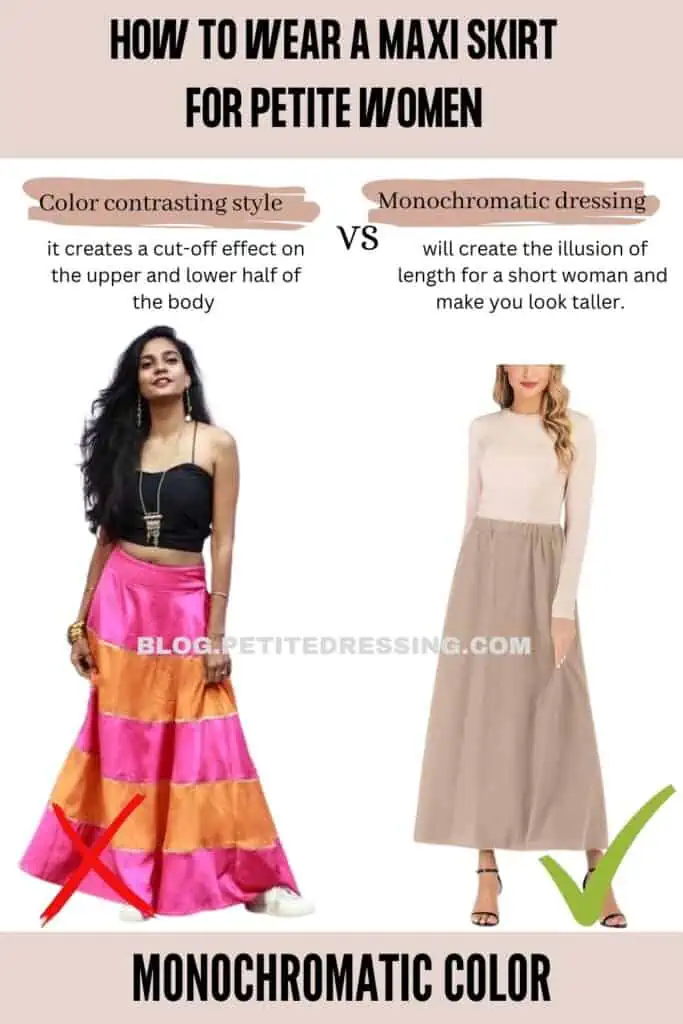 For those of you not familiar with the term, monochromatic dressing means what you wear from head to toe should be derived from a single-based hue but extended using its shades, tints and hints.
Wearing monochromatic color will create the illusion of length for a short woman and make you look taller.
It does not mean you can only wear one identical color for your top and bottom. If you are wearing a baby blue top, then wearing a navy color petite maxi skirt will make you look good. (Read more about Why Short Women Must Know Monochromatic Dressing).
Subtle prints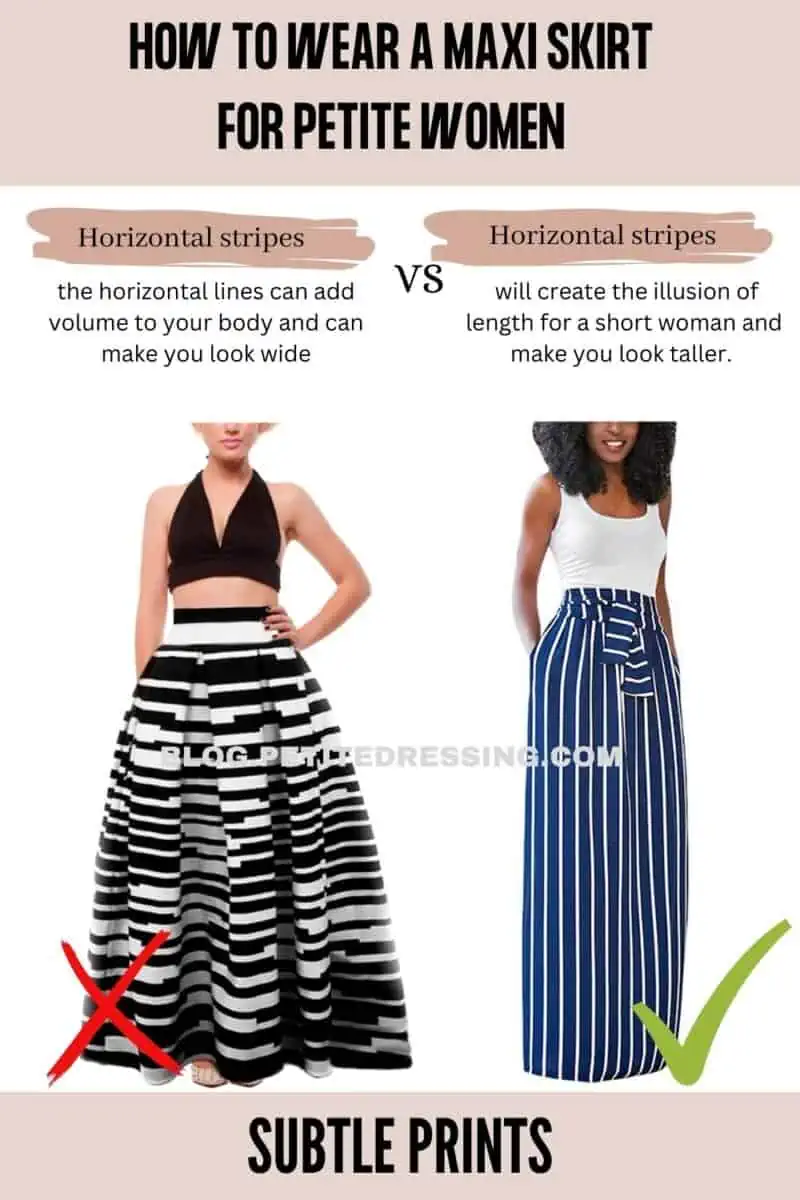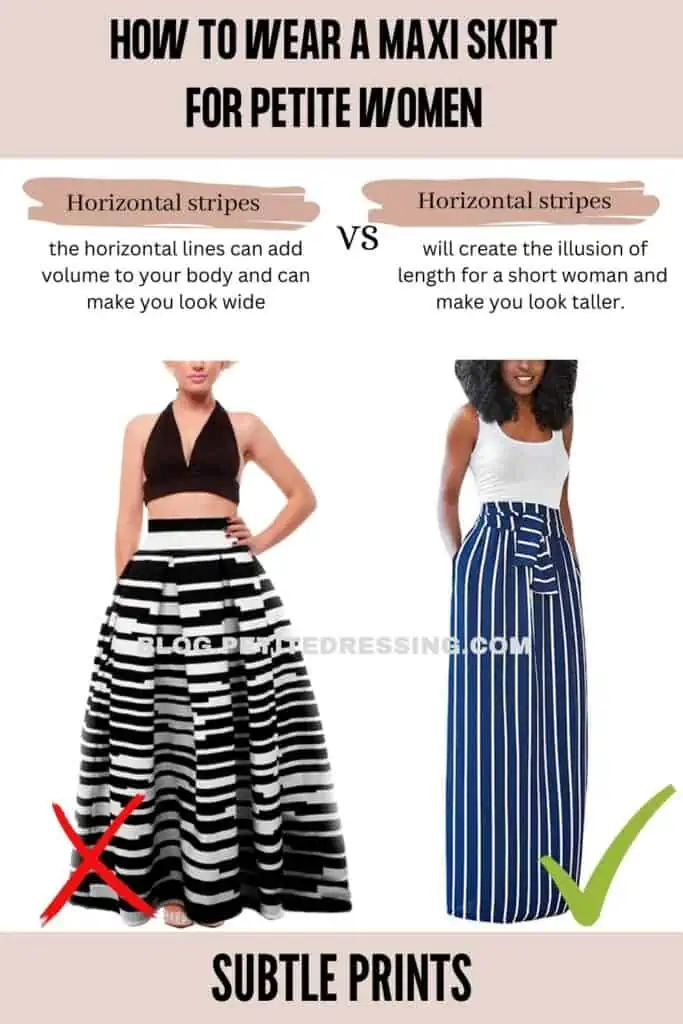 If you like prints, a short woman should avoid prints that are too big or too loud. Many people like floral prints, which is something you can rock as a short woman as long as the flowers are in proportion to your size.
Because maxi skirts cover such a big area of your body, you want to make sure you do not look swamped in too many colors.
Avoid excessive tiers
Tiered maxi skirts have been a big trend. If you are petite, you want to be cautious with the tiered design.
The reason is tiers come with extra volume. Since maxi skirt is already long, if your skirt has too many tiers, it will look overwhelming on a short girl.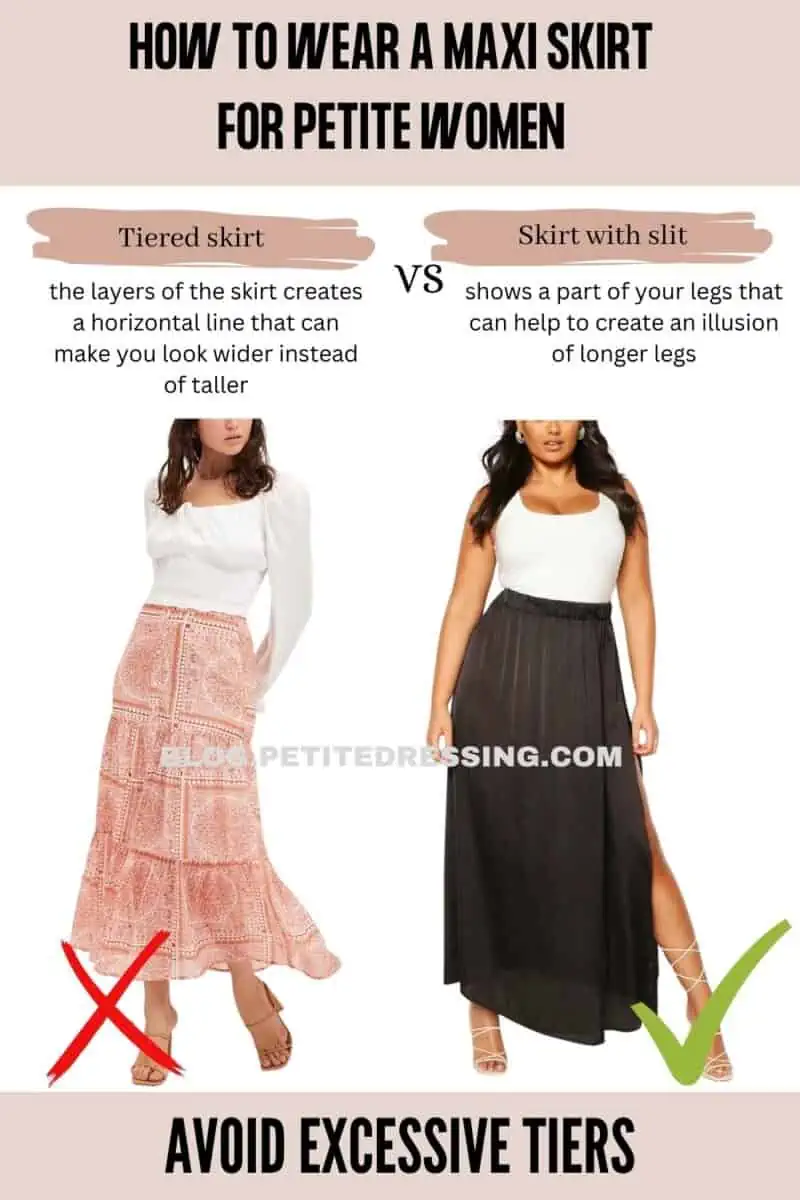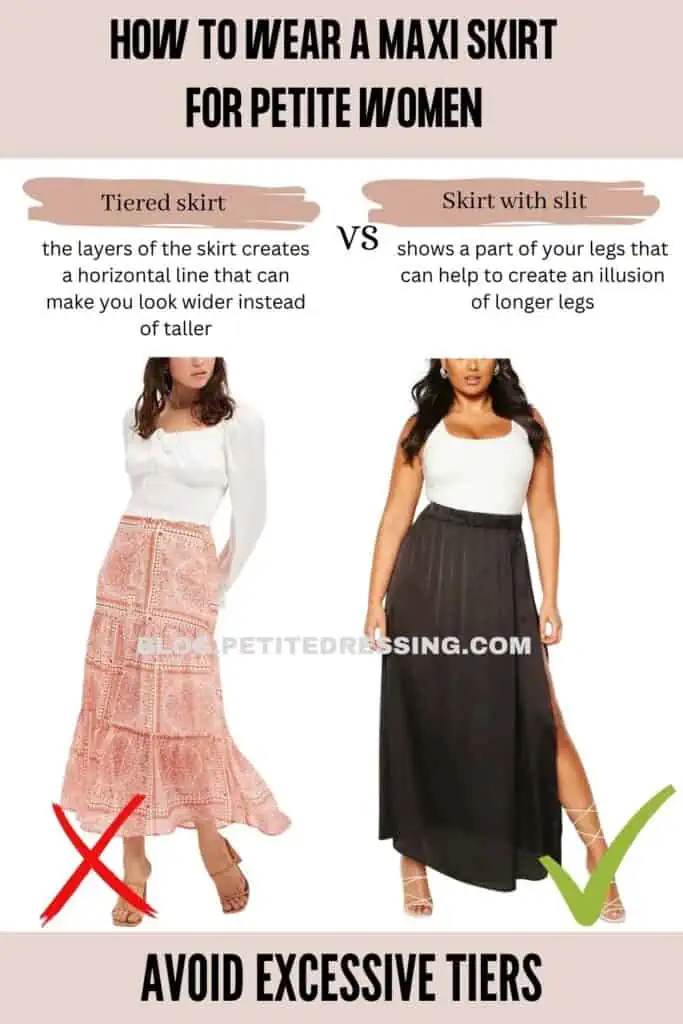 Neutral colors
Most of us would be wearing maxi length petite skirts in the summer time, or when we are going on vacation where it is normally warm or tropical.
That is why natural fabrics are normally the top choice. The breathable nature of those fabrics such as silk, linen or cotton makes them ideal when the weather is humid and when we tend to sweat.
Flowy skirts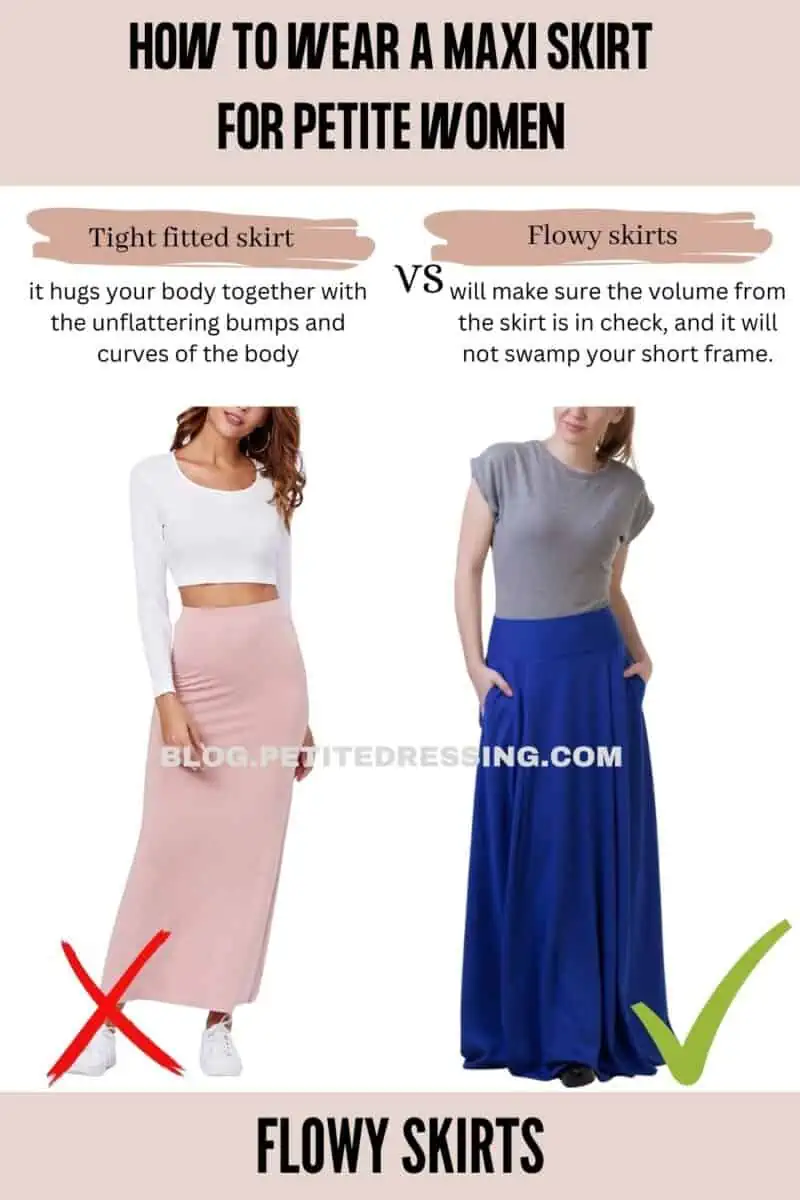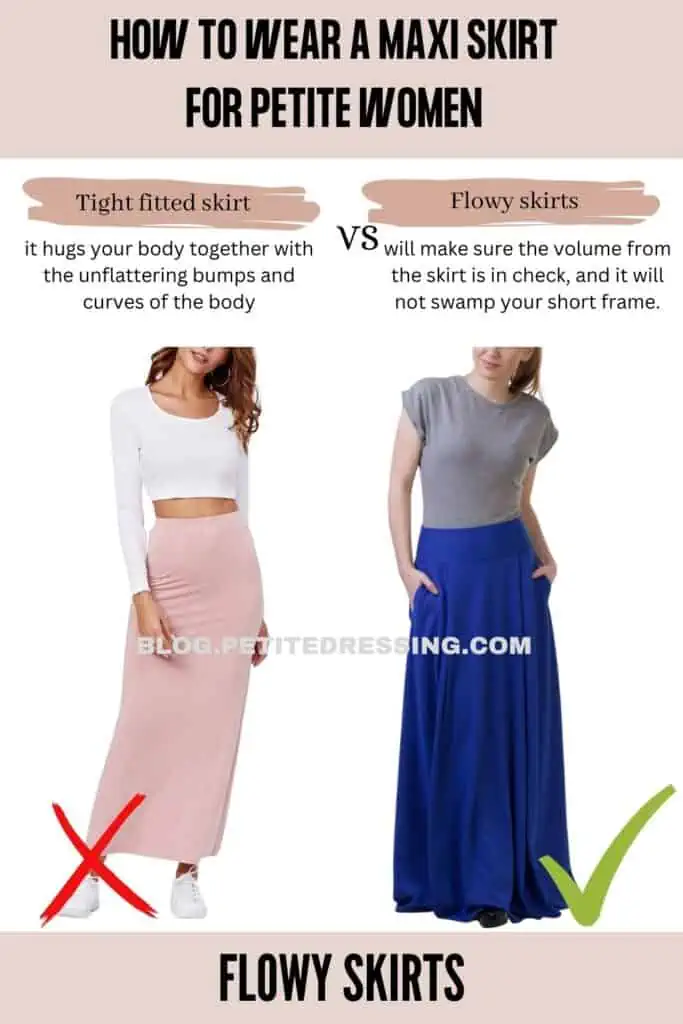 Maxi skirts made with flowy jersey materials generally look good on a short woman.
The reason is that it hugs your body curve naturally, unlike stiff fabrics.
This will make sure the volume from the skirt is in check, and it will not swamp your short frame.
Lacy skirts
Maxi skirts made with lace or see through materials can be very flattering on a short girl.
The reason is because they have less weight. Because the eye can see through the skin, it has the elongating effect to make a short woman look taller.
SHOE PAIRING
When you are wearing maxi length skirt, it is critical to pair them with the right shoes.
Nude heels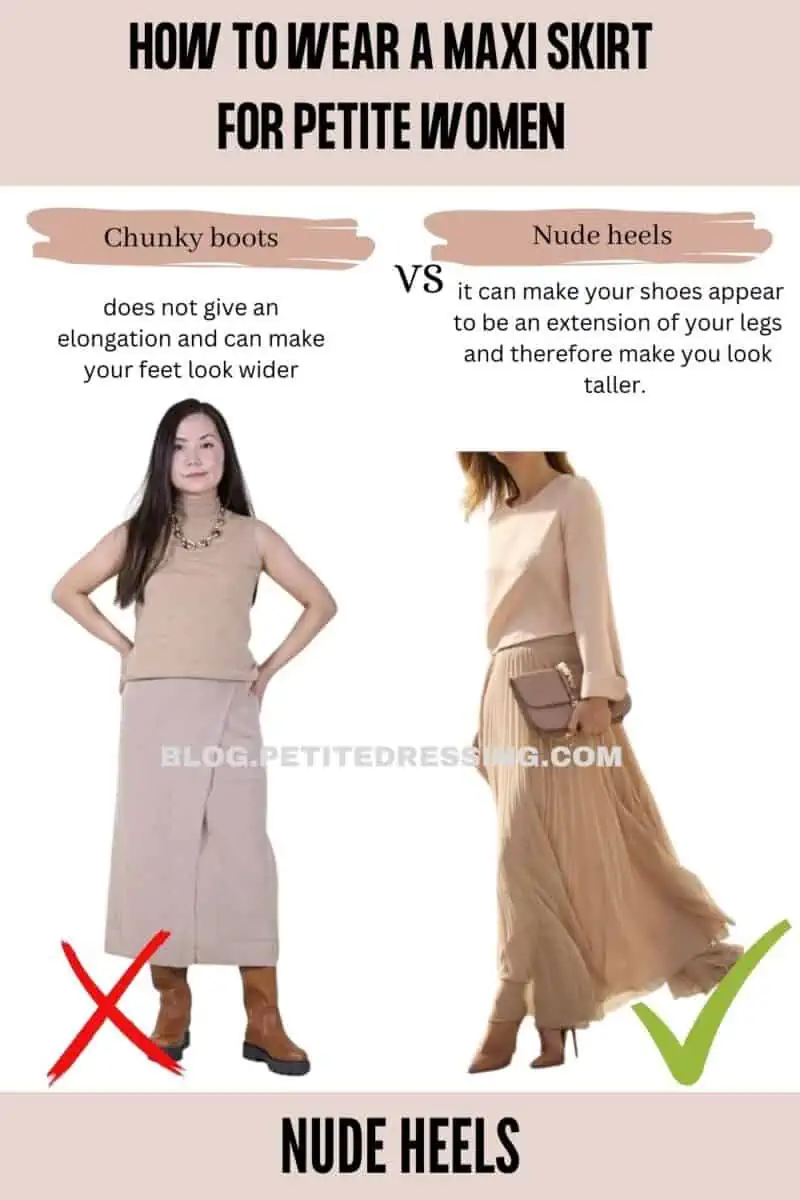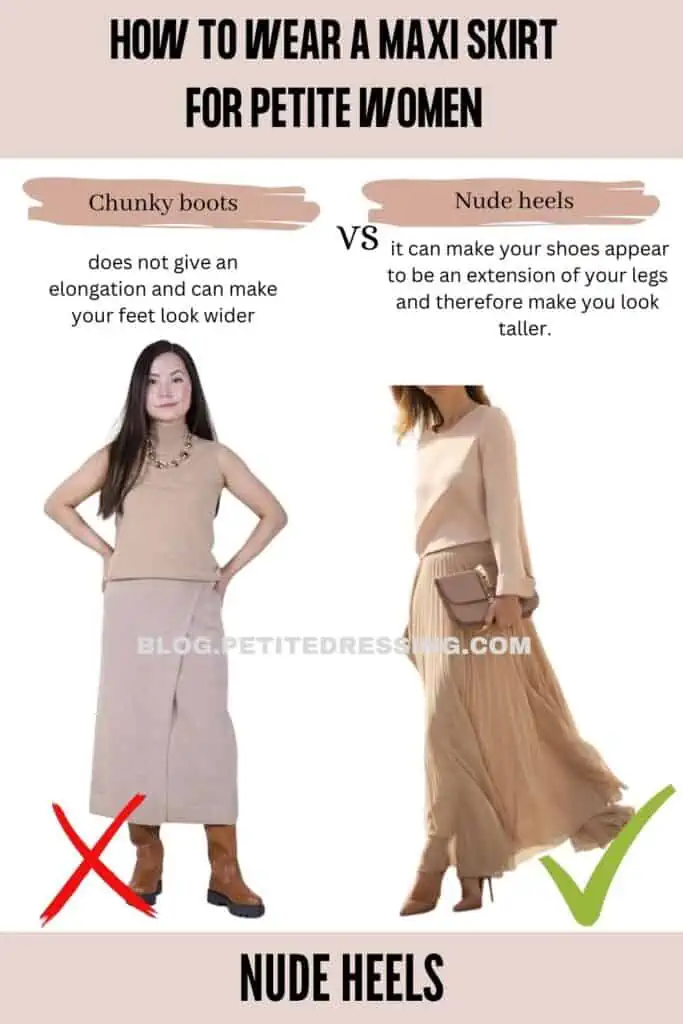 As a short woman, you probably prefer to wear heels when you feel like adding a few extra inches. It goes without saying that high heel sandals make a short woman look taller in maxi skirts.
Of all the colors, nude heels are always the most flattering on a short girl. Because they blend with the color of your skin, it can make your shoes appear to be an extension of your legs and therefore make you look taller.
Wedges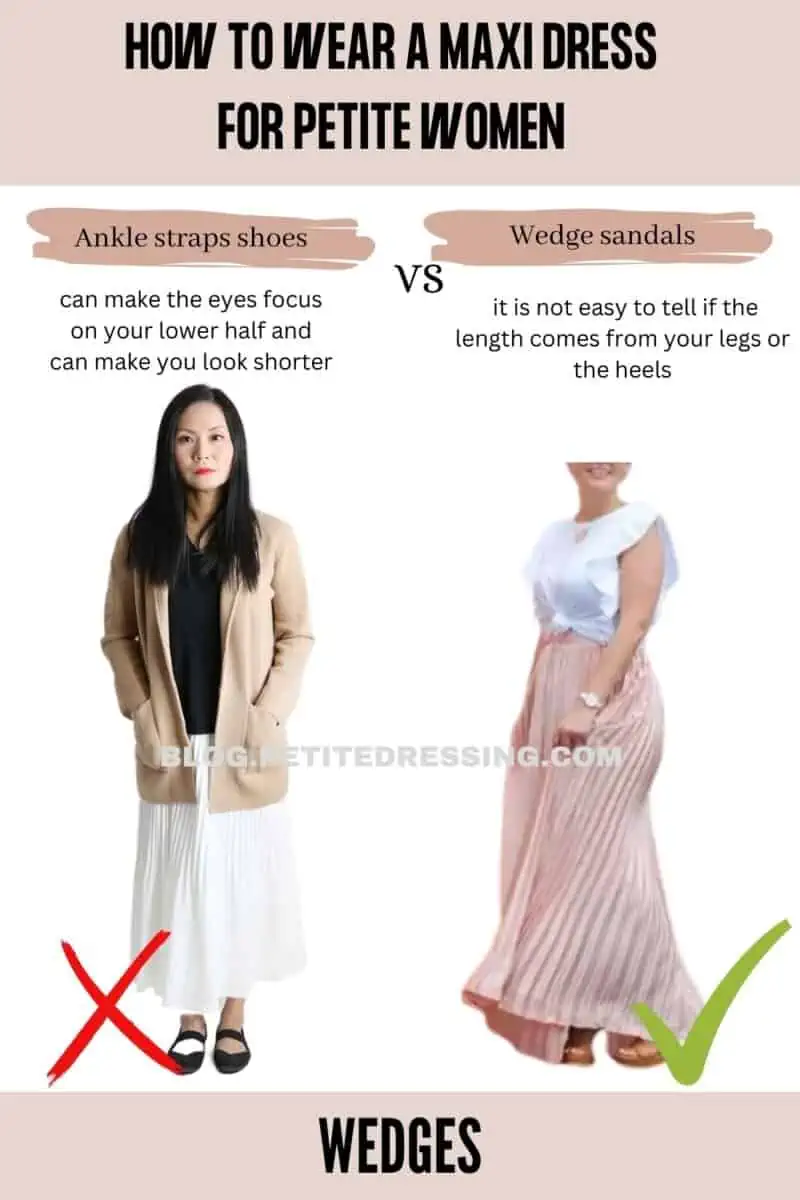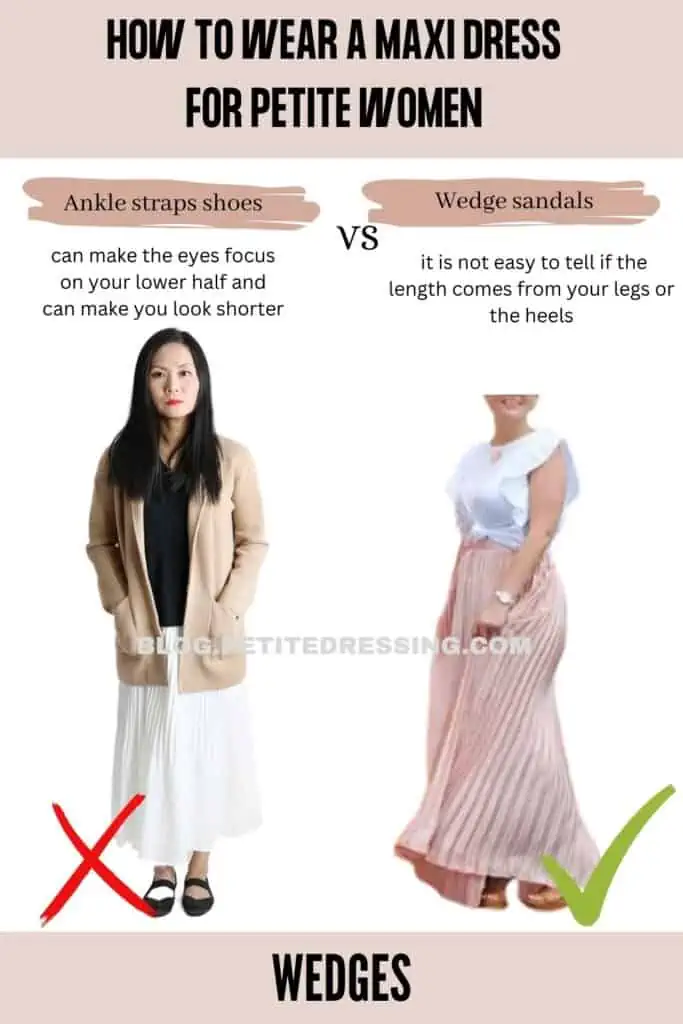 I normally advise a short woman to be careful about wearing bulky heels such as wedges, but if you are wearing a maxi skirt, by all means wear wedges.
Because the skirts are so long, the benefit is people cannot really tell how bulky your heels are.
In addition, it is not easy to tell if the length comes from your legs or the heels. Isn't that great? Wearing wedges also makes it easier for you to walk in maxi-length skirts.
Flat sandals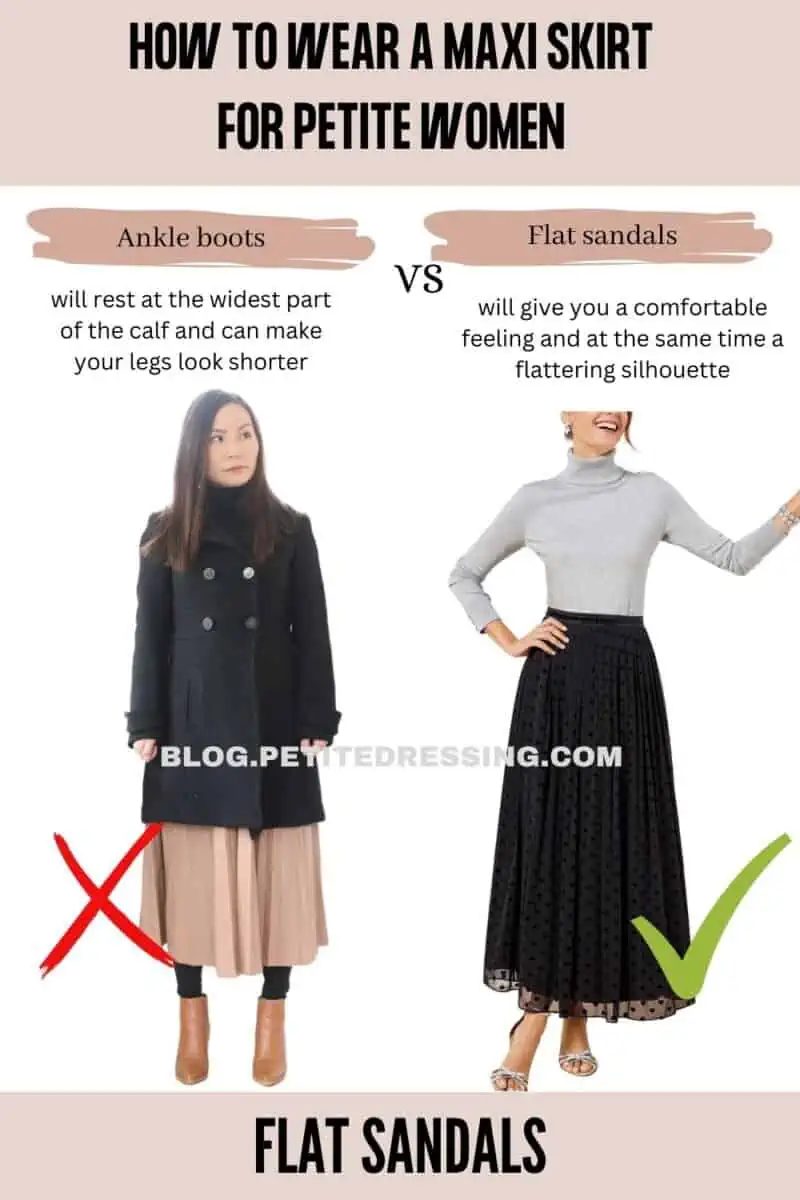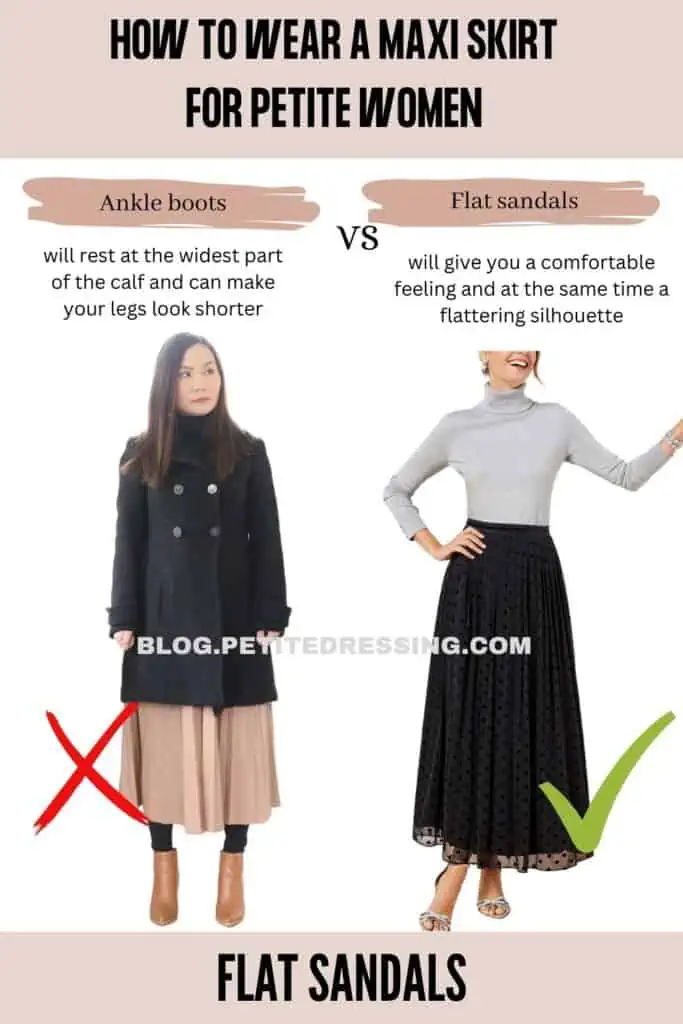 However, don't think you must wear heels with petite maxi skirts. If you are wondering what you should pack for your Caribbean cruise wear , feel free to grab your favorite pair of flat sandals.
Wear them on the beach or by the pool with your maxi skirts for a casual and chic Bohemian look, which is one of our recommended looks for resort wear for petite women.