If you are looking for petite fashion tips, these 9 hacks I'm about to tell you is the most important you ever need to know on how to dress as a short woman.
I am 5'2″,and I have a clothing line for petite women 5'4″ and under. It took me years of experiment to figure out the best clothing for petite women. Many of my customers have told me the hardest is to find clothes that fit petites. That is true, but not all.
Obviously, the clothes you wear need to first fit you, before we talk about anything else. What a lot of people do not realize is that the most important concept in petite fashion is proportion.
So, just that you purchase petite size clothes that is supposed to fit you doesn't solve all the problems for petites.
Proportion is Everything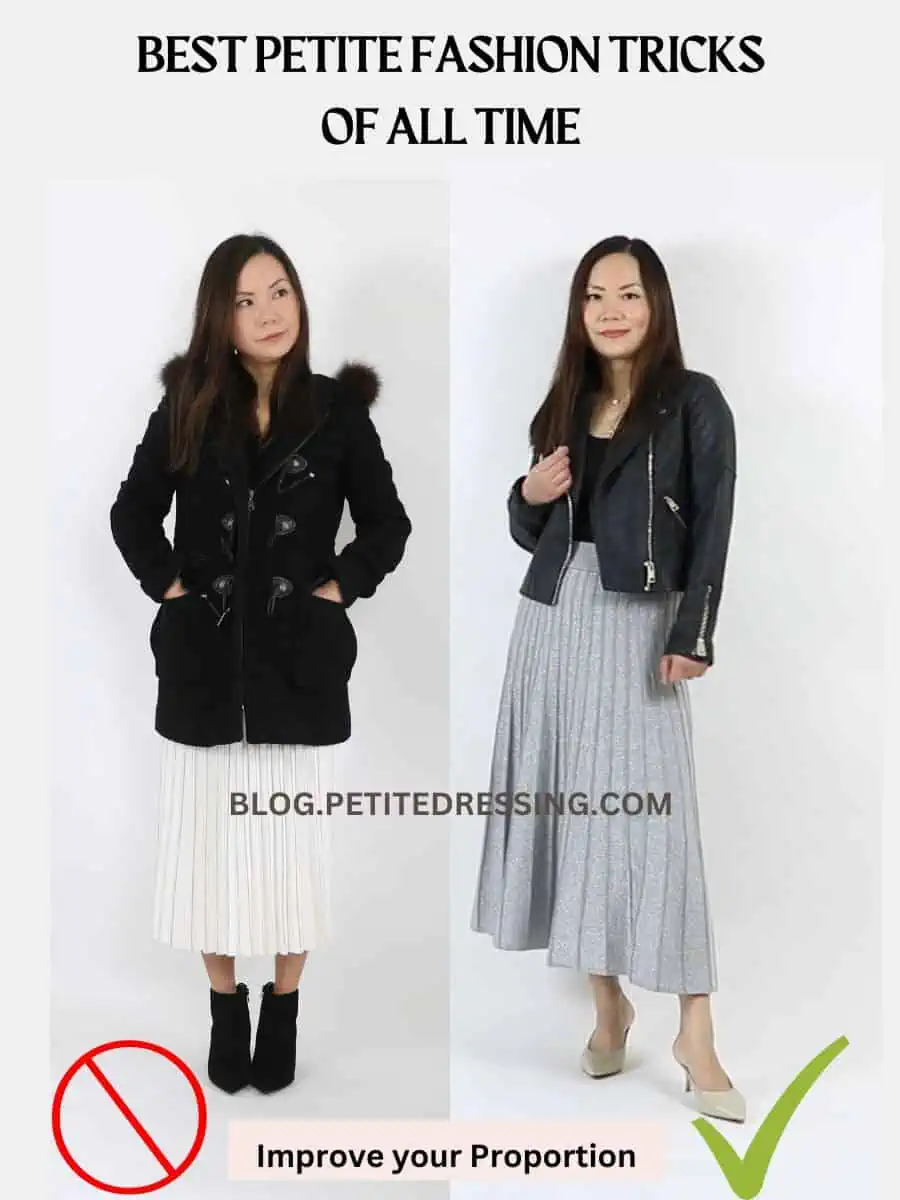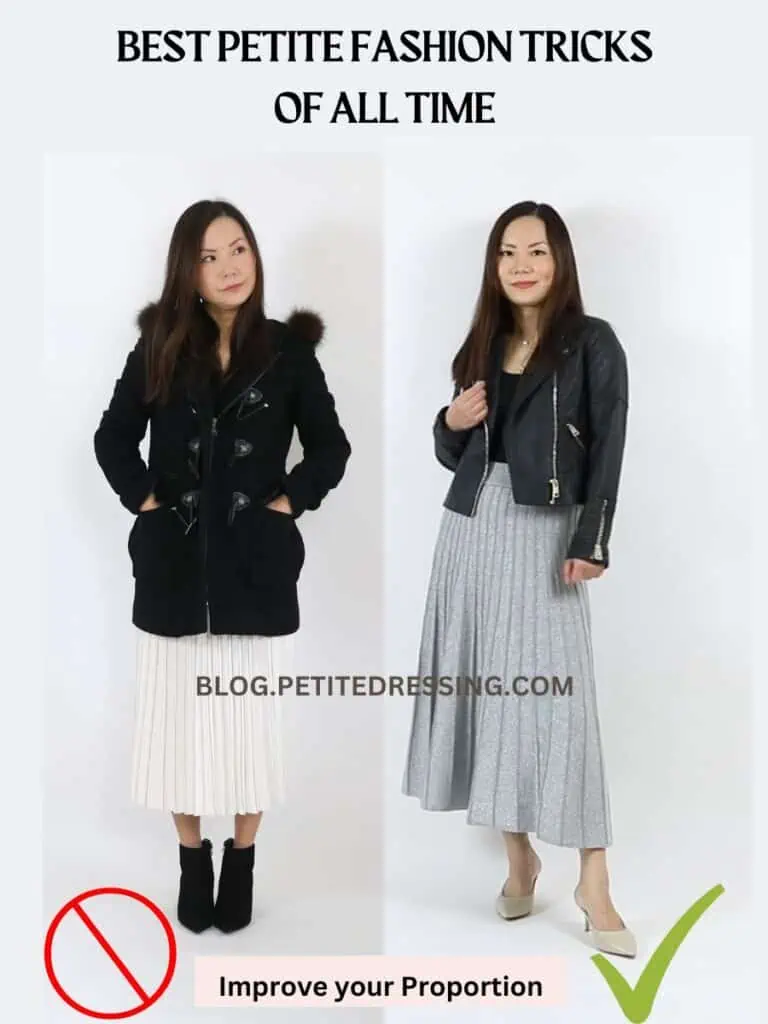 If you are short like me, your goal is always to improve our proportion. Quite a few of my customers have told me that they aren't really interested in looking taller, but few disagrees with me that petites should try to make our proportion look better.
Then, what does it mean to improve proportion?
Human eyes are energetically wired to recognize certain proportion as beautiful and pleasant, while others as less ideal. (I will tell you about this in great details later in this article).
If someone is born tall with longer legs, then he or she naturally has the portion preferred by the eyes.
Now, since petites are under 5'4″, most of us wish our legs could look longer. (That isn't to say there aren't some petites who are lucky enough to have the short torso/long legs body type).
That is why over the years I have found that the best clothing for short women are those that make a short girl's proportion look better. That sets the foundation of this article, because everything I'm about to tell you has something to do with the concept of proportion.
Petite Fashion Rule of Thirds
Now, let 's talk about the Golden Mean Ratio, and why following the Rule of Thirds is critical in petite fashion.
I am sure you have read that the ancient Greeks discovered this ratio that appears in nature about what human eyes find most aesthetically pleasing.
Specifically, 1/3 to 2/3 ratio is the most aesthetically pleasing division of space to our eyes. You have seen it applied in mathematics, architecture and art.
Ever wonder how you could apply this to petite fashion? It is known as the "rule of thirds", a ratio if you follow will instantly change the proportion of your body and make your outfit look very flattering.
It is easier to be illustrated through petite outfit examples.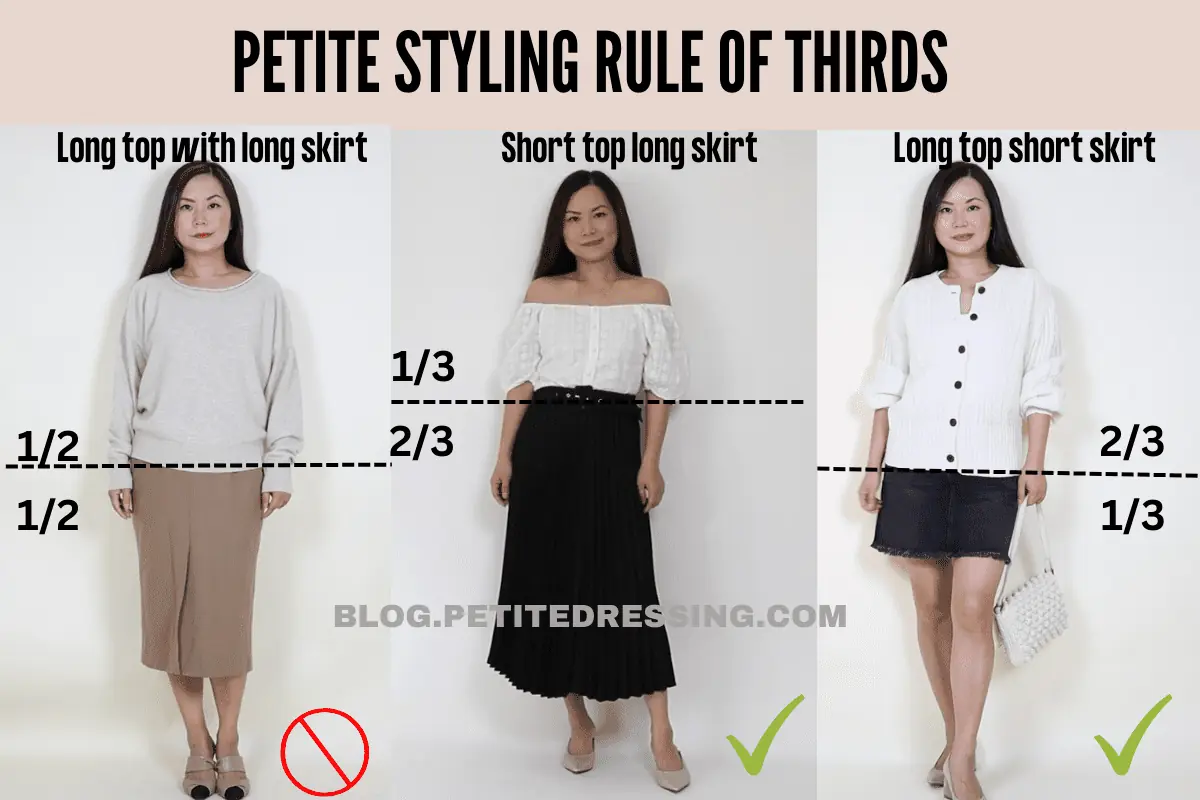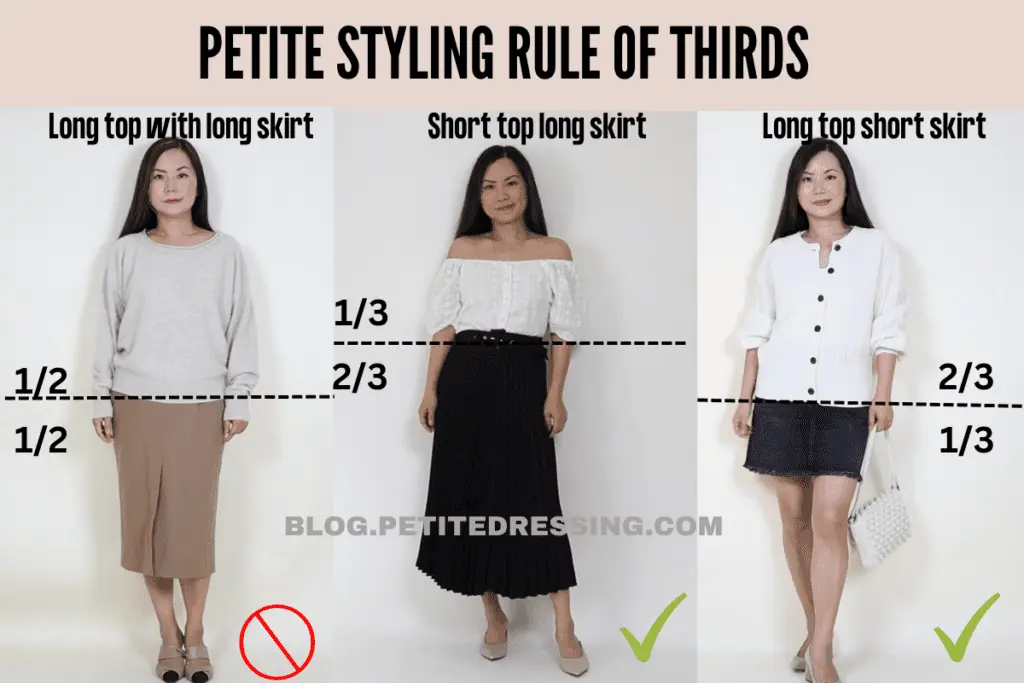 The first outfit with the top and skirt of equal length visually divides the body into ½ and ½.. The second outfit has a considerably shorter top, thus divides the figure into 1/3 up top and 2/3 on the bottom.
See how much taller the second outfit appears?
This is not just limited to a shorter top and a longer bottom, and it can also be applied the other way around, i.e. longer top and shorter bottom, as illustrated by the third outfit. This strategy not only applies to sweater top or blouse, but also coats and jackets.
As you can see, it makes your figure appear more proportionate. The comparison of the 3 outfits shows you how big a difference it makes, when our outfit focuses on the thirds, instead of halves or the quarters.
If you are wearing a short skirt and bare legs, you blouse comprise the top third, your skirt is the middle third, and your bare legs are the bottom third. We have illustrated this concept through skirt outfit, but the same rule of thirds apply to pants outfit.
In order to achieve the ideal ratio, a cropped top or a well fitted cropped blazer or jacket is wardrobe must for petite women.
The Right Necklines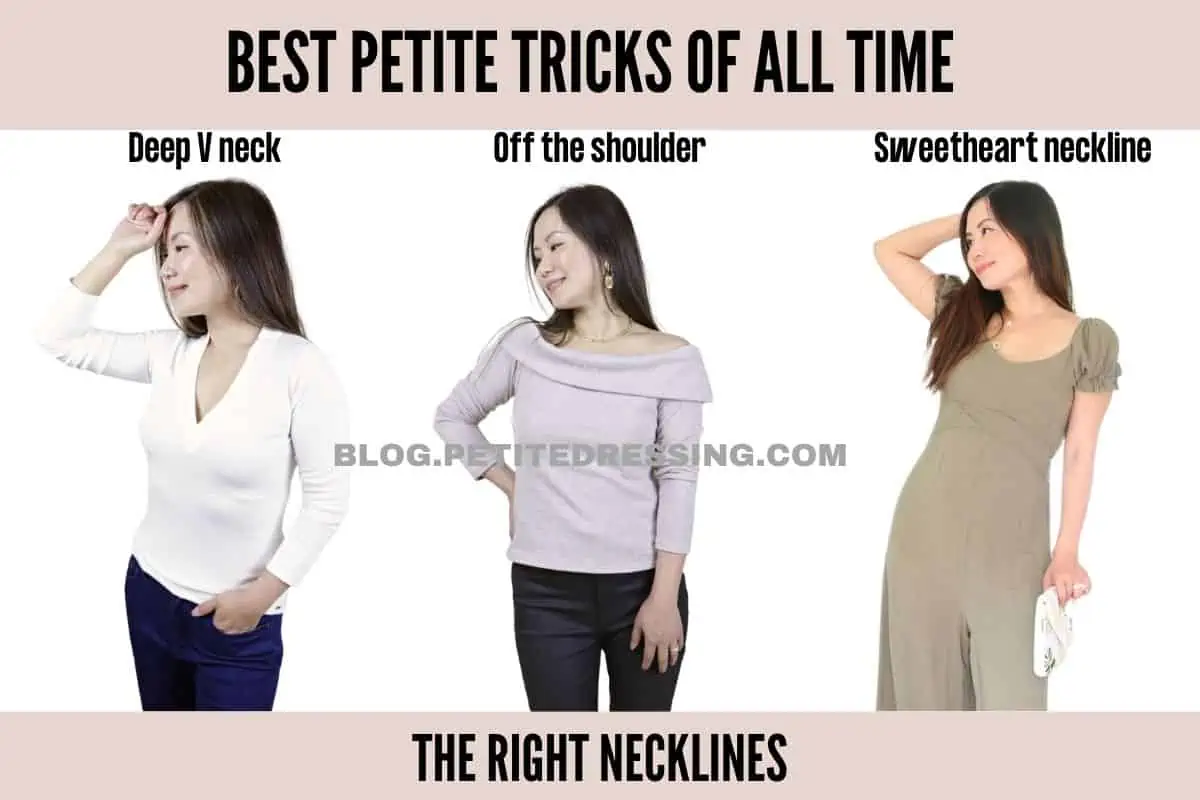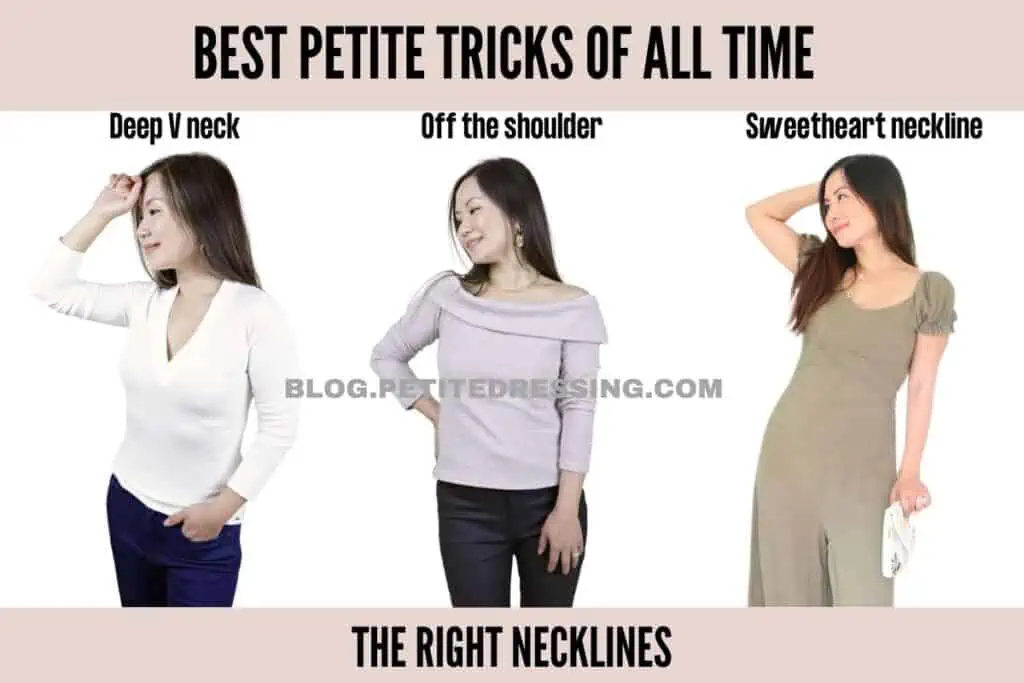 This is the most effortless petite fashion advice to flatter a short girl, but it is so overlooked by most people.
Why is neckline so important, especially to petites?
Because it can change your proportion!
Generally speaking, lower neckline is more flattering to shorter women. (That explains why lower neckline tops in my tops collection are always most popular amongst my customers.)
Sounds intriguing?
The reason is any time you show some skin, you creates space, and that has a lengthening effect. Since most petite women tend to have shorter neck, it is important to elongate our neck.
So, whether you are deciding the best petite top or the best dresses for petites, neckline is the first thing you should be paying attention to.
Here's the most flattering necklines for petites
Deep V neck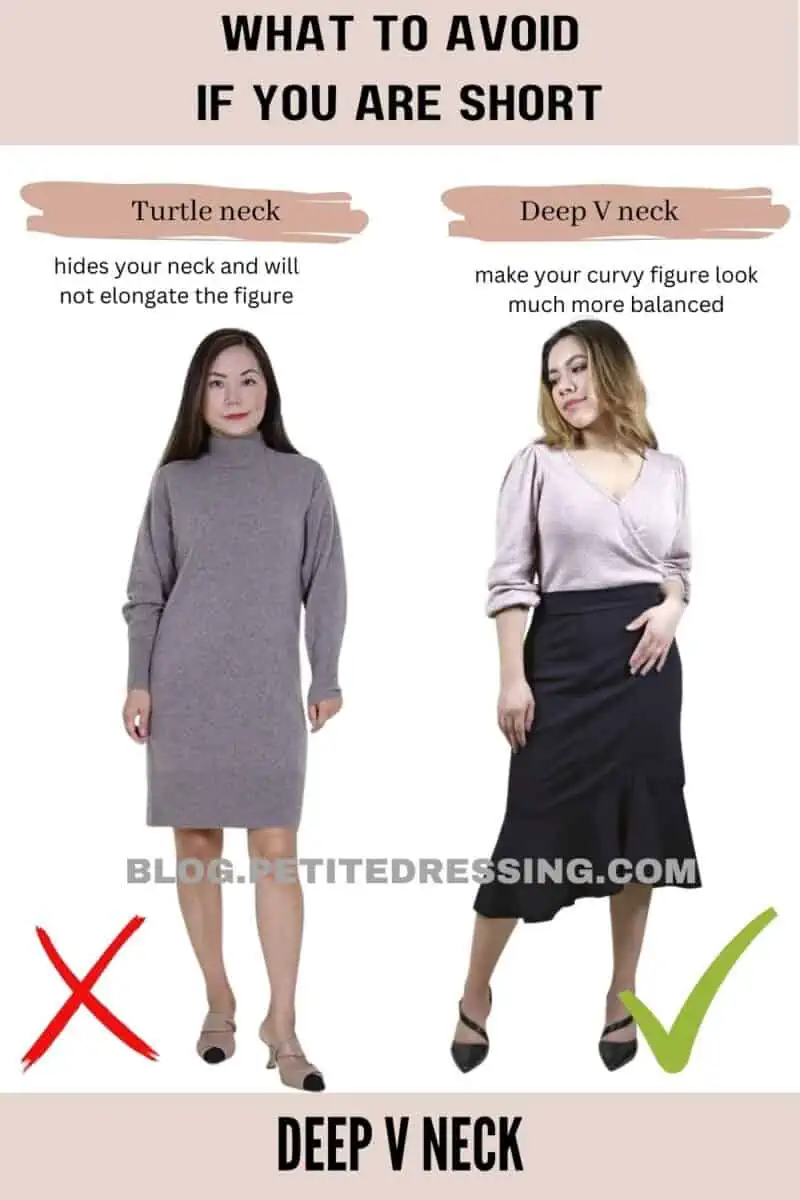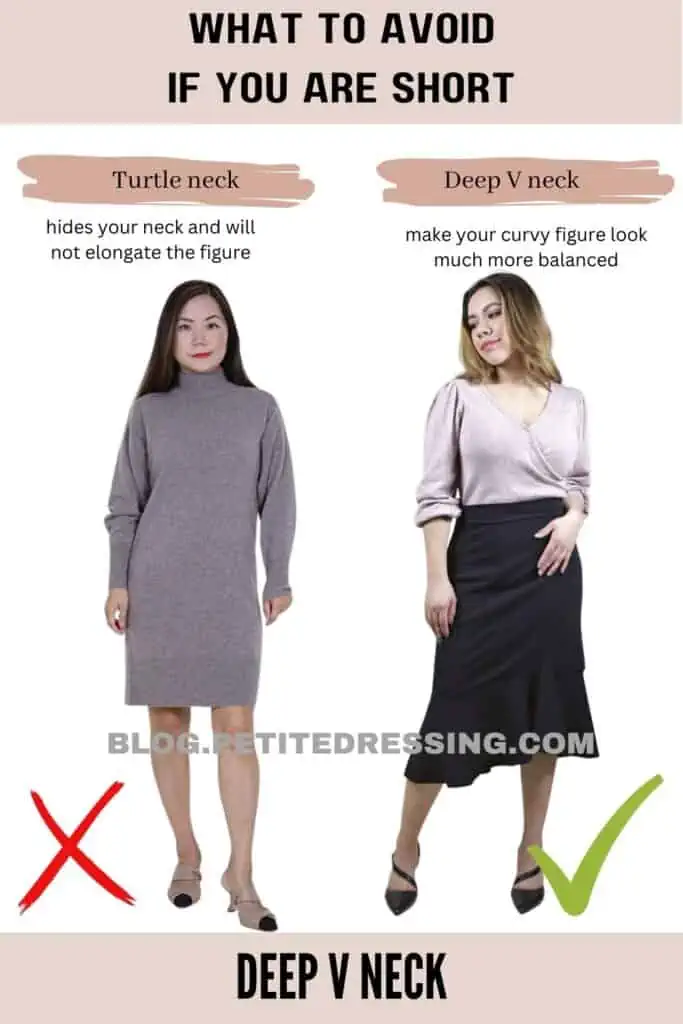 A deep plunging V neckline is flattering for most women, and it is especially suitable for petites.
The reason is petite women typically have a shorter torso, compared with taller women. When you wear a low V neck, it show the skin from your neck to your upper chest, which balances out your short torso.
Besides, if you happen to be a petite woman with full bust, deep V neck can effectively change the "top heavy" impression of your upper body and make your curvy figure look much more balanced.
Off the shoulder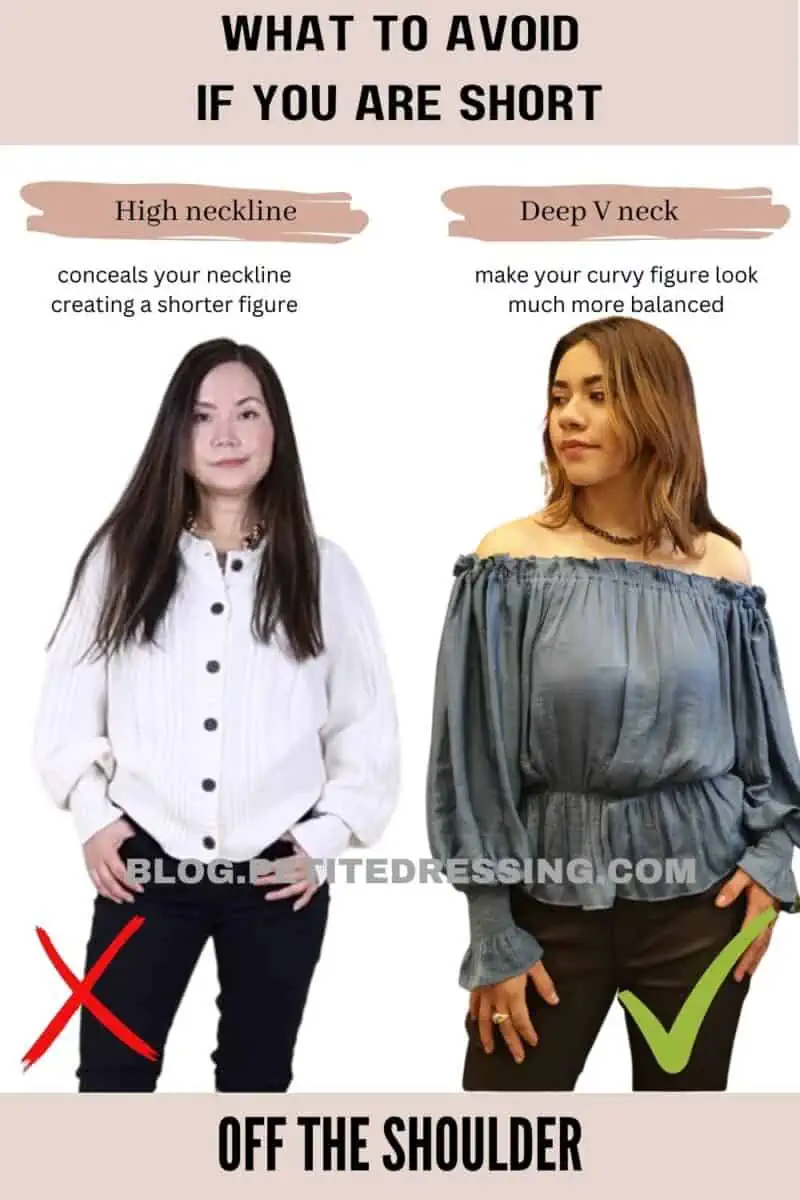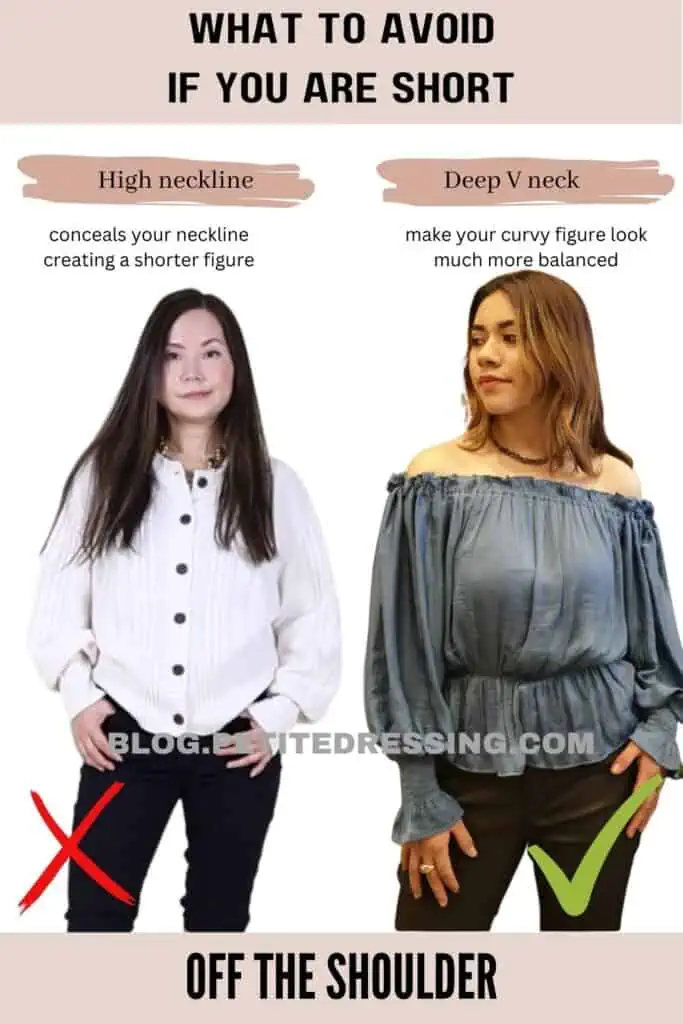 Off-the-shoulder tops or dresses are universally flattering and they work especially well with petite body frames. The reason is by showing the skin on the shoulders, the off-the-shoulder style effectively elongates your neckline and makes your proportion look better.
In the wintertime, go for an off-the-shoulder cashmere sweater that will keep you warm and sexy at the same time. ¾ sleeves is another style that will show the right amount of skin when the weather is cold.
Sweetheart neckline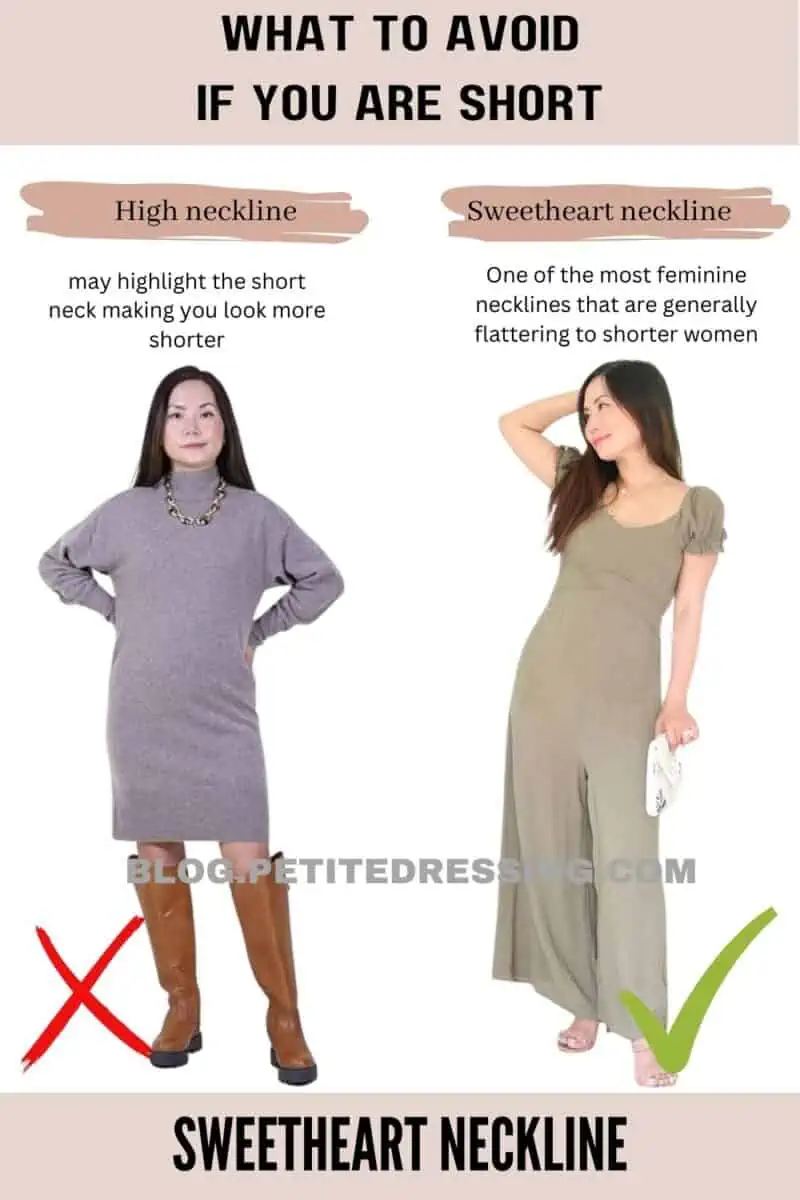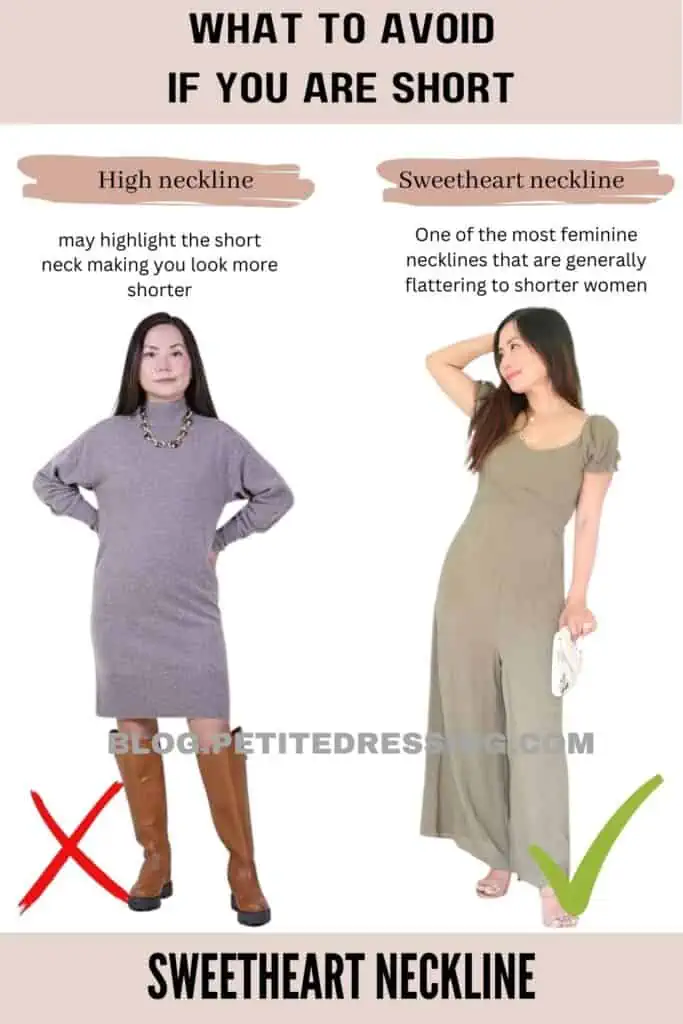 One of the most feminine necklines that are generally flattering to shorter women, and especially the body types that want to add some curves, such as the rectangle body type.
The Right Sleeve Length
The quality of great style is in the details, while sleeves might be one of the most overlooked details of our outfit.
Men's formal wear has certain rules about the sleeve length of dress shirts and formal suits, and the rules seem to be much more relaxed with women's wear.
However, the wrong sleeve length could instantly downgrade the quality of your outfit and the impression people get from it about you, especially at work or on formal social occasions.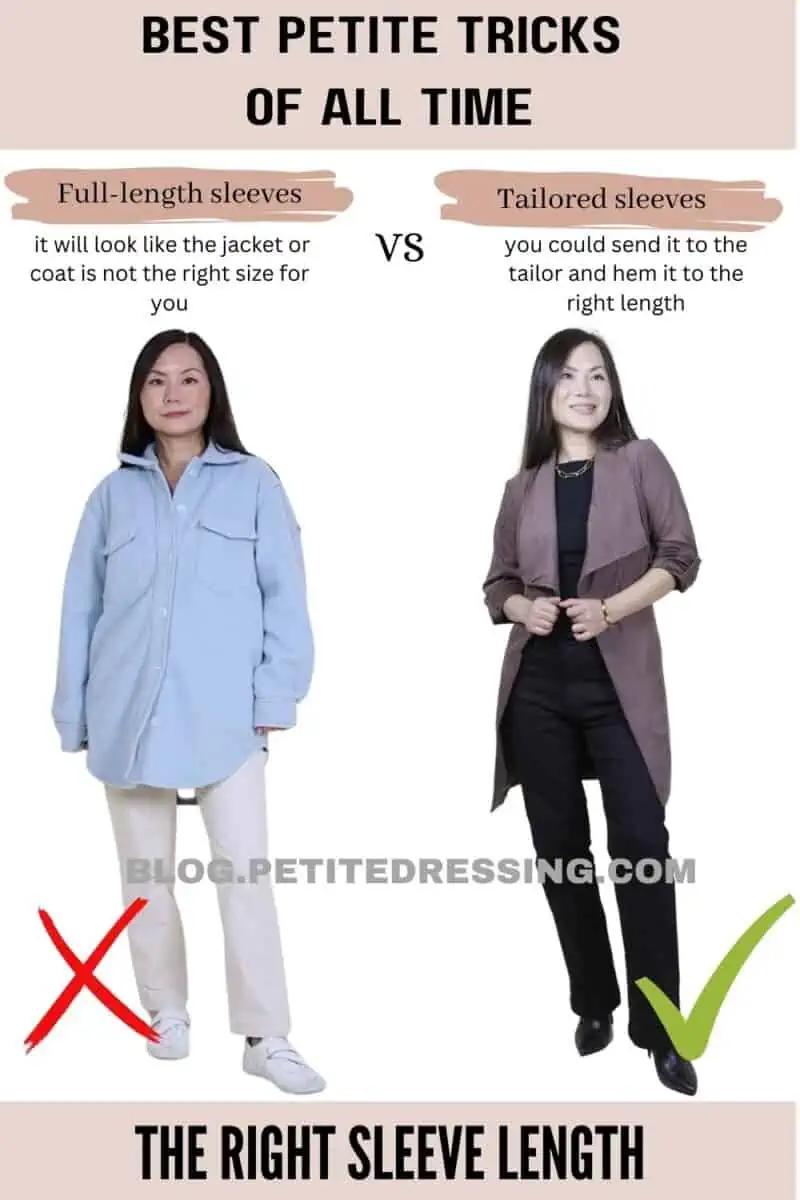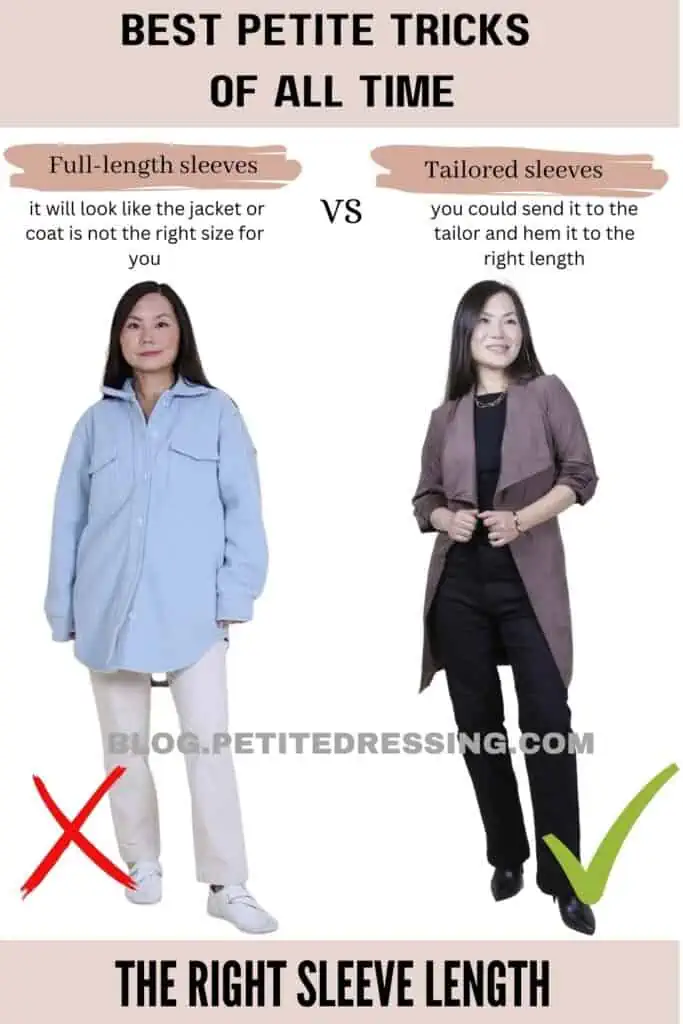 Sleeve length is especially important for jackets and coats, and it is such an important detail of petite fashion. Because most petite girls have shorter arms, one common issue in their wardrobe is that the sleeves of coats or jackets are too long.
For full-length sleeves, the best is to hit just right around the wrist. For petite women, if the sleeves are too long, it will look like the jacket or coat is not the right size for you, even if it fits perfectly elsewhere. That is why it is critical to get your outerwear from the petite department of retail stores or petite designers.
Alternatively, you could send it to the tailor and hem it to the right length, and it will make a whole world of difference.
High-waisted Everything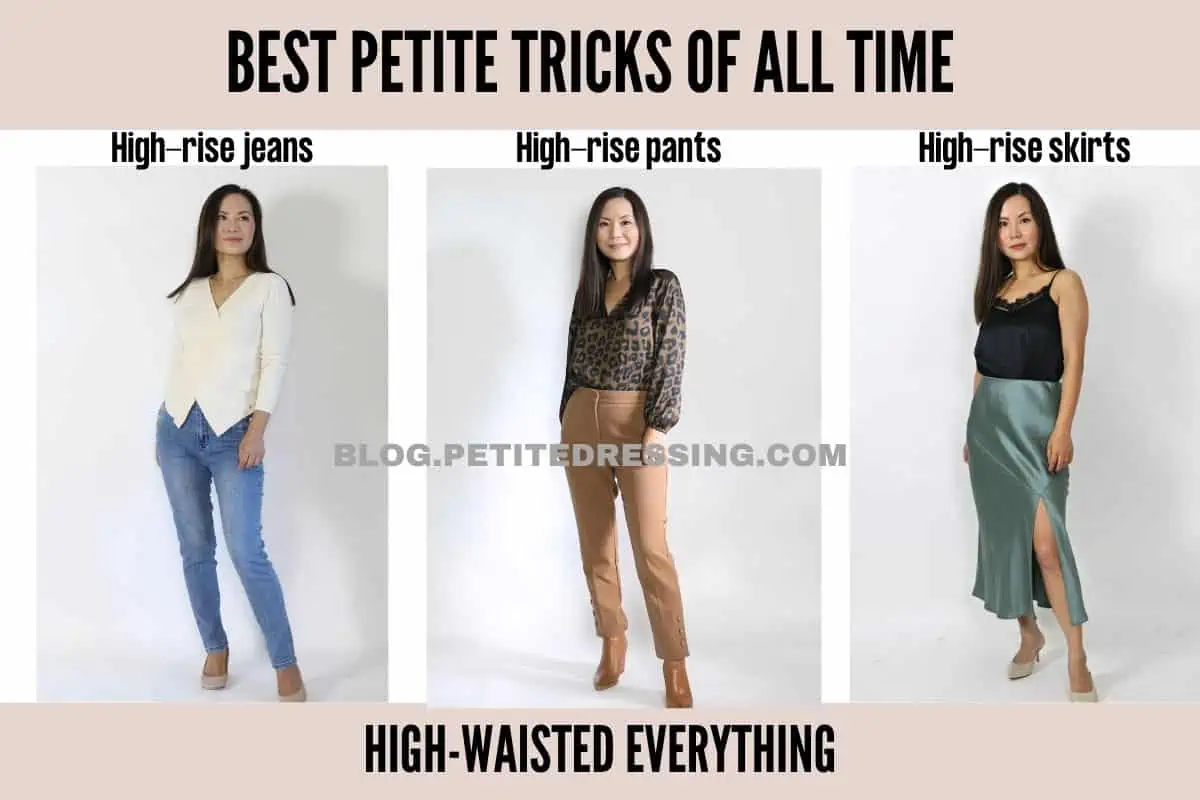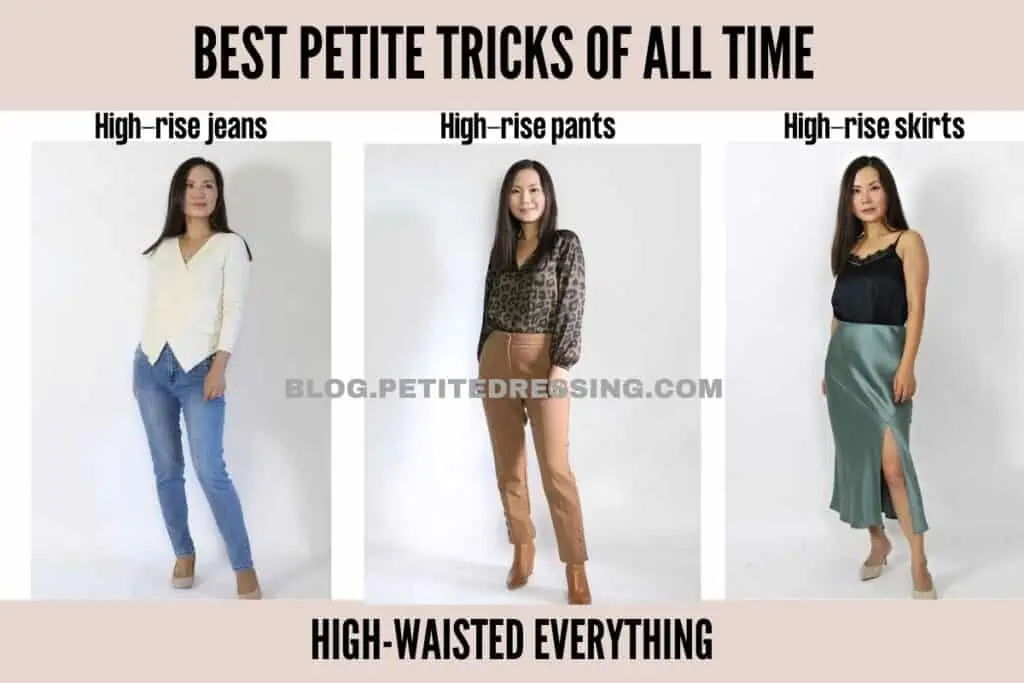 High-waisted style, whether high rise jeans, pants or skirts, is a must have staple of petite fashion wardrobe.  I noticed they are also the most popular styles in my jeans and pants collection for petites.
It effectively elevates your waistline, thus elongating your bottom half and making your legs look longer instantly. 
I mentioned the Golden Mean ratio earlier and how important it is to create the right proportion of your body, and a high rise can effectively make your body look more proportionate. Both high-rise skirt and pants work wonders in petite fashion.
Did I mention wearing high-waisted style helps to disguise muffin top, which is the concern for many apple shaped petite women?
And of course, you do not ever have to worry you are bending too much and showing your under panties in high-rise pants.
Wear Dresses All Season
Dresses are the ultimate most flattering outfit for petite girls, because they meet many of the petite flattering principals at the same time such as rule of the thirds, showing your skin and creating a column of color (the vertical line).
I encourage all petite woman to wear dresses as much as they can, throughout the year!
Wearing dresses in all seasons may not be something you are used to, especially if you live in area with cold and harsh winters.
However, there is a solution for that.
In the winter time, wear a wool blend or cashmere dresses with knee high boots will keep you warm just as much as wearing pants, and they are good for any work or social occasion.
Wear One Piece
For petite women, the best way to create the illusion of height is to wear one piece. It could be a dress as we talked about earlier, or petite jumpsuit.
Even if you may not own a jumpsuit, you may have noticed jumpsuit is gaining popularity in recent years. It seems overnight jumpsuit has become the go-to outfit for celebs including some of our favorite short actresses such as Emilia Clarke (5'2″), Scarlett Johansson (5'4″) and Kim Kardashian (5'3″).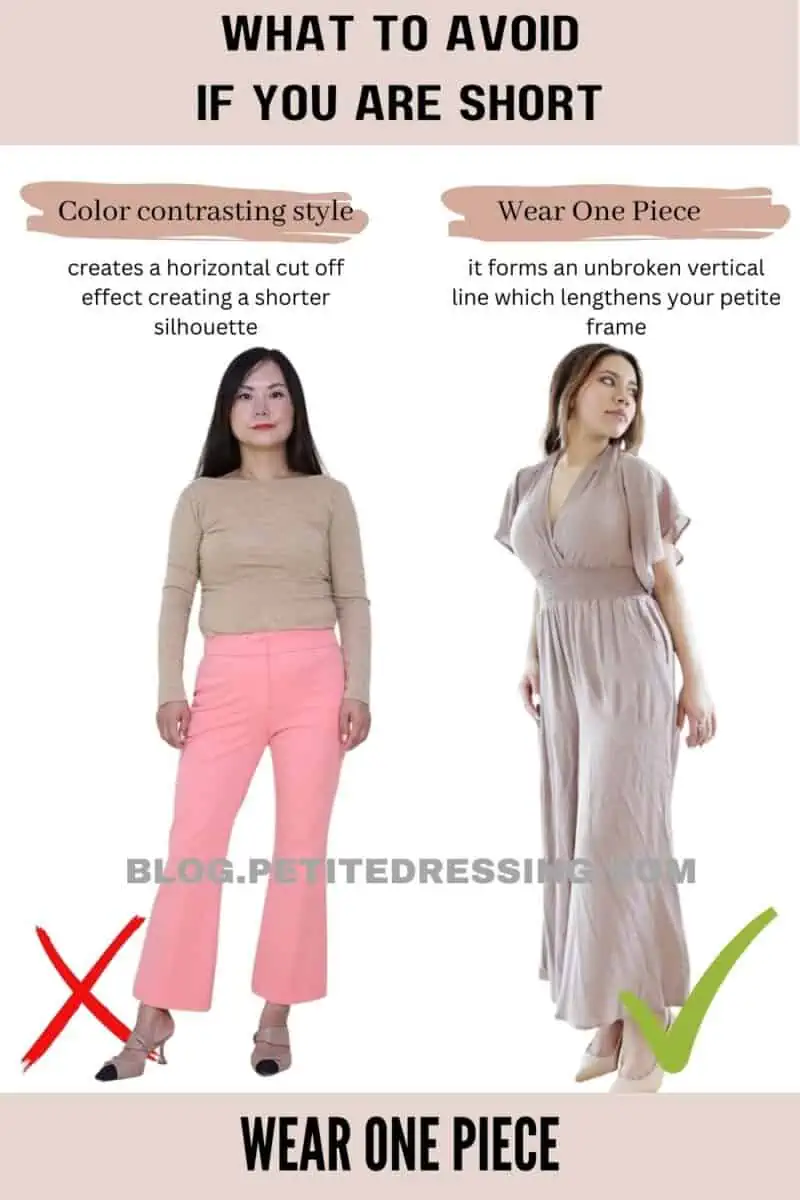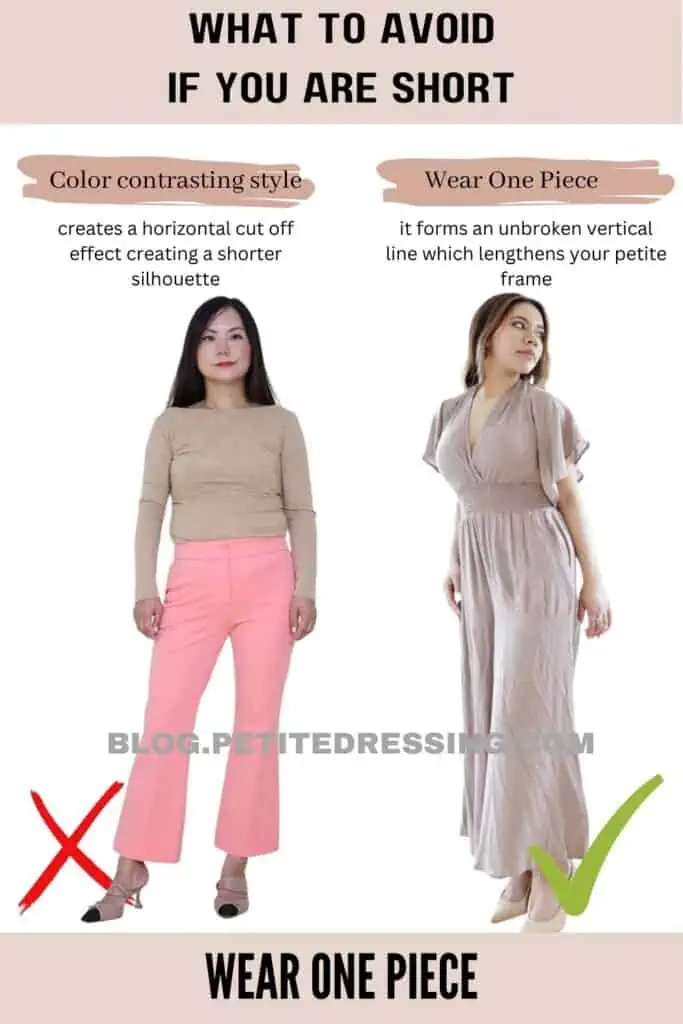 There is many reasons for us to love jumpsuits.
The obvious one is that they are automatically dressy. When you are wondering what to wear to wedding, you can always consider a dressy jumpsuit. Traditionally, people might got the impression that it is best to wear petite dresses for weddings. Jumpsuits have been worn by so many celebrities on red carpet that they are now commonly accepted as an appropriate attire for dressy and semi-formal occasions.
Besides, jumpsuits are very easy to style. Just put on your heels and wear your favorite necklace or earrings, and you look effortlessly chic.
Last but not the least, for short girls, the best part of jumpsuit is that it forms an unbroken vertical line which lengthens your petite frame. This is why they are one of the top staples for a stylish petite wardrobe.
So, if you have not tried a jumpsuit, be sure to check out Petite Dressing's jumpsuit collection as well as other major retailers like Nordstrom and ASOS.
Now, let's apply the same principal to expand the choices. The same goes for black shoes when you are wearing black pants, or, in fact, wear any color shoes that blend with the color of your pants.
By wearing chromatic colors from waist down, you are creating a column of the same color, the vertical line, which is the foundation of styling petite women.
Wear Long Layers
Yeah, you heard it right, not short, but long coats are very flattering to petite women.
You have read on various style blogs that petite women should choose the right length for their coats and jackets, and it is safe to make sure it does not go over your knees. That is all legitimate petite fashion advice.
However, if you are ditching long coats because of that, you are missing out big time.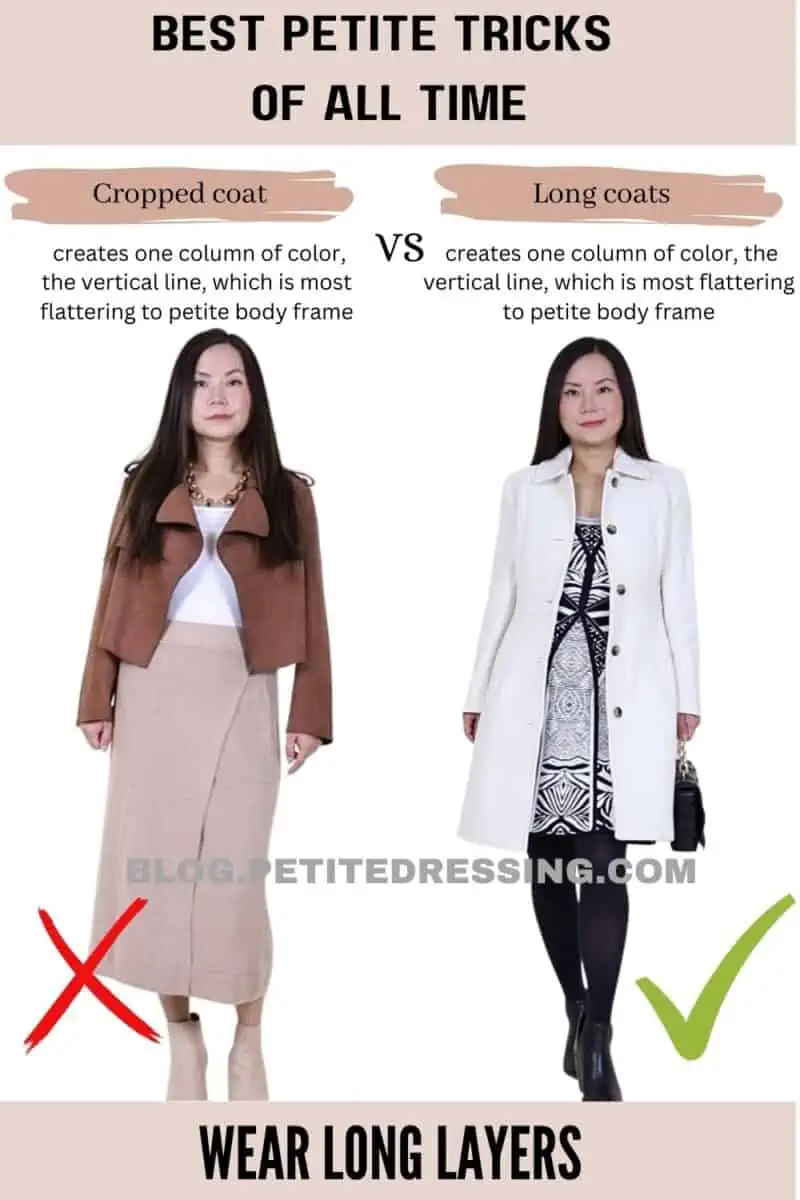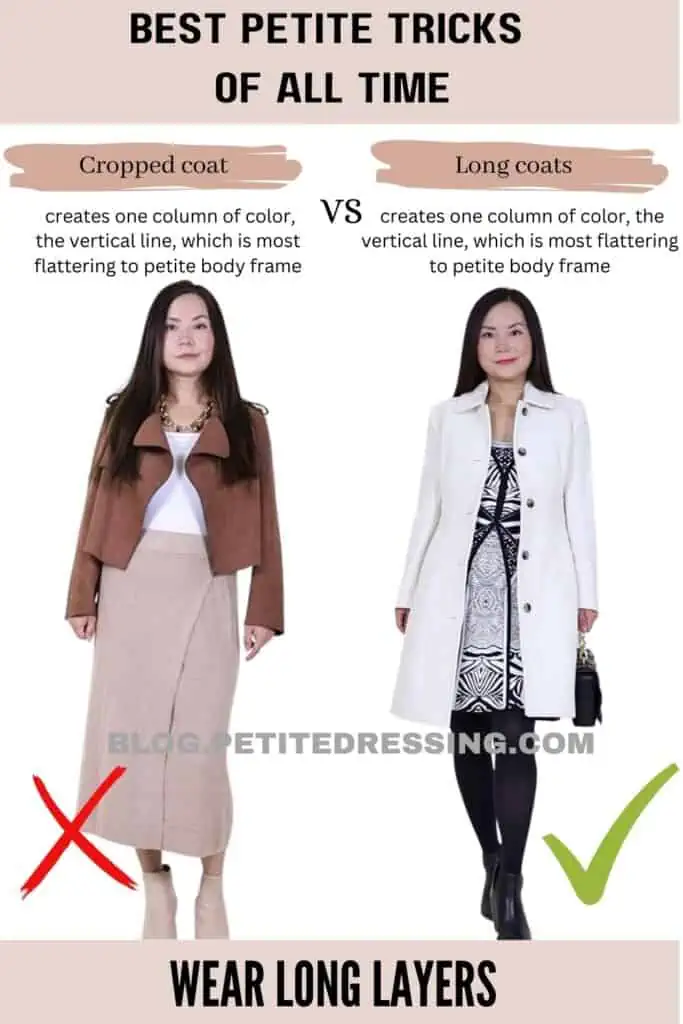 Have you seen the winter uniform of some Asian airlines? The stewardesses wear black or navy coats over their skirt suit, and the coats reach their mid-calf. From a distance, you cannot tell they are petite, because the H shape coat creates one column of color, the vertical line, which is most flattering to petite body frame.
Now, there is certain details you need to pay attention when wearing long coats. They of course cannot be too long that they overwhelm your body frame, and they work best with heels at least 3 inches high.
I do not suggest wearing long coats with flats or sneakers- that just does not look right and they will make you look shorter than you are, like the stylists suggested.
I highly recommend you read my other blog posts on "Best Coats for Petites"
Skinny Color Shoes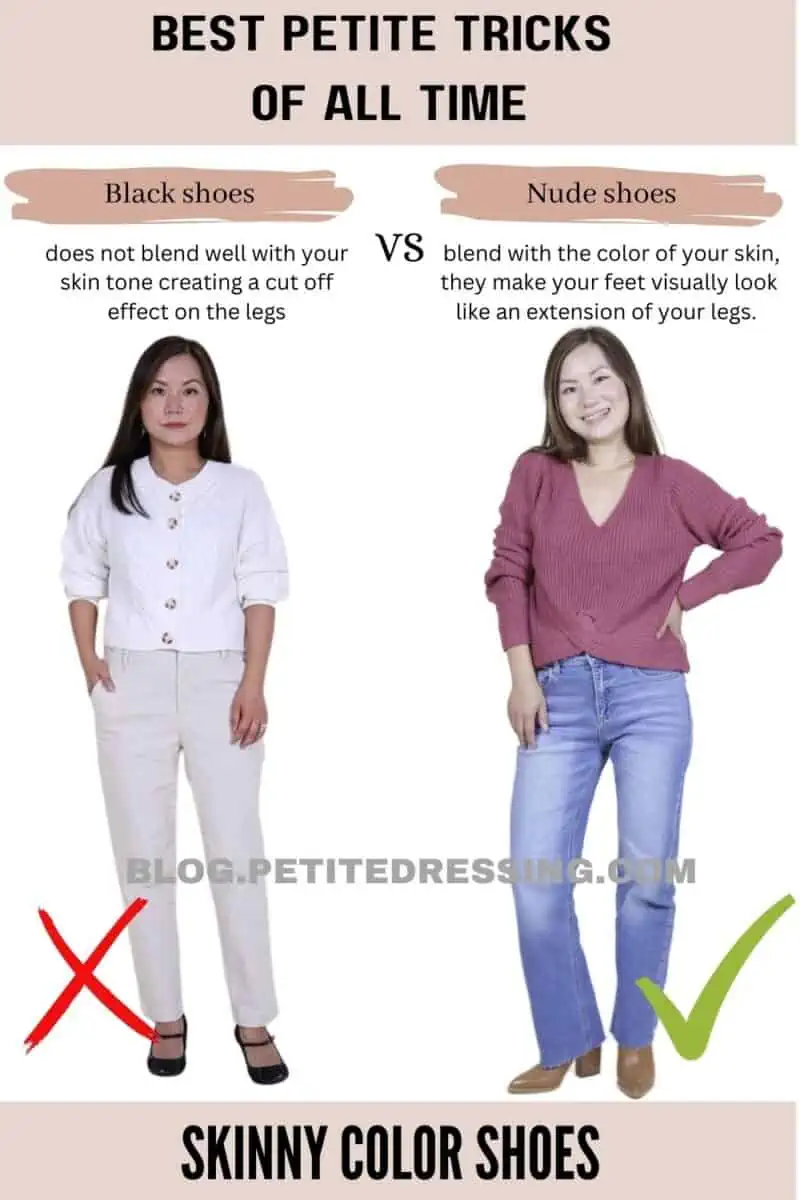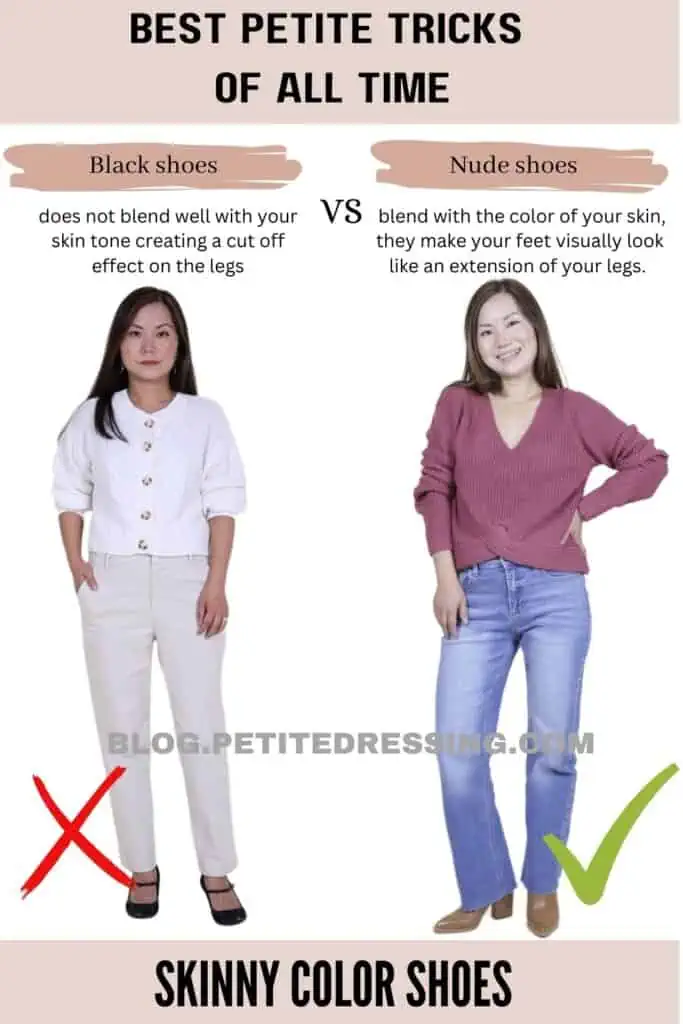 If there is only one pair of shoes we can have, for petite woman that pair has to be nude heels!
They do an incredible job to elongate your legs. especially when you wear dresses with bare legs.
Back to the most petite fashion concept about proportion, because nude heels blend with the color of your skin, they make your feet visually look like an extension of your legs.
Most petite girls would love to have those extra inches!
The Right Jeans
You could never have too many pairs of jeans, whether you are petite or not. It is true jeans are so versatile and they go with anything, but that does not mean you can throw on any style and look equally good.
Pinterest and other social media are flooded with street style shots of people wearing jeans, and some of them are far from pretty. Choosing the right style for you could really "make it or break it".
There are so many choices on the market, flare jeans, straight leg, skinny, boot-cut, boyfriend, and etc, but which jeans are best for petite women?
There are certain styles and washes that are universally flattering such as black skinnies, and they generally look great on petite girls as well. Meanwhile, petite women have some common traits such as a shorter torso and shorter legs, so certain styles work better for petite body frames than other.
High rise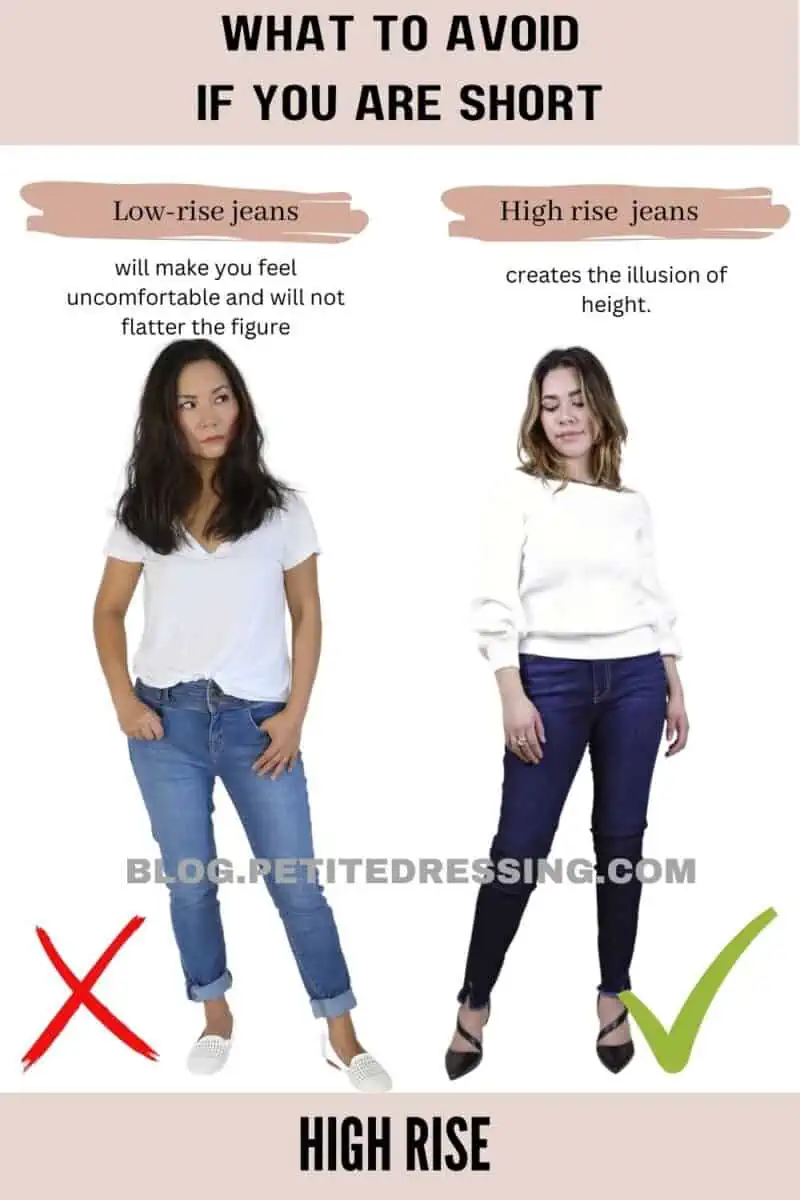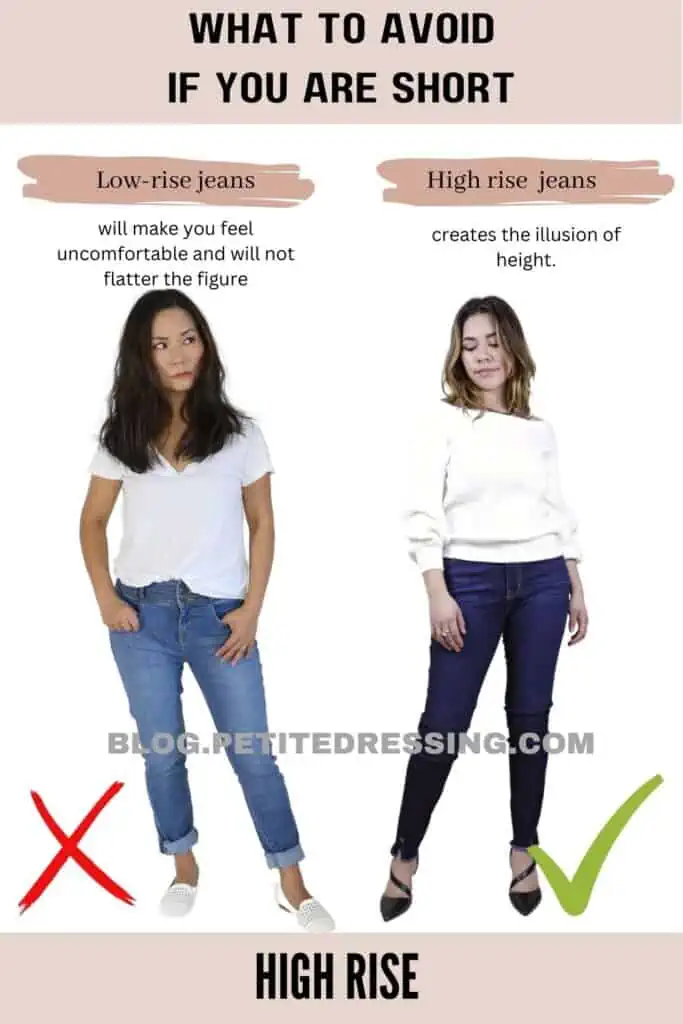 The comeback of the high-waisted style is one of the best trends in the petite fashion world in recent years. They are not the loose-fit "Mom jeans" of the 70s or 80s, instead, they are chic, sexy, and functional as seen on petite celebrities such as Kourtney Kardashian, Kim Kardashian, Victoria Beckham, and Eva Longoria.
High-rise jeans are especially recommended for petite girls because it effectively elongates your legs and creates the illusion of height.
Flare leg
Flare jeans are another style that balances the petite figure and looks flattering on petite women, especially when paired with high heels.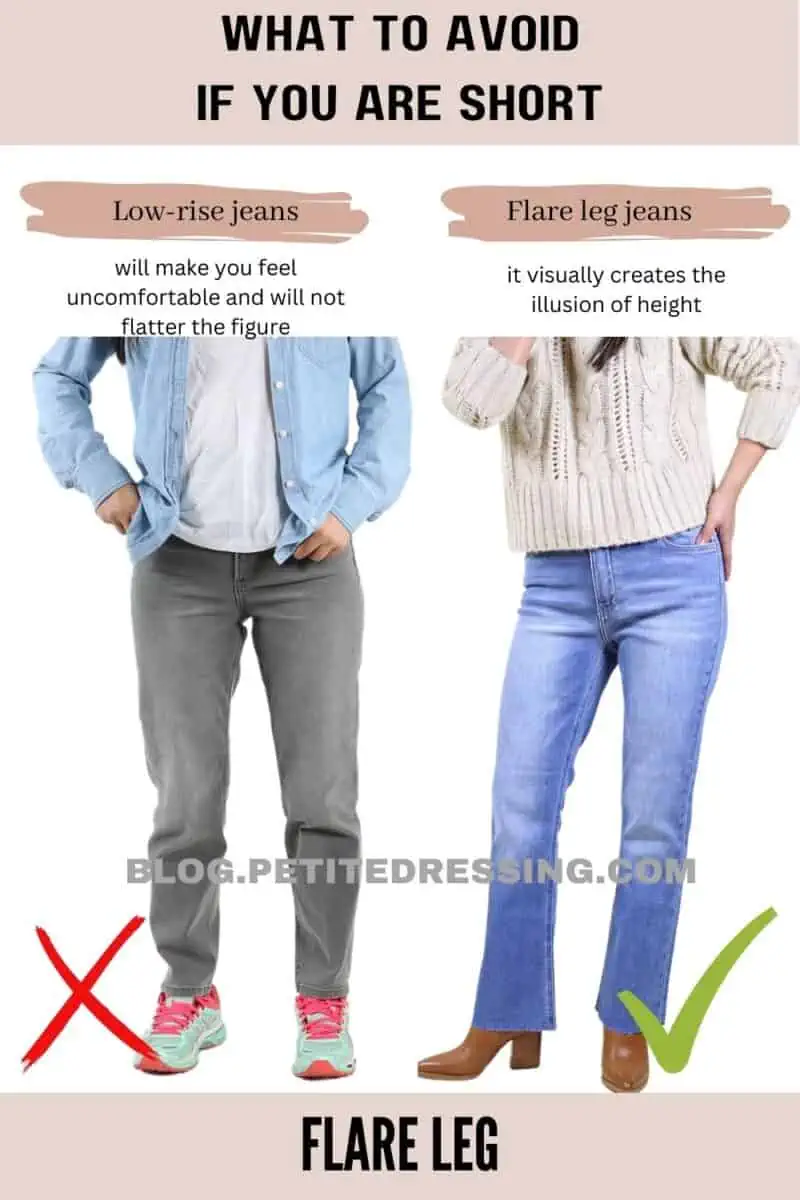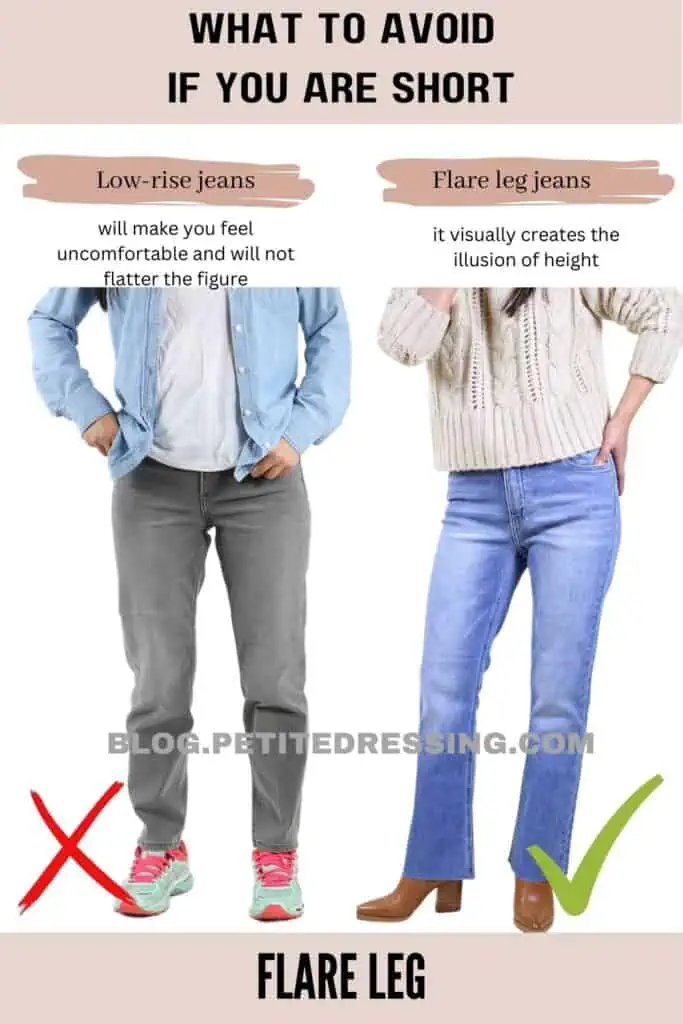 Vertical details
Create vertical line is important in petite fashion, because it visually creates the illusion of height. Look for jeans with vertical details such as vertical seamline, or piping on the sides of legs.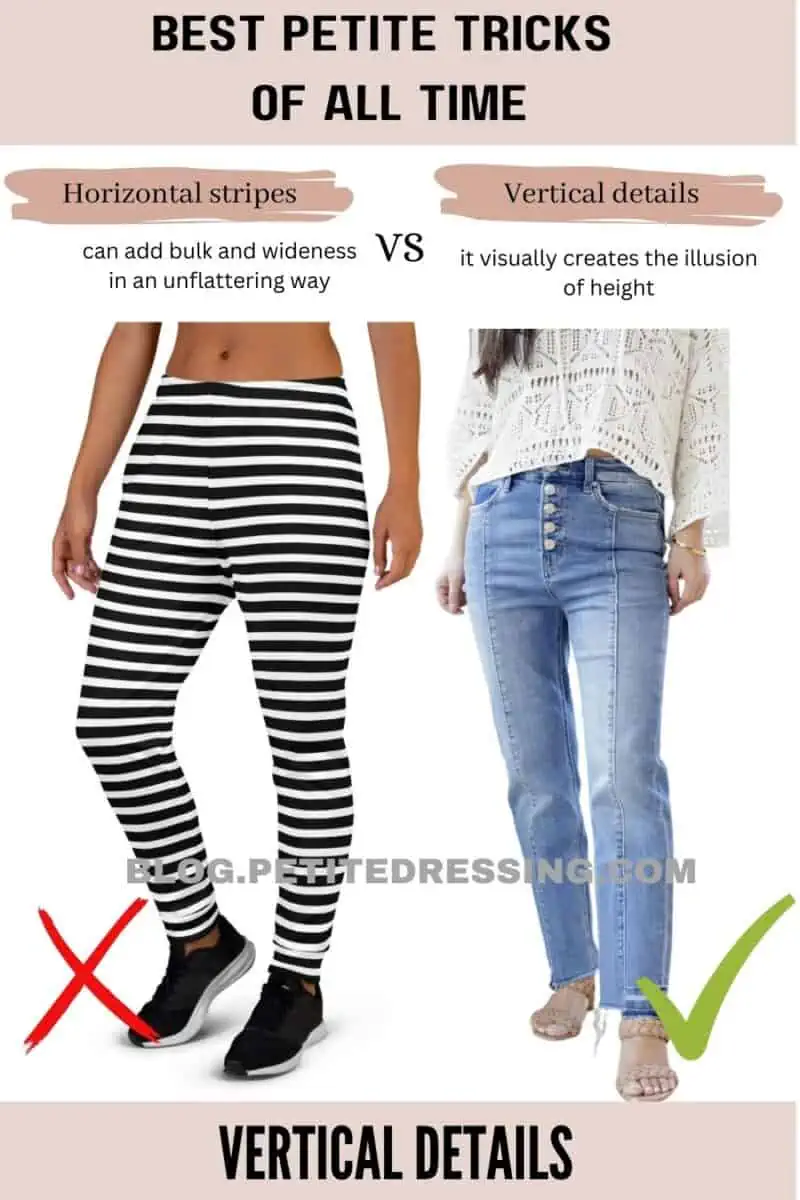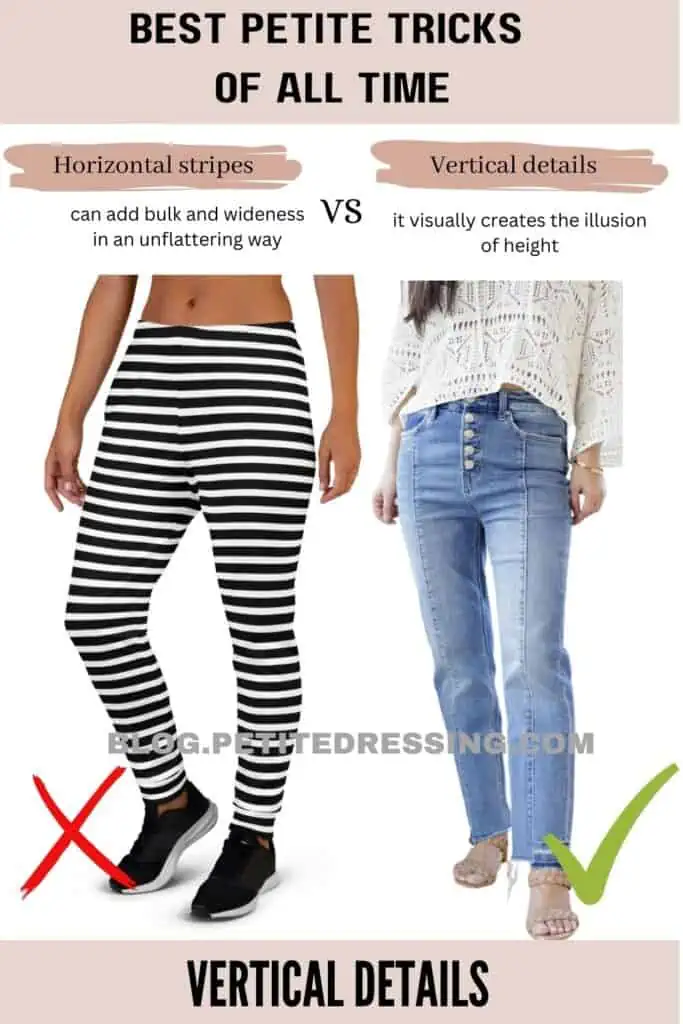 Choose according to body type
Depending on the body type, each petite girl also has unique figure, thus you have assets that you should accentuate and areas of concerns you may not want people to notice. In that case, finding the right jeans for your body type is important.
For instance, pear shaped women have prominent thighs and they gain weight first on their thighs, so a pair of black skinny paired with dark color boots will both distract people's attention from your thighs and elongate your legs.
Avoid low rise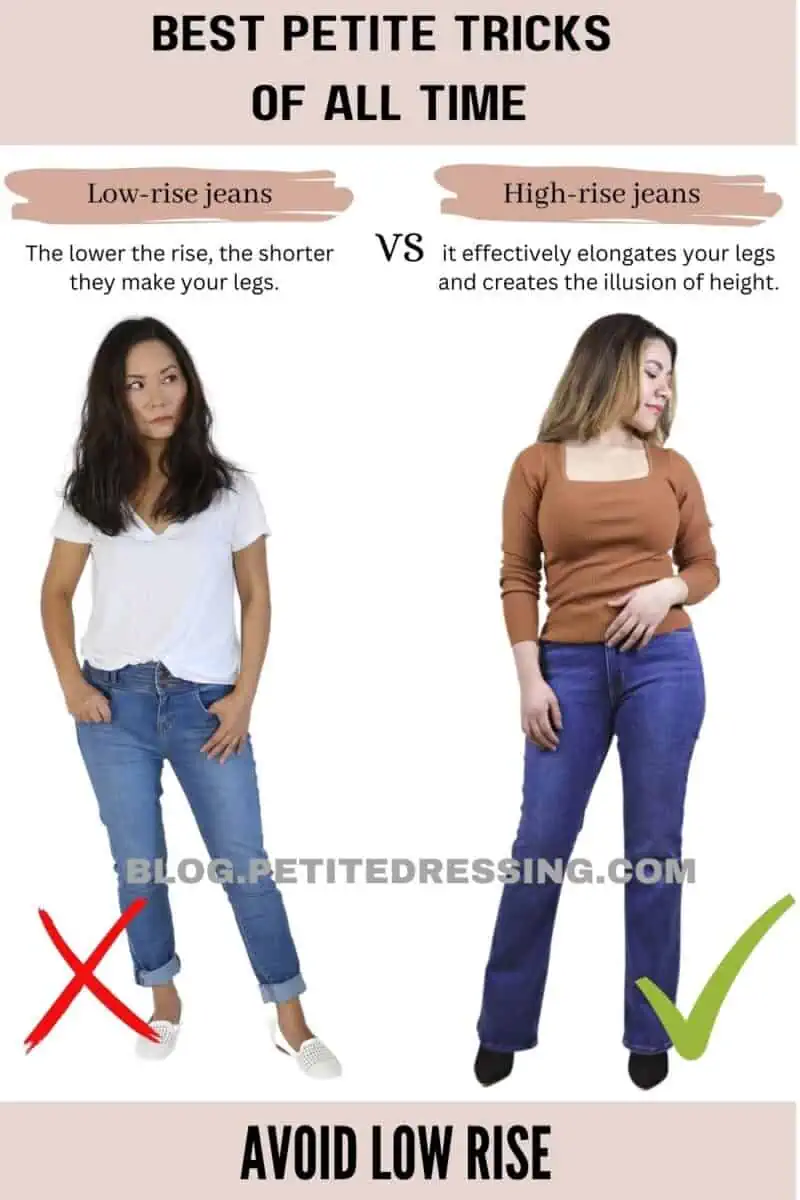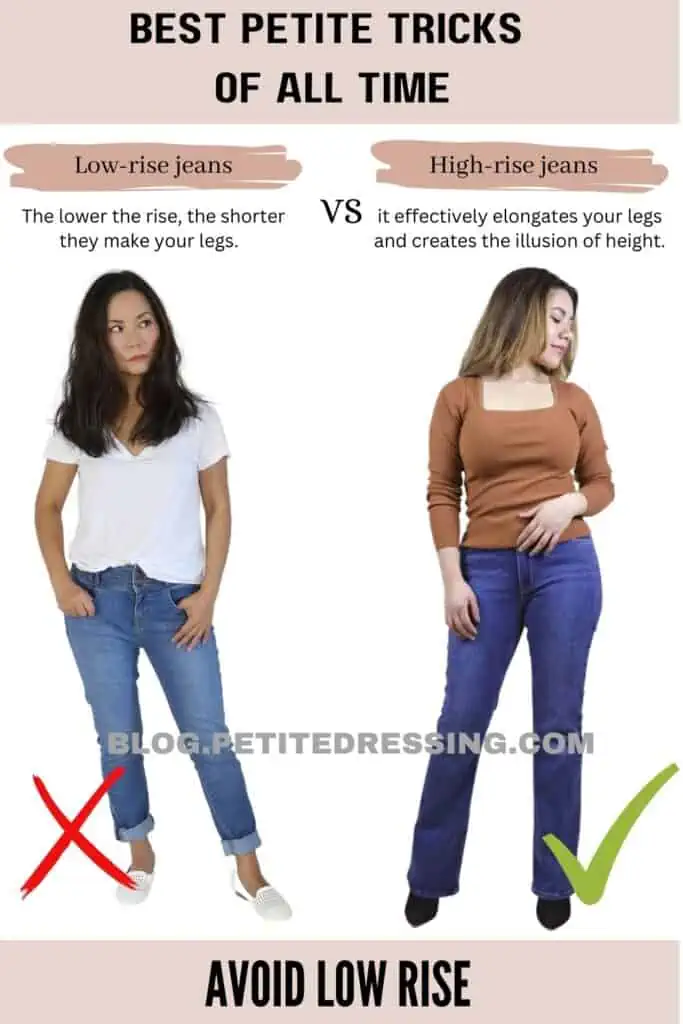 There are styles that are universally unsuitable for petite girls such as low rise jeans. The lower the rise, the shorter they make your legs.
Unless you are an extremely lucky petite girl blessed with super long legs so you do not care about losing an inch or two from wearing low rise style, otherwise we urge you to ditch the low rise style. Low rise style also makes your muffin top looks worse, if you tend to gain weight in your midsection.
Avoid baggy jeans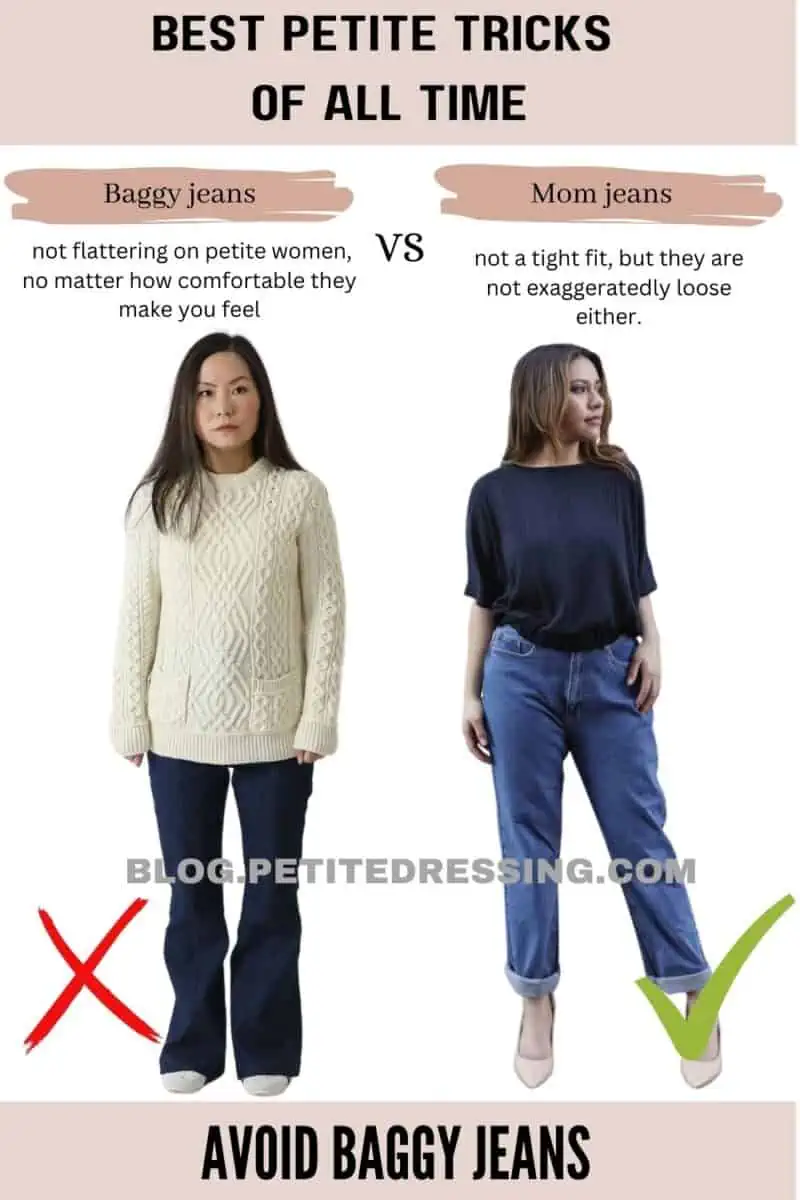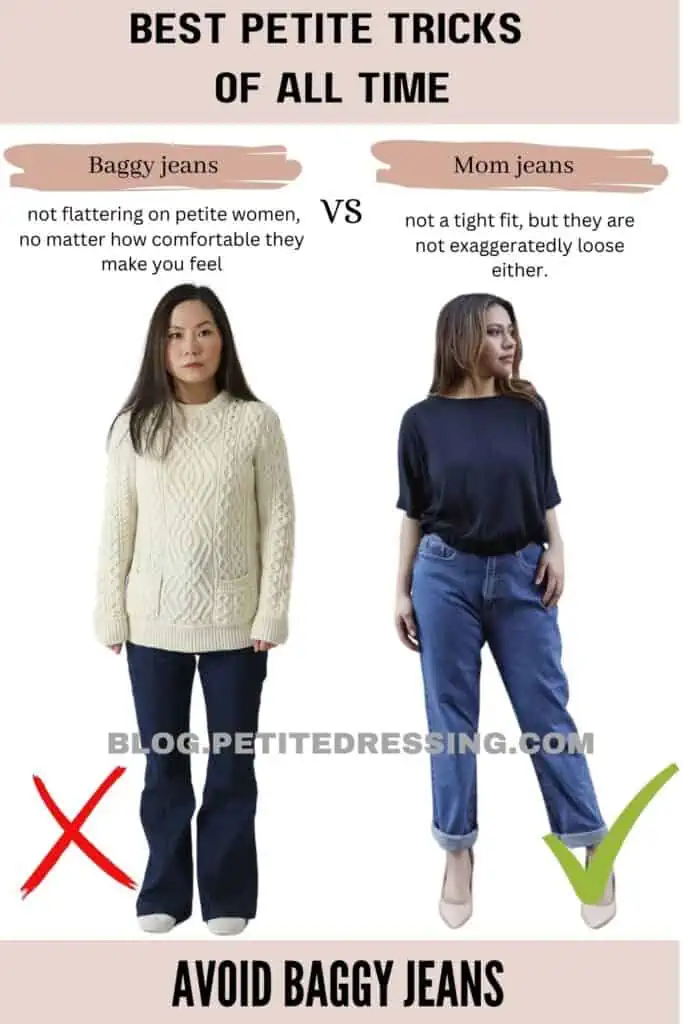 It is also worth mentioning the trend of boyfriend jeans in recent years, which could also be tricky on petite girls because of the slouch fit.
I'm not saying you should stay away from boyfriend jeans, but choose it wisely and avoid overly loose fit. They are not flattering on petite women, no matter how comfortable they make you feel. A better choice is girlfriend jeans, if you really like the slouchy fit. They are not tight fit, but they are not exaggeratedly loose either.
I highly recommend you also read my guide on "Best Jeans for Short Girls" where I give you all the details and petite jeans style tips you ever need.