Special occasions are exciting because it's out of the norm and something to look forward to.
As exciting as special occasions can be, I understand as a petite woman finding the perfect dress can feel like a challenge only fellow petite ladies understand. I am 5'2″ myself, and I have a clothing line for petite women, so I completely understand how hard it can be for you to find something that is flattering on your short frame.
Maybe you have a wedding, gala or something fun on your upcoming calendar. I've put together this complete guide based on my own experiences, as well as feedback from thousands of my petite customers.
Now, let's get into the details…
THE DRESS CODE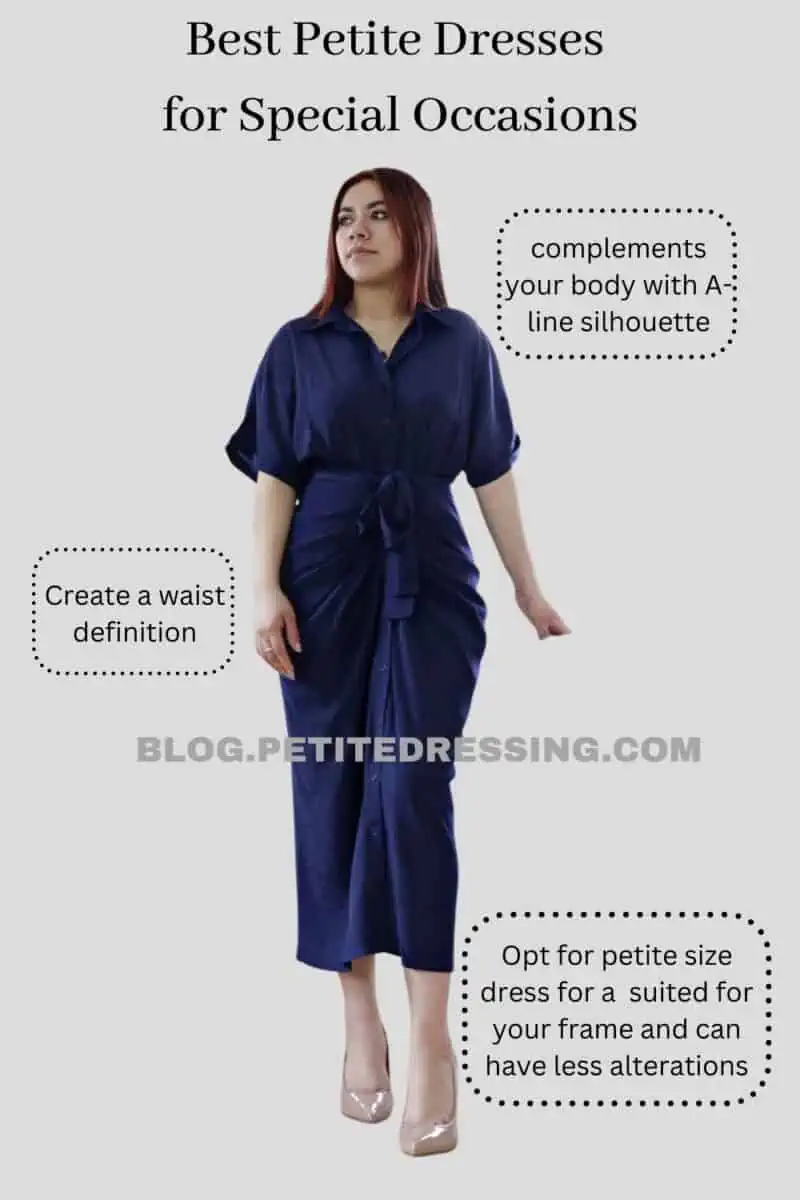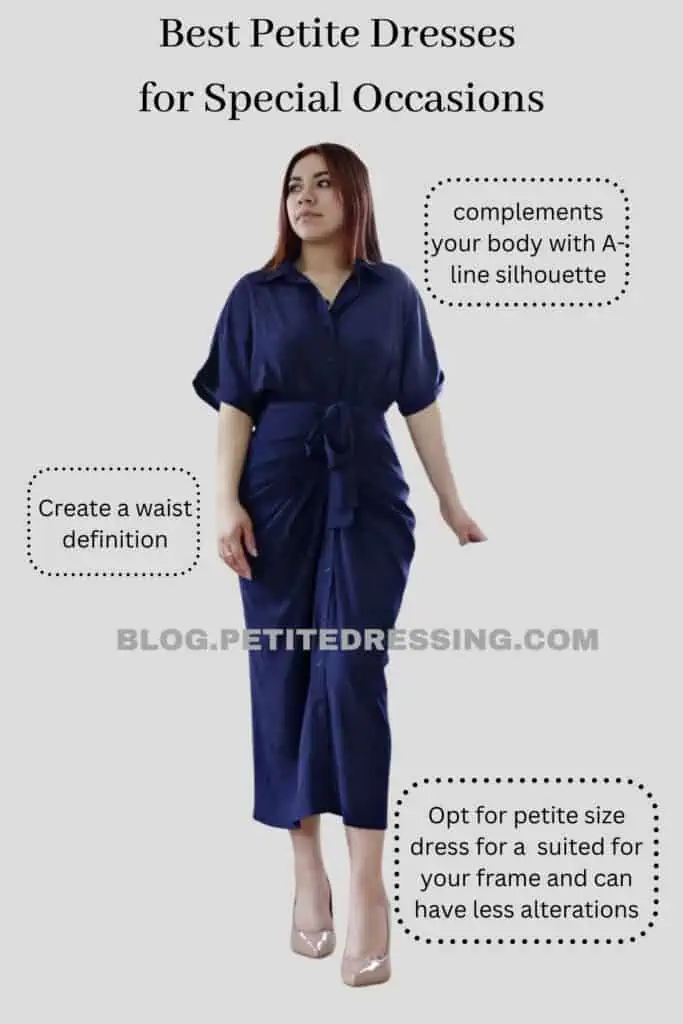 This is SUPER important when you're getting dressed for a special occasion.
Once you get invited to an event it's crucial that you make sure you have a real understanding of the dress code that's expected for the event.
Naturally, not all events you get invited to are going to have the same dress code expectations. The most common special occasion dress codes are: cocktail, semi-formal, black tie and white tie.
Cocktail
Cocktail attire calls for shorter dresses, this type of event isn't formal and isn't casual – think somewhere in the middle.
Semi-formal
Semi-formal is also known as black tie optional.
Semi-formal is a bit more dressed up than cocktail although there is some overlap between cocktail and semi-formal depending upon the time of the event(s).
Instead of floor-length petite evening gowns, you can wear tea-length dresses (below your knee and above your ankle).
In fact, you don't have to wear dresses, instead, you can opt for a dressy petite jumpsuit and style it with statement jewelry and evening heels.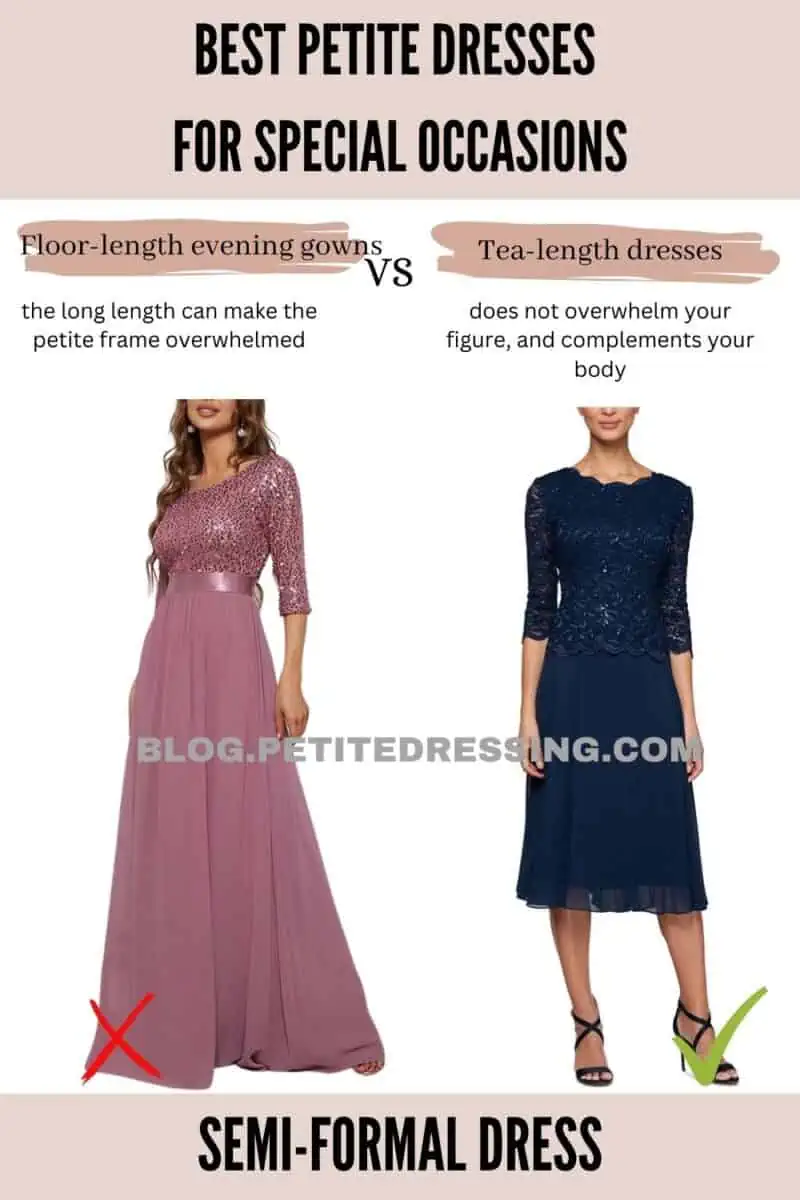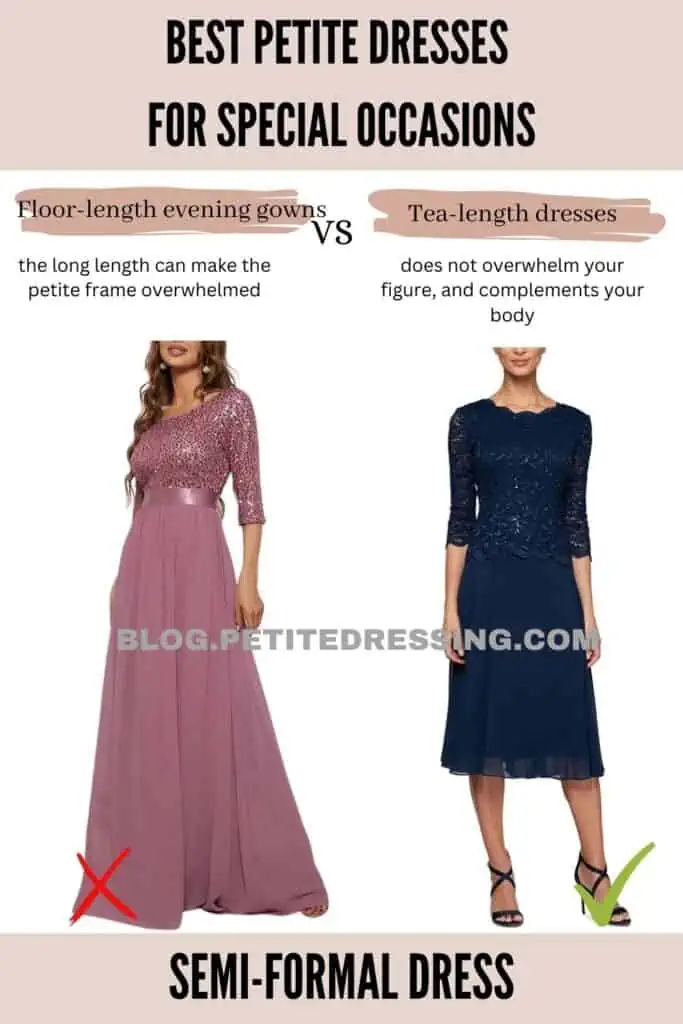 Formal
Formal, also known as black tie, is where you start to get into much more formal attire (hence the name of the dress code).
Various lengths and styles of dresses are appropriate for this particular dress code, but you will want to air on the more formal side.
Black tie is where you reach a very formal dress code, think floor-length gowns here.
White tie
Finally, the white tie dress code is the most formal of all the dress codes. Gowns are a must for this kind of occasion.
It's not every day that you will get invited to a white-tie event though.
Think the Met Gala or the royal wedding type of event- this is as formal as it gets!
Unspecified
A good rule of thumb when you're not sure what's appropriate for a special occasion dress code is to consider what the men are expected to wear – that tends to help you determine just how formal or not an event is.
For example, if men are expected to wear a tuxedo women shouldn't arrive wearing a cocktail dress.
THE SILHOUETTE
Make sure you're paying attention to the silhouette of the special occasion dresses you are trying on and ultimately choosing.
For petite women in general, silhouettes that show your shape are the most figure flattering. Based on the feedback from thousands of my petite customers, below are the best types of special occasion dresses that will look good on shorter women.
A shape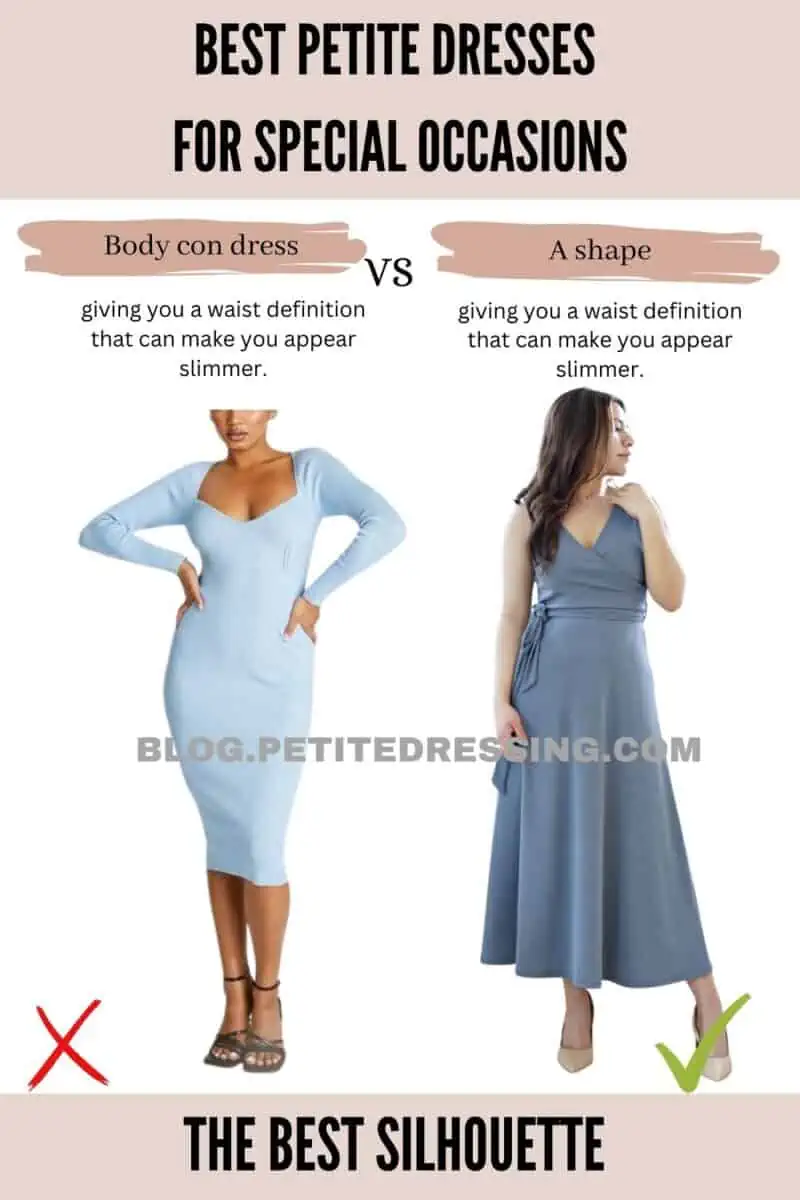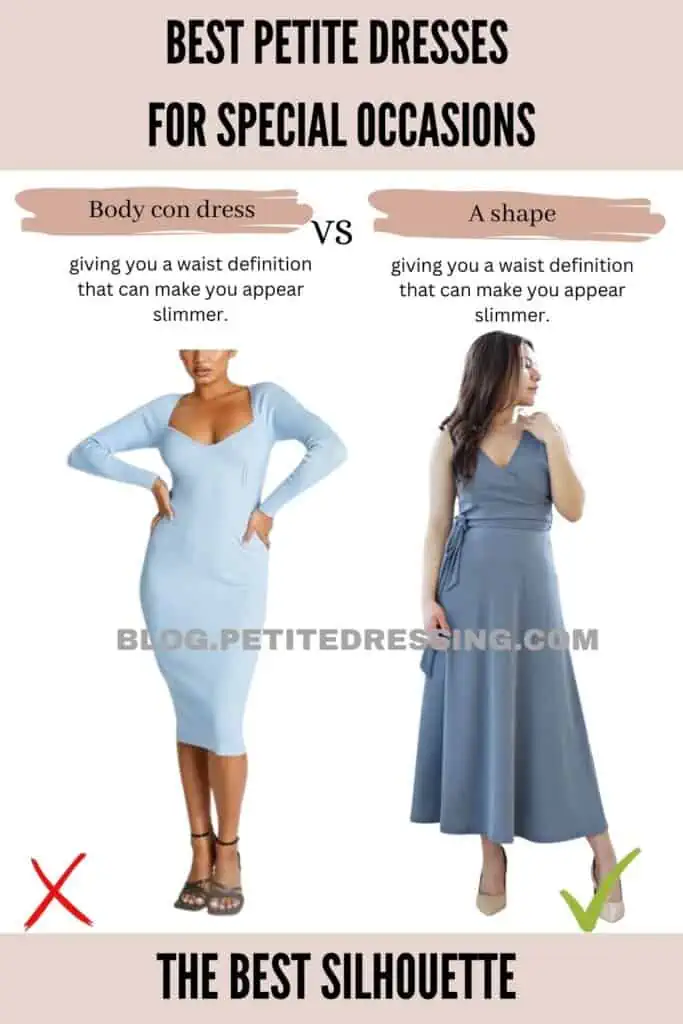 This is also commonly known as fit and flare dresses. These are the most popular type of dresses because they are most forgiving, no matter what body shape you have and where you carry weight on your body.
This type of dress fit snug on your upper body and flares out under your waist, therefore giving you a waist definition that can make you appear slimmer.
H shape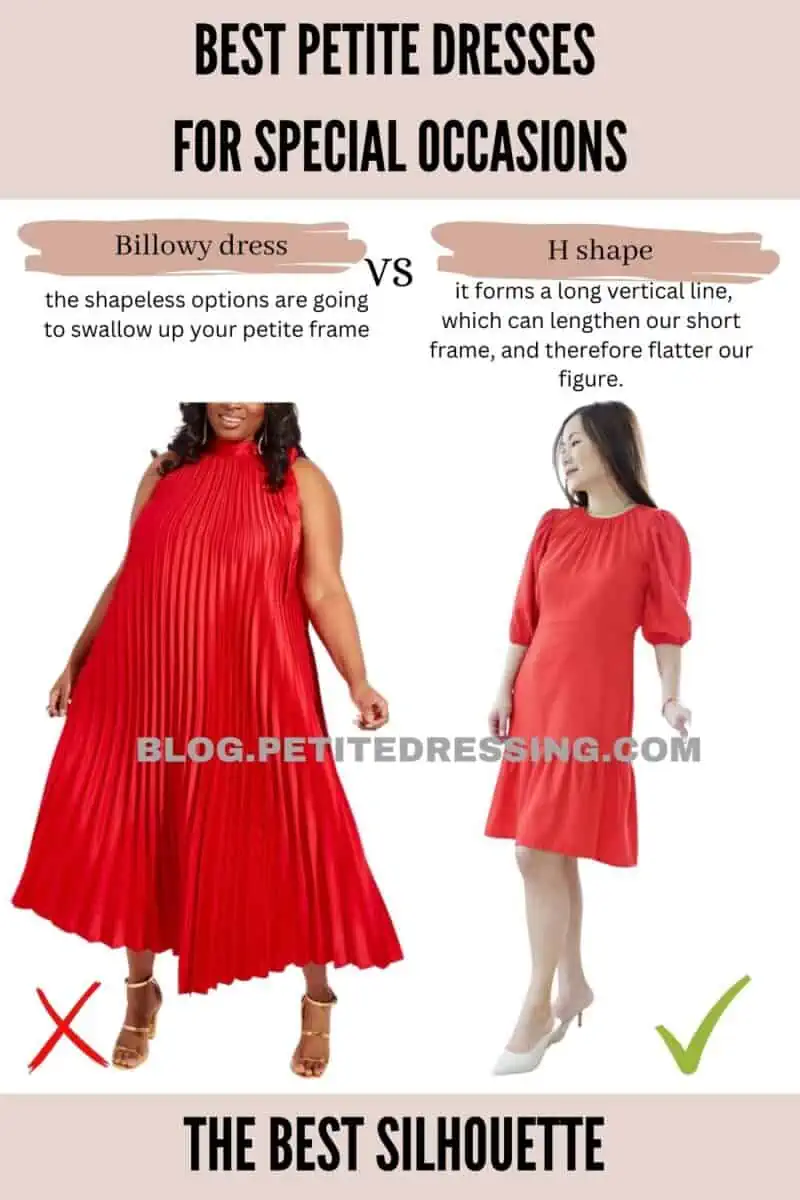 This means the dress has a shape of a column, and sometimes it is also called the sheath dress.
The reason they are flattering for petites is that it forms a long vertical line, which can lengthen our short frame, and therefore flatter our figure.
Because the dress goes straight up and down, be sure to choose a dress that fits narrowly. T
his is not to be confused with the billowy dress that fits loose, because those are quite the opposite and they do not flatter a petite girl.
X shape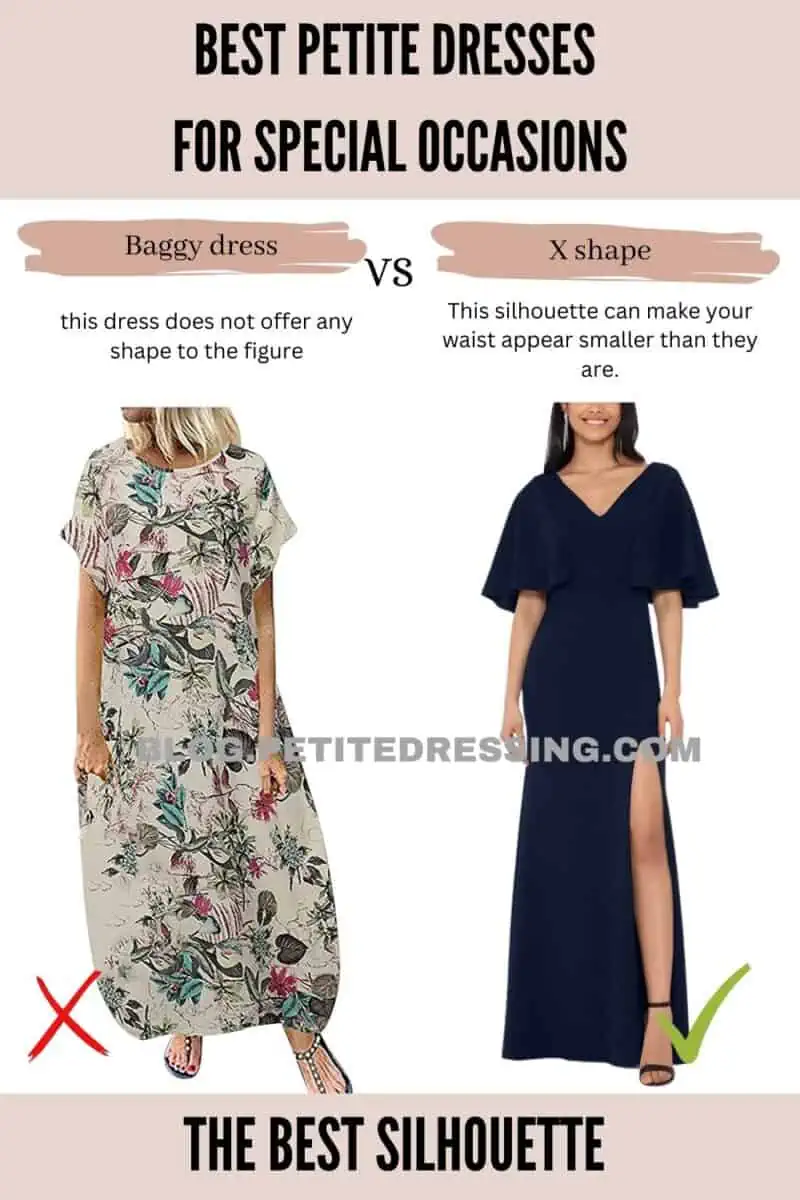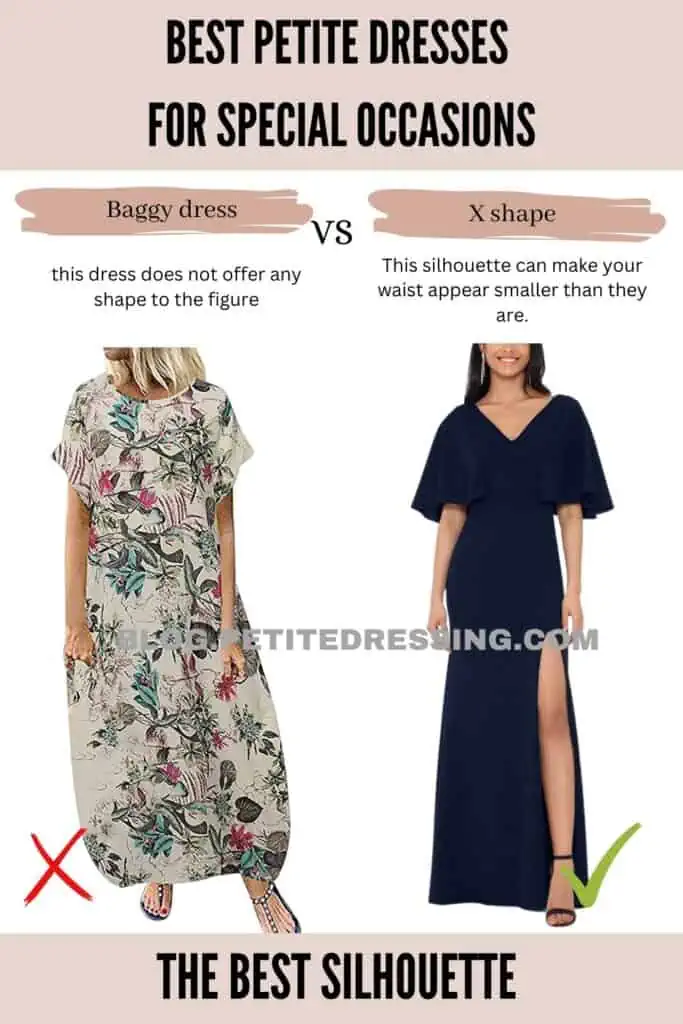 This type of dresses typically has a broader neckline, e.g. off shoulder neckline. It cinches your waist, and then they flare out under your waist.
This silhouette can make your waist appear smaller than they are.
Even if you are someone who does not have much waist definition (like myself), you can still appear like you have a slender waist.
THE LENGTH
Choosing the right length is critical for petite women, no matter what kind of dress. When it comes to special occasions, the length can really make it or break it.
Ankle length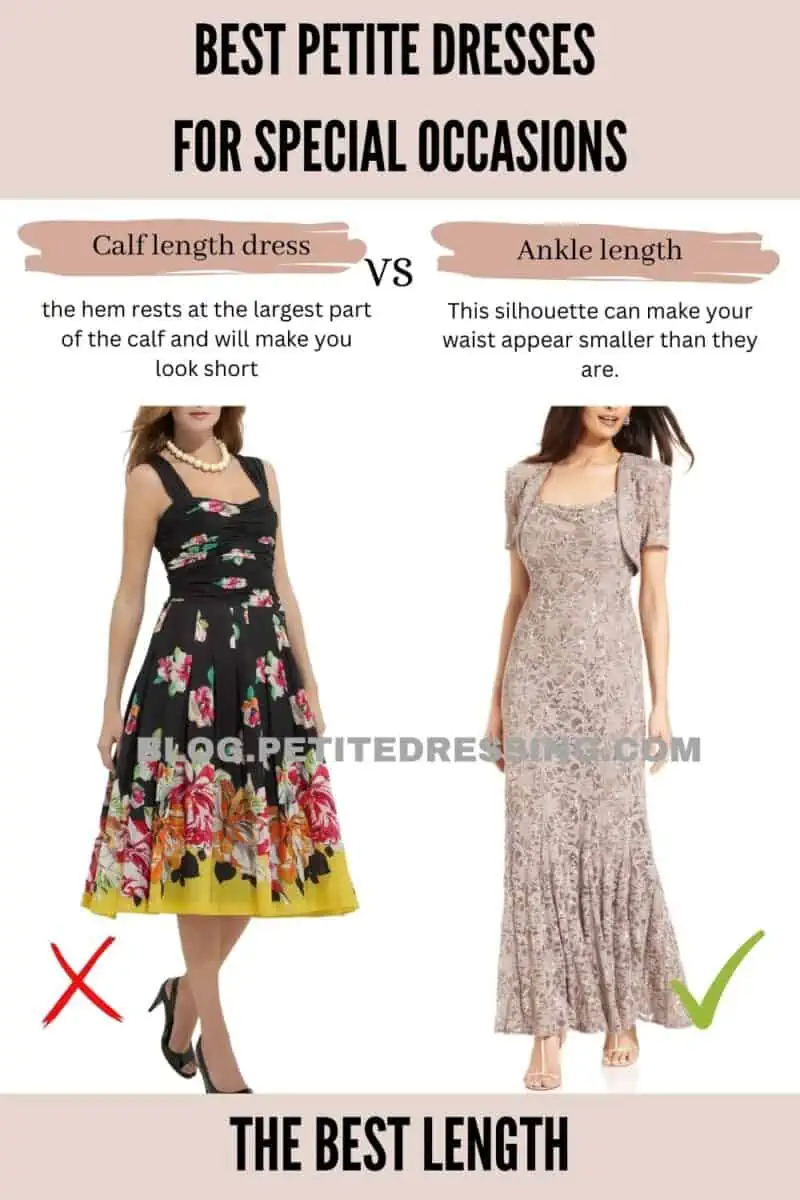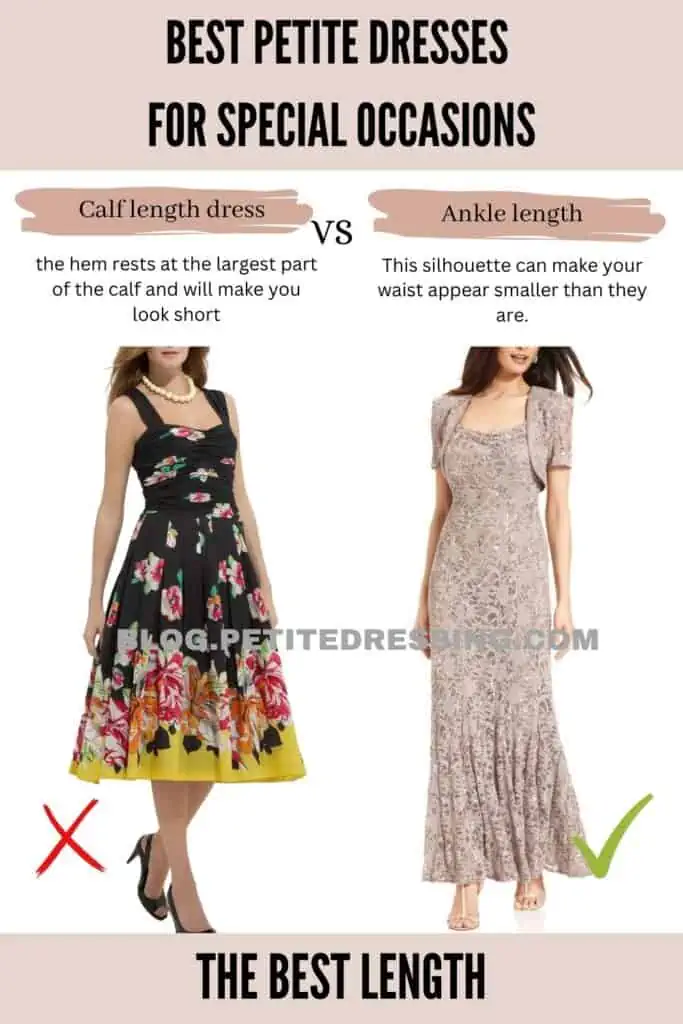 If you are attending anything semi-formal or formal, this is the most safe length to go with.
Because this is considered full length, ankle length dresses appear more "dressed up".
Besides, because the dress forms a long and unbroken vertical line, these are the best to elongate your petite figure and make you appear taller and leaner.
Tea length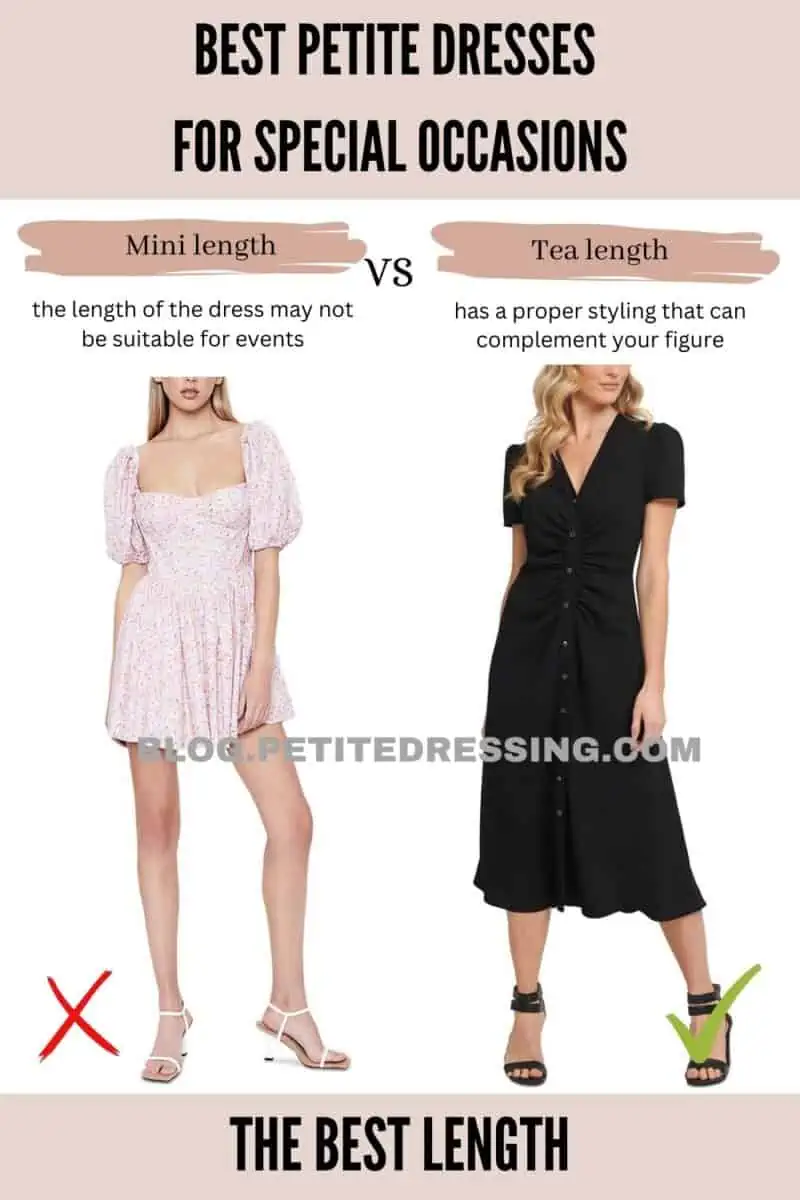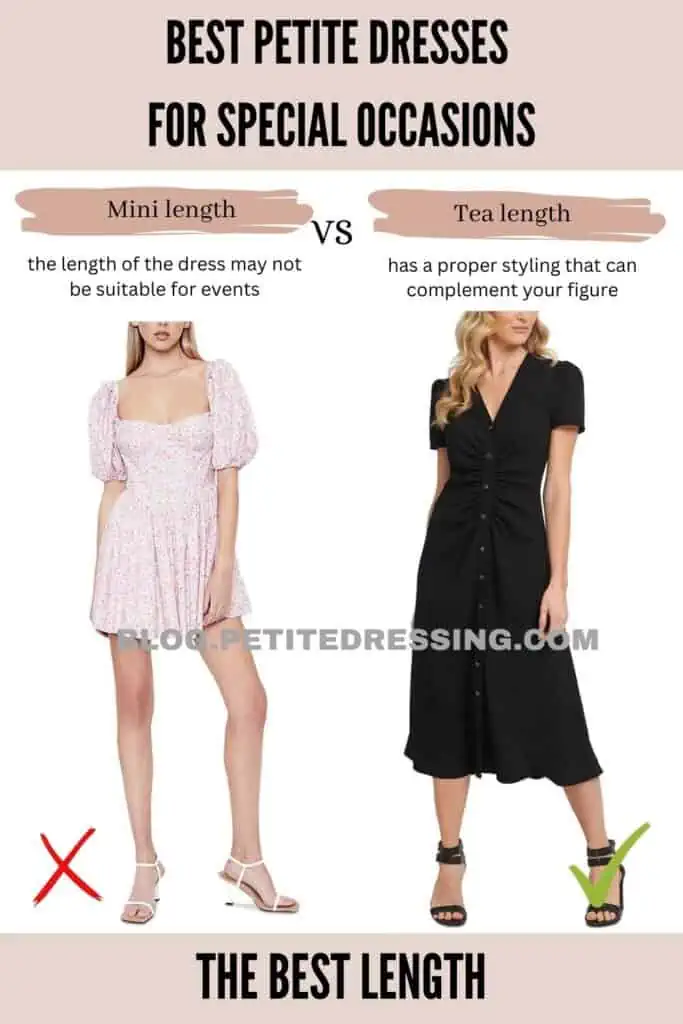 This is another versatile length that you can wear to most special occasions.
Tea length is a fancy way to say "midi length", i.e., the dress ends under your knees and above your ankle.
This is a very elegant length, but I do want to mention they need proper styling to make sure they can flatter someone who is petite.
The reason is midi length can potentially make your legs appear cut off, which is the opposite of what we want as a petite woman!
So, be sure to look out for other designs on the dress that can counterbalance that.
For example, choose a midi special occasion dress with an elevated waistline that sits higher than your actual waist, which is one of the most flattering ways to wear dresses of this length.
WHAT TO AVOID
We want you to have fun with your special occasion dress but we see women sometimes falling into two common mistakes.
Too revealing
The first mistake some women make is showing too much skin.
While we're all about feeling confident and embracing your body, there's something about leaving a little to the imagination. Showing too much skin can instantly shift your entire look and take your look from appropriate to not pretty quickly.
I suggest choosing one area to really show off and allow it to be the focal point of your outfit to keep it classy.
For example, as a petite woman if you love your legs and want to look taller in your special occasion dress choose a petite dress that shows those legs off and keeps your chest area covered. Make sense?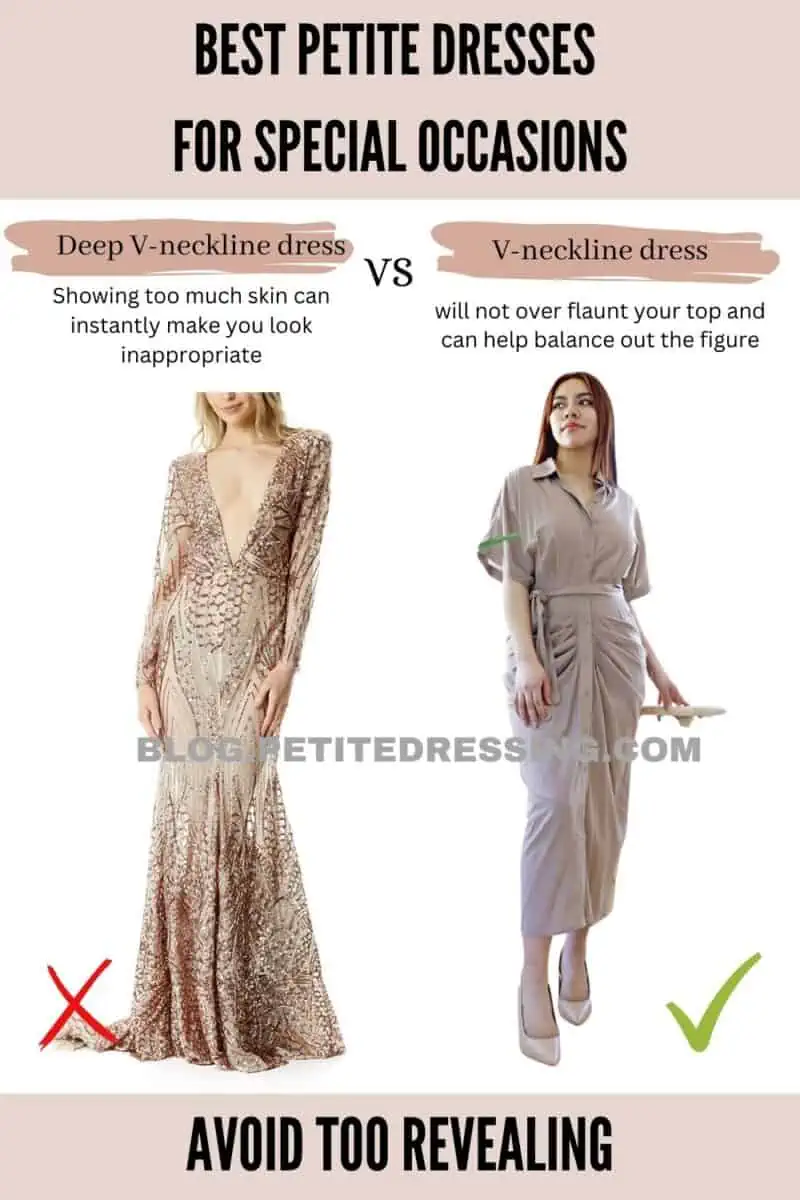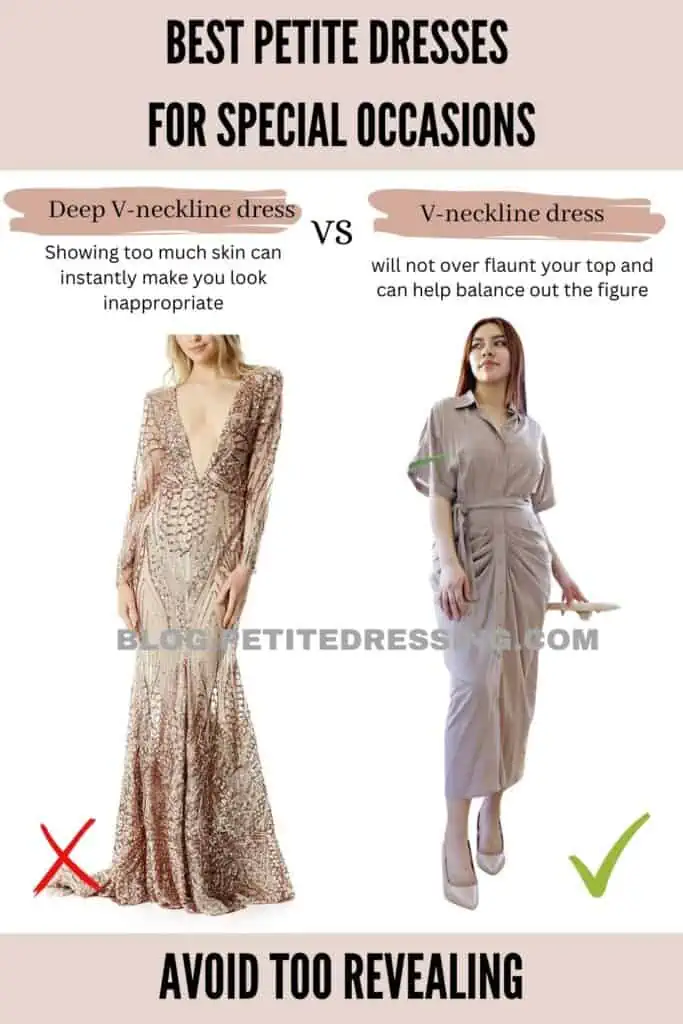 Over accessorizing
Another common mistake some women make when choosing a petite dress for special occasions is over-styling themselves. This one might sound funny but doing too much with your outfit can be just as bad as not doing enough.
An example of over-styling yourself can be wearing a bold color/print petite dress and pairing it with statement accessories and bright color shoes. Or, since we don't get to go to a gala every day, some might be thinking this is the time to show off all the jewelry collection from necklaces and earrings to bracelets and rings…
Similar to showing skin when you're thinking about your outfit as a whole "look" choose one thing to be the focus and keep the rest more subtle to complement the focal point.
If you are wearing a petite evening gown full of sequins, then you might consider less jewelry since you already have enough bling. Or if your dress already stands out with its bold color, then choose neutral-tone shoes like beige.
THE SIZING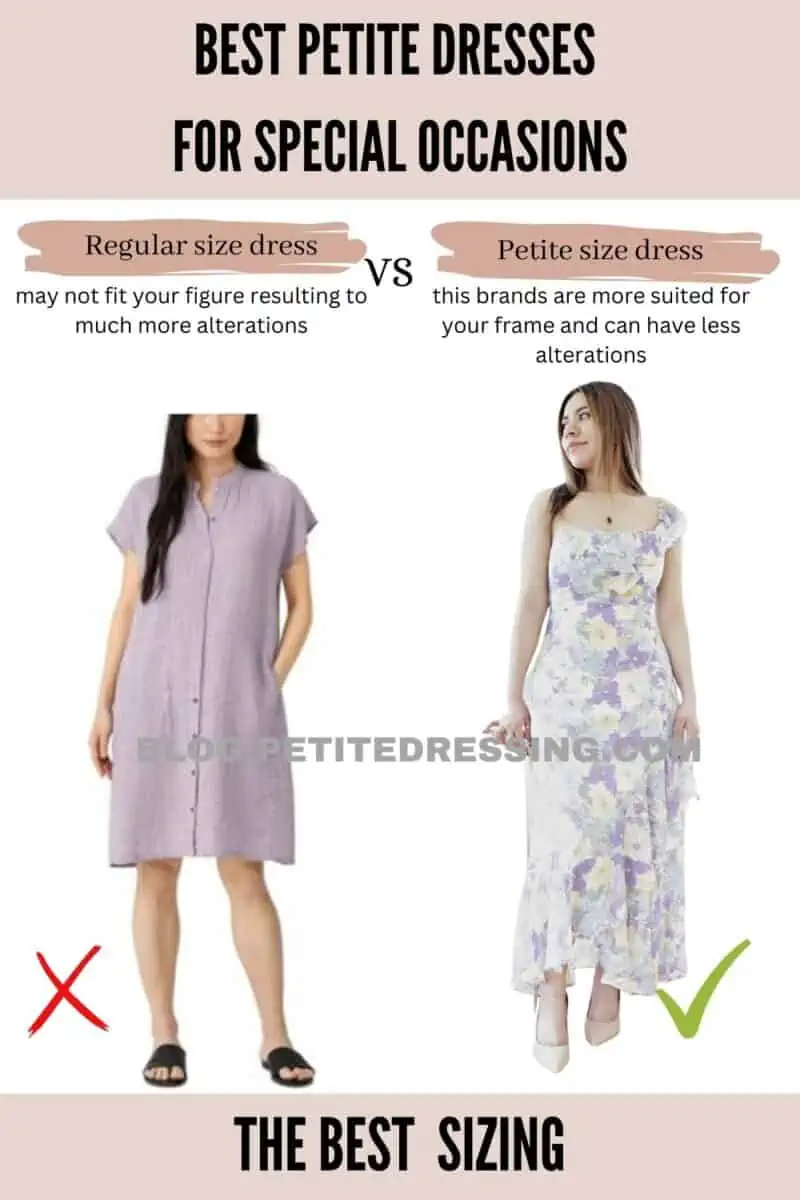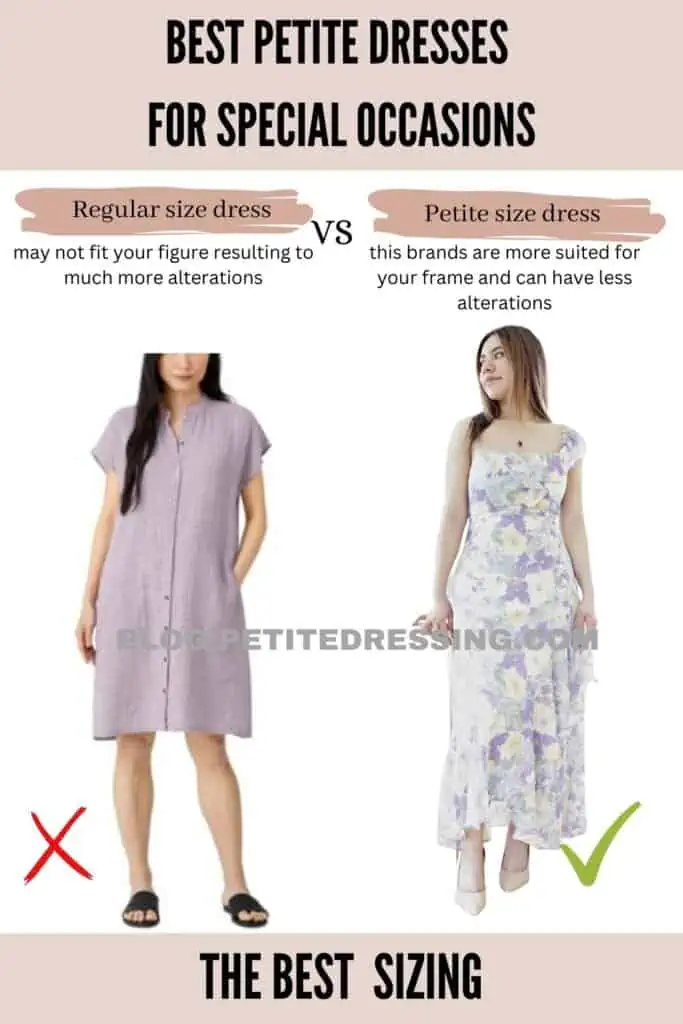 For starters, I think it's essential that you shop from the petite clothing stores for any special occasion dresses. I completely understand that dresses can be altered but the truth is when you're petite you are much better off shopping from the petite section for special occasion dresses.
There's a number of reasons why, but the most important is because of the overall fit of the dresses.
Don't get me wrong, you may still need to get a few adjustments made to a petite special occasion dress but the fit will be much more accommodating from the start when you choose from the petite section.
Take the time to read the petite size chart of each brand you are considering. Petite dresses for special occasions are not cheap- you want to make sure you find something that fits you the best.
If you are under 5 feet tall, chances are even the petite sizing may still be too long for you. That is because the petite brands are mostly made according to the measurements of petite models who are 5'3″ or 5'4″ tall. In that case, be sure to find a quality tailor and make all the alterations you need.
QUALITY OVER QUANTITY
This one is building off of keeping it classy, but I wanted to mention it a bit more specifically.
Investing in quality pieces won't just enhance your overall special occasion look, but it will also provide you with pieces you can have for years to come.
Since most of us don't attend special occasion events every day, having quality pieces that you can go back to time and time again can be a huge benefit.
You don't want to feel like you have to run out and buy something new every time you get an invitation to an event. To avoid that, invest in quality + timeless pieces that are versatile so you can wear them multiple times.
When you are investing in quality petite dresses for special occasions you can simply swap out the shoes and accessories to make them feel like they are different pieces, appropriate for different occasions.
I suggest opting for neutral solid colors when choosing a petite dress for special occasions. Solids are going to give you a lot more versatility. Plus, you won't have to worry about a solid not being on trend any time soon.
Now that you have some of the key tips to choosing petite dresses for special occasions, you should be able to find a dress that not only looks great but is appropriate for the dress code AND flatters your shape.