If you are short like me, chances are you may have a short torso. Having a short torso means the distance from your shoulders to your crotch is relatively short, compared with women of the same height. This also implies your legs are relatively long.
Even though having longer legs are generally viewed as an "advantage" and pleasant to the eye, you do still want to achieve a visual balance by proper styling and avoid making your torso appear overly short.
Styling Goal
Women with a shorter torso typically also have the following traits:
Have a short rise, i.e. the distance between your waist and the crotch is shorter than women of same height
Lack of natural waist definition
Tend to come across as top-heavy, especially when you gain weight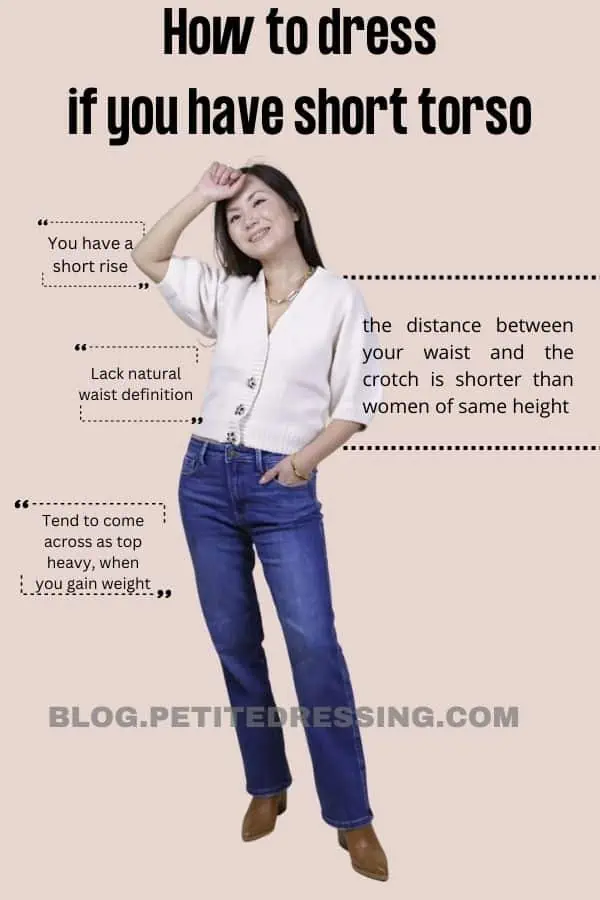 In order to make your body proportion appear more balanced, you should choose what to wear based on the following goals
Wear clothing that blurs the line of your torso and legs, thus distracting away from the short torso
Avoid anything that emphasizes the "shortness" of your torso
Avoid anything that cuts into your upper body and therefore makes your torso appear even shorter
Below are the best styles to flatter women with a short torso as well as styles you should avoid.
Tops
Dress monochromatically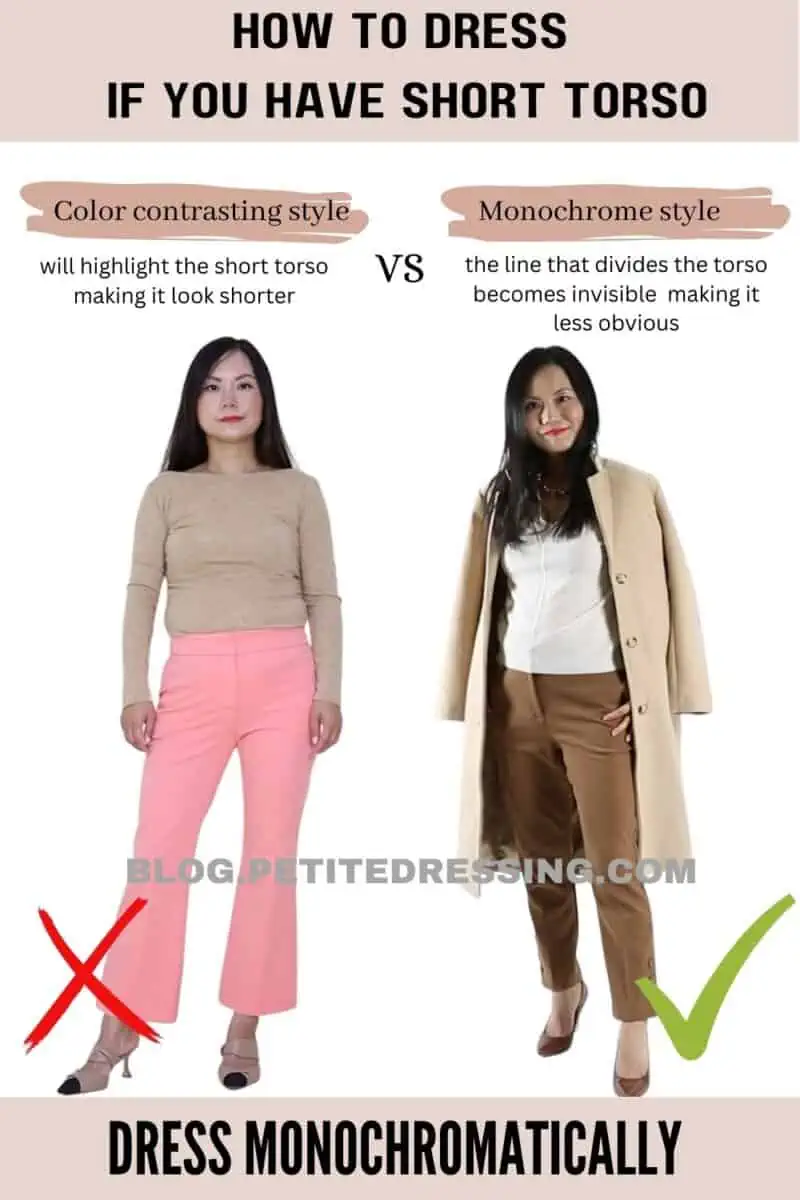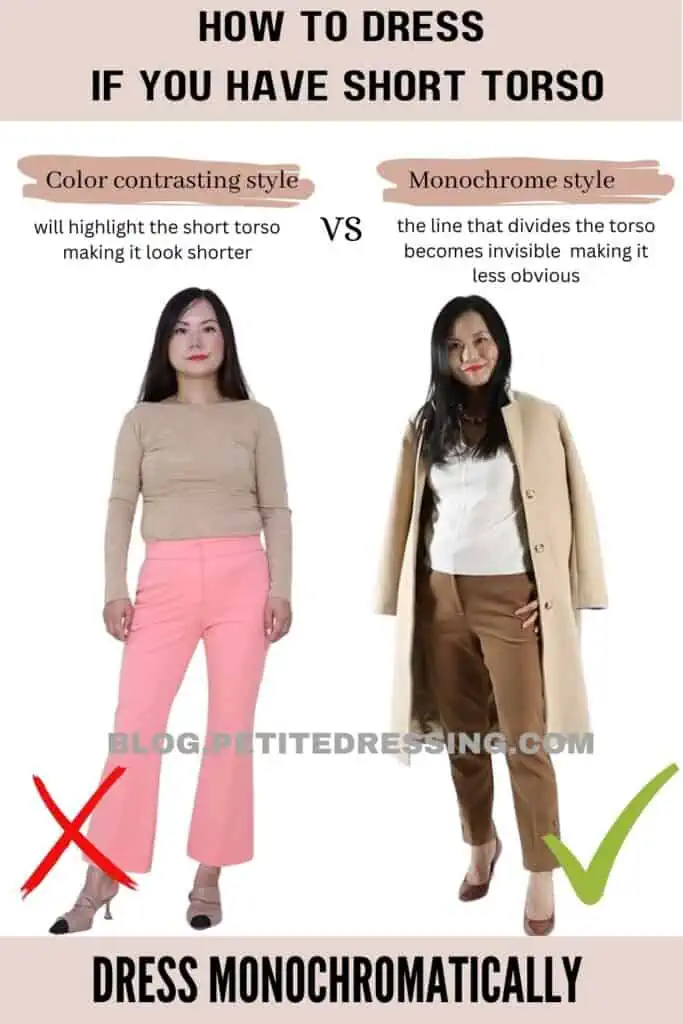 One of the most flattering ways to dress a woman with a short torso is to wear the same (or similar) color for your top and bottom, in other words, monochromatic dressing.
The reason is because the eye would only notice your torso length when your top and bottom are different colors.
Therefore, when you are wear matching colors from head to toe, the line that divides your torso and legs become blurred, and that will make a short torso look much less obvious.
Medium tops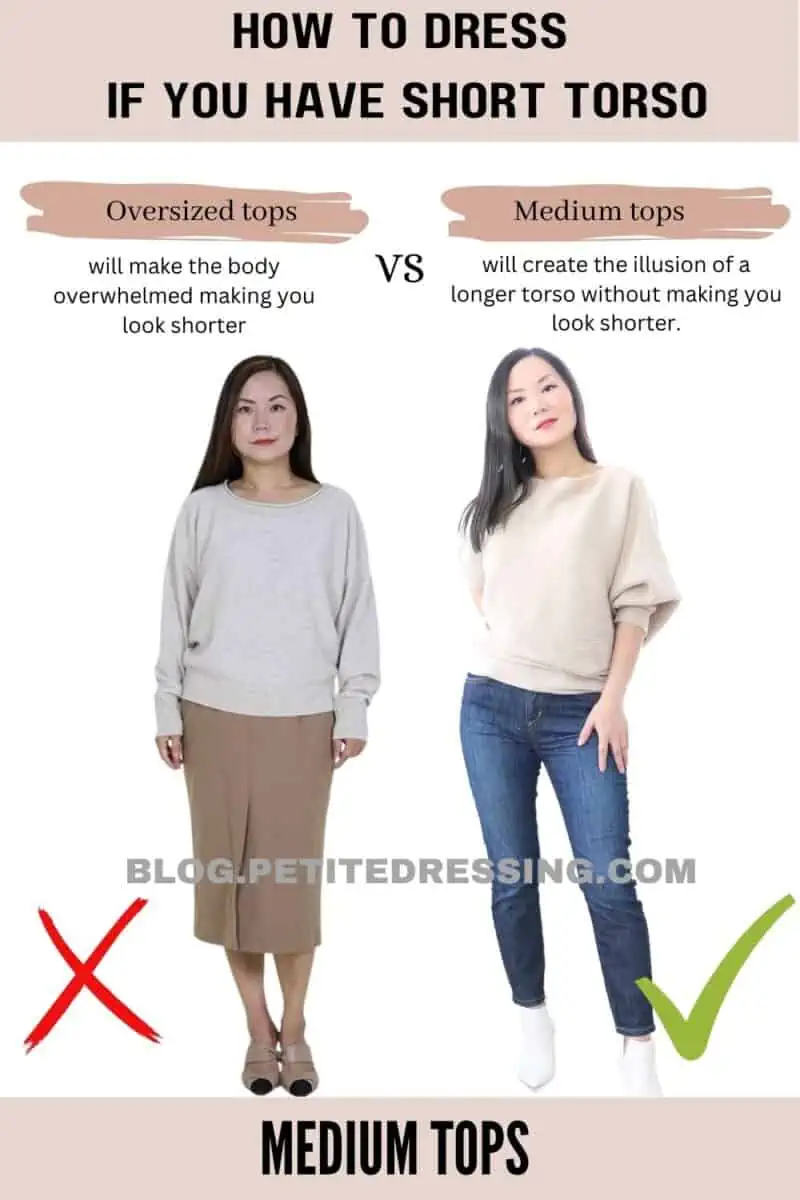 A medium-length top should be the way to go if you have a short torso.
That means your tops or jackets should probably hit just over your hip bone, but not too much over.
That will create the illusion of a longer torso without making you look shorter.
Tops with vertical lines
This will lengthen your short torso and also make you look taller overall, so they are good for your specific body type .
V-Neck and Scoop Neck Tops
Necklines that create vertical lines on your upper body are a great way to visually elongate your torso. V-neckline and scoop neck tops open up enough space vertically on the upper half of your body and therefore create the illusion of a taller figure.
These types of necklines draw the eyes up and down so it easily tricks the eyes that your torso is longer than it actually is. If you're not too busty, you can even go for deeper or more plunging necklines as well.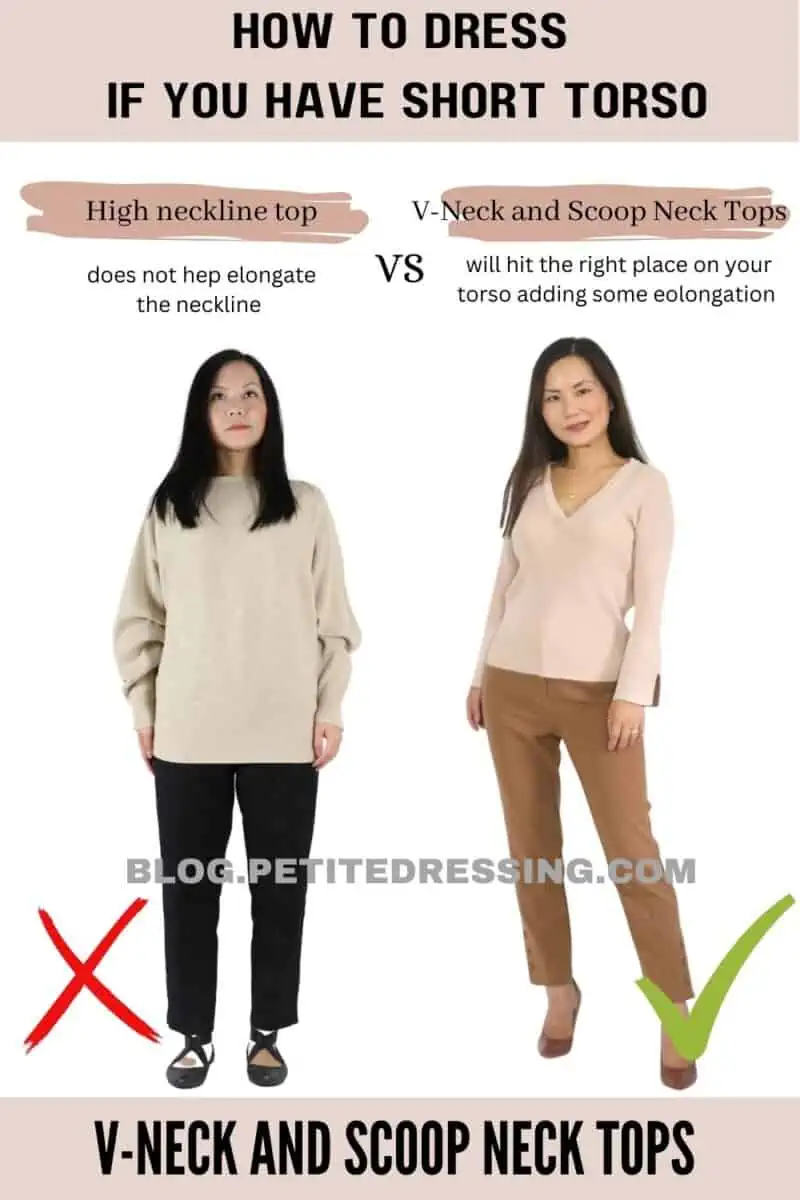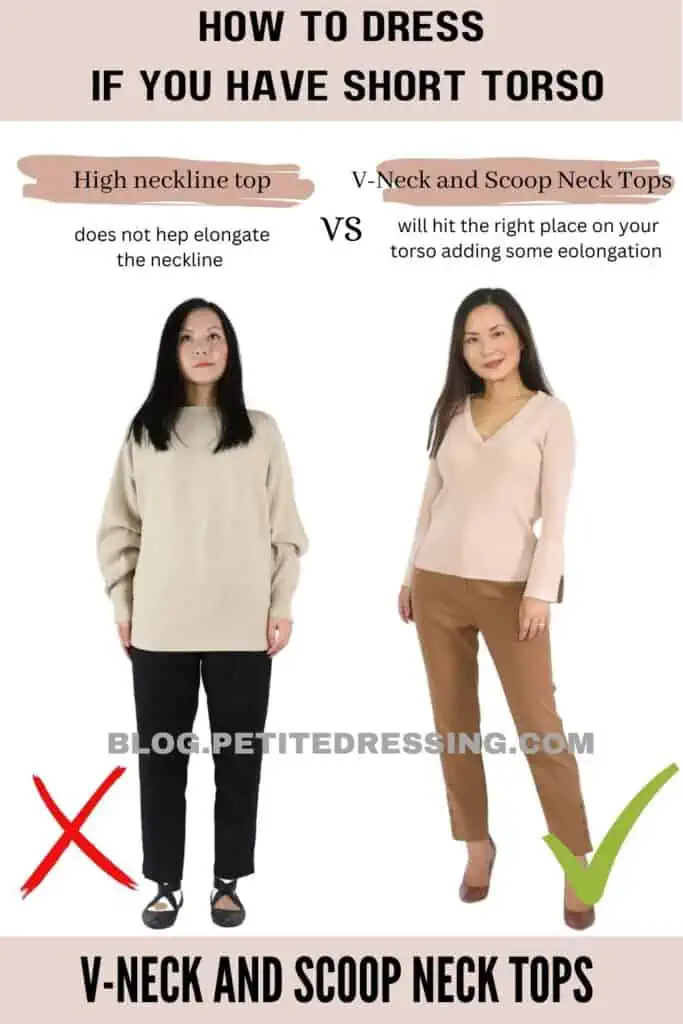 Untucked tops
The reason is obvious. If you tuck your tops, it will only make your upper body look shorter. Wear a medium length top and let it naturally flow through your waistline is the way to go if you have short torso.
Avoid Crop tops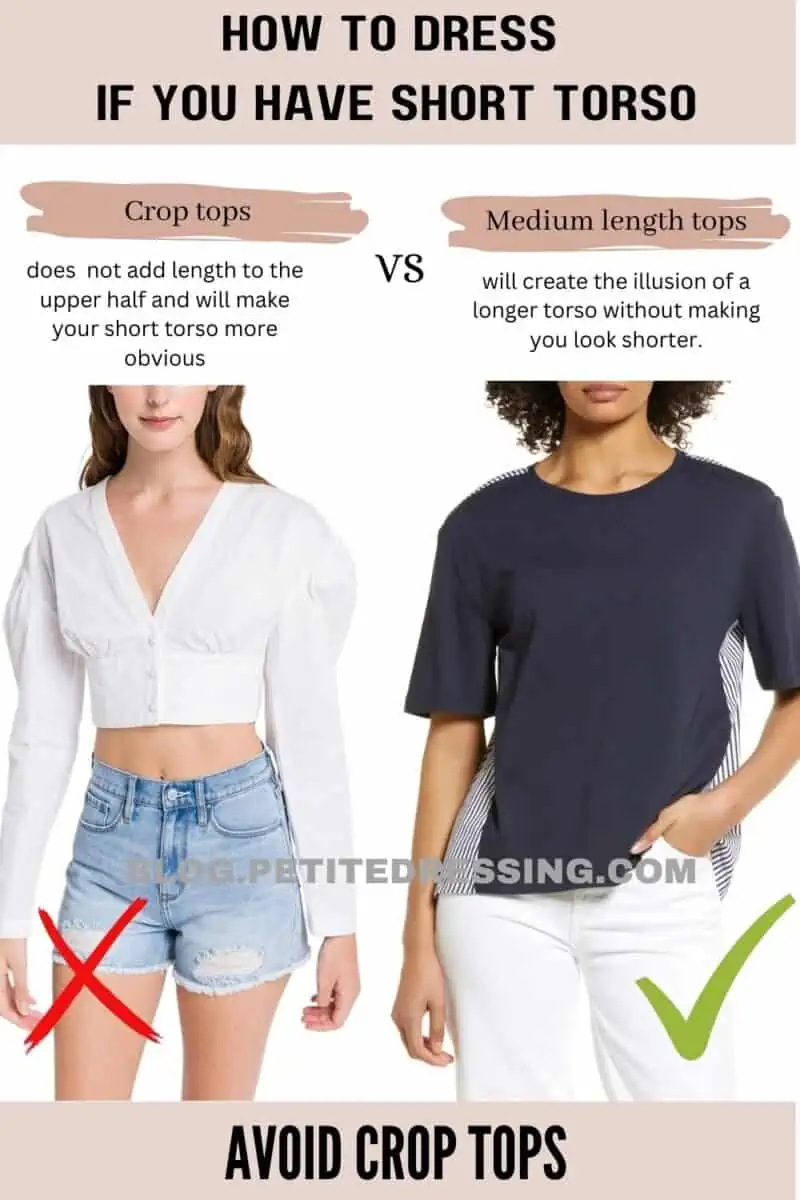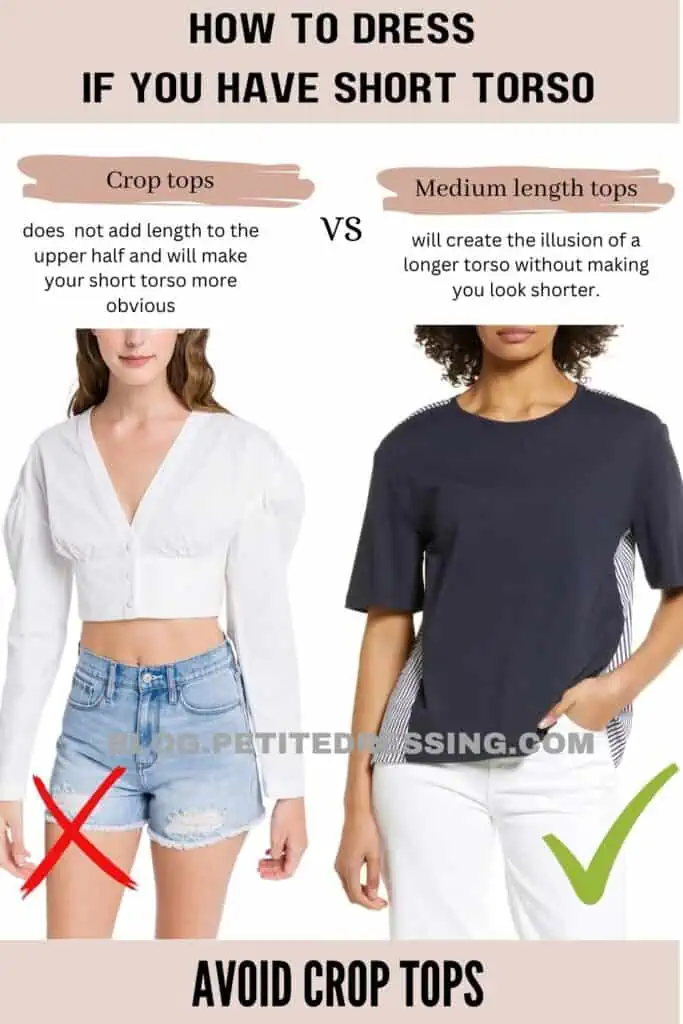 Again, this is normally a very flattering style for petite women who want their legs to look longer. However, if you have short torso, this will only make that more obvious.
Drapery Tops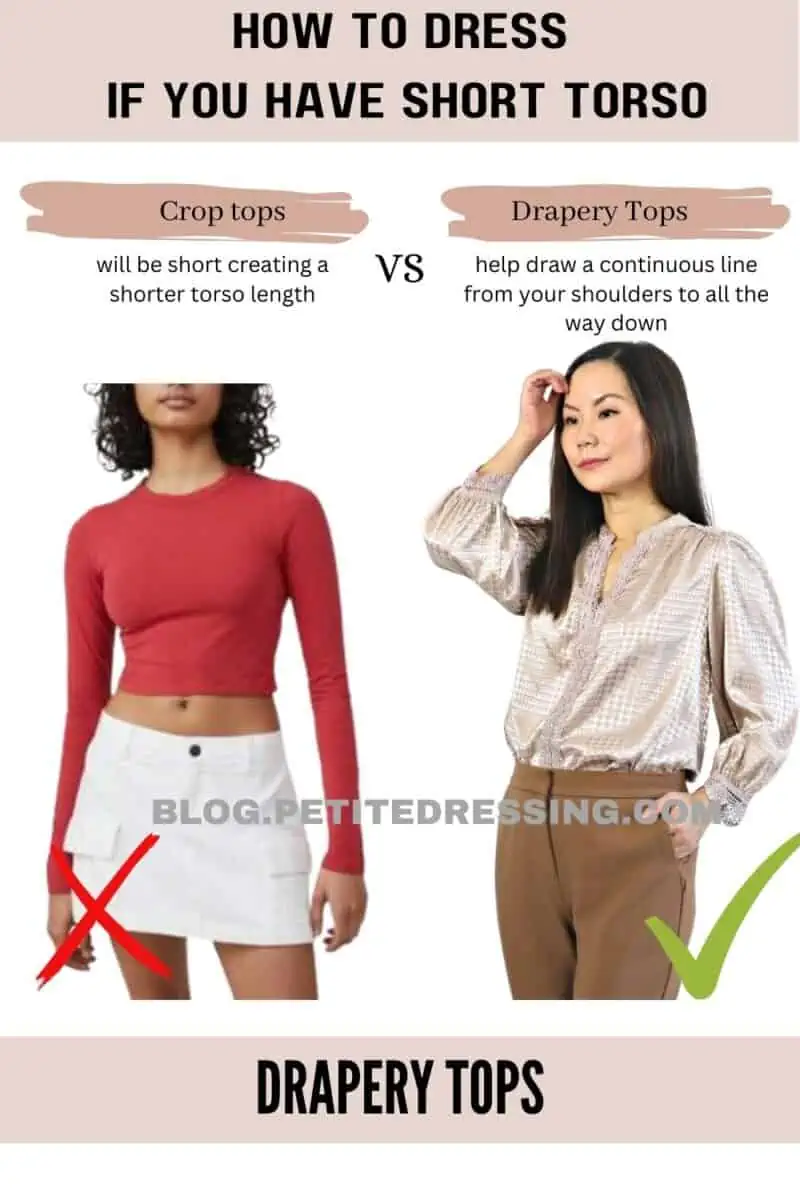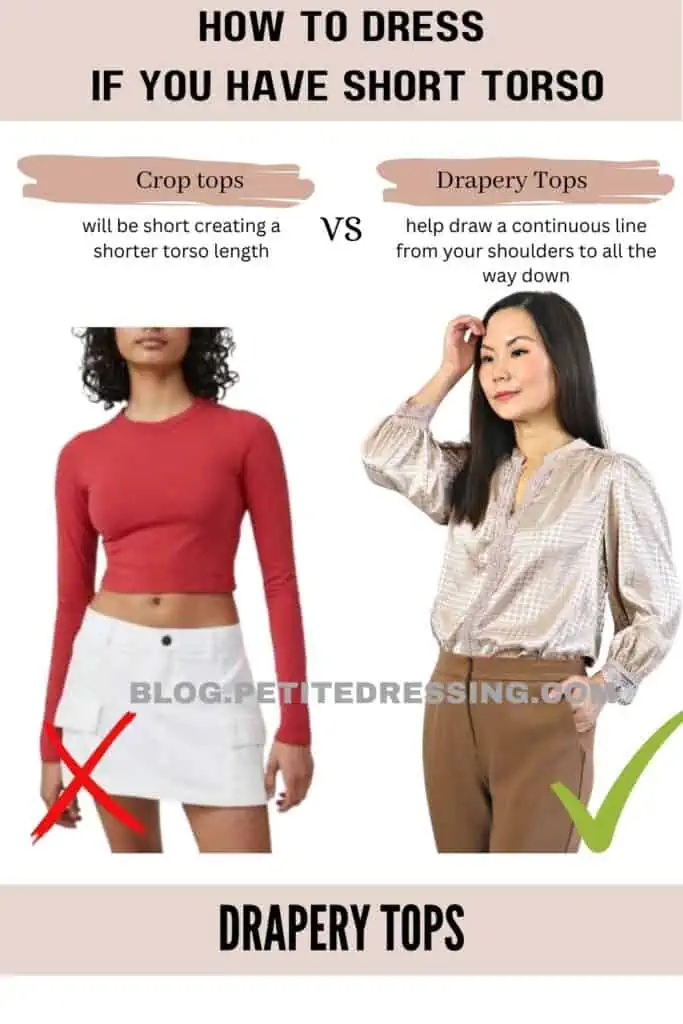 For women with short torsos, it's much better to leave your tops untucked. But if you'd like a wardrobe piece that can both look good tucked or untucked, go for tops that have drapey fabrics.
Drapery tops pretty much share the same style principle as flowy pants because fabrics that create such flowy movement instantly make your figure look more elongated. This is perfect if you'd like to tuck your top on the front without making your torso look shorter.
Avoid Boat Neck Tops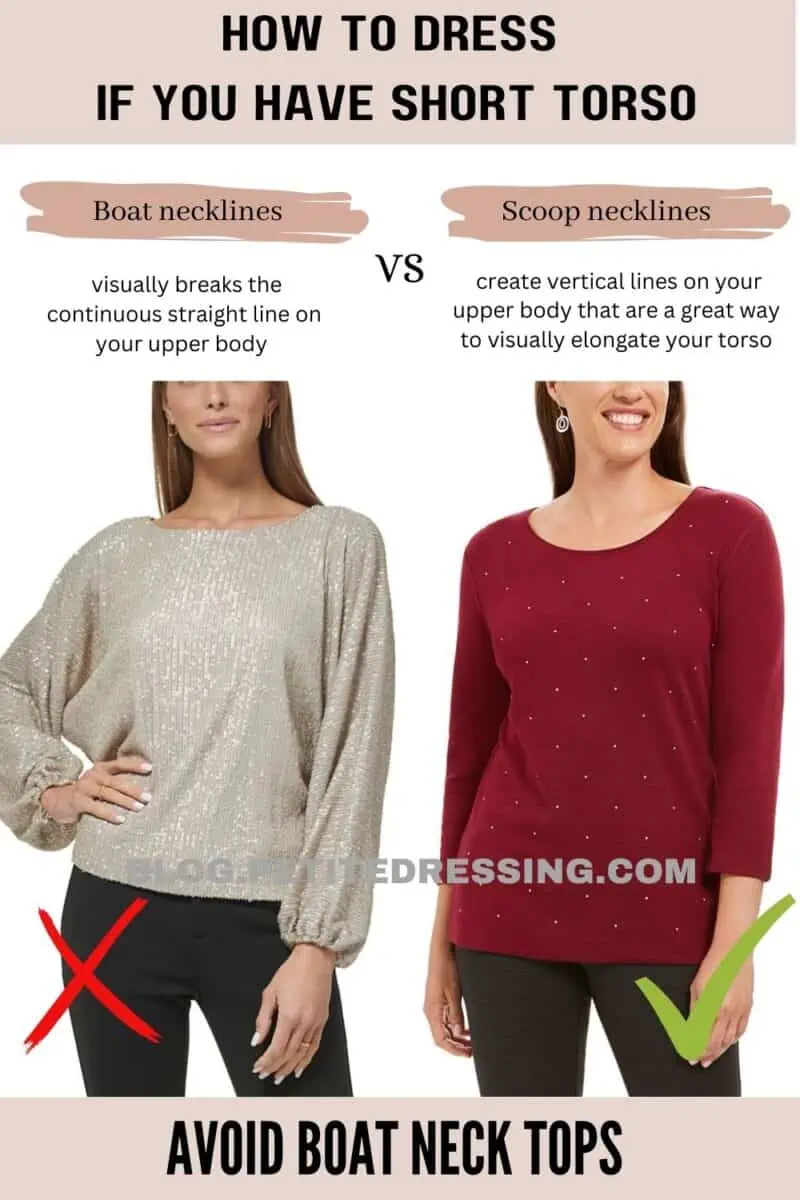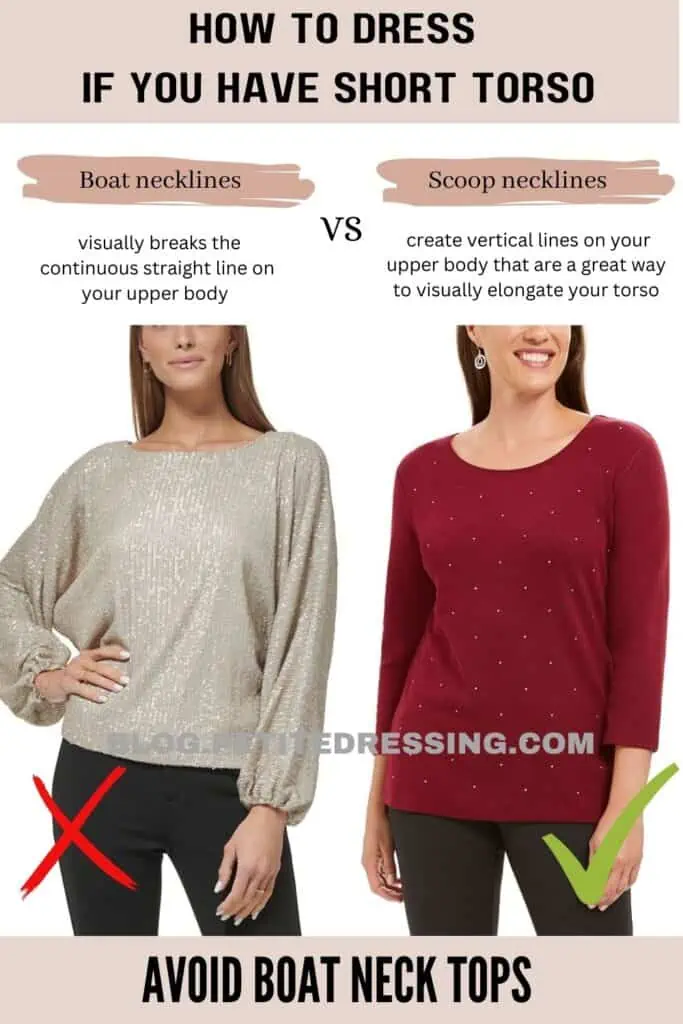 The boat neck (Sabrina neckline) features a wide opening that goes from both sides of the shoulders. This style draws an invisible line that goes horizontally which visually breaks the continuous straight line on your upper body and therefore makes your torso appear shorter.
As it makes your short torso look shorter, it makes your overall frame look unproportioned by having the illusion of a lower body that looks way too long compared to your torso. This can absolutely look quite unflattering.
Long Cardigans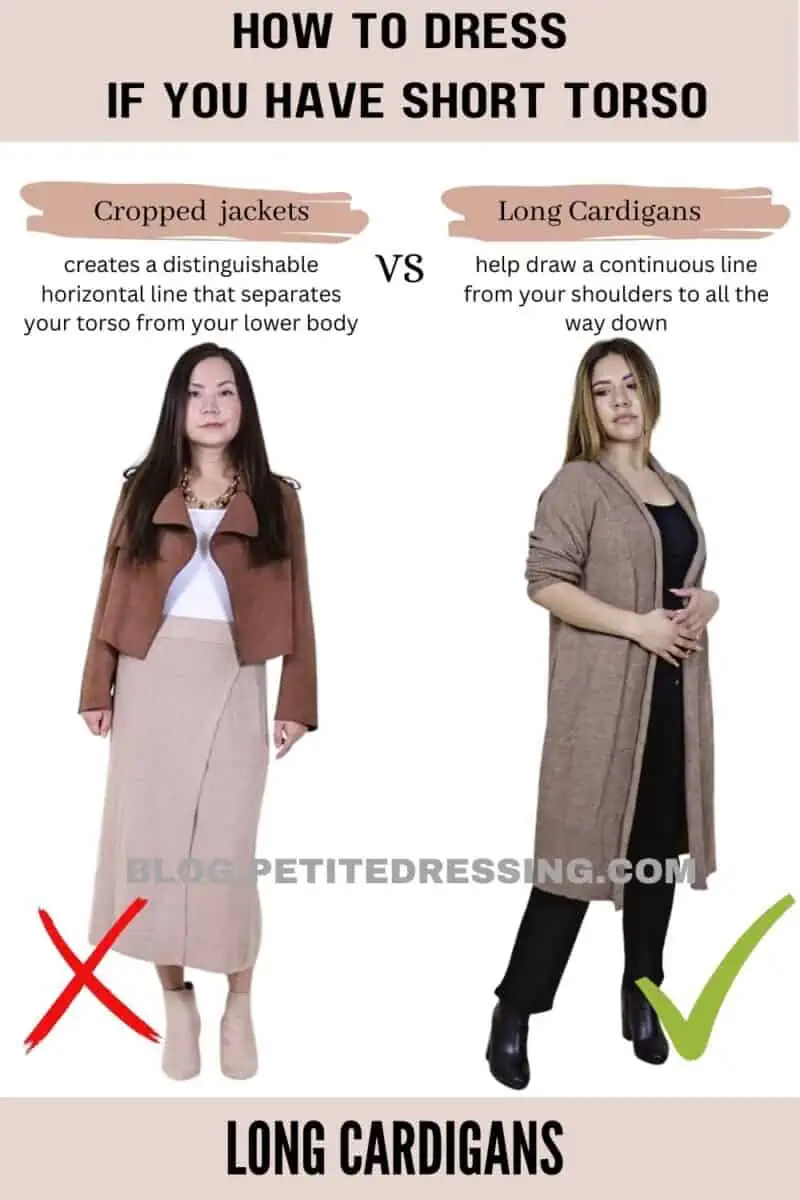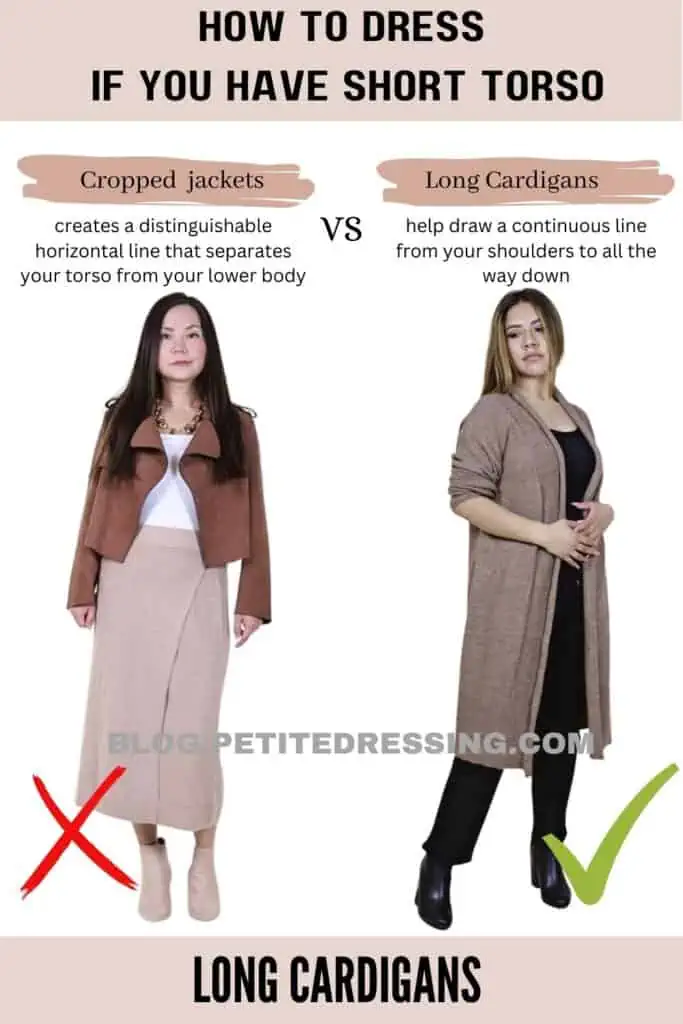 Long cardigans, preferably those that go way past your knees, help draw a continuous line from your shoulders to all the way down. This invisible vertical line subdues the distinguishable horizontal line that separates your torso from your lower body and therefore takes the attention away from your short torso.
Long cardigans will great make pairings to shirts and jeans, bodycon dresses, and even mini dresses. You just always need to play up with your proportions to create a more balanced measurement between your upper and lower body.
Avoid Corset Style Tops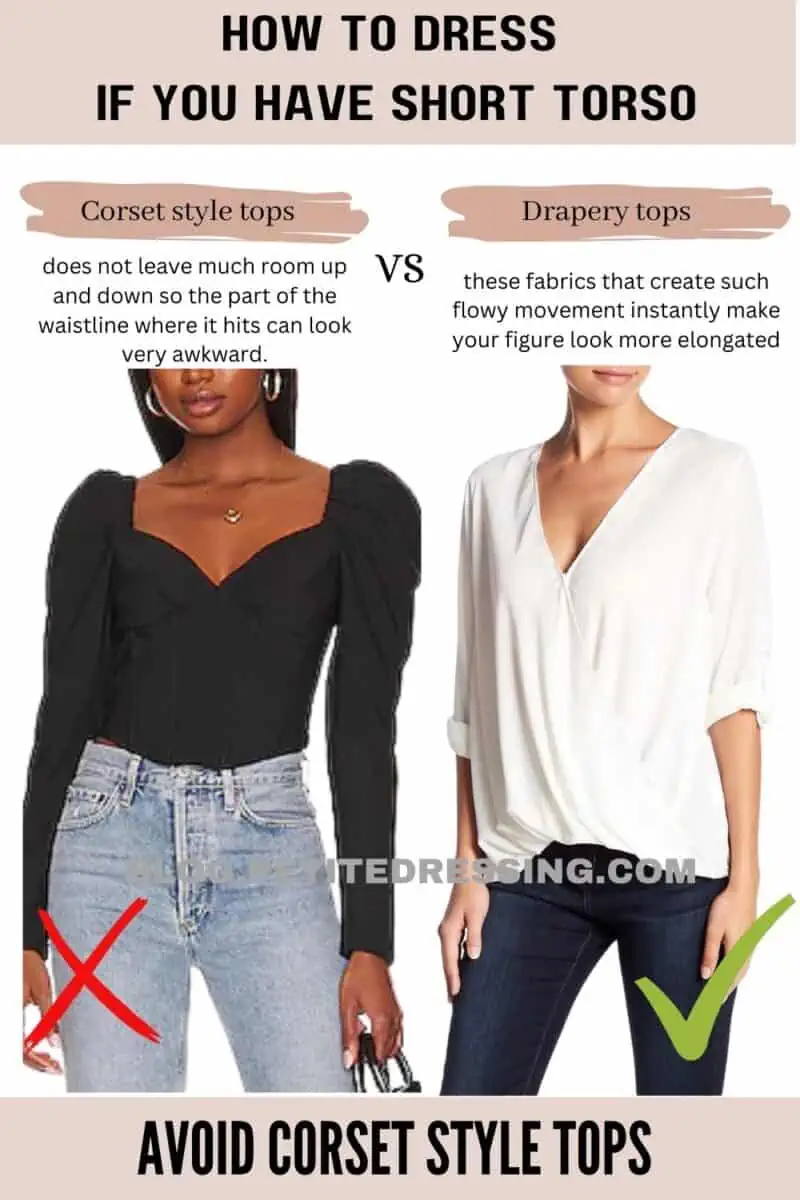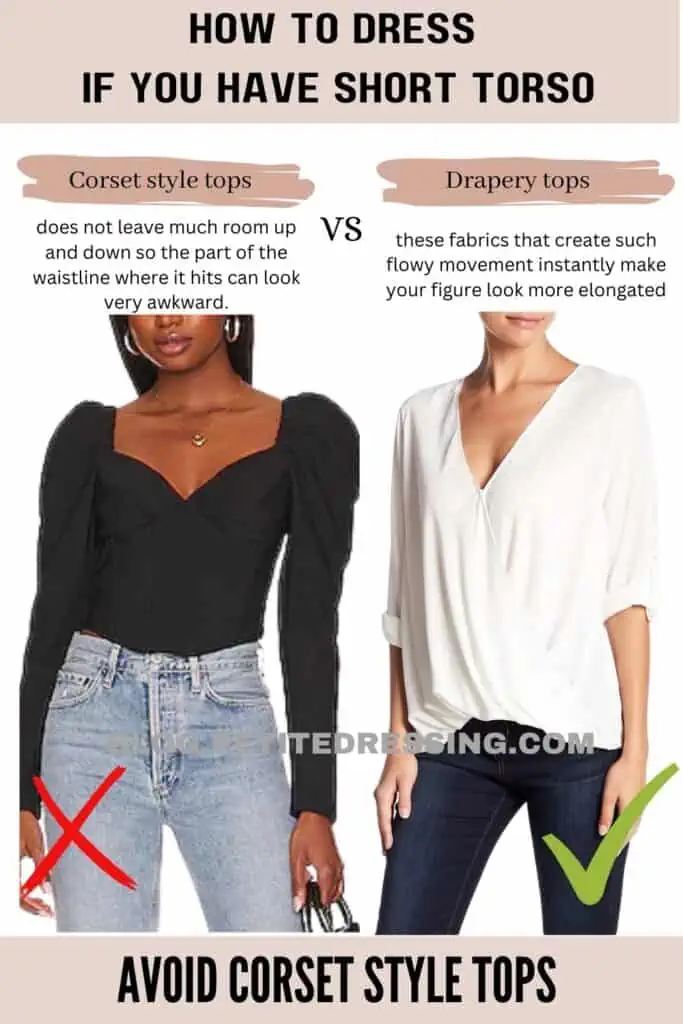 The structure of corset tops tends to be stiffly shaped and when it so happens that the corset is actually a tad longer than your actual torso, it may look uneven and unflattering. In addition to this, it may also feel uncomfortable since your short torso would ideally want more space.
Corsets and other types of tops that feature a boning structure can be difficult to work with for girls with short torsos. This is because it doesn't leave much room up and down so the part of the waistline where it hits can look very awkward.
But if you really like its shape and design and still badly want to give it a try, you still have the option to find ones that are designed for petite body shapes. While not all petite women have short torsos, you may still be able to find corsets that come in shorter measurements lengthwise.
Bottoms
Avoid sharp contrasted top and bottom
If you wear separates instead of one piece, and especially when your top and bottom are very different colors, this works the opposite way of monochromatic dressing.
This is sending a very clear signal to the eye where your torso ends and where your legs start, making it very noticeable that your torso is short.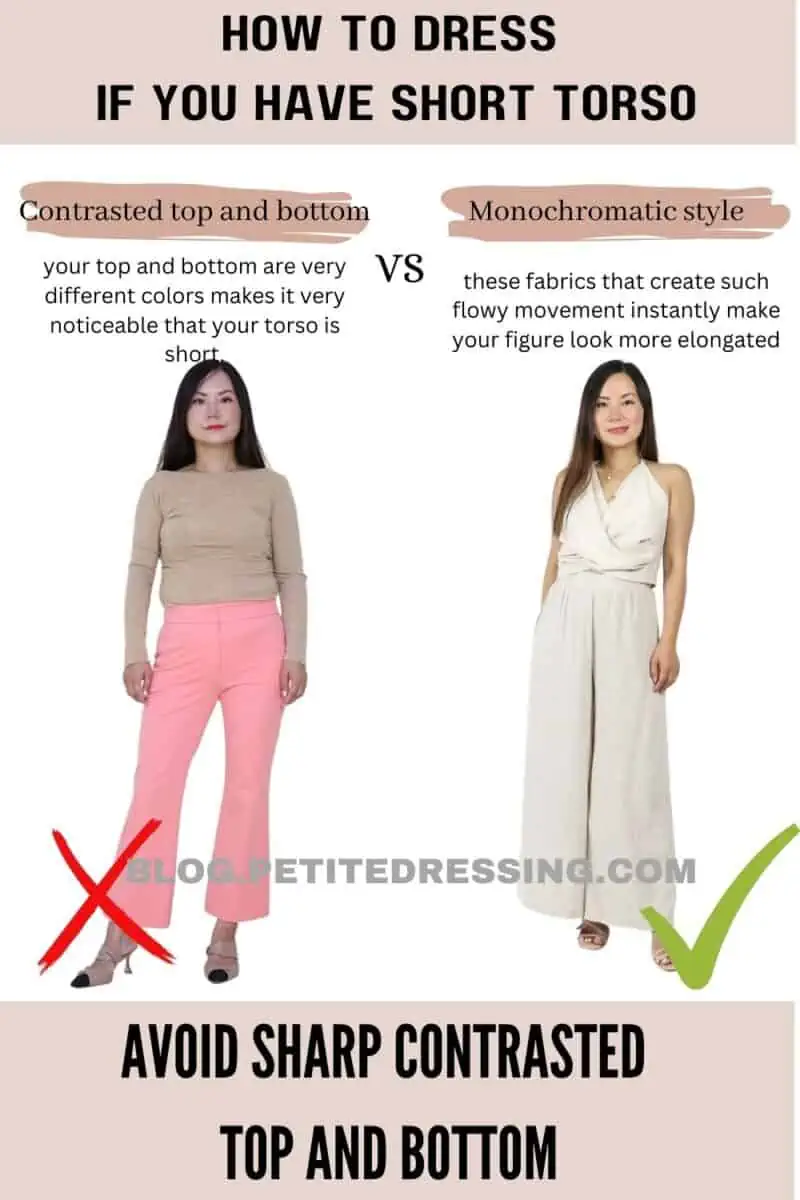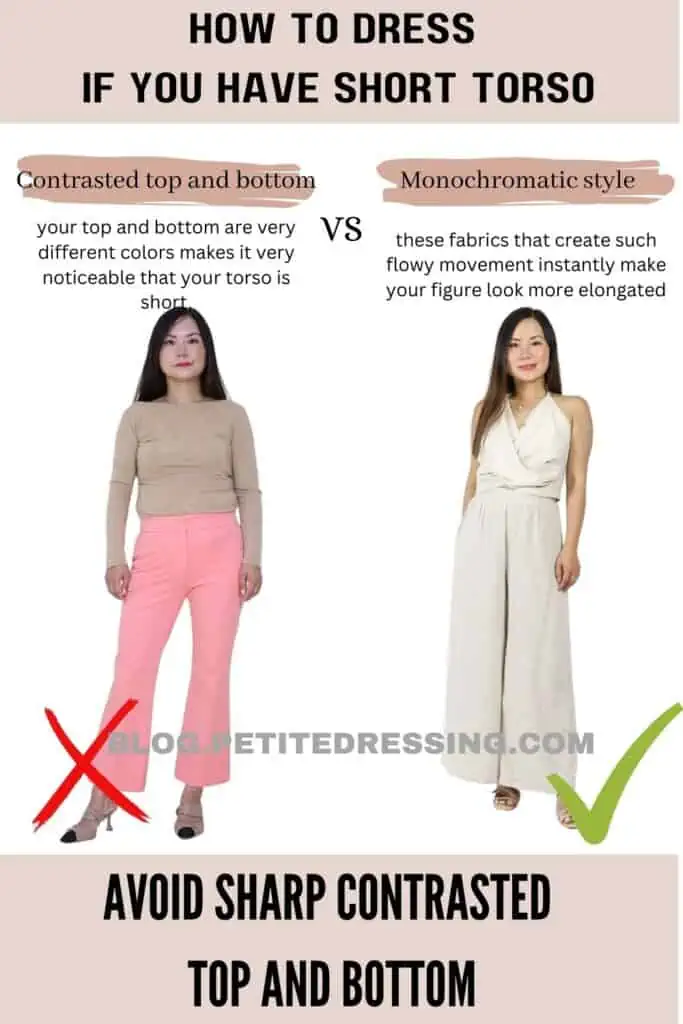 Mid-rise pants
If your torso is short, chances are you may have a shorter rise as well.
That means mid-rise pants are likely your best bet, because they will hit the right place on your torso.
Mid-rise pants typically are 8-9″ in rise. On someone with a shorter torso and shorter rise, this is probably the most comfortable rise.
On the other hand, anything higher than this will likely be reaching above your belly button, making it more obvious that your torso is short.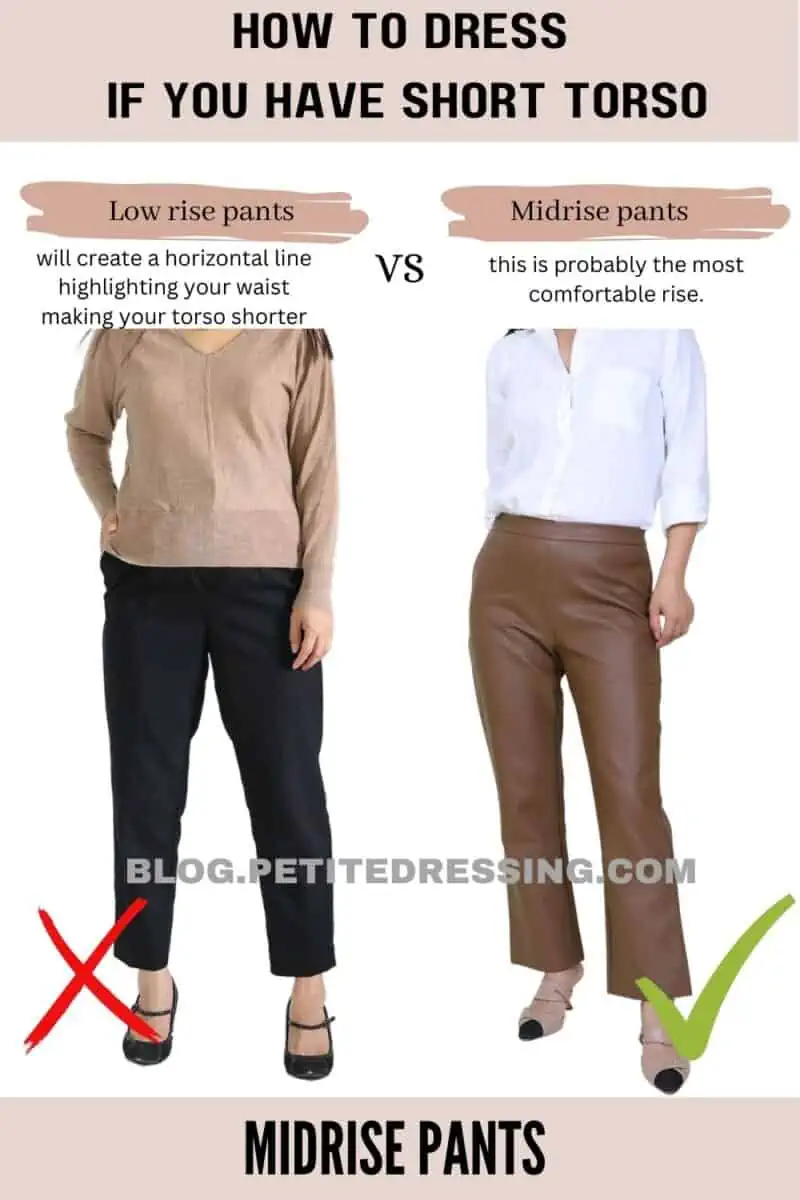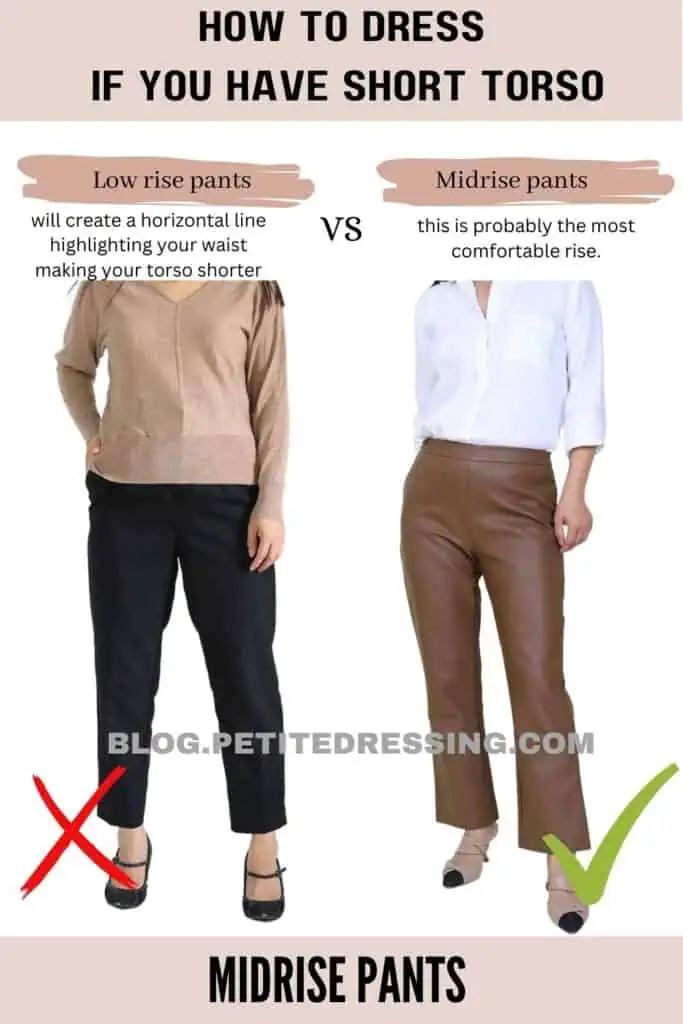 Avoid High waist
Since your torso is already short, wearing a high waisted style will only make them look shorter. Therefore, going with a mid waist style is a better choice for you.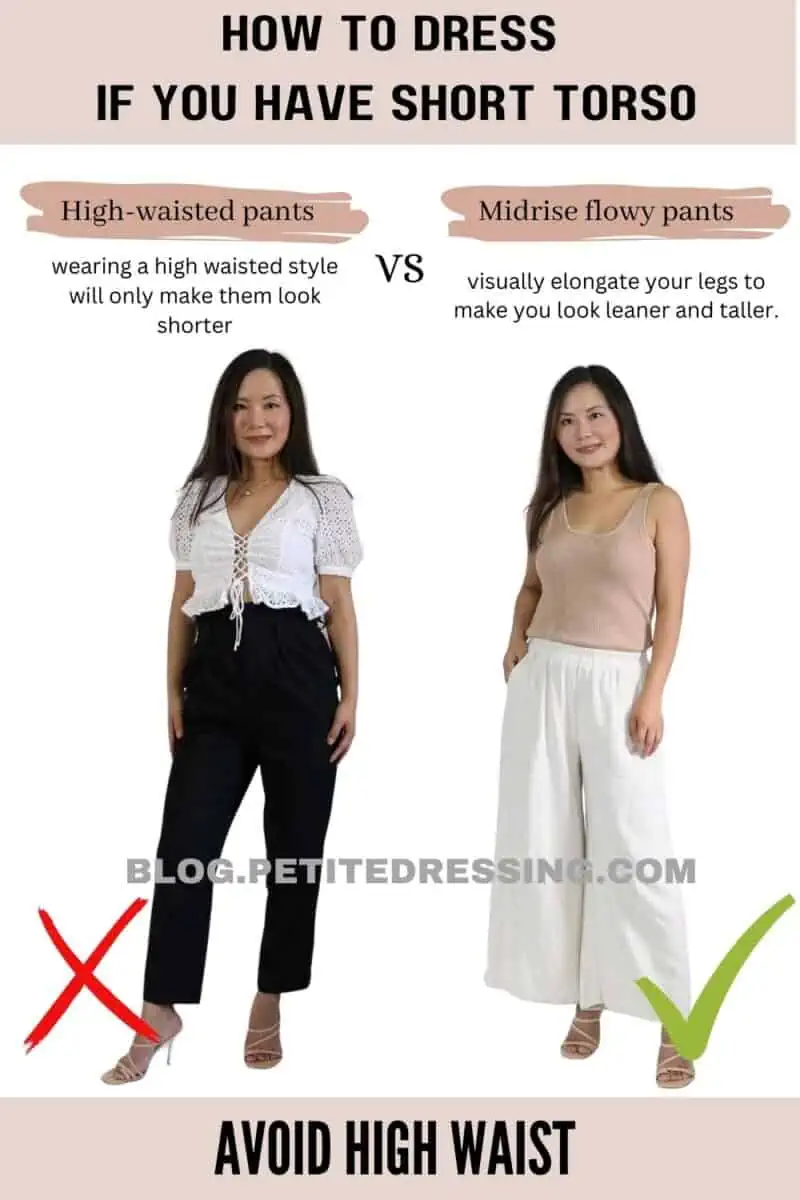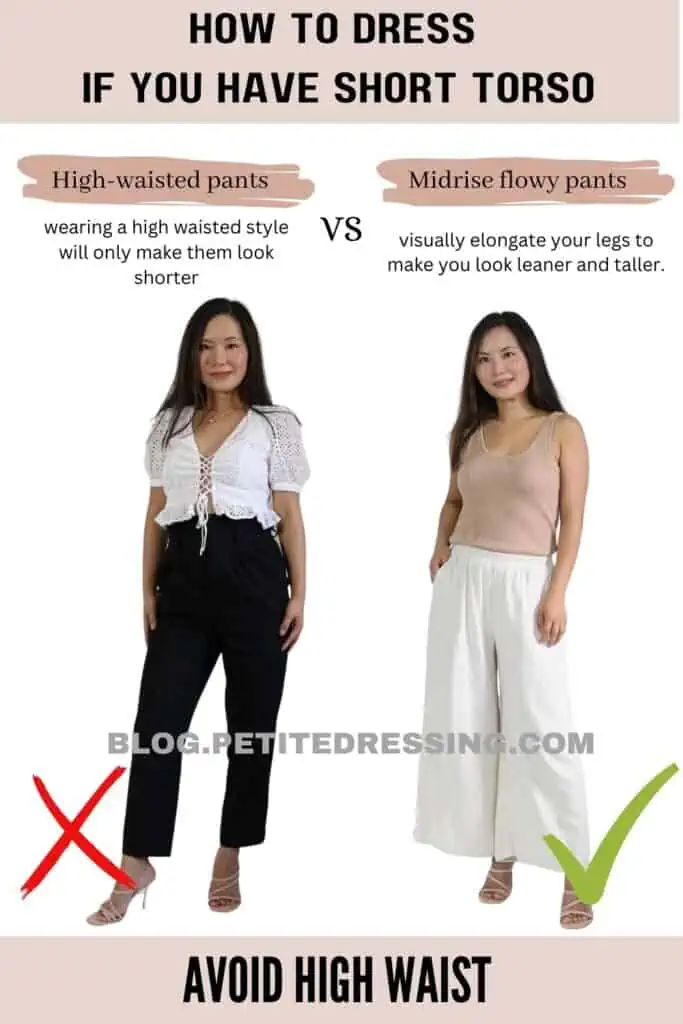 Mid-rise Flowy Pants
If you're flaunting a fitted medium-length top, mid-rise pants with flowy structures would be a nice pairing to your top to create a nice balance between your torso and legs. Flowy pants, specifically wide-leg ones, visually elongate your legs to make you look leaner and taller.
If you'd like to make your legs appear longer without compromising some space on your short torso, always go for mid-rise waistbands for your pants or trousers. 
Dresses
Wear one piece
When you wear any garment that is one piece, for example, dresses, jumpsuits or rompers, it form a vertically line from top to bottom.
One pieces are generally flattering for women with short torso as it will make the division of your torso and leg unnoticeable.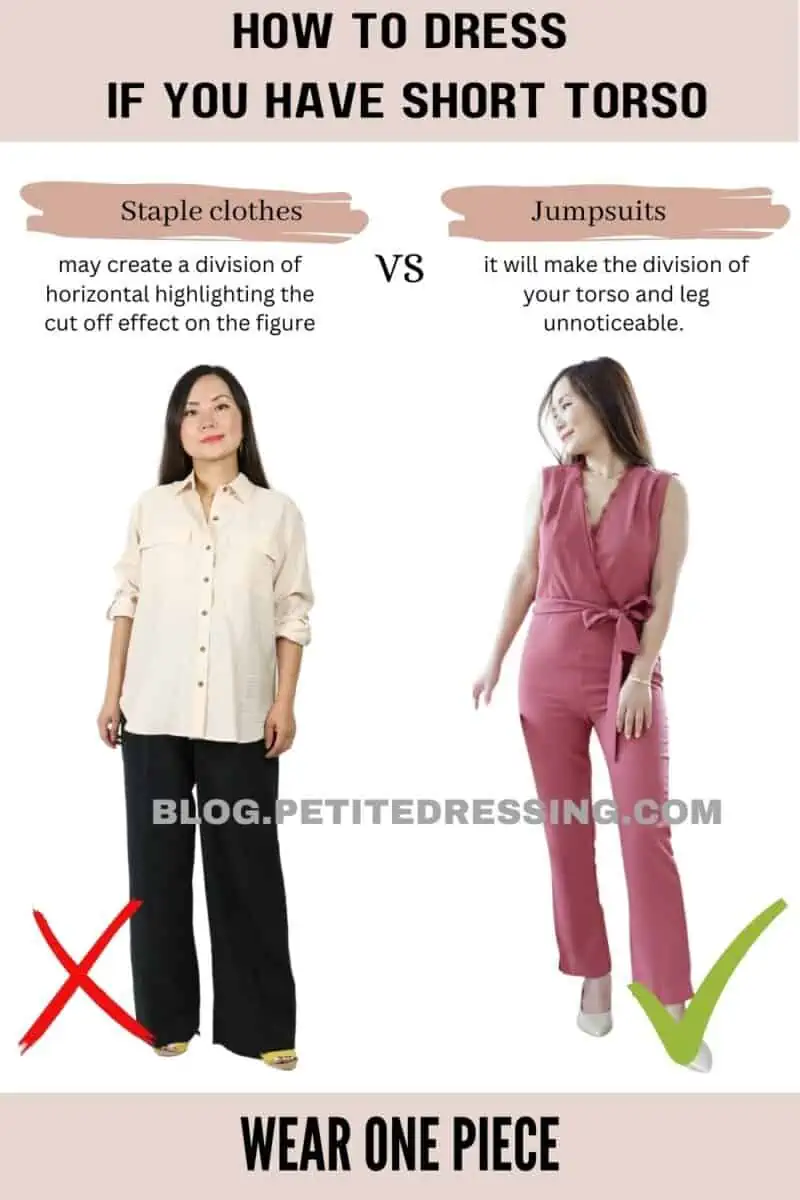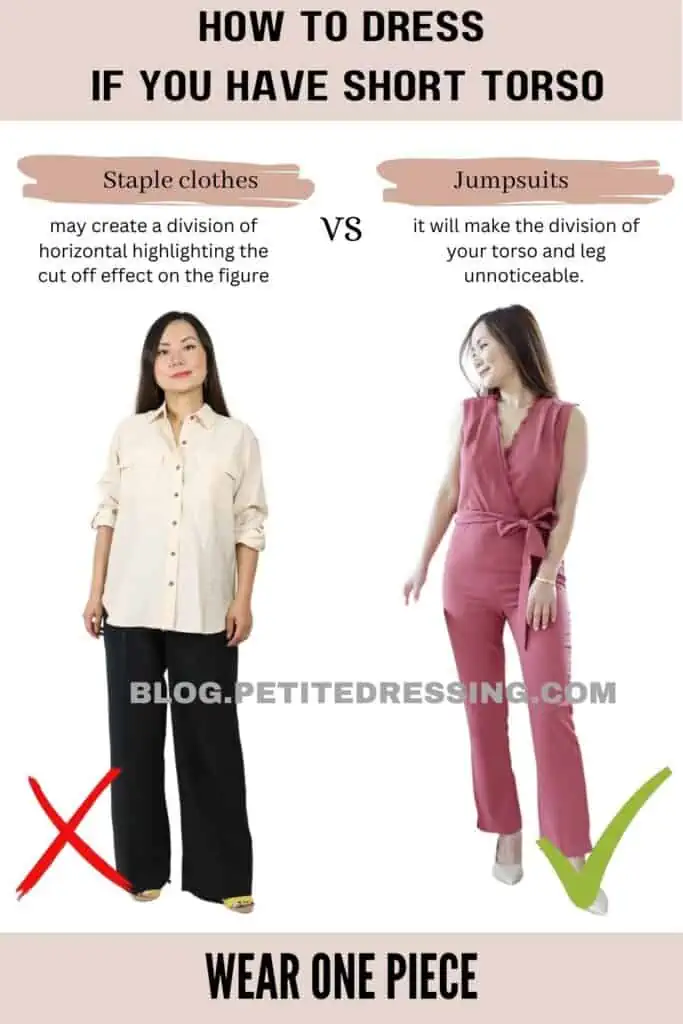 Shift dress
Shift dress by definition has a straight up and down silhouette, which is why they deemphasize the waistline.
These are flattering to your short torso because they defocus on the waist, thus taking people's attention away from your torso length.
Another benefit of the shift dress is comfort.
Do not confuse shift dress with a shapeless dress though. Even though they do not have a defined waist, they are narrowly fitted, which makes sure the fit is not baggy on you.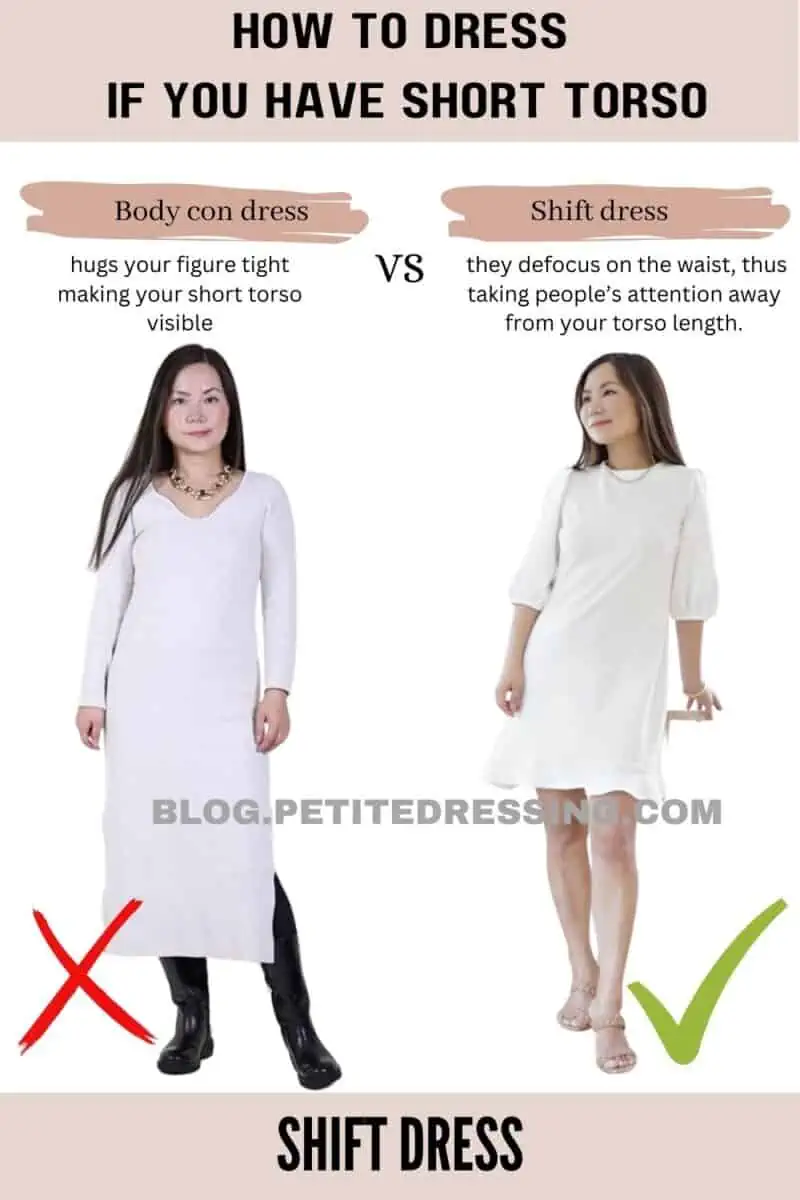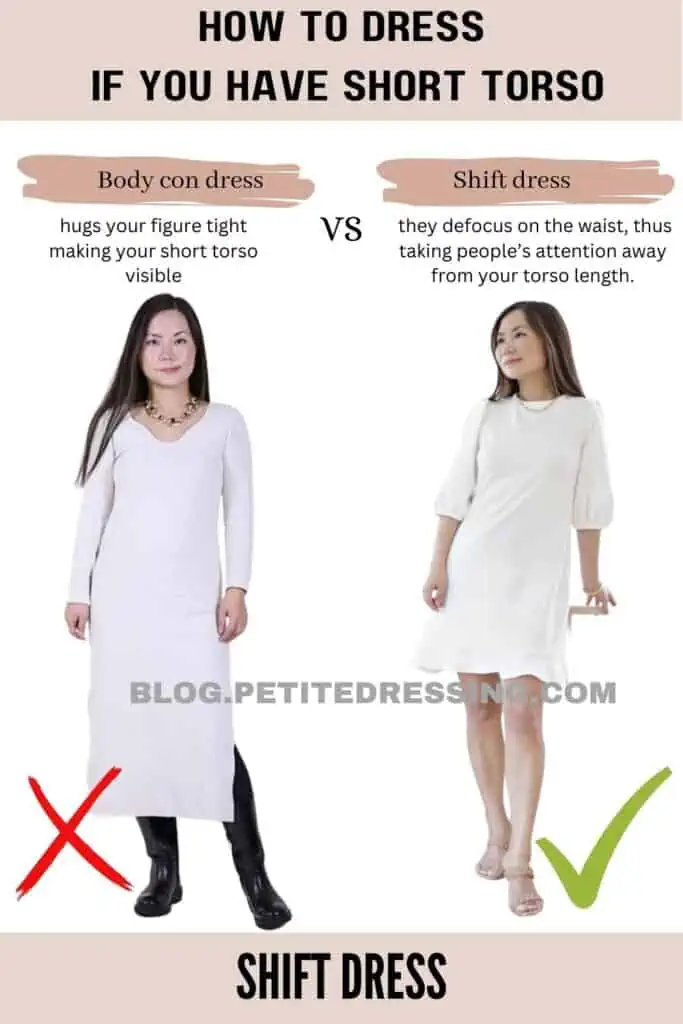 Drop waisted dress
Drop waisted dress is also great because they make your waist looks longer, thus making your upper body look longer.
Caution with Rompers
Rompers are quite fashionable and are generally easy to pull off because you basically just wear them and you're good to go. But then one of the rompers' major downsides is that they are not really structured specifically for women with short torsos.
Rompers usually feature a waist elastic or waist tie that separates the top part from the bottom and when you have a short torso, the waistband doesn't really land where it should be. Since the top part tends to be a bit longer than the actual torso, then the waist elastic or waist tie falls by the hip bone for ladies with short torsos.
This creates an awkward silhouette that also highlights the smallest and most unflattering part of your body. If you would like to give rompers a try, an alternative would be to go for those without any waistbands.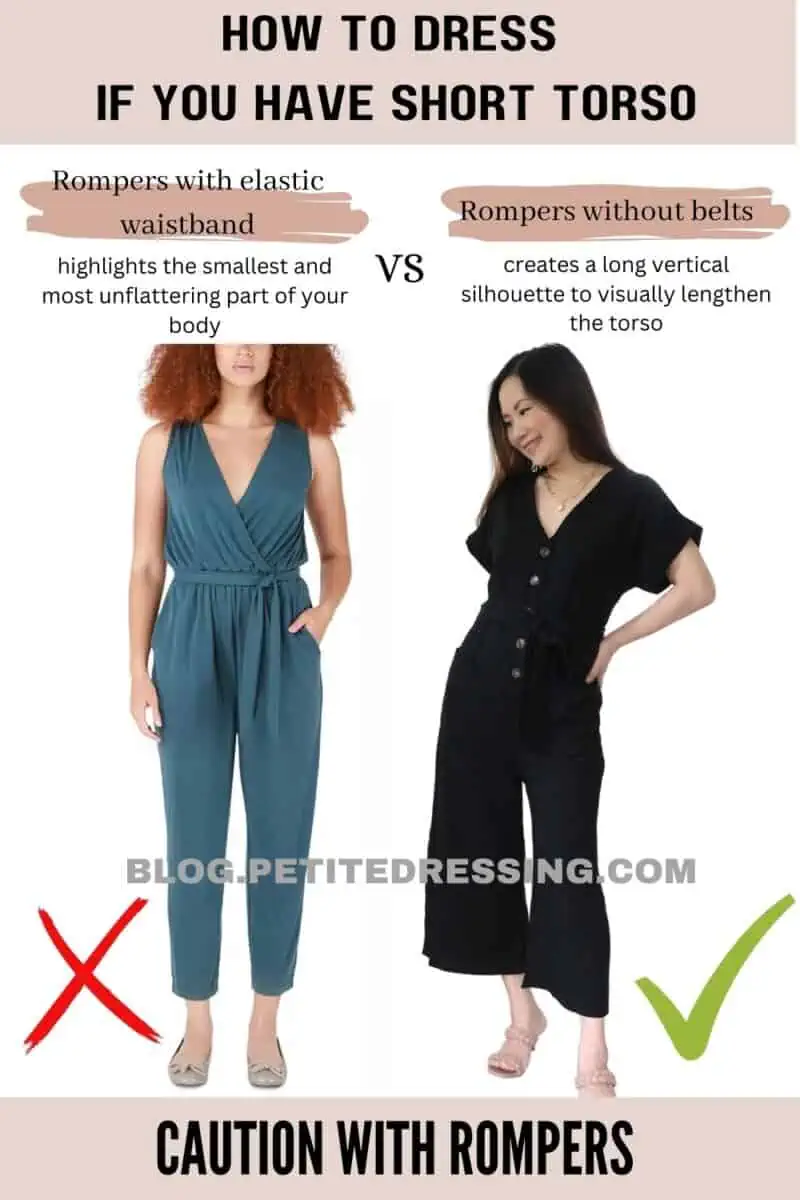 Accessorizing
Avoid Wide Belts
The width of the belt draws people's attention to your waistline, and it makes it look shorter because it's covered by the waist.
If you have short torso, it will not only make your torso look even shorter (because it's covered by the belt) but also make you look shorter.
So, obviously a double no no.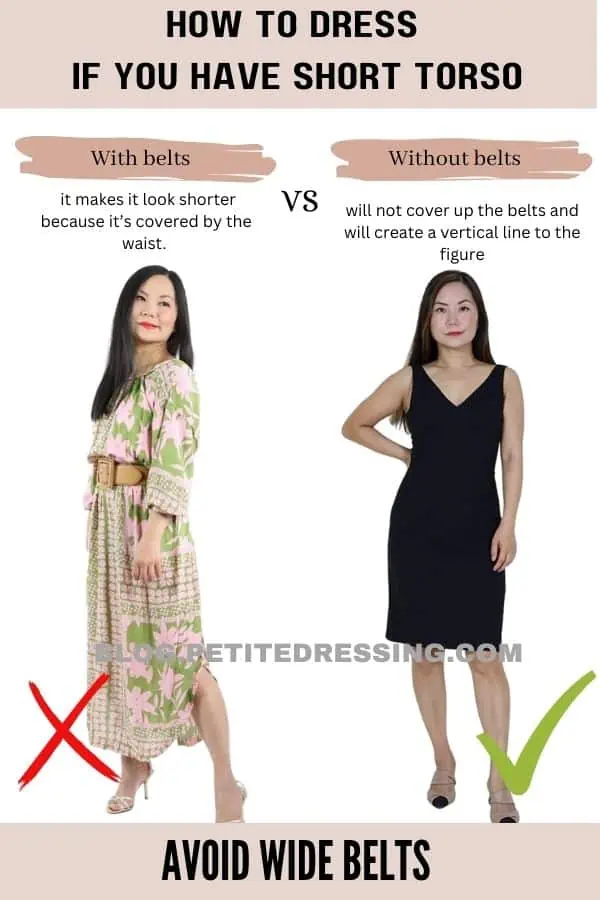 Caution with Skinny Belt
Skinny belt are tricky because it can bring more attention to the fact you do not have a natural waist definition.
Elongating Accessories
This basically means any type of accessory that helps draw the eyes vertically up and down. Some examples would be long necklaces that have a single pendant, skinny long scarves, and drop earrings.
These accessories are placed on the upper half of your body which means they attract attention in a way that brings proper balance to your torso.
The Key Takeaway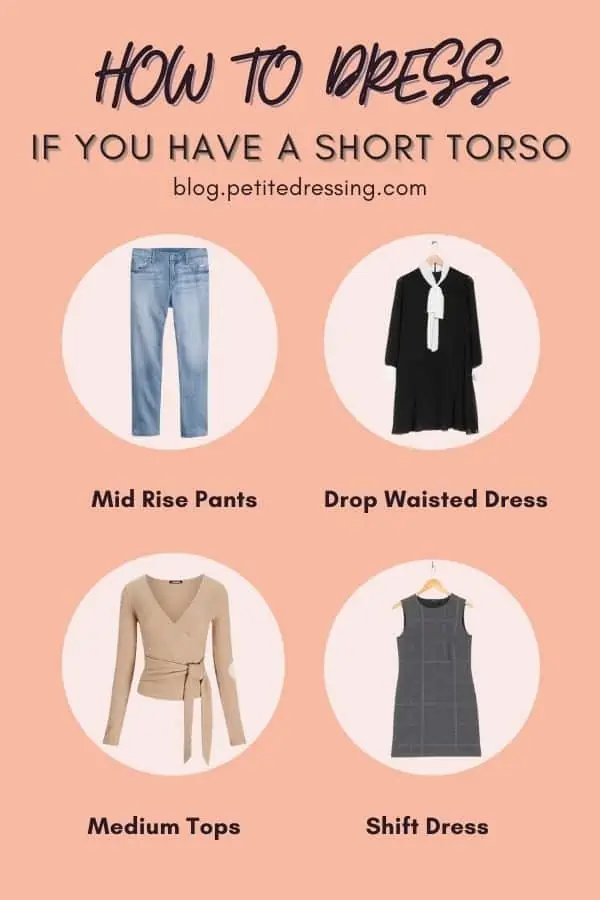 Not all women with short torsos share the same features so it's really important to understand your figure before choosing clothes. Just like what we always say, it's all about visual balance so just focus on strategically concealing your less flattering features while enhancing your best assets!