In order for every petite woman to find the best petite style most suitable for her body features, the Petite Dressing team have done a very deep dive on the petite body type theory, i.e. the commonly known:
Apple, Pear, Inverted triangle, Rectangle and Hourglass" body shapes and how they apply to a woman under 5'4". (If you still do not know what type you are, take our petite body type quiz and find out).
Now, another important aspect of knowing about your body is the vertical body shape, i.e. the balance of your torso vs your legs. In other words, do you have short torso? Or long torso?
In general, if you have short torso, it implies your legs are relatively long. Of course the concept of long legs here is relative because we are talking about it in the context of petite fashion. After all, petite women are under 5'4", so our definition of long legs here is certainly different than someone who is 5'7".
Having a short torso typically means that you also have a short waist. That means the distance from your shoulders to your natural waist is shorter than those with average waist. In other words, your waistline sits higher on the body.
Your vertical body type can also impact your rise. Typically if you have short torso, your pants rise may also be shorter. That could determine how you should choose petite jumpsuit, petite pants and petite jeans.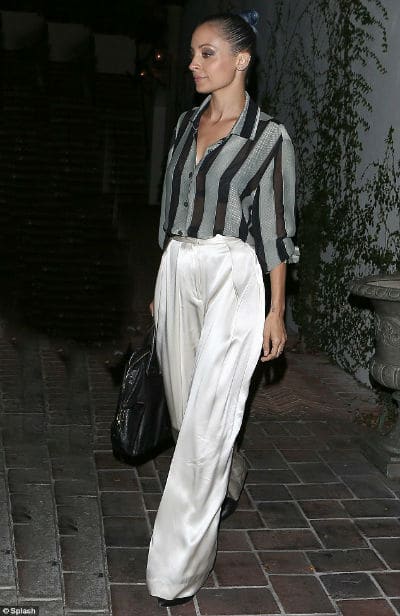 If you have short torso, you probably already know it. If you don't, here is how you can determine:
Are you petite but petite size pants are too short for you?
Is our hipline is higher than half of your full height?
Do you have a high waist line (higher than your bent elbow)?
Do you have round and high bottom?
Do you tend to put on weight around your waist, above your waist or on the back of your hips?
If you answers to the above questions are mostly yes, then you are mostly likely the short torso long leg type. Amongst famous petite celebrities, Nicole Richie (5'1″) has a typical short torso long leg body type.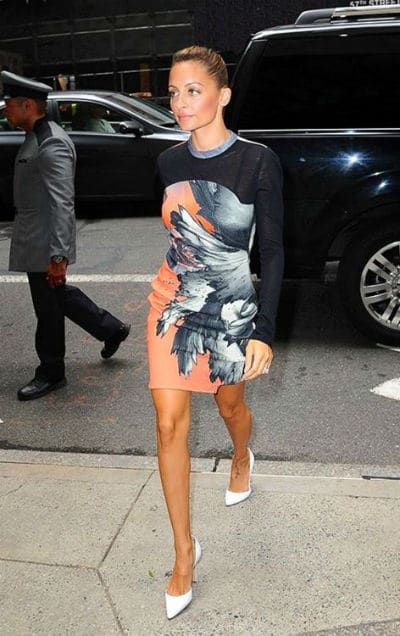 As a petite woman, having a short torso and long legs is viewed as a very positive body feature.
The reason is quite simple.
Most petite women would love to have their legs look longer!
If that's what you are naturally born with, you should feel blessed!
That said, we do want to look at how to dress your short torso properly in order to achieve the vertical balance.
Even though we all are jealous of your long legs, you do still want to look balanced overall. In general, women with short torso want to draw the eye down in order to create the illusion of a longer torso.
However, because you are petite, some styling tips that work for a taller woman will not look good on you. So, the key here is to carefully achieve a balance.
Here is what will flatter a petite woman with short torso
Mid rise pants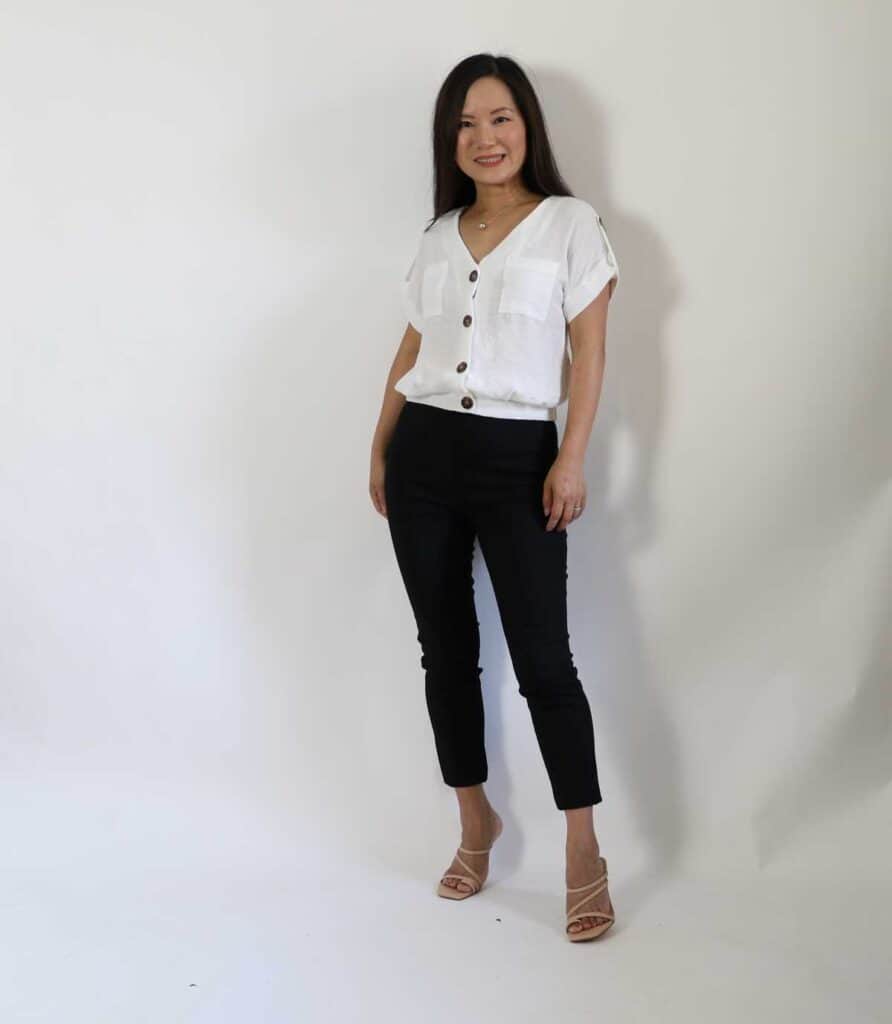 For women above 5'4", wearing low-rise pants probably will make their short torso look longer. However, because you are short, we do not recommend low-rise pants.
A pair of mid-rise pants will do the job the flatter your short torso without reducing too much of your leg length (after all, we do still want to look taller than we are), like these Mid Rise Girlfriend Jeans ( $69.95) that can perfectly flatter your short torso.
Medium tops
Again, many stylists advise women with short torso to go with long tops, which, however, is not flattering to petite women.
Therefore, a medium-length top should be the way to go if you are petite with a short torso.
That means your tops or jackets should probably hit just over your hip bone, but not too much over.  That will create the illusion of a longer torso without making you look shorter, like this Printed Long Length Tunic Top ($42.72)
Tops with vertical lines
This will lengthen your short torso and also make you look taller overall, so they are good for your specific body type as well as your height as a petite woman, like this Striped Tie Neck Top ($59.00)
Shift dress
These are flattering to your short torso because the shift dress defocuses on the waistline, thus taking people's attention away from your torso length, like this Embroidered Shift Dress ($79.00).
Drop waisted dress
Drop waisted dress is also great because they make your waist looks longer, thus making your upper body look longer, like this Woven Drop Waist Dress ($39.97)
Because you are petite, you want to make sure you choose the right length for the dresses.
In general, 3-4 inches above your knee is the most flattering length for petite women.
Above mentioned is the common advice that would look good generally for petite women with a short torso and long legs.
Now, let's also look at the style you should stay away from or at least be careful about
Untucked tops
The reason is obvious. If you tuck your tops, it will only make your upper body look shorter. Wear a medium length top and let it naturally flow through your waistline is the way to go if you have short torso.
Avoid High waist
The high waisted style is commonly known as a wardrobe must have for petite women because of its leg lengthening effect.
However, since your torso is already short, wearing a high wasited style will only make them look shorter. Therefore, going with a mid waist style is a better choice for you.
Avoid Crop tops
Again, this is normally a very flattering style for petite women who want their legs to look longer. However, if you have short torso, this will only make that more obvious.
Avoid Wide belts
Ok, this one is intuitive.
The width of the belt draws people's attention to your waistline, and it makes it look shorter because it's covered by the waist. We generally do not recommend petite women to go with wide belts because they cover too much of our waist area and vertically shortens us.
If you have short torso, it will not only make your torso look even shorter (because it's covered by the belt) but also make you look shorter.
So, obviously a double no no.
Therefore, a skinny belt is better choice for you, or no belt at all.
For women with short torso, the important trick of wearing a belt is to not wear it at your natural waistline but to wear it around your hip.
By doing so, it will look like your torso is longer and create a balance of between your torso and your legs. (Read 7 Smart Ways to Style Accessories for Women of Petite Height)