Petite loungewear is must have for petite women looking to build a stylish wardrobe. If you are tired of wearing retired T-shirts at home, it is time to add some comfortable and stylish lougewear to your closet. Since the idea of lougewear is relatively new, more and more petites are asking where can I find the loungewear for short women? That is why we have put together this post on
How to Choose Petite Loungewear
First things first, before we talk about petite loungewear, why should you even care about it anyways?
The idea of loungewear is becoming increasingly popular in today's fashion, as we care more and more about how we feel and look in our own home. It used to be the case that people paid more attention to what they wear in public or to social events, because that's where they are going to be seen by other people. Well, doesn't it make more sense what we wear at home is equally important?
We spend so much time at home, when we are not at work or socializing. If you care about making your home look neat and beautiful, you will also realize what you wear at home matters just as much as the furniture or bed cover you have put so much effort to select. If you are wearing petite loungewear that is carefully selected, it will reflect your personal taste and become a cohesive part of your home style.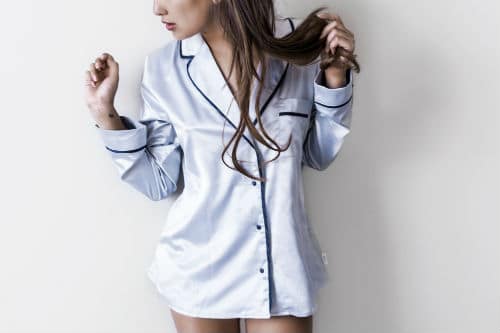 Now, let's look at what is petite loungewear.
There is no strict definition of what loungewear is. It is broadly used to refer to anything you wear at home. Different people have different definition of what consists loungewear. Likewise, different stores carry different selections of what they consider to be loungewear. So, it could be part of or all of the below.
Robes- We are not talking about the bathrobes you only wear when you get out of shower. There are many robes designed to function as another layer you can wear at home all day long, especially in winter time.
Pajamas– There are lots of cute pajamas which are meant to be worn not only when you are sleeping, but also when you are out of bed- basically anytime when you are home.
Sweatpants– These are the most comfortable things you can find. Some of these are called jogger pants, but that doesn't mean you should only wear them when you are jogging. These are the favorite loungewear for many people because they are so versatile.
Pull on pants- Not just sweatpants, any other petite pull on pants which are comfortable and relaxed can be loungewear.
Sleep shirts- Imagine those gingham print long sleeves you wear to bed. They are perfectly fine to lounge in as well.
Wrap shirts- They are the most stylish and comfortable loungewear. Wrap style is naturally sexy because they hug your curves and make you look chic, even if you are home.
The list can go on and add anything else you find comfortable to wear at home. Everyone may have their own definition of what is loungewear. The way we look at it is what you can wear at home that won't make you feel embarrassed if your neighbor happens to knock on the door.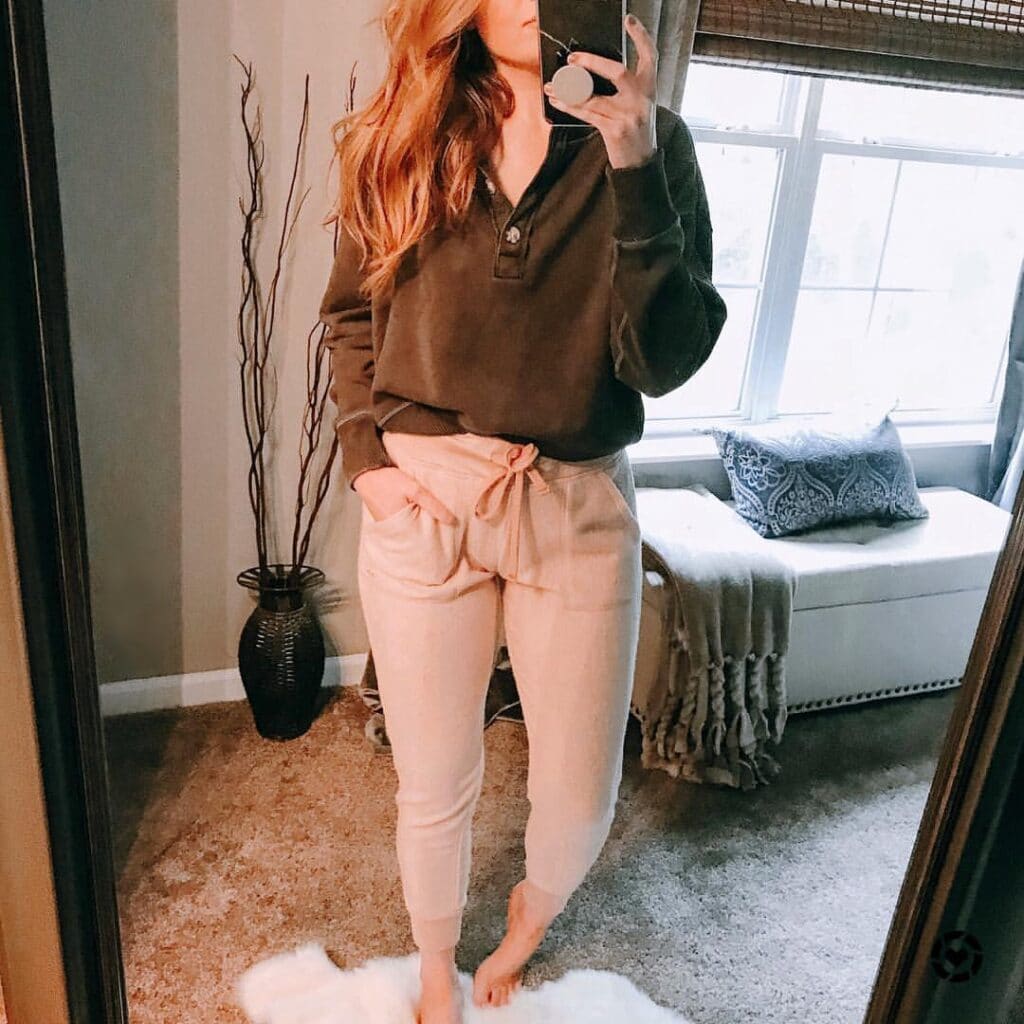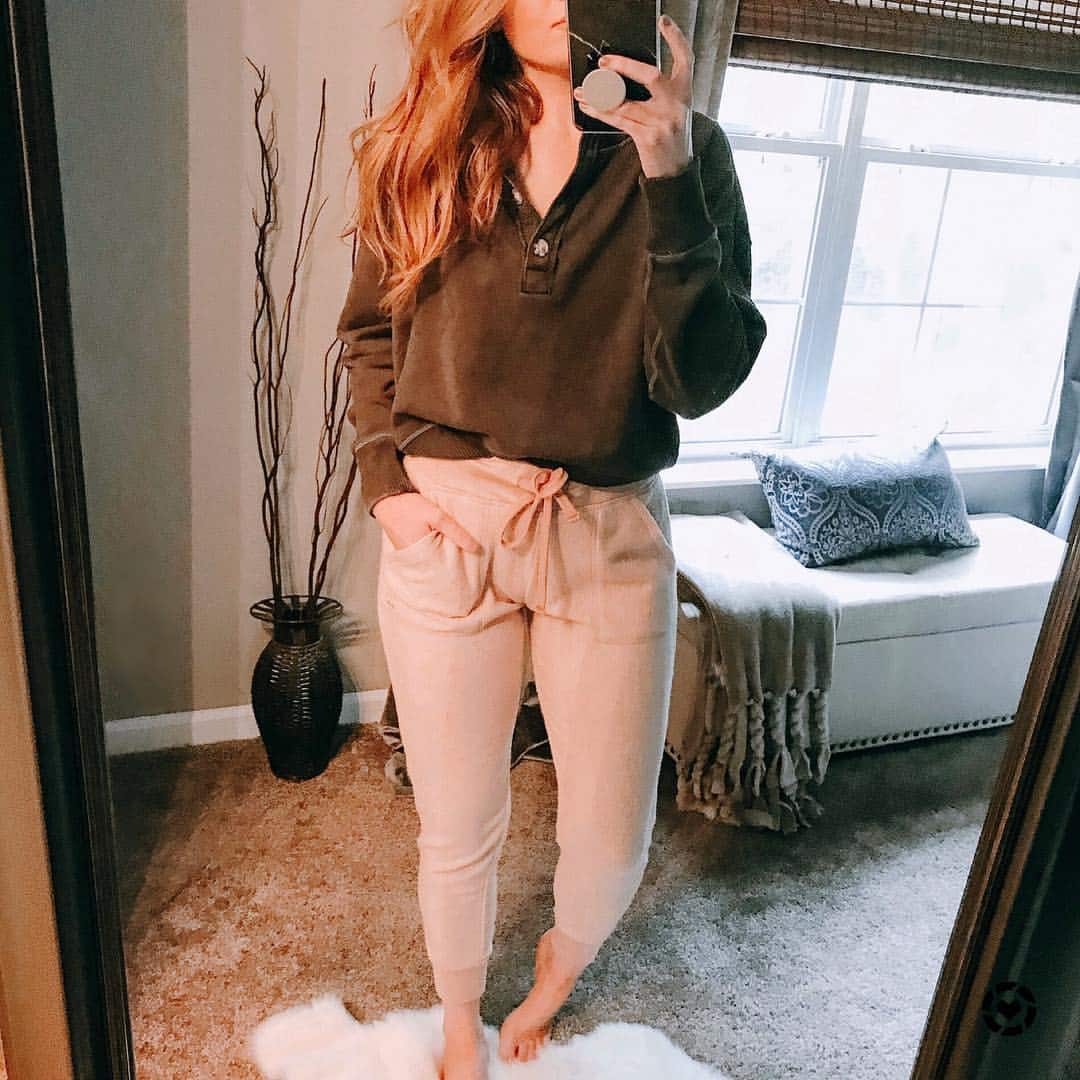 What you should consider when shopping for petite loungewear?
Since they should reflect your personal style and taste, these are the most important things for petite loungewear.
First, petite lounge wear needs to be comfortable
Pull on style petite pants with elastic waist band are normally more comfortable, especially when you have just had a big family dinner (you know what I mean, right?)
Wide leg pants are a popular choice for a lot of petite women, because the relaxed fit allows the most comfort whether you are lying on the couch or resting in bed.
In addition, the rise of the pants also matters. Rise is an important measurement for petite pants. Generally speaking, high rise pants are more comfortable. The exception is if you happen to have short torso, then you should go with mid rise pants. Low rise pants are hardly comfortable, especially when you are sitting down. Besides that, they make you legs look shorter.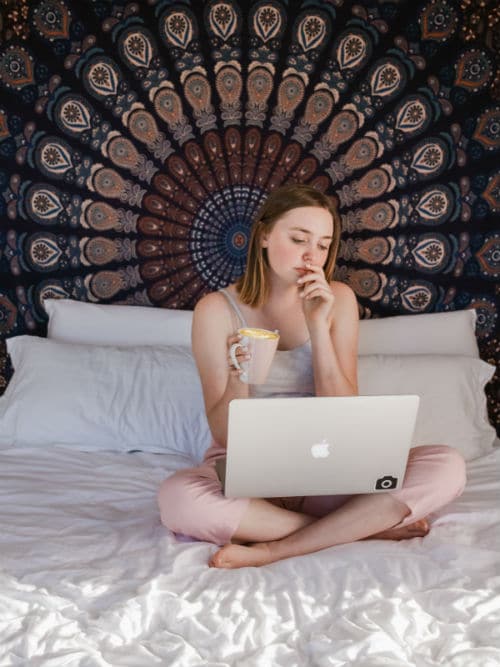 Secondly, fabrics are key
Fabrics can play a big role in whether your loungewear is comfortable. No matter how pretty the petite loungewear is, you will not like it if the material is low quality.
Natural fabrics such as cotton, silk or cashmere are preferable for petite lougewear, because they are breathable and feel good against your skin (especially if you have sensitive skin which gets irritated easily by man-made fibrics).
Of course, some natural fabrics like silk or cashmere normally come with a higher price tag. Should you spend the extra mone on it if you are only going to wear them at home anyways?
Contrary to some belief that you should focus your money on where people can see, i.e. party dresses or jewelries, high quality petite loungewear are the best investment you can make.
Think about it, how many hours a day do you spend at home? And how important is it for you to feel well rested and rejuvenated for the next day of work? If your answer is more than 8 hours a day and it is very important for you to feel good at home, then that tells you exactly why you should invest in high quality petite loungewear.
Last but not the least, the fit is important
Just that loungewear is worn at home doesn't mean you should lose your standard on the fit. For petite women, fit is the important in anything we wear. A well fitted petite loungewear is designed and cut for petite sizes of women under 5'4″. They won't be too tight, but they are not baggy either.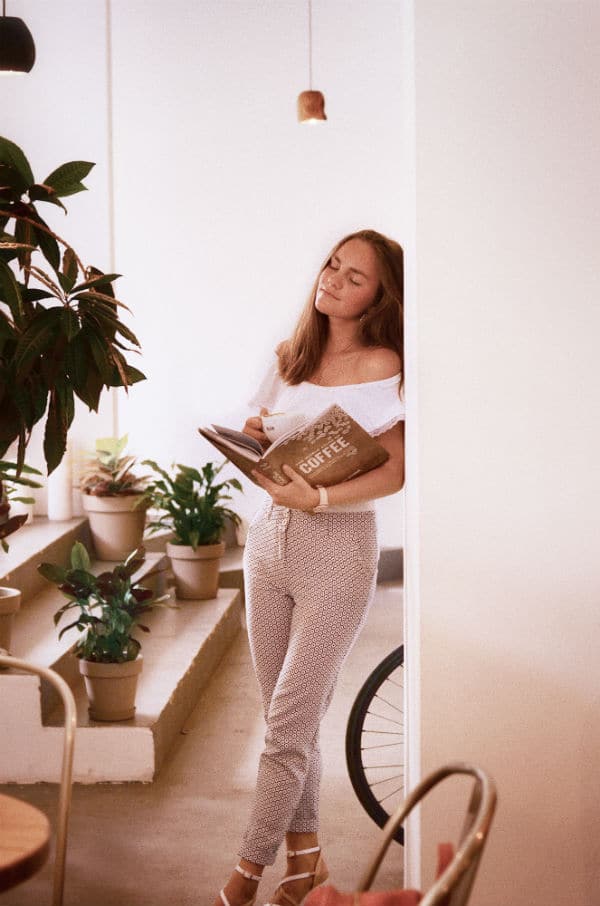 Now, where can you find loungewear that fits petite women under 5'4″? Here is how we look at this.
For certain items like wide leg lounge pants, jogger pant and pajama pants, we highly recommend you get them from a petite designer. The reason is regular sizes are made for women 5'5″ tall, so the inseam is most likely going to be too long for short girls.
For robes or wrap shirts, if you have the choice of petite size, we still suggest you go with the petite size. The reason is the belt could be at the wrong position on a petite girl, if they are made for an average height woman.
For tops, it really depends. If you are looking for a short sleeve tunic or sleep shirts, regular sizes might work just fine on you. However, if you are looking for long sleeves, then you should go with petite size, as the sleeves are tailored to fit shorter arms of petite women. Besides, petite size loungewear will fit you better in the shoulders.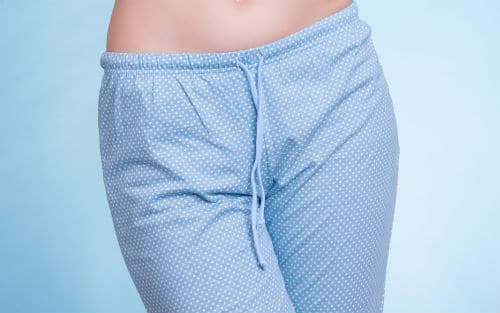 Here is our top choices for petite loungewear.
ASOS
Everyone knows ASOS has a big selection of petite clothing. We think they are also a great place to find petite loungewear, especially if you are looking for something economical.
Nordstrom
One of our favorite petite friendly stores is Nordstrom. Here you can find different types of petite loungewear from jogger pants, robes to pajamas.
Zappos
Are you still thinking of Zappos as a shoe store? Here is the great news to short girls: Zappos have added their petite collection. You can find jogger pants and other lounge pants of petite length at Zappos.
Land's End
If you are wondering where you can find robes that are made for petite women, Land's End is the answer. Not only do they have petite size robes, they also make petite length loung pants, sleep shirts and other comfortable petite loungewear.
Belk
If you are from North Carolina, I'm sure you have been to Belk. Crown & Ivy is my favorite brand at Belk, which carries full petite line. When it comes to petite lounge wear, what I love about them is you will find really cute sweat shirts in petite sizes. If you are tired of all neutrals in your wardrobe, you will find pastel and gingham in this store and their prices are unbelievably good!
Gap
At the Petite Shop of Gap.com, you can find plenty of choices for petite lounge wear. In Gapbody, you will find some petite length lounge pants that are comfy and affordable.
Macy's
Of course you know Macy's has petite size clothing. We have found the best way to find the petite loungwear is through the website. It is just so much easier that you do not have to go trough racks and racks on the floor and can immediately locate your size. Don't you agree? My favorite brands at Macy's is Lauren by Ralph Lauren and Miss Elaine. If you like floral print petite pajama sets, you must try these two brands.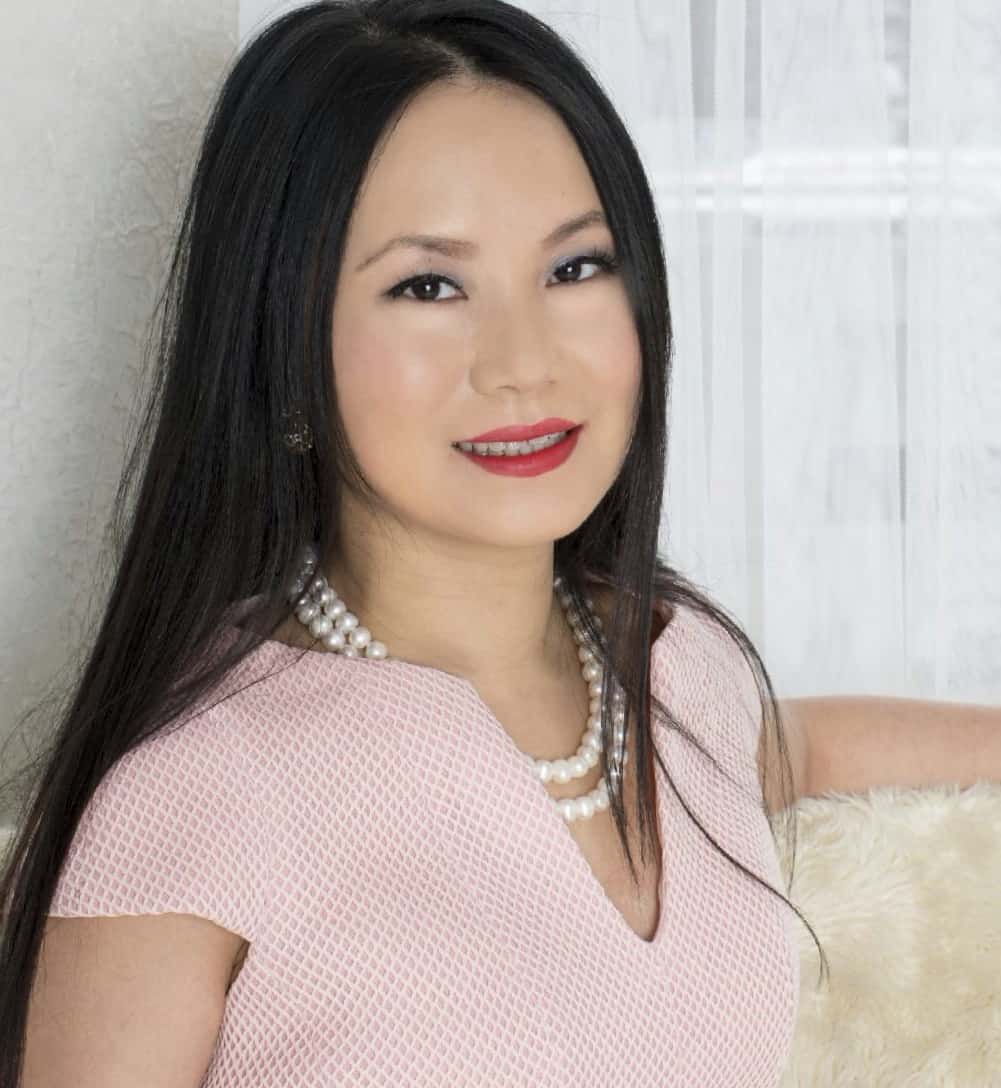 Chi is 5'2″ founder of Petite Dressing, an online petite clothing store dedicated to women under 5'4″.  Petite Dressing blog is here to help you understand yourself and look your best ever.  If you are new, start here.  Visit my Youtube Channel. Comment below and share your thoughts about this post!