I'm 5'2″, and I certainly have struggled a lot with boots because my legs are shorter.
With 5-6 months of cold weather where I live (Northern NJ), boots are my top choices for my daily commute. Besides, boots always add a classy touch to any of your outfit.
While I've had fair bit of luck with ankle boots, they are not warm enough for the harsh winter. When it comes to tall boots, whether knee high or thigh-high boots, it is next to impossible to find something that fits me perfectly.
After a decade of winters, I was able to figure out what works and what doesn't for short women like me when looking for boots.
FUNDAMENTALS
Below are the most important measurements of each boot.
Bear in mind, even if for the same boot style from the same brand, measurements vary slightly for smaller and larger sizes.
Retailers or brands normally take measurements from a medium size. For instance, Nordstrom's measurements are based on size 8.5.
Petite women typically have smaller feet, so you need to take that into consideration when you look at these measurements, i.e. boots in your size would be slightly smaller than the measurement numbers on the shopping website.
The 4 fundamental measurements are:
Boot shaft height
Calf circumference
Ankle circumference
Heel height.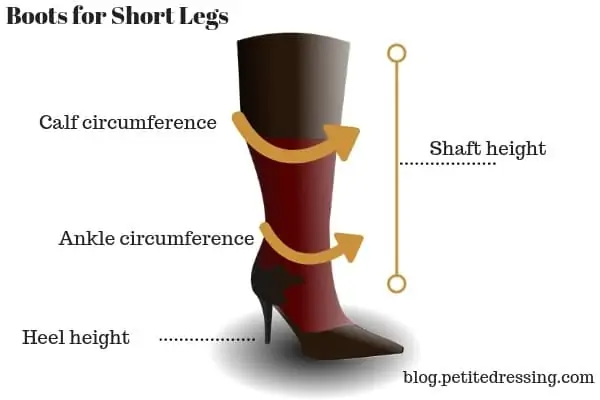 Shaft height
This is the length of the boot from the base of your barefoot (without wearing any heels) to the top of the boot.
For your reference, I am 5'2″ with a 25.5″ inseam.
If you have short legs like me, shaft height under 15.5″ for knee-high boots would normally work
If you have exceptionally long legs for your height, you can try a 16″ inch shaft.
Calf circumference
This is referring to the measurement around the fullest part of the boot.
Narrow Calf (less than 13 3/4″)
Some boots are cut for women with slimmer legs. Others feature adjustable or stretch fabrications that conform better to a slender leg.
Wide Calf (16″ or more)
Boots with functional laces, buckles, or stretchy uppers are excellent choices for wider calves. Many boots have elastic goring that stretches to provide additional calf circumference.
Extra Wide Calf (17 1/8″ or more )
These are for women with wider than standard wide calf measurements.
Ankle circumference
This is measured around the narrowest part of the boot.
Heel height
This is measured up the center side to where it meets the boot sole.
Here are the common categories of heel heights:
Flat 0″-3/4″, Low heel 1″-1 3/4″.
Medium heel 2″-2 3/4″.
High heel 3″-4″
Ultrahigh heel 4 1/4″ or taller.
Incline
Incline might sound like a foreign concept to you.
Everyone knows the height of the heels has something to do with how comfortable they are. Normally, the higher they are, the harder they are to wear for a long period of time or to walk in. Fewer people know that the slope matters too, and big time.
What is the slope? It is the incline of the heel. It can be measured by the distance between the heel and the sole. For instance, the shorter the distance, the more steep the heels are.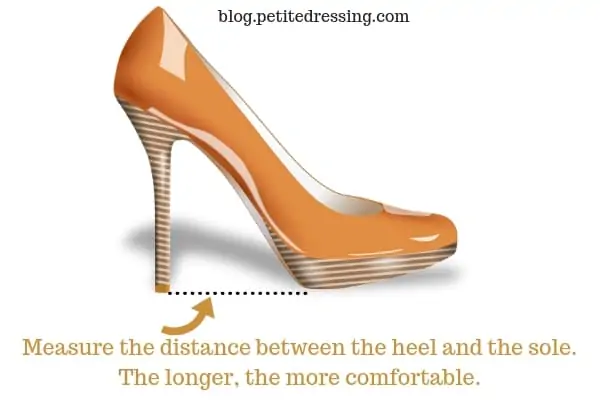 This is a key structure of the shoe that can determine how comfortable they are. The higher the incline of the heel, the less comfortable.
I have another post on "7 Tips on How to Wear Comfortable Heels All Day", which talks about this in detail.
What to look for if you have Short Legs
Now that you understand the 4 basic measurements of boots, it's easier to understand what makes it hard for petite women to find boots (especially tall boots).
Medium Shaft
At least that is my case. Because I have short legs, most of the knee-high boots, which are supposed to hit right under the knees, would be hitting the middle of my knees. That is an awkward height because it makes it uncomfortable to walk in the boots.
Do you have the same problem?
I wear dresses and skirts a lot in winter, so I always need narrow calf boots so that they won't look too loose when I wear leggings.
These are the knee-high boots for this season with a shaft height of 12.5″ to 15″, the ideal range for petite women with short legs.
Comfortable calf
As a typical petite apple shape, I have slender legs. So, the majority of the narrow calf boots are not narrow enough for me. Occasionally, I found some boots are too narrow for me.
But the frustration can also go both ways.
Do you have the same issue as me or the opposite, i.e. do you often find the boot calf too narrow for you?
You are not alone.
There is a lot of petite women struggling with finding wide calf or extra wide calf boots.
Now, last but not least. Probably every short woman struggle with this.
Sizing
I am a size 5, and the cut-off for many retailers is size 6. While I can still find some choices online, it is almost impossible to try them on in-store, simply because stores do not carry size 5s.
Are you a size 4 and under? I totally understand what you are going through…
All these years, I have tried and purchased numerous pairs of boots. 90% of them were ordered online because retailers simply do not carry my size in store.
The majority of them were sent back because they didn't work, and a small portion I have kept. Those pairs I have kept became the pillar of my winter shoe closets.
What do they have in common? I have summarized here my findings through numerous trial-and-errors over the years.
Best Types of Boots for Short Women
Knee High boots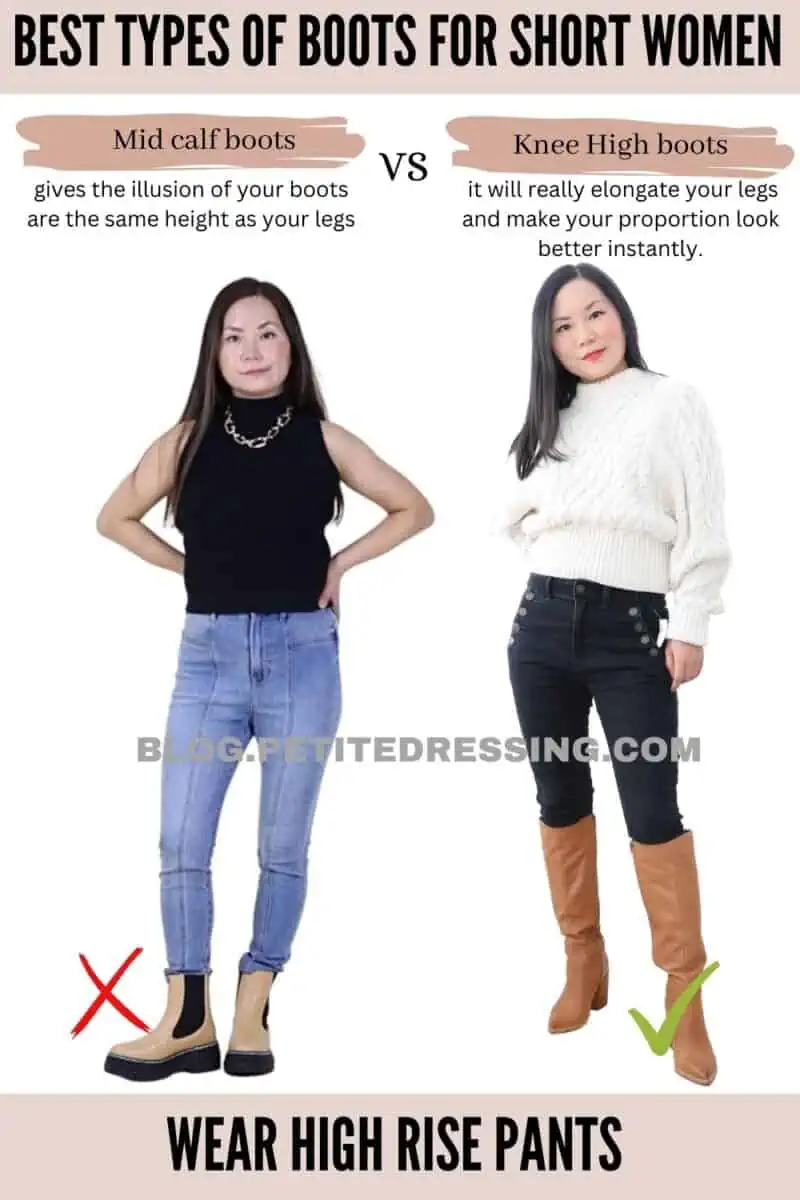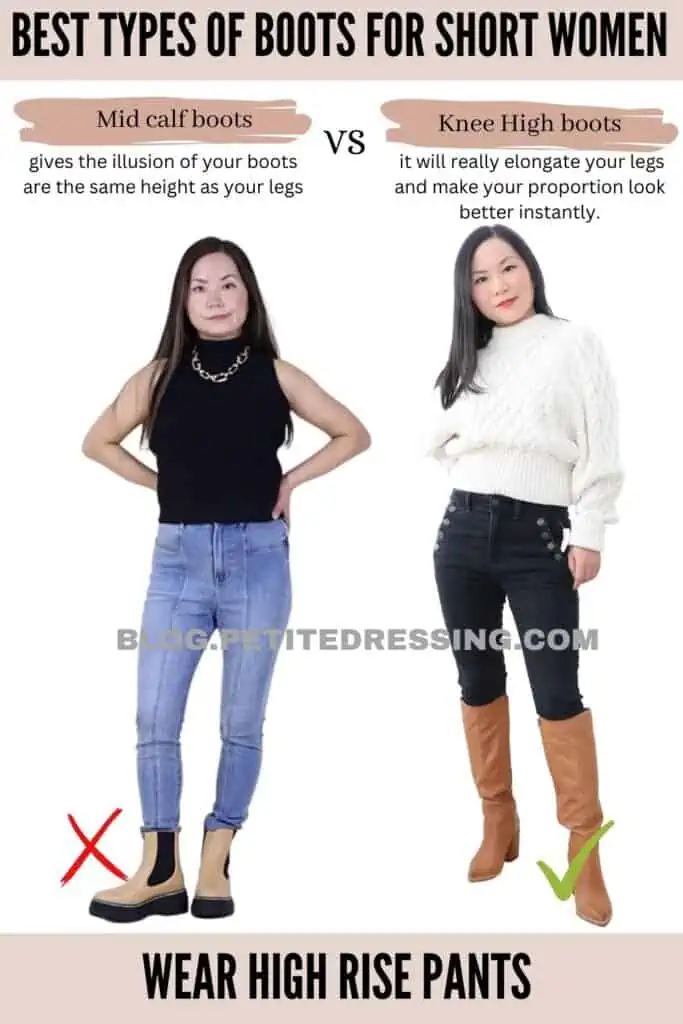 We talked about how hard it is to find the shaft height that works for women with shorter legs. In my case, I noticed once I have found the brands that work for me, they seem to always work for me.
So the tip here is to go back to the brands that worked for you in the past and purchase similar styles that worked for you in previous seasons.
You should match the color of your boots with that of your pants or jeans, and it will really elongate your legs and make your proportion look better instantly.
If you are wearing them with dresses, make sure to pair them with similar color stockings so that you can create the length you need in your bottom half.
Or, you can wear them with mini suede skirts. The key is to wear black knee-high boots with black stockings to make yourself look taller.
Over-the-knee boots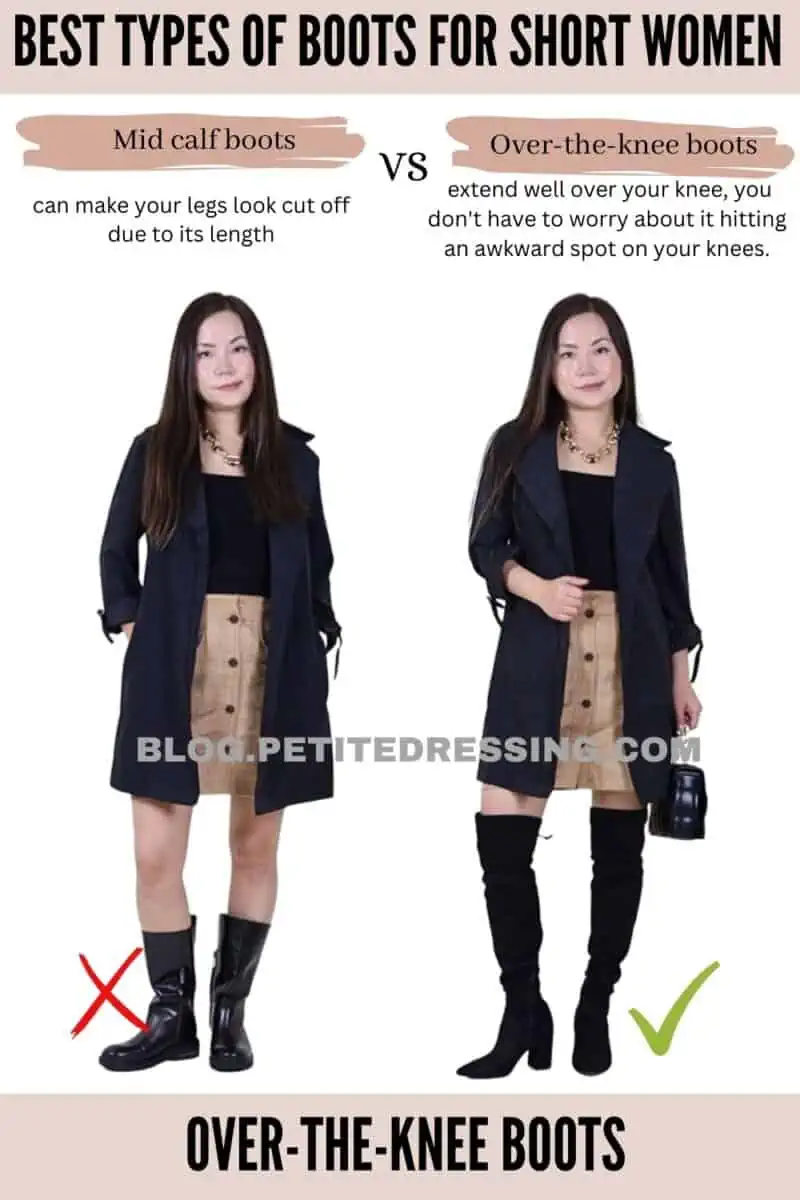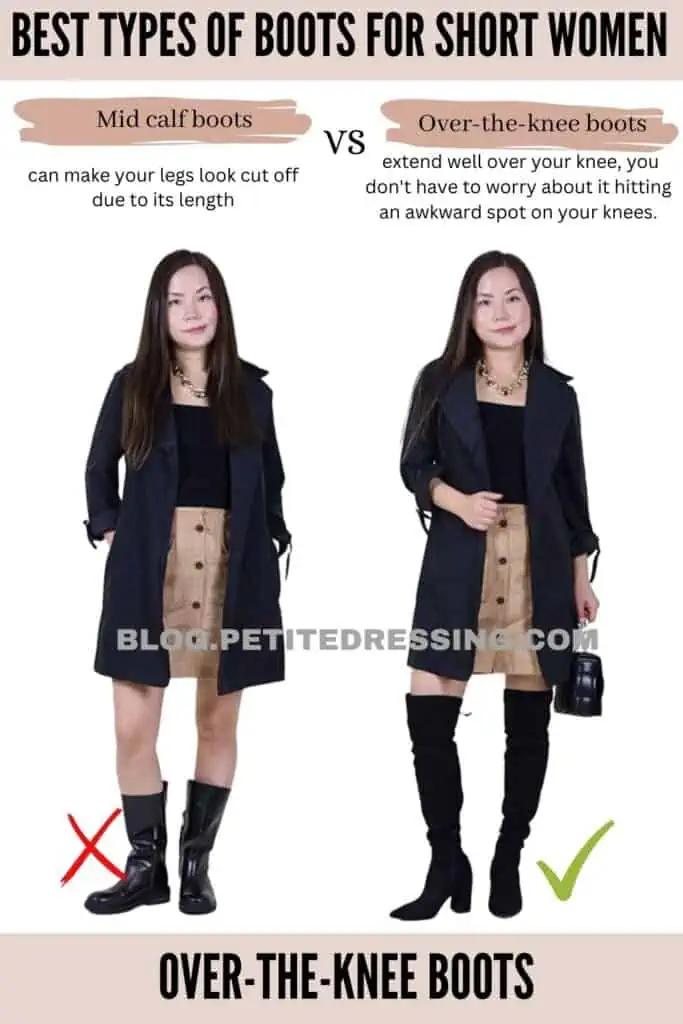 Ok, it may sound counter-intuitive here. You are a petite woman with shorter legs, how can you look good in OTK boots?
Believe it or not, OTK boots are incredibly flattering for petite girls like you!
I was wearing this OTK boot in this picture.
Here is why:
If you have short legs, it is important to create length in your styling.
OTK boots extend your legs to the maximum with an unbroken vertical line, which is why they make your legs look so much longer.
Plus, are they the warmest in the winter?
Most importantly, I have found it easier to find OTK boots that fit my short legs, than knee-high boots! The reason?
Because they extend well over your knee, you don't have to worry about it hitting an awkward spot on your knees.
Pointy Toe Boots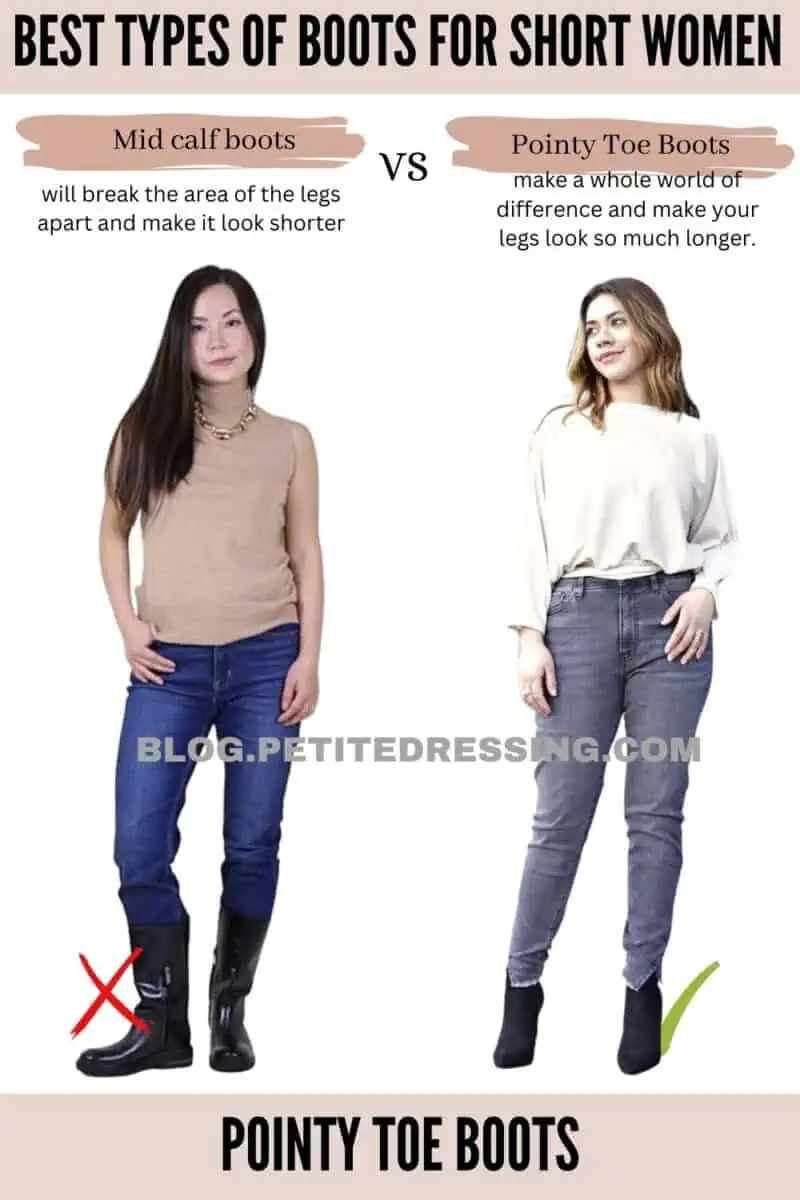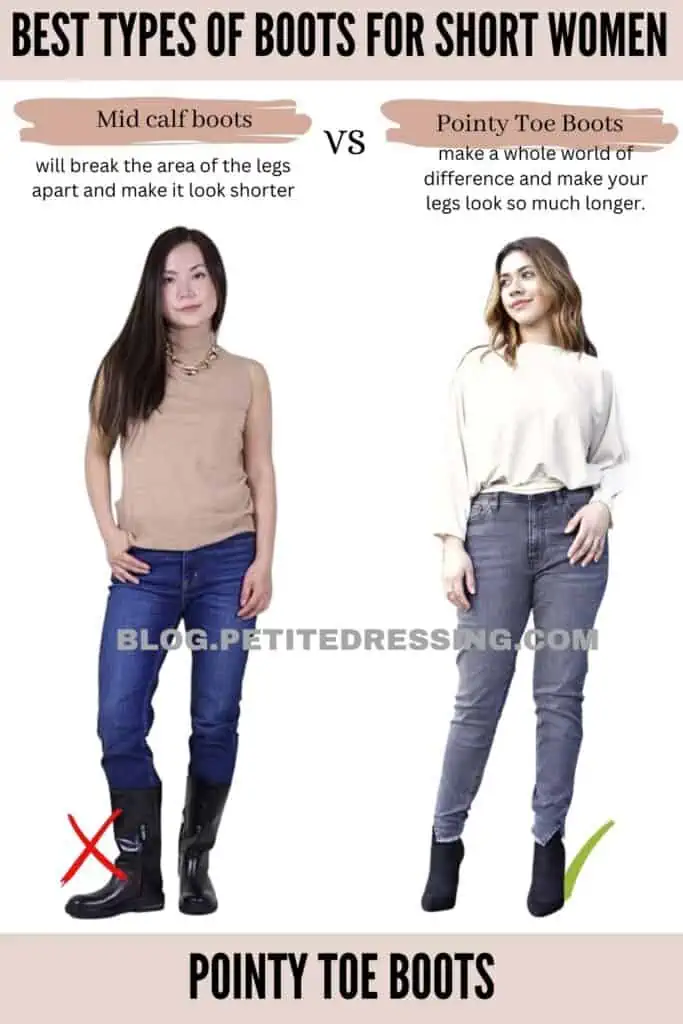 If you are short, this is the most flattering style for you. Pointed-toe shoes seem to be just a one-inch difference at the toes, but they make a whole world of difference and make your legs look so much longer.
Even if you are not wearing heels, a pair of pointed-toe flats will make your legs look extended. Try it today, if you don't own a bunch already!
Black Booties
These babes always work for us petite girls, since you don't have to worry about shaft height or calf circumferences.
The tip is to wear booties of the same color as your bottom to form a continuous vertical line. Specifically, pair black booties with your black jeans or wear them with black stocking, in order to achieve the leg lengthening effect.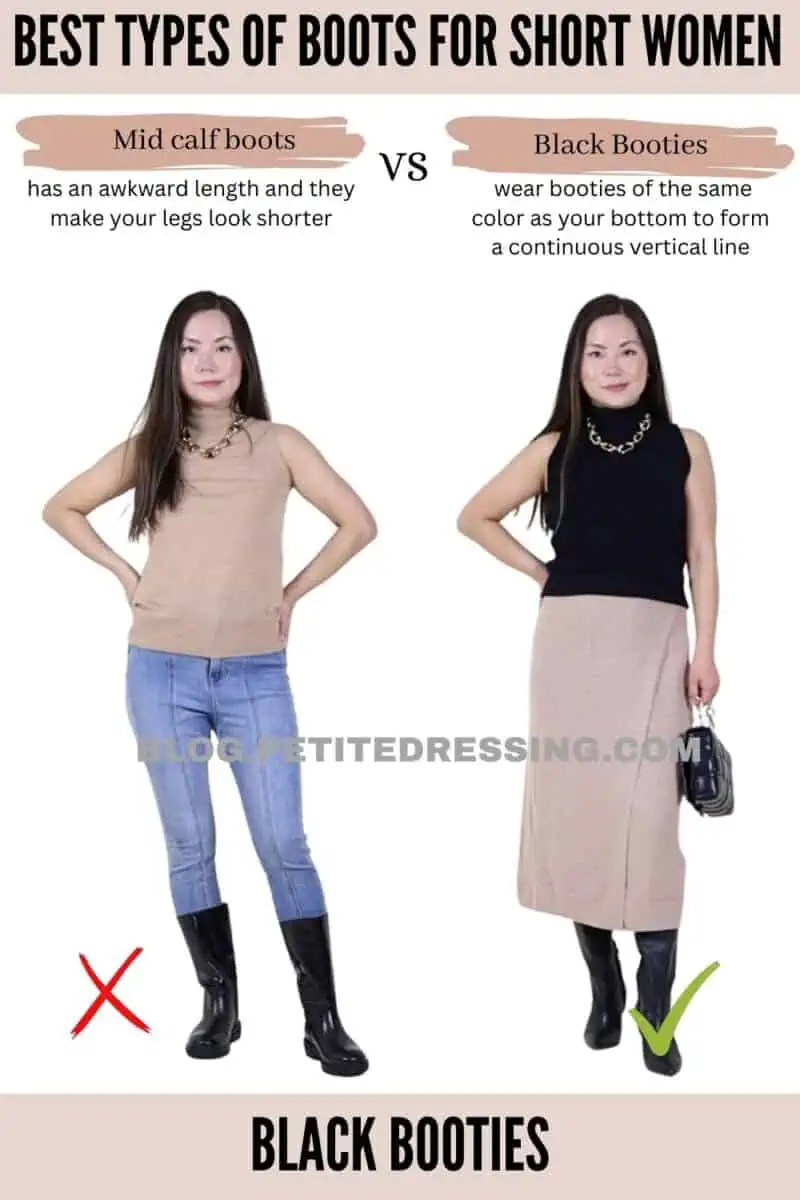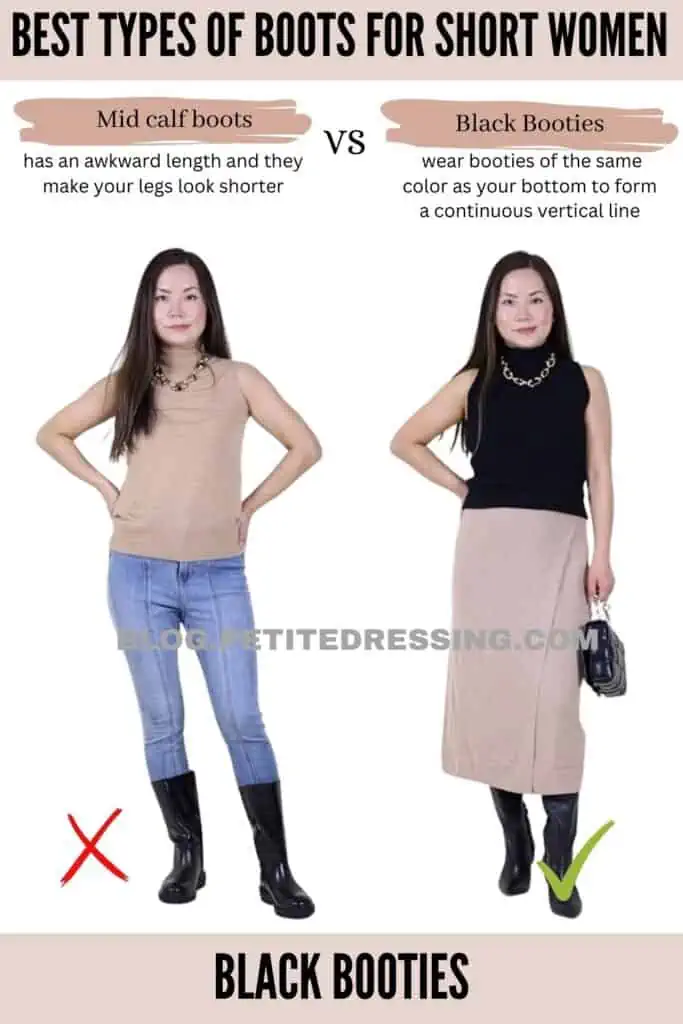 Avoid Mid Calf Boots
If you have short legs, you should be very careful about boots that reach your mid calves.
Mid-calf boots are an awkward length and they make your legs look shorter than they are.
Worse yet, they end at the widest part of your legs, thus make your legs wider than they are.
The problem is even more exaggerated if the mid-calf boots have fluffy furs around the openings, which will draw all the attention to how short your legs are.
Uggs are one of the most popular winter brands in recent years, but unfortunately, a lot of their mid-calf styles are not flattering to girls with short legs.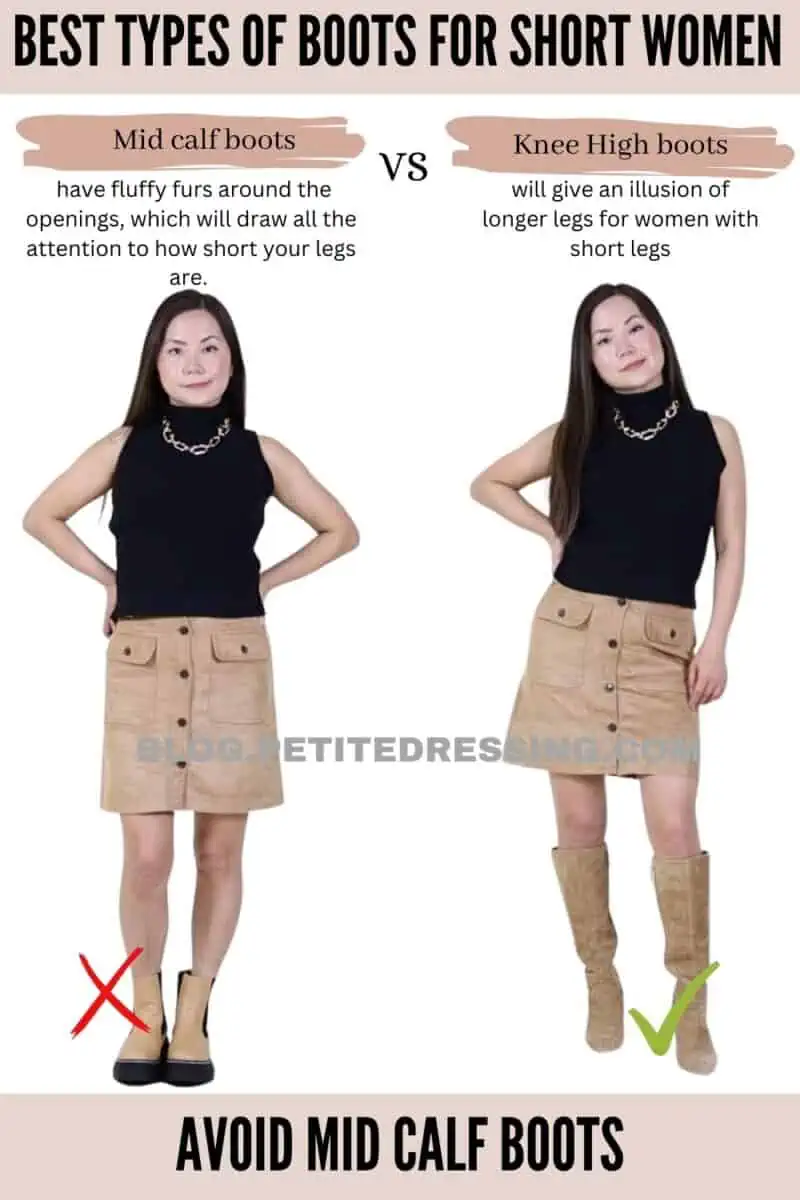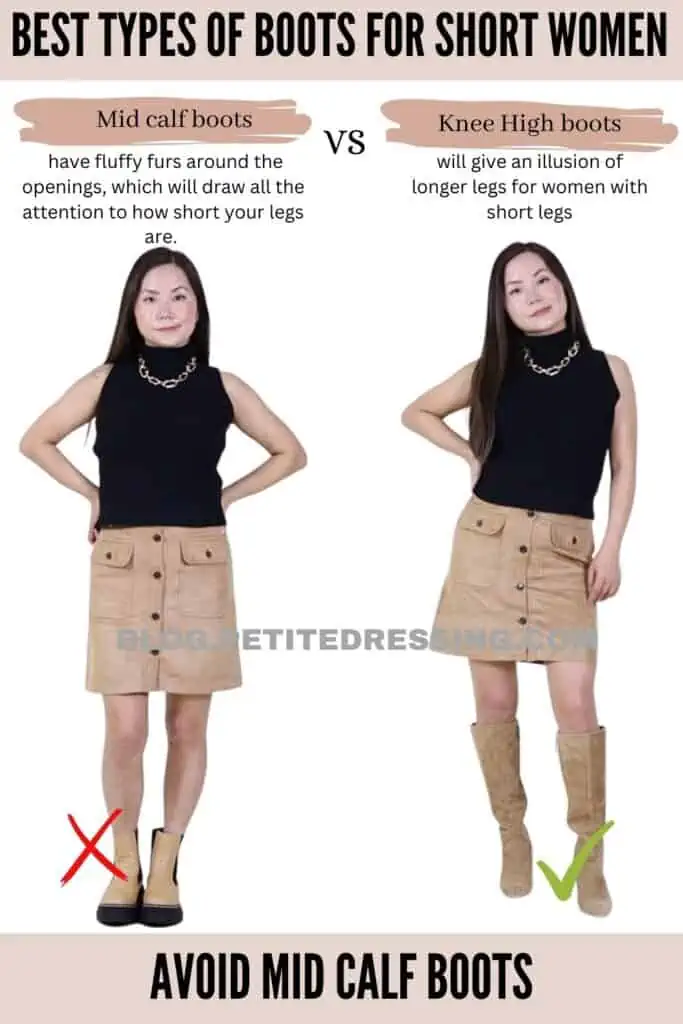 Avoid Square Toes
We talked about how pointy toe boots are the most flattering design for short girls. These are the opposite of pointy toes. They make your legs look shorter.
Caution with Slouch boots
Anything loose will not look good on petite women. That principal applies to boots too. Short women need to wear all things well-fitted, including boots. Slouch boots make your legs look shorter.
Caution with too many laces
Some of these boots with complicated designs may look good on the shelf, because they are so cute. Once you put them on, you'll notice they are drawing attention to your feet instead of your top.
That is what a short woman should avoid.
The best boots for women with petite height are those simple and sleek designs. Those boots form an unbroken vertical line and create height for you.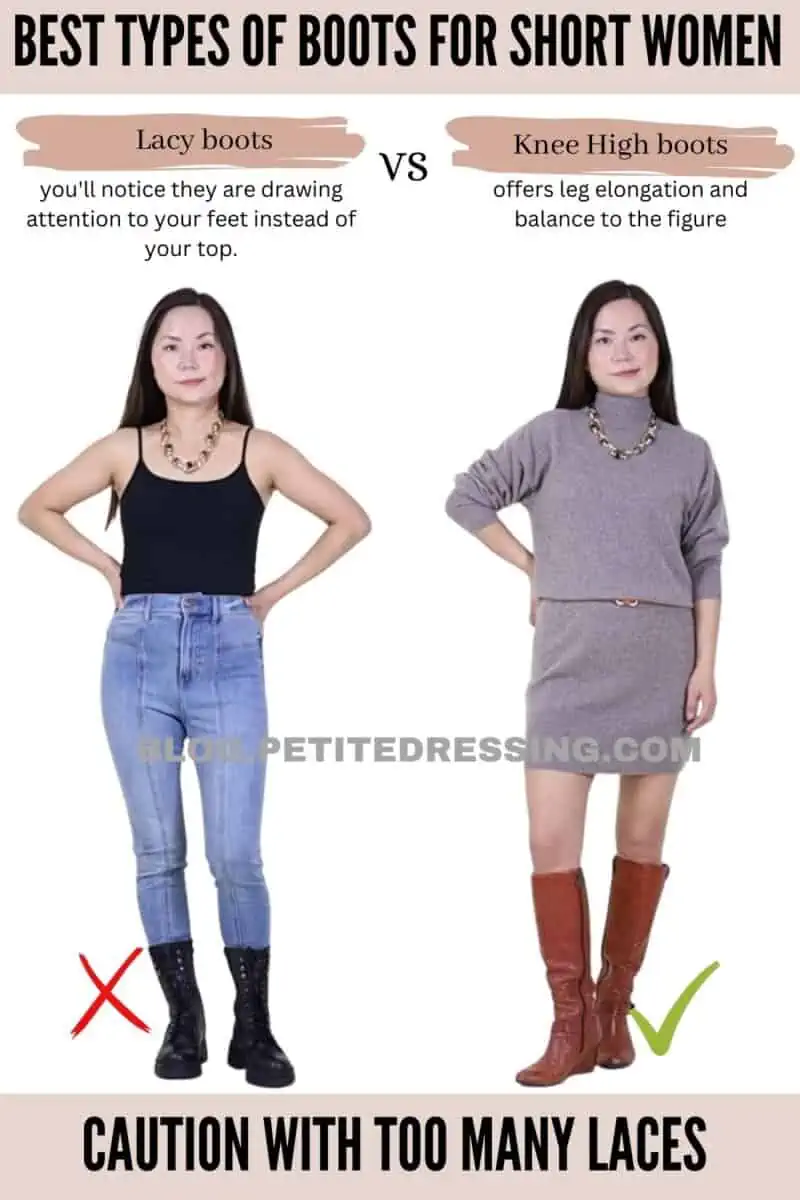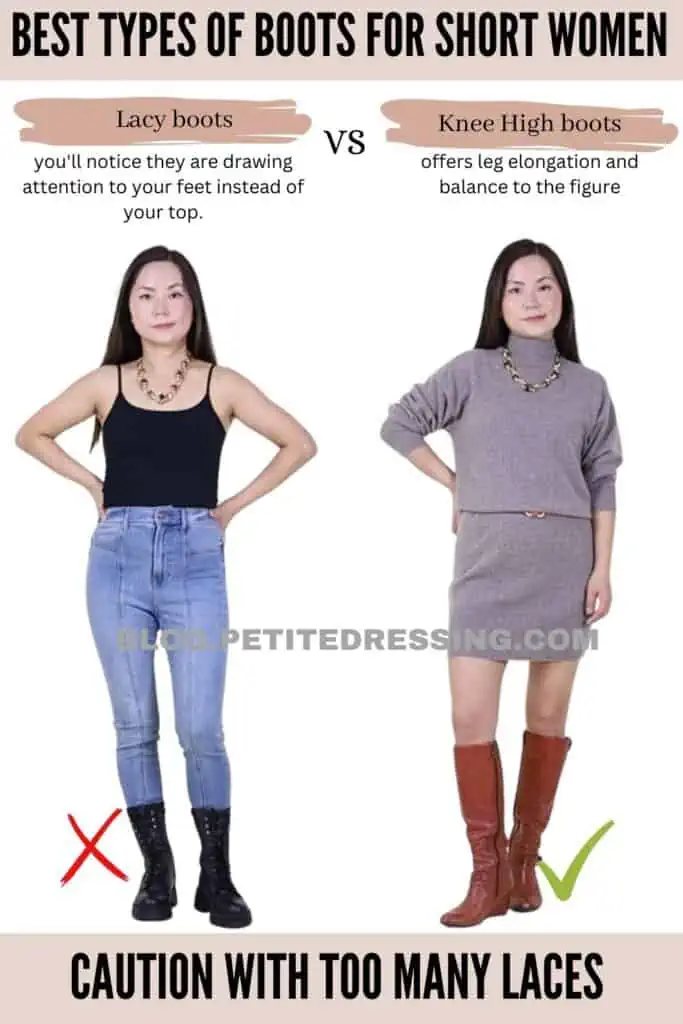 Where to Find Small-Size Boots
If you are petite, chances are you also have small feet. For short girls like you and me, it is one of our biggest frustration that we cannot find shoes of our sizes!
If you are a size 5 and under, you probably have experienced a lot of frustration shopping for small shoes, as many designers start with size 6.
I have another post detailing "The Best Places to Find Shoes for Small Feet", in which I have summarized the best places to shop for your small feet either online or in store.
Making Sure the Boots are Comfortable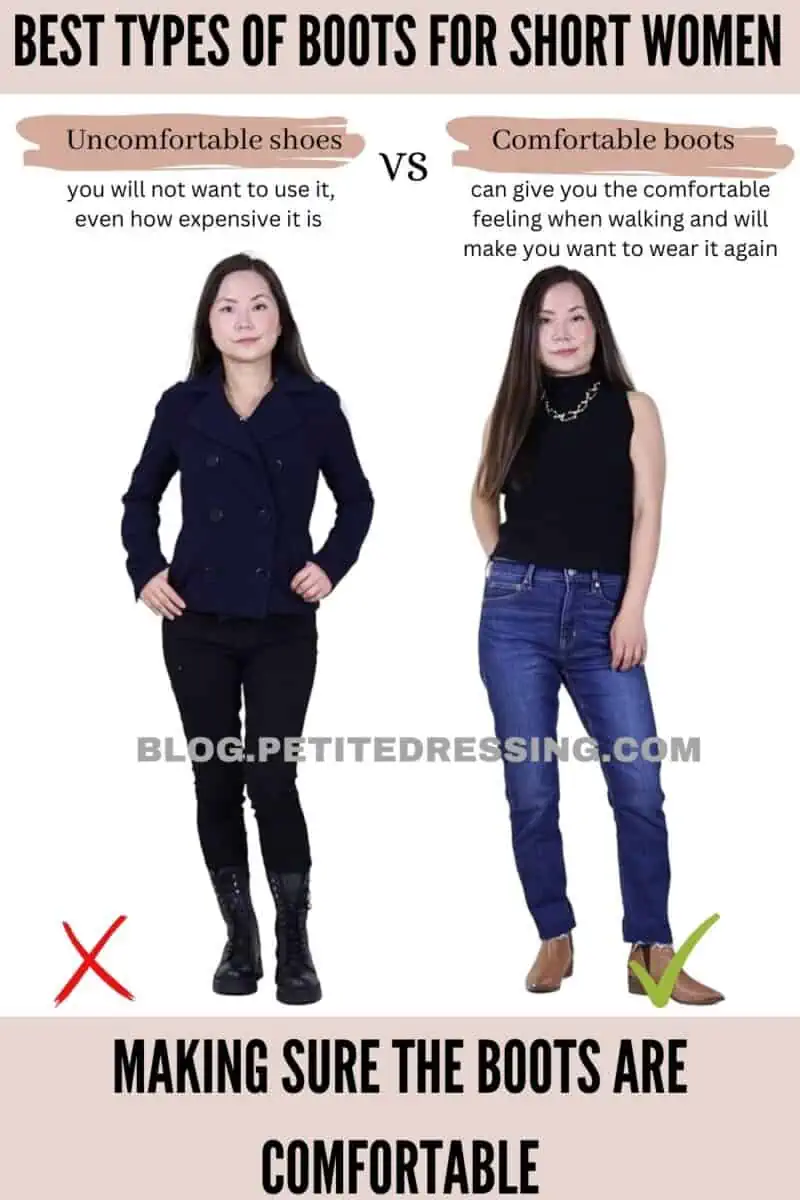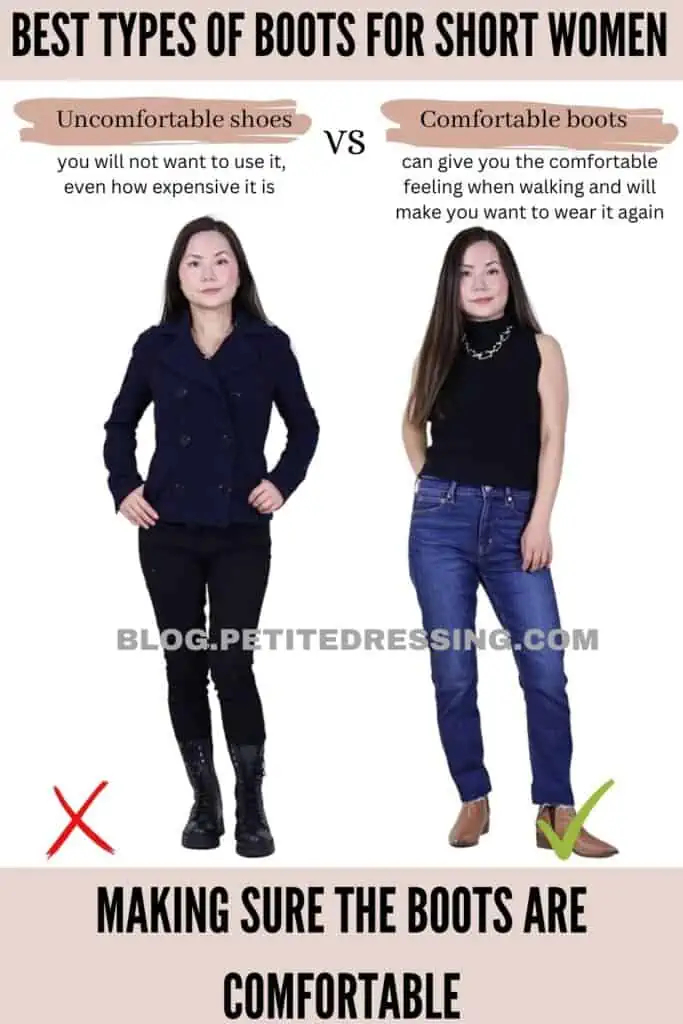 No matter how good your boots look or how expensive they are, if they are not comfortable, you will not want to wear them often.
Do you ever feel the same way?
I learned my lesson the hard way.
Some of the most expensive designer boots I own have been sleeping in my closet season after season.
Why? They look gorgeous, but they are not made for walking.
Given my daily commute involves 50 minutes of walking, I have to go for more comfortable boots.
Therefore, before you purchase any boots, make sure they are comfortable. Ask yourself the following questions:
Calf
Additionally, if you have an office job you need to sit there all day- are they still comfortable? The reason is when you sit down, there's more pressure on your calves than when you stand. Some boots are ok to stand in or even walk in, but they won't be the best choice for a 8 hour office job.
Ankle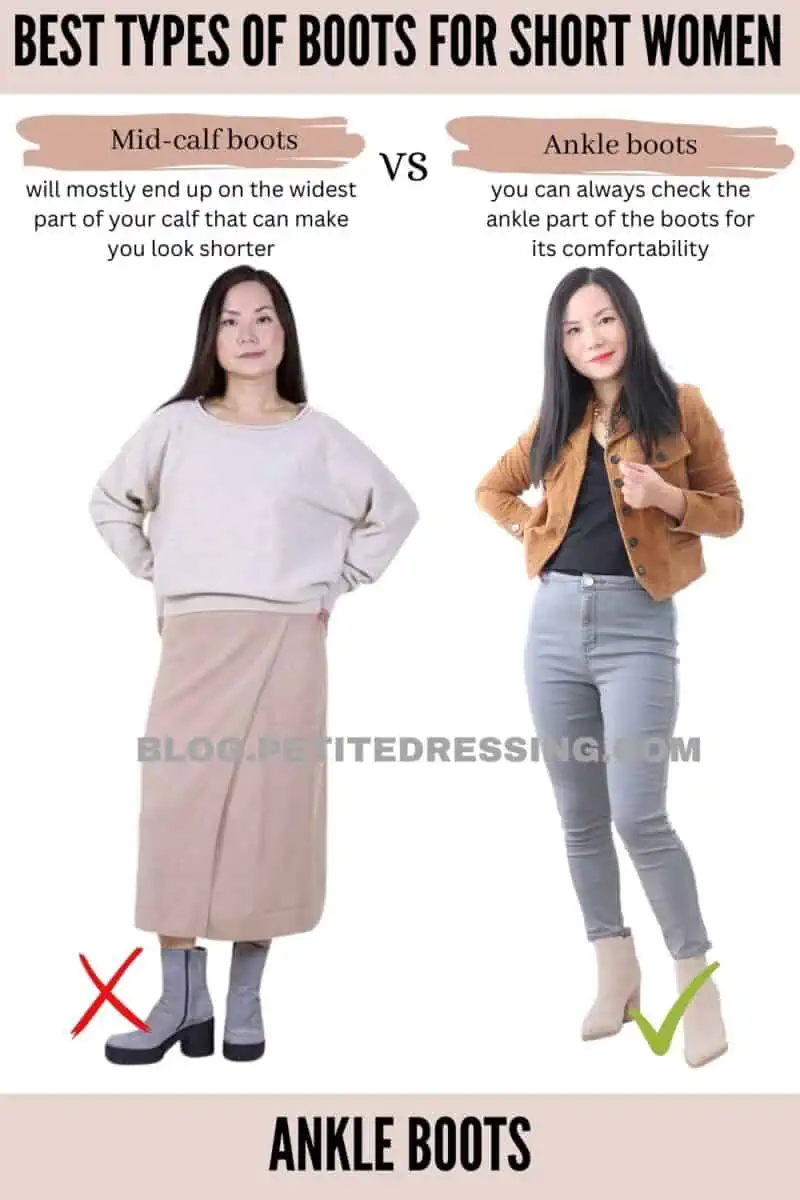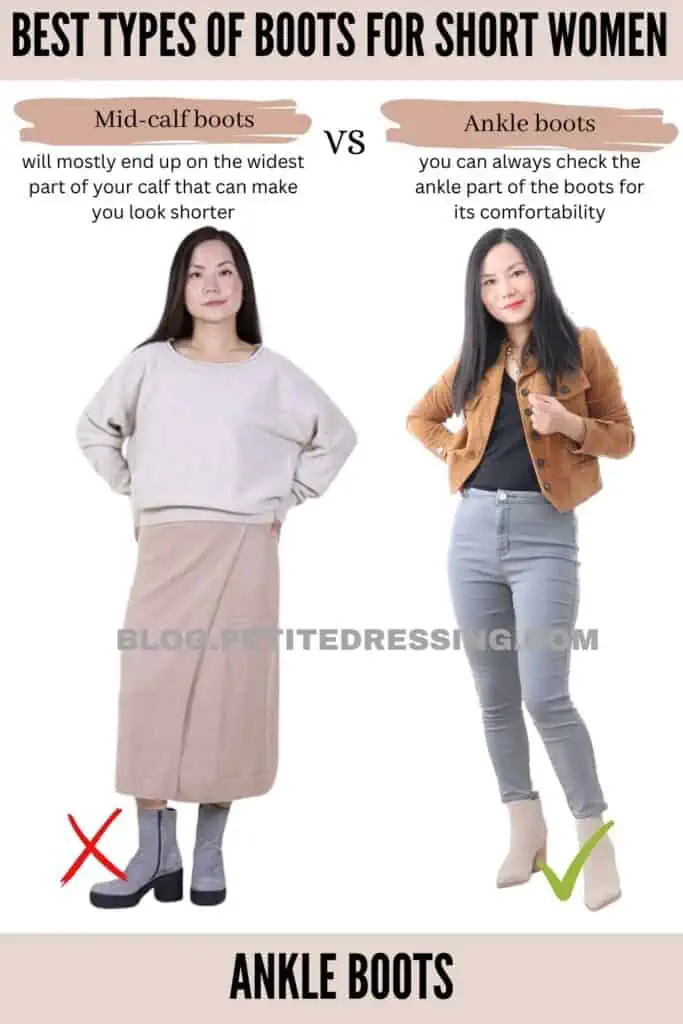 This is the part that is most neglected when we purchase boots, and it is especially important for tall boots.
Did you ever feel like some boots are uncomfortable when you walk down the stairs or sit on the toilet?
That's because the ankle parts are too narrow. The only way to know is to not only try them on, but also walk in them and sit in them.
Before you decide to purchase, make sure you wear the boots in different positions to make sure.
Stretchniess
This is anther thing that people don't pay enough attention about. High quality leather provides ample stretch which will make your legs and feet much more comfortable.
Heels
This only matters for high heel boots, but this is critical. Since this is not a measurement listed by manufacturers or retailers, the only way you can find out about the incline is to try them on.
How to Wear High-Heel Boots All Day
In my post "7 Tips on How to Wear Comfortable Heels All Day", I talk about all kinds of heels from sandals to pumps and boots.
For starters, the important trick I always use to wear my winter boots are these babes:
Silicone insert will hold your foot more steady in the shoe, thus your feet aren't sliding forward as much. Why is that important?
To state the obvious, your weight is more distributed on the heels rather than the balls of your feet, thus relieving the pain in the ball of your feet.
Ask yourself, if you stand or walk a long period of time in stilettos, where does the pain always start?
If your answer is the balls of your feet, then you are like the rest of us. That is sending you a signal there is too much pressure on the front of your shoes.
That is exactly why silicone inserts will be a huge relief- they provide so much support and cushion to the balls of your feet.
But that's not it all. By not sliding forward too much, silicone inserts also protect you from frictions and blisters.
Got it? Now you understand why this is my number one rescue for make high heels more comfortable. I normally purchase one pair of silicone inserts for every pair of my heels higher than 3 inches. Amazon is my go to place, and my favorite brand is Dr. Scholl's Stylish Step High Heel Relief Insoles. If use them often, they do wear out and lose their stickiness, which is telling you it is time for a replacement.
Now, head over to read the full article on other tricks to make your high heel boots more comfortable.