Jumpsuits are super trendy, but the challenge is how to make jumpsuits look good on short girls.
As a 5'2″ girl, I've tried numerous jumpsuits. Based on my first-hand experience, I've put together a complete guide for petite women like me.
Does jumpsuit look good on a short girl?
Before we start, you may be wondering if you should be wearing a jumpsuit as a petite.
I can assure you wearing a jumpsuit is one of the easiest way to make you look taller instantly.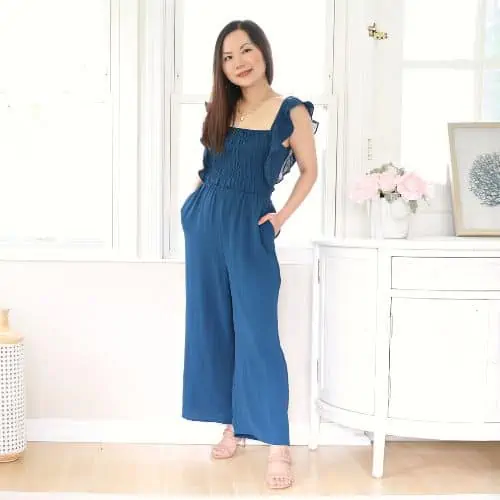 How does it flatter a petite?
Jumpsuits form an unbroken vertical line that lengthens petite women.
If worn correctly, a jumpsuit can really elongate the petite body frame and be one of the most flattering pieces in your wardrobe.
They are especially flattering to women with longer waist and shorter legs.
How to wear jumpsuits as a petite woman also needs to consider what shoes to wear with it. The reason is jumpsuits are one-piece that covers your top and legs and they are very long. In order to avoid looking swamped in the fabrics, short girls should pair them with heels.
How should it Fit a Petite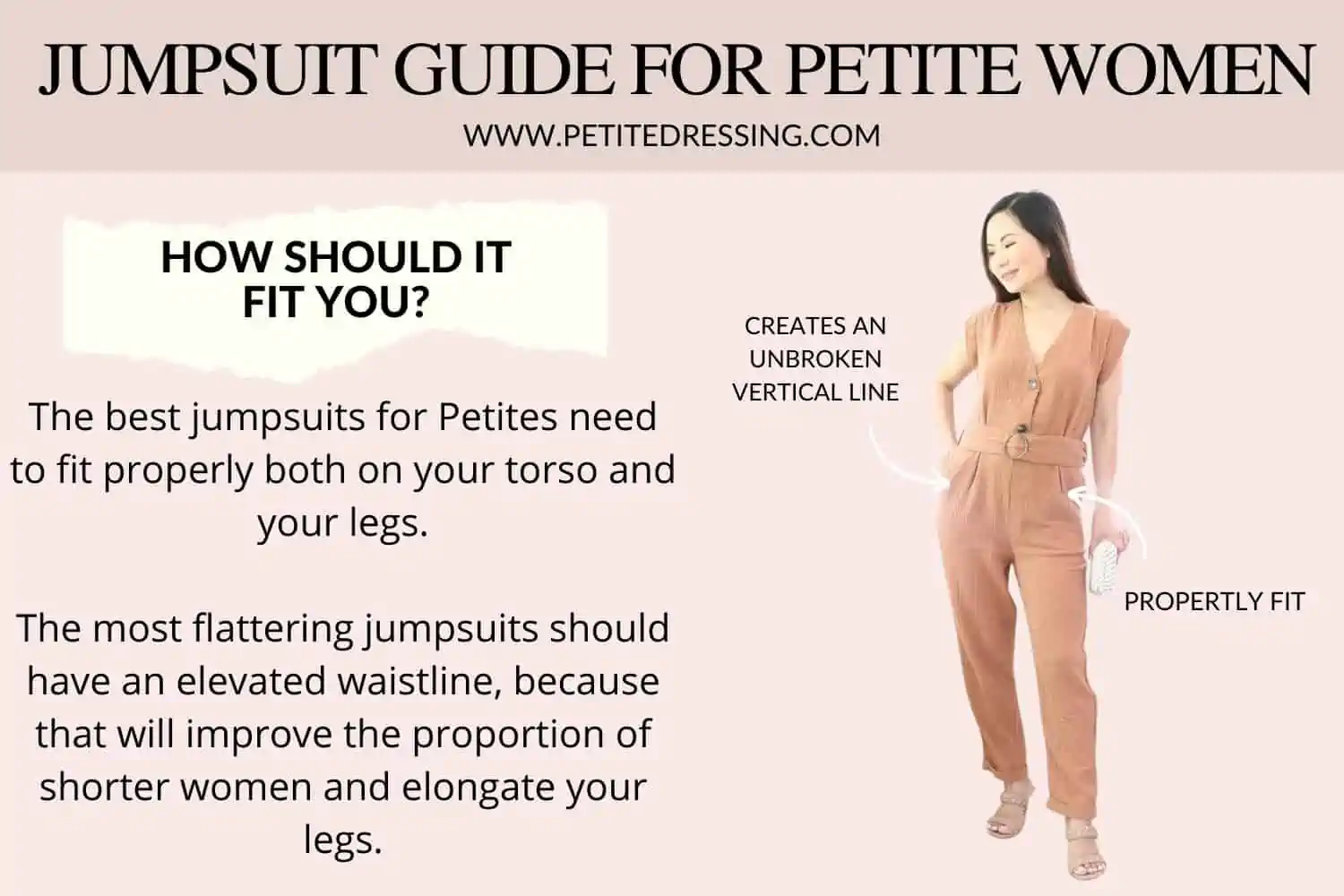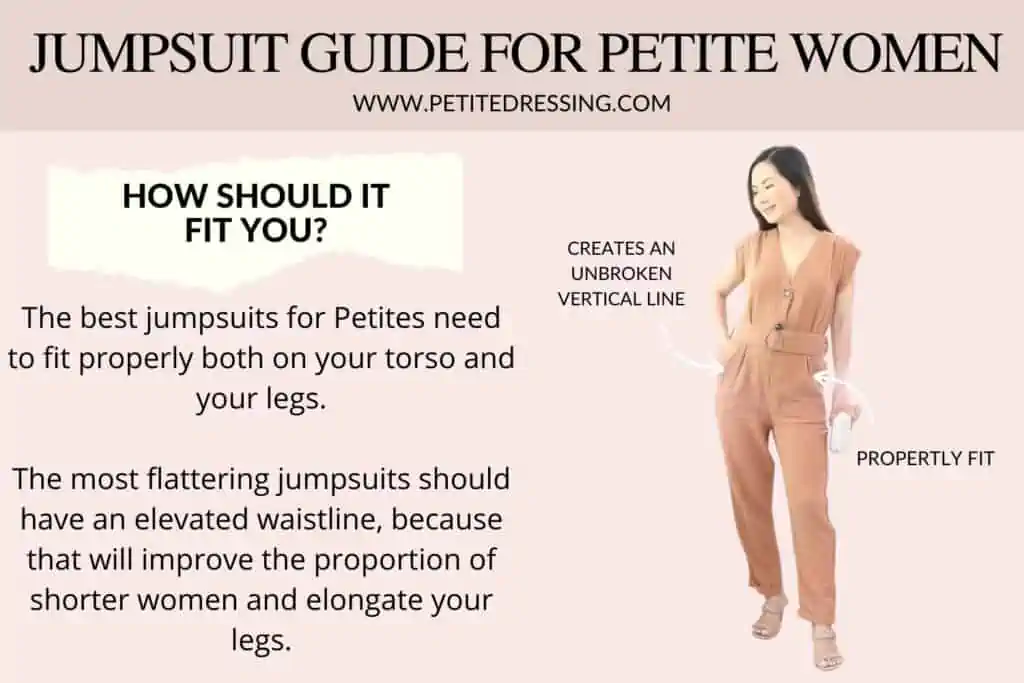 The best jumpsuits for petites need to fit properly both on your torso and your legs.
Since petite women have shorter torsos and shorter legs, getting a jumpsuit from the petite department is critical so that you can minimize the alterations needed.
The most flattering jumpsuits should have an elevated waistline, because that will improve the proportion of shorter women and elongate your legs.
The right petite jumpsuits can create an unbroken vertical line which will make short women look longer and leaner.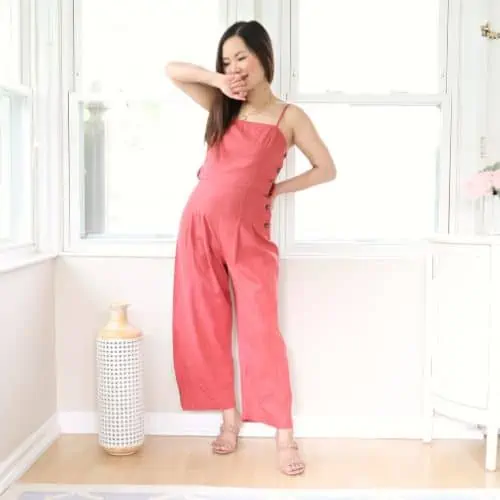 Why it is key to wear petite size
Jumpsuit is a combination of a top and a pair of pants.  For petite women, some of us are quite used to purchasing a pair of regular-size pants, and then take them to the tailors for hemming. 
While that might work for pants, it may not work for jumpsuits. The reason is just cutting off the hem may not convert a regular size to a petite jumpsuit.
Because jumpsuit has a top as well, there is too many other things to alter in order for it to fit your petite body frame.
Therefore, it is a good idea for you to get jumpsuits from petite brands.
One thing you should keep in mind is most petite brands are made according to the measurements of petite models who are 5'3″ or 5'4″. What that means is if you are under 5 feet tall, then chances are even the petite brands may be too long for you.
At Petite Dressing, we carry petite jumpsuit collection for petite women of all height, whether you are 5'3″ or 4'11. The key selection criteria of our jumpsuits is that they should not only fit shorter girls, but also improve the proportion and make your legs look longer.
Best Inseam Length
Length (or inseam) is the first step for you to find the perfect fit for your height.
Since jumpsuits come in different styles, the best inseam varies. The key to deciding how long your jumpsuit should be is to look at the leg shape.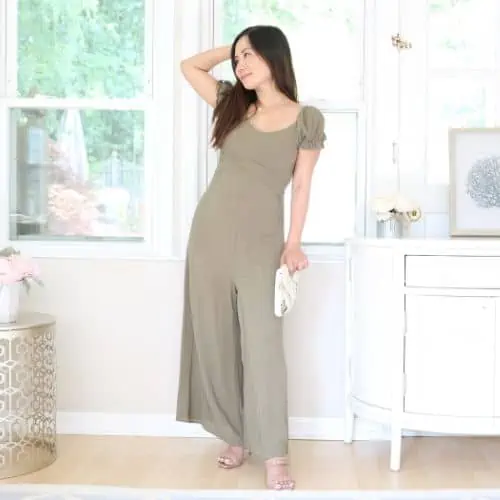 What is the Best Inseam Length?
For narrow-leg jumpsuits, the best length should be no longer than 26″
For straight leg jumpsuit, the best inseam length should be 25″ to 27″
For wide leg jumpsuit, the most flattering jumpsuit should be 26″ to 29″
For cropped jumpsuit, the ideal length is 23″ to 25″
Another critical factor to consider is your height. Since petite women can be any height 5'4″ and under, the shorter you are, the shorter your inseam length should be.
If you are 5'2-5'4″, your jumpsuit should be 25″ to 28″ inseam
If you are 5'1″ and under, your jumpsuit should be 23″ to 26″ inseam
For instance, if you are going to wear it to attend a wedding, you probably want to wear it with heels for a polished look. Also, full length jumpsuits look more formal than cropped leg jumpsuits.
If you are looking for a casual weekend outfit, then you may want to consider cropped petite size jumpsuit and pair it with flats or sandals.
Here is the pro tip. Either way, you should try on the jumpsuit with the heels you want to wear to make sure you get the look you are trying to achieve.
Best Silhouette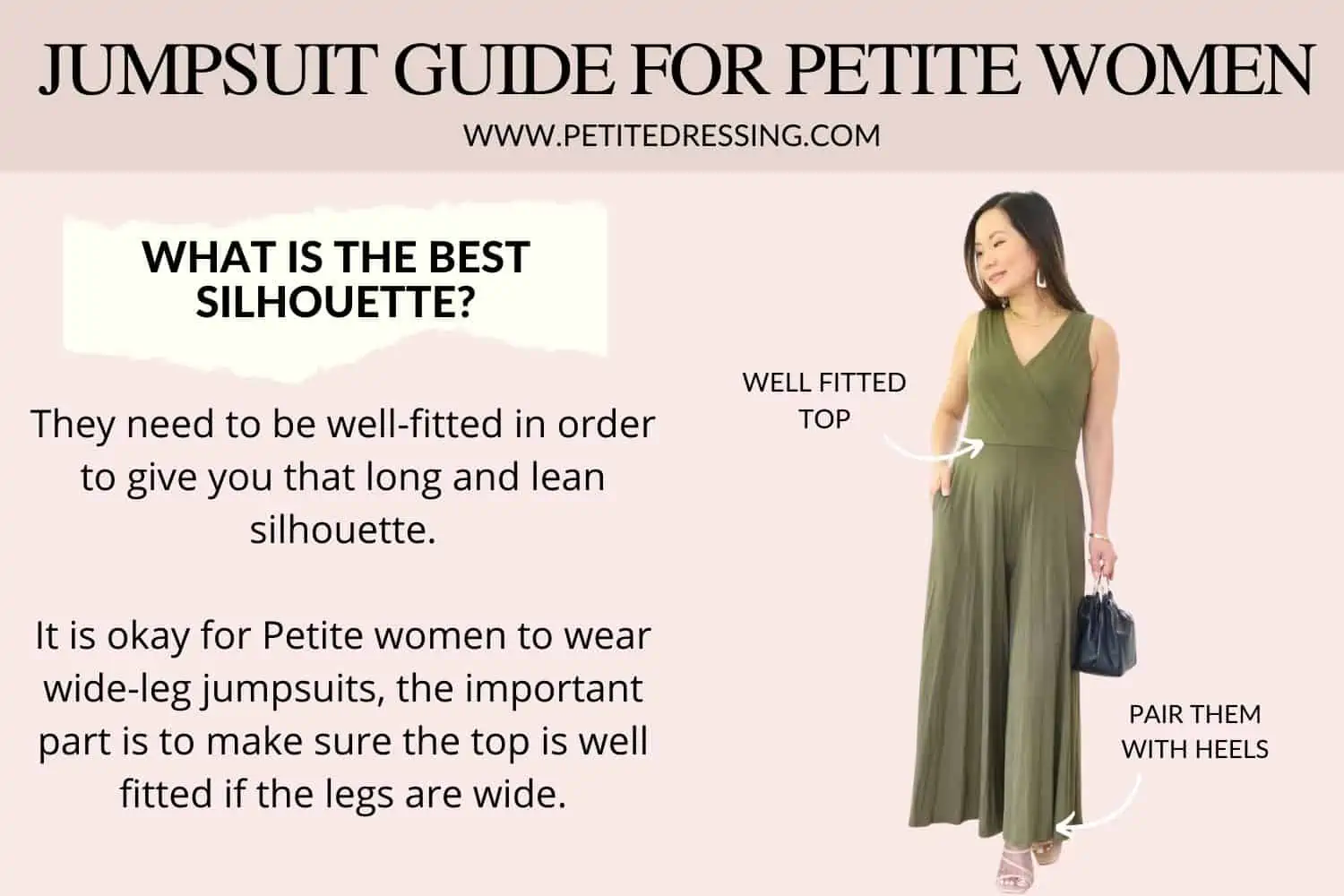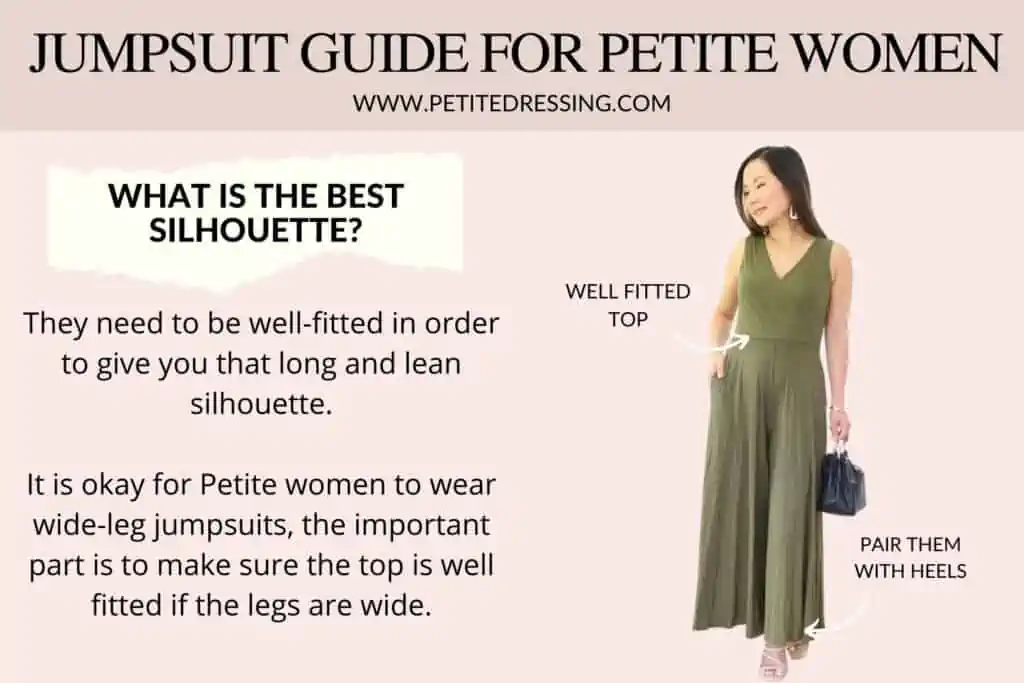 For jumpsuits to look good on Petites, they need to be well-fitted in order to give you that long and lean silhouette.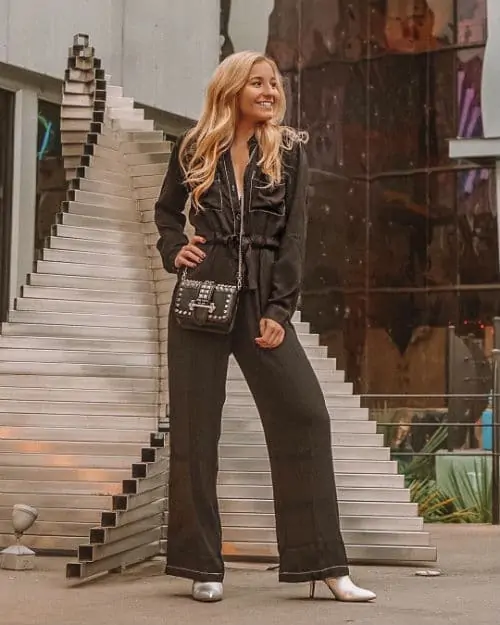 Carly, 5'3″ (IG@carlygala)
Like any other clothing, if they are oversized, they will not look good on short girls. In this case, even worse, because they would be unflattering from head to toe and they could make you look like walking in a slouchy prisoner's uniform.
Wide-leg jumpsuits are quite a trend, and it is totally okay for petite women to wear wide legs. The important part is to make sure the top is well fitted if the legs are wide.
Best Designs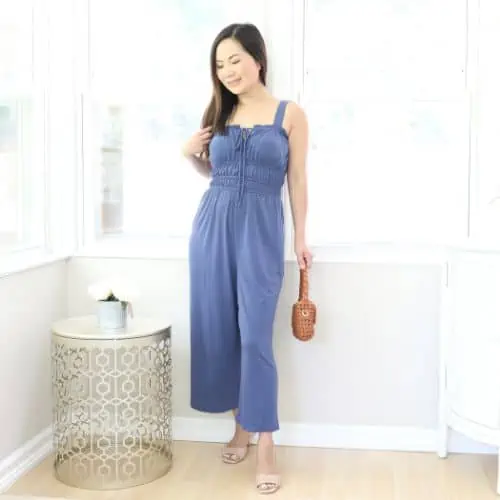 Elevated waist
Proportion is the number one in petite styling hacks. That is why waistline is so important when choosing the right jumpsuit for short women.
What looks best on short women is the jumpsuits with an elevated waistline.
What that means is the narrowest part of the jumpsuit sits higher than your natural waistline, making your proportion look better and legs look longer.
Belted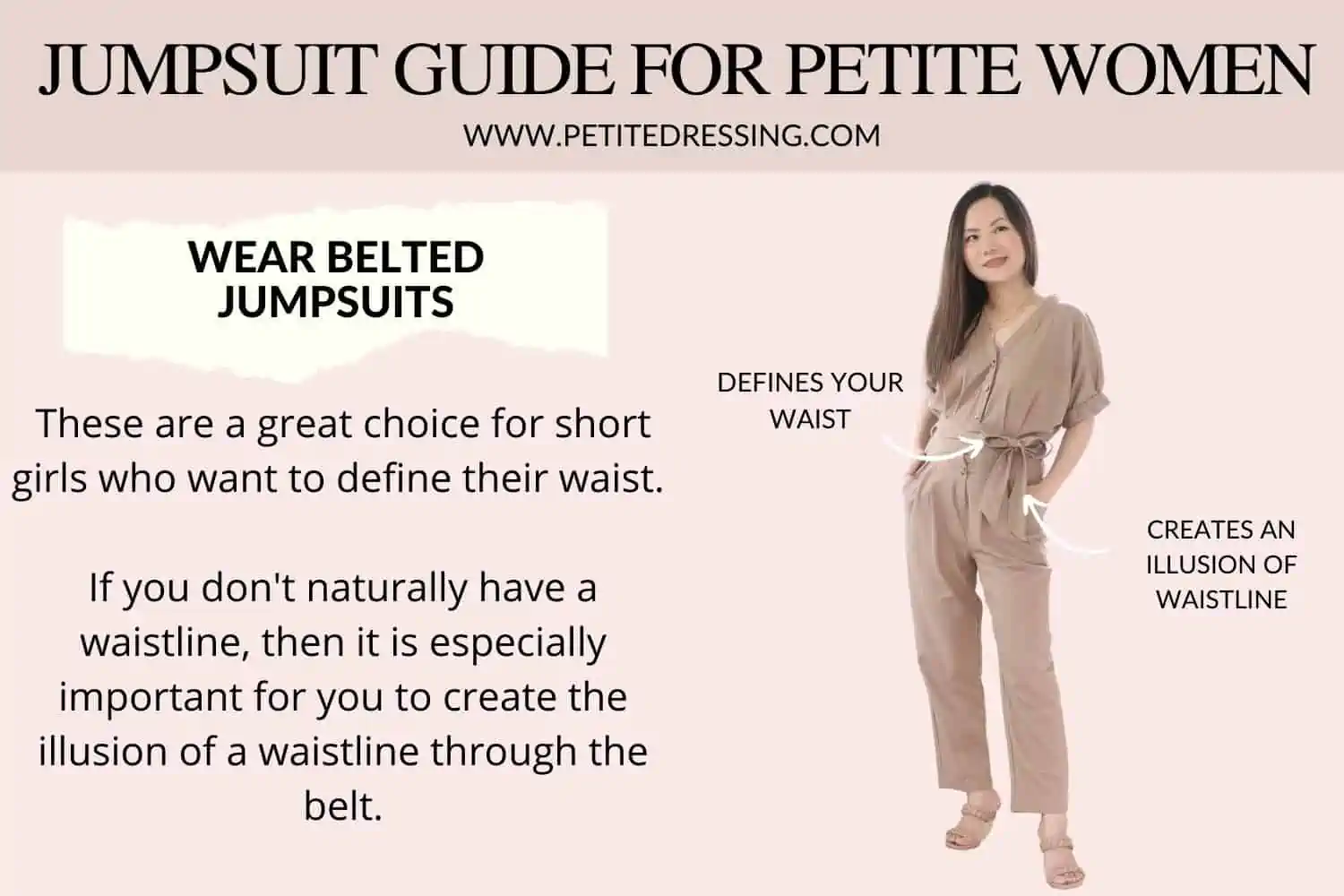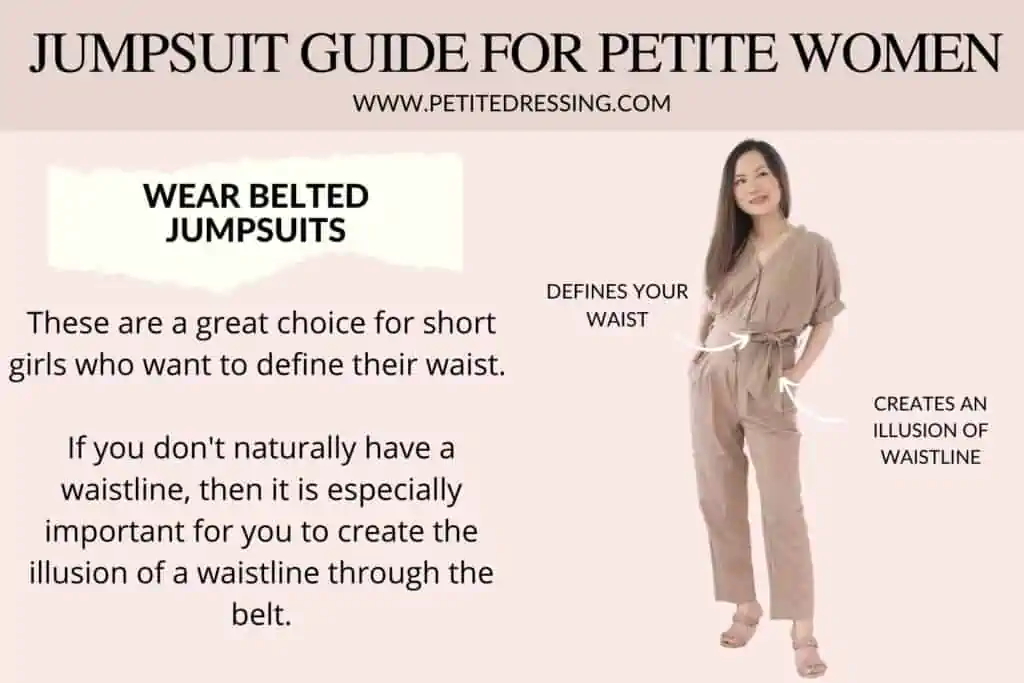 Petite jumpsuits with a self-tie belts or wrap jumpsuits are both great choices for short girls who want to define their waist.
If you happen to be a petite apple shape or petite rectangle shape, who don't naturally have waistline, then it is especially important for you to create the illusion of waistline through the belt.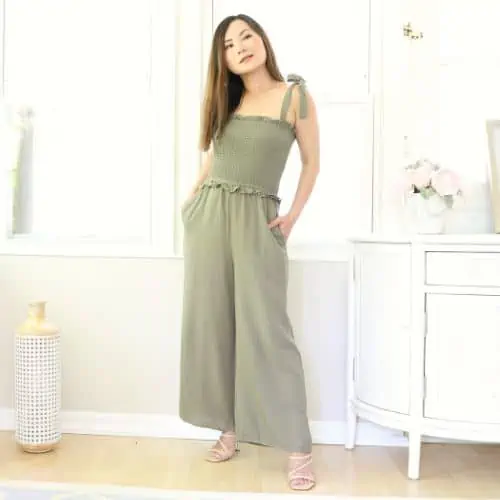 Why the rise is key
Here is the thing about jumpsuits for short girls- the rise can make or break you.
The proportions of the jumpsuit is so important that whether or not it will fit you could depend on it.
Petite women come in different body shapes. Other than the most widely known 5 body types of hourglass, pear, apple, rectangle and inverted triangle, there is also vertical body type that looks at whether you have a short torso or a long torso.  Your vertical body type can determine what rise works best for you.
Best Colors/Prints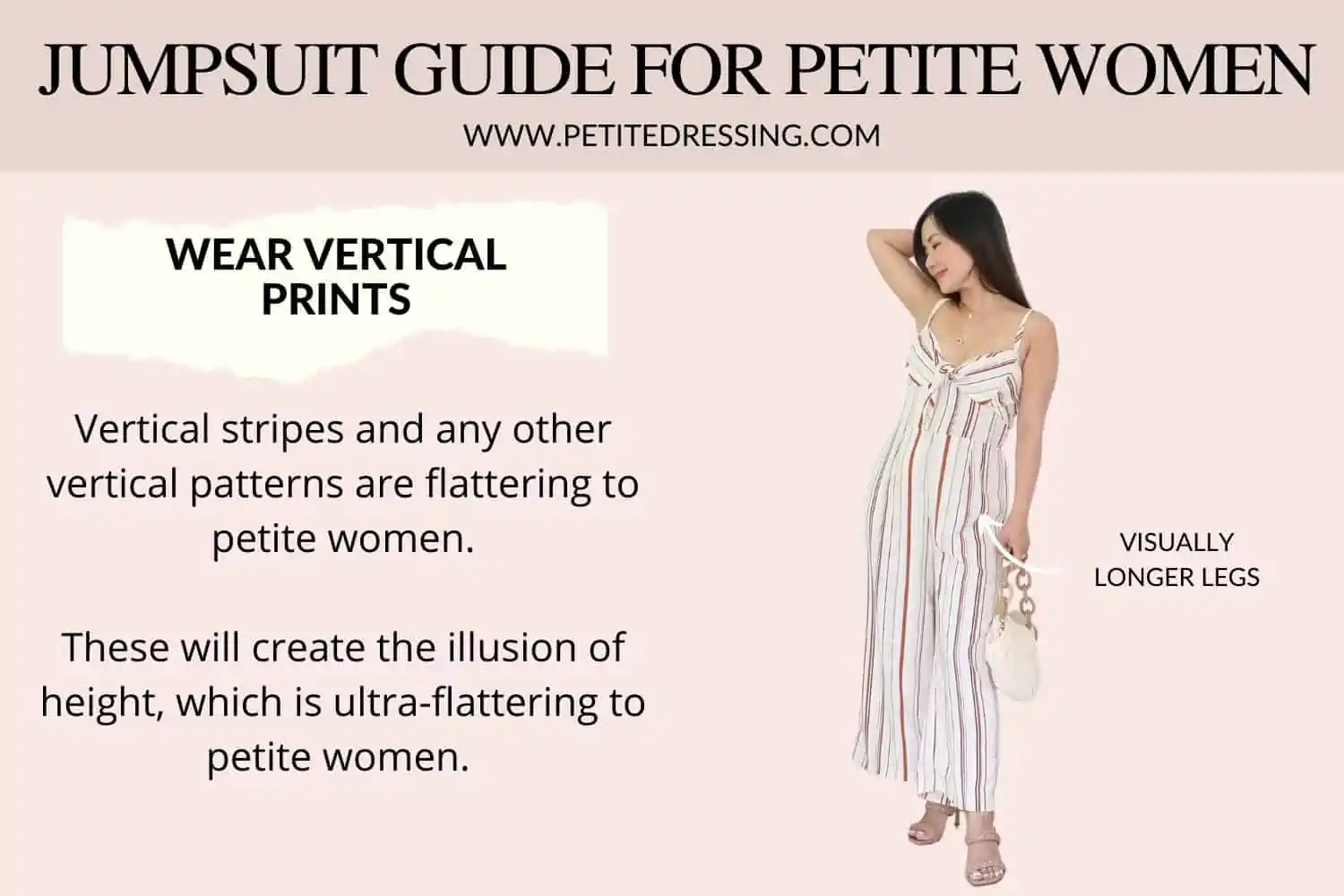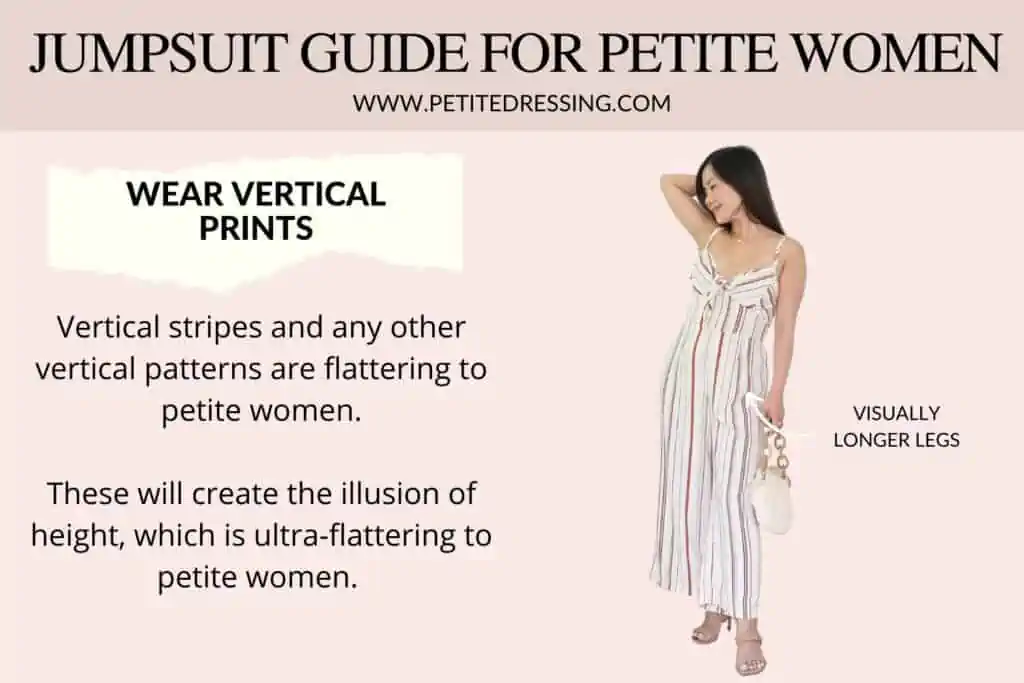 Okay, in order for short women to wear jumpsuits and look great, picking the right color is critical. Because jumpsuits cover such a large portion of your body, the most flattering is solids, especially darker color.
Wearing solid color jumpsuit will create the long column of colors and create the illusion of height, which is ultra flattering to petite women.
Darker solids such as black, navy or wine color can also make you look more slender. 
I'm not saying you should stay away from prints, but they do run the risk of overwhelming your small frame. Vertical stripes and any other vertical patterns are flattering to petite women.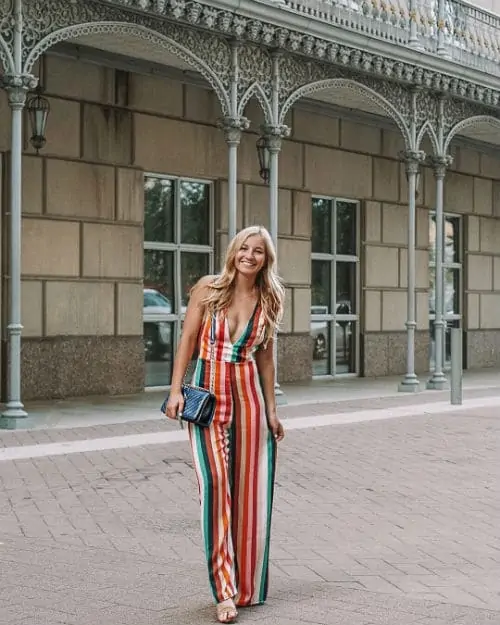 Carly, 5'3″ (IG@carlygala)
If you love floral jumpsuit, make sure the prints are proportional to your body. Be very careful about big prints or prints that look very exaggerated- most likely they are not suitable for petite women.
Remember, you can also wear jumpsuits with different colors for the top and bottoms. Always opt for darker color bottoms, as those will make you look longer and leaner.
The reason is simple- if the rise is too short, you simply won't be able to get it on!
On the other hand, if the rise is too long, then they will make the waistline fall under your natural waistline, which is the opposite of what we want and look extremely unflattering for petite women.
As a petite woman, the last thing you want is to make your legs shorter than they actually are.  Therefore, finding the perfect rise is the most important part of searching for the perfect jumpsuit for shorter women.
Best Necklines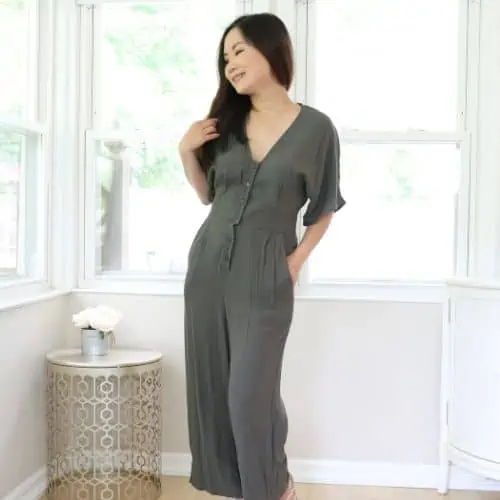 What is the Best Neckline for Petites?
There are so many different choices for tops, in order to find out what jumpsuits work best for a short woman like yourself.
You should try on a different style and find out what suits you the best.
In general, a deep v-neck is flattering to petite women, because they elongate your neck and make you look taller.
If you are petite pear shape, go with the neckline that creates a horizontal line around your shoulder such as off the shoulder or crew neck.  Those designs create the illusion of wider shoulder to balance out your hip and are most flattering to petite ladies with pear body type.
Best Occasions
A very common question I get from my readers is, is it considered casual attire? Can I wear it to special occasion such as wedding?
The answer is yes.
The dress code of the wedding on the invitation you receive should give you the most important guideline on what you should wear to a wedding. Jumpsuits are acceptable for most wedding dress codes.
In fact, in recent years, jumpsuits are becoming the ever more popular choices for wedding guests, because they are automatically dressy and easy to style. They are also very versatile, suitable to different wedding types from garden wedding to beach ceremony.
Think about it, if celebrities can wear jumpsuits on the red carpet, then that says how dressy they can be and you can totally style them to fit the weddings you are invited to! The key to make the jumpsuit look festival and sophisticated for a wedding is to wear them will heels. Keep in mind, you might be dancing the night away at the wedding, so it is important to pick out a pair of comfortable high heels that can sustain a few hours of walking and dancing.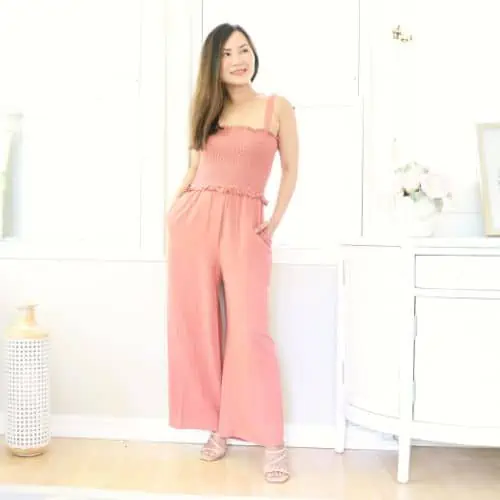 Try on as many as you can
We talked about how tricky the rise is and how important it needs to be well fitted for petite women.
Finding the right jumpsuit for women under 5'4″ is not easy, and it may take a while and many trials for you to find that perfect pair.
Even when it comes to the jumpsuits in petite size department, just that they look great on a 5'3" model doesn't necessarily mean they will look just as good on you.