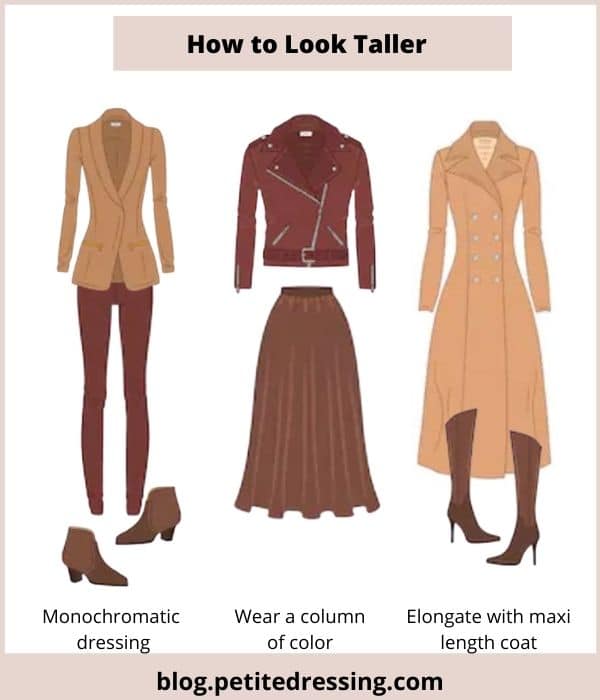 Are you short and do you want to look taller? I am 5'2", and growing up I have experienced those moments when I wish I could have a few extra inches. It is totally understandable why shorter women prefer to appear taller, and that is why I want to share with you these 21 tricks I have tried and worked on myself.
First of all, tall or short is a relative concept. There is no way for other people to tell if you are short or not, unless they stand right next to you. The eyes and brain judge if you are tall or short based on your body proportion, i.e. how long your legs are relative to your torso. Therefore, proportion is everything. We cannot change our height, obviously, but there is a lot we can do to improve our proportion and change our perceived height.
Most women who appear short is because they have long torso and short legs. That is why in this post I will show you how to use lines and proportion to trick the illusions of eyes into thinking you have shorter torso and longer legs. That is the key to create the illusion of height and make you look more proportioned.
I suggest you watch my video first, in which I have summarized key points on how to look taller instantly. After you watch this, I highly recommend you still read the full article to get all the details,
Color Match Pants and Shoes
If you are wearing pants, matching the color of your shoes with your pants will make you look taller. The reason is when your shoes are the same color as your pants, that tricks the eye into believing your heels are an extension of your legs.
The picture below is petite actress Sammie wearing black skinny jeans from Petite Dressing. She is 4'8″. Do you see how much longer her legs look by wearing similar color shoes?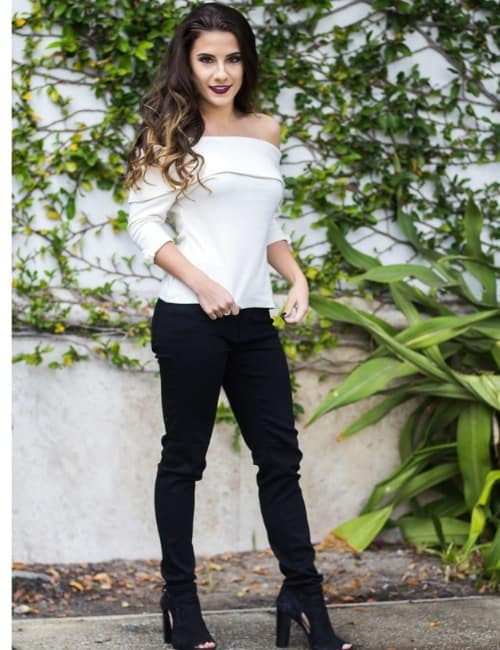 Monochromatic Outfit
According to Wiki, the term "monochromatic color schemes" refer to colors derived from a single base hue and extended using its shades, tones and tints. Tints are achieved by adding white and shades and tones are achieved by adding a darker color, grey or black.
To apply monochromatic dressing does not necessarily mean short women should be wearing one single color from head to toe. It just means if the colors you wear are all from the same color scheme with less contrast, you will appear to be taller.
If you want to look taller, then monochromatic outfit is a must. Using colors to enhance the illusion of height is a highly effective strategy, because it helps create a vertical line.
One Piece Outfit
One piece garment such as dresses, jumpsuits and rompers can make a short person look taller, because the continuous colors or prints can create a vertical line which lengthens your frame.
Compared with separate top and bottom, one piece outfit does not emphasize where your torso and legs are divided, which makes it much less noticeable if you happen to have short legs.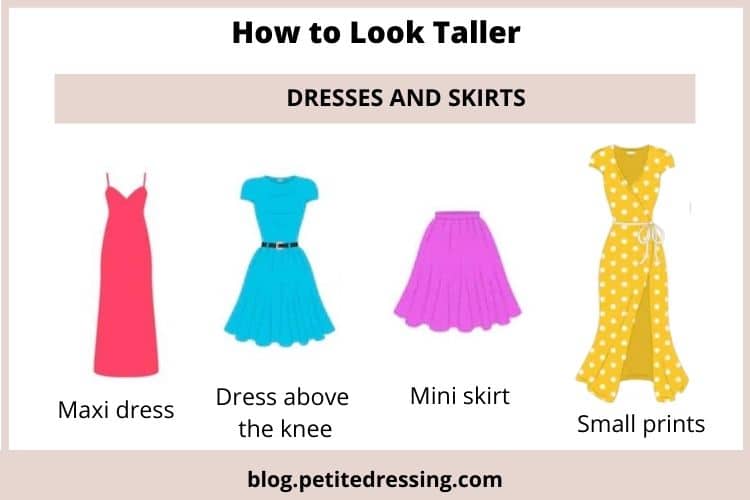 Dresses above your Knees
This is one of the most easy and classic ways to make a short girl look taller.
Dresses above the knees work the best to make your legs appear longer, because short length creates space around your legs and draw attention above.
Maxi Dress
This might sound surprising to you at first, but maxi dresses actually can look very flattering on shorter women.
One of the key factors in styling short girls is to create a column of colors. Because of its continuous color and pattern, maxi dress can effectively elongate your body frame. For short girls, solid colors or small prints are your best choice.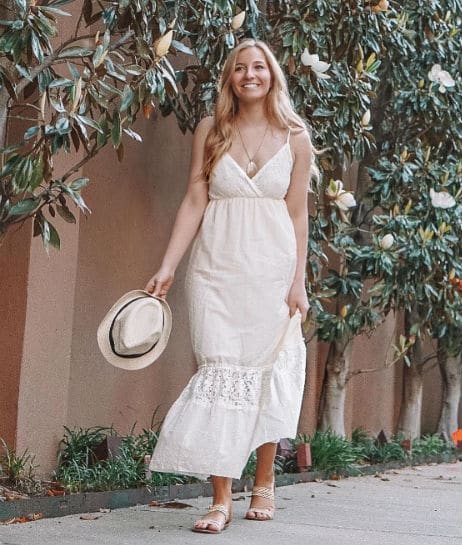 Skirts Better than Shorts
If you are short, you should wear skirts instead of shorts. The reason is shorts make it too obvious where your legs start, whereas skirts make it much less noticeable. That is why skirts paired with heels is always a good choice to women who want to look taller.
Avoid Large Prints
Be very careful with large prints, especially if they are on longer garments such as maxi dresses or maxi skirts. Large prints may look too busy and overwhelm a short person. It is critical to go with prints in proportion to your height.
Mini Skirts
Wearing short skirts or short dresses is one of the oldest tricks on how to look taller. People will focus their attention on where your skirt and dress hem ends.
Therefore, the shorter your skirts or dresses, the higher they will draw the eyes, thus making your legs look longer. The most flattering length of skirts or dresses to petite girls is about 3 inches above your knee.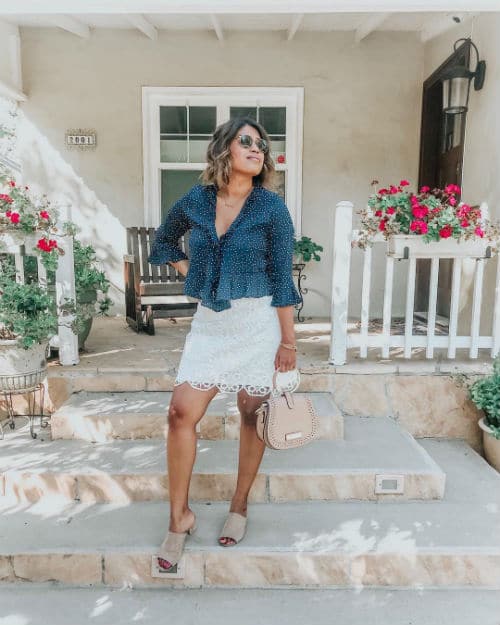 Of course, that is not to say you should always go with the shortest dress you can find. You should balance out a short skirt with a less exposed top for a tasteful outfit and avoid a suggestive look.
Avoid Midi Length
Midi skirts and midi dresses are one of the hottest trend right now, but unfortunately they are not the best length for someone who wants to look taller.
The reason is the midi length is quite awkward in that it is not short enough like the mini length to show your legs and nor is it long enough like the maxi length to create the unbroken vertical line needed by a shorter woman.
The midi length can also draw attention to the mid calves, which is typically not the most slender part of our legs, therefore they are the least flattering length for most women.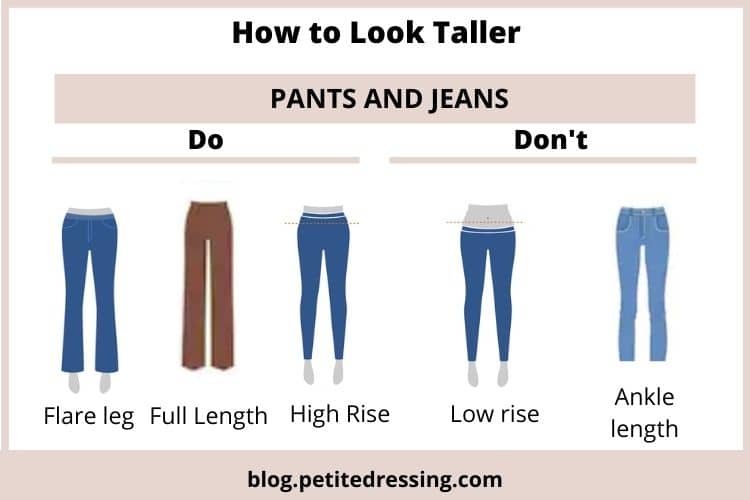 High Rise Everything
If you want to look taller, then going high waist on any bottom is the best way to elongate your legs. The reason is high rise pants and jeans can elevate your perceived waistline higher than your natural waist. Doing so will create the illusion of shorter torso and longer legs, thus it is very flattering for women who want to appear tall.
Avoid Ankle Pants
Ankle pants seem to be an easy option for women with shorter legs, but they are actually one of the the worst pants if you are short. When you wear ankle length pants, your legs will appear cut-off. That is the exact opposite of what you want to achieve, if you want to look tall.
Instead, go with full length pants and wear them with heels. That is how you can trick the eyes into believing your legs are longer.
Flare Leg Jeans
If there is only one pair of jeans you can own in order to make you appear taller, then it has to be flare leg jeans. The flare leg is well fitted on your butt and thighs and gradually flares out below your knees. This is a genius design that is extremely flattering to women with shorter legs.
In fact, every time you put on a pair of flared leg, you will notice your legs instantly appear longer. The best way to wear them is to go for a longer length and wear with heels. When your jeans cover part of your heels, that will make your legs look even longer.
Avoid Oversized Anything
Anything oversized can make you appear even shorter, because they create too much volume and bulkiness. That means if you are not tall, you should stay away from the on going trends of oversized coats, sweaters and shirts.
Instead, opt for something well fitted. Your clothing doesn't have to be tight to make you look good, but they just need to be fitted.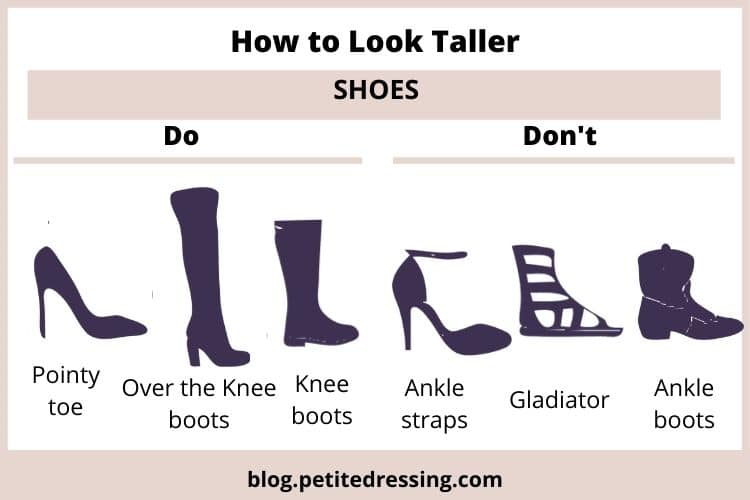 Pointy Toe Shoes
The pointy toe is the most flattering shoes for anyone who wants to look taller. Even though it might seems just a half inch difference on the shape of your toe, it makes a whole world of difference.
Not only the pointy toe pumps and boots can elongate your legs effectively, but also the flats with pointy toe can make you look longer as well when you are not in the mood for heels.
Low Vamp Shoes
Low vamp shoes are those which show a little bit of toe cleavage. The lower the vamp, the less covered your feet are thus the longer your legs look. That is why these are the most flattering shoes for women who want to look taller.
Many premier shoe brands really have mastered this kind of design, which is why you get the impression that more expensive shoes make your legs look better! That doesn't mean you have to spend over $500 on a pair of pumps. You can find some more economical brands which have similar designs.
Avoid Ankle Straps
Ankle straps make your legs look cut off. Wearing shoes without ankle straps will make you look taller.
Even though ideally we should all opt for strapless shoes, it is not easy practically, especially if you are a petite woman with smaller feet.
Take myself as an example. For the longest time, I almost gave up on wearing pumps, because my feet are small and short and there is no possible way to wear them without sliding out. I tried all kinds of tricks I found on google and youtube and tried all the foot paddings, glues and so on- nothing worked.
If you are like me, your only choice might be ankle straps, but you can opt for skinny ankle straps closer to the color of your skin, which will blend in and will not be as noticeable to look cutting off your legs.
Avoid Gladiator Sandals
Gladiator sandals have been extremely popular in recent years. Although they can look very trendy and fashionable, they are not flattering to girls with short legs.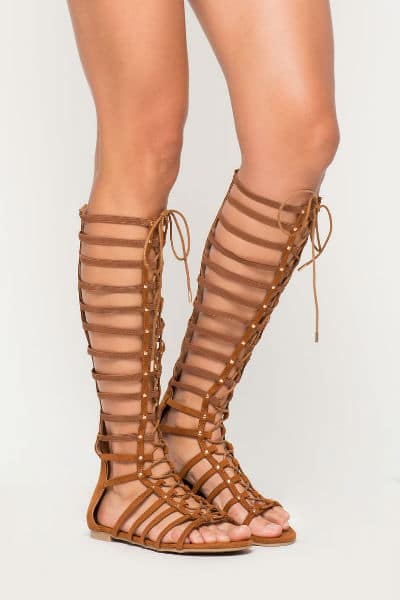 If you have short legs, any horizontal straps will make your legs look cut off, let alone gladiator sandals with numerous straps. The worst is the tall gladiator sandals which normally are the height of tall boots but they have straps all over. They will make your legs a lot shorter than they are.
So if you are interested in know the tricks about appearing taller, ditch the gladiator sandals! If you are a die hard fan and want to go against the fashion rules, try gladiator sandals in nude color or colors that blend with your skin.
Like I mentioned earlier, straps which blend with your skin look less noticeable on your, thus there is less risk for your legs to look shorter!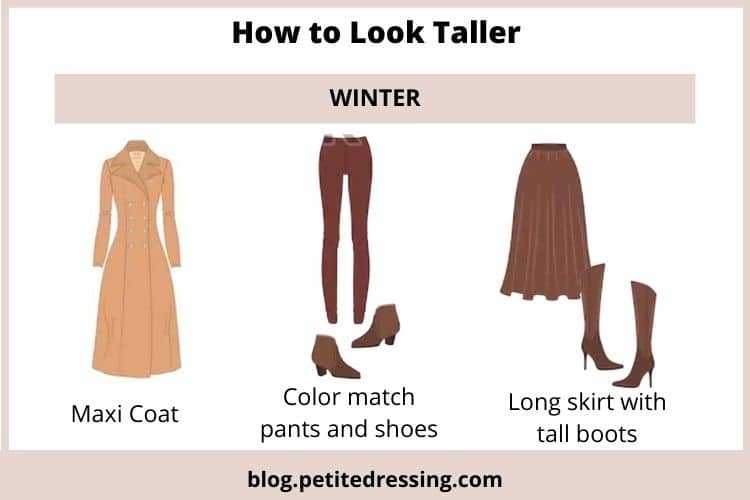 Avoid Ankle Boots
Ankle boots seems to be a wardrobe staple in the fall and winter, but they are actually one of the most challenging shoes for women with shorter legs.
Because of the ankle length, these booties can easily make your legs look cut off. If your gal is to appear taller, then the only way to make them flattering to shorter women is to color match your booties with your jeans.
Tall Boots with Black Leggings
In the winter, black tall boots with black leggings is a must have for anyone who wants to look taller. Combine this with a shorter skirt or shorter dress, it will make a very practical and warm outfit in colder weather.  
Since the boots and leggings are both black, it will create that unbroken vertical line to visually lengthen your legs. You do not even have to wear high heel boots. You can achieve the same result if you just wear tall flat boots with matching leggings. If you do wear high heels, then the lengthening effect doubles, because now your heels will look like an extension of your legs.
Wear a Long Coat in Winter
Some blogs have suggested that short girls should only wear coats or jackets no longer than their knees. I agree that is a good length for petite women for a clean cut and simple silhouette. However, if you haven't tried wearing long coat, i.e. coats that reach your mid calves or even ankles, then you are missing out.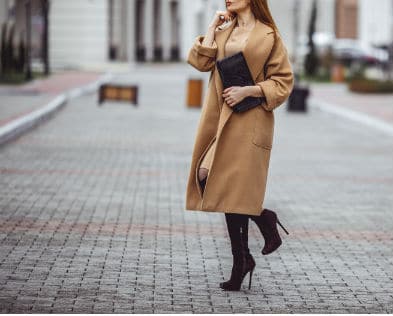 Long coats do the best job in creating a column of colors and make petite women look taller, the same rationale why maxi dresses and maxi skirts elongate short girls. Plus, aren't long coats more practical than shorter coats? They keep you warmer in the winter if your area is freezing like New York city or Chicago.
For more styling tips on coats, read my post "11 Tips to Find Best Coats for Petites"
Vertical Prints
The easiest way to trick eyes into believing you are taller than you are is to wear vertical prints. They can draw eyes up and down and create the illusion of height. Wear vertical prints in any garment can lengthen your body. If you want your legs to appear taller, wear pants in vertical prints work effectively.
Avoid Horizontal Prints
Horizontal prints in general make you look shorter.
That is not to say petite girls should avoid horizontal prints all together. When I talk about how you can make yourself look taller, one golden rule is to keep the prints in scale with your body size.
By that, I'm not saying the smaller the better. That means if you are petite and skinny, opt for smaller scale prints. If you are a curvy petite girl, choose prints proportional to your body frame.
With these tips on how to make you look taller, I'm sure you will find the right styles that work really well on you!
No matter how tall or short you are, the most important of all is to be confident and stay positive- that is probably my best tips for you!