Petite is a French word that is translated into small or tiny in English literally. There is some common misconception that the word petite women is referring to skinny and slender women, but that is not the definition of petite in the fashion world.
What does Petite Mean in Clothing
Petite size is a standard clothing size designed to fit women of shorter height, typically shorter than 162 cm (5 ft 4 in).
So, petite is really just talking about the height, and not referring to the weight.  That means you can be petite and skinny just as much as you can be petite and curvy.  Petite clothing can come in P00 and PXS, but they can also come in PL and PXL (or 14P, 16P and sometimes 18P).
Looking back on the history and origin of petite clothing, petite fashion first appeared in the late 1940s in the US, as reported by New York Times, when Hannah Troy noticed that regular clothing's waist was too long for shorter women. Decades later, more and more fashion designers acknowledge the different body traits of women as a result of their height and realize petite, regular and tall women should be separate lines to serve the needs of different submarkets. Therefore, we now have an increasing number of choices from petite clothing stores.
What Height is Considered Petite
If you are under 5'4″, then you are typically considered petite.
The average height of American women is 5'4". It is important to know that American designers make regular sized female clothing to fit women with standard height of at least 5'4″ or 5.5" tall without shoes, and will not fit a woman of significantly shorter height well.
So, is 5'5″ petite?
Technically, if you are 5'5″, then you should be able to fit in regular size clothing. But of course there is always exception, depending on your specific body traits.
If you are 5'5″ and above but wondering if you should wear petite size, read my article "Should you Wear Petite Size?"
Are you Petite?
So now that you know the answer to the height, it's equally important to understand what petites have in common besides the height.
Petite women share certain common body traits and thus need specially tailored clothing. In general, petite women have narrower shoulders, shorter torso, shorter arms and shorter legs.
If you are a short woman, your best bet is to shop for petite size from petite clothing stores. Whether it's petite pants, petite jeans or petite jumpsuits, petite clothing is made for shorter women and should fit you much better.
When you look up the clothing size chart, most of them only give you measurements of bust, waist and hips. However, even if the bust, waist and hip circumferences are appropriate, they will not fit petite women well as the sleeve lengths, leg inseam lengths and vertical torso measurements (such as the back length and bust-waist length) are probably too long for women under 5'4", thus need to be altered significantly to fit well on what is a petite figure.
Height is the critical factor to determine what is petite, if you are petite and whether you should be shopping in petite department. However, that is not absolute and height alone cannot put you in the petite or regular size category. The most important part you still need to look at is your body treats such as the length of limbs, the width of shoulders and the length of the torso.
[adthrive-in-post-video-player video-id="tCsk87dq" upload-date="2020-01-21T01:32:53.000Z" name="What does petite mean_ Petite size explained" description="What does petite mean and what is petite size clothing? This video explains all the fundamentals you need to understand what is petite and who should wear petite size." player-type="default" override-embed="default"]
Chances are some women may be around 5'4" but their legs are short and they will find petite size pants with shorter inseam fit them better. It is also likely for a girl under 5'2" to have wide shoulders, long arms and long torso, thus a jacket from regular size department make them more comfortable. Stylists would tell you it is quite common for a woman to have a combination of body treats, i.e. someone could be petite for the bottom half of her body but not the top half, or vice versa.
Are Petite Sizes just Shorter?
When you pick up a petite sized clothing and compare it with a regular size, the first and most obvious difference you will notice is the length. That is, sleeves, skirts, leg lengths and tops are all shorter in petite sizes than regular sizes.
Since what is petite is largely decided by the height and most petite women are bothered by the hem of the pants and length of the sleeves, it is easy to think that making a regular sized piece of clothing shorter would then solve the problem for petite women.
That cannot be further away from truth. Of course the correct sleeve length and pants length are very important, but petite clothing needs far more than shorter sleeves and shorter pants in order to look flattering on petite women.
High quality petite clothing have designs specifically made to flatter shorter women. For instance, armholes should be higher and details of the clothing should be proportionate to the petite body frame. Petite pants should not only have shorter legs, but also take the rise into consideration. Petite dress should have a shorter bodice to look flattering on shorter torso.
In fact, the best petite clothing are designed to create the longer and slimmer look by elongating the arms and legs and thus create the illusion of height. With the help of petite flattering designs, such as vertical details (vertical hem and piping on the side of pant legs), vertical stitching and vertical patterns, petite size apparel can help create the vertical lines in our body and thus make us look taller and more proportionate than we actually are.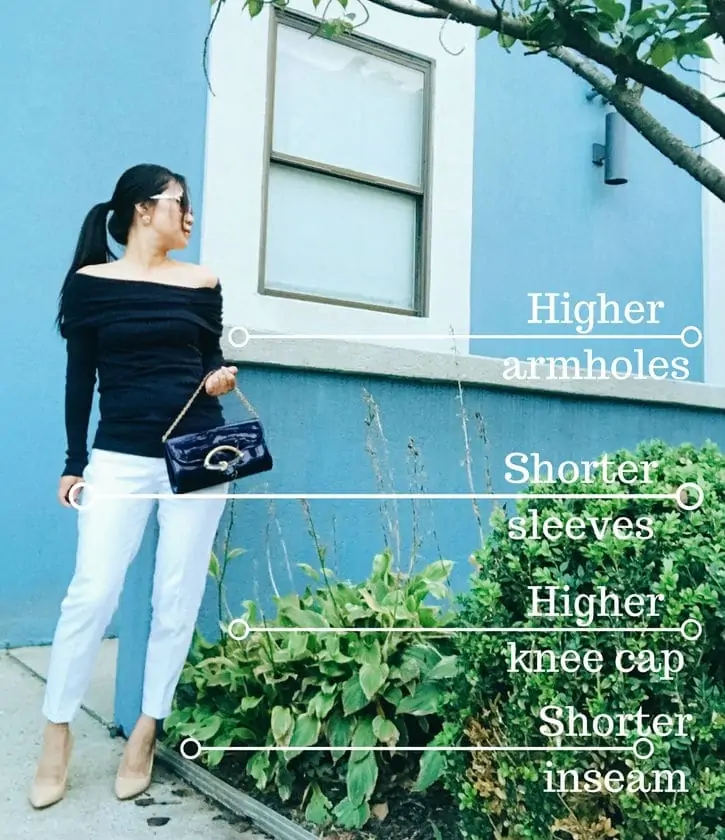 In recent years, all the major department stores in the US such as Saks Fifth Avenue, Bloomingdales or Neiman Marcus has been axing their petite department stores or significantly shrinking them.
It is a common problem that petite women may have a difficult time looking for the right sizes in department stores or shopping malls, so many of us may have shopped in the junior department at some point.
While that seems to be an easy solution, we do not recommend you to do so often. In fact, one of the important styling principals for short girls is to avoid too much "cuteness". The complaints of many petite woman is they are not taken seriously at work place, because of their height. In order to appear to be the equivalent of tall girls, our goal should be to add presence and authority through our styling. Shopping in junior department will only do the opposite. The designs for juniors are catered for teenagers, and they are not meant to be worn by professional adult women. Except for sweat pants and other causal clothing you will only wear at home or for workout, we suggest you to stop shopping at junior department and look for stores with petite sizes instead.
Traditionally, the best petite brands are Ann Taylor, Jcrew and Banana Republic which carry petite sizes. Now, in addition to the chain stores, short girls also have the choices of petite boutique such as petitedressing.com. If you happen to be in New York City, check out these petite stores.
If you are around 5'3", it is advisable to try on both petite and regular size, and compare the fit and how they make you feel. You might be surprised about your findings and it is possible you might have been wearing the wrong size over the years. Another tip is to pay attention to the definition of petite sizing by each retailer/designer, as some of them define what is petite as under 5'4" while others define it as under 5'3". It may sound like a slight difference, but that could affect their petite sizing. Most brands follow standard sizing chart, but each petite brand may have some differences in their tailoring.
Petite Size Chart
We have compiled the sizing charts of 5 most popular American brands with petite sizing, so that you can see each brand may have variances in their sizing.
For 4P (PS):
Bust: Banana Republic 33.5", Loft 33", Ann Taylor 33", Jcrew is 33.5", Ralph Lauren 33.5
Waist: Banana Republic 26.5", Loft 26", Ann Taylor 26.5", Jcrew is 26", Ralph Lauren 26.5"
Hip: Banana Republic 36.5", Loft 35.5", Ann Taylor 35.5", Jcrew is 36", Ralph Lauren 36"
Sleeve length: Banana Republic 31", Loft 29 ¼", Ann Taylor 29.25", Jcrew is 29", Ralph Lauren unclear
You can tell brands could be 0.5" difference in sleeve length and waist, up to 1" difference in hip and up to 2" difference in sleeve length. From above, if you have bigger hip, Banana Republic may be a better fit. If you have shorter arms, Jcrew might be the best choice.
More and more retailers are closing out their physical locations across the US, many of them are dedicated those stores to regular sizes and shrinking even more their petite sizes in store. Therefore, most likely, you will find a greater selection of petite sizes in their online website than in the stores. Online shopping may have become the best fashion option for petite women. However, before we buy it, it is still best to try it on. If you happen to be in New York City, here are the 25 stores that do carry petite sizes and you will enjoy trying them on before purchasing.