Do you have hourglass figure?  Some say hourglass figure is the most feminine body type, thus it is most attractive. Picture the petite body of a curve goddess from the 50s, and Elizabeth Taylor (5'2″) is the most classic example of Hollywood petite hourglass figure.  In modern days, Scarlett Johanson and Salma Hayalk have the most typical petite hourglass body type.  At Petite Dressing, we believe each petite body type have their own unique characteristics and everyone has the potential to be attractive, as long as we use the right dressing techniques to enhance our assets.  Still, we have to say, you are very lucky to have the hourglass figure!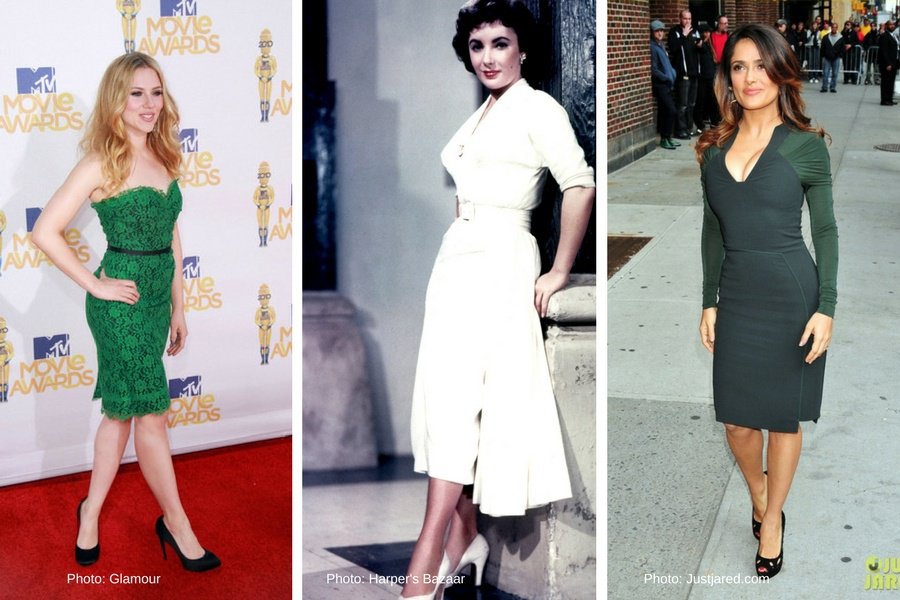 First things first, let's take a look at what is a hourglass figure.  As suggested by its name, hourglass figure looks just like an hourglass.  If you are a petite hourglass figure, you generally have the following body treats:
Your hips and shoulders are well balanced, i.e. they are roughly about the same width. That is, your shoulder and hip measurements are within 5 % of each other. Many petite women with hourglass figure have round and sloping shoulders that align nicely with the hips.
You have full chests and hips. Typical hourglass figure means you are quite well-endowed, which is one of your best assets.
You have a well-defined waist line that is significantly smaller than your shoulders or hips. The rule of thumb here is 75%.  That is, your waist is at least 25% smaller than your shoulder, hip and bust measurements.  Normally, when translated into inches, that means your waist is 8 to 12 inches (or 25 to 30cm) smaller than the hip or bust measurement.
You have a rounded bottom.
You have a beautiful front and side profile. And, from top to bottom, your figure is in harmony and balance.
You may have full thighs, but they are narrower than your high hips. You gain weight above hips and through waist.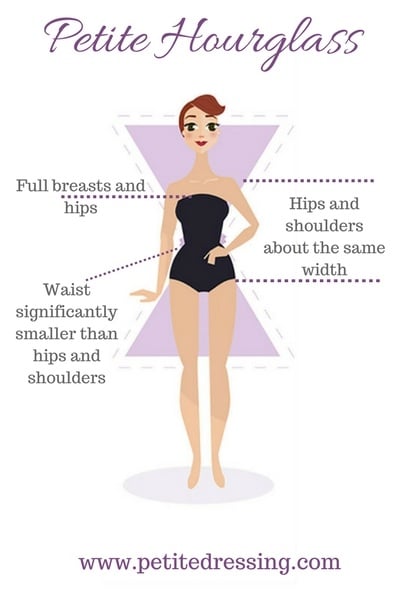 Above are the typical features of petite hourglass figure.  However, because human body have some many different variations, most likely not one body would fit into all features of one body type.  If you feel like you have some but not all of the characters above, it is possible you are a combination of hourglass figure and other body types.  Click on Petite Body Type to read more and take the quiz and find out what body type is closest to you.
Now that we talked  about how to define the hourglass figure,  it may have become clear to you that the best assets are the slender waist as well as the full breasts and hips, thus your dressing focus should be to emphasize those assets.  In general, the hourglass figure should proudly celebrate the curve by wearing form hugging tops, skirts and dresses.
Best Tops and Dresses for Hourglass Figure
We have talked about in other posts that petite women should in general stay away from boxy sweaters or dresses, as they overwhelm your petite body frame.  Same here,  if you have petite hourglass figure, you should wear fitted dress shirts with darted waists that conform to your natural shape in order to achieve the best result.
Since your waist is so slender naturally, you want that to become the focus point of your outfit by further enhancing your waist through adding a belt to basic tops (tube tops, knit tops, sleeveless tops, etc.).
Form-fitting jackets or jackets that nip in at the waist with a flare at the hip will look great on you. The flare should be balanced with a structured or princess shoulder.
If you want a dramatic effect to enhance your feminine figure, wear tops with added volume to the bust and shoulders AND a snug fitting empire waist.  You can it paired with a proportionally voluminous bottom to balance out the top.
Wrap-style tops are flattering to almost all petite women, and they are especially more so if you have the hourglass figure, because they accentuate your waist and enhance your small waist.
Best Skirts and Pants for Hourglass Figure
If you have hourglass figure, your choices of pants are consistent of your choices of tops- they should emphasize your slender waist.  Pants with wide waistband are very flattering on your body type. Pair straight-leg pants with a form skimming top or cargos with a fuller top to maintain your hourglass proportions.
When it comes to your choices for office appropriate clothing, you do not have to downsize your feminity- rather, you should celebrate it tastefully and properly. In the office, figure skimming and pencil skirts of all lengths look good on your petite hourglass figure. High-waisted skirts are particularly flattering, as they elongate your legs and draw even more attention to your waist. Add a flounce around the bottom to balance fuller tops and jackets.
If you like full skirts, they are flattering when paired with a top that adds fullness to your bust and shoulders while accentuating your waist. This look creates a very dramatic hourglass effect.
Best Jeans for Hourglass Figure
Read The Best Jeans for Your Body Type for more details of what are the best jeans for each petite body type.  In general, wearing skinny jeans with banded, belted or not-to-tight body skimming tops will enhance your attractive figure. Boot cut jeans look good with most any of our recommended tops.
Since you have rather curved back already, you may not want to go with too much pocket details or embellishments, which will make your buttocks look bigger.   Scarlett Johansson is one of the most famous petite hourglass figure in Hollywood, look how flattering the high rise jeans on her which emphasize the slender waistline and the curves in the back.
Best Fabric Choice:
Hourglass figure overall looks fleshy vs boney.  Therefore, the best fabrics for you are flowy and light waited materials such as knits and silk.  Flowing tops that are banded at the waist will show off your amazing curves and create a dramatic hourglass effect.
It is our honor this post has been featured by Independent Fashion Bloggers (IFB). Thank you, IFB!
Links à la Mode, December 28th
SPONSOR: Shopbop, Ella Moon, Jennifer Behr Jewelry, Theory Jackets/Coats, Benedetta Bruzziches, A Peace Treaty, Innika Choo, Bomber Jackets, Black Velvet Bags, Party Blouses, Men's Tumi
Sign up for free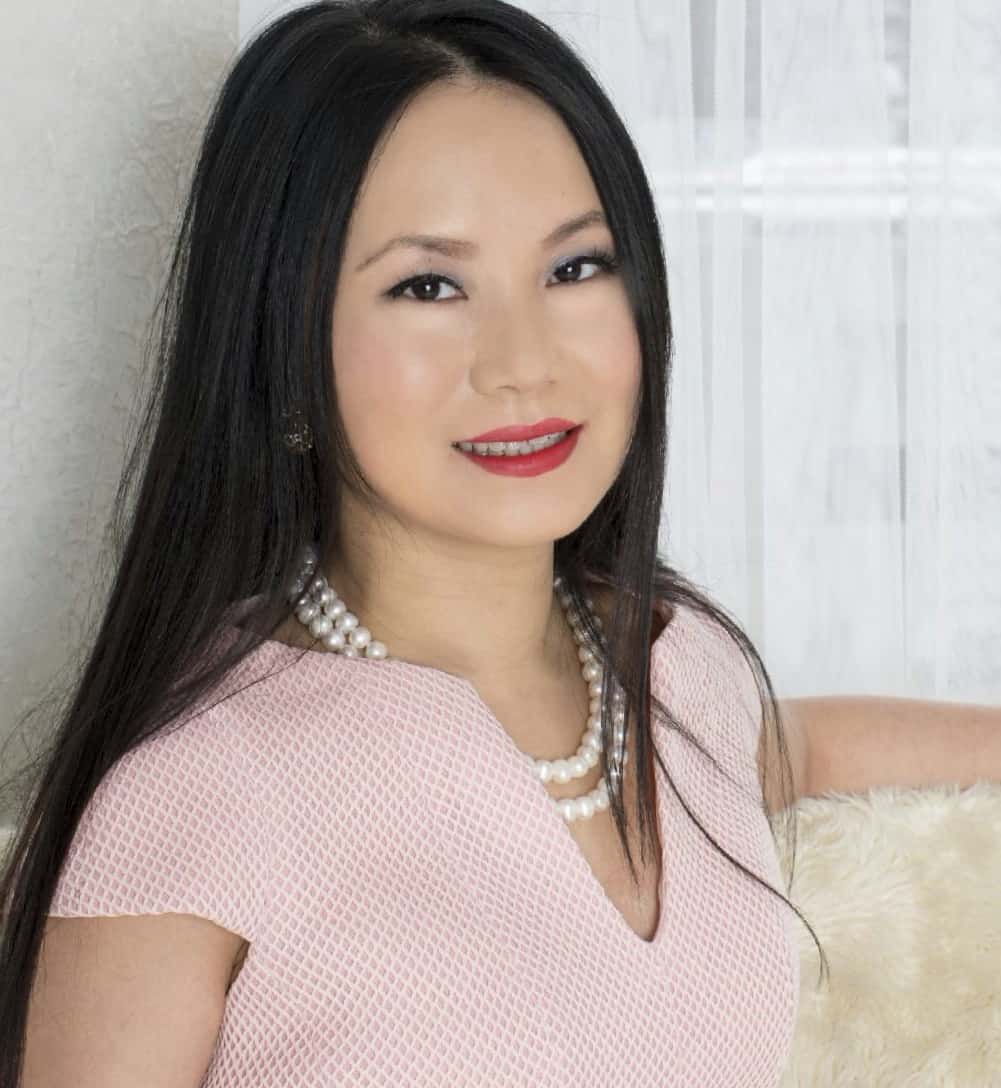 Chi is 5'2″ founder of Petite Dressing, an online petite clothing store dedicated to women under 5'4″.  Petite Dressing blog is here to help you understand yourself, such as your petite body type, and look your best ever.  If you are new, start here. Comment below and share your thoughts about this post!