Looking for petite maxi dresses? What are the best maxi dresses for short women? Should you even consider wearing maxi dresses if you are petite? Where can you find the best petite maxi dresses for your budget? You have come to the right place. (Here is a related post on Petite Women how to Rock Maxi Skirts).
Maxi dress has been trendy for almost a decade now, and they are a summer favorite of many stylish women. If you are tall, maxi dresses seem to be a no brainer in the summer time. They are so easy to wear in the summer time for so many reasons. What if you are petite? Then you must have all these questions on your mind. That is why we have put together this post to talk about
8 Must Know Tips about Petite Maxi Dresses
This post is talking about casual maxi length dress for petite woman. We also have a post on "How to Style Petite Formal Long Dresses".
Before we look at how you should choose petite maxi dresses, let's first answer the fundamental question. Should you wear a maxi dress if you are petite (short)?
Whether a short woman should wear long dresses at all has remained a debate. Traditionally, most stylists advise petite women to wear short dresses or short skirts. The reason is simple and seems logical- if your legs are short, then you want to show every inch of them by wearing something short. Long dresses, on the hand, seem to be overwhelming for short women. Therefore, many stylists caution that petites should go short.
That is true to some degree. Wearing a dress above or at the knee is one of the most obvious ways to lengthen our legs and look taller than we are. However, petite maxi dresses can definitely be very flattering to short women as well. Here is the top 5 reasons you should shop for maxi dresses this season.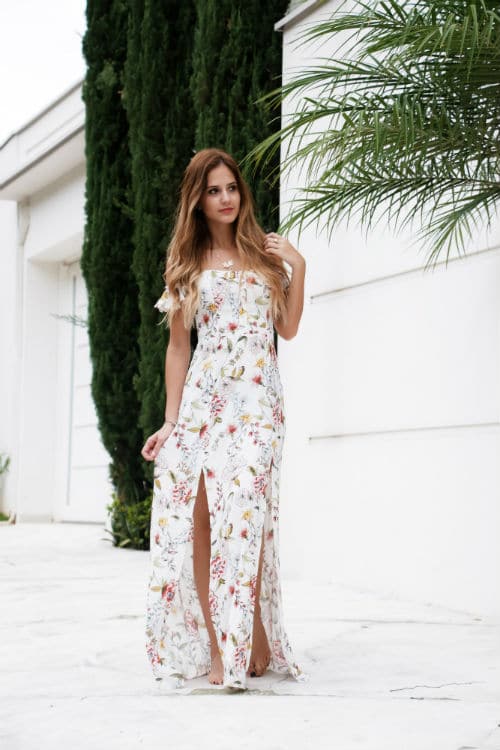 1.If you are short, creating length in your outfit is one of the key factors to make you look taller. The easiest way to achieve that is through creating a column of colors. What does that mean?
It means if what you wear forms a vertical line, it will lengthen your statue and effectively extend your frame. That is exactly why petite maxi dresses are flattering to short girls. Because of its continuous color and pattern, maxi dress can effectively elongate your body frame. Therefore, wearing maxi dress the right way will actually make a short girl look taller. That is why we have listed petite maxi dress as one of the Top 6 Wardrobe Staples for Stylish Petite Women.
2. Since they are one piece, they are just so easy to wear. You do not have to stress about whether the top looks good with the bottom.
3. If you are wondering what you should wear for a vacation, maxi dresses should be on your packing list! They are so comfortable you can just throw them on and wear them and hang by the beach or the pool all day. That is why they are one of our top 5 choices for resort wear for petites. Whether you are searching for a versatile piece to wear to Caribbean cruise or just driving to a local beach, you can never go wrong with a petite length maxi dress!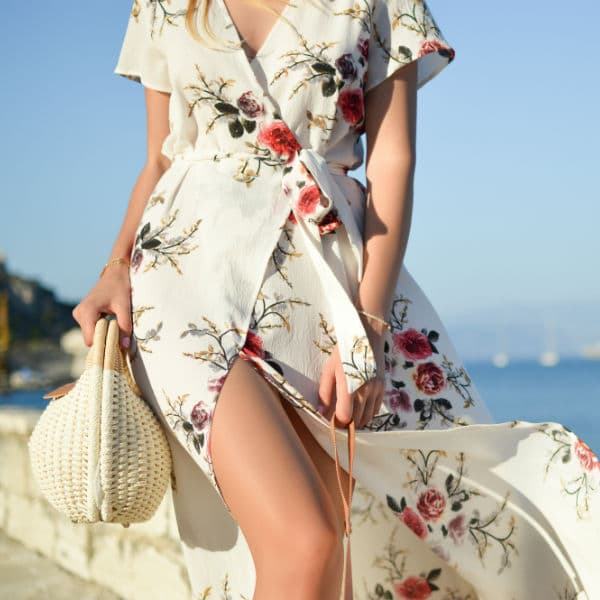 4. If you are invited to a summer wedding, they are probably your best bet. Maxi is one of the top rated petite wedding guest dresses, because they are automatically dressy and are acceptable with most of the wedding dress codes.
5. They are so forgiving! You can save on razor time, to state the obvious.
Since maxi dresses are so versatile and functional, every short girl should have at least one of two petite maxi dresses in their closet. However, the reality for short women is that finding maxi dresses for petites is never easy. What are the challenges?
First and foremost, finding the right length is difficult. In America, regular sizes are made for women 5'5″ tall. That means if you are 5'4″ and under, regular size maxi dresses are too long for you. 5 feet tall and under? Don't even waste your time to try. They are going to be dragging on the floor I'm afraid.
Besides, even though maxi dresses can look good on you, it can also work against you. Petite women have shorter frame, what should you pay attention to in order not to be swamped by the fabrics of the dress? Here are the top 5 tips you must know in choosing the right petite maxi dresses for you.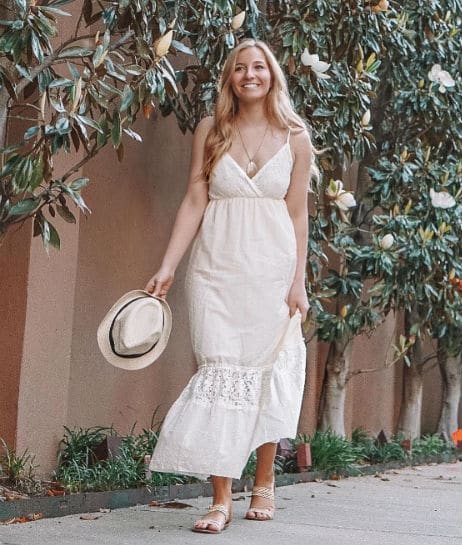 Get the petite maxi dresses with right length
This is the number one thing that determines if a petite maxi dress fits you or not. What is worse than not looking good? If the maxi dress is too long, your shoes can get caught in the fabrics and you can fall! So, it is critical that you should shop at the petite designers for maxi length dresses. Plus, you should pay attention to the specification of the petite length maxi dresses, even if they are labeled as petite sizing.
The reason is each brand may make petite size maxi dresses of different lengths. When maxi dress first became a summer trend, they were only available in regular sizes, so the only way a short girl could pull it off was to first send it the tailors and cut off the extra inches. Fortunately, there are now brands (ASOS, Nordstrom, Macys, etc) that offer petite length maxi dress so that you do not have to pay for a tailor.
Petite Dressing has newly added our collection of petite maxi dresses. Our goal is to dress petite women of all height. Whether you are 4'8″ or 5'4″, you can find the right size at Petite Dressing and do not have to worry about alteration any more.
The best length obviously vary because of your height. a 4'9" petite woman should wear different length than a 5'2" petite woman. One good benchmark is that the petite length maxi dresses should fall just on your toe back, even if you are wearing flats. That way, you don't have to worry about tripping over the petite maxi dress when you happen to not be wearing heels one day.
All maxi dresses are not created equal
Even though maxi dresses are all supposed to be ankle or floor length, they won't all look the same on you. There are certain designs that are especially flattering to petite women.
First of all, maxi dresses with side slit look the best on short girls!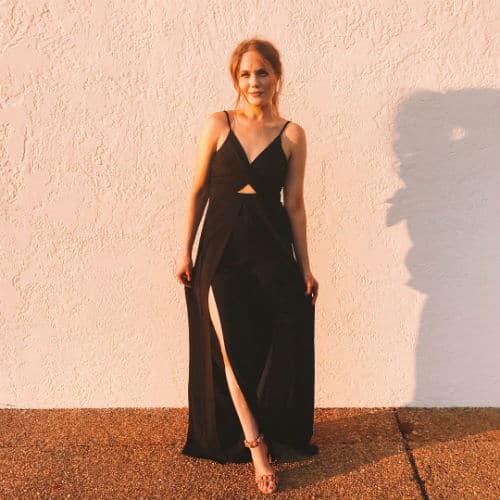 By showing part of your legs, the side slit make you less likely to look swamped by the fabrics and can make you look taller.
Secondly, high/low hem dresses are great options for petite women, because you can enjoy the best of the two worlds- the short hem in the front to make you appear taller and the long dress from the back to create an unbroken vertical line that lengthens!
Prints or solid?
For short girls, solid colors generally work on you. If you want to look thinner and taller, go with darker colors like black or navy.
Of course, maxi dresses are also available in all kinds of prints and patterns, which often times are so romantic and we cannot say no. Floral prints are especially the favorite of many, because they are simply irresistible. If you are a lover of maxi dresses, you would feel something is missing if you don't own a piece with florals in the summer!
So, how can you wear prints without looking swamped?
Size of the prints is the key. Generally speaking, small prints are the best choice for petite women. Be very careful with large prints on maxi dresses. Given the big area maxi dresses cover on your body, large prints may look too busy and overwhelm your small frame.
How big is too big? One rule of thumb is the size of the print should not be bigger than your fist.
Another good option is to wear petite length maxi dresses with print top but solid bottom in darker shades, which will effectively make you look skinnier than you are.
Pay attention to the waistline
Waistline plays a big role in whether the maxi dress looks good on a short woman. Why? It divides your body into different proportions, thus it can break you or make you.
Have you ever been curious about why some celebrities look so much taller on screen than in real life? For instance, this is Nicole Richie. Can you tell she is only 5'1″?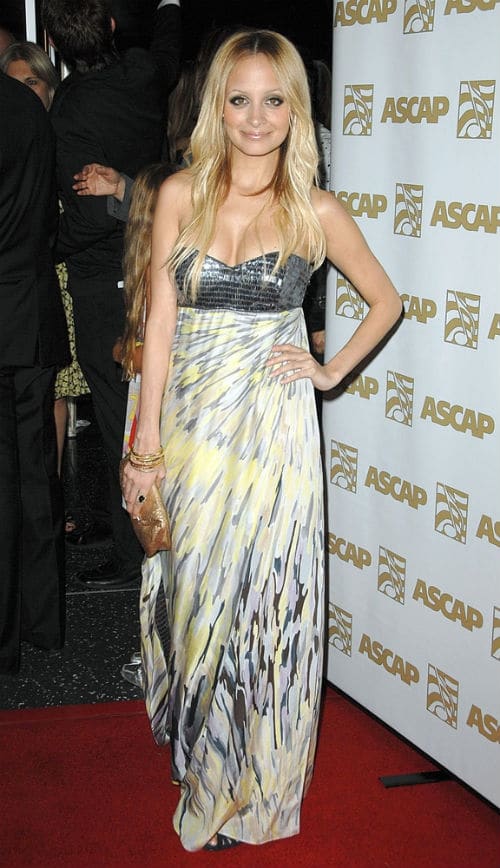 That is the magic of proportion. If you are one of the lucky petites blessed with long legs (like Nicole and most bloggers such as Wendy's Lookbook), then congratulations because most likely anything will look good on you naturally! What if you are like the rest of us who wish our legs were longer? No problem, let's play with proportion!
Regardless of someone's height, what is the ideal proportion? It should be 1/3 and 2/3. That is, your waistline and below should look at least 2/3 of your body. If you are not naturally born with that, there are many ways you can achieve that. Elevating the waistline is one of them. That should be your guideline when you are out there looking for petite maxi dresses.
Petite maxi dresses with empire waist line or high waist line are most flattering to short girls. Empire waist design is higher than your natural waist line and make your legs look longer than they are. High waist line achieve the same result by drawing the focus upward and creating the illusion of longer legs.
What if the petite maxi dresses do not have empire waist or high waist line? You can still style it with a belt higher than your natural waist to achieve similar visual result.
Choose the right fabric
The fabric is very important for petite maxi dresses. The point of wearing petite maxi dresses is they move as you move. Therefore, you definitely want to go with something soft and flowy. The best petite length maxi dresses' fabrics should hug your body's natural curve just right (not too loose or too tight) and create a feminine and flattering silhouette. Avoid stiff materials, which has its own shape and will not flow as well as the drapery fabrics.
Find a good tailor
Even though it is ideal to find the petite size maxi dresses that fit you like a glove, chances are you might need alterations sometimes. You may be happy with everything else about the petite maxi dress, but it could be a couple of inches longer than what you want. Or, if you are under 5 feet tall, you might find even the petite size maxi dresses are still too long for you. In that case, sending them to the tailor and spend extra $15 on it will make the dress fit you just right.
That said, these are the things you generally should not try to change about the dress:
The bodice- It is almost like redoing the dress, if you need to change the construction of the bodice. We are not saying the tailors won't accept the request, it is just too complicated and probably too expensive to do so.
The waistline- This is tricky to reconstruct. Your best bet is to find the ideal petite maxi dress that has a waistline sitting where you want it to be.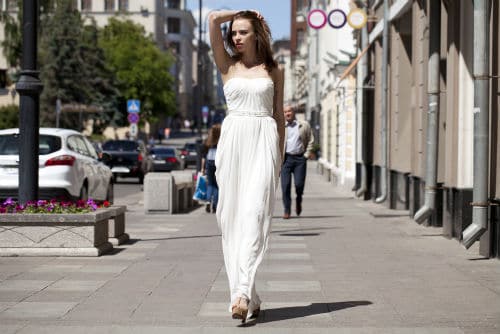 Go with a fitted maxi dress
Like anything else in petite fashion, fit is always important. Of course maxi dresses should be comfortable and flowy, but that doesn't mean they should be baggy and shapeless. Think about it- maxi dresses are so long they can easily overwhelm your petite frame. If they are not well fitted, they could make you look like swamped in endless fabrics.
Therefore, petite women should definitely stay away from maxi dresses which are too loose or oversized. Even though they are petite length, those kind of design will not flatter you. They will make it look like the dress is wearing you instead of you wearing the dress.
Complete the look with the right shoes
Wearing the right shoes with petite maxi dresses is important, because they can change the whole look of the outfit from casual to polished instantly.
If you are wondering what you should wear to a wedding, then wearing a maxi dress with heels is probably an appropriate outfit for a celebratory occasion like weddings. Maxi dresses look feminine and polished when you wear them with slender high heeled sandals.
If you want a casual and laid back look, then wedges or flats are perfect choices to go with maxi dresses for short girls.
Pro tips: when you are trying on maxi dresses, wear the shoes you intend to wear with the dress. The reason is how high your heels are (or no heel at all) can impact how long the maxi dress you need to be. If you think you will be wearing the dress with heels for the most part, then add a couple of inches to your normal length.
Everything else you need to know about petite dresses