Looking for the best petite yoga pants? If you are petite and love to work out, you have come to the right place! Whether or not you are a yogi, you know how important yoga pants are. For starters, we practice hour-long yoga poses in them, i.e. we sweat, move, get upside down, and meditate in them.
Not only that, most of us wear them outside of yoga classes too! Do you also wear them to run errands and pick up kids from school? Do you wear them to do chores around the house? Do you meet with girlfriends for Sunday brunch in yoga pants after class? If you do, you are not alone.
So, a couple of stylish and comfortable yoga pants are critical for anyone who is active and have a busy life.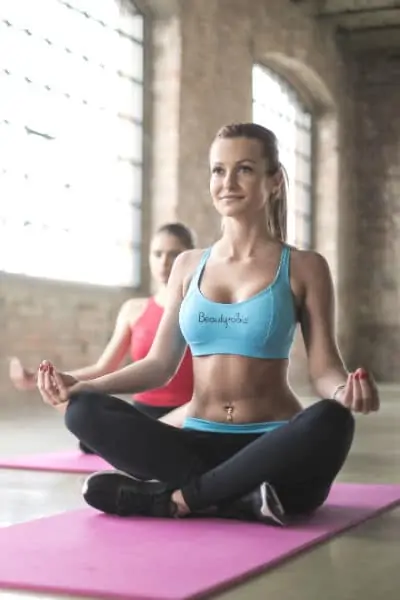 I am 5'2″, and I love yoga. I do mostly hot yoga, which means my yoga pants need to tolerate several hours of high temperature, sweating, and washing every week. That is why I am constantly on the lookout for a new pair of yoga pants for short women. Yes, the keywords here are "short women", and that is where the frustration begins.
Petite women have the hardest time shopping for petite-size clothing. I mean, any kind of clothing- from petite trench coats to petite size pajamas to petite length sweatpants.  Basically, anything that involves hems or inseam length could be challenge for petites.  Petite workout pants is not an exception.
That is why I have put together this post to look at what the best options are out there for petite yoga pants. First, I will walk you through what kind of yoga pants for short women are most flattering, then I will share with you the recommended places where you have a better shot of finding the right yoga pants for petites.
Best petite yoga pants style
High rise
If you are petite, always go for the high-waisted style, be it skirts, dresses, or pants.  Use the same concept when looking for yoga pants for short girls. Why?
High-rise design goes above your natural waistline and makes your legs look longer and make you look taller.  They are the best pal for a short/crop top.  This design is embraced by many fitness brands, and the reason is not only they are more flattering, but also more comfortable and more suitable to wear in a workout.  Who wants to be worrying about showing your panties when you are doing a down dog on your yoga mat?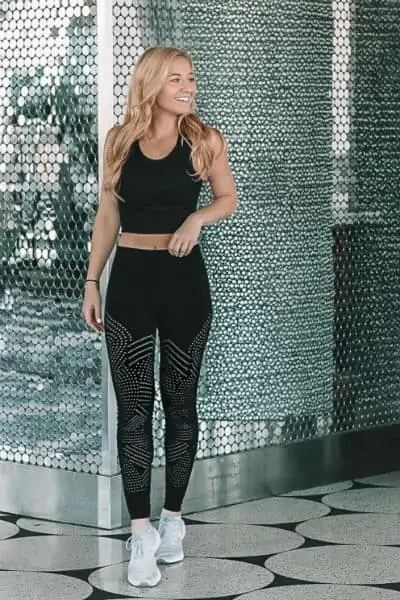 Plus, if you are self-conscious about showing your midsection, high-rise petite yoga pants will help you conceal your concern as well.
High-rise petite yoga pants look best with shorter tops like the cropped top Carly is wearing in the picture above.  Most petite women have shorter torsos, so a regular top may look like a dress on you.  Not only is that not flattering to petite girls, but also it is not convenient for a good workout when you need to be able to move swiftly.  So, a long top is a big no-no.  Opt for a well-fitted crop top that fits just right on you.  By wearing a short top with high-waisted petite yoga pants, it will give the illusion of longer legs.
Mesh or cut out designs
Mesh or cutouts are not only on trend right now, but also they are very flattering yoga pants designs for shorter girls. Why? By showing a little bit of skin under the mesh panels or the cut-outs, it makes your legs look longer.
Dark solids
Dark color leggings make your legs look leaner. One way to make your legs look longer and thinner is to opt for petite work out clothing of darker color. Since darker colors compress, they will make your legs look leaner effortlessly.
Smaller prints
For petite women, choosing the right prints is important in your styling of petite yoga pants. Solid colors are great, and they are flattering for petite women in general.  If you like prints, go for smaller prints that are in proportion to your body frame.  Big and loud prints tend to overwhelm short girls and make you look smaller. 
If you are wearing a top with prints, then maybe it is a good idea to wear your petite yoga pants pants in solid colors to balance it out.  Vice versa,  Wearing prints in both top and bottom is ok in some cases when they are a set, but make sure they are not too busy and make you look swamped in colors.
Flared leg
Petite or not, we all want our legs to look longer and leaner.  If you are under 5'4", it is a good idea to add a couple of inches through the styling.  But how do you achieve that when you are working out and cannot wear heels?  The secret is to wear a pair of flared workout pants.  Flare pants style is universally flattering to any body type, and they are especially great for petites.  Wearing flared workout pants will instantly make your legs look longer, because of the flare.
Since regular-size workout clothing is made to fit women of average height (5'4") and inseam (31 inches), the flare pants are hard to pull off by petite women.  The trick is to find these in petite workout clothing section, i.e. working out clothes cut and proportioned to fit petite women.  If you buy a pair of regular size flared work out pants and have the tailor cut the hem, you need to make sure the knee cap is at the right place so that the flare look works on you.
Now that you know what to look for, now let's take a look at where you can find them. We also have another post that talks about not just yoga pants, but where to find best activewear for petites in general.
Best Places to Shop for Yoga Pants for Short Women
This is one of the most traditional places to shop for petite activewear and also my personal favorite. What I like about it is they have a dedicated section for petites for most categories, which makes it so much easier to find the right inseam for shorter women. Their full length inseam length for petite work out pants is around 24 inches, which fits petite women nicely.
Their full length work out tights are $69 to $89, in general $20 lower than Lulu Lemon. Their quality is pretty good, and some swear quite comparable to Lulu Lemon. They use fine quality stretchy and breathable materials which make your movement easier in yoga glasses or other workouts. They have plenty of choices of high rise and mid rise petite yoga pants.
Okay, I'm sure you have heard of Zappos as a shoe store online, but did you know you can find petite clothing there too?
What I am about to tell you is a little hack I have discovered. The petite size yoga pants are not actually under the petite collection. Here is how you can find them:
First, go to Top Menu, under "Women" and find "Clothing"
Then, click on "Acivewear & Yoga"
Next, select "Pants" on the left side manual bar under "Category"
Then, under "Inseam", check your inseam length you are looking for. It goes from "13" to 35″. Any inseam under 28 inches should work for petite women. For long legged petites, you can even go with 29″ inseam.
This is so much easier than to having to go into each product and look for information about the inseam for each sweatpants!
Once again, this is tip I recently discovered and want you to know, because you will NOT find them if you just click on the "Petite" clothing link at the top manual.
What I love about Gapfit is they make full range of work out pants, from crop, capri, to 7/8 and full length. They are one of the few brands that have petite size for most of their work out pants, including yoga pants. If you are looking for full length yoga pants in petite size, you can find some good choices here.
I love their high rise collections, which are called "waist changer", i.e. engineered panels shape and smooth your mid section and hips so that you look and feel amazing during your work out.
I have been shopping this brand for over 10 year. If you are not familiar with this brand, they are a mid price level brand that makes good quality yoga and workout wear.
Even though they don't label it as petite size, their midi length is around 24 to 25 inches inseam, and even their full length yoga pants are around 27 inch inseam, perfect for women under 5'4″. Their high waisted midi yoga pants are heaven sent for petite women- I literally live in them!
You can find this brand not only on their own website, but on popular retailers such as Zappos, Revolve, Shopbop.
Yoga pants are around $79 to $99. Even though this is not a cheap clothing brand, they don't cost as much as Lululemon and quality is comparable.
I have got a ton of yoga and work out stuff from them,and I love their quality and price range. Their 7/8 tights have 23-25 inch inseam, which are perfect for girls under 5'4″.
Although they don't have a petite category, it is easy to find those petite length jogger pants by search "7/8" from their search bar, and you'll find the list of petite friendly yoga pants. The best part? You can find stylish yoga pants for petites for under $30, it doesn't get better than this!