If you are petite and love to work out or happen to be a Yogi, you may have been frustrated with the limited choices of petite yoga pants on the market.  Petite women have the hardest time shopping for clothing, and I mean, any kind of clothing- from coats to pajamas to petite yoga pants.  Basically, anything that involves hems or inseams could be challenge for petite women.  Work out clothing is no longer just about Nike and Reebok like in the old days, and there are so many new workout wear brands popping up every month.  While our taller friends are trying out different new active wear brands and enjoying the chic designs, petite women feel left out once again.  Very few designers have a dedicated petite line for their work out clothing, let alone carrying petite yoga pants, which means petite girls have to spend more time scouting out what works for them and be more creative.  Plus, for us petite women, it will be nice if we can find the petite yoga pants that will make us look taller, since, obviously, we cannot wear heels on the mat!  (Read more about How to Look Taller and what to avoid if you have short legs). Here are 5 must know tips based on experiences of many petite women that will help you find the best petite yoga pants to suit your petite body frame.  (No, we do not recommend shopping at kid's department, even though that sounds tempting).  (Read here about where to find best petite work out clothing).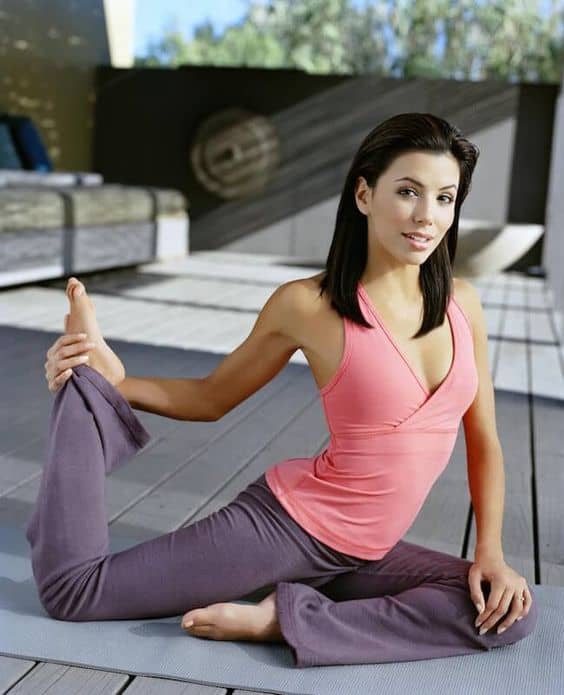 Eva Longoria (5'2″) Photo: Health Celeb
1. High rise petite yoga pants plus a crop top are your best friend
If you are petite, always go for the high wasited style, be it skirts, dresses or pants.  Use the same concept when looking for your petite yoga pants.  High rise design goes above your natural waistline, and makes your legs look longer and make you look taller.  They are the best pal for a short/crop top.  This design is embraced by many fitness brands, and the reason is not only they are more flattering, but also more comfortable and more suitable to wear in a workout.  Who wants to be worrying about showing your panties when you are doing a down dog on your yoga mat?
High rise petite yoga pants look the best with shorter tops.  Most petite women have shorter torso, so a regular top may look like a dress on you.  Not only is that not flattering to petite girls, but also it is not convenient for a good work out when you need to be able to move swiftly.  So, long top is a big no no.  Opt for a well fitted crop top that fits just right on you.  By wearing a short top with a high waisted petite yoga pants, it will give the illusion of longer legs.
If you are self-conscious about showing your mid section, high rise petite yoga pants will help you conceal your concern as well.
Also, petite women should stay away from a loose top.  Any loose fit clothing is not flattering to petite women, period.  Now, we understand you may not always want to wear skin tight tops in your work out, especially when you will sweat a lot and may feel better in cotton material clothing.  The trick is to wear something fitted but not too tight.
2. Look for vertical design
One of the most important styling tips to flatter the petite body frame is to integrate vertical details in your outfits.  The same applies to petite active wear.   Vertical designs could be in various forms and don't have to be vertical stripes.  Some petite work out pants have vertical side panels or pipping along the side of the pants, which are flattering to petite women.  The opposite is also true, i.e. horizontal design makes you look shorter, so try to avoid those if you can.  For instance, work out pants with zig zagging designs seem to be quite trendy in the last couple of years.  It is ok to wear them if you are petite, but just make sure the stripes are not totally horizontal, which will make your legs look even shorter.
3. Opt for solids or simple prints
For petite women, choosing the right prints is important in your styling of petite yoga pants Solid colors are great, and they are flattering for petite women in general.  If you like prints, go for smaller prints that are in proportion to your body frame.  Big and loud prints tend to overwhelm short girls and make you look smaller.  If you are wearing a top with prints, then maybe it is a good idea to wear your petite yoga pants pants in solid colors to balance it out.  Vice versa,  Wearing prints in both top and bottom is ok in some cases when they are a set, but make sure they are not too busy and make you look swamped in colors.
4. Wear flared work out pants
Petite or not, we all want our legs to look longer and leaner.  If you are under 5'4", it is a good idea to add a couple of inches through the styling.  But how do you achieve that when you are working out and cannot wear heels?  The secret is wear a pair of flared work out pants.  Flare pants style are universally flattering to any body type, and they are especially great for petites.  Wearing flared workout pants will instantly make your legs look longer, because of the flare. Since regular size work out clothing are made to fit women of average height (5'4") and inseam (31 inches), the flare pants are hard to pull off by petite women.  The trick is to find these in petite workout clothing section, i.e. working out clothes cut and proportioned to fit petite women.  If you buy a pair of regular size flared work out pants and have the tailor cut the hem, you need to make sure the knee cap is at the right place so that the flare look works on you.
5. Dark color leggings make your legs look leaner
One way to make your legs look longer and thinner is to opt for petite work out clothing of darker color.  Since darker colors compress, they will make your legs look leaner effortlessly.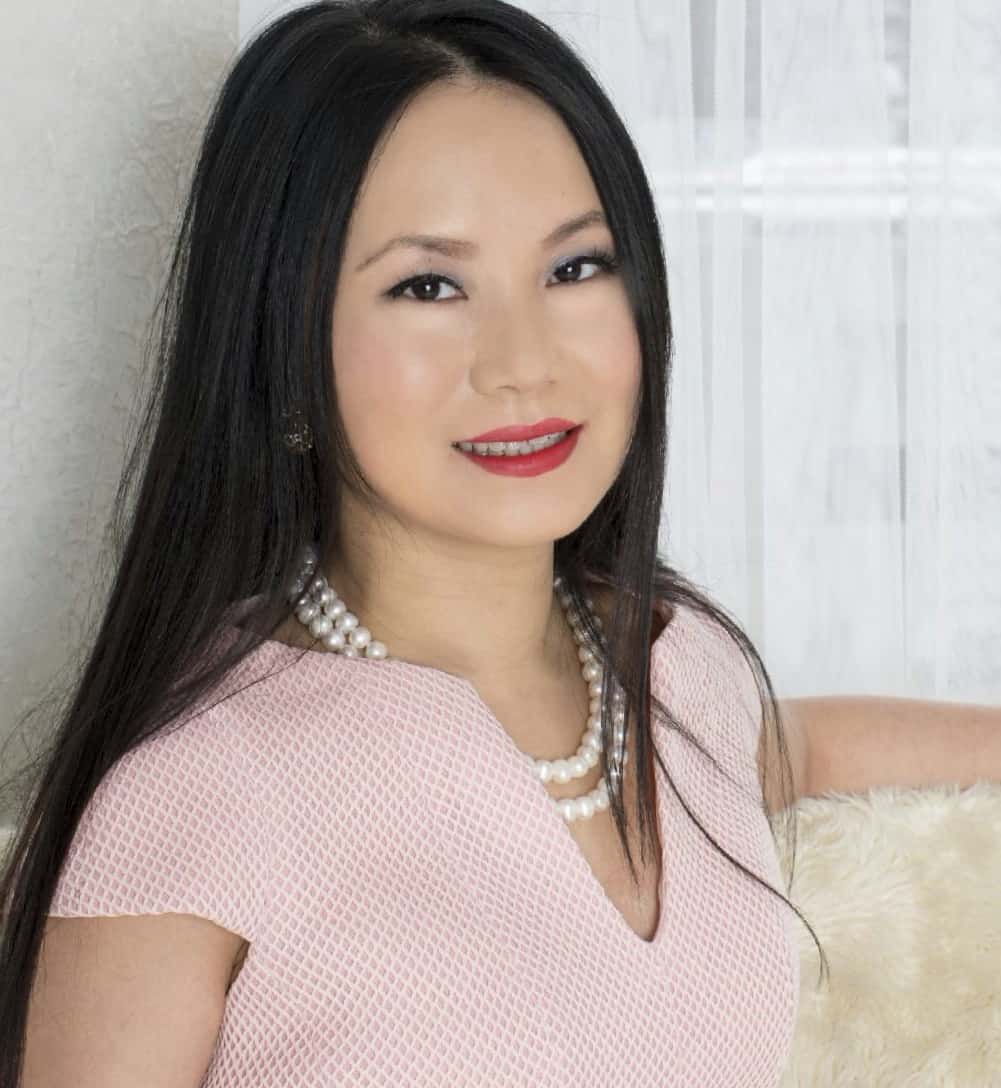 Chi is 5'2″ founder of Petite Dressing, an online petite clothing store dedicated to women under 5'4″.  Petite Dressing blog is here to help you understand yourself, such as your petite body type, and look your best ever.  If you are new, start here. Comment below and share your thoughts about this post!