I am 5'2″. Not only I personally live in dresses year long, but also they are THE most popular product category in my clothing line for petite women.
It is true that dresses are a staple for any short girl who wants a stylish petite wardrobe.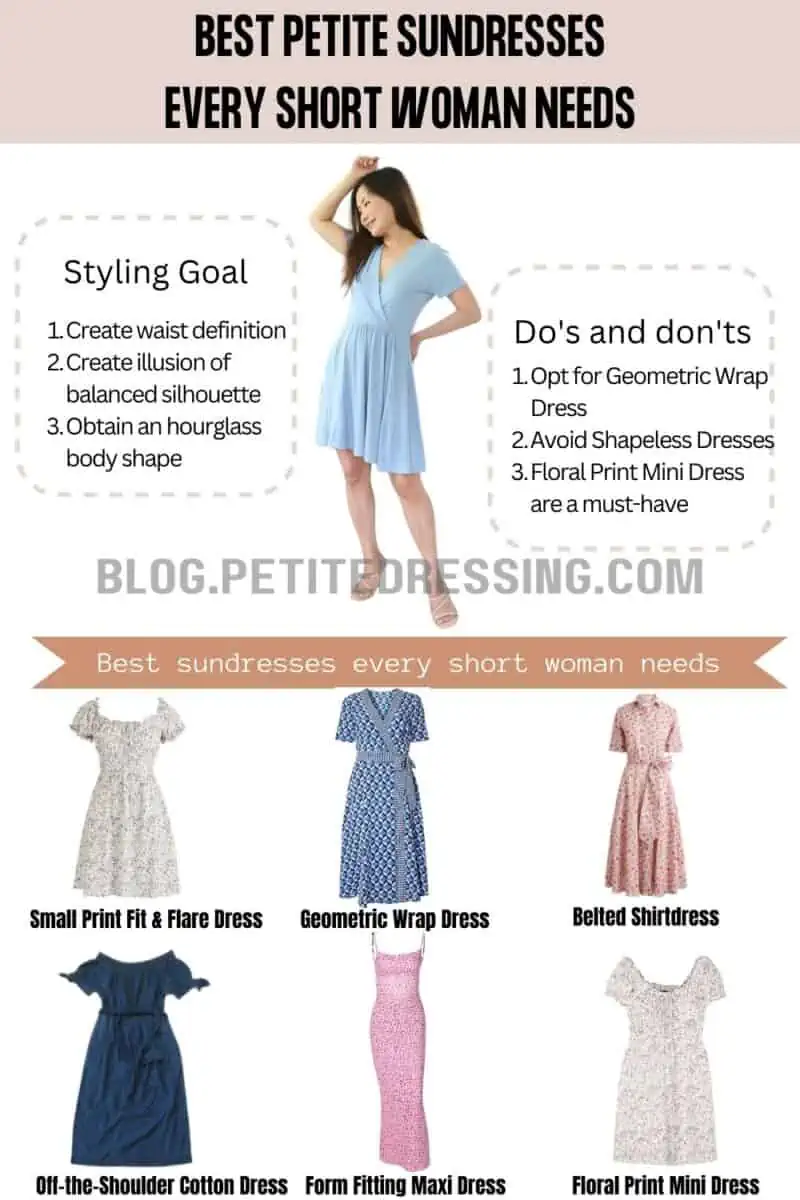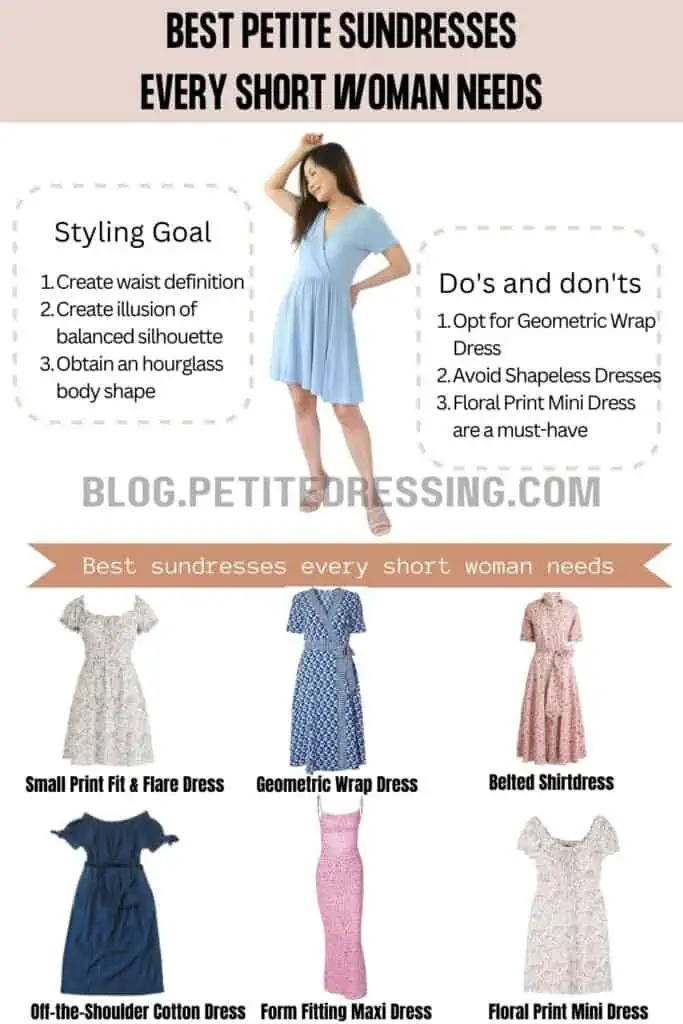 Over the years, I have heard from thousands of my petite customers of all age groups, shapes and sizes on what works and what not so much. As a petite woman myself, I've gone through a range of different sundress styles in search of the best options for petites.
So, below, I'll give you the tried-and-true best tips on what kind of sundresses are most flattering for petite girls.
Small Print Fit & Flare Dress
This is one of the best dress silhouettes for a petite woman, and that explains why these are always the best sellers in my dress collection.
Fit & flare is a classic dress style and because it's often shorter in length, traditionally just above the knees, it's a great option for a petite sundress in warm weather.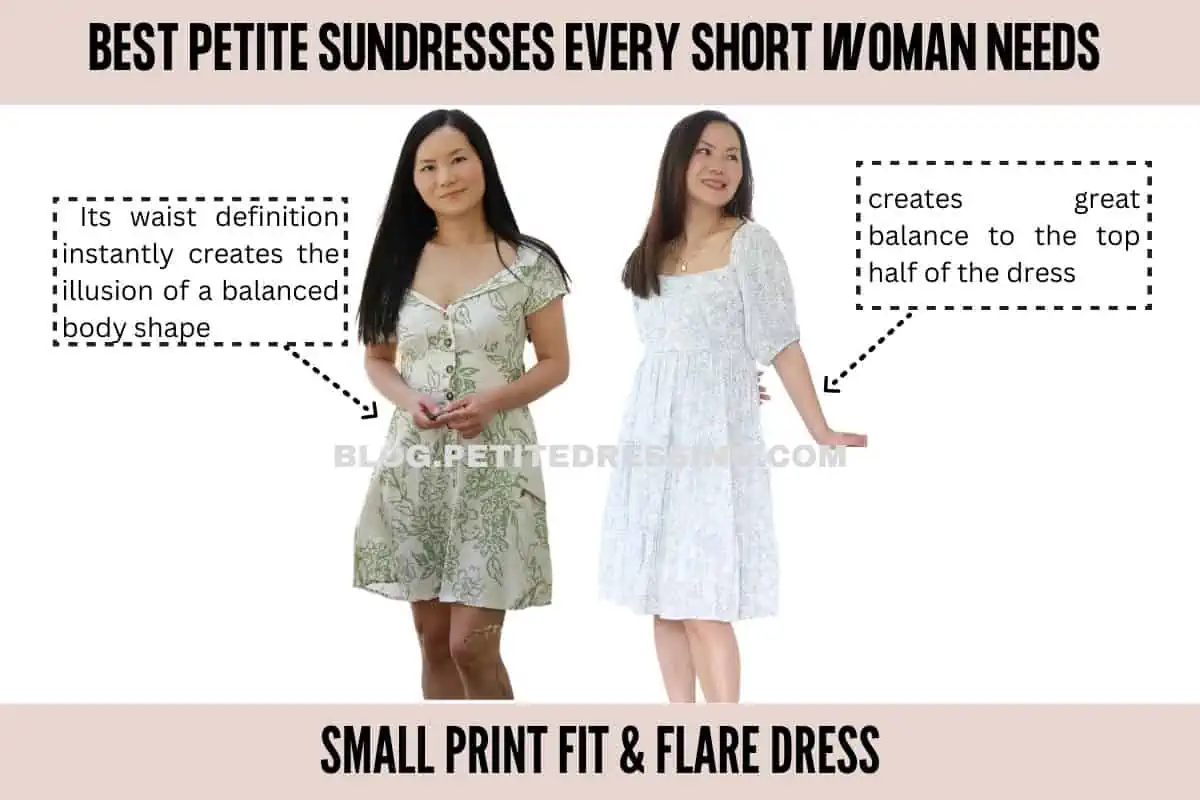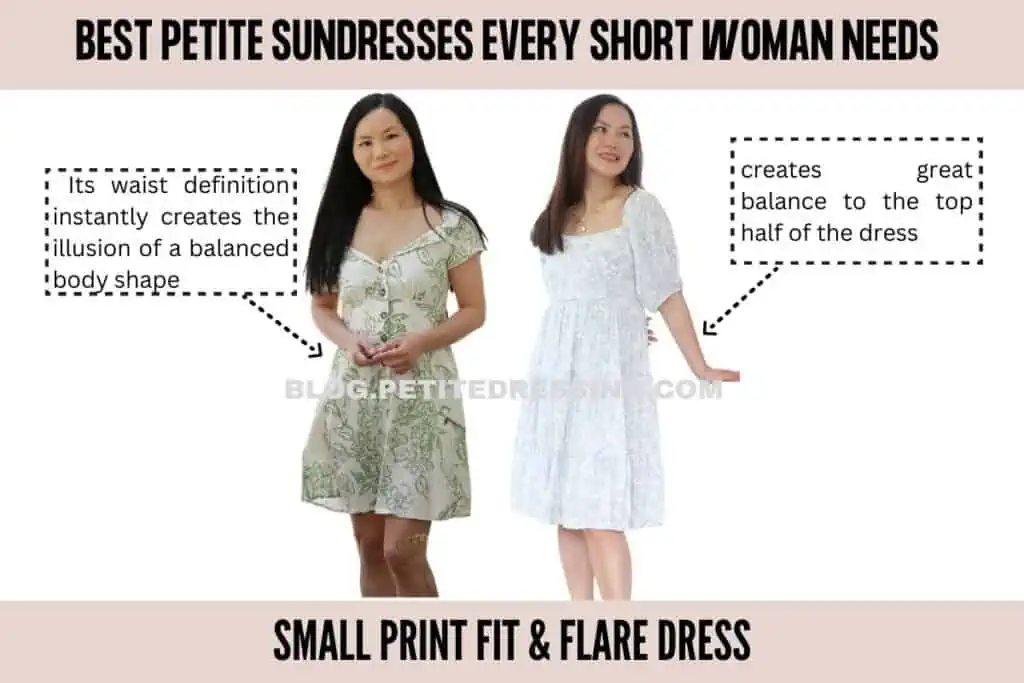 Not only that the length is universally flattering on all petite women, regardless of your body type. The reason fit and flare is such a flattering silhouette is because of the defined waistline.
Its waist definition instantly creates the illusion of a balanced body shape. In addition to the defined waist the skirt is an a-line shape which creates great balance to the top half of the dress. Sounds like a petite woman's dream, right?
Fortunately because fit and flare is such a great dress silhouette for petites there are a lot of petite sundresses that enlist this particular shape. Chances are if you look at a range of petite sundresses you'll quickly find some fit and flare options.
One tip I have when shopping for a fit and flare option is to stick to the petite size selections. The lengths and fit in petite clothing stores will lay much better for you, and hopefully require less (if any) alterations. Other than that have fun trying different fabrics, colors and prints when shopping fit and flare petite sundresses.
Form Fitting Maxi Dress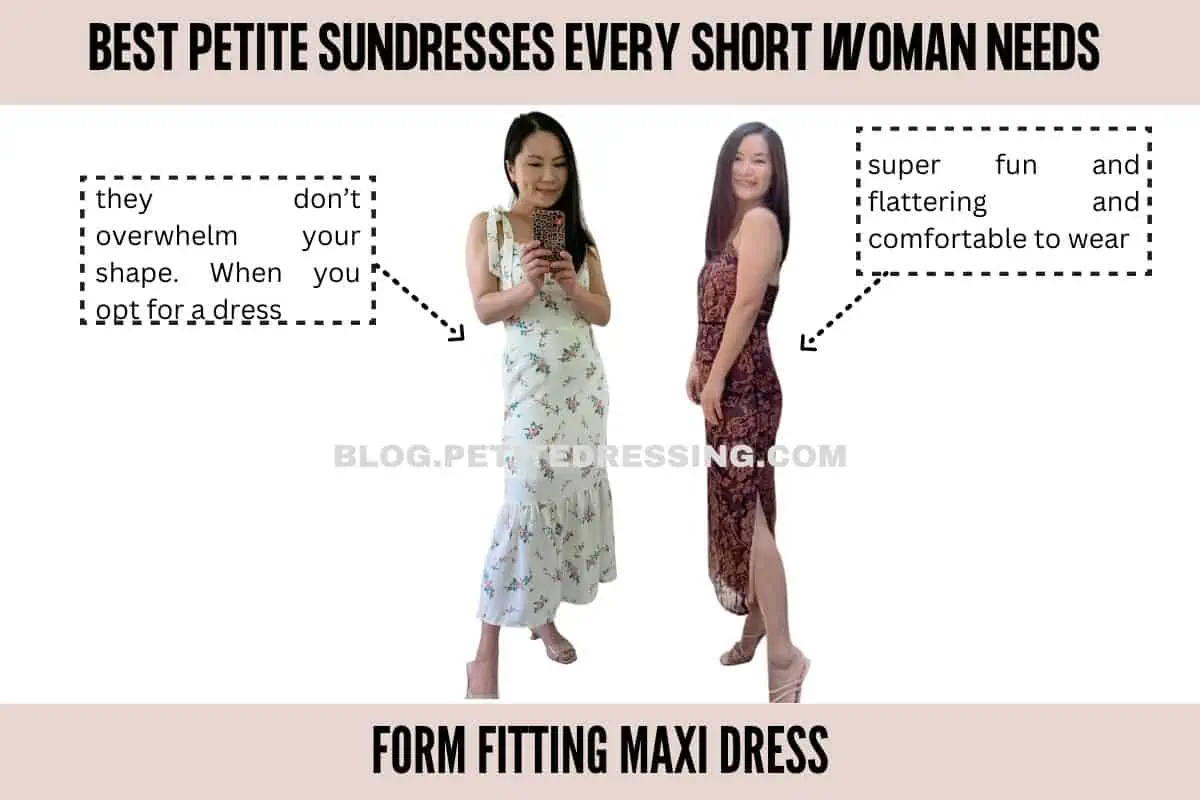 I know as a petite woman you've probably heard time and time again to avoid maxi dresses.
Sound familiar? I thought so.
While there is some validity to the point many make about petites wearing maxi dresses – the point being that it's too much material and overwhelms your frame – there are exceptions to every 'rule.' One of those exceptions happens to be a form-fitting maxi dress.
The reason form-fitting maxi dresses are a great petite sundress option is because they don't overwhelm your shape.
When you opt for a dress that fits closer to the body we can actually see that you're in the dress, instead of the typical overwhelming effect maxi dresses have. (This explains why we have seen so many short celebrities wearing maxi-length dresses without looking swamped by them. )
Maxi dresses themselves are a fun choice for a sundress because they're so comfortable to wear! I'm sure as a petite you're used to wearing shorter-length dresses and skirts and while they're super fun and flattering, there are times you don't want to have to worry about your skirt getting caught in the wind or being cautious when you're moving around. You know what I mean and maxi dresses eliminate a lot of that because of their length.
In addition to the form-fitting aspect, I suggest looking for a maxi petite sundress that has a slit detail on the side. It opens up the shape a bit!
Read our full guide on "How to Choose Petite Maxi Dresses if you are Petite" and "Where to Shop for Maxi Dresses for Short Girls".
Geometric Wrap Dress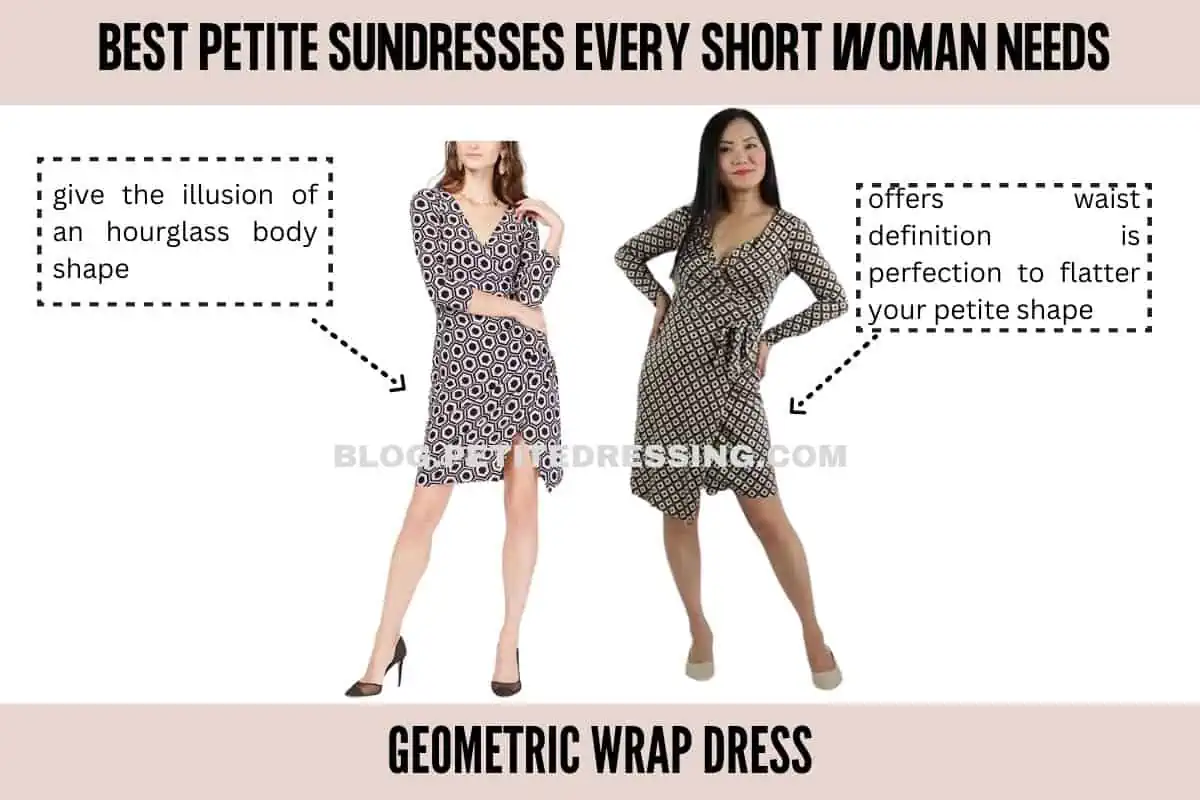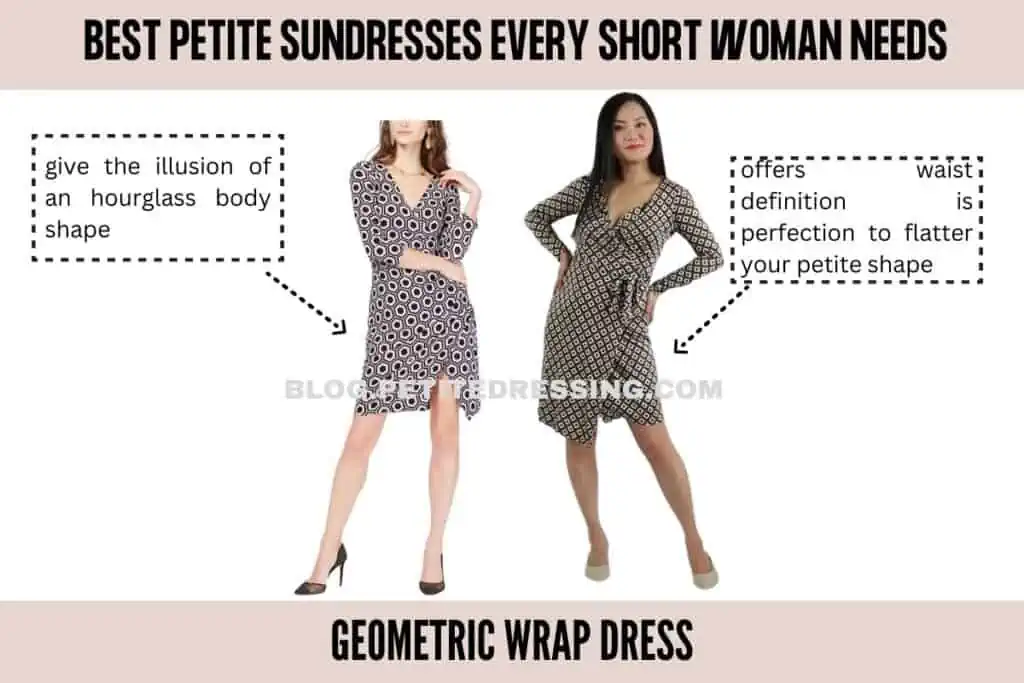 Wrap dresses should be a go to dress style for you as a short woman. The waist definition is perfection to flatter your petite shape. Not to mention they give the illusion of an hourglass body shape, even if you don't naturally have that.
If you're thinking of trying a petite sundress in a wrap silhouette there are a lot of options out there.
The most important factors to keep an eye on for this petite sundress shape are the length, neckline and print. It's common to see wrap dresses in prints and patterns. Much like the dress silhouettes themselves, prints that are too large can overwhelm you. Keep the size of the actual print on the smaller size to avoid this. In terms of the length, keep it just above the knees for the most universally flattering length.
Belted Shirtdress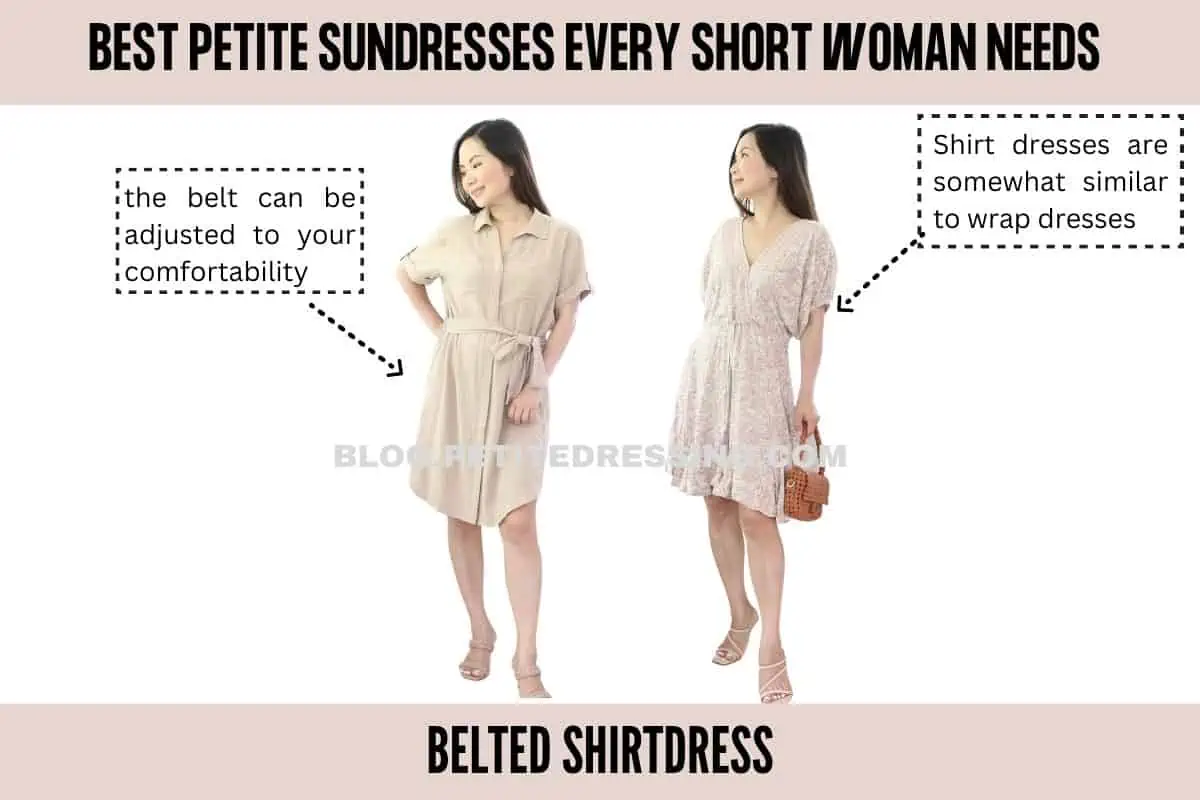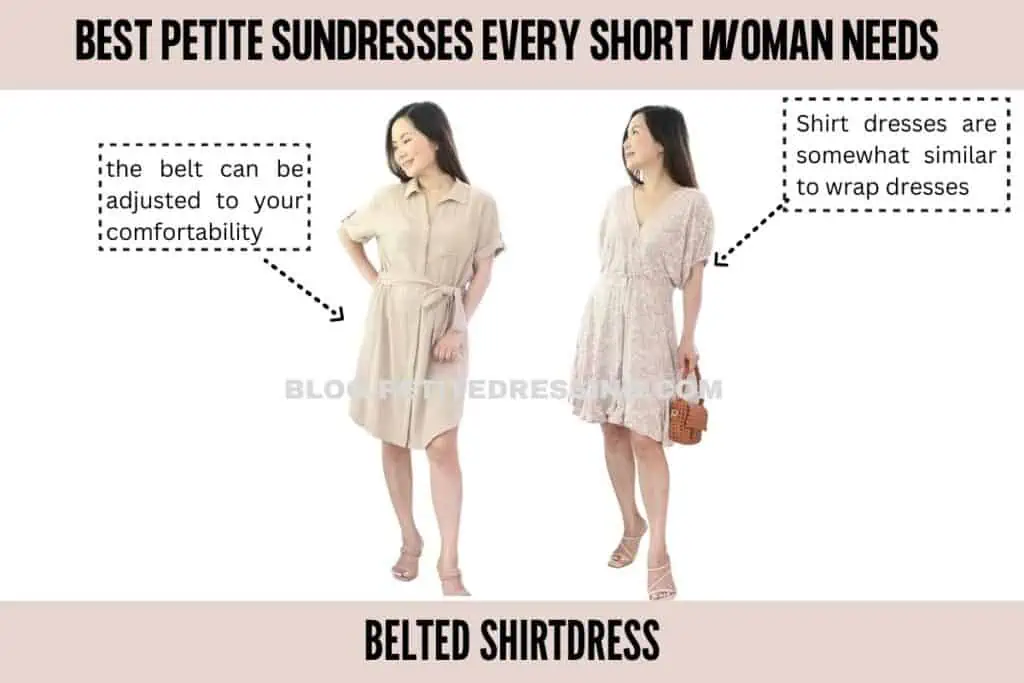 Shirt dresses are somewhat similar to wrap dresses but have some attributes that make them different. Most commonly, the collar and fabric in a shirtdress. This dress style is fun because it's easy to dress up or down, you can even take this type of petite sundress to the office when styled right! That's why they're such a great petite sundress option…versatility is key.
You will want to keep the typical petite styling tips in mind when shopping for a petite shirtdress – length, print size, and neckline. Now, because shirtdresses are often designed in fabrics that aren't very flowy (typically they're much stiffer in texture) proper fit is essential. When a fabric has a lot of structure on its own, like many shirtdresses do, if the fit isn't right it can look like the dress is wearing you. It's not uncommon to need a bit of tailoring on shirtdresses even if you're buying from the petite section because it's a very tailored look.
Off-the-Shoulder Cotton Dress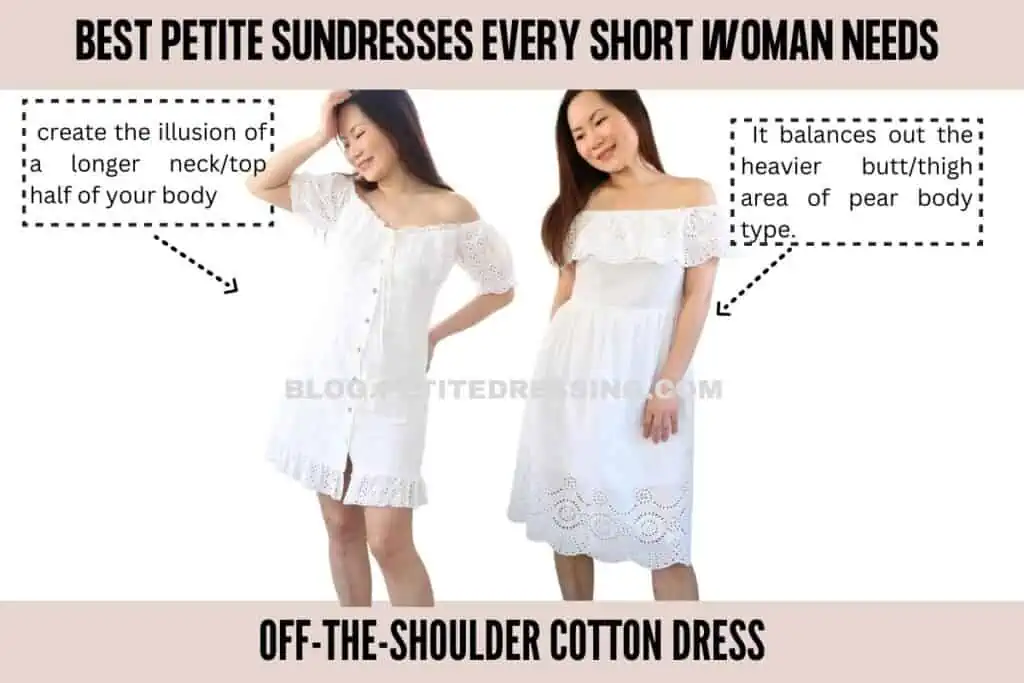 There's something about off the shoulder dresses that are always so fun and stylish for the warm weather time of year. More than that, off the shoulder is one of my favorite necklines for a petite woman. Why? Great question! Off-the-shoulder necklines create balance in your petite shape and create the illusion of a longer neck/top half of your body. Talk about a benefit, right?
Off the shoulder is a universally flattering neckline, regardless of your petite body type. If you happen to be petite pear shape, then it is one of THE most flattering dress for you. It balances out the heavier butt/thigh area of pear body type.
It's likely you're going to see quite a few petite sundresses with off the shoulder necklines this season because it's a pretty big trend that's continuing into this summer. To keep your petite frame highlighted, avoid off the shoulder sundresses with exaggerated ruffle detail at the shoulders. This isn't to say you can't have any of the ruffle, just make sure it isn't too large that it overwhelms your shape – starting to see a theme here? Another tip is to look for off the shoulder petite sundresses in, well…the petite section. The petite specific dresses will likely fit you better not just in the length, but also the sleeve/shoulder area.
The fun thing about off the shoulder dresses is they come in varying lengths. I recommend opting for a length that's above the knees or floor length (as long as it fits closer to your body).
Floral Print Mini Dress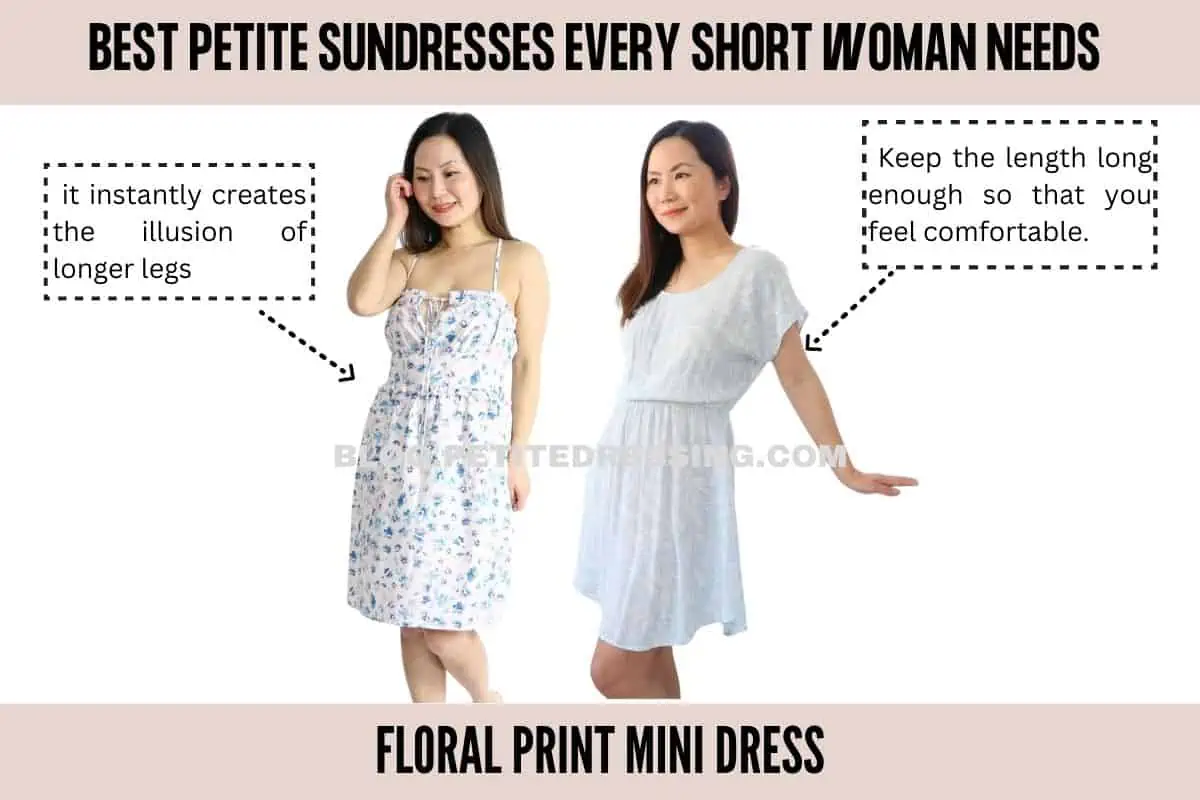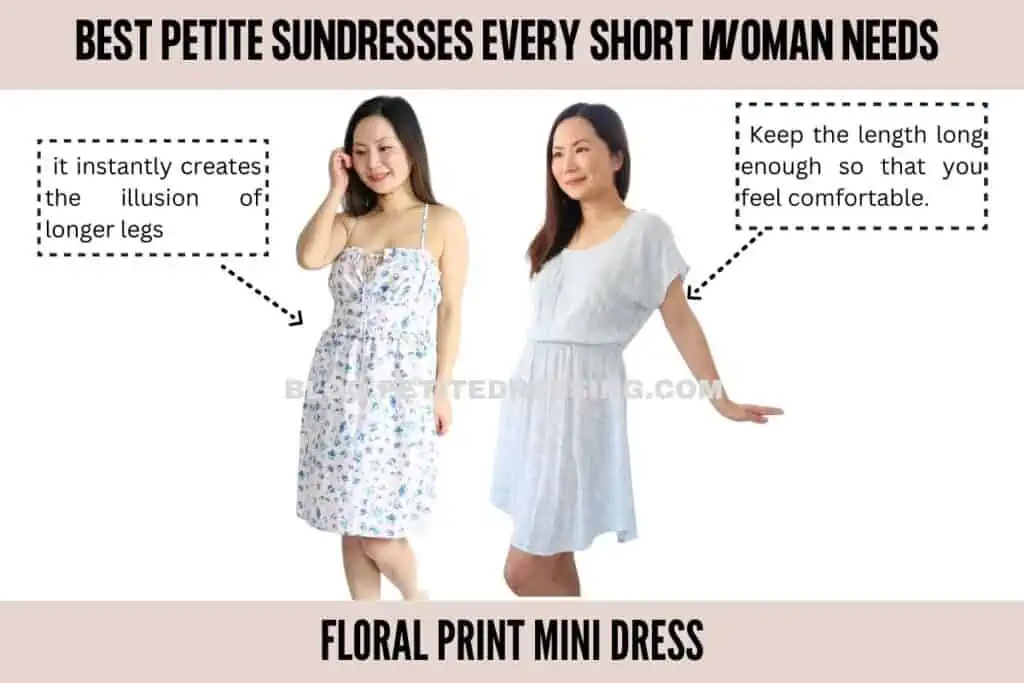 Oh the ever beloved mini dress! Petite women rejoice at the idea of a mini dress because it's like this style was made for us.
We can pretend it was, right? Right. Anyways, mini dresses make for a great petite sundress option because they're ever-flattering for your height. If you are ever wondering how to look taller (most of us short girls are), put on a mini-dress! Whether we want to admit it or not, we look better in shorter lengths when it comes to dresses. When you see more of your leg it instantly creates the illusion of longer legs which means it makes you look longer.
Mini dresses are a big trend this year so fortunately for us we'll be on trend and flattering our shape. Doesn't get any better than this. When selecting a mini petite sundress just make sure it's not TOO short. While we're all about showing off a little leg you don't want to feel like you can't go about your daily activities without fussing because the dress is just too short. Keep the length long enough so that you feel comfortable.
Solid Tank Dress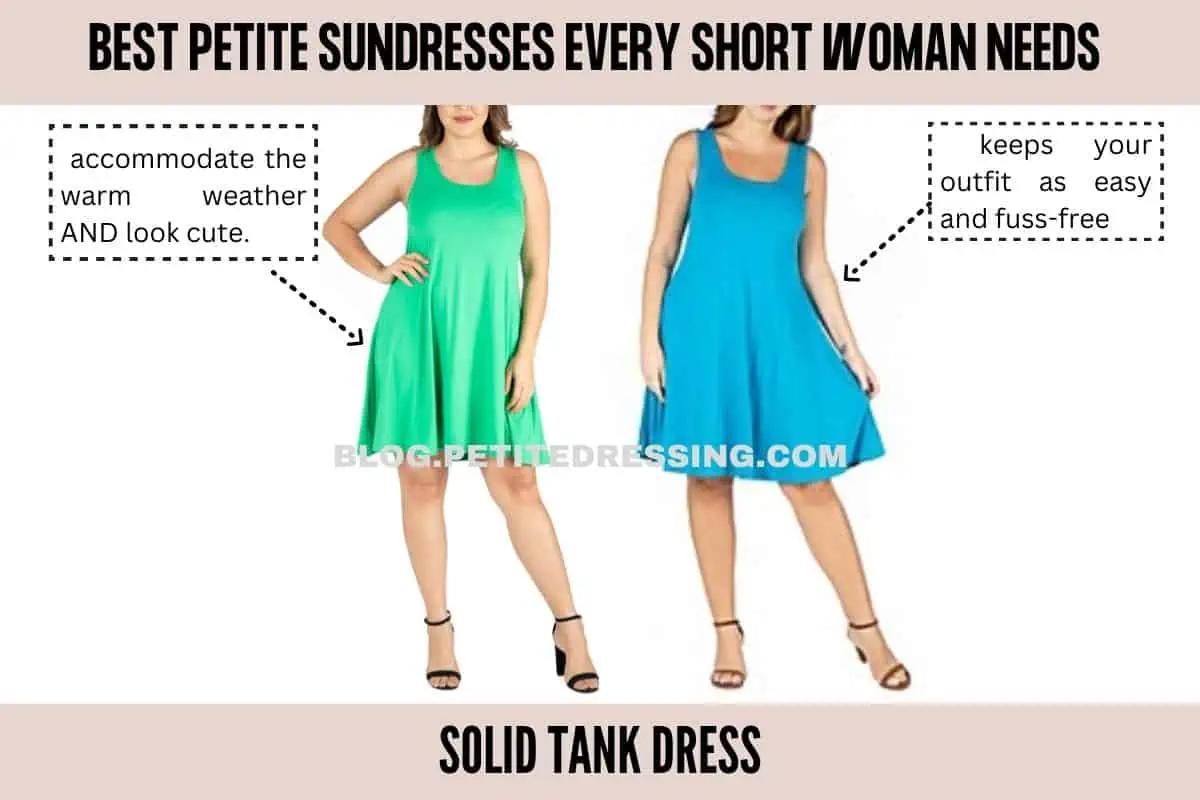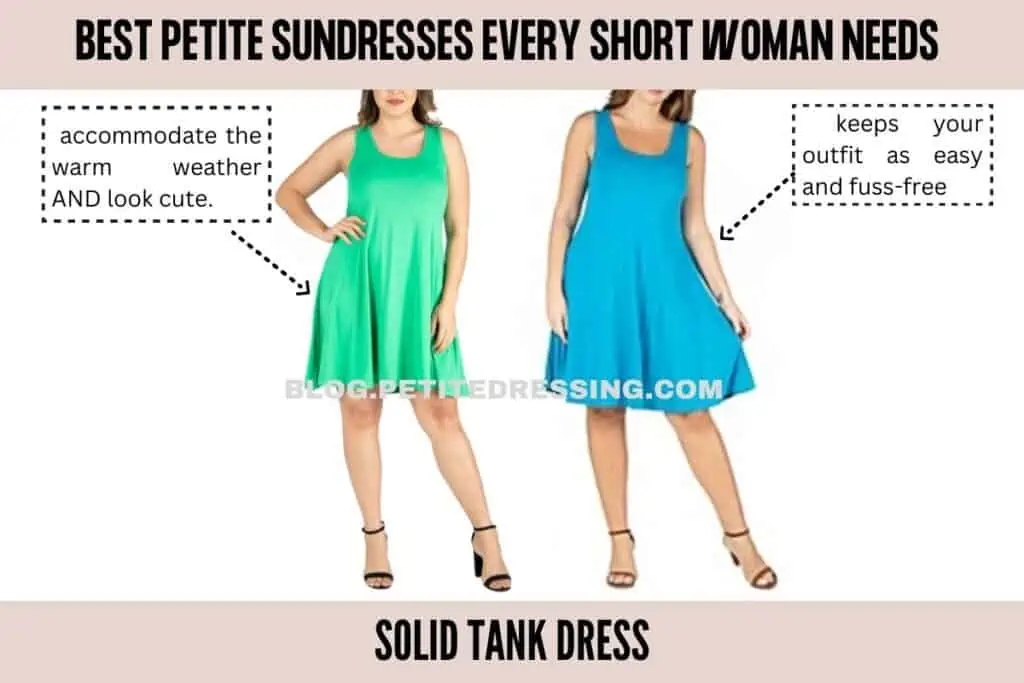 As the temperatures rise you're going to want some petite sundress options that accommodate the warm weather AND look cute.
Tank dresses are a big trend this season and happen to be an awesome option for petite women.
That being said, many tank dresses you will see this year don't have a lot of shape on their own and really fit into that casual summertime vibe.
They are awesome for the warm, humid days when you want to keep your outfit as easy and fuss free as possible however it's essential that if you do opt for a tank dress that's flowy in shape that it isn't too long.
Avoid Shapeless Dresses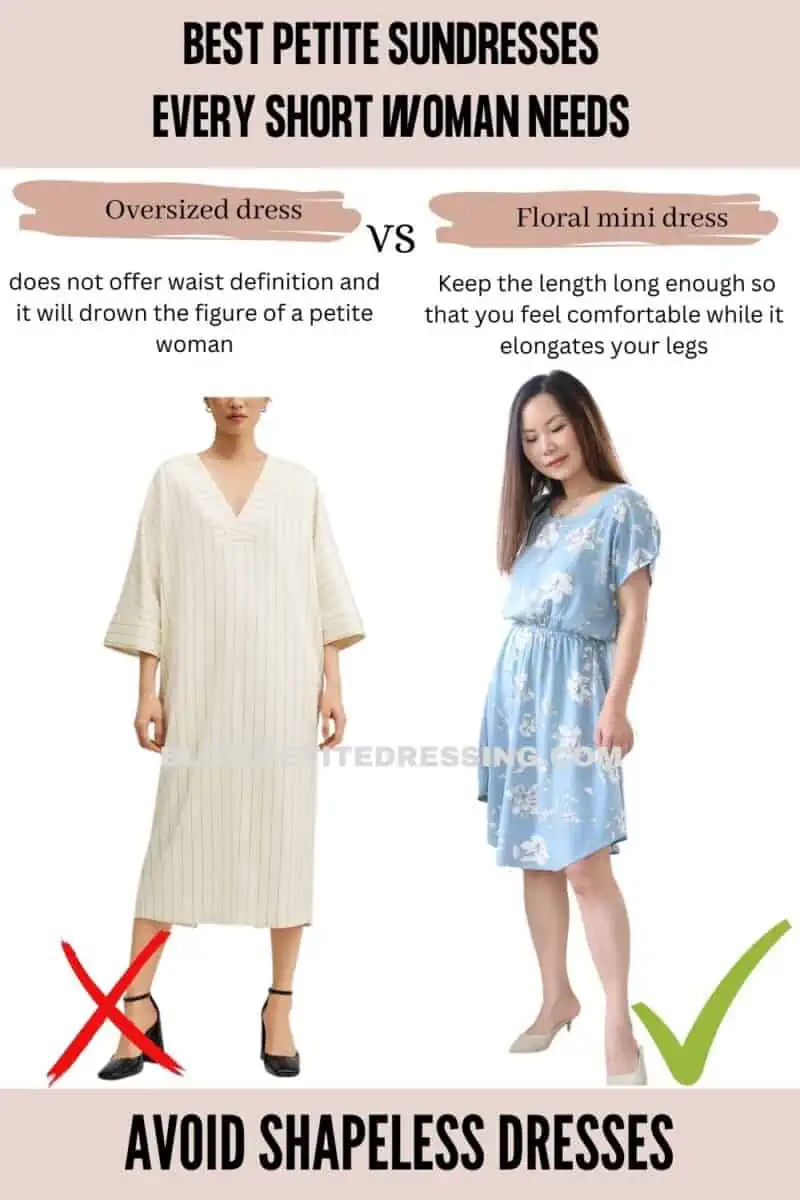 Shapeless is not great for a petite woman. Keep the length above the knee so that you can still flatter your petite shape in your tank dress. This is a great petite sundress option for your weekend wear when you just want to throw something on and go.
The good news is there are plenty of petite sundress options for you to have fun with and fully express your personal style. Whatever your style, there's a petite sundress with your name on it. Now that you know the best petite sundress styles to look for it's time to start shopping!