In Petite Dressing boutique I often get questions from customers who are petite with large bust and small waist. They told me they are frustrated for years because they don't know what they should wear and cannot find anything that fit them.
At first, I was honestly shocked. Did you just complain you are a perfect hourglass shape? I thought that what every girl wants! I mean, hello, who doesn't want the shape of Elizabeth Taylor?
While every other girl is jealous of your well endowed figure and tiny waist, it turns out being petite with largest chest does make it harder for you to find clothing than petites with average cups (like B). Dressing the hourglass shape casually typically is a challenge, and it gets double hard if you are also short.
This picture is Grace, petite blogger, wearing the little black dress (the Juliana dress) from Petite Dressing. Grace is 5'2″ with large bust. Before the collaboration, we discussed back and forth on what looks best on her and she eventually picked this empire waist line fit and flare dress which she was very happy about.
Other girls may not understand the frustration of petites like you with large bust, but I know these are what I hear the most from our blog readers and store customers. They may sound unfair but you just have to come to peace with them.
The unique challenges
First, petite women generally have shorter torso and many have short waist. That combined with big boobs can easily create the impression of top heavy.
Second, girls without boobs can wear a tube top and look totally chic, but if you are a petite girl with large chest- the same outfit can look slutty on you.
Also, skinny girls can get away with cheap clothes much better than curvy girls. What that means you might have to envy your best friend who just got a ton of bargains from H&M but there's nothing you can get from there.
And, if you are lucky enough to be in the fashion industry- I'm sorry but they do prefer models who are flatter (I know this sounds just ridiculous!)
The list goes on and on, and that's why I put together this post today to help you look at the best styling tips for girls on what to wear if you are petite with large chest.
Which Celebrities are Petite with Full Bust
It's great to have style role models and to try and replicate or be inspired by someone's style, but think about whether or not that person has the same body shape as you. There is plenty of celebrities are petite with large chests, Scarlett Johansson and Salma Hayak, to name a couple.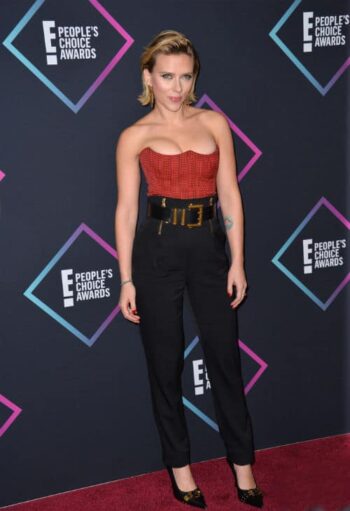 They are both considered the ultra feminine style icons of Hollywood, and there's a lot of styling tips you can learn from them.  You don't have to necessarily copy what they wear, but you can tell pretty easily what works on them and what doesn't.
The fundamental principal to style girls who are petite and busty is to highlight your waist. The best way for a girl to really look slim is to define her shape in the most flattering places, not obscure it.
You are blessed with the bombshell hourglass shape, show it to the world. Look for anything with a super defined, waist-hugging shape. Show your natural slender waist, so there isn't an optical illusion that your stomach is as as big as your breasts are.
This post may contain affiliate links, which means we earn a small commission (at no cost to you) if you follow the links and make a qualified purchase, which enables us to keep creating amazing free content for you. Thanks! Click here to learn more.
Let a supportive bra set a good foundation
First and foremost, before we get into any styling tips, it goes without saying wearing a decent bra is critical for petite girls with larger chests.
These are my top picks of minimizer bra, because they are designed for women with big chest.

A supportive bra is a must have for you, before you consider that you should wear on top.
Obviously, it will help you lift your bust
It will give your upper half the right proportions
It can even make you look slimmer
When your chests are supported well, your posture will improve.
Choose the better neckline for your body.
V neck or boat neckline are universally flattering, and they look good especially on girls with big chests.
Everybody can look great in a V-neck, because they elongate your neck and make your face look slimmer. The key to wearing this classic, versatile neckline is to choose the depth of the V that best fits your bust size.
If you are a petite girl with larger busts, a lower neckline also helps balance your silhouette.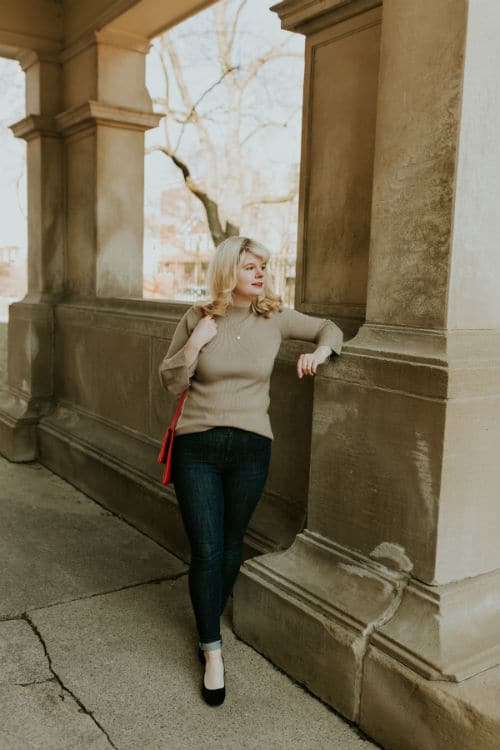 On the other hand, high neck will make your chest look even bigger. The reason is it puts your bust at the front and center, so it is almost impossible to notice them- not that it's bad for them to be noticed, but your goal is to balance it out and avoid looking disproportionate.
A secret weapon nobody told you
Did you know that 3/4 sleeve can make a petite woman's legs look longer?
If you are short, this is the best sleeve length for petite women. They can effectively make your legs look longer. Surprised? I know, and I haven't found a scientific explanation for that yet. But, if you stand in front of the mirror in three quarter sleeve shirt or dress, you will know what I'm talking about.

If you are short with bigger chests, sweaters like these (both are petite sizes from Nordstrom) draw attention to your waist and make you look more balanced.
Intrigued? Try it yourself today!
Master the skill of tucking.
One of the most common complaints of girls with big breasts is that shirts are not spacious enough in the front. Therefore, many busty girls tend to purchase shirts one size bigger than normal size, in order not to feel restricted in the chest area.
That sounds natural to me. I mean, who wants to feel restrained in the chest and can't move their arms around freely? But, going with a bigger size shirt could cause another common issues because of your height- if you are petite, the shirts tend to be too long for you.
Both can be resolved beautifully by learning the art of tucking in your shirts.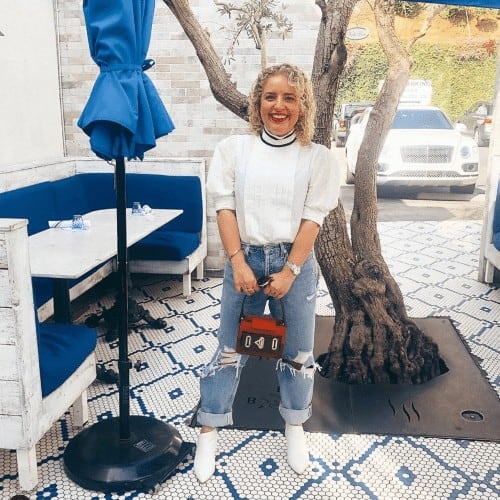 Petite girls typically have shorter torso than taller girls, so you don't really want anything to do with bulkiness. Tucking in baggy shirts is a great way to highlight your waist and make sure the fabric fall nicely on your body and isn't too bulky.
Another plus of tucking in your shirt is it will section your body beautifully, creating the illusion of longer legs. On Petite Dressing blog, I have talked many times about how important proportion is for us short girls – it really is all that is for girls who want to look taller.
If you are wearing pants or jeans, the rule of thumb is to not hide your zipper. By tucking in your shirt, you can create the beautiful balance of your top and bottom.
Wrap tops and dresses are heaven sent
I can't think of a more flattering dress design than the wrap.
In 1970s, Diane von Fursternburg created this design that has become the wardrobe staples of many women, regardless of their height, weight and body type. Even in petite style icon Victoria Beckham's book "That Extra Half an Inch", she mentioned the wrap dress as a must have and can't imagine what it was like before the wrap was invented.
It is a universally flattering design, and it is especially a heaven sent girls who have a curve, because it hugs your body at just the right places and bring attention to where you want it.
If you are petite with bigger chests, wrap tops and dresses pull the fabric in at the skinniest part of your waist, drawing the focus to your waist without adding any extra volume to your bust.
If should go with fabrics with good amount of stretch, so that it can adjust itself to your smaller waist and won't look like it's about to bust at your chests.
I myself am an official "addict" of the DVF wrap dresses kike these.

I wear size 0 or P, depending on the style. I own more than 30 pieces in my closet, which I bought in the last decade. They fit me like a glove, without having to make any alteration.
The best pants for you
Wide-leg and boot-cut styles like these from NYDJ petite selection look the best on you.

These are also the most flattering pants for petite girls in general, because they visually elongate your legs.
For girls with an hourglass shape, the flare keeps the bottom portion of your leg in balance with your wide hips. This also creates a longer, slimmer appearance for your legs.
See petite blogger Carly in our famous white flare jeans. Carly is 5'3″ and hourglass shape.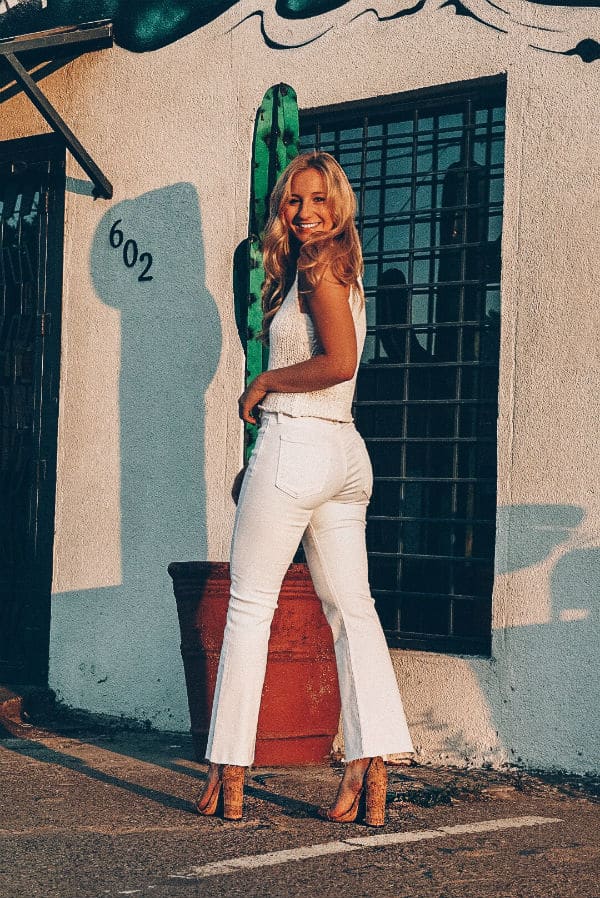 Avoid high rise if you have a short torso
In general, we advise short girls to go with high rise pants or high waisted jeans. The reason is they extend above your natural waist line and make your legs appear longer. However, high rise also bring the focus up and closer to your chests. So, if you are short and have big bust, high waisted pants could look like a disaster.
Go with simple design in front of your chest
If you are petite with big chests, you already are drawing people's attention to your chest area. I don't think you need to hide anything, but simple designs in front of your bust probably serve you better and balance it out. Here is petite blogger Allison Berger (5'2″) in our bustier design navy dress. The simple and clean cut dress outlines her curves without drawing too much attention to the chest area.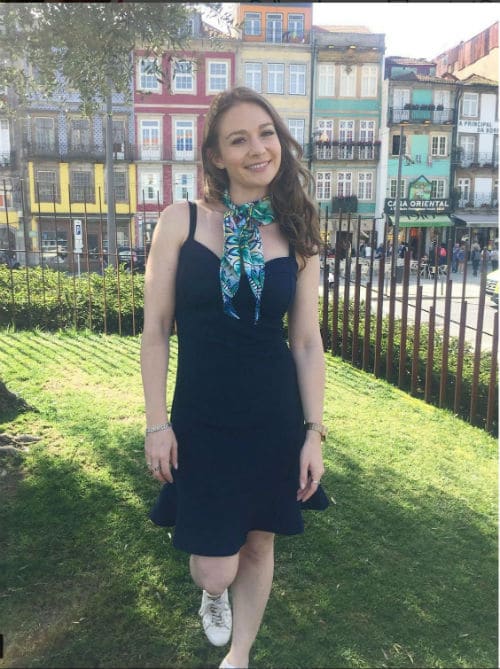 Stay away from ruffles, bows, and other dimensional details that add volume to your breast area. . If placed at the bust, these details may make you look top heavy.
Also avoid accessories like brooches or statement necklaces that reach your chest, because they bring attention to wherever you wear them, which means your chests will become the center of focus.
Not all empire waist is created equally
A lot of women with big chests ask if empire waist looks good on them. The answer is it depends.
An empire waist dress is one with waistline placed above the natural waist, sometimes right below the bust. For petites it sounds ideal because it raises the waistline up, so raises the eye higher on the body, which means your torso and legs suddenly seem much longer and you look taller.
However, this design also raise the focus to bust level. if you do not want your chests to become the center of attention, then you want to be selective with empire waist dresses.
If the fabrics are billowy, it could make you look like you are trying to hide something under the dress. Or, it could make you look like a pregnant woman.
Look for A-line shape with empire waist , ideally with a wider waistband to define your shapely curves and emphasize your waist.
No cheap stuff, please.
I mentioned this earlier, and I know it sounds a bit unfair to girls with bigger chest.
Cheap, thin fabrics are going to look even cheaper and thinner on those of with larger chests since they stretch out over your breasts in a way that's less than flattering.
If you can, try and go for higher quality, especially when it comes to thin T-shirts or knits.
Create a column of color to elongate your petite frame
This is the last point of this post, but it could be the most important one that you need to know. For petite girls, it is a must to elongate your petite frame.
It doesn't necessarily have to be because you want to look taller. I understand there's petite girls who are happy with their height and are not interested in changing that. However, whether you want to look taller or not, the point for you is when you look longer and leaner, the center of attention will look more balanced instead of being on your chest.
There is so many ways to achieve it. Almost my entire blog is dedicated to this topic. For starters, read my post on "6 Tips on How to Look Taller"
The key concept here is to create a column of colors vertically. That will draw eyes up and down and create the illusion of height.
Here's some simple tricks that always work, but to get the full read, please visit the styling tips section of my blog.
Wearing monochromatic colors from head to toe creates a vertical column of colors. That doesn't necessarily mean you have to wear the same color top and bottom, but they should be from the same color scheme but different hues. For instance, blue and navy, beige and yellow.
Wearing maxi dresses can also make you look longer and taller. Don't be intimidated by maxi dresses just because they seem to be designed for tall girls. They are actually one of the best designs for petite girls because of the lengthening effect.
Heels is a must for petite girls. Matching the colors of your shoes with your pants works wonders on short girls. If you are wearing a dress in spring or summer, pair it with nude color pumps to make your legs look longer. If you are wearing a dress in fall or winter, wear black leggings or stockings with black boots will make you look taller.
Everything else you need to know!