It's not easy to find special occasion dresses that fit petites, let alone if you are Mother of the Bride.
I am 5'2″ myself, and I have a petite clothing line for women 5'4″ and under. I constantly get requests from my customers who are looking for dresses to wear on the wedding day of their daughter. That is what prompted me to put together this complete guide to help all of you going through this search.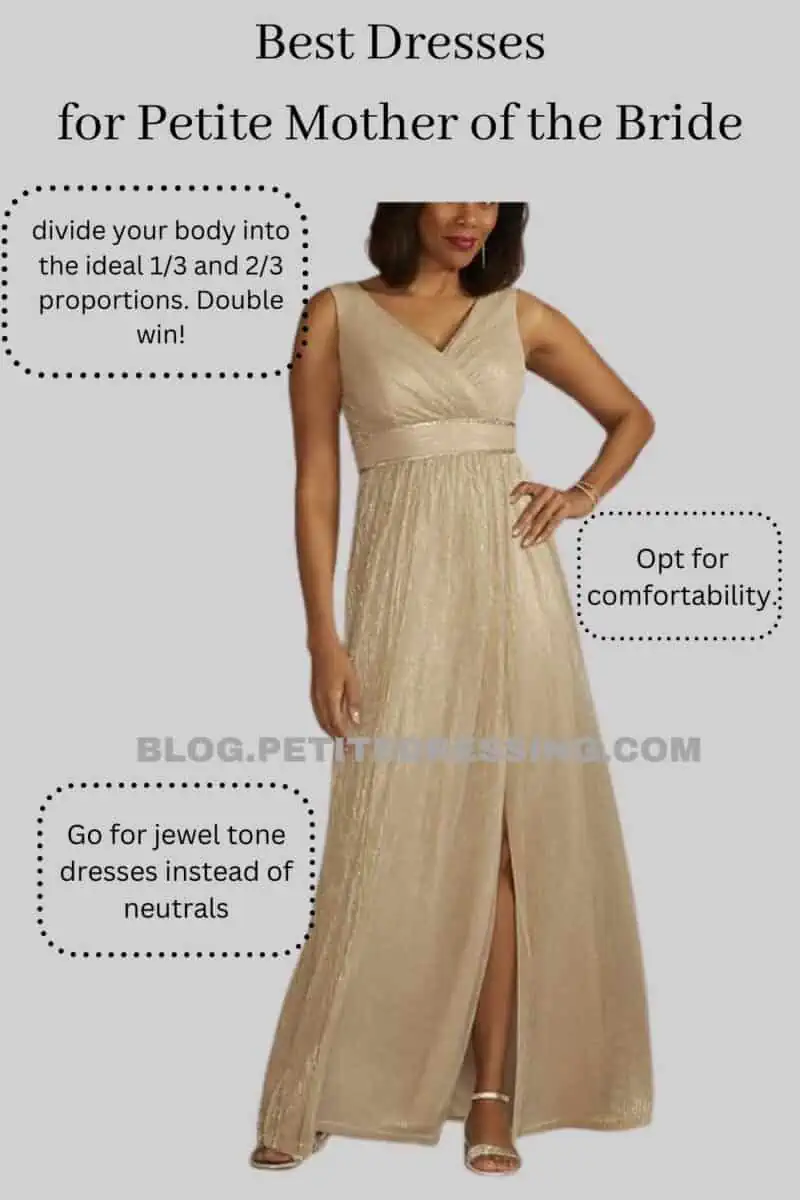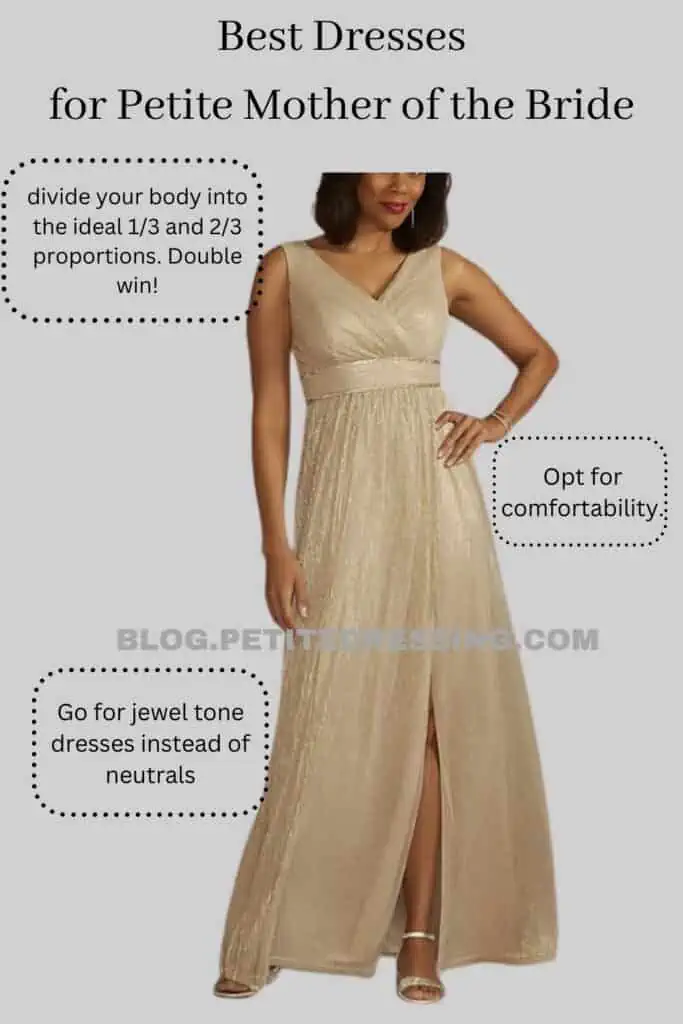 SILHOUETTE
Petite women have shorter frames and less to work with. The most flattering mother of the bride dresses for are those with simple and sleek silhouette to complement your natural figure.
Based on the feedback of thousands of my petite customers, below is the most universally flattering dress silhouettes no matter what body type you have.
A line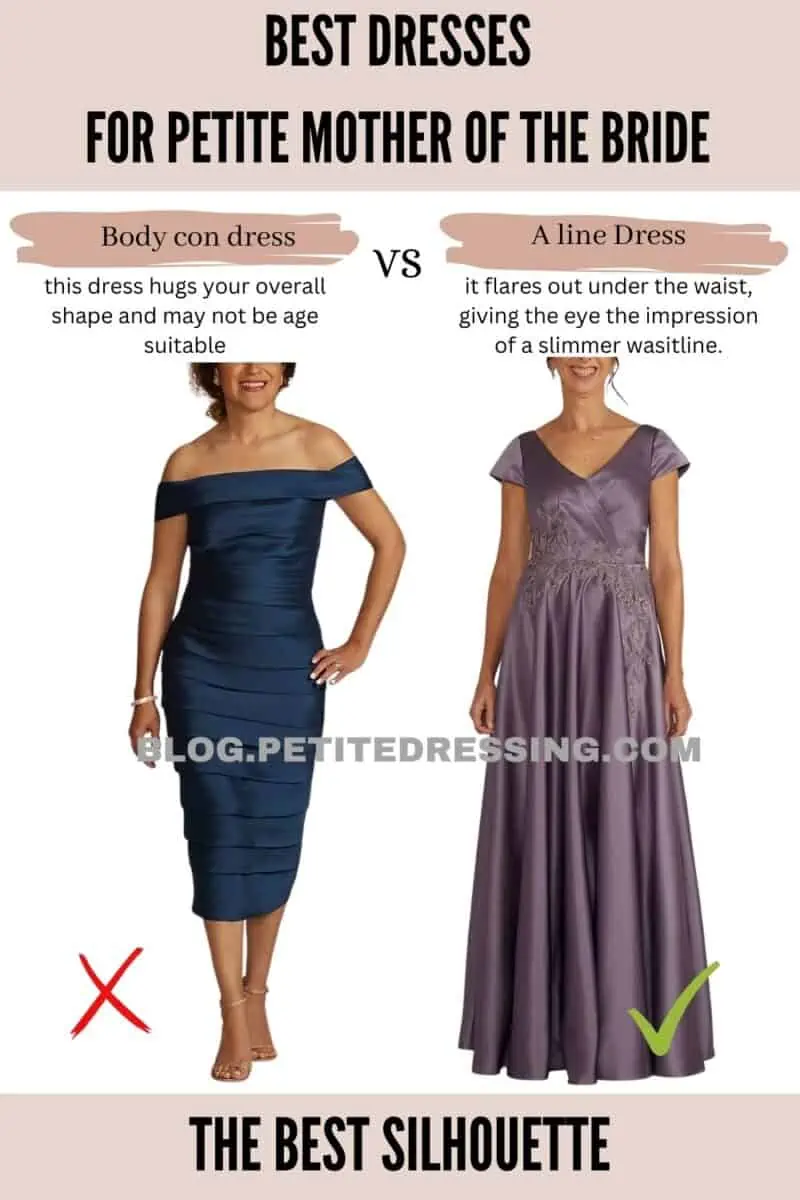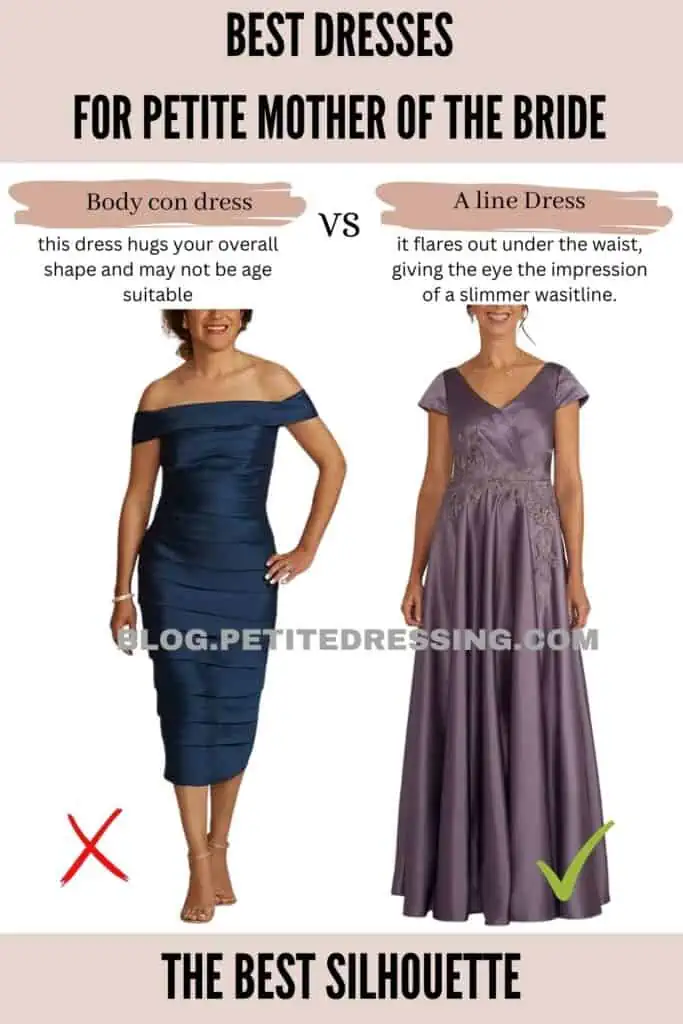 This is the universally flattering silhouette that works for just about any petites, especially if you want to make your waist appear slender (who doesn't BTW?)
As you go through life, your body may have gone through a lot of changes and rounds of weight fluctuations. Like everyone else, you may have gained weight compared with your 30s/40s, and that's why the A-line shape of the dress is so helpful.
Since it fits snug on your top, it hugs your curves nicely, and then it flares out under the waist, giving the eye the impression of a slimmer wasitline.
Sheath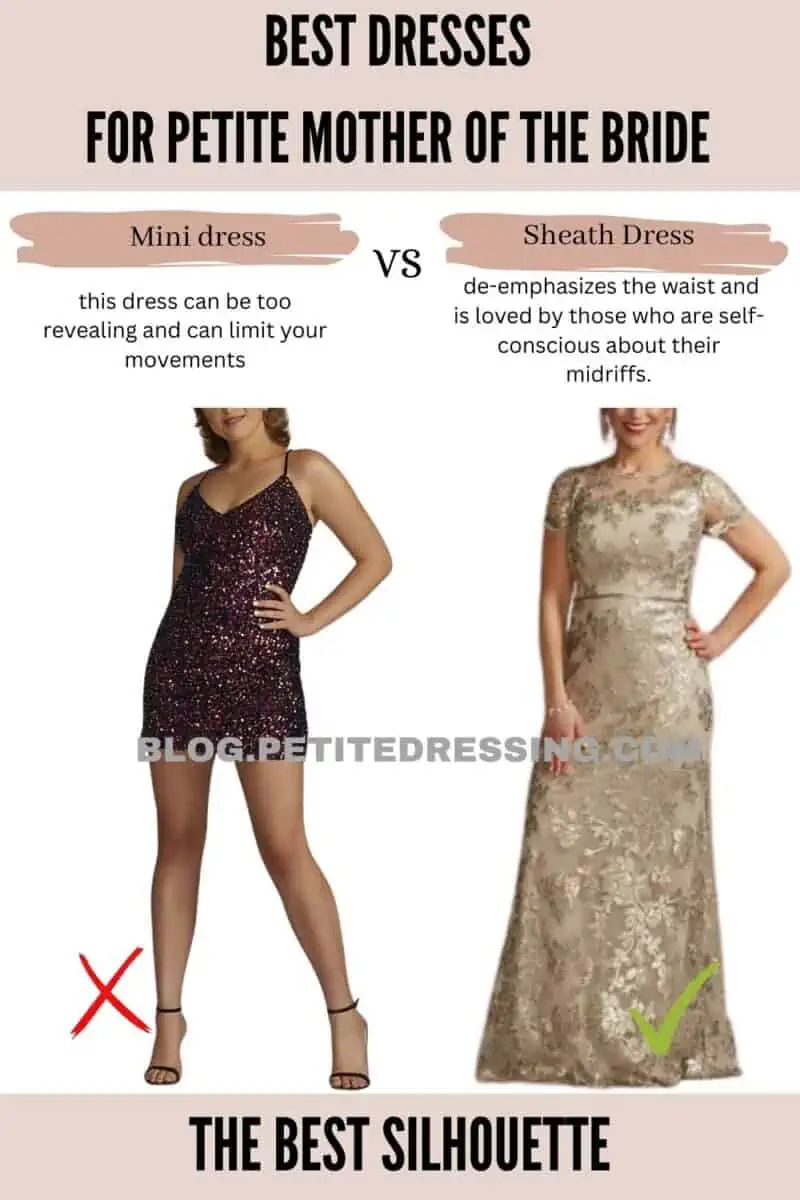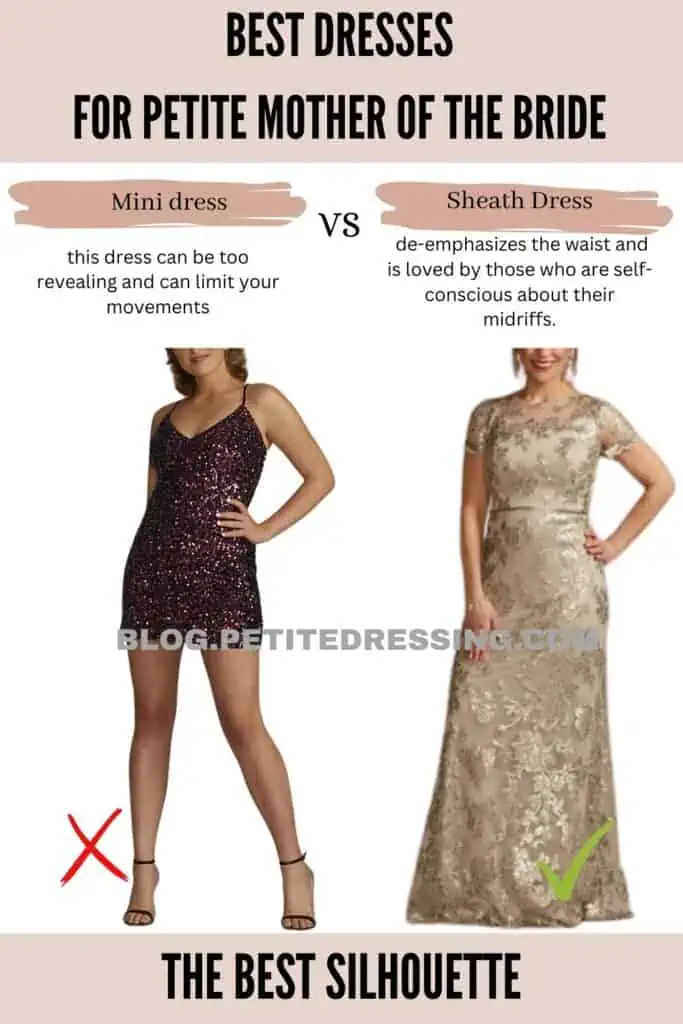 The shape of the sheath dress goes straight up and down, which de-emphasizes the waist and is loved by those who are self-conscious about their midriffs.
If you choose to wear a sheath dress, you can either go with the knee length, or longer length that reaches your ankle.
Trumpet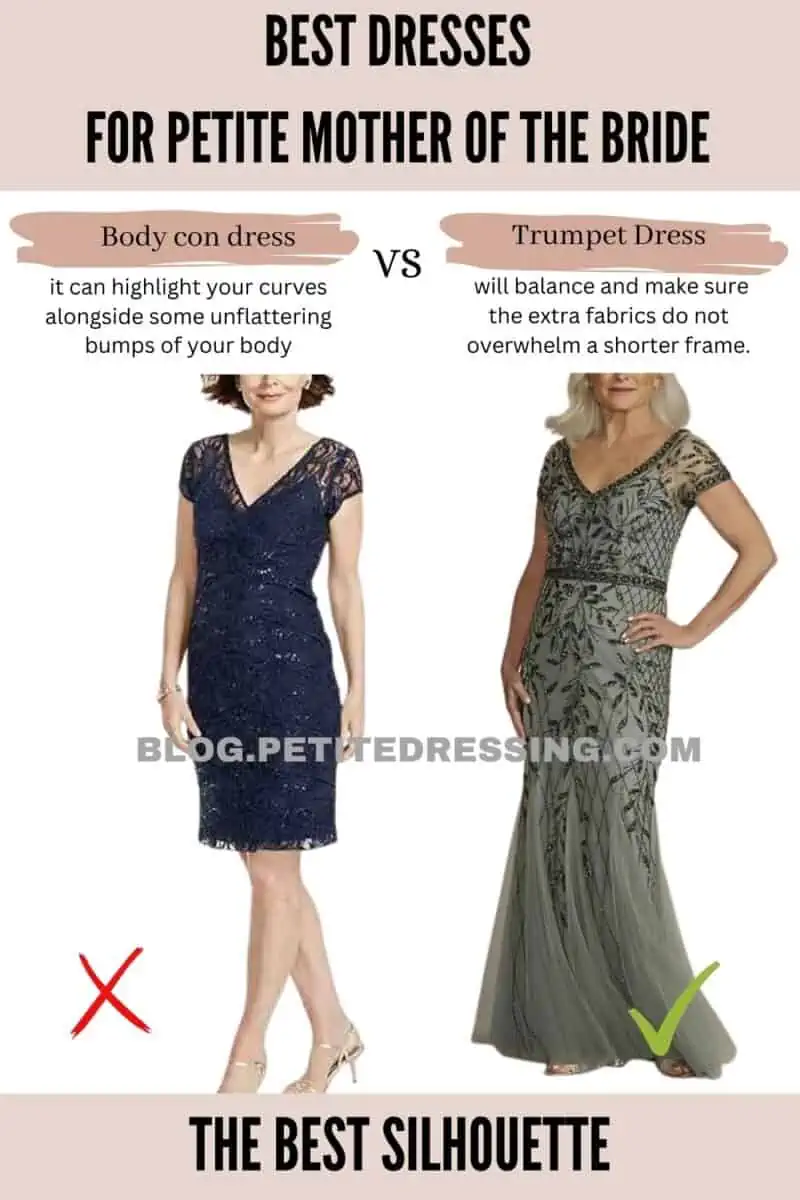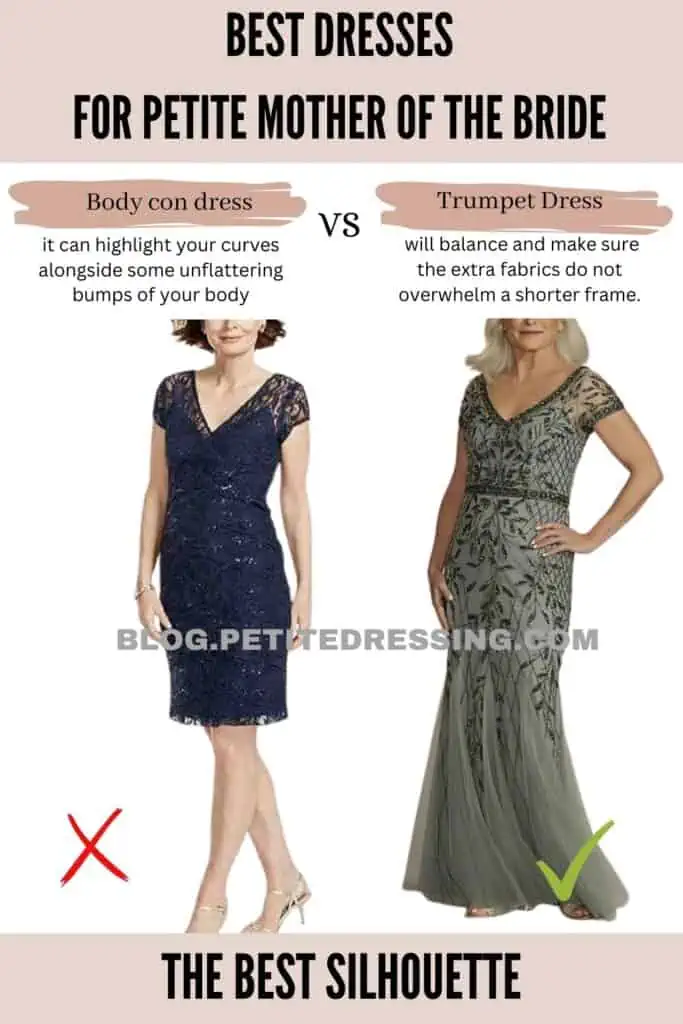 This is the type of dress that accentuate your curves. If fits snug on your upper body and hips, and then it flares out under your knees.
If you go with this silhouette, I recommend a longer length that reaches at least your calves.
Because trumpet style carries extra volume in the skirt, a longer length will balance it out and make sure the extra fabrics do not overwhelm a shorter frame.
Avoid anything complicated
If you go with something overly complicated, you will easily get overwhelmed and it may look like the dress is wearing you.
Stay away from loads of stiff fabrics and tons of beading.
Empire waist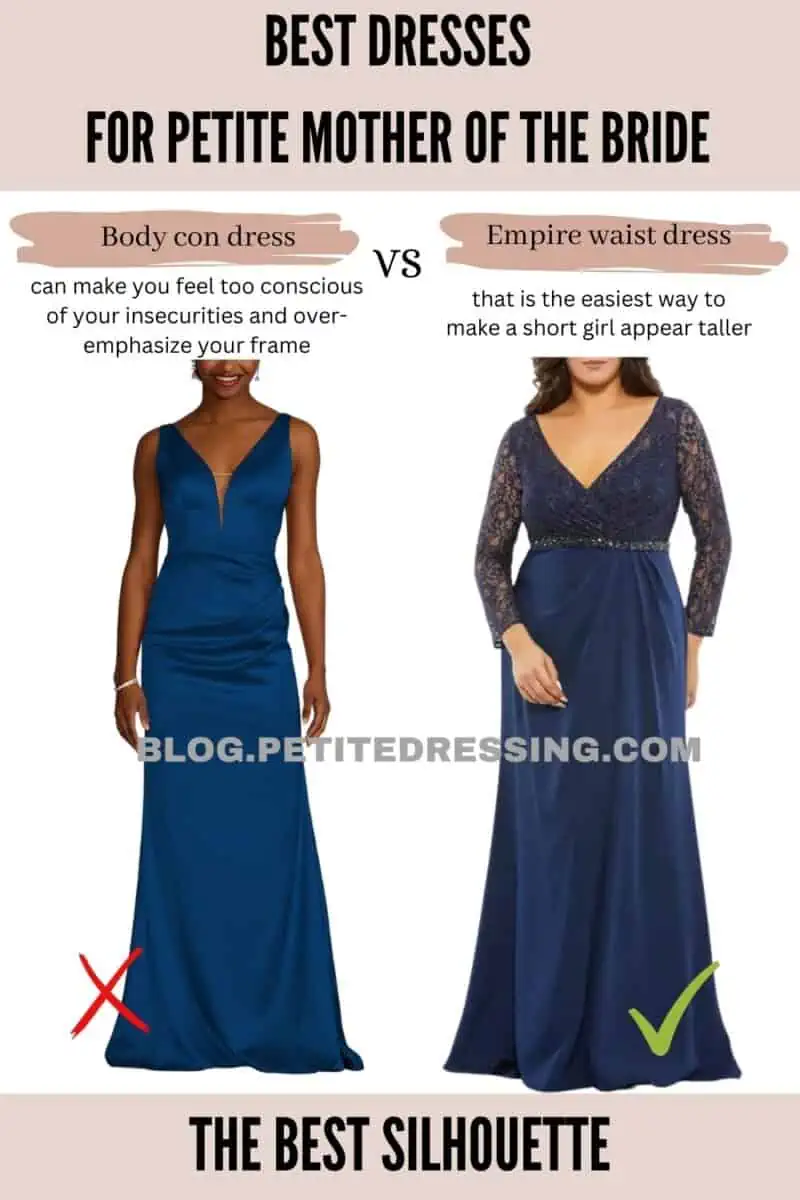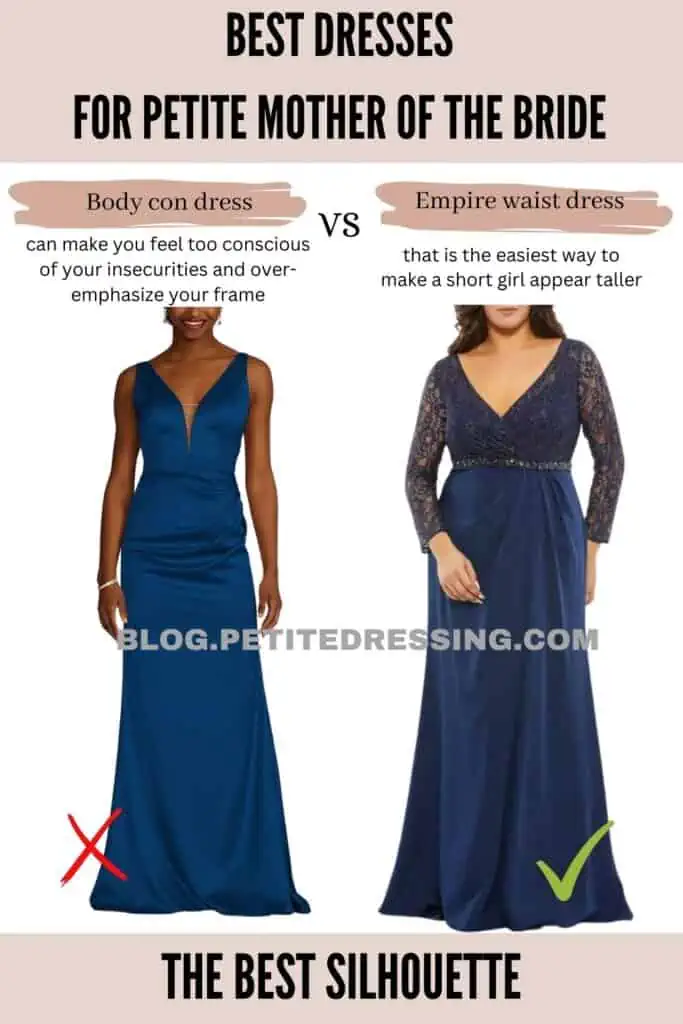 No matter what age you are and regardless of the occasion, proportion should always be the number one focus of petite fashion. There are many ways to use proportion to flatter your petite body frame, but the waistline is critical.
That is why empire waist dresses can be quite flattering for you.
Because you are petite, you want the waistline higher than your natural, in order to make your torso look shorter and legs look longer.
Therefore, go with mother-of-the-bride dresses with empire waists can raise your waistline, and divide your body into the ideal 1/3 and 2/3 proportions. Double win!
THE LENGTH
Being petite means you need to be selective with the length of everything you are wear, and this is especially critical if you are looking for a mother-of-the bride dress.
Knee length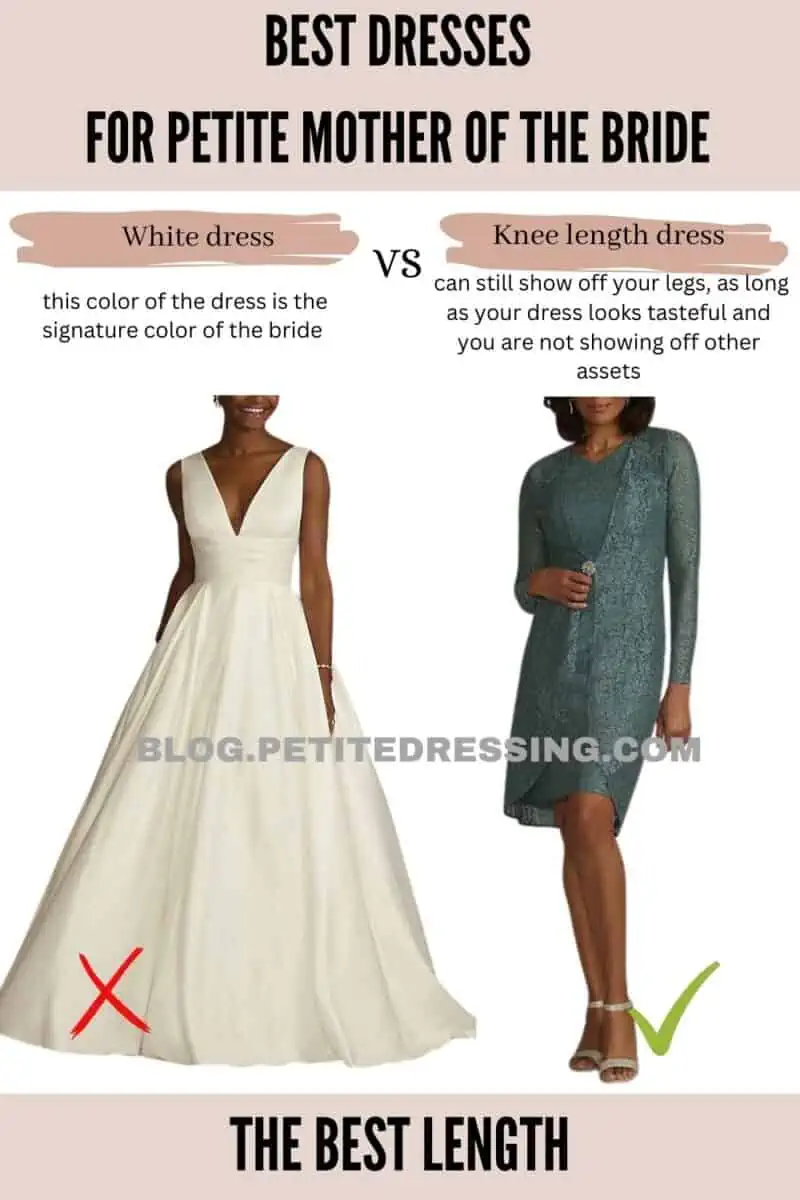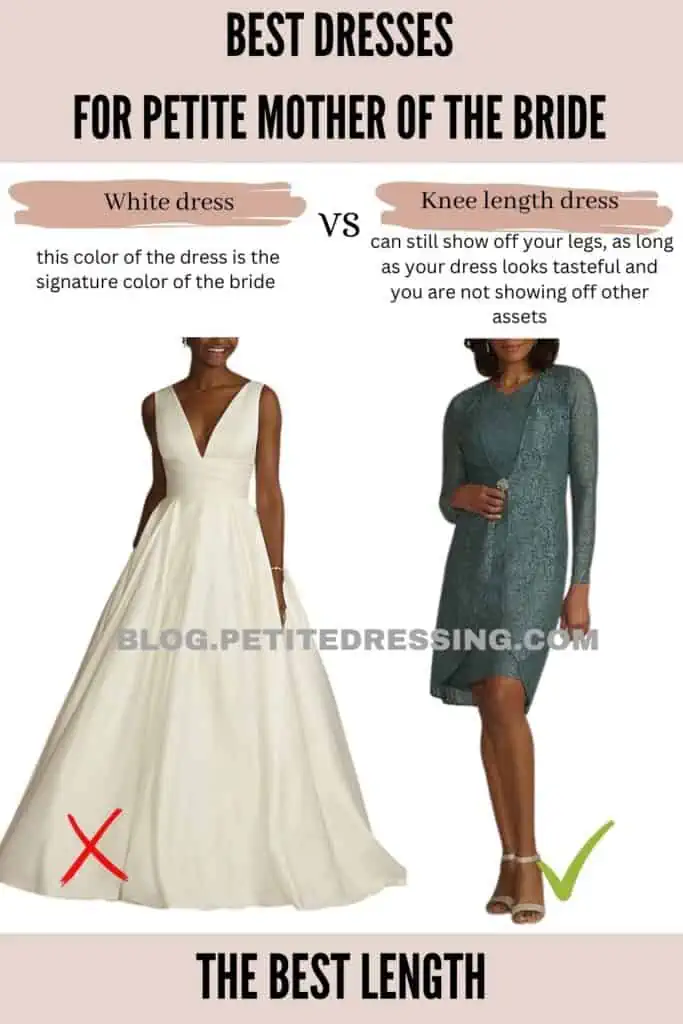 Let's be honest, shorter dresses never fail petite girls.
Now, being mother of the bride means you probably do not want a mini dress that looks like 25 year old, but that doesn't mean you can only wear long dresses. It just means you should opt for an the length that looks elegant on you.
If you are comfortable showing your knees, go for a dress just above your knees. You can still show off your legs, as long as your dress looks tasteful and you are not showing off other assets (like cleavage) at the same time.
Ankle length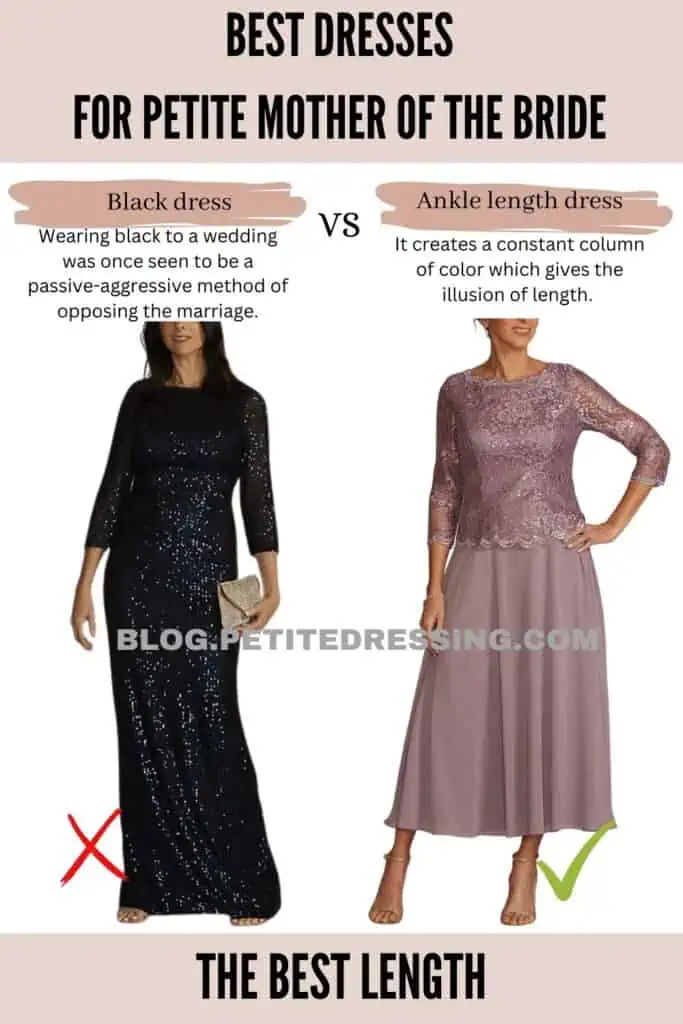 If you are short, long mother of the bride dresses for petites can also be very flattering for you.
The reason? It creates a constant column of color which gives the illusion of length.
In fact, ankle length dresses are always the best sellers in our petite dress collection!
Do not think maxi dresses are only for 20 year olds to wear on the beach. Many designers today are making maxi length mother-of-the-bride dresses. The key is to keep the silhouette simple such as a sheath or A line to avoid being swamped by the long dress.
If you like the idea of maxi dresses, make sure you get them from a petite size designer.
Why is that so critical? Because the petite size has different length than the regular size.
If the dress has beads and laces, alteration is going to be time consuming and expensive. Buying a petite size means you save a ton of time, effort and money on alteration.
Even with a petite designer, you should read carefully their measurements before you purchase, to make sure the length really suits you. Not all petite designers make the same length for petite sizes.
Tea Length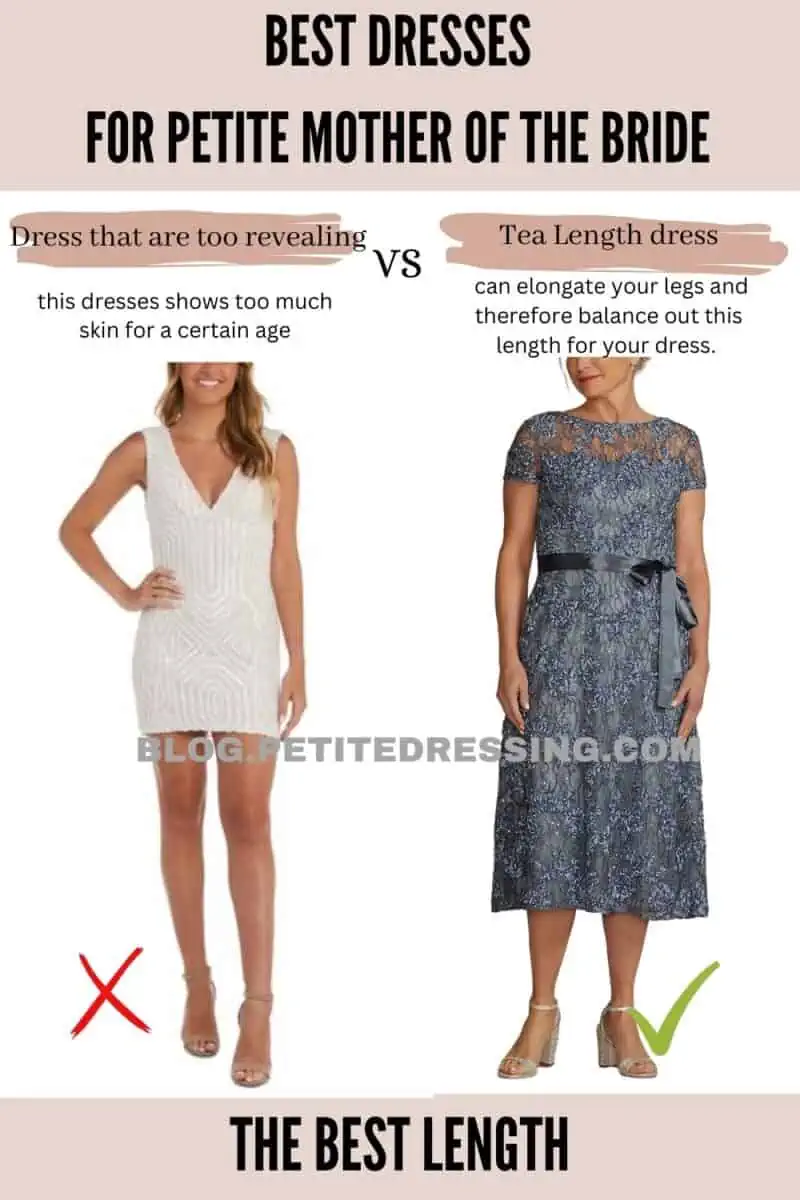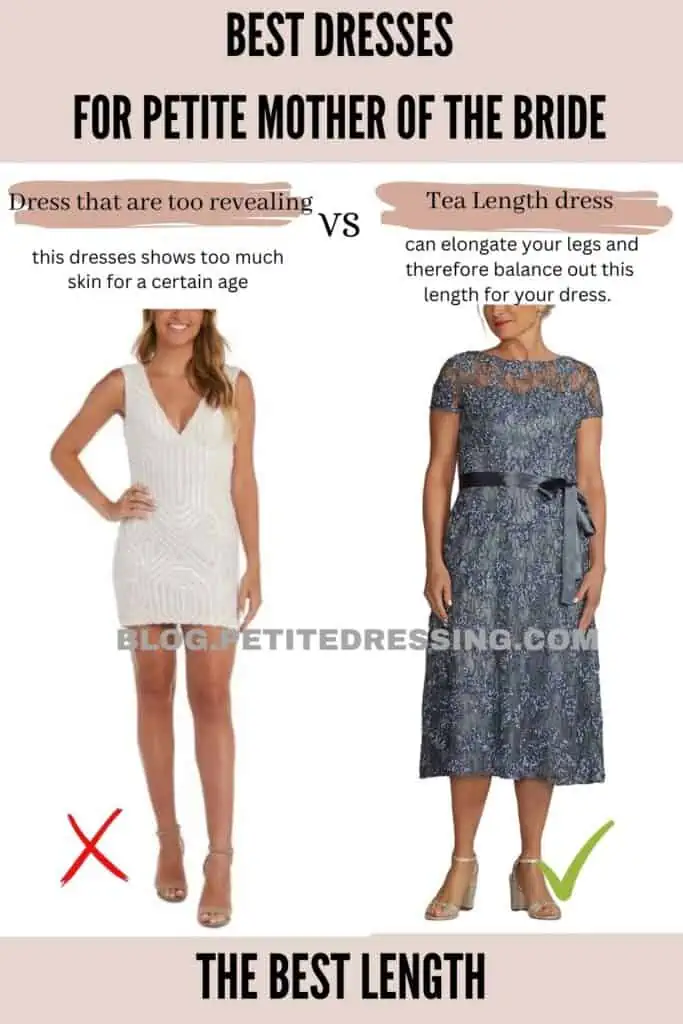 This is a very elegant length that falls below your knees, and above your ankles.
This is a very popular length for mother-of-the-bride dresses, because it looks classy,
However, because you are petite, I suggest you be selective with the silhouette and designs, if you decide to go with this length.
The reason is this length does have the risk of making your legs look cut off, because it falls somewhere on your calves.
Because of that, it is critical you go with a dress design that can elongate your legs and therefore balance out this length for your dress.
As I mentioned earlier, choose a dress that has an elevated waistline can effectively elongate your figure and therefore will be a good balance for the tea length dresses.
Avoid too short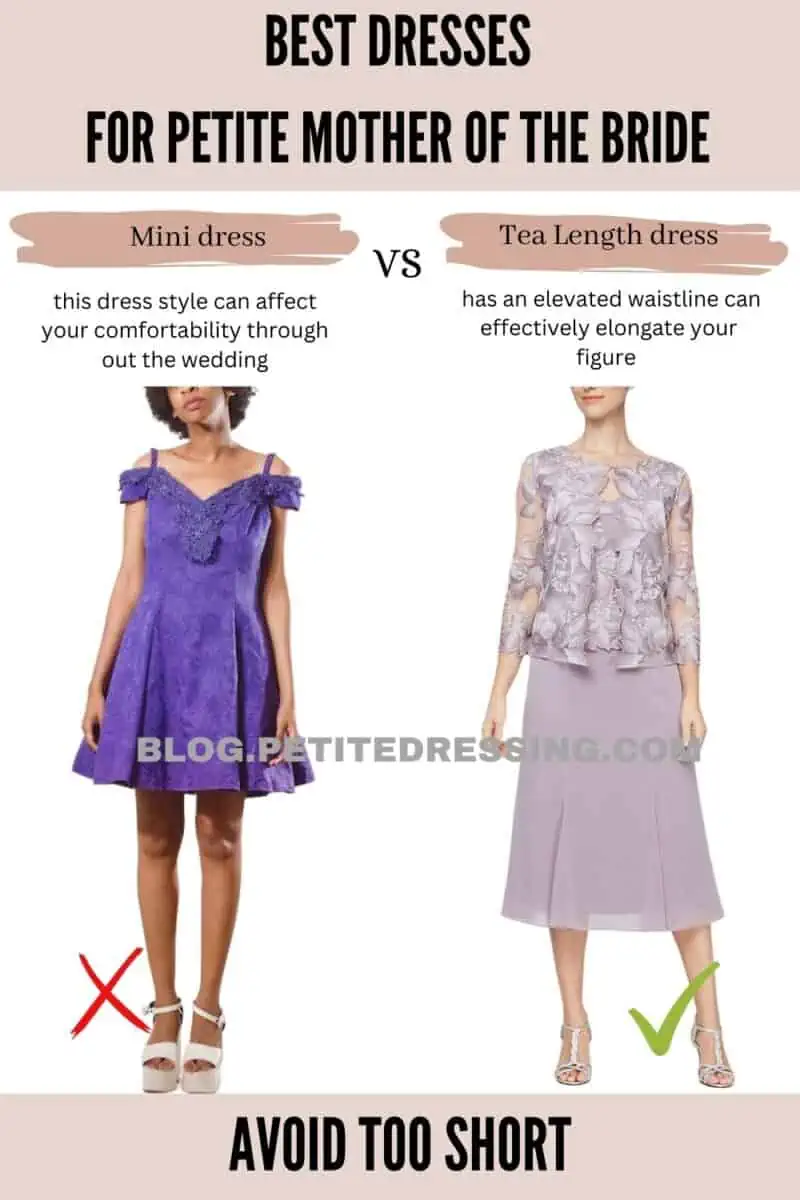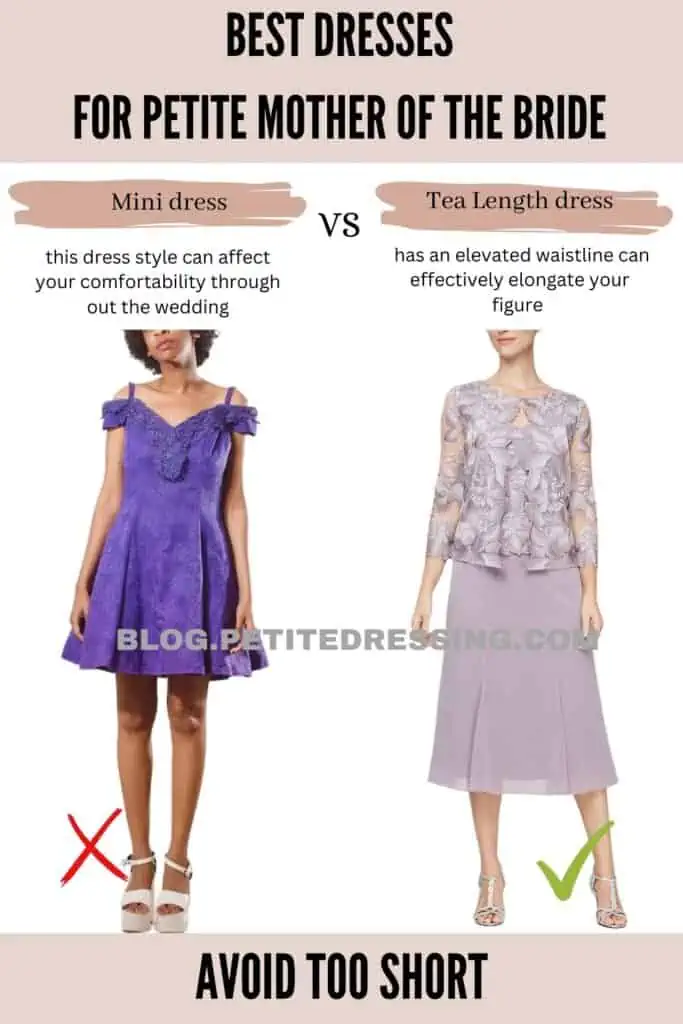 It goes without saying you want to avoid any length that is too short on this day.
What is too short?
Keep in mind as mother-of-the-bride, you will likely be sitting down for quite a bit during the wedding reception, therefore, you want to make sure your dress is long enough to cover your knees even when you are sitting down.
COLOR
First of all, I want to say no colors are off limits. Today is the day for you to pick any of your favorite color that makes you feel happy and confident! Based on the feedback from many of my petite customers, here's some most popular color families.
Jewel tone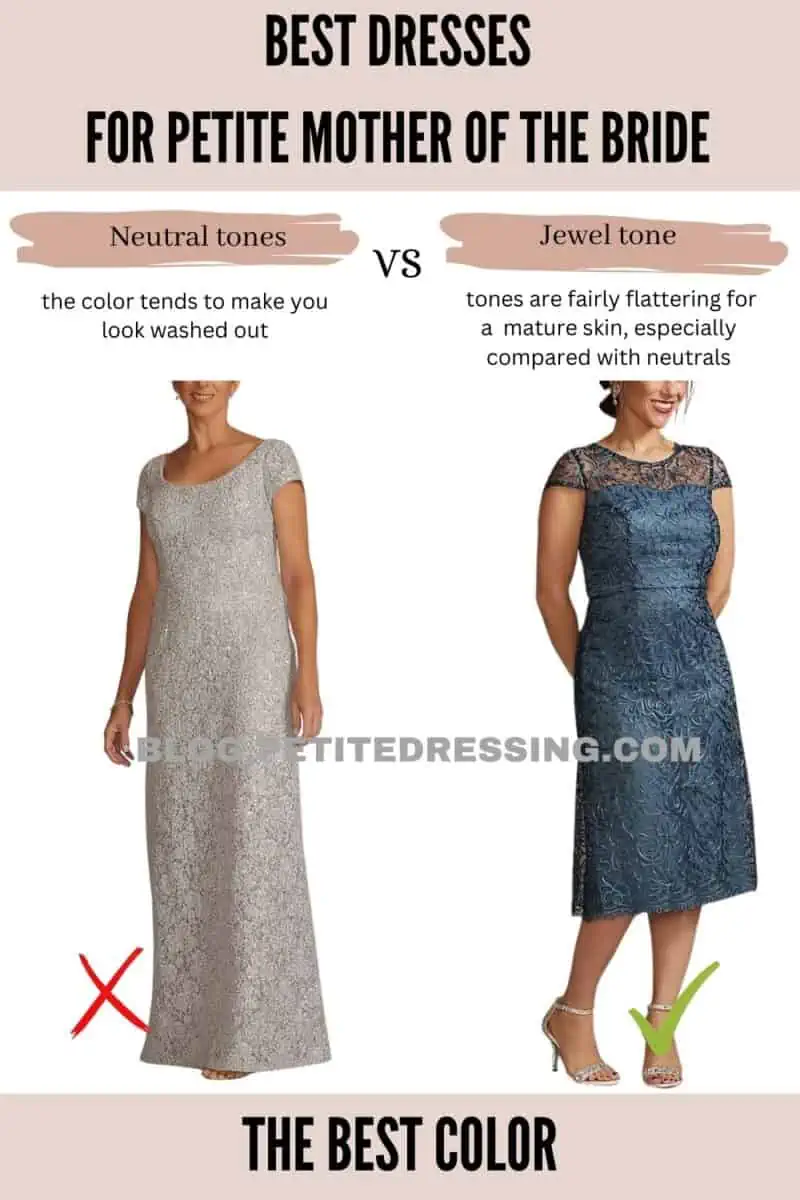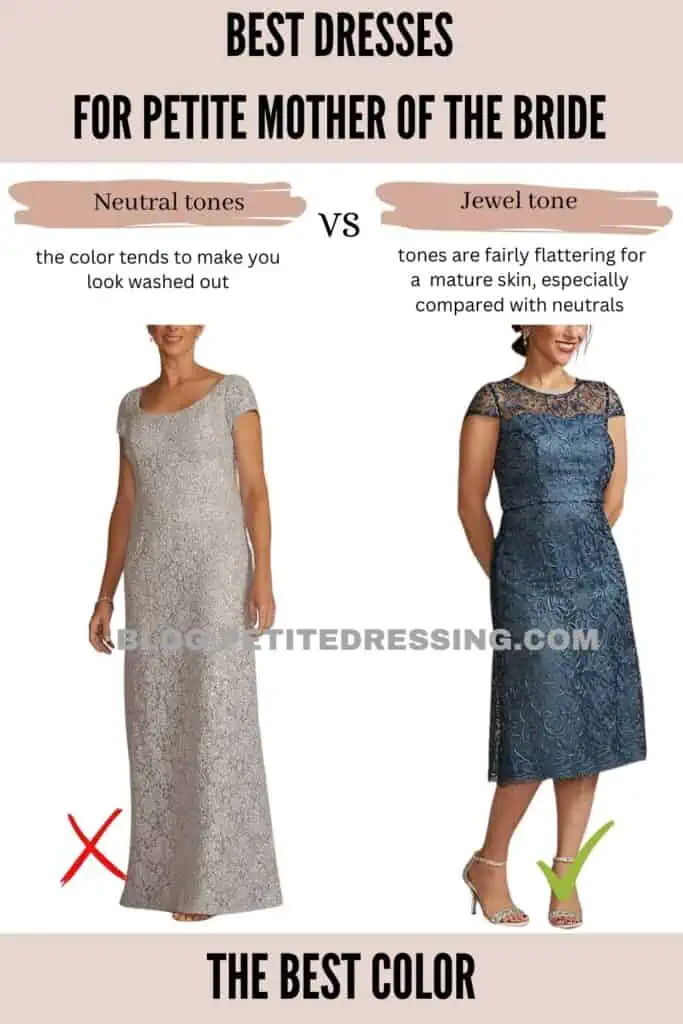 This is one of the most loved color group amongst my customers who are over 50.
Many of my customers have emailed me and mentioned that jewel tones are fairly flattering for their mature skin, especially compared with neutrals which tend to make them look washed out.
So, choose your favorite shade of jewel tone and make sure it goes with your skin color.
Metallics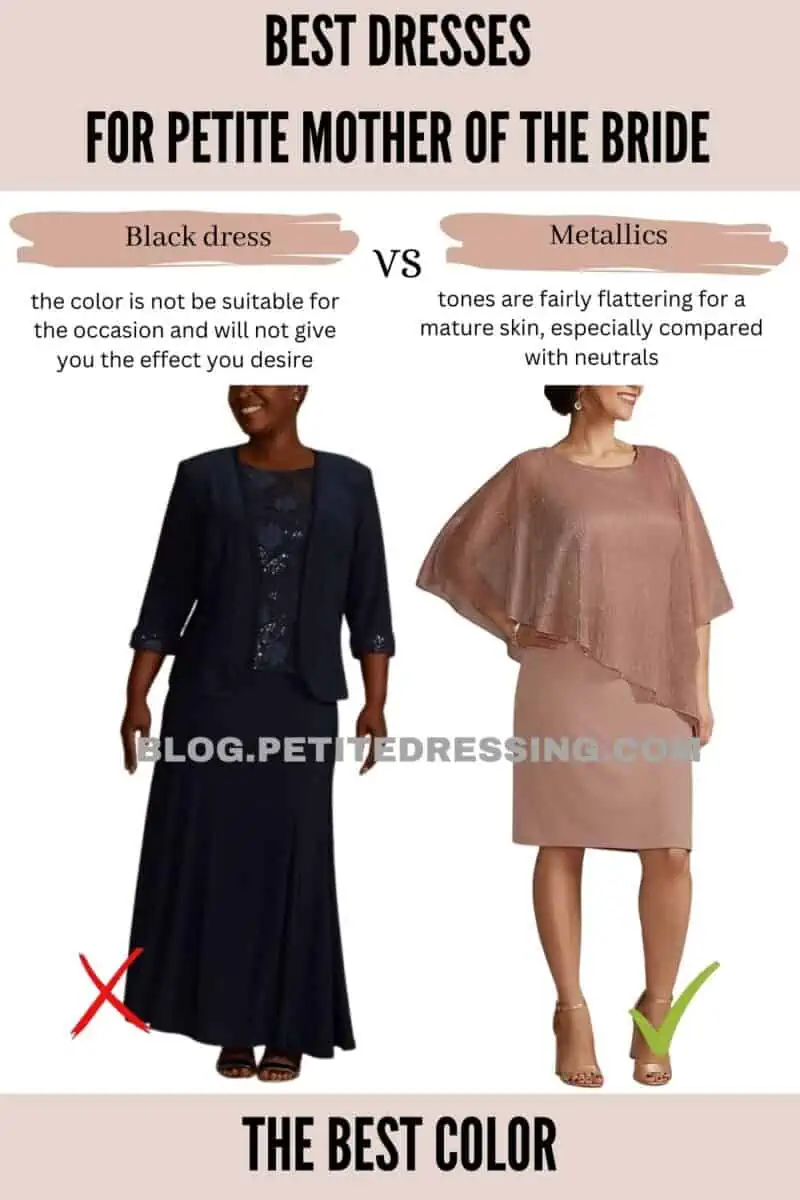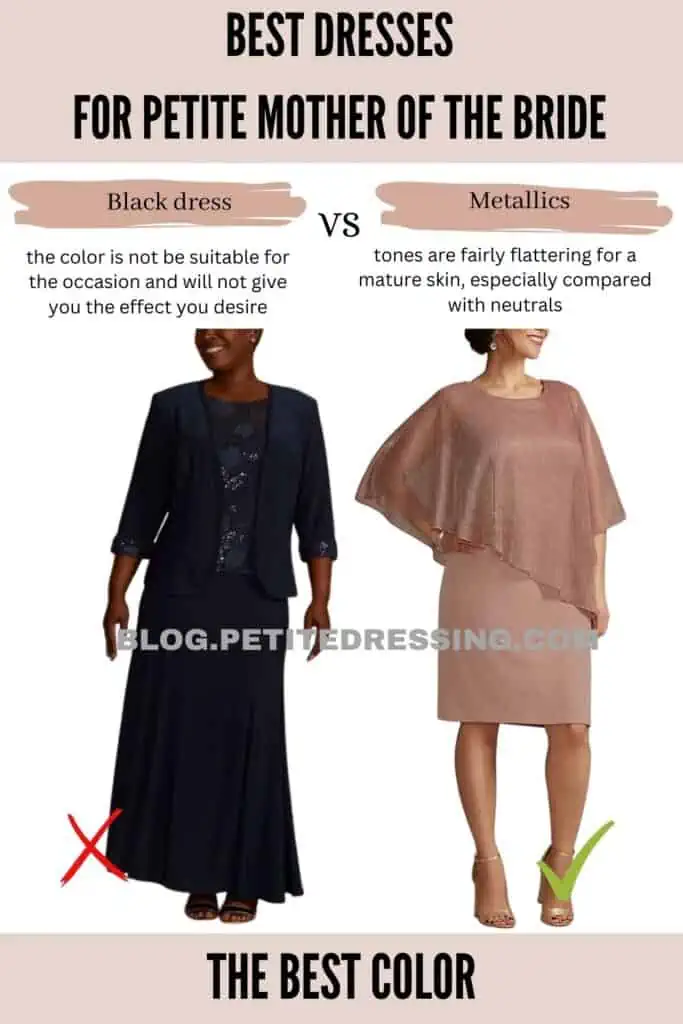 For special occasions like weddings, metallics are always one of the most suitable color group.
Since metallics are naturally dressy, they go quite well with the festival occasions.
Just be mindful of choosing the right shade of metallics that look flattering on your skin tone.
Typically speaking, gold works the best with warm skin tones while silver flatters those with a cool skin tone.
Pastels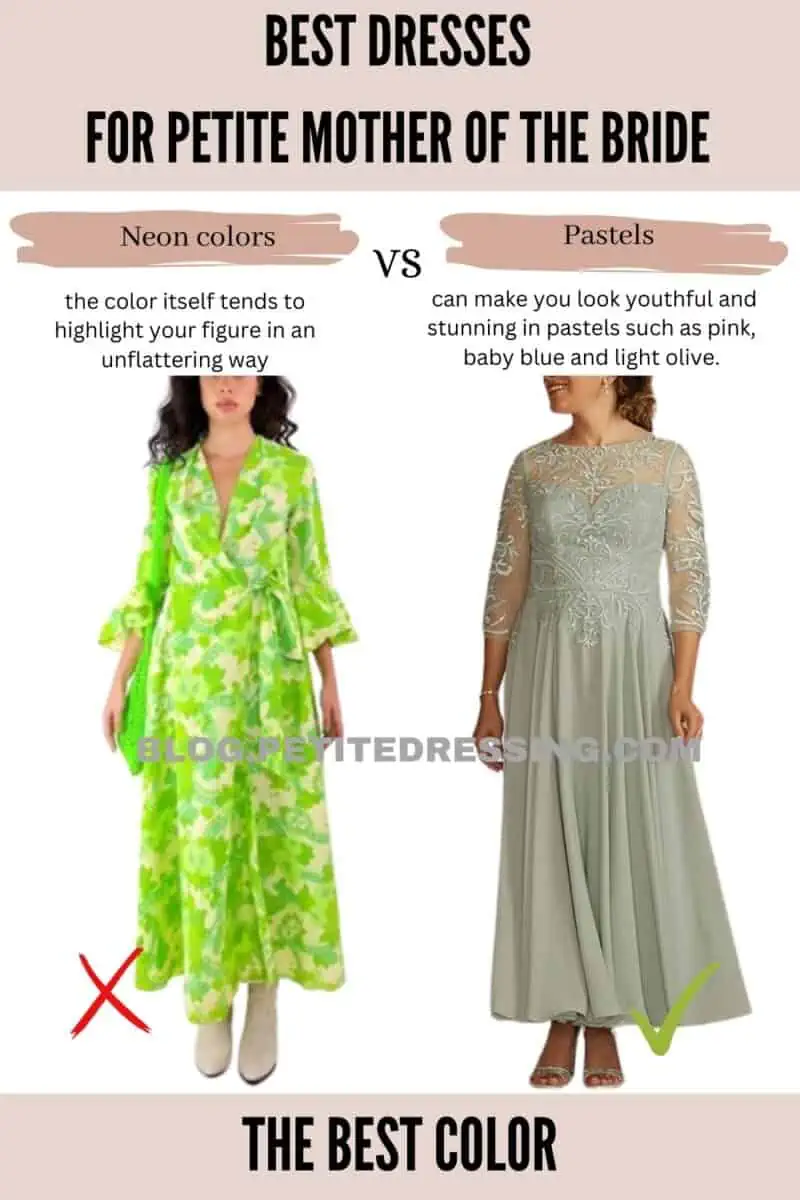 Don't forget the pastels for such a festival occasion.
I have often seen women in their 50s and above look stunning in pastels such as pink, baby blue and light olive.
There is something about pastels that can make you look youthful, so definitely consider the shade of pastel that looks most flattering on you.
Complementary to the wedding
Importantly, as mother of the bride, your dress should complement the color theme of the wedding.
That doesn't mean you have to wear the same color as the bridesmaids dresses, but it will be harmonious with the wedding if you wear the shades from the same color scheme.
For instance, if the bridesmaids dresses are light blue, a navy dress for you will look fabulous. If the wedding theme is pink, then a red dress will look compatible. If the wedding color is neutral colors like white or beige, then you have many choices that will look consistent with the theme.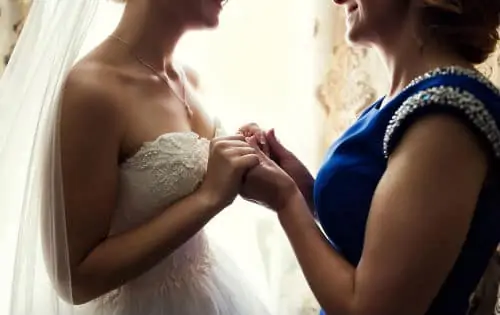 The traditional etiquette is, whatever color you choose, you just want to avoid clashing with the bride.
However, in recent years, it is on trend for mother of the bride to wear similar colors as the bride, such as silver and ivory. In my view, the most important thing is what you and your daughter want. If the leading lady is happy for you to wear similar color as her, by all means!
SHAPEWEAR
In order to look and feel the best on this special day, you want to make sure you are prepared inside out. Investing in a piece of high quality shapewear will pay off on this special day.
A well made shapewear is huge help with nip and tuck, especially when you are going to wear a well fitted mother-of-the-bride dress. Most importantly, shapewear can also change your posture and add your confidence on this big day of your daughter.
If you do not like anything too tight or shapewear that pinches, go with under the bust shapewear.
SHOE PAIRING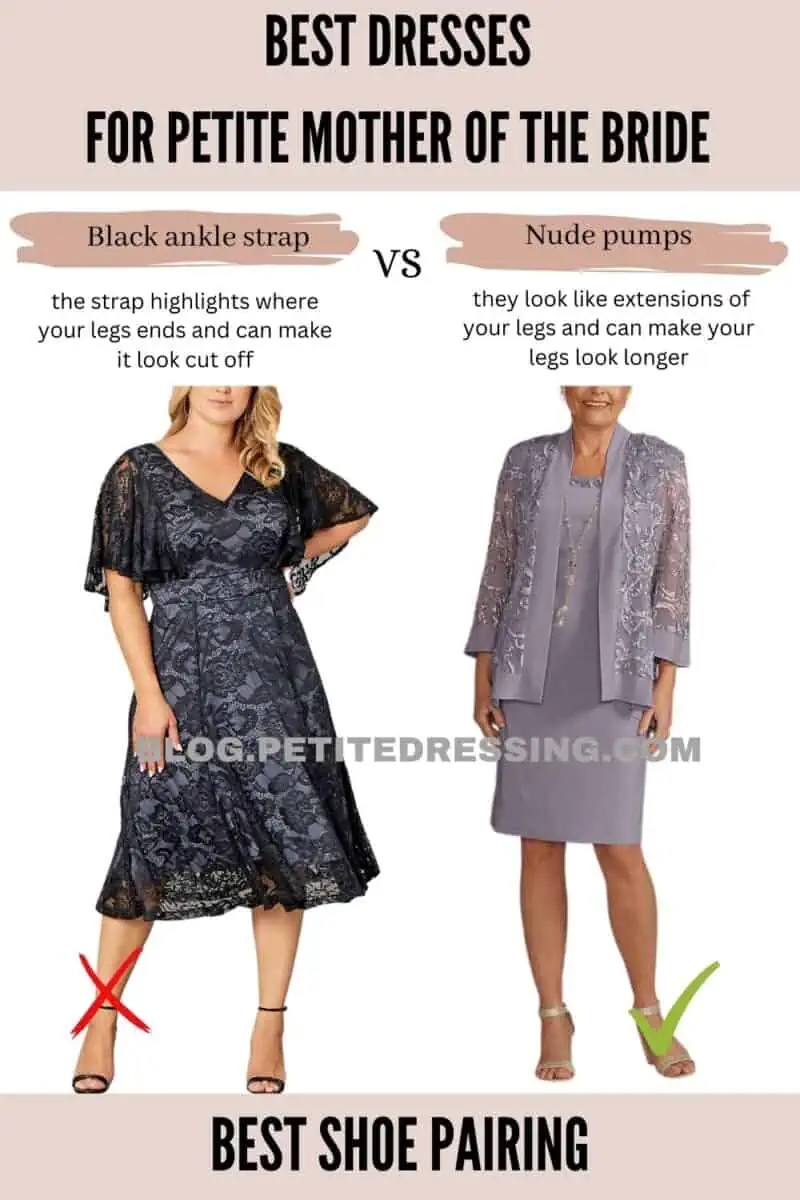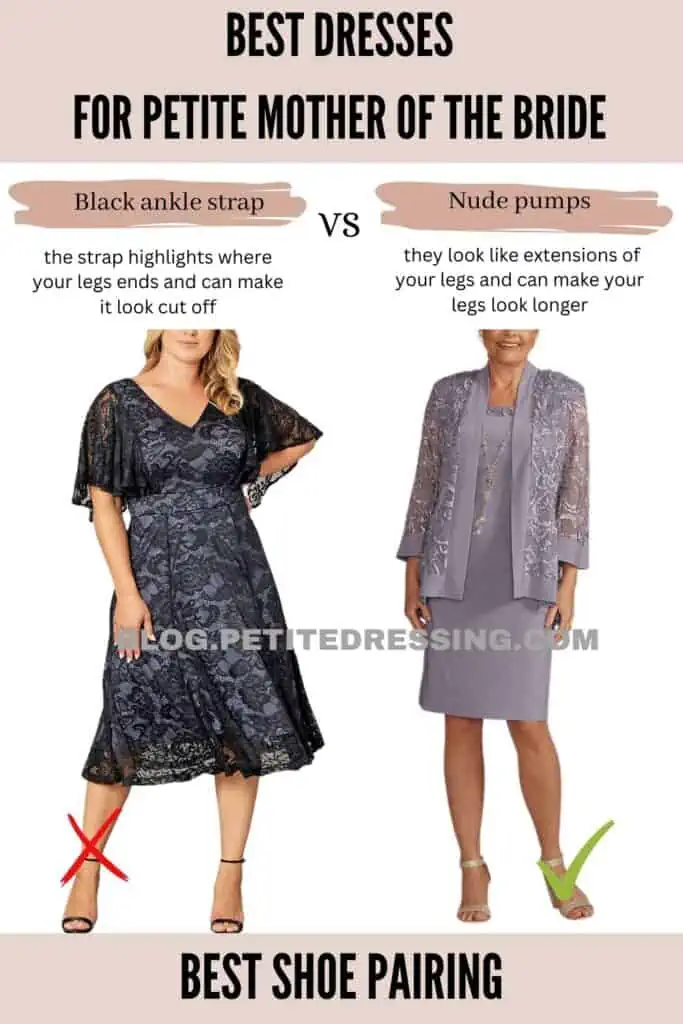 Matching your heels with your mother-of-bride dress will make you appear taller. Typically, nude pumps are the most flattering shoes for petite ladies, because they look like extensions of your legs.
In today's weddings, you barely see mothers of brides wear stockings anymore, and it is the trend to wear dresses with bare legs. As a petite lady, you should wear heels similar to your skin tone, which will make your legs appear longer.
The best pumps are those with low vamp and no straps. The lower the vamp, the longer your legs will look. Straps make your legs look cut-off, so avoid them if you can. For more tips, read my post on "The Best and Worst Shoes if you have Petite Feet".
Now, be prepared that you will be standing and walking quite a bit on this special day, especially during the reception to welcome the guests. Make sure your heels are comfortable enough. I am sharing with you my tips of standing and walking all day in heels on my wedding day on post on "7 Tips on How to Wear Comfortable Heels All Day".
PLANNING
Plan early
Wedding planning takes a long time. Some says it can take a year, and others manage to do it in 6 months. While you are busy planning everything about the wedding for your daughter, make sure you also start your search for mother of the bride dresses for petites at least 3 months ahead of time.
Why? If you are aiming for ready-to-wear dresses, you may need to go to various kinds of stores to try on different styles. What you like may not be in stock immediately and you want to put your name on the list. If you are interested in custom made dresses, you should take into consideration even more time for the rounds of fitting and alterations. Even if you are planning to order online, be prepared you have to do that more than once and count in the return time.
Consistent with the wedding style
Before you start your search for mother of the bride dresses for petites, the first, and most important, question you should ask is "what is the wedding going to be like?"
Is it a church wedding? Is it a casual country style ceremony? Is it a destination wedding in a beach resort? The type of the wedding plays a critical role in terms of what the wedding party should wear. As mother of the bride, what you wear should definitely be consistent with the choice of the wedding type.
The best way to go about this? Have a talk with your daughter. (We also have posts on "5 Best Wedding Dresses for Petite Brides) What the bride wants typically determines what the ceremony is going to be like. How does your daughter envision her big day? Does she request black tie dress code? Does she have preference of what you wear or does she just want you to have a great time?
It is extremely helpful to have a chat with the bride to understand what she is envisioning and from there you will get the guide for what kind of petite mother of the bride dresses you should be looking for.
Keep her involved in the shopping process. This is a great opportunity for mother-daughter bonding before she gets married. Invite her to go to the department store or specialty boutique with you, and get her opinion before you purchase. Ultimately, it is your decision on what you want to wear, but you know you got a winner if you and your daughter are both happy with the dress!
Coordinate with Mother of the Groom
Okay, this final tip is advisable but of course optional. It all depends on how well you get along with the mother of groom. When you are shopping for mother of the bride dresses for petites, do you feel close enough with her to invite to join you? If yes, wonderful! That would also be quite a bonding opportunity and will help the wedding planning go smoothly.
If you decide to shop separately, communicating with mother of the groom is also important so that you both understand what the other person is going to wear. Remember, you and mother of the groom are the most important ladies after the bride on this special day. Staying coordinated in your choices of dresses will make the wedding party look good.
Traditionally, the length of the dress for mother of the groom should match the length for mother of the bride. If you are following the tradition, fantastic. If not, it is still useful to communicate often with the groom's mother to make sure your choices won't clash.