[vc_row][vc_column][vc_column_text]Pants rise is an important factor of petite clothing, especially when it comes to petite jeans, petite pants and petite jumpsuits.
When we think of petite size measurements of a pair of pants or jeans, the most common things that come to mind first is how long it is and if the waist fits.  For petite women, it is understandable the length of the pants is probably our number one concern, because regular pants are made for women of 5'5″ and most likely too long and won't look good on a short girl.  Of course we also care if we are a small, medium or large (or 25, 26 or 27 in jeans), because we all want to make sure we are wearing the right waist size and no one wants the pants or jeans to be too tight or too loose.  Now, do you know there is a third factor that is critical to the fit of pants or jeans?  That is the rise of the pants.   It is very important to petite size measurements, however, it is commonly overlooked and less talked about.  In fact, many brands do not even mention the rise in the petite size measurements chart, but of course every brand talks about the length and the waist sizes.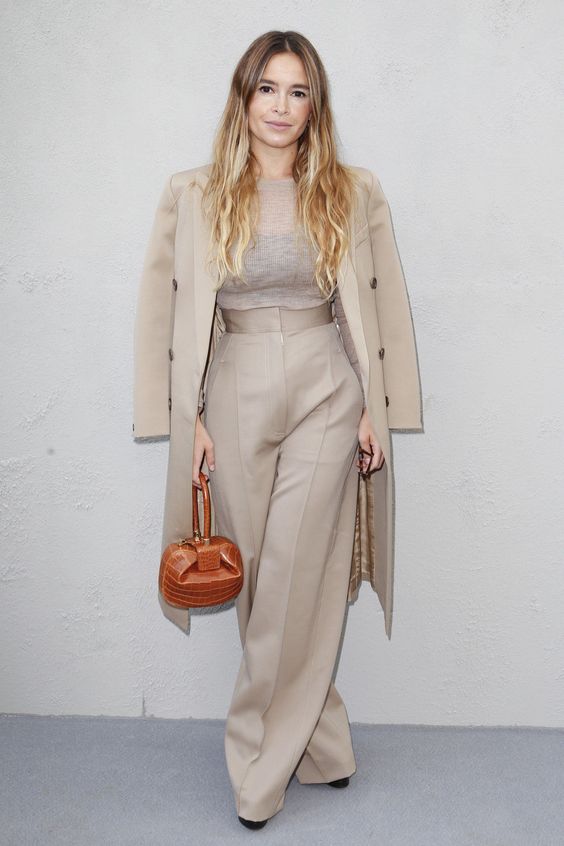 [/vc_column_text][/vc_column][/vc_row][vc_row][vc_column][vc_column_text]Above is Mira Duma (under 5 feet tall) in high rise pants.  Let's first understand what rise of pants is.  Rise is the distance from the middle of the crotch seam (right between your legs) to the top of the waistband. It usually ranges from 7 inches to 12 inches.  There are three types of pants rise: regular rise, low rise and high rise.[/vc_column_text][/vc_column][/vc_row][vc_row][vc_column][vc_column_text]Regular Rise
Also called mid rise or normal rise, regular rise is anywhere from 9 to 11 inches and is meant to be worn at your natural waist. Most pants, especially khakis and trousers, have a regular rise.
[/vc_column_text][vc_column_text]
Low Rise
Low-rise pants are pants that sit low on, or below, the hips, usually at least 8 centimetres (3 inches) lower than your navel. They are also called "lowcut" or  "hipster", and "lowriders".   Since they are meant to be worn at your hips, the average measurement of low-rise trousers is roughly 20 cm (8 inches), with some as little as 7-10 cm (3-4 inches).  They became popular during the 60s and 70s and have made a huge comeback over the past few years. Unlike short and mid rise pants, low rise pants are not meant to conform to your natural waist.  Low-rise jeans are manufactured in many styles, including boot-cut, flared, loose, straight, baggy, skinny, boyfriend, and slim. Due to the popularity of low-rise jeans, manufacturers have also begun making low-rise styles of other kinds of pants, such as cargo pants and dress pants.
[/vc_column_text][vc_column_text]
High-rise or high-waisted pants or jeans is one designed to sit high on, or above, your hips, usually at least 8 centimetres (3 inches) higher than the navel.   High-waisted pants have rises typically 10 inches long or longer.  High rise style was first popular in the 70s, in competition with the low rise pants at the time as part of the pop culture.  In recent years, we are seeing more and more high rise style coming back in the center stage of fashion runway again.[/vc_column_text][vc_column_text]

[/vc_column_text][/vc_column][/vc_row][vc_row][vc_column][vc_column_text]Now,  why should we care about the rise in petite size measurements, after all?  Because rise can work for you or against you. On one hand, you can use rise to your advantage by changing your perceived dimensions. On the other hand, choosing the wrong type of rise will make you look disproportional.  This applies to anyone regardless of their height, and it is especially important to petite size measurements.  It determines where your pants sit on your body, which in turn creates your perceived waistline.  In petite fashion, the ultimate goal is to play with proportion and trick the eye to believe our waistline is higher and thus assume our legs are longer.[/vc_column_text][/vc_column][/vc_row][vc_row][vc_column][vc_column_text]Generally speaking (with an exception which we will address a little bit later), high waisted petite jeans is very flattering to short women.  They extend your legs and make them look longer, because of the elevated waistline.  Additionally, they are also more comfortable to wear especially when you sit down. You probably do not like to show your under panties when you sit down or bend, and you do not have to worry about that if you are wearing high waisted style.  All this can explain why high waisted style is making a huge come back in recent years. As you have seen in various blogs and fashion magazines, they have been very popular amongst celebrities and models, and have been recommended by many stylists for good reasons (Read Top 6 Wardrobe of Stylish Petite Women). For petite girls in particular, most of us want our legs to appear longer, and high rise jeans does the best job in terms of adding a few inches to our height.  When choosing the best high waisted jeans for short women, one thing you should keep in mind is the color.  If you are slim and do not have concerns around your waist or belly area, then you have plenty of choices in terms of colors from lighter wash to even white color, which could all look great on you. On the other hand, not everyone has 25″ waist and some of us prefer not to accentuate the waist area, especially if your body is apple shape. Because of the extended waistband, high waisted jeans in darker colors are more flattering to girls who want their  mid section to appear smaller.[/vc_column_text][vc_row_inner][vc_column_inner width="1/3″][vc_raw_html]JTNDZGl2JTIwaWQlM0QlMjdwcm9kdWN0LWNvbXBvbmVudC0xNTI0MzQ3NDU2OTY4JTI3JTNFJTNDJTJGZGl2JTNFJTBBJTIwJTIwJTIwJTIwJTNDc2NyaXB0JTIwdHlwZSUzRCUyMnRleHQlMkZqYXZhc2NyaXB0JTIyJTNFJTBBJTIwJTIwJTIwJTIwJTJGJTJBJTNDJTIxJTVCQ0RBVEElNUIlMkElMkYlMEElMjAlMjAlMjAlMjAlMjAlMjAlMjhmdW5jdGlvbiUyMCUyOCUyOSUyMCU3QiUwQSUyMCUyMCUyMCUyMCUyMCUyMCUyMCUyMHZhciUyMHNjcmlwdFVSTCUyMCUzRCUyMCUyN2h0dHBzJTNBJTJGJTJGc2Rrcy5zaG9waWZ5Y2RuLmNvbSUyRmJ1eS1idXR0b24lMkZsYXRlc3QlMkZidXktYnV0dG9uLXN0b3JlZnJvbnQubWluLmpzJTI3JTNCJTBBJTIwJTIwJTIwJTIwJTIwJTIwJTIwJTIwaWYlMjAlMjh3aW5kb3cuU2hvcGlmeUJ1eSUyOSUyMCU3QiUwQSUyMCUyMCUyMCUyMCUyMCUyMCUyMCUyMCUyMCUyMGlmJTIwJTI4d2luZG93LlNob3BpZnlCdXkuVUklMjklMjAlN0IlMEElMjAlMjAlMjAlMjAlMjAlMjAlMjAlMjAlMjAlMjAlMjAlMjBTaG9waWZ5QnV5SW5pdCUyOCUyOSUzQiUwQSUyMCUyMCUyMCUyMCUyMCUyMCUyMCUyMCUyMCUyMCU3RCUyMGVsc2UlMjAlN0IlMEElMjAlMjAlMjAlMjAlMjAlMjAlMjAlMjAlMjAlMjAlMjAlMjBsb2FkU2NyaXB0JTI4JTI5JTNCJTBBJTIwJTIwJTIwJTIwJTIwJTIwJTIwJTIwJTIwJTIwJTdEJTBBJTIwJTIwJTIwJTIwJTIwJTIwJTIwJTIwJTdEJTIwZWxzZSUyMCU3QiUwQSUyMCUyMCUyMCUyMCUyMCUyMCUyMCUyMCUyMCUyMGxvYWRTY3JpcHQlMjglMjklM0IlMEElMjAlMjAlMjAlMjAlMjAlMjAlMjAlMjAlN0QlMEElMEElMjAlMjAlMjAlMjAlMjAlMjBmdW5jdGlvbiUyMGxvYWRTY3JpcHQlMjglMjklMjAlN0IlMEElMjAlMjAlMjAlMjAlMjAlMjAlMjAlMjB2YXIlMjBzY3JpcHQlMjAlM0QlMjBkb2N1bWVudC5jcmVhdGVFbGVtZW50JTI4JTI3c2NyaXB0JTI3JTI5JTNCJTBBJTIwJTIwJTIwJTIwJTIwJTIwJTIwJTIwc2NyaXB0LmFzeW5jJTIwJTNEJTIwdHJ1ZSUzQiUwQSUyMCUyMCUyMCUyMCUyMCUyMCUyMCUyMHNjcmlwdC5zcmMlMjAlM0QlMjBzY3JpcHRVUkwlM0IlMEElMjAlMjAlMjAlMjAlMjAlMjAlMjAlMjAlMjhkb2N1bWVudC5nZXRFbGVtZW50c0J5VGFnTmFtZSUyOCUyN2hlYWQlMjclMjklNUIwJTVEJTIwJTdDJTdDJTIwZG9jdW1lbnQuZ2V0RWxlbWVudHNCeVRhZ05hbWUlMjglMjdib2R5JTI3JTI5JTVCMCU1RCUyOS5hcHBlbmRDaGlsZCUyOHNjcmlwdCUyOSUzQiUwQSUyMCUyMCUyMCUyMCUyMCUyMCUyMCUyMHNjcmlwdC5vbmxvYWQlMjAlM0QlMjBTaG9waWZ5QnV5SW5pdCUzQiUwQSUyMCUyMCUyMCUyMCUyMCUyMCU3RCUwQSUwQSUyMCUyMCUyMCUyMCUyMCUyMGZ1bmN0aW9uJTIwU2hvcGlmeUJ1eUluaXQlMjglMjklMjAlN0IlMEElMjAlMjAlMjAlMjAlMjAlMjAlMjAlMjB2YXIlMjBjbGllbnQlMjAlM0QlMjBTaG9waWZ5QnV5LmJ1aWxkQ2xpZW50JTI4JTdCJTBBJTIwJTIwJTIwJTIwJTIwJTIwJTIwJTIwJTIwJTIwZG9tYWluJTNBJTIwJTI3cGV0aXRlZHJlc3NpbmcubXlzaG9waWZ5LmNvbSUyNyUyQyUwQSUyMCUyMCUyMCUyMCUyMCUyMCUyMCUyMCUyMCUyMGFwaUtleSUzQSUyMCUyNzQzOTE3MTdlZDU0ZGQzZmY0YTI4ZWI4YTA4NDU4YzM1JTI3JTJDJTBBJTIwJTIwJTIwJTIwJTIwJTIwJTIwJTIwJTIwJTIwYXBwSWQlM0ElMjAlMjc2JTI3JTJDJTBBJTIwJTIwJTIwJTIwJTIwJTIwJTIwJTIwJTdEJTI5JTNCJTBBJTBBJTIwJTIwJTIwJTIwJTIwJTIwJTIwJTIwU2hvcGlmeUJ1eS5VSS5vblJlYWR5JTI4Y2xpZW50JTI5LnRoZW4lMjhmdW5jdGlvbiUyMCUyOHVpJTI5JTIwJTdCJTBBJTIwJTIwJTIwJTIwJTIwJTIwJTIwJTIwJTIwJTIwdWkuY3JlYXRlQ29tcG9uZW50JTI4JTI3cHJvZHVjdCUyNyUyQyUyMCU3QiUwQSUyMCUyMCUyMCUyMCUyMCUyMCUyMCUyMCUyMCUyMCUyMCUyMGlkJTNBJTIwJTVCMTM2MjU5NDAzODA2JTVEJTJDJTBBJTIwJTIwJTIwJTIwJTIwJTIwJTIwJTIwJTIwJTIwJTIwJTIwbm9kZSUzQSUyMGRvY3VtZW50LmdldEVsZW1lbnRCeUlkJTI4JTI3cHJvZHVjdC1jb21wb25lbnQtMTUyNDM0NzQ1Njk2OCUyNyUyOSUyQyUwQSUyMCUyMCUyMCUyMCUyMCUyMCUyMCUyMCUyMCUyMCUyMCUyMG1vbmV5Rm9ybWF0JTNBJTIwJTI3JTI0JTdCJTdCYW1vdW50JTdEJTdEJTI3JTJDJTBBJTIwJTIwJTIwJTIwJTIwJTIwJTIwJTIwJTIwJTIwJTIwJTIwb3B0aW9ucyUzQSUyMCU3QiUyMnByb2R1Y3QlMjIlM0ElN0IlMjJ2YXJpYW50SWQlMjIlM0ElMjJhbGwlMjIlMkMlMjJjb250ZW50cyUyMiUzQSU3QiUyMmltZ1dpdGhDYXJvdXNlbCUyMiUzQWZhbHNlJTJDJTIydmFyaWFudFRpdGxlJTIyJTNBZmFsc2UlMkMlMjJkZXNjcmlwdGlvbiUyMiUzQWZhbHNlJTJDJTIyYnV0dG9uV2l0aFF1YW50aXR5JTIyJTNBZmFsc2UlMkMlMjJxdWFudGl0eSUyMiUzQWZhbHNlJTdEJTJDJTIyc3R5bGVzJTIyJTNBJTdCJTIycHJvZHVjdCUyMiUzQSU3QiUyMiU0MG1lZGlhJTIwJTI4bWluLXdpZHRoJTNBJTIwNjAxcHglMjklMjIlM0ElN0IlMjJtYXgtd2lkdGglMjIlM0ElMjJjYWxjJTI4MjUlMjUlMjAtJTIwMjBweCUyOSUyMiUyQyUyMm1hcmdpbi1sZWZ0JTIyJTNBJTIyMjBweCUyMiUyQyUyMm1hcmdpbi1ib3R0b20lMjIlM0ElMjI1MHB4JTIyJTdEJTdEJTJDJTIyYnV0dG9uJTIyJTNBJTdCJTIyYmFja2dyb3VuZC1jb2xvciUyMiUzQSUyMiUyMzdkNGM4NCUyMiUyQyUyMiUzQWhvdmVyJTIyJTNBJTdCJTIyYmFja2dyb3VuZC1jb2xvciUyMiUzQSUyMiUyMzcxNDQ3NyUyMiU3RCUyQyUyMiUzQWZvY3VzJTIyJTNBJTdCJTIyYmFja2dyb3VuZC1jb2xvciUyMiUzQSUyMiUyMzcxNDQ3NyUyMiU3RCU3RCU3RCU3RCUyQyUyMmNhcnQlMjIlM0ElN0IlMjJjb250ZW50cyUyMiUzQSU3QiUyMmJ1dHRvbiUyMiUzQXRydWUlN0QlMkMlMjJzdHlsZXMlMjIlM0ElN0IlMjJidXR0b24lMjIlM0ElN0IlMjJiYWNrZ3JvdW5kLWNvbG9yJTIyJTNBJTIyJTIzN2Q0Yzg0JTIyJTJDJTIyJTNBaG92ZXIlMjIlM0ElN0IlMjJiYWNrZ3JvdW5kLWNvbG9yJTIyJTNBJTIyJTIzNzE0NDc3JTIyJTdEJTJDJTIyJTNBZm9jdXMlMjIlM0ElN0IlMjJiYWNrZ3JvdW5kLWNvbG9yJTIyJTNBJTIyJTIzNzE0NDc3JTIyJTdEJTdEJTJDJTIyZm9vdGVyJTIyJTNBJTdCJTIyYmFja2dyb3VuZC1jb2xvciUyMiUzQSUyMiUyM2ZmZmZmZiUyMiU3RCU3RCU3RCUyQyUyMm1vZGFsUHJvZHVjdCUyMiUzQSU3QiUyMmNvbnRlbnRzJTIyJTNBJTdCJTIyaW1nJTIyJTNBZmFsc2UlMkMlMjJpbWdXaXRoQ2Fyb3VzZWwlMjIlM0F0cnVlJTJDJTIydmFyaWFudFRpdGxlJTIyJTNBZmFsc2UlMkMlMjJidXR0b25XaXRoUXVhbnRpdHklMjIlM0F0cnVlJTJDJTIyYnV0dG9uJTIyJTNBZmFsc2UlMkMlMjJxdWFudGl0eSUyMiUzQWZhbHNlJTdEJTJDJTIyc3R5bGVzJTIyJTNBJTdCJTIycHJvZHVjdCUyMiUzQSU3QiUyMiU0MG1lZGlhJTIwJTI4bWluLXdpZHRoJTNBJTIwNjAxcHglMjklMjIlM0ElN0IlMjJtYXgtd2lkdGglMjIlM0ElMjIxMDAlMjUlMjIlMkMlMjJtYXJnaW4tbGVmdCUyMiUzQSUyMjBweCUyMiUyQyUyMm1hcmdpbi1ib3R0b20lMjIlM0ElMjIwcHglMjIlN0QlN0QlMkMlMjJidXR0b24lMjIlM0ElN0IlMjJiYWNrZ3JvdW5kLWNvbG9yJTIyJTNBJTIyJTIzN2Q0Yzg0JTIyJTJDJTIyJTNBaG92ZXIlMjIlM0ElN0IlMjJiYWNrZ3JvdW5kLWNvbG9yJTIyJTNBJTIyJTIzNzE0NDc3JTIyJTdEJTJDJTIyJTNBZm9jdXMlMjIlM0ElN0IlMjJiYWNrZ3JvdW5kLWNvbG9yJTIyJTNBJTIyJTIzNzE0NDc3JTIyJTdEJTdEJTdEJTdEJTJDJTIydG9nZ2xlJTIyJTNBJTdCJTIyc3R5bGVzJTIyJTNBJTdCJTIydG9nZ2xlJTIyJTNBJTdCJTIyYmFja2dyb3VuZC1jb2xvciUyMiUzQSUyMiUyMzdkNGM4NCUyMiUyQyUyMiUzQWhvdmVyJTIyJTNBJTdCJTIyYmFja2dyb3VuZC1jb2xvciUyMiUzQSUyMiUyMzcxNDQ3NyUyMiU3RCUyQyUyMiUzQWZvY3VzJTIyJTNBJTdCJTIyYmFja2dyb3VuZC1jb2xvciUyMiUzQSUyMiUyMzcxNDQ3NyUyMiU3RCU3RCU3RCU3RCUyQyUyMnByb2R1Y3RTZXQlMjIlM0ElN0IlMjJzdHlsZXMlMjIlM0ElN0IlMjJwcm9kdWN0cyUyMiUzQSU3QiUyMiU0MG1lZGlhJTIwJTI4bWluLXdpZHRoJTNBJTIwNjAxcHglMjklMjIlM0ElN0IlMjJtYXJnaW4tbGVmdCUyMiUzQSUyMi0yMHB4JTIyJTdEJTdEJTdEJTdEJTdEJTJDJTBBJTIwJTIwJTIwJTIwJTIwJTIwJTIwJTIwJTIwJTIwJTdEJTI5JTNCJTBBJTIwJTIwJTIwJTIwJTIwJTIwJTIwJTIwJTdEJTI5JTNCJTBBJTIwJTIwJTIwJTIwJTIwJTIwJTdEJTBBJTIwJTIwJTIwJTIwJTdEJTI5JTI4JTI5JTNCJTBBJTIwJTIwJTIwJTIwJTJGJTJBJTVEJTVEJTNFJTJBJTJGJTBBJTIwJTIwJTIwJTIwJTNDJTJGc2NyaXB0JTNF[/vc_raw_html][/vc_column_inner][vc_column_inner width="1/3″][vc_raw_html]JTNDZGl2JTIwaWQlM0QlMjdwcm9kdWN0LWNvbXBvbmVudC0xNTI0MzQ3NDE0Mzk5JTI3JTNFJTNDJTJGZGl2JTNFJTBBJTIwJTIwJTIwJTIwJTNDc2NyaXB0JTIwdHlwZSUzRCUyMnRleHQlMkZqYXZhc2NyaXB0JTIyJTNFJTBBJTIwJTIwJTIwJTIwJTJGJTJBJTNDJTIxJTVCQ0RBVEElNUIlMkElMkYlMEElMjAlMjAlMjAlMjAlMjAlMjAlMjhmdW5jdGlvbiUyMCUyOCUyOSUyMCU3QiUwQSUyMCUyMCUyMCUyMCUyMCUyMCUyMCUyMHZhciUyMHNjcmlwdFVSTCUyMCUzRCUyMCUyN2h0dHBzJTNBJTJGJTJGc2Rrcy5zaG9waWZ5Y2RuLmNvbSUyRmJ1eS1idXR0b24lMkZsYXRlc3QlMkZidXktYnV0dG9uLXN0b3JlZnJvbnQubWluLmpzJTI3JTNCJTBBJTIwJTIwJTIwJTIwJTIwJTIwJTIwJTIwaWYlMjAlMjh3aW5kb3cuU2hvcGlmeUJ1eSUyOSUyMCU3QiUwQSUyMCUyMCUyMCUyMCUyMCUyMCUyMCUyMCUyMCUyMGlmJTIwJTI4d2luZG93LlNob3BpZnlCdXkuVUklMjklMjAlN0IlMEElMjAlMjAlMjAlMjAlMjAlMjAlMjAlMjAlMjAlMjAlMjAlMjBTaG9waWZ5QnV5SW5pdCUyOCUyOSUzQiUwQSUyMCUyMCUyMCUyMCUyMCUyMCUyMCUyMCUyMCUyMCU3RCUyMGVsc2UlMjAlN0IlMEElMjAlMjAlMjAlMjAlMjAlMjAlMjAlMjAlMjAlMjAlMjAlMjBsb2FkU2NyaXB0JTI4JTI5JTNCJTBBJTIwJTIwJTIwJTIwJTIwJTIwJTIwJTIwJTIwJTIwJTdEJTBBJTIwJTIwJTIwJTIwJTIwJTIwJTIwJTIwJTdEJTIwZWxzZSUyMCU3QiUwQSUyMCUyMCUyMCUyMCUyMCUyMCUyMCUyMCUyMCUyMGxvYWRTY3JpcHQlMjglMjklM0IlMEElMjAlMjAlMjAlMjAlMjAlMjAlMjAlMjAlN0QlMEElMEElMjAlMjAlMjAlMjAlMjAlMjBmdW5jdGlvbiUyMGxvYWRTY3JpcHQlMjglMjklMjAlN0IlMEElMjAlMjAlMjAlMjAlMjAlMjAlMjAlMjB2YXIlMjBzY3JpcHQlMjAlM0QlMjBkb2N1bWVudC5jcmVhdGVFbGVtZW50JTI4JTI3c2NyaXB0JTI3JTI5JTNCJTBBJTIwJTIwJTIwJTIwJTIwJTIwJTIwJTIwc2NyaXB0LmFzeW5jJTIwJTNEJTIwdHJ1ZSUzQiUwQSUyMCUyMCUyMCUyMCUyMCUyMCUyMCUyMHNjcmlwdC5zcmMlMjAlM0QlMjBzY3JpcHRVUkwlM0IlMEElMjAlMjAlMjAlMjAlMjAlMjAlMjAlMjAlMjhkb2N1bWVudC5nZXRFbGVtZW50c0J5VGFnTmFtZSUyOCUyN2hlYWQlMjclMjklNUIwJTVEJTIwJTdDJTdDJTIwZG9jdW1lbnQuZ2V0RWxlbWVudHNCeVRhZ05hbWUlMjglMjdib2R5JTI3JTI5JTVCMCU1RCUyOS5hcHBlbmRDaGlsZCUyOHNjcmlwdCUyOSUzQiUwQSUyMCUyMCUyMCUyMCUyMCUyMCUyMCUyMHNjcmlwdC5vbmxvYWQlMjAlM0QlMjBTaG9waWZ5QnV5SW5pdCUzQiUwQSUyMCUyMCUyMCUyMCUyMCUyMCU3RCUwQSUwQSUyMCUyMCUyMCUyMCUyMCUyMGZ1bmN0aW9uJTIwU2hvcGlmeUJ1eUluaXQlMjglMjklMjAlN0IlMEElMjAlMjAlMjAlMjAlMjAlMjAlMjAlMjB2YXIlMjBjbGllbnQlMjAlM0QlMjBTaG9waWZ5QnV5LmJ1aWxkQ2xpZW50JTI4JTdCJTBBJTIwJTIwJTIwJTIwJTIwJTIwJTIwJTIwJTIwJTIwZG9tYWluJTNBJTIwJTI3cGV0aXRlZHJlc3NpbmcubXlzaG9waWZ5LmNvbSUyNyUyQyUwQSUyMCUyMCUyMCUyMCUyMCUyMCUyMCUyMCUyMCUyMGFwaUtleSUzQSUyMCUyNzQzOTE3MTdlZDU0ZGQzZmY0YTI4ZWI4YTA4NDU4YzM1JTI3JTJDJTBBJTIwJTIwJTIwJTIwJTIwJTIwJTIwJTIwJTIwJTIwYXBwSWQlM0ElMjAlMjc2JTI3JTJDJTBBJTIwJTIwJTIwJTIwJTIwJTIwJTIwJTIwJTdEJTI5JTNCJTBBJTBBJTIwJTIwJTIwJTIwJTIwJTIwJTIwJTIwU2hvcGlmeUJ1eS5VSS5vblJlYWR5JTI4Y2xpZW50JTI5LnRoZW4lMjhmdW5jdGlvbiUyMCUyOHVpJTI5JTIwJTdCJTBBJTIwJTIwJTIwJTIwJTIwJTIwJTIwJTIwJTIwJTIwdWkuY3JlYXRlQ29tcG9uZW50JTI4JTI3cHJvZHVjdCUyNyUyQyUyMCU3QiUwQSUyMCUyMCUyMCUyMCUyMCUyMCUyMCUyMCUyMCUyMCUyMCUyMGlkJTNBJTIwJTVCMTM2MjM3MjE5ODcwJTVEJTJDJTBBJTIwJTIwJTIwJTIwJTIwJTIwJTIwJTIwJTIwJTIwJTIwJTIwbm9kZSUzQSUyMGRvY3VtZW50LmdldEVsZW1lbnRCeUlkJTI4JTI3cHJvZHVjdC1jb21wb25lbnQtMTUyNDM0NzQxNDM5OSUyNyUyOSUyQyUwQSUyMCUyMCUyMCUyMCUyMCUyMCUyMCUyMCUyMCUyMCUyMCUyMG1vbmV5Rm9ybWF0JTNBJTIwJTI3JTI0JTdCJTdCYW1vdW50JTdEJTdEJTI3JTJDJTBBJTIwJTIwJTIwJTIwJTIwJTIwJTIwJTIwJTIwJTIwJTIwJTIwb3B0aW9ucyUzQSUyMCU3QiUyMnByb2R1Y3QlMjIlM0ElN0IlMjJ2YXJpYW50SWQlMjIlM0ElMjJhbGwlMjIlMkMlMjJjb250ZW50cyUyMiUzQSU3QiUyMmltZ1dpdGhDYXJvdXNlbCUyMiUzQWZhbHNlJTJDJTIydmFyaWFudFRpdGxlJTIyJTNBZmFsc2UlMkMlMjJkZXNjcmlwdGlvbiUyMiUzQWZhbHNlJTJDJTIyYnV0dG9uV2l0aFF1YW50aXR5JTIyJTNBZmFsc2UlMkMlMjJxdWFudGl0eSUyMiUzQWZhbHNlJTdEJTJDJTIyc3R5bGVzJTIyJTNBJTdCJTIycHJvZHVjdCUyMiUzQSU3QiUyMiU0MG1lZGlhJTIwJTI4bWluLXdpZHRoJTNBJTIwNjAxcHglMjklMjIlM0ElN0IlMjJtYXgtd2lkdGglMjIlM0ElMjJjYWxjJTI4MjUlMjUlMjAtJTIwMjBweCUyOSUyMiUyQyUyMm1hcmdpbi1sZWZ0JTIyJTNBJTIyMjBweCUyMiUyQyUyMm1hcmdpbi1ib3R0b20lMjIlM0ElMjI1MHB4JTIyJTdEJTdEJTJDJTIyYnV0dG9uJTIyJTNBJTdCJTIyYmFja2dyb3VuZC1jb2xvciUyMiUzQSUyMiUyMzdkNGM4NCUyMiUyQyUyMiUzQWhvdmVyJTIyJTNBJTdCJTIyYmFja2dyb3VuZC1jb2xvciUyMiUzQSUyMiUyMzcxNDQ3NyUyMiU3RCUyQyUyMiUzQWZvY3VzJTIyJTNBJTdCJTIyYmFja2dyb3VuZC1jb2xvciUyMiUzQSUyMiUyMzcxNDQ3NyUyMiU3RCU3RCU3RCU3RCUyQyUyMmNhcnQlMjIlM0ElN0IlMjJjb250ZW50cyUyMiUzQSU3QiUyMmJ1dHRvbiUyMiUzQXRydWUlN0QlMkMlMjJzdHlsZXMlMjIlM0ElN0IlMjJidXR0b24lMjIlM0ElN0IlMjJiYWNrZ3JvdW5kLWNvbG9yJTIyJTNBJTIyJTIzN2Q0Yzg0JTIyJTJDJTIyJTNBaG92ZXIlMjIlM0ElN0IlMjJiYWNrZ3JvdW5kLWNvbG9yJTIyJTNBJTIyJTIzNzE0NDc3JTIyJTdEJTJDJTIyJTNBZm9jdXMlMjIlM0ElN0IlMjJiYWNrZ3JvdW5kLWNvbG9yJTIyJTNBJTIyJTIzNzE0NDc3JTIyJTdEJTdEJTJDJTIyZm9vdGVyJTIyJTNBJTdCJTIyYmFja2dyb3VuZC1jb2xvciUyMiUzQSUyMiUyM2ZmZmZmZiUyMiU3RCU3RCU3RCUyQyUyMm1vZGFsUHJvZHVjdCUyMiUzQSU3QiUyMmNvbnRlbnRzJTIyJTNBJTdCJTIyaW1nJTIyJTNBZmFsc2UlMkMlMjJpbWdXaXRoQ2Fyb3VzZWwlMjIlM0F0cnVlJTJDJTIydmFyaWFudFRpdGxlJTIyJTNBZmFsc2UlMkMlMjJidXR0b25XaXRoUXVhbnRpdHklMjIlM0F0cnVlJTJDJTIyYnV0dG9uJTIyJTNBZmFsc2UlMkMlMjJxdWFudGl0eSUyMiUzQWZhbHNlJTdEJTJDJTIyc3R5bGVzJTIyJTNBJTdCJTIycHJvZHVjdCUyMiUzQSU3QiUyMiU0MG1lZGlhJTIwJTI4bWluLXdpZHRoJTNBJTIwNjAxcHglMjklMjIlM0ElN0IlMjJtYXgtd2lkdGglMjIlM0ElMjIxMDAlMjUlMjIlMkMlMjJtYXJnaW4tbGVmdCUyMiUzQSUyMjBweCUyMiUyQyUyMm1hcmdpbi1ib3R0b20lMjIlM0ElMjIwcHglMjIlN0QlN0QlMkMlMjJidXR0b24lMjIlM0ElN0IlMjJiYWNrZ3JvdW5kLWNvbG9yJTIyJTNBJTIyJTIzN2Q0Yzg0JTIyJTJDJTIyJTNBaG92ZXIlMjIlM0ElN0IlMjJiYWNrZ3JvdW5kLWNvbG9yJTIyJTNBJTIyJTIzNzE0NDc3JTIyJTdEJTJDJTIyJTNBZm9jdXMlMjIlM0ElN0IlMjJiYWNrZ3JvdW5kLWNvbG9yJTIyJTNBJTIyJTIzNzE0NDc3JTIyJTdEJTdEJTdEJTdEJTJDJTIydG9nZ2xlJTIyJTNBJTdCJTIyc3R5bGVzJTIyJTNBJTdCJTIydG9nZ2xlJTIyJTNBJTdCJTIyYmFja2dyb3VuZC1jb2xvciUyMiUzQSUyMiUyMzdkNGM4NCUyMiUyQyUyMiUzQWhvdmVyJTIyJTNBJTdCJTIyYmFja2dyb3VuZC1jb2xvciUyMiUzQSUyMiUyMzcxNDQ3NyUyMiU3RCUyQyUyMiUzQWZvY3VzJTIyJTNBJTdCJTIyYmFja2dyb3VuZC1jb2xvciUyMiUzQSUyMiUyMzcxNDQ3NyUyMiU3RCU3RCU3RCU3RCUyQyUyMnByb2R1Y3RTZXQlMjIlM0ElN0IlMjJzdHlsZXMlMjIlM0ElN0IlMjJwcm9kdWN0cyUyMiUzQSU3QiUyMiU0MG1lZGlhJTIwJTI4bWluLXdpZHRoJTNBJTIwNjAxcHglMjklMjIlM0ElN0IlMjJtYXJnaW4tbGVmdCUyMiUzQSUyMi0yMHB4JTIyJTdEJTdEJTdEJTdEJTdEJTJDJTBBJTIwJTIwJTIwJTIwJTIwJTIwJTIwJTIwJTIwJTIwJTdEJTI5JTNCJTBBJTIwJTIwJTIwJTIwJTIwJTIwJTIwJTIwJTdEJTI5JTNCJTBBJTIwJTIwJTIwJTIwJTIwJTIwJTdEJTBBJTIwJTIwJTIwJTIwJTdEJTI5JTI4JTI5JTNCJTBBJTIwJTIwJTIwJTIwJTJGJTJBJTVEJTVEJTNFJTJBJTJGJTBBJTIwJTIwJTIwJTIwJTNDJTJGc2NyaXB0JTNF[/vc_raw_html][/vc_column_inner][vc_column_inner width="1/3″][/vc_column_inner][/vc_row_inner][/vc_column][/vc_row][vc_row][vc_column][vc_column_text]Now, let's talk about the exception- that is you happen to have short torso body type, then high waisted style is not the best for you.   For the short torso body type, your goal should be to balance out your short torso and make it look longer.  High waisted style does the opposite for you.  Low rise pants or mid rise pants both can make your torso longer, however, because you are petite and we don't want the low rise design to make your legs too short, mid rise is preferable.  A pair of mid rise pants will do the job the flatter your short torso without reducing too much of your leg length (after all, we do still want to look taller than we are!) Read more tips and tricks on How to Dress if You are Petite and Have Short Torso.[/vc_column_text][/vc_column][/vc_row][vc_row][vc_column width="1/3″][vc_raw_html]JTNDZGl2JTIwaWQlM0QlMjdwcm9kdWN0LWNvbXBvbmVudC0xNTI0MzQ3NDk5NTQ0JTI3JTNFJTNDJTJGZGl2JTNFJTBBJTIwJTIwJTIwJTIwJTNDc2NyaXB0JTIwdHlwZSUzRCUyMnRleHQlMkZqYXZhc2NyaXB0JTIyJTNFJTBBJTIwJTIwJTIwJTIwJTJGJTJBJTNDJTIxJTVCQ0RBVEElNUIlMkElMkYlMEElMjAlMjAlMjAlMjAlMjAlMjAlMjhmdW5jdGlvbiUyMCUyOCUyOSUyMCU3QiUwQSUyMCUyMCUyMCUyMCUyMCUyMCUyMCUyMHZhciUyMHNjcmlwdFVSTCUyMCUzRCUyMCUyN2h0dHBzJTNBJTJGJTJGc2Rrcy5zaG9waWZ5Y2RuLmNvbSUyRmJ1eS1idXR0b24lMkZsYXRlc3QlMkZidXktYnV0dG9uLXN0b3JlZnJvbnQubWluLmpzJTI3JTNCJTBBJTIwJTIwJTIwJTIwJTIwJTIwJTIwJTIwaWYlMjAlMjh3aW5kb3cuU2hvcGlmeUJ1eSUyOSUyMCU3QiUwQSUyMCUyMCUyMCUyMCUyMCUyMCUyMCUyMCUyMCUyMGlmJTIwJTI4d2luZG93LlNob3BpZnlCdXkuVUklMjklMjAlN0IlMEElMjAlMjAlMjAlMjAlMjAlMjAlMjAlMjAlMjAlMjAlMjAlMjBTaG9waWZ5QnV5SW5pdCUyOCUyOSUzQiUwQSUyMCUyMCUyMCUyMCUyMCUyMCUyMCUyMCUyMCUyMCU3RCUyMGVsc2UlMjAlN0IlMEElMjAlMjAlMjAlMjAlMjAlMjAlMjAlMjAlMjAlMjAlMjAlMjBsb2FkU2NyaXB0JTI4JTI5JTNCJTBBJTIwJTIwJTIwJTIwJTIwJTIwJTIwJTIwJTIwJTIwJTdEJTBBJTIwJTIwJTIwJTIwJTIwJTIwJTIwJTIwJTdEJTIwZWxzZSUyMCU3QiUwQSUyMCUyMCUyMCUyMCUyMCUyMCUyMCUyMCUyMCUyMGxvYWRTY3JpcHQlMjglMjklM0IlMEElMjAlMjAlMjAlMjAlMjAlMjAlMjAlMjAlN0QlMEElMEElMjAlMjAlMjAlMjAlMjAlMjBmdW5jdGlvbiUyMGxvYWRTY3JpcHQlMjglMjklMjAlN0IlMEElMjAlMjAlMjAlMjAlMjAlMjAlMjAlMjB2YXIlMjBzY3JpcHQlMjAlM0QlMjBkb2N1bWVudC5jcmVhdGVFbGVtZW50JTI4JTI3c2NyaXB0JTI3JTI5JTNCJTBBJTIwJTIwJTIwJTIwJTIwJTIwJTIwJTIwc2NyaXB0LmFzeW5jJTIwJTNEJTIwdHJ1ZSUzQiUwQSUyMCUyMCUyMCUyMCUyMCUyMCUyMCUyMHNjcmlwdC5zcmMlMjAlM0QlMjBzY3JpcHRVUkwlM0IlMEElMjAlMjAlMjAlMjAlMjAlMjAlMjAlMjAlMjhkb2N1bWVudC5nZXRFbGVtZW50c0J5VGFnTmFtZSUyOCUyN2hlYWQlMjclMjklNUIwJTVEJTIwJTdDJTdDJTIwZG9jdW1lbnQuZ2V0RWxlbWVudHNCeVRhZ05hbWUlMjglMjdib2R5JTI3JTI5JTVCMCU1RCUyOS5hcHBlbmRDaGlsZCUyOHNjcmlwdCUyOSUzQiUwQSUyMCUyMCUyMCUyMCUyMCUyMCUyMCUyMHNjcmlwdC5vbmxvYWQlMjAlM0QlMjBTaG9waWZ5QnV5SW5pdCUzQiUwQSUyMCUyMCUyMCUyMCUyMCUyMCU3RCUwQSUwQSUyMCUyMCUyMCUyMCUyMCUyMGZ1bmN0aW9uJTIwU2hvcGlmeUJ1eUluaXQlMjglMjklMjAlN0IlMEElMjAlMjAlMjAlMjAlMjAlMjAlMjAlMjB2YXIlMjBjbGllbnQlMjAlM0QlMjBTaG9waWZ5QnV5LmJ1aWxkQ2xpZW50JTI4JTdCJTBBJTIwJTIwJTIwJTIwJTIwJTIwJTIwJTIwJTIwJTIwZG9tYWluJTNBJTIwJTI3cGV0aXRlZHJlc3NpbmcubXlzaG9waWZ5LmNvbSUyNyUyQyUwQSUyMCUyMCUyMCUyMCUyMCUyMCUyMCUyMCUyMCUyMGFwaUtleSUzQSUyMCUyNzQzOTE3MTdlZDU0ZGQzZmY0YTI4ZWI4YTA4NDU4YzM1JTI3JTJDJTBBJTIwJTIwJTIwJTIwJTIwJTIwJTIwJTIwJTIwJTIwYXBwSWQlM0ElMjAlMjc2JTI3JTJDJTBBJTIwJTIwJTIwJTIwJTIwJTIwJTIwJTIwJTdEJTI5JTNCJTBBJTBBJTIwJTIwJTIwJTIwJTIwJTIwJTIwJTIwU2hvcGlmeUJ1eS5VSS5vblJlYWR5JTI4Y2xpZW50JTI5LnRoZW4lMjhmdW5jdGlvbiUyMCUyOHVpJTI5JTIwJTdCJTBBJTIwJTIwJTIwJTIwJTIwJTIwJTIwJTIwJTIwJTIwdWkuY3JlYXRlQ29tcG9uZW50JTI4JTI3cHJvZHVjdCUyNyUyQyUyMCU3QiUwQSUyMCUyMCUyMCUyMCUyMCUyMCUyMCUyMCUyMCUyMCUyMCUyMGlkJTNBJTIwJTVCOTY4ODExODE0NSU1RCUyQyUwQSUyMCUyMCUyMCUyMCUyMCUyMCUyMCUyMCUyMCUyMCUyMCUyMG5vZGUlM0ElMjBkb2N1bWVudC5nZXRFbGVtZW50QnlJZCUyOCUyN3Byb2R1Y3QtY29tcG9uZW50LTE1MjQzNDc0OTk1NDQlMjclMjklMkMlMEElMjAlMjAlMjAlMjAlMjAlMjAlMjAlMjAlMjAlMjAlMjAlMjBtb25leUZvcm1hdCUzQSUyMCUyNyUyNCU3QiU3QmFtb3VudCU3RCU3RCUyNyUyQyUwQSUyMCUyMCUyMCUyMCUyMCUyMCUyMCUyMCUyMCUyMCUyMCUyMG9wdGlvbnMlM0ElMjAlN0IlMjJwcm9kdWN0JTIyJTNBJTdCJTIydmFyaWFudElkJTIyJTNBJTIyYWxsJTIyJTJDJTIyY29udGVudHMlMjIlM0ElN0IlMjJpbWdXaXRoQ2Fyb3VzZWwlMjIlM0FmYWxzZSUyQyUyMnZhcmlhbnRUaXRsZSUyMiUzQWZhbHNlJTJDJTIyZGVzY3JpcHRpb24lMjIlM0FmYWxzZSUyQyUyMmJ1dHRvbldpdGhRdWFudGl0eSUyMiUzQWZhbHNlJTJDJTIycXVhbnRpdHklMjIlM0FmYWxzZSU3RCUyQyUyMnN0eWxlcyUyMiUzQSU3QiUyMnByb2R1Y3QlMjIlM0ElN0IlMjIlNDBtZWRpYSUyMCUyOG1pbi13aWR0aCUzQSUyMDYwMXB4JTI5JTIyJTNBJTdCJTIybWF4LXdpZHRoJTIyJTNBJTIyY2FsYyUyODI1JTI1JTIwLSUyMDIwcHglMjklMjIlMkMlMjJtYXJnaW4tbGVmdCUyMiUzQSUyMjIwcHglMjIlMkMlMjJtYXJnaW4tYm90dG9tJTIyJTNBJTIyNTBweCUyMiU3RCU3RCUyQyUyMmJ1dHRvbiUyMiUzQSU3QiUyMmJhY2tncm91bmQtY29sb3IlMjIlM0ElMjIlMjM3ZDRjODQlMjIlMkMlMjIlM0Fob3ZlciUyMiUzQSU3QiUyMmJhY2tncm91bmQtY29sb3IlMjIlM0ElMjIlMjM3MTQ0NzclMjIlN0QlMkMlMjIlM0Fmb2N1cyUyMiUzQSU3QiUyMmJhY2tncm91bmQtY29sb3IlMjIlM0ElMjIlMjM3MTQ0NzclMjIlN0QlN0QlN0QlN0QlMkMlMjJjYXJ0JTIyJTNBJTdCJTIyY29udGVudHMlMjIlM0ElN0IlMjJidXR0b24lMjIlM0F0cnVlJTdEJTJDJTIyc3R5bGVzJTIyJTNBJTdCJTIyYnV0dG9uJTIyJTNBJTdCJTIyYmFja2dyb3VuZC1jb2xvciUyMiUzQSUyMiUyMzdkNGM4NCUyMiUyQyUyMiUzQWhvdmVyJTIyJTNBJTdCJTIyYmFja2dyb3VuZC1jb2xvciUyMiUzQSUyMiUyMzcxNDQ3NyUyMiU3RCUyQyUyMiUzQWZvY3VzJTIyJTNBJTdCJTIyYmFja2dyb3VuZC1jb2xvciUyMiUzQSUyMiUyMzcxNDQ3NyUyMiU3RCU3RCUyQyUyMmZvb3RlciUyMiUzQSU3QiUyMmJhY2tncm91bmQtY29sb3IlMjIlM0ElMjIlMjNmZmZmZmYlMjIlN0QlN0QlN0QlMkMlMjJtb2RhbFByb2R1Y3QlMjIlM0ElN0IlMjJjb250ZW50cyUyMiUzQSU3QiUyMmltZyUyMiUzQWZhbHNlJTJDJTIyaW1nV2l0aENhcm91c2VsJTIyJTNBdHJ1ZSUyQyUyMnZhcmlhbnRUaXRsZSUyMiUzQWZhbHNlJTJDJTIyYnV0dG9uV2l0aFF1YW50aXR5JTIyJTNBdHJ1ZSUyQyUyMmJ1dHRvbiUyMiUzQWZhbHNlJTJDJTIycXVhbnRpdHklMjIlM0FmYWxzZSU3RCUyQyUyMnN0eWxlcyUyMiUzQSU3QiUyMnByb2R1Y3QlMjIlM0ElN0IlMjIlNDBtZWRpYSUyMCUyOG1pbi13aWR0aCUzQSUyMDYwMXB4JTI5JTIyJTNBJTdCJTIybWF4LXdpZHRoJTIyJTNBJTIyMTAwJTI1JTIyJTJDJTIybWFyZ2luLWxlZnQlMjIlM0ElMjIwcHglMjIlMkMlMjJtYXJnaW4tYm90dG9tJTIyJTNBJTIyMHB4JTIyJTdEJTdEJTJDJTIyYnV0dG9uJTIyJTNBJTdCJTIyYmFja2dyb3VuZC1jb2xvciUyMiUzQSUyMiUyMzdkNGM4NCUyMiUyQyUyMiUzQWhvdmVyJTIyJTNBJTdCJTIyYmFja2dyb3VuZC1jb2xvciUyMiUzQSUyMiUyMzcxNDQ3NyUyMiU3RCUyQyUyMiUzQWZvY3VzJTIyJTNBJTdCJTIyYmFja2dyb3VuZC1jb2xvciUyMiUzQSUyMiUyMzcxNDQ3NyUyMiU3RCU3RCU3RCU3RCUyQyUyMnRvZ2dsZSUyMiUzQSU3QiUyMnN0eWxlcyUyMiUzQSU3QiUyMnRvZ2dsZSUyMiUzQSU3QiUyMmJhY2tncm91bmQtY29sb3IlMjIlM0ElMjIlMjM3ZDRjODQlMjIlMkMlMjIlM0Fob3ZlciUyMiUzQSU3QiUyMmJhY2tncm91bmQtY29sb3IlMjIlM0ElMjIlMjM3MTQ0NzclMjIlN0QlMkMlMjIlM0Fmb2N1cyUyMiUzQSU3QiUyMmJhY2tncm91bmQtY29sb3IlMjIlM0ElMjIlMjM3MTQ0NzclMjIlN0QlN0QlN0QlN0QlMkMlMjJwcm9kdWN0U2V0JTIyJTNBJTdCJTIyc3R5bGVzJTIyJTNBJTdCJTIycHJvZHVjdHMlMjIlM0ElN0IlMjIlNDBtZWRpYSUyMCUyOG1pbi13aWR0aCUzQSUyMDYwMXB4JTI5JTIyJTNBJTdCJTIybWFyZ2luLWxlZnQlMjIlM0ElMjItMjBweCUyMiU3RCU3RCU3RCU3RCU3RCUyQyUwQSUyMCUyMCUyMCUyMCUyMCUyMCUyMCUyMCUyMCUyMCU3RCUyOSUzQiUwQSUyMCUyMCUyMCUyMCUyMCUyMCUyMCUyMCU3RCUyOSUzQiUwQSUyMCUyMCUyMCUyMCUyMCUyMCU3RCUwQSUyMCUyMCUyMCUyMCU3RCUyOSUyOCUyOSUzQiUwQSUyMCUyMCUyMCUyMCUyRiUyQSU1RCU1RCUzRSUyQSUyRiUwQSUyMCUyMCUyMCUyMCUzQyUyRnNjcmlwdCUzRQ==[/vc_raw_html][/vc_column][vc_column width="1/3″][vc_raw_html]JTNDZGl2JTIwaWQlM0QlMjdwcm9kdWN0LWNvbXBvbmVudC0xNTI0MzQ3NTQ4MjU3JTI3JTNFJTNDJTJGZGl2JTNFJTBBJTIwJTIwJTIwJTIwJTNDc2NyaXB0JTIwdHlwZSUzRCUyMnRleHQlMkZqYXZhc2NyaXB0JTIyJTNFJTBBJTIwJTIwJTIwJTIwJTJGJTJBJTNDJTIxJTVCQ0RBVEElNUIlMkElMkYlMEElMjAlMjAlMjAlMjAlMjAlMjAlMjhmdW5jdGlvbiUyMCUyOCUyOSUyMCU3QiUwQSUyMCUyMCUyMCUyMCUyMCUyMCUyMCUyMHZhciUyMHNjcmlwdFVSTCUyMCUzRCUyMCUyN2h0dHBzJTNBJTJGJTJGc2Rrcy5zaG9waWZ5Y2RuLmNvbSUyRmJ1eS1idXR0b24lMkZsYXRlc3QlMkZidXktYnV0dG9uLXN0b3JlZnJvbnQubWluLmpzJTI3JTNCJTBBJTIwJTIwJTIwJTIwJTIwJTIwJTIwJTIwaWYlMjAlMjh3aW5kb3cuU2hvcGlmeUJ1eSUyOSUyMCU3QiUwQSUyMCUyMCUyMCUyMCUyMCUyMCUyMCUyMCUyMCUyMGlmJTIwJTI4d2luZG93LlNob3BpZnlCdXkuVUklMjklMjAlN0IlMEElMjAlMjAlMjAlMjAlMjAlMjAlMjAlMjAlMjAlMjAlMjAlMjBTaG9waWZ5QnV5SW5pdCUyOCUyOSUzQiUwQSUyMCUyMCUyMCUyMCUyMCUyMCUyMCUyMCUyMCUyMCU3RCUyMGVsc2UlMjAlN0IlMEElMjAlMjAlMjAlMjAlMjAlMjAlMjAlMjAlMjAlMjAlMjAlMjBsb2FkU2NyaXB0JTI4JTI5JTNCJTBBJTIwJTIwJTIwJTIwJTIwJTIwJTIwJTIwJTIwJTIwJTdEJTBBJTIwJTIwJTIwJTIwJTIwJTIwJTIwJTIwJTdEJTIwZWxzZSUyMCU3QiUwQSUyMCUyMCUyMCUyMCUyMCUyMCUyMCUyMCUyMCUyMGxvYWRTY3JpcHQlMjglMjklM0IlMEElMjAlMjAlMjAlMjAlMjAlMjAlMjAlMjAlN0QlMEElMEElMjAlMjAlMjAlMjAlMjAlMjBmdW5jdGlvbiUyMGxvYWRTY3JpcHQlMjglMjklMjAlN0IlMEElMjAlMjAlMjAlMjAlMjAlMjAlMjAlMjB2YXIlMjBzY3JpcHQlMjAlM0QlMjBkb2N1bWVudC5jcmVhdGVFbGVtZW50JTI4JTI3c2NyaXB0JTI3JTI5JTNCJTBBJTIwJTIwJTIwJTIwJTIwJTIwJTIwJTIwc2NyaXB0LmFzeW5jJTIwJTNEJTIwdHJ1ZSUzQiUwQSUyMCUyMCUyMCUyMCUyMCUyMCUyMCUyMHNjcmlwdC5zcmMlMjAlM0QlMjBzY3JpcHRVUkwlM0IlMEElMjAlMjAlMjAlMjAlMjAlMjAlMjAlMjAlMjhkb2N1bWVudC5nZXRFbGVtZW50c0J5VGFnTmFtZSUyOCUyN2hlYWQlMjclMjklNUIwJTVEJTIwJTdDJTdDJTIwZG9jdW1lbnQuZ2V0RWxlbWVudHNCeVRhZ05hbWUlMjglMjdib2R5JTI3JTI5JTVCMCU1RCUyOS5hcHBlbmRDaGlsZCUyOHNjcmlwdCUyOSUzQiUwQSUyMCUyMCUyMCUyMCUyMCUyMCUyMCUyMHNjcmlwdC5vbmxvYWQlMjAlM0QlMjBTaG9waWZ5QnV5SW5pdCUzQiUwQSUyMCUyMCUyMCUyMCUyMCUyMCU3RCUwQSUwQSUyMCUyMCUyMCUyMCUyMCUyMGZ1bmN0aW9uJTIwU2hvcGlmeUJ1eUluaXQlMjglMjklMjAlN0IlMEElMjAlMjAlMjAlMjAlMjAlMjAlMjAlMjB2YXIlMjBjbGllbnQlMjAlM0QlMjBTaG9waWZ5QnV5LmJ1aWxkQ2xpZW50JTI4JTdCJTBBJTIwJTIwJTIwJTIwJTIwJTIwJTIwJTIwJTIwJTIwZG9tYWluJTNBJTIwJTI3cGV0aXRlZHJlc3NpbmcubXlzaG9waWZ5LmNvbSUyNyUyQyUwQSUyMCUyMCUyMCUyMCUyMCUyMCUyMCUyMCUyMCUyMGFwaUtleSUzQSUyMCUyNzQzOTE3MTdlZDU0ZGQzZmY0YTI4ZWI4YTA4NDU4YzM1JTI3JTJDJTBBJTIwJTIwJTIwJTIwJTIwJTIwJTIwJTIwJTIwJTIwYXBwSWQlM0ElMjAlMjc2JTI3JTJDJTBBJTIwJTIwJTIwJTIwJTIwJTIwJTIwJTIwJTdEJTI5JTNCJTBBJTBBJTIwJTIwJTIwJTIwJTIwJTIwJTIwJTIwU2hvcGlmeUJ1eS5VSS5vblJlYWR5JTI4Y2xpZW50JTI5LnRoZW4lMjhmdW5jdGlvbiUyMCUyOHVpJTI5JTIwJTdCJTBBJTIwJTIwJTIwJTIwJTIwJTIwJTIwJTIwJTIwJTIwdWkuY3JlYXRlQ29tcG9uZW50JTI4JTI3cHJvZHVjdCUyNyUyQyUyMCU3QiUwQSUyMCUyMCUyMCUyMCUyMCUyMCUyMCUyMCUyMCUyMCUyMCUyMGlkJTNBJTIwJTVCMTAyMjU2ODE5MjElNUQlMkMlMEElMjAlMjAlMjAlMjAlMjAlMjAlMjAlMjAlMjAlMjAlMjAlMjBub2RlJTNBJTIwZG9jdW1lbnQuZ2V0RWxlbWVudEJ5SWQlMjglMjdwcm9kdWN0LWNvbXBvbmVudC0xNTI0MzQ3NTQ4MjU3JTI3JTI5JTJDJTBBJTIwJTIwJTIwJTIwJTIwJTIwJTIwJTIwJTIwJTIwJTIwJTIwbW9uZXlGb3JtYXQlM0ElMjAlMjclMjQlN0IlN0JhbW91bnQlN0QlN0QlMjclMkMlMEElMjAlMjAlMjAlMjAlMjAlMjAlMjAlMjAlMjAlMjAlMjAlMjBvcHRpb25zJTNBJTIwJTdCJTIycHJvZHVjdCUyMiUzQSU3QiUyMnZhcmlhbnRJZCUyMiUzQSUyMmFsbCUyMiUyQyUyMmNvbnRlbnRzJTIyJTNBJTdCJTIyaW1nV2l0aENhcm91c2VsJTIyJTNBZmFsc2UlMkMlMjJ2YXJpYW50VGl0bGUlMjIlM0FmYWxzZSUyQyUyMmRlc2NyaXB0aW9uJTIyJTNBZmFsc2UlMkMlMjJidXR0b25XaXRoUXVhbnRpdHklMjIlM0FmYWxzZSUyQyUyMnF1YW50aXR5JTIyJTNBZmFsc2UlN0QlMkMlMjJzdHlsZXMlMjIlM0ElN0IlMjJwcm9kdWN0JTIyJTNBJTdCJTIyJTQwbWVkaWElMjAlMjhtaW4td2lkdGglM0ElMjA2MDFweCUyOSUyMiUzQSU3QiUyMm1heC13aWR0aCUyMiUzQSUyMmNhbGMlMjgyNSUyNSUyMC0lMjAyMHB4JTI5JTIyJTJDJTIybWFyZ2luLWxlZnQlMjIlM0ElMjIyMHB4JTIyJTJDJTIybWFyZ2luLWJvdHRvbSUyMiUzQSUyMjUwcHglMjIlN0QlN0QlMkMlMjJidXR0b24lMjIlM0ElN0IlMjJiYWNrZ3JvdW5kLWNvbG9yJTIyJTNBJTIyJTIzN2Q0Yzg0JTIyJTJDJTIyJTNBaG92ZXIlMjIlM0ElN0IlMjJiYWNrZ3JvdW5kLWNvbG9yJTIyJTNBJTIyJTIzNzE0NDc3JTIyJTdEJTJDJTIyJTNBZm9jdXMlMjIlM0ElN0IlMjJiYWNrZ3JvdW5kLWNvbG9yJTIyJTNBJTIyJTIzNzE0NDc3JTIyJTdEJTdEJTdEJTdEJTJDJTIyY2FydCUyMiUzQSU3QiUyMmNvbnRlbnRzJTIyJTNBJTdCJTIyYnV0dG9uJTIyJTNBdHJ1ZSU3RCUyQyUyMnN0eWxlcyUyMiUzQSU3QiUyMmJ1dHRvbiUyMiUzQSU3QiUyMmJhY2tncm91bmQtY29sb3IlMjIlM0ElMjIlMjM3ZDRjODQlMjIlMkMlMjIlM0Fob3ZlciUyMiUzQSU3QiUyMmJhY2tncm91bmQtY29sb3IlMjIlM0ElMjIlMjM3MTQ0NzclMjIlN0QlMkMlMjIlM0Fmb2N1cyUyMiUzQSU3QiUyMmJhY2tncm91bmQtY29sb3IlMjIlM0ElMjIlMjM3MTQ0NzclMjIlN0QlN0QlMkMlMjJmb290ZXIlMjIlM0ElN0IlMjJiYWNrZ3JvdW5kLWNvbG9yJTIyJTNBJTIyJTIzZmZmZmZmJTIyJTdEJTdEJTdEJTJDJTIybW9kYWxQcm9kdWN0JTIyJTNBJTdCJTIyY29udGVudHMlMjIlM0ElN0IlMjJpbWclMjIlM0FmYWxzZSUyQyUyMmltZ1dpdGhDYXJvdXNlbCUyMiUzQXRydWUlMkMlMjJ2YXJpYW50VGl0bGUlMjIlM0FmYWxzZSUyQyUyMmJ1dHRvbldpdGhRdWFudGl0eSUyMiUzQXRydWUlMkMlMjJidXR0b24lMjIlM0FmYWxzZSUyQyUyMnF1YW50aXR5JTIyJTNBZmFsc2UlN0QlMkMlMjJzdHlsZXMlMjIlM0ElN0IlMjJwcm9kdWN0JTIyJTNBJTdCJTIyJTQwbWVkaWElMjAlMjhtaW4td2lkdGglM0ElMjA2MDFweCUyOSUyMiUzQSU3QiUyMm1heC13aWR0aCUyMiUzQSUyMjEwMCUyNSUyMiUyQyUyMm1hcmdpbi1sZWZ0JTIyJTNBJTIyMHB4JTIyJTJDJTIybWFyZ2luLWJvdHRvbSUyMiUzQSUyMjBweCUyMiU3RCU3RCUyQyUyMmJ1dHRvbiUyMiUzQSU3QiUyMmJhY2tncm91bmQtY29sb3IlMjIlM0ElMjIlMjM3ZDRjODQlMjIlMkMlMjIlM0Fob3ZlciUyMiUzQSU3QiUyMmJhY2tncm91bmQtY29sb3IlMjIlM0ElMjIlMjM3MTQ0NzclMjIlN0QlMkMlMjIlM0Fmb2N1cyUyMiUzQSU3QiUyMmJhY2tncm91bmQtY29sb3IlMjIlM0ElMjIlMjM3MTQ0NzclMjIlN0QlN0QlN0QlN0QlMkMlMjJ0b2dnbGUlMjIlM0ElN0IlMjJzdHlsZXMlMjIlM0ElN0IlMjJ0b2dnbGUlMjIlM0ElN0IlMjJiYWNrZ3JvdW5kLWNvbG9yJTIyJTNBJTIyJTIzN2Q0Yzg0JTIyJTJDJTIyJTNBaG92ZXIlMjIlM0ElN0IlMjJiYWNrZ3JvdW5kLWNvbG9yJTIyJTNBJTIyJTIzNzE0NDc3JTIyJTdEJTJDJTIyJTNBZm9jdXMlMjIlM0ElN0IlMjJiYWNrZ3JvdW5kLWNvbG9yJTIyJTNBJTIyJTIzNzE0NDc3JTIyJTdEJTdEJTdEJTdEJTJDJTIycHJvZHVjdFNldCUyMiUzQSU3QiUyMnN0eWxlcyUyMiUzQSU3QiUyMnByb2R1Y3RzJTIyJTNBJTdCJTIyJTQwbWVkaWElMjAlMjhtaW4td2lkdGglM0ElMjA2MDFweCUyOSUyMiUzQSU3QiUyMm1hcmdpbi1sZWZ0JTIyJTNBJTIyLTIwcHglMjIlN0QlN0QlN0QlN0QlN0QlMkMlMEElMjAlMjAlMjAlMjAlMjAlMjAlMjAlMjAlMjAlMjAlN0QlMjklM0IlMEElMjAlMjAlMjAlMjAlMjAlMjAlMjAlMjAlN0QlMjklM0IlMEElMjAlMjAlMjAlMjAlMjAlMjAlN0QlMEElMjAlMjAlMjAlMjAlN0QlMjklMjglMjklM0IlMEElMjAlMjAlMjAlMjAlMkYlMkElNUQlNUQlM0UlMkElMkYlMEElMjAlMjAlMjAlMjAlM0MlMkZzY3JpcHQlM0U=[/vc_raw_html][/vc_column][vc_column width="1/3″][/vc_column][/vc_row]