If you are searching for petite swimsuits, I presume you are petite.  Before we talk about anything else, I also hope you already know what is petite.  In fashion and clothing, petite is referring the height (i.e. under 5'4″ and for some brands under 5'3″) and not the weight.   What that means is petite women could come in any sizes from XXS to XL and plus sizes.
Being petite (shorter) always makes shopping for clothing harder. I am 5'2″ and I understand totally how hard it is for you to find pretty much anything that fits properly. We always suggest short girls to get everything in petite department, whether it's special occasion dresses,petite size cocktail dresses, petite length evening gowns, or even casual dresses for petites.
Besides choosing bathing suits for the short height, choosing swimming suits for your body type is equally important. Whether you are a pear, hourglass, apple, inverted triangle, or rectangle, you need to find what flatters your particular shape.
Now, petite swimsuits are different from any other petite size clothing that we generally talk about. I have published a Youtube video on the top 10 swimsuits for petites. I highly suggest you still read the full blog post to get all the details I did not mention in the video.
For starters, there are not that many designers who label their swimsuits as regular vs petite sizes.  So far I have only found Landsend and ASOS. If you have found any other brands officially labeled as "petite swimsuits", I am very happy to share with our fellow petite friends.
The reason for that is the common measurements that set petite sizing apart from regular sizing may not be applicable here. A typical pair of petite size pants or jeans would have a shorter inseam to fit shorter legs of petite women. A typical petite blazer would have shorter sleeves because petite women normally have shorter arms. A typical petite coat would have narrower shoulders to suit shorter women too.
None of that applies to petite swimsuits, because they don't have shoulder pads, inseam or sleeves.
Now, does that mean any piece of swimwear will look the same on a petite woman as on our taller friends?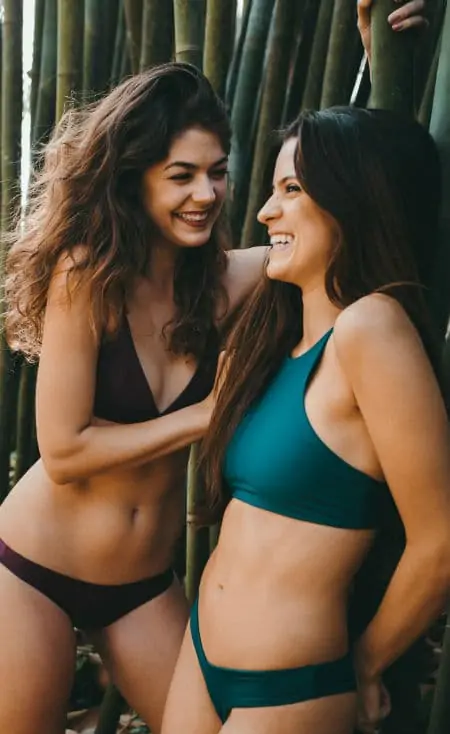 You already know the answer is no.  Being petite means we have our unique body features and that is why we need to be more selective about what we wear.  That means not only jackets and jeans but also swimsuits.
There are certain styles of petite swimsuits more flattering than others. Even though we don't have to deal with inseam and sleeve length, there is plenty of other things we need to take into consideration in order to find the swimsuits that look good on us.
Before I start with the 12 best swimsuits for Petites, I want to first dive into what you should be looking for as a short woman.
First of all, as a short girl, you always want to keep the interest above high. What I mean by that is you should look for swimsuits that draw attention to your face, or higher on your chest.
Second, most petite women have shorter torsos, so your focus should be to elongate your torso.
Meanwhile, petite women should always draw attention to the face, so that people can forget about your height. Your petite swimwear choice should be able to achieve that.
Additionally, we all know that petite women should find the right petite swimsuit that elongates the legs.  For women under 5'4", wearing swimsuits means that we cannot add 5 inches to our height from stiletto any more, or at least most of us don't walk on the beach in high heels.  (Read more about How to Look Taller. )Therefore,  most of us also need the right petite swimsuits to elongate our legs and make us look taller, except those extremely lucky petite women blessed with exceptional long legs relative to their height.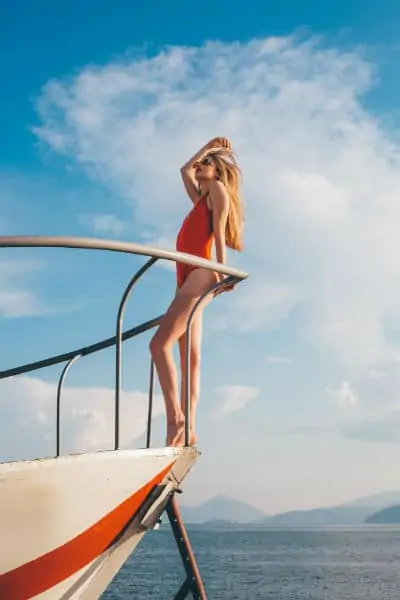 Last but not the least, regardless of someone's height, unless you are a Sports Illustrated swimsuit model, we all got some parts of our body that we want to emphasize, and other parts we may want to camouflage (somewhat).  Of course working out and diet helps significantly in the swimsuit season, however, losing weight or even toning our body doesn't solve all the issues.  We are all born with our unique body shape and body features (skinny, curvy, big bottom, flat chest, and so on), thus we need certain style of the swimsuit to flatter our body.
Top 12 petite swimsuits most flattering to short women
Belted One Piece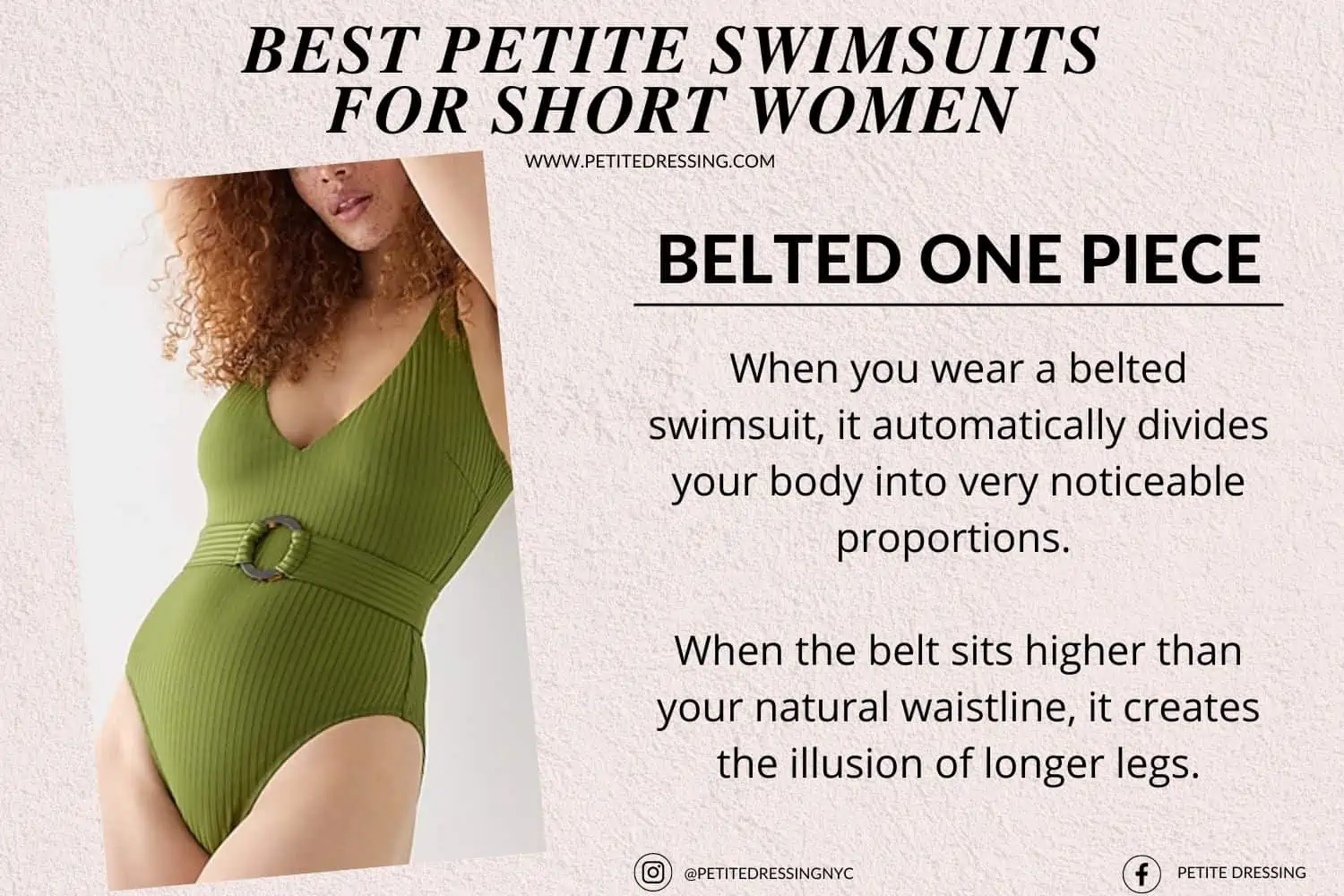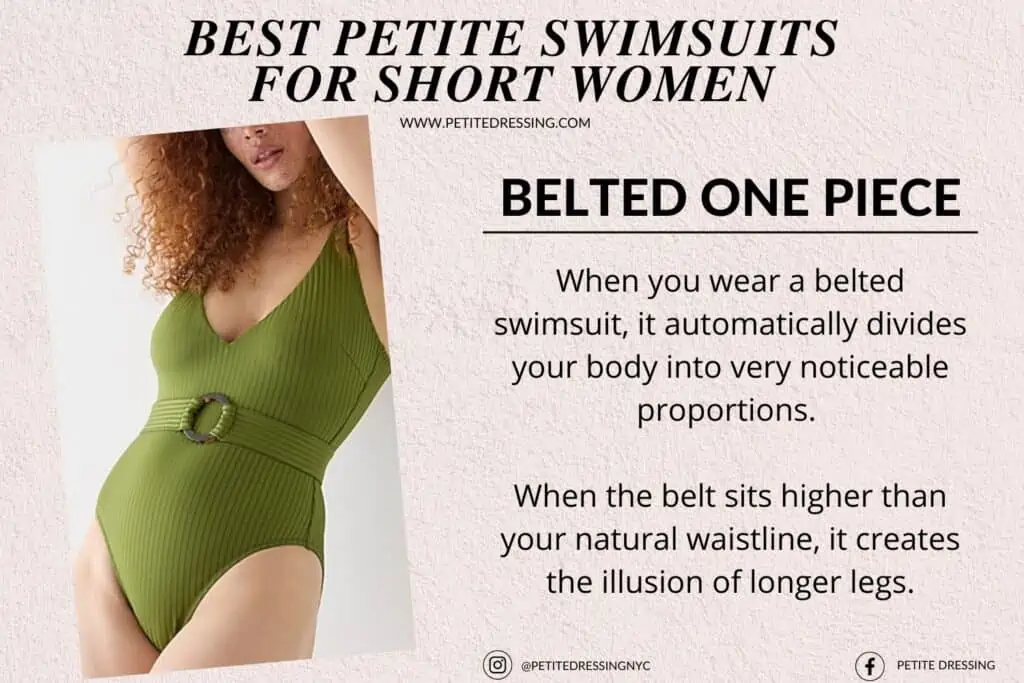 The best petite swimwear should improve your proportion and make your legs look longer. When you wear a belted swimsuit, it automatically divides your body into very noticeable proportions.
When the belt sits higher than your natural waistline, it creates the illusion of longer legs.
Belted swimsuits are best for those who want to stress their assets of the slender waist (like petite hourglass body type and petite pear shape).  They also could work well for a petite rectangle shape, which lacks a defined waistline and could use the help of a belt.  However, if you have a heavy midsection (like a petite apple shape), you may not want to draw everyone's attention to your waist by wearing the belted swimsuit.
High waisted bottom
High-waisted bottoms generally are flattering to petite women, so they are normally the top choice of petite swimsuits (I will mention the exception in a little bit).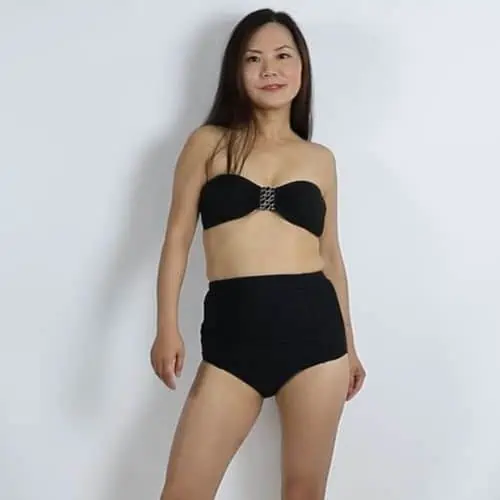 Why should you Wear High-Waisted Bottoms?
The high-waisted style was super popular in the 60s and 70s, as seen in some of the biggest names Hollywood stars including our favorite petite actress Elizabeth Taylor.
It is making a comeback not only because of its retro flare but also because it can effectively make our legs look longer by raising the waistline to above our natural waist.
If you have a heavy midsection, you should be very selective of the color of the high wasited bottoms. Opt for darker colors to have the shrinking effect, otherwise, it could make your muffin top look worse.
High-waisted bikini bottoms work the best on petite women with long torso and short legs. If you happen to be a petite girl with short torso and long legs, then it may not look the best on you because it is only going to make your torso even shorter.
Off-the-shoulder top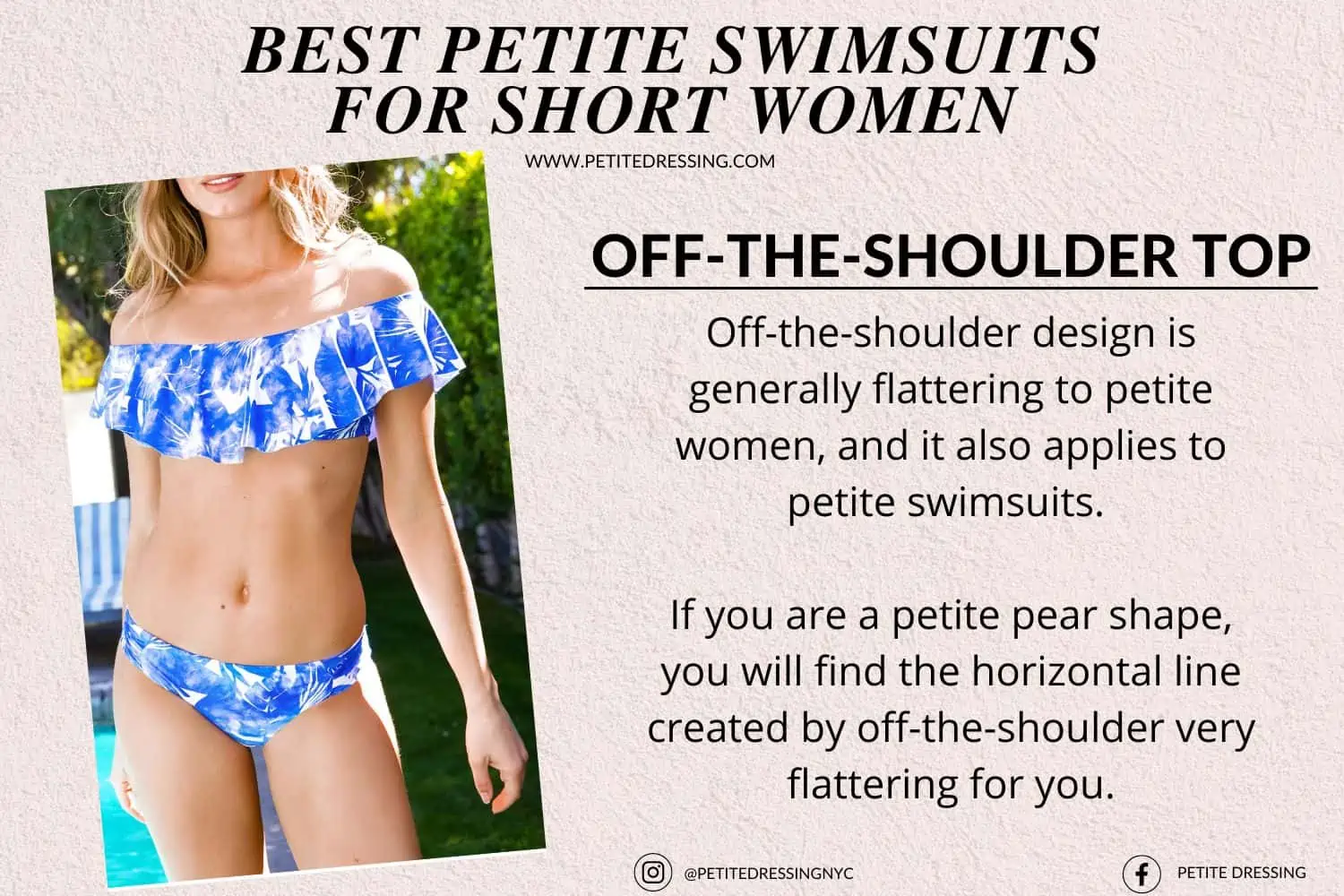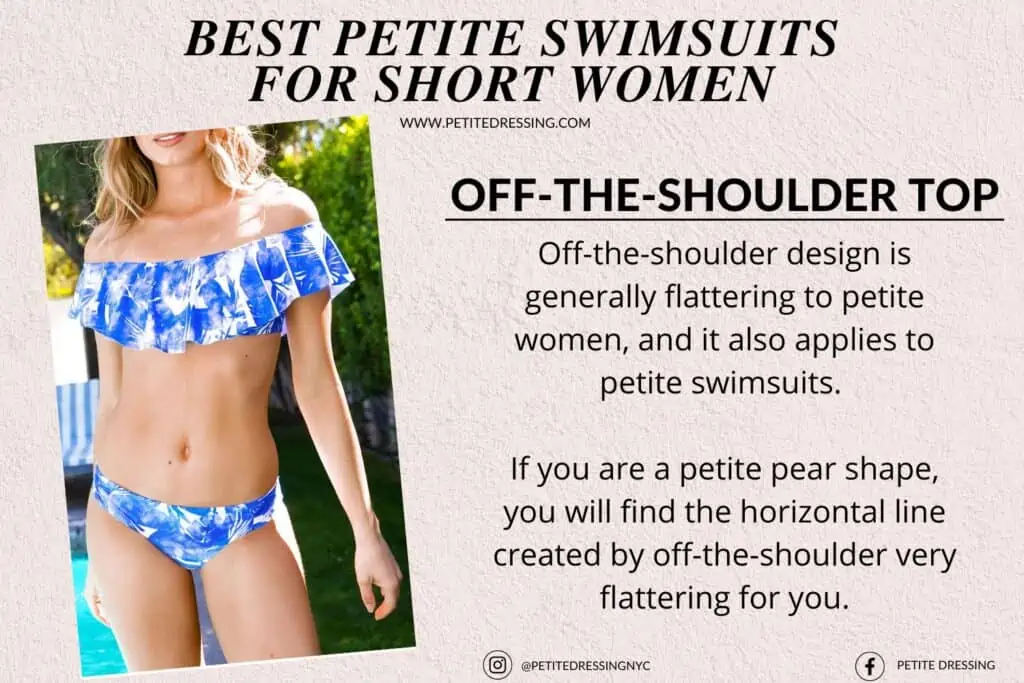 Off-the-shoulder design is generally flattering to petite women, and it also applies to petite swimsuits.
If you are a petite pear shape, you will find the horizontal line created by off-the-shoulder very flattering for you.  Pear-shaped women (whether or not petite) have wider hips and sloping shoulders.  Off-the-shoulder swimsuits effectively balance out your wider bottom.
Wrap top
If you already have nice curves like the petite hourglass shape, wrap tops accentuate your assets by emphasizing your chest and slender waist. For those of us with petite rectangular shape or petite triangle shape who need more feminine curves, wrap swimsuit balance out your otherwise athletic body frames.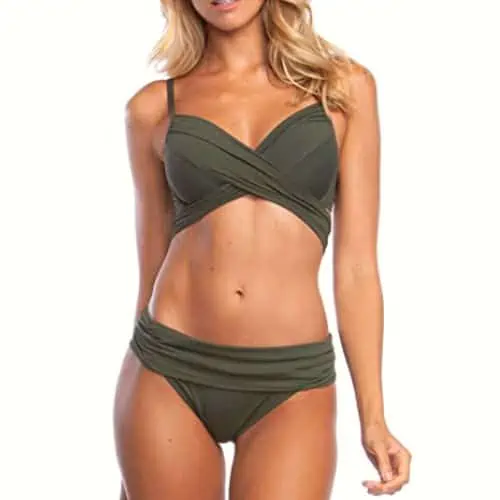 Have you ever tried the trend of wrap tops?
They are a very good choice for petite swimwear because they create curves. They are as feminine as it gets and they are very flattering to short girls of any body type.
Triangle bikini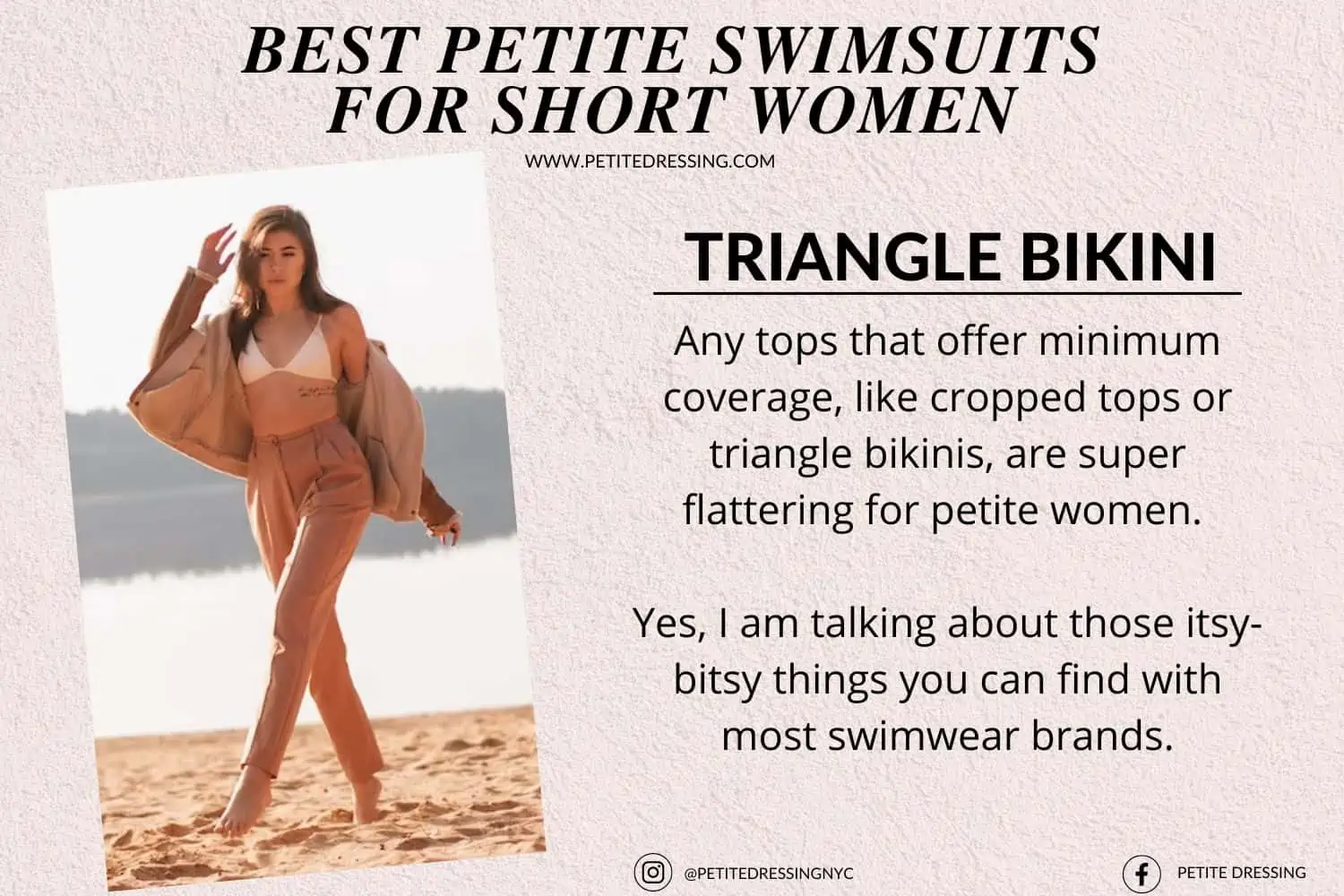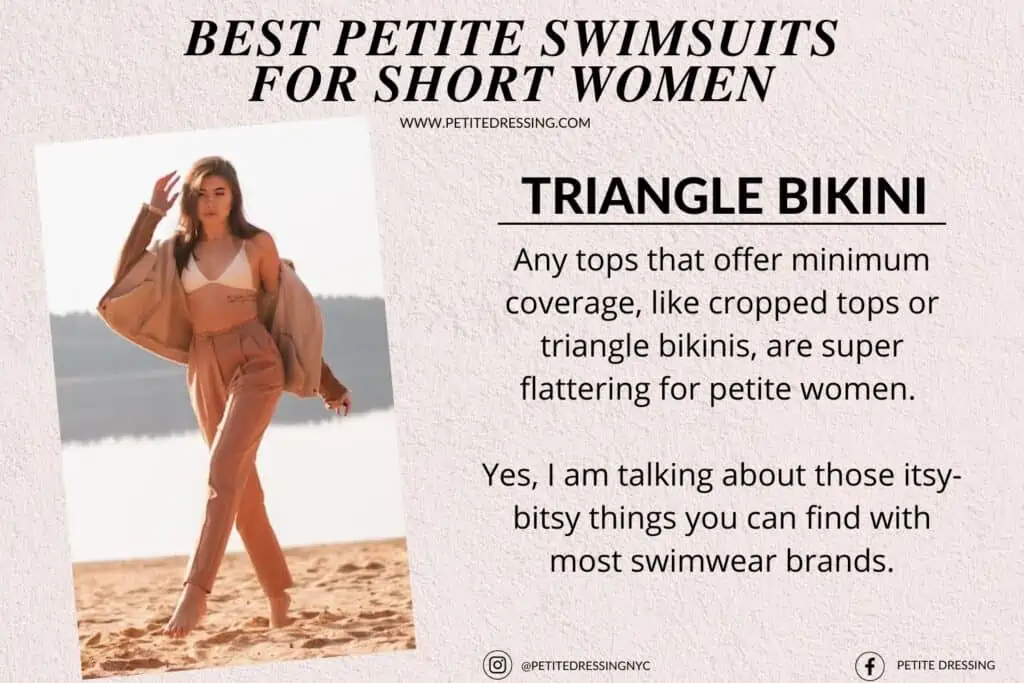 Any tops that offer minimum coverage, like cropped tops or triangle bikinis, are super flattering for petite women. Yes, I am talking about those itsy-bitsy things you can find with most swimwear brands.
The caveat here is if you are petite with big bust, then your better choices are swim tops with more structured bra design which can provide you more support for your chest.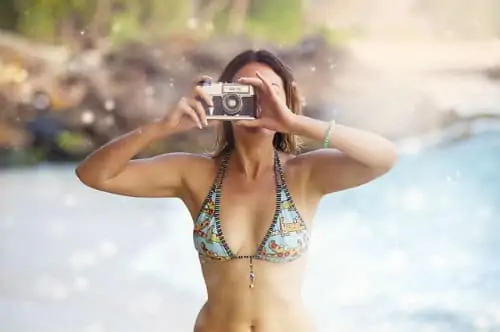 One piece with high cut
There are many reasons why one pieces are top-rated petite swimsuit.
First of all, one piece has a continuous pattern which creates an unbroken vertical line and makes a short woman look taller.
Secondly, when you wear one piece, all of a sudden your legs seem to be longer. It is because less attention is on your torso and more is on your legs.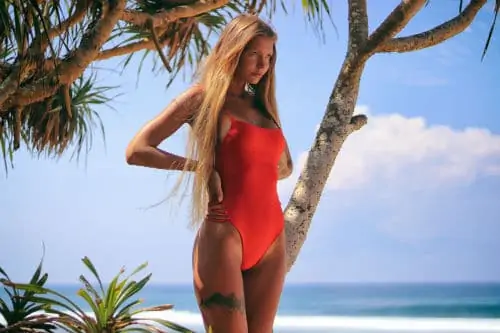 Finally, if you are concerned about your midriff (for example, if you are petite apple shape like myself), one piece swimsuits camouflage that perfectly and nobody will notice your belly.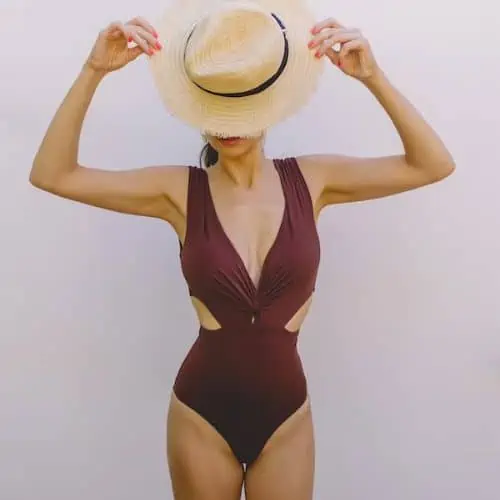 Why you Should Opt for One Piece with High Cut
If you like one-piece swimwear, the best for shorter girls are those with high-cut leg designs. They instantly elongate your legs and make your proportion look better.
Don't worry, high-cut swimsuits do NOT have to show your pubic bones! They can still be tasteful and classy.
Deep V neck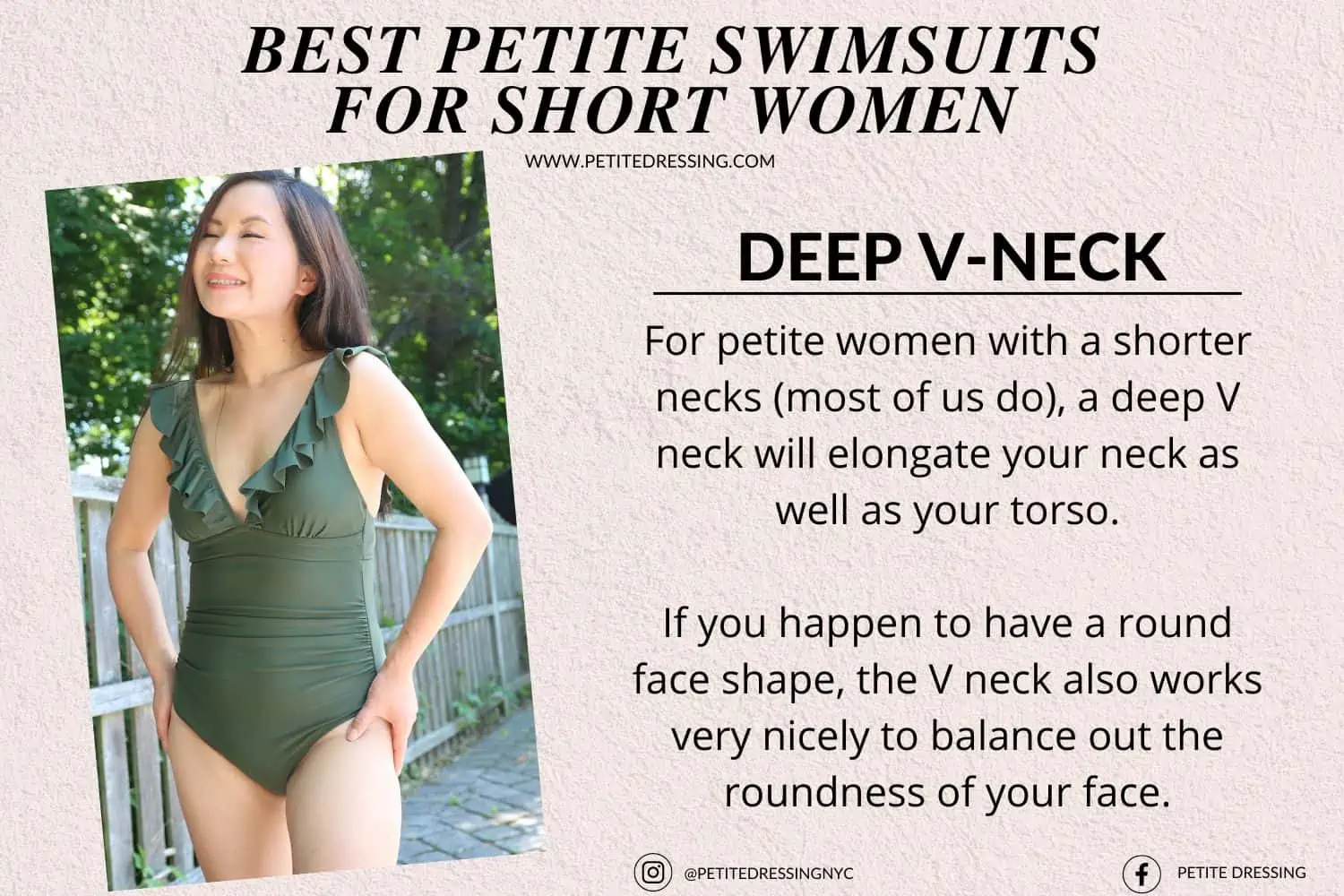 A deep plunging V neckline is a universally flattering design regardless of one's height.
For petite women with shorter necks (most of us do), a deep V-neck will elongate your neck as well as your torso.  If you happen to have a round face shape, the V neck also works very nicely to balance out the roundness of your face.
Vertical print
Vertical prints are the most flattering designs in petite swimsuits.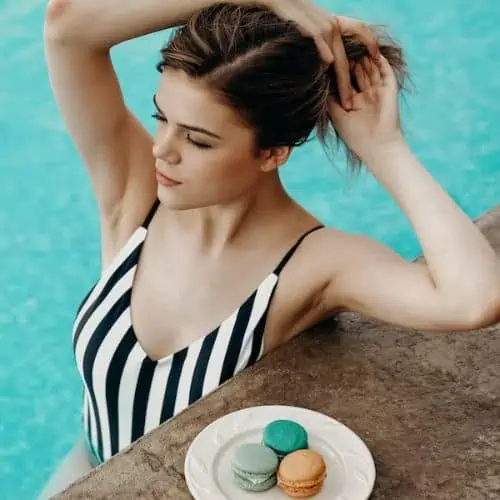 Why Vertical Print flatter Petites
Whether it's a stripe or vertically aligned florals, they have the ultimate lengthening effect by drawing eyes up and down.
These can effectively elongate your torso and your legs and make you look taller.
If you are not into loud black and white stripes, there's plenty of other cute color combinations.
High neck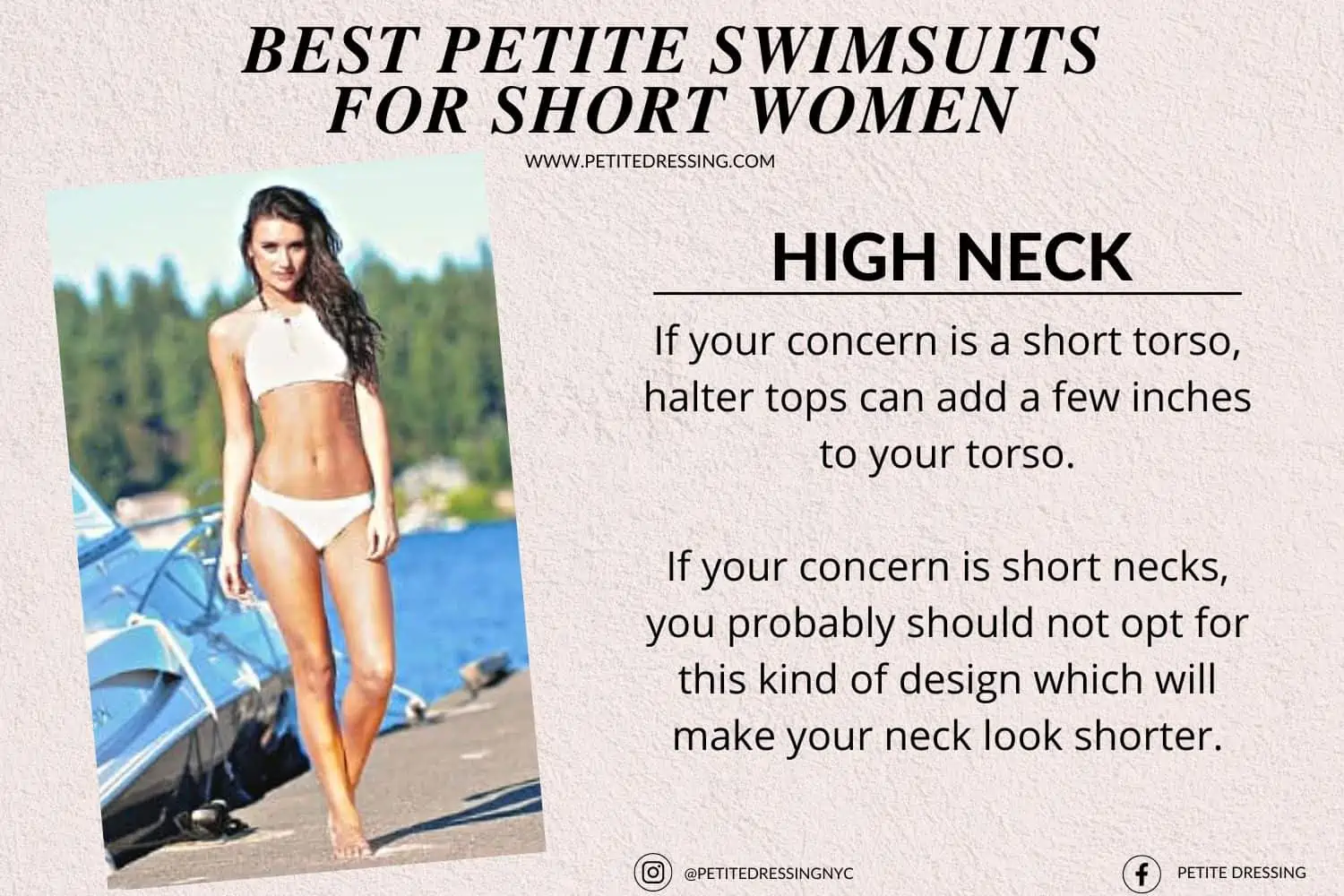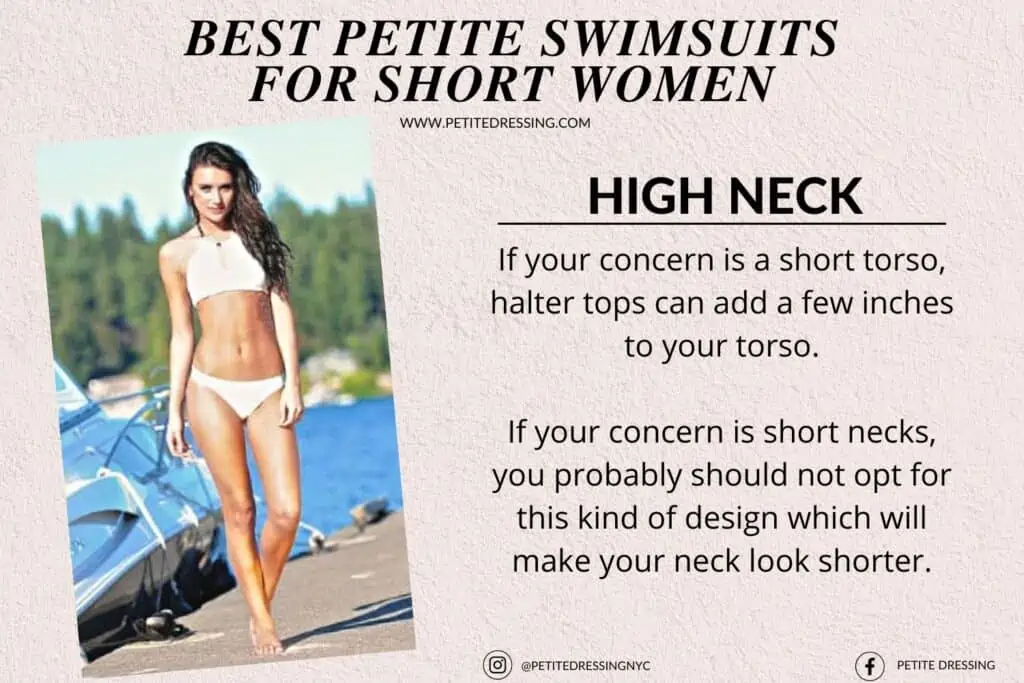 If your concern is short torso, halter tops can add a few inches to your torso.  On the other hand, not all halter swimsuits are created equally.  Some halter swimsuit has a high neck design- if your concern is long necks, you probably should not opt for this kind of design which will make your neck look shorter.
Strappy Tops
The strappy design keeps interest higher and draws attention to your face.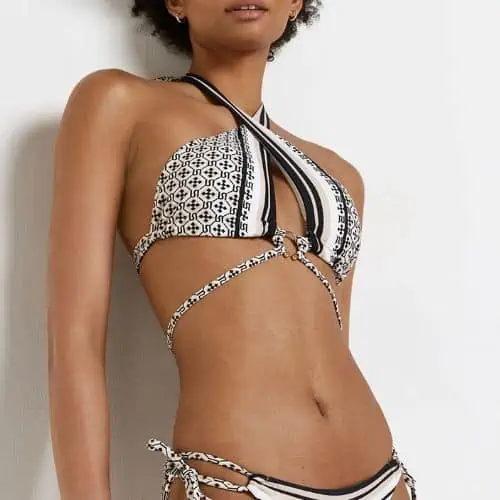 Why Strappy Tops are Flattering?
The reason the strappy tops are flattering for petite women is that it draws attention higher!
If you are petite, and especially if you have a short torso, this kind of design will make your torso look elongated.
One Shoulder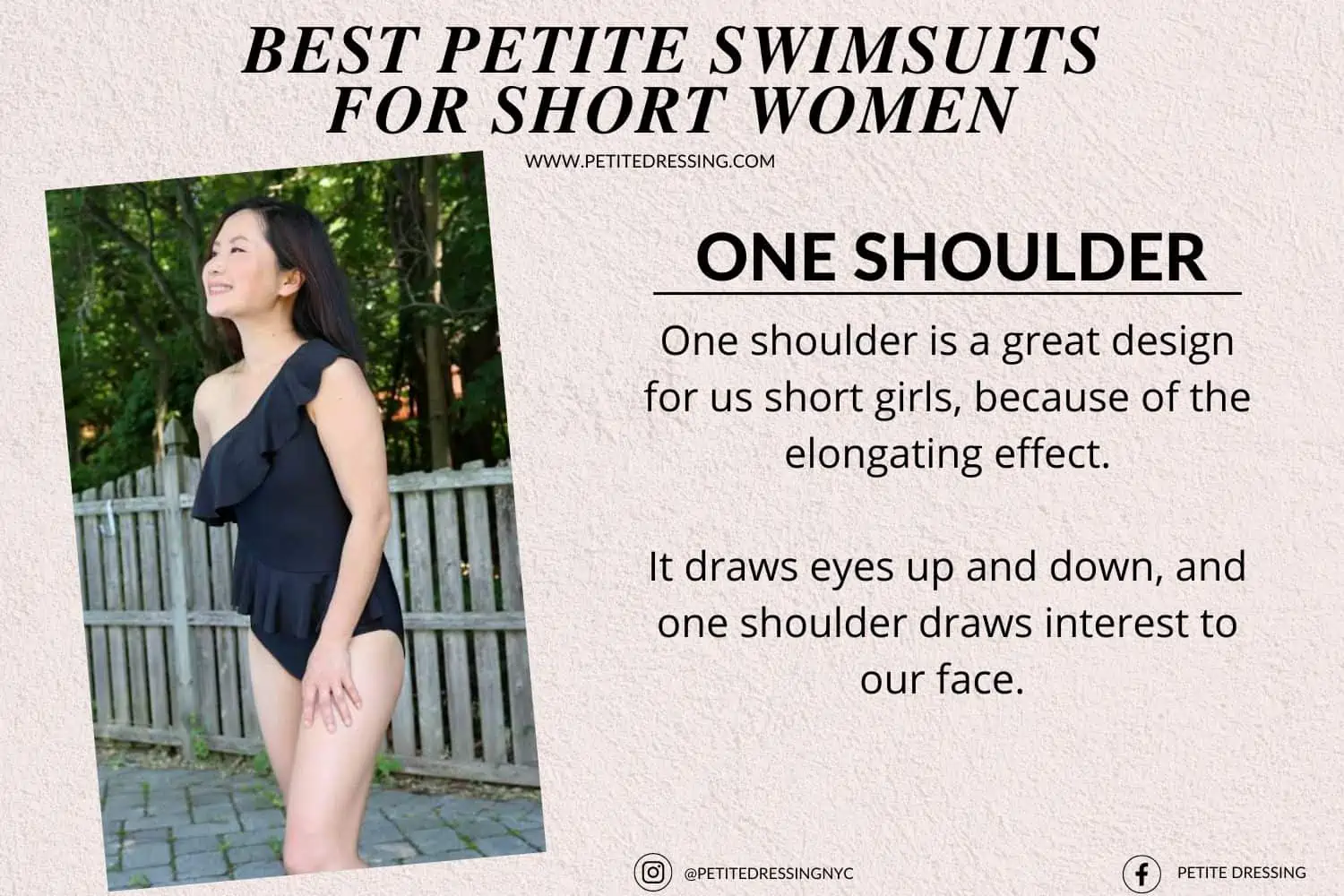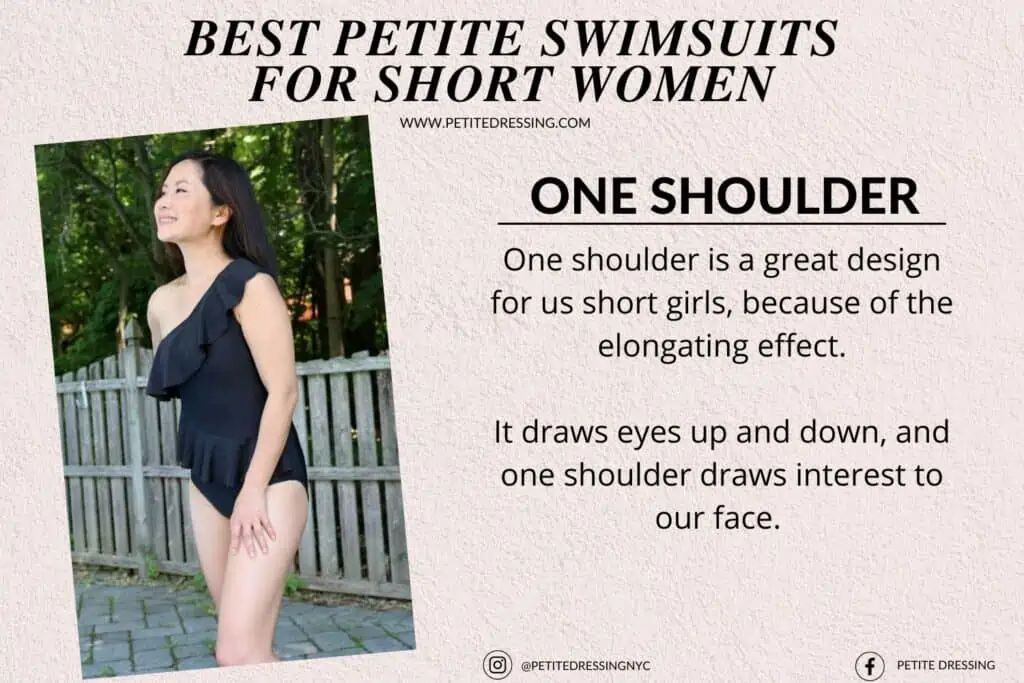 One shoulder is a great design for us short girls, because of the elongating effect. It draws eyes up and down, and one shoulder draws interest to our face.
String bikini
When we talk about styling for short girls, low rise pants in general are not favored, especially if you have short legs. The reason is they can make your legs look shorter. However, when it comes to bikini bottoms, it is a different ball game.
Low rise can work well petite women, especially if they are string bikinis with side ties.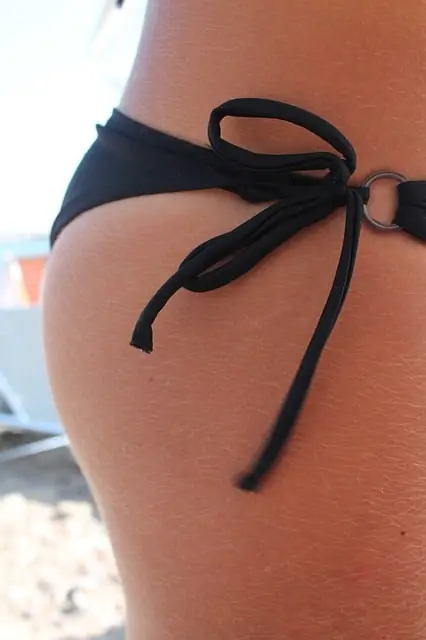 I can speak for it from my own experiences.  I have a long rise and short-leg body type.  When I wear pants or jeans, I go for high waisted style in order to make my legs look longer.  When it comes to bikinis, low-rise bottoms do a perfect job to balance out my long rise quite nicely.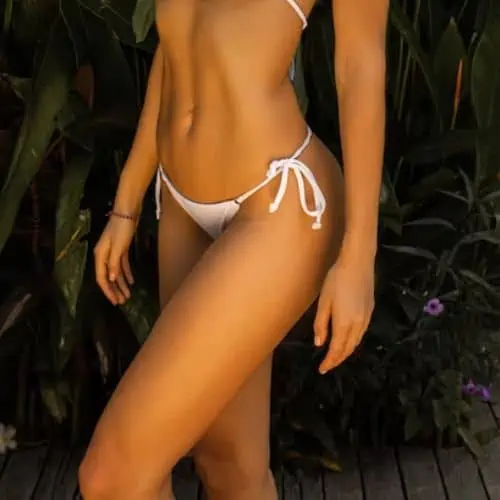 Why you Should Opt for Low Rise String Bikini
If the low-rise bottom has ties on the sides, they actually lengthen your legs.
In addition, string bikini bottoms offer flexibility and adjustability to ensure a perfect fit for petite women.
Note there are also boy shorts style low rise swimwear. They won't look as flattering as string bikinis, because they cover your legs more.
Everything else you need to know about swimming suits
I highly recommend you read my other posts on choosing the right swimsuits for your body types!