If you are petite, it is already hard enough for you to find the petite size clothing that fits you. If you are petite and pregnant, that challenge doubles!
When I was shopping for petite maternity dresses, I have found most of the maternity shops were either oversized or overpriced. If you are petite and skinny, you may not show any of your baby bump until the midterm (i.e. 5 months and sometimes even later), so you really only need 5 months of petite maternity clothes for the rest of your pregnancy. Now, if you are due in winter, then the petite maternity dresses would only last you a couple of months before you need to switch to winter layers.
Since I am a value shopper, I was not going to splurge on the designer labels of petite maternity dresses. I have found the following places with reasonable prices and their quality was fine. Their selection is good enough to have all the maternity clothing I needed in addition to petite maternity dresses. Some of them are also on our list of best petite brands where you can shop other petite clothes.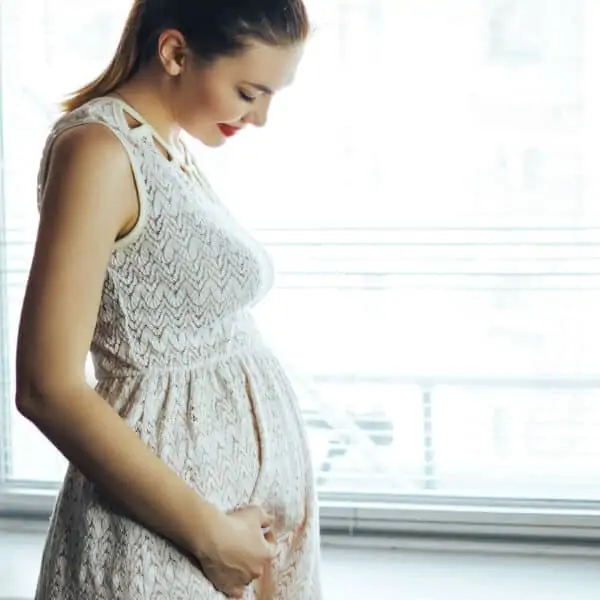 ASOS
I'm sure most petite girls have heard of ASOS and shopped with them at some point, and they are also your best friend if you are expecting and looking for fast fashion for petite maternity dresses. Even then they are a UK company, ASOS is a quite popular brand amongst petite shoppers in the US because of their reasonable prices and fast delivery.
Their review is a bit of a mixture- they are known for fast fashion and low prices, and you sometimes hear complaints about their fabrics. Well, it all depends on your expectation. like I mentioned earlier, I personally don't expect to spend a ton on maternity clothing thus I'm not expecting premium designer quality either. So when I was looking for petite maternity dresses, I came to check out ASOS maternity section.
The best part about their petite maternity dresses is that you can find some styles rare on other websites such as petite maxi maternity dresses. Think about it- it's hard enough for us petite girls to find maxi dresses that won't drag on the floor, let alone those made specially for expecting petite Moms! Their price range is consistent with other clothing line on ASOS, and you can normally get anything you like for under $80. You can find petite maternity joggers for only $29, and a pair of stylish petite leather looking maternity leggings for only $35.
Loft
If you are petite, I am sure you are familiar with the petite line of Loft. Loft is the more affordable sister line of Ann Taylor, and their casual and work clothing both have petites. In their maternity section you can find a variety of petite maternity dresses at reasonable prices. They also have a good selection of maternity jeans, maternity slim pants, chino pants and stylish maternity leggings in faux leather paneled ponte.
Their price range is similar to the other items of Loft. A pair of petite maternity pants are usually around $79, and their petite maternity dresses are around $60. For under $100, you can get a couple of essentials that will last you through the critical months of pregnancy. The best part is they have regular promotions and even bigger sales around holidays, so get ready to jump on those deals and score amazing finds at unbelievably low prices during those times.
Old Navy
This is my go-to place for inexpensive petite maternity dresses. Nothing fancy, but you can pretty much find any essential you need at Old Navy. What I love about their maternity section is you can shop by trimester. If you are a first time Mom and have little idea where to start, by all means try their starter kit and shop by trimester. They also have a from "Hospital to Home" section, which makes it so convenient for inexperienced expecting Moms!
Their maternity dresses don't really specify petite sizes, but their maternity pants and jeans do have the option of short, regular or long inseam. Their prices are always unbeatable, where you can sometimes get petite maternity dresses for under $20 when they are on sale! Even their regularly priced petite maternity pants are $39. It doesn't get better than this if you are looking for something causal and easy to outfit to last through a few months!
Gap
If you are familiar with the petite shop at gap, then you can't miss the petite maternity dresses by Gap. This is like a higher end cousin of Old Navy, where you can also shop by trimesters. Like Old Navy, their maternity dresses may not be petite sizes, but that sometimes may not matter if you are just looking for a comfortable and loose fit dress to last through the pregnancy. Gap Maternity has the best selection of maternity jeans that you love. If you like their regular jeans line, you will love this place to find the same style, only tailored for expecting Moms. For example, you can find maternity boyfriend jeans at Gap, which is not available at many other places. They have short inseam available for our petite expecting Moms that will fit you perfectly without hemming.
Motherhood Maternity
They carry a wide selection of petite maternity clothing from petite maternity dresses, sweaters to pants/jeans as well as coats. If your budget is under $100, you will find a good selection of petite maternity dresses range from $39 to $79, and sometimes even lower if they are on sales. I have found some of their regular sized maternity dresses fit me just fine, as long as the length was ok for me.
The petite maternity jeans have different cuts such as straight leg, skinny, boot cut and flare- basically everything you would normally wear, so you don't have to ditch your favorite style just because you are expecting. Their maternity jeans is 28 inches, a perfect inseam length that will fit most women under 5'4". They are made of stretchy material, so comfortable when you are going through pregnancy.
The best part is they also have brick-and-motor stores where you could try on everything and see if they actually fit before you purchase. That is a fantastic news for us petite women who are always struggling to find retail stores that carry our petite sizes and the only solution is to go online. If you do feel like to splurge a little once in a while, they do have designer maternity jeans with a much higher price tag.