Having the pear shaped body means you come with feminine curves on your hips and thighs. Below is a comprehensive guide on how to dress a pear shaped woman.
CHARACTERISTICS
If you have a pear shape, your body generally have the following characteristics:
Your hips are larger than your bust, and your hips are wider than your shoulders. In many cases, your hips are the widest point of your body
You have a nicely defined waist
You have an elegant neck and proportionately slim arms and shoulders
You first gain weight in your bottom and legs flowed by your tummy and upper body
You have round, sloping shoulders.
Your buttocks and thighs are full and round.
You tend to have a long waist.
STYLING GOAL
When looking for the best pear shaped body clothes, your goal should be to create an hourglass like silhouette through:
Balancing your narrow/sloping shoulders
Drawing attention to your narrow waistline
Showing off your firm abs (if you have them)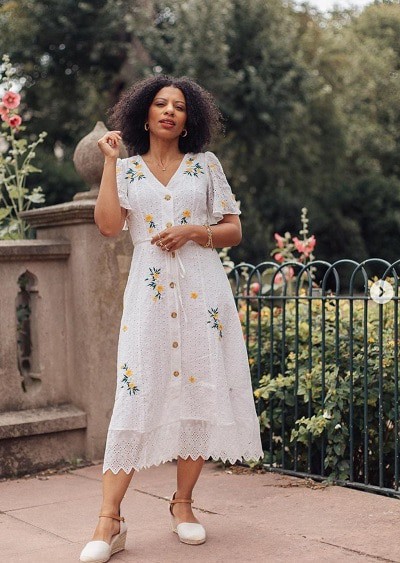 JACKETS
Hip length
For the pear shaped women, generally speaking a longer jacket that bypass the widest point of your hips is the best choice.
Shawls
This is a well-kept secret that you probably have not heard about. The shawls are heaven-sent for pear-shaped figures, because for several reasons.
First, it draws attention above to your face, and strategically expands your shoulders.
Additionally, they are chic and functional at the same time. They keep you warm when you need the extra layer, without adding any bulk to your body.
If you are going to a formal event, you can opt for an evening gown that comes with a shawl.
The details will not only make your shoulders look broader, but also draw attention above and away from your butt and thighs.
Caution with cropped jackets
The cropped length jacket normally draw attention to your hips, which is not the most flattering point of your body.
So, if you do want to wear a cropped jacket, you need to be very strategic. You probably want it really short, and also wear it with black skirts or pants to balance it out. The reason why a shorter length could work on a pear shaped body is it could have the effect of a shawl, which I will talk about in greater details in this post.
TOPS
Structured Top
A fitted and structured top is a good choice to balance out the sloping shoulders of pear shape.
Fitted and structured tops look especially well in a pear shape because they create definition around your narrow shoulders and draw attention to your small waistline. A good example is jackets with full or structured shoulders and a nipped-in waist in hip-length. If you have a pear figure, light shoulder pads work the best to balance out your narrow top.
Horizontal neckline
Pear body shape should use a neckline to visually expand your shoulders and create the illusion of a wider top. The most flattering neckline designs for pear shapes are boat neck and off-the-shoulder
Both boat neck and off-the-shoulder create the horizontal line in shoulders, which serves to balance out your wide hips.
Wrap Top
The slender waist is a valuable asset of women with pear-shaped bodies. You should absolutely emphasize and make that the focal point of your outfit. Wrap tops are top choices to bring attention to your waistline.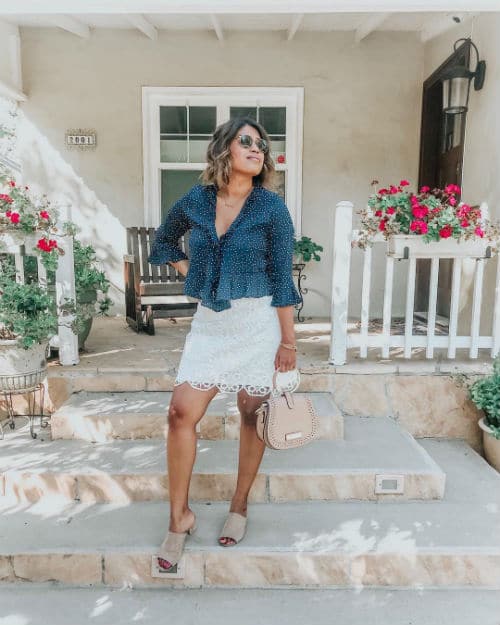 Belted top
Alternative, add a belt to any basic tops, tube tops, knit tops, sleeveless tops, etc.
Blouses with built-in waistbands also serve the same purpose of highlighting your slender waist.
Caution with tunics
If you have a pear shaped body, then you want to avoid the length that hits the widest part of your thighs. Because that is going to draw too much attention to your prominent thighs, the opposite of what you want!
This rule of thumb applies to all the tops I'm to tell you about.
SKIRTS
A line
A-line skirts that gently skim your body help to de-emphasize your bottom, and they are generally flattering to women of pear shape, like this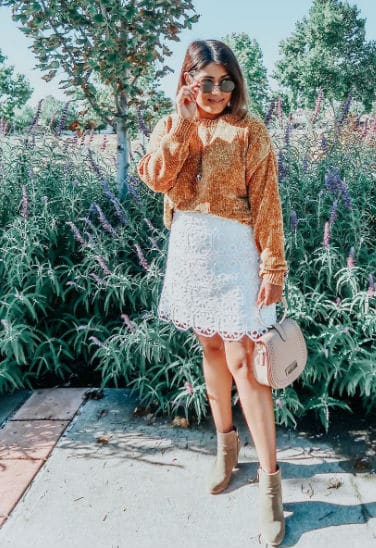 Look for lightly gathered skirts that skim your bottom without adding volume. Simple, dark-colored skirts with no (or minimal) pockets with a mid-rise or high-rise waist will look great on you. For casual looks, choose relaxed fits that fall straight down from the widest part of your hip.
Midi skirt
In general, longer skirts are better for pear-shaped.
The reason is that mini-skirts will easily draw attention to your thighs, which is something you want to avoid. If you do want a shorter skirt, make sure it is structured and heavily weighted like this so that it does not cling to your thighs.
Caution with pencil skirt
Whether you should wear a pencil skirt or not is totally up to you because it all depends on how you look at your body and what you view as the assets of your body shape.
Kim Kardashian has very prominent hips and thighs, and she never shies away from flouncing those curves. In fact, a cropped top with a high-waisted skirt is one of Kim's most famous signature looks.
On the other hand, some pear shape women are self-conscious about their prominent thigh area. That is totally fine and understandable.
DRESSES
Empire waistline
Best dresses for a pear-shaped body? They should draw all the attention to your slender waist! The empire waistline dress is the most ideal for pear shape women.
The empire waist is a dress where the waistline is high, which is normally placed just below the bust line, like this Kimono Sleeves Dress ($69.00)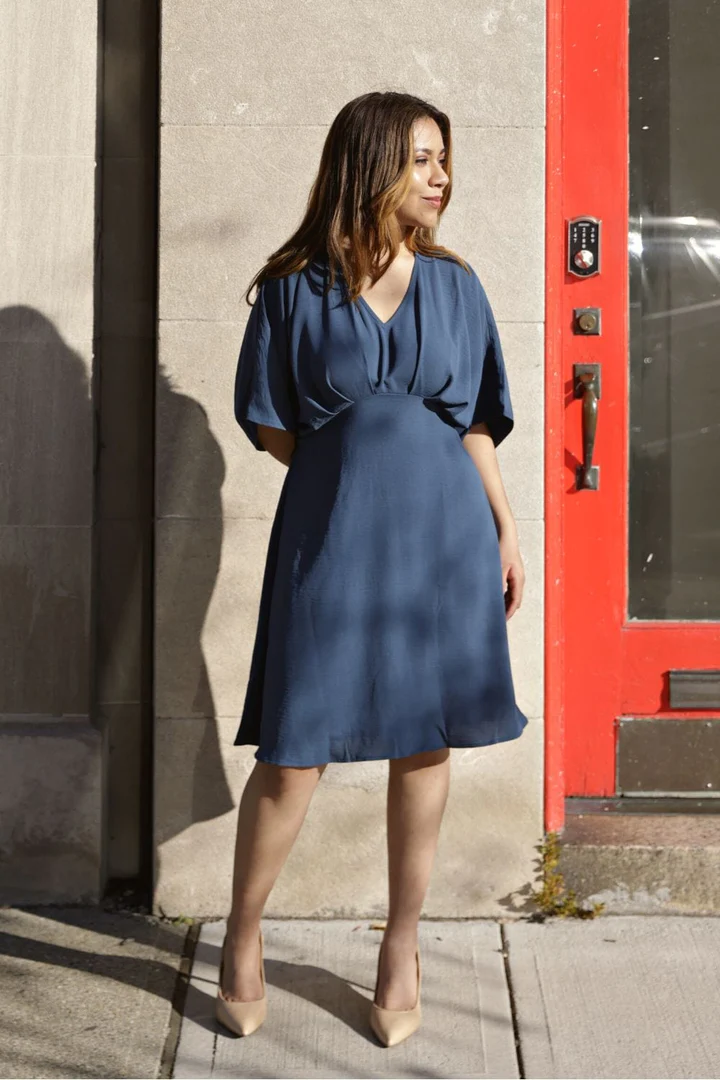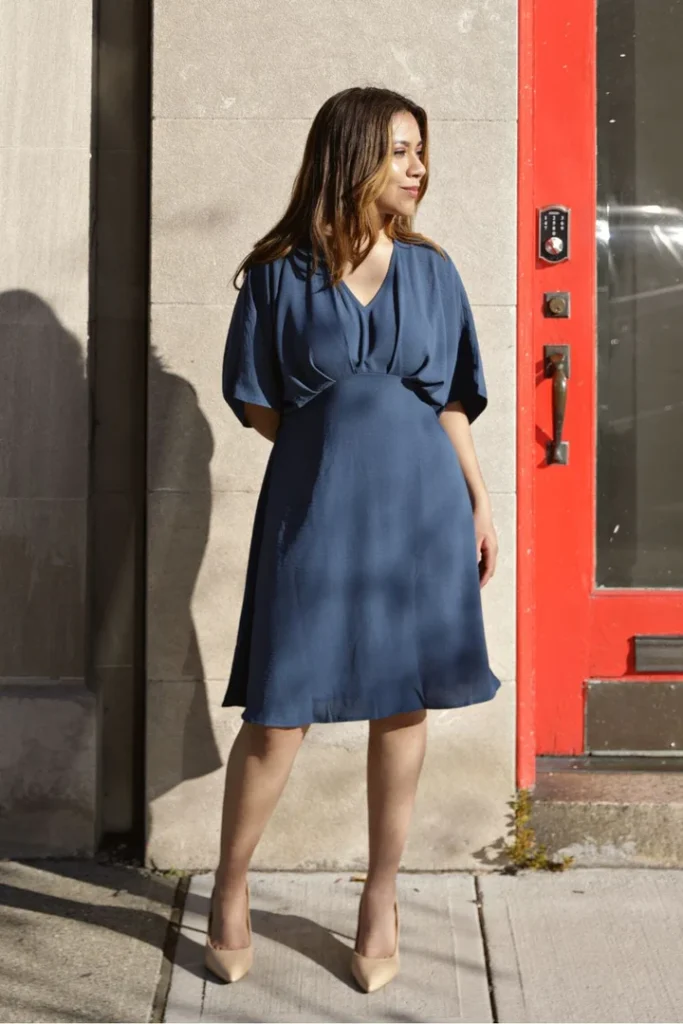 Fit and Flare Dresses
A skater dress (also known as fit and flare dress, or A line dress) with a higher waistline is heaven-sent for our pear-shaped women. The A shape of the dress will perfectly camouflage the heavy bottom of a pear-shaped body, like this Belted A-line Dress ($69.00)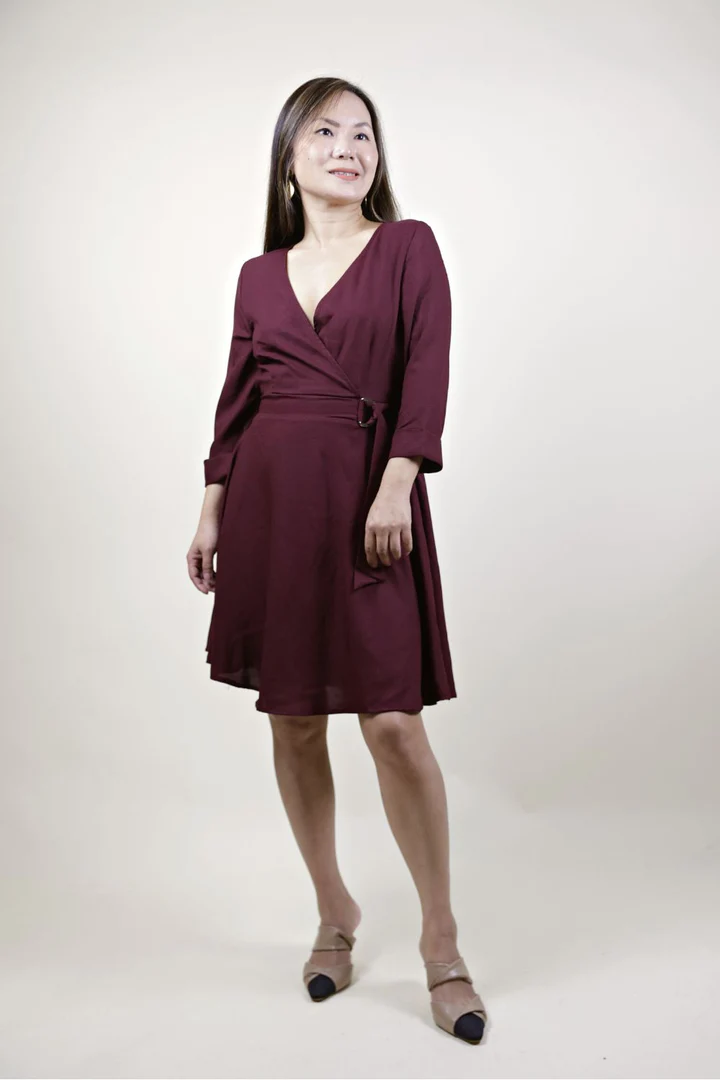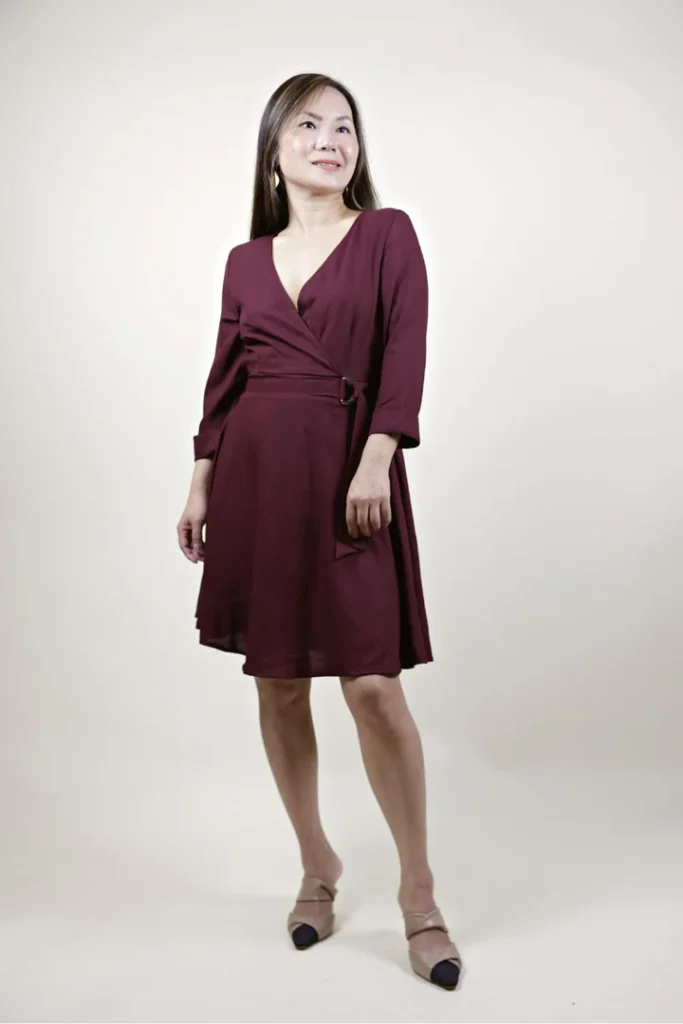 Skater dresses do not hug the curve of your bottom, thus they will draw people's attention away from your butt and thighs.
Off the Shoulder Dresses
The rationale is the same as the off-the-shoulder tops. Because the neckline creates a horizontal line, it balances out the narrow shoulder of pear-shaped women, like this Off Shoulder Tiered Dress ($129.00)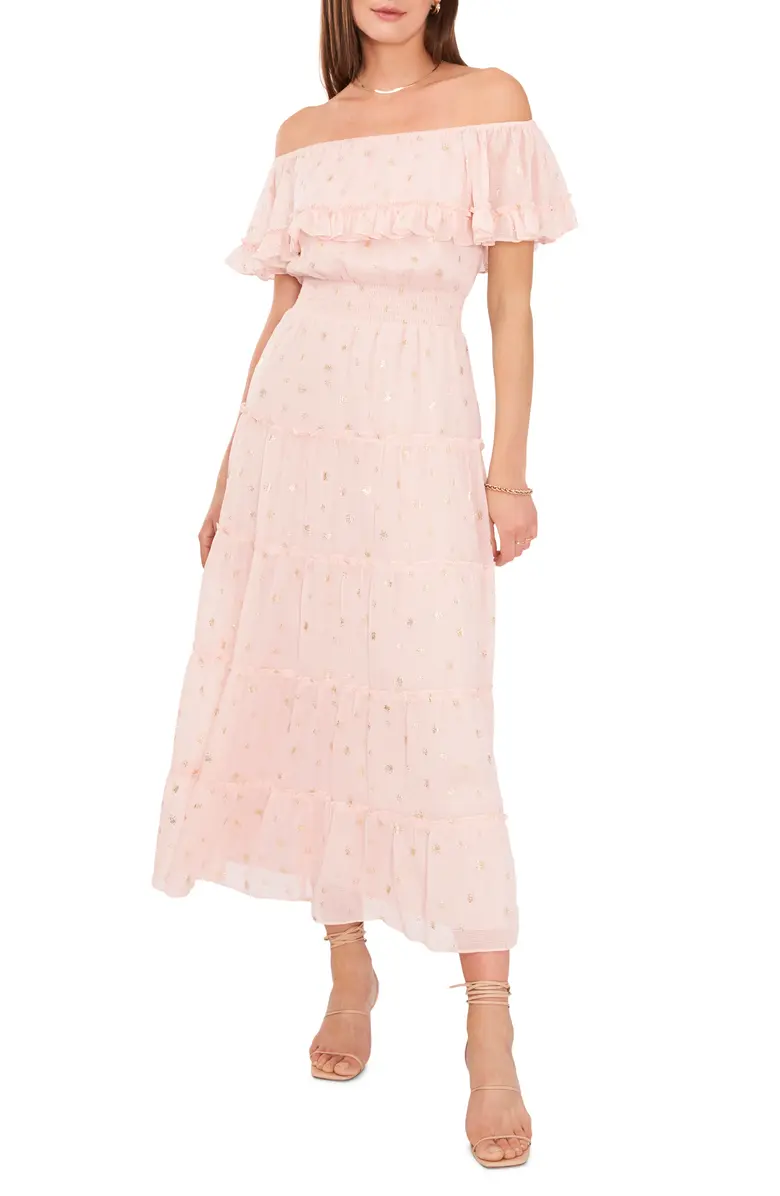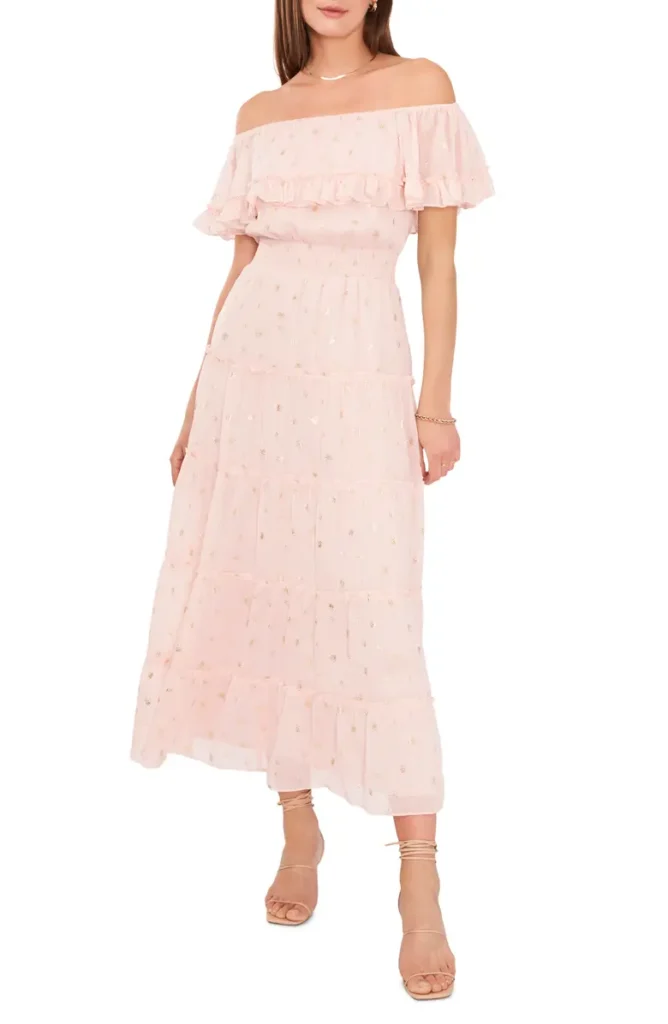 Better yet, off-the-shoulder also draws attention to your upper body, distracting from your wider hips.
Avoid mini length
Dressing for pear-shaped should always keep the length of the hem in mind.
If you have a pear figure, you generally do not want the attention to be drawn to your thighs, especially not the widest part.
It is important to go with a length longer than the widest part of your thighs. That means, if a mini dress is not long enough to cover your thighs, then it is not the best option for you.
You could opt for a dress that is just above your knees or a midi dress that ends between your ankle and your knees.
JEANS
Dark wash
As a pear-shaped woman, the important thing in choosing jeans is to keep in mind that you generally want them to be darker than your top.
Since the goal is to distract attention away from your wide butt and thigh, you can achieve that by wearing a brighter top with darker color pants or jeans, like these Dark Wash Straight Jeans ($69.00)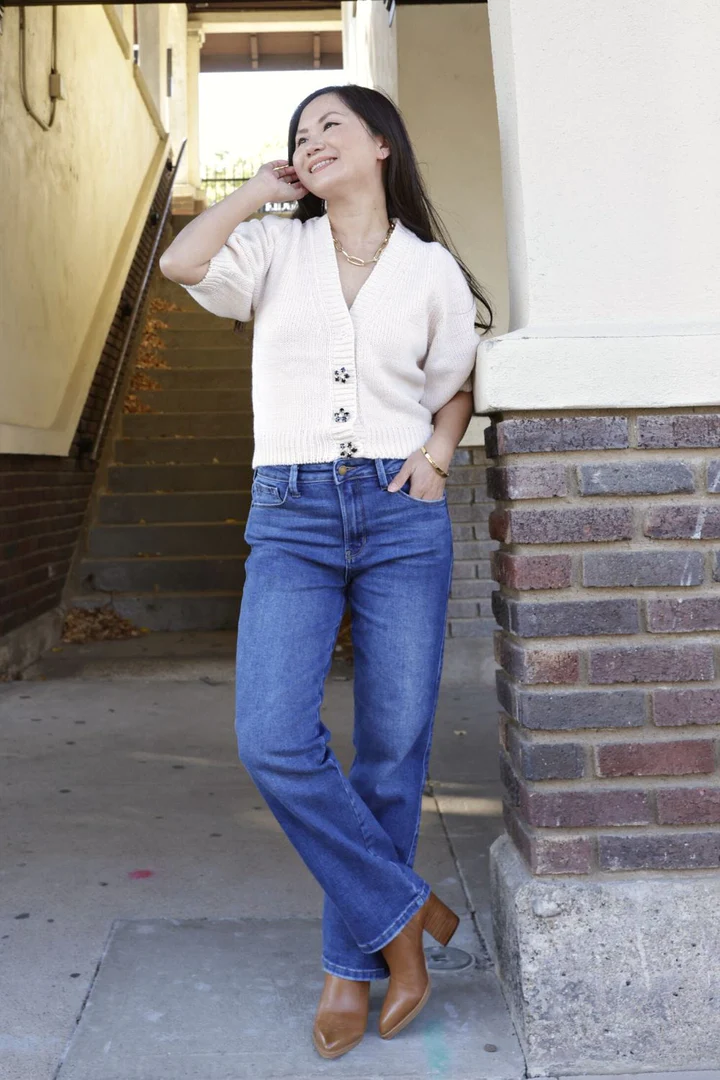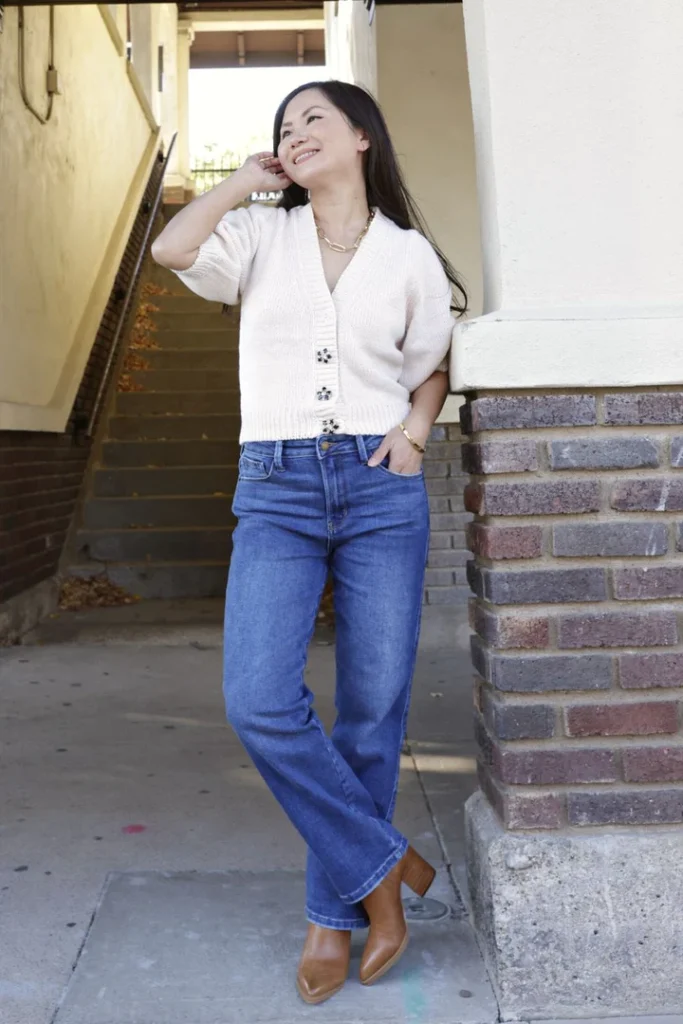 Dark colors generally have the slimming effect, while light colors have an expanding effect. To make your thighs and butt look more slender, you can go with black or navy, or subtle prints.
Caution with skinny jeans
If your goal is to camouflage your prominent thighs, then you should stay away from skinny jeans. The reason is obvious. The skinny jeans hug your legs so tightly, they show your thighs and butt exactly the way they are.
PANTS
Wide leg
For the pear-shaped body, the key is to balance out your wide butt and thighs with your choice of pants. Your best choice is a pair of dark color wide-leg pants that drape down from your hips, like these Straight Wide Leg Satin Pants ($79.00)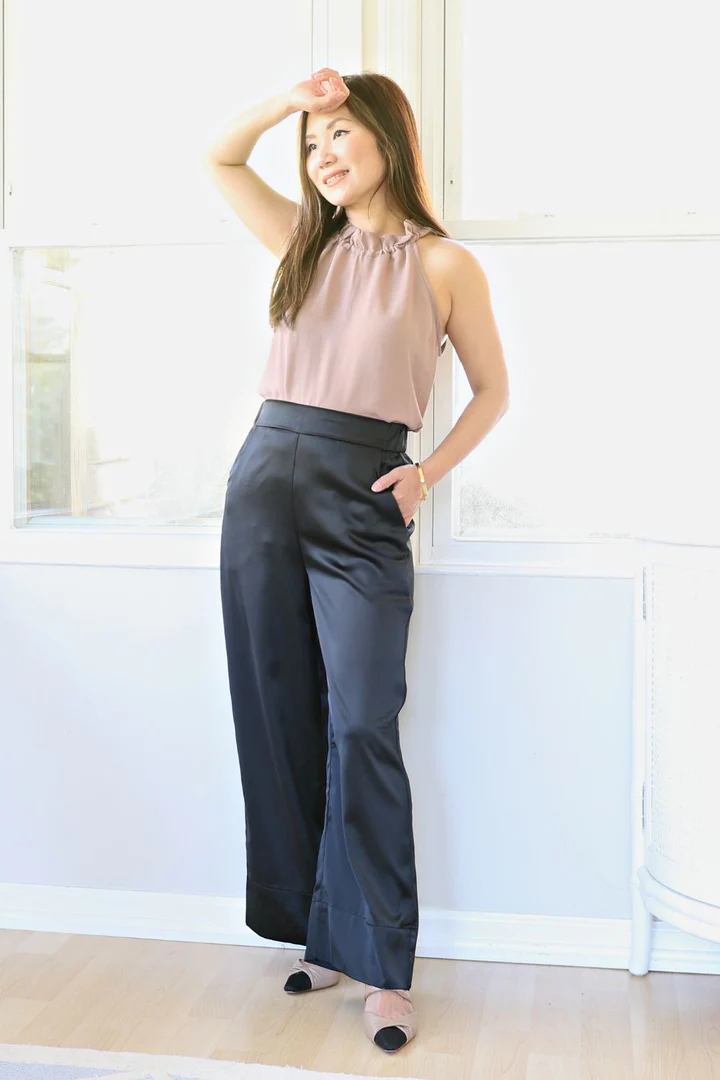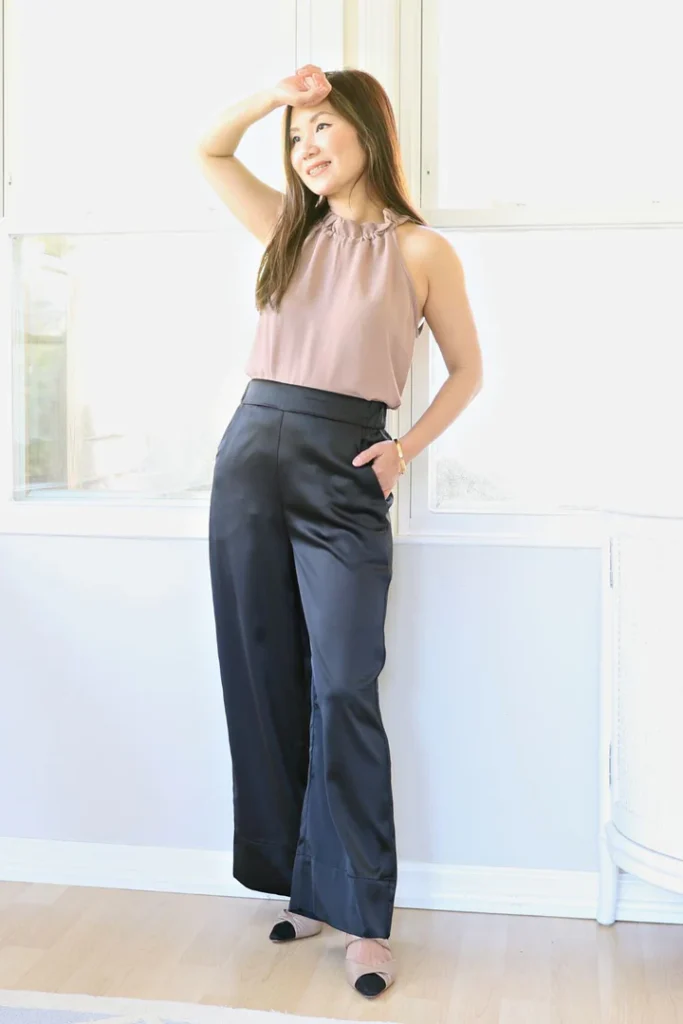 Structured Fabrics
You need fabrics with enough structure and weight so that they won't be clinging to your thighs.
Avoid any Details on the Thigh
Since our goal is to camouflage your prominent thighs, it may sound obvious to you that we should avoid any pants details on the thigh.
For instance, utility pants are a big trend right now. They normally have big pockets on the thighs, which is a no-no for the pear-shaped figure.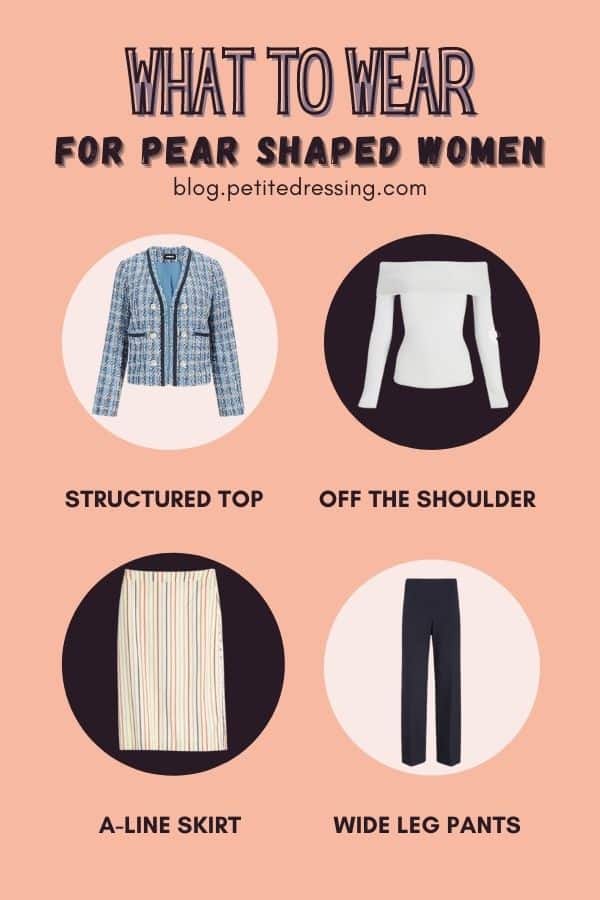 ACCESSORIES
The key to choose the right accessories is to create horizontal lines to balance out the pear shaped body.
Try a variety of long necklaces with vivid colors and collar styles in order to make your neck look longer and for you to look leaner.
Wear statement earrings to add volume and texture to your attire to make your face look slimmer.
Add a big pair of sunglasses to add more character to your look.
Circle a scarf around your neck and shoulders to add more symmetry and dimension to your outfit.
Pear Shaped Celebrities
The pear body type (sometimes called the spoon shape) is quite common, as I mentioned earlier. So, in today's Hollywood, you will notice a lot of popular celebs with pear shaped body. Pear shaped women could be skinny or curvy, so here I'm going to give you examples of both.
Skinny Pear
Hollywood actress Rachel Bilson (5'2″) has the most typical skinny pear shaped body.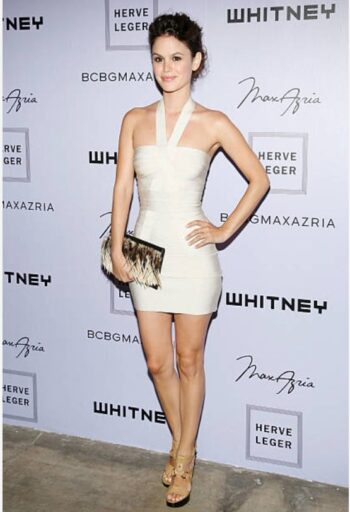 Curvy Pear
Kim Kardashian (5'3″) and Jennifer Lopez are the most typical pear shaped celebs with curves.
Although both of them are often been mentioned as hourglass figure by a lot of fashion magazines, they actually have pear shape figure. Both of them have the main characteristics of the pear shape, i.e. prominent hips and thighs. Also, when they gain weight, it is most noticeable on their hips and thighs.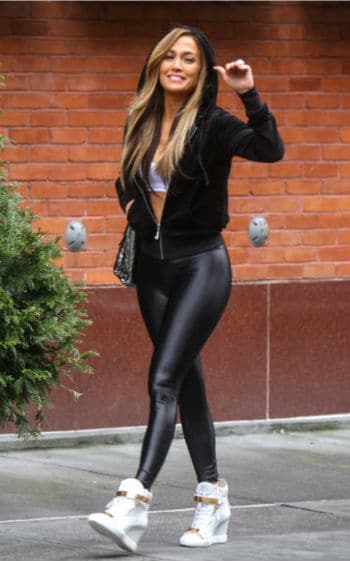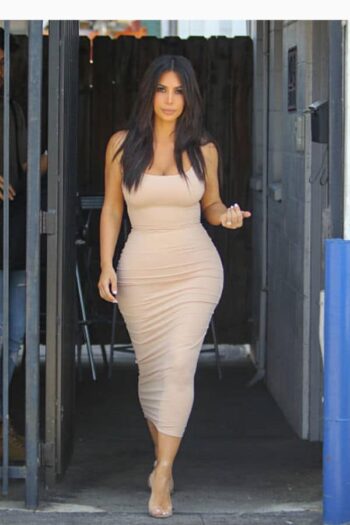 Both Kim and Jlo are expert of styling themselves well, so that their assets (full chest and small waist) grab all your attention, and then you won't be noticing their weaknesses (the prominent thighs and hips). That explains why both of them are commonly quoted as the hourglass figure by most media. That's exactly what I am about to share with you, i.e. some of their top styling secrets, later in this post, so that you know how to balance out your pear figure!
Another celebrity with pear shape is Kristin Davis (Charlotte in Sex and the City).