Are you under 5'4″?  Do you have pear shape?  If you are not exactly sure what is a petite pear shape, Hollywood actress Rachel Bilson (5'2″) and famous singer Shakira (5'2″) are the most typical pear shaped body celebrities.  Although many celeb magazines think Kim Kardashian (5'3″) has hourglass figure,  she actually has certain characteristics of the pear shape such as prominent hips and thighs.  Also, when Kim gains weight, it is most noticeable on her hips and thighs.  Another celebrity with pear shape is Kristin Davis (Charlotte in Sex and the City).  Remember the episode when the girls were in the steam room together?  Charlotte told Carrie "I hate my thighs!" Carrie responded "The problem is not with your thighs. It is with your head, sweetie!" Even though Kristin Davis is not petite, she is stating the truth that pear shaped women are quite commonly self conscious of their thighs.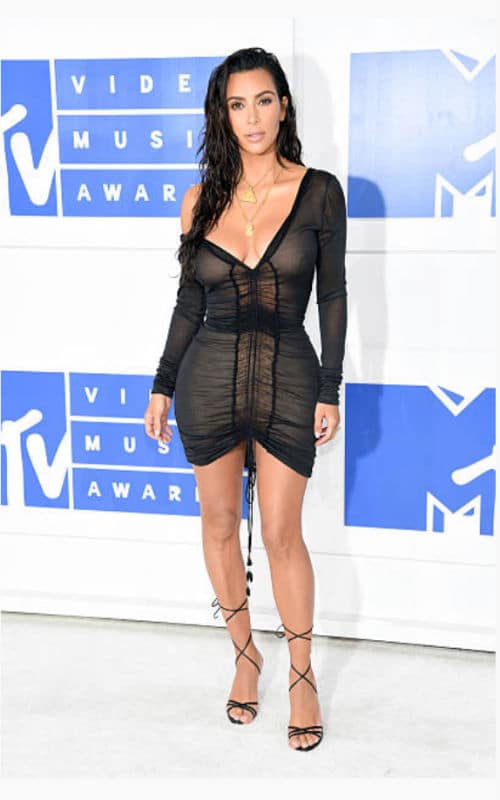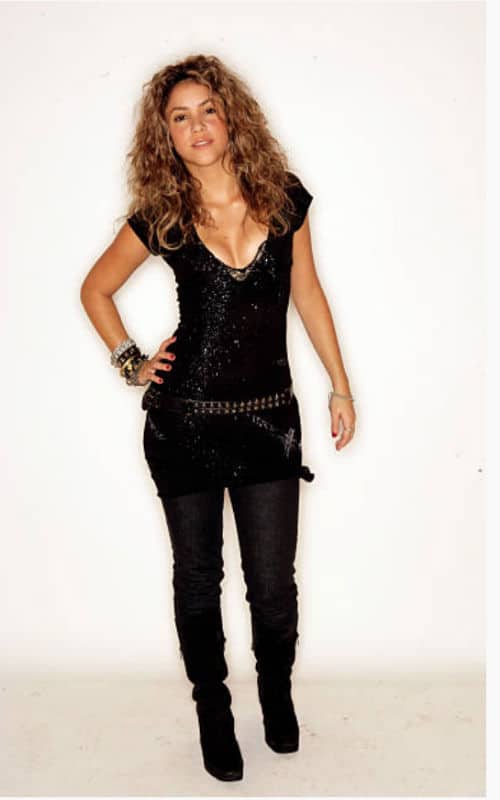 At Petite Dressing, we believe each petite body type have their own unique treats and everyone has the potential to be attractive, as long as we use the right dressing techniques to enhance our assets.  First things first, let's take a look at what is a pear shape.   If you have a pear shape, your body generally have the following characteristics:
Your hips are larger than your bust, and your hips are wider than your shoulders. In many cases, your hips are the widest point of your body
You have a nicely defined waist
You have an elegant neck and proportionately slim arms and shoulders
You first gain weight in your bottom and legs flowed by your tummy and upper body
You have round, sloping shoulders.
Your buttocks and thighs are full and round.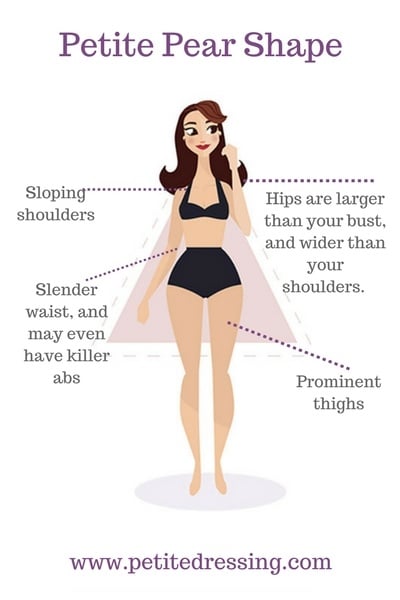 Above are the typical features of petite body shape.  However, because human bodies have some many different variations, most likely not one body would fit into all features of one body type.  If you feel like you have some but not all of the traits above, it is possible you are a combination of pear shape and other body types.  Click on Petite Body Type to read more and take the quiz and find out what body type is closest to you.
Now that we talked  about how to define the pear shape,  let's talk about how to dress the pear shape and look fabulous.  It may have become clear to you that the best asset is the well defined waistline, and you may even have killer abs.  When looking for the best pear shaped body clothes, your goal should be to create an hourglass like silhouette through:
Balancing your narrow/sloping shoulders
Drawing attention to your narrow waistline
Showing off your firm abs (if you have them)
Best Tops for Petite Pear Shape
So, how can we balance out the sloping shoulders of pear shape?  A fitted and structured top is a good choice.  Now, you may have heard the word "structured clothing" many times, but not really understand what it refers to.  It is just a fancy way of saying garments that are deliberately shaped and carefully tailored.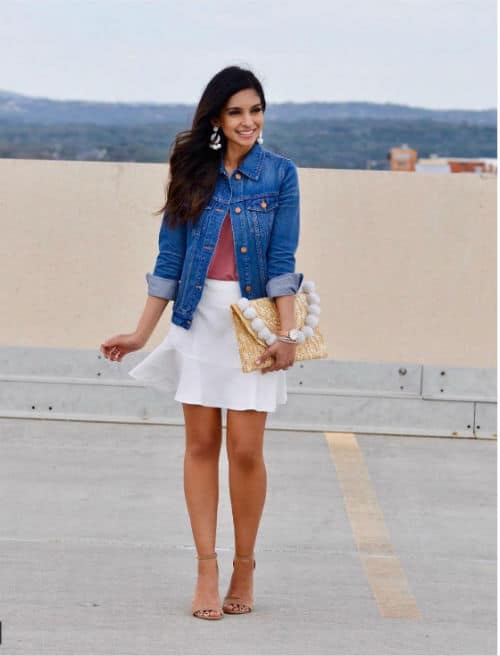 Fitted and structured tops look especially well on pear shape, because they create definition around your narrow shoulders and draw attention to your small waistline.  A good example is jackets with full or structured shoulders and a nipped-in waist in hip-length. For pear shaped women, light shoulder pads work the best to balance out your narrow top.
Generally speaking, a fitted and structured top is much more flattering to petite women than a loose and slouchy top, because the latter swamps the small frame of a short person.
Use neckline to visually expand your shoulders and create the illusion of a wider top.
The most flattering neckline designs for pear shape are boat neck and off-the- shoulder.  They create space around your neck and  make your shoulders look less narrow.
Did you notice? Both boat neck and off-the-shoulder create the horizontal line in shoulders, which serves to balance out your wide hips.
The slender waist is your valuable asset you should absolutely emphasize and make that the focus point of your outfit.  Wrap tops are top choices.  Or add a belt to any basic tops,  tube tops, knit tops, sleeveless tops, etc.
Blouses with built-in waist bands also serve the same purpose of highlighting your slender waist.
Should pear shape women wear tightly fitted pencil skirts?  That is totally up to you, because it all depends on how you look at your body and what you view as the assets of your body shape.  Kim Kardashian has very prominent hips and thighs, and she never shies away from flouncing those curves.  In fact, a cropped top with a high waisted skirt is one of Kim's most famous signature looks.  If you decide to show off the curves of your bottom, then you have many choices when it comes to curve hugging skirts.  Just keep in mind that because of your height, pencil skirts of shorter length will create the illusion of longer legs.
On the other hand, some pear shape women are self conscious about their prominent thigh area (remember we mentioned earlier Charlotte in Sex and City was telling Carrie how she felt about her thighs?).  That is totally fine and understandable.  We all have areas of our bodies that we would like people to notice less about.  If that is you, look for lightly gathered skirts that skim your bottom without adding volume.  Simple, dark colored skirts with no (or minimal) pockets with a mid-rise or high rise waist will look great on you. For casual looks, choose relaxed fits that fall straight down from the widest part of your hip.
Best Dresses for Petite Pear Shape
Best dresses for pear shaped body?  They should draw all the attention to your slender waist!  The empire waist line dress is the most ideal for pear shape petite women. The empire waist is a dress where the waist line is high, which is normally placed just below the bust line.
But again, if you decide to emphasize the curve of your bottom half, then you have many other choices of body conscious dresses that can draw attention to instead of away from the curves of your thighs and butt areas.  Your fashion icon?  Kim Kardashian (regardless if you like her as a reality star or not) shows your many examples of how to do so.  Just copy what you like about her looks, and ditch what you don't.
Notice how flattering this off the shoulder dress look on pear shaped Tamara?
Pear shape or not, the ideal dress length for petite women is normally 4-5 inches above your knees.  That is the length to effectively make your legs look longer while still looking tasteful.  Of course you can always go shorter, if you are into a fun and flirty look.  Going longer is also ok as long as it is still at the knee.  A dress over the knee and reaching the mid calf area is called "midi dress", which is a challenging length for petite women to handle.
That is not to say you should stay away from midi dresses altogether.  There is always a way to style it smartly and fit petite women nicely, if midi dresses are what really interest you.  The easiest way to prevent a midi dress from making your legs look cutting off is to go with a side or front slit.  Because you are showing some skin through the slit, it makes your legs look longer and compromise the effect of the midi length.  Wrap dresses at midi length is a perfect choice for petite women.  Another midi dress design that could flatter women of petite height is lace midi dress. The see through effect will make sure your legs won't look cut off.
Best Jeans and Pants for Petite Pear Shape
High waisted bottoms are flattering for petite women in general, because they make your legs look longer by elevating the waistline above your natural waist.  They are especially flattering for pear shape for a number of reasons.  Some pear shaped petite women have longer waist.  For instance, Rachel Bilson (5'2″) is one example of longer torso and shorter legs.  If you have similar body shape, then high waisted jeans or pants are your best friend.  Additionally, if it is challenging for you to find a pair of jeans that doesn't gape in the waist, a high waist jeans can solve the problem because the fabric is designed to cover more than just your backside.
If you want extra slimming effect, go for dark wash jegging.  Kim Kardashian (5'3″, curvy pear shape with hourglass traits), Rachel Bilson (5'2″, skinny petite pear) and Megan Fox (5'3″, skinny petite pear) all set good examples of how flattering a pair of dark jegging could look, especially paired with boots of various heights.
The best pear shaped body jeans don't necessarily have to have lots of restrictions, and it is all about preferences.  If you happen to be one of the pear shaped petite women who are self conscious about the full thighs, then you should try flared and boot-cut jeans.  Flare aka bell jeans become wider from the knee's down. When looking at the jeans from the front or back they have a 'bell'  look to them.  Flared jeans creates extra volume below the knee, thus they will help balance you out.
Boot cut Jeans will normally taper to the knee and then slightly flare out to accommodate a boot. This style of jeans became popular in the 1990's.  Women's jeans are tight to the knee and then flare out slightly to the hem.  Normally women's boot cut jeans are no larger than 1 to 2 inches difference in circumferance from the knee to the leg opening although some manufacturers refer to a 3 to 4 inch difference as a boot cut.  Dark washed, boot-cut or trouser-cut jeans that fall straight down from the widest part of your hip.
Whether or not you have pear shape, petite women in general should not wear low rise jeans.  They sit low on your waist, making your waist look longer than it is and reducing the length of your legs.  Women with short torso may find that low rise jeans could possibly balance out the short torso.  However, if you are a petite woman with short torso, we do not recommend low rise jeans because it will make your legs shorter.  Instead, go for mid-rise jeans.
Since pear shape women have prominent hips, you may want to avoid too much embellishments on the butt or pockets with flaps.  Those details will only make your butt appear larger.  (Of course this is assuming you do not want your bottom half to become the center of focus).  On the other hand,  smaller or angled pockets has the opposite effect of making your butt look smaller (of course only if you so prefer).
Read The Best Jeans for Your Body Type for more details of what are the best jeans for each petite body type.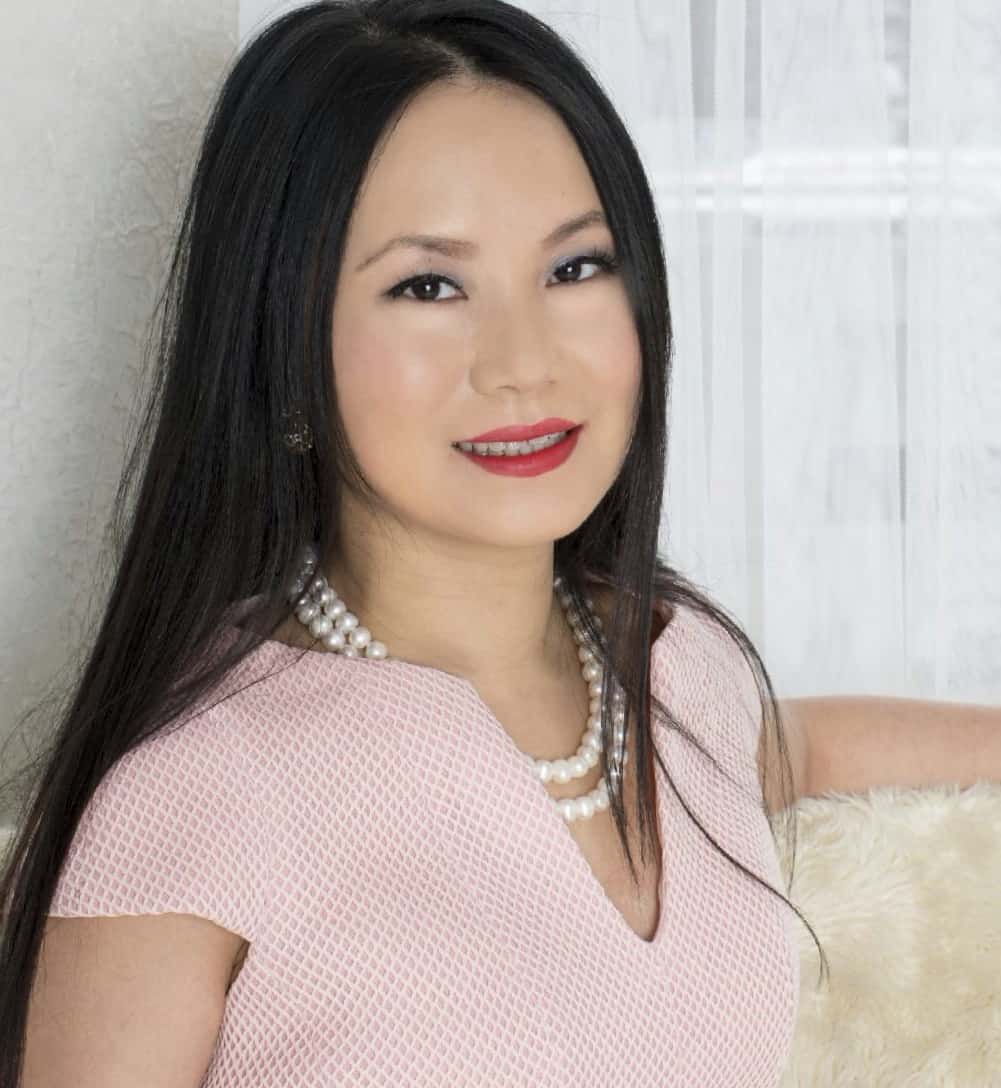 Chi is 5'2″ founder of Petite Dressing, an online petite clothing store dedicated to women under 5'4″.  Petite Dressing blog is here to help you understand yourself, such as your petite body type, and look your best ever.  If you are new, start here. Comment below and share your thoughts about this post!