If you are under 5'4″ like me, finding petite pajamas is as difficult as finding anything else for a short girl.  First of all, I'm so glad you are even searching for petite pajamas, because that means you realize how important they are.  To me, pajamas matter as much as the bed I sleep in.  Do you agree?
Everyone understands how critical the bed and mattress is for a good night's sleep, but not everyone has realized how important the pajama is. Think about it this way- you sleep in your pajamas as long as you sleep in your bed, plus, you wear your pajamas when you are not in bed as well! Once you realize how much time you actually spend in your petite pajamas, you'll have the patience to read through this post I have put together for you focusing on just petite PJs.
First, we'll take a look at what options are there for petite women
Then, let's talk about if it is important to have your PJs in petite sizes and how petite sizing works
Finally, we will look at what are the best fabrics for PJs and where to find them.
This post may contain affiliate links, which means we earn a small commission (at no cost to you) if you follow the links and make a qualified purchase, which enables us to keep creating amazing free content for you. Thanks! Click here to learn more.
Now let's dive in.
Petite pajama options
Two Piece Pajama Set
The two piece can be long sleeve and long pants, short sleeve and shorts, or any combination in between. These are my personal favorites, because they are versatile and can be worn as lounge set at home as well. Long sleeve sleep sets are especially great in the winter, when you need the extra layer, even indoors. However, I have found it challenging to find the long sleeve sleep sets to fit my 5'2″ height, unless they are petite sizes.
Regular sized PJ set are made for women above 5'5″, so most likely the sleeves and pants are both too long for someone petite (under 5'4″). While you may get away with rolling your sleeves and pants, they still won't feel as good as those made in petite sizes. It is worth the extra effort to find the PJs made for petite women so that they fit you properly.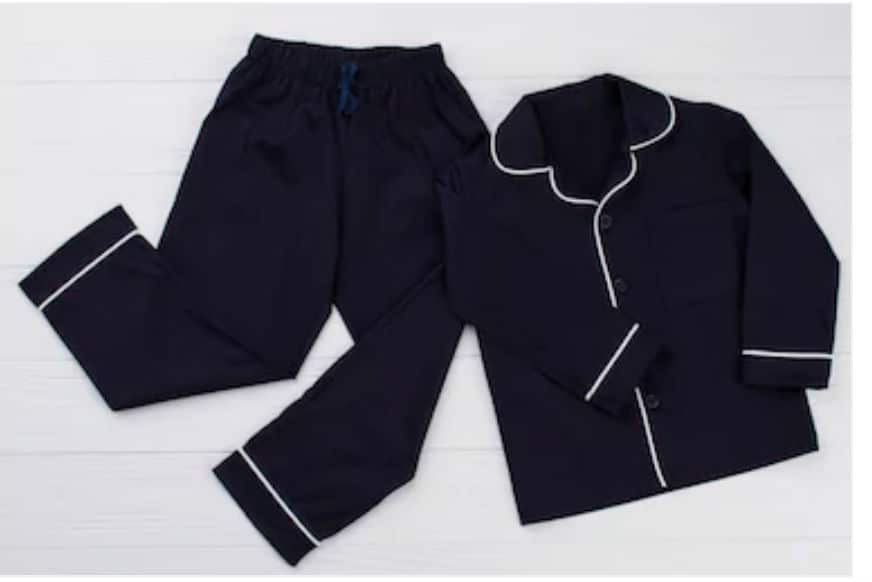 As for short sleeve PJ sets, petite women have a lot more choices.  Because you don't have to worry about sleeve length or inseam, some regular size PJs could work too.  Go with the pattern you like, and choose the fabrics that your skin and body feel good about.
Sleep Shirt (Nightie)
These could be long sleeve sleep shirt, short sleeve sleep shirt, or nighties (sleeveless night shirts). For long sleeve night shirts, I always find the sleeves too long, unless they are in petite sizes. So, look for the petite brands, if you are looking for long sleeves. If you like short sleeve sleep shirt or nighties, then you may even find some regular sizes that will fit.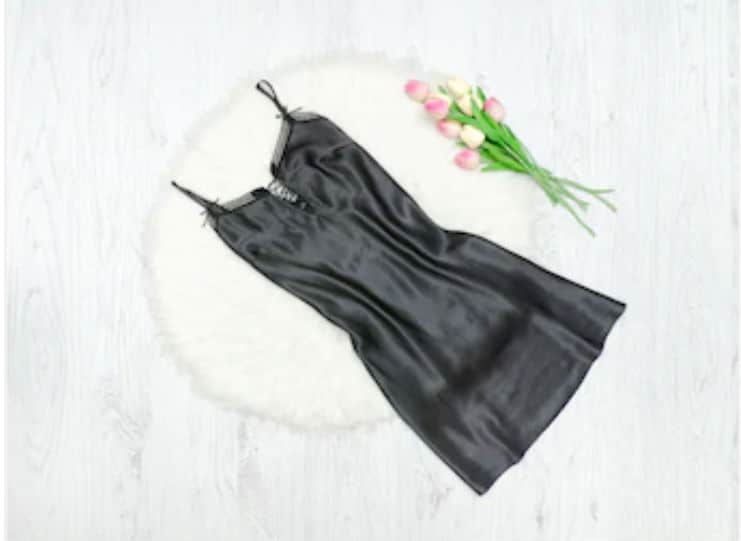 Sleep Romper
These are very cute.  For any romper, the fit is very important.  So, make sure you try them on before purchasing them.  Also, you need to make sure they are easy to take off.  You don't want to be dealing with a lot of buttons when you have to go to the bathroom in the middle of the night, no matter how cute or stylish the design is!
How does Petite Sizing Work
To find the best pajamas for you, it's important to understand what is petite and how petite sizing works.  Standard pajamas are made for women over 5'5″, so they follow the general sizing chart.  That means the inseam is typically 29 to 30 inches.  If you are petite, unless you have exceptionally long legs, the general size will not fit you well.  Ideally, petite pajamas should have inseam of 26 to 28 inches, and sleeve length should be proportionally shorter than regular length too.
What inseam is best for you? I suggest you go with 1-2 inches shorter than your normal pant inseam, if you are going to wear your PJs with bare foot most of the time. Even though I am 5'2″, I have shorter inseam than girls of similar height and I am most comfortable with 25″ inseam or shorter for pajama pants.
No idea what inseam is? Read my blog post What does Inseam Mean?
If you are under 5 feet, you may even need extra short inseam, which is even harder to find. Before you purchase any long pants, it's always good to first check out the petite size chart of the brand. Not all brands (including petite brands) list out their inseam clearly, therefore, the best way to find out your inseam for pajama pants, of course, is to try them on.
Petite sizing is most important for long sleeve PJs, and it may not matter for short sleeve, shorts or nighties.
Best Fabrics for Pajamas
Silhouette, tailoring and fabrics are the most important factors of apparel.  When it comes to pajamas, fabrics is probably the most important of them all.  The reason is you will be lounging and sleeping in them for 8+ hours, so you better make sure they are made of quality fabrics that can breath well and do not irritate your skin.  I have sensitive skin, so I am particularly careful about the fabrics for my petite pajamas.
Cotton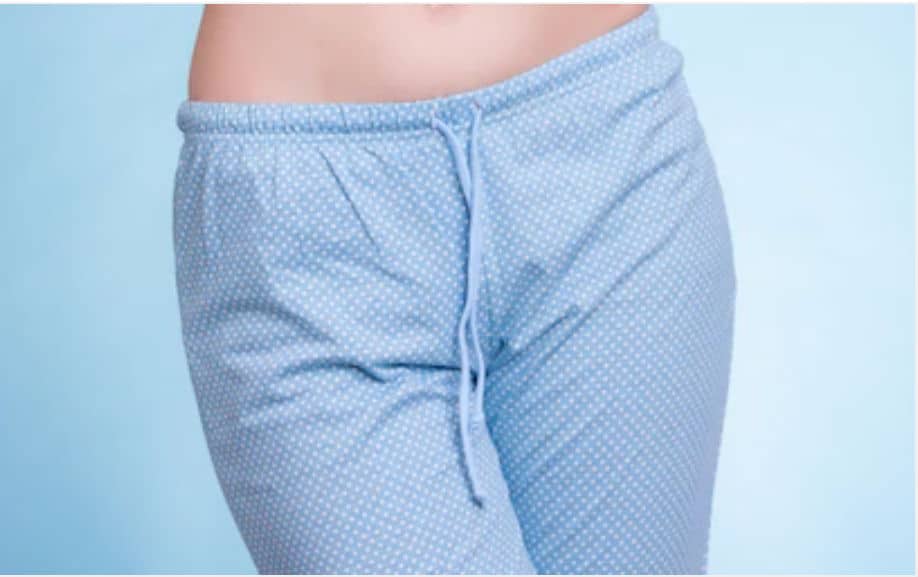 This is my top choice for the best combination of comfort and durability, plus, they are affordable. The cotton pajamas are cool, soft and comfortable. They absorb and release sweat relatively quick, making them ideal throughout the year. They are durable enough to withstand even the most uncomfortable beds; and the best part, they are machine washable. Most petite pajama brands make their PJs in cotton, or cotton blended with polyester. The flip side is since you will be wearing them a lot and washing them a lot, chances are they get worn out faster than their polyester cousins. To me, that's still worth it.
It should also be noted that cotton does not insulate well (with the exception of cotton flannel, which we will talk about later in this post), and therefore, if you tend to get cold at night, you probably need a blanket or perhaps a different, more insulating fabric choice. In addition, cotton absorbs a lot of moisture, which means if you perspire a lot at night, the cotton fabric will keep the moisture pressed against your skin, potentially causing discomfort as well as creating a home for bacteria.
Silk
This is one step up from cotton pajamas, in every perspective.  It is incredibly soft and strong at the same time.  Plus, silk is an excellent thermoregulator, keeping you cool when it is warm and warm when it is cool.  Now to list some of its most tempting properties: soft, soft, and even more softness. 
Even though it is soft as whisper,  it's the strongest fabric in the world.  Silk is also breathable, and a bit more so than cotton; and it can absorb bright colors and it seems to shine.  If your budget allows, silk could be the best choice for your skin (especially if you are like me with sensitive skin).  Silk is pure luxury and it is weightless and seasonless.  Apart from the higher price, it does have some down sides.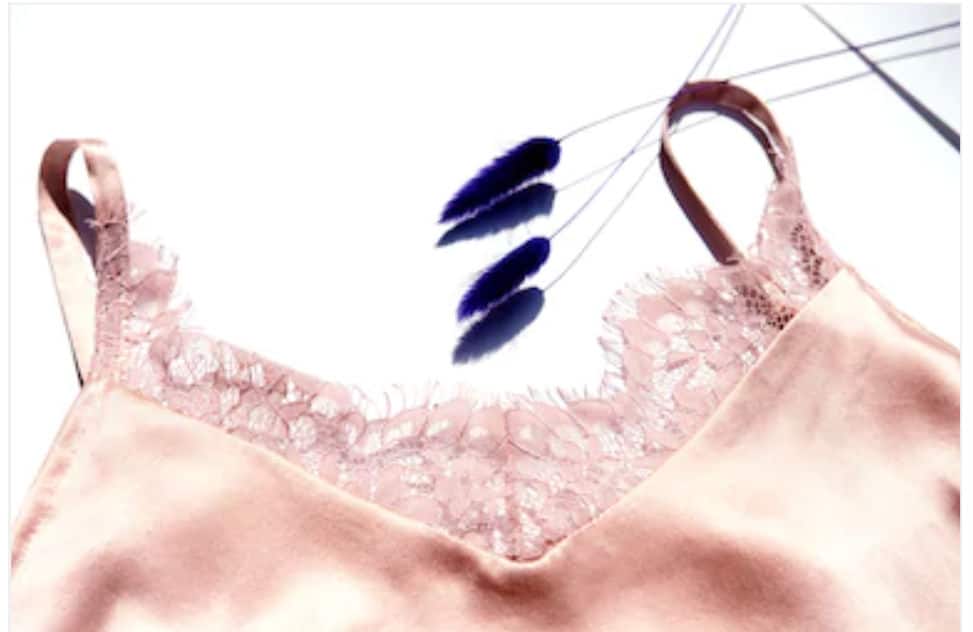 Perspiration can easily weaken and stain silk, therefore, you PJs should be cleaned regularly. Silk can absorb a lot of moisture, and that means a lot of sweat if you tend to perspire at night. if you sweat in it, the fabric tends to become weaker, and caring for it takes more effort than cotton or polyester. 
For example, it can have color fade issues if you iron it.  It is important that you look for the wash instructions before your buy it, because you want to make sure they are washable and you do not have to take them to dry cleaners.  I have tried washing my silk pajamas with machine washing cold on gentle silk/linen cycle, and they turned out to be fine.   However, machine drying them isn't normally suggested.  The good thing is silk is so light, that they hang dry really fast- much faster than cotton pajamas.[/vc_column_text][vc_column_text]
Flannel
Flannel is a plain weave pattern, usually made from natural fibers like wool and cotton. Flannel pajamas are usually made from cotton. Flannel is physically manipulated to be soft and cozy with a heavier feel. The flannel fibers are either brushed to form a fuzzy nap, or the yarns are loosely spun to create a soft texture. The weight and nap of flannel tend to provide more insulation, keeping you warmer at night. This fabric is perfect for cold nights or if you like to feel particularly cozy snuggled in your PJs.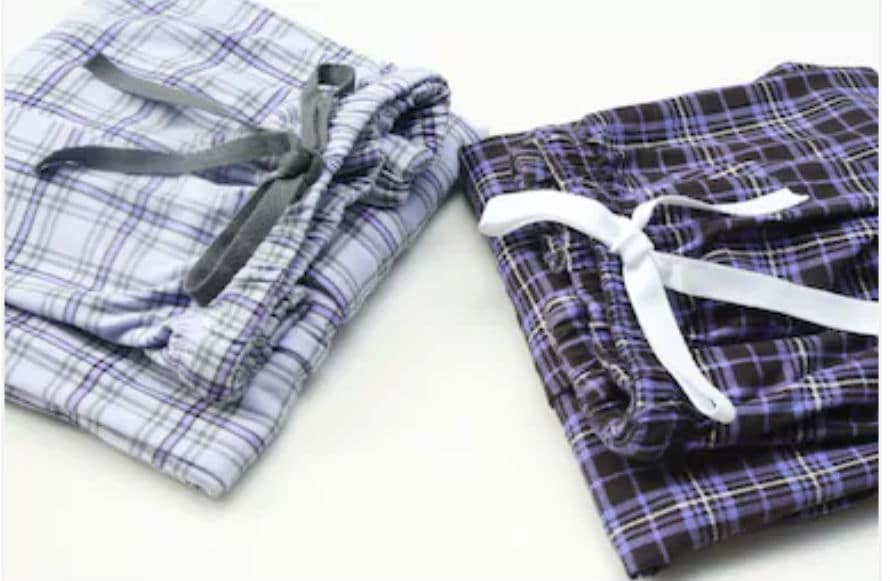 Flannel pajama could be your number one choice in winter times, especially if you are located cold areas like New York, New Jersey or New England.  It's just so dang comfortable; it's thick and insulated, making it super warm; it's breathable, attempting to prevent overheating; machine washing isn't a problem; and lastly, it's really strong and durable.  
To fully enjoy the warmth and coziness of flannel PJs, normally you would want flannel pajamas in long sleeve shirt and long pants combination.  For me, that was the biggest challenge, because I could not find the shirt and pants to fit my petite frame.  In recent years, flannel pajamas have become so popular-more and more brands are making them, and we now actually have some choices in petite sizes.
Rayon
Rayon is an increasingly popular fabric for pajamas. Rayon is a manufactured fiber made from regenerated cellulose fiber. The many types and grades of rayon can imitate the feel and texture of natural fibers such as silk, wool, cotton, and linen. There is some debate about whether to call Rayon a natural fabric or not, since it comes from regenerated cellulose fiber which ultimately comes from trees or bamboos.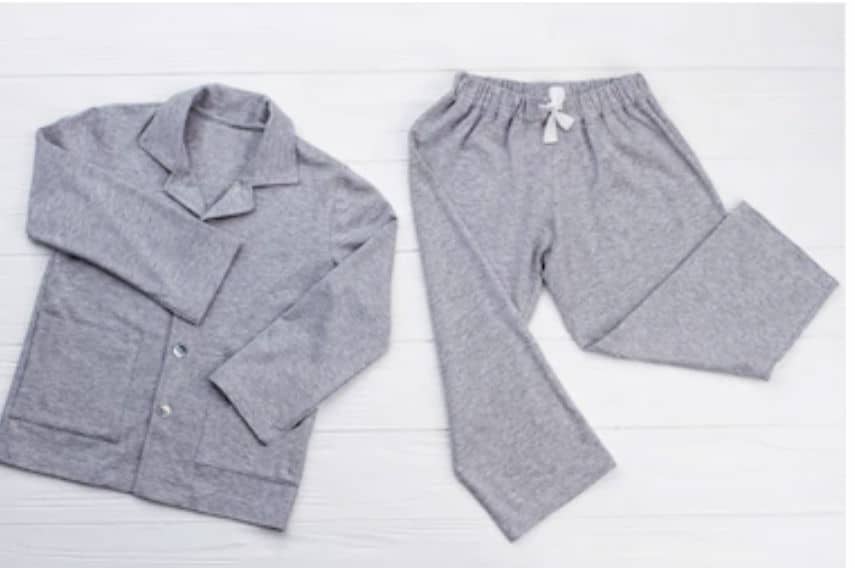 I leave that to the industry expert, but I personally do not have any negative experience against rayon made pajamas.  My skin is very sensitive and can usually tell the difference of natural fabrics such as cotton/silk vs man made materials such as polyester, but I am totally ok wearing rayon pajamas.  In fact, I have sleep shirts and pajama sets made from rayon and I love them.  Like natural fabrics, it feels breathable to me and does not cause any discomfort. They are also very durable and can be thrown into wash machine for regular cycle washing and drying.
Cashmere
This is the ultimate luxury for cold weather. Cashmere is so light yet so warm-the ideal combination for lounge wear in the winter. If your budget allows it, spoil yourself with cashmere pajamas and enjoy the absolute luxury feel.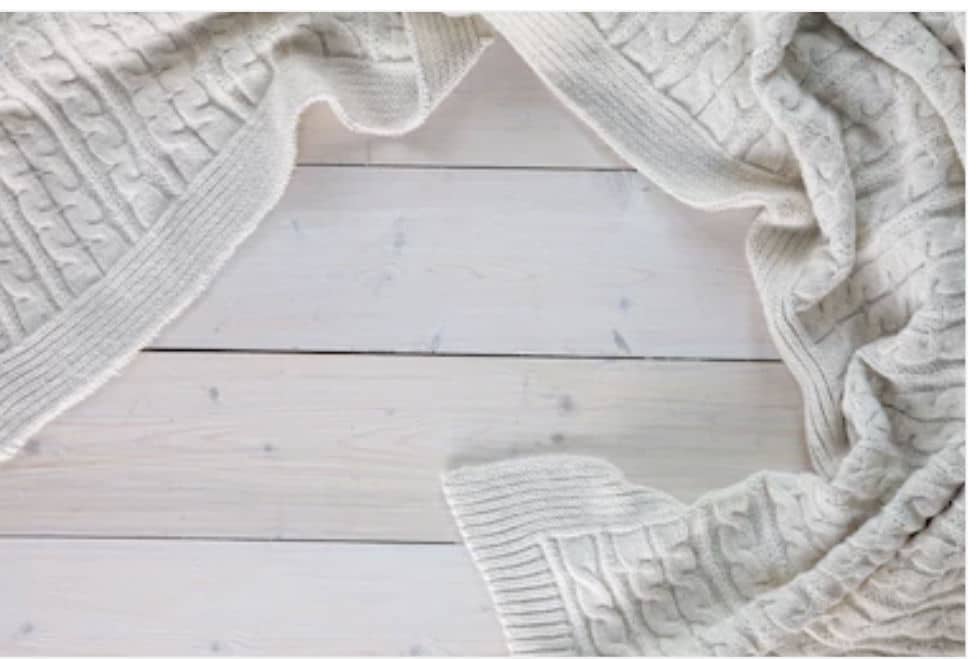 Where to Buy PJs in Petite Sizes
At Macy's petite department, you can find multiple petite brands for pajamas, e.g. their in house brand Charter Club and Lauren Ralph Lauren Petite.  What I love about these two brands are their long sleeve petite PJ sets.  Lauren Rlaph Lauren's full length PJ pants have 28.5″ inseam.  So, if you are a shorter petite (under 5 feet), you may find their full length pants still too long for you. The good news is they also make capri length PJ pants of 20″ inseam for petite sizes, which would work for almost everyone.
If you are looking for inexpensive petite PJs, ASOS is the place to find trendy design and cute patterns.  Not only their price point is lovely, I also like their versatile combination of pajamas.  You can find long sleeve, short sleeve, nighties, and the list goes on and on.
Land's End make petite pajamas from PJ sets to robes.  Their design is traditional and their price point is reasonable.  When they are on promotion, you can score a really cute PJ set of good quality at a very affordable price.
This is a brand that prides itself in good quality and specialize in outdoor clothing. Therefore, their price point is understandably higher than young and trendy shops like ASOS.  However, if you are in cold areas and you expect to wear the PJs every day, it is likely they are worth the investment, once you find the ideal PJ.
Jcrew
They have some of the cutest design and good quality petite pajamas.  They also have choices of long sleeve as well as short sleeve PJs.  Their price point is slightly higher than Macy's, but if you love their style, you might feel it's worth the price, or get it when on sale. One thing to keep in mind is to look for the right inseam.  Their full length petite pajama pants could be 29″ inseam- is that the right length for you?
Everything else you need
I highly recommend you also read my other posts on