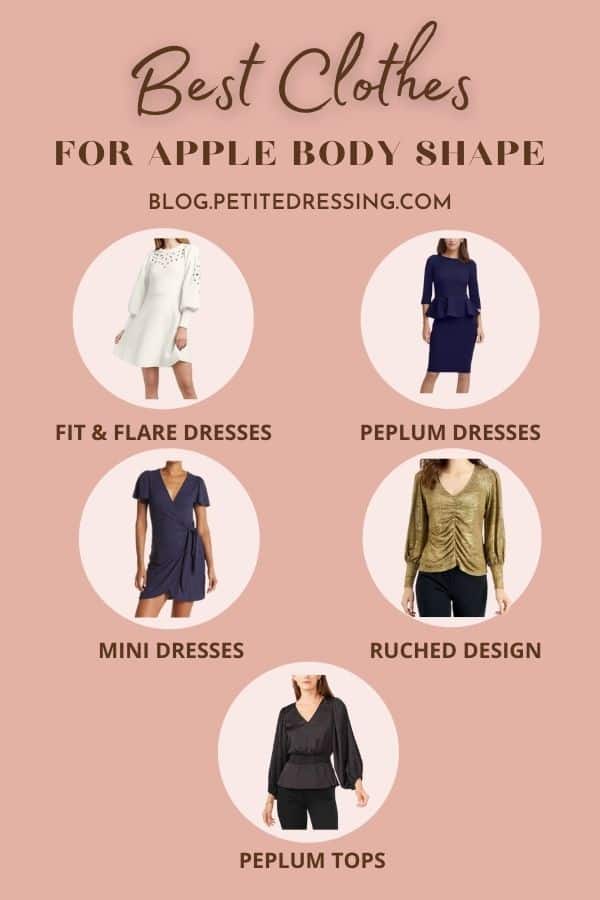 Do you have apple shaped body? What are the strengths and weaknesses of the apple body type? How should you choose coats, dresses, skirts and jeans for your shape? What are the styling tips in particular for petite women who have the apple body shape? You have come to the right place, because in this post I will cover all of these.
First, I want you to know I am in exactly the same boat as you, because I am 5'2″ and I have an apple shaped body just like you.
Before I got into the body type theories years ago, I didn't really know what name my body shapes is called- but I did know I want my waist to look smaller! I am in general a skinny person and my weight doesn't fluctuate too much (except when I was pregnant). What I noticed, however, is that even though I look thin overall, I could never get a slender waist, and often times I could have a muffin top.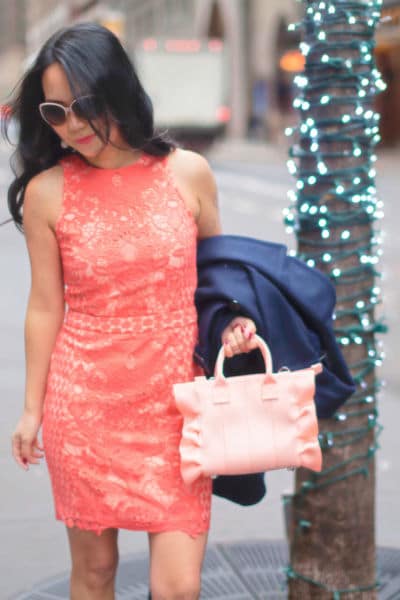 Later on by researching the body types, I understand this is a main characteristics of the apple shaped body. Do you feel the same way, i.e. are you always struggling to hide your stomach, even though the rest of your body is slender?
What is apple shaped body?
When we talk about the apple shape, the first thing that comes to mind to many people are the plus size women. That is a misunderstanding.
Apple shaped women could be curvy, just like they could be thin. Whether you are plus size or not is really not the key consideration here. I mentioned earlier I myself is an apple, even though I am thin most of the time.
Now, if you are not sure whether or not your body type is apple shape, here is list of that characterizes a typical apple body type. See how many of these apply to you: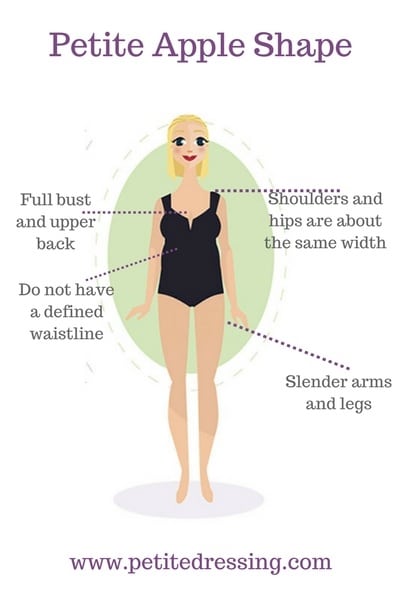 Your hips and shoulders are well balanced, i.e. they are roughly about the same width. If you want an exact number, your shoulder and hip measurements are within 5 % of each other.
You do not have a defined waistline. Your waistline has the same width as or is wider than your shoulders and hips.
You have a full bust, waist and upper back
Many petite women with apple shape have round and sloping shoulders that align nicely with the hips.
Your hips are round shaped and full
If you gain weight, you tend to gain weight mainly around the waist, at least in proportion to the other parts of your body
You probably have slender legs and arms.
You might be short waisted
How many of these are you? Most? Or a few?
Since human bodies can have some many different variations, most likely not one body would fit into all features of one body type. If you feel like you have some but not all of the traits above, it is possible you are a combination of apple shape and other body types.
Celebrities with Apple Body Type
A great way of understanding what body type you are is by looking at real life examples. I have found it a great way to learn how to look better is by observing how celebrities dress and notice what works on them and what doesn't.
For instance, Eva Longoria (5'2″) is a great example of petite women with apple body shape.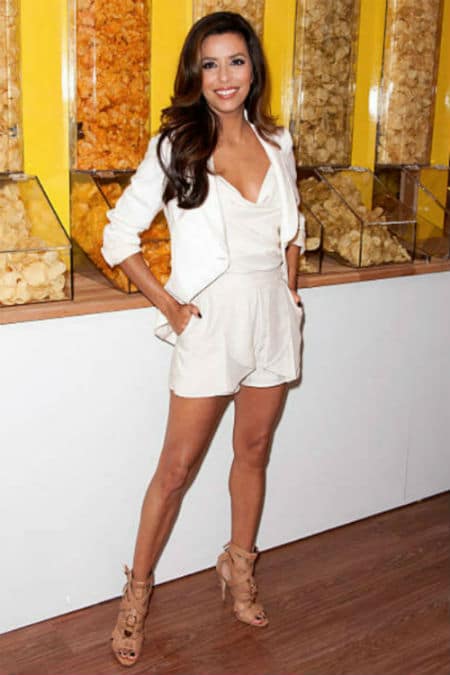 One thing I noticed is that when someone is skinny, it sometimes can be harder to identify her body type because she could fit into multiple types. However, when she gains weight, where exactly shows the weight as the first sign is often the best indicator of the body type. For apple shaped body, you would almost always notice your stomach is the first place to show the weight gain!
This is Jessica Simpson, 5'3″, and it is obvious her first sign of weight gain is always on her stomach.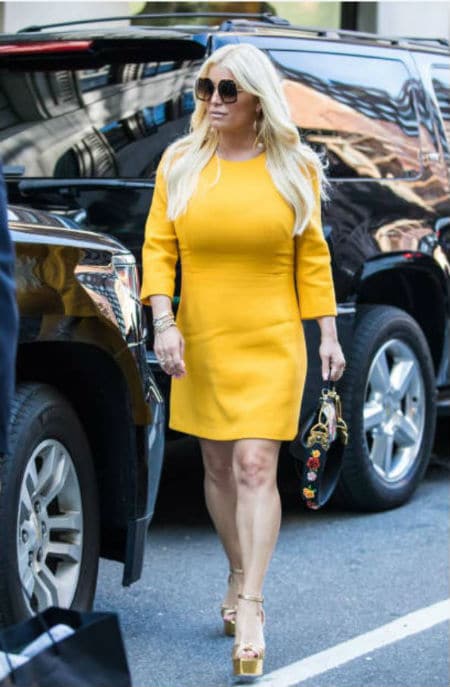 Strengths and Weaknesses of Apple Body Type
Now that we talked about how to define the apple shape, it may have become clear to you these are your best assets!
Slender and (often times) firm/muscular arms
Slender legs
Curvy bust and round buttocks
How many of these nice features do you have? As an apple shape, you may have noticed your arms and legs are naturally slender. Did you feel like they remain firm and tight, even without much exercise? I feel the same way!
Now, your busts and hips are definitely your assets too! Most apple shaped women have round shaped breasts and full hips. I presume you must have got a ton of compliments for your curves, am I right?
In fact, apple shape can be similar to an hourglass figure in terms of the breasts and hips, with very noticeable feminine curves. Because of that, some apple shaped women, who are skinny, can sometimes give the impression of hourglass shape.
However, when apple body shape gains weight, that is when you know they are apple body type! Because, she carries most of her weight in her belly area, but she arms and legs can still remain skinny.
Is that you? I know I am definitely that way! That leads to our next topic- the weaknesses of apple body type.
I don't think you need me to tell you again, am I right? As an apple shape, you probably already are making an effort to make the mid section appear more slender, and that's exactly what we will focus on next.
Did you notice your waistline has the same width as or is wider than your shoulders and hips? Personally, even when I am skinny overall, my waistline does not look defined. If I ever put on any weight, I will see them on my belly right away!
Styling Tips for the Apple Shape
Through years of researching, I understand the apple shaped body much better now, through my own trial and error (lots of mistakes, trust me).
Your goal
Here is the list of best tips I want to share with you:
The objective of an apple shaped body should be create the illusion of a waistline
Direct attention away from the heavier mid section
Apple shaped boy has soft curves and is round, we need to get more angular lines on your body to break this up and flatter.
Add structure, especially to your top half
Now, we'll take a look at how to actually apply these.
How to create a waistline and hide the belly
First, the biggest challenge of dressing an apple shape is to how to create the waist line that is not naturally obvious.
Let me start with the most straightforward ways. These are the tips that I have found working pretty well for me in the past.
Should you wear a belt?
I want to write about this topic, because I have often seen famous fashion websites and magazines advise apple shape to use a belt to create the waistline. That sounds logical, but does that work?
I have to say that is the biggest debate.
My honest view is using a belt on an apple shaped body could work, but it takes advanced styling skills. Based on my own experience, in most case it will not work, especially if you have an apple shaped body on the heavies side.
I think whoever is suggesting tying a belt as an easy fix for apple body type is probably not an apple herself. Here is why.
If you use a belt, it immediately draws all the attention to your mid section. That is exactly the OPPOSITE of what you want to do. Want to make things worse? Try a skinny belt, or a belt with contrasting color of what you are wearing.
How did I know? I made these mistakes before myself!
The caveat I want to put out there is if/when you are a skinny apple, you could be the exception to this rule. If you are a XS or S, and your belly is much less noticeable, then wearing a belt to highlight the waist area may not be such a bad idea. I have tried this and it worked ok if the belt is the SAME color as the garment (as you can see in the picture). However, as soon as I put on any weight, I had to stop wearing a belt because it just made my midriff look even worse.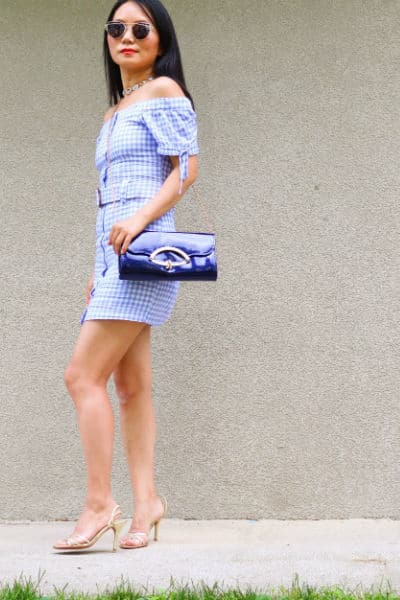 Now, if you are not a very skinny apple figure, it takes some more advanced styling skills. Here's how to make the belt work for you.
Go monochromatic
What I mean by that is the belt should be from the same color scheme as the garment you are wearing. It doesn't have to be the exact same color. Rather, a slightly different color from the same scheme. This may sound like an advanced concept to you, but it is pretty straightforward to understand once you see how Eva Longoria is applying it in this outfit.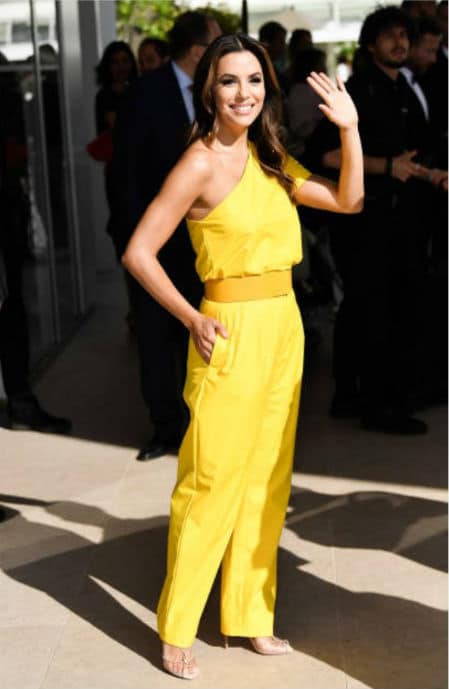 Wear a dark blazer with same color belt
This works very well in the all and winter. For apple shaped women who want to have a defined waistline while wrapped in layers, this is the best way. Once again, this photo of Eva Longoria in the black blazer explains this pretty well.
Now that we talked about how to create your waistline, I wanted to share with you how to accentuate your assets.
Best Dresses for the Apple Shape
Fit & flare dresses
If you are not familiar with this term, fit-and-flare is exactly what it sounds like. The top bodice is fitted, and the skirt's bottom flares out. This is quite similar to the A-line dress. These two terms are sometimes used interchangeably.
This is the most versatile silhouette that flatters all body shapes universally because it creates an ideal shape with a narrowed waist and proportionately shaped hips.
For an apple-shaped body, in particular, it effortlessly hides your stomach because the skirt naturally flares out under your stomach.
The key is to make sure the area around your stomach should not be too tight! You can try this Fit and Flare Dress ($41.99)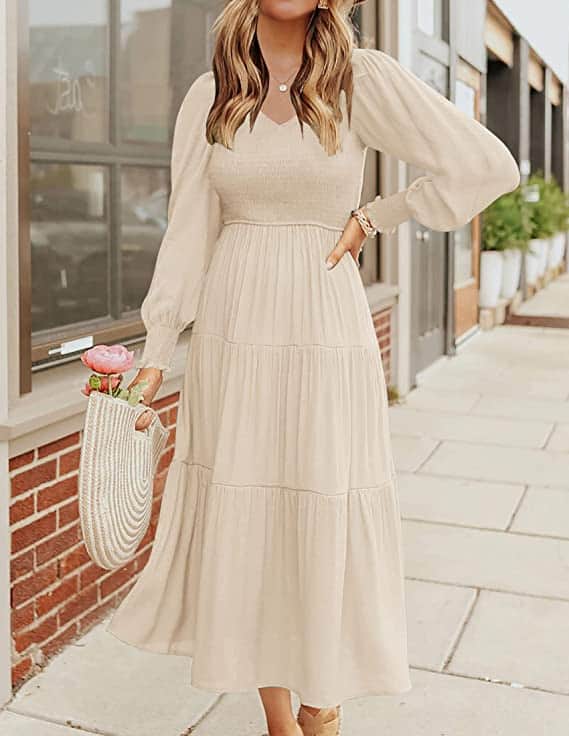 Peplum Dresses
Peplum style is heaven-sent for an apple-shaped body! The ruffles not only effortlessly camouflage your belly, but the flare makes your waist looks a lot smaller because of the contrast with the well-fitted top, like this Peplum Sheath Dress ($89.98).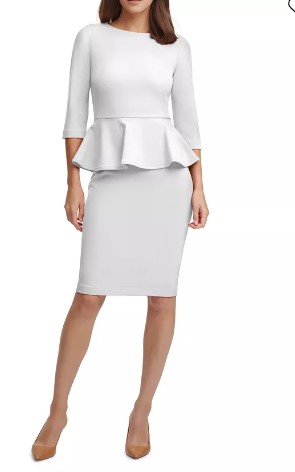 This is one of the signature styles of Eva Longoria.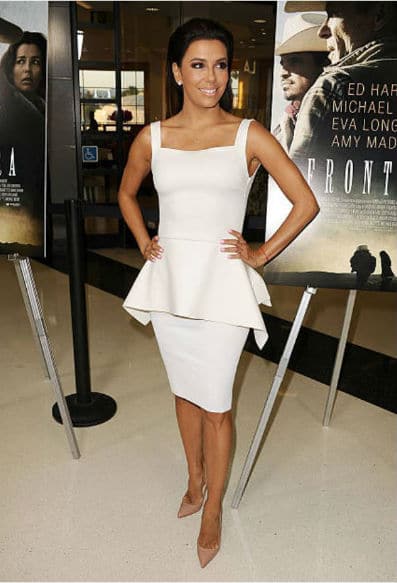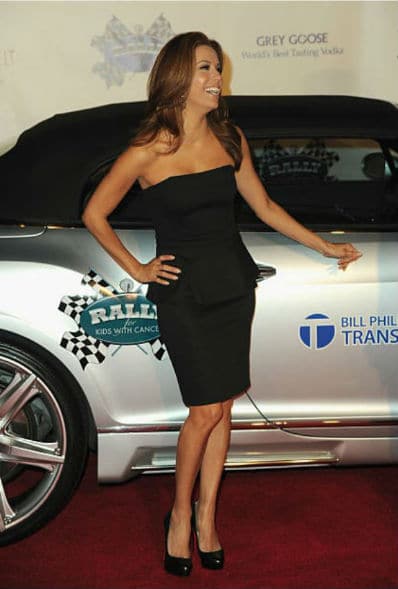 As you can see from the photos, even a white (which is the most unforgiving color) peplum dress looks flawless on her apple body type!
Mini dresses
The apple shape women are lucky enough to have strong arms and slender legs, so let's show them off! What shows off your legs better than shorter dresses and skirts? You try this Women's Textured Ruffled Dress ($109.00).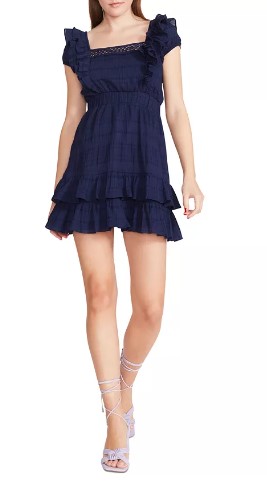 A little heel can help to lengthen the leg and help you look like you lost a few pounds.
I highly recommend you also read my other post dedicated to this topic. Click here to read more on "5 Must Have Dresses for the Apple Shape".
Best Tops for Apple Shaped Women
Peplum tops
Peplum style can be a top or a dress, I have found both work quite well for hiding the stomach area and defining the waistline.
When you are wearing a peplum top, the length is key! Keep in mind the flounce of the peplum is where it will draw attention to. So, because your goal is to hide the belly, you need to make sure the flounce part of the top is actually long enough to cover your midsection! You can try this V-neck Mini Dress ($98.00)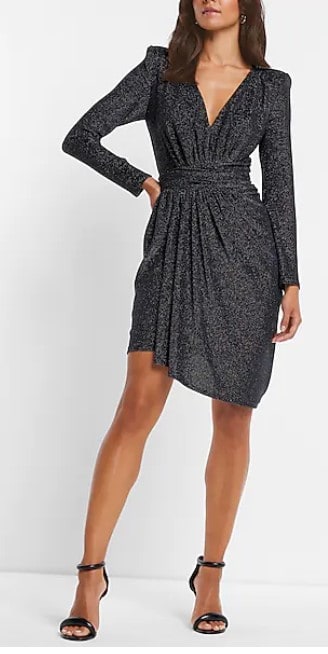 Not all peplum tops are created equally- choose carefully when you are looking for the top and make sure you try on different lengths and compare which works the best for you.
Tops with a ruched design around the waist
These worked wonders on me because the ruched waist has an amazing slimming effect. If you are an apple body type on the heavier side, it is important for you to choose a dress that is not skin-tight! You can try this Short Sleeve Ruched Banded Bottom Tee ($58.00)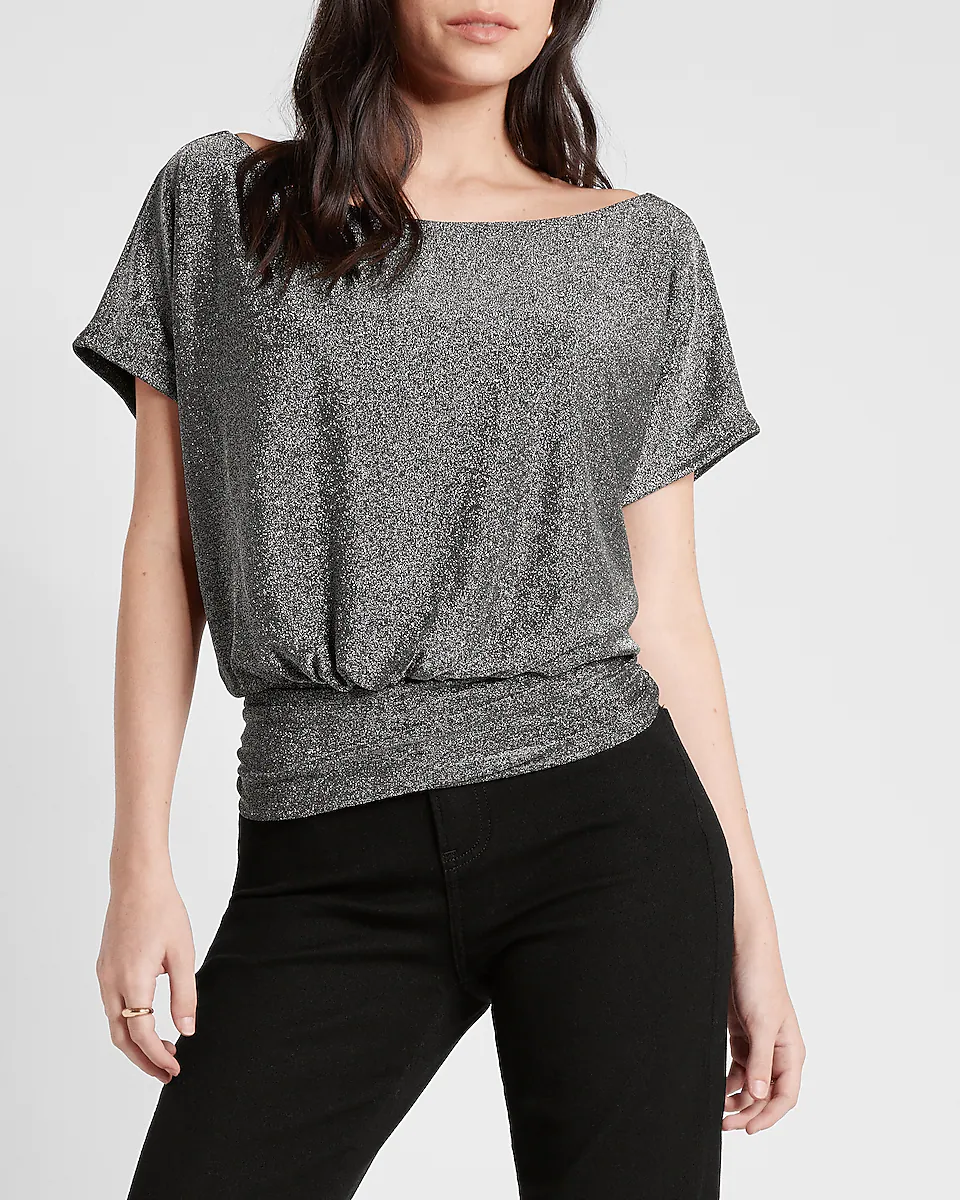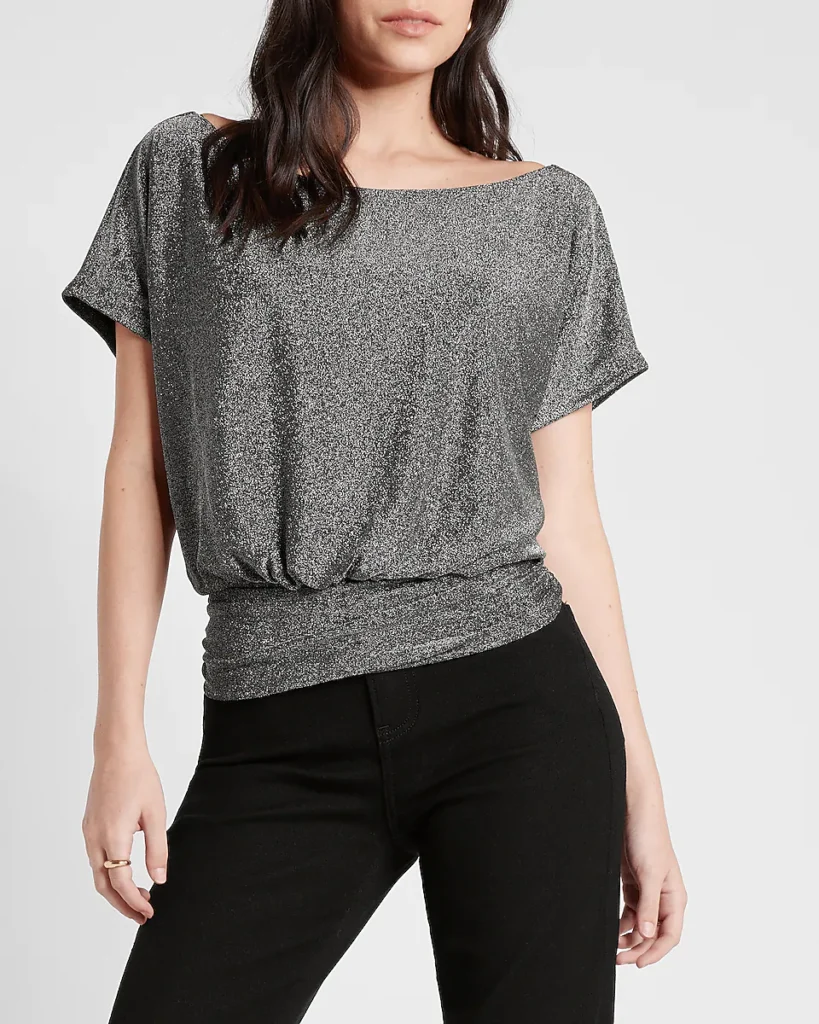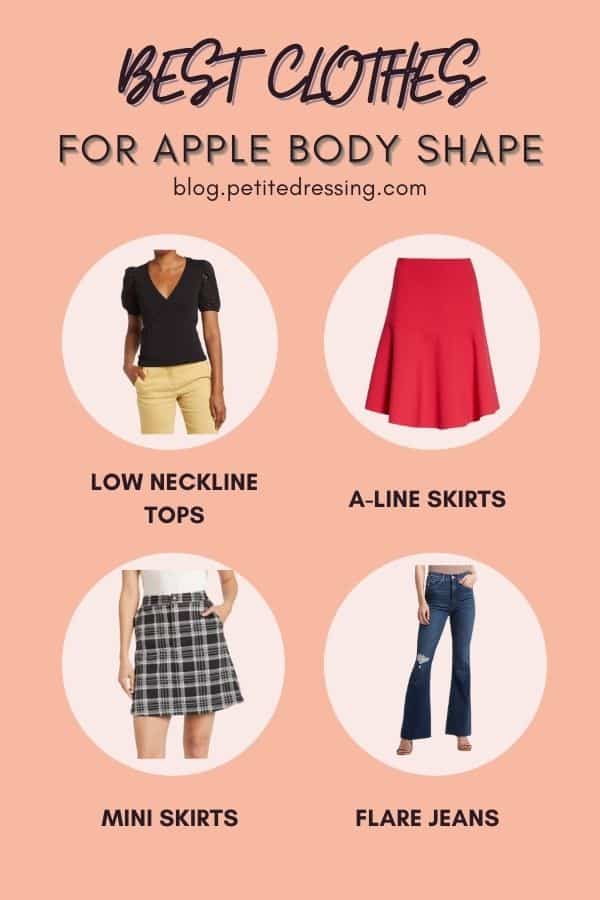 Low neckline tops
There are two reasons you should be highlighting your breasts!
Number one, you got great round-shaped breasts, which is one of your best assets, and you should definitely not be hiding them.
Number two, the more attention you bring to your chest area, the fewer people will notice your mid-riff!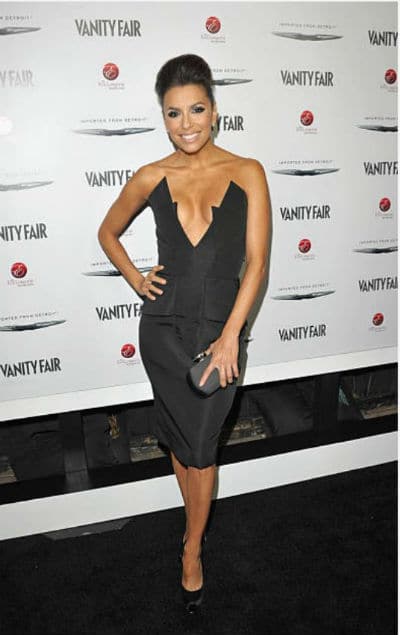 Low neckline tops could have different designs. For instance, I have found these all work pretty well:
U neck
deep V neck
sweetheart
Off the shoulder
The key is you want the neckline to be low and open so that you can show off your beautiful breasts, like this Bow Tie Tank Top ($54.00)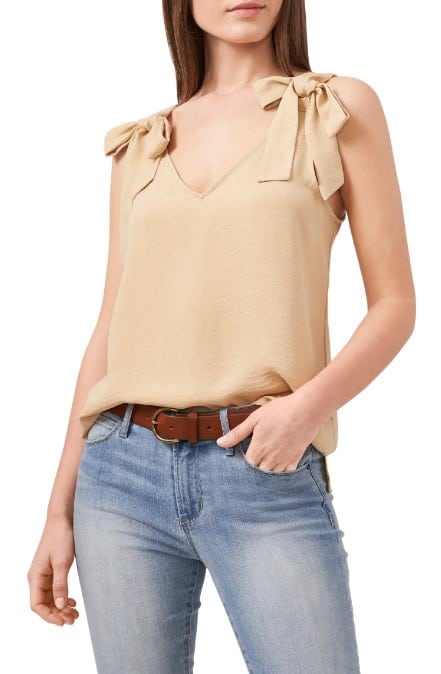 Best Skirts for Apple Shape
A line skirts
The reason the A-line skirt works wonderfully for the apple body type is that it does not hug your belly as tight as the pencil skirt, so it will not make your midriffs look as noticeable.
Meanwhile, because the a-line skirt flares out, it creates the illusion of a defined waistline for the apple shape, like this A-line Midi Skirt ($150.00)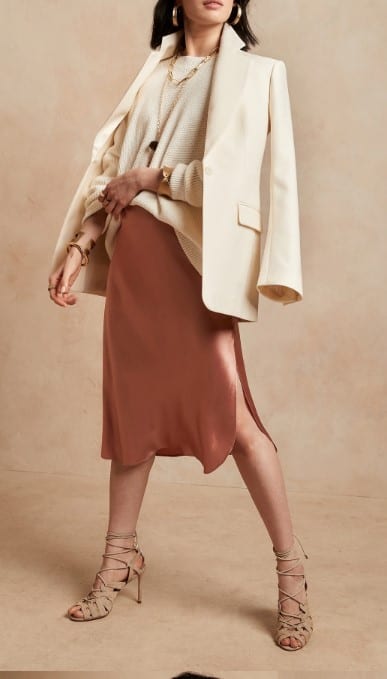 Mini Skirts
I think now you already know why mini skirts work well for the apple shape.
It is the same reason as the short dresses. Apple-shaped ladies normally always have slender legs, even if you might have gained weight on your waist. Since mini skirts show off your shapely legs, they are your best friend! You can try this CRESCENT Arecia Mini Skirt ($78.00).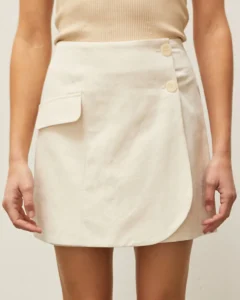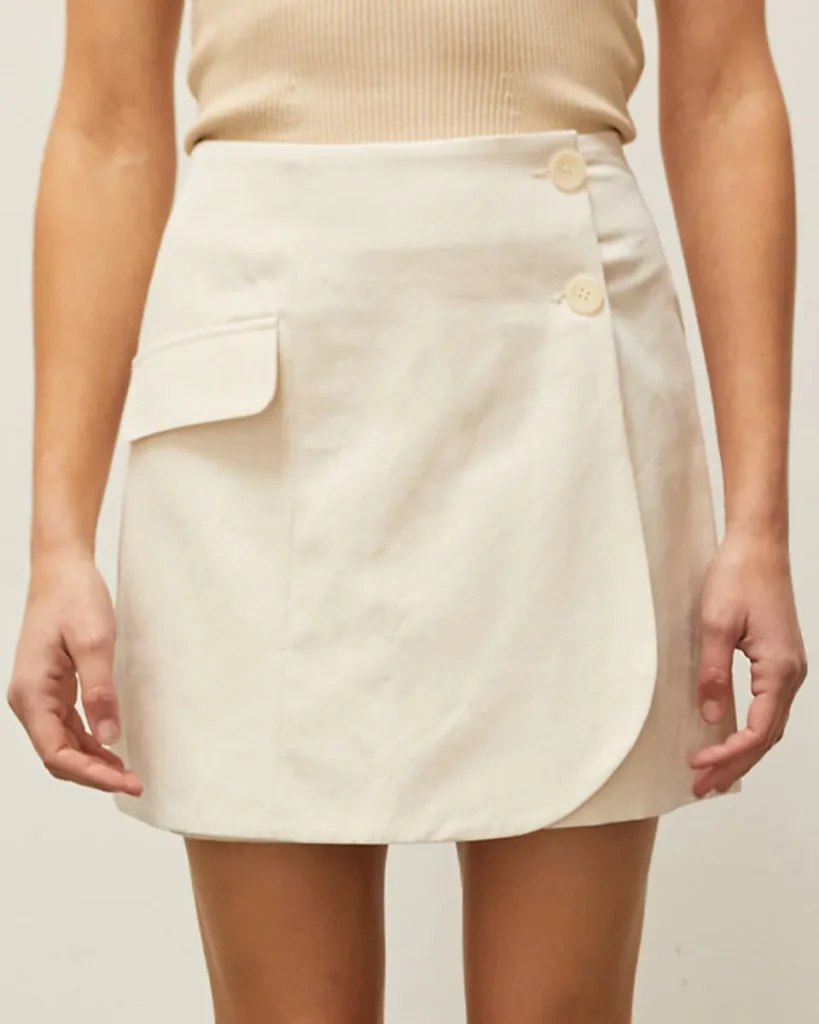 Now, here is a caveat.
I mentioned earlier low neckline flatters the apple body. However, you should limit it to showing one asset at a time.
For example, if you are wearing a deep U-neck top that shows your cleavage, then you probably want to go with a skirt with a relaxed fit or at least reach your knee. You always want to look tasteful and avoid any outfit that is too revealing.
Best Jeans for Apple Shaped Body
A lot of us live in jeans, so finding the jeans that fit your body type is critical to every shape. With an apple-shaped body, the biggest frustration with jeans is the muffin top. Do you feel the same way?
High waisted jeans
That is why high-waisted jeans stretch jeans are the top choice for apple-shaped petite women for a number of reasons.
First and foremost, high-waisted jeans typically have pants rise of 9 inches or higher, which means it is up to or even higher than your belly button. That alone will make your muffin top almost disappear! You can try these High Rise Vintage Slim Jeans ($79.95).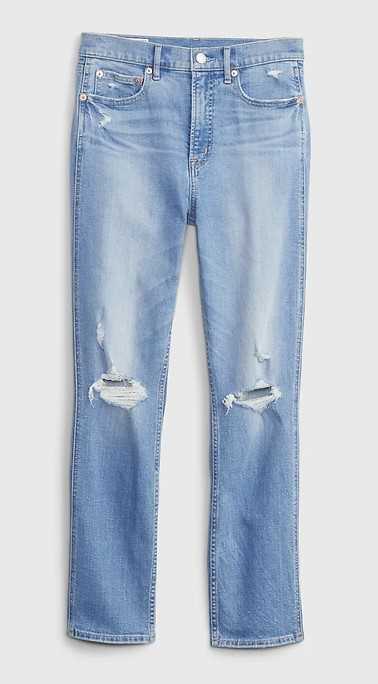 Secondly, most petite women want their legs to look longer desperately. With the high waist design, your legs just instantly look extended.
Flare legs
Besides the high waist, the flared leg is the most flattering to the apple-shaped body, or actually, any petites who wish to have longer legs.
You can try my personal choice from Express, the High Waisted Light Wash Flare Jeans ($80.00).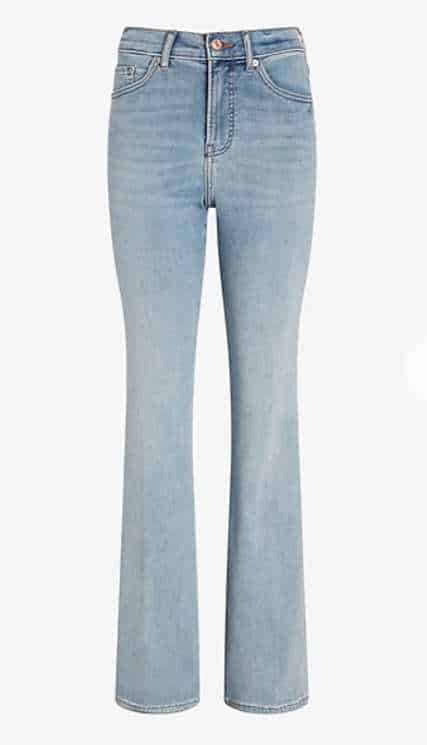 Avoid low rise by all means
You should ALWAYS avoid low rise jeans! What it does is it will have you spilling all over the place. Plus, they are the worst pants for petites because they just make your legs look shorter. Even though low rise is making a come back on the runway this year, I urge all my fellow petites (especially if you are apple shape) to stay away from it.
I highly recommend you also read my other blog post dedicated to this topic " Top 7 Jeans Brands for the Apple Body Shape".
Best Fabrics
Apple shape women overall look fleshy vs boney. The best advice for apple shaped body when it comes to fabric or print is go bold and big, as a little print especially on your top is going to make you look bigger than you are. A good bold geometric shape is perfect winner for you! Try to stick to a heavier fabric and away from flimsy cheesecloth etc. as these fabrics tend to have a little more structure in the garment.
On the other hand, prints too big are not flattering to petite women, because they may overwhelm your petite body frame. Therefore, it is a fine balance to choose the print big enough but not too big to swamp you.
Now that I have shared with you the best tips I have gathered over the years, I hope you will find this helpful next time you are standing in front of the mirror trying to figure out how to style yourself! Do you have other hacks you want to share with the fellow apple shaped petites? Leave a comment below and we can't wait to hear from you!
Everything else you need to know about apple shape