At Petite Dressing, we believe each petite body type has its own unique treats and everyone has the potential to be attractive, as long as we use the right dressing techniques to enhance our assets.  First things first, let's take a look at what is an apple shape.   If you have an apple shape, you generally have the following body traits:
Your hips and shoulders are well balanced, i.e. they are roughly about the same width. That is, your shoulder and hip measurements are within 5 % of each other. Many petite women with apple shape have round and sloping shoulders that align nicely with the hips.
You do not have a defined waistline. Your waistline has the same width as or is wider than your shoulders and hips.
You have a full bust, waist and upper back
Your hips are round shaped and Your high hip is wider than your lower hip.
Your bust and/or midriff are larger than your hips. If you gain weight, you tend to gain weight mainly around the waist, at least in proportion to the other parts of your body.
You probably have slender lower legs and arms.
You might be short waisted
Your thighs or hips are probably the narrowest part of your body.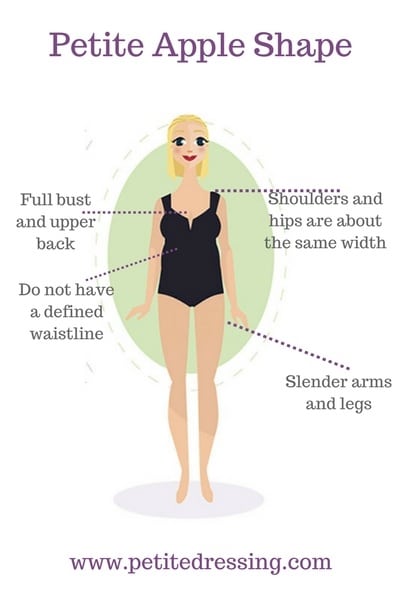 In one word, petite apple shape women are "top heavy", and above are the typical features of petite body shape.  However, because human body have some many different variations, most likely not one body would fit into all features of one body type.  If you feel like you have some but not all of the traits above, it is possible you are a combination of hourglass figure and other body types.  Click on Petite Body Type to read more and take the quiz and find out what body type is closest to you.
Now that we talked  about how to define the apple shape,  it may have become clear to you that the best assets are the slender arms and legs as well as the curvy bust and round buttocks.
The objective of an Apple shape whilst dressing should be to add structure especially to your top half. Your body has soft curves and is round, we need to get more angular lines on your body to break this up and flatter.  This can be achieved through the following
Try a structured jacket or blazer.
2. Try to incorporate Asymmetrical hemlines.  Examples are one shoulder tops or dresses
3. Cowl neck and flutter sleeves will also help give you a more feminine edge.
4. Apple shapes also benefit from tanks or cammis with a little Lycia support for layering.
Petite apple shape women are lucky enough to have great legs, so lets show them off. A little heel can help to lengthen the leg and help you look like you lost a few pounds. Do not be afraid of a skirt or a cropped pant it will become your friend. In a dress look for detailing like ruches or pleats that gather drape or hide around your tummy area.
Now, the biggest challenge of dressing apple shape is to how to create the waist line that is not naturally obvious.  There are several ways to go about it.
Wear a belted dress. The most flattering for petite women is probably a classic wrap dress.
Wear a dress with a band of ribbon of the same colour to subtly create a high waistline. This is an alternative to a belted dress.
The simple use of a ribbon, tied at the right spot, can instantly create the illusion of a waist. The only downside to the ribbon is that it is inflexible. Many petite women with an apple body shape may like the comfort of a flexible or elasticated belt.
A line skater dress is very flattering to the apple shape, as it flutters below the waistline thus creates the illusion of a smaller waist.
Wear a single breasted jacket with a single button cinching the waistline. If it happens to have a deep V shaped neckline, it will elongate your neck and is flattering to your full chest too.
Fabrics
Apple shape women overall look fleshy vs boney.  The best advice for apple shape when it comes to fabric or print is go bold and big, as a little print especially on your top is going to make you look bigger than you are. A good bold geometric shape is perfect winner for you! Try to stick to a heavier fabric and away from flimsy cheesecloth etc. as these fabrics tend to have a little more structure in the garment.  On the other hand, prints too big are not flattering to petite women, because they may overwhelm your petite body frame.  Therefore, it is a fine balance to choose the print big enough but not too big to swamp you.
Best jeans for you
Read The Best Jeans for Your Body Type for more details of what are the best jeans for each petite body type. Many apple shape petite women have their biggest concern about their midsection.  If that is the case for you, the best petite jeans for your body type is the high rise, stretchy denim or bootcut style that covers and smooths your mid section at the same time.  Since petite apple shape women have little or no waist definition, it is not a good idea to tuck in your top, as that might make it more obvious that you do not have a waist.   However, every fashion rule can be broken, if you know how to work around it.  If you are wearing dark wash high wasited flare jeans, which has a sliming effect around your waistline, it works just fine if you tuck your shirt in.  If you happen to have muffin top, however, you should avoid low rise jeans, as that will have you spilling all over the place.  You may even find high-waisted jeans not able to hide the muffin top enough.  In that case, the best style to hide that I s mid-rise black jeans.  That will suck it all in where you want it and make your mid section look more slender.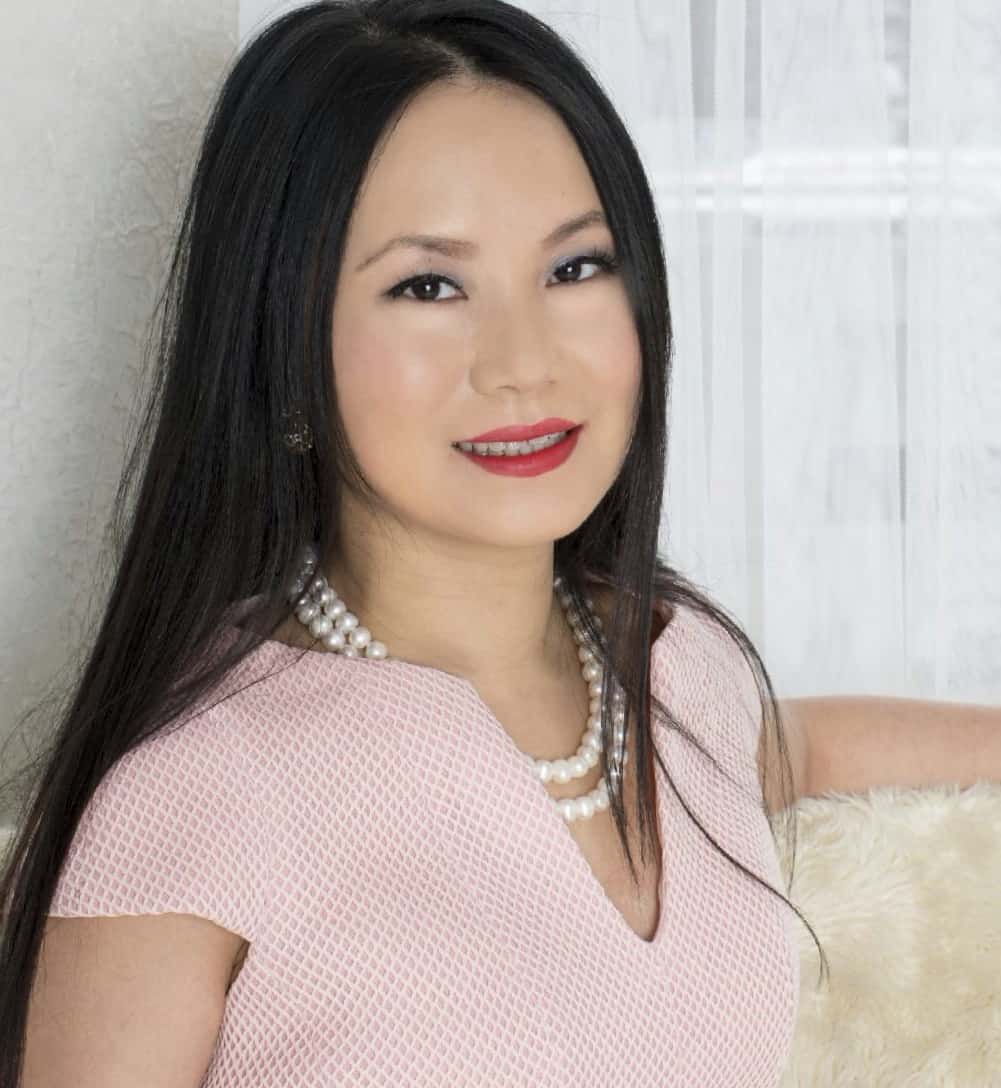 Chi is 5'2″ founder of Petite Dressing, an online petite clothing store dedicated to women under 5'4″.  Petite Dressing blog is here to help you understand yourself, such as your petite body type, and look your best ever.  If you are new, start here. Comment below and share your thoughts about this post!