Short legs is one of the most common issues for petite women.  Some petite women (like some of the famous short celebrities) are lucky enough to be blessed with very good proportion and appear to be taller than they are, even though they are under 5'4".  However, most of us wish to make our legs look longer and leaner. 
Even though we cannot change our height, we can learn some useful styling tips to create the illusion of longer legs through our outfit.  Some of the things to avoid might be very trendy, but that does not mean they will look good on girls with short legs.  Since not everyone is blessed with mile-long legs, it is important for those of us with short legs to understand what works and what doesn't.
I have summarized the key points in this video. I highly recommend you watch this video and then read this full article to get all the details.
Wearing too many colors
If you have short legs, your focus should be to create length in your outfit.  That is why one piece outfit such as petite dresses or petite jumpsuits are most flattering to short women.  They form an unbroken vertical line which lengthens the short frame of petite women.
If you are wearing separates, then wearing a column of colors is important.  That means if the colors of your top and bottom are tonal (i.e. from the same color scheme), they will make you look taller.  The opposite is also true, i.e. wearing too many different colors will only overwhelm your petite body frame and make your short legs look shorter.
Now, you may ask how many colors are too many?  The answer depends on what you are wearing.  If you are wearing a solid top and bottom, they will look most flattering on girls with short legs if they are monochromatic.  However, it is not the end of the world even if they are different and contrasting colors.  On the other hand, if you are wearing prints, then you may want to wear a printed top with a solid bottom, or vice versa so that the outfit won't look too busy.
It is important to integrate your stockings and shoes into your outfit when you are considering how many colors you are wearing.  If the color of your skirt, stockings, and shoes are all of similar color such as black to dark navy, then that will make your legs look longer.
Wearing a printed dress is an exception to this rule, as the dress itself is already a continuous column of colors.  In fact, wearing a dress is one of the most useful tips for girls with short legs, because showing off your bare legs actually works wonder in terms of making your legs look longer.
Read more about monochromatic dressing at How to Look Taller.
Mid calf boots
If you have short legs, you should be very careful about boots that reach your mid calves. Mid-calf boots are an awkward length and they make your legs look shorter than they are.  Worse yet, they end at the widest part of your legs, thus making your legs wider than they are.  The problem is even more exaggerated if the mid-calf boots have fluffy furs around the openings, which will draw all the attention to how short your legs are.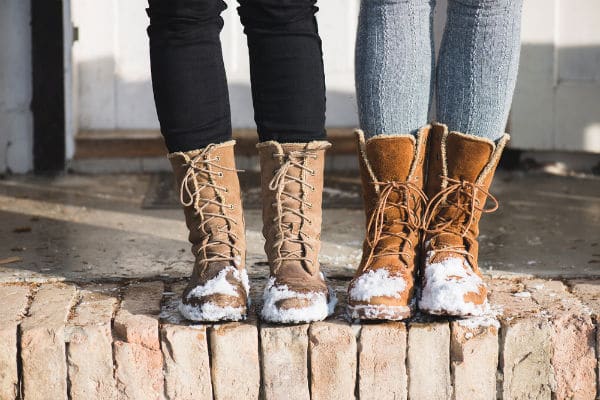 Your better choices are tall boots. If you wear them with mini skirts, they will make your proportion look better and make you look taller.
They could be either knee-high or over-the-knee (OTK) boots. Tall boots extend your legs to the maximum with an unbroken vertical line, which is why they make your legs look so much longer.
To find out all you need to know about boots, read my post on "Boots for Short Legs: 5 Tips Every Petite Girl Should Know".
Cropped Wide Leg Pants
Ok, here we are talking about two things at the same time.  Number one is cropped length and number two is wide-leg pants.  If a pant has one of these two, it is already tricky enough for short-legged girls.  First, cropped length can make your legs look cut off.  Second, anything wide will horizontally expand you and make your legs look even shorter.  If they are both? You should stay away.
Now, if you absolutely love wide-leg pants, you should read my post "A Short Girl's Guide to Petite Palazzo Pants".  The key concept is to go for the long style and wear them with high heels of similar color, like one of our favorite petite bloggers Carly (5'3", follow her Instagram@carlygala).
This way, the length of the pants and the heels will add a few extra inches to your height, and people cannot tell if that comes from your legs or your pants and heels!
But please, avoid wide-leg pants that end above your ankles by all means- they will only make your legs look both cut-off and shorter.
Midi dresses or midi skirts
For those of you not familiar with the term, "midi" is a dress or skirt length that is halfway between the knee and ankle (mid-calf). The hem is at an awkward length and they make your legs look cut off.
Sounds familiar?  This is very similar to the concept of wearing mid-calf boots, as they also draw attention to the widest part of your lower legs and make your legs look shorter. Whether it is midi dresses or midi skirts, they are not the most flattering style for girls with short legs. 
You are much better off dresses or skirts either longer or shorter than the midi length, i.e. a mini skirt that ends 10 inches above your knees or a full-length maxi dress that covers your ankles.  Either way, you will look taller than you are and your proportion will look a lot better.
Slouch pants
If you have short legs, please stay always from slouch and loose pants. They will make your bottom half look bulky and shrink you vertically, the opposite of what we want.
If you really love the casual feel of boyfriend jeans, go for an alternative version, i.e. the girlfriend jeans.
The most flattering pants for girls with short legs are flare pants or flare jeans.
Gladiator sandals
Gladiator sandals have been extremely popular in recent years, thanks to all the celebrities and fashion bloggers in the wake of the block buster Hollywood movies.
Although they can look very trendy and fashionable, they are not flattering to girls with short legs. If you have short legs, any horizontal straps will make your legs look cut off, let alone gladiator sandals with numerous straps.
The worst is the tall gladiator sandals which normally are the height of tall boots but they have straps all over.  They will make your legs a lot shorter than they are.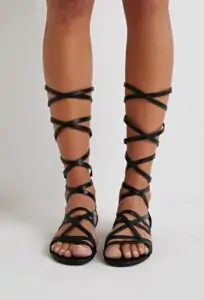 The universally flattering shoe is stiletto, as they always make you look taller, leaner and thinner.
The most flattering designs for petite women have three characters: pointy toes, low vamp and no ankle straps. Read more about "Best and Worst Shoes for Petite Feet"