Being 5'2″ myself, I have made many fashion mistakes, especially when I was younger. Having a petite clothing line for women 5'4″ and under also gives me first hand experiences of styling my petite models, as well as hearing feedbacks from thousands of my customers who are short.
In this post, I have summarized the most common mistakes that short women make in their wardrobe so that you can avoid them and make wise choices to look good and effortlessly chic.
[adthrive-in-post-video-player video-id="Dud2Sajn" upload-date="2020-01-18T16:13:55.000Z" name="Petite Style Tips for Short Women- Top 10 Mistakes to Avoid" description="Every short girl should avoid these 10 mistakes in their fashion choices and build a wardrobe flattering to petite body frame. These are the best petite style tips for women under 5'4. " player-type="default" override-embed="default"]
Baggy jeans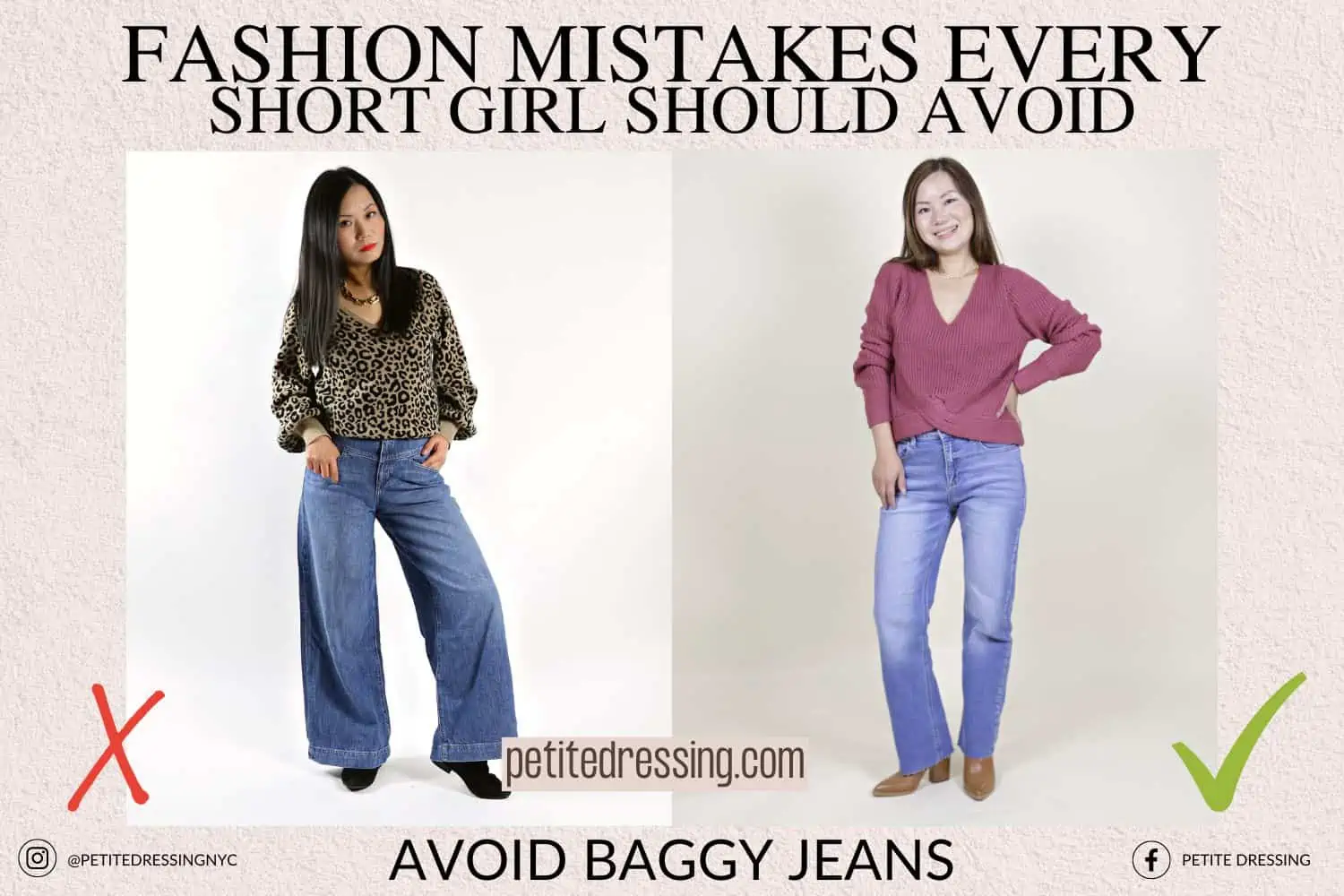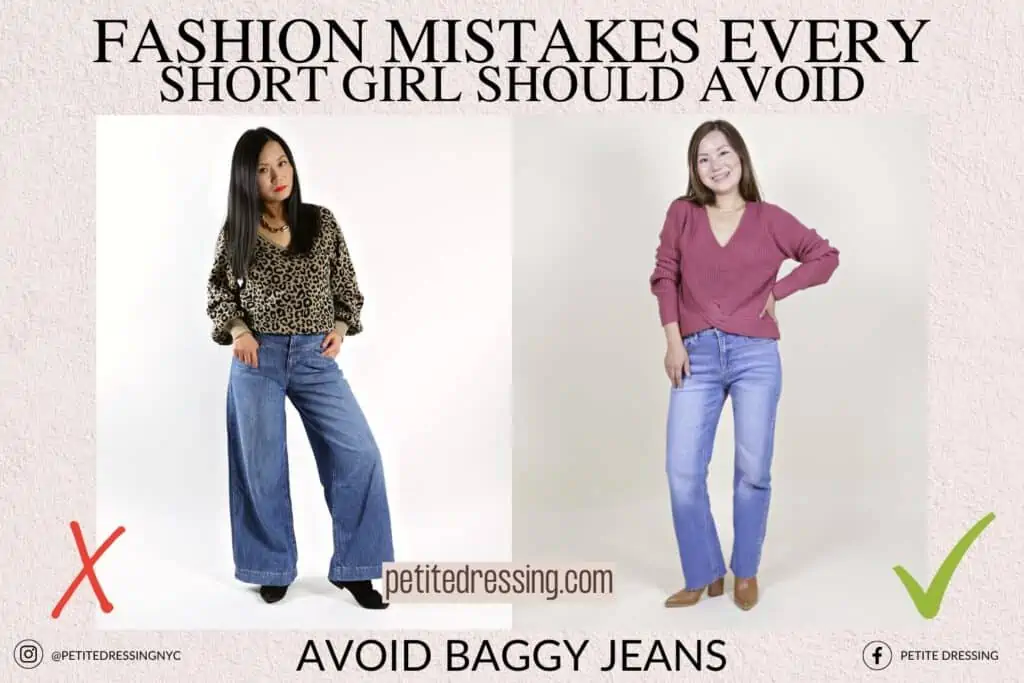 Short women should in general go for figure-conscious clothing and stay away from baggy clothes, especially the bottoms.
There has been an increasing buzz about boyfriend jeans in recent years, as they are comfortable to wear because of the relaxed fit. However, they are not flattering for short girls, if the fit is too relaxed.
It is important for petite women to wear well-fitted bottoms, which will effectively elongate the legs and make your overall proportion look better.
If you think skinny jeans are only flattering for certain body types, go for bootcut jeans, which are universally flattering for any body type. In fact, boot cut or other slim fit are always the most popular style in my pants and jeans collections!
It is not as tight as straight-leg jeans or skinny jeans, so it is very forgiving. In addition, the straight A-line at the bottom makes your calves and thighs look skinnier.
Flared jeans are another most flattering styles for women. The flare adds a graceful, curved silhouette that is very feminine.
For petite girls, the flared legs add length by extending your legs, as they do not stop at your ankle like skinny jeans.
Platform shoes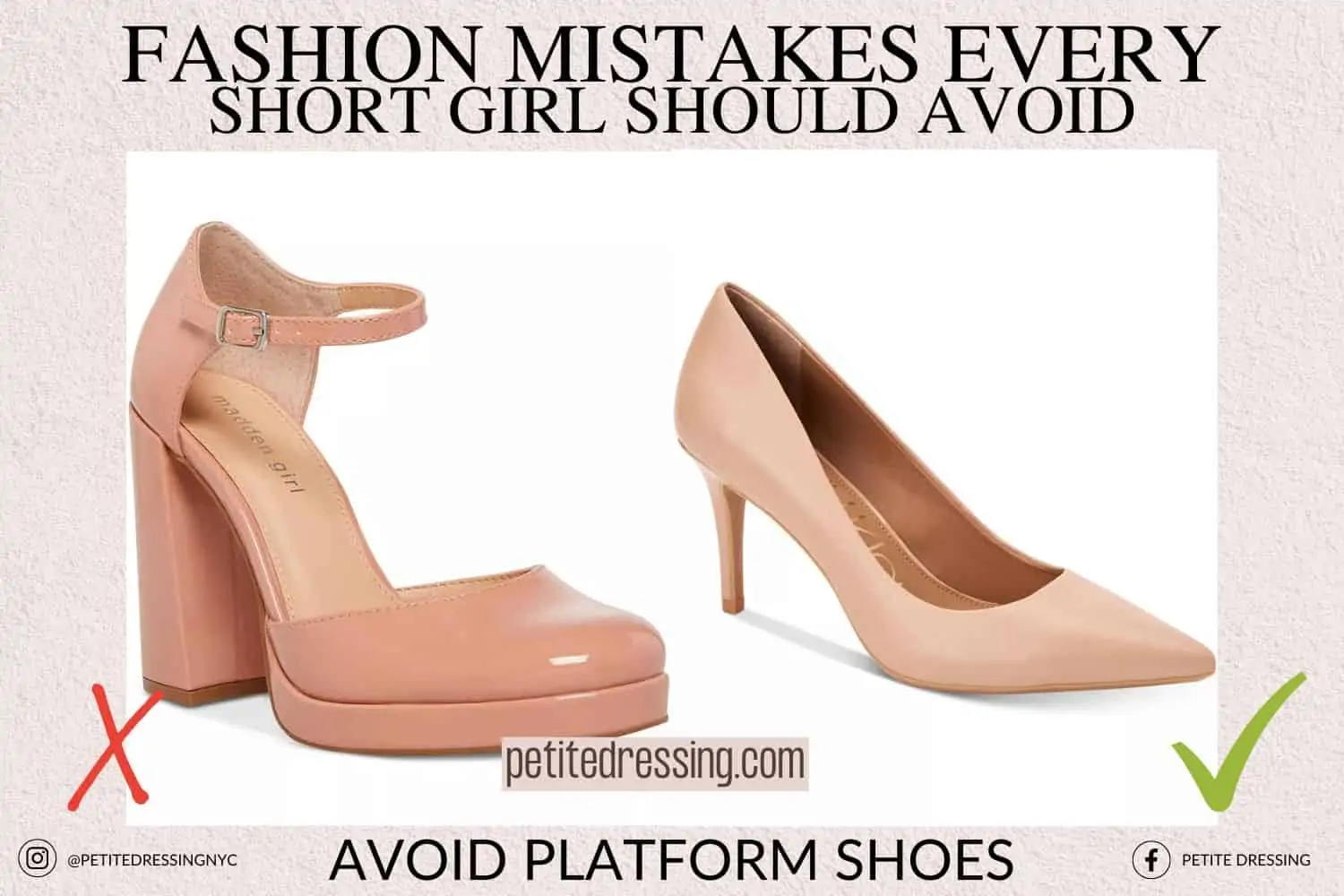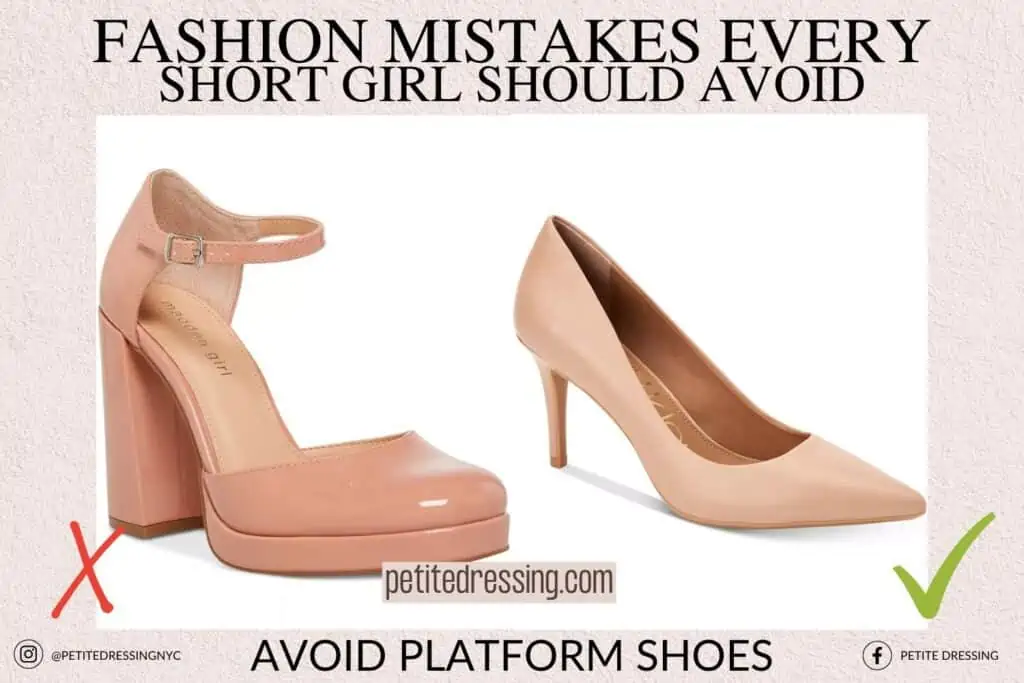 Wearing heels is the easiest way to change the height of a petite woman. Many short girls believe wearing platform shoes is the best way to add a few extra inches, especially if you don't want to tolerate the pain of wearing stilettos.
That is understandable. However, one general rule of thumb when it comes to short girls' shoe choices is it should be in balance with your body size.
If you are petite, you should in fact avoid chunky platforms, as they actually make your legs look shorter than they are.
Additionally, platform shoes are not your best choice if you want to improve your proportion. Platform shoes add too much bulkiness to your feet and draw people's attention down, not up.
The universally flattering shoe is the stiletto, as they always make you look taller, leaner, and thinner.
The most flattering designs for petite women are pointy toes and low vamp. It is quite straightforward to understand why pointy toes are the best for short girls- they extend your legs to the maximum.
Now, what are low vamp shoes? The vamp of the shoe is where it cuts across your foot at the front. Thus low vamp shoes cut across the front of the foot near the toes, and high vamp shoes come up the foot and possibly up to the ankle.
Ever seen the pumps that show a little bit of toe cleavage? Those are low vamp, like Sam Edelman's Hazel Shoes ($139.95).
Now you get the idea why they are flattering to petite women-they make your legs look longer by covering less of your feet.
Designers like Christian Louboutin and Parada are masters of the low vamp designs, but you don't have to spend $700 dollars in order to get a pair of low vamp shoes. Sam Edelman and Nine West are the reasonably priced brands that make the low vamp pumps.
Read more on "How to choose the best shoes for petite women".
Stay away from long skirts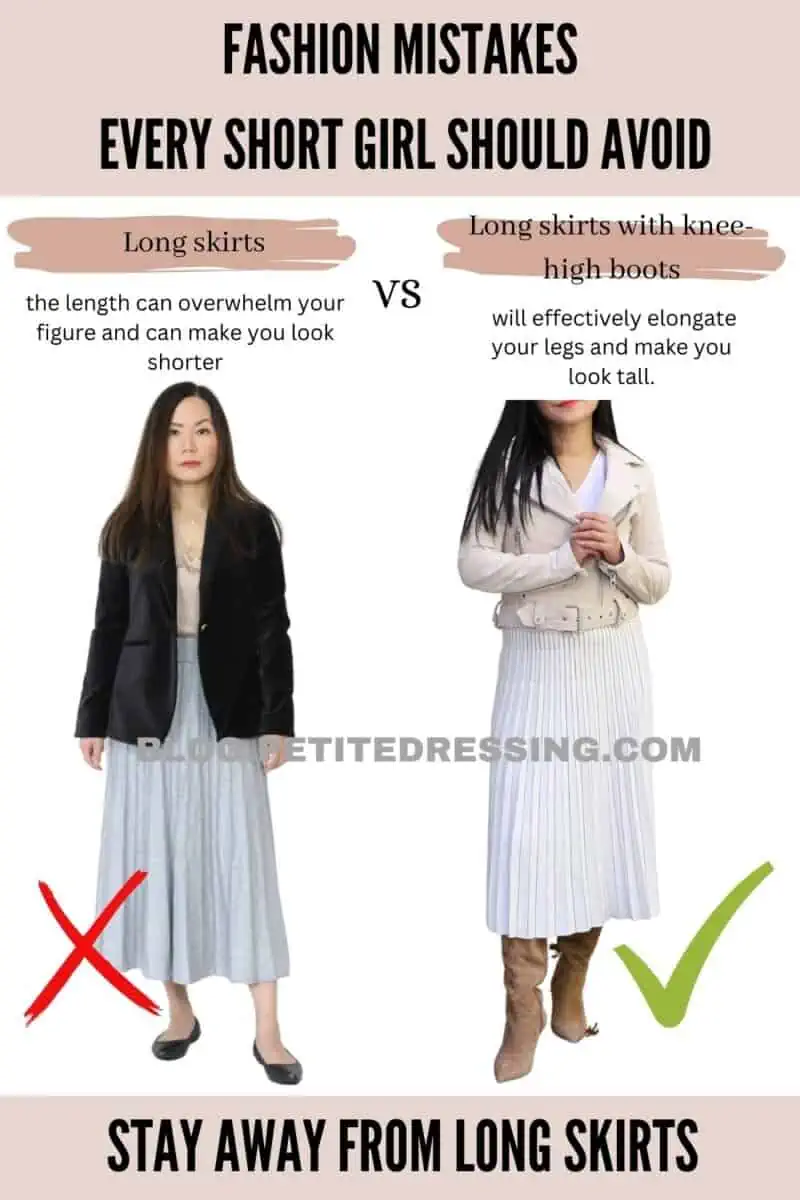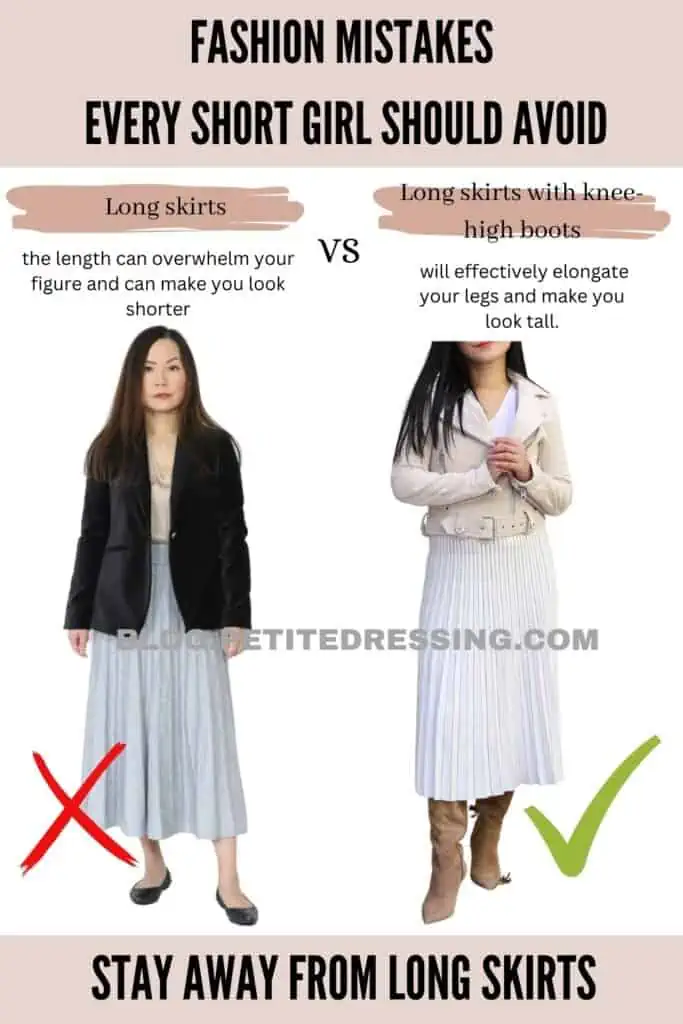 We have all heard about the fashion advice by many stylists that short girls should stay away from long skirts and go with short skirts. While it is obvious that short skirts are flattering to short girls in general, it is also good to know how to wear long skirts and make them look flattering to your petite frame.
In winter times, long skirts are very practical and can keep you warmer than short skirts.
Pairing a long skirt with knee-high boots is one of the best fashion choices for a short girl when the weather is cold. The key is the color of your skirt and that of your boots should be of a similar tone, which will effectively elongate your legs and make you look tall.
Intimated by maxi dresses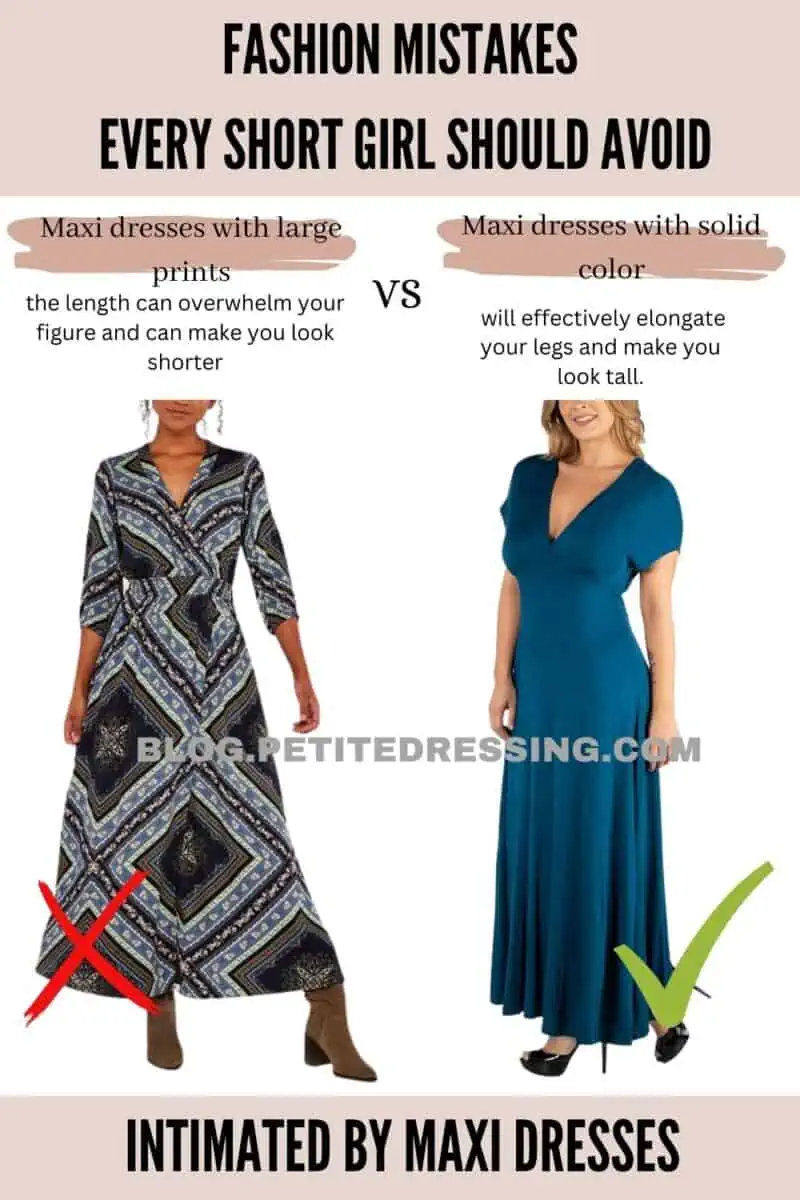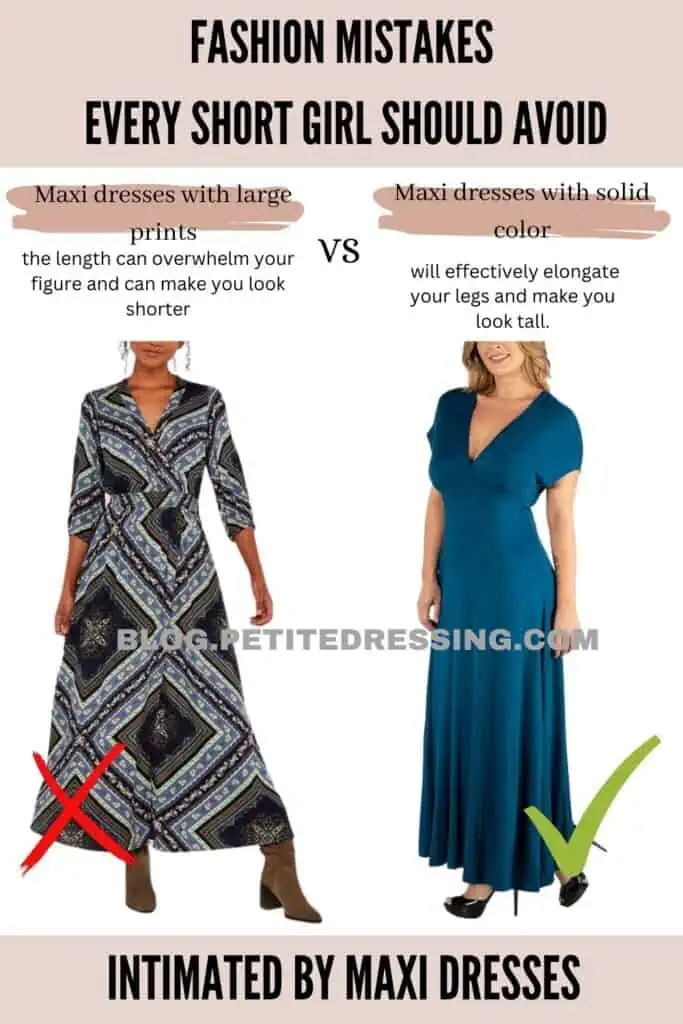 Similar to wearing a long skirt, wearing a maxi dress the right way will actually make a short girl look taller. One of the key factors in styling short girls is to create a column of colors. Because of its continuous color and pattern, a maxi dress can effectively elongate your body frame.
If you are petite, solid colors or small prints are your best choice.
Be very careful with large prints on maxi dresses.
Given the big area maxi dresses cover on your body, large prints may make you too busy and overwhelm your small frame. If you are short, getting the right length for your maxi dress is critical.
Fortunately, some brands offer petite sizes so that you do not have to pay for a tailor. Read our guide on "How to Choose Maxi Dresses for Petites".
Carry oversized bags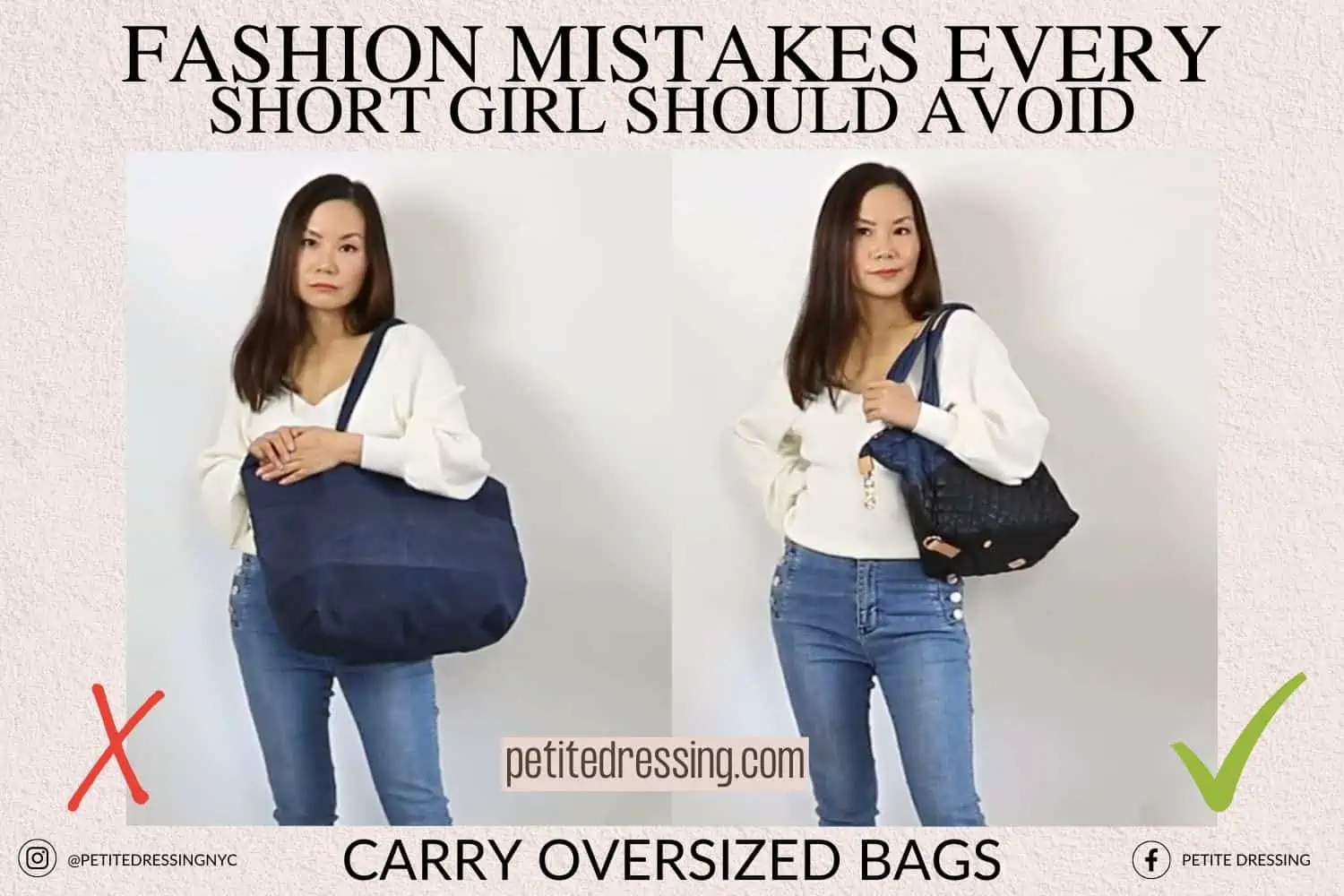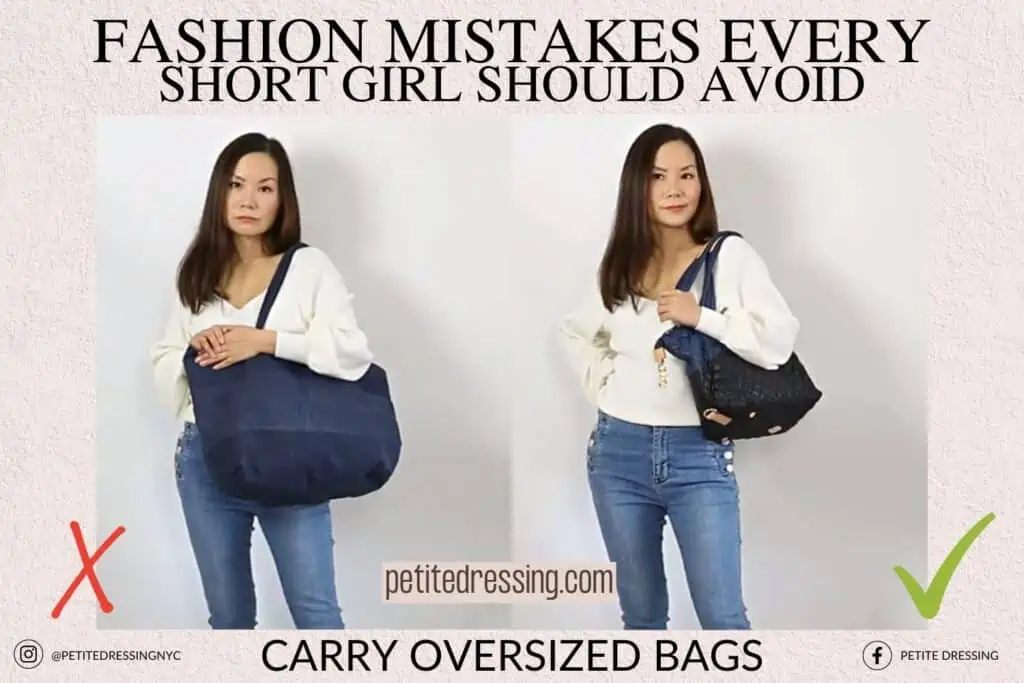 While large bags are very useful for practical purposes, they are not the best fashion choice for short women. Big bags can dwarf the person that carries them.
Petite women should carry bags proportional to their sizes, i.e. small to medium size bags.
I'm not suggesting you should only carry a clutch every day. All of us today have busy lives and wear multiple hats as a girl boss, super Mom, caretakers of our families, etc. Most likely you need a bag to hold a lot of stuff, so go with a medium-size tote or satchel.
If you are purchasing online, it is important you read the product description carefully and try to understand the size of the bag relative to your height. The most important measurements are the height, width, and drop.
It makes it a lot easier if the retailer shows the image of the bag on the model. However, be aware the models are probably going to be 5'5″ and above and most cases 5'7″ and above. That means the bag will sit a few inches lower on you because you are under 5'4″.
Metallic chains are very feminine, but their length is hard to adjust unless you take them to a hardware store or shoe repair shop.
Another great choice is crossbody bags, which are very flattering to petite girls. Many satchels today also come with detachable shoulder straps to make them wearable as crossbodies. The important thing is to choose the right length for the shoulder strap.
Petite women should draw attention above and not down, so ideally the bag should not sit below your hip. Otherwise, it will drag people's attention down, and make you look shorter than you are.
Lastly, small to medium size backpacks are also a good choice. They free up your hands and are very easy to carry, and the benefit to a short girl is they will not draw people's attention to your height.
On the other hand, we are not saying smaller is always better for short girls since short girls are not all tiny and skinny. If you are a curvy petite girl, opt for a medium size bag that is in balance with your overall body size.
We have another post that is focused on how to choose and style accessories for short girls.
Ankle straps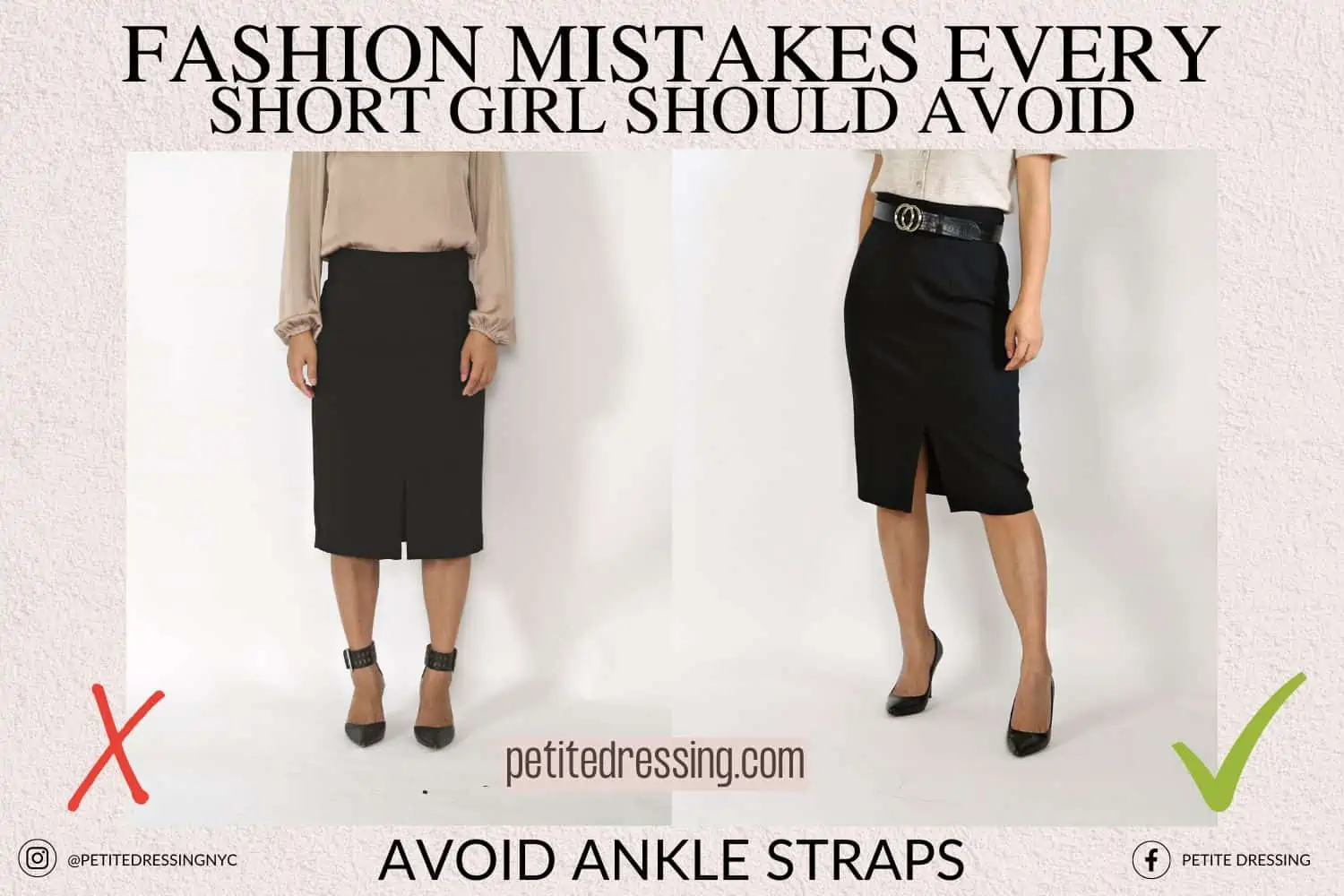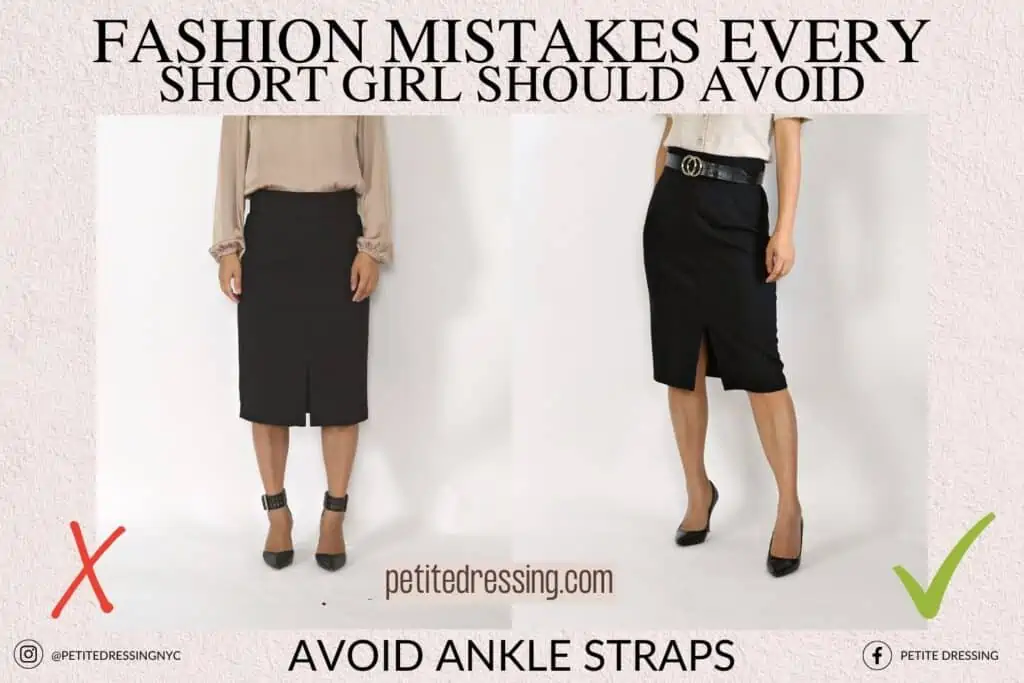 For short girls, wearing pumps is better than wearing ankle strips. The reason is ankle stripes create a horizontal line across your ankle and cuts off your legs. The horizontal line is more obvious if the shoes are dark colors such as black or navy.
Shoes without ankle stripes will make your legs look longer than they are and will make you look taller, like these Anne Klein Lauraly Sandals ($89.00)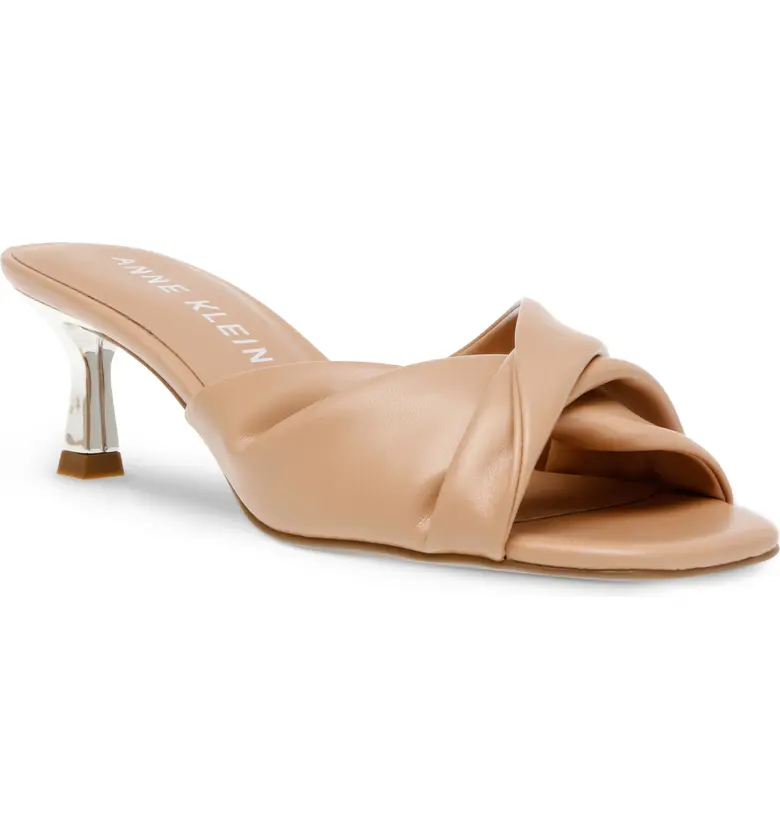 However, if you have really small feet such as size 4 or 5, you may find it hard to walk in shoes without ankle stripes simply because your feet may not be long enough for the pumps.
In that case, you can wear nude or skin color pumps with skinny ankle stripes.
Because the stripe is close to your skin color, the horizontal line will not be that obvious, thus your legs will not look too cut off.
Cropped wide leg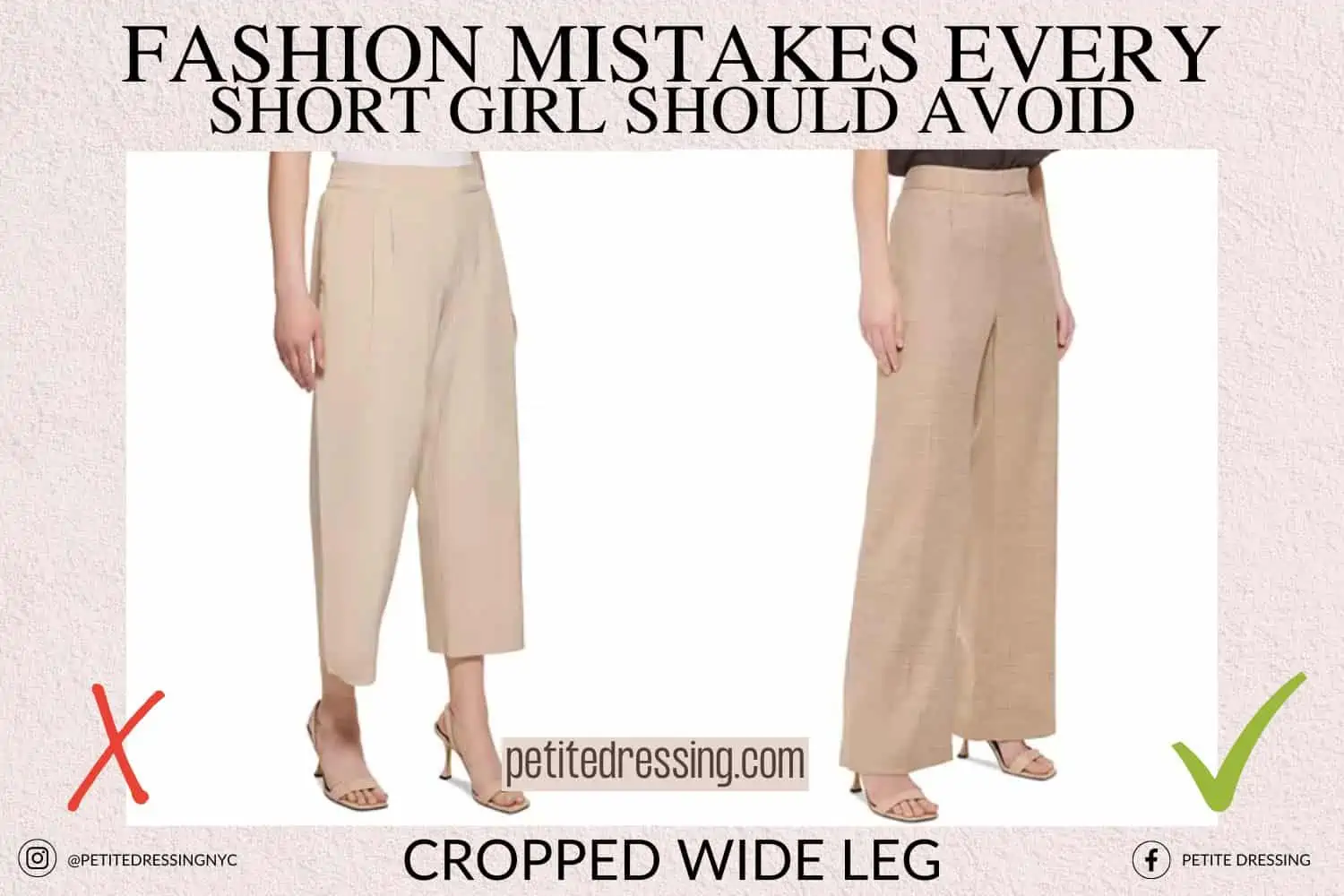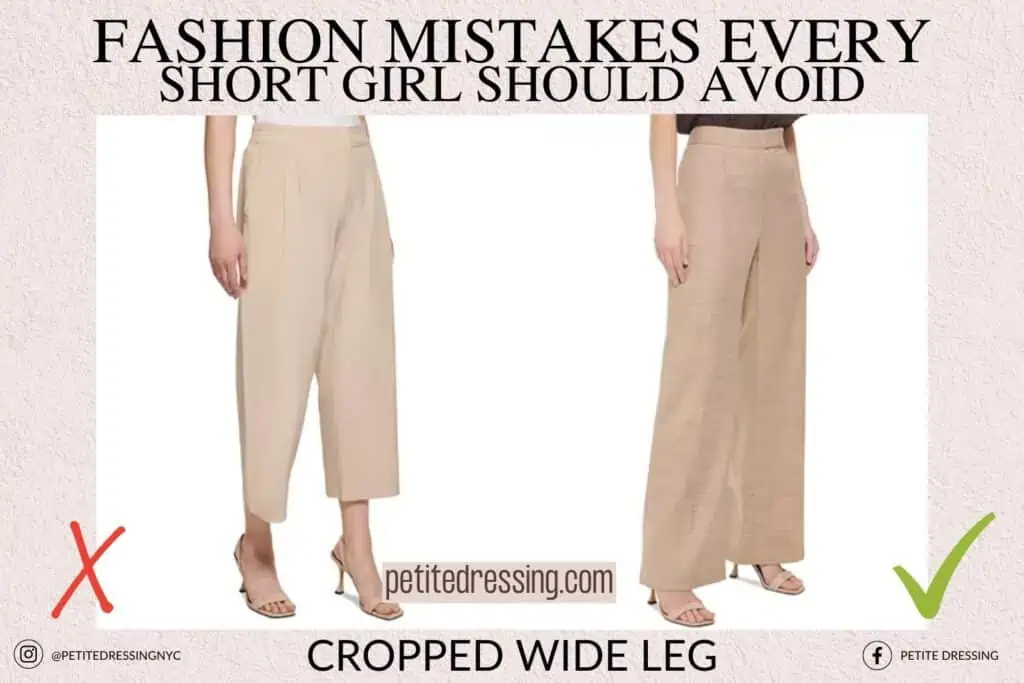 Wide leg pants have been gaining some ground in the fashion scene in the last seasons, however, they are better suited for tall or average height ladies.
If you are short, you need to be more selective with the wide-leg pants you choose.
The width of the legs goes horizontal, and that makes you look shorter than you actually are.
That said, no rule of fashion is absolute and there is always an exception. We have seen a few short celebrities or petite fashion bloggers who can pull off wide-leg pants and it looks okay on them.
If wide-leg pants are your thing, then carefully choose a vertically inspired pattern and make sure to wear them with slim heels to make up for the vertical line much needed by short girls.
Avoid cropped, wide-leg pants by all means, as they are hardly flattering to short girls no matter how you wear them. Always go with full length if you are petite.
We also have another post on Palazzo Pants for Short Women.
Copy the "IT" girls unselectively
We are probably influenced (big time) by the trend setters of fashion when it comes to what we wear. However, simply copying the "IT" girls doesn't mean what look good on them will look just as fabulous on you. Why?
Most of them are tall and blessed with mile long legs, to state the most obvious. Wait a second, what about short celebs and petite bloggers? You might ask. Sure, some of them are 5'2 or even under 5 feet tall, but did you notice one thing that most of them share in common? For example, this is Nicole Richie, and she is only 5'1″.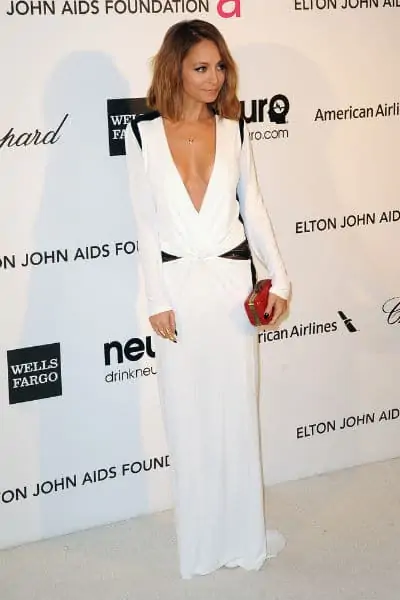 Did you notice? She has great short torso and long leg. That is a very easy to dress proportion, i.e. smaller head and longer legs relative to their height. What that means is even a short girl can look quite tall on camera if she has a great proportion. That is the secret of short actresses many people may not notice.
In addition, the top petite bloggers more often than not are posting products sponsored by brands. Since it's primarily driven by reasons, it may not be focused on the best interest of the short girl readers. Plus, the glamorous pictures and youtube videos of the "IT" girls are backed by a team of the best photographers and normally posted after hours of touching up and editing.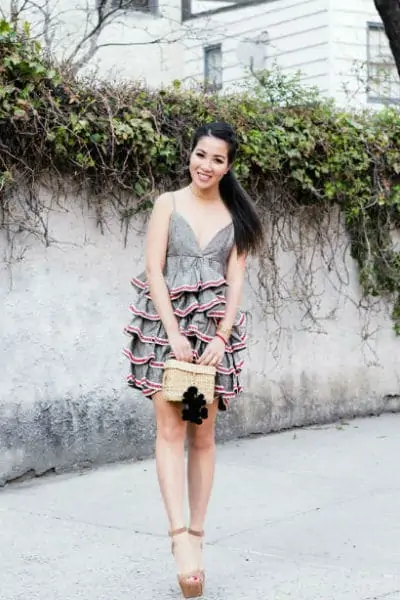 Here is an example of THE most famous petite blogger Wendy Nguyen. If you are a short girl with an average proportion (i.e. shorter legs and bigger head than Wendy), you may be better off staying away from the 5 layers of ruffles and ankle strapped sandals with 3 inch platform.
Better choices? Simple silhouette that won't make you look like a walking cupcake.
Shop at the junior department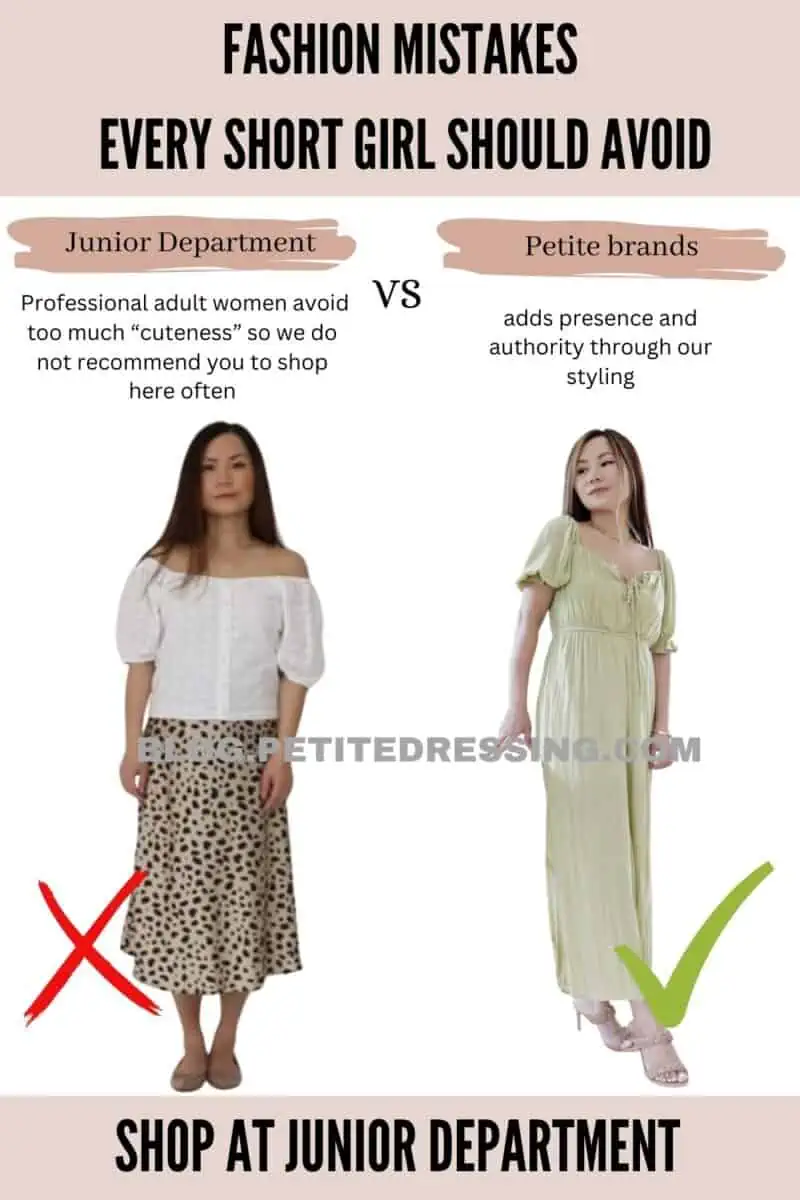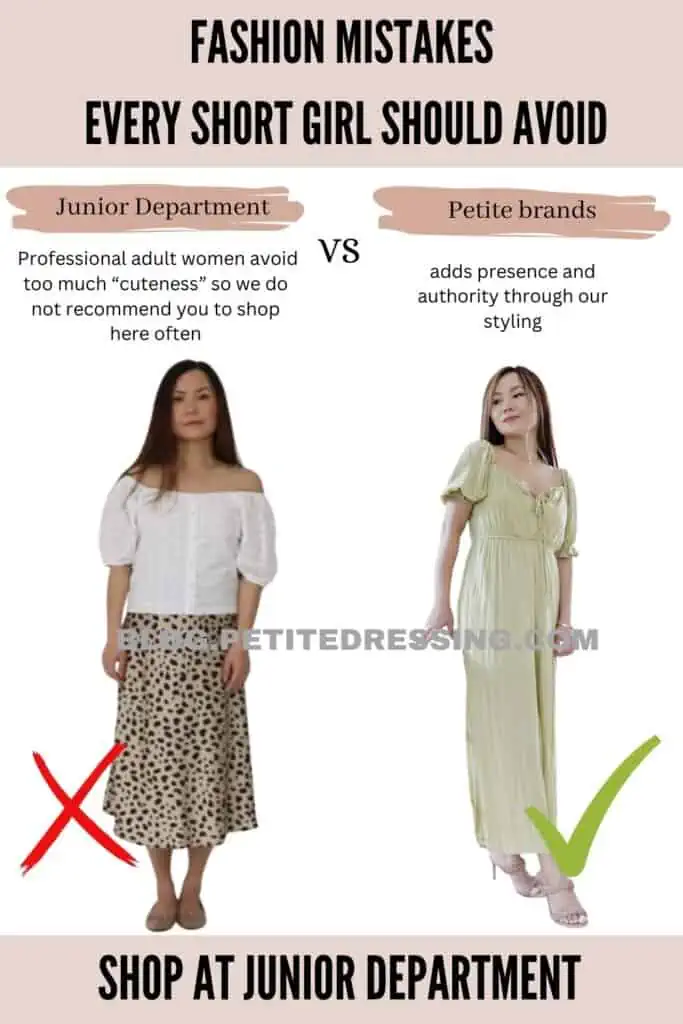 Short girls may have a difficult time looking for the right sizes in regular department stores or shopping malls, so many of us may have shopped in the junior department at some point.  While that seems to be an easy solution, we do not recommend you do so often.  In fact, one of the important styling principles for short girls is to avoid too much "cuteness".
The complaint of many short girls is they are not taken seriously at the workplace, because of their height.  In order to appear to be the equivalent of tall girls, our goal should be to add presence and authority through our styling.  Shopping in the junior department will only do the opposite.  The designs for juniors are catered for teenagers, and they are not meant to be worn by professional adult women. 
Except for joggers, sweat pants, and other casual clothing you will only wear at home or for workouts, we suggest you stop shopping at the junior department and look for stores with petite sizes instead.
Traditionally, the best petite brands are Ann Taylor, Jcrew, and Banana Republic which carry petite sizes.  Now, in addition to the chain stores, short girls also have the choice of petite boutiques such as Petite Dressing.
Wear oversized layering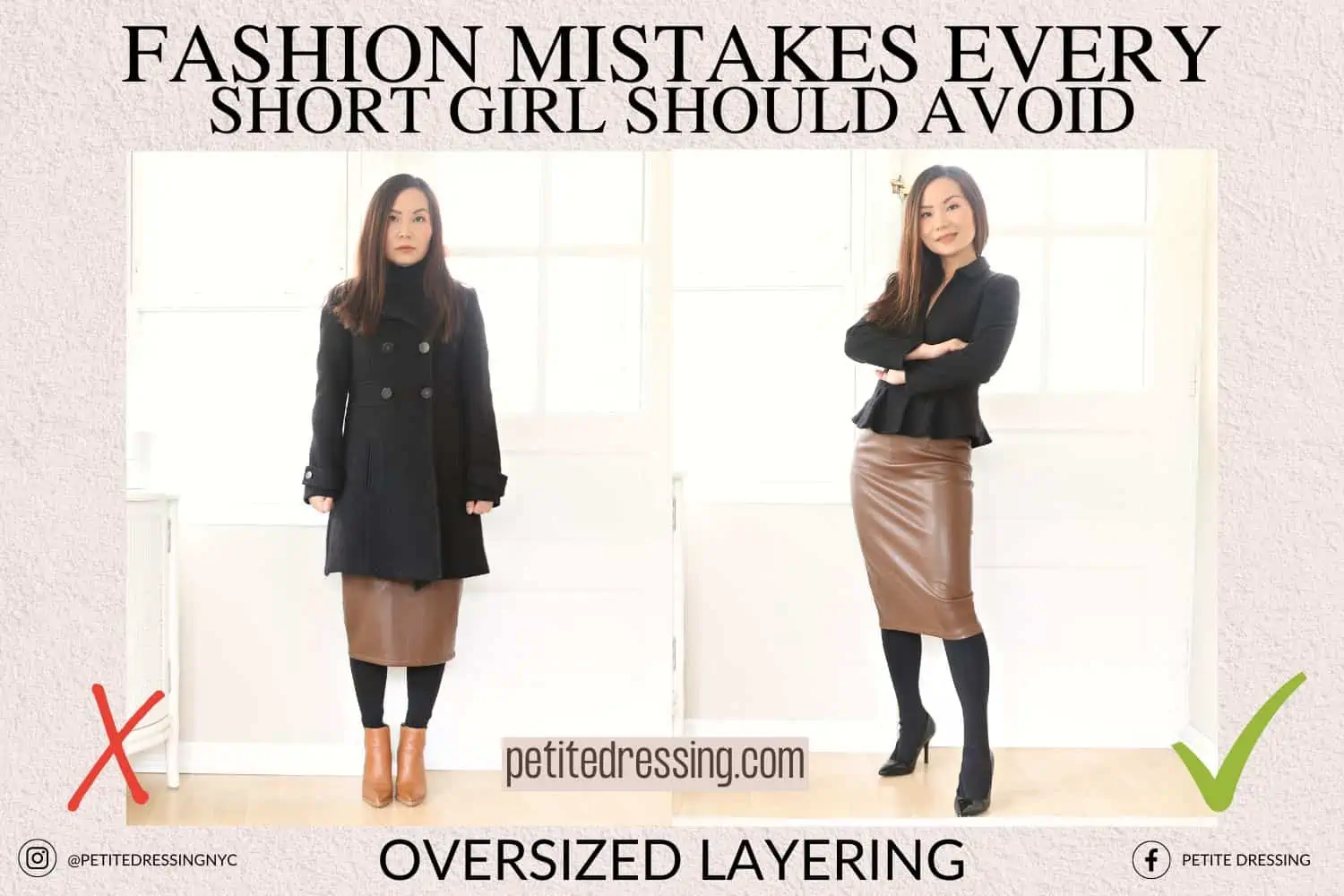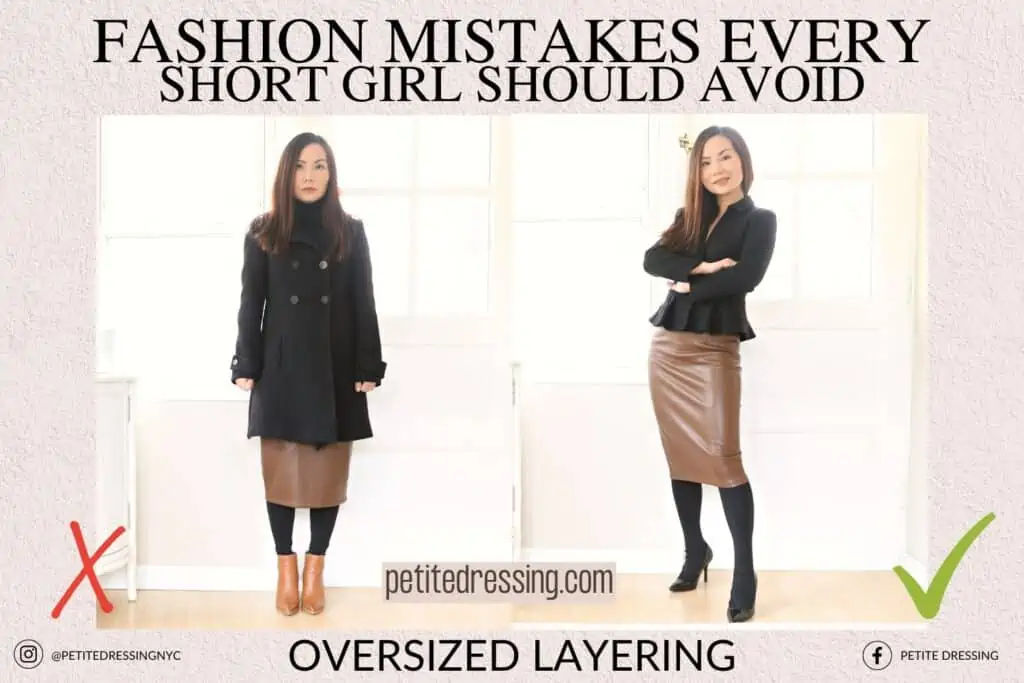 No matter how tall you are, oversized coats is not a good fashion choice. For a short girl, it is particularly advisable to stay away from too much layering, as they drag you down and make your petite frame appear to be "swallowed". Additionally, each layer may create an unflattering horizontal line which can make your body look cut off.
Always keep in mind, the goal is to create the long and lean silhouette. In general, because short girls have small frames, you are better off with simple layers. In winter times, it is necessary to throw on the layers to keep us warm and maximize your comfort in the outdoors. On the other hand, you do not want your petite frame to be hidden under a lot of layers.
If you are petite, a smart way to dress is to put a shorter jacket on top of a dark color long under layer, paired with skinny jeans and wear tall boots. Doing so will make your mid section look slim and legs look long. For short girls, a safe way of laying is to wear monochrome colors. If you want to have a little bit of fun with color contrasting, go with colors of similar tones.