Standing 5'2″, growing up there are times I wish I was taller… but there's nothing I can do to change my physical height. But I have found some creative tips on how to look tall in pictures. I use these tips every time I want to take pictures and the result has been amazing.
Here are the tips on how to look tall in pictures.
Create the best proportion
This is the number one tip! What you wear could literally change the proportion of your body, thus making you look taller or shorter than you are. That is the reason why so many 5 foot tall petite bloggers look so much taller in their pictures- the magic is in the proportion!
It means you need to be mindful of the clothes you wear when you want to snap. One of the few things that make you look taller in a picture is your dress.
Wear monochromatic dresses. It means you should wear dresses with same color (both top and bottom).
Wear well fitted clothes
These are the best for petite women because they flatter your petite body frame! Stay away from anything baggy or shapeless, as they will make you look even shorter.
No horizontal stripes
Horizontal lines expand you horizontally, which means they make you look wider, not taller! Instead, go for vertical stripes.  Horizontal strips shortens while vertical strips elongates.
Stay away from loose-fitting pants
They overwhelm your petite frame and expand you horizontally, the opposite of what a petite girl wants.
Opt for v-neck
Whether it's tops, blouses or dresses, go with V neck!  Showing some skin will effectively elongate your neck and shift people's attention of focus to your face.
Avoid knee-length dresses
The reason is knee length divides your body by half.  The most flattering length is 10 inches above your knee.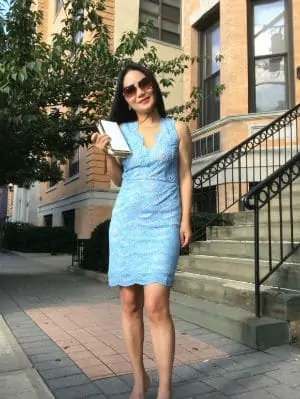 Wear high-heeled shoes
I love to wear high-heeled shoes so much, maybe because of my height. They make you look taller and closer to heaven. I have written a post on "7 Tips on How to Wear Comfortable Heels All Day Long".
Many petite ladies love to wear heels because they are stylish and classic. One amazing thing about heels is that they add up to 2-4 inches to your height. Your posture also changes instantly, when you put on heels. You look more confident and attractive, especially when you are standing and walking.
Even though I suggest you to wear heels to boost your height, I would say to stay away from platform or wedges. As much as I love wedge shoes for commute, they do not visually lengthen your legs like the stilettos do. The best shoes are pumps with low vamps (those showing a little bit of toe cleavage), as they extend your legs to the max.
I have another post on "The Best and Worst Shoes for Women with Petite Feet", which talks about what to love and what to avoid as a short girl.
Take pictures while walking
Have you ever tried taking pictures while walking? If you haven't, start doing it. I do it a lot and my pictures always come out amazing. It's one of my best-kept secrets.
Tell your friend or photographer to take your pictures while walking or on-the-go.
Do I sound like a fashion blogger or model? Anyway, I learnt it from them.
Your posture matters
I'm sure someone is wondering how her posture will help her look taller in a picture. Well, this tip is crucial.
When you want to snap, don't raise your shoulders and bend the top of your body forward.
Ever observe how models walk down the stage? They have their head slightly tilted back, and shoulders pulled back. So, always pull your shoulders back, keep them straight, raise your chin slightly up and keep your stomach flat.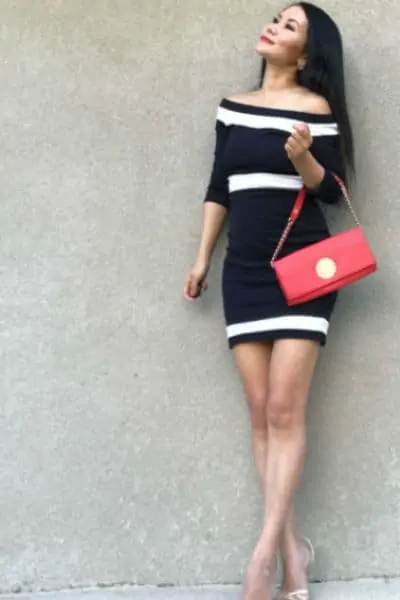 Place your camera at the right angle
I cannot stress enough how important this is. This is like the top secret of all petite bloggers in order to look tall in pictures. It could basically change your height within a matter of seconds. Placing the camera at the appropriate angle makes a lot of difference. I've seen many short ladies place their cameras above their head while snapping.
If you're short and want to appear taller in a picture, the perfect position for your camera is the lower angle.
So when next you want to snap, position your camera at a lower angle. The flip side is you also do not want the camera to be too low- so low that you look heavier than you are. It may take a little while and a few trial and error for you to figure what is the best angle to make you look tall in picture. Practice makes perfect.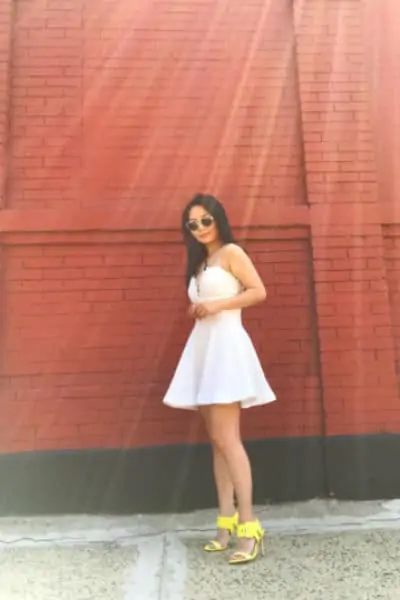 Cross your legs
I cannot really explain why this works, but it does! This may not have been on any textbooks, but crossing your legs somehow make you look taller in pictures. Fortunately enough, I have tried it so many times and I must say it works like magic. You can use this trick whether you're standing or sitting.
This trick doesn't require a lot from you, all you need to do is cross your legs. That's it!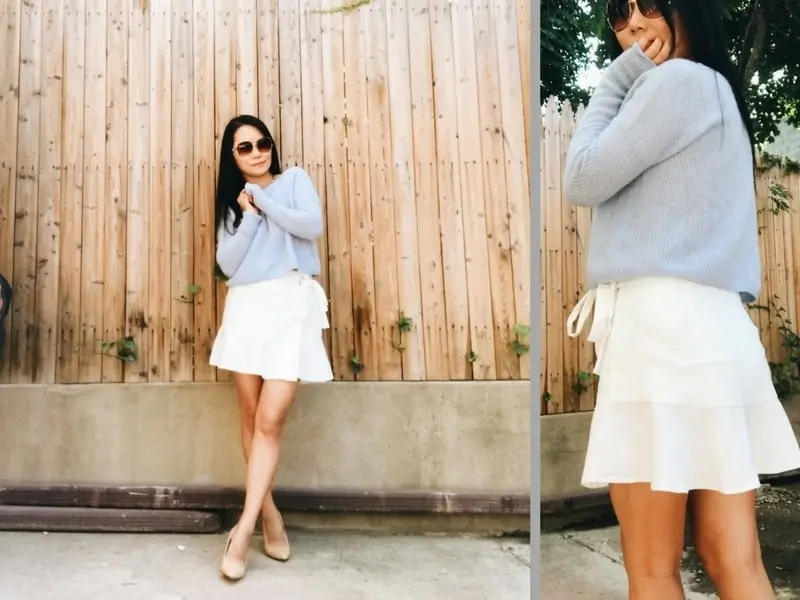 Stand alone
Yes, stand alone! I know you want to look taller but it only works if you don't stand beside anyone.
Many petite bloggers, when sharing how to look tall in pictures, mentioned this tip. When you stand beside someone, especially someone taller than you, it gives people the opportunity to compare your height with his or hers. Have you noticed that some Hollywood A listers look much taller on the screen than in person? One of the reasons is they are deliberately matched with fellow actors or actresses shorter than them so that they can look taller than they are.
So, if you do not have people shorter than you standing next to you when you are taking pictures, then standing alone is the best thing to do!
Fill the frame
This is another great tip on how to look tall in a picture. I remember the last time I took a picture at a distance from the Eiffel tower, my friend literally made the tower the center of attraction of the picture. She captured it in full size and I was like an ant in the picture.
So when you want to take some nice pictures, tell your photographer or friend to fit your body in the whole frame.