Petite palazzo pants have been gaining popularity in recent years. It was a never ending debate whether or not short women can pull off the palazzo look at all. Palazzo pants, however, are obviously a fashion trend that is being loved by many short girls. That is why we have put together this post to help you understand what is palazzo, should you wear it if you are petite, and how can you make it work.
Besides height, whether you should wear palazzo pants also largely depends on your body type. If you are a pear shape, then wide leg pants could be the most flattering pants for you.
I have summarized the key points of how to wear wide-leg pants in this video. I suggest you watch this video, and then read the full article to get all the details.
What is palazzo pants?
For those of you not familiar with the term, palazzo pants refer to women's wide-legged pants, which are normally loose.  They are normally long trousers cut with an extremely wide leg that flares out from the waist.
Originally, palazzo pants tend to be more popular in the summer than in winter. The reason is they are loose and flattering in light and flowing fabrics, which makes them perfect for hot weather. Breathable and natural fabrics such as silk crepe, jersey, or linen are the most popular fabric choices for palazzo pants.
Even though they are less frequently seen in winter times, over the years, there are more choices of palazzo pants made of wool or other thicker fabrics that are suitable for colder weather as well.
Can short women wear palazzo pants?
Now let us look at why petite women are generally advised to stay away from wide legged pants.   The most important styling tip for a petite woman is to choose outfits that elongate the petite body through what she wears in order to create the illusion of height. (Read more about best tricks to look taller).  In order to achieve that, short women should choose clothing that vertically lengthens a short person in order to look taller. 
Wide legged pants draw one's eyes from left to right horizontally, and that does the opposite of lengthening short women. In addition, palazzo pants are normally loose fitted, thus they could make a short girl look like totally swamped in a big pants. Therefore, petite women are generally better off with narrow pants to create a long and lean silhouette.
However, palazzo pants are so comfortable that one cannot help wondering what a pity if petite women have to give them up altogether? What are some of the tips and tricks short women can follow in order to pull off the petite palazzo pants look? There are definitely ways to wear them and still flatter the petite body frame.
We have seen them worn by popular petite celebrities such as Kim Kardashian, Victoria Beckham and Mira Duma, etc. They have proved that petite women can pull off this look! It just means short girls need to pay more attention to what they choose if they want the palazzo pants to look good on them. Our favorite blogger Carly (5'3″, IG@carlygala) is the master of palazzo pants even though she is petite.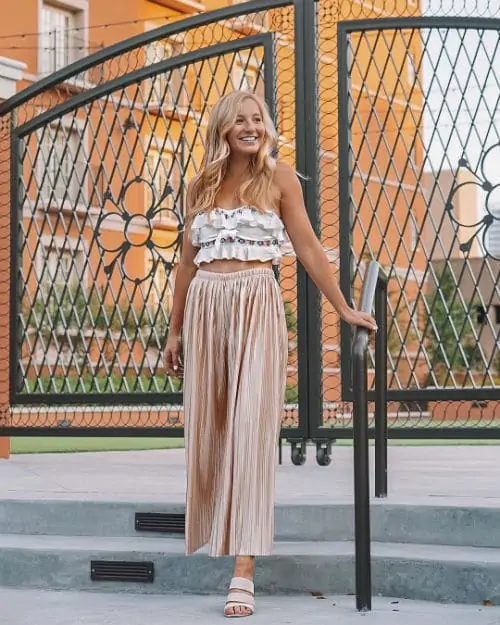 Choose vertical details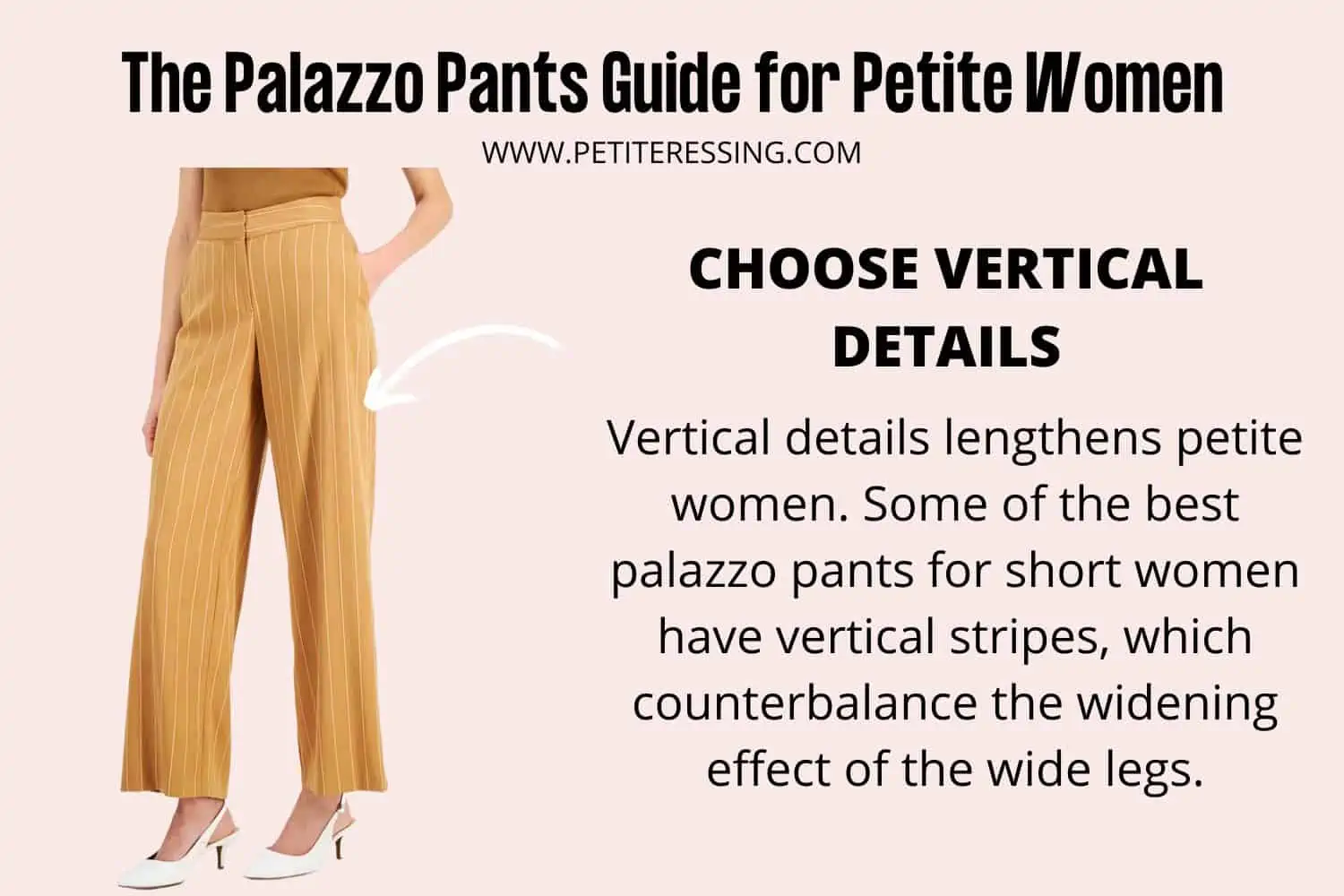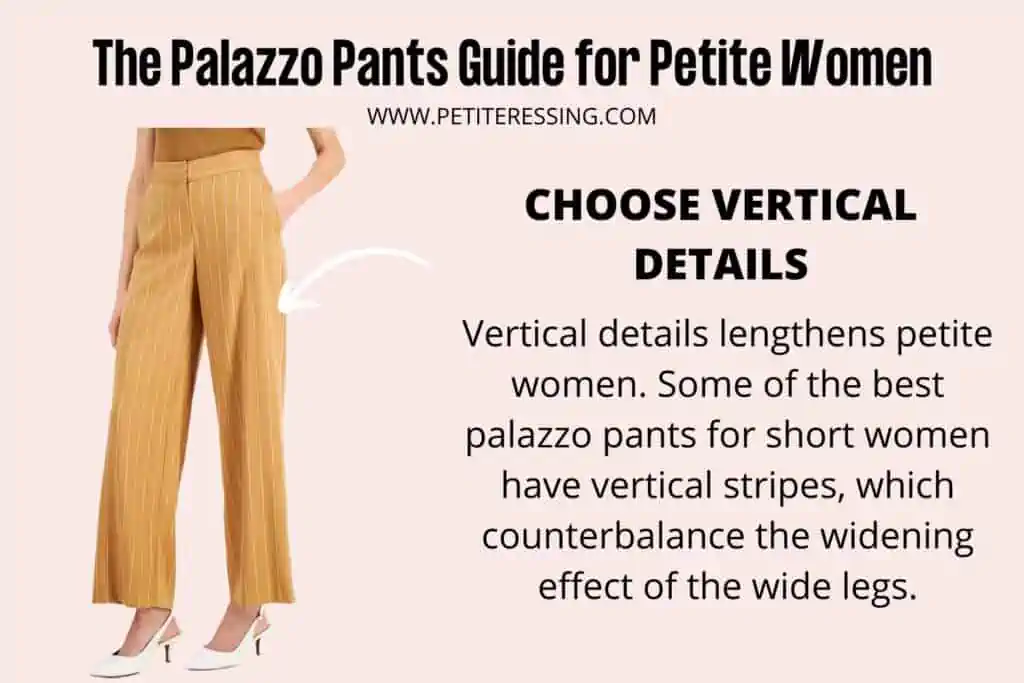 Vertical details lengthens petite women. Some of the best palazzo pants for short women have vertical stripes, which counterbalance the widening effect of the wide legs. Go with subtle vertical prints or details such as vertical hem and avoid loud and busy prints which will make your petite body frame look swamped.
Get the right fabrics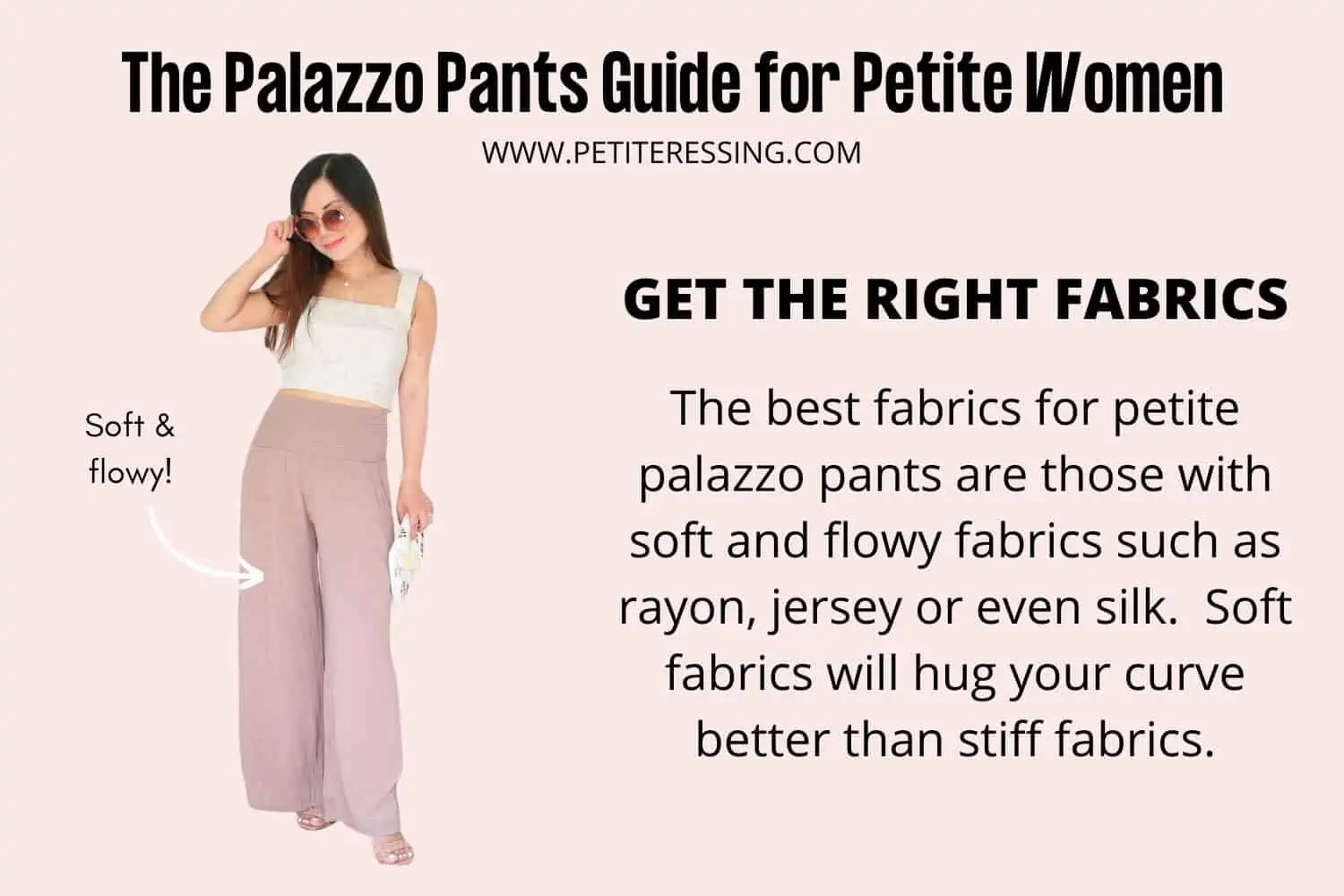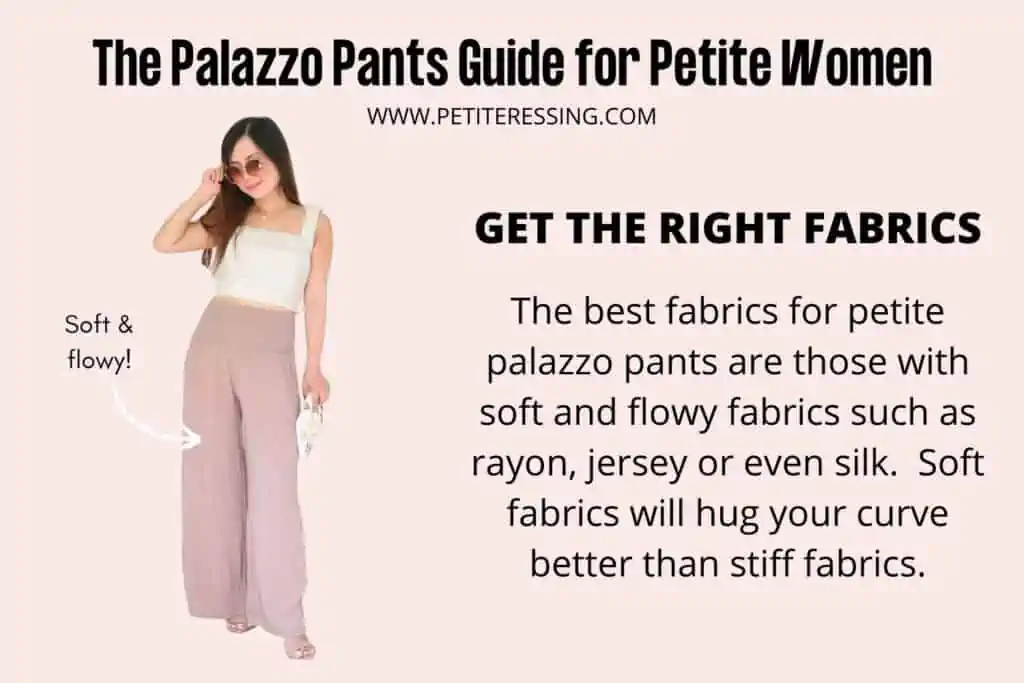 The best fabrics for petite palazzo pants are those with soft and flowy fabrics such as rayon, jersey or even silk. Soft fabrics will hug your curve better than stiff fabrics.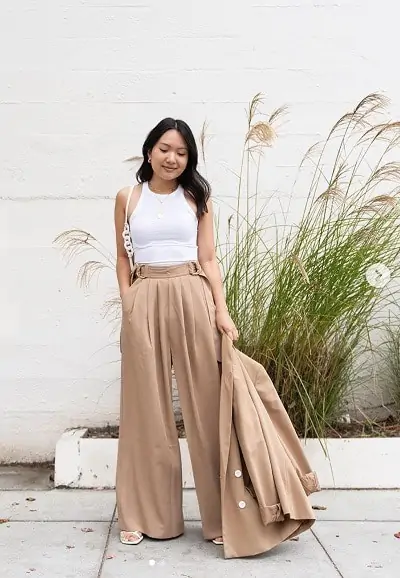 On the other hand, you want to make sure the fabrics have enough weight to stay flowy instead of clinching to your legs.
Wear High waisted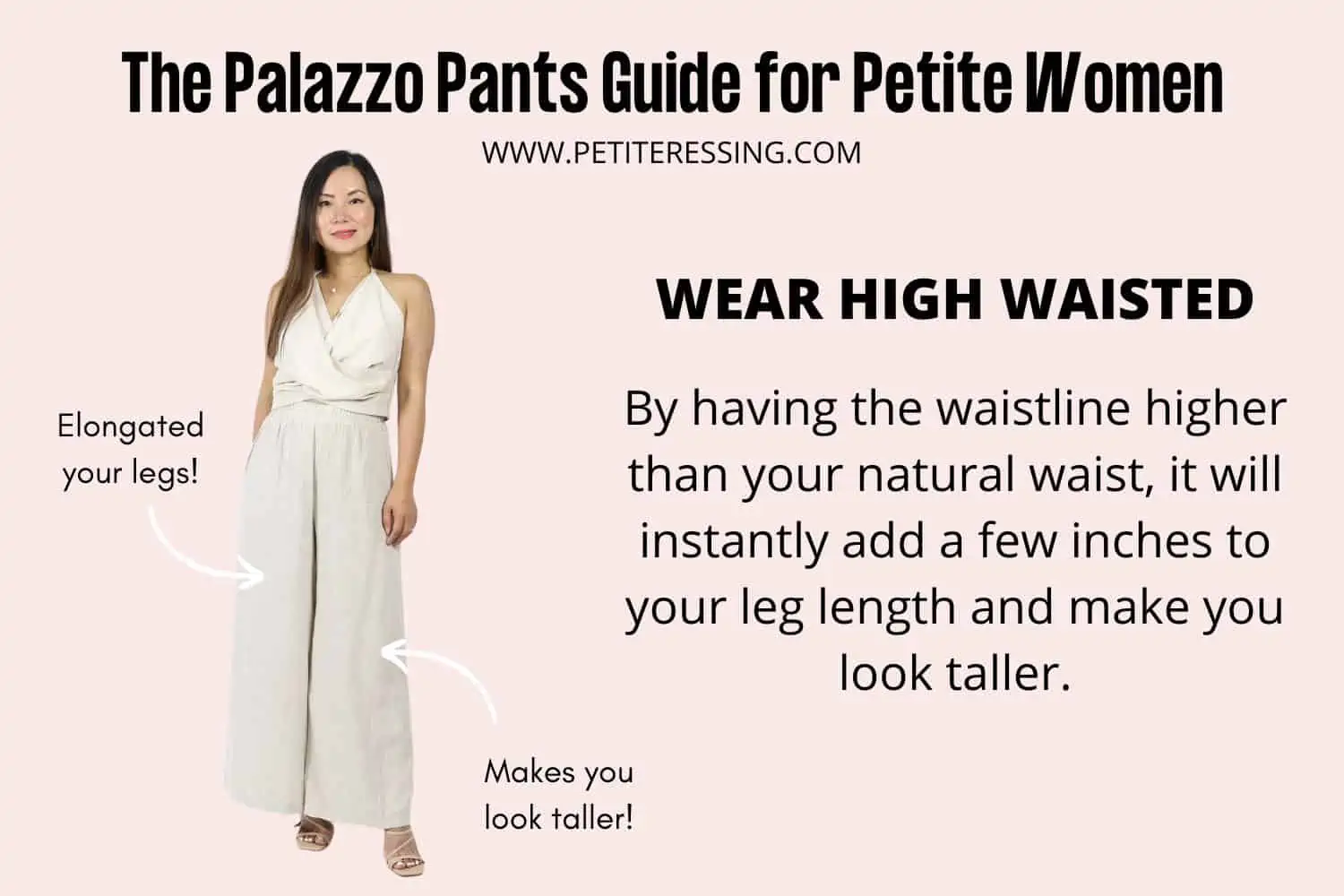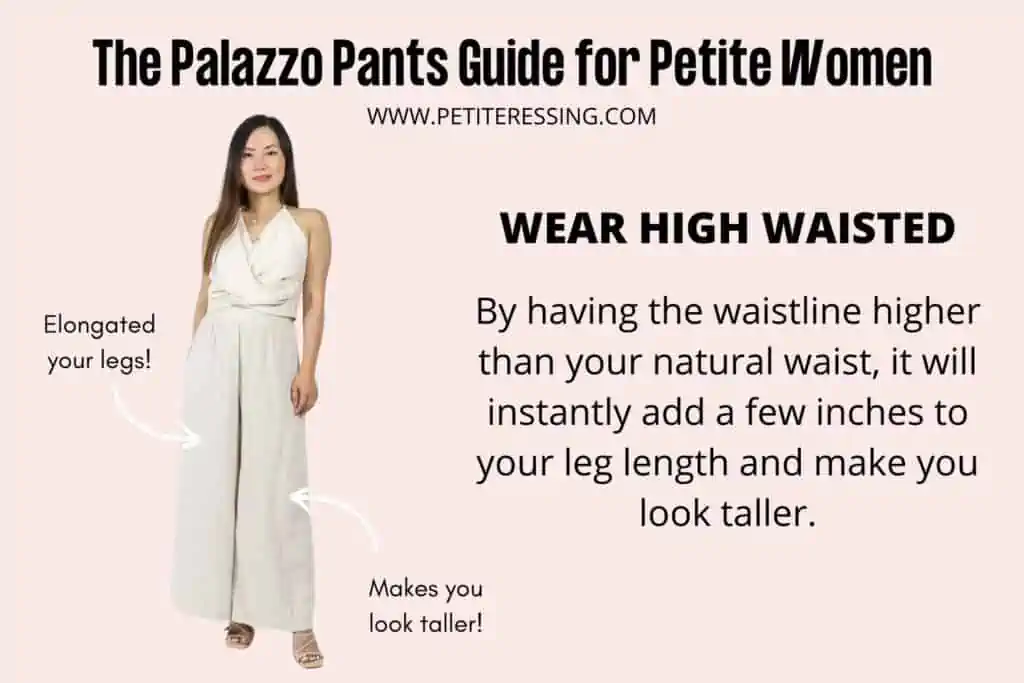 High-waisted style pants are flattering to petite women in general, and this is probably the most flattering style of all palazzo pants for short women.  (Read more about why high-waisted style is a wardrobe staple for stylish petite women). 
By having the waistline higher than your natural waist, it will instantly add a few inches to your leg length and make you look taller. We have seen this style on petite celebrities such as Kim Kardashian, Victoria Beckham and Mira Duma.
Go full length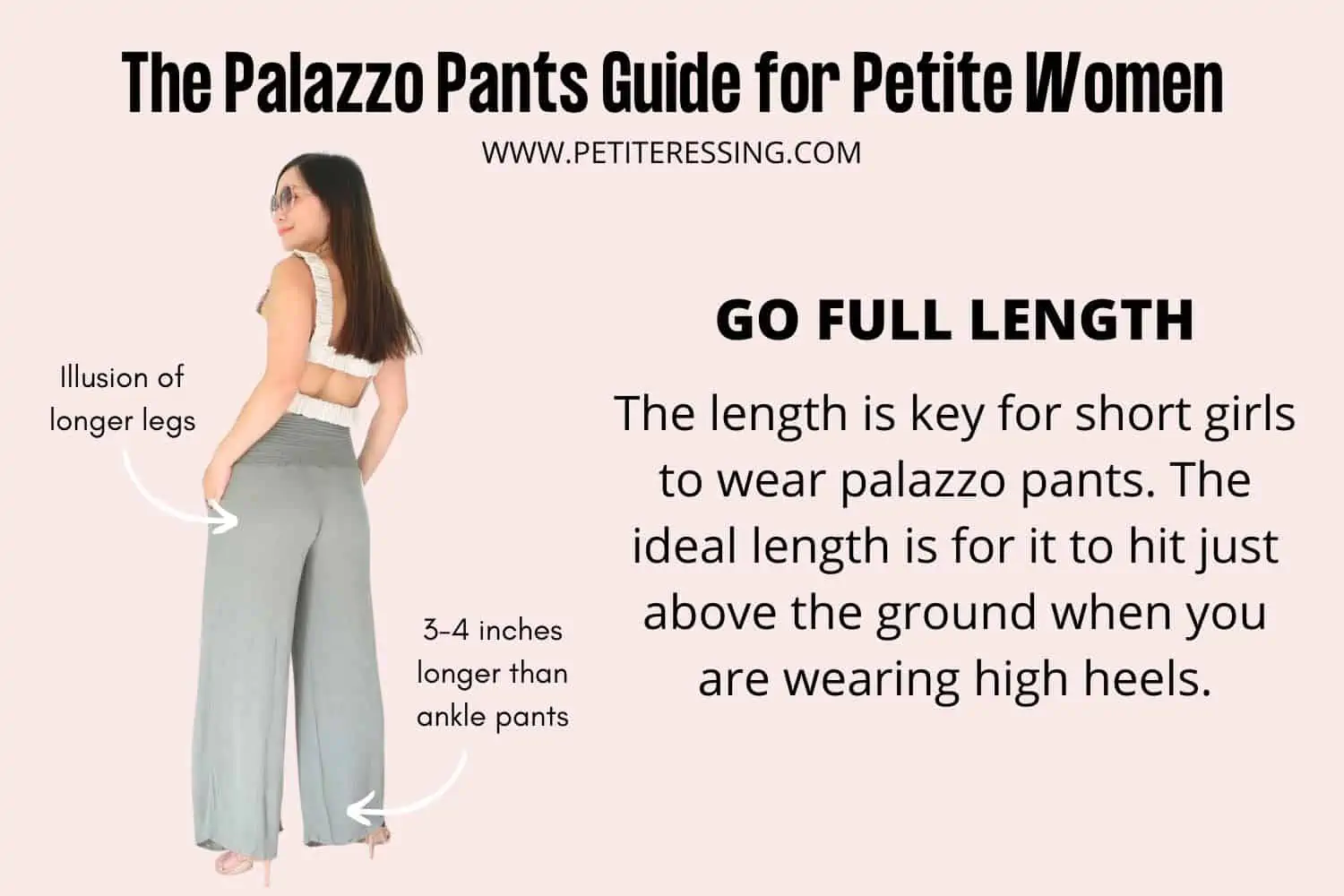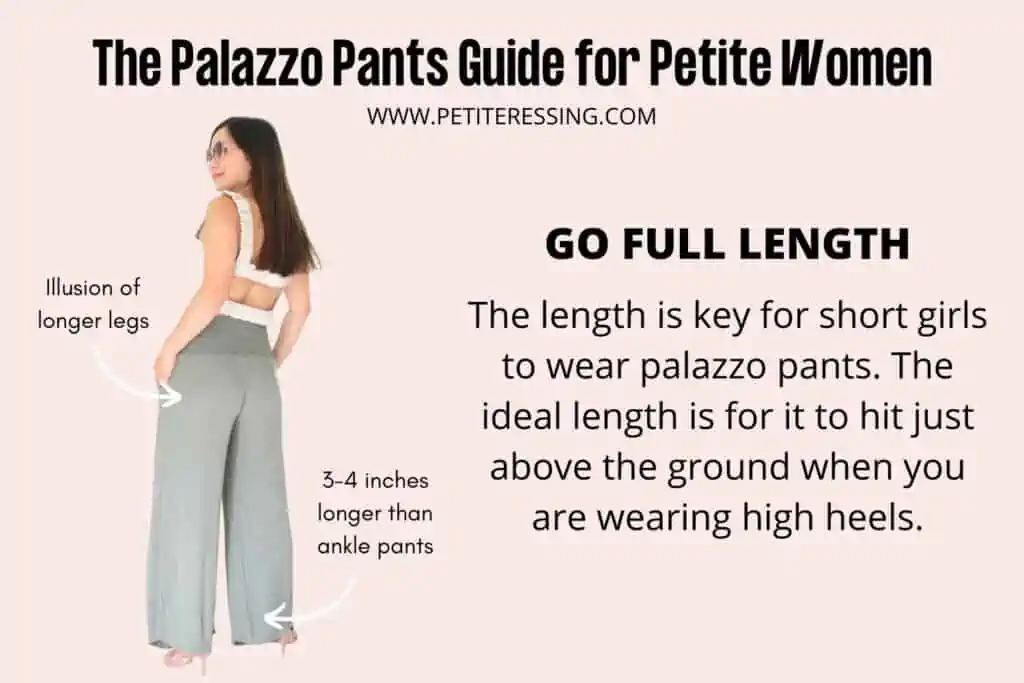 The length is key for short girls to wear palazzo pants. The ideal length is for it to hit just above the ground when you are wearing high heels.  That means the inseam should be the inseam of your normal inseam for ankle pants plus 3-4 inches, depending on the height of the heels you are going to wear.
You do not want the palazzo pants to be dragging on the floor, which not only looks sloppy but also has the danger of tripping you to fall!
If you want your legs to look longer, do not wear palazzo pants that end at your ankle- even though we have seen them worn by some fashion bloggers for photography, they aren't that flattering in real life on a petite girl.  Wide leg plus ankle length just double emphasize the horizontal line right at your ankles, which will only make your legs look like they are cut off and make you look shorter.
Wear solids for a slimming effect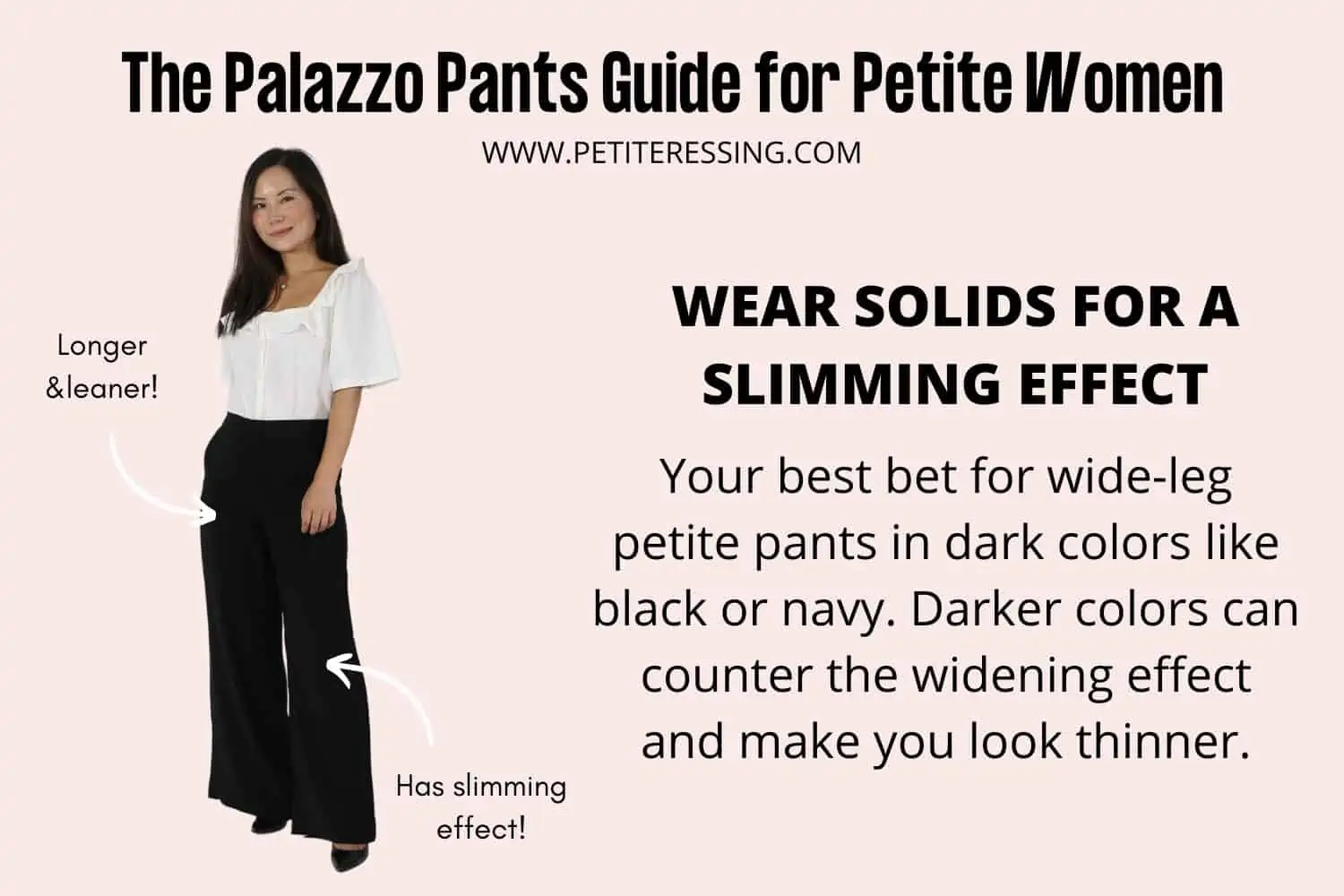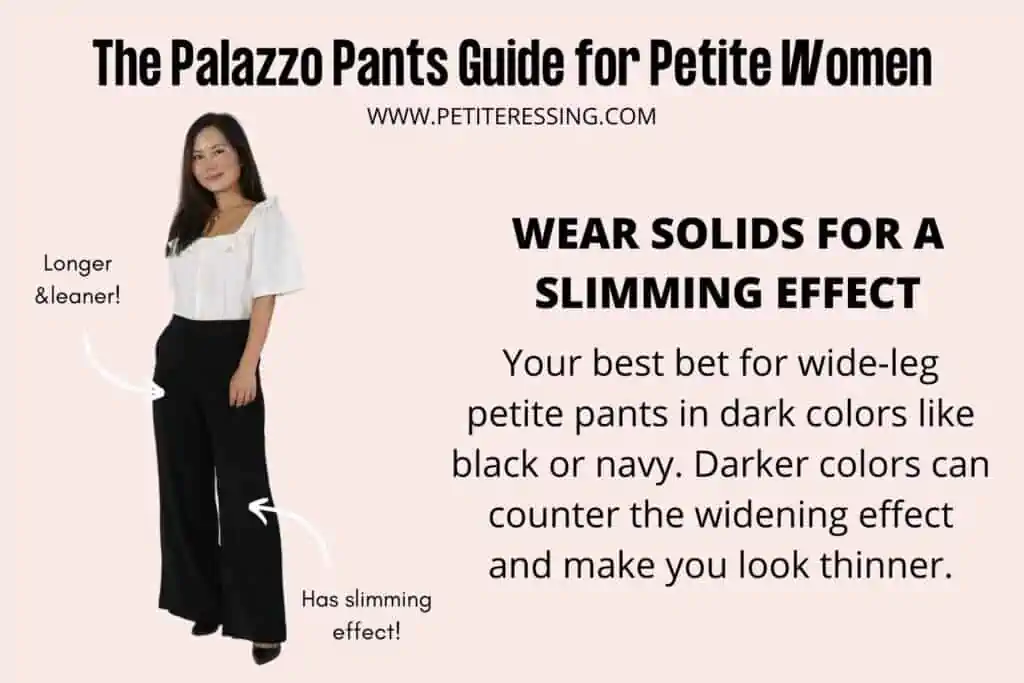 Do you want to look taller and thinner? Very few women don't. Then your best bet for wide-leg petite pants in dark colors like black or navy. Since palazzo pants have an expanding effect, they could potentially make you look a bit "puffy", for lack of a better word. Now if you do not want that, wearing darker colors can counter the widening effect and make you look thinner.
Wear the right shoes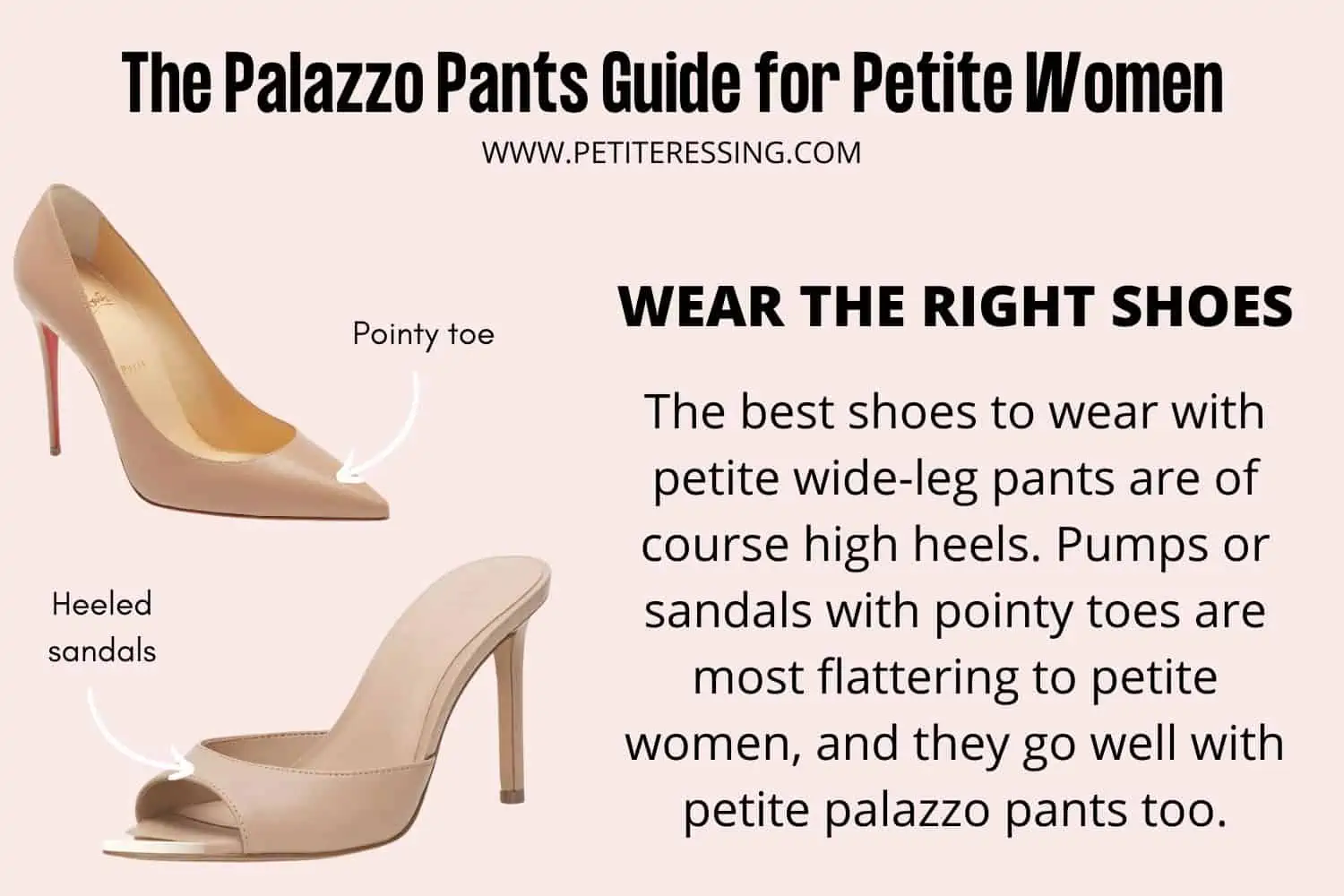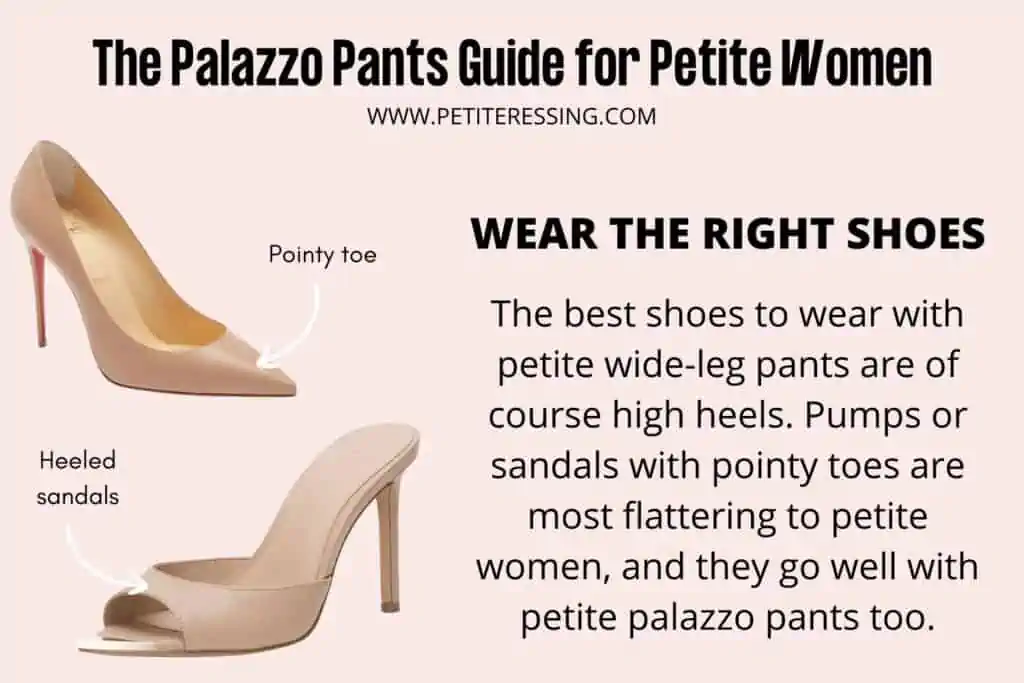 The best shoes to wear with petite wide-leg pants are of course high heels. If you are wearing billowy and flowy palazzo pants, you should avoid chunky heels which are heavy and add too much weight and bulkiness to your bottom.  Pair them with skinny heels such as stilettos will make your outfit look more airy and extend your legs.  Pumps or sandals with pointy toes are most flattering to petite women, and they go well with petite palazzo pants too.
That said, if you are wearing petite wide-leg pants on vacation, then it is okay if you want to pair them with wedges. When it comes to resort wear for Petites, comfort is key!
Wear well-fitted tops with loose pants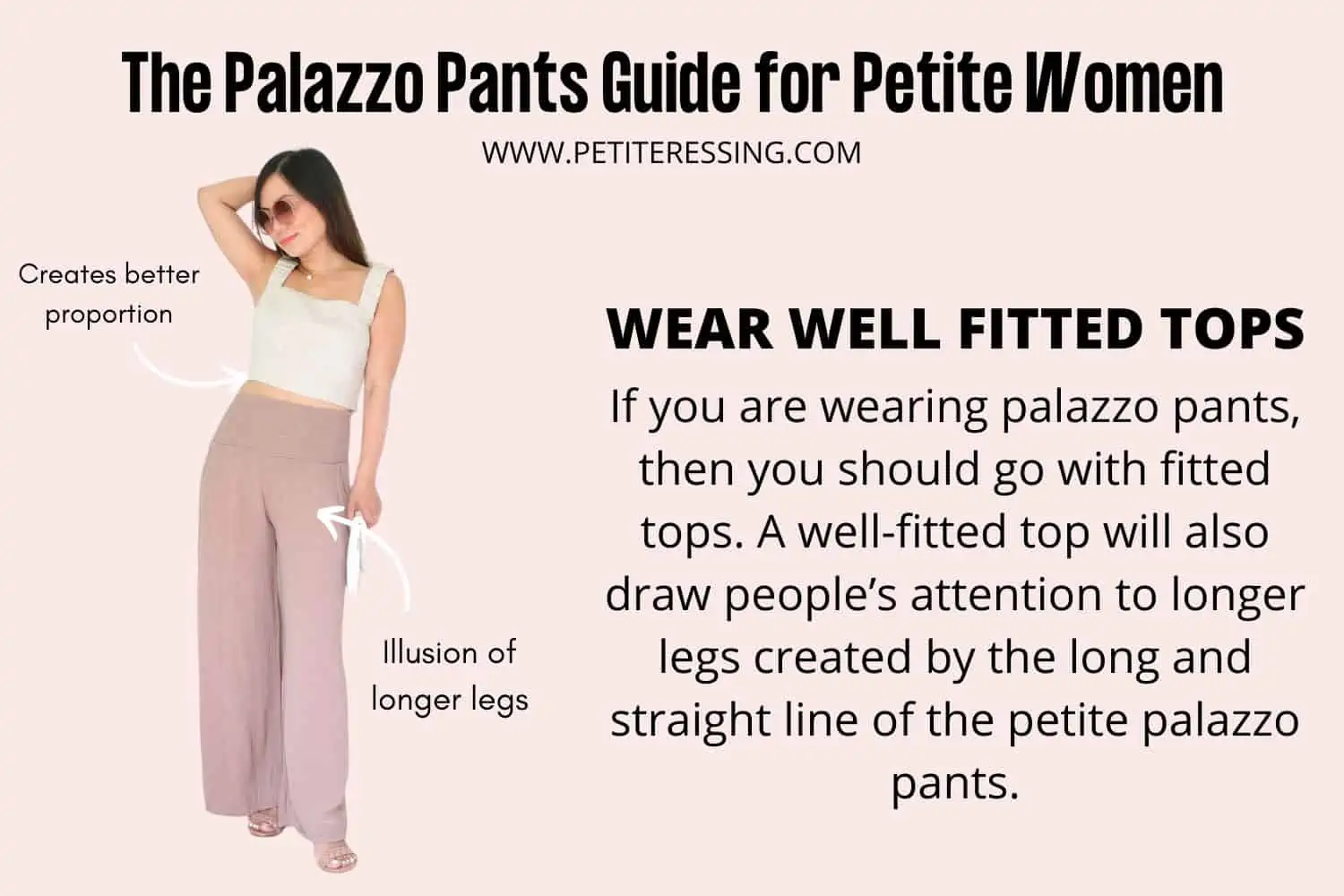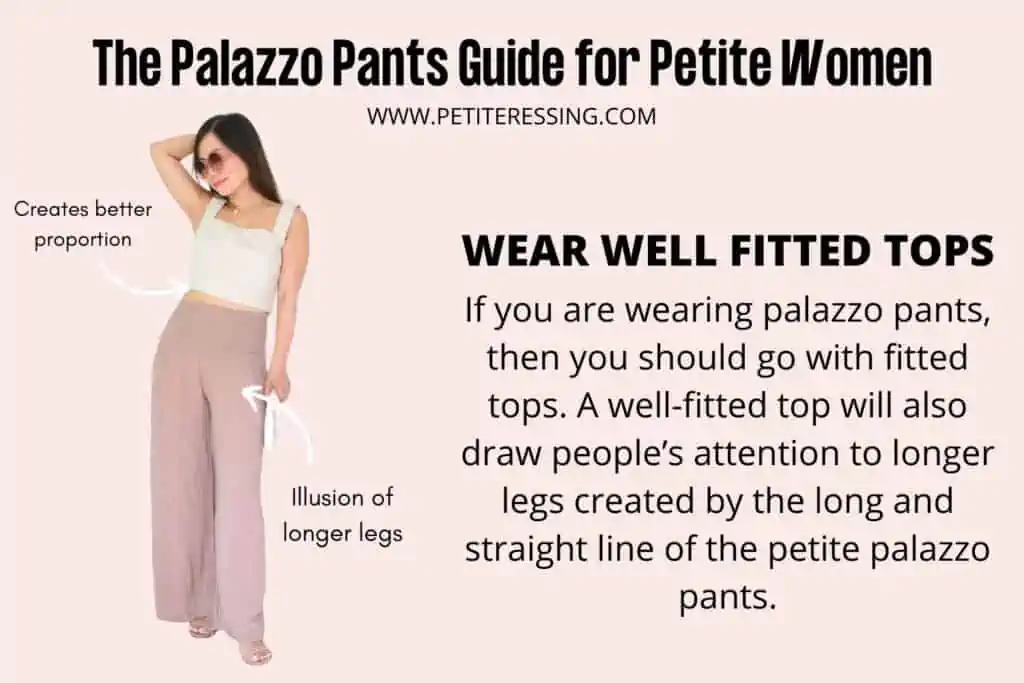 If you are wearing palazzo pants which already add a ton of volume to your bottom half, then you should go with fitted tops.  The last thing you should wear is an oversized top with wide-legged pants, which will make you look like a walking sleep bag.  A well-fitted top will also draw people's attention to longer legs created by the long and straight line of the petite palazzo pants.