Best Petite Designers You Need Now
As a 5'2″ fashionista, I have been constantly scouting the best petite fashion brands for myself and other short girls.  First, let me share with you what prompted me to write this post.  I recently went to an entrepreneur conference, where I met this lovely petite girl boss Christine.  She is a pretty brunette in her early 30s, who has a booming fine jewelry business.
"What do you do?" She asked me. "I have an online store that specializes in women's fashion for petites. You know, women under 5'4″." I said, and then added: "You seem to be petite, do you ever struggle to find your sizes?"
She paused, and then said "OMG, I didn't know petite sizing is a thing! " Then she pointed me to her black pants " Yes, I struggle all the time! I am 5'3″, and look at these pants I'm wearing- they are ankle pants for taller girls and I have to wear them because everything else is too long for me".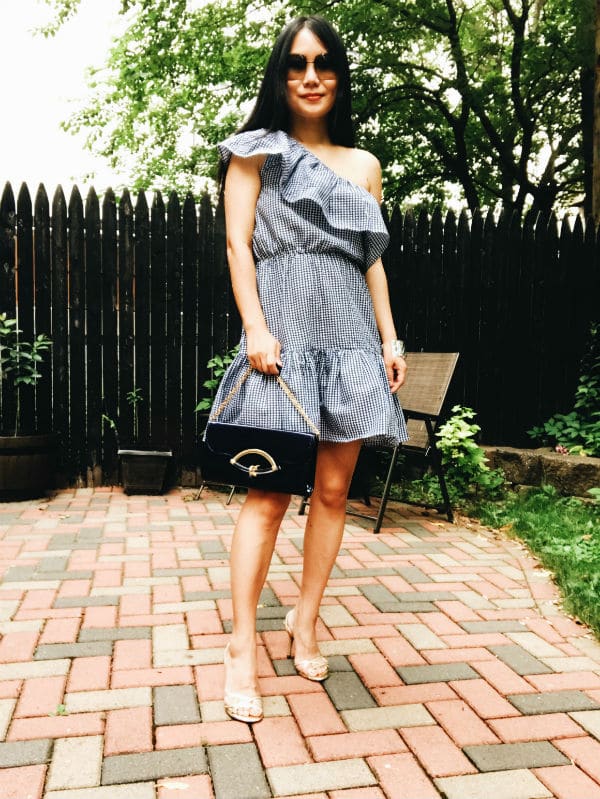 I was wonder how many petite women are there like Christine, who has been settling with wearing clothing from regular departments that are not really designed for them.  Of course short girls like Christine have heard of Ann Taylor petites and Jcrew petites alike.  However, they may not know petite sizing has different tailoring and there are far better options than wearing ankle pants as full length.
So, today, let's first start with what is petite sizing, and how it works differently than regular sizing.
Then, we'll look at why it is important to shop petite designer brands.
Finally, we'll dive in the topic of a round up of the best petite fashion brands.  Some of them I frequently purchase from personally, others I have heard great things about.
What is Petite Sizing?
Let's first start with the question: what is petite? If you don't really know, read my post and understand the fundamentals.  The concept of petite in fashion is based on height, and not weight. Yes, petite is an elegant name for us shorties that originated from French.  A petite girl is not necessarily skinny, contrary to the popular belief.  You can be a size XL, or even plus size, and still need petite clothing, as long as your height is under 5'4″.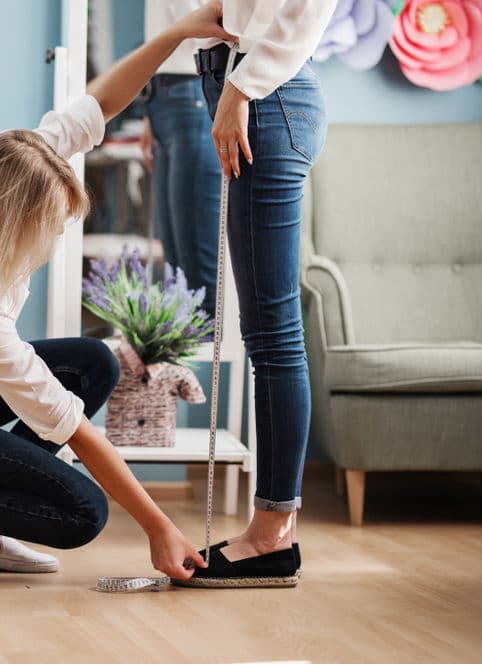 So, here is some common traits of shorter women:
Shoulders:
Most petite women tend to have narrower shoulders.  If you fall into the range of petite triangle body type, then you may have broader shoulders than an average short girl and this does not apply to you.
Arms
Most of us short girls have shorter arms, which are in proportion to our shorter statue.
Legs
This one is obvious-majority of petite women have shorter legs.  Although, exception does exist, and I have heard from customers in Petite Dressing boutique who request longer inseam than most short girls.  These are the lucky ones blessed with long legs proportional to their body.
If you want to know more, read my post on "The Truth about Petite Sizing".  Also, please keep in mind each petite brand may have slight difference in their measurements, so make sure you read their petite size chart to ensure you find the best fit.
How Petite Brands Work Differently
When you pick up a petite sized clothing and compare it with a regular size, the first and most obvious difference you will notice is the length.  That is, sleeves, skirts, leg lengths and tops are all shorter in petite sizes than regular sizes.
Since what is petite is largely decided by the height and most petite women are bothered by the hem of the pants and length of the sleeves, it is easy to think that making a regular sized piece of clothing shorter would then solve the problem for petite women.
That cannot be further away from truth.  Of course the correct sleeve length and pants length are very important, but petite clothing needs far more than shorter sleeves and shorter pants in order to look flattering on petite women.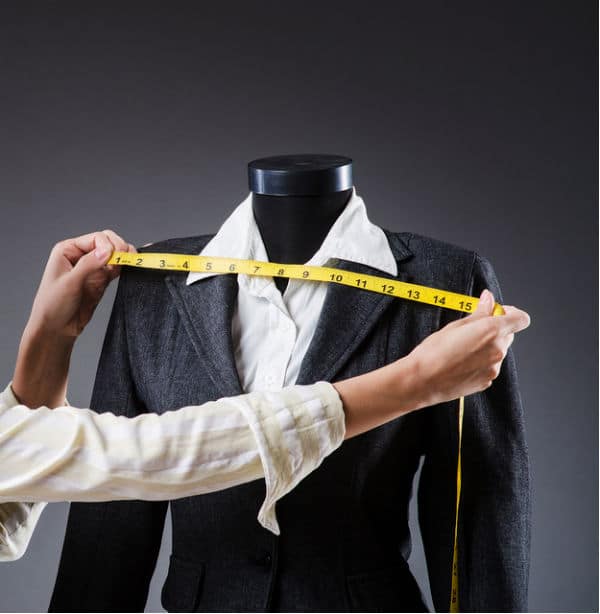 High quality petite clothing have designs specifically made to flatter shorter women.  For instance, armholes should be higher and details of the clothing should be proportionate to the petite body frame.  Petite pants should not only have shorter legs, but also take the rise into consideration.  Petite dress should have a shorter bodice to look flattering on shorter torso.   In fact, the best petite clothing are designed to create the longer and slimmer look by elongating the arms and legs and thus create the illusion of height.  With the help of petite flattering designs, such as vertical details (vertical hem and piping on the side of pant legs), vertical stitching and vertical patterns, petite size apparel can help create the vertical lines in our body and thus make us look taller and more proportionate than we actually are.
So, I have put together the list of best petite brands and categorized them in terms of typical price range.  You can check them out according to your budget.  I also have another post on the best places to shop for discounted petite clothing, be sure to read it if you are interested in where to find bargain price of petite size clothes.
Low to Medium Price Petite Brands
This is one of the most well known budget friendly petite retailers.  If you are looking for something cute and trendy that will also make your wallet smile, this is the shop for you.  To me, the most attractive part is of course their price and the wide variety of selections.
Anything petite women need that is hard to find elsewhere, you can pretty much find them here.  Petite jumpsuits, petite pajamas, petite wide leg pants, and list goes on and on.  Even though they are UK based, they offer free international shipping for orders over certain amount of purchase & free returns.  On the other hand, quality can be hit or miss and sizing can be tricky (can run 1-2 sizes small compared to American brands). Since they also sell tons of other brands, sizing and quality will differ across all of these brands.
They have locations across the US in shopping malls or independent stores, but their petite sizes are only available on line.  Their style is young, hip and urban chic.  Unlike ASOS which is focused on casual petite wear, you can find plenty of choices appropriate for office in petite sizes.
If you are a young graduate looking for office ready clothing that won't cost too much, this is the place to go.  You can find a good selection of blouses and pencil skirts for under $50.  They also carry office suitable pants in petite sizes, which is normally a headache for petite girls to find.
Medium Price Petite Designers
This is the fave of many petite girls who love chic and romantic blouses and dresses.  Plus, their stores offer not just clothing, but also cute products for your home.  They have stores across the US, and some local stores carry petites to try on in store.  Compared with their local stores, their website offer wider selection of colorful designs and comfortable dresses, tops and bottoms for women under 5'4″.  The flip side is they do not offer a lot of choices for petite professional wear.
Again, this is one of the most popular stores which carry petite size clothing at a reasonable price range.  What I love about them is they are everywhere and most local stores carry petite selections.
It is so easy to pop in and try them on in store and decide what to keep and what to put back.  Their original prices can be a little steep, but you can always wait till their seasonal sale and score 50% off.  Their quality is generally acceptable for the price tag, but it could also be a hit or miss.
I was wearing the wool trench coat from Banana Republic in size xs.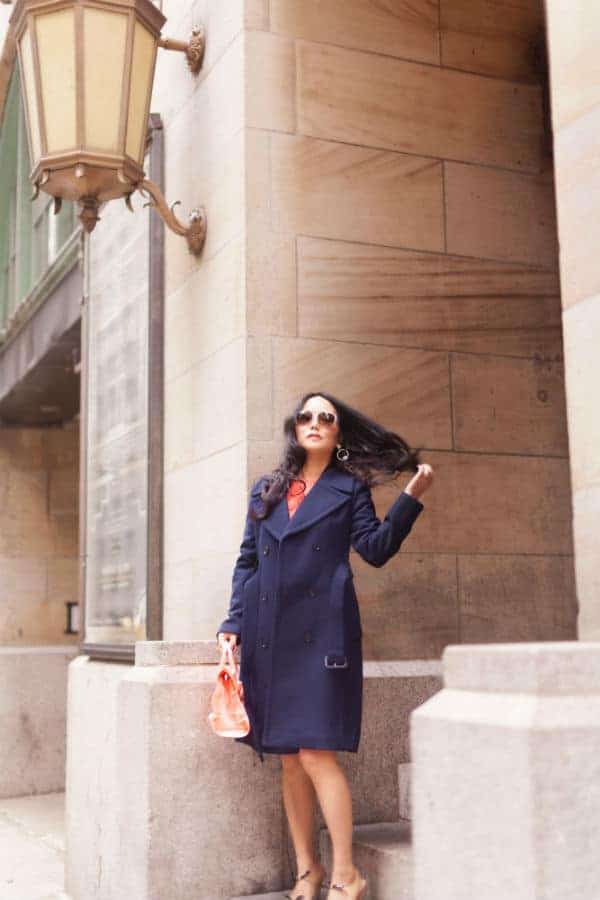 I wouldn't be surprised if you have not heard of or seen this petite brand.  They are Nordstrom's in house brand, so you probably can only find them in Nordstrom.
As a younger brand, their design is like fresh breeze, and I can see some similarities (in a good way) to Diane Von Fursteinberg.  The price, of course, is a lot sweeter!
If you have not tried them, head over to Nordstrom and pick up a colorful blouse or a wool petite coat, and you'll be glad you have found this brand!
This goes without saying is one of the most popular petite brands.  They are known for good quality fabrics and perfect petite fit, especially their coats and suits.  They have a wide selection of petite fashion from work to causal wear, to pajamas and even wedding.
I have purchased many Jcrews over the years, and I only wish they make their petite selections more available in store.  When I was living in Manhattan, I was surprised and surprised to find that they do not carry petite sizes in store.
This is the brand by Top American designer Ralph Lauren.  So, the high quality is consistent with Ralph Lauren brands. They offer a wide selection of formal and casual wear.  At Nordstrom, you can find anything from petite trench coats to petite pajamas.
I recently purchased long sleeve and long pants pajama sets from this brand in petite sizes, and I love their 100% cotton fabrics and the relaxed fit.
The original prices could be a bit high.  You can always order when they are on sale.  Mine came down to less than $40 for the set, which I was very pleased with.
To me, the size runs big, and it starts from size 2.  I am a size 0 or 2, and for pajamas I was happy it is on the roomy side.  However, if you are a petite size 0, you should check out their sizing chart before you order.
You probably have seen London Fog at Nordstrom before and you may have noticed they have a great selection of petite coats.  What you may not know is the long and rich history of this brand.
This leading American manufacturer of coats and other apparel was founded in 1923 as the Londontown clothing company by Israel Myers.  During World War II, the company was known for making waterproof clothing for the United States Navy. Following the war, the company partnered with DuPont to make material for use in raincoats. These coats, which were the first to have a patented removable liner, were sold in Philadelphia, where they became very popular.
So, if you are shopping for coats in petite sizes, you need to check out this brand.  They are known for making well tailored petite trench coats, and the fabrics are premium.
This is a well known American chain with local stores in some cities.  They offer a good selection of work wear and casual style in petite sizes, and the prices are reasonable.
What I love about them is the feminine design of office wear, which is classy but is also chic and can be worn to a dinner after work.
I wish they had more local stores available, and most importantly, i wish more stores carry petite sizes.
Their style is more leaning towards the mature crowd, but younger petite women can still find a good selection.  They are known for their petite coats, but they also offer work wear, active wear, swim wear, and etc.
Price range is very affordable and design is comfortable.  They do have a few higher ticketed items such as petite suede coat which cost over $1000, but you can always wait for a good deal in seasonal sales.  Plus, there is plenty of choices priced very reasonable.
They carry a full spectrum from 0P to 16P.  If you are a short girl on the curvy side, they have petite plus available.
High End Petite Designers
Many people have heard of this classic American designer with a long and rich history, but not every petite girl knows they carry petite sizes.  If you have heard of them, you probably have also heard they are known for fine fabrics and top quality tailoring.
The cons, of course, has something to do with the lofty price tag.  If you are into finer things and have the budget, I would go ahead and splurge on their fine wool coats and dresses.
This is the online UK brand founded by former attorney Jennifer.  I have met Jennifer in New York city in a lovely upper east side boutique hotel.  5 feet tall Jennifer was wearing the blazer from her collection, and showed me the dress from her brand which she was going to wear that night to a dinner at the Four Seasons.  Her collections take pride in its premium quality.  She mentioned to me the reason she founded this brand was she couldn't find high end petite clothing in the UK, thus she decided to create the solution to the problem.  If you are into top quality fabrics and tailoring, you should definitely give it a try.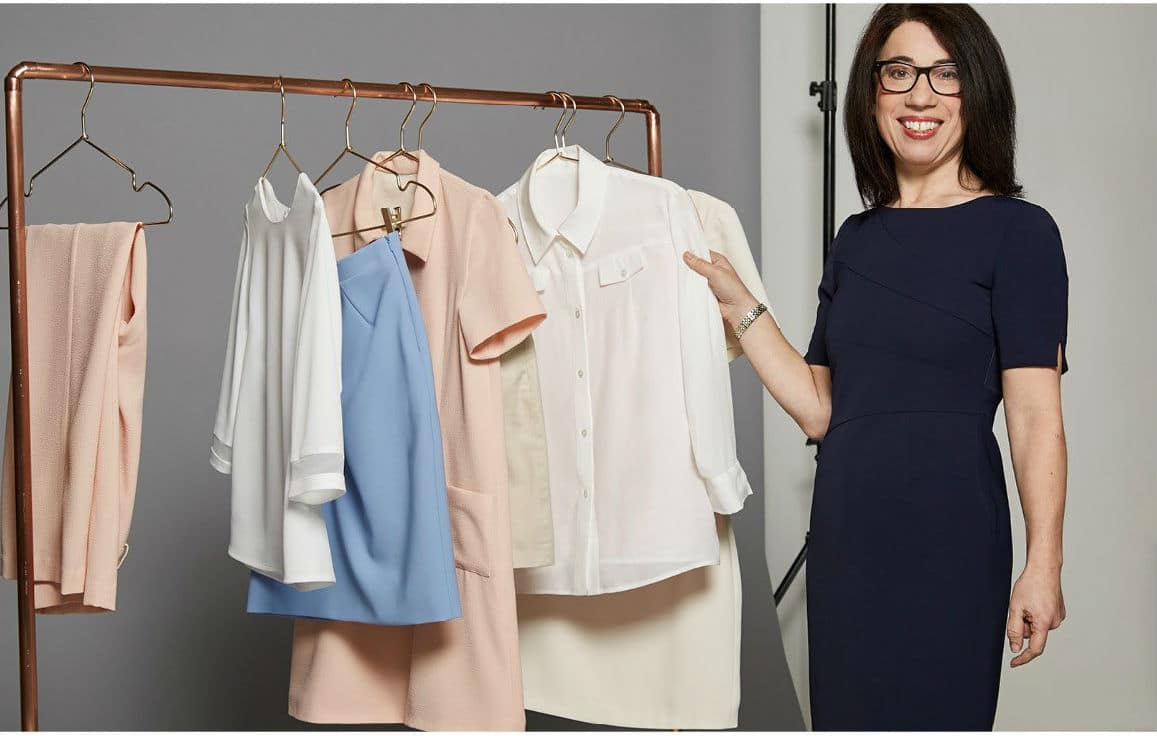 They are a UK based brand that will be shipped directly from London.  They have partnered with Petitedressing.com to serve customers in the US and Canada.  If you purchase from Petite Dressing, you don't have to pay expensive international shipping to purchase them.
Reformation is not the biggest name in petite fashion, but they are definitely the up and comer.  They came to the spotlight as the forerunner of sustainable fashion brand a few years ago and have since been gaining momentum.  They started "Don't call me cute" line recently, which has some really chic and cute designs of maxi dresses for short girls.  Their design of petite maxi dresses with side split is sexy and very flattering for short girls.  By showing some skin through the slit while you are walking, you look taller and less likely to be dwarfed by the floor length fabric.  We also love their colors- they are either in neutral solid colors or vertical prints, which are the best friends for a short girl searching for maxi dresses.  The last thing a petite girl wants is to wear busy and loud floral prints all over and look swamped by the dress.
Their price of petite maxi dresses is $218 and up, which may sound a bit steep for girls on a budget.  However, if you are wondering what to wear to a wedding and looking for an investment piece, their classic design and good quality fabric may be worth the splurge.