Are you looking for petite evening gowns? Do you have a formal event coming up? Dressing for a special occasion can be stressful for any woman, even more so for the petite woman. You know what I mean? Getting an invitation to a formal event, wedding or otherwise, is exciting but comes with a little ping of stress when you realize you have to find something to wear.
You don't get invited to a formal event every day. So, of course you want to present your best style when you have the chance to go to one. Long evening gowns for petite women? It may sound daunting to you at first. That is totally understandable. If you ever wonder how you can pull off a formal petite long dress, just look at the short actresses on the red carpet.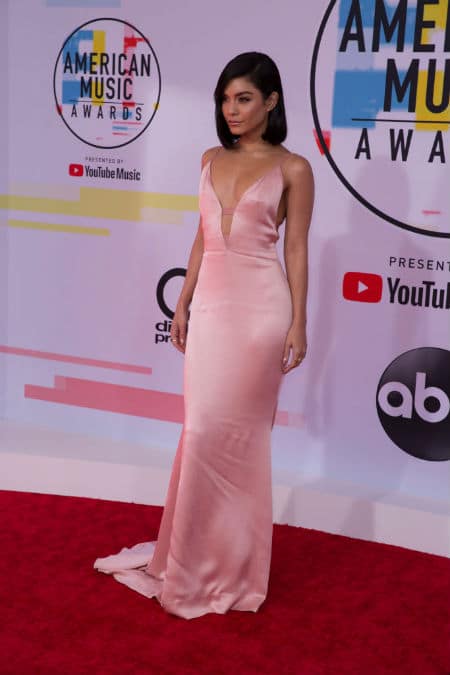 Knowledge is power so even if you don't have a formal event to attend in the next few weeks, I wanted to breakdown some tips to consider on how to choose the right evening gown so you're fully prepared anytime the occasion arises.
This post may contain affiliate links, which means I earn a small commission (at no cost to you) if you follow the links and make a purchase Click here to learn more .
You can watch this video on my Youtube channel, but I suggest you also read this full article for the full details.
When to Wear a Formal Petite Evening Dress
Before we get into choosing the best evening gowns for petite women, let's chat about when you should be wearing this type of dress. I don't have to tell you that not all dresses are created equally which also means that not every dress can be worn to any occasion. I'm a big believer that dresses should be a go-to wardrobe staple for petite women. As a petite woman myself I can attest to how great dresses are when dressing a shorter frame.
But let's get back to evening gowns for today. You will need to wear an evening gown anytime you get an invite to a formal occasion. More specifically, if any event's dress code calls for white tie or black tie, then wearing an evening gown is an obvious choice. There's a lot of grey area around dress codes, but compared with others, those are still the two dress codes that are the strictest. White tie is the most formal dress code of all, so wearing an evening gown is the norm. With black tie, there could be more choices when it comes to what the women should wear, but still, when in doubt, you cannot go wrong with a formal long dress.
Other dress codes like cocktail and black tie optional are formal events, but you don't have to wear an evening gown to these events, you can opt for a petite size cocktail dress instead.
If you are looking for something to wear to a wedding in particular, then read our post on "Best Wedding Guest Dresses for Short Women", in which we talk in detail about what is appropriate to wear for each type of wedding dress code.
Dress for Your Body Shape
As a general matter, long dresses for short women can be tricky because of their length. This is where a lot of petite women stress when it comes to shopping for a petite evening gown. Most of us have all heard that we should avoid long dresses because of our height, however that's not the case! Yes you heard that correctly petite women can most certainly wear long gowns – and do it with pride and style.
That being said you will want to be sure the long petite formal dress you choose doesn't overwhelm your shape. Since petite women come in different sizes and shapes, the best way to find your best style is to dress for your own body type. If you do not already know what type you are, our "petite body type quiz" will help you.
Because of our different body shapes, we have different assets of our bodies that we want to emphasize. If you happen to be a lucky hourglass shape, then congratulations! Almost any petite size gown should look good on you. For the rest of us, well, most of us might have areas of our body that we do not want people to notice too much.
For instance, many pear shaped women prefer to de-emphasize their wider bottom and thigh area. Therefore, a modest A line shape evening dress will be great to achieve that.
The common goal that petite women all want to achieve, is to make our legs look longer and proportion look better. For that purpose, in general, I suggest short girls to stay away from ball gown and tent silhouettes. Both of those shapes are often just too much for a petite woman. Instead, opt for a well fitted petite evening dress that outlines the shape of your body and highlights your waistline to elongate your shape.
Shop in the Petite Department
In addition to the overall silhouette of the evening gown, I suggest shopping from the petite brands. Even though the length of dresses can easily be adjusted, when it comes to evening gowns it's best to stick to a petite size evening dress. The sleeves, torso, etc. will fit you much better when you shop petite specific fits. Not to mention, when you get a evening gown made for short women, you may end up being able to avoid the need for alterations. Let's face it – that's a HUGE bonus!
The best designers that specialize in formal gowns are Tadashi Shoji and Adrianna Papell, and it is absolutely wonderful news that they both have petite sizes! Besides, our recommended shops are Nordstrom, Macy's. If you are looking for something that won't break your bank account, then consider ASOS as well.
Look for the Details in Formal Gowns that Elongate Short Women
Not all gowns are created equally. If you pay attention, you will notice certain details of formal long dresses make petite women look taller and proportion look better. Go with those design and you will not have to worry about being overwhelmed by the length of the long dresses.
Some of the most flattering details include:
Side slit- this asymmetrical dress design breaks the full coverage of the dress, and is incredibly flattering to short women. If you always want your legs to look longer, you must try the gowns with side slit, like the one worn by Emma Roberts- can you tell she is 5'2″?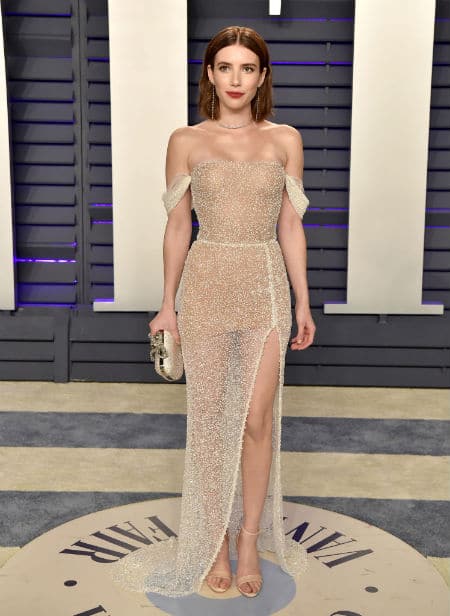 In terms of neck designs, deep V neck and off the shoulder are the universally flattering for petite women. The reason is most petite girls have shorter neck, which is perfectly balanced out by the deep V shape. Meanwhile, off the shoulder is the most complimentary to most face shapes. If you happen to be petite pear shape, then off the shoulder is heaven-sent. The horizontal line totally balance out the wider hips and thigh areas of pear shape women and make them less noticeable.
Scarlett Johanseen is wearing all three most flattering elements for short women in this picture below!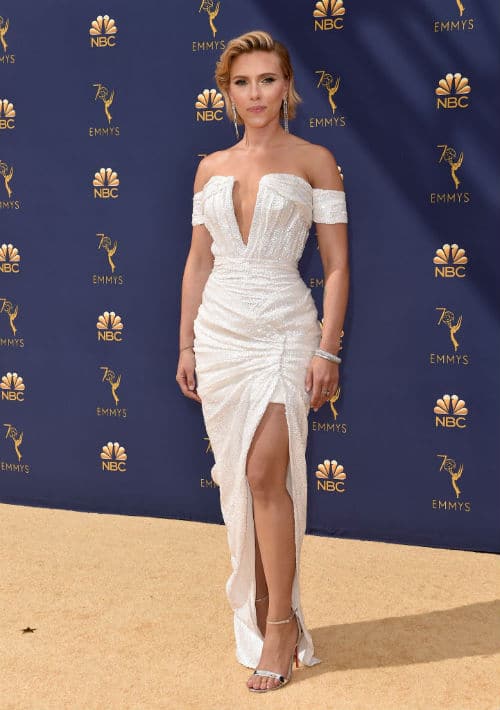 Choose Shoes Accordingly
Wearing a petite evening dress calls for paying a little extra attention to the shoes that you wear to compliment the gown. You won't want to wear your average heels or shoes for this kind of occasion. Keep in mind the fact that anytime you are going to need to wear a formal petite evening dress it's because you are attending a formal event. And you know how the saying goes…shoes can make OR break an outfit.
Since you are a petite woman you will want to opt for a high heel to compliment your petite evening gown. Even when you wear a gown that compliments your petite frame, the bit of added height we get from high heels gives us an elongated affect to further enhance our shape in the dress.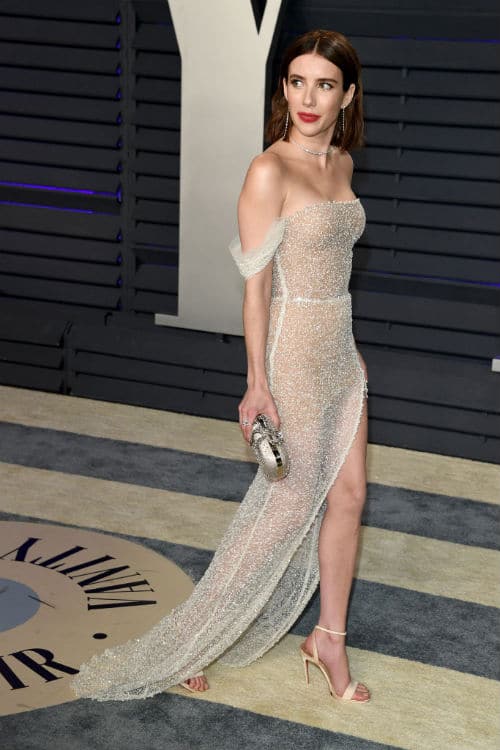 See how these nude heels perfectly match the nude gown of Emma Roberts? That is the effect every short woman should strive to achieve.
Because you're going to be wearing high heels with your formal dress, you want to avoid choosing any shoes that weigh you down. Shoes that can give you that 'weighed down' type of effect are shoes that look heavy. In other words if a shoe has a very chunky heel or looks like a larger shoe.
Another attribute that can give you that weighed down look is if you wear a high heel that's in a very dark color with a dress in a light color. The reason this weighs you down, as a petite woman, is because it brings a lot of the focus to your shoes which then draws the attention down. Makes sense, right? Instead, choose shoes that flow with your long petite evening dress – complimenting the color is key!
Accessorize Your Dress Properly
Accessories are essential to completing the formal dress look for short girls. Much like shoes, they can make or break your outfit. Women often slip into making one of two mistakes when it comes to accessorizing your evening gown. One is not accessorizing enough, if at all. This is an obvious style slip up. The second category many women make is over accessorizing their outfits. You want to find a happy place between the two to achieve the best accessorized look.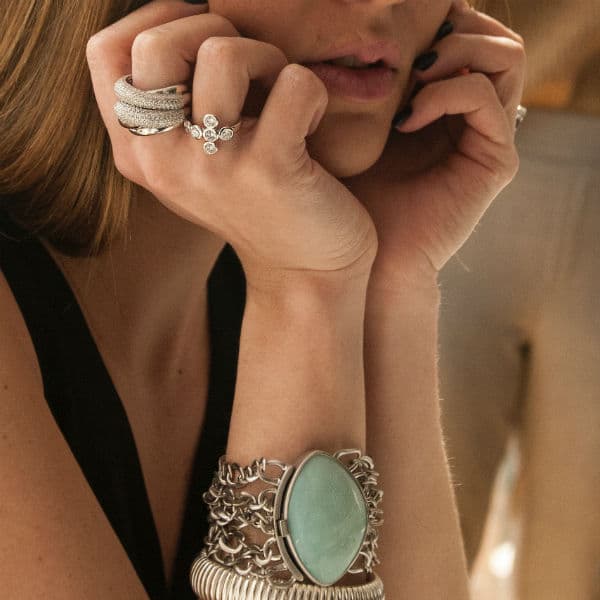 To give you a bit more clarification try to avoid wearing too many statement accessories together. I suggest choosing one statement piece and keep the rest of your accessories on the minimal side. For example, if you are wearing a petite evening gown with a high neckline a statement earring is a great compliment to the neck. Now here's the key…skip a necklace with a bold statement earring and just stick to a bracelet and/or cocktail ring. This will complement the dress beautifully so your outfit is complete but not over styled.
Of course, don't forget to consider the bag you use with your formal evening dress. The truth of the matter is you can't wear an everyday bag with an evening gown. Stick to a clutch or something specific for evening wear. This is important!
How to Look Expensive
When you attend a formal even where you're going to need to wear a the gown, chances are you are going to want to look expensive. Let's be honest here, no one wants to look cheap at a special occasion. One of the main factors that play into looking expensive in an evening dress, especially for petites, is the fabric of your dress. Avoid any fabric that looks 'cheap.'
In addition to the fabric, the way your gown actually fits your petite body frame plays a huge role in helping you to look expensive. Fit is key and as a petite woman you may need to get a few alterations done to ensure your dress fits you the way it needs to. Look at the length, sleeves and armholes of your dress – these are areas that are very telling on the fit of an evening dress.
Circling back to accessorizing your petite evening gown, choosing the right accessories can help you elevate your gown to look expensive. Similar to the dress itself, avoid any accessories that LOOK cheap. This isn't to say you have to spend a lot of money on your accessories, just avoid anything that looks like it was inexpensive.
Now that you have some of the basics to choosing the right petite evening gown you can put them to good use! Happy evening gown styling!