Jeans is the favorite wardrobe staple for many people because they are so versatile. If you are petite, however, finding the right jeans for short women is not that easy.  The majority of American designers do not carry jeans of petite sizes.  That is, regular sized jeans are made to fit women 5'4" and above (click on the link to see the difference of petite sizing vs regular sizing), so the inseam is likely to range from 30" to 33"depending on the style.  Some designers do carry petite size, but even their petite or short version has 30" inseam, which is probably still too long for most petite girls.
As a petite girl, you probably are used to sending it to the tailor and having it hemmed, , since it is so hard to find jeans for short women.  There is a number of issues that may arise as a result: first of all, it is not cheap.  It could cost from $15 to $20 to have the jeans hemmed by a tailor.  Secondly, you will have to lose some details on the original hem such as ruffles, raw edge, zipper, and etc.  If you really want to keep the original hem, the tailor may charge $20 and above (depending on the complexity of the details you want to keep) for the additional work.  Plus, the result is not guaranteed to be as good as the original.  Thirdly, just making the jeans shorter does not necessarily mean it will be flattering on petite women, and some styles are not really suitable for alteration. For instance, ripped jeans may have the holes around the knee area, and it will look awkward the ripped area is hitting your calves even after you take in the hem.
Since it is so hard to find the right jeans for short women, today we will take a look at what are the best jeans for short women according to your petite body type, (click on the link to take the quiz and find out what petite body type you are) and where to find them.
#1 High rise jeans
First of all, high waisted style in general is very flattering to petite women.  They extend your legs and make them look longer, because of the higher waistline.  Additionally, they are also more comfortable to wear especially when you sit down. You probably do not like to show your under panties when you sit down or bend, and you do not have to worry about that if you are wearing high waisted style.  All this can explain why high waisted style is making a huge come back in recent years. As you have seen in various blogs and fashion magazines, they have been very popular amongst celebrities and models, and have been recommended by many stylists for good reasons (click here for wardrobe staples of petite girls). For petite girls in particular, most of us want our legs to appear longer, and high rise jeans does the best job in terms of adding a few inches to our height.  When choosing the best high waisted jeans for short women, one thing you should keep in mind is the color.  If you are slim and do not have concerns around your waist or belly area, then you have plenty of choices in terms of colors from lighter wash to even white color, which could all look great on you. On the other hand, not everyone has 25" waist and some of us prefer not to accentuate the waist area, especially if your body is apple shape. Because of the extended waistband, high waisted jeans in darker colors are more flattering to girls who want their  mid section to appear smaller.
Scarlet Johansson (5'3″) and Eva Longoria (5'2″) in high rise jeans.
Number 2 Straight leg jeans with vertical hem details
You may have read many stylists' advice that one of the most important styling tips for petite women is to create vertical lines in your outfit, which will effectively elongate your silhouette and add length to your legs.  Straight leg jeans with vertical hem details is the perfect piece sent from heaven!  The style has been so hot in recent years, maybe it has something to do with the pictures of Gigi Hadid in a pair of famous Sandro jeans that has been on so many fashion magazine and shared and twitted all of the internet. You might be wondering "sure, they are super models. How will they look on petite women?" Here we found pictures of Mira Duma (petite celebrity under 5 feet tall) rocking these babies!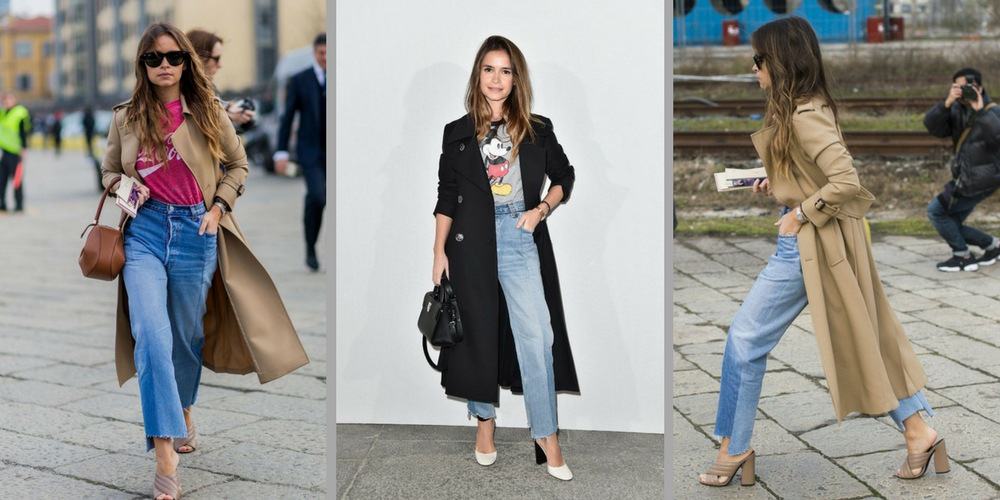 The truth is, you will be surprised how flattering this design is on petite women as well, for the reason we mentioned earlier- the secret is the vertical line!  They are exactly what petite women need if you want to create the illusion of longer legs. Plus, the straight leg silhouette makes your legs look straight and slender, regardless of your body type.  The most important part of making this jeans flattering for short woman is the correct inseam.  As we mentioned earlier, because of the details of the design, it will be costly to buy the regular size and try to have them tailored to fit petite women.
Click to shop petite denim collection
#3 Black skinny jeans
This is one of the most versatile jeans style out there for every girl, not just petites. They make you look instantly more slender, because of the slimming effect of the color and the hugging of the skinny design. If you are a petite pear shape and want your thigh or hip area look smaller, black skinny jeans will achieve the purpose. The best part is they go with pretty much everything in your wardrobe.  Pair it with a feminine blouse and high heels, you are ready for a hot date or a night out with the girls. if you just want to be casual, wear it with a loose sweater and sneakers and they will make the easiest outfit for the weekend.  Throw on any jacket in the morning and you are ready to go to the office.  They also work great in any season or whether.  They will become your "it" jeans for the transitioning wheather, when you wear them with a cardigan.  Did we mention they are the best buddy for knee high or ankle length boots in the winter? The key of selecting the best black jeans for short women is the right inseam.  If you are petite and want the look of ankle jean, 25" to 27" inseam will work the best, depending on your height.  If they are a little over your ankle, you can always cuff up an inch or two and they still look great. If you are petite but you really like the look of cropped jeans, the trick is it should not be too cropped.  For petite women, it is important to avoid horizontal lines in your styling.  Cropped jeans that is too cropped will create that horizontal line which will make your legs look cut-off.
Natalie Portman (5'3″), Megan Fox (5'4″) and Eva Longoria (5'2″) are wearing black skinny jeans. Click to shop black skinny jeans in petite sizes (26 inch inseam).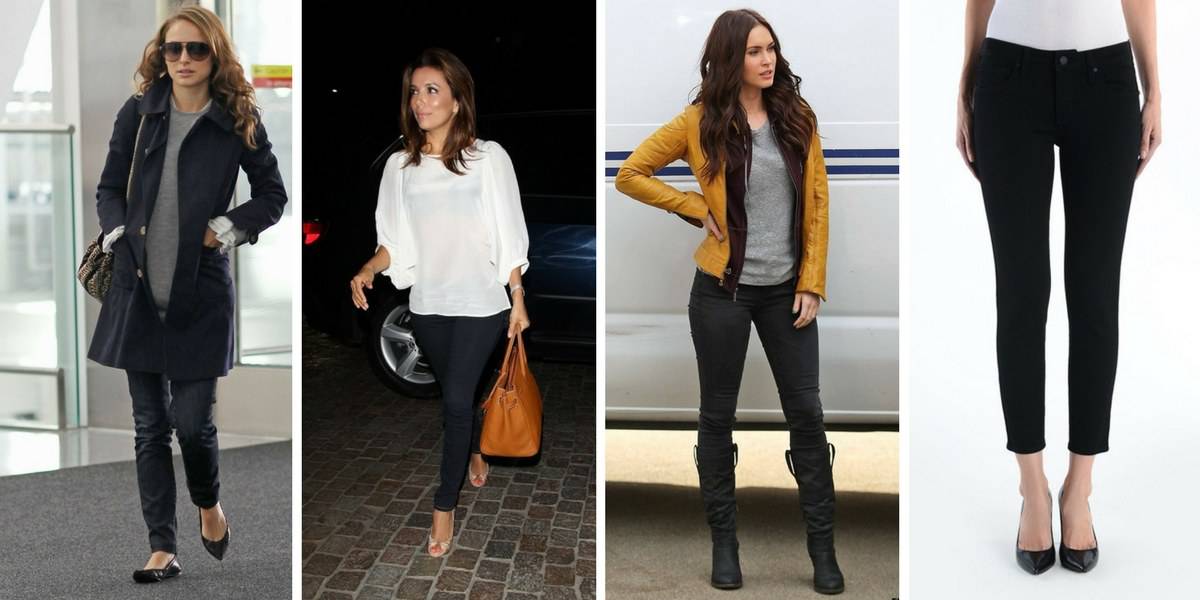 #4 Petite jegging
Jegging has been in the fashion spotlight for quite a while now.  It has the all the flattering features of skinny jeans and it is the favorite go-to outfit for many petite celebrities in all seasons.  When we pick out the best petite jegging for short woman, one thing to keep in mind is the wash and the pattern also matters.  The more solid your denim's wash, the longer your leg line become.  As mentioned earlier, the foundation of petite styling advice is to focus on creating one vertical line on your body in order to achieve the lengthening effect.  Therefore, solid-colored denim makes your legs look longer than those with a lot of whiskering or fading.  If you are into denim with patterns or in colors, stick with those with small prints and consistent wash.  Even though many of us love distressed denim, petite women should keep the patches and holes to the minimal.
5'2″ Eva Longoria is a big fan of jegging.
#5 Flare jeans
Flare jeans is universally flattering, and particularly more flattering for petite girls.  First of all, for petite women who wish to add a few extra inches effortlessly, the flare shape of slight expansion under the knee instantly creates the illusion of longer legs .  Always pair flare jeans with heels, if you want to double the lengthening effect.  Secondly, flare jeans works especially well with girls with full thighs such as pear shape petite women.  The extra volume below the knee will help balance out the slim upper legs.  If you want extra slimming effect, try dark wash. One important tip of picking out the right flare jeans for petite women is find the right length with heels on.  Put on your favorite stiletto or pumps first, and then pick out the the flare jeans to make sure the hem is just barely touching the floor while you have your heels on. Flare jeans is a staple of 5'4″ Victoria Beckham.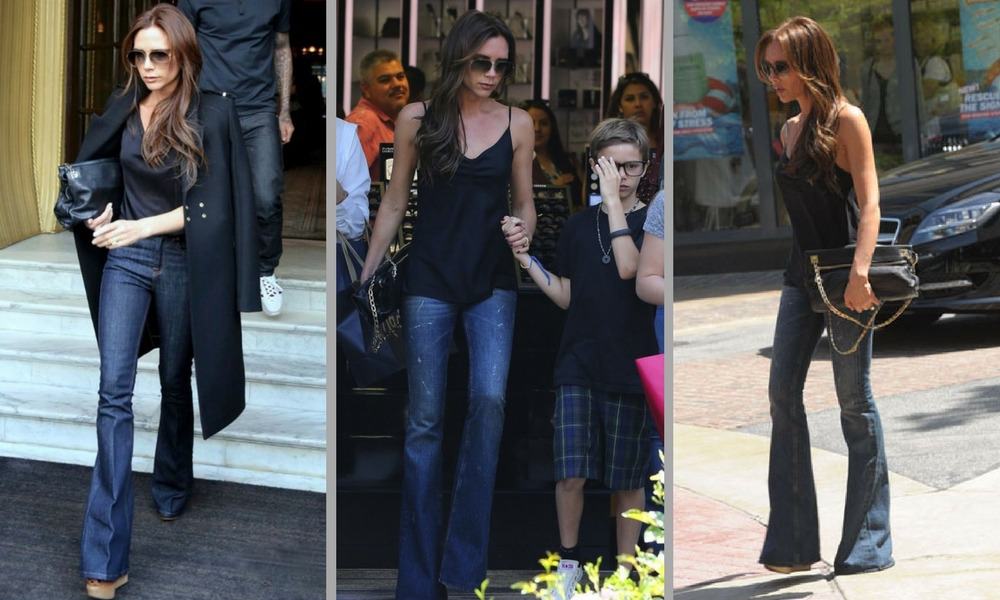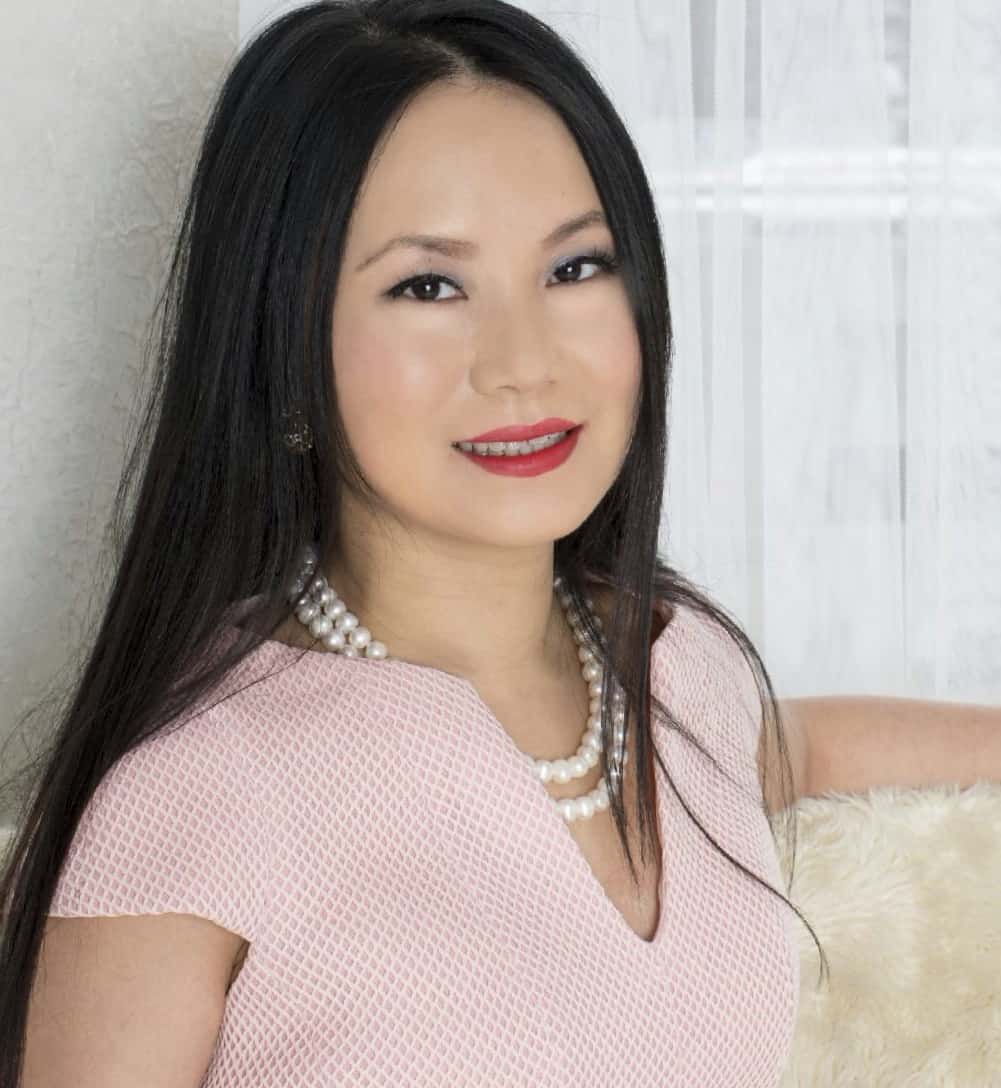 Chi is 5'2″ founder of Petite Dressing, an online petite clothing store dedicated to women under 5'4″.  Petite Dressing blog is here to help you understand yourself, such as your petite body type, and look your best ever.  If you are new, start here. Connect with me today by sending an email to cl@petitedressing.com.