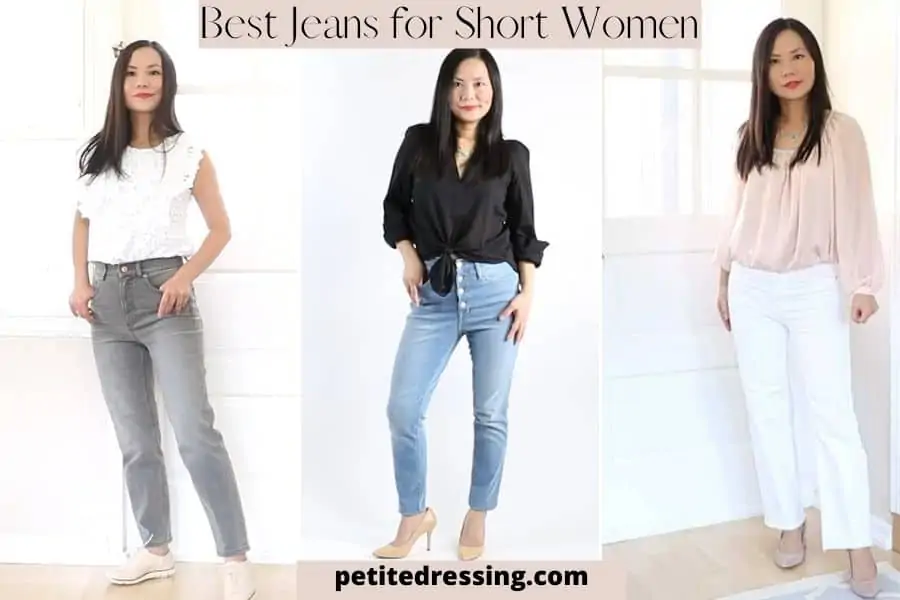 Being a short woman (I'm 5'2″), I've always known it is not easy to find the right jeans because of my height. Besides, I also have a petite clothing line for women 5'4″ and under, so I receive feedback from thousands of my petite customers on what jeans look on them and what don't.
Based on my customers' feedback as well as my first hand experiences, I put together this guide for petite women looking for flattering jeans, especially if you have short legs like me.
Before I share with you the 11 best jeans styles for us short girls, it is important to know that we should always look in the petite jeans department first, given the difference of petite sizing vs regular sizing. Not only because our inseam length is shorter, but also because our proportion can also be different than taller women.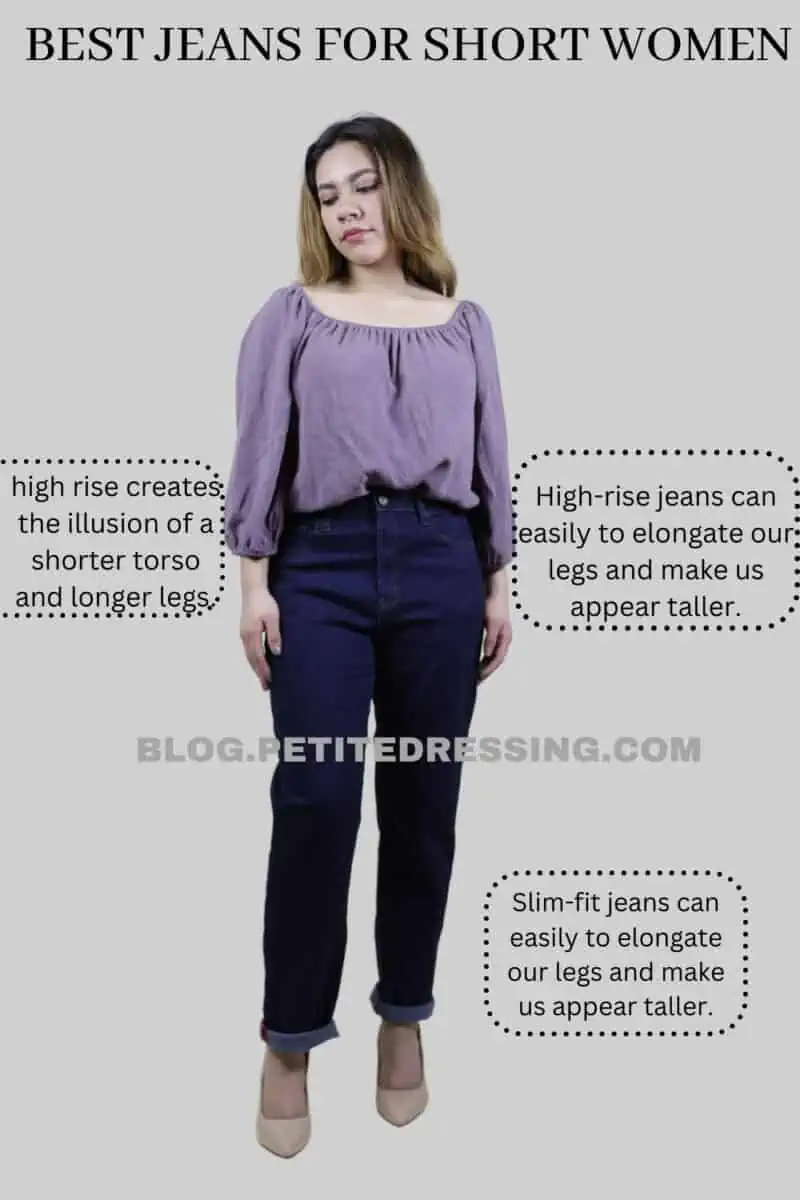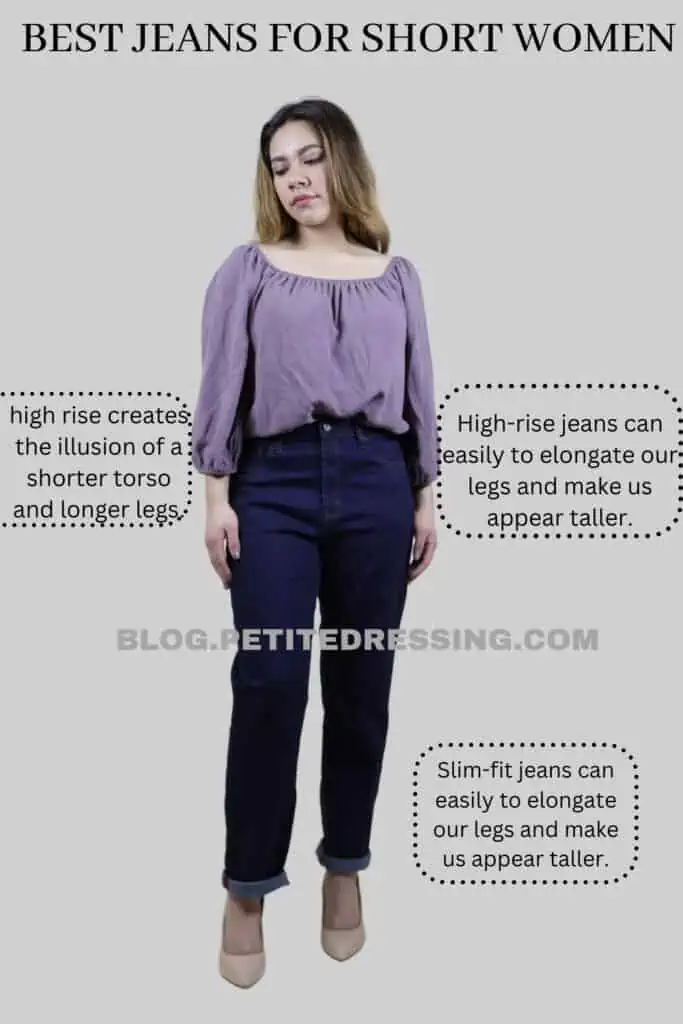 [adthrive-in-post-video-player video-id="5Oc18I38″ upload-date="2020-01-21T02:07:51.000Z" name="Best Jeans for Short Women" description="The best jeans for short women should fit your petite height and short legs. This video explains the 5 most flattering styles of jeans for petite women that we all must have." player-type="default" override-embed="default"]
High Rise Jeans
High rise anything can make short girls look good, and therefore they should be a staple of your wardrobe.
This is also my go-to jeans style, as they are so incredibly easy to elongate our legs and make us appear taller.
High rise (also known as high-waisted jeans) is the most recommended jeans for short women.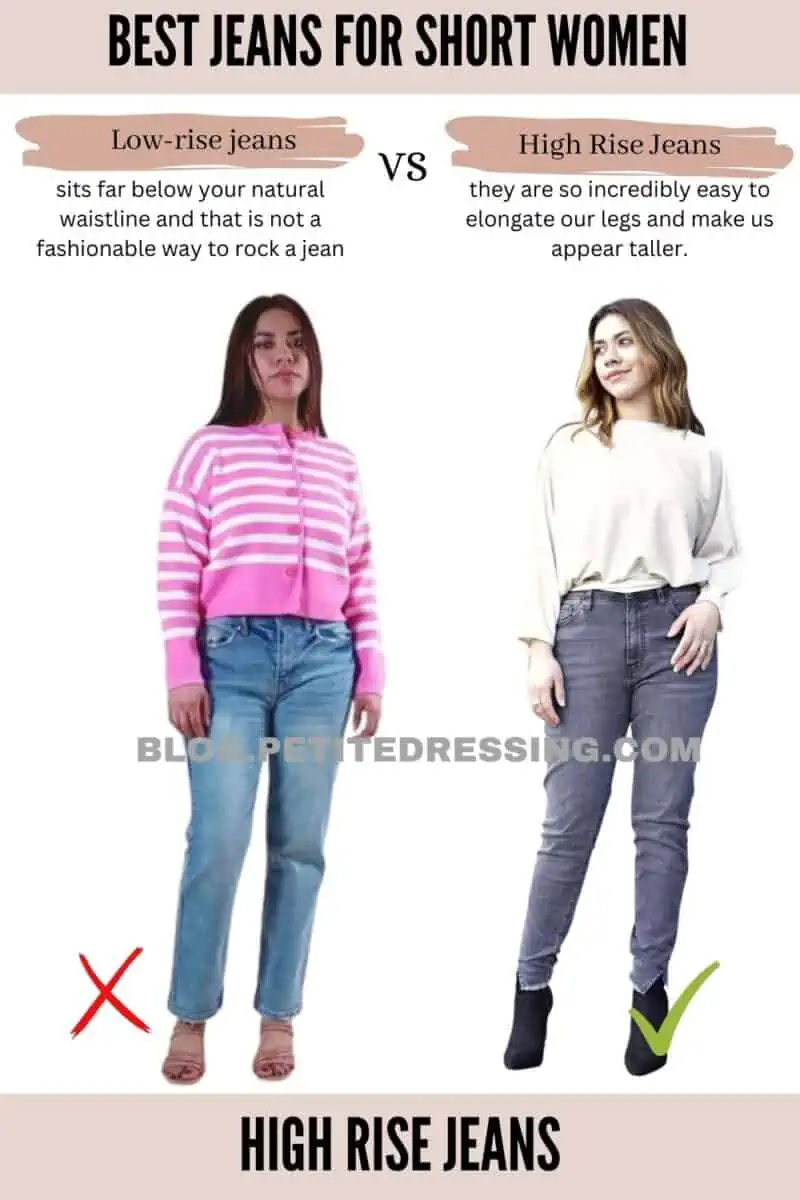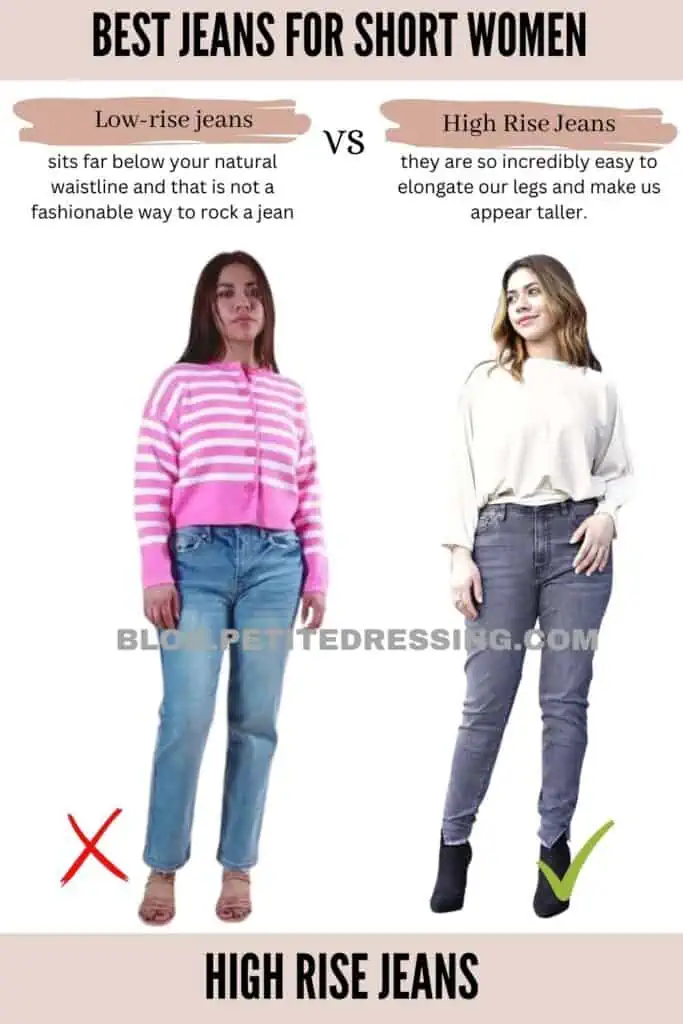 These are especially if you happen to have long waist and short legs.
First, let's look at what are low rise, mid rise or high rise.
Typically, high rise jeans are at least 9″ to 10″ in rise. Low rise jeans are designed to sit 3 inches under your navel, so they are about 6″ or 7″ rise. Mid rise jeans are somewhere in between.
If you are not a numbers girl, the simplest way to look at this is if the pants hit above your belly button (high rise), low on your hips (low rise) or in between (mid rise).
First of all, high waisted style, in general, is very flattering to petite women. They extend your legs and make them look longer, because of the higher waistline.
I understand not all petite women wish to look taller, but who doesn't want their legs to look longer and proportion to look better? By extending above your natural waistline, a high rise creates the illusion of a shorter torso and longer legs.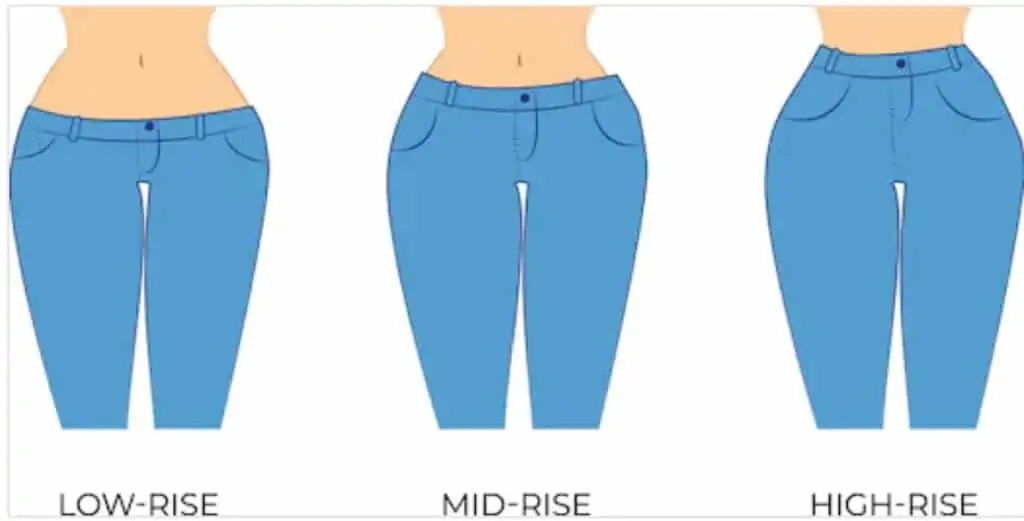 Additionally, they are also more comfortable to wear. I remember when low rise jeans used to be popular because of Britney Spears (gosh, that was so long ago), it was a fad of young girls to wear low rise jeans and intentionally show the underwear. I'm not a big fan of that, simply because it's just not comfortable when you sit down and the jeans are half way hanging off your hips.
The best high rise jeans for petite women are well-fitted and they are the right length so that you don't have to worry about hemming.
Realizing petite women come in different shapes and sizes, I want to mention one caveat of high rise jeans: they do not suite women with short torso, especially if you have short torso as well as big boobs. High rise jeans will make your torso look even shorter, and they are not flattering. So, if that is you, please go with mid-rise jeans instead.
Flared Jeans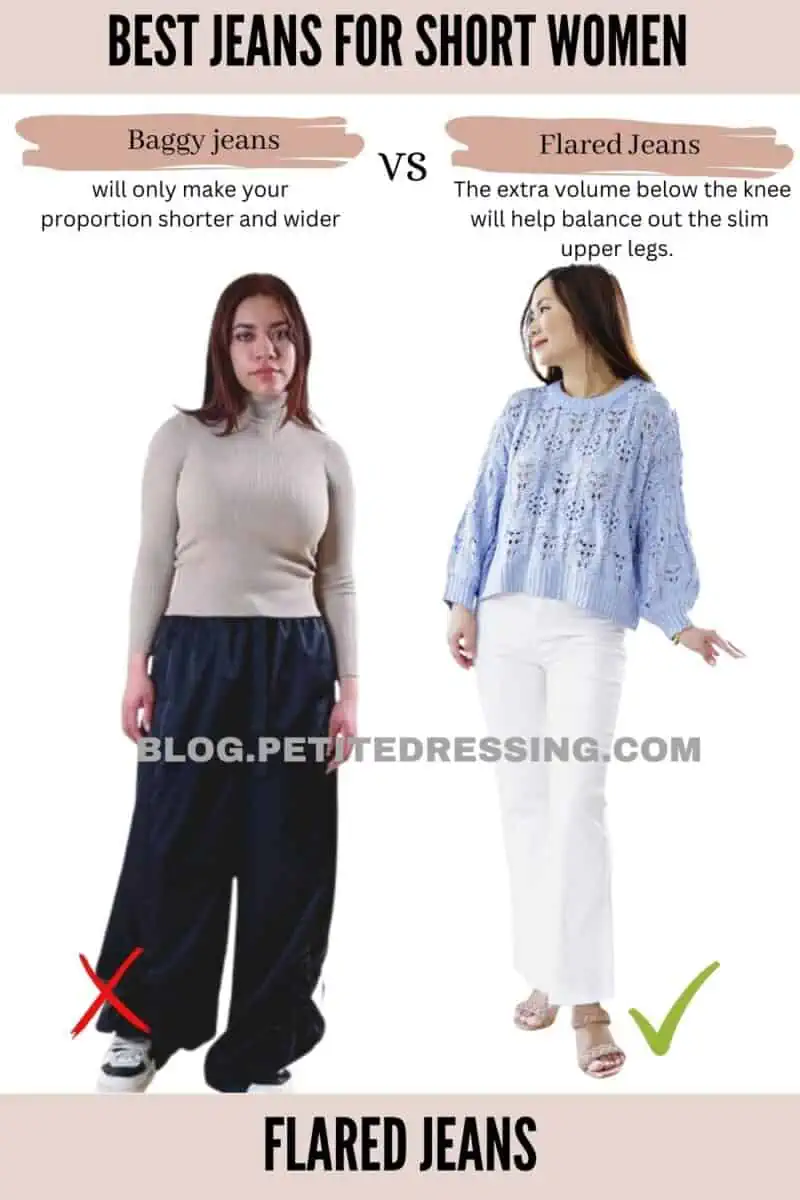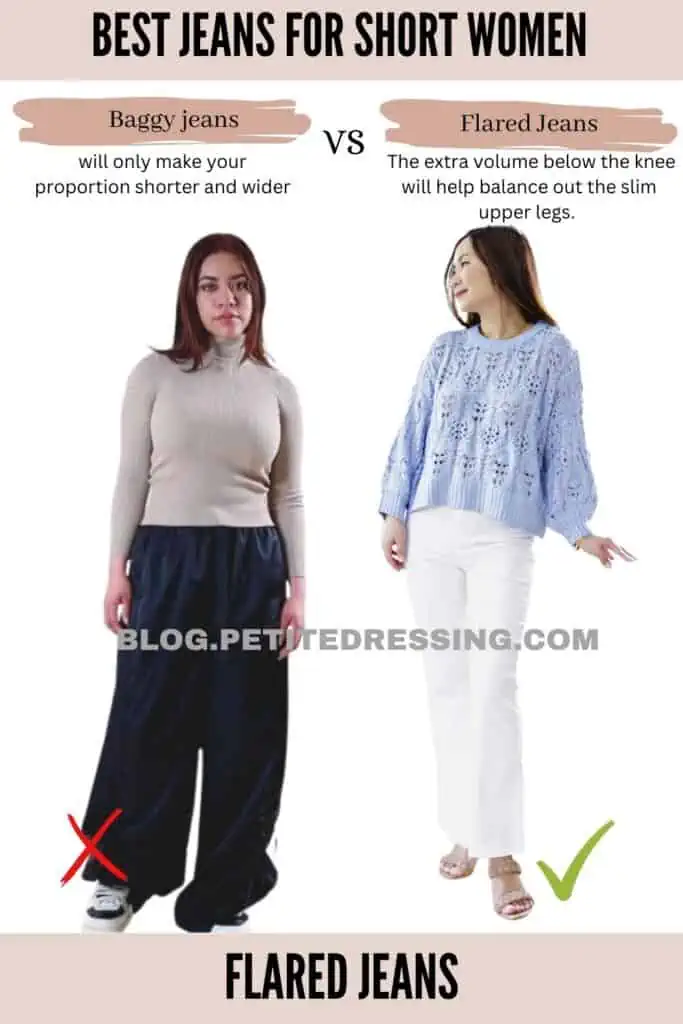 Flare jeans are universally flattering, and particularly more flattering for petite girls.
First of all, for petite women who wish to add a few extra inches effortlessly, the flare shape of slight expansion under the knee instantly creates the illusion of longer legs, unlike the wide leg jeans which are loosely fitted throughout the legs.
Always pair flare jeans with heels, if you want to double the lengthening effect!
Secondly, flare jeans work especially well with girls with full thighs such as pear shape petite women. The extra volume below the knee will help balance out the slim upper legs. If you want an extra slimming effect, try dark wash.
One important tip of picking out the right flare jeans for petite women is to find the right length with heels on. Put on your favorite stiletto or pumps first, and then pick out the flare jeans to make sure the hem is just barely touching the floor while you have your heels on.
Bootcut Jeans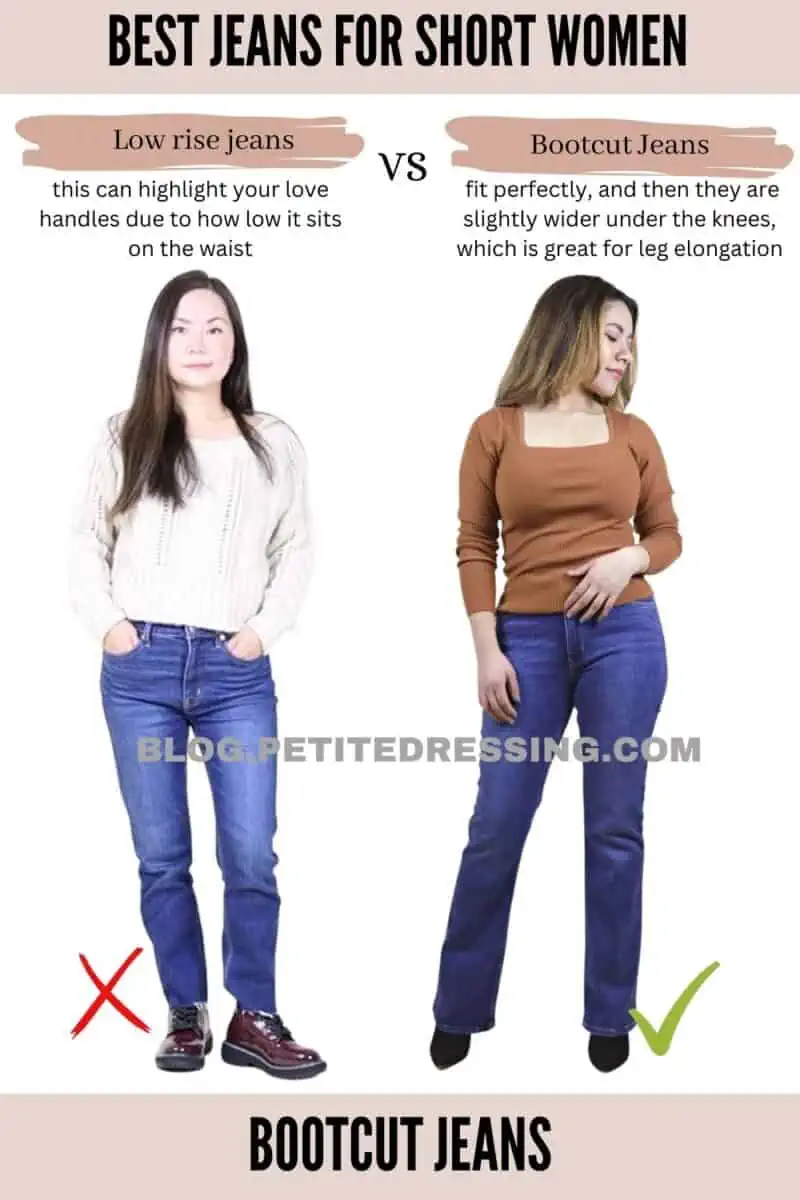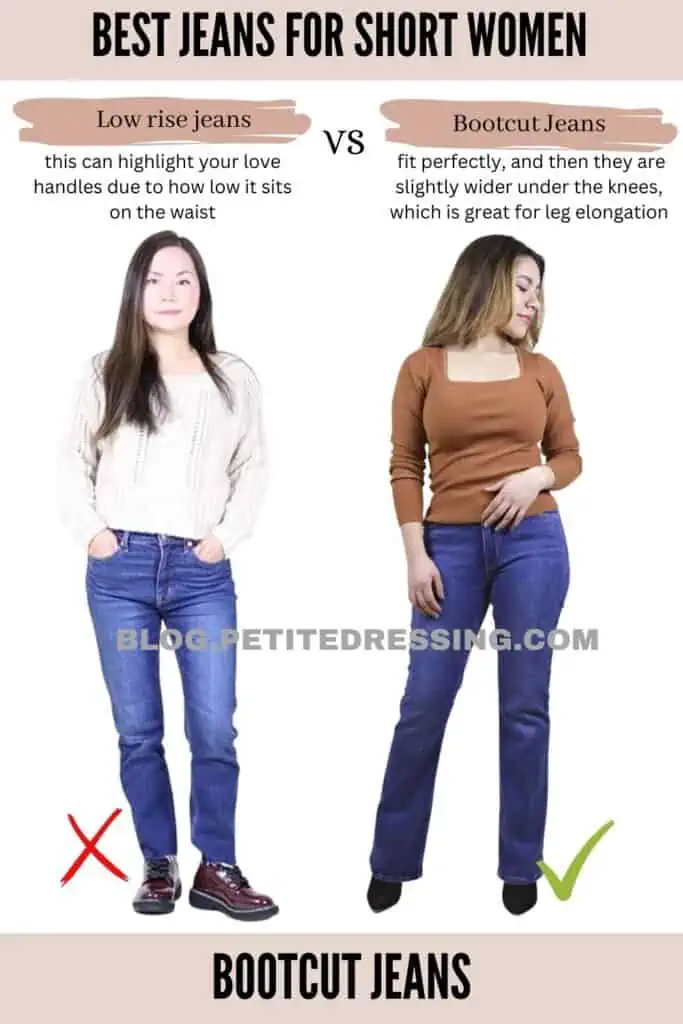 This is another great choice for short women because they can easily make our legs look longer and leaner.
What are bootcut jeans?
Bootcut jeans are slightly tapered in the thigh area and widen from the knee to the hem. So, from your thighs to the knees, they should fit perfectly, and then they are slightly wider under the knees.
Like the name suggests, bootcut jeans are designed to fit a boot under.
So, if you fold the bootcut jeans, you will notice the hem is about 1 inch wider than the knee.
When you wear bootcut jeans, there is a slight flare (so that the boot would fit underneath), but not as obvious as the flare jeans.
Just like the flare jeans, the bootcut is very flattering for all body types. Because of the leg shape, bootcut jeans can also make our legs look longer, which is why they are one of our top choices of best jeans for short women.
If you love to wear booties in the winter times, bootcut jeans are heaven-sent for you.
For the new season, Nordstrom is my pick for petite bootcut jeans under $100.
Fitted Boyfriend Jeans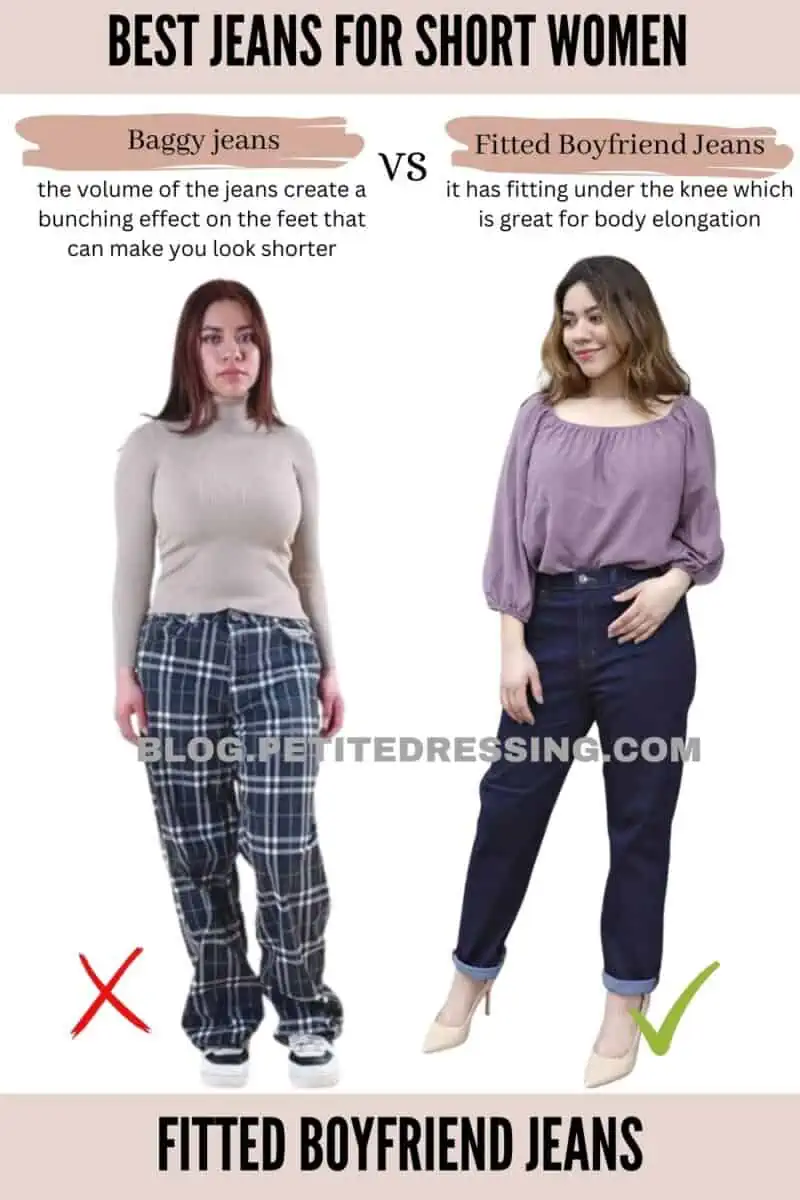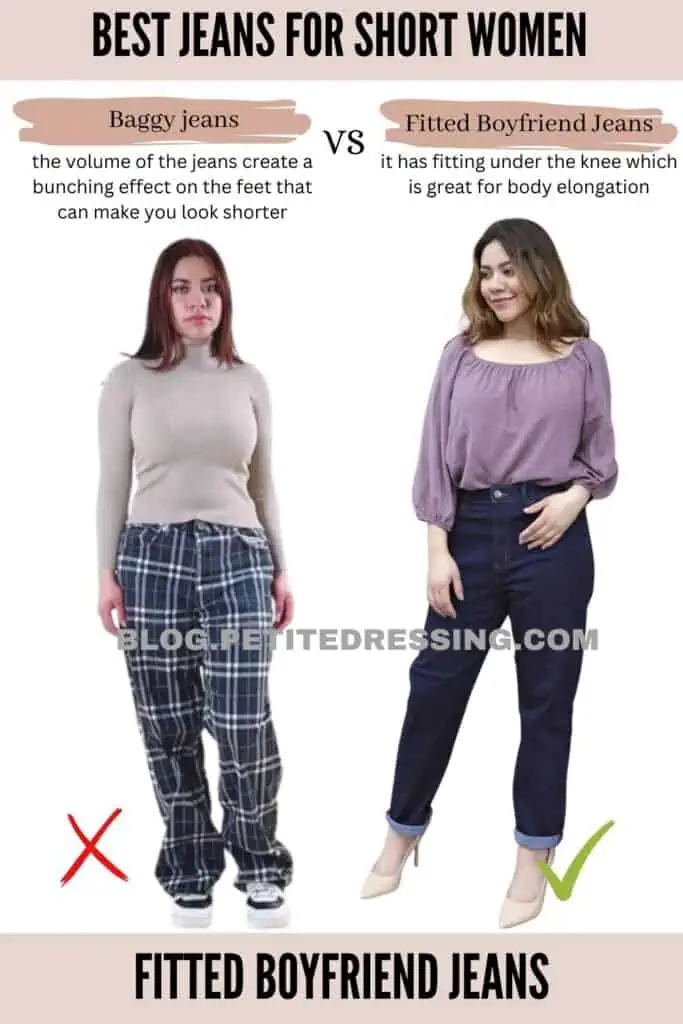 Short women can look good in boyfriend jeans, but the best options are those with fitted tailoring.
These are my go-to jeans on weekends, as they are so incredibly comfortable. Traditionally boyfriend jeans tend to be baggy, which are not the best choices if you happen to be a short girl like me. The reason is anything that lacks shape will likely swamp your petite frame, making you look even shorter.
Instead, go with a pair of boyfriend jeans that are not overly bulky, and do not have too much volume in their leg shape.
Straight Leg Jeans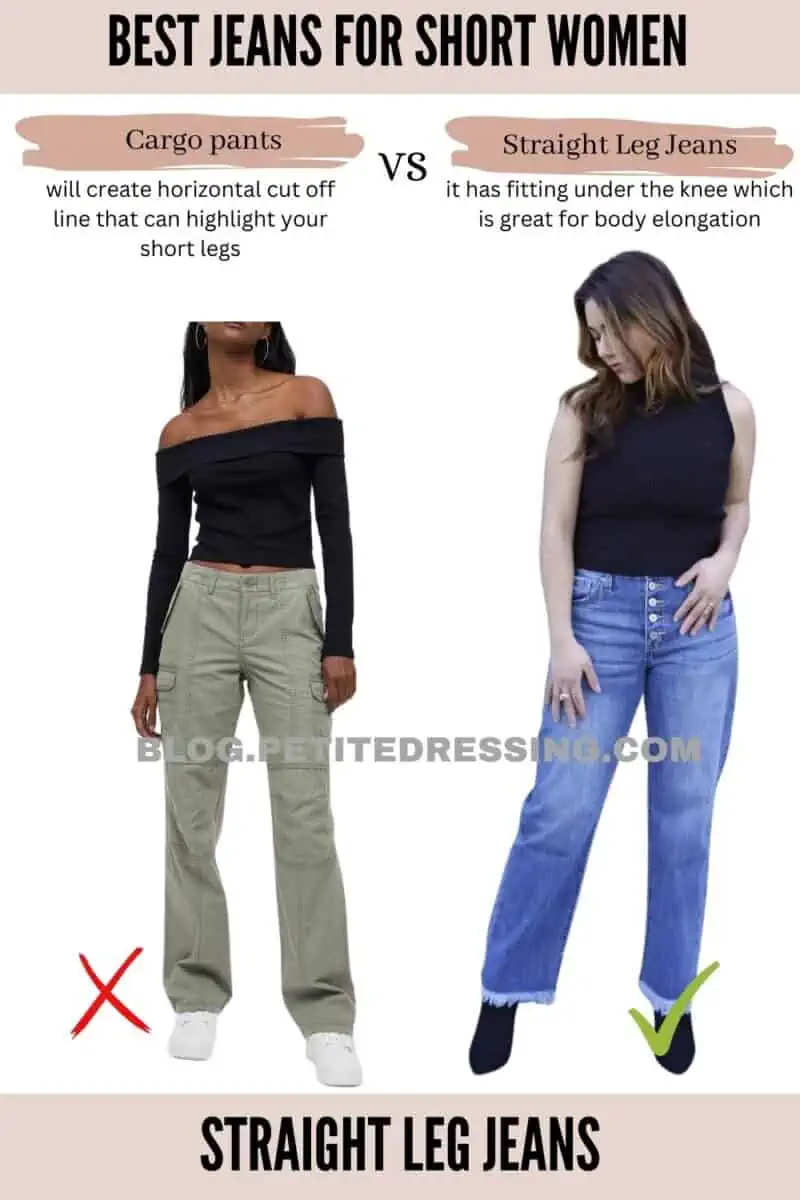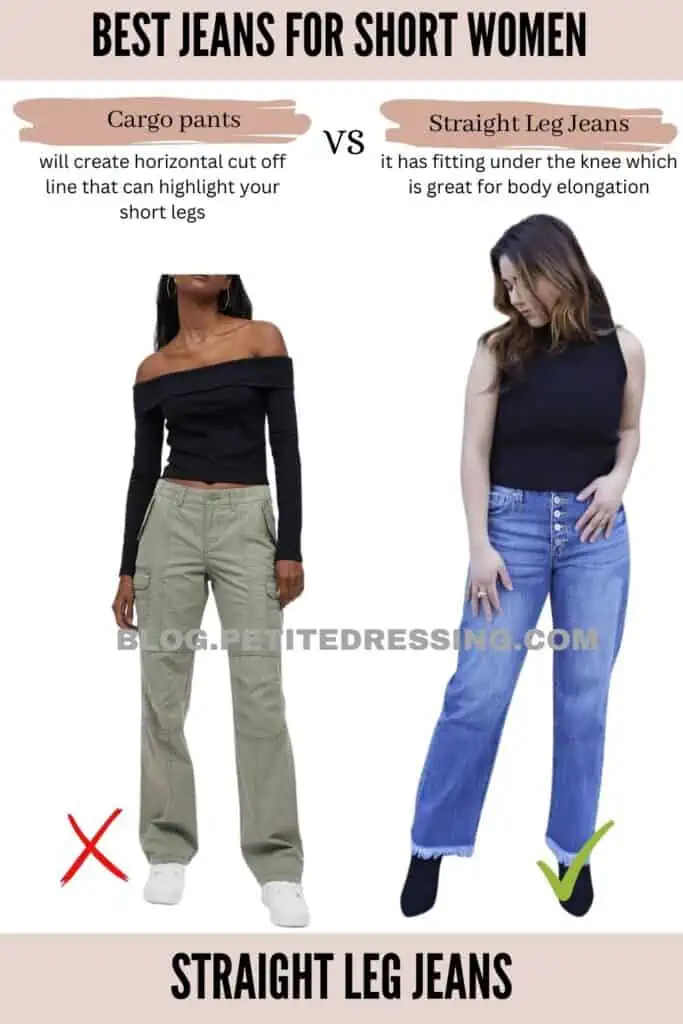 This is one of the most versatile jeans styles out there for every petite girl. You can't go wrong with a pair of black straight leg jeans.  They make you look instantly more slender, because of the slimming effect of the color and the hugging of the skinny design.
I especially love white denim in straight legs, because they fit pretty much all petite body types .
The best part? They go with pretty much everything in your wardrobe. Pair it with a feminine blouse and high heels, you are ready for a hot date or a night out with the girls. if you just want to be casual, wear it with a loose sweater and sneakers and they will make the easiest outfit for the weekend. Throw on any jacket in the morning and you are ready to go to the office.
Slim fit Mom Jeans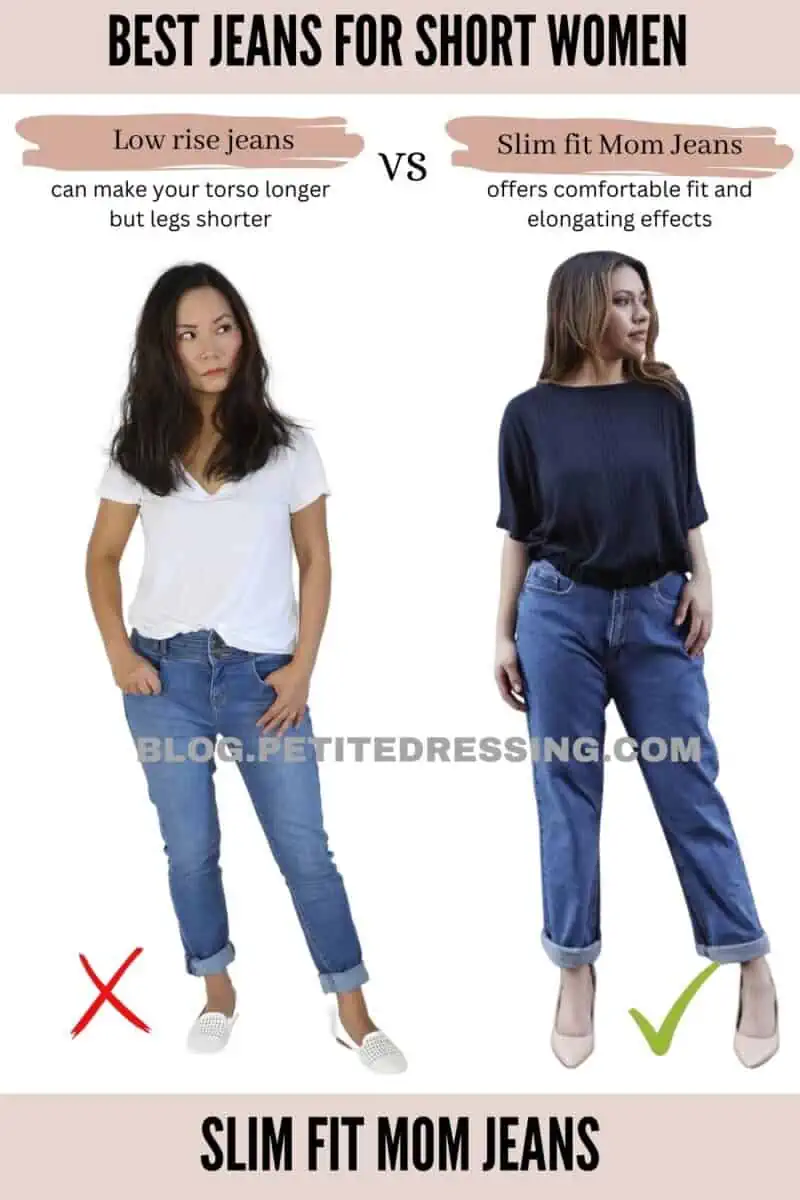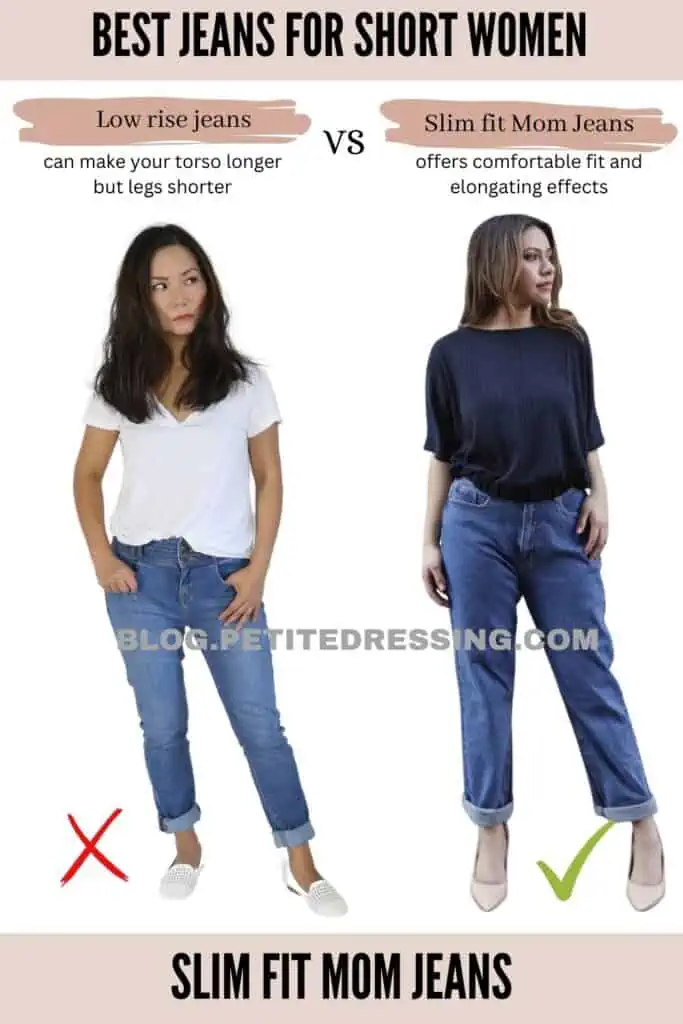 If you are short, the best Mom jeans for you are those with a slim fit.
Mom jeans are known for being super comfortable, but they also tend to have extra room, especially in the butt and upper thighs, which can make them less flattering on someone who is petite and have shorter legs. That is why it's so important to look for a slim fitted design, in order to look good on Petites.
Black Skinny Jeans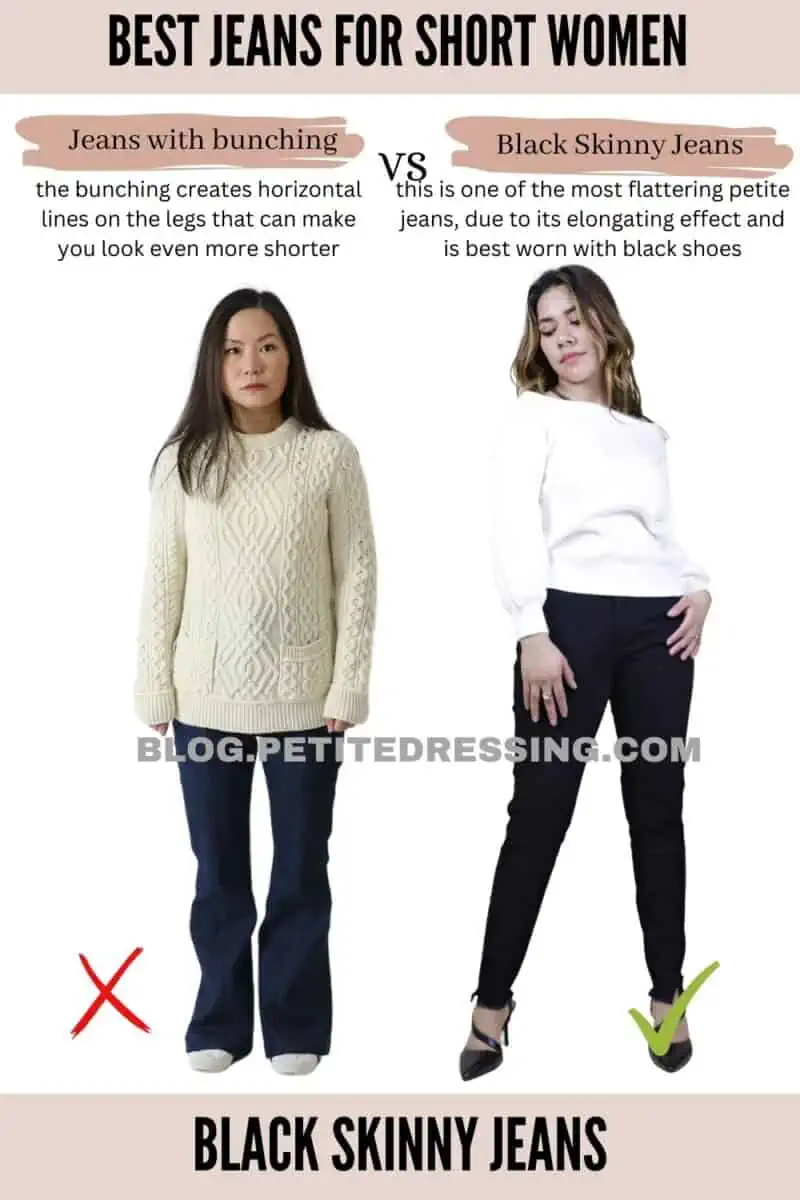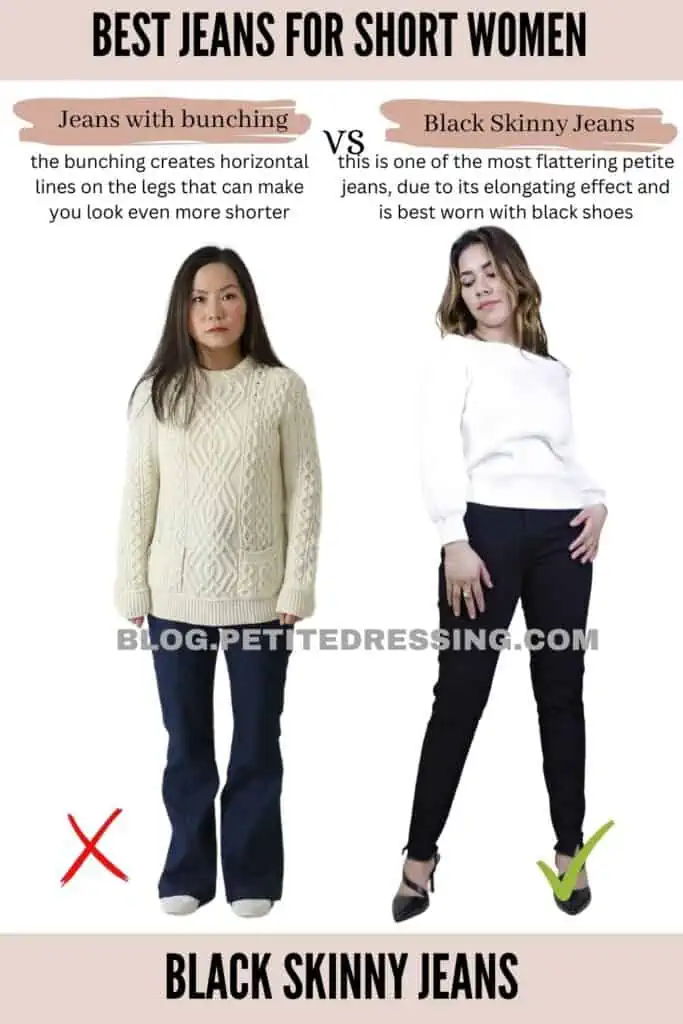 Black skinny jeans are one of the most flattering styles for Petites, especially when you pair jeans with black shoes. Immediately you will see the magic of extending your legs!
They will become your "it" jeans for the transitioning weather when you wear them with a cardigan. Did I mention they are the best buddy for knee high or ankle length boots in the winter?
The key to selecting the best black jeans for short women is the right inseam.
If you are petite and want the look of ankle jeans, 25" to 27" inseam will work the best, depending on your height.
If they are a little over your ankle, you can always cuff up an inch or two and they still look great. If you are petite but you really like the look of cropped jeans, the trick is it should not be too cropped.
For petite women, it is important to avoid horizontal lines in your styling. Cropped jeans that are too cropped will create that horizontal line that will make your legs look cut-off.
Petite Jeggings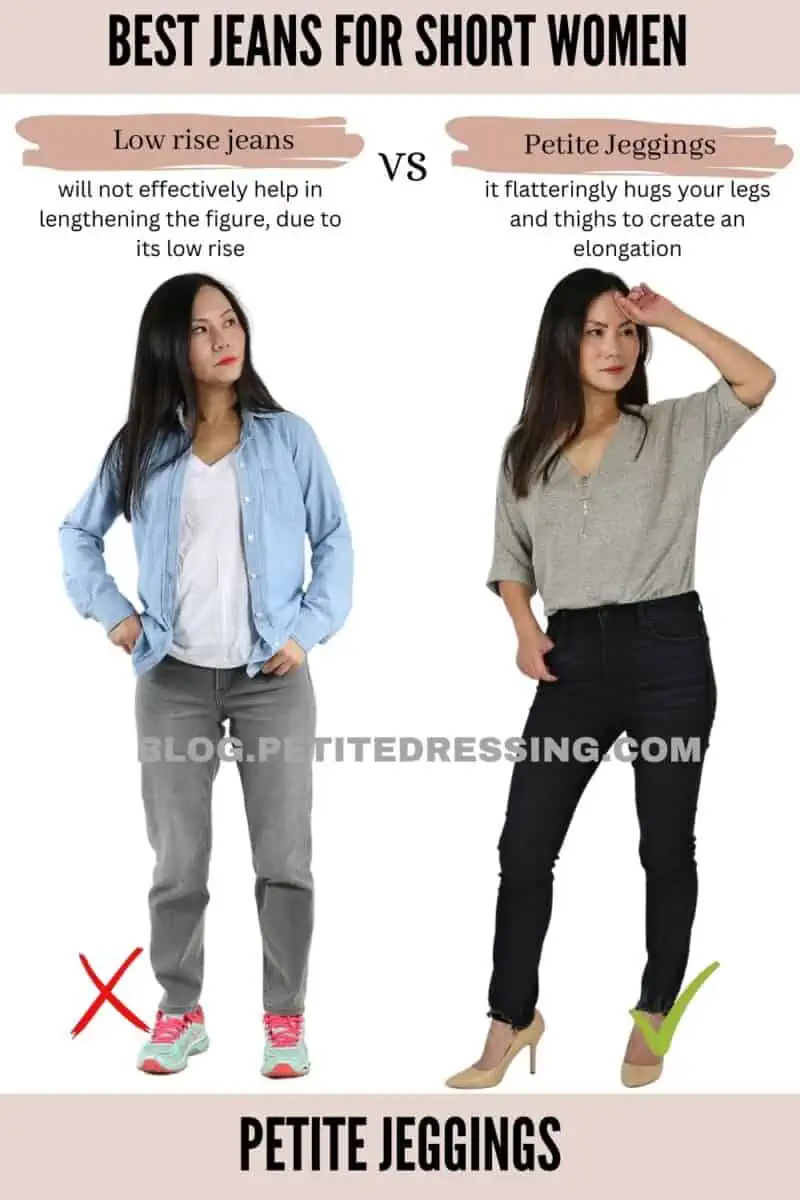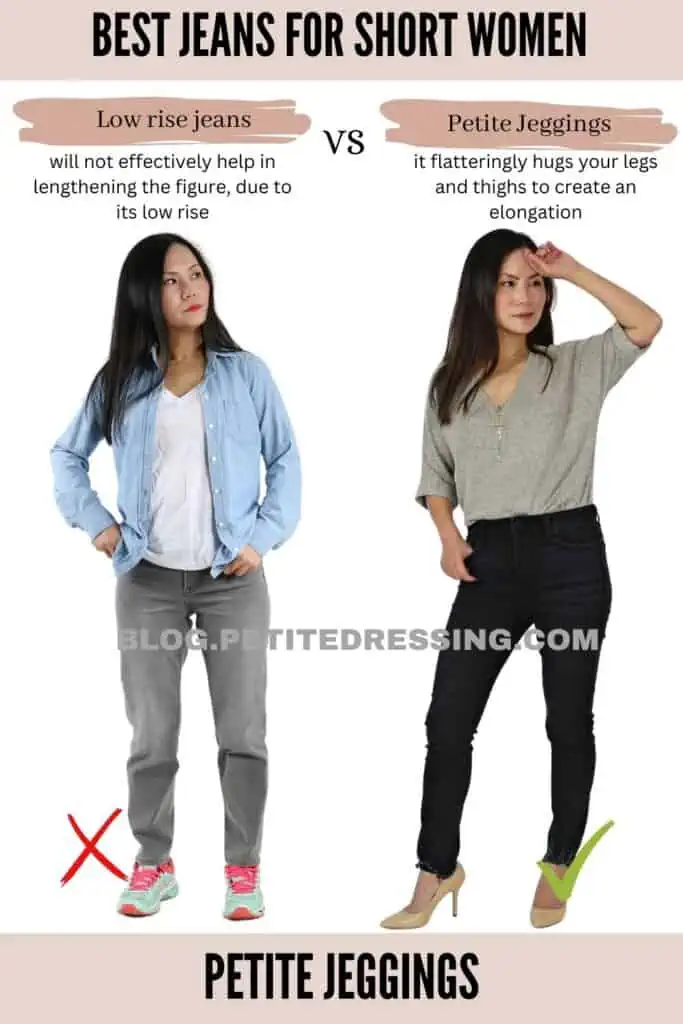 When the boots season comes, these is everybody's favorite jeans for short women.
I was wearing petite jeggings from ASOS and I highly recommend their jegging selection from their in-house design, if you are looking for economical options. I do suggest you size up, based on my several orders from them.
You need at least two pairs of petite jegging in your closet to go with your winter boots, whether knee high boots or thigh high boots.
They are called jegging but some of them are actually not made of denim. Of course, there are jeggings made of denim, but they don't have to. They can be any stretchy fabrics, as long as they hug your legs tight and are easy to fit into your tall boots.
Jegging has been in the fashion spotlight for quite a while now, but only in recent years retailers and brands have started to make them for petite women. I have no idea why, but that is just the fact.
It has all the flattering features of skinny jeans and it is the favorite go-to outfit for many petite celebrities in all seasons. When we pick out the best petite jegging for a short woman, one thing to keep in mind is the wash and the pattern also matters. The more solid your denim's wash, the longer your leg line becomes.
As mentioned earlier, the foundation of petite styling advice is to focus on creating one vertical line on your body in order to achieve the lengthening effect. Therefore, solid-colored denim makes your legs look longer than those with a lot of whiskering or fading. If you are into denim with patterns or in colors, stick with those with small prints and consistent wash. Even though many of us love distressed denim, petite women should keep the patches and holes to the minimum..
Full-Length Wide Leg Jeans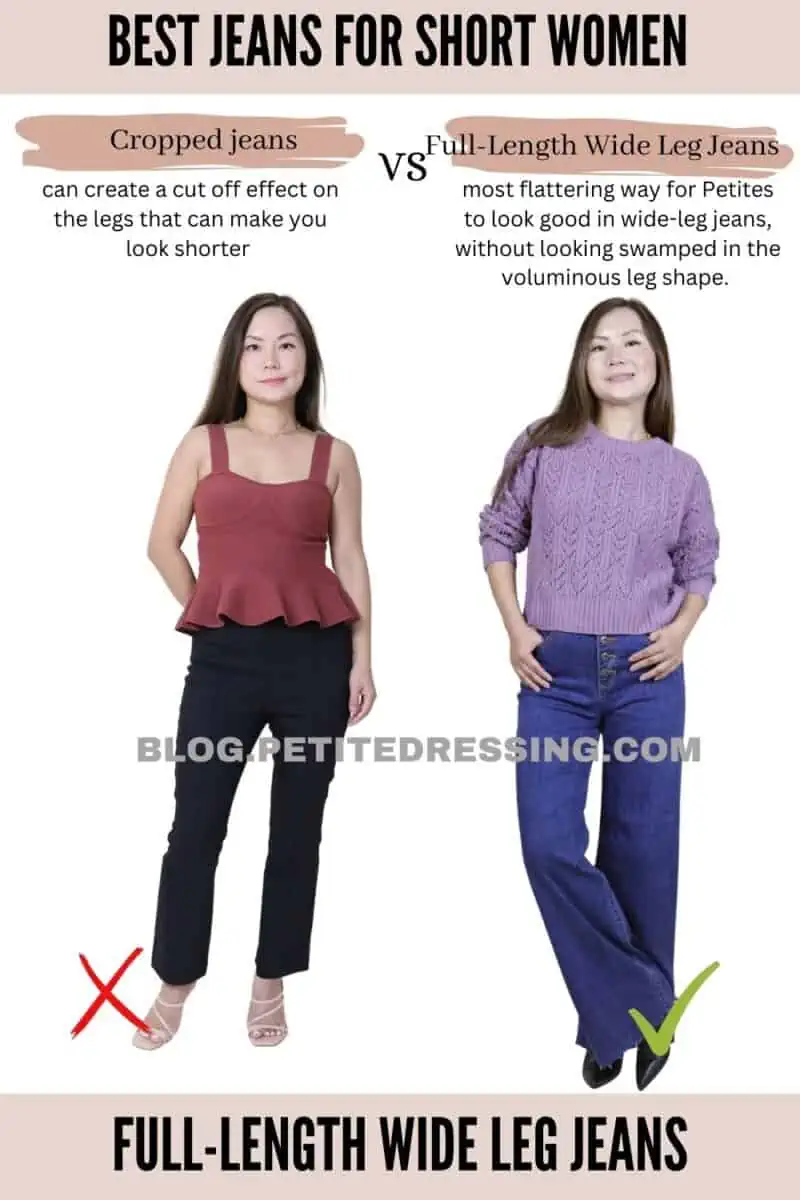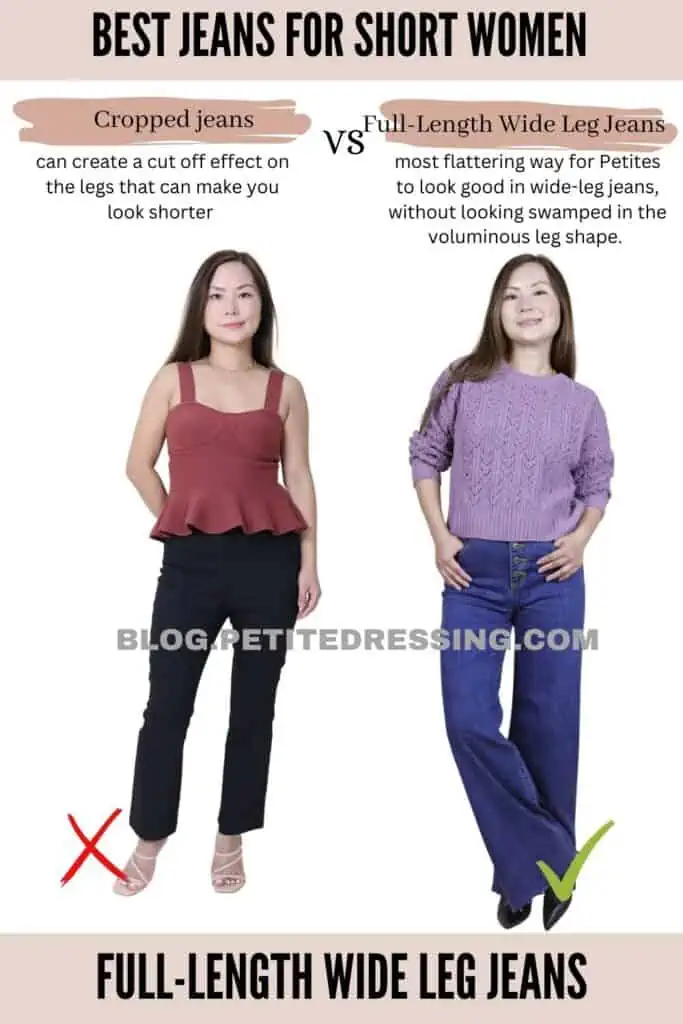 If you are wondering whether short women can wear wide-leg jeans, the answer is yes! You do want to make sure the wide-leg jeans are full length, in order to flatter petite women.
Here is the key- whenever short women wear wide legs, be it jeans or pants, we should get full length, in order to elongate our legs.
Ideally, you want to wear wide-leg jeans with heels, whether pumps or booties and make sure your jeans are long enough to cover part of your heels.
This is the most flattering way for Petites to look good in wide-leg jeans, without looking swamped in the voluminous leg shape.
Jeans with Vertical Details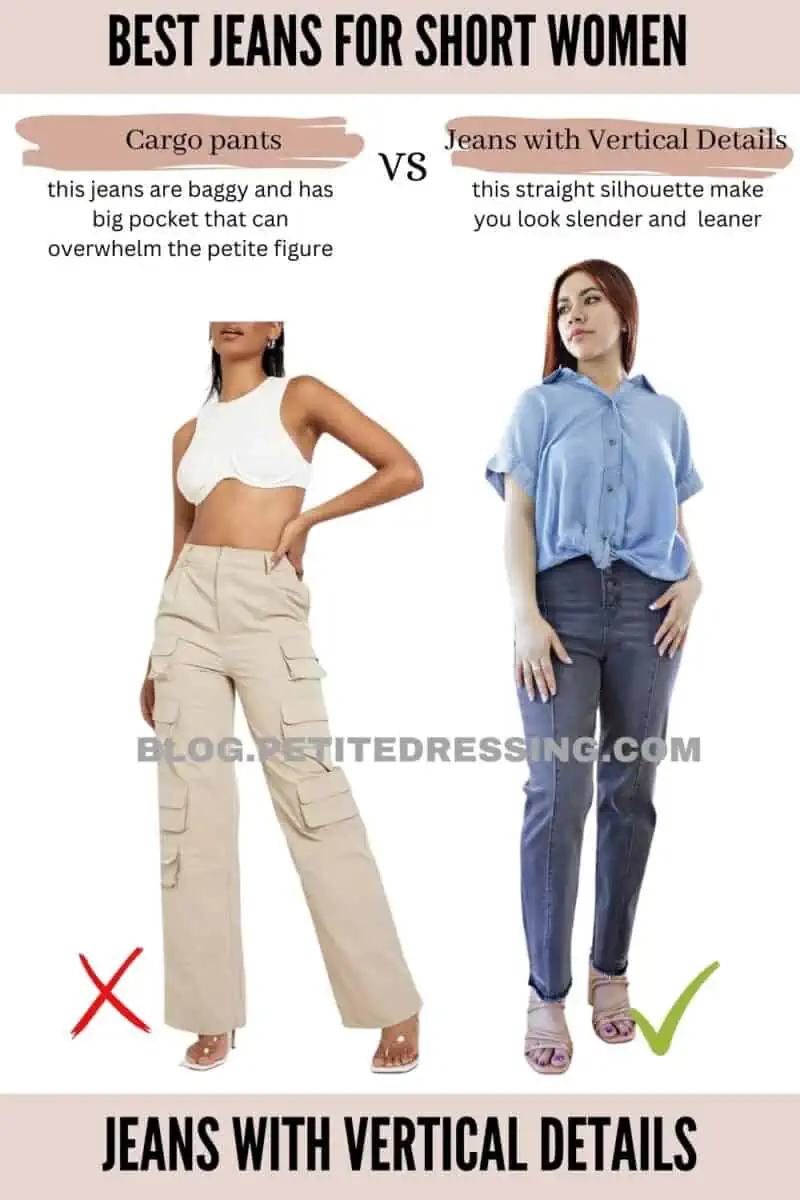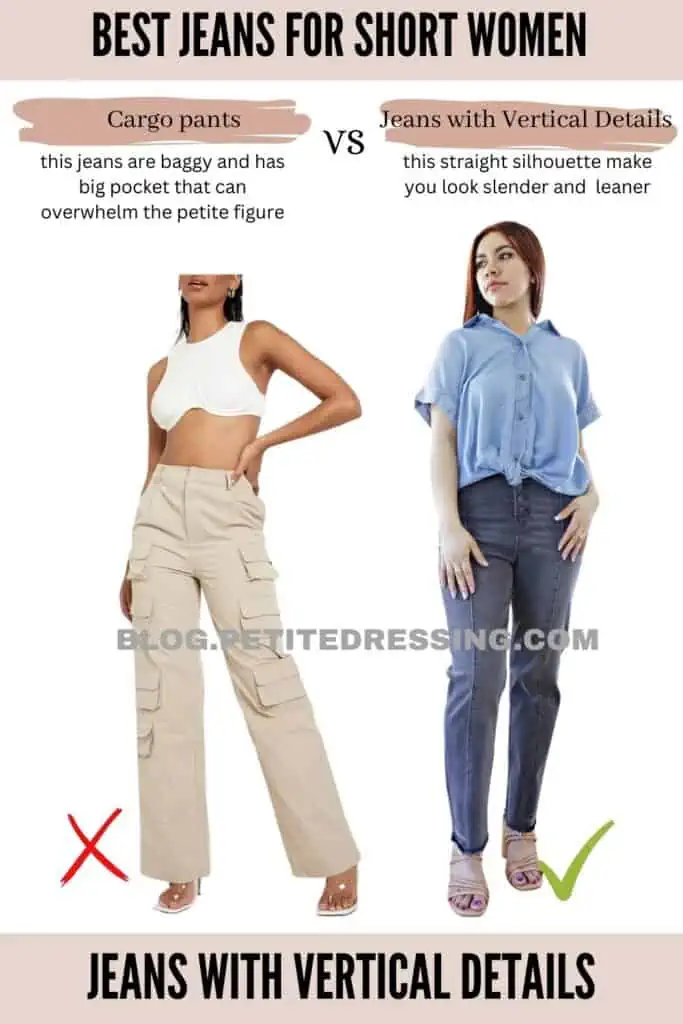 For petite women, the most important thing to keep in mind for styling is to create a vertical line. The vertical line draws eyes up and down and makes you look longer and taller. By wearing jeans with vertical details, you can create the illusion of longer legs. Plus, the straight leg silhouette makes your legs look straight and slender, regardless of your body type.
Now, are you thinking stripes? Sure, that helps, although you won't find many jeans with stripes. In fact, jeans with any vertical details like front seam or side seam all work. The most important part of making these jeans flattering for short women is the correct inseam.
As we mentioned earlier, because of the details of the design, it will be costly to buy the regular size and try to have them tailored to fit petite women.
Avoid Low Rise Jeans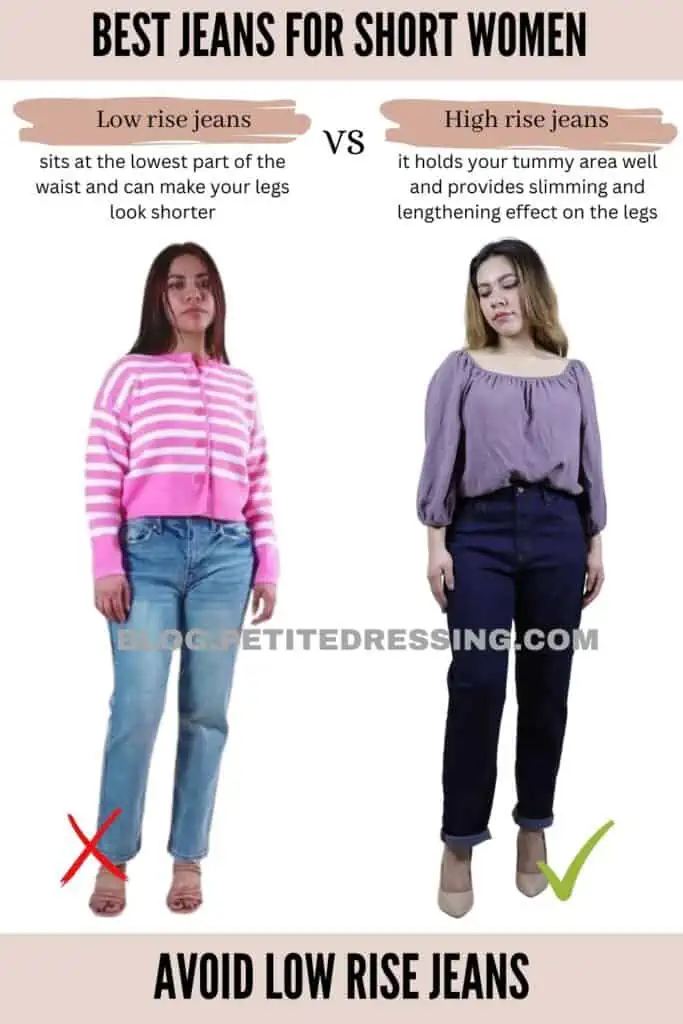 As I am updating this blog post in 2021, I am stressed out (LOL) about the news that low rise jeans are coming back to trend. Tom Ford has launched low rise jeans on his runway show, and even Levis is introducing them back in stores. They are not a petite-friendly design, period unless you have unbelievably long legs that you hate and want to hide through low cut jeans!
Sure, there is something good about them-they do look your stomach looks flatter. But that's not worth making your legs look shorter, in my view. So, my petite friends, even though you might soon see low rise jeans all over the place and you might even see them on petite celebrities or your favorite instagram it girls, please resist the trend and let's stick with the classic high rise jeans!
How to find your best fit
Since it is so hard to find petite size jeans, a lot of petite girls are used to sending it to the tailor and having it hemmed.  Does that solve all the problems? Maybe, sometimes.  But, here is why that won't work every time in the long term and you should first look in petite department, whenever you are shopping for jeans.
First of all, it is not cheap. It could cost from $15 to $20 to have the jeans hemmed by a tailor.
Secondly, you will have to lose some details on the original hem such as ruffles, raw edge, zipper, and etc. If you really want to keep the original hem, the tailor may charge $20 and above (depending on the complexity of the details you want to keep) for the additional work. Plus, the result is not guaranteed to be as good as the original.
Thirdly, just making the jeans shorter does not necessarily mean it will be flattering on petite women, and some styles are not really suitable for alteration. For instance, ripped jeans may have the holes around the knee area, and it will look awkward the ripped area is hitting your calves even after you take in the hem.
---