Are you petite?  Do you have inverted triangle shape?  If you are not sure what is an inverted triangle shape, in today's Hollywood, Victoria Beckham is the most typical inverted triangle shape.  Inverted triangle shares some similar characteristics with rectangle shape.  Some women are clearly inverted triangles.  Others tend toward some features of being rectangle shaped, but are slightly triangular in an inverted way.   At Petite Dressing, we believe each petite body type have their own unique treats and everyone has the potential to be attractive, as long as we use the right dressing techniques to enhance our assets.  First things first, let's take a look at what is an inverted triangle shape.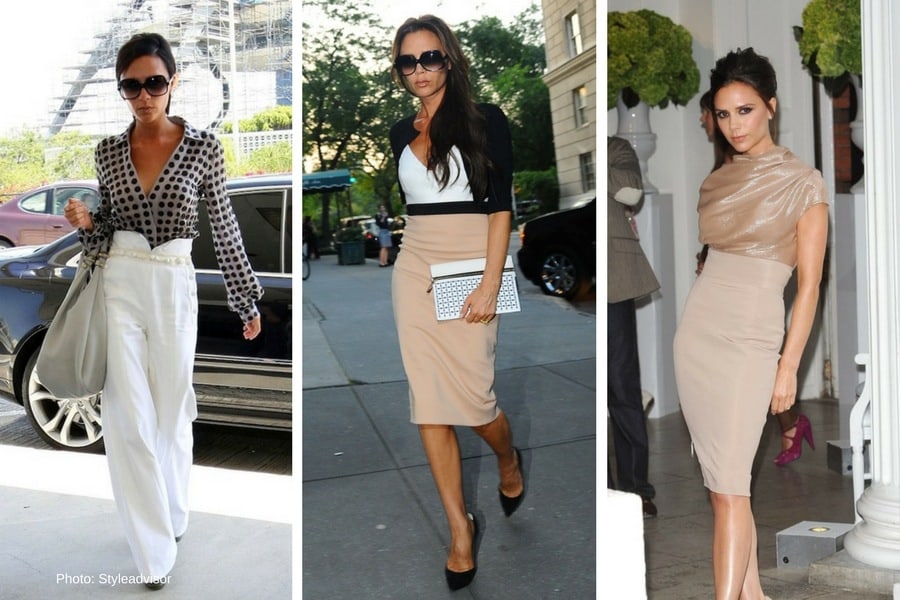 You have prominent and broad straight shoulders, which are wider than your waistline or your hips.
Like the rectangle shape, you are likely to have athletic build
You have ample bust and a wide back. Your chest may be larger and your back may be fuller than petite rectangles.
You have a proportionally larger upper body
You tend to have rather flat buttocks. Your hips are slim and your bottom may have a tendency towards the flat side
Your waist is subtle and you have a tendency to gain weight first in your belly and upper body, especially your back, when you gain weight.

In one word, petite inverted triangle shape women have an "athletic build", and above are the typical features of petite body shape.  However, because human body have some many different variations, most likely not one body would fit into all features of one body type.  If you feel like you have some but not all of the traits above, it is possible you are a combination of inverted triangle and other body types.  Click on Petite Body Type to read more and take the quiz and find out what body type is closest to you.
Now that we talked  about how to define the inverted triangle shape,  it may have become clear to you that the best assets is your beautiful, shapely legs.  The key to dress an inverted triangle body type is to balance your broader shoulders, chest and back with your narrower lower body to create more of an hourglass effect. This is achieved by choosing clothes that add curves to your hips and bottom while creating a more defined waist.
Best Tops for Inverted Triangle
The inverted triangle shape should think vertical- as anything that has width in a horizontal direction is only going to make your shoulders look wider.  For petite women, another benefit of wearing vertical details is they will also visually create length in your body, and thus make you look taller.  Consider vertical stripes, thin lapels, and vertical seams that draw in at the waist.  Princess seams, side paneling, pin tucks and top stitching all look great on inverted triangle shaped petite women.

It is important for the inverted triangle to create some balance between the slimness on your bottom half and the width of the top.  Tops with vertical details on the upper body will make your upper body look more slender and therefore will balance with your slim bottom half.
You will look great in tops with narrow v-necks and nipped in waists that flare slightly at the hip, as they will narrow your upper body while creating some curves around the hip.   Wearing deep shawl collared or lightly coweled tops, particularly in dark colors with a light shell underneath will also achieve the same effect.  Deep V-neck wrap style tops is universally flattering to petite women, because they make your neck look longer and proportion look better.  They are especially suitable for inverted triangle shape petite women.
You will also look great in a highly tailored button downs that emphasize your waist and can be unbuttoned at the throat. Even collarless looks are great for inverted triangle shape, especially if you can unbutton at the top a bit and the shirt is tailored at the waist.
If you want to distract people's attention away to your prominent shoulders, you may want to wear strapless tops and off shoulder tops.  For inverted triangle shaped women, your bra can help to balance the width of your shoulders by bringing more attention and definition to your bust.  The right bra will help to accentuate your waist and give your more options when it comes to tops and dresses.
Best Bottoms for Inverted Triangle Shape
We mentioned earlier your best assets are your beautiful legs.  You have amazing legs so feel free to play with skirt lengths, but don't go too short otherwise you will further a top-heavy look.
In order to balance your bottom with your prominent shoulders, what you can do is to create volume in your bottom half.  Pants with wide or flared legs are flattering to your figure. Side pockets or flap-style back pockets also help balance your upper body. Cargo style pants are particularly flattering.
Boot cut, slightly flared, or trouser cut jeans are the most flattering on your figure. whiskering at the hips and flap-pockets will add curves to your lower half.
A-line skirts fill out your slight hips while balancing your upper body. Look for details around the hips or bold colors and prints to further enhance the effect.
A nipped-in waist and flared bottom will add curves to your hips.
Full or ballerina type skirts add curves to your lower half and balance your broader, upper body. You have great legs, so feel free to play with length.
Best jeans for you
Best petite jeans for you is straight or skinny jeans in light or bright color, which will balance your broad shoulders and add some femininity to your athletic body frame.  Olive color jeans has been the favorite choice of color for jeans by many Hollywood celebrities and models in recent years, because it is sexy, classic and chic.  Similar to petite rectangle shape, if you want to create some curves back, then you should go for jeans with pocket details.
Victoria Beckham (5'4″) has prominent broad shoulders and muscular build, a typical petite inverted triangle body type. Sarah Jessica Parker (5'3″) has broad shoulders, slender waist and very athletic build.  Because of her full chest and slender waist, Sarah Jessica Parker could be a combination of inverted triangle and petite hourglass (the skinny version).  They both love olive jeans, a very flattering jeans color for petite women with inverted triangle traits.