Being a petite woman is something to be proud of – seriously! I am 5'2″ and I have a clothing line for petite women 5'4″ and under.
I know it can feel like a frustrating thing sometimes, when it comes to finding clothes that really flatter, but work with what you have. It's so much more fun when you embrace your petite figure, plus it's a whole lot easier to see the positive and dress accordingly when you begin enjoying being petite.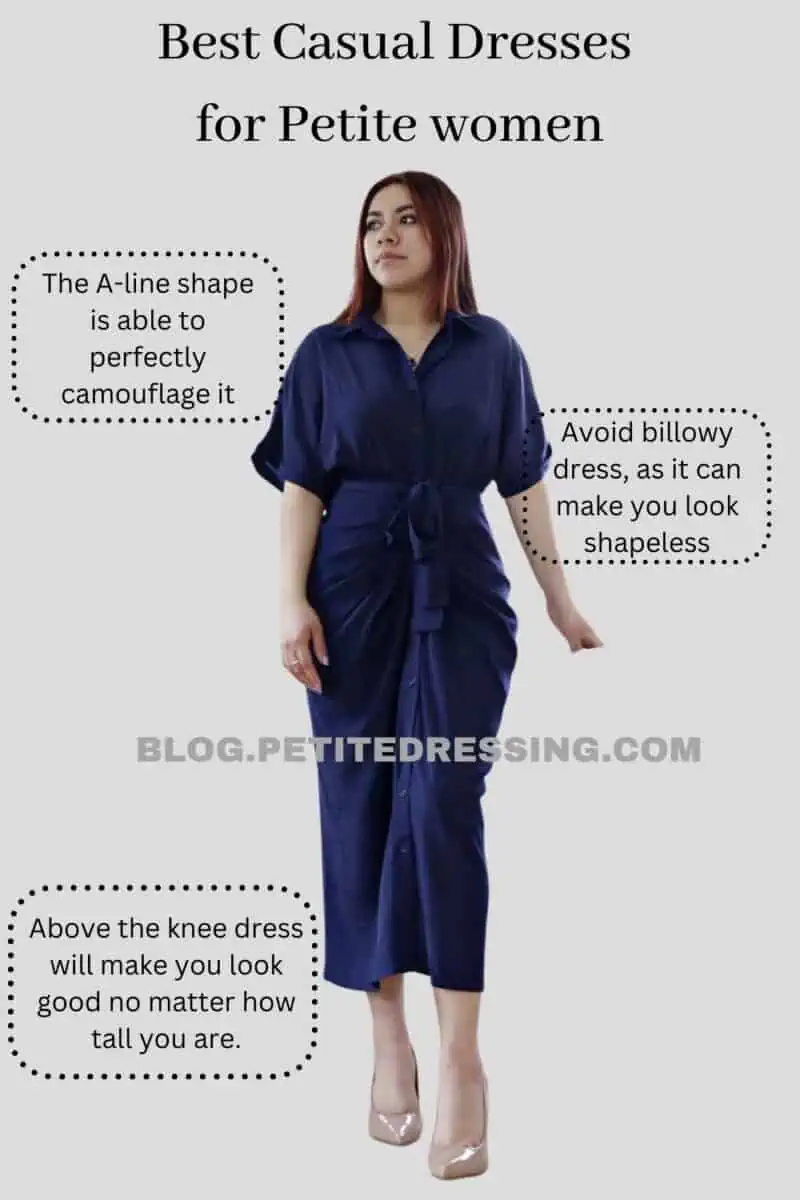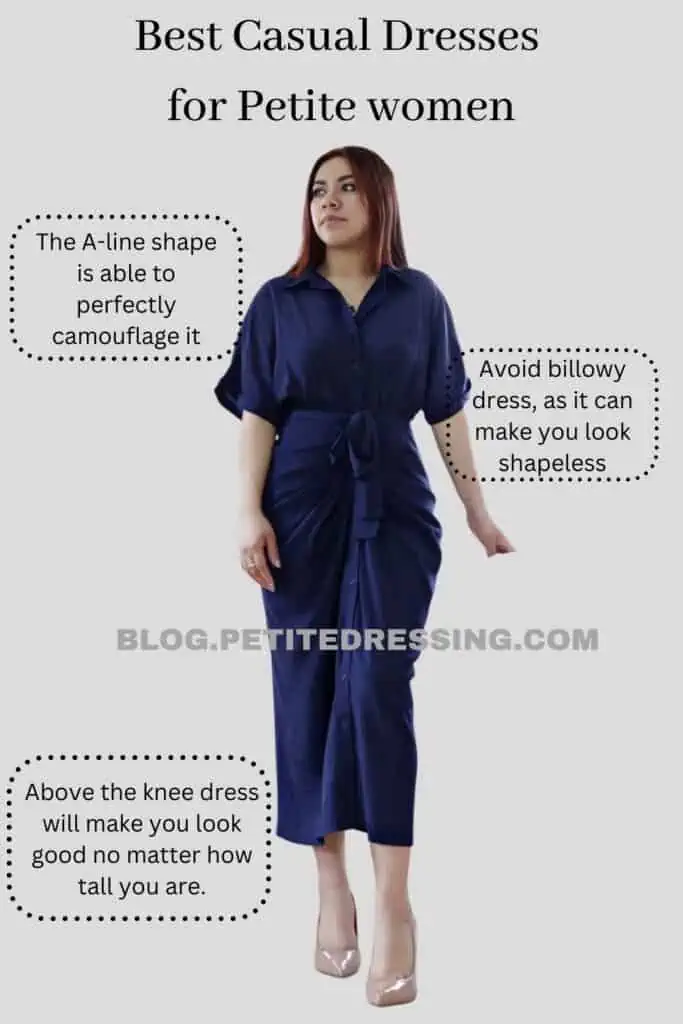 Based on my own experience, as well as feedback from thousands of my petite customers, I've put together this comprehensive guide to help you find the best casual dresses.
The Silhouette
The silhouette is the overall shape of the dress, and this is a critical consideration when you are looking for casual dresses for petites. Below are the most flattering shapes that you should consider:
Empire waist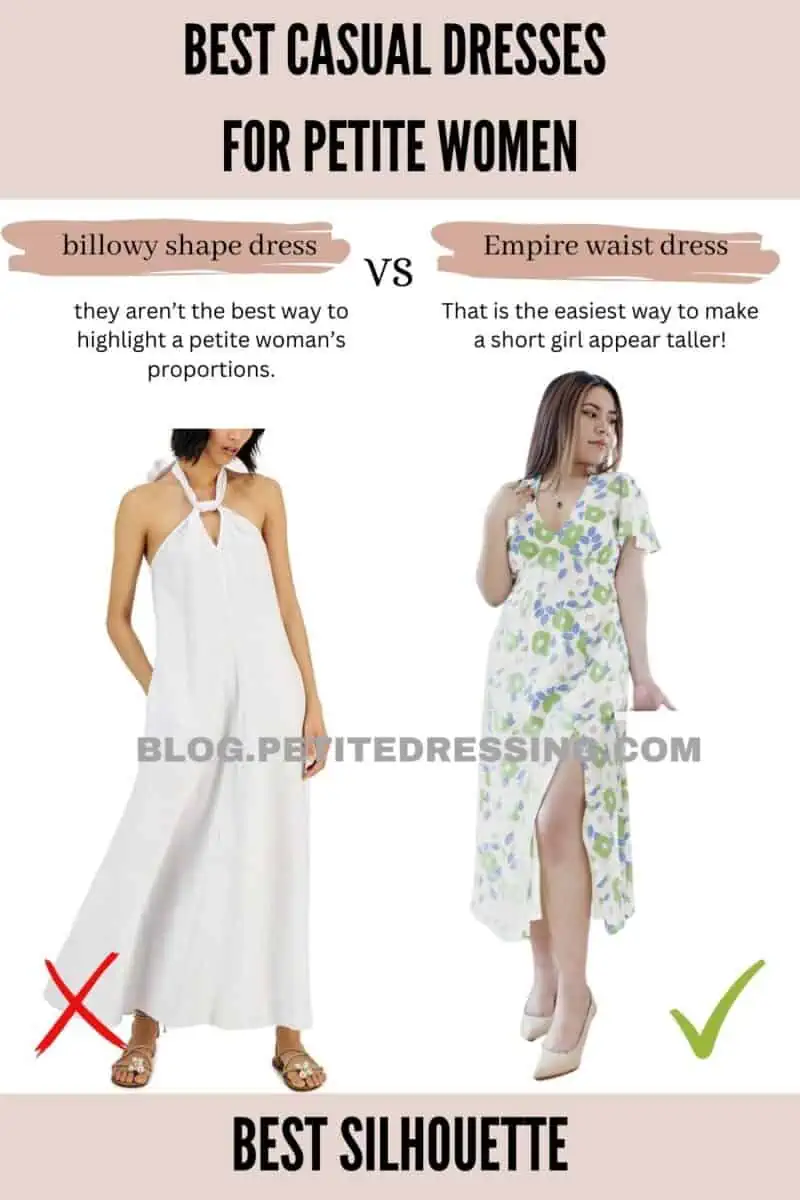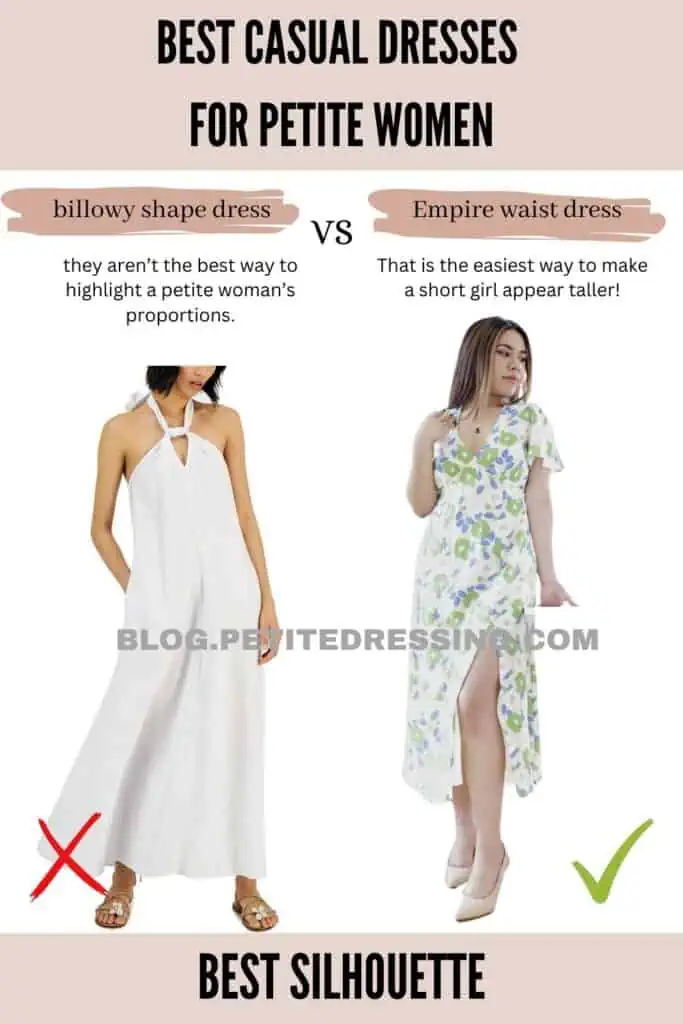 When it comes to dressing to flatter your petite frame, working with your body's proportions needs to be a main focus.
For that reason, the empire waist is a great design because the waist is sitting higher on your torso.
Since the waist is higher than your natural waist, the eye is going to assume anything under this point is all your legs.
That is the easiest way to make a short girl appear taller!
A line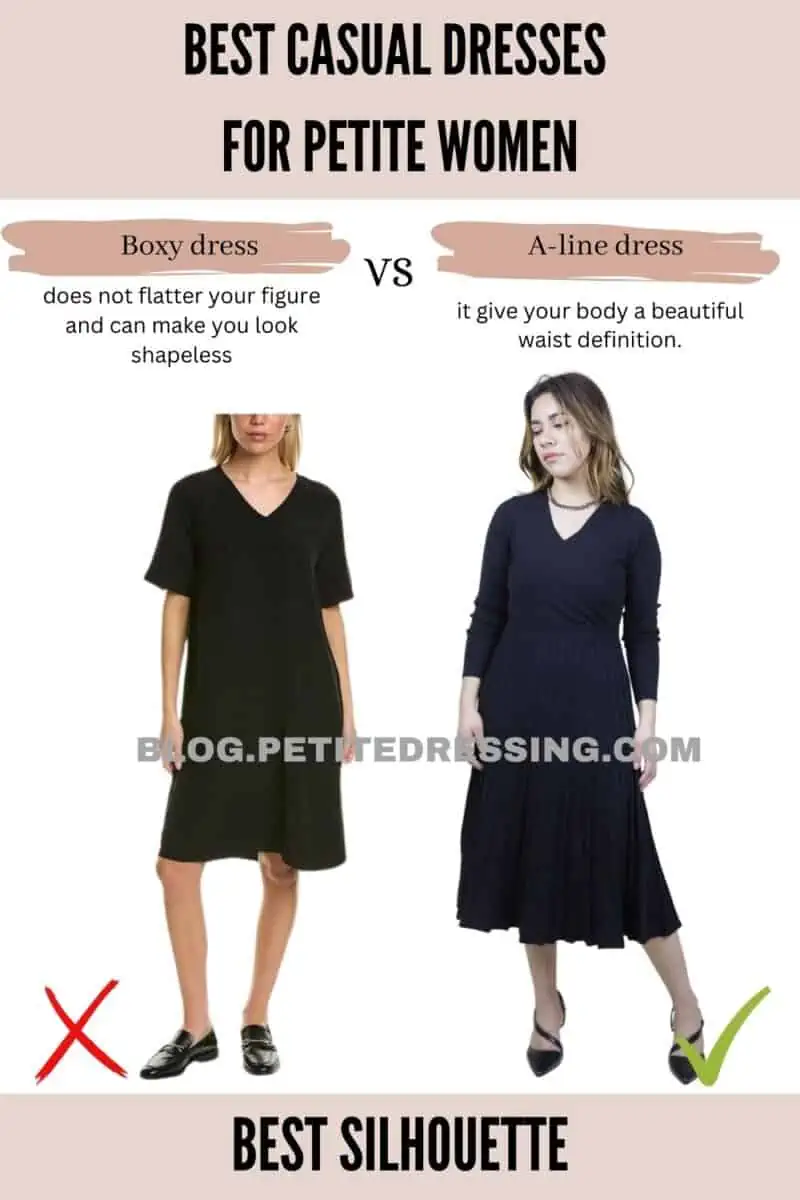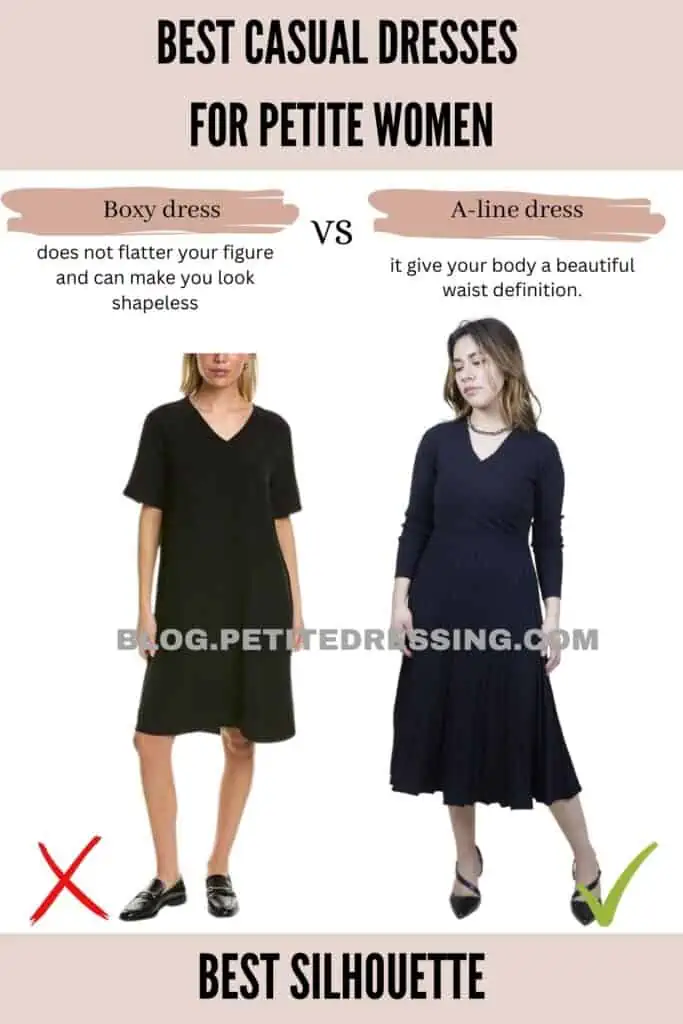 This is one of our most popular types of dresses, as they are the most universally flattering.
Like the letter A, they are fitted on your top half and then flare out under your waist, giving your body a beautiful waist definition.
So, whether you carry weight on your tummy, or your hips or thighs, the A-line shape is able to perfectly camouflage it, and that is why our customers of all age groups and body shape all find these most forgiving and easy to wear!
Avoid billowy shape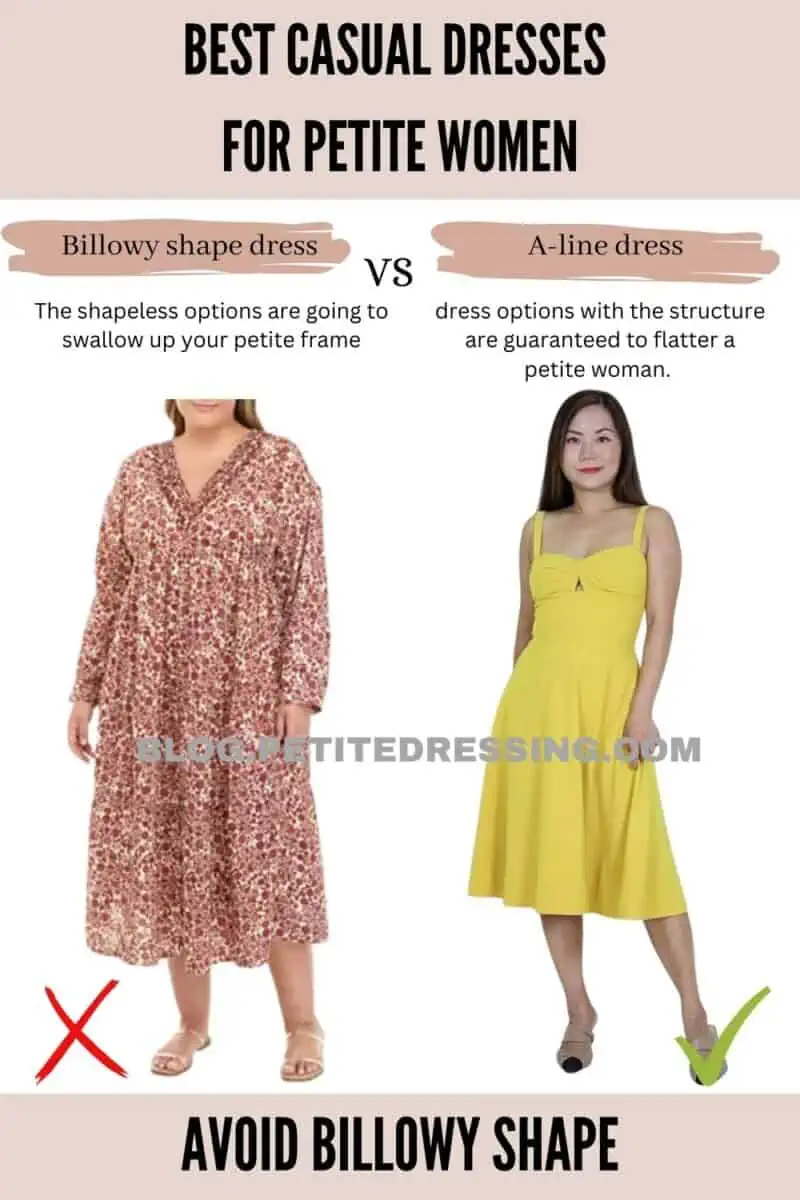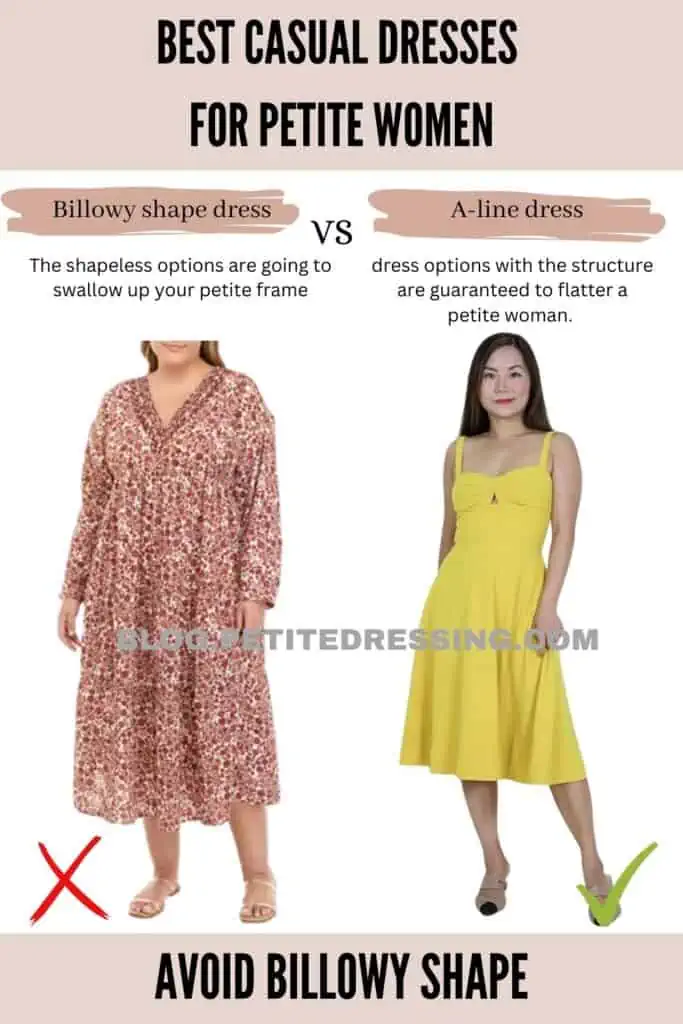 Oversized silhouettes (or "gender neutral") are a huge trend right now. Unfortunately, they aren't the best way to highlight a petite woman's proportions.
I know a lot of women love flowy, shapeless dresses for their petite casual dresses, but I suggest skipping those shapes and sticking to something with more structure.
The shapeless options are going to swallow up your petite frame whereas options with the structure are guaranteed to flatter a petite woman.
Waist cinching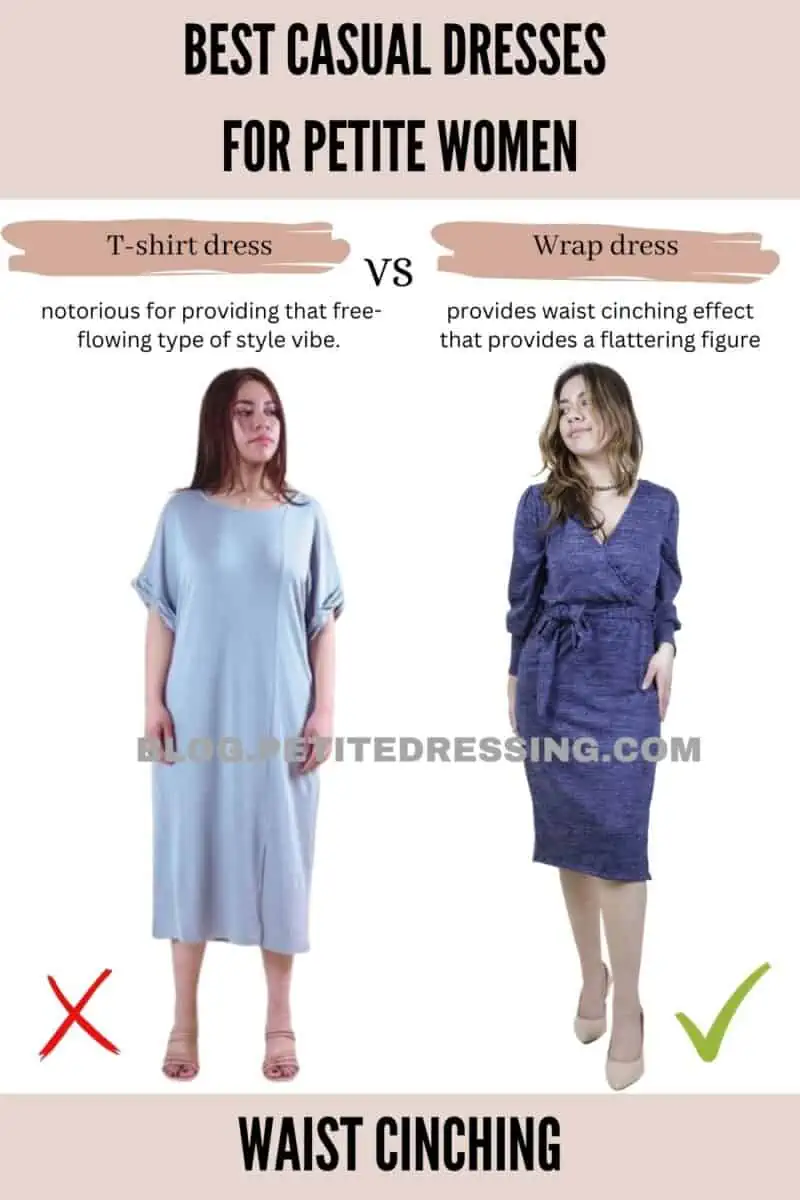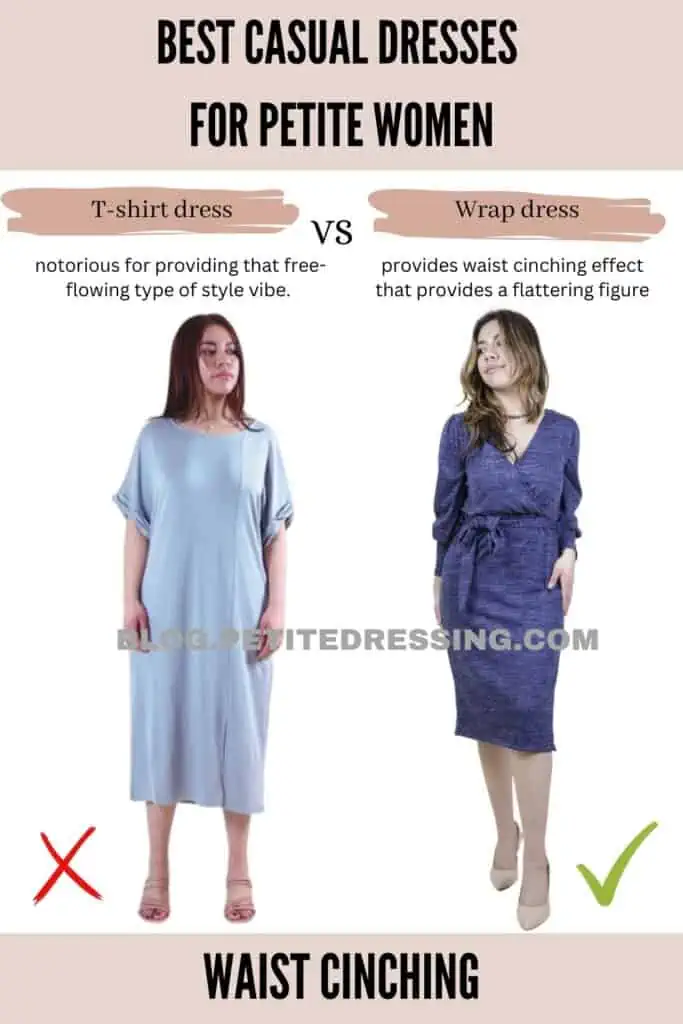 Some casual dresses (especially T-shirt dresses) are notorious for providing that free-flowing type of style vibe.
I mentioned above that petite women should focus on petite casual dresses that have structure to avoid overwhelm, but one of the loopholes around that is to cinch your waist.
This means that if you see a free-flowing type of casual dress that you've fallen in love with, but the silhouette is really overwhelming to your body, you CAN make it work by cinching your waist.
Adding a belt to the waist of a petite casual dress is one of the best style secrets to making a non-flattering dress flattering.
All that said, you don't want to have all of your petite casual dresses requiring you to add an additional belt in order for them to flatter your body. In general, I recommend searching for petite casual dresses that have a built in waist cinching detail for this reason. This can be done with a tie at the waist, elastic, or anything else.
COLORS AND PRINTS
One of the fun things about casual dresses is they come in such a wide variety of colors, fabrics, and prints.
Neutrals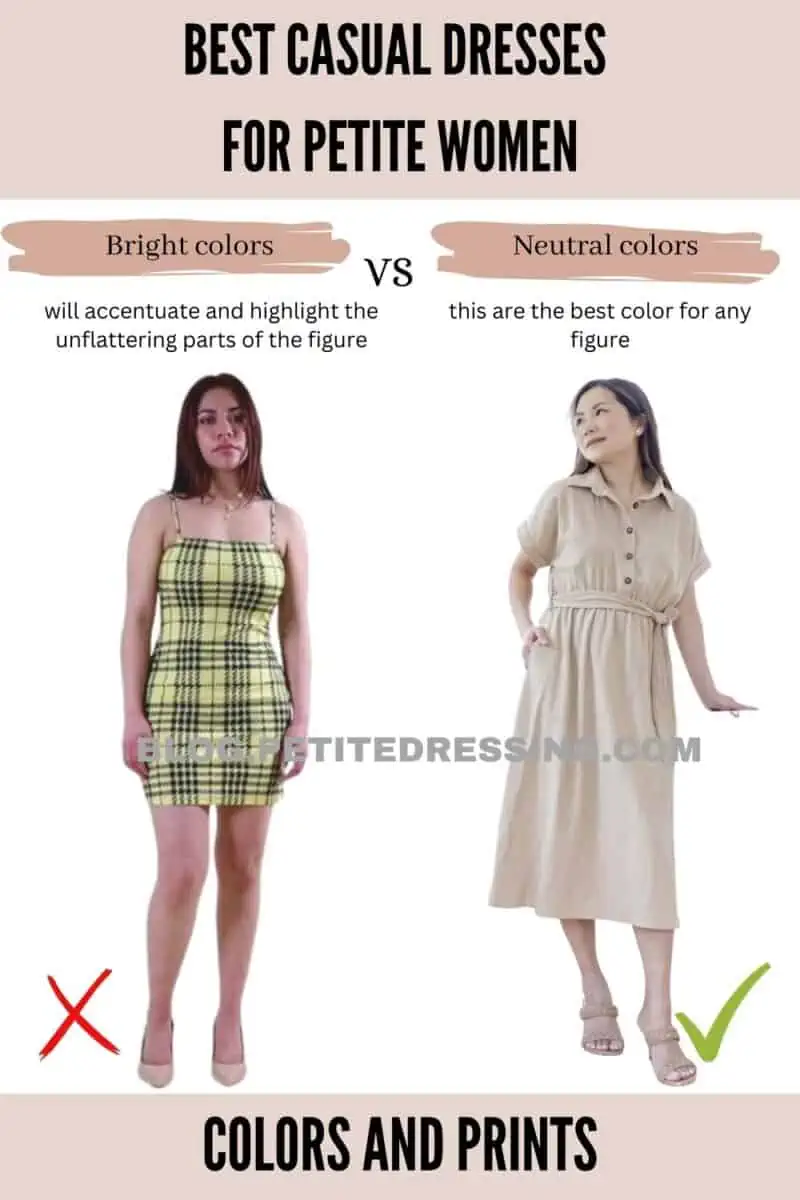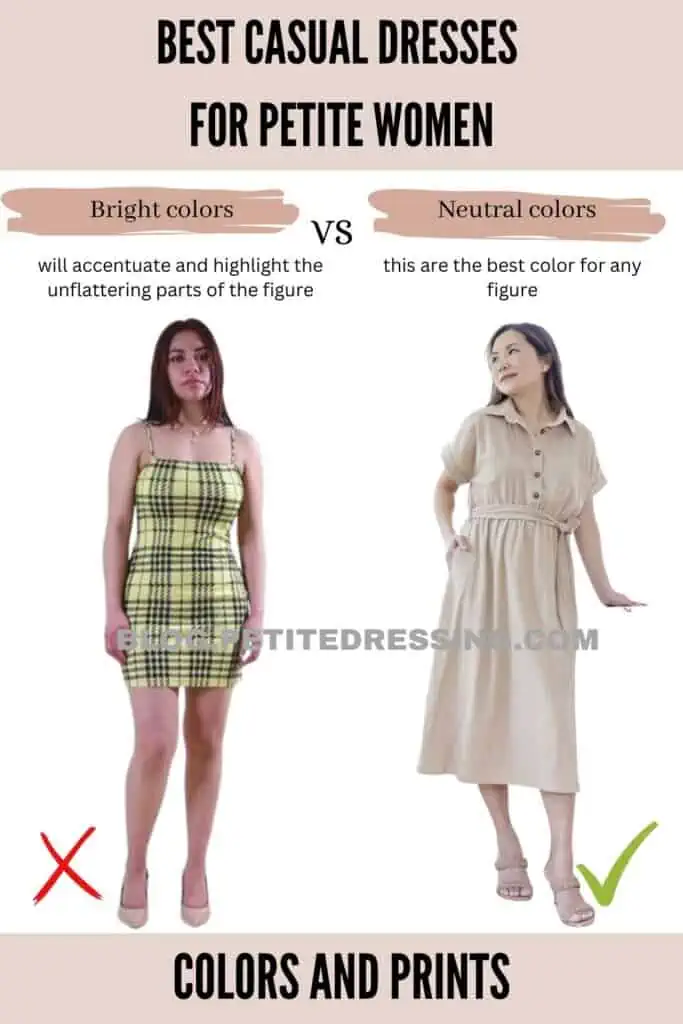 Neutrals such as white, beige, and navy have been the biggest trend in the past decade, if not longer. The best part is they go with just about anything.
So, to really get the most versatility from casual dresses for short women, choosing neutral colors is going to be your best bet.
But that's not to say you can't have fun with other colors – just make sure that you have some of the staple neutrals as well.
Vertical stripes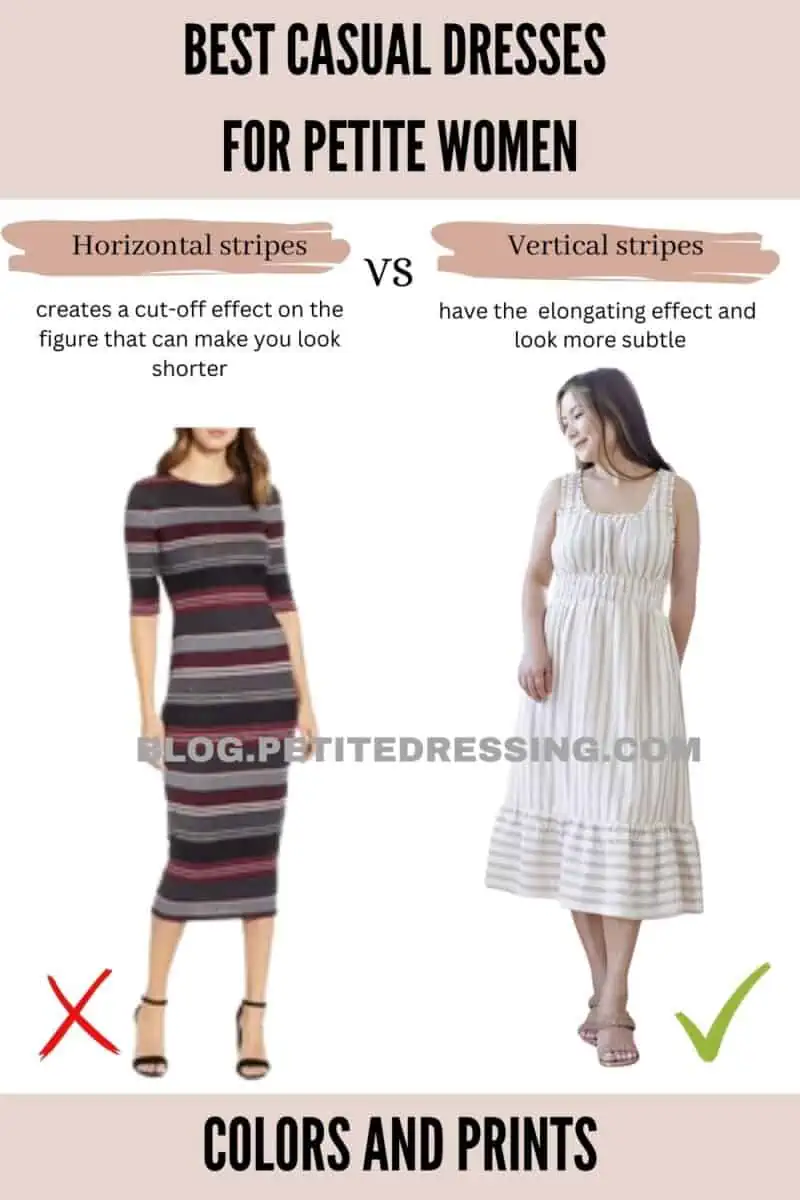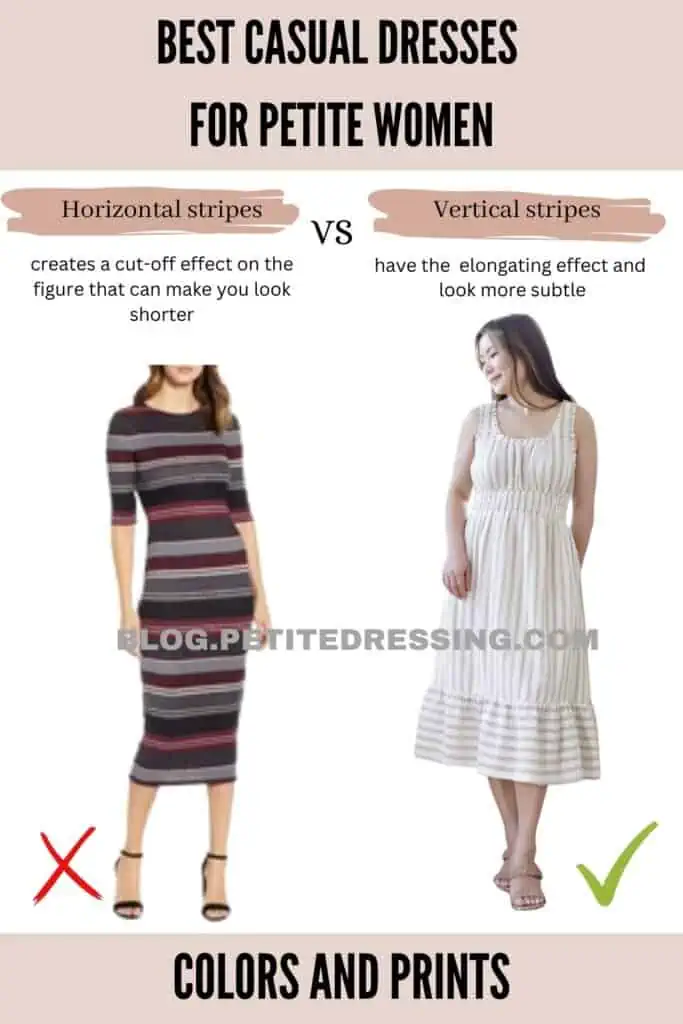 We all know that vertical lines lengthen, and horizontal lines expand you.
So, if you are shorter, vertical stripes can be quite flattering for your casual dresses.
This doesn't necessarily mean you have to look like a zebra! Some of our best-selling sun dresses are light taupe color stripes on an ivory background, which have the same elongating effect but look much more subtle and that's why our customers love them.
Caution with large prints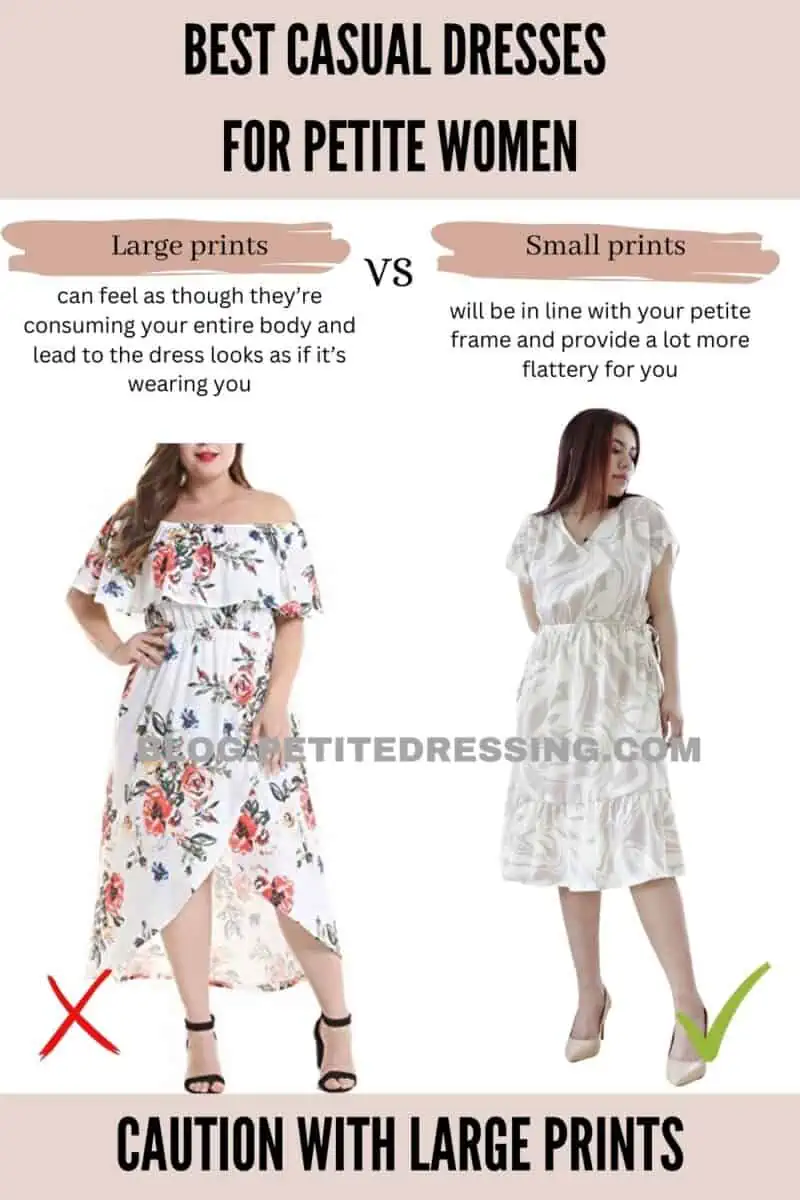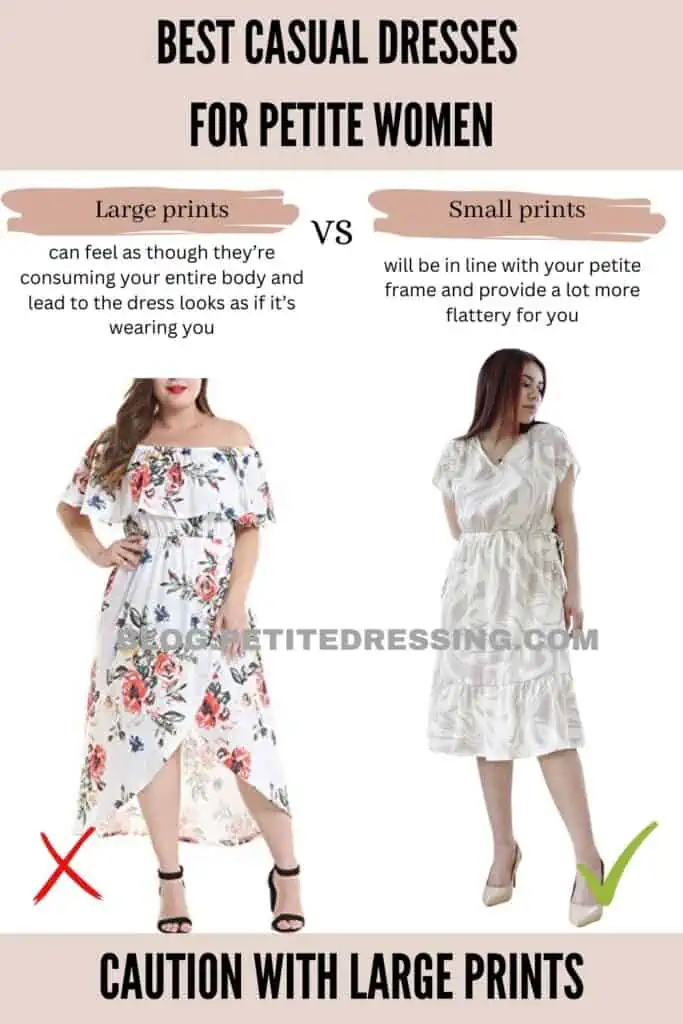 When you are petite, large prints can feel as though they're consuming your entire body and lead to the dress looks as if it's wearing you, rather than you wearing the dress.
This is exactly why anytime you are looking at casual dresses in prints, it's essential that you're sticking to prints in scale to your body size.
The reason I didn't say smaller is always better is that petite women can have different shapes and sizes too. Petite doesn't necessarily mean skinny.
If you happen to be a skinny short girl, then the smaller print will be in line with your petite frame and provide a lot more flattery for you. If you are on the curvy side or are a plus size, then just choose something in scale to your size.
The rule of thumb? Normally if the prints are smaller than your fist, then they are good to wear.
If you're in a place where you are looking to build your casual dress wardrobe, I suggest adopting a variety for yourself. For example, having one solid, one printed, etc. This will give you more styling options and help you from feeling like you're wearing the same dress over and over throughout the season.
LENGTH
It's nothing new that length of dresses is a key attribute petite women need to pay attention to.
I'm a petite woman myself and I've learned over the years that the length can make or break the entire look of a dress on my body. Chances are you're going to find petite casual dresses in a wide range of different lengths and I want you to have fun when selecting the best casual dresses for you.
But I will say that the best, most flattering casual dresses for petite girls like us are these two:
Above the knee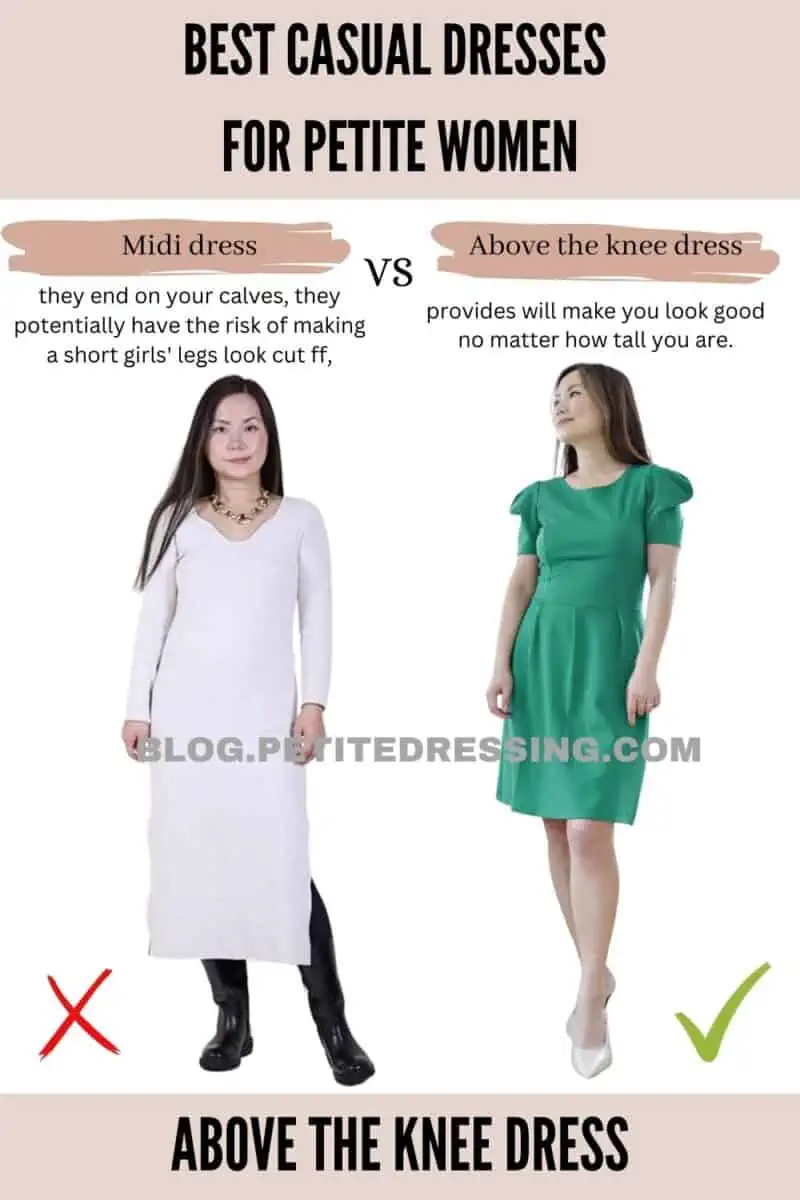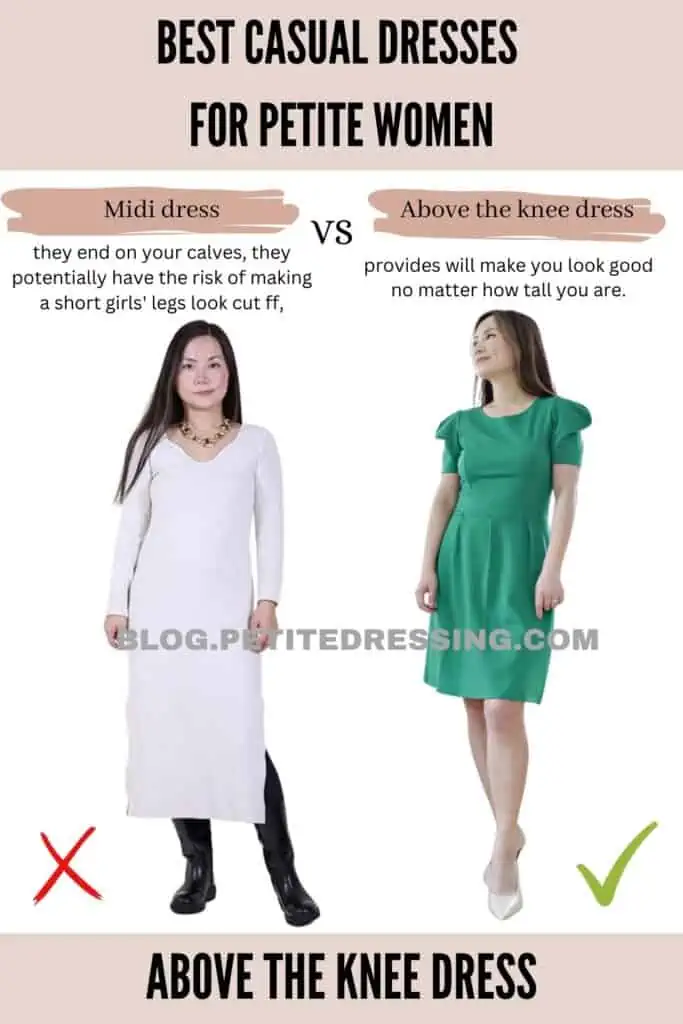 This is the most versatile length that is going to suit petites of all heights.
Yes, we are all petite, but I have customers 4'11 as well as customers 5'3″, so that is still a pretty wide range!
The above-the-knee length is the most popular of our dresses because they will make you look good no matter how tall you are.
When they are short, a couple of inches above the knee is ideal.
Maxi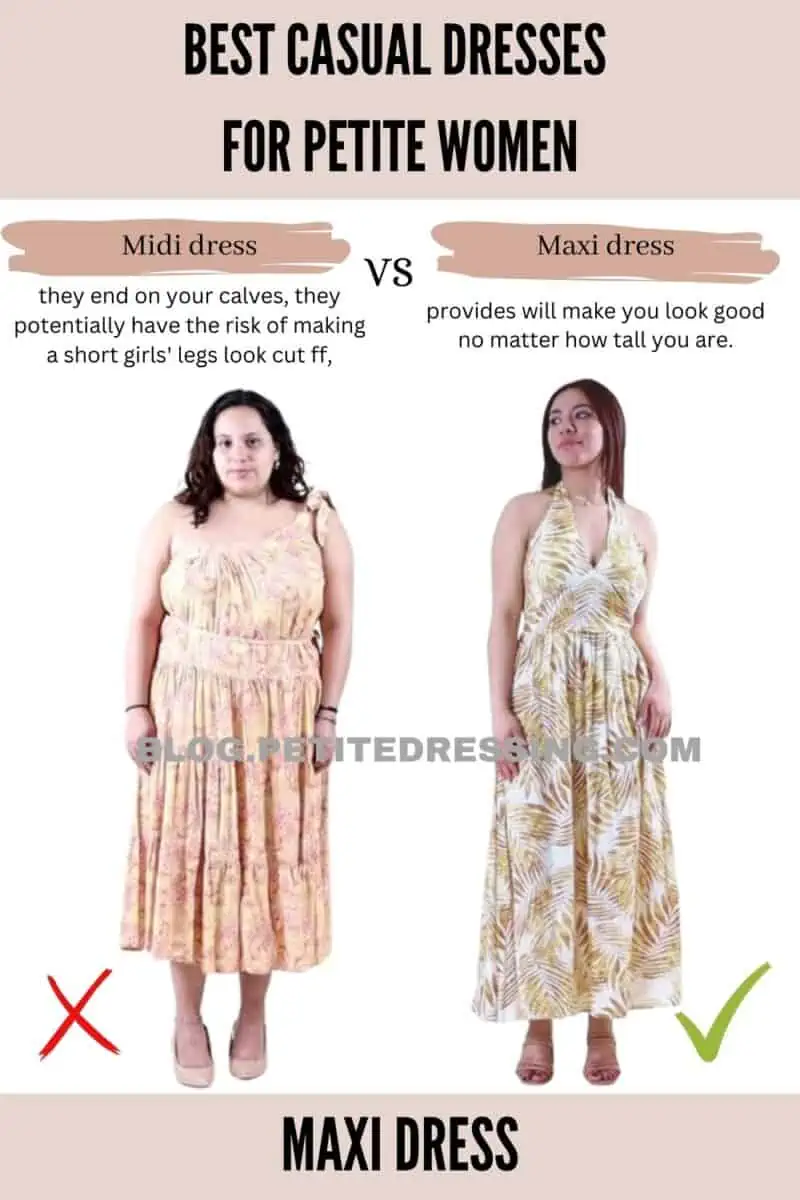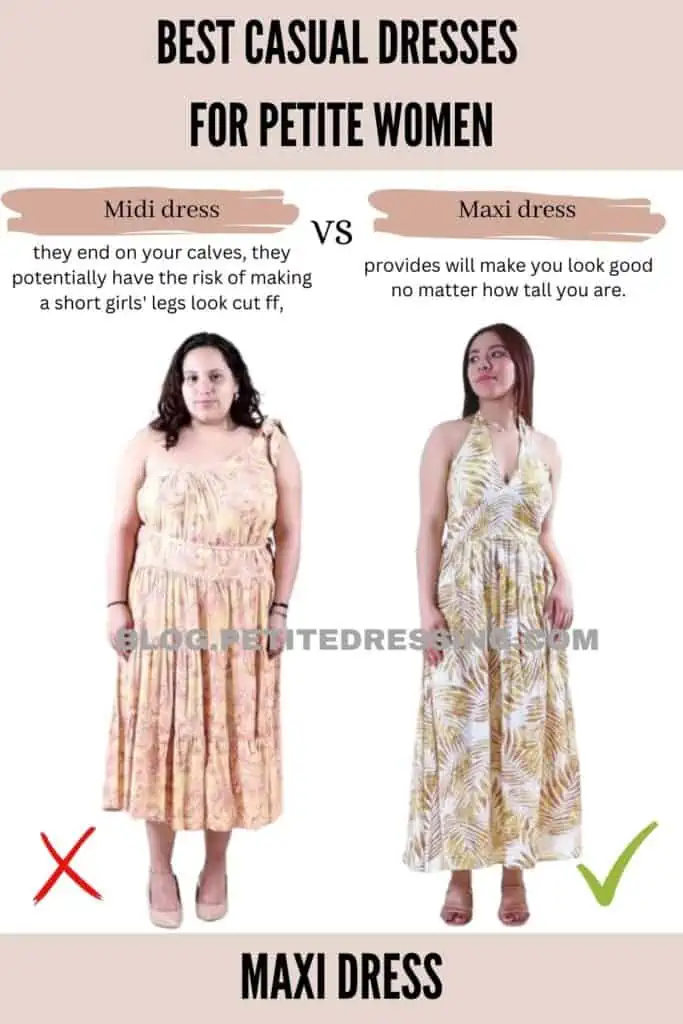 Now, I know it sounds tricky with long dresses. That seems to be a look harder to pull off by short girls and it can be harder for a petite woman to appear flattered in long casual dresses.
It is possible to long casual dresses can sometimes feel fussy. Who wants to feel weighed down by their casual dresses? I don't know anyone!
But, here is a big BUT. Once you know the hacks to wear maxi dresses as a short girl, you will find them totally irresistible. They all of a sudden become your favorite weapon that can make you look taller, even in flats!
Selective with midi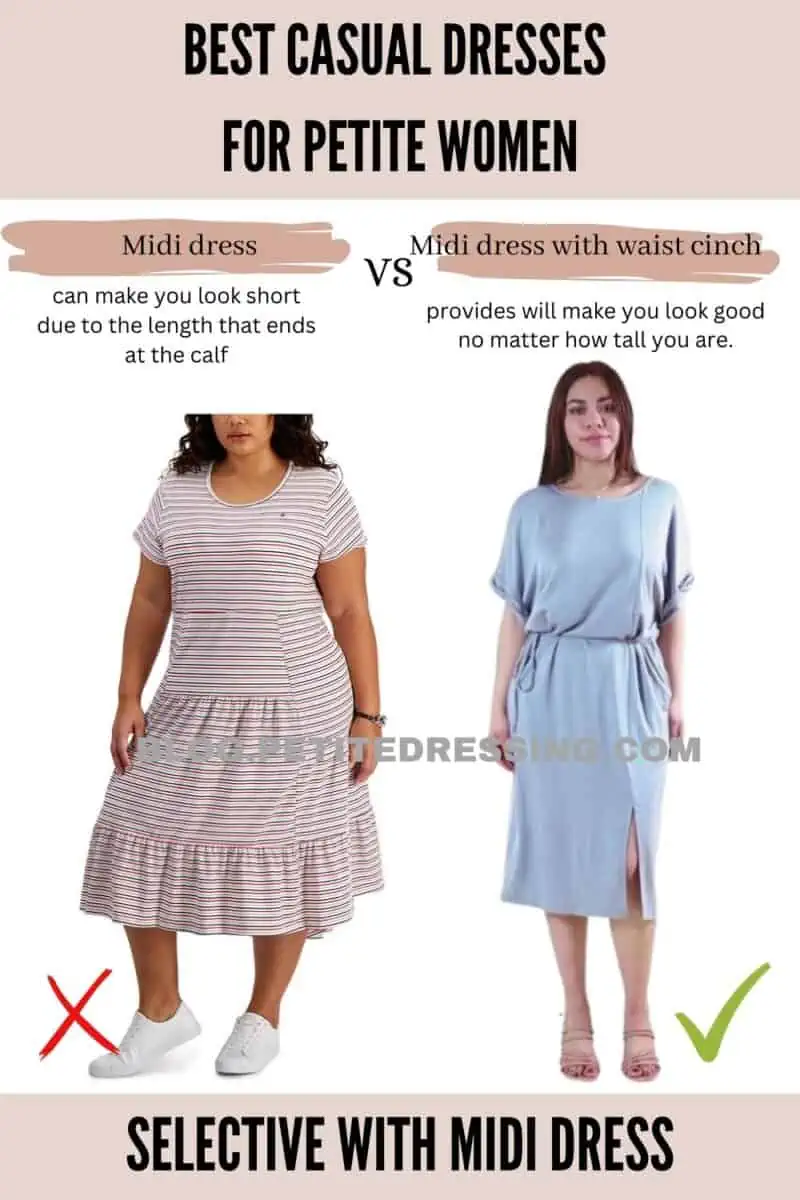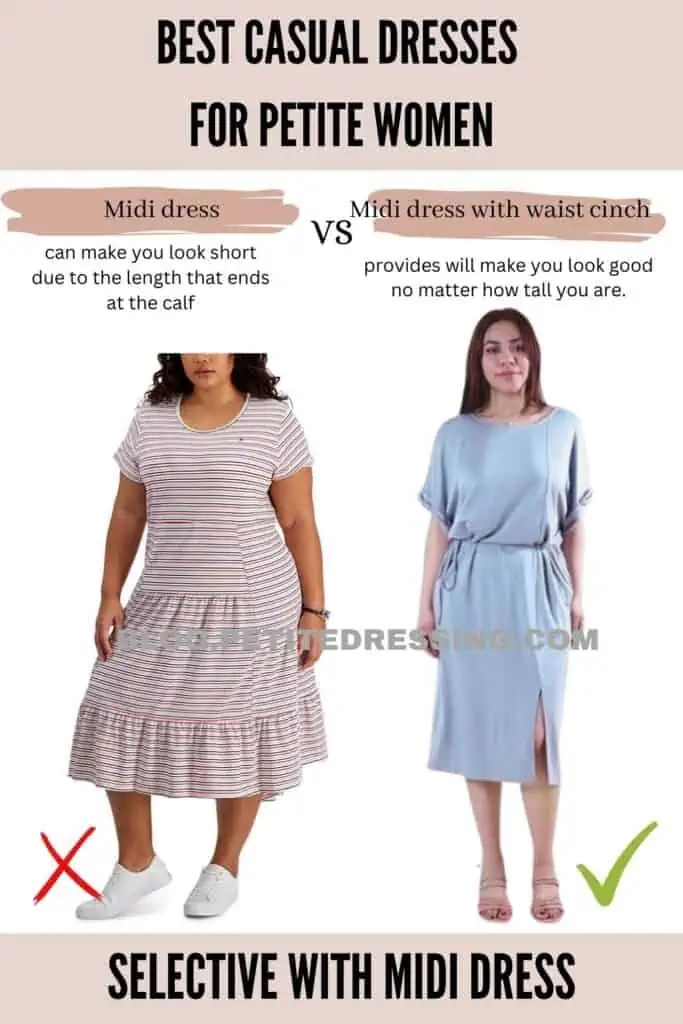 However, I understand not everyone wants to only wear short or maxi petite dresses all the time. It is totally understandable there will be occasions and times that you just prefer to wear dresses that are midi length.
Midi can definitely work with our petite height, but you do need to be strategic about this length.
Because they end on your calves, they potentially have the risk of making a short girl's legs look cut off, the opposite of what you want!
That is why in our midi dress collection, we are very selective and make sure they have the right designs (such as the elevated waistline, side slit, etc) that will look flattering on a petite woman despite the midi length.
THE FIT
Petite vs regular
When you have a petite frame, the reality is that standard sizing doesn't fit you quite right.
Here's the main difference between petite vs regular casual dresses
Length is a big (ok HUGE) deal. I'm sure I don't have to tell you this, but most of us petite women have had experiences trying on standard-sized dresses and finding that they're WAY too long on us.
Torso length is another main consideration. Have you ever felt the V-neck on a regular size is too deep for you? How about the wrap dress that has a belt in the wrong place? Those are indications that your torso is too short for the dresses
Designs: As I mentioned earlier, certain designs will flatter you much more than others.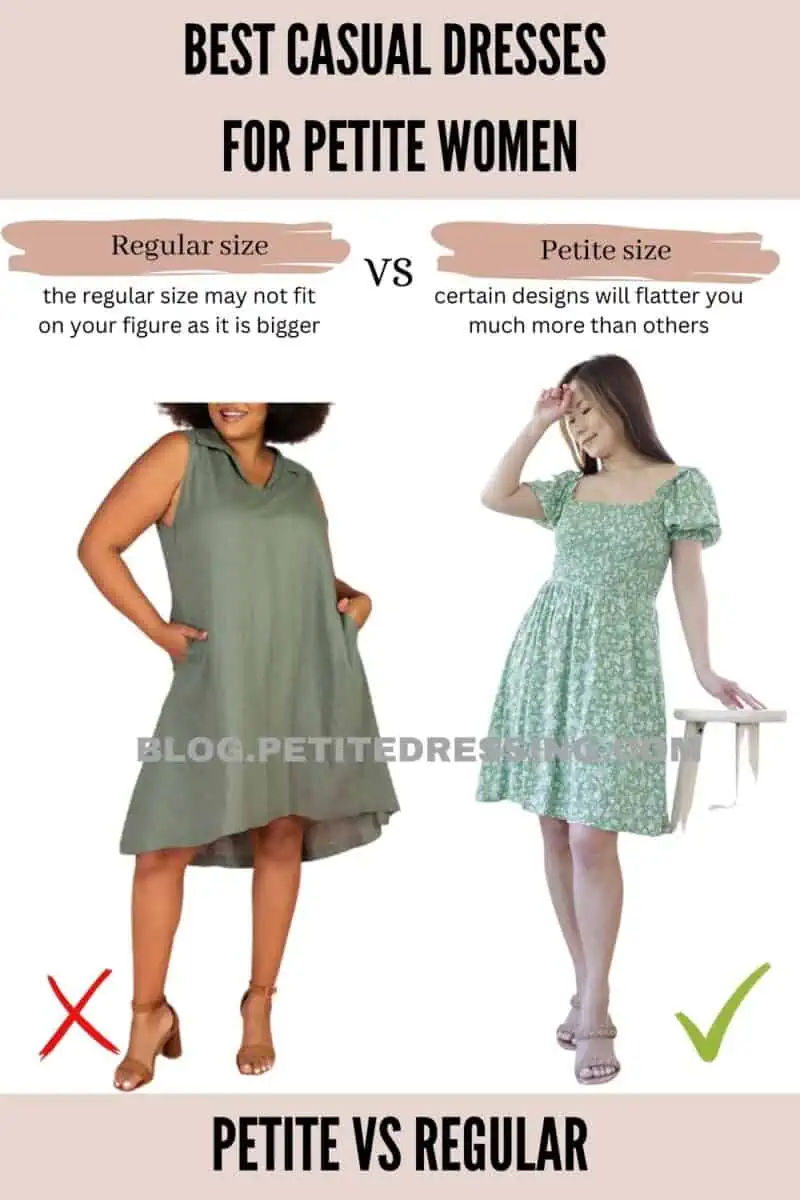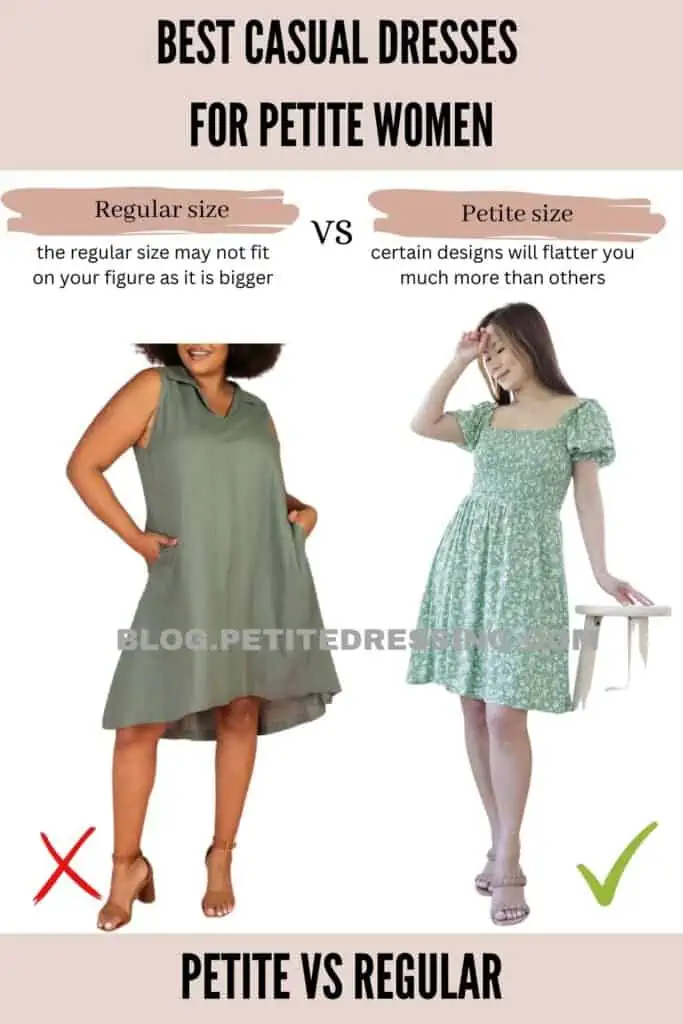 Alterations
Building off of the length factor with casual dresses for shorter women, let's chat about getting them altered as needed. You may find that even if you shop from the petite department, some alterations may be needed. This goes for women who aren't petite also – buying clothing off the rack isn't always going to provide the PERFECT fit regardless of your height.
As you're shopping for the perfect casual dresses, think about how alterations may play a role when selecting dresses for your wardrobe. Don't count a dress out just because it doesn't fit perfectly right off the rack. Taking the dress to the tailor for minor alterations can make the world of a difference. Look at things like the arm holes, length, etc. to determine whether or not the dress can be altered into the perfect petite casual dress.
VERSATILITY
Petite casual dresses are casual, obviously. But I'm all about versatility with anything in your wardrobe. It's hard to get excited about investing in something you can only wear one way on one kind of occasion.
So while you're on the hunt for casual dresses, think about how you're going to be able to wear them.
My rule is that you should be able to think of 2-3 different ways to wear a piece before buying. This way you know you will have plenty of ways to wear one piece, making it a worthy investment.
To expand that idea, think about the transitioning period between seasons. If your dresses are versatile enough, you should be able to wear them more than just in the spring or summer. You will need to wear jackets or scarves with your dresses to transition into fall, so make sure the color of your dresses goes with the jackets or scarves in your closet.