Petite women, unite! With warm weather here, I know you're ready to start wearing petite casual dresses for the season. I've got some of the best petite style tips to help you dress your figure effortlessly. Being a petite woman is something to be proud of – seriously! I know it can feel like a frustrating thing sometimes, when it comes to finding clothes that really flatter, but work with what you have. It's so much more fun when you embrace your petite figure, plus it's a whole lot easier to see the positive and dress accordingly when you begin enjoying being petite.
I don't know about you but I live in casual dresses during the warm weather months. They are just SO easy to wear because they're one piece. Casual dresses give you a lot of ease with your style, without sacrificing fashion – that's a double win if you ask me.
If you are looking for petite size dresses this season, I have you covered with 7 tips to choose the best casual dresses for short girls. I'm breaking down a few of my must know tips so you can select casual dresses with ease.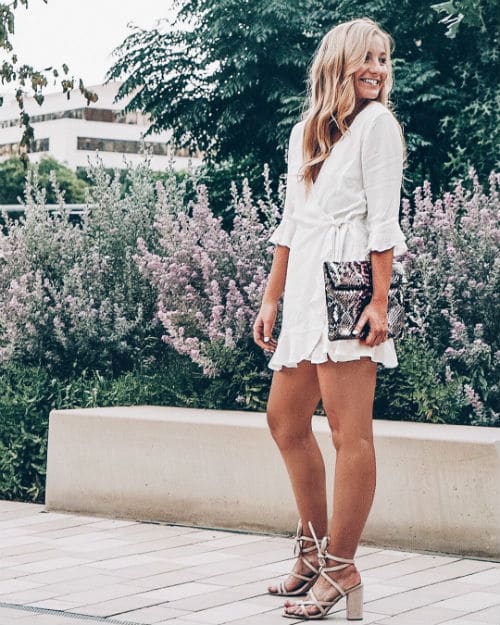 Know Where to Shop for Petite Casual Dresses
When you have a petite frame, the reality is that standard sizing doesn't fit you quite right. Sure, there can be exceptions to everything, but more often than not standard sizing is going to be too long on a petite body. When it comes to shopping for casual dresses for petite women, length is a big (ok HUGE) deal. I'm sure I don't have to tell you this, most of us petite women have had experiences trying on standard sized dresses and finding that they're WAY too long on us.
Length is not the only issue. Since standard sizing are designed for taller women (over 5'5″), you are likely to have other problems with the fit too. Have you ever felt the V neck on a regular size is too deep for you? How about the wrap dress has a belt at the wrong place? Perhaps you even felt the dress looked like a drop waist on you when it's not meant to?
If any of these sounds familiar, now you know what the cause is. So, your best bet is to choose the casual dresses from the petite selections. Before you roll your eyes and get frustrated, the good news is brands and retailers everywhere have started to offer much wider ranges of petite sizing.
STYLIST TIP: Many retailers offer a broader petite selection online. Don't be afraid to order online! If you haven't purchased from different stores or brands check their return policies and order multiple sizes to make your online shopping experience a more successful one.
To save your time, we have done the research and complied a list of the "Best Petite Size Designers and Retailers Online and in Store". At Petite Dressing, we also offer petite dresses (including maxi length), and our goal is they should not only fit you, but also flatter you (how about making you look taller and leaner?)
Select Color and Print Accordingly
Chances are you are going to want quite a few petite size casual dresses to choose from this spring/summer. Since they are such a great warm weather wardrobe staple – you won't want JUST one to wear. One of the fun things about casual dresses is they come in such a wide variety of colors, fabrics and prints. If you're in a place where you are looking to build your casual dresses wardrobe, I suggest adapting a variety for yourself. For example having one solid, one printed, etc. This will give you more styling options and help you from feeling like you're wearing the same dress over and over throughout the season.
To really get the most versatility from casual dresses for short women, choosing neutral colors is going to be your best bet. But that's not to say you can't have fun with other colors – just make sure that you have some of the staple neutrals as well.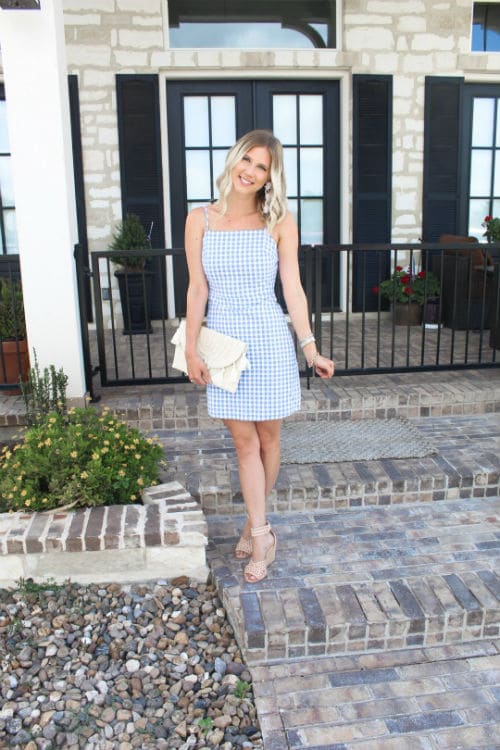 You've probably noticed that a lot of petite sized casual dresses come in prints and patterns. Sometimes it seems like they're ONLY in prints and patterns, doesn't it? This is definitely a fun route to go when selecting your casual dresses, because prints are such a fun way to add your personality to your wardrobe. However, as a petite woman, you're going to want to choose prints that flatter your petite frame. Sound confusing? Let me explain.
When you are petite, large prints can feel as though they're consuming your entire body and lead to the dress looking as if it's wearing you, rather than you wearing the dress. This is exactly why anytime you are looking at casual dresses in prints, it's essential that you're sticking to prints in scale to your body size. The reason I didn't say smaller is always better is that petite women can have different shapes and sizes too. Petite doesn't necessarily mean skinny. If you happen to be a skinny short girl, then the smaller print will be in line with your petite frame and provide a lot more flattery for you. If you are on the curvy side or are a plus size, then just choose something in scale to your size.
The rule of thumb? Normally if the prints are smaller than your fist, then they are good to wear.
Opt for Either Long or Short
It's nothing new that length of dresses is a key attribute petite women need to pay attention to. Right? I get it! I'm a petite woman myself and I've learned over the years that the length can make or break the entire look of a dress on my body. Chances are you're going to find petite casual dresses in a wide range of different lengths and I want you to have fun when selecting the best casual dresses for you. But I will say that the best, most flattering casual dresses for petite girls like us are either short dresses or long dresses.
Let me explain. When they are short, a couple of inches above the knee is ideal. Shorter length in a casual dress helps to create a more elongated vibe for your look in the dress.
However, I understand not everyone wants to only wear short petite dresses all the time. It is totally understandable there will be occasions and times that you just prefer to wear dresses that are longer. That is why I suggest you could also go with really long dresses- I am referring to maxi dresses.
Now, I know it sounds tricky with long dresses. That seems to be a look harder to pull off by short girls and it can be harder for a petite woman to appear flattered in long casual dresses. It is possible long casual dresses can sometimes feel fussy. Who wants to feel weighed down by their casual dresses? I don't know anyone! But, here is a big BUT. Once you know the hacks to wear maxi dresses as a short girl, you will find them totally irresistible. They all of a sudden become your favorite weapon that can make you look taller, even in flats! This is Nicole Richie below and she is known for wearing ankle length maxi. Can you tell she is only 5 feet? So, read our guide on "How to Choose Maxi Length Dresses for Petites".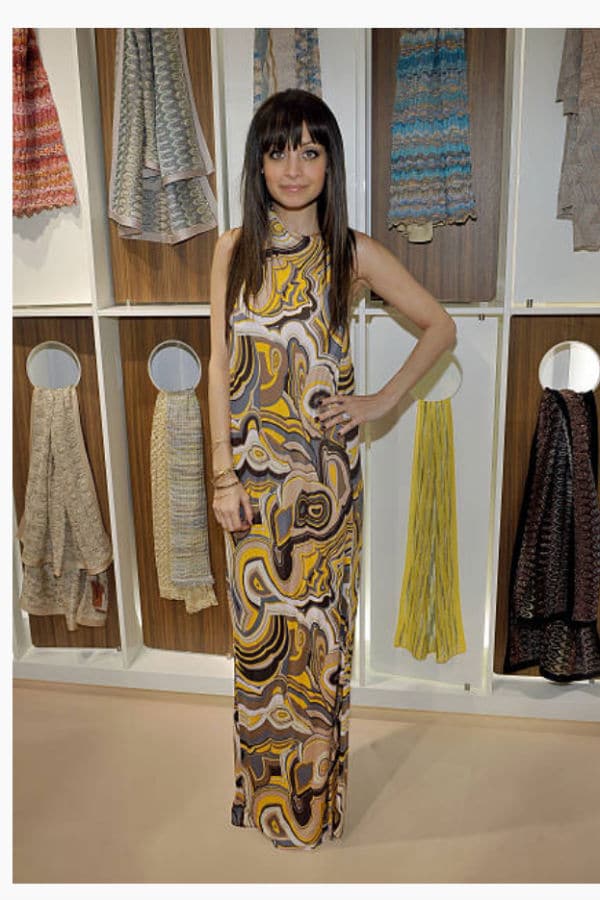 Consider the Necessary Alterations
Building off of the length factor with casual dresses for shorter women, let's chat about getting them altered as needed. You may find that even if you shop from the petite department, some alterations may be needed. This goes for women who aren't petite also – buying clothing off the rack isn't always going to provide the PERFECT fit regardless of your height.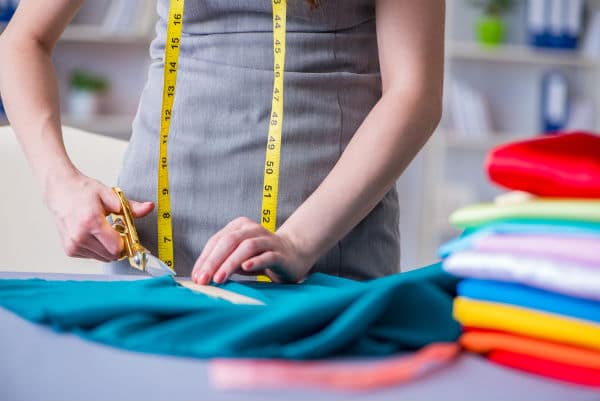 As you're shopping for the perfect casual dresses, think about how alterations may play a role when selecting dresses for your wardrobe. Don't count a dress out just because it doesn't fit perfectly right off the rack. Taking the dress to the tailor for minor alterations can make the world of a difference. Look at things like the arm holes, length, etc. to determine whether or not the dress can be altered into the perfect petite casual dress.
Think About the Versatility
Petite casual dresses are casual, obviously. But I'm all about versatility with anything in your wardrobe. It's hard to get excited about investing into something you can only wear one way in one kind of occasion. So while you're on the hunt of casual dresses, think about how you're going to be able to wear it. My rule is that you should be able to think of 2-3 different ways to wear a piece before buying. This way you know you will have plenty of ways to wear one piece, making it a worthy investment.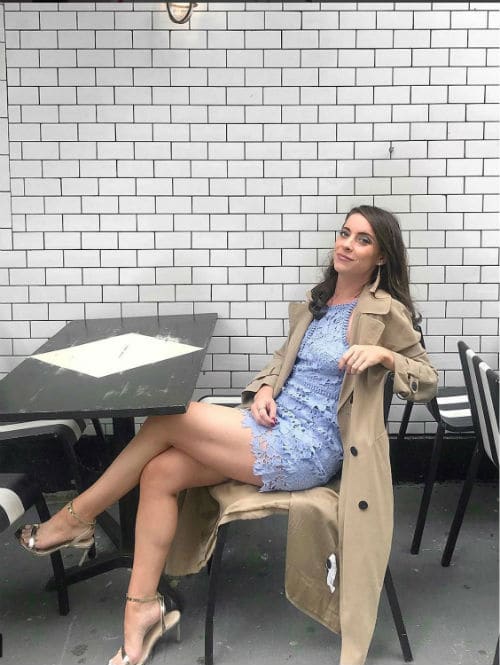 To expand that idea, think about the transitioning period between seasons. If your dresses are versatile enough, you should be able to wear them more than just the spring or summer. You will need to wear jackets or scarves with your dresses to transition into fall, so make sure the color of your dresses go with the jackets or scarves in your closet.
Highlight Your Proportions
Oversized silhouettes (or "gender neutral") are a huge trend right now. Unfortunately they aren't the best way to highlight a petite woman's proportions. When it comes to dressing to flatter your petite frame, working with your body's proportions needs to be a main focus. I know a lot of women love flowy, shapeless dresses for their petite casual dresses, but I suggest skipping those shapes and sticking to something with more structure. The flowy, shapeless options are going to swallow up your petite frame where options with structure are guaranteed to flatter a petite woman.
If you are in love with a flowy and loose fit dress, then try to add some structure to it. For instance, wear a cropped jacket over it and create a 1/3 and 2/3 (read more about Rule of Thirds in our post on the 9 Best Petite Fashion Hacks of All Time), which will make your body proportion look much better.
Cinch Your Waist When Possible
Petite casual dresses are notorious for providing that free-flowing type of style vibe. I mentioned above that petite women should focus on petite casual dresses that have structure to avoid overwhelm, but one of the loopholes around that is to cinch your waist. This means that if you see a free flowing type of casual dress that you've fallen in love with, but the silhouette is really overwhelming to your body, you CAN make it work by cinching your waist. Adding a belt to the waist of a petite casual dress is one of the best style secrets to making a non-flattering dress flattering.
All that said, you don't want to have all of your petite casual dresses requiring you to add an additional belt in order for them to flatter your body. In general, I recommend searching for petite casual dresses that have a built in waist cinching detail for this reason. This can be done with a tie at the waist, elastic, or anything else.