Are you looking for petite sweatpants but just can't find them anywhere? I know exactly what you are going through.
I am 5'2″ and was recently looking for sweatpants for short legs. I have short inseam of 25-26″, (read this post if you are wondering what does inseam mean) , so finding pants and jeans have never been easy. But, there are still some choices. There is quite a few petite brands out there making pants for petite women, and my store Petite Dressing also carry pants of shorter inseam for women under 5'4″.
However, when I started searching for a new pair of petite sweatpants (you know, the New Year resolution thing), I couldn't believe how hard it was. It is just almost next to impossible. To make it more clear, I was looking for French terry pants with drawstrings, and they are also called petite jogger pants.
I'm well aware of the famous quote by Karl Lagerfeld "Sweat pants are a sign of defeat". But, hey, we all need petite sweatpants once in a while (if not every day!) I mean, you can still look very cute in them! Like this one, on my favorite petite blogger Tamara (BTW, she always looks super cute, even in a pair of sweatpants at home!)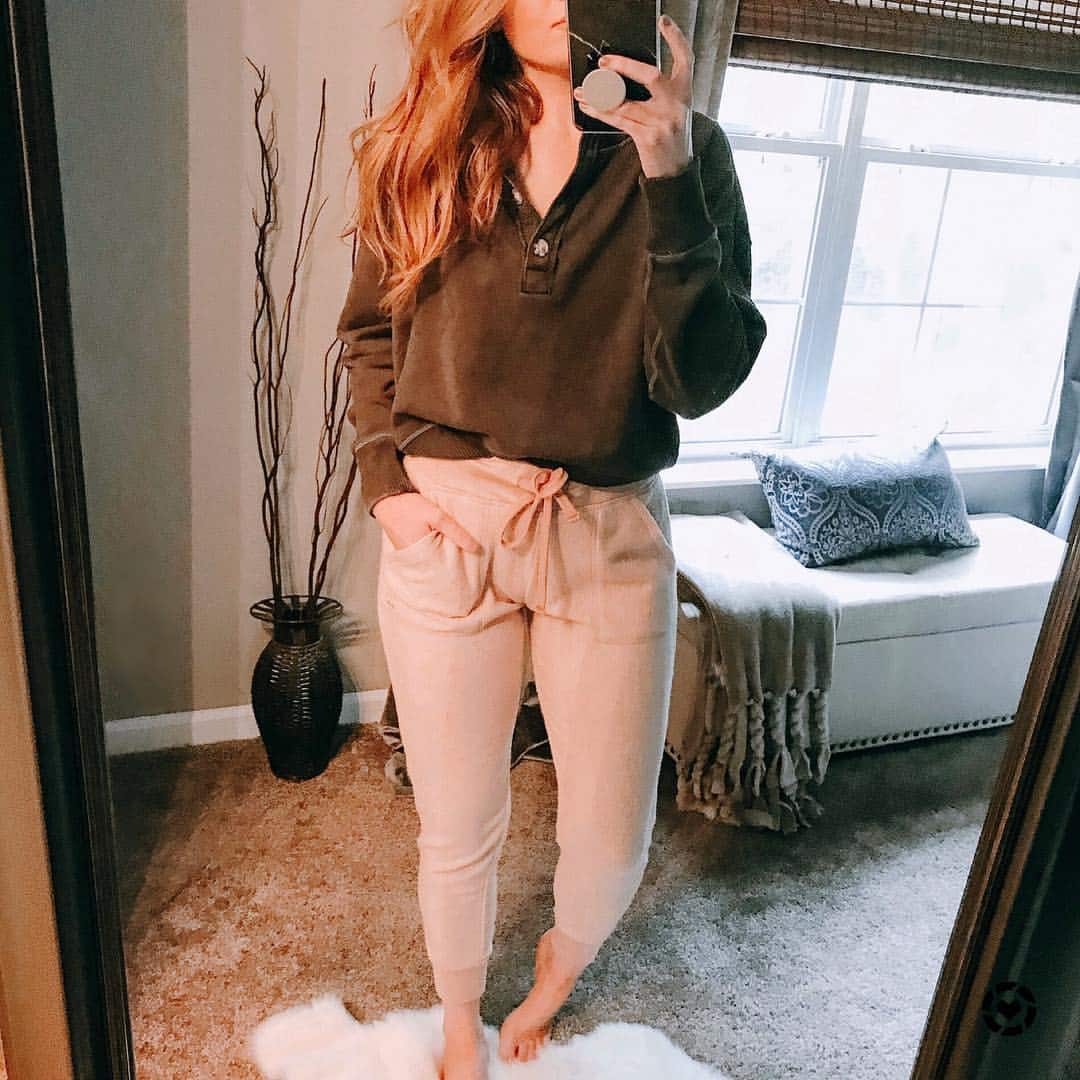 First, when the "petite sweatpants" search results popped up on Google, I was so excited. But, when I clicked on them, they were not really sweatpants! They are actually from stores selling work out pants- you know, the kind of tight fitted pants you would wear to yoga or spinning classes. What happened to good old sweat pants that you can just wear loosely around the house or run some errands in on a weekend?
Second, I was thrilled to find some stores that showed up in the Google search and they used "petite sweat pants" as headline. However, when I clicked into the store, there is only one style! Oh well, us petite girls do need more choices than that!
That is what has prompted me to put together this post. It is so hard for short women to find petite sweat pants, and it shouldn't be. I have rounded up the brands and retailers that you can go to find sweatpants for your height so that you don't have to feel lost like I did.
This post is focused on petite jogger pants/petite sweat pants. I have another post on petite active wear, and a separate post that talks about the best yoga pants for petite women that can actually make your legs look longer. I also highly recommend you read my post on "Best Loungewear for Short Women".
Best Stores for Petite Sweatpants
They are my favorite store for petites, for many reasons.
Gap
Gap is one of the best store to shop for petite sweatpants, because they are reasonably priced and constantly updated. Almost every season they have a new batch of sweatpants that come in all size ranges including petite sections. That is why they are my go-to place to shop for petite jogger pants.
Nordstrom
First, you can find almost any category here (blouses, pants, dresses) for petite sizes. Even for categories (like petite pajamas and petite jogger pants) that most other petite designers or petite brands do not carry, you can always try your luck at Nordstrom and chances are you'll find them here.
Second, searching for petite sizes is made so easy here. When you click on the top manual "petite size", it will take you to the entire petite size department. Then when you click on the side bar, it is so straightforward to find what you are looking for by each category. They even make it easy to search by pant style, inseam etc.
Third, they have the price range that fit every budget. They carry designer brands from medium to high price range and everyone can find something that fits their needs here. Of course, if you are looking for under $20 petite sweatpants, you may not always find that at Nordstrom, but I'll talk about where you can find those later in this post.
In terms of petite sweat pants, that is not a category by itself, but when you click on "Pants", you will find some french terry jogger pants in petite sizes. The price are $40 and up, and they are from designers such as Eileen Fisher ($140) or Norstrom exclusive brands like "Gibson Living" ($44).
Here comes an important tip you must not miss- do not ignore the regular size department!
I have found sweatpants or jogger pants from Nike and other brands which are perfectly fine for short women. I would never imagine them to show up on my list, but the length actually us pretty well.
ASOS
Where should I start with this one? Most petite girls out there already know about ASOS petites and probably have shopped there before. I feel like most of us have a love/hate relationship with them.
Why love? Well, you can't deny they are the most affordable petite brands/retailer on the internet. Plus, they do push out so many petite collections for us short girls every year. You got to give them credit for this. I mean, who else does this for us, right?
Now, why hate? Whenever I go to a petite fashion forum, I always hear girls venting about how they are so tired of the fabrics and the cut of ASOS products…
Hey, you know what I think? When it comes to petite jogger pants or petite sweatpants, who cares?
Personally, I do not have anything against fast fashion, and I believe they exist for a reason. There are clothing that we buy as an investment piece, and we spend more and hope they last year after year. There are also things we just want to throw on and don't want to care about throwing in the wash machine a few times a week. If you are only looking for a pair of petite sweatpants to wear around the house, do you really care how many seasons they will last?
So, I would totally get petite jogger pants from ASOS. The best thing about them is that their models are actually petite girls (some of them 5'2″), so, you can actually see what they look like on a girl about the same height as you.
Macy's
The good old Macy's!
Every American knows Macy's got everything for everyone, and if you live in New York city, it's impossible to not to stumble into their Herald Square store without knowing you are in the largest store in the world.
However, for petite jogger pants/petite sweatpants, I suggest you go with their online store. Why? It is just so much easier to find your size and you'll know if it's the right length for you in a few minutes.
I have found (sort of) novelty items for petite women like petite pajamas and petite lounge pants at Macy's and that's why they are one of my go-to stores, if I can't not find something else where.
Their price range is wide enough to cover most petite women's budget. Like Nordstrom, they also have their in-house brands for petite women that's only available at Macy's- just for that reason, I'd constantly check back at Macy's.
With brands like Michael Michael Kors, I have found petite jogger pants that are made of velvet. It is fun to try something different and have an alternative to just French Terry fabrics.
Zappos
Okay, I'm sure you have heard of Zappos as a shoe store online, but did you know you can find petite clothing there too?
I didn't know about this until quite recently, and I was so excited. I have been shopping at Zappos since I don't even remember when- to give you an idea, way before they got acquired by Amazon in 2009. So, that was a long, long time ago!
I don't know when they added the petite clothing collections to their website, but I am loving it. The most important reason is I've loved Zappos for ages because of their fast shipping and great customer service, and now I can enjoy the same for petite size clothing? Doesn't get better than this!
But, what I am about to tell you is a little trick I have discovered. The petite jogger pants are not actually under the petite collection. Here is how you can find them:
First, go to Top Menu, under "Women" and find "Clothing"
Then, click on "Acivewear & Yoga"
Next, select "Pants" on the left side manual bar under "Category"
Then, under "Inseam", check your inseam length you are looking for. It goes from "13" to 35″. Any inseam under 28 inches should work for petite women. For long legged petites, you can even go with 29″ inseam.
For petite sweatpants or petite jogger pants, I selected 25″ inseam, and I was able to locate brands like Beyond Yoga, which I will talk more later in this post.
This is so much easier than to having to go into each product and look for information about the inseam for each sweatpants!
Once again, this is tip I recently discovered and want you to know, because you will NOT find them if you just click on the "Petite" clothing link at the top manual.
LL Bean
They have a solid selection of petite jogger pants at a very reasonable price. I always trust this brand for making durable outdoor clothing and the great news is they make petite sizes for a lot of their products, sweatpants included.
Beyond Yoga
I know this brand as a yogi. I love their stuff for yoga classes. If you are not familiar with this brand, they are a mid price level brand that makes good quality yoga and workout wear. I have been shopping with them since about 10 years ago, so, they have been around for quite a while.
You can find this brand from retailers such as Zappos, Revolve, Shopbop, Nordstrom. This is not a cheap clothing brand (even though they don't cost as much as Lululemon), so their sweatpants are are around $80.
They don't call it petite size or petite jogger pants, so you need to click on the product you like and read the description to find inseam. I have found these with 27.5″ inseam and they work pretty well on short women.
Champion
If you are not familiar with this brand, they are an athletic brand that has been around for a long time. I have got a ton of yoga and work out stuff from them,and I love their quality and price range.
I was so excited to find out their french terry jogger pants are also petite friendly. They have 7/8 jogger pants that have 27.5 inch inseam, which will fit a lot of girls under 5'4″.
Although they don't have a petite category, it is easy to find those petite length jogger pants by search "7/8" from their search bar, and you'll find the list of drawstring petite friendly sweatpants. Their price is $30 to $50, which is totally affordable!
Other than their own website, you can also go to Amazon. They carry a line called "Champion Premium Reverse Wave", which I have found totally adorable.
Hanes
I have always known this brand as an underwear brand, and it was to my pleasant surprise that you can also find petite length jogger/sweatpants on their website.
In fact, they are the only brand that has actually labeled it as petite jogger pants. So, when you search on google or their website, it is quite easy to find.
You can't beat the price of $15! When it's on sale, it's only $8.99. Can you believe that? I just wish they can offer more choices in terms of styles.
JC Penney
Living in New York City area, I don't really get a lot of opportunities to go to JC Penney, unlike petite women who live in the suburbs and can always find one in a local shopping mall. The last time I did go into a JC Penney store was when I visited North Carolina.
However, with JC Penney onlinestore, I was able to find the petite lounge jogger pants here made for short women. To my thrill, they are especially good for petite girls like myself who needs extra short sweatpants, because their inseam is 25″! The original price is $37, and when JC Penney is running promotion, you can get even get a pair at less than $20.