If you are short like me (I am 5'2″), finding sweatpants for petite women is never easy.
Most petite women need sweat pants with shorter inseam (typically around 25″ to 26″), and that is exactly what makes it so hard for us to find anything that fits.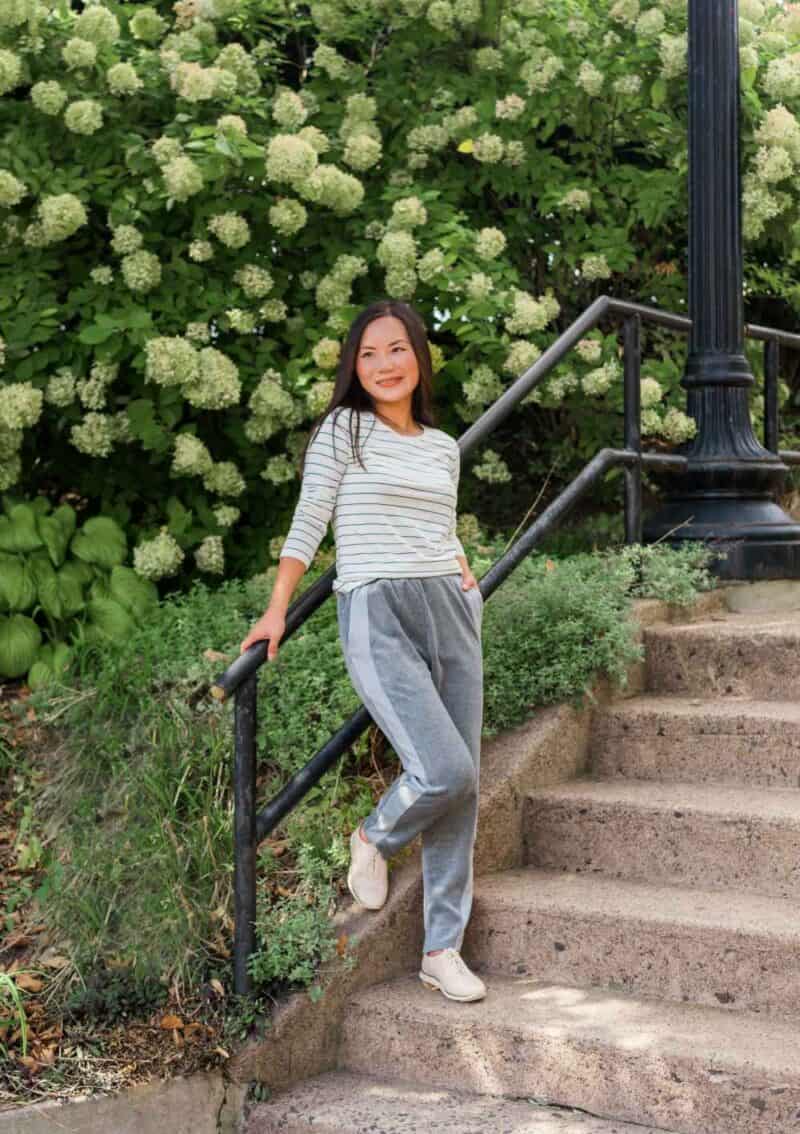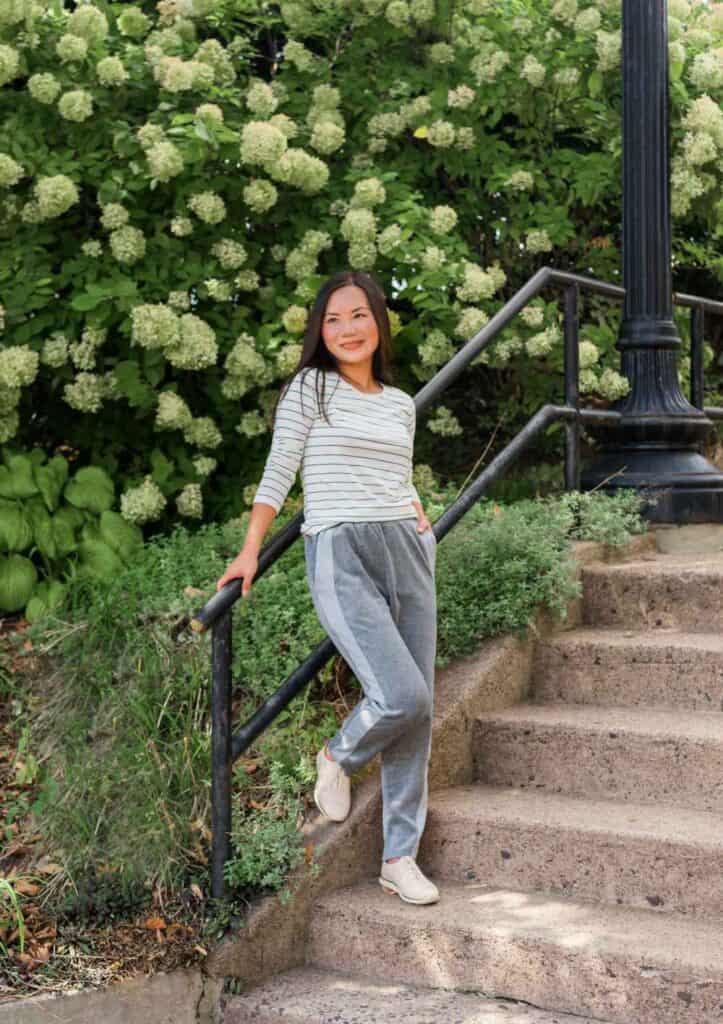 I've compiled this list of best places to find joggers for short girls which I have been using for the last decade!
Gap
Gap is one of the best stores to shop for sweatpants if you are short because they are reasonably priced and constantly updated.
Almost every season they have a new batch of sweat pants that come in all size ranges including petite sections.
That is why they are my go-to place to shop for petite jogger pants, like these Gap petite sweatpants for $49.95.
Or you can go with these Gap Pull on Joggers ($69.95)
Nordstrom
Searching for joggers in petite sizes is made so easy here.
When you click on the sidebar manual "petite size", it will take you to the entire petite size department. It is straightforward to find petite joggers under the "Pants& Skirts" category.
Like this Caslon linen petite jogger ($59).
Nordstrom has a price range that fits every budget.  They carry designer brands from medium to high price range and everyone can find something that fits their needs here, like these Ankle Jogger Pants ($99.00)
Of course, if you are looking for under $20 petite sweatpants, you may not always find that at Nordstrom, but I'll talk about where you can find those later in this post.
In terms of petite sweat pants, that is not a category by itself, but when you click on "Pants", you will find some french terry jogger pants in petite sizes. The price is $40 and up, and they are from designers such as Eileen Fisher" or Norstrom exclusive brands like "Calson".
Here comes an important tip you must not miss- do not ignore the regular size department!
I have found sweatpants or jogger pants from Nike and other brands which are perfectly fine for short women. I would never imagine them to show up on my list, but the length actually us pretty well.
ASOS
ASOS offers a nice selection of petite-length joggers at a reasonable price point, like these Khaki petite sweatpants ($26).
Or you can get these Petite velour sweatpants ($14.00).
The best thing about them is that their models are actually petite girls (some of them 5'2″), so, you can actually see what they look like on a girl about the same height as you.
Even if you are skeptical of ASOS quality, I would totally get petite jogger pants from ASOS, like this.
Why?
There's clothing that we buy as an investment piece, but there are also things we just want to throw on and don't want to care about throwing in the washing machine a few times a week, like, sweatpants!
Express
If you are looking for jogger pants with a trendier design, Express is the place to go.
This is my go-to place to look for most of my pants, and the best news is they carry a fairly big selection of petite size or short-length pants that will fit short girls like me, like these Petite Sweater Joggers ($40).
Their inseam is typically around 25″ for short or petite size, which works out perfectly if you have shorter legs like me.
What I love about their design is their signature high-waisted sweatpants in Petites size.
Abercrombie
If you like youthful design, you can find some really trendy sweatpants at Abercrombie. I started shopping their Petites size pants a couple years ago and I've been happy with the quality.
If you are like me, you might be thinking Abercrombie is the place for college students, but you'll be surprised how a lot of their outfits can totally be suitable for grownups, like these Flex Terry Cargo Joggers($59)
Or you can also find these Cozy Joggers ($24.50) in a petite size.
Zappos
This may sound like a surprise to you, but yes, Zappos also has a decent selection of sweat pants for short women! Like these Sky Canyon Joggers ($88.95).
What I am about to tell you is a little trick I have discovered.
The petite jogger pants are not actually under the petite collection. Here is how you can find them:
First, go to Top Menu, under "Women" and find "Clothing"
Then, click on "Acivewear & Yoga"
Next, select "Pants" on the left side manual bar under "Category"
Then, under "Inseam", check your inseam length you are looking for. It goes from "13" to 35″. Any inseam under 28 inches should work for petite women. For long legged petites, you can even go with 29″ inseam.
For petite sweatpants or petite jogger pants, I selected a 25″ inseam, and I was able to locate brands like Beyond Yoga, which I will talk more about later in this post.
This is so much easier than having to go into each product and look for information about the inseam for each sweatpants! Like this Lounge Around Joggers ($57.73).
Once again, this is a tip I recently discovered and want you to know because you will NOT find them if you just click on the "Petite" clothing link at the top manual.
Petite Dressing
As someone who is 5'2″ and constantly struggling with finding the right length for joggers alike, I of course know exactly how frustrating it feels like, therefore we started carrying linen petite jogger pants like this ($69)at Petite Dressing last year.
One thing I learned from having a petite-focused store is that most of our customers are actually under 5'2″, instead of the under 5'4″ definition used by mainstream petite size manufacturers.
So, what that means is to meet the needs of our petite customers, we carry extra short-length jogger pants and sweatpants, starting from 24″ inseam, like this velour petite lounge set ($62)!
LL Bean
They have a solid selection of petite jogger pants at a very reasonable price.
I always trust this brand for making durable outdoor clothing and the great news is they make petite sizes for a lot of their products, sweatpants included like these Women's Bean Cozy Jogger ($69.95)
Or this Women's Stretch Ripstop Pull-on Jogger ($69.95).
Beyond Yoga
I love their short-length sweatpants for yoga classes.
If you are not familiar with this brand, they are a mid-price level brand that makes good quality yoga and workout wear. I have been shopping with them since about 10 years ago, so, they have been around for quite a while.
You can find this brand from retailers such as Nordstrom and Zappos.
This is not a cheap clothing brand (even though they don't cost as much as Lululemon), so their sweatpants are around $80.
They don't call it petite size or petite jogger pants, so you need to click on the product you like and read the description to find an inseam. I have found these with a 25.5″ inseam and they work pretty well on short women. Like these Fleece Sweatpants ($108.
Or you can go with these Spacedye Commuter Legging ($99).
Champion
I was so excited to find out their french terry jogger pants are also petite friendly.
They have 7/8 jogger pants that have a 27.5-inch inseam, which will fit a lot of girls under 5'4″.
If you are not familiar with this brand, they are an athletic brand that has been around for a long time. I have got a ton of yoga and workout stuff from them, and I love their quality and price range.
Although they don't have a petite category, it is easy to find those petite length jogger pants by searching "7/8" from their search bar, and you'll find the list of drawstring petite friendly sweatpants.
Their price is $30 to $50, which is totally affordable! Like this Script Logo Tape Joggers ($36)
Other than their own website, you can also go to Amazon. They carry a line called "Champion Premium Reverse Wave", which I have found totally adorable.
Hanes
I have always known this brand as an underwear brand, and it was to my pleasant surprise that you can also find petite-length joggers/sweatpants on their website.
In fact, they are the only brand that has actually labeled it as petite jogger pants. So, when you search on google or their website, it is quite easy to find.
You can't beat the price of $15! When it's on sale, it's only $8.99. Can you believe that? I just wish they can offer more choices in terms of styles.
JC Penney
With JC Penney online store, I was able to find the petite lounge jogger pants here made for short women.
To my thrill, they are especially good for petite girls like myself who need extra short sweatpants, because their inseam is 25″!
The original price is $37, and when JC Penney is running a promotion, you can get even get a pair at less than $20.