This post may contain affiliate links, which means I earn a small commission (at no cost to you) if you follow the links and make a purchase Click here to learn more .
If you are looking for petite style inspiration from short celebrities in Hollywood, you have come to the right place! These are the petite actresses that have amazing fashion sense either on or off the red carpet. When you see them in movies or on TV, you may not have guessed their height. For instance, would you ever notice that Reese Witherspoon height is 5'2″? And the Mother of Dragon in Game of Thrones, Emilia Clarke height is also 5'2″?
There could be many reasons why these short actresses look a lot taller on screen than in real life. It could be because how the cameras are positioned. Sometimes the movies may have deliberately selected other actors or actresses in the same scenes who were not too tall so that the short actresses won't look too short. One of the most important important reasons why these petite celebrities look so much taller than their real height is because how they dress. If you are petite or have short legs, there is a lot you can copy from the style of these petite celebrities. That's why we want to share with you the amazing petite style of short celebrities every short girl should copy.
Scroll all the way down to watch the video, but also read the full article!
Signature Style: preppy, colorful, retro edge
Reese is known for her distinctive style of southern belle. From tailored petite dresses to pastel tops, we adore colorful, feminine and ladylike style. Referred to by other Hollywood stars as a fashion icon of our age, Reese says her style offers a modern take on the traditional southern style she grew up with. Reese loves colorful outfits.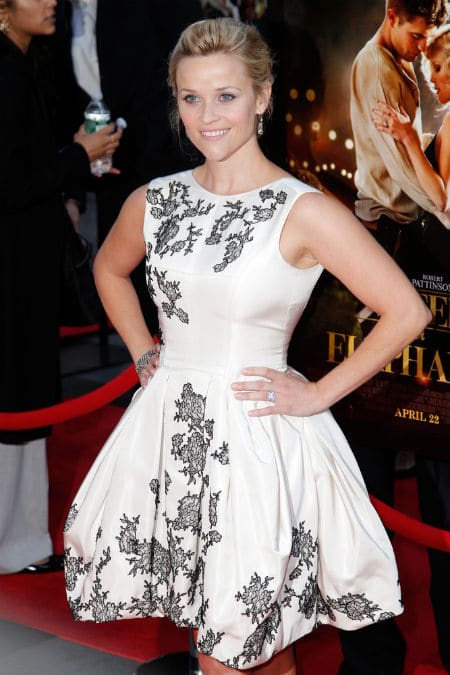 She launched her own fashion line Draper James in UK on Net-Porter, which is known for cheerful prints and preppy style with a retro edge. Just like you and me, Reese says she pays attention to how other petite actresses dress. She said she always looks at other short girls like Natalie Portman and Rachel Bilson and she is like "what's she wearing?". "There's a few of us shorties out in the world."
Born in Louisiana in 1976, Reese Witherspoon is the daughter of a physician and a nurse. This talented actress has had many successful roles and has won an academy award for her performance in Walk the Line, however, what we remember her the most is probably her role in the light-hearted witty comedy Legally Blonde which turned out to be a super box hit and prepared her for the trajectory of Hollywood's A-listers.
How can you copy her style? Keywords: preppy, colorful, sheath, dress
Emilia Clarke, Height: 5'2″, Petite Hourglass Body Type
Signature style: Feminine, Flirty
As Game of Thrones became THE hottest show on TV, Emilia Clarke, the English actress with dreamy eyes and full lips, has also conquered the heart of numerous fans around the globe. Emilia has a wardrobe full of petite lace dresses. From pink to white and from midi to formal, Emilia Clarke style rocks lace dresses at different red carpet occasions or walking down the street.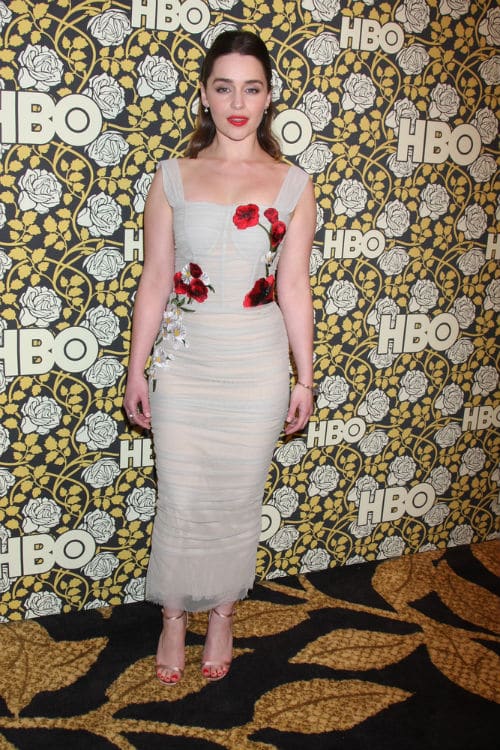 At 5'2, she also sets a perfect example for petite girls on how to wear midi dress. Not surprisingly, many petite girls are afraid midi dress will make them look even shorter. However, if you learn from Emilia Clarke style, you'll find it pretty easy to rock midi dresses. The key is to focus on how to create best proportion, and pick pastel colors and pair them with pointed nude heels.
Salma Hayek, Height: 5'2″, Petite Hourglass Shape
Signature Style: Sexy Bombshell
Salma Hayek (5'2'') is another petite celebrity with amazing style. With hourglass body shape (Salma has a typical hourglass body shape, with full busts and a small waist), she really sets a great fashion example for petite girls with curves. Among the petite celebs with great styles, Salma is known for being original. You will notice her in many bright color outfits accentuating femininity and embracing her curves.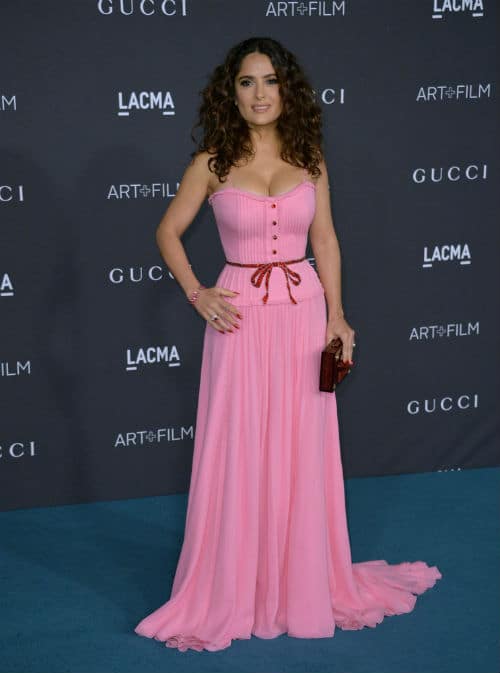 She also has some great fashion advice such as having dress as the base of your wardrobe and accessorize smartly with brooch or handbags. She believes the true beauty and style can be shown by choosing clothes according to the type of figure. Even on a simple walk, she would choose to wear a feminine petite skirt or a petite lace dress instead of sweat pants or T-shirts. You will also notice her beautiful selection of bold and bright color high heels on the red carpet or in other outfits, and she is definitely not a "flats or sneakers" kind of girl.
She was born in 1966 in Mexico in the family of opera singer with Spanish roots and manager of oil company with Lebanese descent. Her breakthrough role was in the 2002 film Frida as Mexican painter Frida Kahlo for which she was nominated in the category of Best Actress for an Academy Award and Golden Globe Award amongst others. Salma Hayek turned 50 a couple of years ago, and she is known for her age-defying style.
How to copy her style? Keywords: curve hugging dresses, bold colors
Lucy Liu, Height: 5'3″, Petite Rectangle Shape
Signature Style: Urban Chic
When we talk about short actresses, Lucy Liu (5'1'') is one of the first to come to mind. Lucy Liu has always been known as one of the most stylish and gorgeous petite celebrities, and her fashion sense was brought to the new height in CBS show Elementary, in which she played Sherlock Holme's trusted adviser Watson.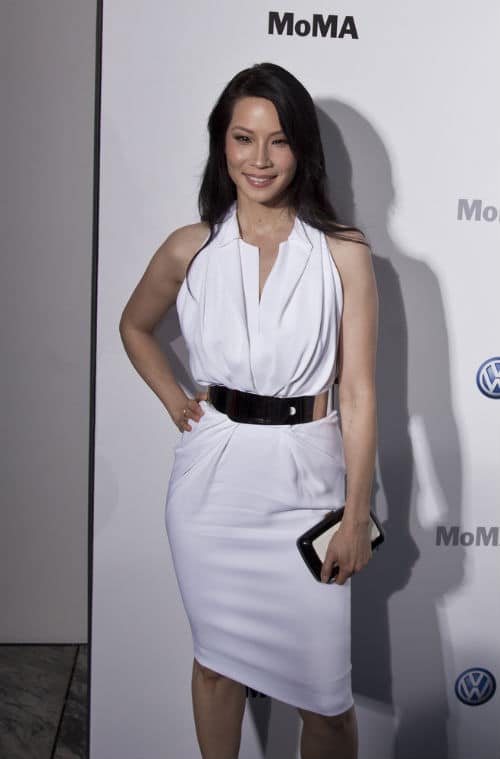 Joan Watson (played by Lucy Liu)'s wardrobe in Elementary became the center of attention of fashion magazines, websites and stylists after the show was aired. Lucy Liu style was full of sleek silhouettes, lush fabrics and simple accessories. The show's costume designer Rebecca Hofherr mentioned in an interview that she had about 200 outfits throughout the 24 episode season, and her inspiration came from NYC working women. It was typical for her to mix an expensive signature piece with t-shirts from Zara or army jackets from the Gap, a fashionable and functional petite style that all women can relate to.
Born to immigrant parents in Queens, New York, Lucy Liu made her main stream movie debut as one of former exes of Thom Cruises' character in Jerry Maguire, and got her big break on "Charlie's Angels" and "Kill Bill" films.
How to copy her style? Keywords: sleek and clean cut, neutral colors
Nicole Richie, Height: 5'1″, Petite Rectangle Body Shape
Signature style: Boho Chic
Nico Richie is an American fashion designer, author, actress and TV personality. Over the years, she has successfully transformed from a reality-TV party girl to a stylish mom of two.
Standing at 5 foot 1, she commands attention with her unique taste and style of fashion. She is clearly a master of bohemian cool, ,and her style is somewhere between A-list celebrity and girl-next-door. Like she mentioned in one of the fashion magazine interviews, she places a lot of emphasis on comfort. She is often spotted in easy silhouette with flowy petite tops or dresses, having fun with prints and colors.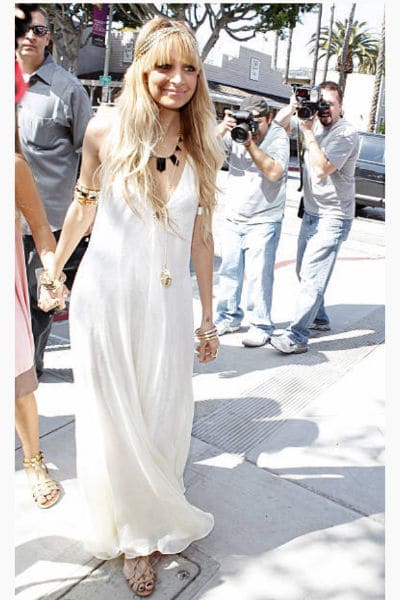 She also adds a twist of elegance to an easy outfit with accessories, such as a jeweled headpiece or snake print clutch. It seems natural to go with boho-chic style in the summer time, but what about the cold winter time? Nico Richie's advice for the fall and winter is smart layers. For instance, if you are wearing leather pants and turtle neck or a black T-shirt, then layer something of a lighter fabric over that, and additionally, put a leather jacket or a blazer over that.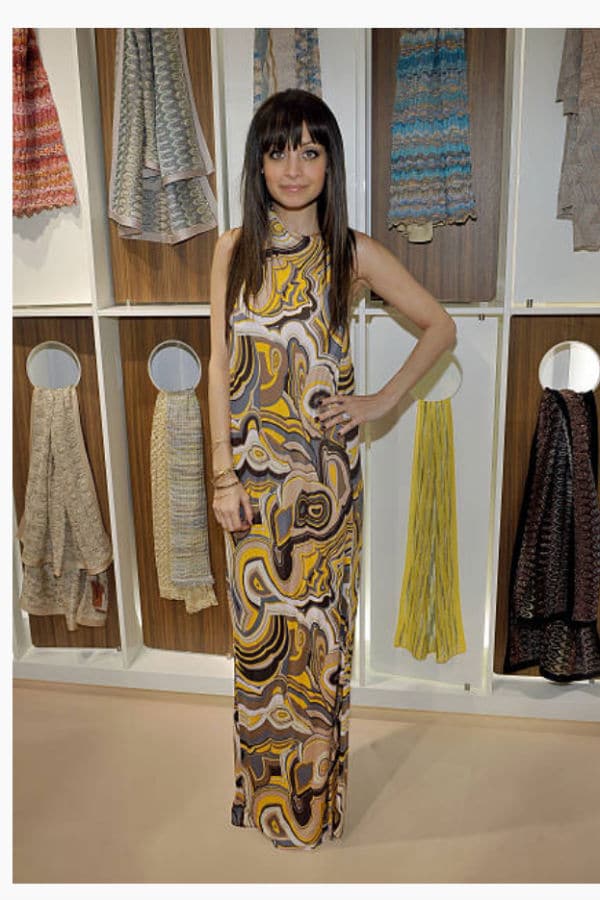 Speaking of Nicole Richie style, we will inevitably talk about the LA inspired fashion line she launched -House of Harlow. The brand is very "LA" boho style, i.e. the outdoorsy feel and the colors are all reminding us of the California cool. The signature designs are printed maxi dresses, slip dresses, crisp wide-legged pans and some cute rompers.
How to copy her style? Keywords: Maxi, Prints, Wide leg
Natalie Portman, 5'3″, Petite Rectangle Shape
Signature Style: Clean cut & Elegant
Speaking of stunning celebrities that are short, Natalie Portman is for sure stealing our heart with her impeccable fashion style. Whether she is walking down the red carpet or attending a charity event, she is always prepared for the event and exhibiting her own "Natalie Portman" style taste.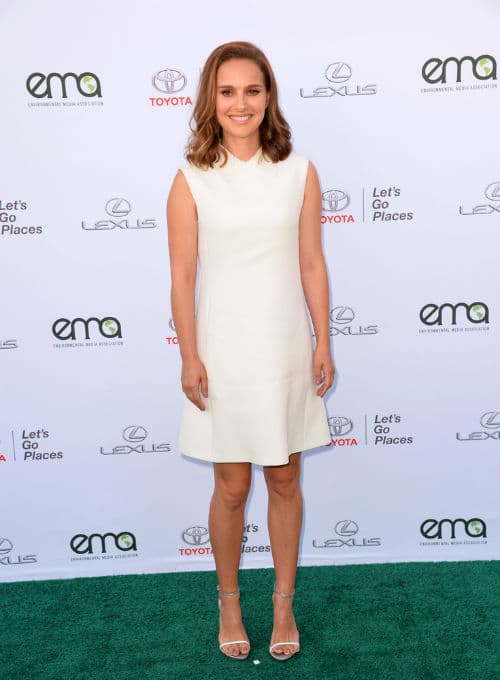 Natalie Portman sure has all the right buzz words on her bio such as Harvard, Star Wars, Academy Awards and Golden Globe. She was born in Israel to an Israeli father and American mother. Growing up in Jericho, New York, she studied dancing and acting in New York. She studied psychology and Harvard University, and starred in Star Wars. Her amazing talent was recognized by winning the Academy Award for Best Actress for her outstanding performance in the Black Swan in 2010.
How to copy her style? Key words: shift dress, solids
Kim Kardashian, 5'3″, Petite Pear Shape
Signature Style: Sultry and seductive
Kim Kardashian might be one of the most controversial famous celebrities that are petite, but her style surely commands attention and her outfits certainly deliver drama and sex appeals. One thing for sure is this realty TV star never steps out of her apartment or hotel without turning heads!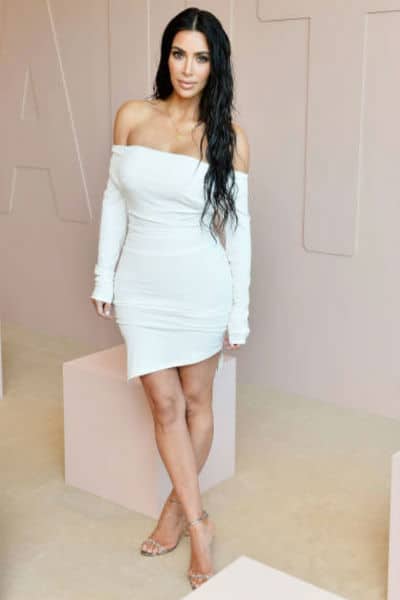 You are probably familiar with her street style pictures ditching her bra while wearing a mesh tank top with a high wasited skirt or paring a leather off-the-shoulder top with a leather mini. Her style is nothing short of bold and stunning elements. Roll your eyes all you like, but she certainly has some great style that petite girls can borrow from, especially girls with curves.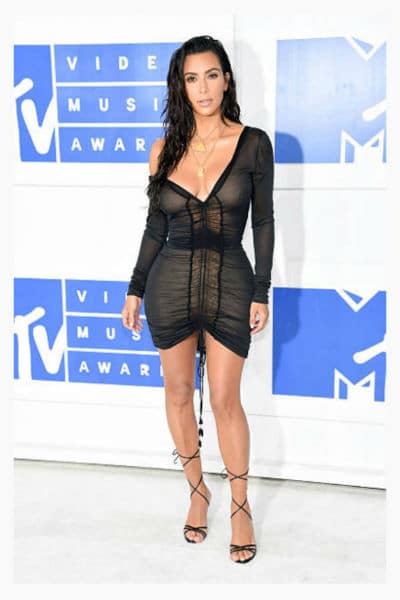 One fact many people do not know about Kim Kardashian is before she became famous as a reality TV star, she worked behind the scenes in Hollywood as a celebrity stylist and personal shopper. That might explain why she is able to pull off so many different fashionable outfits which are for sure meant to land her the spotlight. The 7 wardrobe staples she has mentioned she cannot live without are a trench coat you can keep it on over your outfit, a black blazer you can wear with pants or over your dress, high waisted pants which are flattering for petite women, a wide belt that emphasize your waist, leggings that are easy and comfortable, super high heels that give you extra height and strengthen your standing posture, and petite jumpsuit which is chic and sexy no matter what.
How to copy her style? Keywords: High waisted, pencil skirts, long pants, body con
Mira Duma, Height: 5′, Petite Rectangle Shape
Signature style: Polished Fashion Forward
Previously the editor of Harpers Bazar Russia, Mira Duma is different from other short Hollywood celebrities. If you don't know who she is, you should.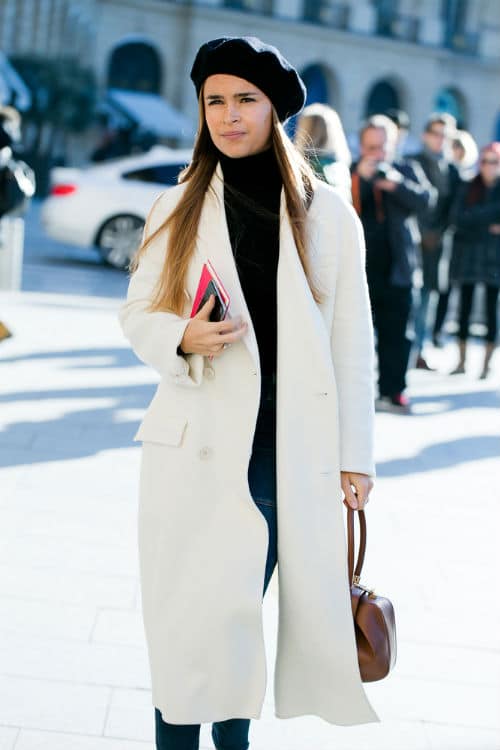 She is a Russian digital entrepreneur and investor in the world of international fashion, founder of digital company Buro 24/7, the co-founder of the e-commerce platform The Tot – a US based curated e-commerce platform for mothers and their children looking for information and healthy, safe, innovative products.
Standing under 5 feet tall, she constantly looks stunning because of an impeccable fashion sense and the ability of mixing and matching different patterns, textures, cuts and bold colors. Fans admire Mira for her ability to style herself in an electric fashion that doesn't look too overwhelming to her petite frame. She has an amazing wardrobe full of the most trendy as well as classic apparel such as off the shoulder dress, lace dress , colorful trench coat, and the list goes on and on. It is an understatement to describe Mira's wardrobe as an art.[/vc_column_text]
How to copy her style? Keywords: textured fabrics, structured outerwear, chic handbags
Victoria Beckham, 5'3″, Petite Inverted Triangle Shape
Signature Style: Refined edgy
Victoria Beckham is one of the most stylish short celebrities of ever. She is a fashion designer (she just launched her affordable line at Target), singer (it all started with her "Spice Girls" days), mother of 3 gorgeous boys and 1 girl, and a writer of fashion book "That Extra Half an Inch".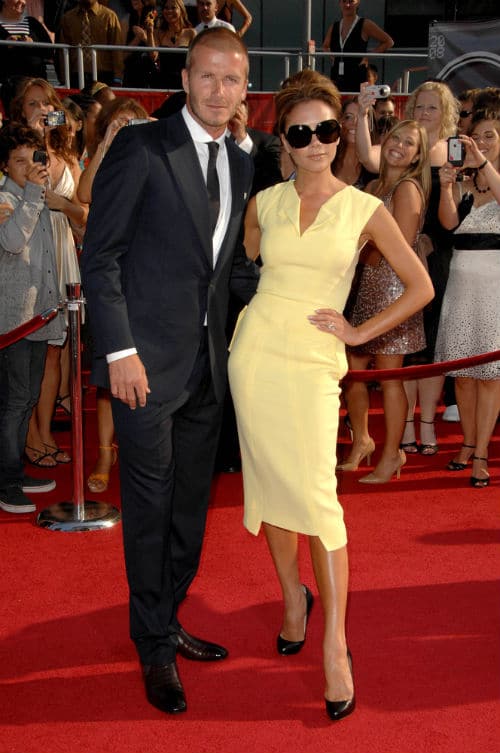 Her style is impeccable, whether on the street or on the red carpet. No wonder some fashion magazines call her "the most stylish walking advertisements of all time". Some of her wardrobe staples include high-waisted trousers, pencil skirts, pant suits, and the list goes on and on. At 5'3, she is not afraid of breaking the fashion rules of petite girls. That is, she can pull off a midi skirt, midi dress, or even wide legged pants, and look absolutely stunning. That explains why the fashion industry have become insatiably obsessed with all things she wears- both Victoria and her designs. She looks effortlessly chic in classic neutral colors such as grey, black and navy, but you will also find her constantly surprise us with bright colors such as hot pink, neon orange or bold red. Her style can be summarized as "minimal chic".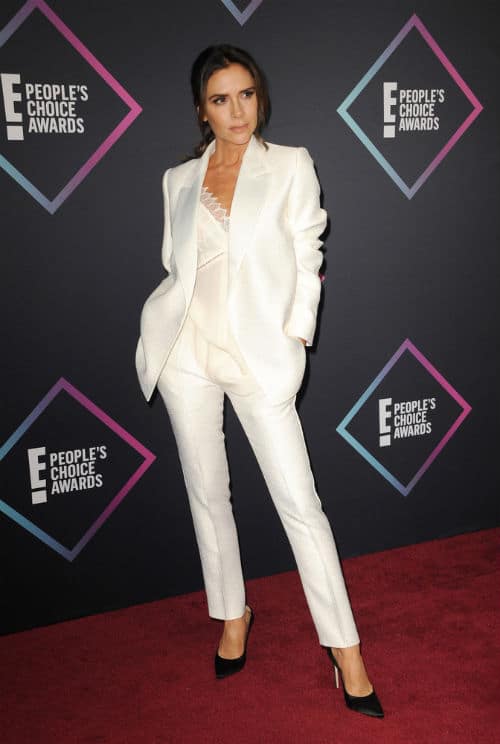 She has apparently mastered the formula of what works on her, and she has created similar outfit again and again mixing and matching different separates. Whether it is a crew-neck sweater, a cute top, ankle length pants, loose trouser, petite skirt, or pointed heels, one thing in common in all of her looks is to create a long and slimming silhouette, which is why every petite girl should learn how to dress like Victoria Beckham. Another thing Victoria Beckham is famous for is stilettos (some fashion talk show even joked about she might be wearing those on the treadmill!) Pick any fashion element, and there is always so much we can get inspired about by Victoria's fashion choices. Marie Claire magazine has dubbed her "The most influential woman in fashion as of today".
How to copy her style? Keywords: fitted blazers, pencil skirts, cigarette pants, sheath dresses
Sarah Jessica Parker, Height: 5'3″, Petite Rectangle Shape
Signature style: Chic causal
Sarah Jessica Parker (5'3″) is probably most known for her role as Carrie Bradshaw in romantic comedy Sex and the City. This epic HBO original series not only made Sarah Jessica Parker a household movie star, but also established her fame as a fashion icon, thanks to all the classy and timeless outfits and stilettos Carrie wore in the show. Carrie Bradshaw represents an era and memory of many girls growing up watching Sex and the City. Decades after the show was aired, fans all over the world still watch it and rewatch it, and one of the reasons is to admire the impeccable style of the four main characters.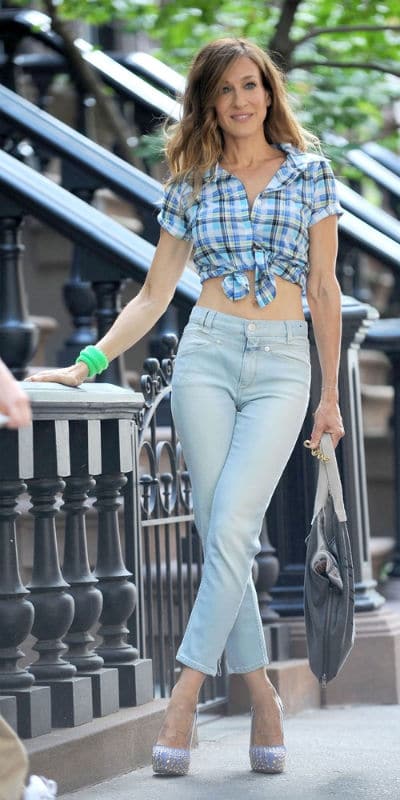 Sarah Jessica Parker style is effortlessly chic on the street or on the red carpet. There is a lot petite girls can learn from this hot short celebrity on how to dress, for example, she is the master of wearing ankle length petite pants, one of her wardrobe staples, and look long and lean.
How to copy her style? Keywords: ankle jeans, fitted shirts
Vanessa Hudgens, HeightL 5'2″, Petite Hourglass Shape
Signature style: Romantic and Boho chic
If you are not familiar with her name, it is understandable. However, you probably have seen her featured in celeb magazines or star blogs for her impeccable fashion sense. This actress and singer is not just talented with acting and singing, but a notable petite fashionista.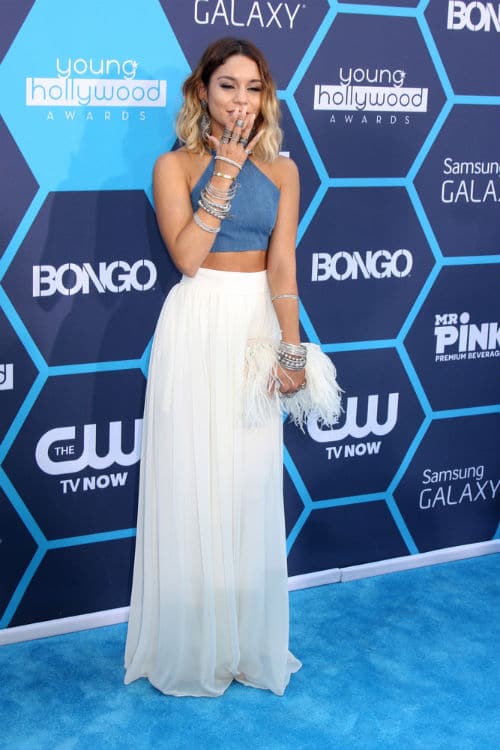 Her signature style? Too many! Her ever changing outfit style is a combination of boho chic, urban sophisticated and downtown cool. As a short celebrity, she is the master of mixing short and long styles and create the illusion of height. For example, some of her most widely talked about looks are mixing cropped tops with various bottoms (wide leg pants, midi skirts, maxi skirts and so on), which makes hers look a lot longer and taller. Whether your personal fave is boho or urban, what every petite girl can learn from her style is to play with proportions.