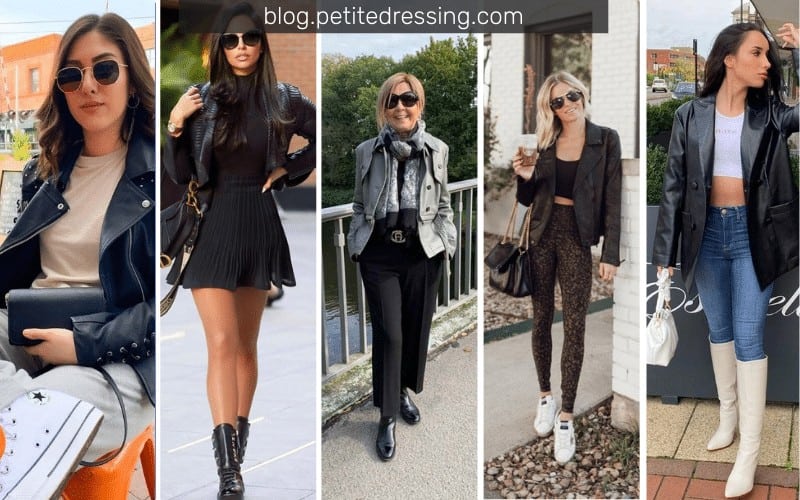 A leather jacket is a classic and timeless piece that everyone should have in their closet. It's an essential for fall weather, a great layering piece in winter season and is the perfect outerwear on those chilly nights you're out enjoying yourself. Safe to say every outfit you can think of can benefit from leather jackets.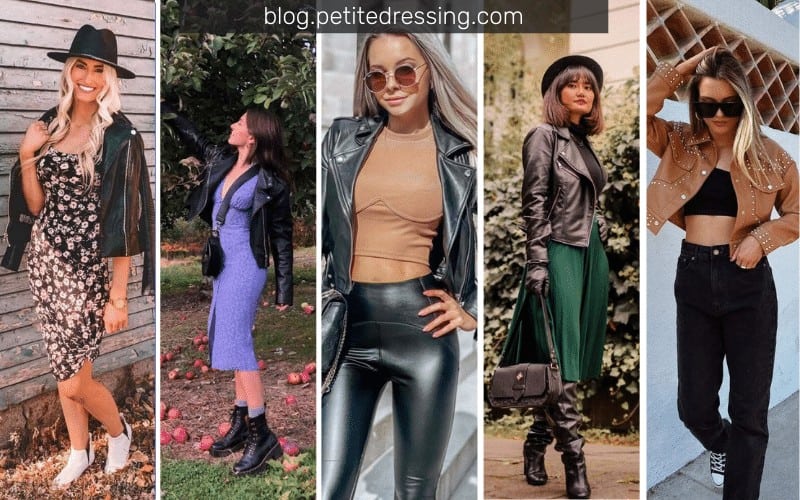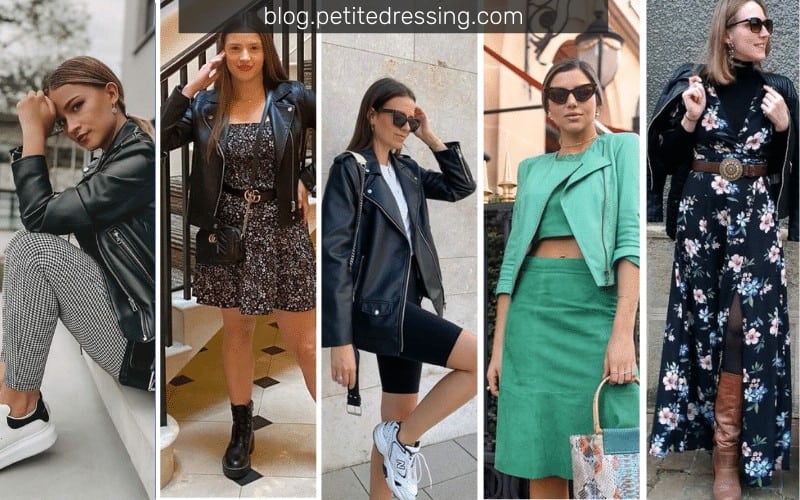 Leather jackets are easy to style, especially if you go for black leather. They can also be bought in many other different colors, and all you need to do is ensure your colored leather jacket goes well with what you chose to pair it with. Speaking of best leather jacket outfits, here are 25 great ideas of what to wear with a leather jacket: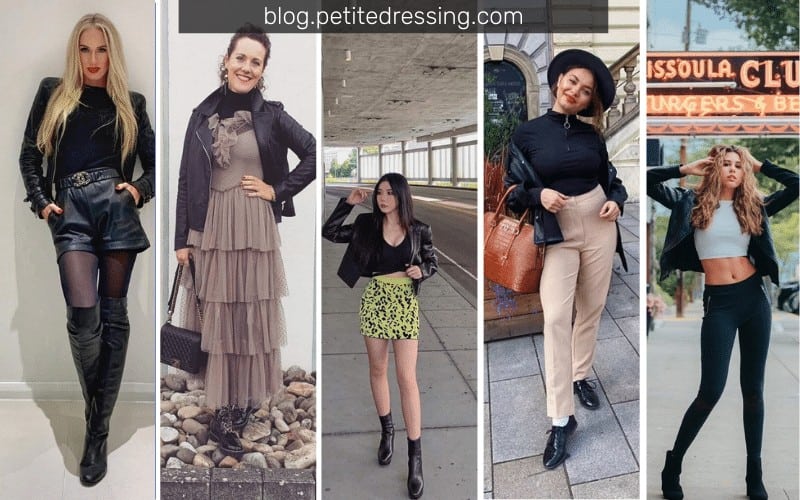 With a plain midi dress
Midi dresses might not be the easiest pieces to style but they certainly look great when you do it right. Wearing a leather jacket over your midi dress is a nice way to keep warm and to make the feminine style dress look edgier.
A plain or more muted midi dress in particular allows you to have an easier time picking footwear and other accessories, and looks more ladylike. You can certainly go for a subtle printed one too, which will add more interesting dimension to your outfit.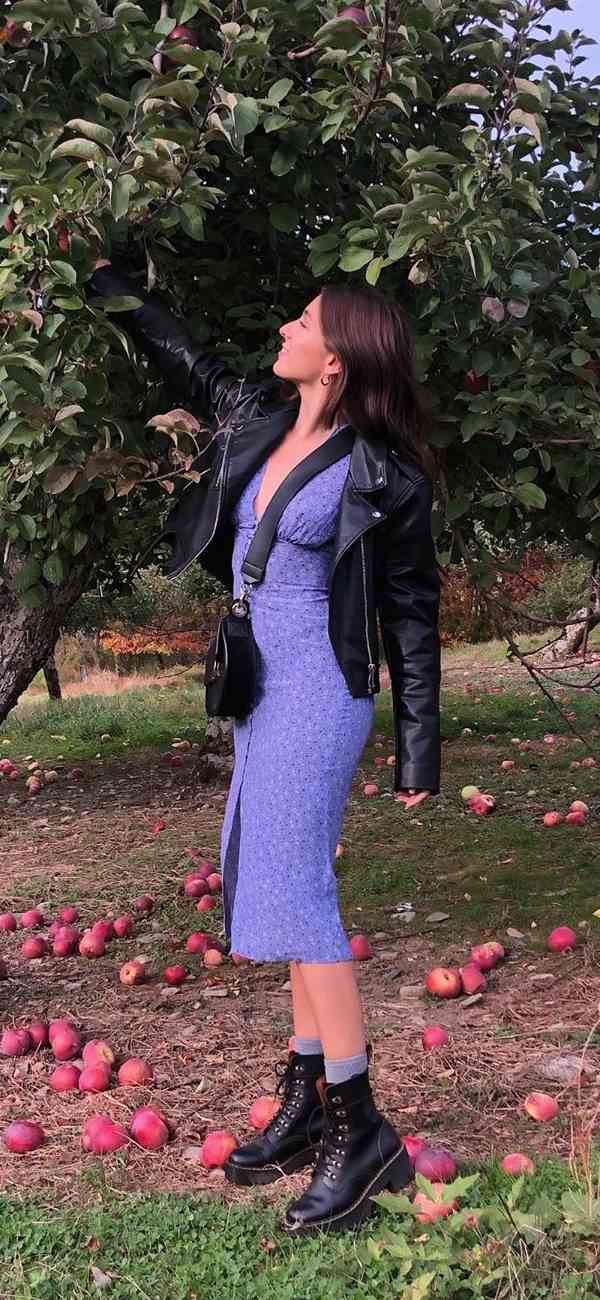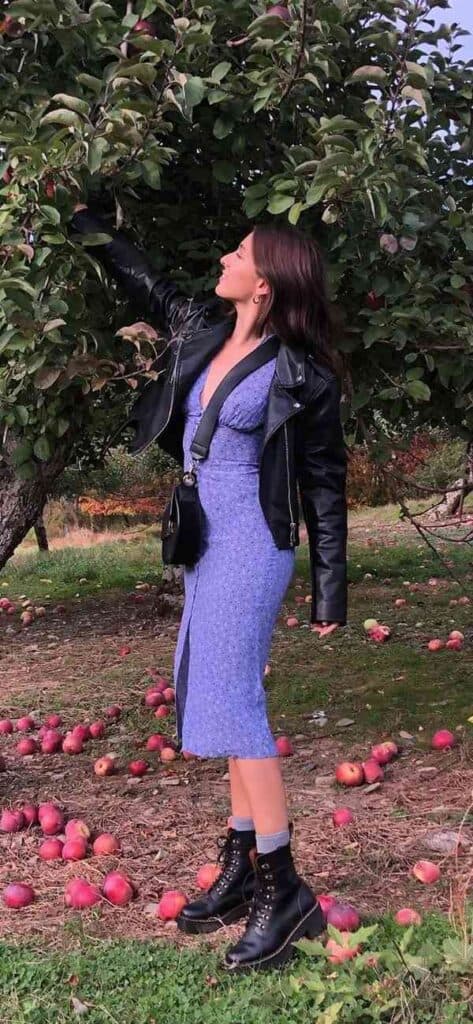 Ama (above) wore her midi dress with a black leather jacket. The black is great against the blue color of her dress.
For the best look, you have the option of going for a more feminine shoe like high heeled pumps. If you want something more interesting, a pair of combat boots like above can give the outfit that nice unexpected twist. It gives the outfit a great balance between feminine and tough.
With mom jeans
Trends from the 90s have slowly but surely found their way into the present day and mom jeans are part of those 90s style pieces. Mom jeans are cool and flattering, usually a thick pair of jeans that doesn't stretch with a high waist and straight legs. Wearing a leather jacket with your mom jeans gives you that relaxed fit.
It's more of a model-off-duty look going by the number of high fashion models that are constantly photographed on the streets in this style and well, who doesn't want to look like one?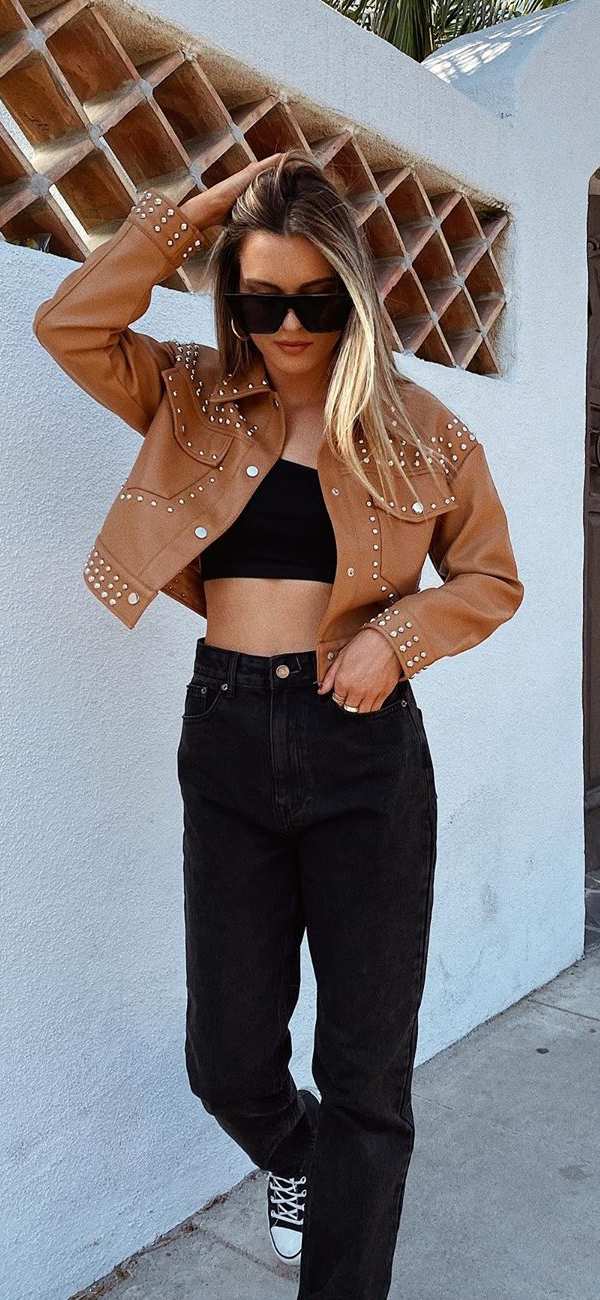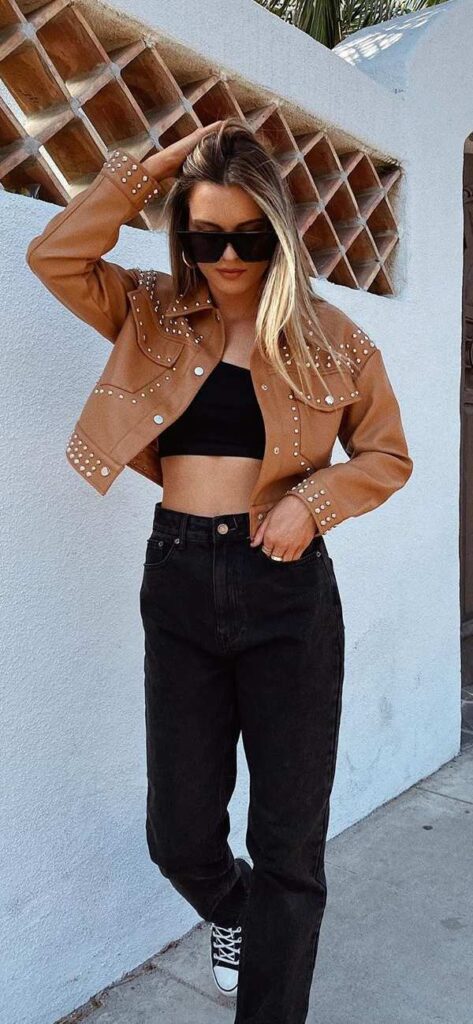 Amber (above) looked casual chic in her black mom jeans paired with a contrasting brown jacket.
Mom jeans do not always have to come in blue although that's the most popular color for them. You also have the option of wearing leather jackets with embellishments such as studs to make the look cooler, especially if you're wearing a monochromatic outfit underneath.
With a midi skirt
You can make your midi skirt outfit look young and fresh by styling it with a leather jacket.
Midi skirts are quite versatile, which is great because they can be worn by women of all shapes, sizes, and ages. You can wear them casual or in a more sophisticated way. If you shy away from them because you are worried they might age you, you can wear it with a leather jacket for a youthful look.
It's always better to keep the look minimalist by going for a simple pair of footwear. Sneakers make the outfit more casual and fun while heels will make them more feminine. These are not the only types of shoes that would go well with such an outfit though.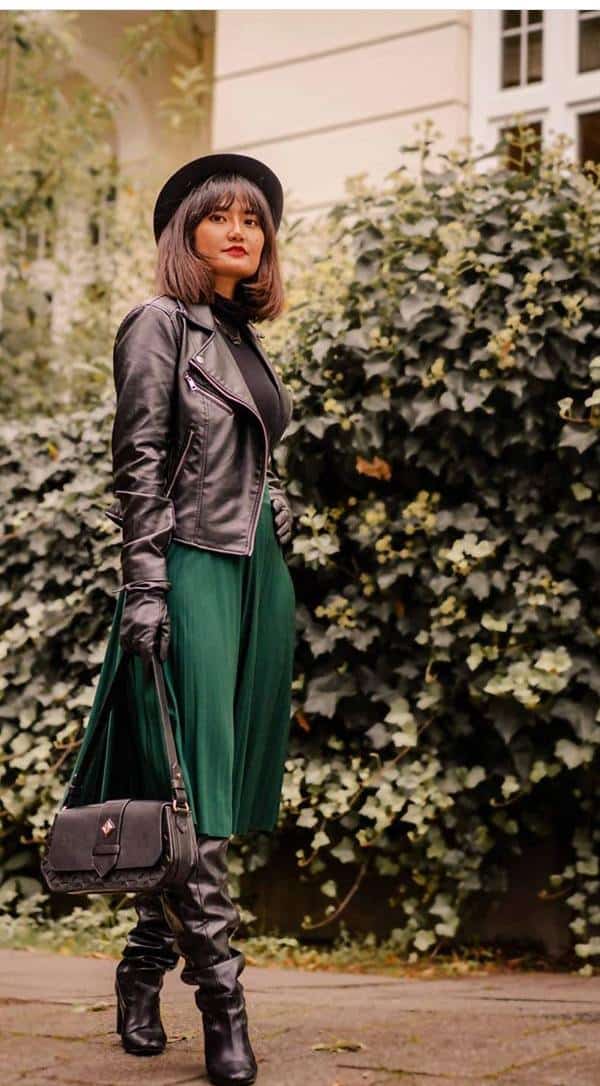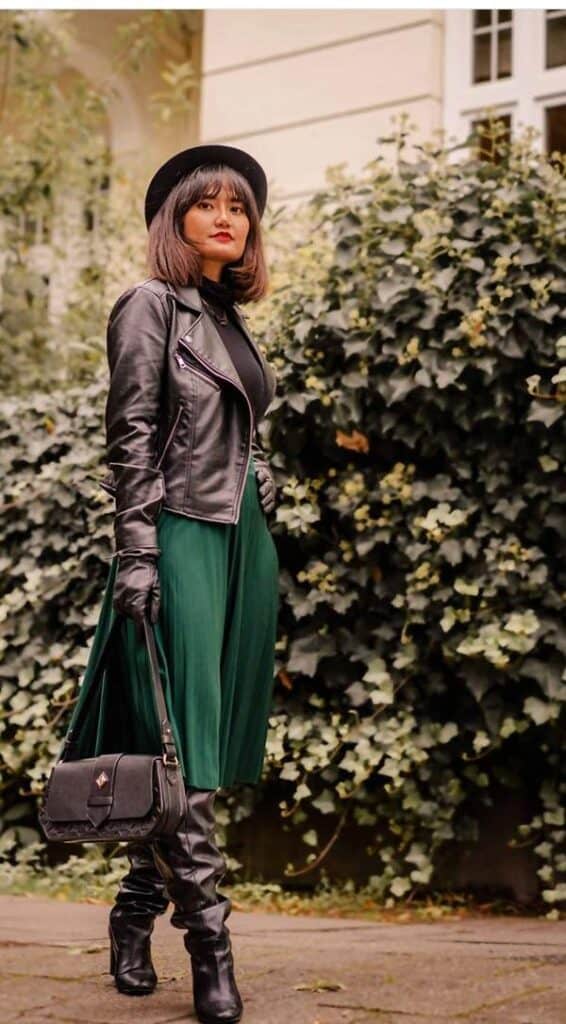 Ariah (above) wore her midi skirt with a black top, a leather jacket, and a hat then went for a pair of boots to finish off the look.
If you choose to go with boots when wearing your leather jacket with a midi skirt, it's best to keep the look minimalist and blacks are great for it.
With sweatpants
Sweatpants are the ultimate loungewear pieces around so if you want a look that's chill while you watch a great series on Netflix, there you have it. They can also be worn outdoors when paired with the right pieces of clothing.
A leather jacket is an example of a wardrobe piece that goes a long way in adding life to an otherwise very laid back (and sometimes boring) pair of sweatpants. The jacket makes the outfit look more elevated and appropriate for running around the streets.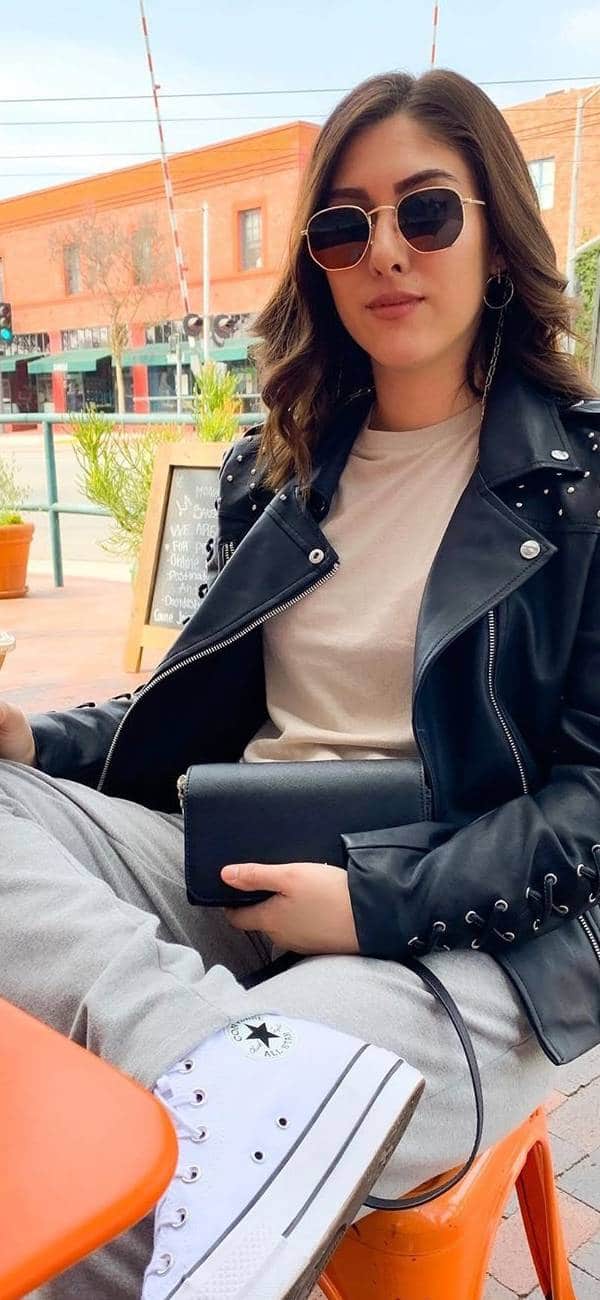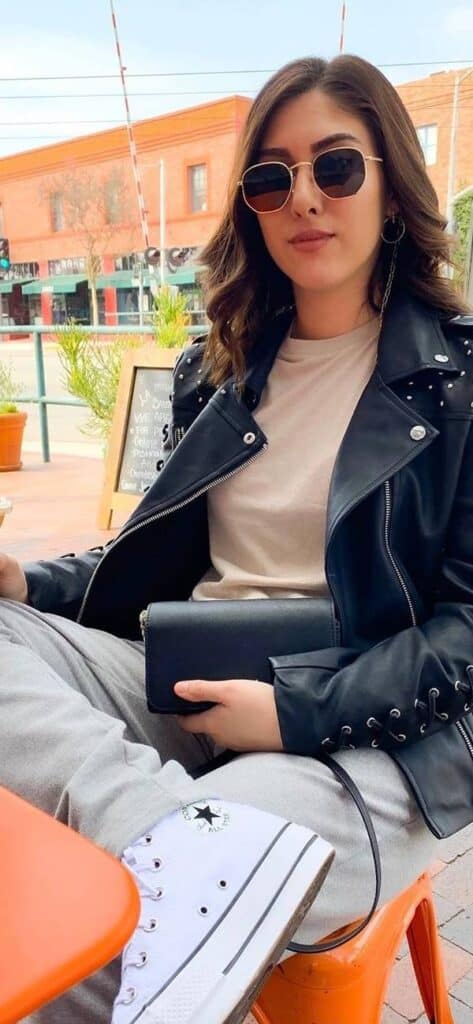 Ashley (above) looks sporty chic in her sweatpants and leather jacket pairing.
To get this look, wear a t-shirt under the jacket, a pair of converse, go for a simple bag, and accessorize further with some sunglasses. You can also wear this outfit with pointed stilettos or strappy heels just to dress it up a bit.
With a knee-length dress
A knee-length dress is both comfortable and easy to wear since the length is not too long and not too short. It doesn't involve any extremes and a printed one such as a floral knee-length dress is very girlie and can be worn by anyone who doesn't mind bringing out their playful, girly side. A leather jacket brings a sense of toughness to an otherwise very easy-to-wear fun girl look.
The look can be worn to a more formal environment or event with some stilettos or strappy heels but can also be worn casually.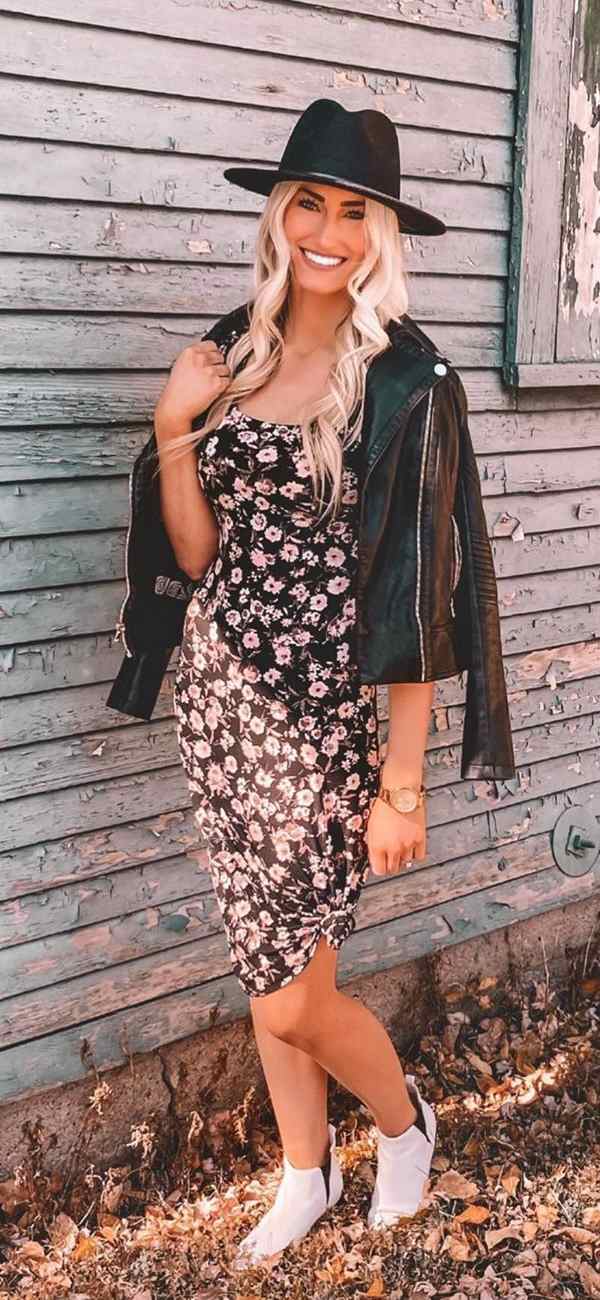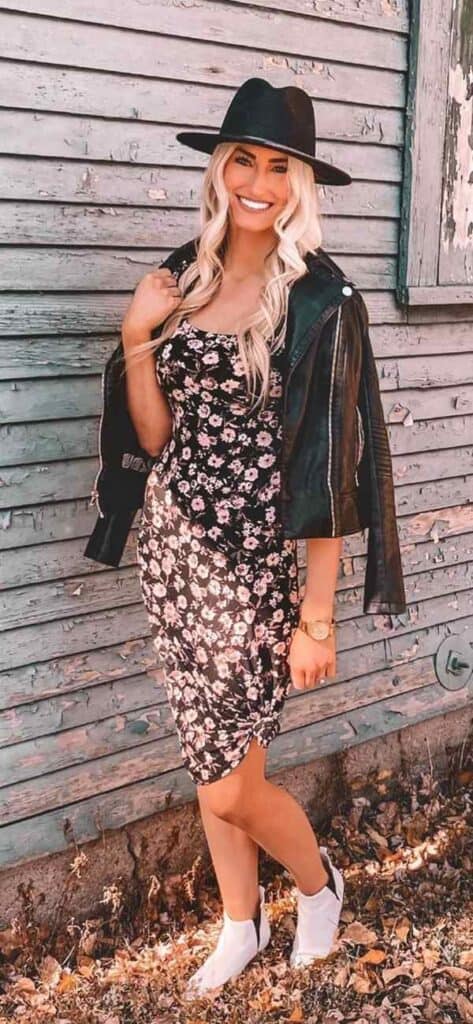 Annie (above) preferred to wear her leather jacket with a knee-length dress in a more laid back way and tied part of the hem into a side knot.
You can complete the look with a pair of booties and hat for an even more casual look. You can go with a floral knee-length dress in any color especially if your leather jacket is plain.
With dress pants
Tailored straight-leg pants are the easiest way to look all dressed up and classy. They may be minimalist but these pants go a long way in making you look smart, whether you're going to the office or you're simply after a smart casual look.
The best part about a leather jacket is that it can complete both a casual and a dressy outfit, when paired with dress pants, like the tailored straight-leg pants. The difference is majorly made by the shoes although the type of top you go for also counts.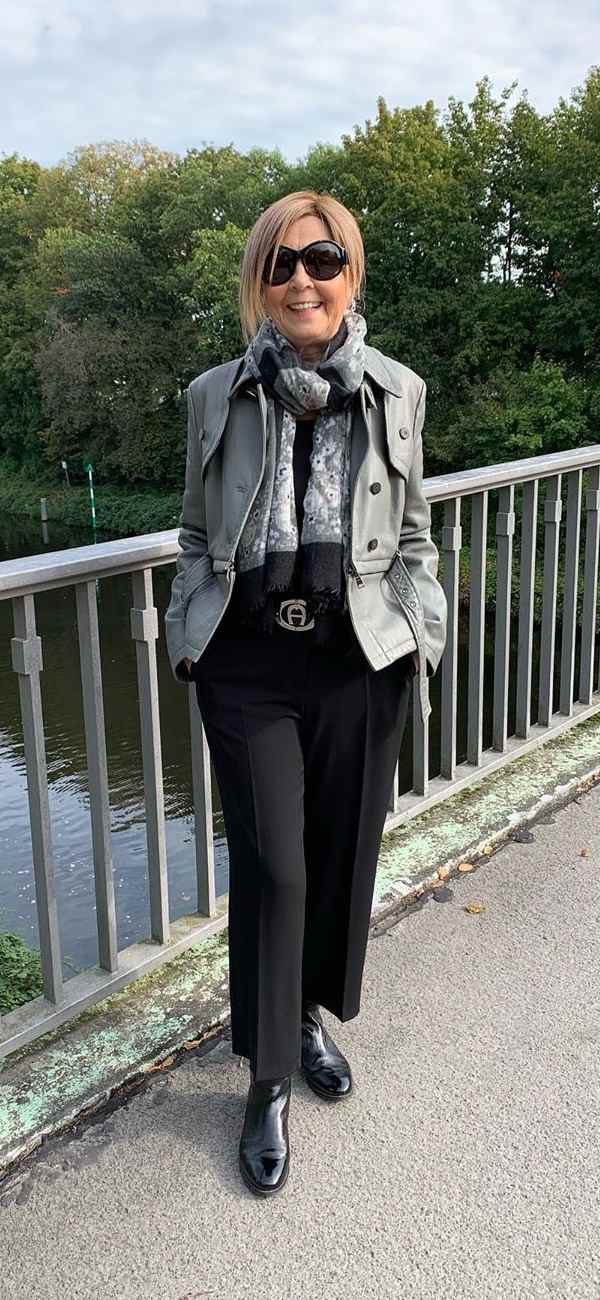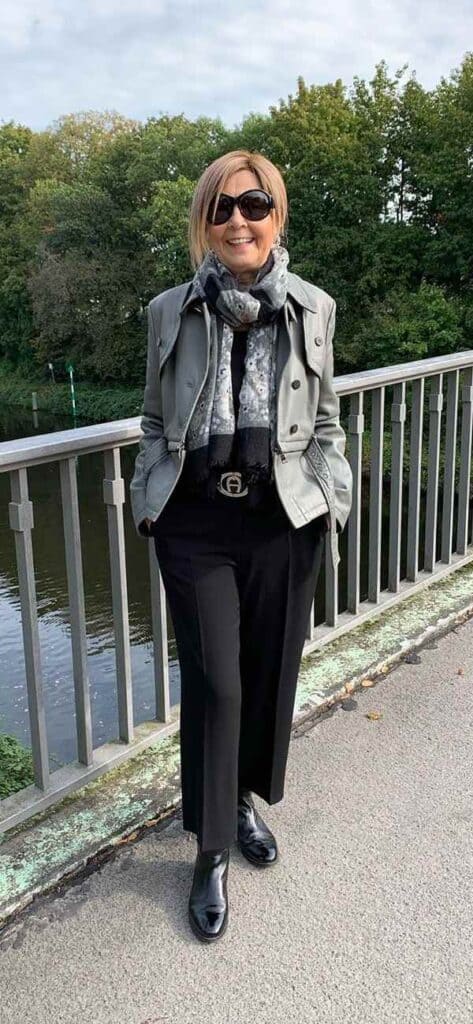 Ingrid (above) wore her straight-leg tailored pants with a grey leather jacket and some boots.
You don't always have to go for a moto-style leather jacket for this outfit as there are cuts of leather jackets that look more formal. You can actually wear such leather jackets in place of blazers although a cropped jacket would also serve the purpose.
You can also go with plaid dress pants for this outfit, as plaid is quite on trend for the preppy look.
With a mini A-line skirt
Nothing says girly and fun more than a short A-line skirt, since it's got that feminine and playful silhouette. A short A-line skirt is a great piece for those who are looking to show off their legs and a nice cinched waist. They can be styled with a versatile leather jacket to give the short skirt a more sophisticated look.
The best part is that with these two pieces you can achieve a sporty, casual, dressy or edgy outfit.
Going for an all-black look or other neutral colors with heels or boots is the easiest way to look effortlessly chic in this outfit, although you can switch up the classy footwear for sneakers if you prefer a sporty outfit.
With your everyday leggings
When paired with a simple top and a leather jacket, you can turn your everyday leggings into a ready-to-go-anywhere outfit. Most women own half a dozen leggings for the simple reason that these are the go-to on those days when you feel a bit too lazy to get all dressed up.
Of course, regular everyday leggings do not only have to be only worn at home. It's the leather jacket that gives the outfit an instant boost and makes it appropriate for different places you'll find yourself in outdoors
It's worth accessorizing the look with some sunglasses and reaching for a great bag. For this, make sure your leggings are thicker and fit you properly otherwise you risk walking around in a tacky outfit.
With skinny jeans
Skinny jeans paired with a leather jacket is a favorite for many women. Of all the different types of jeans, skinny jeans flatter any woman regardless of their shape and are age-appropriate whether you are younger, middle-aged, or older. They are simple and versatile which is why many prefer to throw them on especially when they want a casual look.
The contrast between the two materials that is leather and denim always works and the skinny jeans allow you to go for different types of leather jackets since they are minimalist.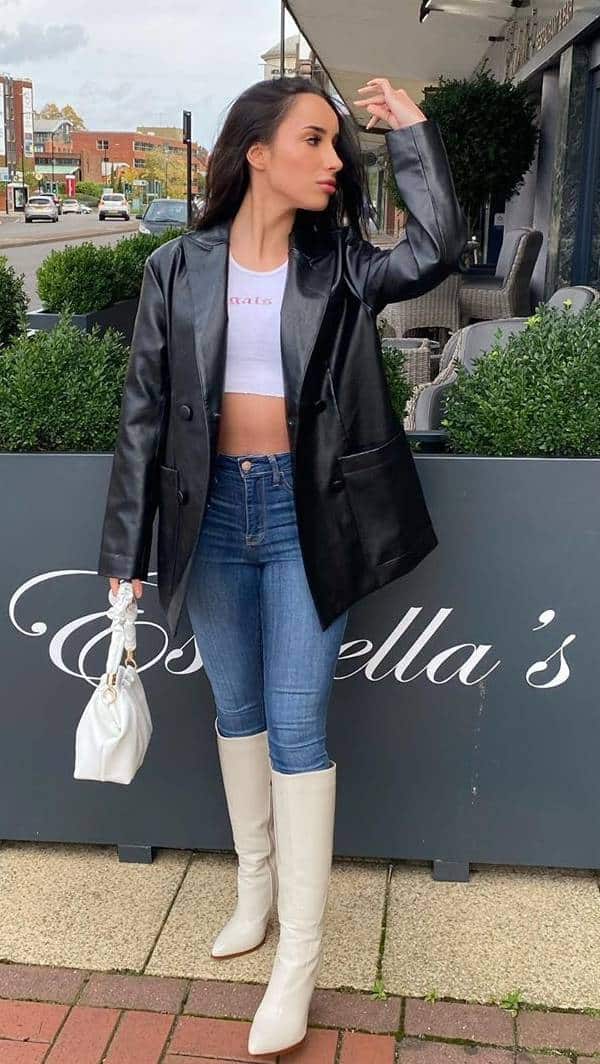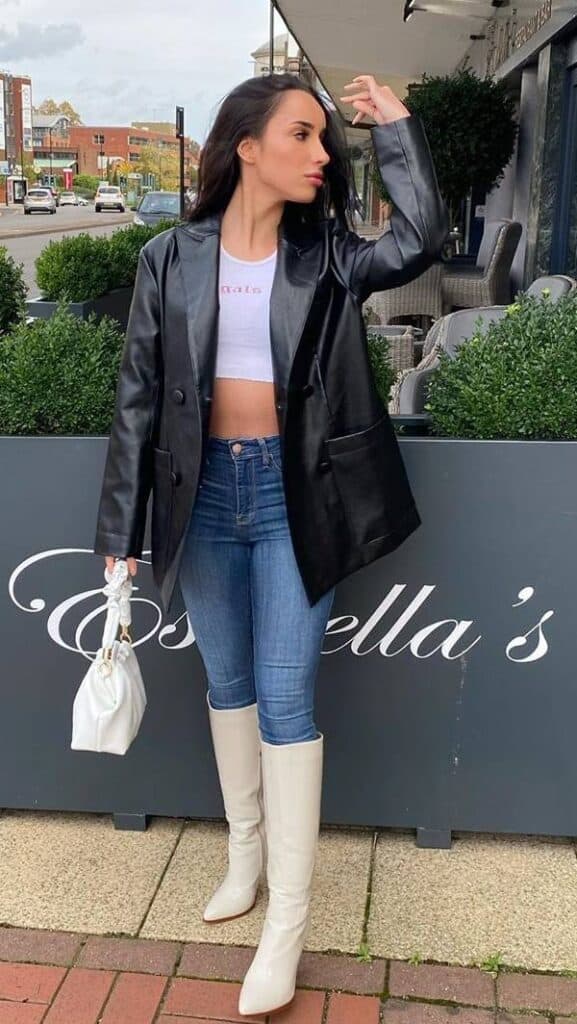 Dany (above) is wearing light blue skinny jeans with a black leather jacket, some white boots, and a white crop top.
You can also switch the crop top for a button-down, a t-shirt or a blouse. You can also go for a different pair of shoes with the skinny jeans for this look.
With khaki pants
If you're the girl who just loves to wear jeans because they're simple and go with anything, then you'll appreciate khaki pants too. This is because they are equally simple and versatile, just that they look a bit dressier than your normal go-to-jeans.
As such, you can very easily pair your khaki pants with your leather jacket then choose from a variety of footwear. You could go for converse, loafers, mules, booties, you name it. They all look great against the khaki material.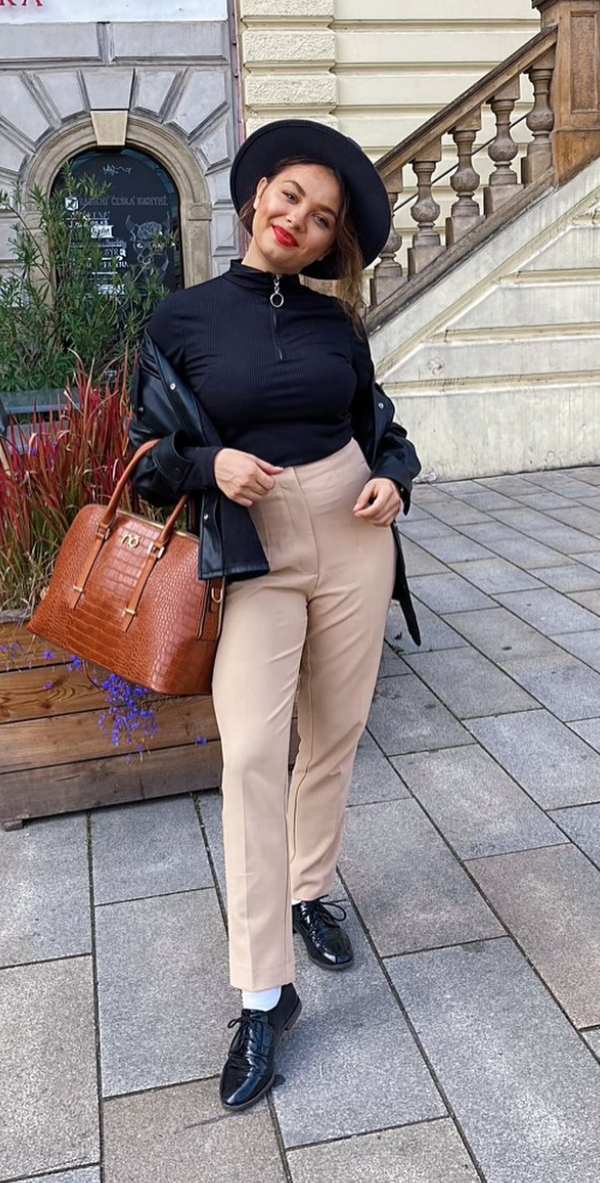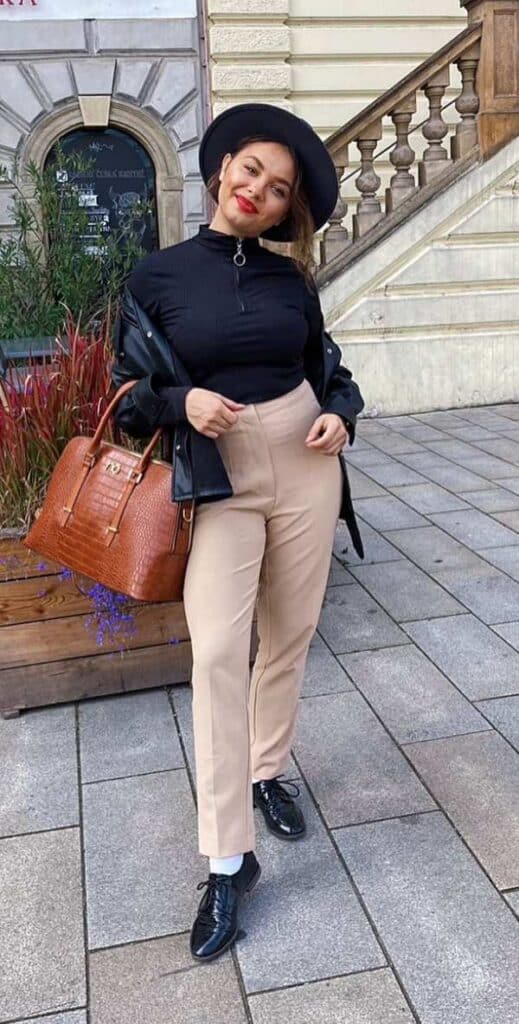 Valeria (above) wore her simple straight-leg khaki pants with a jumper and layered a leather jacket over the jumper. It's a great way to stay warm considering she's wearing some closed shoes and a pair of socks too.
The khaki material gives a great contrast from the leather and the look is even more elevated if you opt for a leather pair of shoes.
With a pullover
A pullover can be layered under a leather jacket in the fall or in colder winter weather. Back in the days, pullovers were minimalist in design, but today you can get a pullover with more interesting details and necklines.
Wearing a pullover is a simple way to keep warm while you look stylish at the same time. They actually look really great with leather jackets just as long as the jacket fits you well. You don't want it all bulgy so if you're wearing a chunkier sweater, size up on the leather jacket too.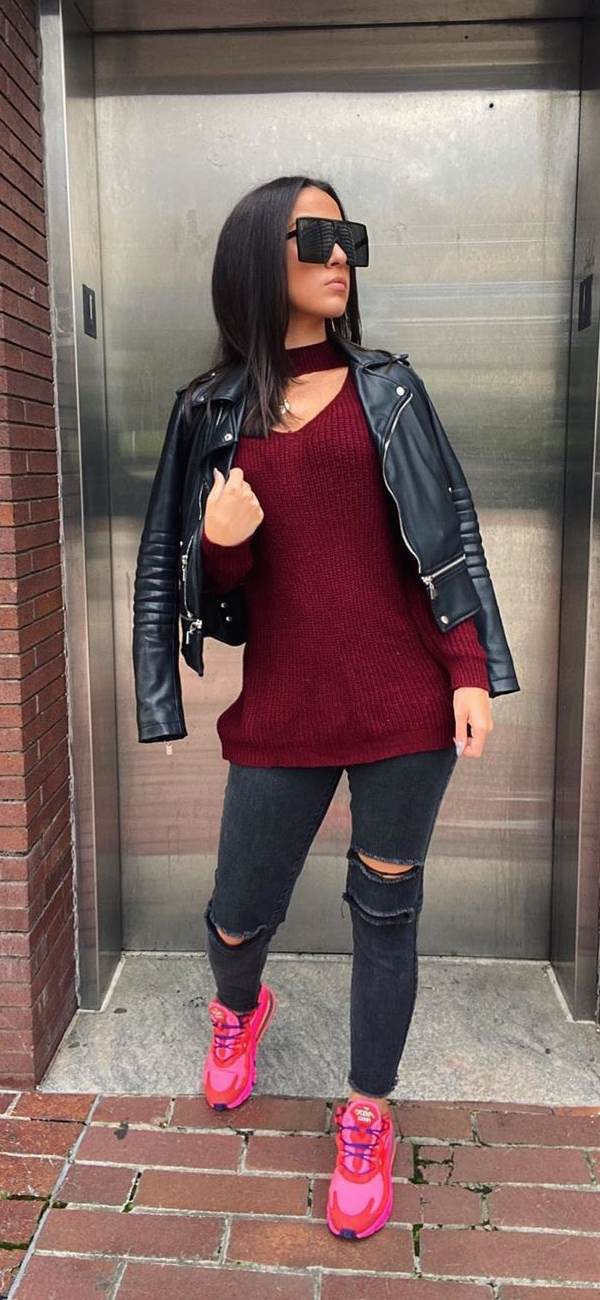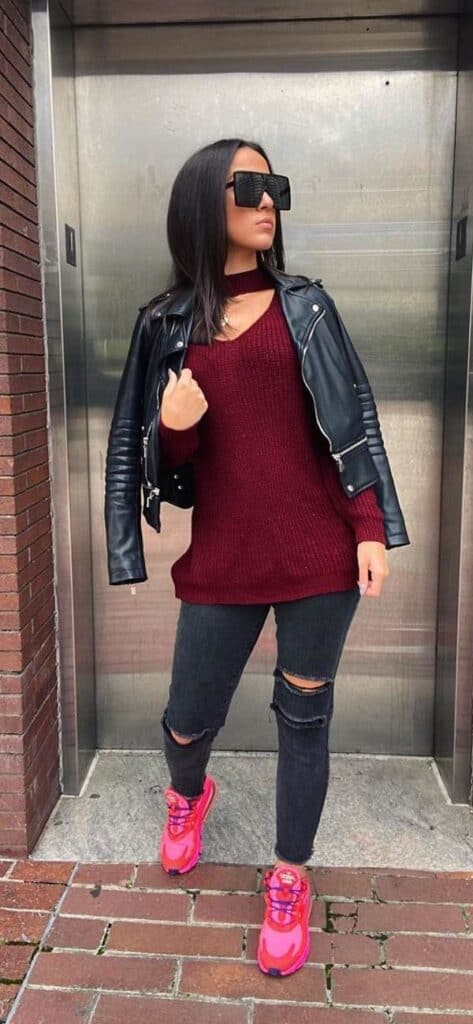 Nicole (above) styled a burgundy pullover with a cut-out design at the front with a pair of rugged jeans and threw over the look a black leather jacket. She completed her look with a pair of cool sneakers. In case your sweater feels a bit too chunky but you would still like to rock this look, you can always throw the jacket over your shoulders instead of wearing it all the way. It makes the look chicer.
With a message t-shirt
Instead of wearing a plain t-shirt, you could wear a message t-shirt and throw a leather jacket on to make the look more fun.
A message t-shirt is a subtle way of telling people what you believe in regardless of the topic. After all, why would anyone wear a shirt with writings they do not approve of right?
It's better to go for a leather jacket that allows the message on your t-shirt to be seen. However, if your jacket covers a bit of the message, no cause for alarm.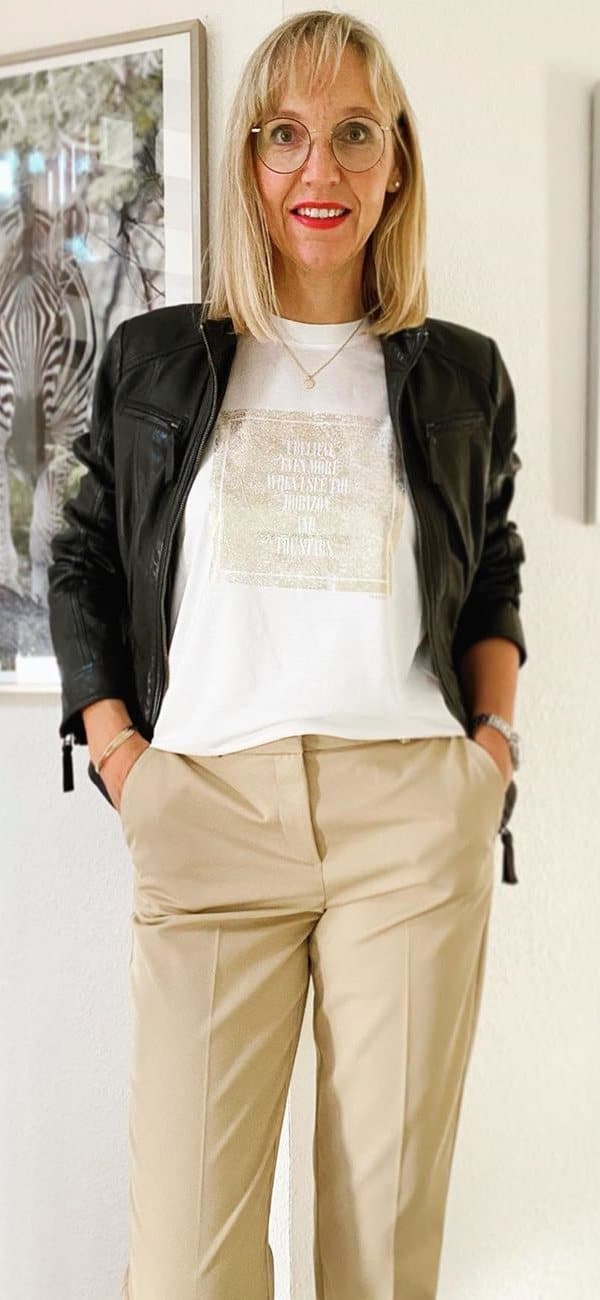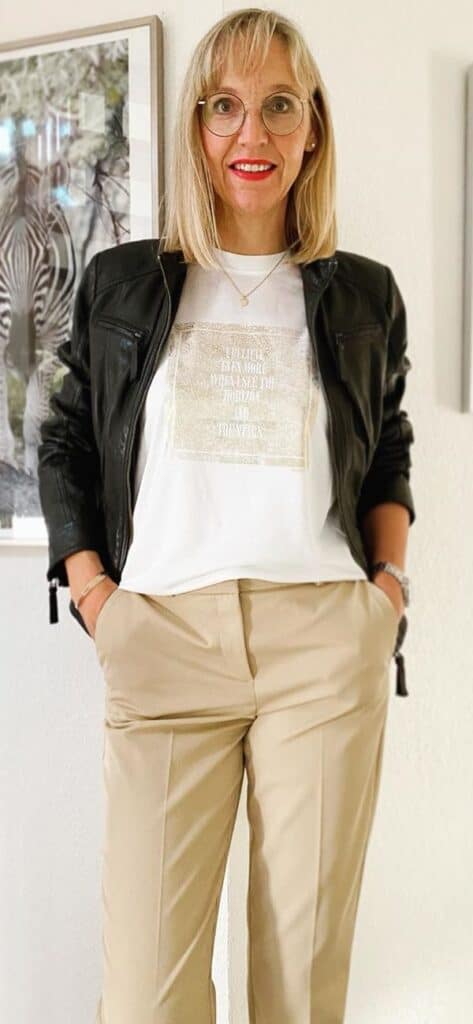 Something Fashion (above) paired her message t-shirt with a leather jacket and a pair of khakis. The colors on the shirt go well with the color of the khakis and she went minimal on the accessories. The t-shirt will look great whether your leather jacket has a collar or not.
With a plaid shirtdress
layering your leather jacket over a plaid shirtdress means you'll be combining two fall favorites together in one look.
Shirtdresses are mostly smart-looking dresses but you can find more laid back ones in plaid or denim. It's almost impossible to give a list of fall favorites without adding a plaid shirt or shirtdress.
Plaid is a playful print that has grown in popularity and wearing it with something in leather is a good way of elevating it. It provides a more casual way to layer your pieces since layering is often looked at as a chic way of styling.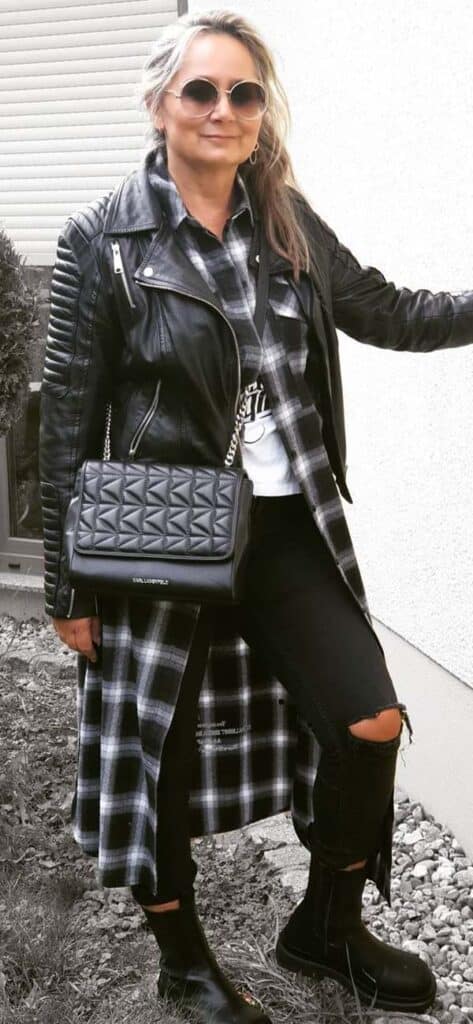 Sofie (above) styled a pair of rugged pants with a white tee and threw over the look a plaid shirtdress and a black leather jacket. Keeping the colors simple is the best way to go about it.
With a graphic t-shirt
If you're even bolder, you can switch up a message t-shirt for a graphic tee. A graphic t-shirt has more visible images or as the name suggests, graphics, and will stand out in any crowd because they are so out there.
Choosing a plain leather jacket to wear with a graphic t-shirt is the best way to go if you simply want the t-shirt to be the center of attention, although you could pick a jacket with studs and other subtle embellishments. Make sure you coordinate the colors of your graphic t-shirt with that of your leather jacket well because you don't want your outfit to be all over the place for the wrong reasons.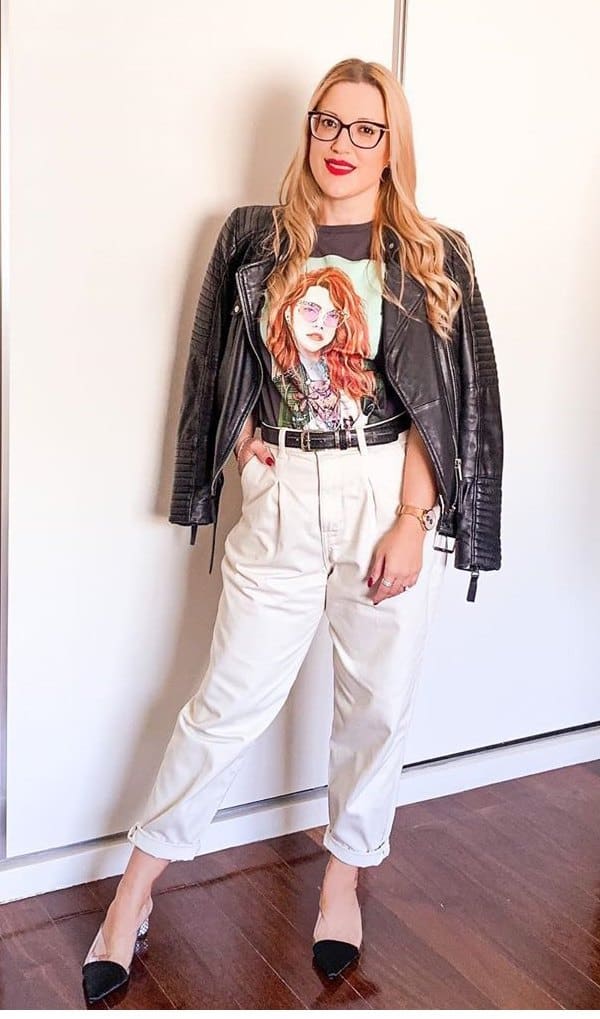 Nadine (above)paired her graphic t-shirt with a black leather jacket, rolled up khaki pants, and a pair of feminine shoes. Remember, this may be a casual outfit but you can dress it up with a pair of stilettos, or heels of your choice.
With patterned pants
There are a number of different patterns today and having them on your pants will make the pants look more interesting or simply, fun. Pants with patterns, just like plain ones can also look chic when paired with the right pieces. Your leather jacket will give a great contrast to your printed pants when you pair them both together.
It's best to go for a plain leather jacket, and a black one comes highly recommended so that it allows the pattern to stand out. It, therefore, gives your outfit a good balance.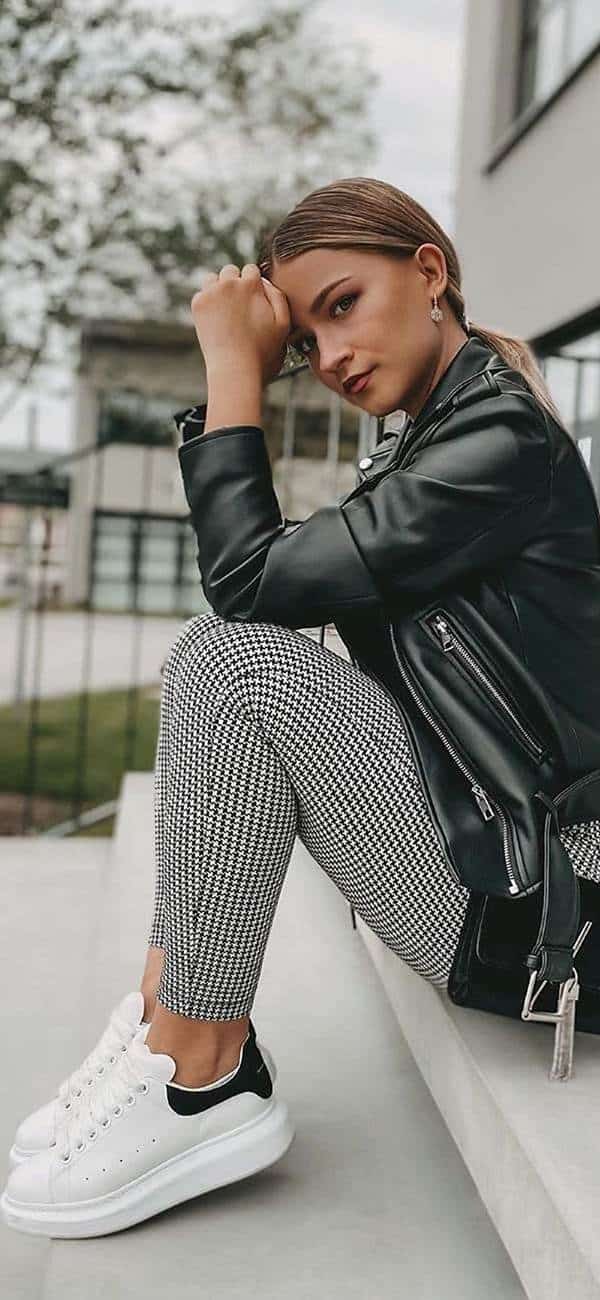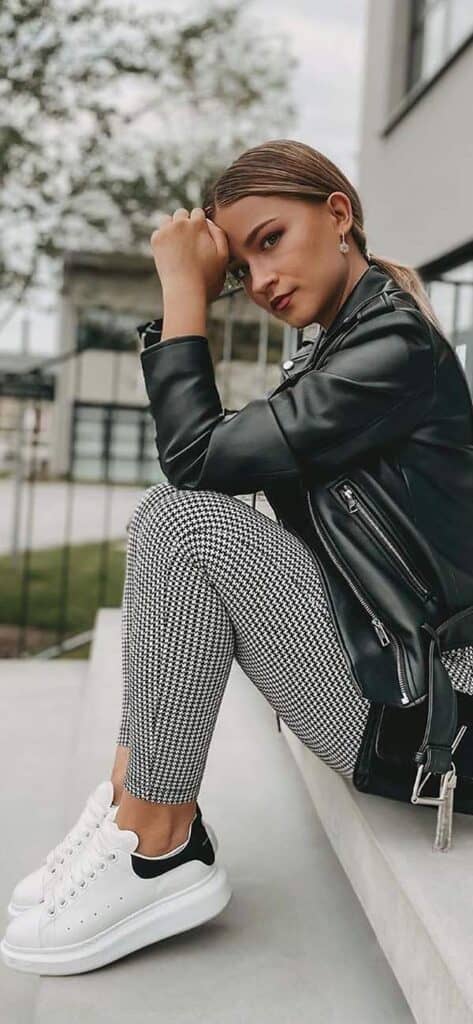 Alissa (above) paired her houndstooth pants with a black leather jacket and went for a simple pair of sneakers in white. It's an easy combination considering it only incorporates classic colors. If you'll be going for more color, make sure all the pieces you choose for your outfit co-ordinate for a simple, fun look.
With a maxi dress
Maxi dresses are also very feminine pieces that go all the way to your ankles. They are fun and comfortable but the best part is that they come in different designs, prints and patterns.
While maxi dresses are most popular during summertime, when you wear them with a leather jacket, they can easily transition into fall. For this, you could layer your pieces so that you don't feel cold, for example, a turtleneck or a t-shirt underneath the dress then wear your jacket over it.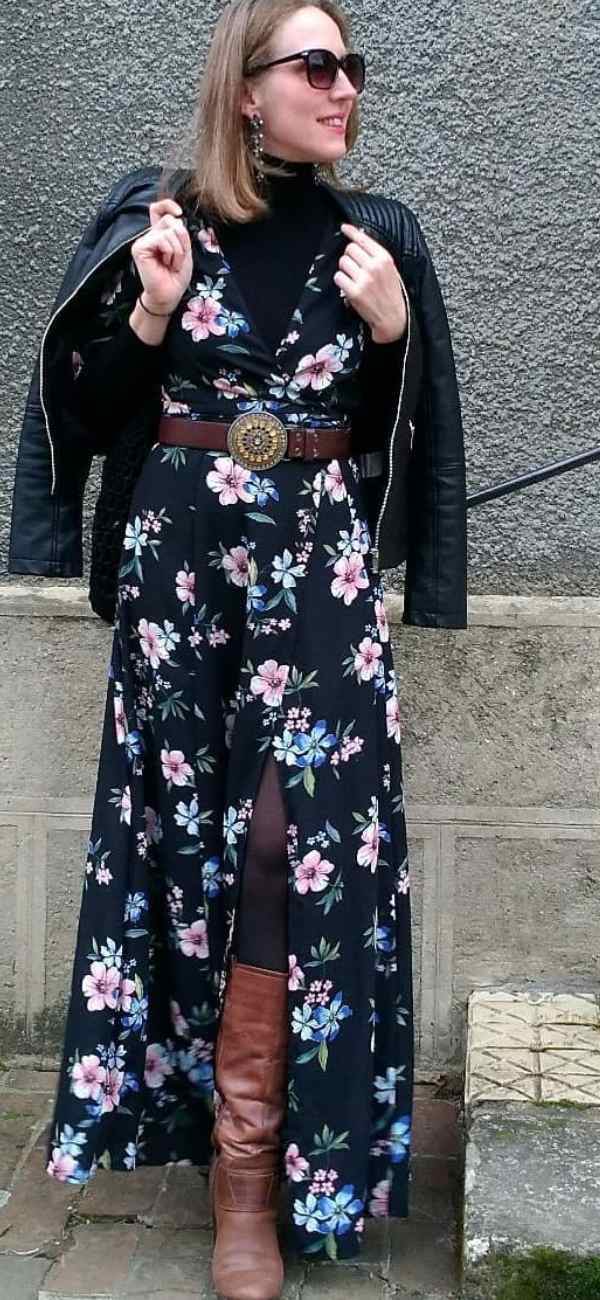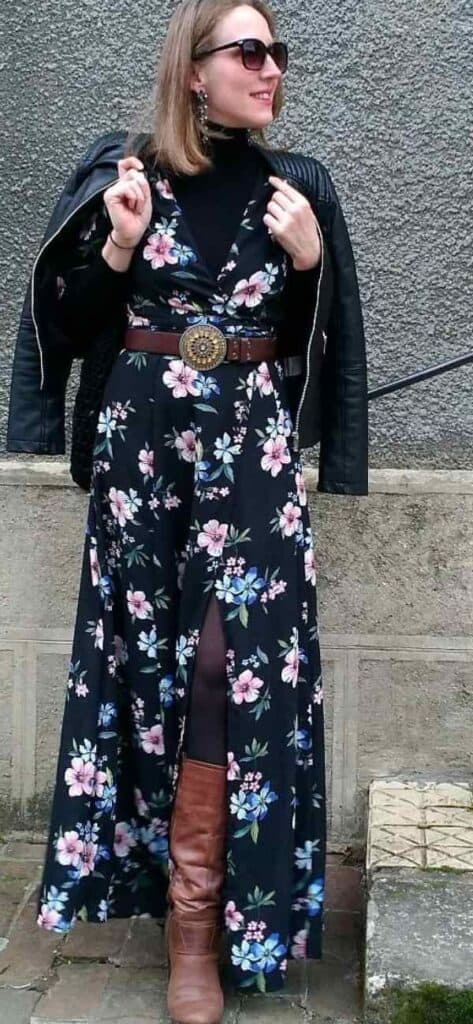 Melie (above) styled a maxi dress with a turtleneck underneath and a leather jacket over the outfit. She wore some dark tights underneath her dress too considering the slit. You can actually wear your maxi dress with boots and not just sandals for this pairing.
With a matching set
A co-ord set is great especially on those days when you can't seem to decide what to wear with a specific piece. After all, it involves two pieces that come together to make a full outfit which saves you a lot of time and energy when you need to get dressed up.
You can wear a leather jacket with your co-ord set whether it's a pant set, a shorts set or even a skirt set. The leather jacket acts as that elusive third piece that makes your entire look even better.
For this outfit pairing, you can choose different fabrics and play around with the textures of your co-ord set. It also helps to play around with the proportions, for example, you can go for a crop top instead of a full one. You can also go monochromatic or for a contrasting color leather jacket.
With a fit and flare dress
A fit and flare dress is very girly and flattering on different body shapes whether short or a longer one. They give your body that much-desired nice shape, cinching you up around the waist.
You can choose a plain or a printed fit and flare dress and wear it with your leather jacket to make it more dressed up and a little less playful especially if it's a shorter one.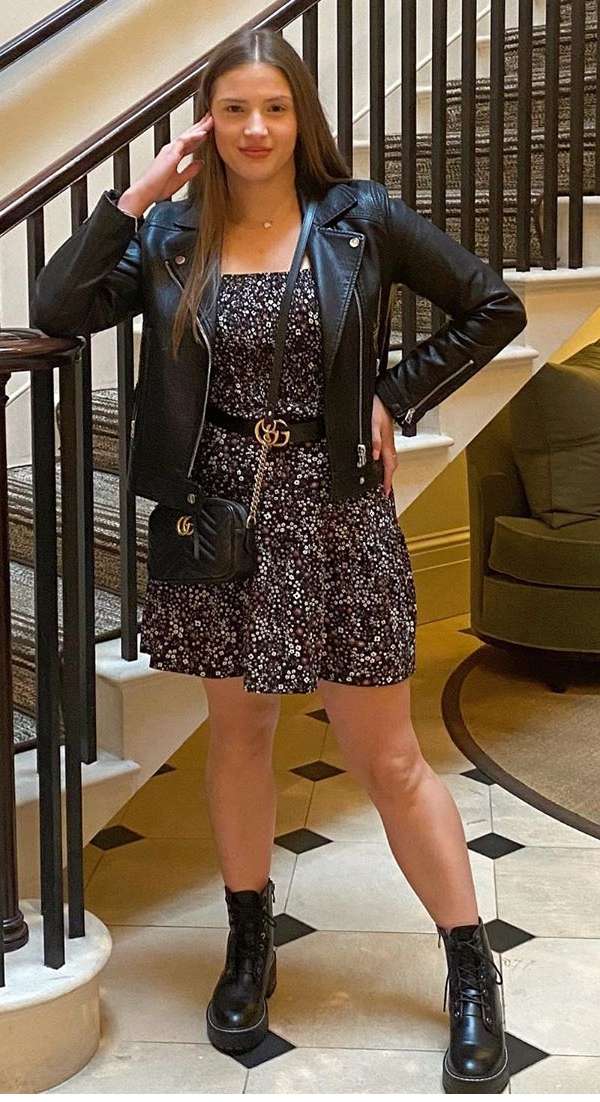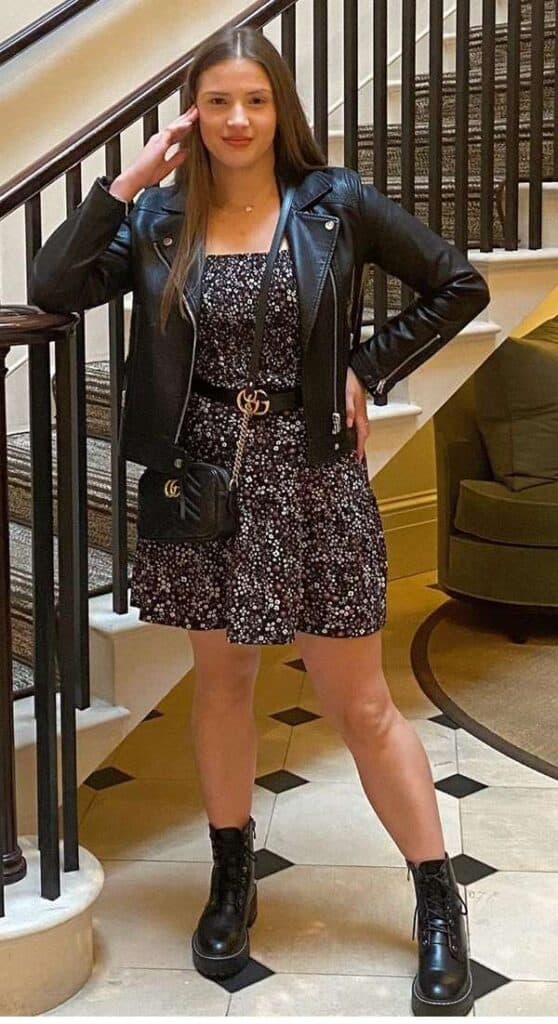 Courtney (above) styled her fit n flare dress with a leather jacket and a belt to cinch her waist in. She went for a pair of combat boots for that edgier and biker chic look as the dress is already cute. Pairing your fit n flare dress with your leather jacket makes your outfit look young and fresh.
With leather shorts
Wearing your leather jacket with your leather shorts gives you that fashion week ready outfit. Leather shorts are also a great way to show off your legs especially if they're nice and toned. They are also very flattering and are great for fall, especially if you go for genuine leather as opposed to faux leather, but both will do.
Add a pair of stylish sunglasses and you instantly receive a confidence boost. It's best if you pick an all black look but you can always play around with some color here and there.
Styling your leather shorts with some tights and a pair of boots will make your legs look even longer and make you look taller. Not only will this outfit make you stand out in the fall, but will also keep you warm when you are wondering what to wear in 60 degree weather, for instance. You can always accessorize with statement pieces or simpler ones if your entire outfit is black.
With a tiered dress
Tiered dresses have a tendency to look very churchy and can be a lot for certain people. This is because whether you go for a short one or a longer one there's always a lot of extra fabric, but this can actually be toned down.
A leather jacket when worn over a tiered dress is one of the best ways to go about toning down this look. This is especially so if your tiered dress is colorful, or printed. If you still feel like a longer tiered dress is too much for you, you can always choose a shorter one instead as the leather jacket will work well with either.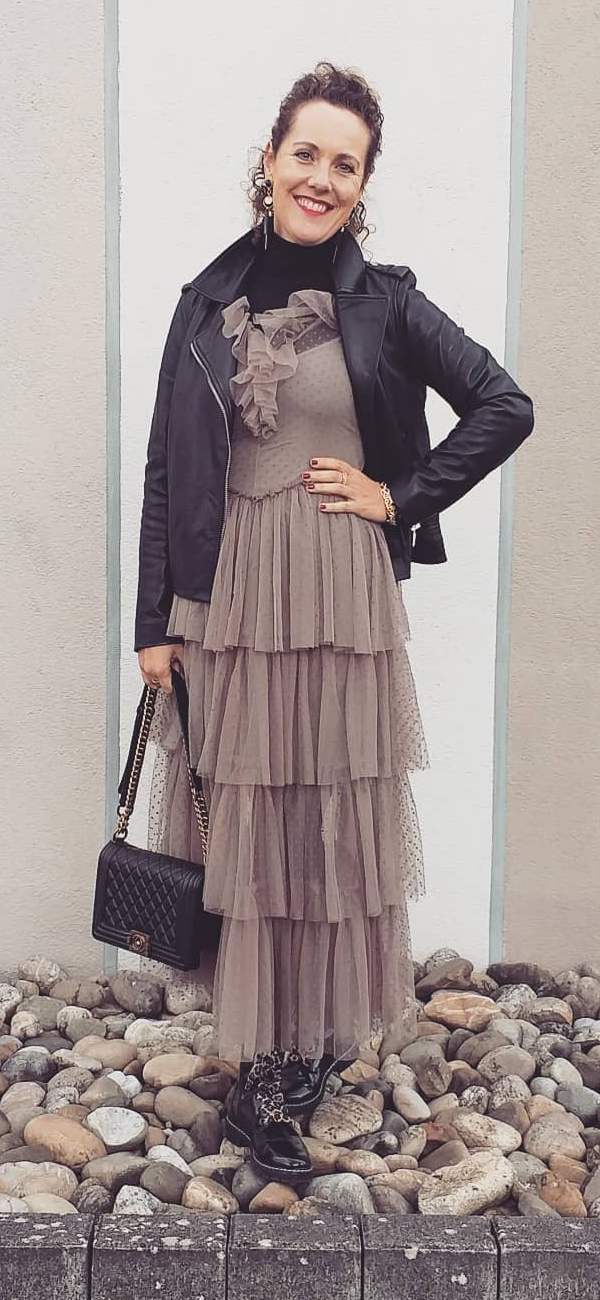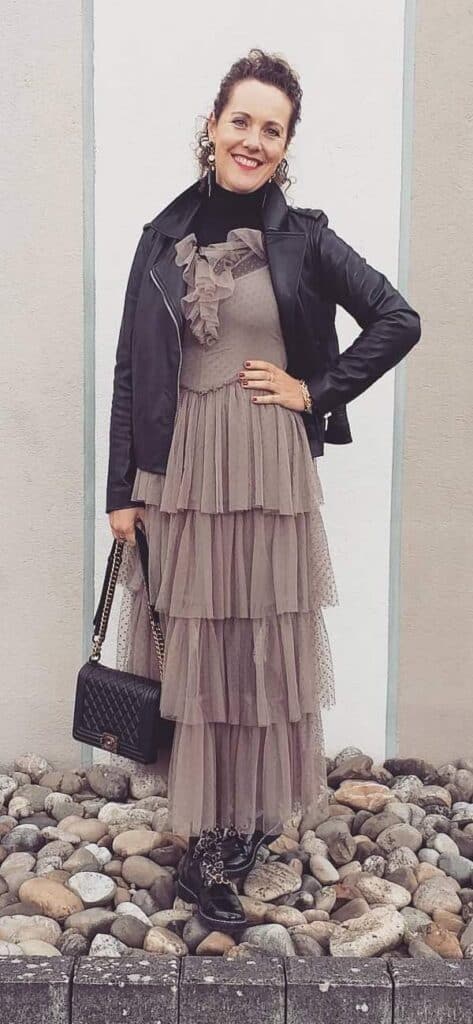 Anke (above) styled her tiered dress with a simple leather jacket and everything else black. She layered a black turtleneck under her dress and went for chunkier shoes as opposed to the obvious strappy heels or sandals. Any type of boots will go well with this outfit for fall but if you don't mind the girly look, a pair of sandals would still work.
With a pencil skirt
A pencil skirt is more for the daring girl, especially if it's a printed one. Just like a bodycon dress, their being fitted means they follow your body's exact shape. Wearing your pencil skirt with a leather jacket makes the look biker chic.
Since the skirt is already fitted, you can go for a baggier leather jacket or one that's cropped and more fitted. With this outfit, you can go more casual with a pair of converse or sneakers, dressy with a pair of heels or go full blown biker with some combat or ankle boots.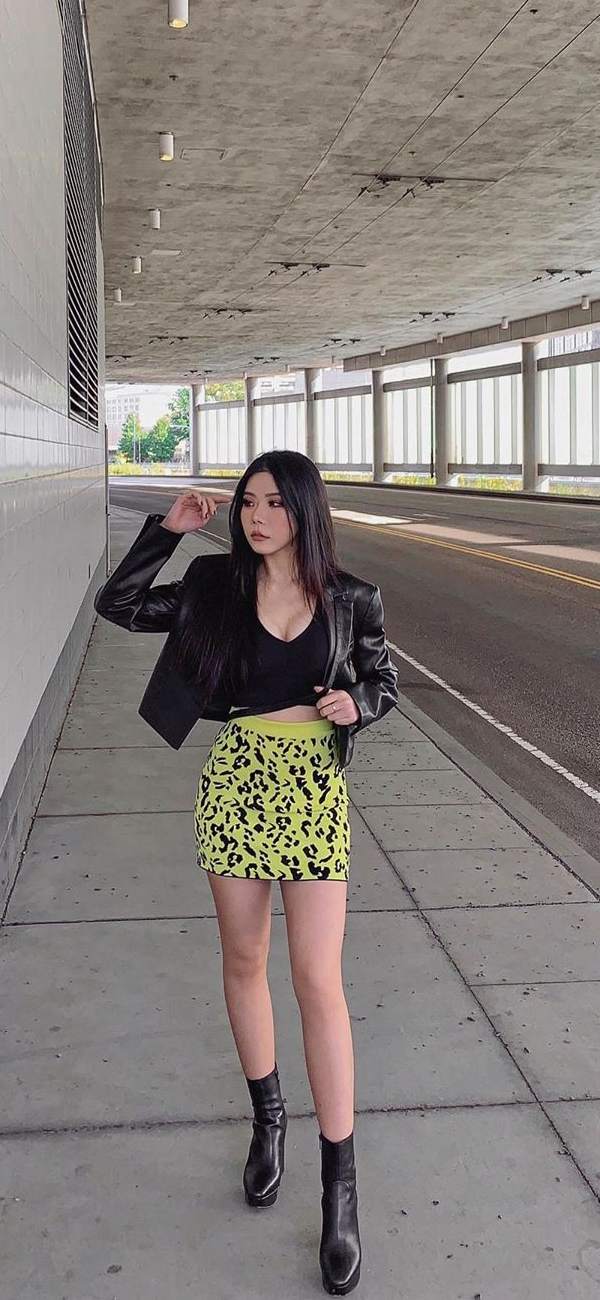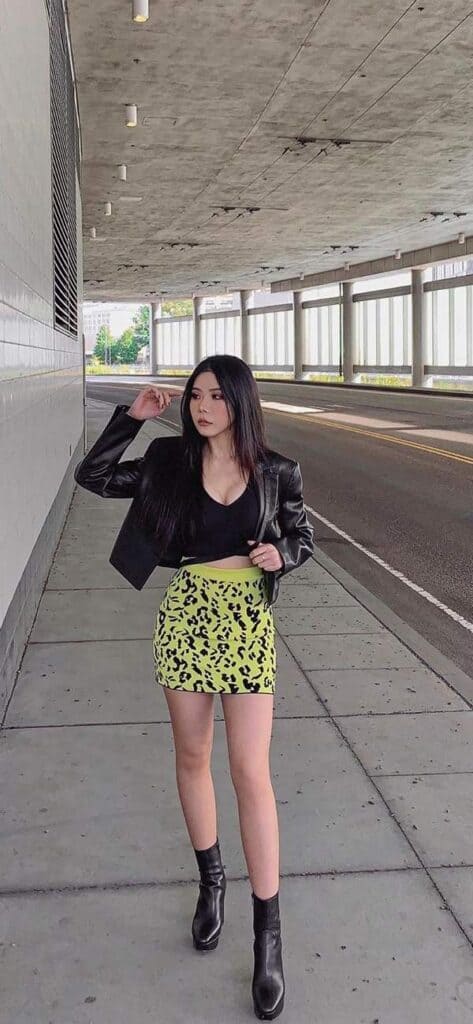 Sophie (above) styled a mini length pencil skirt with a black crop top and a leather jacket. She completed her look with a pair of boots.
If you feel like a mini skirt shows too much leg, go for a midi length or knee length pencil skirt. You can also tone it down by wearing a pair of dark tights or going for thigh-high boots instead. These give you more leg coverage.
With a crop top
Several outfits above have incorporated crop tops but these little wardrobe pieces deserve a mention on their own. Crop tops are a nice way of showing a little skin and with them, you can go all out or wear something on top of them such as a blazer, a coat, or a jacket.
One piece of outerwear that always looks great with a crop top is a leather jacket. A lot of people go for a moto-style leather jacket although any design will work because after all, a crop top is a bit minimalist thanks to the length, even if you choose to go for a more colorful one.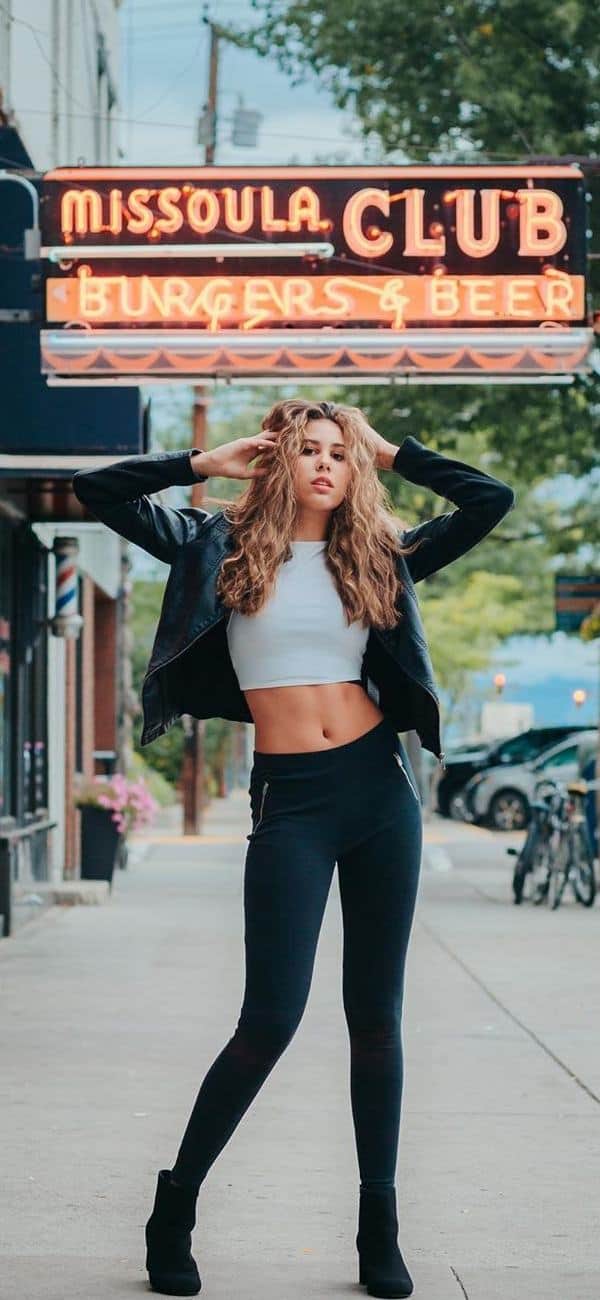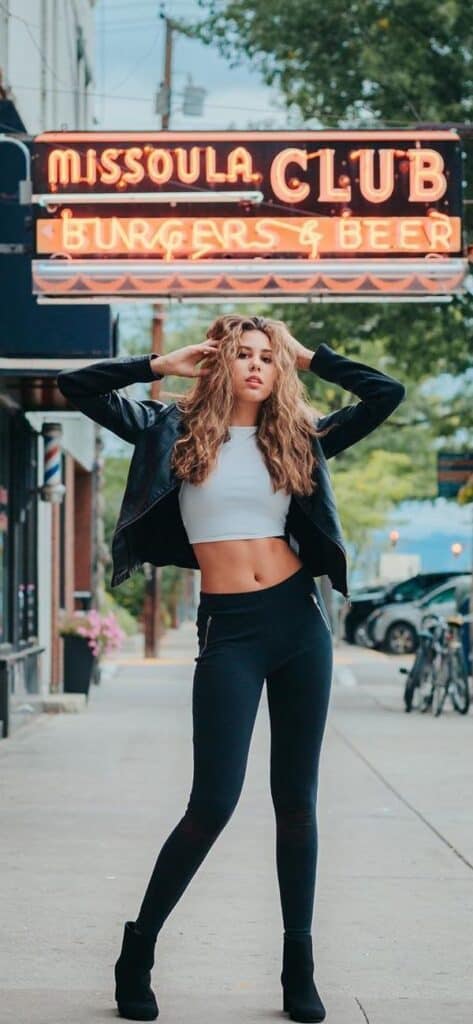 Melina (above) wore her black leather jacket over a white crop top. She went with a pair of black leggings and some black booties to keep the look minimalist since it only involves classic colors.
Choosing a high waist pair of pants or leggings when wearing both a cropped jacket and a crop top is a great way of making your waist look smaller and makes your legs look longer.
With leather leggings
Leather leggings are undoubtedly daring compared to your ordinary pair of leggings, however, if you're after a more sophisticated leggings look, they are the way to go. This would explain why they make for great outfits if your office has a more laid back dress code, but they're mostly worn casually.
You can go on full leather with your outfit by pairing your leather jacket with a leather pair of leggings. The leather jacket adds that rock star feel to your leggings outfit. It's a great pairing that can be worn out on an ordinary day with just a pair of sneakers, converse, or flats but you can also dress it up instead and go for some heels.
If you're going for the black on black look, you could always add a top in a brighter shade under the jacket to give your outfit that pop of color.
With a bodycon dress
A bodycon dress, whether long or short, draws the shape of your body as it is. These dresses are often seen as pieces of clothing for women who've fully embraced their physique and they take a lot of courage to wear outdoors especially during the day.
While they look great paired with a variety of outerwear for example dusters and blazers, you can also wear your bodycon dress with a leather jacket. Seeing as the dress is well fitted, a smaller or even oversize leather jacket will work well with it.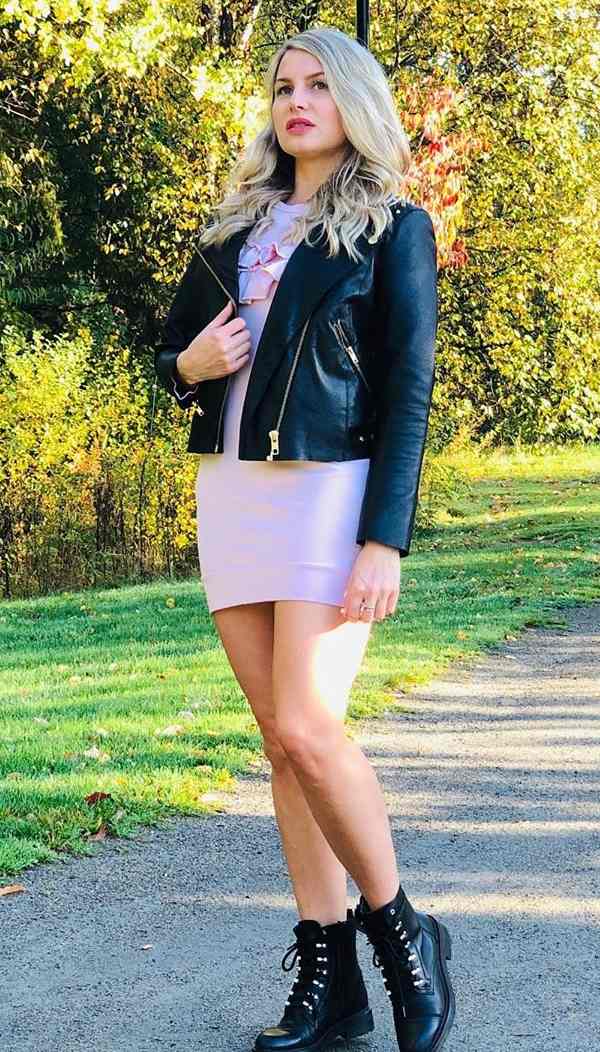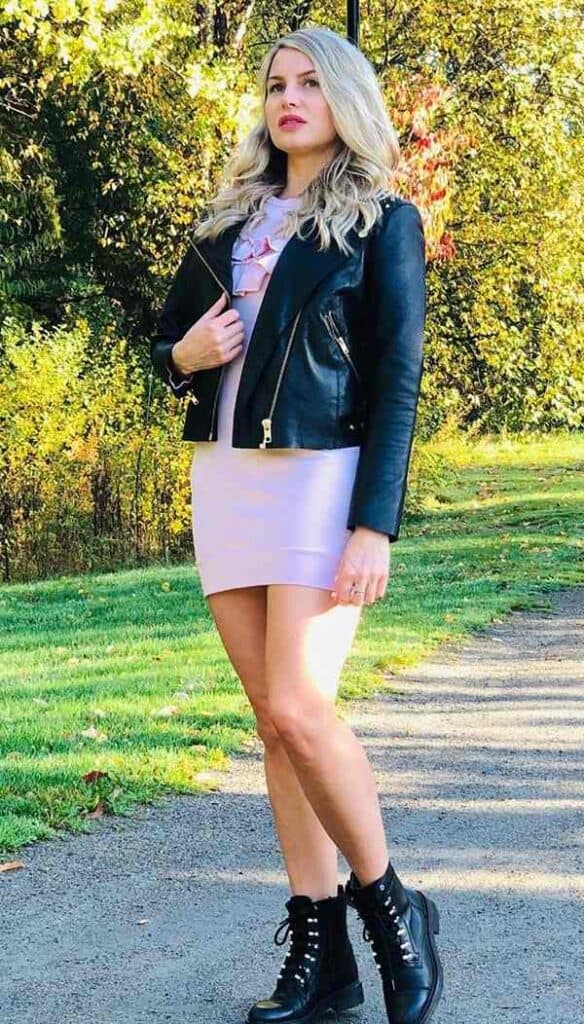 Joana (above) wore her mini bodycon dress with a leather jacket and combat boots. When wearing this combination, you can swap the combat boots with some converse, heels or even thigh high boots. The proportions make it easier for you to play with different footwear.
With biker shorts
Biker shorts have really made a comeback lately and the trend seems to be going strong. They are just like bodycons, except that they are not dresses or skirts so just like bodycon dresses, they are fitting and in the exact shape of your body.
It takes a lot of guts to walk around in biker shorts considering they were previously just meant for bike riding as the name suggests, but you can pair them with a leather jacket too. They are very sporty pieces so completing this look with a t-shirt and some sneakers works best. However, trendsetters have shown that the combination can also look great with heels.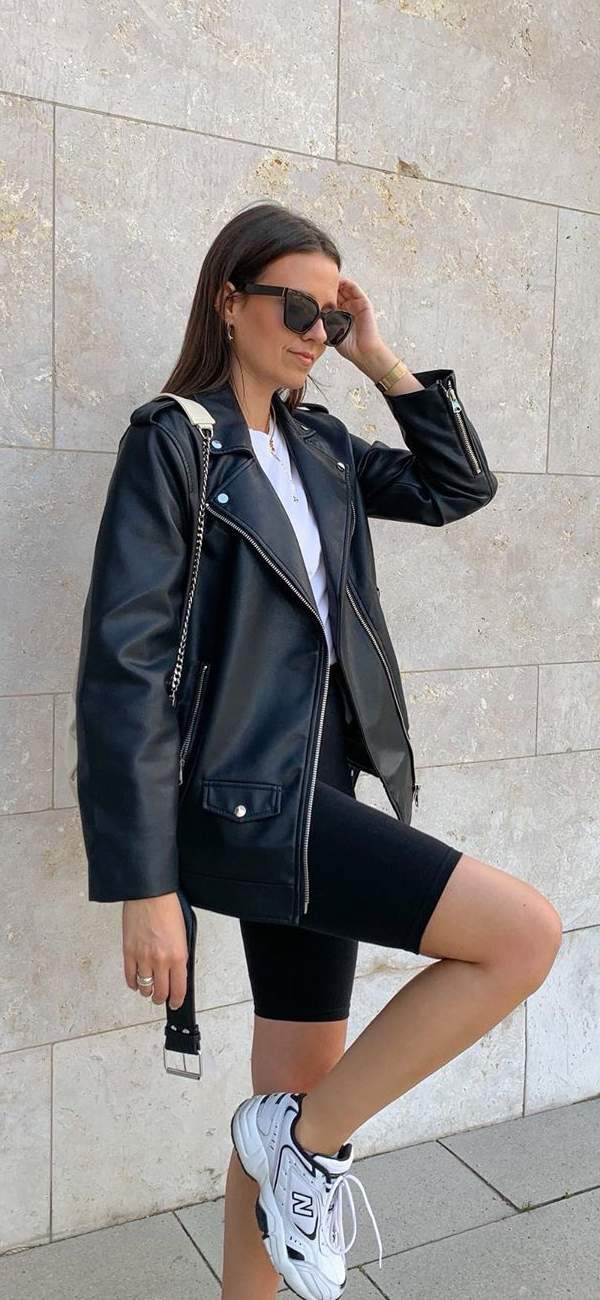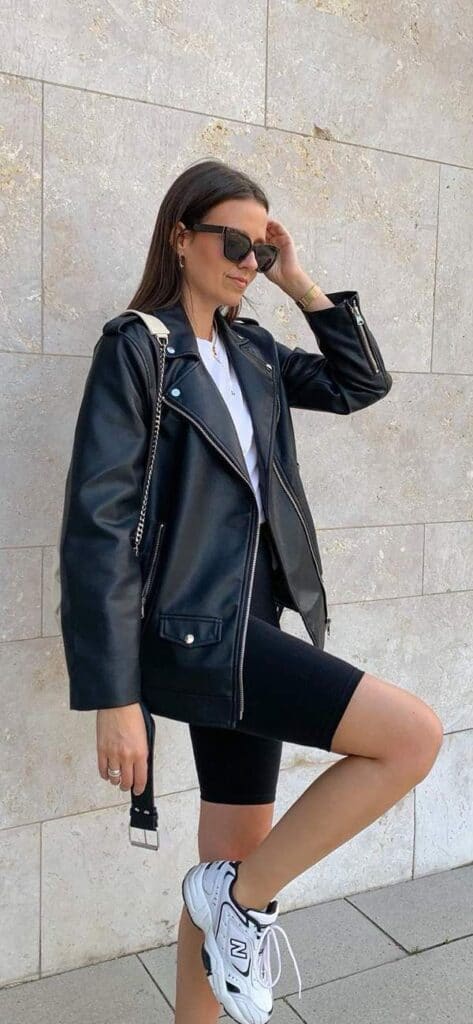 Jennifer (above) styled her biker shorts with a white t-shirt, a leather jacket, and chunky sneakers for that sporty chic look. Since the shorts are fitting, you can size up on the jacket or also go for a fitted one with this pairing.
With 25 different outfit ideas with a leather jacket, you should be more than inspired to rock your leather jackets more or get one if you own none.