Types of Blazers
Blazers, like many other types of coats or jackets, come in a variety of styles, silhouettes and fabrics. Depending on your personal style and lifestyle here are some of the most popular types of blazers to consider adding to your wardrobe.
Single-Breasted Blazer
The most classic type of blazer, single-breasted, is one you have likely seen. This type of blazer can be designed in a variety of different fabrics, colors and prints. Furthermore, it's a type of blazer that can be easily dressed up or down. Because this is such a classic type of blazer it's not uncommon to have a couple of different single breasted blazers in your wardrobe.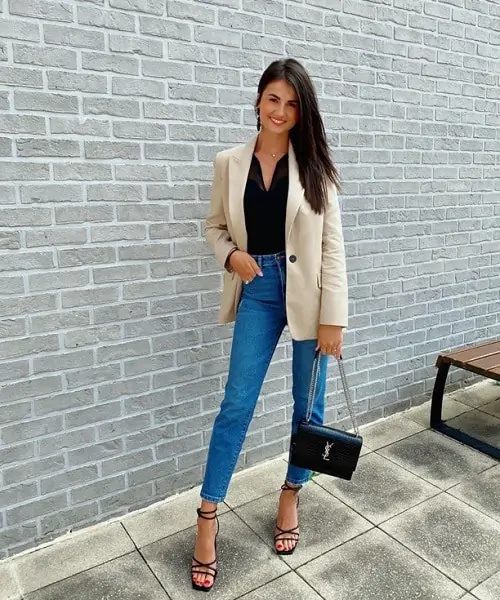 Jessica is wearing a gorgeous single-breasted blazer, fit to perfection.
Double-Breasted Blazer
Somewhat similar to the classic aesthetic of a single-breasted blazer, the double-breasted blazer has two very distinct rows of buttons on each side. Because of the double breasted element this type of blazer tends to act as more of a statement piece. Recently, double-breasted blazers have become a huge trend with styles including gold buttons for added style.
Cropped Blazer
Cropped blazers are a trendy statement style. If you want something that looks fashion forward and shows of your shape, cropped blazers are for you.
Even though cropped length are shorter than regular, full size blazer, they can still come in different lengths ranging from at the hip to just at your belly button.
Generally, it's best to select a cropped blazer that rests right around your natural waist. This will help you to benefit from the fit and enhance your shape.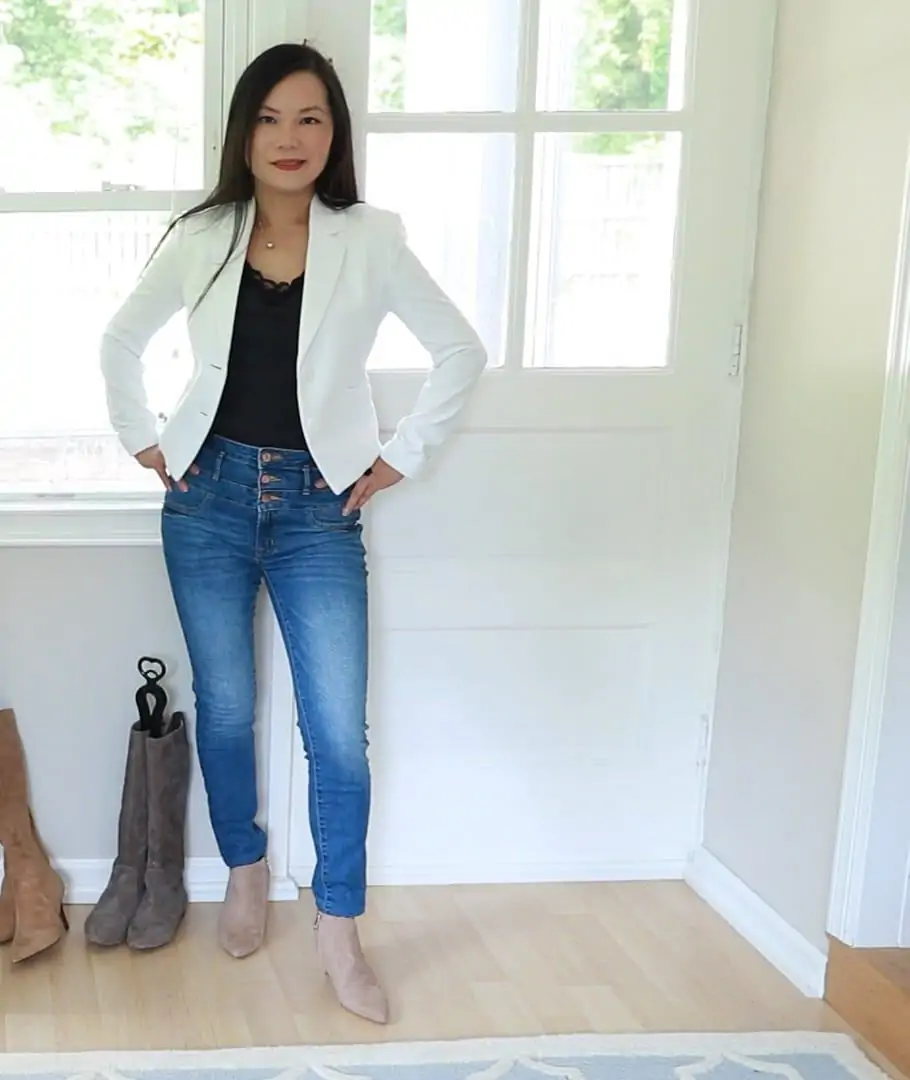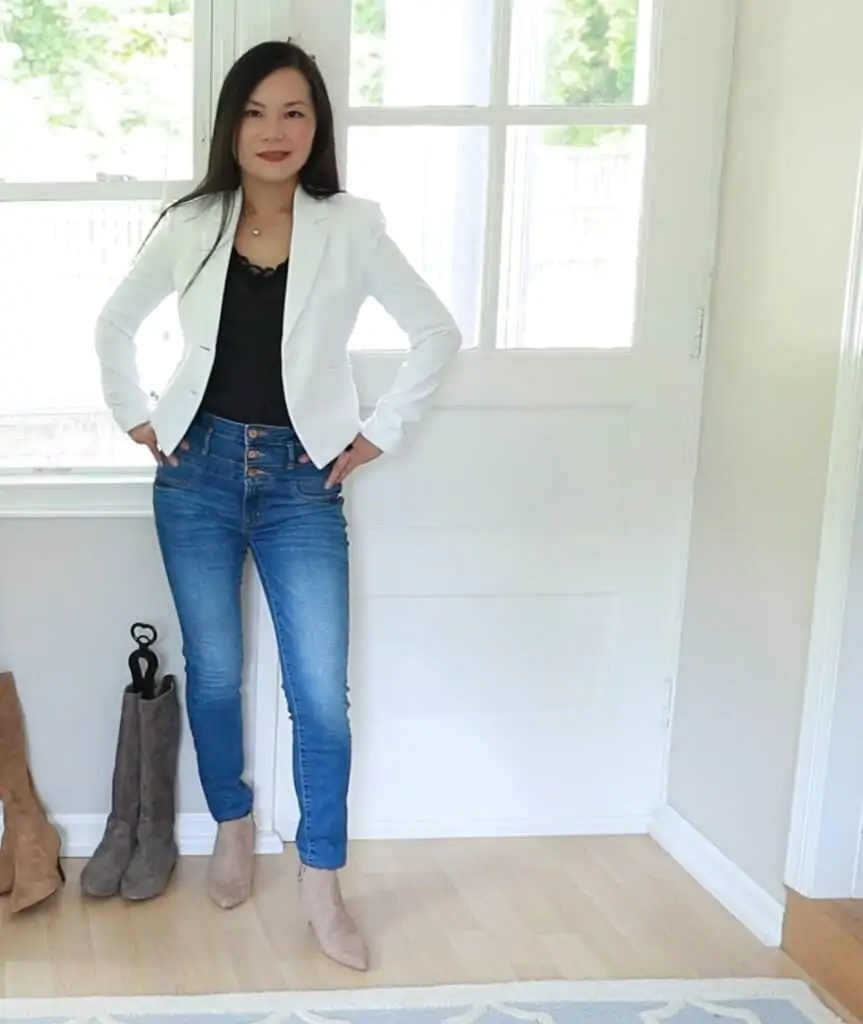 Leather Blazer
Leather isn't just for moto jackets. Blazers are a great garment to use to embrace your unique sense of style, opting for blazers in different fabrics like leather is a great way to do that.
Leather jackets as a whole tend to be synonymous with edgy style. To add a bit of edge to your wardrobe, with a garment that's versatile and classic, leather blazers are a must have.
Printed Blazer
Printed blazers are favored among fashionistas everywhere. Much like blouses and dresses, blazers come in a wide variety of different prints to give you a chance to get creative with your blazer collection. Whether you resonate with feminine, edgy, classic or something in between, there's a printed blazer that you can have fun styling.
When adding a printed blazer to your wardrobe just keep the color scheme in mind. It's best to choose a print that has colors that are easy to mix-and-match with everything else in your wardrobe. For example, if you have a lot of black and white pieces you won't want to add a chocolate brown printed blazer into your wardrobe as it can be harder to wear.
Oversized Blazer
Also known as a boyfriend fit blazer, the oversized look has grown to become a huge trend this year in fashion. With so much 90's influence in fashion, the oversized look is really fun and fresh. The key when choosing an oversized blazer wearing it with pieces that are more form fitting to create a balanced look and ensure you're not lost in a lot of oversized fabric.
How Should a Woman's Blazer Fit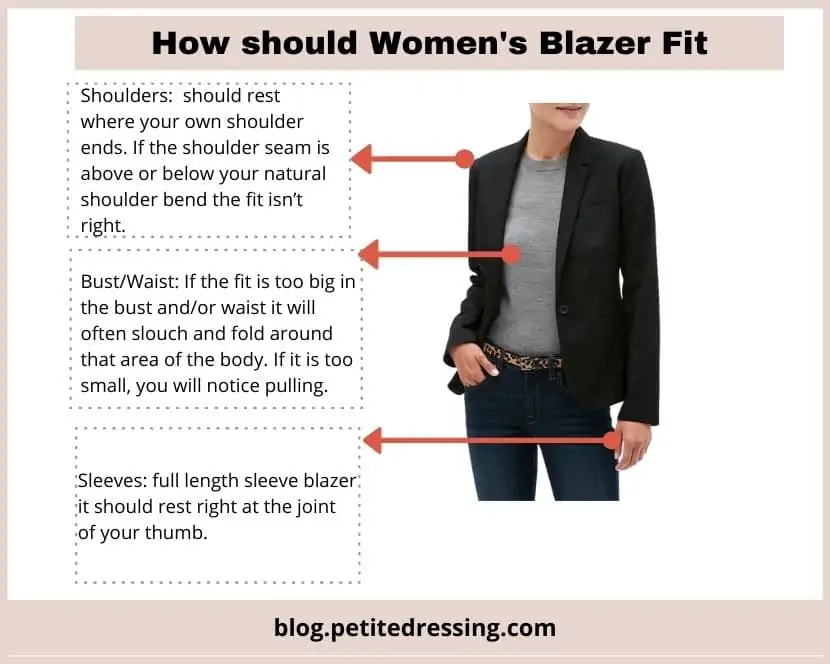 Blazers are a tailored garment, which is why it's essential they fit properly. There are a few key areas to pay attention to when determine whether or not it fits you.
Shoulders
Shoulders are one of the most important areas when determining fit of a blazer.
The shoulders of the blazer should rest where your own shoulder ends.
If the shoulder seam is above or below your natural shoulder bend the fit isn't right.
Bust and waist
The fit of the bust and waist areas of a blazer will vary depending upon the type and style of blazer you wear. Regardless of the blazer style, the key thing to keep in mind in regards to fit is ensuring that it's not too big or too small.
If the fit is too big in the bust and/or waist it will often slouch and fold around that area of the body.
On the flip side, if the bust and/or waist is too small you will notice pulling.
Sleeves
Now sleeve lengths and styles are going to be different by nature depending upon the overall style of the blazer.
When you have a full length sleeve blazer it should rest right at the joint of your thumb.
To properly check the sleeve length, stand straight with your arms down at your sides.
It's not uncommon to need some sleeve length tailor and is often an easy fix.
Length
Length is another element that's going to differ based on the type of blazer. A good rule of thumb when checking the length of a blazer is that it doesn't rest in an unflattering place.
More often than not, the most flattering placement of a blazer will be just above or just below the widest part of your body where the blazer lays.
If you have an oversized blazer that's on the longer side and rests around the hip area, make sure it's just above or just below the widest part of your hips.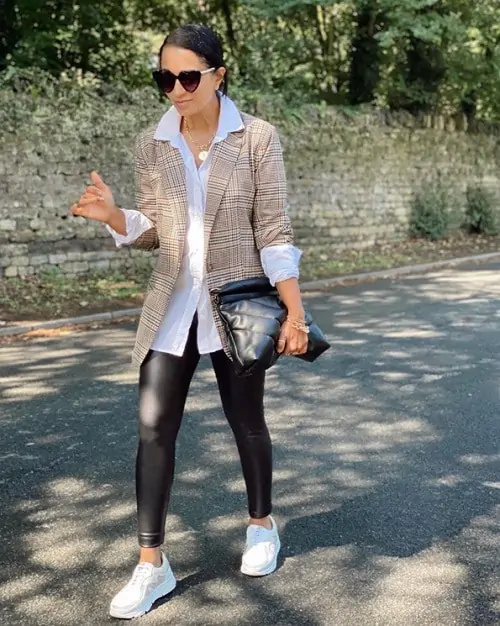 Chet's outfit does a great job of showing her unique personal style.
How to Choose the Right Style
The main factor to consider when choosing the right style blazer depends on your own personal style. Because there are so many different types of blazers, it makes it easy to choose an option based on your preferences first. After your personal style choices, choosing the right style for your body type is another way to go about the decision process.
If you're someone with broad shoulders , it's best to stay away from blazers that have a lot of structure or shoulder pad detailing to them. These attributes are going to accentuate broad shoulders.
If you have very narrow shoulders, structured blazers with shoulder padding can be your best friend as they will give natural balance to your body.
If you're a petite woman, choosing a blazer based on length tends to be much more crucial. When you're petite, the long, oversized types of blazers can be a bit tricky to wear without them overwhelming your shape. Shorter, even cropped, styles tend to be a more flattering option. Of course, if the oversized or long blazer types are options you're really drawn towards you can definitely make it work. Just make sure they're not too long and wear with high heels to add a bit of height to balance out the long style.
How Much to Invest in a Blazer
Blazers are a wardrobe staple that has the ability to elevate your style, which is why investing in quality is really important. It's a piece you're going to wear often and you will want to make sure the material and fit is just right so you look your best in the blazer.
Just like any other types of garments, prices of blazers can fluctuate a lot. In general, quality blazers cost around $100-200. If you're currently in the market for a blazer, keep this investment amount in mind.
Of course, you can spend more or less but this tends to be the marker for high quality materials. Remember fit is crucial when it comes to blazers so you may need to have some tailoring done so make sure you keep that in mind as you consider the total investment. A great way to maximize your investment in a blazer is to wait for it to go on sale, shop discount stores, etc.
The best time to purchase blazers are from late November to January every year, when all the major retailers and department stores have their largest sale event of the year for winter clothing.
Here is the timetable for the winter seasonal sales at major department stores and other retailers.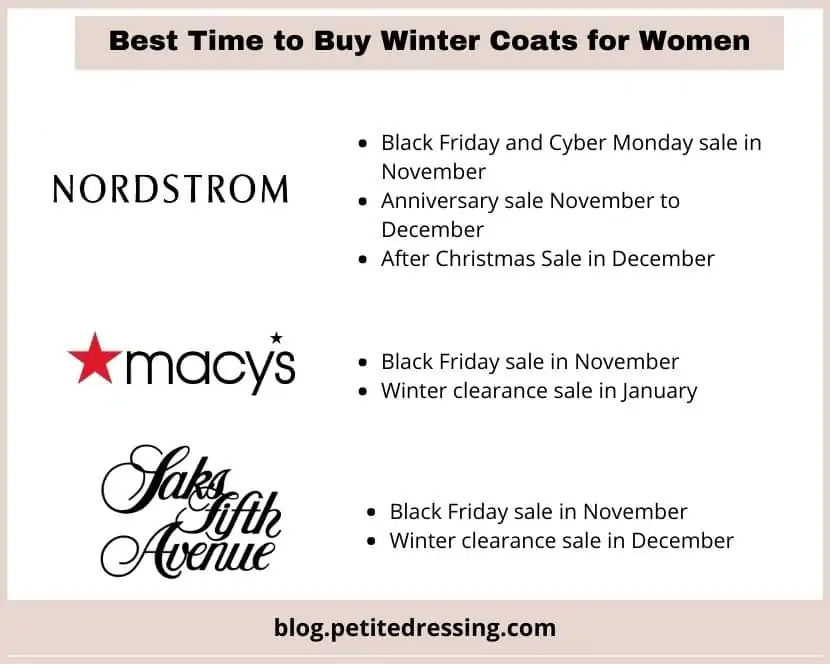 Macys: Black Friday sale in November and winter clearance sale in January
Nordstrom: Black Friday and Cyber Monday sale in November, Anniversary sale November to December, After Christmas Sale in December
Sakes Fifth Avenue: Black Friday sale in November and winter clearance sale in January
Most retailers and department stores start to discount women's blazers in late November. If you live in a warm area, you can get a good quality blazer at a very reasonable price which you can still wear for the current season. If you want the best price, then wait till the January clearance. If you buy a blazer in January, your best choice is to go for a lighter color blazer because it will be just in time to wear it in the spring.
If you are a petite woman, it is wise to start buying blazers in November when the prices are first coming down. The reason is petite size blazers are harder to find, and typically designers have a smaller inventory of petite blazers, compared with regular size, If you do not want your size to be sold out, then November is a good time to buy the coats.
Whether you wear regular size, petite size or plus size, the longer you wait, the more likely your size will be sold out.