Trench coat is a classic staple in women's wardrobe. Since it is a long lasting investment piece, finding the proper fit for the trench coat is critical to make sure you will wear it over and over again for the years to come.
Although they are generally well tailored, trench coats can come in different fabrics, styles and lengths. You should choose the best trench coat that fits your lifestyle and personal style.
The key considerations for trench coats are
Body Length: choose according to your height and if you wear pants or jeans more or skirts or dresses more
Sleeve length: should fall between your wrist and knuckle of your thumb
Shoulder width: shoulder seam should lay at the edge of your shoulders
Body fit: should skim your body while giving you room to wear over other clothing
Waist fit: should not fit too tight or too loose
Belt position: should sit on or above your natural waist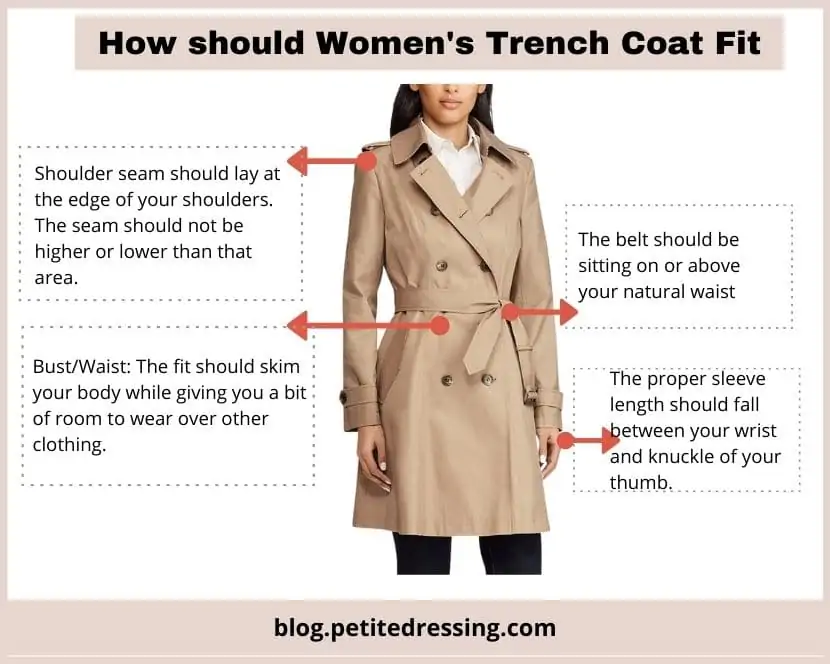 How to Choose Trench Coat Length
Trench coats, much like any other type of coat, can be found in various lengths. The three length categories you will find are short, medium and full length. Choosing the best trench coat for you really depends upon your body type and style preferences.
Short trench coat: hip to mid-thigh
Medium trench coat: knee length
Full length trench coat: below the knee to ankle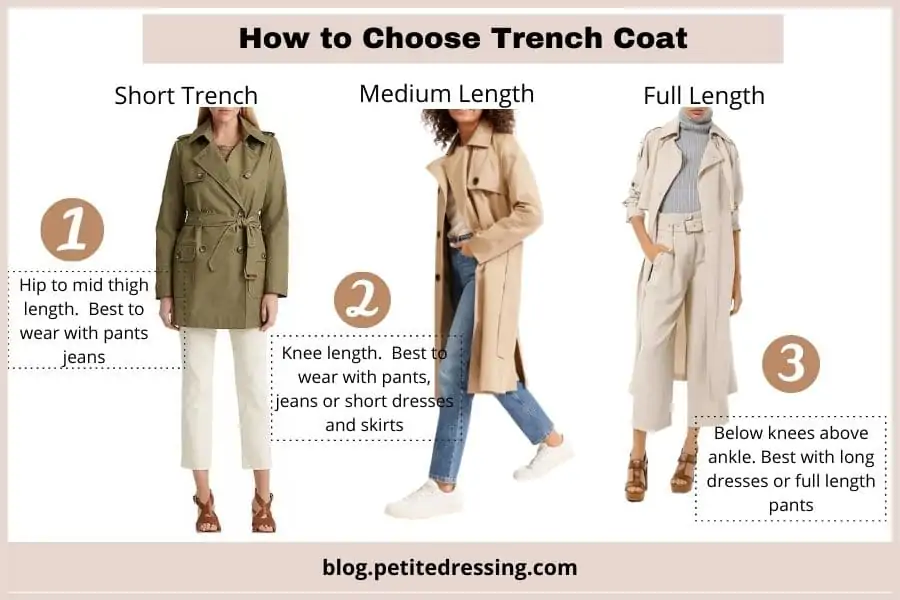 Short trench coats
They lay somewhere between your hip and mid-thigh. Most experts suggest opting for a trench that rests just below or just above the widest part of your hip. This will help create an elongated effect to your leg and is a big reason why short trench coats are often the most flattering option for petite women.
Medium length trench coat
They hit around the knee. This is the most classic and common trench coat length. Fortunately, it also happens to be the most universally flattering length.
Similar to short trench coats, though, it's essential your medium length trenches lay just above or just below your actual knee. If it hits at your knee it tends to cut your leg line off in a not-so-flattering way.
Because trench coats are outwear pieces, chances are you will be wearing different types of shoes and heel heights with it. Don't choose the length of a trench coat dependent upon wearing heels for it to appear flattering on your body. Instead, keep these style tips in mind so it's flattering regardless of your shoe's height.
Full length trench coat
Last but not least, full length trench coats are any coats that lay anywhere between below the knee to ankle area. As you have probably gathered by now, the key factor to consider is ensuring the coat doesn't hit you at the widest part of your lower leg.
Full length trench coats can be worn by just about any woman as long as the length lies in a flattering place. Yes, that even means that petite women can wear full length trench coats.
Sleeves
Sleeve length is an area you want to make sure you pay attention to when choosing a trench coat. The proper sleeve length should fall between your wrist and knuckle of your thumb. Sleeves that are any longer than that will cause your trench to look way too big for you, and any shorter will give your trench a shrunken effect.
Although you can adjust the sleeve length by rolling the sleeves or pushing them up for styling purposes, it's better to find the ideal length before you buy the trench coat.
Also pay attention to the width of the sleeves. Some trench coat sleeves can fit rather large, and almost oversized. Whether intentional or not, sleeves that are too loose often add too much bulk to the arms when being worn. A similar rule applies to sleeves that are too snug.
Avoid trench coats that are very tight around your arms, you will know it's too tight if you see pulling and bunching around your arms. Keep in mind trench coats are generally worn as outerwear so you want a little wiggle room to comfortably wear layers underneath the coat.
Shoulders
It's no secret the shoulder area of coats and jackets needs to fit properly. The shoulder area, many would argue, is the most important area to make sure fits before taking note of any other part of the coat. This is because tailoring shoulders in a coat is often a difficult and expensive fit.
You need to make sure the shoulder seam of the coat lays at the edge of your shoulders. The seam should not be higher or lower than that area, those are major signs the shoulder fit isn't right.
Waist
The waist of a trench coat can tell you a lot about the overall fit of the garment on your body. Trench coats are tailored garments so you should be able to comfortably button it around your waist.
If you're not able to close the coat, it's best to go up a size to get the right fit. On the other side, avoid trench coats that are too big around the waist. The fit should skim your body while giving you a bit of room to wear over other clothing.
Another waist fit to consider is where the waistline lays on your body. The belt and/or waist of the coat should hit at your natural waist. If you find the trench coats belt is hitting you at your hips, it's too long of a fit for your shape. This isn't an uncommon occurrence for petite women. If you find that the waists of trench coats are fitting long on you, consider trying petite specific coats for a better fit.
Body
Trench coats are a wardrobe staple, which is why paying extra close attention to fit is so important. A great fitting trench should look fitted to your body, without being super snug. The fit should be comfortable enough for you to easily move around, wear sweaters and other layers underneath it, and allow you to move your arms up and down freely. Back vents should lay flat on their own and there should not be any pulling throughout the body of the coat.
Style experts often suggest trying on multiple sizes with garments like trench coats. This often allows you to get a better sense of which size is the best fit for your body. The 'body' of a trench coat can make or break the overall look of it so make sure you pay close attention to how it lays on your body.
Belt
The belt of a trench coat is meant to be tied around your natural waist. To give you a more specific location, just below your ribs is a good guideline. Trench coats come in a range of different styles with different belt designs even so, the placement of the belt will be the same across the board.
Always make sure you are able to tie the belt closed when determining the fit of the trench coat. Even if you don't plan on wearing it tied closed very often, having the option to do so will allow you to maximize this wardrobe staple.