What to wear with black jeans is the question every woman has had at one point, because we all have a black denim in our closet. Black jeans is one of the most basic, yet classic wardrobe staple everyone should own. We will go over everything you need to know on black jeans outfits in this post.
Blazer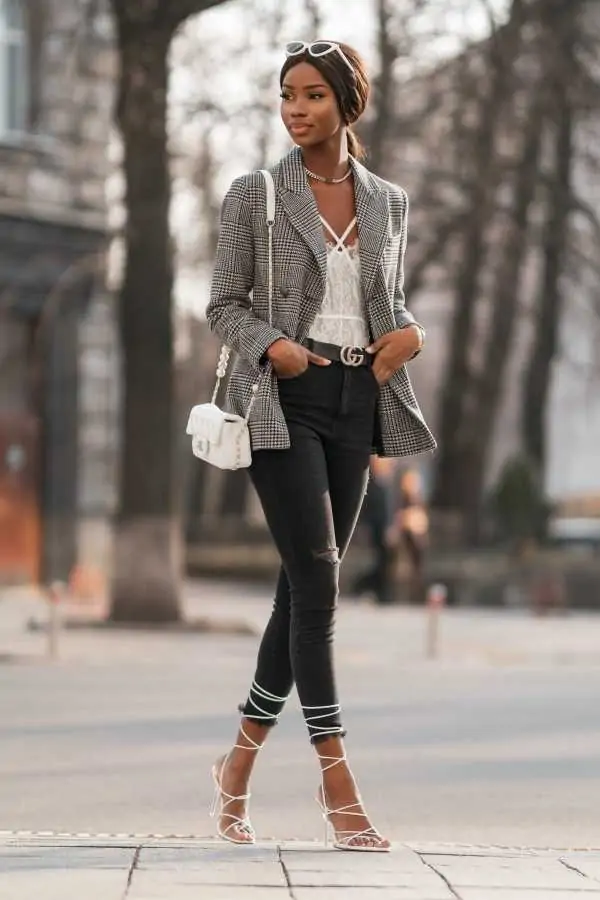 Styling black jeans with a blazer is the perfect pairing for a dressy-casual look. Black jeans add a casual element when worn with a blazer that gives you an outfit that can be worn everywhere from a business casual work environment, a night out, or dinner.
Because of the versatile color of black jeans, you can choose just about any color blazer to wear. Add a pop of color with a red or patterned blazer. Or keep it neutral for work with a camel, white or black option.
Blouse
Blouses make for a stylish pairing with black jeans. You have likely paired some of your favorite blouses with traditional denim, but don't forget about your black jeans.
Due to the dark color of black jeans, they give blouses a more dressed up appearance than you may have with your other denim options like a Mom jeans. Any time you need an outfit that isn't too casual OR too dressed up: blouses and black jeans are the answer.
Styling a black and white outfit is anything but basic. Black jeans are the perfect foundation piece to build this type of outfit around.
White booties and the gorgeous white and black blouse gives a fresh pop of lightness to dark, black jeans. While the outfit consists of just two neutral colors, because of the placement of the colors and use of patterned blouse it adds so much personality to the look.
PS – white booties can be worn all year long, so this is the perfect fall-winter time outfit when you want something casual yet cute.
Sweatshirt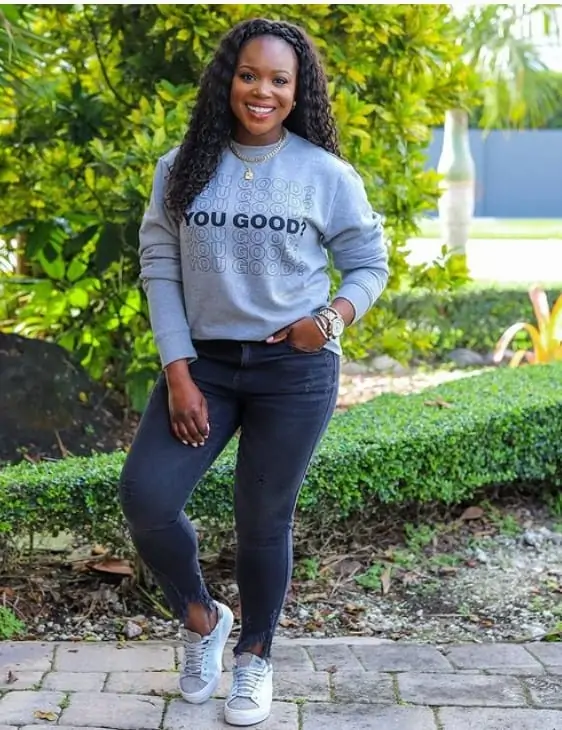 Shifting gears to a more casual option, you can't go wrong styling sweatshirts with black jeans.
Similar to blouses, opting for black jeans instead of your blue denim gives the tops a different feel while still keeping things casual and stylish. Today in fashion, sweatshirts and athleisure are everywhere. Style a trendy sweatshirt with black denim and booties or sneakers for the perfect fall outfit.
Sweaters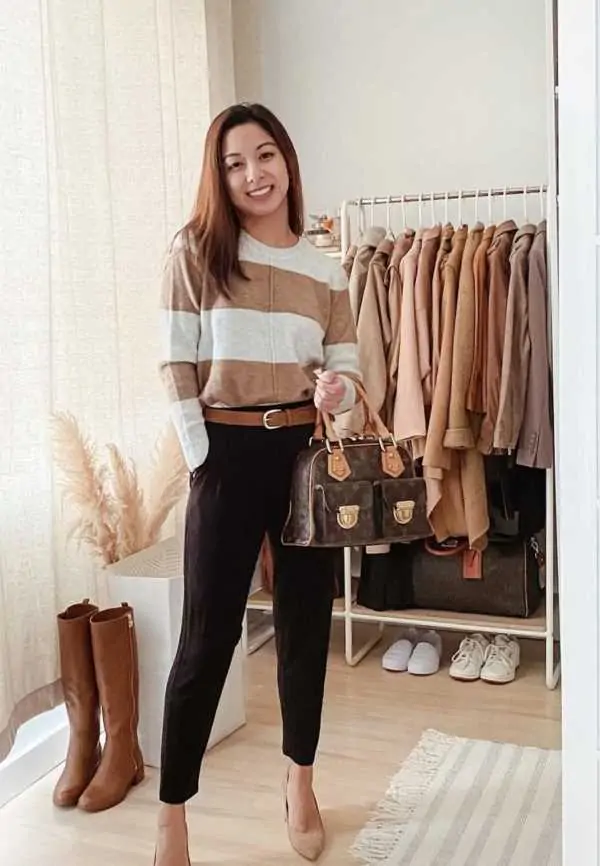 When it's chilly outside it can feel limiting when choosing outfits to wear. Fortunately, black jeans are extremely versatile and make for a must have wardrobe staple. All those sweaters you have in your closet? Throw them on with black jeans. Just about any color sweater can be easily worn with black denim.
Sweaters have gotten a major upgrade this season with different textures, colors and details being added to many designs. These elements make sweater season even more fun, with the opportunity to find options that really cater to your own sense of style.
Even if you have a sweater with a light color scheme, like lilac and light grey, they can easily be worn with black jeans for a trendy outfit.
You can finished the look with a fun sneaker for an athleisure twist that makes this really fun. Swap sneaker for mules or booties anytime you want the look to be less casual.
Moto Jacket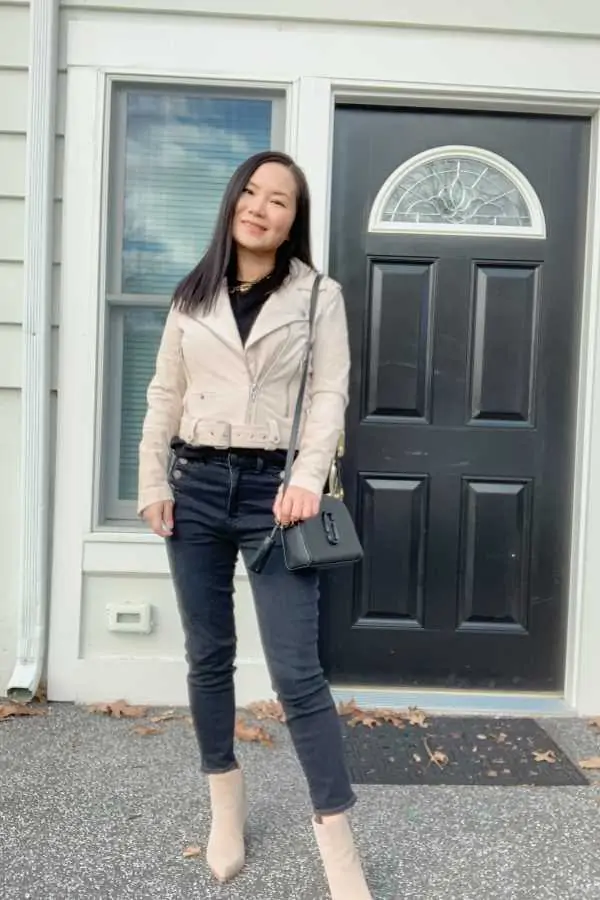 Layering pieces, like jackets, give the ability to elevate an outfit instantly. Moto jackets are one of those layering pieces. Anytime you want to add a bit of edge and texture to your black jeans, throw on a moto jacket. Whether it's traditional leather (or faux leather) or suede you will get that fun edgy feel with black jeans.
Sneakers
It's no secret sneakers are in. While sneakers have always been a go-to shoe option for jeans, they're even more relevant now. Anytime you want to add a sporty, casual aesthetic to your black jeans look go to sneakers for the finishing touch. Because of the neutral color of black jeans, no need to worry about color or patterns on sneakers – they will all look great.
Pumps
Looking for a way to dress up black jeans? High heel pumps are an easy choice. Heels in general have a way of creating a dressier vibe to an outfit, even black jeans. Pumps look great with black jeans because of the figure flattering element of the pointed toe. The shape of pumps will make your legs appear long and lean. Opt for a classic look with pumps in a neutral color like black, white or nude. Or spice it up a bit with a pop of color or print.
Flats
For the days when you don't want to be super casual with a sneaker, and not quite as dressy as a pump flats are great for the in between place. Flat in all styles and colors elevate black jeans just enough without taking away from the rest of the look. Not to mention, they're a comfortable option. One of the most flattering flat styles is going to be something that has a pointed toe shape. Similar to pumps, the pointed toe gives the illusion of an elongated leg line that's incredibly flattering.
Black Ankle Booties
Transition black jeans into the cooler months with ankle booties. This shortened boot style is incredibly on trend and adds major style factor to a causal denim outfit. When selecting ankle booties to wear with black jeans there are a couple of key elements to keep in mind.
First, make sure there isn't too big a gap between your jeans and the boots. This can cut your leg line in a less than flattering way. Second, choose booties that rest either right above or right below the widest part of your ankle. This will further enhance your shape and appear more flattering.
Tall Boots
Another boot option to wear with black jeans are tall boots. This year, boots of all heights and colors are trending so this is an area where you can really have fun and choose something that speaks to your personal style aesthetic. Boots that are just below the knee, or just above work when wearing black jeans. Just remember to keep the placement in mind so that they don't rest at the widest part of your calf or thigh!
Mules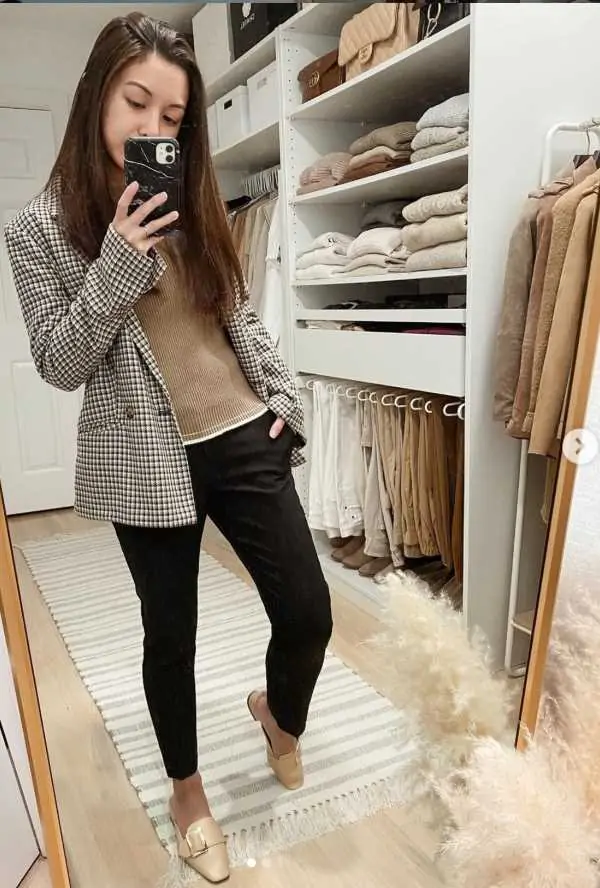 An unexpected shoe option to wear with black jeans are mules. Flat mules, high heeled mules and/or slip on mules can all be worn effortlessly with black denim. This is an option to try out when you want to give black denim a more sophisticated or even business casual twist. However, even if you want to keep your black jeans casual with mules you can certainly do that by wearing an oversized sweater or graphic tee with the look.
Neutral tops
An easy color scheme to wear with black jeans is anything in the neutral family. Think white, black, taupe, camel, etc. Because they are all neutrals they can be paired together very easily and effortlessly. Even your more unexpected, or less traditional, neutral colors like shades of brown and navy can be worn with black jeans. The key to styling these unexpected neutrals with black jeans is selecting shades that offer some contrast to black. This will ensure that the color pairing looks intentional.
Bright color tops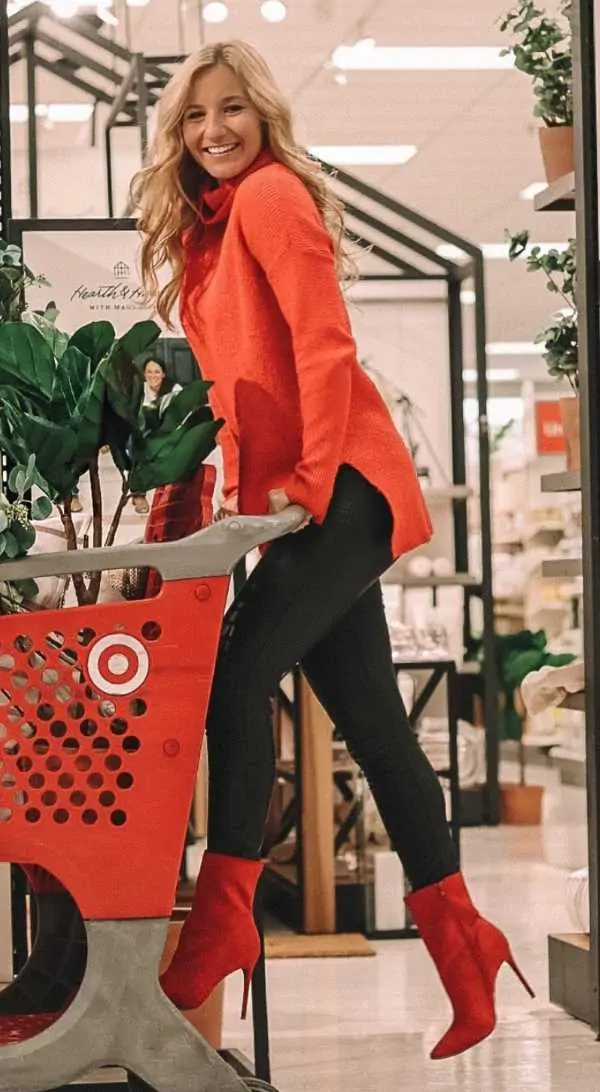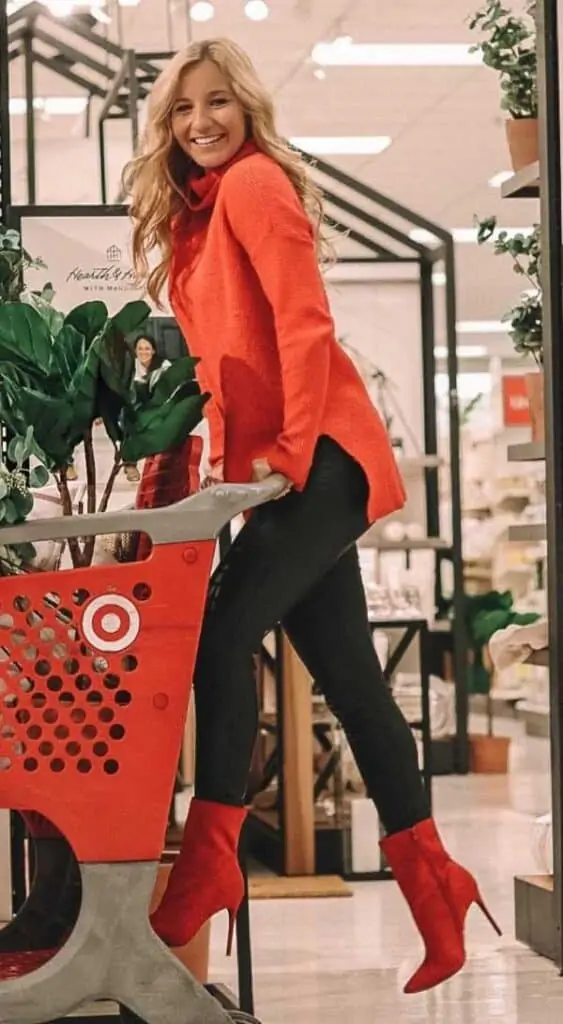 The great thing about black pants is there really aren't many (if any) colors that can't be worn with them. Everything from pastels to jewel tones and bold colors can be worn with black jeans. Even when you want to mix in prints and patterns, black jeans are an easy foundation to style those pieces with.
Because black jeans can be styled with just about any color, choosing the colors to wear comes down to the look you are trying to achieve with your outfit. Neutral color shirts will give a more classic, minimal vibe to black jeans, while colors and prints add more dimension and a pop to the denim.
Trench coats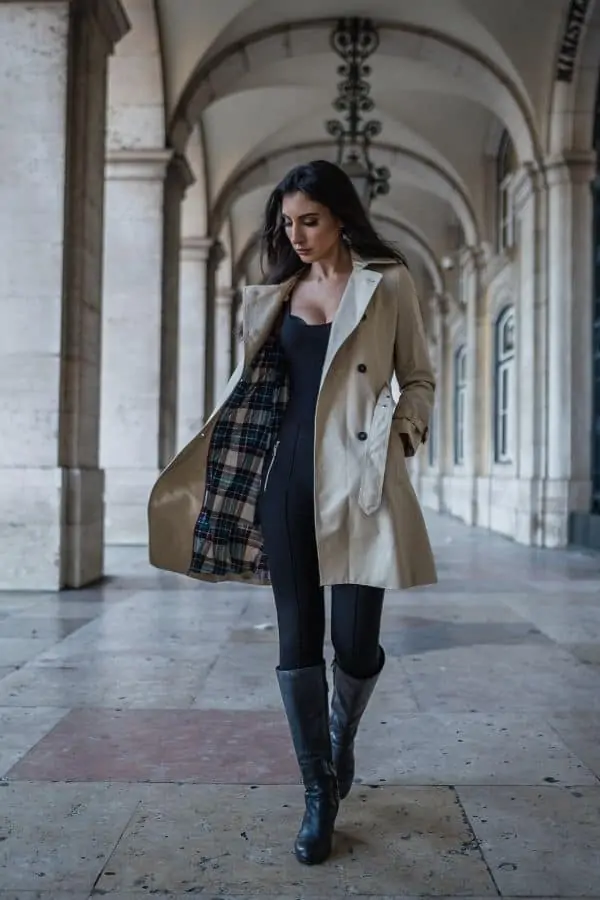 Black jeans are transformed with a neutral color scheme and classic pieces.
The long neutral trench coat completes the black jeans and t-shirt with ease, giving this look your not-so-typical jeans and t-shirt vibe. It's completed with timeless ballet flats, sunglasses and handbag.
This outfit is proof classic pieces are go-to garments for a reason, and when they are styled together they're an easy, stylish outfit.
Booties
Giving black jeans just the right amount of fall inspiration,
Adding a white and black striped sweater to black jeans gives a freshness to the dark denim that feels vibrant and fun.
Using texture is the perfect way to give an easy outfit that fall feel. Here texture was added with a suede hat and ankle boots in the gorgeous contrasting camel color. It's an unexpected color pairing for black denim, but because the camel pieces are a much lighter shade of brown it works with black.
Using accessories like this is a way to keep your outfit fuss free, yet stylish.
Animal print
When you wear black jeans with animal print, black jeans get an edgy twist with this outfit.
You can style it with black and white snakeskin boots, the shoes completely change the aesthetic of casual black jeans. These boots work perfectly because of their black and white color scheme, creating some cohesion to the outfit.
Styling a slightly oversized simple blouse, keeps the outfit casual and elegant. The shirt gives balance to the look, thanks to the unexpected rust color it creates a pop on the top half to balance out the bold booties.
Because there are already two focal points, minimal accessories are all that is needed to create a completed outfit.
Tank top
Easy outfits are, well, easy to create when black jeans are the piece they are being built around. Styling a white tank top, black jeans and denim jacket doesn't get much easier. But it sure does make for a fun outfit.
All that's needed are dainty accessories like a long necklace and bracelets to complete the outfit. This is the perfect transitional outfit, take it to an evening out with strappy sandals as shown or keep it casual for the daytime with sneakers or flats.
Leather jacket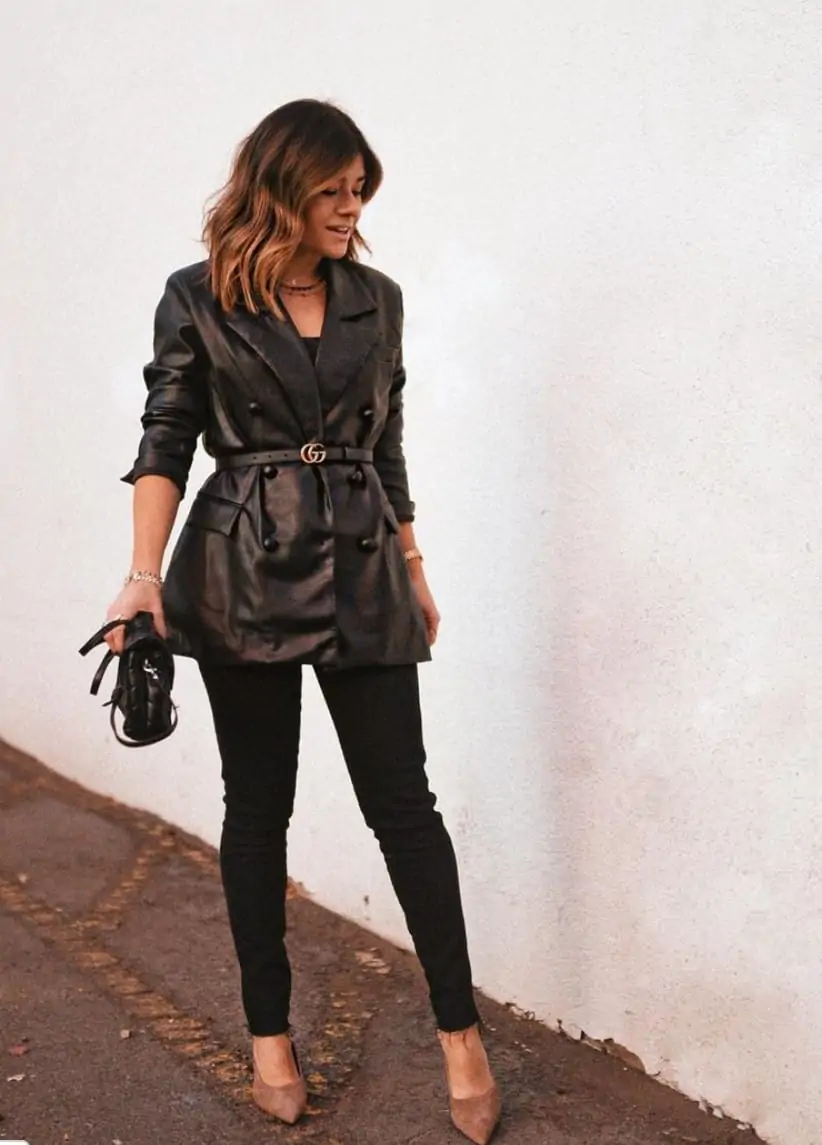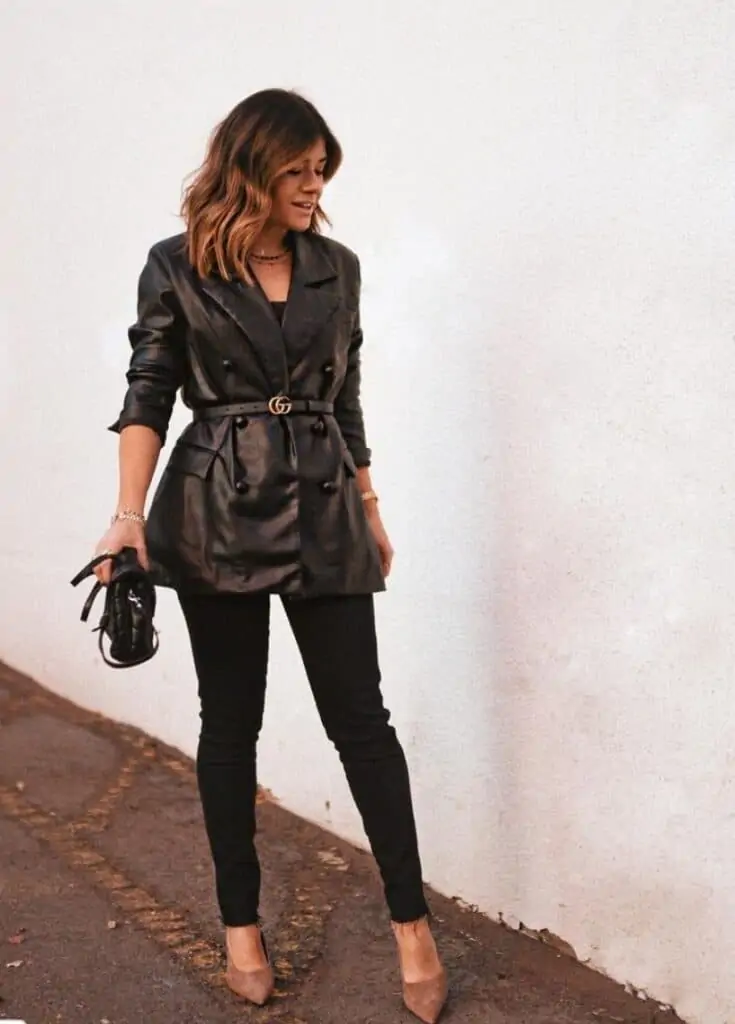 All black certainly isn't boring. One of the keys to wearing a head to toe black outfit is combining garments that have different textures, just like was done with this outfit.
When styling various textures like denim, leather and silk together it makes a monochromatic outfit feel much more unique and personalized. Anytime you're in doubt as to what to wear with black jeans, just go with an all black look. It's an outfit that can be adapted easily based on what you already own and is guaranteed to look stylish.
Want to add a little 'pop' to an outfit like this? Throw on a pair of shoes or a necklace in a fun color.
Graphic T-shirt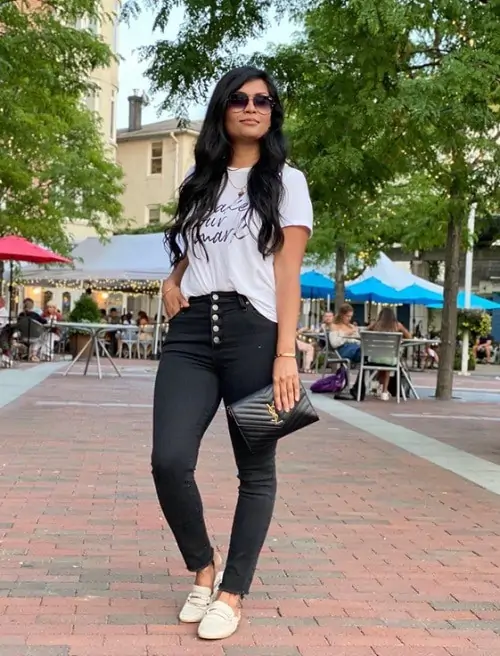 Looking for a stylish, yet casual top option to wear with black jeans? Graphic tees are what you're looking for. Thanks to the athleisure trend, graphic tees are a must have this season. They also happen to be fun to wear. Pair with black jeans to add an added dose of style to your favorite t-shirt.
Casual doesn't have to mean boring or sloppy, especially when you're styling with black jeans like Anandi did here. A simple black tee and strategic accessories and shoes take casual from blah to wow.
Even with a very minimal graphic tee, as shown in the picture, this outfit is loaded with style and personality. Slip on mules and big sunnies add a style element to the entire outfit that makes this stand out from the crowd.
Half tucking a t-shirt is a small touch that also helps to make an outfit feel more complete.
Denim jacket
Gone are the days of not-so stylish outfits, thanks to style icons. Denim jackets and black jeans are casual wardrobe staples, but when they are styled together they create a fun and trendy look.
Denim on denim isn't a particularly new styling look, but there's a way to break up blue denim with black jeans. Wear a traditional, blue denim jacket WITH black jeans. The contrast of colors makes it look like it's not a head to toe denim look, but something a bit more unique. If you don't want the heaviness of a denim jacket you can replace it with a chambray shirt to get a very similar aesthetic.
Elevate these two basics, like this, by adding a unique yet minimal blouse underneath the jacket. You can opt for a uniquely draped white shirt that adds a light contrast to black jeans.
Throwing on a pair of neutral high heels gives a dressed up feel that isn't 'too' dressy and still keeps things in line with the neutral color palette. Not to mention, the heels help make legs look super model long.
Floral print t0p
Any outfits that look complete with only 3 garments are the epitome of easy dressing. This outfit is a gorgeous example of simple, yet chic outfit creation.
Black jeans are completely transformed with a floral printed blouse. Between the bold blue tones, flower print, silk fabric and wrap style the top itself is a standout piece that needs little to look great.
Styling a statement blouse with black jeans is a winning combination. Keep it simple with black shoes and accessories. Recreate this look using your favorite statement tops and/or blouses. Minimal accessories needed!