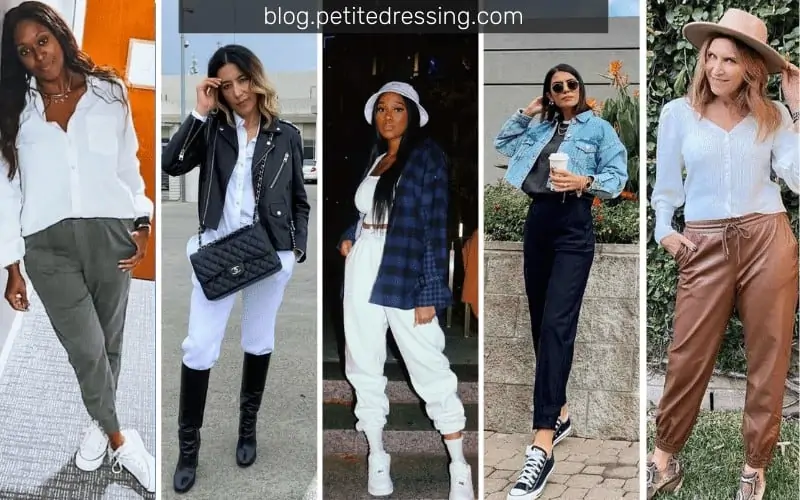 Joggers are comfortable wardrobe pieces that many of us are used to wear just when lounging around. However, they have now become great pieces to wear outdoors as well. Joggers can actually be dressed up or down, depending on the look you're going for.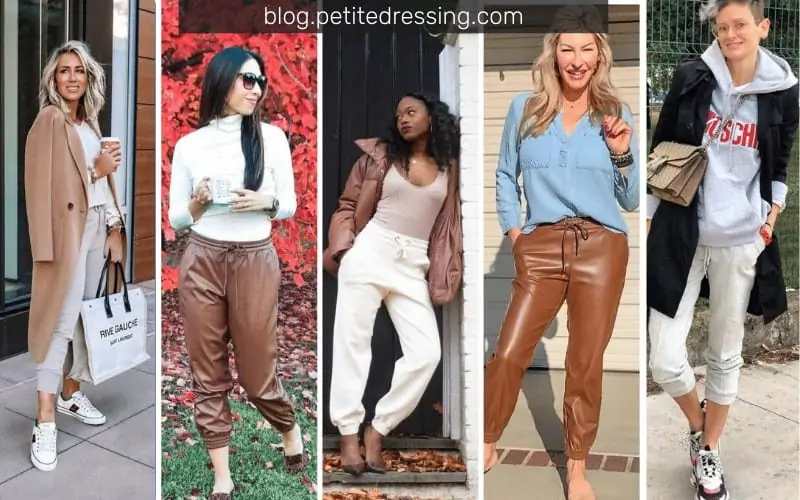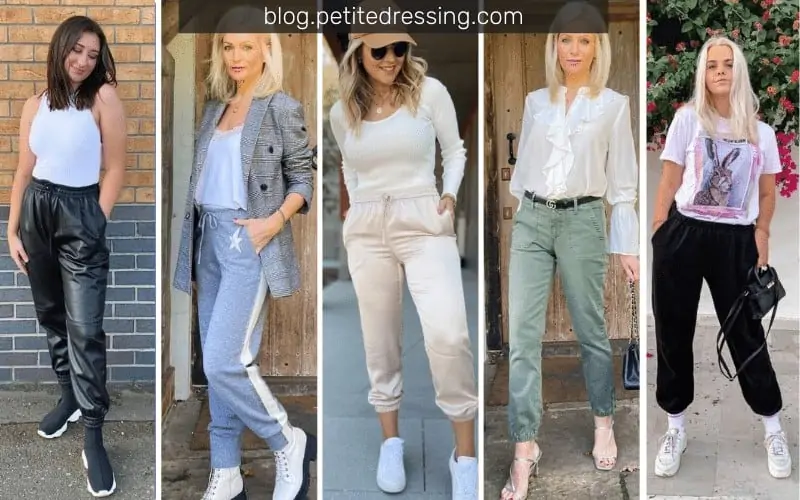 If you are wondering what wardrobe pieces go with your joggers, here are a few examples of what to wear with joggers: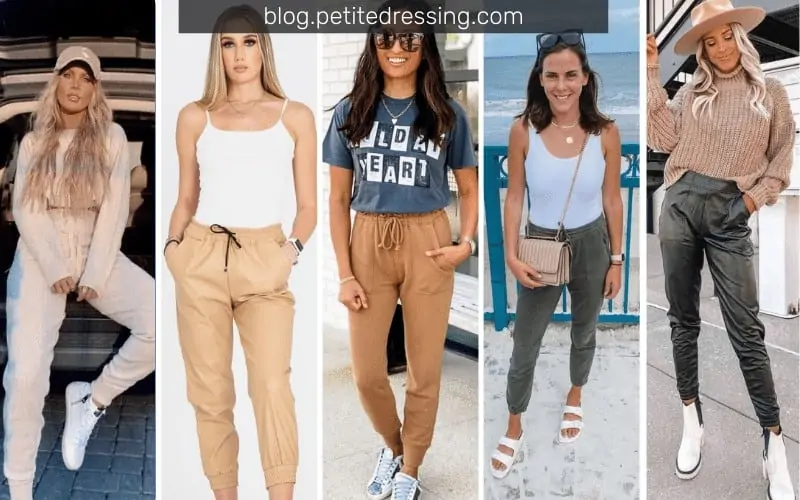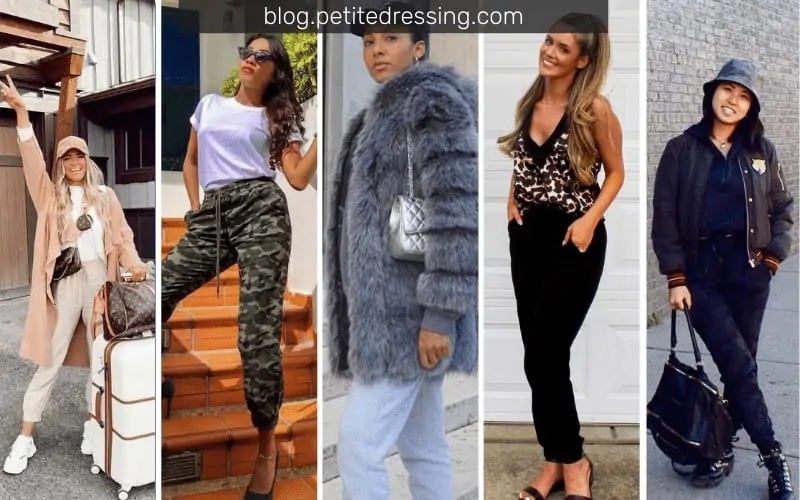 A white button-down
One of the easiest way to look chic in joggers is to wear them with a button down shirt.
White button-down shirts are a classy wardrobe staple, considering they can be worn with literally everything you have in your closet. White button-down shirts, when styled with joggers have a way of making the joggers look smarter, especially when you tuck in the shirt.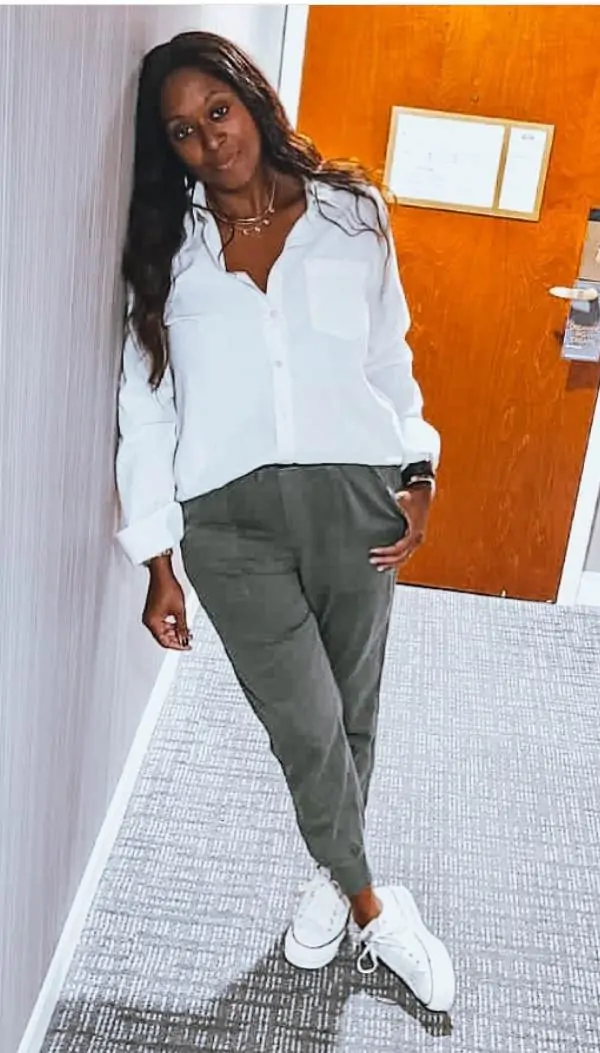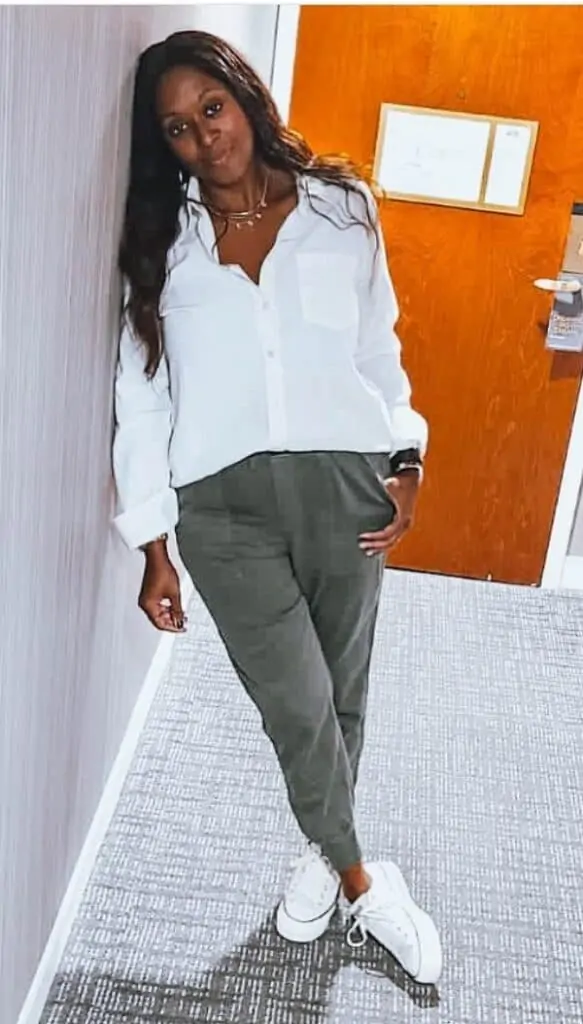 Jessica (above) styled her white button-down shirt with a pair of green joggers and some white converse.
You can swap the converse for some heels in case you prefer to dress them up. You can even go for a pair of closed pumps for a business-casual outfit.
With a leather jacket
A leather jacket can add some fun into joggers outfits and make your joggers look less loungy.
If you love the idea of wardrobe pieces that just never go out of style, then you might want to go for a leather jacket. Leather jackets are great for any kind of outfit, whether formal or casual, and always have a way of adding an extra edge to your outfit.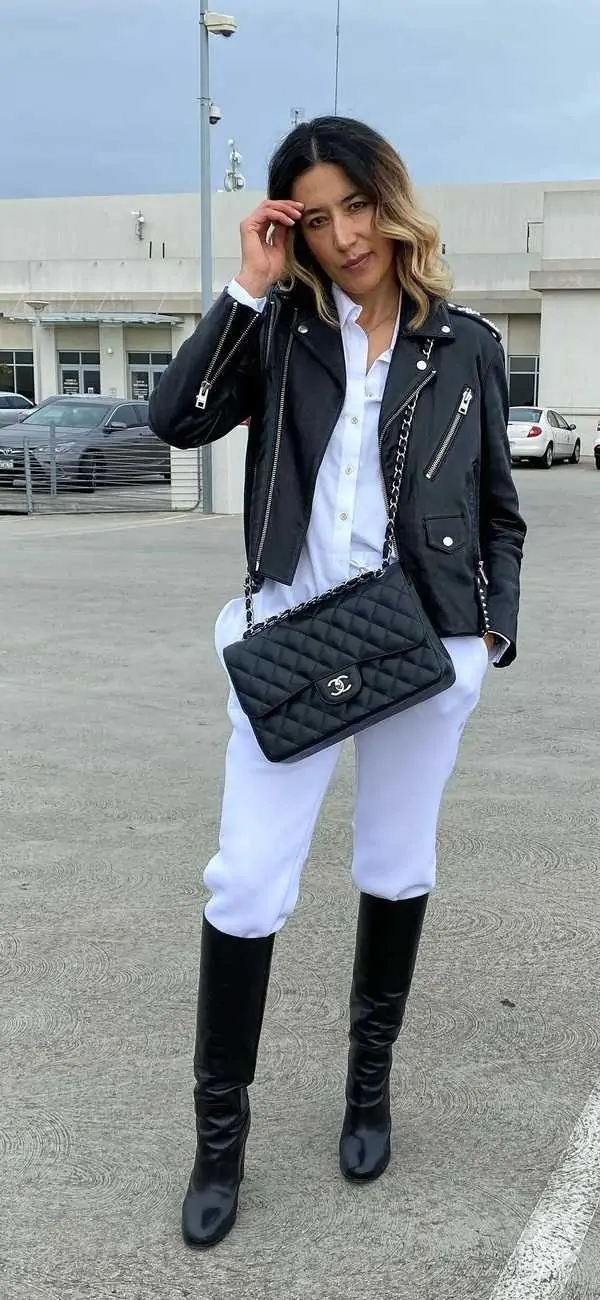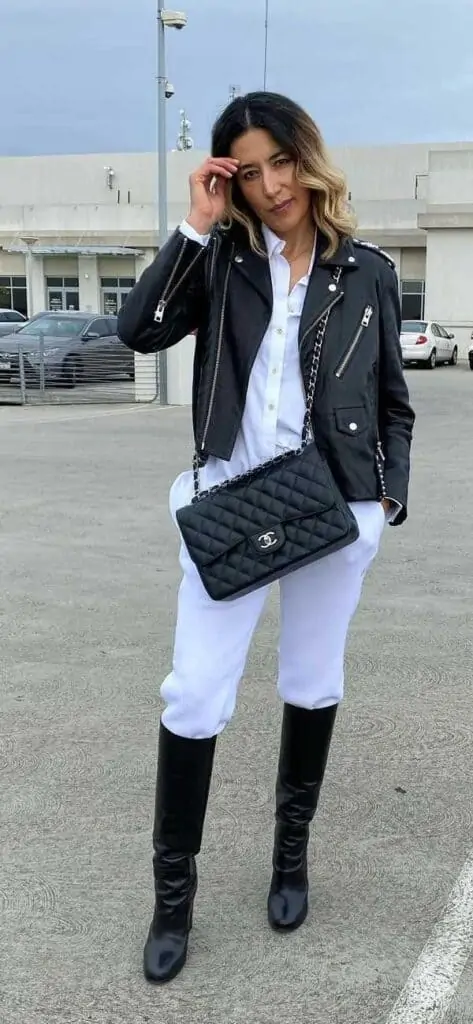 Nancy (above) wore her leather jacket over a white button-down. She went with some white joggers and some knee-high boots which greatly make this outfit edgy for fall weather.
A black leather jacket just never goes wrong and while the most common is the motor style. Alternative, a longer leather jacket would also work for this look.
With a plaid shirt
When wearing a plaid shirt with joggers, you get an easy laid back outfit that makes you look like you put in quite some work into your outfit.
A plaid print may be the ultimate fall favorite, but it's a print that works during other different seasons of the year. Plaid shirts are fun and easy to wear by anyone regardless of age or body size.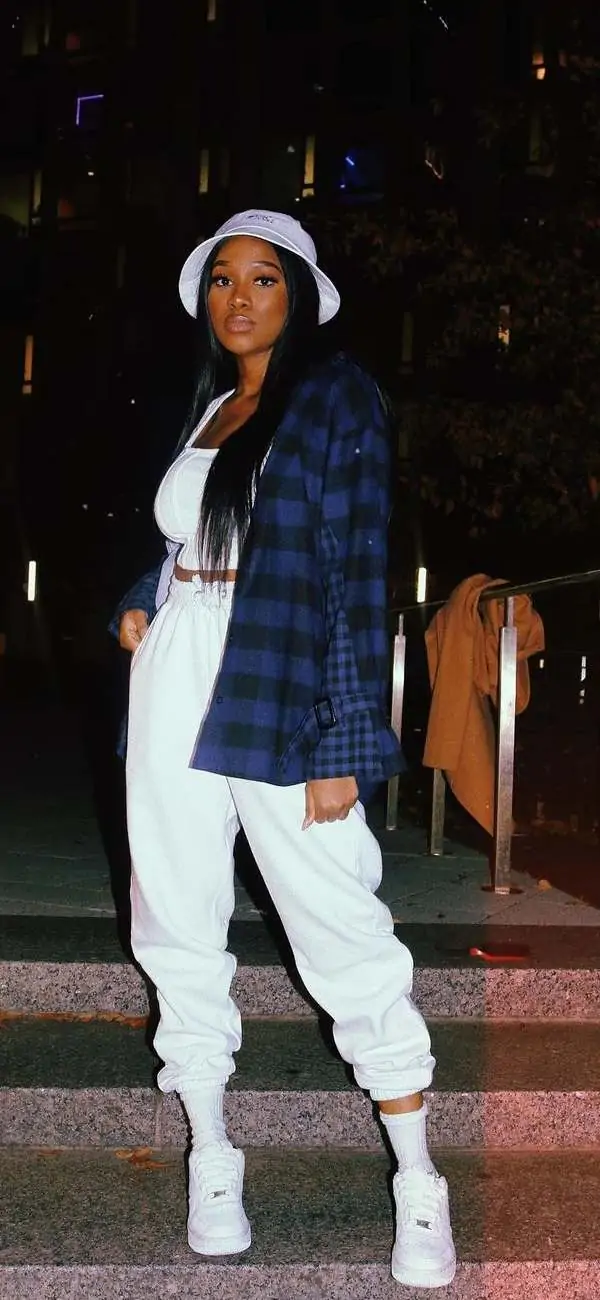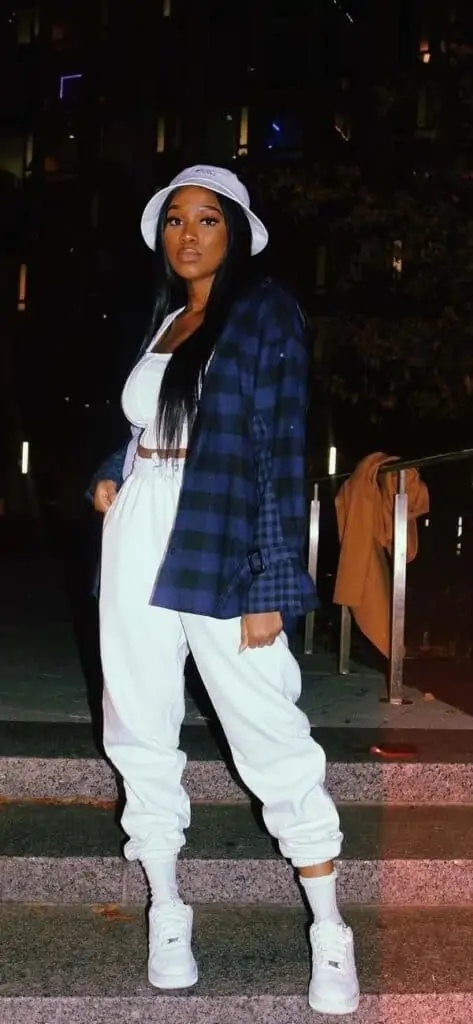 Marvelous (above) wore her joggers with a white cropped top and a plaid shirt over the look. She finished the outfit off with some sneakers.
Note, there are several colors for plaid shirts so you do not only have to stick to a red and black combination.
With a denim jacket
Denim jackets can be worn with your joggers for a nice casual look.
A denim jacket is ever so comfortable and literally suits everyone. It can dress down your outfit in the best way. Denim jackets are suitable for all seasons of the year and it's safe to say, they are a must-have. Blue denim jackets in particular go with joggers of almost every color.
If you feel like the outfit is a bit too plain, you can always accessorize it with some pendants or necklaces that look more casual in style.
With a cardigan
You can give your cardigan a twist by wearing it with a pair of joggers.
A cardigan always feels so warm and snuggly in the fall or spring. Aside from just being functional, cardigans are great stylish pieces. They don't always have to give a preppy look, although preppy look currently is a big trend.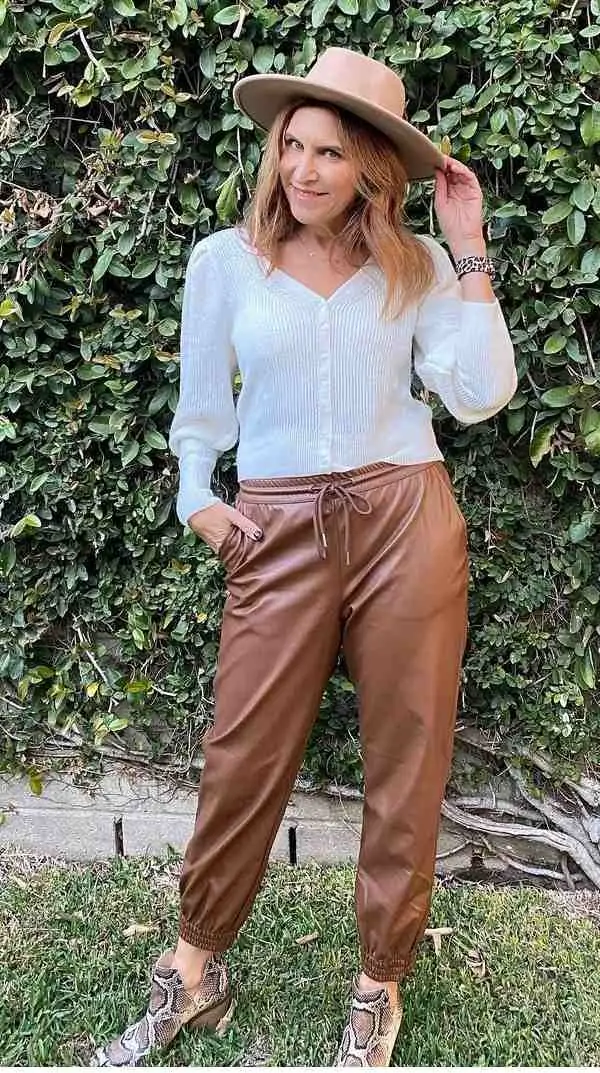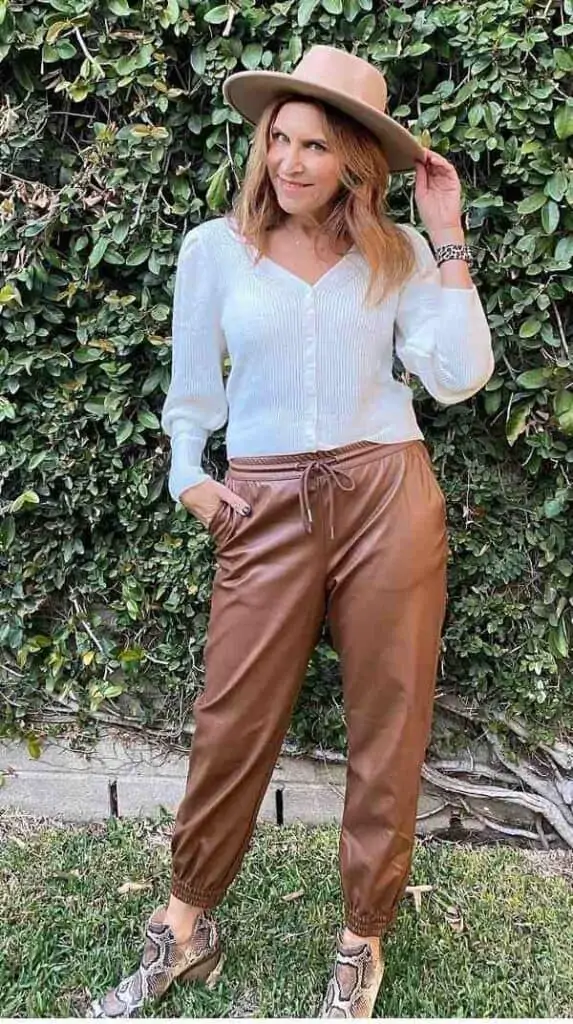 Fabfirststyles (above) wore her cardigan with a pair of brown joggers and some snake print shoes.
You can tuck in your cardigan or leave it unbuttoned worn over a fitted top. You can also go with a longer cardigan.
With a wool coat
To add an elegant touch to your jogger outfits, top it off with a wool coat.
A wool coat aside from just being functional, is a fashionable piece that elevates a dressy look or even a casual one. They can be worn with joggers just the same way they can be worn with your ordinary jeans, khakis, and other laid back bottoms.
When you wear your woolen coat and joggers combination, the most obvious choice of shoes is some sneakers or converse, although you can go for heels and boots too.
With a turtleneck
You can wear your turtleneck tops or knits with some jogger pants for a laid back look when it's cooler outdoors.
Turtlenecks keep you warm during colder times, especially when you go for those that fully cover your top body. They are ever stylish and come in lighter fabrics or knits.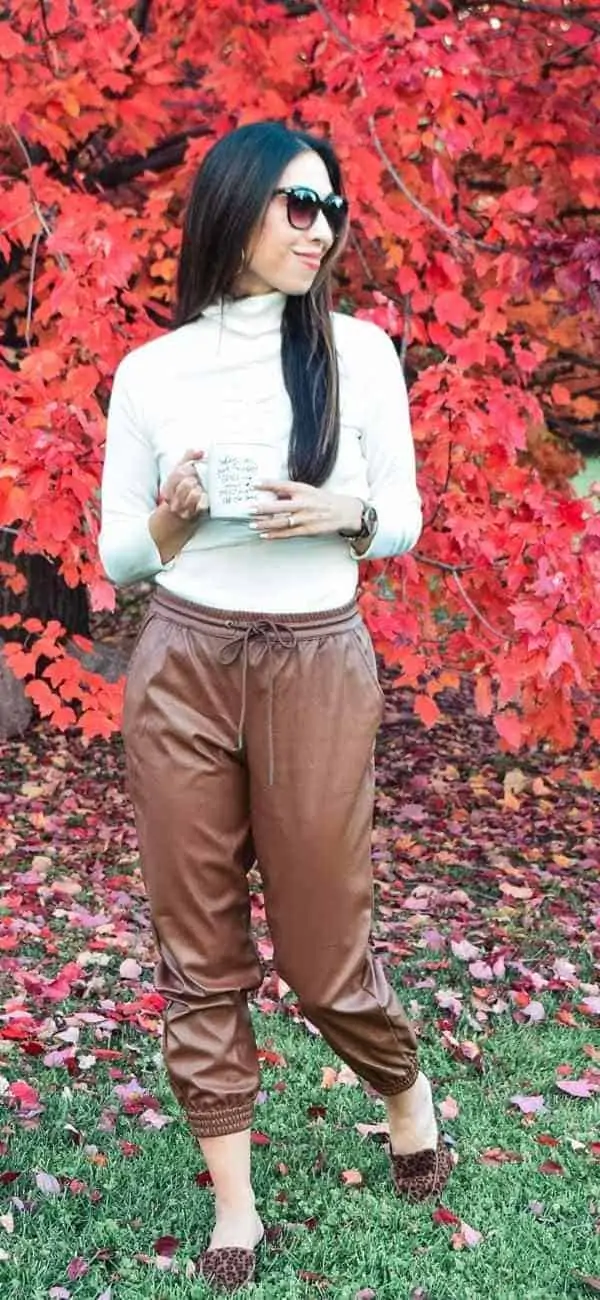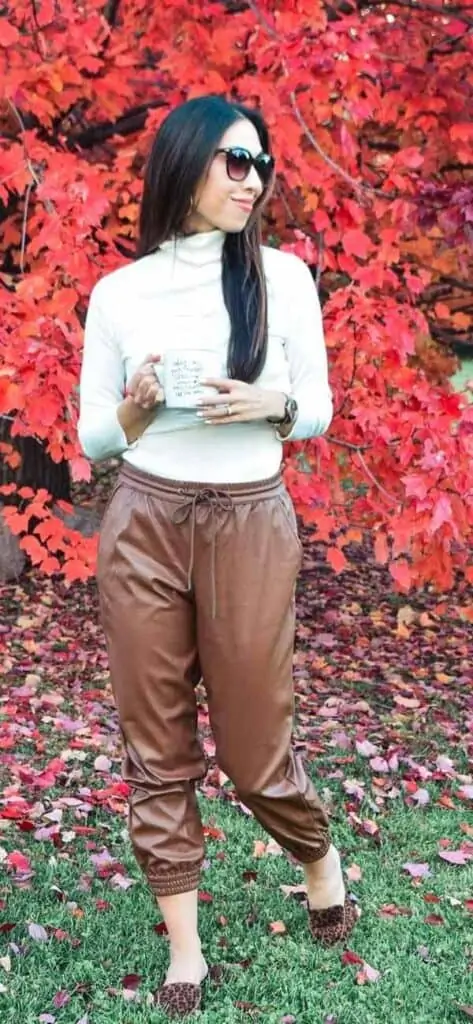 Susan (above) styled her turtleneck with some brown joggers and flat shoes. However, if it's warm outside and you still want to wear a turtleneck with joggers, go for a sleeveless or a short-sleeve turtleneck in a light fabric. You can even pick turtlenecks with cutouts in different parts for warmer weather just as long as it's light.
With a puffer jacket
If you prefer a more laid back look when it's cold outside, then wear a puffer jacket with your joggers is a great outfit to keep you looking stylish and warm.
Puffer jackets may be quite bulky, but they make such stylish outfits. Believe it or not, depending on what you wear your puffer jacket with, you could end up looking very chic. They will make you more comfortable considering the jacket is huge.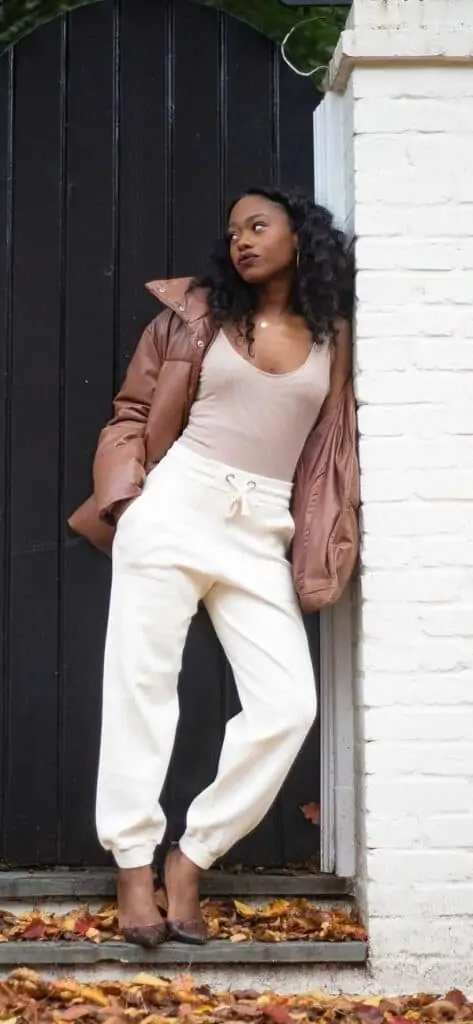 Yana (above) styled her joggers with a tank and a puffer jacket. She went for a pair of closed pumps to dress up the look. Alternatively, you can also go the casual way with sneakers or even a pair of ankle boots.
With a denim shirt
Denim shirts also go so well with joggers. The combination gives you a chilled, comfortable outfit.
Denim shirts, just like jeans and denim jackets, are comfortable and suit every woman out there, regardless of their shape and body size. They are amazing for casual looks, but can also be dressed up a notch with some heels or fancy pants.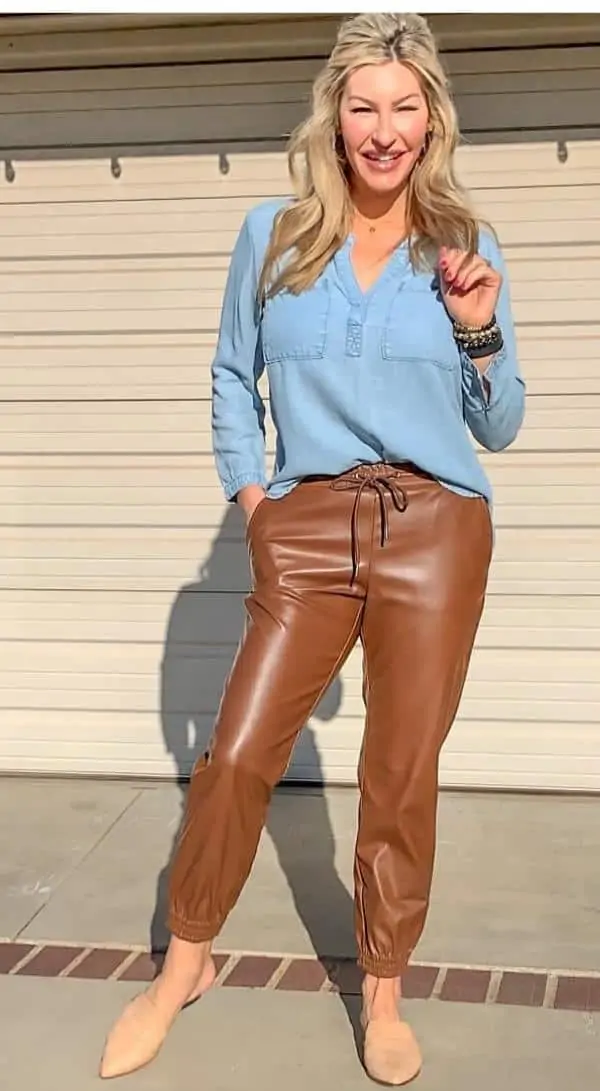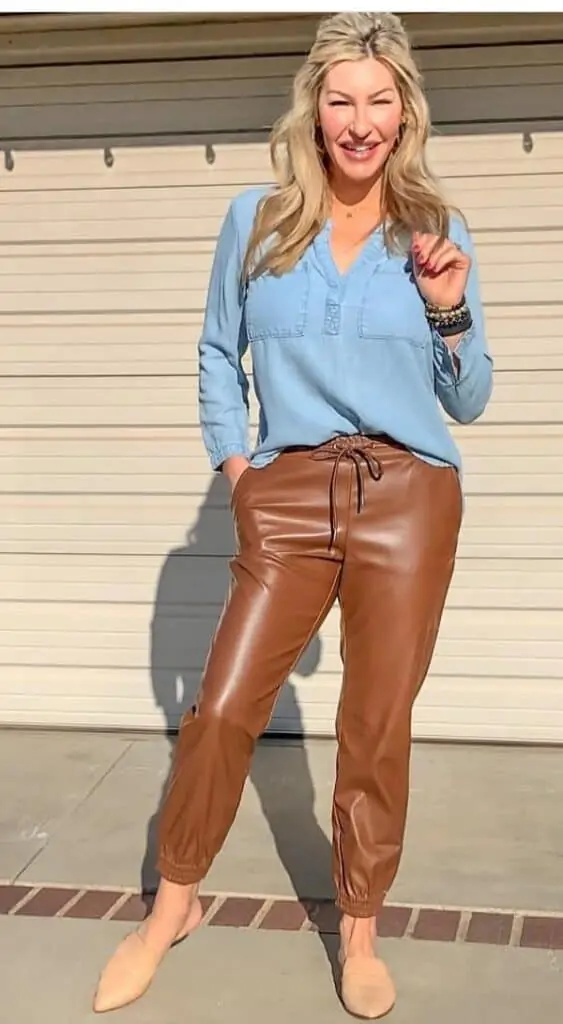 Daniela (above) wore a denim shirt with a pair of faux leather joggers and some mules. She tucked in part of the shirt, but you can always fully tuck it in.
With a trench coat
Trench coats are the classic wardrobe cornerstone that never go out of style. They keep you warm and also make your outfit more stylish. You can get them either long or short, but regardless, you can throw them over your joggers outfit.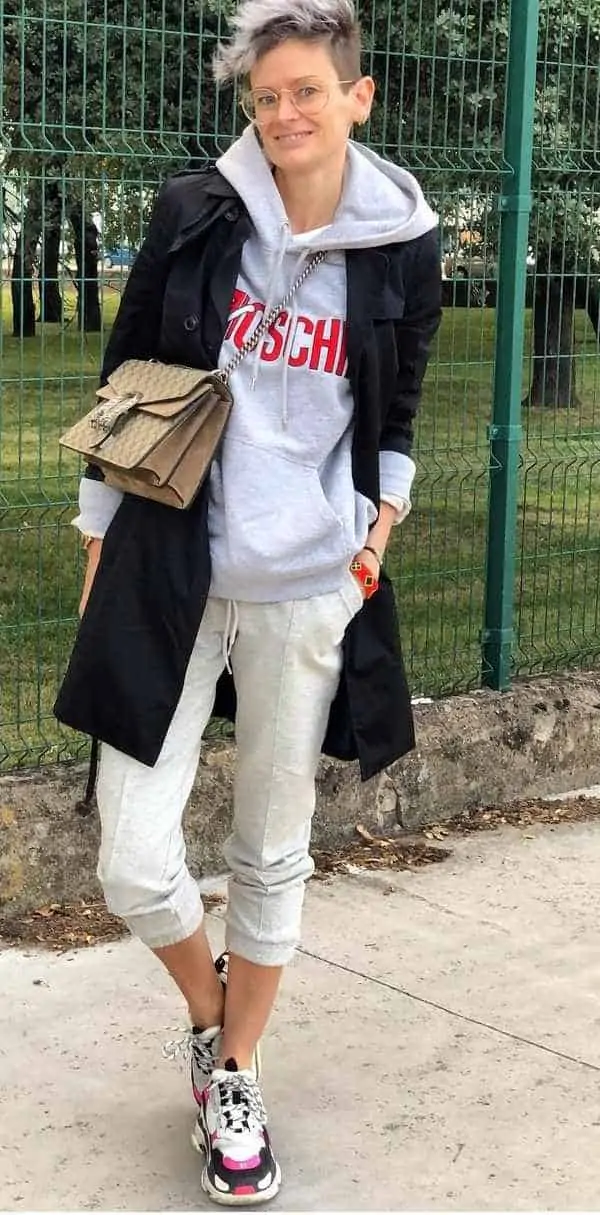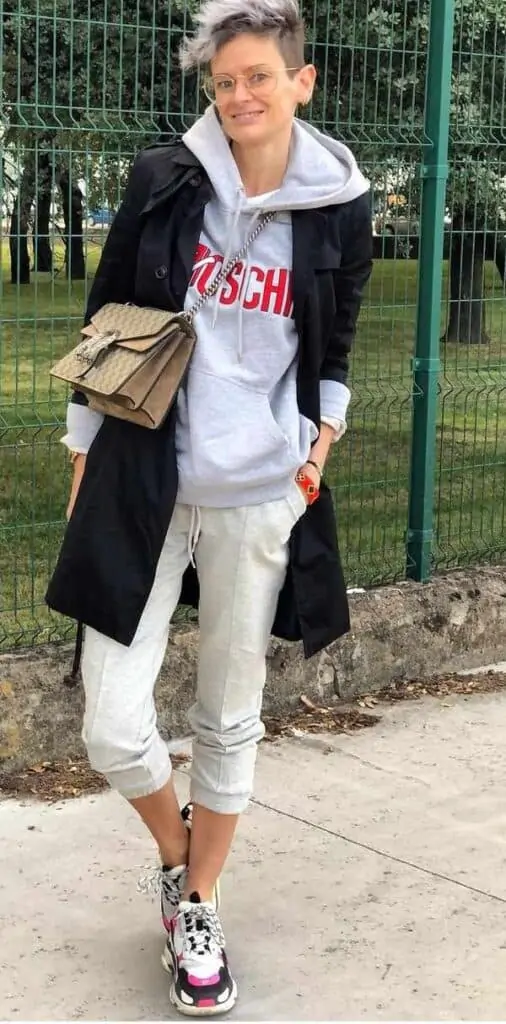 Silvia (above) wore her trench coat over a hoodie worn with a pair of joggers. She finished off the look with a pair of sneakers. The best thing about wearing a trench coat with some joggers is that you can layer the trench coat over hoodies and other warmer pieces.
With a bodysuit
A bodysuit is another great piece to wear with your joggers because it never untucks. Due to this, you're always assured of a clean look. Bodysuits are also comfortable so you get a double dose of comfort when you pair these two.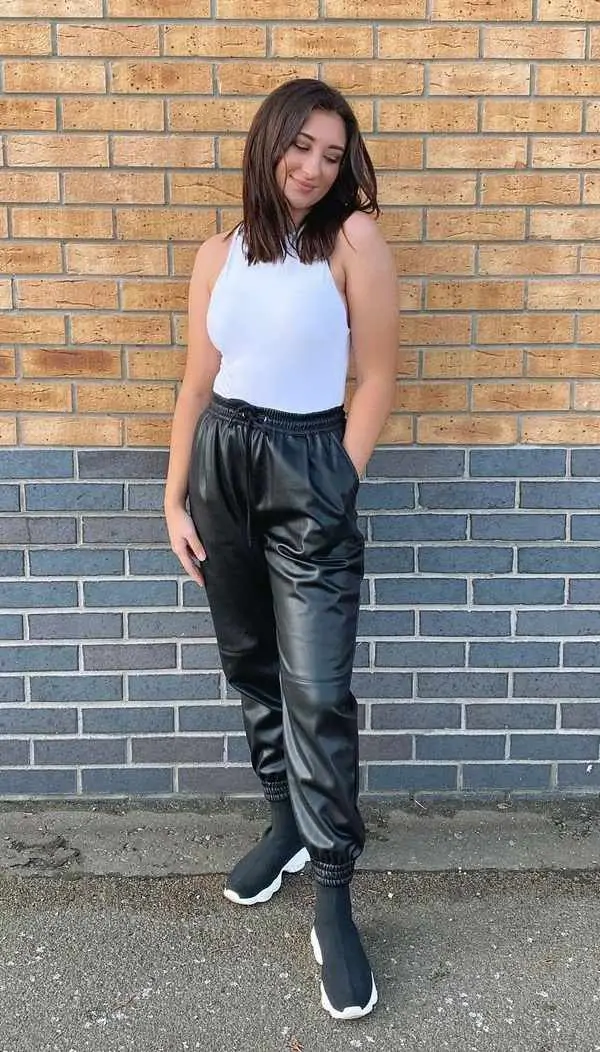 Joy (above) wore her joggers with a white bodysuit and some sneakers. You can never go wrong with a black and white combination.
Alternative, go for a denim shirt that's a full button down so you can leave it open, layered over a top.
With a blazer
You can always count on a blazer to give you that sophisticated finish, regardless of the type of outfit you've chosen to go with. They're great with formal looks, but also work well with casual ones such as looks with joggers.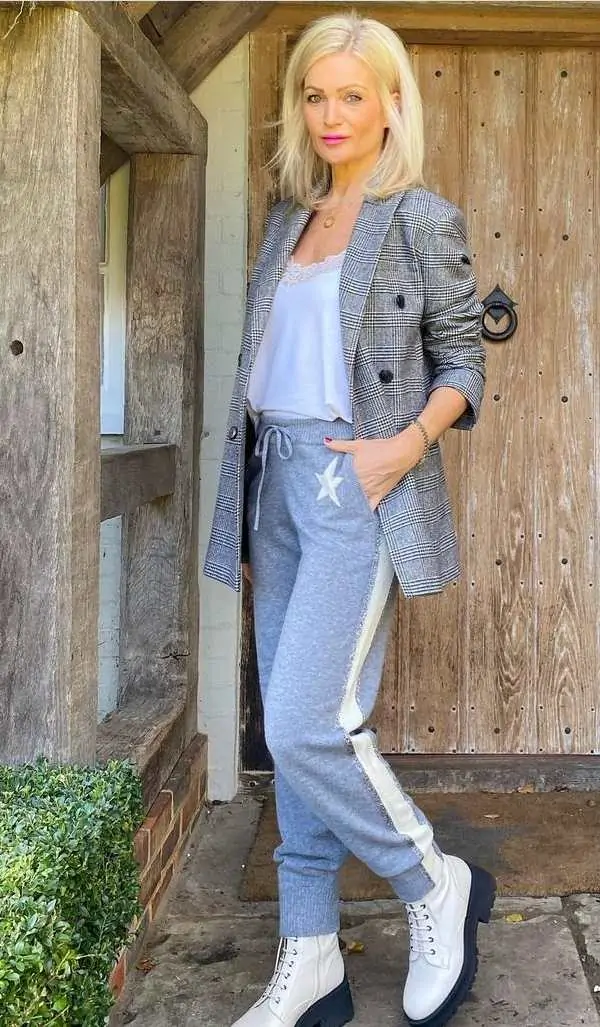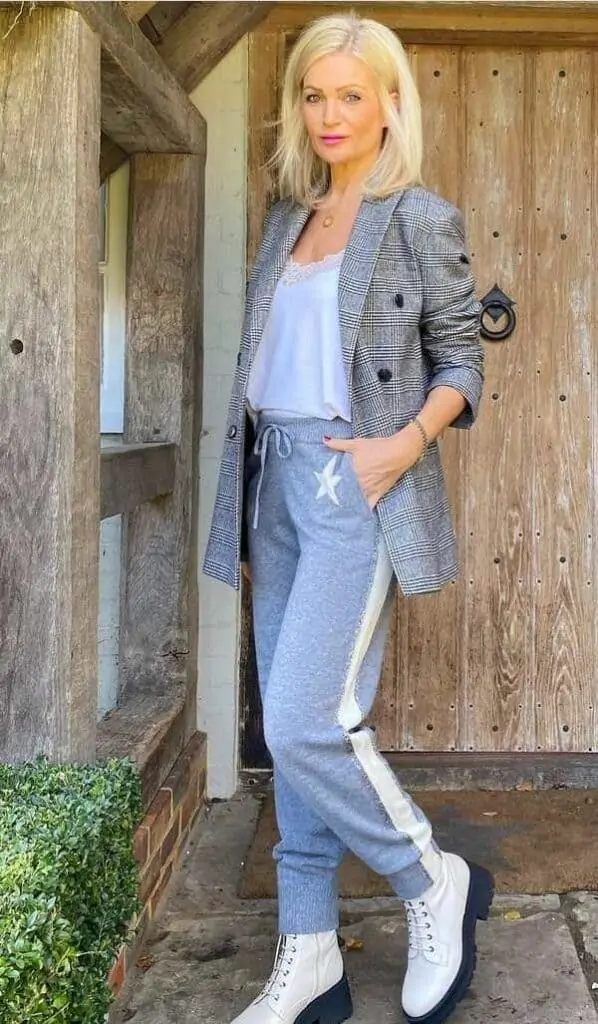 Sarah (above) styled her joggers with a blazer and a camisole. It's a look that would literally take a short time to put together but looks like you put in quite some effort.
With a knit top
If you're not feeling t-shirts, then a great way to achieve the same easy look is by wearing a plain top. Whether you go for a short sleeve one or a long sleeve plain top, all you need to do is tuck it into a pair of joggers for that clean look.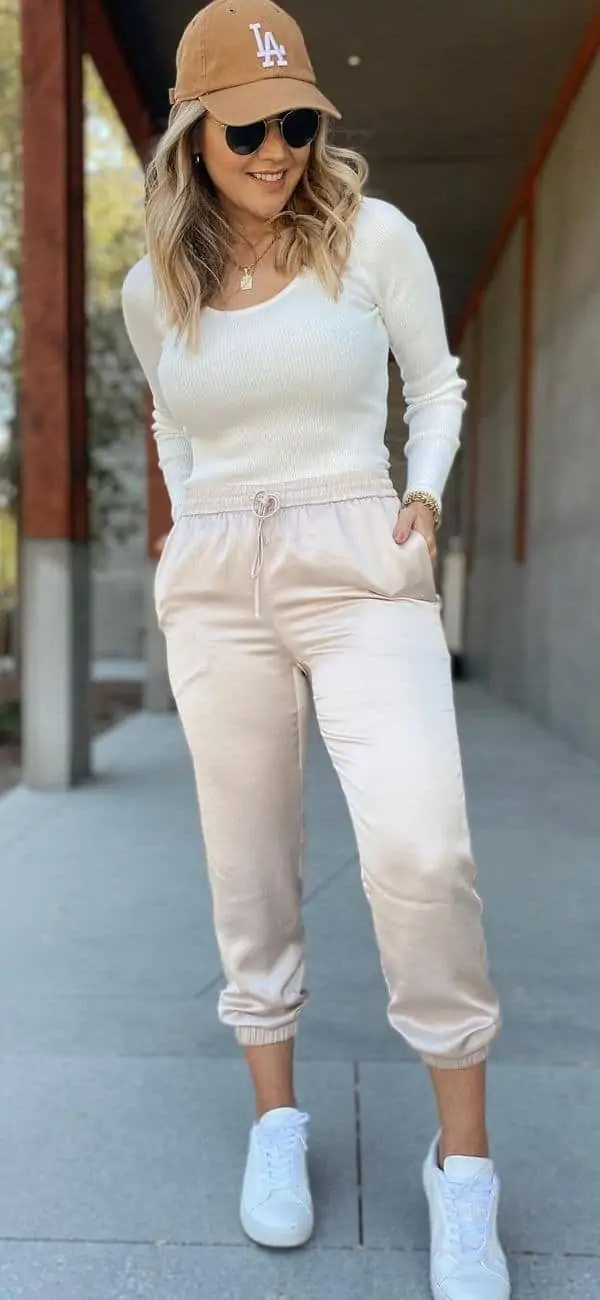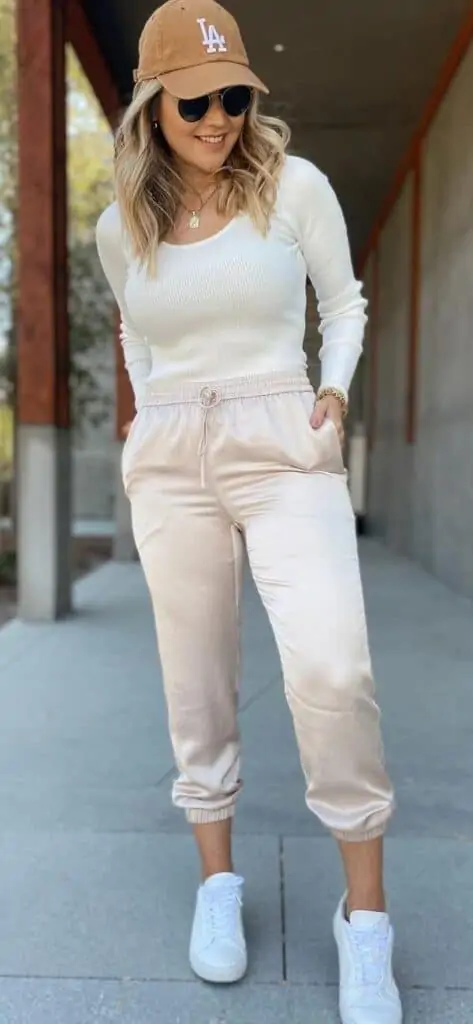 Zoila (above) styled her joggers with a simple plain long-sleeved top and some sneakers. As you can see, joggers are available in different fabrics and hers is in satin, very feminine.
You have many different options when it comes to the colors and design of the top and the joggers. They are simply effortless.
With a blouse
You can style blouses with joggers to make your joggers' outfit classier.
A blouse is one of the most feminine pieces you can have in your wardrobe. They are great for dressing up any outfit, be it formal or casual. Blouses come in different designs and they suit people of different shapes and sizes. Some are subtle and some make a statement.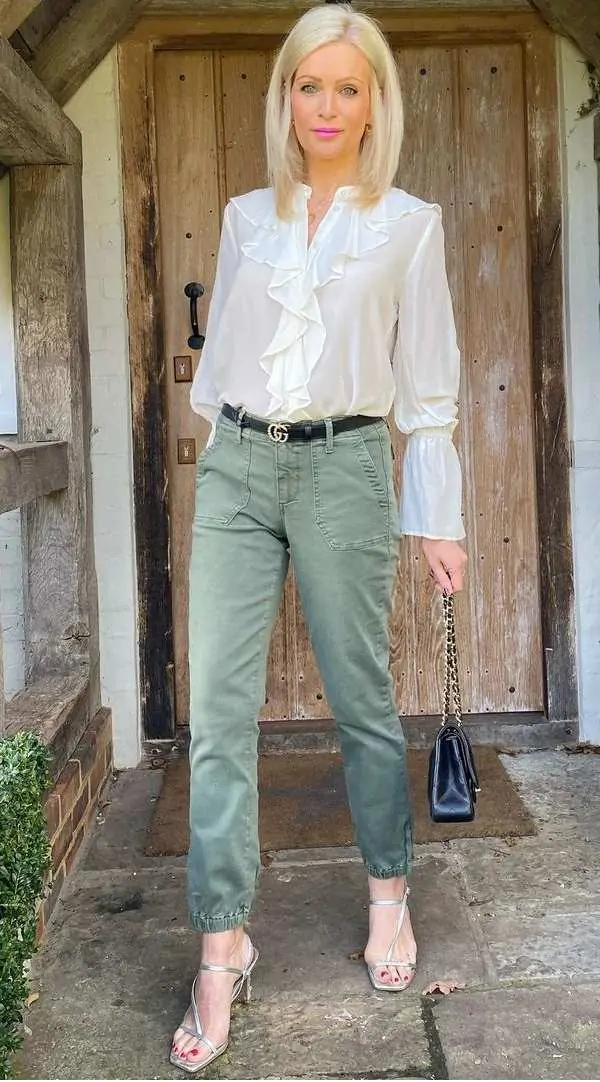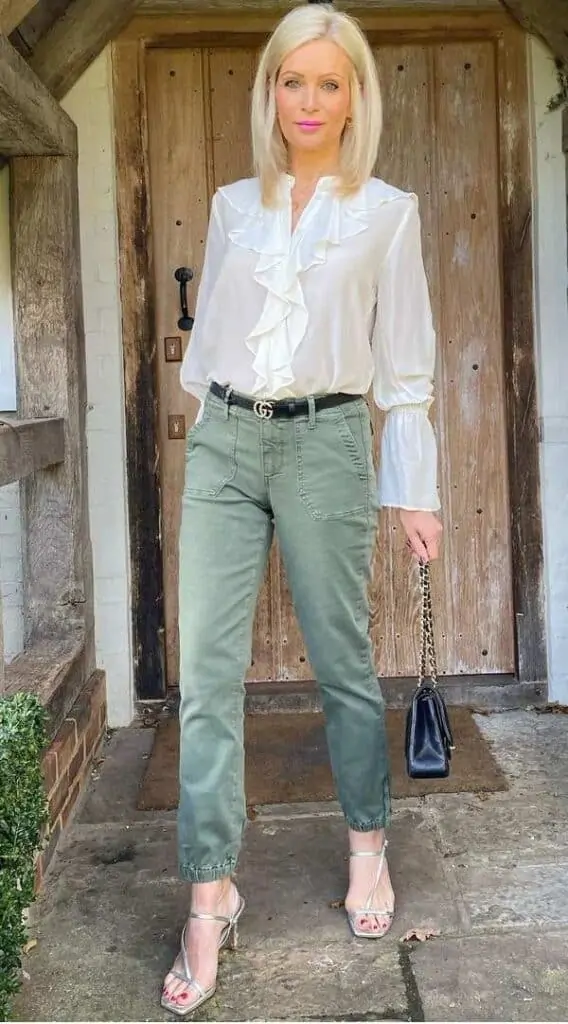 Sarah (above) styled her joggers with a white blouse tucked in. She dressed her joggers further with a pair of heels. Her joggers are in khaki, but a blouse will really dress up any other jogger material out there.
You can always go for a bolder blouse, if you're not particularly a fan of making a big statement.
With a graphic t-shirt
Graphic t-shirts with joggers are great, if you're looking to stand out from a crowd.
Graphic t-shirts make for the best casual pieces. Depending on what you choose to wear your graphic t-shirt with, they could also be dressy. They can be worn with a variety of bottoms, including joggers, especially if you prefer to wear something more comfortable than jeans.
In case you like adding some feminine touches to casual looks, then you can wear heels with this combination instead of sneakers.
With a matching top
If you want to save on time in the morning and would like to wear some joggers, then a matching top will help. Wearing a matching set in joggers style means you don't really have to think much about what to wear with your joggers, since the two already come together.
The top could be cropped or in the ordinary length. You can tuck it in or leave it hanging, depending on the style of your matching set.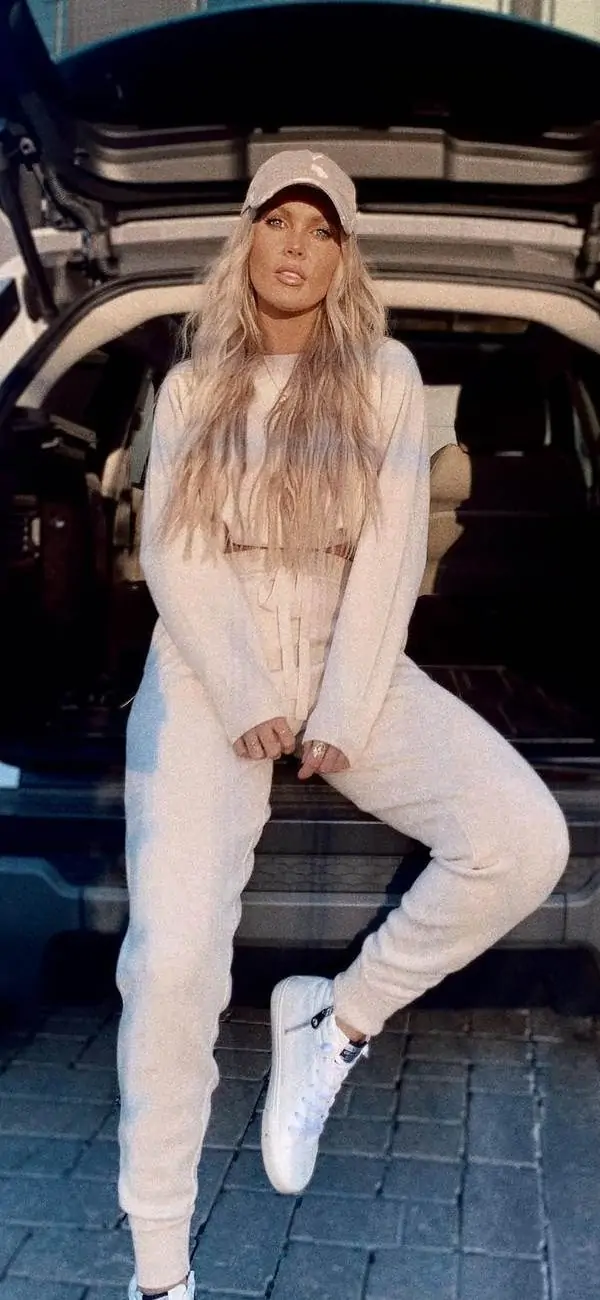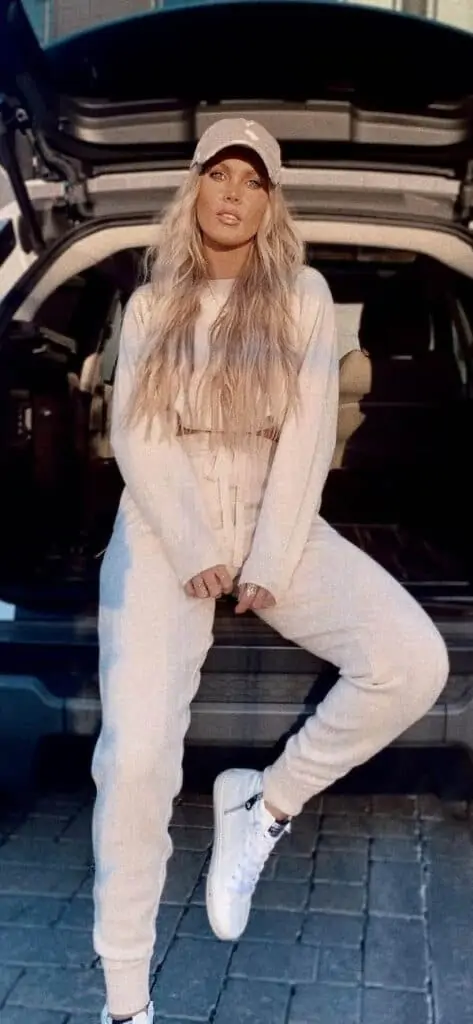 Hannah (above) styled her joggers with a matching top and went for a pair of sneakers to complete her outfit. If the top is plain, feel free to accessorize it accordingly but it might not be necessary.
With a cami
Wearing cami with joggers is a great way of combining pieces that are quite different, considering joggers are less dressy while cami is quite delicate.
Camis are feminine staples. They are great for summers when it's hot outside. They are also great for layering underneath outerwear. They work with any kind of bottoms you can think of including joggers.
When it gets a bit colder outside, you can easily layer a coat or a denim jacket over it.
With a message t-shirt
A great way to wear message t-shirts is to tuck them into some joggers for a cool weekend look.
Message t-shirts, just like graphic ones, also make you stand out and are also a means of self-expression. They can be very creative depending on what's written on them, but will still give you the comfort of any other t-shirt.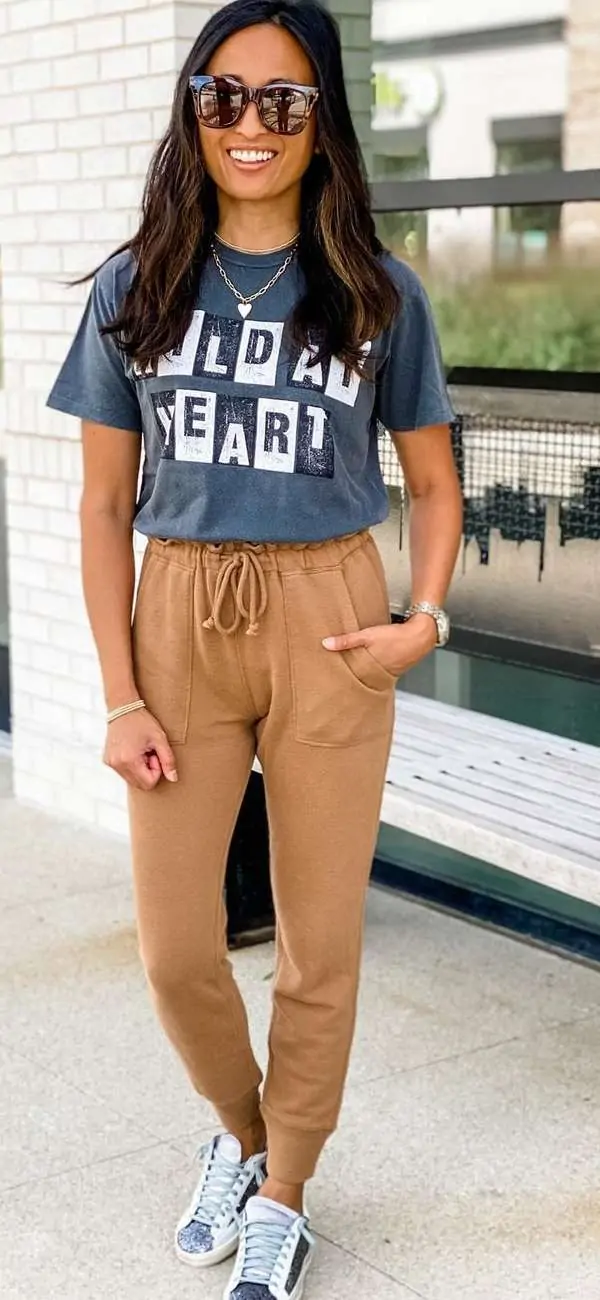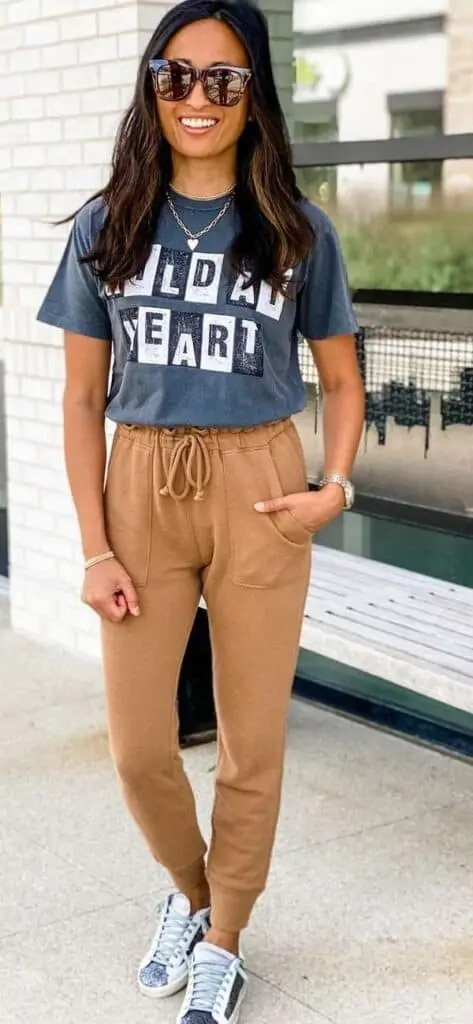 Naomi (above) wore a grey message t-shirt with a brown pair of joggers and finished off the look with some sneakers. This look can easily go well with some slides too or even sandals if you're after a casual feel.
With a tank
Tank top with joggers make a perfect weekend outfit.
Tank tops are also easy to wear just like a t-shirt. They're also great for warmer times but allow you to layer easily if it's a bit cooler outside. If you choose to wear your tank top with a pair of joggers, all you have to do to achieve a clean look is tuck the tank top in and pick some great shoes.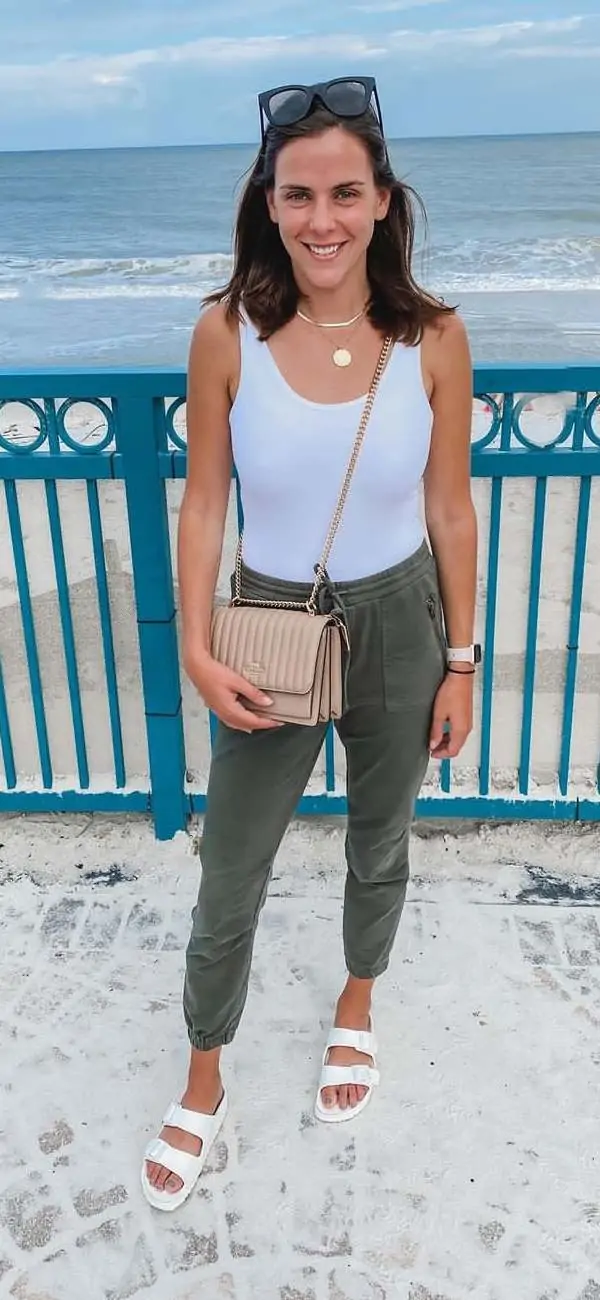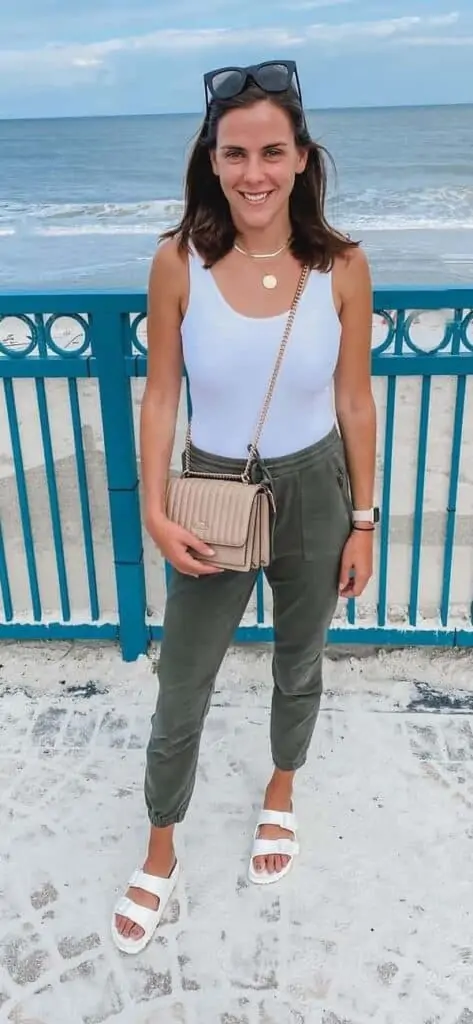 Treschicboston (above) wore her plain white tank top with a pair of green joggers and some white sandals. She finished the look off with a simple cross body bag. You can also add some accessories to make the outfit pop more.
With a cable knit sweater
Pullovers are also great layering pieces and work well with joggers for maximum comfort.
Pullovers, just like cardigans, are functional and so comfortable. They come in different designs and thickness, and cable knit is one of the most popular. Whichever you go for, it should be compatible with the weather so that you're neither too hot nor cold.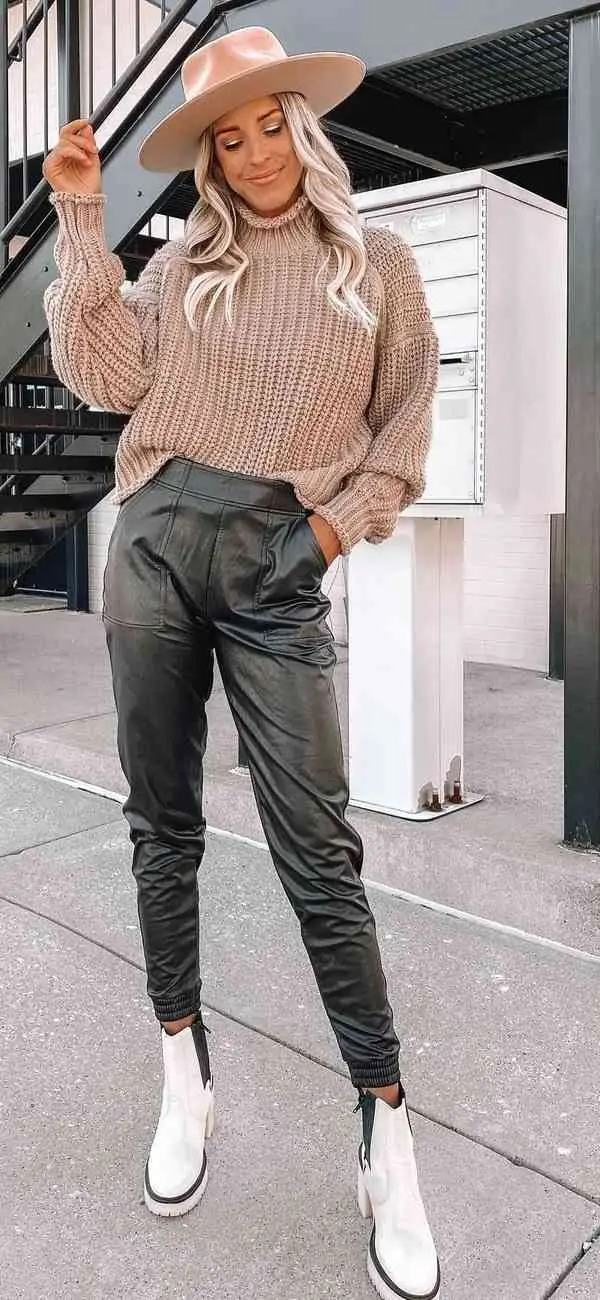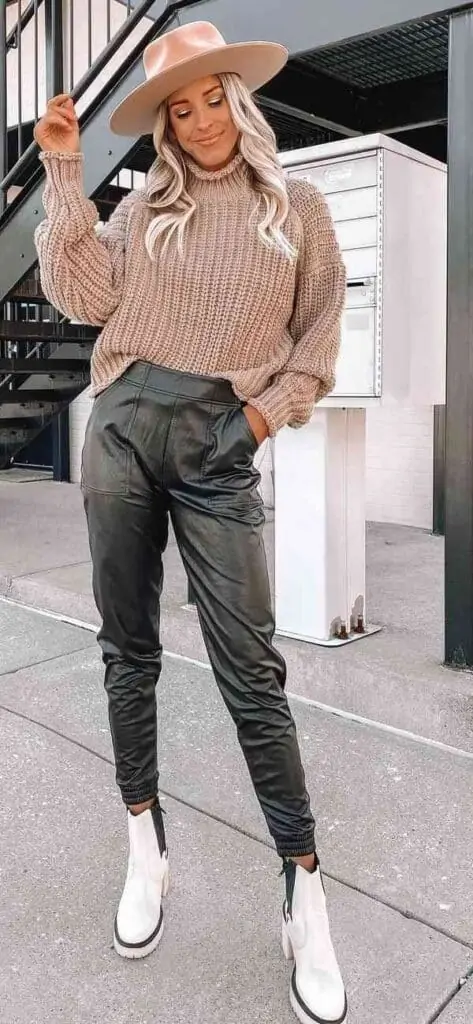 Kylie (above) styled her turtleneck style pullover with a pair of joggers and some ankle boots. You can choose different neckline styles for your pullover.
With a duster
Wearing duster with joggers makes the outfit even more comfortable and you will feel even more confident in it.
Dusters are very flattering, often considered the last wardrobe piece that that adds more class to your look. Dusters are flowy and very forgiving, since they hide any parts of your body that you do not want to draw attention to. They also look great with a number of bottoms including joggers.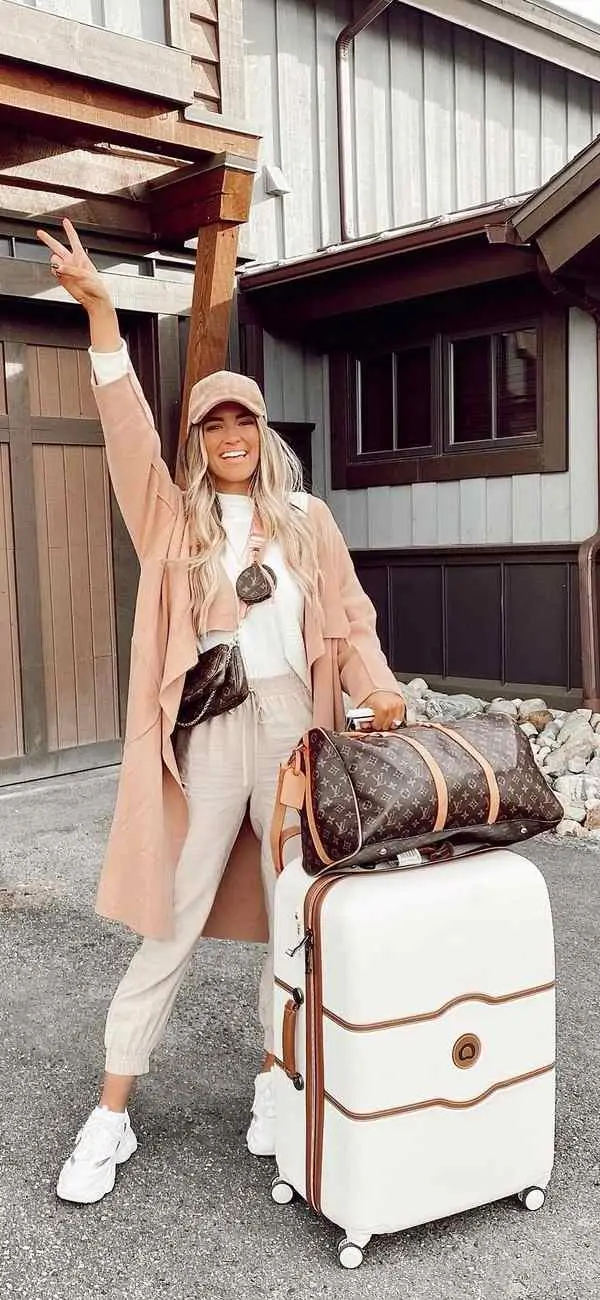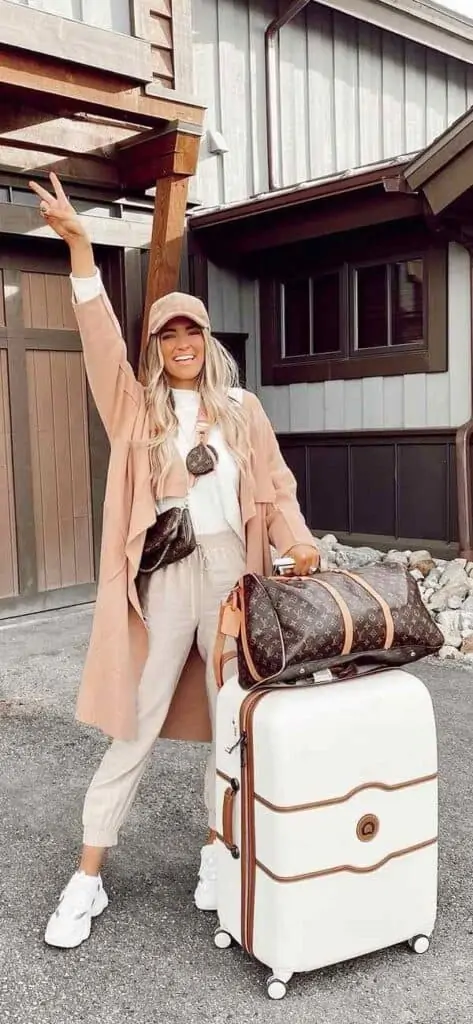 Samantha (above) wore a pair of joggers, a t-shirt and a duster. She completed the look with some sneakers for maximum comfort. It makes for great travel attire but can be dressed up with heels as well.
With a plain white t-shirt
You can also wear your plain white tee with your joggers for a laid back casual outfit great for errands outdoors.
A plain white t-shirt is a must-have just like a button-down. It goes with everything you can think of wearing, and works for different environments.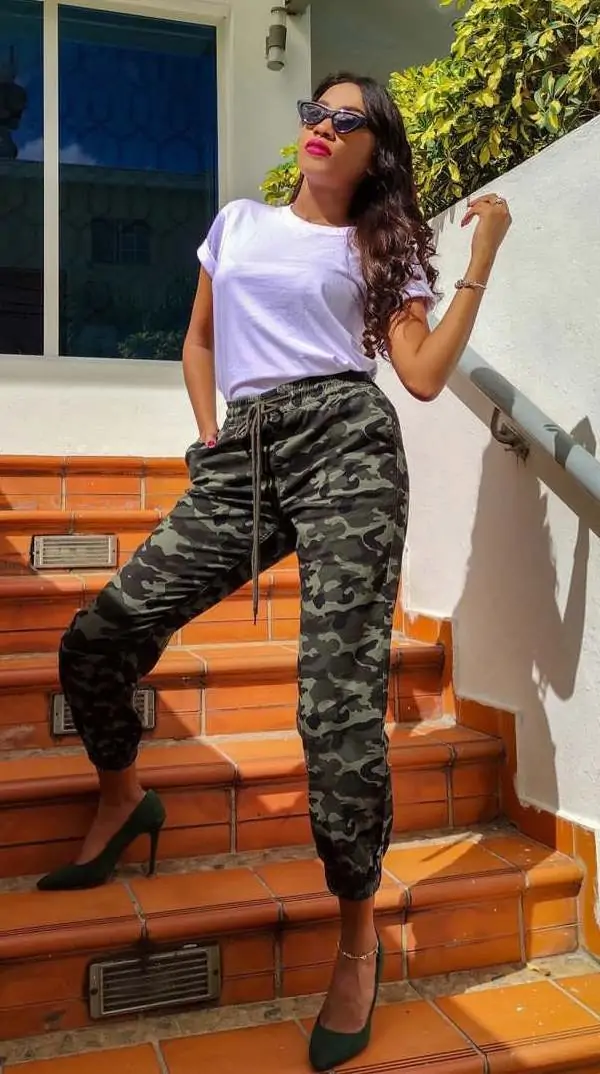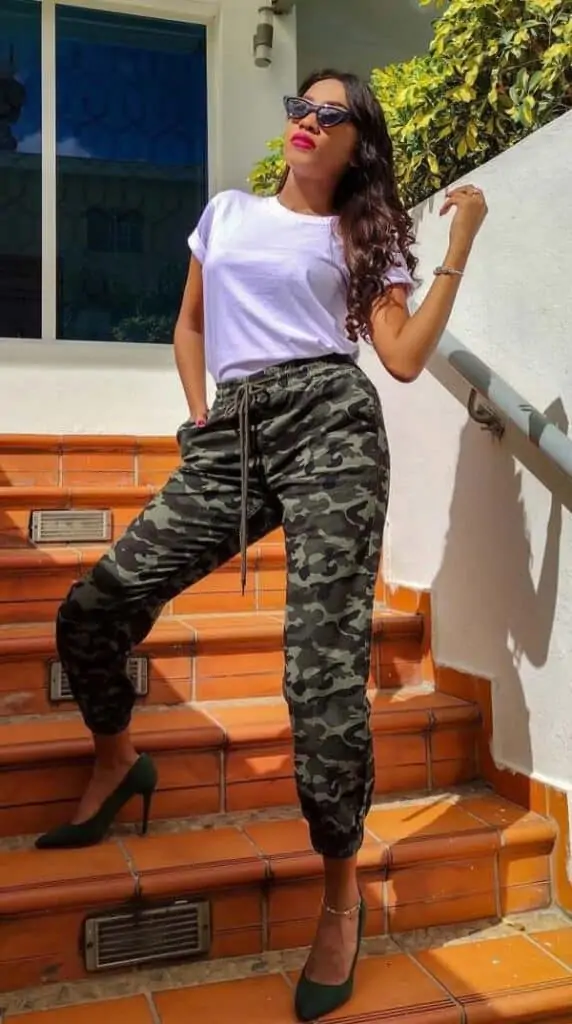 Genesis (above) wore a plain white t-shirt with a pair of camouflage joggers and dressed it up a notch by wearing closed toe heels. You can wear the outfit with strappy heels, sandals and most of all some sneakers.
With faux fur
Faux fur coats can also be styled with your joggers during cold weather. Faux fur coats are normally very chic, so you can count on them to give your joggers that dressed up feel.
Alternatively, you can add go for a colorful coat.
With a printed sleeveless top
We did suggest a simple plain top when wearing joggers, but a printed sleeveless one can also do the trick. You need to have a number of stylish tops to wear with your bottoms, including joggers, because they don't always have to be worn too casually.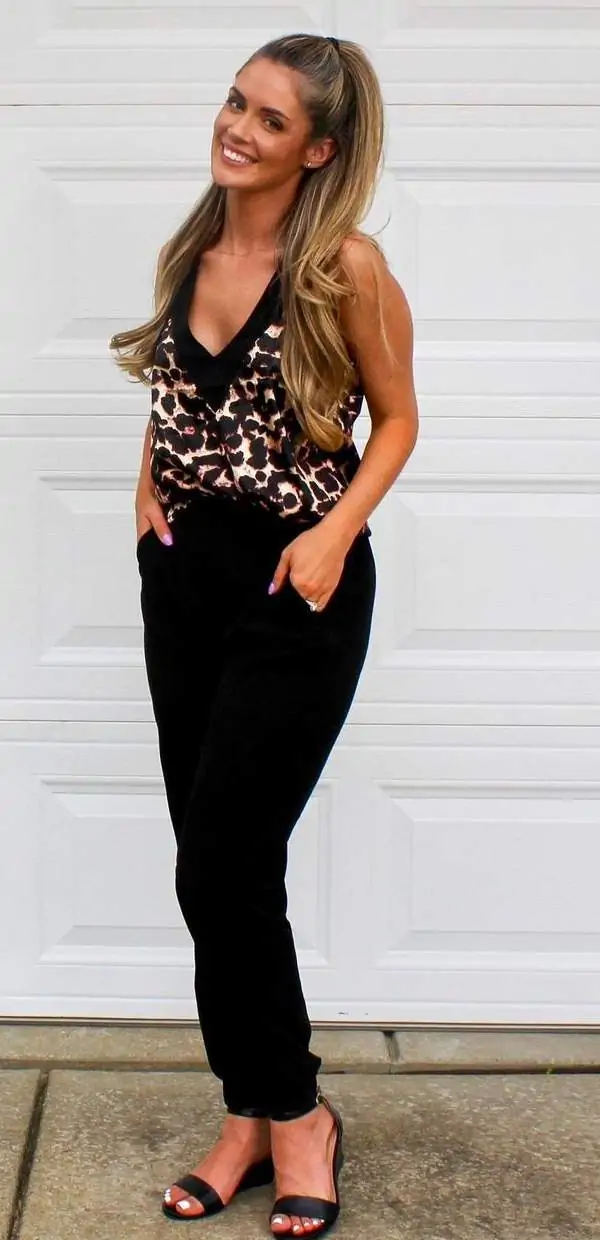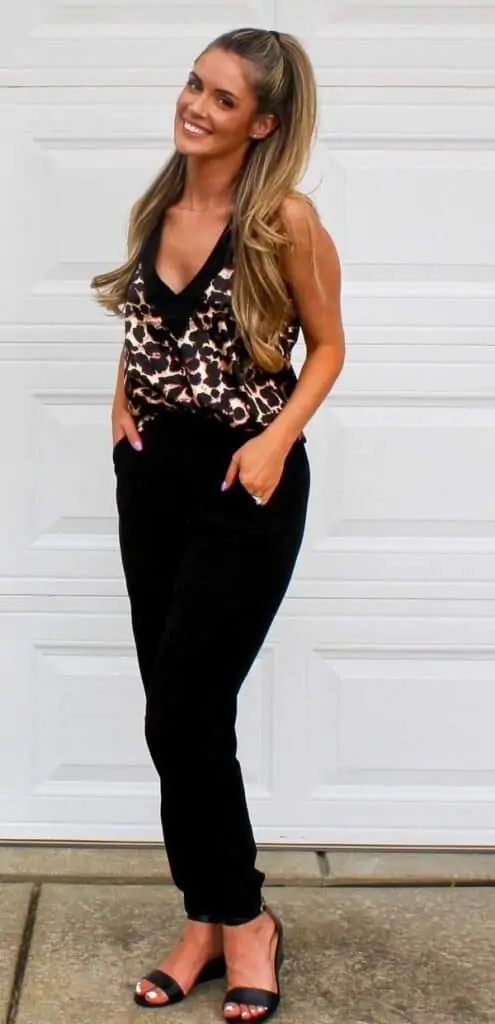 Threwthistogether (above) styled her leopard print sleeveless top with some black joggers and open shoes. With a printed top, it's best to go for a simple pair of joggers.
With a bomber jacket
A bomber jacket is young and fun and often resembles a varsity jacket. You can pair it with some joggers for a youthful casual look.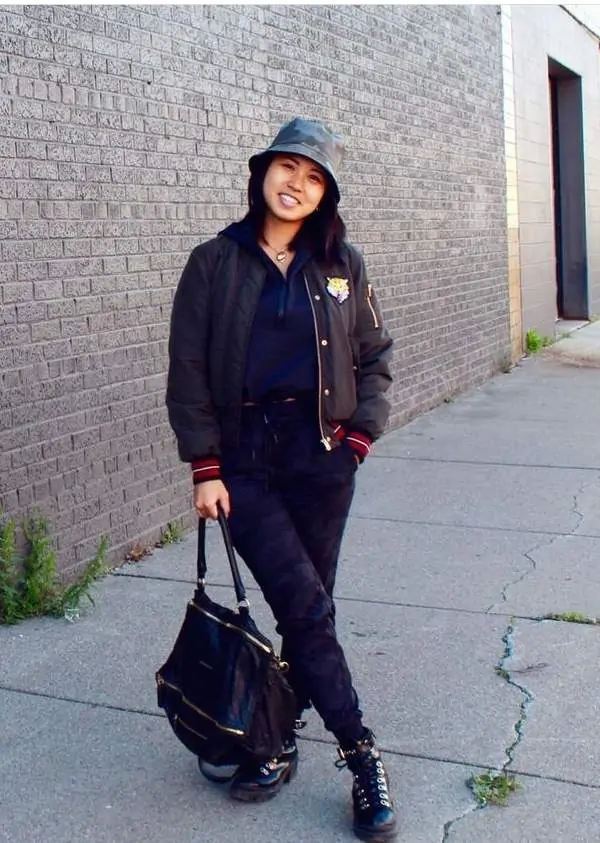 Emily (above) wore her black joggers with a black shirt and a black bomber jacket. You don't always have to go monochrome like she did. Pick out colors that work well together.
So, with these 25 ideas, it's probably time to get yourself some great joggers because styling them will be interesting. You'll love them.