Wide-leg jeans are one of the more comfortable denim styles, thanks to the loose fit. They are quite on trend in recent years, and can be worn with many different items in your closet.
Here are some of the best outfit ideas on what to wear with wide-leg jeans:
With a cardigan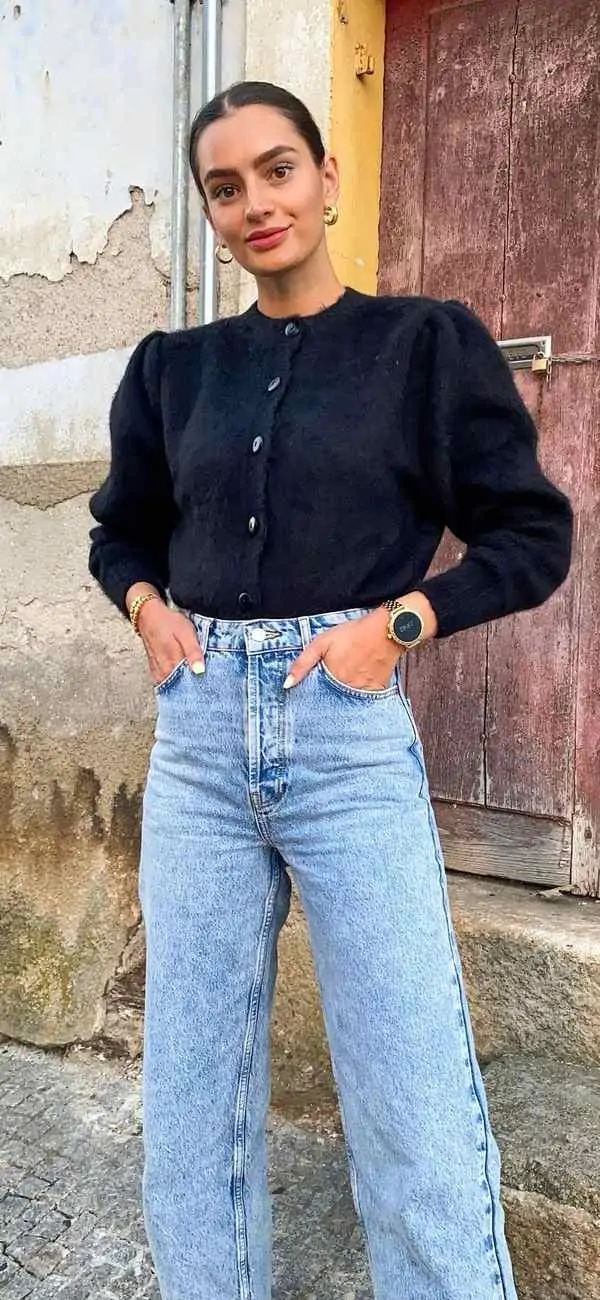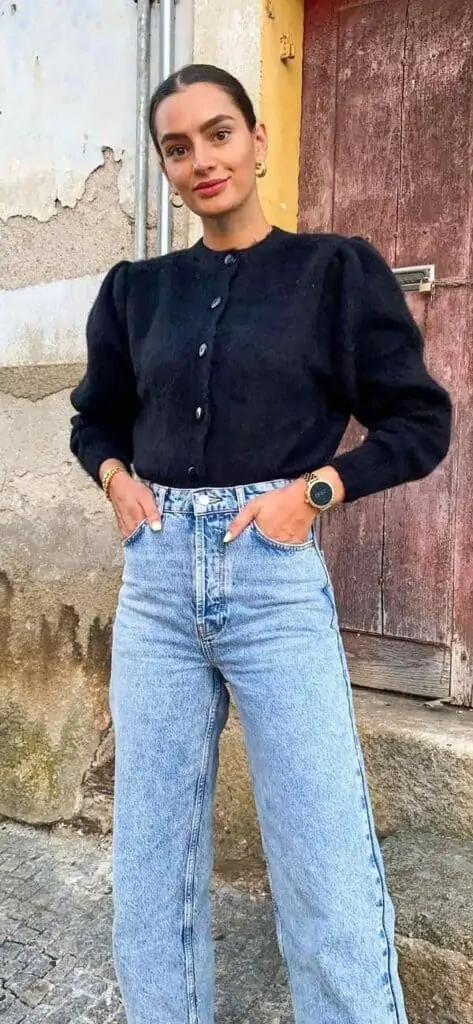 Everyone has a cardigan, and one of the easiest ways to style them is to wear with your cardigan is a pair of wide-leg jeans.
A cardigan is ever so nice and snuggly, definitely something you should own as it's functional for cold weather. They can be either long or short, and can be worn either buttoned or unbuttoned.
Patricia (above) wore a simple cardigan with a pair of wide-leg jeans in blue. She tucked in her cardigan and well, if yours is too long to be tucked in, you can wear it over a tank or simple t-shirt then leave it unbuttoned. The last thing you want is to have some tacky bulges.
With a coat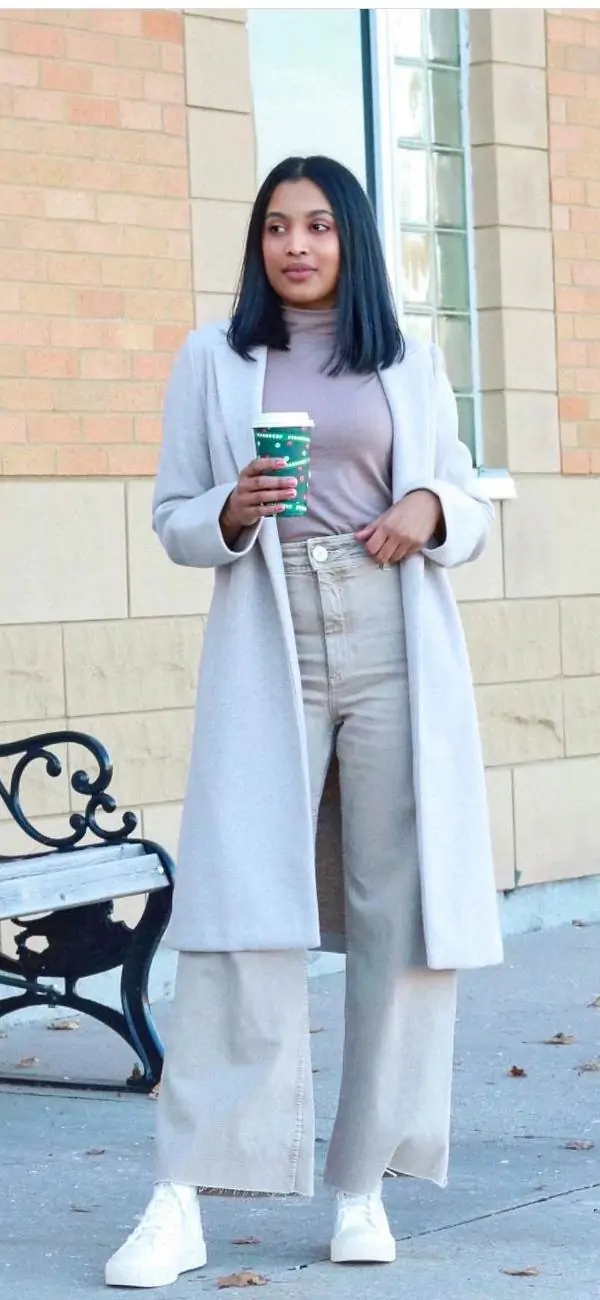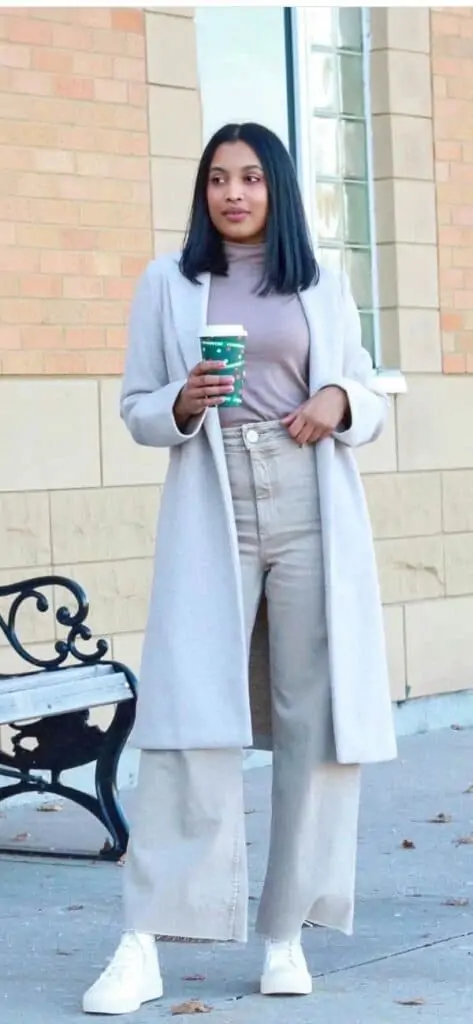 The easiest way to look chic on a cold day is to wear a coat over your outfit. Adding a great coat can really elevate any basic look you wear under them. You can wear these coats with a wide-leg pants outfit for that sophisticated and classy finishing touch.
Allthingsmieza (above) styled a pair of wide-leg jeans with a turtleneck top in an almost similar color and finished the look off with a chic coat and a white pair of sneakers.
The outfit is casually chic. For this combination, a monochromatic look definitely works great. Alternatively, you can pick different colors just as long as they work well together.
With a leather jacket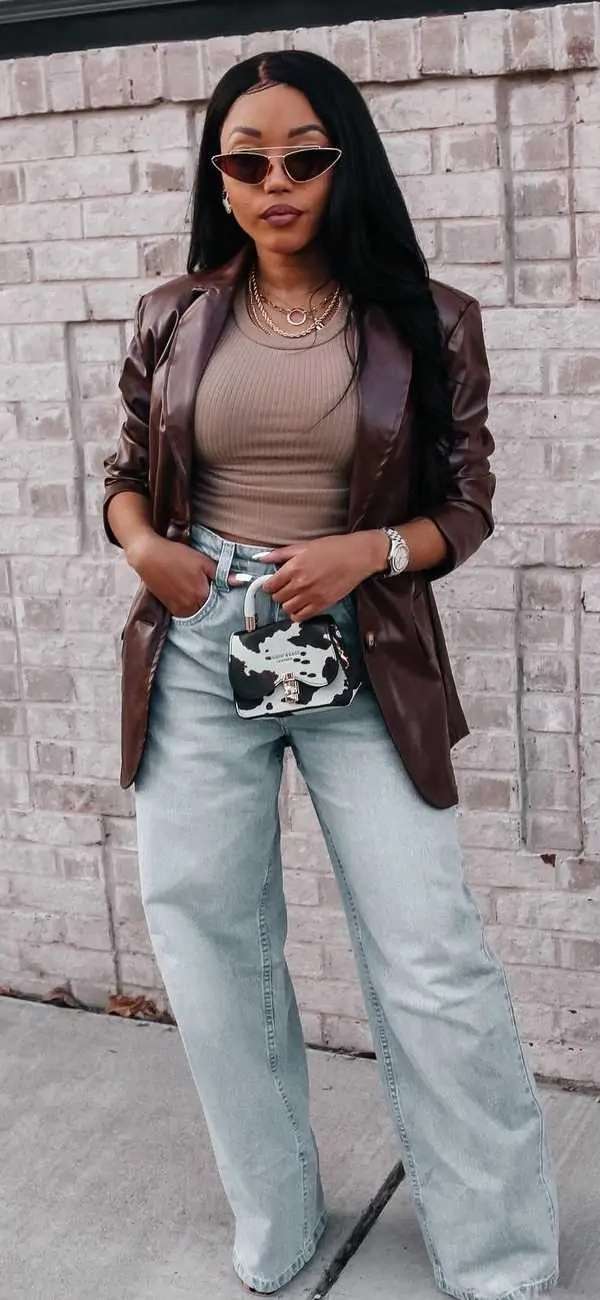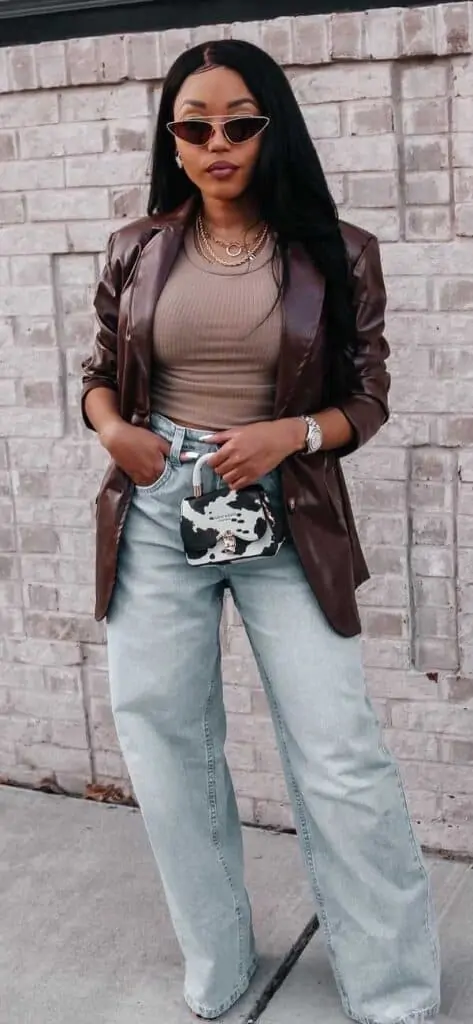 You can wear your leather jacket with so much including wide-leg jeans.
Leather is classic and timeless, so you can always be sure that when you get a leather piece you'll have it with you for years to come. Leather jackets come in different styles and lengths. but whichever you go for, you can be sure the jacket will add a touch of edginess and sophistication.
Briyonce (above) styled her nude color top with a pair of wide-leg jeans and finished her look off with a brown leather jacket. Her leather jacket is long, but you can go for shorter, more cropped options, as they will still look great with your wide-leg jeans.
With a turtleneck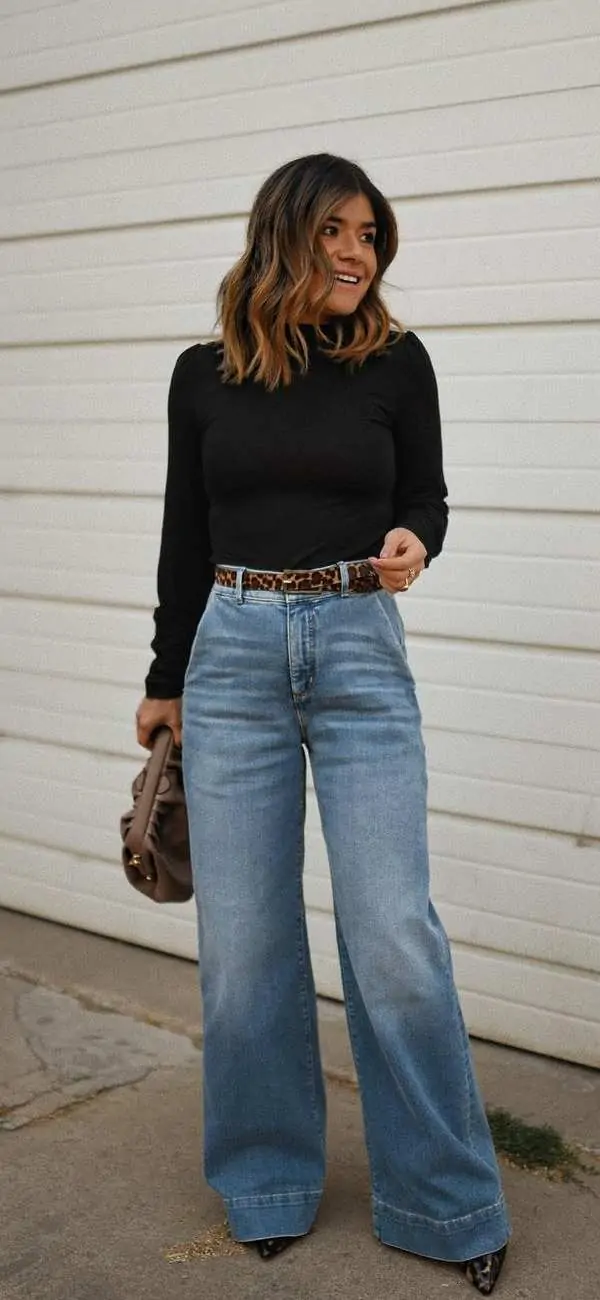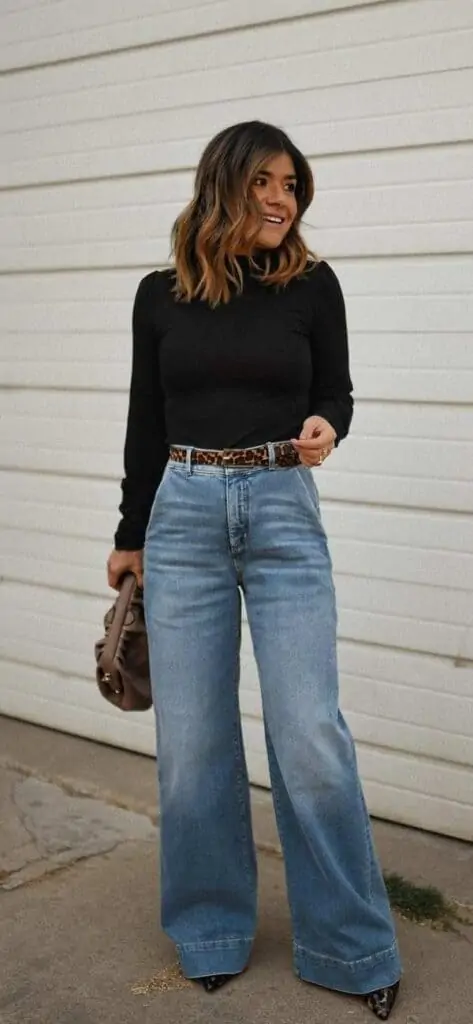 A turtleneck is always great, especially on colder days, as it covers the top part of your body up. They are also a great way to show off your body without showing off too much skin. Since most of them are well fitted, it's a great idea to style them with wide-leg pants.
Carolina (above) wore her wide leg jeans with a turtleneck and went for a leopard print belt. This is an easy look to put together because the fitting nature of the turtleneck balances out the wide leg.
With a white button down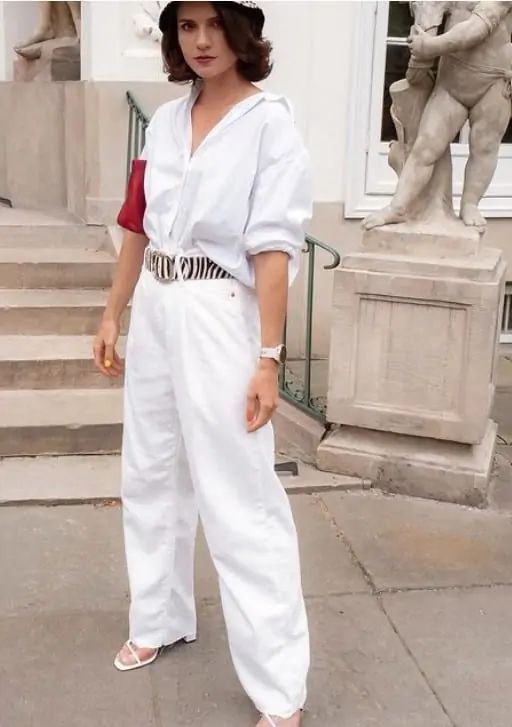 One of the most chic yet simple ways to wear your wide leg jeans is to throw on your white button-down shirt.
This outfit would work with even the most basic button-down shirt, but of course you can look for some details in the shirt to elevate the look.
Agnes (above) paired a white button down with white wide-leg jeans. This is a simple yet chic monochromatic outfit. She added an animal print belt to make this look more interesting, a great idea to elevate the outfit if you are wearing the same color from head to toe. The belt also cinches the waistline, balancing out the volume in the relaxed fit shirt and the wide jeans.
With one shoulder top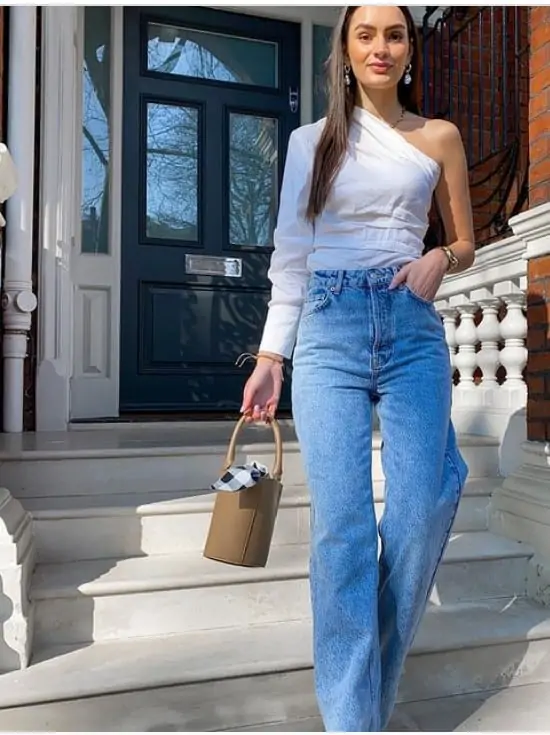 One shoulder tops look great when paired with some wide-leg jeans for a casual outfit, especially when tucked in. These are trendy statement tops that will for sure turn heads, even in very simple designs.
Patricia (above) wore a white one-shoulder top with the wide leg jeans, an outfit easy to pull off by women of all shapes and ages.
Tucking in your one shoulder top allows you to achieve a cleaner look. You will look more casual chic if your top is in either black or white but if you really love color, you're free to pick the top in another color.
With a blouse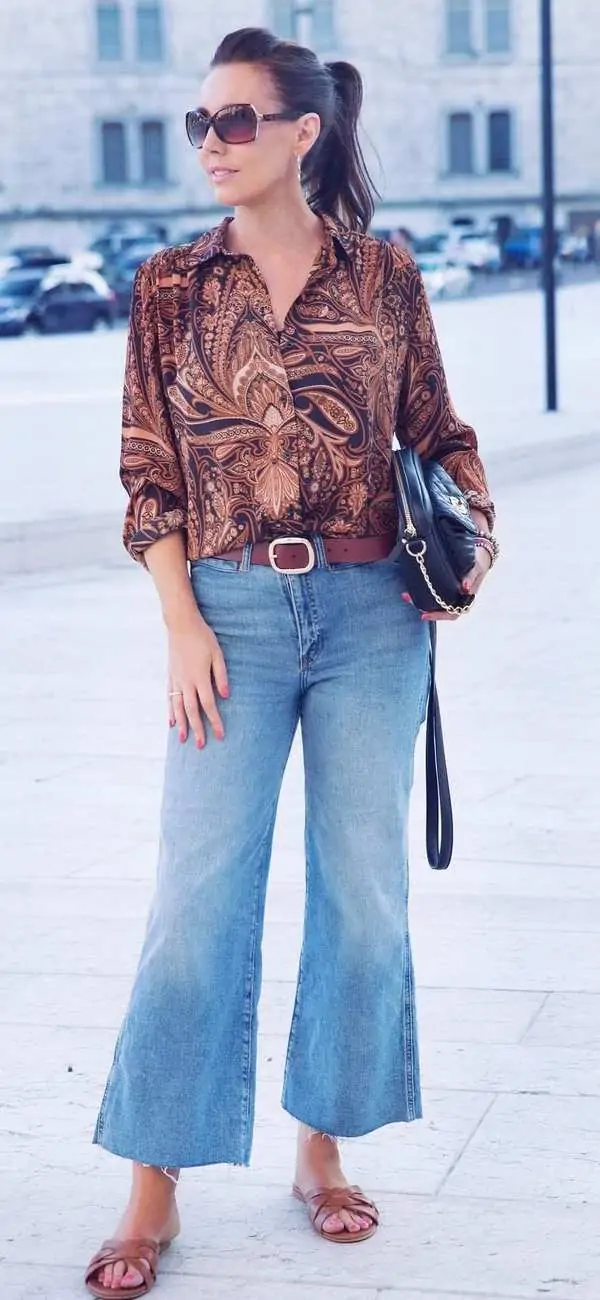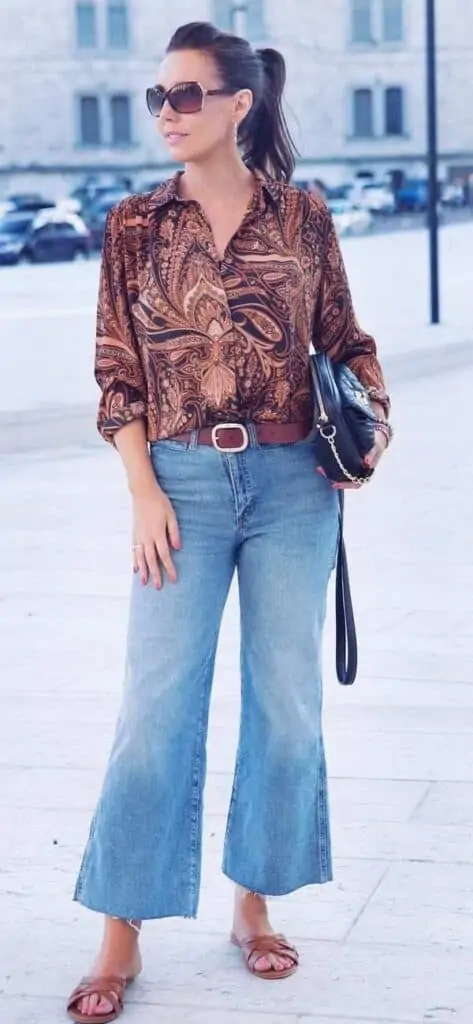 A blouse always makes an outfit look smart. They can be worn either printed or plain, depending on what you want your outfit to look like. They also look great when tucked into some wide-leg pants.
Bridget (above) wore a pair of cropped wide-leg jeans with a printed blouse, and a pair of sandals that match the color scheme of the top. For this, you can go for the ordinary length of wide-leg pants and not necessarily a cropped pair.
With a kimono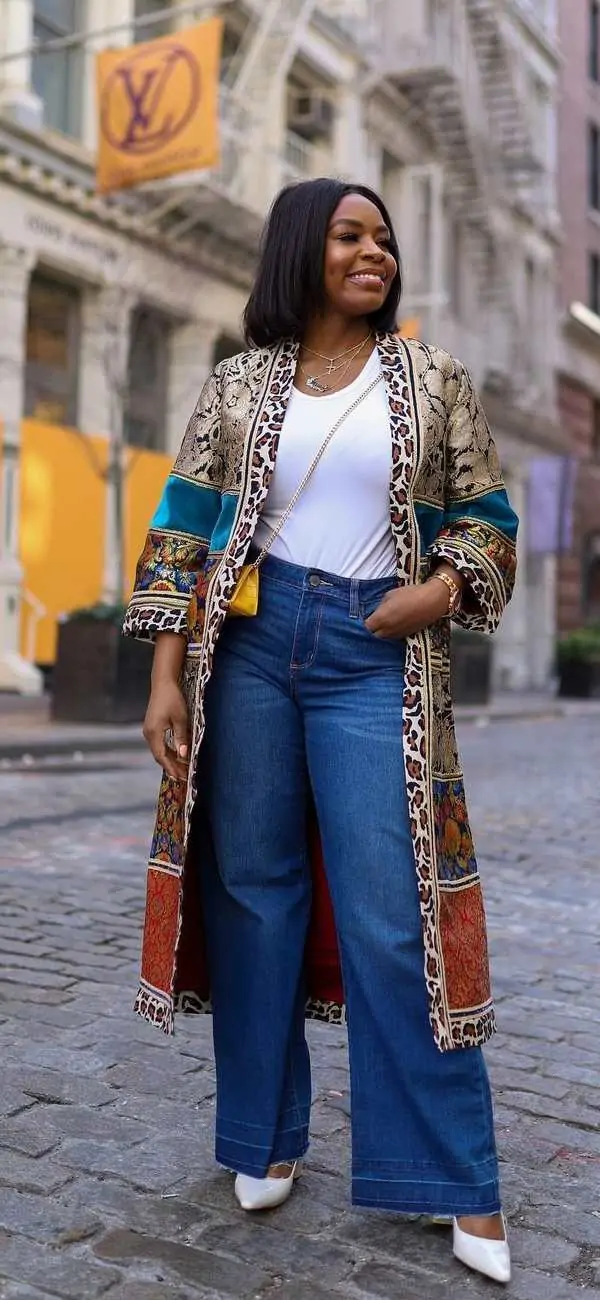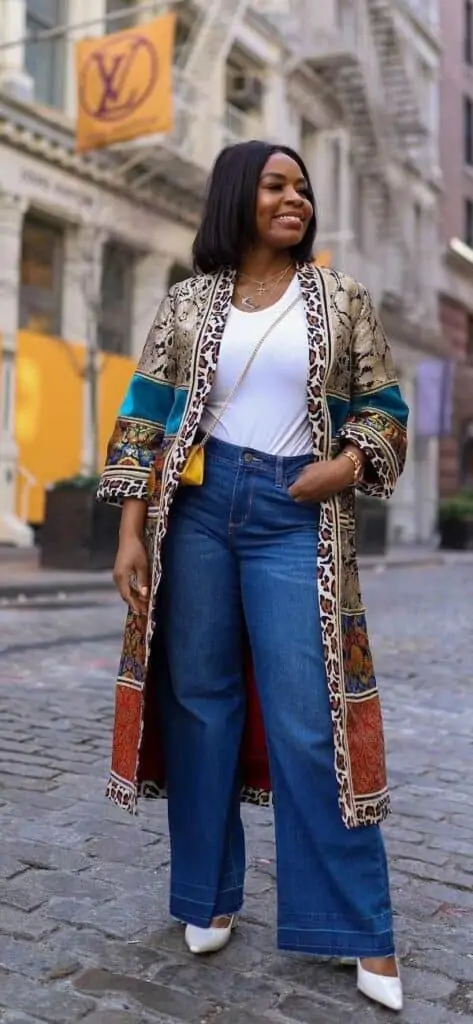 Adding a kimono to your wide leg jeans outfit will finish the look with a feminine touch.
Kimonos, just like dusters, are stylish pieces to go for, if you want to finish off your look with something that makes a good statement. Kimonos are more flowy, and are usually worn for summertime. They can also be layered over warmer pieces in early fall.
Shanai (above) wore a pair of blue jeans and a white top then completed the look with a printed kimono and some white shoes. You can also go for a plain kimono in case prints are not your thing.
With a trendy top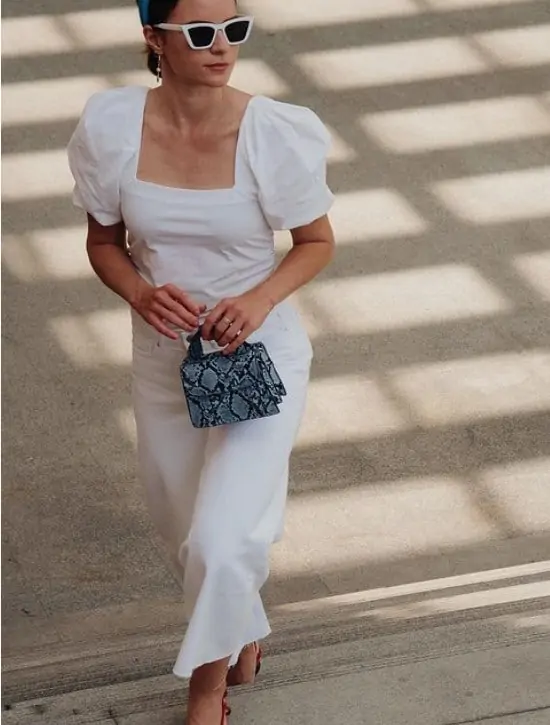 Wearing a trendy top with your wide-leg pants is such an easy way to wear this type of jeans.
Agnes (above) wore a square neck puffy shoulder white top with her white wide-leg jeans, a monochromatic outfit which is easy to pull off and never goes out of style. This kind of top not only goes with everything you own, but it also looks flattering on anyone, since it's minimalist.
Your top doesn't have to be puffy shoulders, but anything youthful or trendy will make an otherwise basic outfit stands out.
This is a great look for a casual day outdoors. Alternatively, you can dress it up with a pair of strappy heels.
With a pullover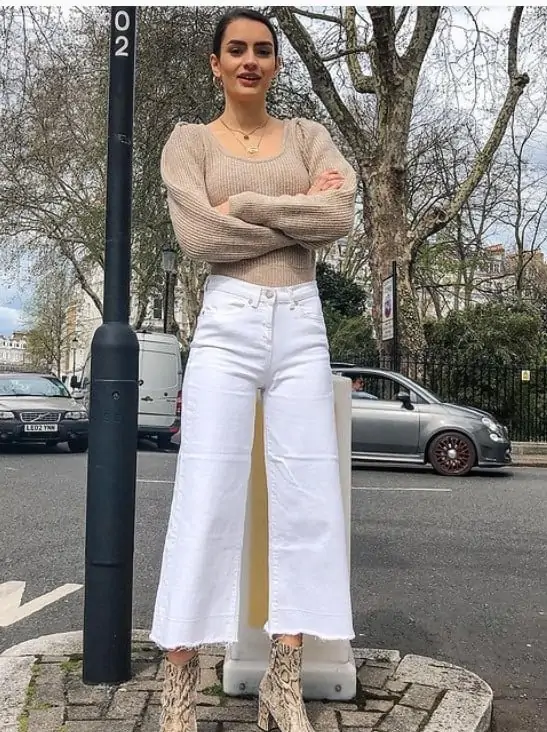 Pullover with wide leg jeans can give you a fashion-forward look that is casual but very put-together.
Pullovers come in designs that don't just give you a preppy look, but offer so many other options too. They are very stylish, when worn with the right pieces.
Patricia (above) wore a beige pullover with puffy sleeves with white wide-leg jeans, and finished off the look with animal print booties. This is a chic and fashion forward look perfect for the spring or the fall.
If you are wearing a chunky, oversized pullover with a pair of wide-leg jeans, it looks the best if you finished the look off with some heels. It's a great idea to tuck in just the front part of your pullover and leave the back out so that it doesn't bulge awkwardly in case the pullover is oversized or chunky.
With a tank top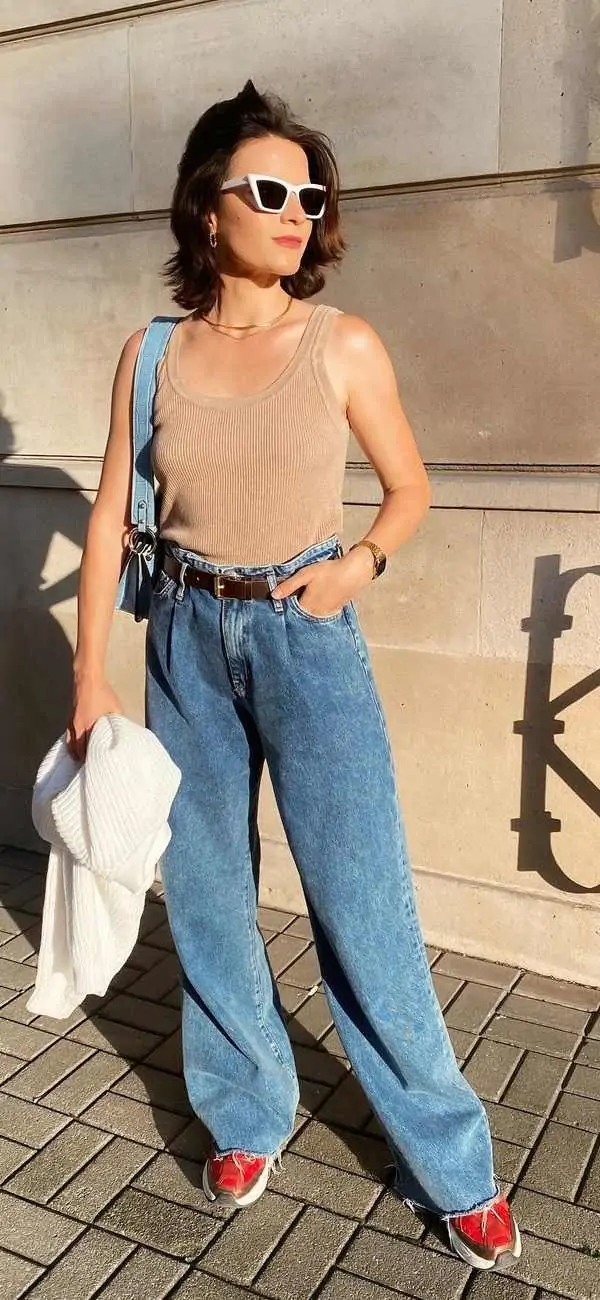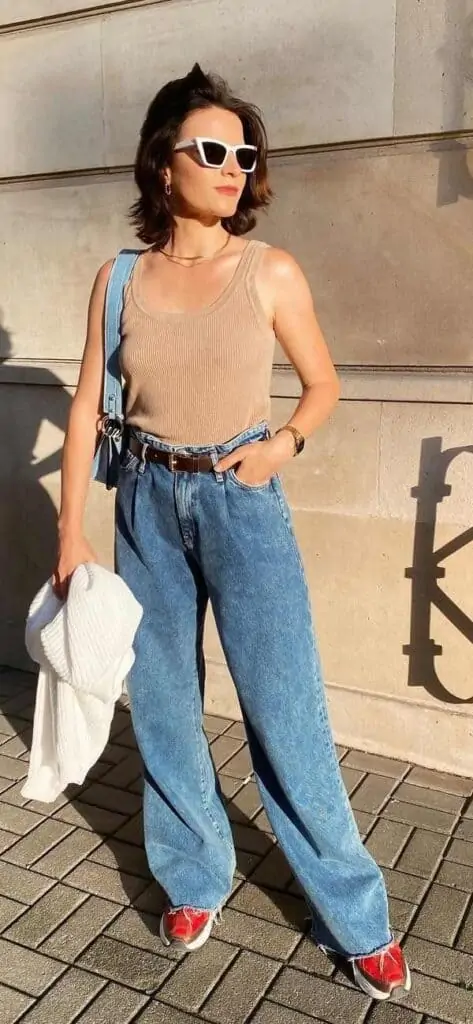 Tank tops, being minimalist, look great with a pair of wide-leg pants.
Tank tops are great for warmer weather, but they are not limited to those seasons. They can also be layered underneath outerwear that's warm enough when the temperature starts to drop.
Agnes (above) wore a pair of wide-leg jeans and a tank top in a nude color. The look is so well balanced, as the tank is fitting while the pants, as the name suggests, have a wide leg.
With a message t-shirt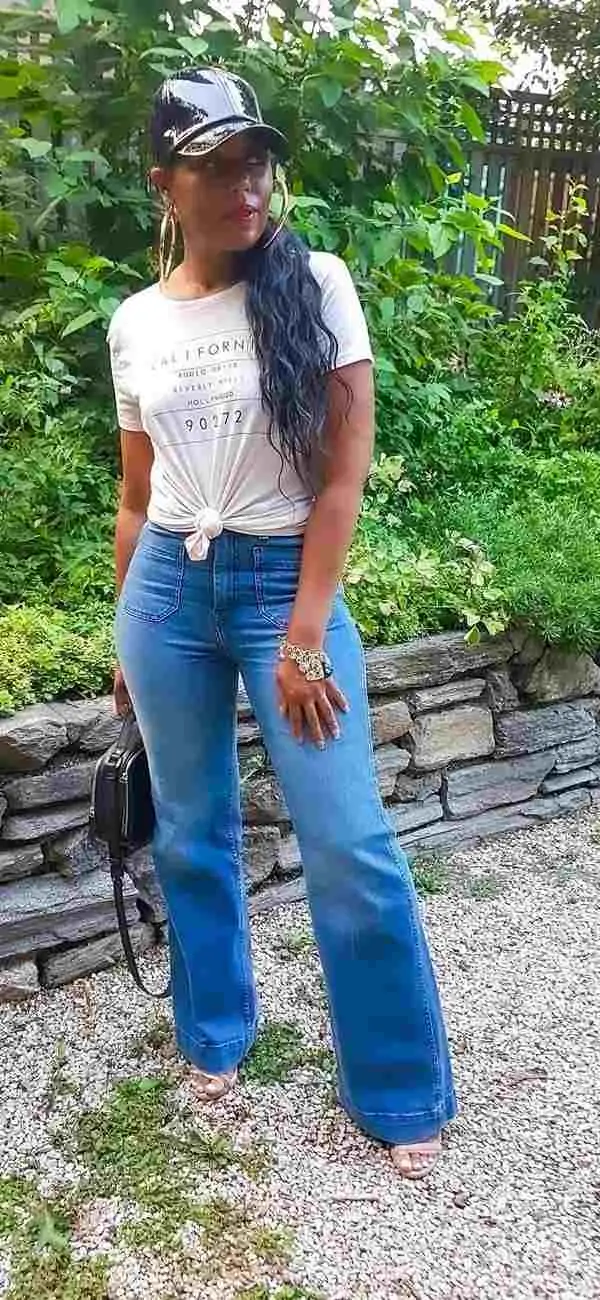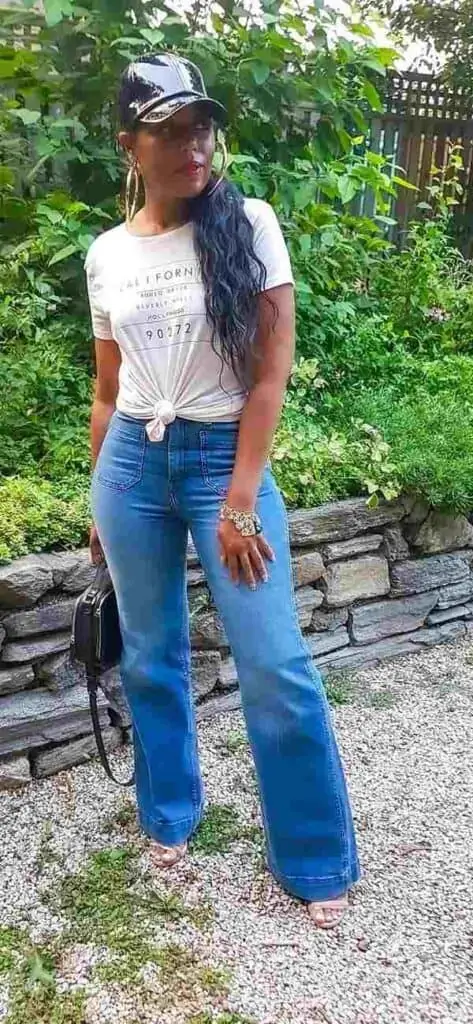 Wearing a message t-shirt is a great way to express yourself through clothes. They usually make you stand out, obviously because any writing on your clothes is likely to draw attention. They will also look great with a pair of wide-leg jeans, especially if a plain one is not an option for you.
Shannan (above) styled her message t-shirt with a pair of wide-leg jeans and some open shoes. You could either tuck the t-shirt into the pants or just do a knot at the front like she did.
With a sleeveless top
A sleeveless top with wide leg jeans can be a great outfit on the warmer days. You can go with your favorite color, as they will always work with a basic denim.
Bridget (above) wore a sleeveless top with turtleneck, a refreshing design which has a vintage feel but also looks quite on trend.
With a camisole
Camisoles are one of the best tops to wear with a wide leg jeans, because they fit close to your body thus balancing out the volume of the leg shape perfectly.
Melanie (above) is wearing a white cami with belted wide leg pants, an easy but chic outfit perfect for a summer day.
This is a simple look to pull off, but this color combination is classy and will never go out of trends.
With a trench coat
Top off your wide leg jeans outfit with a trench coat for that ever so chic Parisian look.
Trench coats are one of the most classy wardrobe staples that every woman should own at least one. They are a great layering piece over warmer pieces like sweaters and cardigans. Besides, they are also functional, as they shield you from the rain too.
You can always wear a shorter trench coat too since they are available in different lengths.
With a denim jacket
One of the items you could wear with wide-leg jeans is your denim jacket.
Denim is easy to wear. Owning a denim jacket means you get to have a piece that will last you a long time. You can wear a denim jacket throughout the year. They are highly versatile. and goes with almost anything in your closet.
You can wear denim jacket of a different wash as your wide leg jeans, creating some contrast which will make the outfit more interesting. Of course, if you want the ultimate Canadian tuxedo, you could pick the two denim pieces in the same shade.
With a blazer
You can wear your blazer with a pair of wide-leg jeans to make your casual outfit dressier.
A blazer always adds a touch of sophistication to any kind of look, whether you have on a casual or a dressed up outfit. The best thing about them is that regardless of your age or body size, there's a blazer out there for you.
With the blazer, the jeans look will already feel classier. You can go the extra mile and style it with some heels instead of going for sneakers which are common while wearing jeans.
With a utility jacket
Utility jackets are very stylish. Wide-leg jeans in particular will give you a more interesting look when worn with this kind of jacket style.
While utility jackets are very tough-looking, they can be worn with several more feminine pieces like dresses. If you just prefer the ultimate casual look, then you can always just wear your utility jacket with some leggings or jeans.
With a duster
Dusters offer versatility and look great when styled alongside wide-leg jeans.
A duster always completes a look so wel, as it just ties everything together even if you're in jeans and make it chicer. A duster can be floor-length, or could go just up to the knee. Regardless the length, a duster will always look flattering.
Alternatively, you can wear some heels instead if you want to dress things up.
With a plaid shirt
Plaid shirts are mostly a fall favorite, but they are often worn in other seasons too. They can be worn by anyone, regardless of their age, body shape and size. Since they are versatile, one of the items you could wear with them is a pair of wide-leg jeans.
You can wear a plaid shirt with a pair of wide-leg jeans. She knotted the front of the shirt, but you can always just tuck in your shirt instead.
With a halter-neck top
The halter neckline style is a good one to go for, if you want to wear something simple but not so basic. Whether you're thinking of a sleeveless top, tank or even a long sleeve one, a halter neck will always look great. You can wear these with your pair of wide-leg jeans too.
With a sweatshirt
Sweatshirts are great if you like a comfortable top that you can lounge in. Aside from being cozy and great for a casual day, they actually look great when worn with different bottoms for a stylish outfit. Instead of reaching for just any pair of jeans, you could wear your sweatshirt with some wide-leg jeans.
The look can be accessorized by wearing some jewelry pieces such as necklaces or a scarf. You can also pick different shoes such as booties to make the look edgier.
With these 20 looks, you should have enough inspiration to get yourself a pair of wide-leg jeans as they are both stylish and versatile.