High-waisted jeans are the favorite type of denim of many women. They are the most ideal for you if you're looking to create an illusion of a smaller waist and longer legs, i.e. they can make you look taller and slimmer.
The best part is that you can wear these jeans with a wide range of pieces that you can already find in your closet. Regardless of your age or body shape, there's always a pair of high-waisted jeans for you.
Here are some of the best outfit ideas on what to wear with high waist jeans:
With a cardigan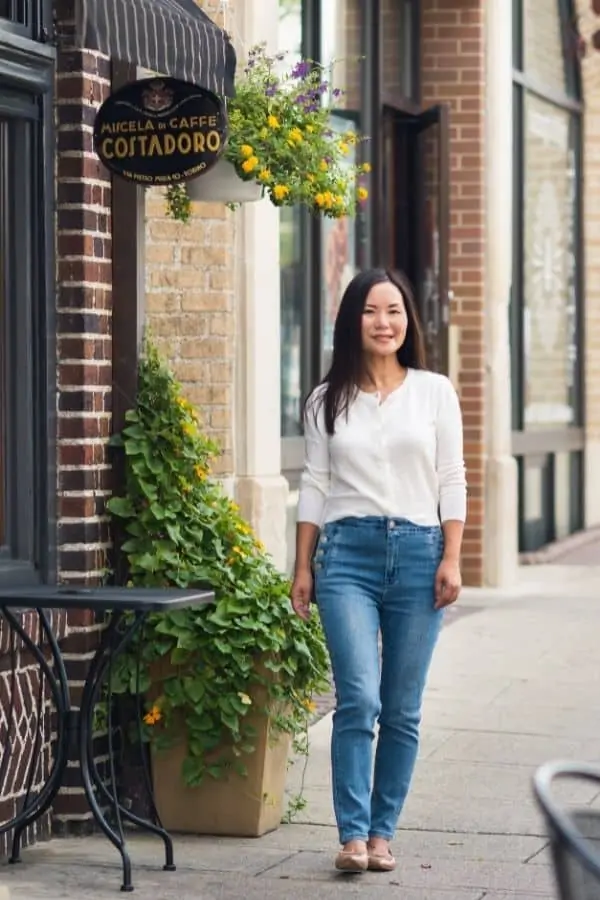 A cardigan, just like a pullover, is a sweater type that always feels so comfortable. Cardigans can be paired with a nice simple top and high-waisted jeans to give a flattering and laid back casual look.
I was wearing this cardigan with the high waisted side button jeans.
You can leave the cardigan open at the front, or buttoned or zipped up. You always have the option of choosing between a longer cardigan or a short one for this look. The short ones can be tucked into your jeans just as long as they do not bulge awkwardly.
Cardigan with high rise jeans is the outfit that works for fall, winters, and even early spring before the sun is completely out to gives you the cutest girly look.
With a pullover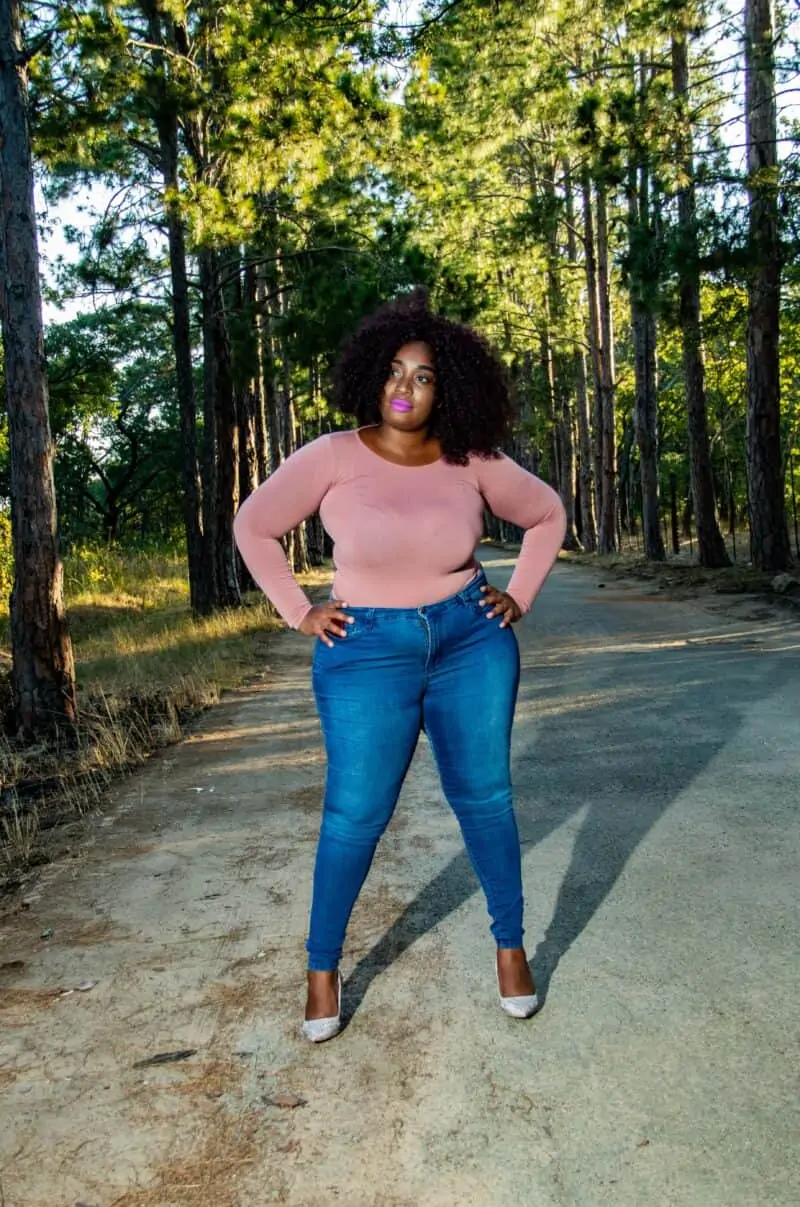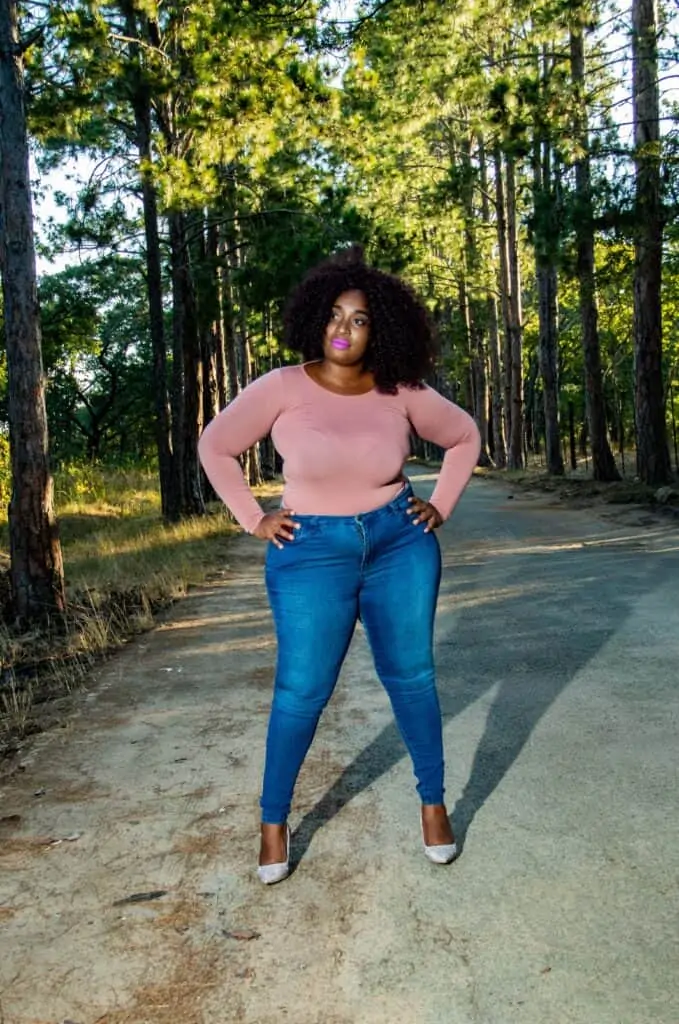 Pullovers are great pieces for cooler weather. A pullover can be preppy, when styled with your high-waisted jeans, especially when you layer a shirt underneath it.
They were previously just meant for school, with teachers and students wearing them more. However, that is no longer the case because they can be so fashion-forward. They are cute and snuggly and when paired with your high waist jeans, they easily give you that girl-next-door look.
This is a combination that works so well especially with high-waisted skinny jeans and mom jeans. If your pullover is a bit long, you can just tuck the front part of it and leave the rest hanging because you wouldn't want to have any awkward bulges.
With a blazer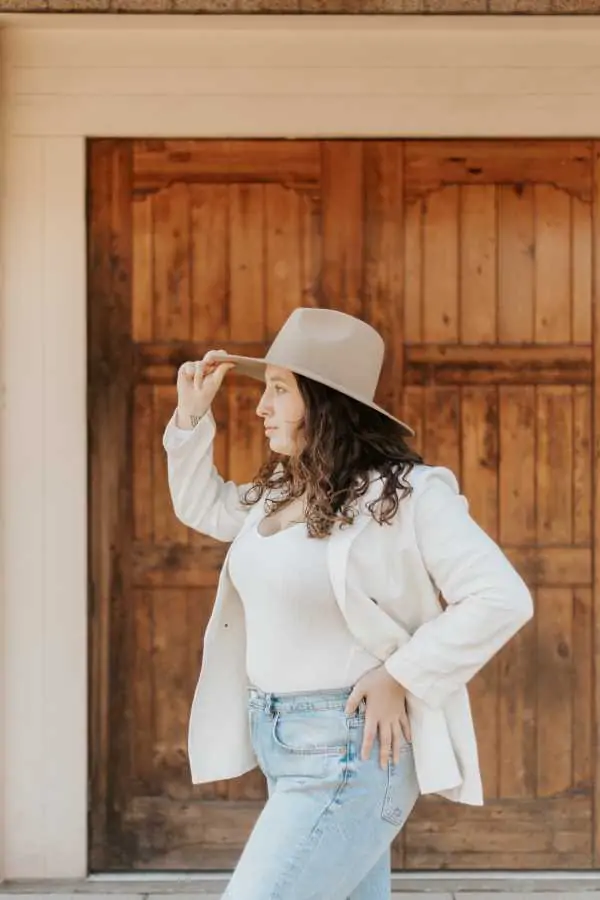 To add a classy finishing touch to your high-waisted jeans outfit, add a blazer.
A blazer is a great piece to add to your wardrobe if you would like to achieve that instant structured look within a few minutes. Blazers are flattering to women of different shapes and sizes. They are also available in different lengths, providing many options for women of different body type and height.
Blazer with high waisted jeans is one of those outfits that you could literally wear every day if the environment allows you to. This can be a very versatile combination when you add different touches to, using some interesting accessories or changing the shoes you wear with them.
This is a combination that would work great for a business casual occasion or a casual Friday at work. You could also wear different colors of blazers with your high-waisted jeans.
With a bodysuit
A bodysuit is a great top piece to own because it always gives you that desirable clean look. A bodysuit can be styled with your pair of high-waisted jeans and you will not even have to worry about it getting untucked.
Tamara (above) styled her bodysuit with a pair of high-waisted jeans and some bow sandals.
You can opt for a plain bodysuit, or you could always go for a bodysuit that makes a bigger or bolder statement. Bodysuits are great for special occasions too.
When paired with high-waisted jeans, bodysuits look flattering thanks to the spandex material they are made of. They, therefore, give you added confidence, especially if you happen to have a midsection concern.
With an off-shoulder top
The off-shoulder trend has been around a lot lately, understandably because it's very feminine. When paired with high waist jeans, it gives you a great dressy outfit that allows you to show off some skin in a subtle way. It's a great alternative to low neckline tops and the likes.
Sammie (above) wore a simple off-shoulder top with a pair of high-waisted jeans and some black open shoes.
If you choose a simple pair of jeans, you can always choose a printed off-shoulder top. Whether you pull your hair back with this look or you leave it flowy, you will still be able to show just enough and it will give you more confidence.
With a cami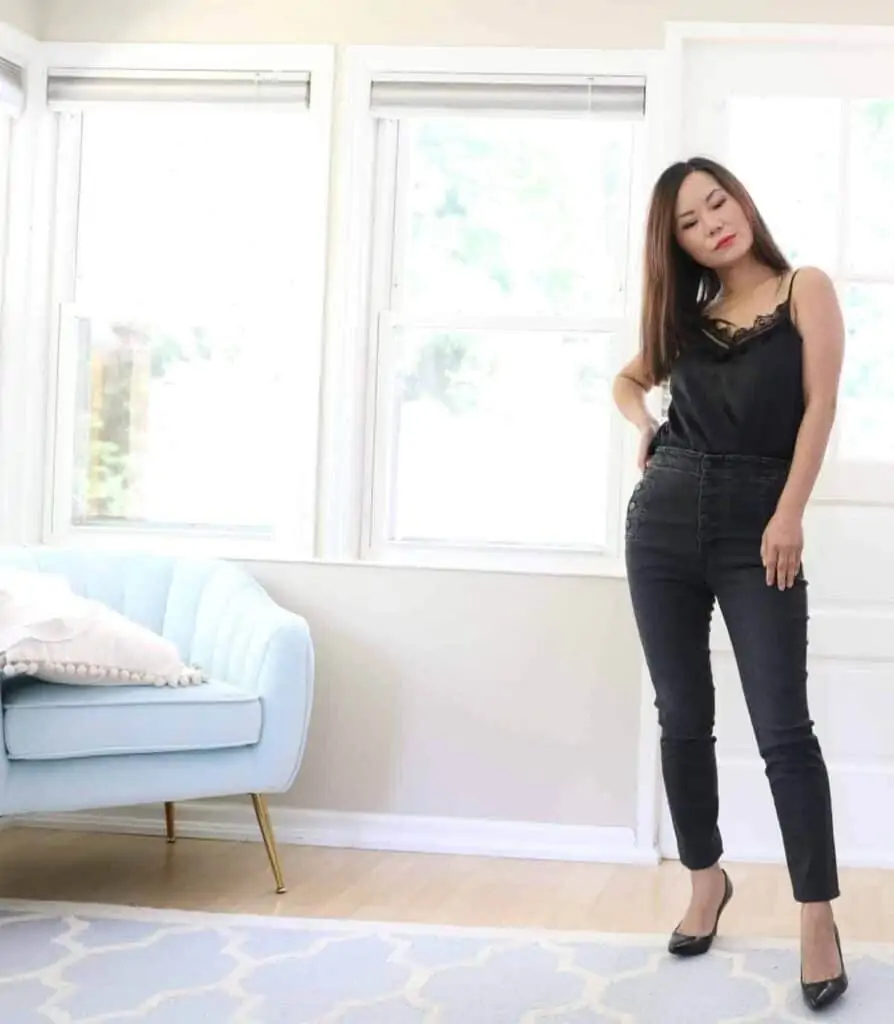 You can also wear a cami with your jeans for a minimalist yet chic outfit.
A cami is a great alternative to a tank top. It's equally simple, however, it is more feminine and more delicate. Camis can actually give your outerwear a classier look, especially if you choose a cami in silk fabric.
This is a versatile outfit that allows you to switch up the t-shirts for something equally comfortable.
A cami can also be either long or cropped, flowy, or just a bit more fitted. Either looks great with high-waisted jeans for an outfit that can have your waist looking even smaller.
With a white button-down
You can tuck a button down shirt into high-waisted jeans of any type and accessorize them with simple or statement pieces.
A white button-down is a must-have. It's the one piece that can be styled with literally any bottoms you have and looks good, whether worn casually, or when dressed up.
Patricia (above) styled her white button-down with a pair of high waisted skinny jeans and some espadrilles.
You can also switch the sneakers for heels in case you would like to look a bit dressier in the same clothes.
With a white button-down, the sleeve length doesn't matter much because you can always roll up the sleeves. What you should be more careful about is the shoulder fit. As long as you have that right, you will always look great in a high waist pair of jeans.
With a turtleneck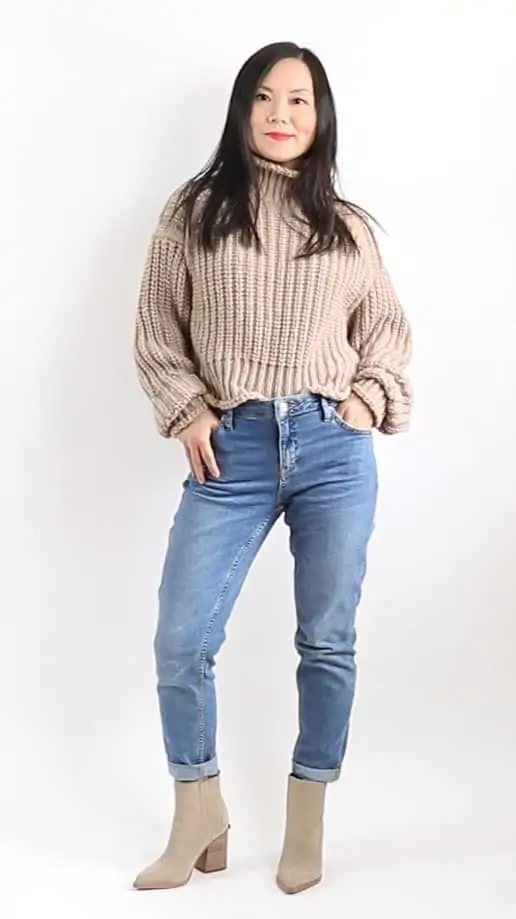 Turtlenecks have been around for a while and have a way of bringing out a great figure, especially if you pick the fitted ones. They come in different designs, but it's worth going for a simple design tucked into some high waist jeans for a classy fall look.
I was wearing a printed turtleneck in a simple design with a pair of high waisted jeans and finished the look off with some nude suede ankle boots.
The best part about this outfit is that it can easily be worn with simpler shoes and will still look great. You can also layer some outerwear over this look, if it's colder outside. It could be a jacket or even a blazer, regardless, it will be flattering.
With a message t-shirt
You can style a message t-shirt with your high waist jeans.
If you think a graphic t-shirt is a bit too much but still love to wear something that will allow you to express yourself, then a message t-shirt is the perfect option. They are a bit subtle compared to graphic t-shirts but the message will still let you stand out.
Kiki (above) wore her pink message t-shirt with a pair of high waisted jeans and some sneakers.
You can play around with the high-waist jeans by rolling them up at the bottom. While this is an easy look to put together, it's worth paying attention to the color of the t-shirt and the message. Whatever you choose, make sure it goes with the color of the high-waisted jeans you have chosen to wear.
With a white t-shirt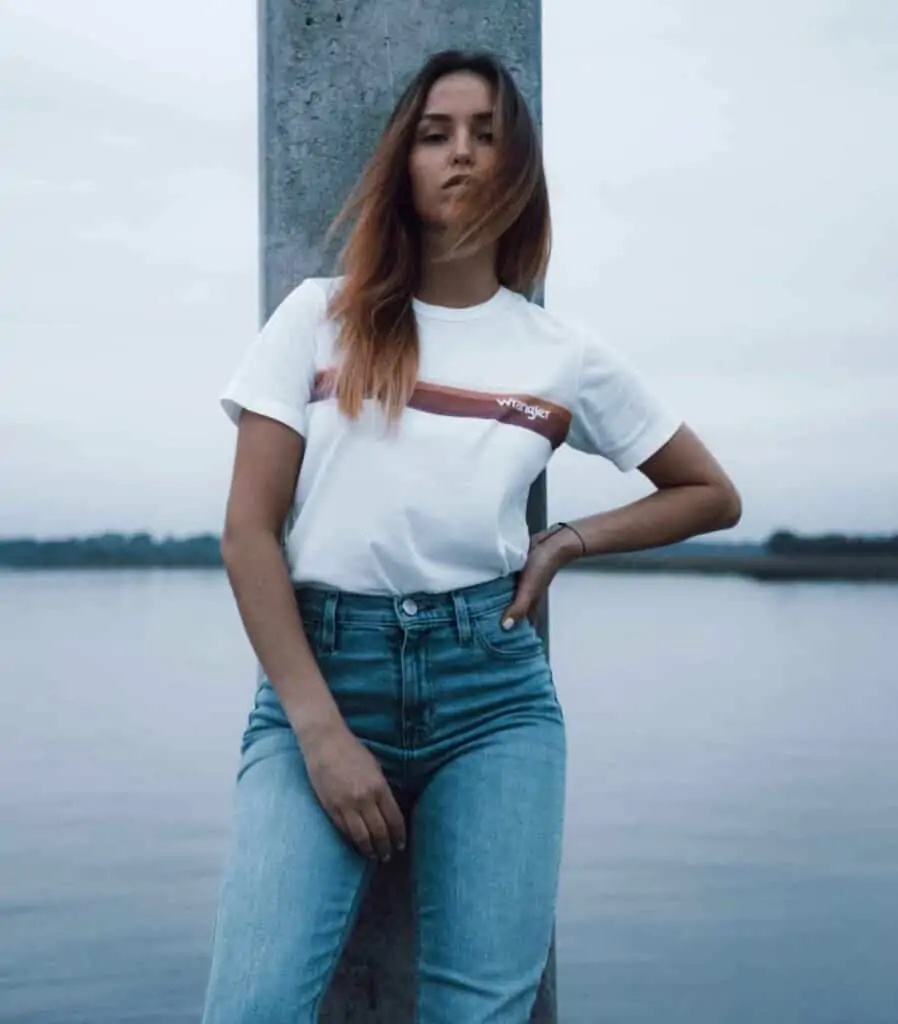 White t-shirt with high waisted jeans is flattering on anyone, if you want an easy but flawless look.
A plain white t-shirt is great if you would like to achieve a great look in the shortest time. Just like a white button-down, a white t-shirt is a must have. You can even go ahead and layer something else over the look but will still maintain the simplicity of the look.
The beauty of a plain white t-shirt is that with it, you can go for high waist jeans of different designs. They could be rugged, plain, embroidered, you name it.
With a blouse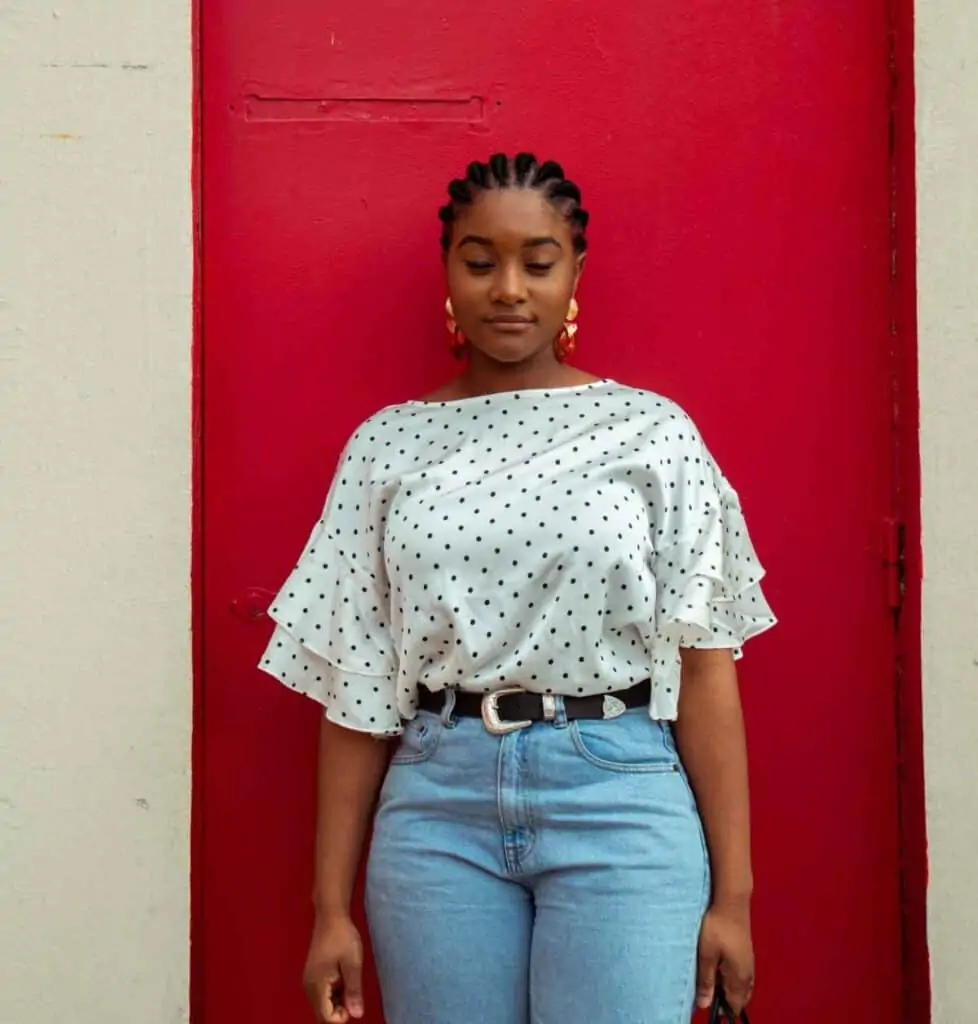 If you like to look like such a lady even in your jeans, then a blouse is the way to go. Blouses are beautiful and will have you looking classy especially if your destination is the office. They can be tucked into your high waisted jeans for a classy business casual look.
You can choose a statement blouse like one with a bow or a simple one instead. You can also go for softer fabrics of blouses or go for tougher ones. Some are sheer while others are not. There are plenty of options. Whichever you pick, your look will still remain feminine.
With an aviator jacket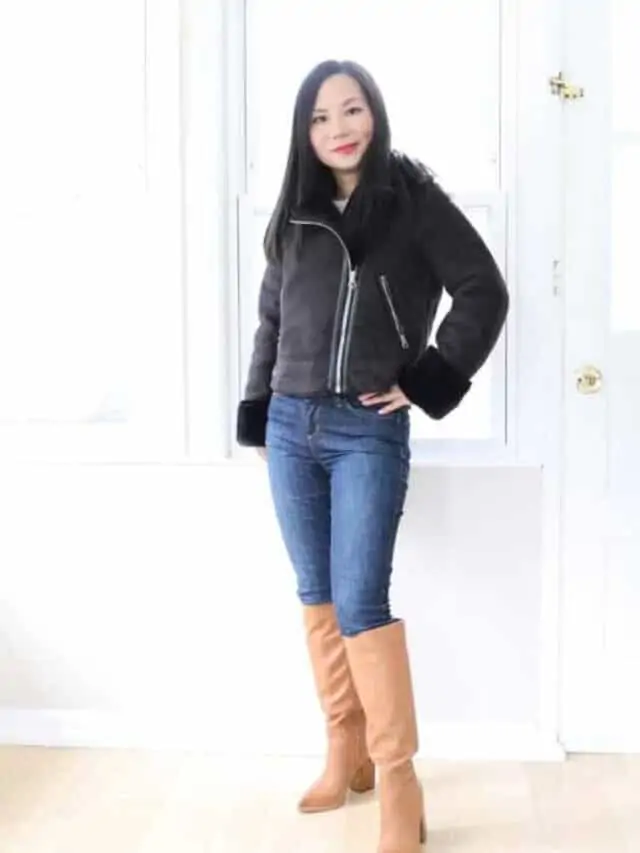 One of the most trendy outfits for the fall is to wear high waisted jeans with an aviator jacket.
One of the wardrobe pieces that easily scream fashion is a aviator coat. It's one of the most preferred pieces by trendsetters, especially during colder months. Aviator jackets can come in different styles, , and can be styled with different bottoms. A good example is high waisted jeans. They're normally very casual but when the material is against faux fur, it receives an instant boost.
A plain top allows your coat to stand out more. So, if you want a great alternative to a puffer jacket, then an aviator jacket will do the trick.
With a trench coat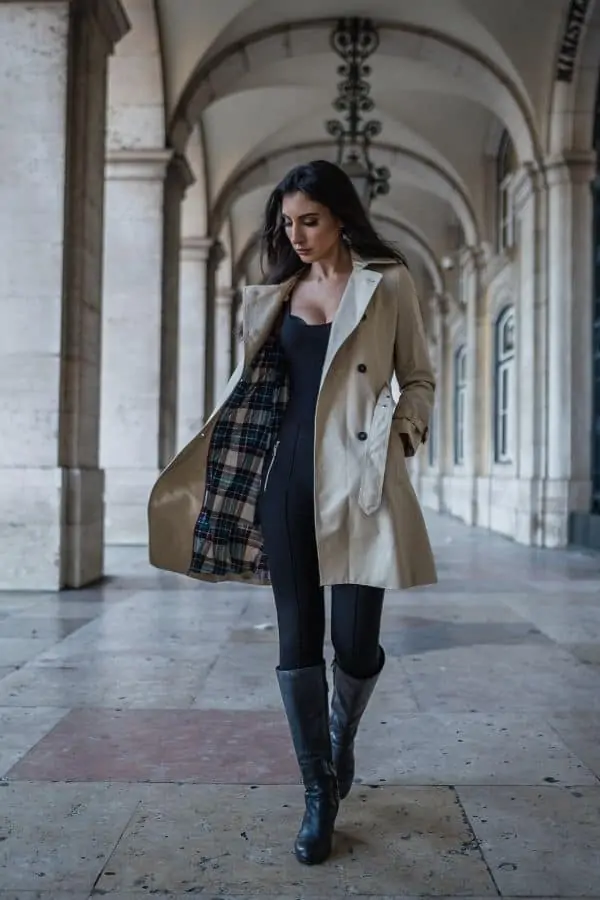 Trench coats come in a variety of designs, but they all look great over a pair of high-waisted pants.
Trench coats have been around for years and are great for keeping you warm. They also have a way of making you look stylish during the colder months. Trench coats, just like dusters, can be either long or short.
Neutral shades of trench coats will make you look even chicer compared to brighter colors. An interesting thing about a trench coat is that you can layer it over almost anything, it will still look stylish, let alone the fact it also shields you from the rain.
With a camel coat
If you prefer something warmer during those colder times, then a camel coat will work best with a high-waisted jeans outfit.
Camel coats are very stylish and the neutral color and warm tone makes sure they never go out of style, no matter how the fashion trends change year after year. During winter months, you don't have to worry about your coat hiding your nice high-waisted jeans outfit underneath. In fact, the camel coat enhances the style.
Patricia (above) wore a simple black sweater with a pair of high-waisted jeans and a woolen coat. She also finished the look off with a pair of tall boots. If you don't particularly like long coats, a shorter wool coat will work.
With a suede jacket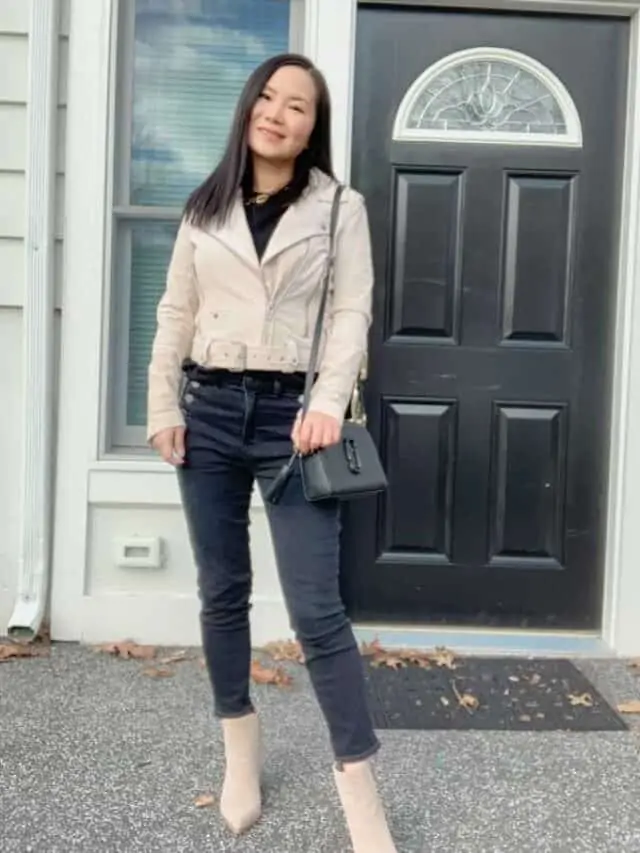 High waist jeans in particular look amazing with cropped suede jackets.
Leather jackets are classic and timeless pieces. They add an extra edge to literally everything you can think of wearing. Whether it's a dress, a jumpsuit, skirt or even pants.
This pairing easily gives you that model off-duty look. Although the most common colors for suede jackets available are black and brown, you can find leather jackets in several other different colors. They could be bright or dark, but remember to pick a color that will coordinate well with your high-waisted jeans.
It's an easy edgy look to pull off, but you can also switch up the plain t-shirt with a graphic t-shirt or a message one.
With a graphic t-shirt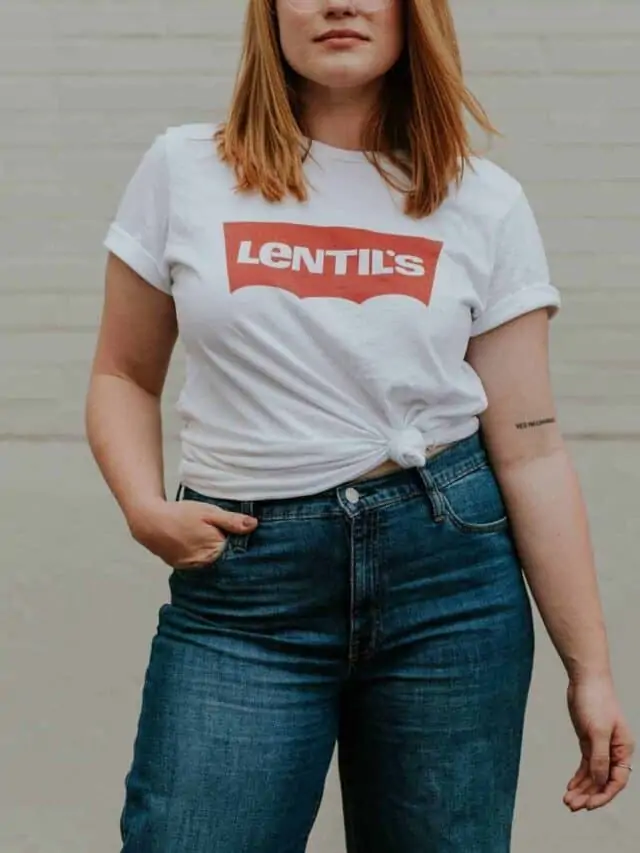 High waisted jeans also look great with a graphic tee.
A graphic t-shirt is one of those pieces of clothing that will have you stand out in any crowd in the simplest of ways. The graphics are often a means of self-expression. These graphic t-shirts make you look more interesting and still give you the comfort of an actual t-shirt.
You can always tuck the whole of your t-shirt in or just the front part and then let the rest of it remain flowy. One thing's for sure, graphic t-shirts always look visually appealing and attractive. They also tell people a lot about your taste.
With a cropped top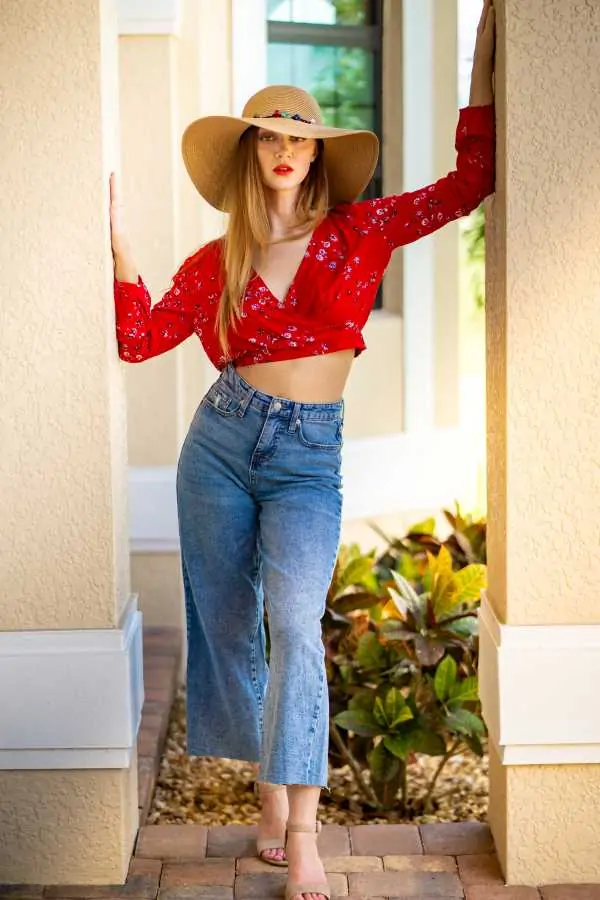 When styled with some high-waisted jeans, cropped tops can make for great pieces for summer, .
A crop top is one of the easiest tops to wear, considering how simple it is. They can be worn with all sorts of bottoms and they look especially flattering with a pair of high waisted jeans.
If you are a petite woman or someone with shorter legs, this is one of the best outfit combinations that can instantly elongate your legs and create the illusion of height.
With a sweatshirt
A sweatshirt will look more presentable if you wear it with some high-waist jeans and some stylish footwear.
A sweatshirt is one of those wardrobe pieces that are great for lounging around your home. However, they are also great, if you would like to step out for an easy look.
You can pick high waisted jeans that are ripped like hers for an edgy look. Alternatively, you can go for a plain skinny pair for a similar look.
Sweatshirts combined with your high-waisted jeans will feel cozy and will have you looking more youthful since it's a cool look. If you're going to be tucking your sweatshirt in, just ensure that it's not bulging too much because you could end up looking tacky.
With a denim jacket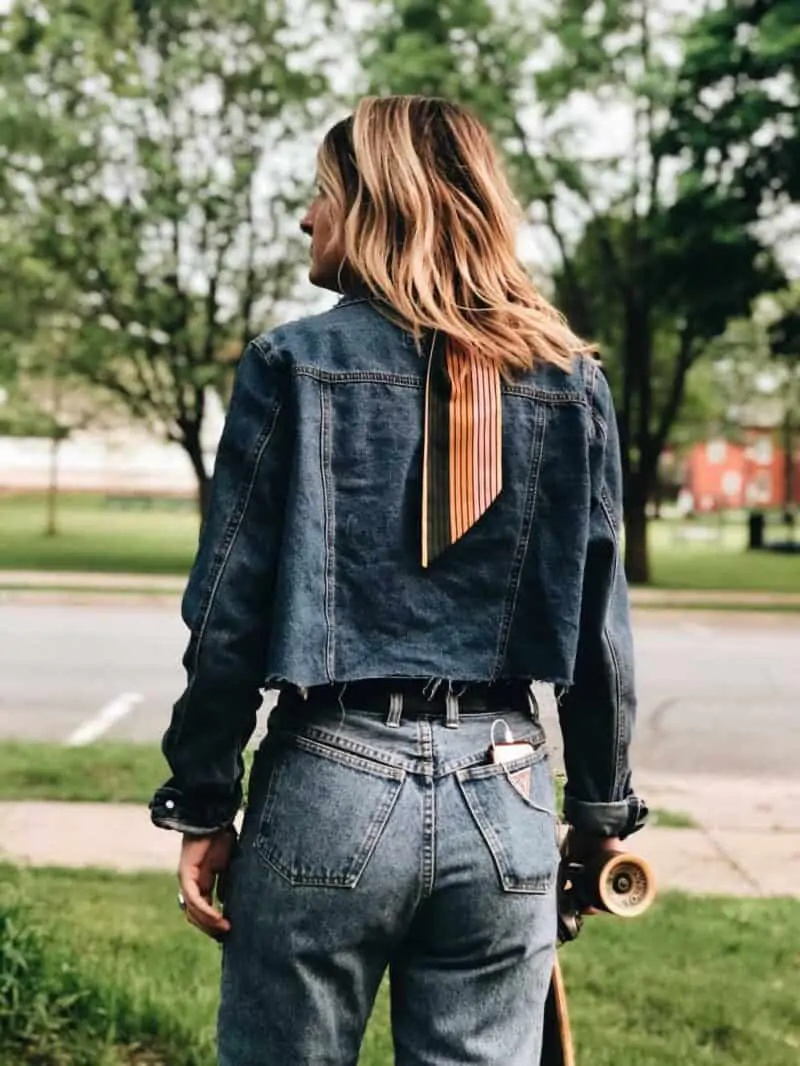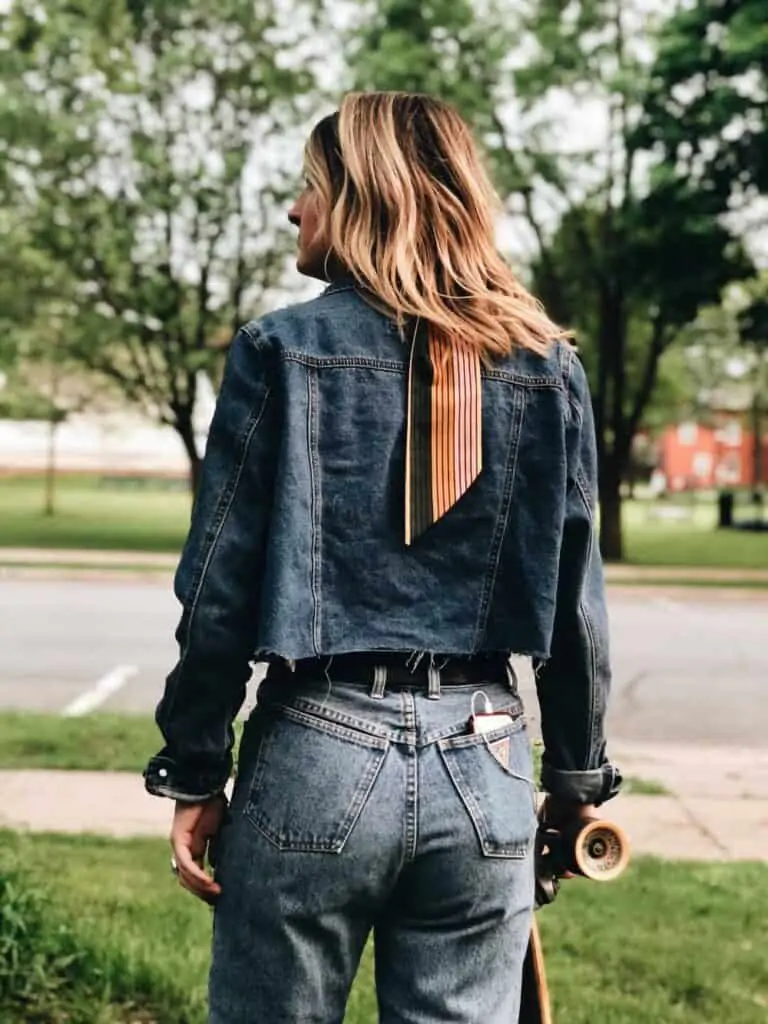 You can style a denim jacket with a high-waisted pair of jeans for the ultimate casual outfit.
Just like with a pair of jeans, a denim jacket is a casual, laid back piece that can be styled with different other pieces and will give you a flattering look, regardless of your age and body shape.
You can make this look even trendier by matching your jacket and your jeans. The best thing is that a denim jacket paired with jeans gives a strong look. In this outfit, you will feel comfortable and it works in different kinds of casual environments.
With a moto jacket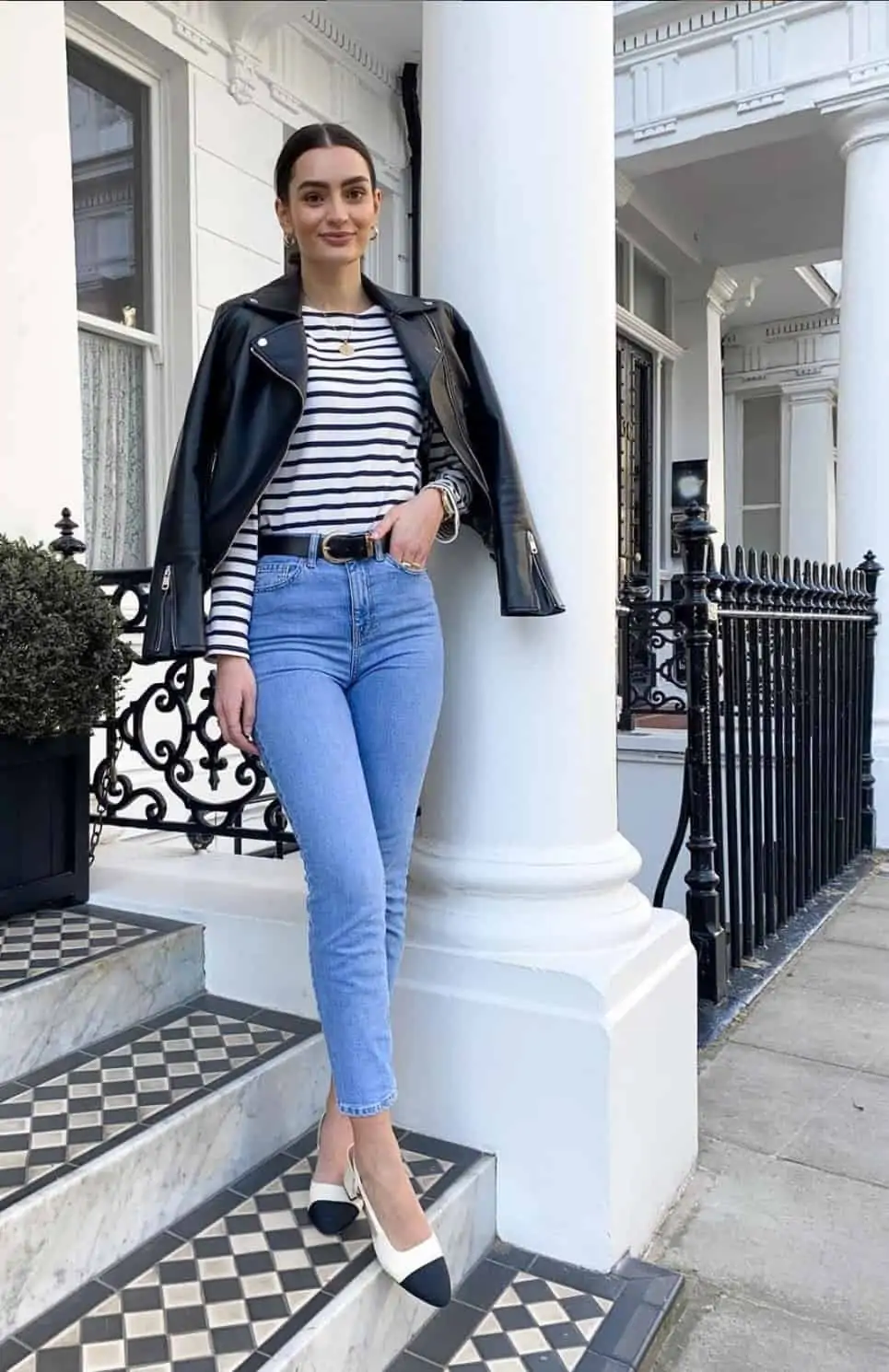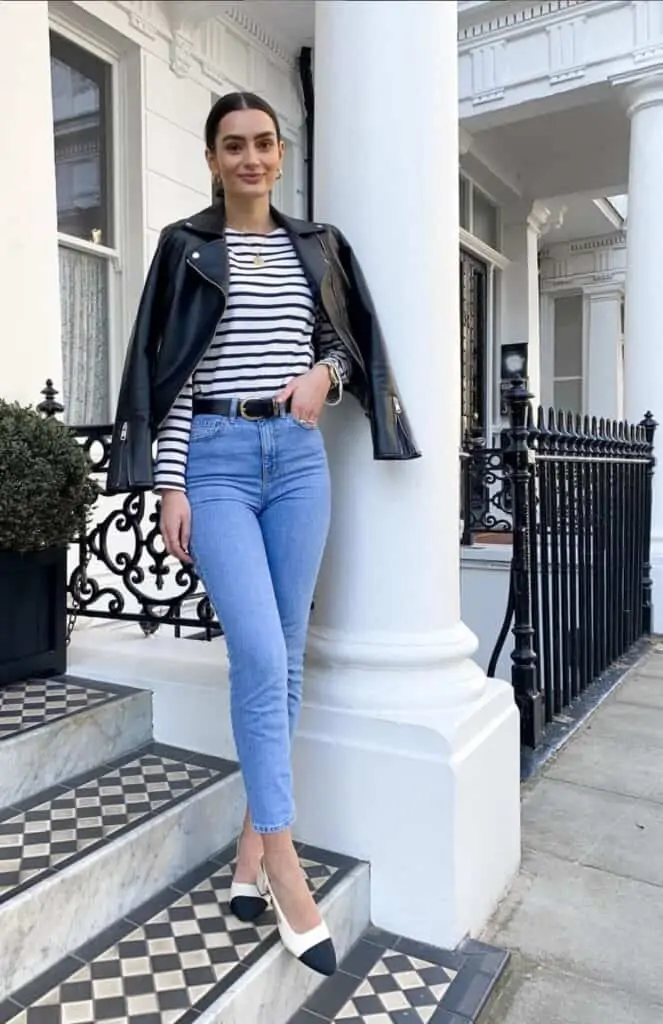 You can wear a leather moto jacket to dress up a casual piece such as high waisted jeans.
One of the chicest outerwear styles to go for is the moto jacket. It's known to be classy and will never will go out of style.
Real leather moto jackets also give you some extra warmth during cooler days so they are also very functional. The best part is that a tweed jacket look will never look creased or wrinkled.
Patricia (above) styled her moto jacket with a striped top and a pair of high waisted blue jeans.
In terms of the leg shape, you can go for high waisted skinny jeans or high waisted flared jeans too.
With a wool coat
Top off your high waisted jeans outfit with a wool coat will add a feminine and classy touch to the look.
A wool coat is that third elusive piece that will always add something extra to an otherwise very simple look. Your coat can be long but you could also go up to the knees, and either works great with high waisted jeans. All you have to do is wear a simple top underneath it and you will instantly look more polished.
Patricia (above) wore a long coat with a pair of high-waisted jeans and some sneakers.
A coat this length hides any parts you don't like and will have you feel even more confident as you walk around.
With a plaid jacket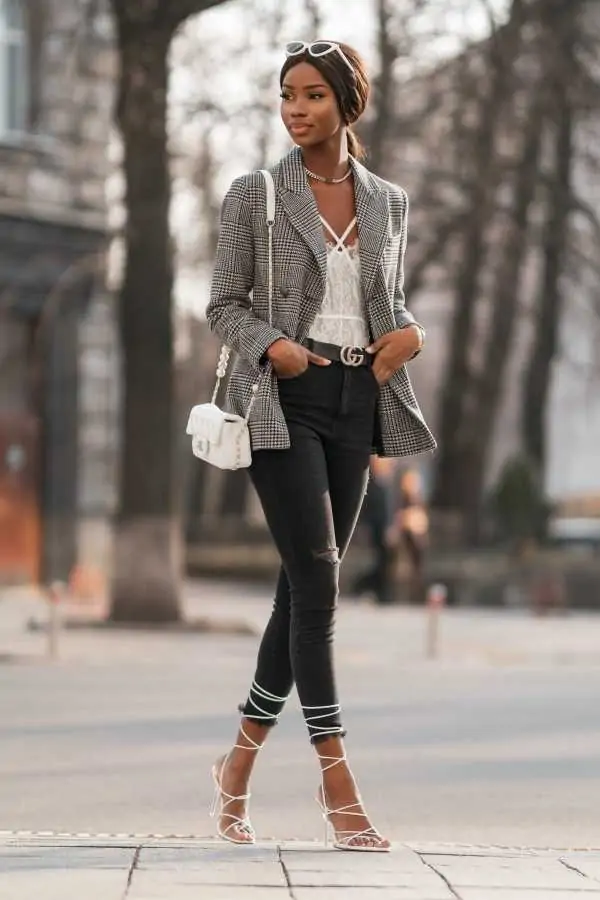 Being a very casual piece, a plaid jacket goes so well with a pair of high waisted jeans.
Plaid is one of the most popular pattern in recent years, whether it's a plaid shirt, plaid pants or plaid skirt.
A plaid jacket the ultimate fall favorite trend, but plaid can also be worn in other months. They are preppy, young and fun and can easily be worn by just about everyone.
You an play around with the length of the plaid jacket and different types of jeans to achieve different looks. For example, an oversized plaid jacket with skinny high waisted jeans or a cropped plaid jacket with straight leg jeans.
With a utility shirt
You can wear a utility shirt tucked into high waisted jeans or worn like outerwear over a tank top.
Utility shirts are known to be a bit heavier than your normal everyday shirts. They are great for those fall days when it isn't too cold yet. Utility shirts come in different colors and are great for women of different shapes and ages. They can be worn to work, but are mostly preferred for more casual environments.
It's a great look that combines a piece which would otherwise be considered masculine with some feminine shoes.
You can style this outfit for different looks by switching up footwear and the color of shirt you choose.
With a denim shirt
An ordinary button-down looks great already with a pair of high-waisted jeans. However, you can get an even more fun look by pairing your high-waisted pants with a denim shirt. It gives you a Canadian tuxedo look which is normally the name given to a denim on denim outfit.
It's a simple look that works for women of different shapes and sizes. You can accessorize your outfit with statement pieces or subtle ones as denim works with both.
With a kimono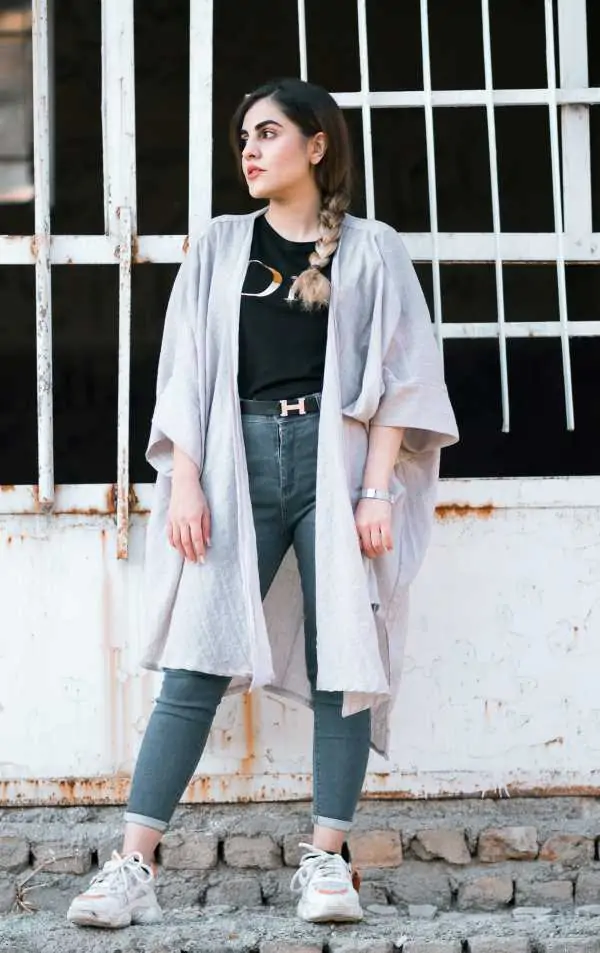 Wearing a kimono with high waisted jeans will make you look like you put in some hard work into your look.
Kimonos are nice and flowy, great pieces for summery weather. They make for a great last piece added to an outfit and it makes it look dressier, especially if the look involves the ever comfortable high waisted jeans.
It's always great to tuck your top into your jeans if it's simple. If your top has an interesting design at the bottom, you could always let it hang. Kimonos, in this outfit will allow you to also hide any bulges that you want to avoid drawing attention to. While wearing yours with the high waisted jeans, you will definitely feel more confident and elegant.
High-waisted jeans are fun and very flattering. It doesn't matter whether you choose to wear them at night or during the day, they will always work. You can pick them in different colors and varieties and it all depends on your personal taste.
When buying your high-waisted jeans, ensure you pick the right fit for you so that you're comfortable as you walk around in them. Also, make sure whatever you're pairing the jeans with coordinates perfectly in terms of color. So, in case you do not own any high-waisted jeans, these 25 looks should inspire you to go out and get a few if not several pairs of high-waisted jeans.