Wide-leg pants were mostly worn back in the 80s but have found their way into the hearts of trendsetters and fashionistas today. While some women might find wearing wide-leg pants intimidating because of the extra fabric around the leg area, they can actually be a classy and feminine wardrobe staple for women of any age.
Wide leg pants can be so flattering considering they give you that illusion of an hourglass figure.
The key is to go for the wide leg pants that are tighter around your hips and then flare out towards the bottom.
They make you look like you have well-curved hips, and the wide leg balances them out.
They have a nice elongating effect, especially the high waist ones in full length, which are the best wide leg pants for petite women.
Wide leg pants are still hot on trend and are seemingly not going anywhere any time soon. They are not only chic but can also be hip and fun, depending on the fabrics you go for and also just how well you style the wide leg pants.
The best part is you can find a pair suitable for every setting you find yourself in, so it's really worth finding different ways of wearing the wide leg pants.
Here are some of the best outfit ideas on what to wear with wide-leg pants:
With cardigans
You can wear your cardigan with wide-leg pants, whether a long cardigan or a short one.
Cardigans have been around for quite a while and although they were initially meant to be just preppy, today, cardigans look so fashion-forward with bloggers, stylists, and celebrities wearing them in different ways.
These cardigans can be printed or plain and they add a classy feminine touch to your wide-leg pants, especially when the pants are denim in style.
Long gone are the days when these cardigans would just make you look like you're ready for school. A cardigan in a trendy print (like the leopard) not only look cute, but also they make your wide-leg pant outfit classier if you wear them right.
When you choose a printed cardigan, with wide-leg pants, go for a simple plain top, simple accessories and plain shoes can make this outfit look classier.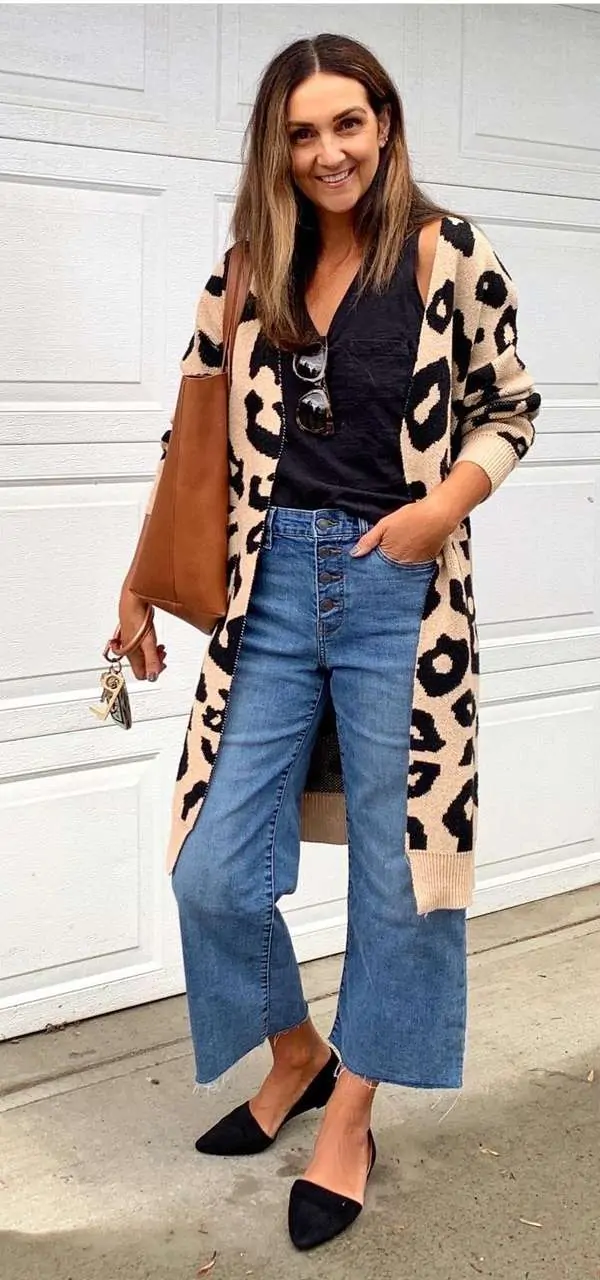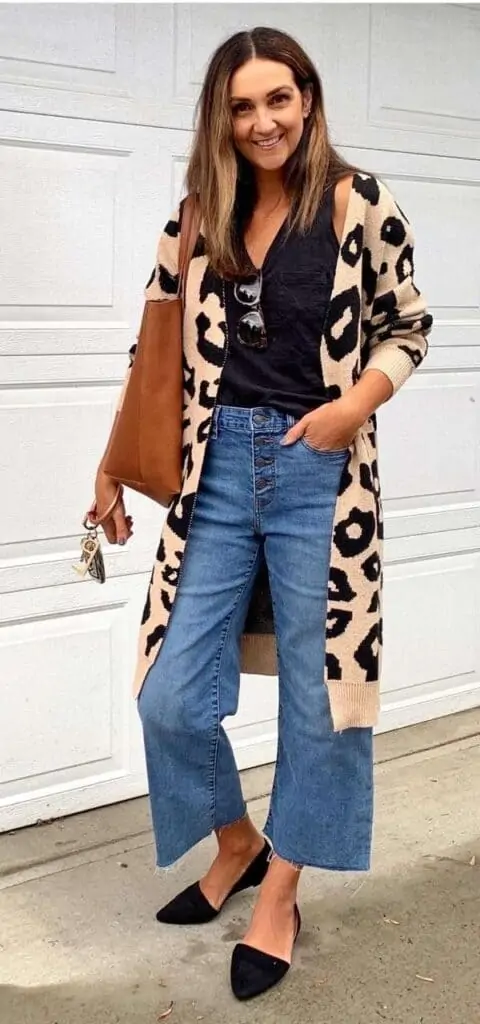 C B (above) styled her long cardigan simply with a pair of wide-leg pants and a black top.
With a coat
Wearing a pair of wide-leg pants with a coat is a great way to not only look trendy but also chic, especially when the coat is longer.
A coat is a great way to instantly dress up an outfit. That would explain why trendsetters around the world are often photographed wearing them, especially during high fashion events. They are not only chic and stylish, but they are also functional, since they keep you warm on colder days.
Given the wide leg pants already have so much volume in the leg, the most flattering coat for this outfit should be fitted, in order to avoid looking too bulkly.
You can choose coats of different prints and patterns, depending on the type of pants you picked. The length of the coat can also be flexible. If you want the best leg elongating effect, go with either a maxi length or a crop length coat.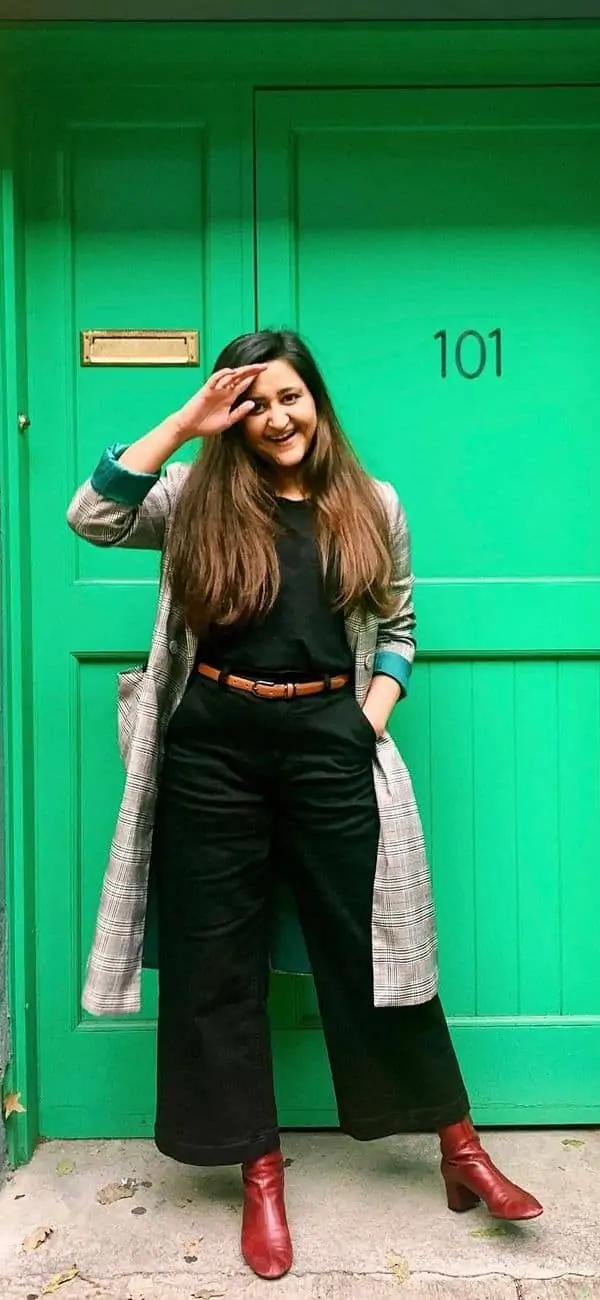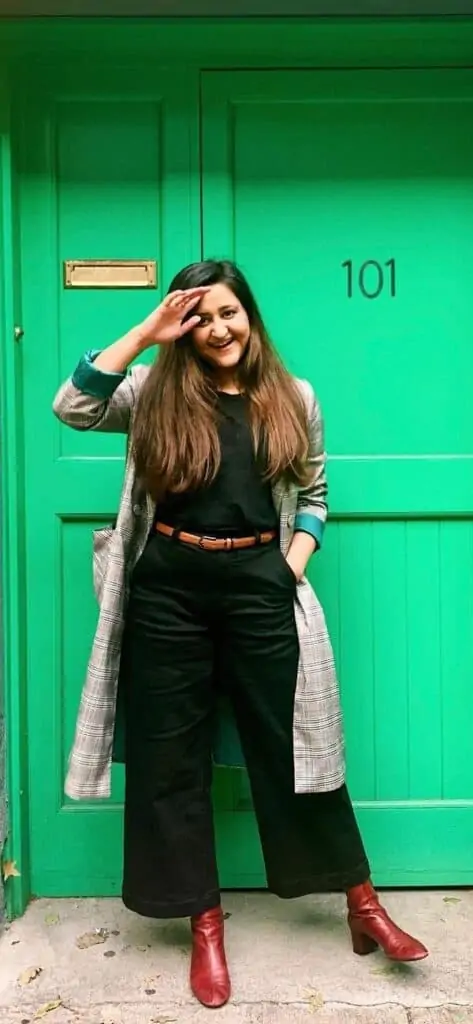 Palette (above) styled her coat with a pair of wide-leg pants and a black top and then finished the look off with some boots.
Bonus tip: when you keep everything underneath the coat simple and neutral, you get the freedom to play around with bold patterns and colors of the coat. This combination will not overwhelm the look, considering the pants are already a statement piece in terms of their wide-leg design.
With a pullover
One of the easiest wide leg pant outfit ideas is to wear them with a pull over.
Aside from the fact that pullovers make you want to snuggle up considering how cozy they are, they can be stylish at the same time. Designers and other different brands have been coming up with some amazing styles for them to ensure you look stunning when you're wearing the pullover out.
Tucking in the pullover fully is a great way to look chic in it although if it bulges, you could just tuck in the front part and leave the back untucked for that asymmetrical look.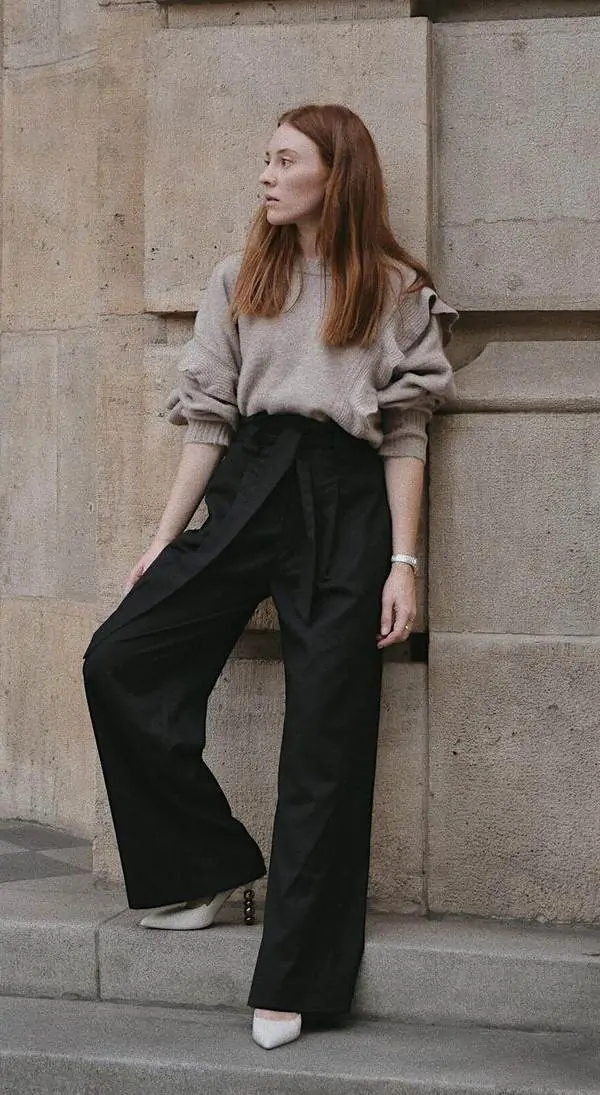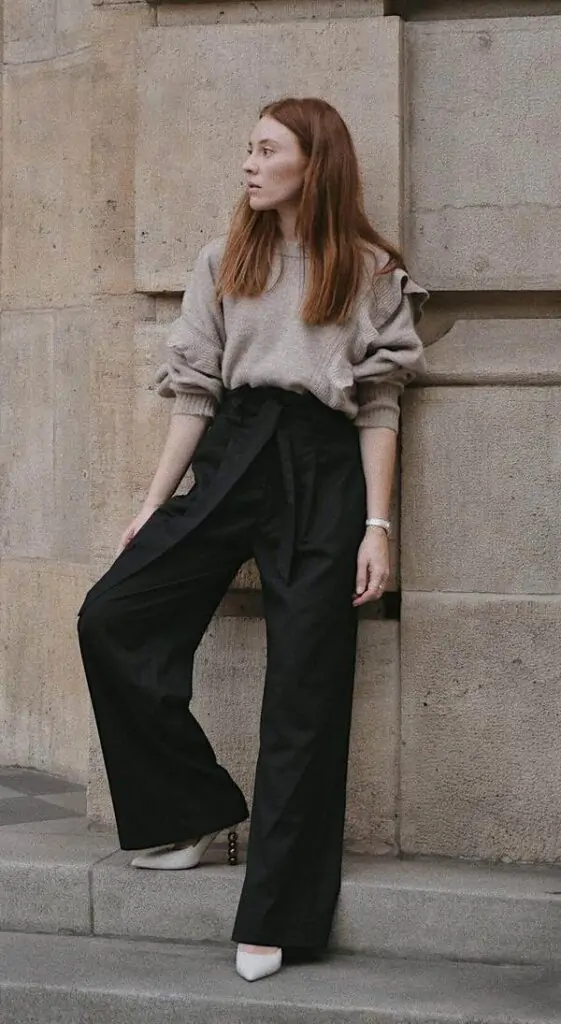 Claudia (above) styled her wide-leg pants with a grey pullover and some white shoes.
If your pullover is cable knit or any other chunky design, you can always fold the pullover sleeves, if you feel that you're too covered up, You can also layer a button-down underneath your pullover to give it a more preppy look. For this, ensure the bottom part of the shirt peaks too.
With a simple plain t-shirt
Wearing a plain t-shirt with wide leg pants is one of the best way to elevate the basics in your wardrobe.
Everyone needs to have a couple of simple plain t-shirts in their closet, because it's their simplicity that makes it easier for them to wear with anything. You can style them with different bottoms and sometimes even wear them over dresses.
One of the bottoms that go really well with simple plain t-shirts is wide-leg pants. The reason is that the simplicity of the t-shirt allows the pants to stand out and you get a good balance especially when you tuck in your t-shirt. The best color to go for is white, which is really a wardrobe staple and will look great with whichever color of pants you choose to go for.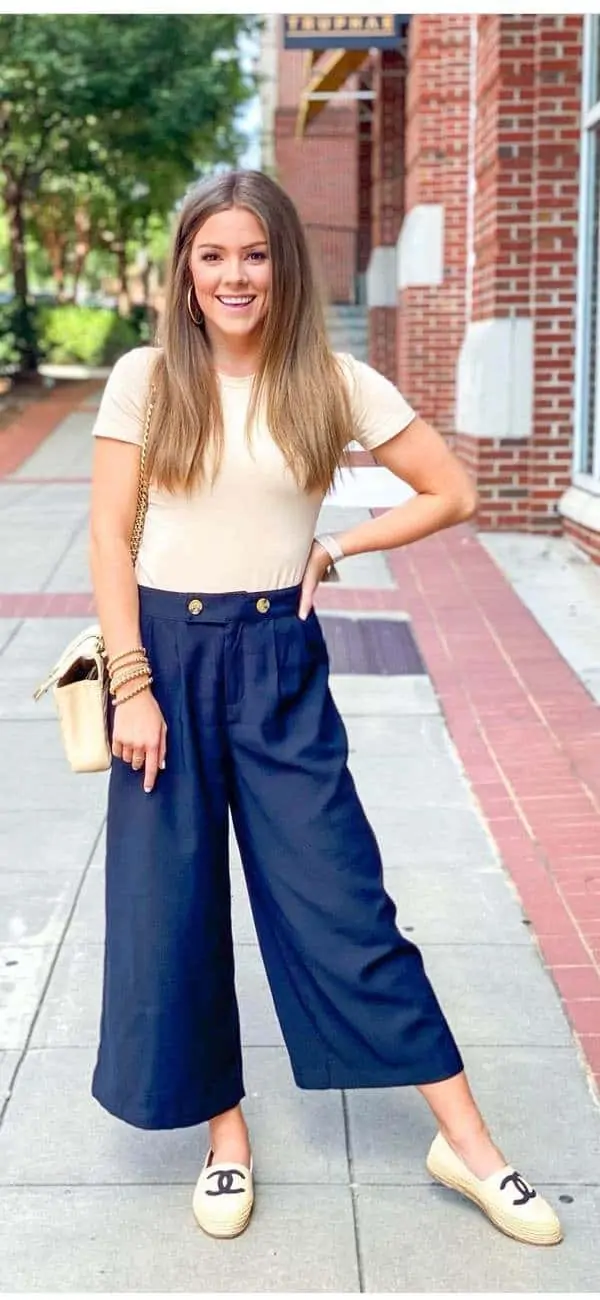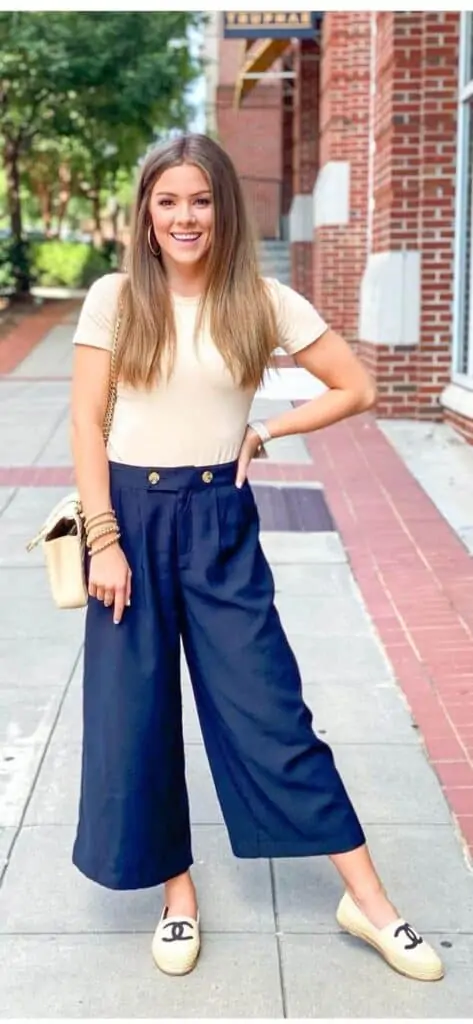 Allison (above) styled a plain simple peachy t-shirt with some navy wide-leg pants and a pair of simple shoes that almost match her pants.
With this simple type of t-shirt, you can also choose to go for cropped wide-leg pants or full-length ones.
With a denim jacket
Denim jackets can also be styled with wide-leg pants, if you're looking for a casual way to style your pants.
Denim jackets, aside from being comfortable and easy to wear, just never run out of style. In fact, you can wear a denim jacket in any season of the year and with dresses, jumpsuits and all bottoms.
This is a fun look that actually makes you look younger and ready for a free-style day out.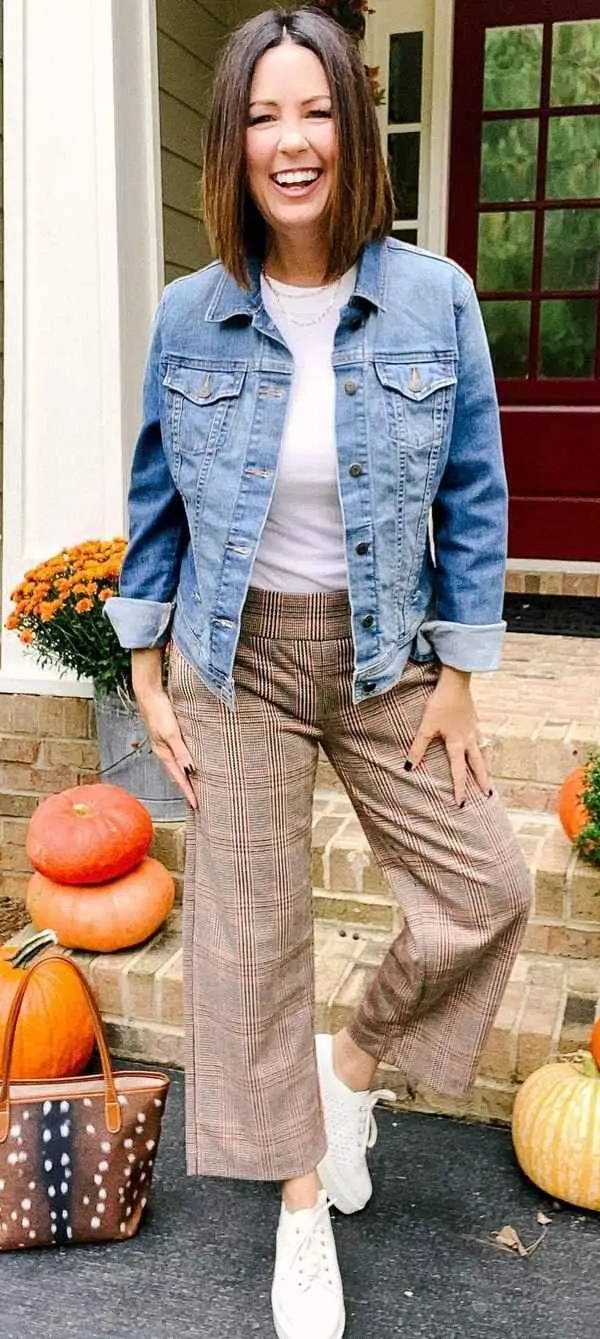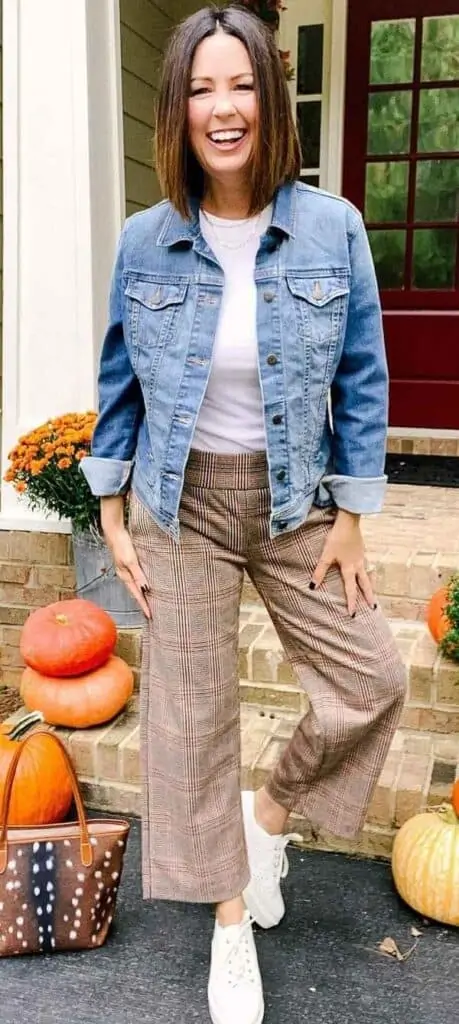 Heather (above) styled her denim jacket over a t-shirt with some plaid pants and sneakers. The best part about this outfit is that it allows you to be versatile with your shoes. You can pick sandals, booties, sneakers, and even heels.
With a tube top
A pair of wide-leg pants is one of those bottoms that go well with your strapless tube top. This is one of the most effortless outfits, because all you have to do is to tuck it into your pants and you'll instantly look all dressed up.
The thing with a strapless tube top is that it's very minimalist and also ultra feminine at the same time. Tube tops are quite easy to style in general, and a fitted one is highly versatile. They make for great summer pieces and work even better with baggy or less fitted bottoms.
To get a dressier look, make sure your wide-leg pants are full length. This is also the best length for petite women who want to look taller.
If you want to look casual, a cropped pair will do paired with some sandals or sneakers.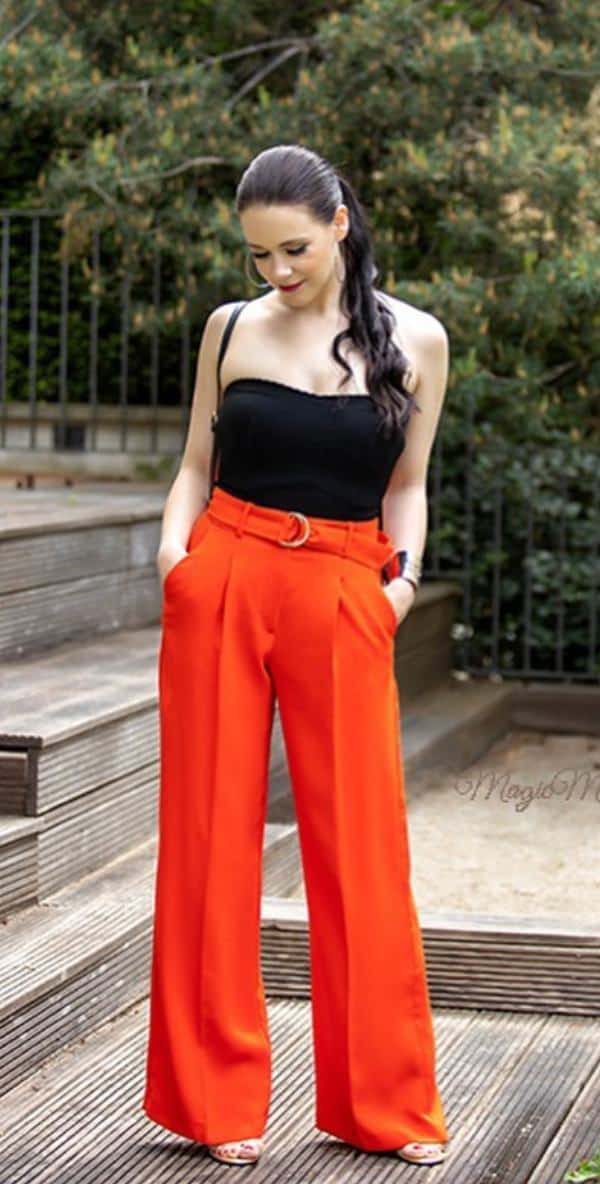 Anastacia (above) styled her strapless top with a pair of flowy wide-leg pants and some heels. This kind of pairing is especially great when it's hot outside.
With a cropped jacket
One of the most flattering pieces to wear with your wide leg pants is a cropped jacket.
Cropped jackets are great for you especially if you're looking to make your waist look smaller, while you stay warm and stylish. They are particularly great when worn over dresses, jumpsuits or high waist bottoms.
High waist ones are the best for this look, especially if you're after a classier outfit. These cropped ones also give you a more youthful look.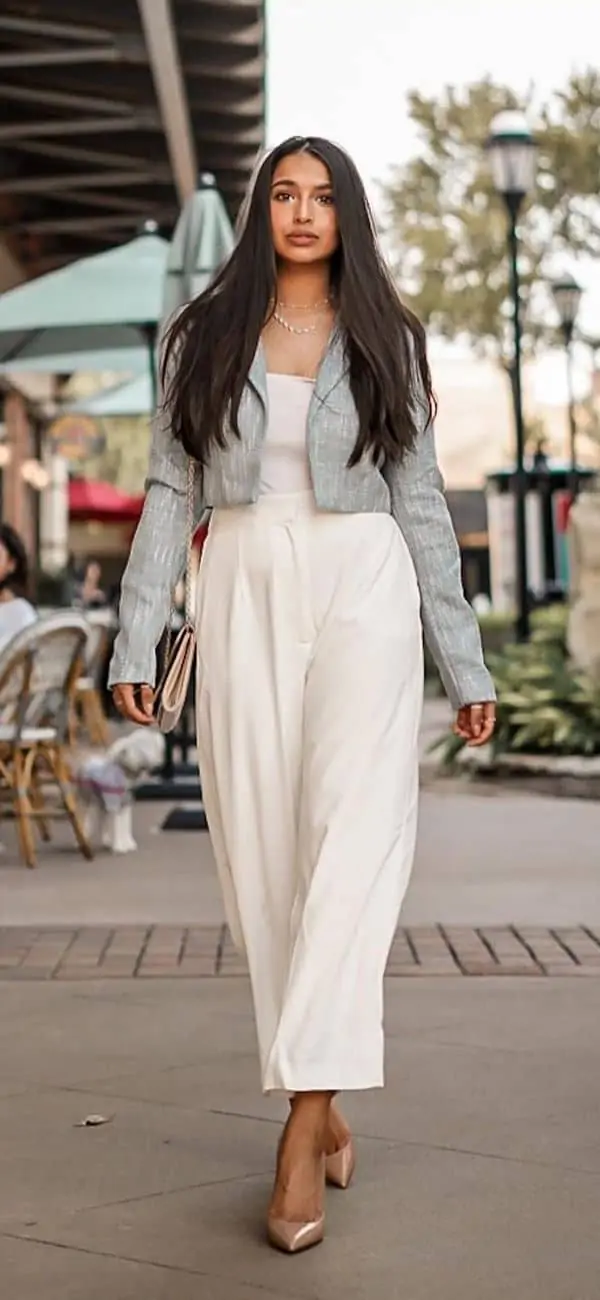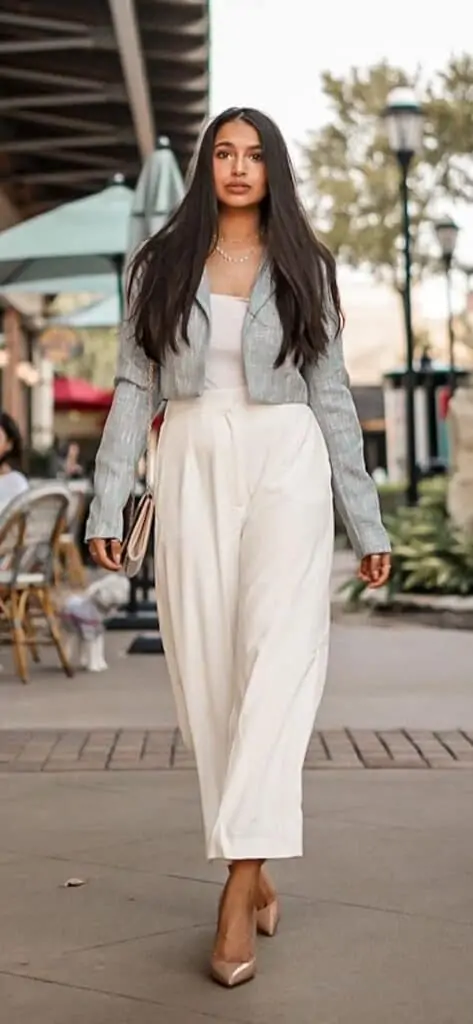 Fatima (above) wore a white pair of wide-leg pants with a white top and a grey cropped jacket. For this combination, a pair of heels is the surest way for you to get that fabulous fashion-forward look although you can still go casual with it by switching the heels with a pair of sneakers or slip-ons. Some mules would also work with this look.
With a tank top
Another great way to style your wide leg pants is to wear them with a tank top.
You can go monochromatic with this or go for a contrasting color. Either way, once you tuck in the top, you will look chic instantly. The best way to dress up this look is to throw on a pair of heels, and go with the wide leg pants long enough to cover most of your heels.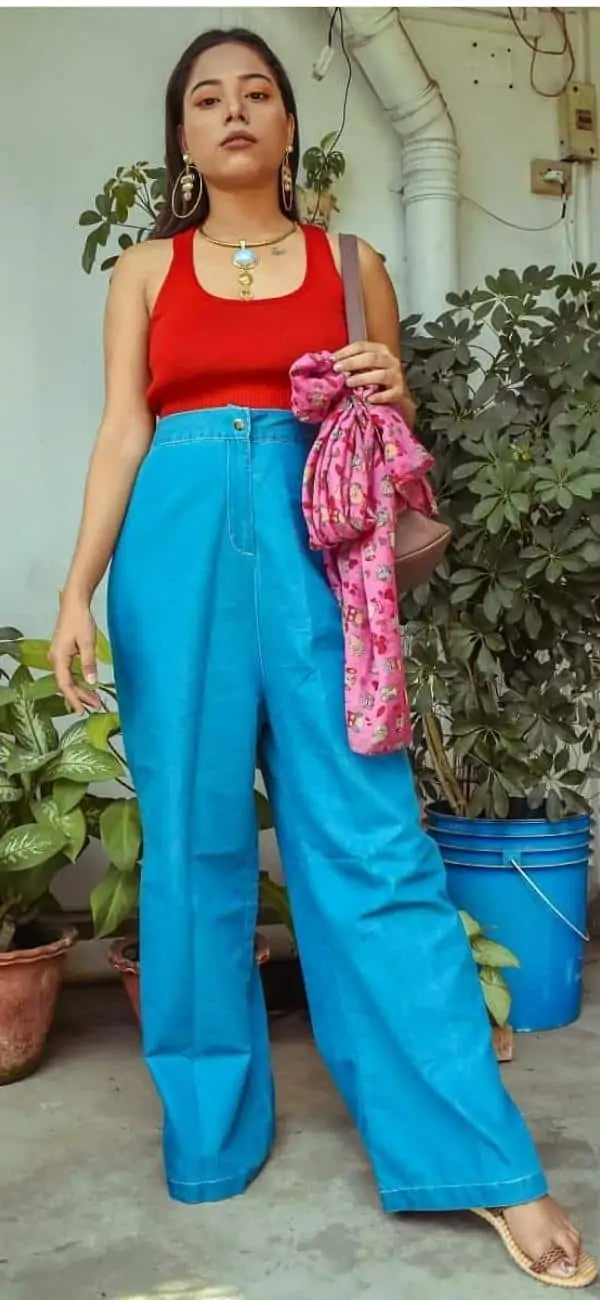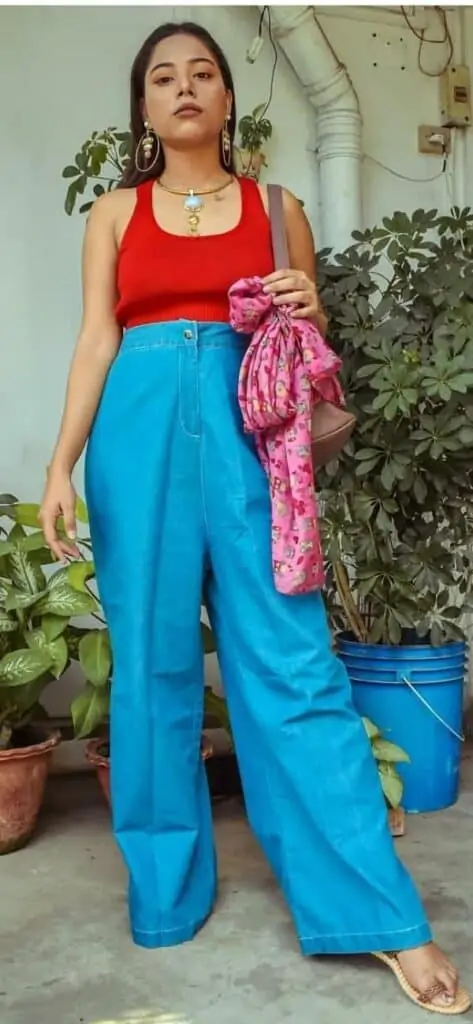 Neha (above) styled her red tank top with a pair of long wide-leg pants and strappy sandals. Some heels would also work for this look.
With a faux fur coat
Wearing faux fur coat with wide leg pants is the outfit you can be sure you'll turn heads as you walk down the streets (in a good way).
If you love that instant Fashion week look, then a faux fur coat is the right piece to add to your outfit. It makes you look chic and expensive, without actually spending too much.
For this outfit, you can go with faux fur coats either long or short. If you happen to be on the curvier side, then a shorter fur coat works better because it won't add as much volume to your top as the long ones.
It is hard for one to miss a faux fur outfit, so this is a fun look that will bring you a lot of attention. Besides, you'll be wearing two trendy pieces that both stand out.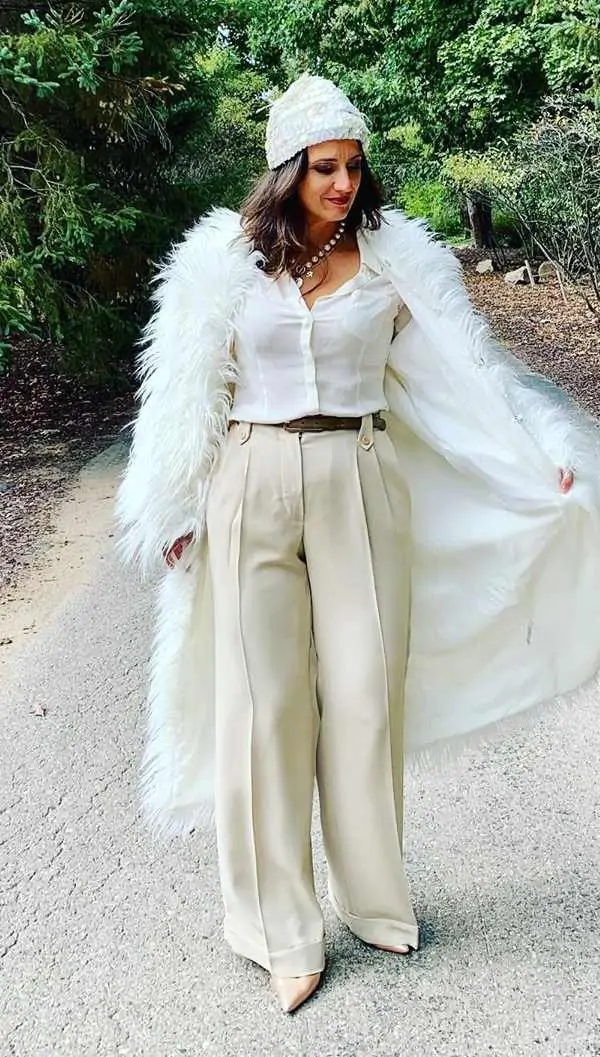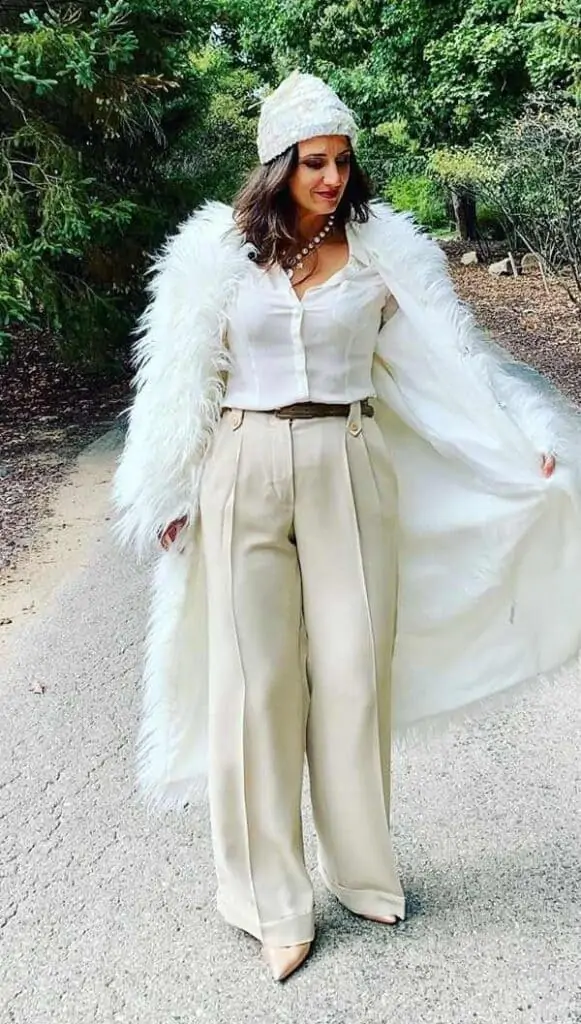 Raffaella (above) styled her wide-leg pants with a white shirt and a white faux fur coat. Going for colors that are almost similar or just generally a monochromatic look for this pairing adds a touch of elegance to it.
With a graphic t-shirt
You can wear your graphic t-shirt with a pair of wide-leg pants, whether denim or any other fabric.
Wearing a graphic t-shirt is a great way to express your personality through clothes. They give you the simplicity of an ordinary t-shirt, but also add an edge because of whatever image may be drawn on them.
You just need to make sure that you pick a t-shirt with colors that coordinate with your pants, so that you don't end up with an overwhelming outfit.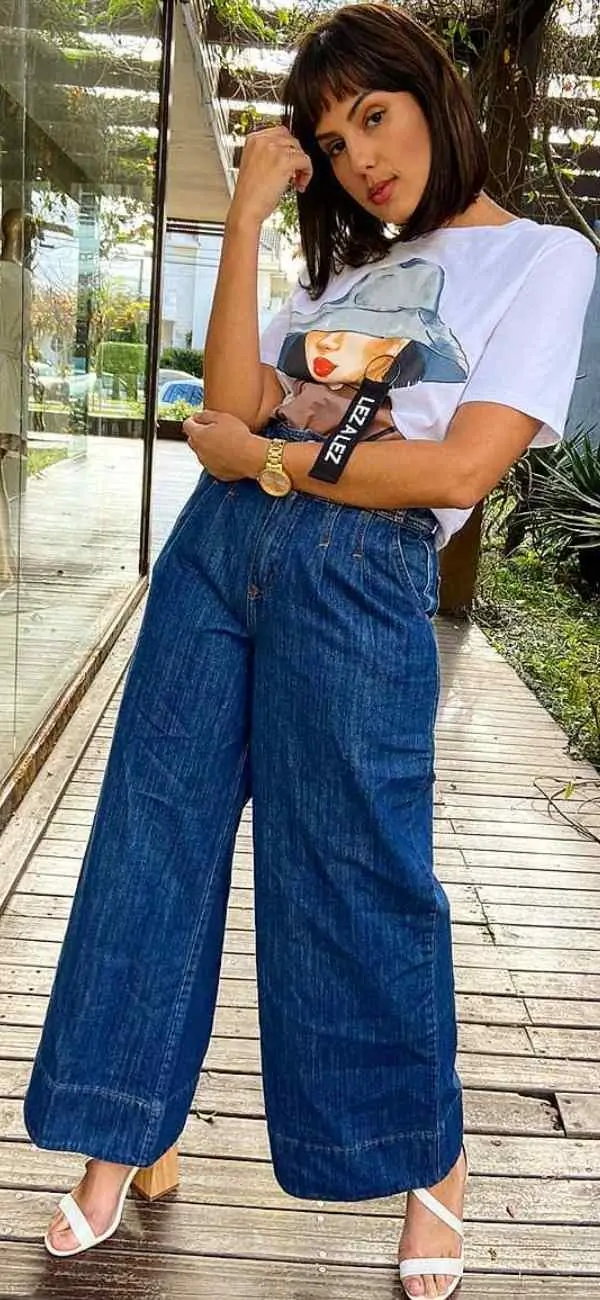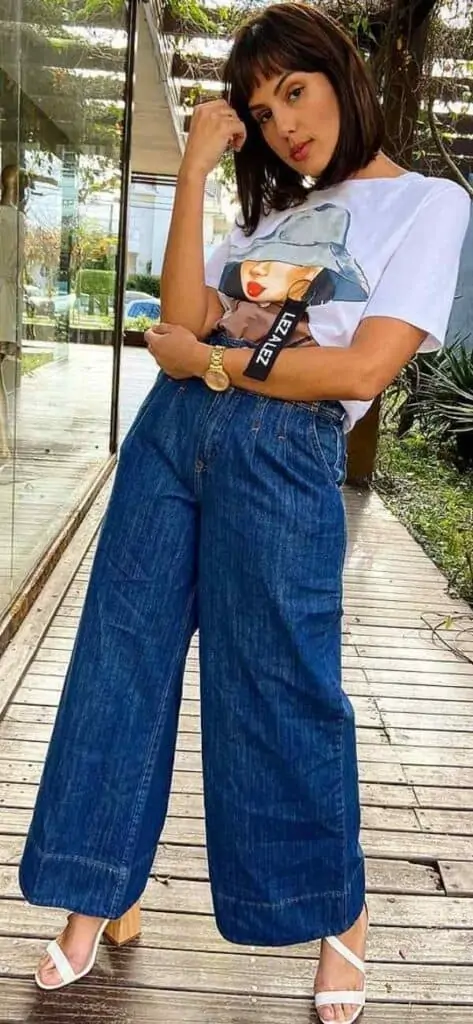 Leticia (above) styled her graphic t-shirt with a pair of denim pants and some chunky heels for a dressed-up casual look.
You can swap the heels for sandals, mules, slides, or sneakers if you feel like dressing this combination down.
With a printed statement top
If you like to turn heads, then a printed statement top will help you do exactly this. The top could either be in the form of a ruffled one, one with flared sleeves, a single-shoulder top just to name a few.
A great way to make an even bigger statement is to go for a pair of wide-leg pants when styling these printed tops. The key to looking great is to get the proportions and the colors right, otherwise you might end up turning heads but for the wrong reasons.
Choosing a neutral color for the pants is an excellent way to go about this combination as it's safer. You should also make sure your printed statement top is slightly cropped, well fitted, or just tucked in so that you have a good balance.
With a vest
You could wear your wide-leg pants with a casual vest, or a dressier one, depending on what look you're going for.
Besides coat, a vest is another way to make your outfit all dressy, especially when it's hot outside and a coat might be too much. Since the vest has no sleeves, it does not overwhelm your outfit.
You can pick a long vest, a short one, one that looks like a jacket or one that resembles a coat.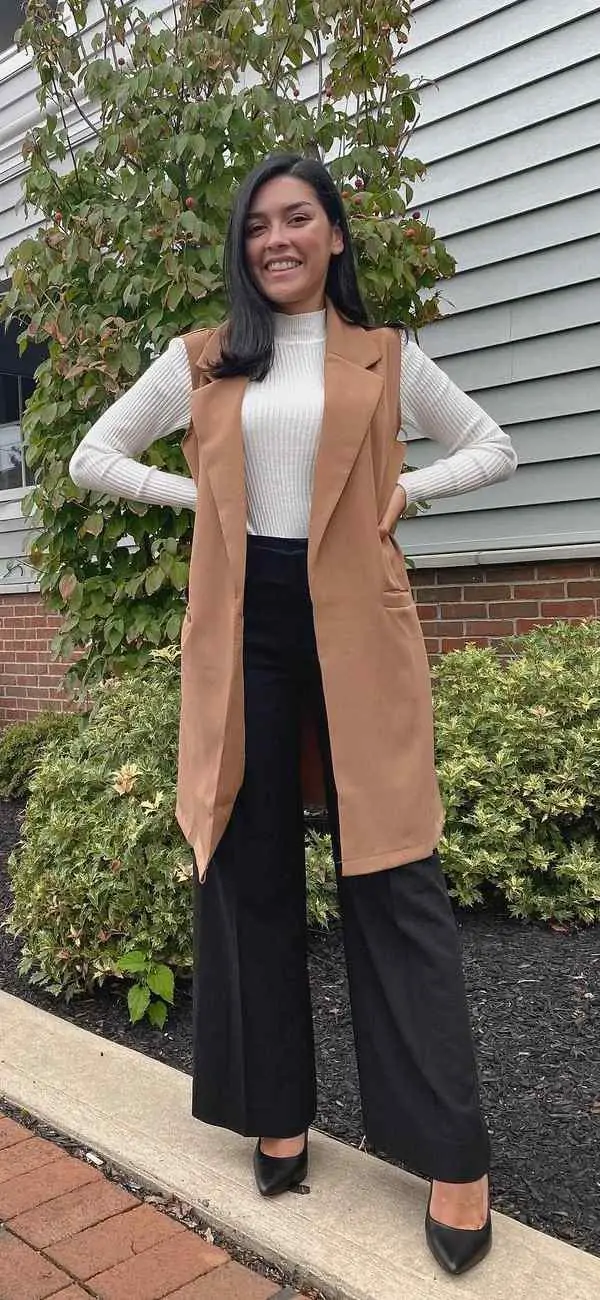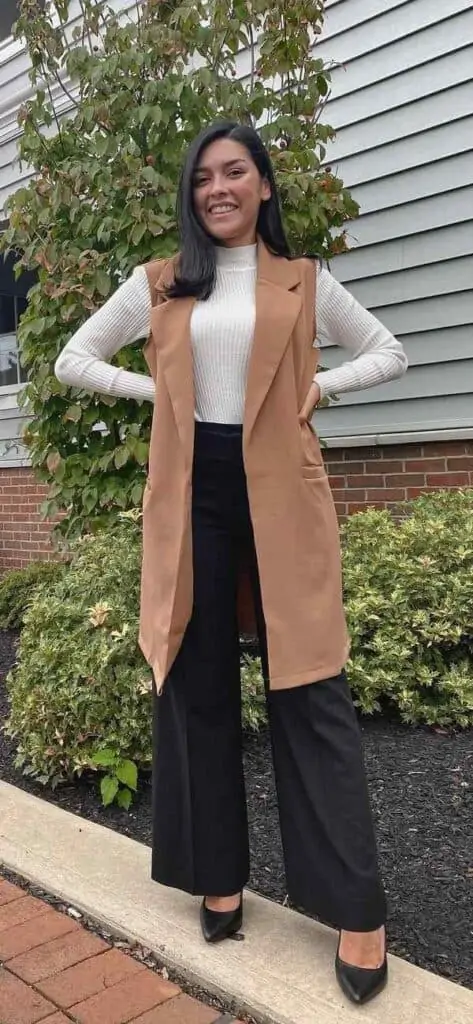 Katie (above) styled her wide-leg pants with a vest and a simple white top and then completed the outfit with a pair of closed-toe heels for an office-ready look.
A tailored pair of wide-leg pants look the best in this outfit, if you are going to the office. Otherwise, you could also pick some denim wide-leg instead.
With a message t-shirt
Styling message t-shirts with wide-leg pants is a great idea, whether you're looking to get a laid back outfit or to get a dressier one.
If graphic t-shirts are a bit too much for you, then the next best option is a message t-shirt. It also allows you to express yourself more but in a more subtle way.
It's always better to get a message t-shirt that fits you well especially if the pants are long.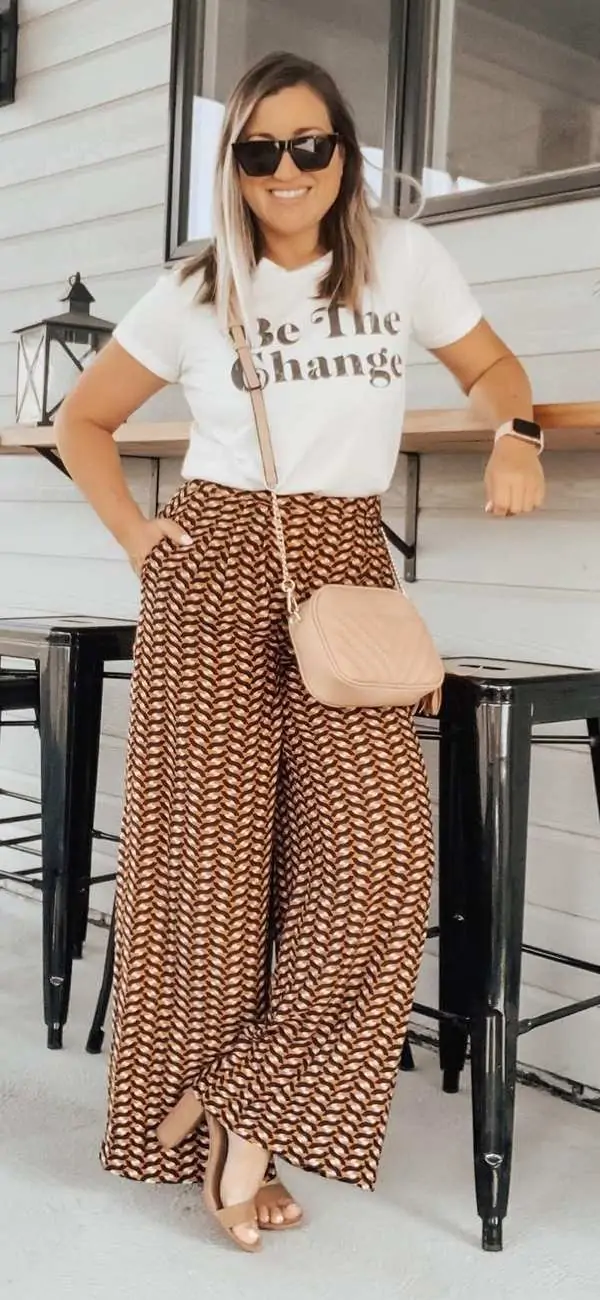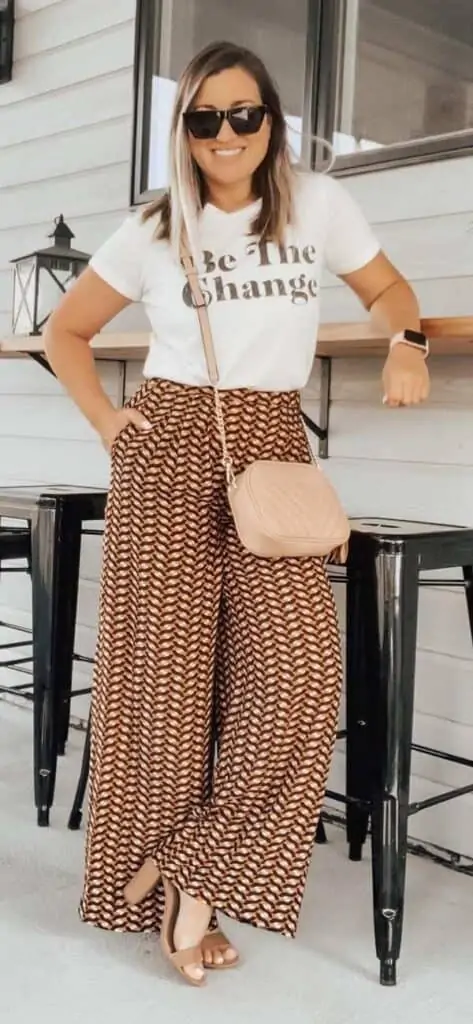 Lydia (above) paired her white message t-shirt with some printed wide-leg pants. It's advisable that when you choose a printed pair of pants, you pick a message t-shirt whose colors are also on the pants.
With a matching shirt
You could wear your wide leg pants with a matching shirt for the perfect monochromatic look.
When you pair your wide leg pants with a matching shirt, you're able to get a co-ord set, which is always great as it just makes your dressing up easier. After all, these pieces came together and there's really no need for you to think too hard about what to wear your pants with.
You will easily look all dressed up regardless of the place you are headed out to.
For this pairing, heels, whether strappy or closed will dress it up some more while sneakers will give you that girl-next-door feeling but you'll still look extra classy.
With a cami
A cami is a nice, feminine, delicate piece of clothing that works great when worn by itself on hot days, but they can also be worn as a slip underneath different outerwear. They're also comfortable as they do not cling too much to one's body.
Pairing your cami with some wide-leg pants makes your cami outfit chicer. The cami, being minimalist in its design, gives your look a great balance. This is whether you get a printed cami top or a plain one.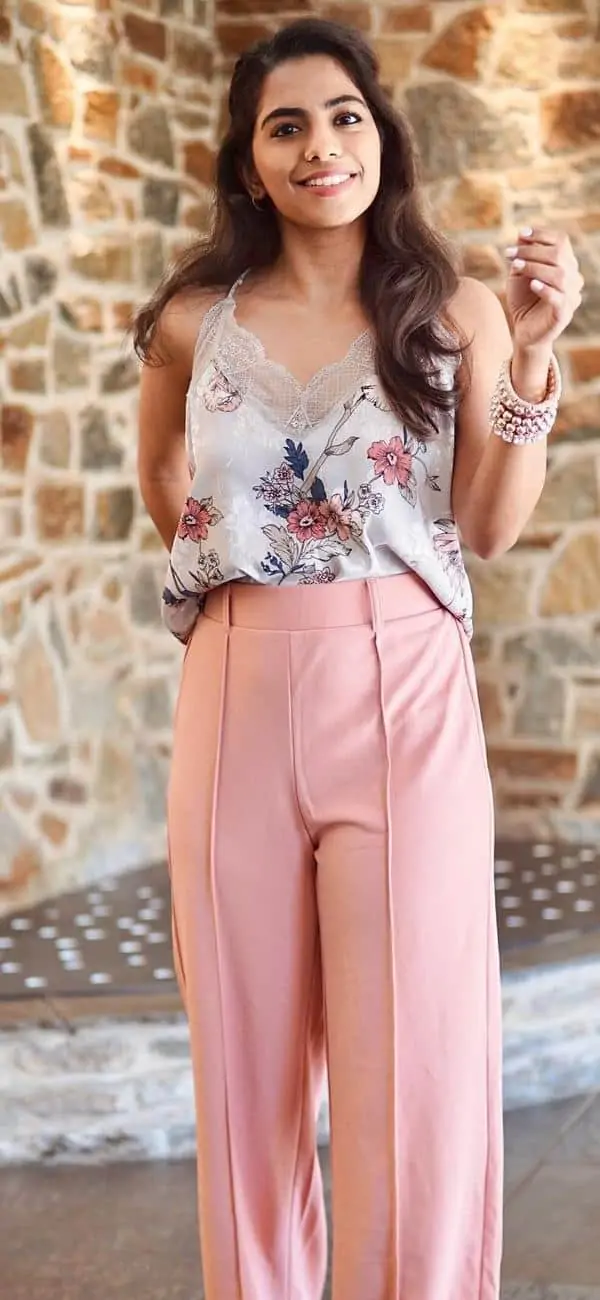 Suhashini (above) wore her cami with some pink wide-leg pants. When wearing such a combination, softer pant colors are great. However, you can still go for darker colors with your pants.
With a blazer
When you wear a blazer with wide-leg pants, you automatically get a look suitable for the office, or any other setting that needs you to look demure and dressy at the same time.
A blazer is a great way to dress up any of your outfits, especially if you're headed to an office setting. They come in different colors and styles and all you need to do is find the size that suits you best.
You could always wear a simple top underneath and leave the blazer open or just button up your blazer.
A bright blazer instead of brown makes sure your outfit pops. If you're not a fan of color, you could always go for other neutrals such as black, white, or grey.
With a sweatshirt
Pairing your sweatshirt with your wide-leg pants is a great way to get a casual yet stylish look.
A sweatshirt is great for lounging around especially on those lazy days. However, you can actually step out in your sweatshirt if you style it well, such as dressing it up with a pair of wide-leg.
It's even better because it's an unexpected look. The outfit is also comfortable which is always a plus.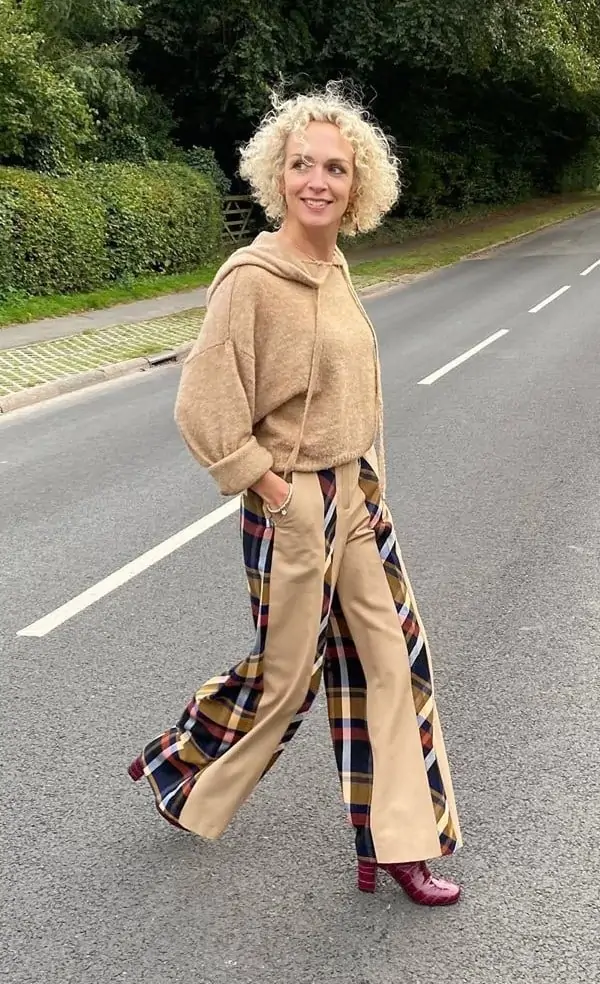 Karen (above) wore her hooded sweatshirt with a pair of wide-leg pants and booties. She chose camel tones for both pieces with just a bit of print on the pants.
You can always switch such pants up for a denim wide-leg pair if you just want to look fully casual.
With a plaid shirt
You can dress up a plaid shirt by tucking it into your pair of wide leg pants. A plaid shirt is usually a fall favorite that flatters everyone regardless of their age or body shape and size. They come either long or short and they make for great and comfortable casual looks.
In case you're a fan of full on casual, you could wear it as outerwear over a t-shirt, either plain or graphic.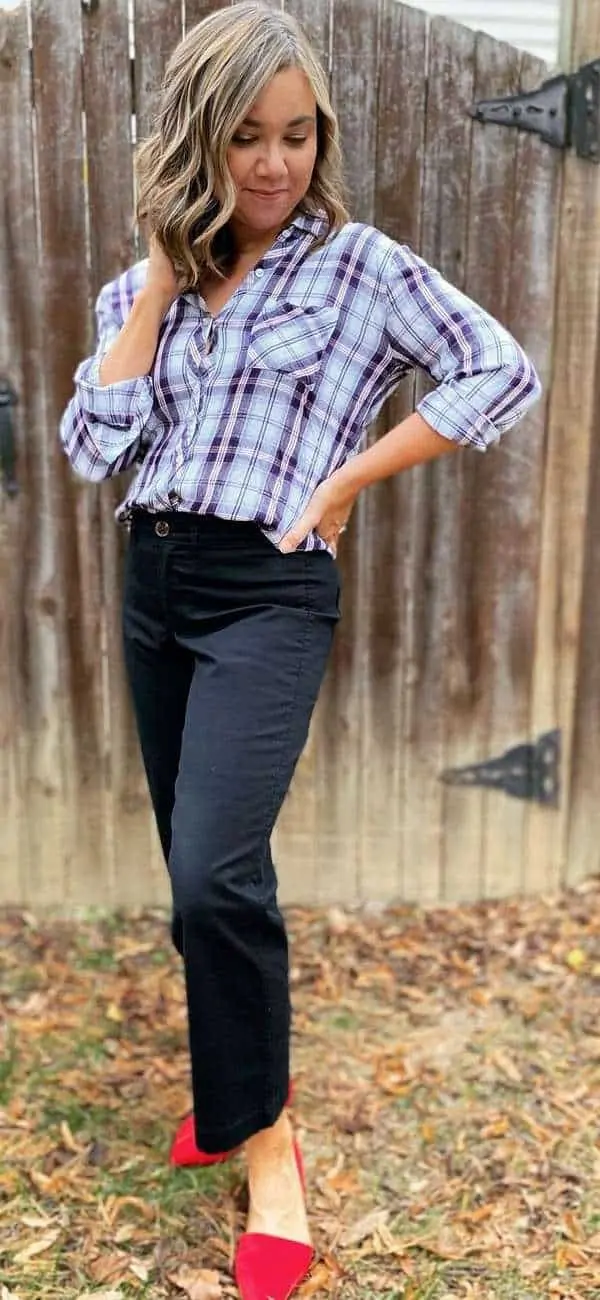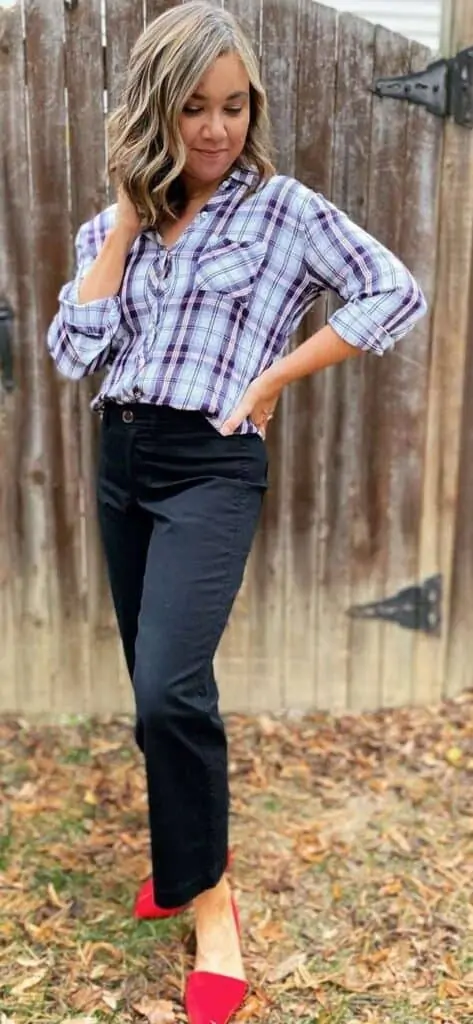 Jaime (above) styled her plaid shirt with a pair of wide-leg pants and a red pair of shoes. With such a look, going for heels, and especially pointed ones, is a great way to make the outfit dressier.
If you need to have the look casual and comfortable, feel free to swap the shoes for a pair of your favorite sneakers for the prep-school look .
With a matching jacket
You can get a suit that includes some wide-leg pants and a matching blazer.
When you pick a jacket that matches your bottoms, you get a suit, which generally is something that you should have in your closet. This is because suits are not only classy, but are suitable for the office, events and more formal environments and regardless of where you are, you can never go wrong in them.
It's a great combination especially if you like a more structured look. It can take you from a date with the girls to the office, from a high profile event to a party elsewhere.
Blacks and grays are great colors to go for with such a suit considering just how demure they are. However, if you're a bold girl who prefers something that stands out, you can go for a brighter suit with this kind of pairing and it will still work just as well.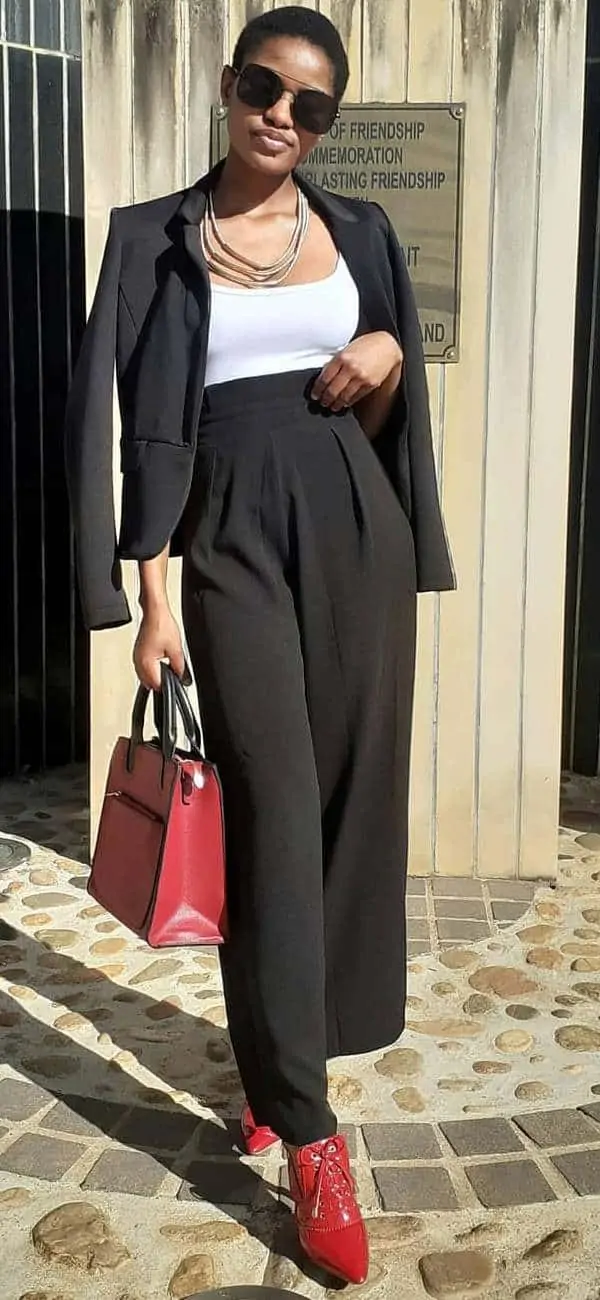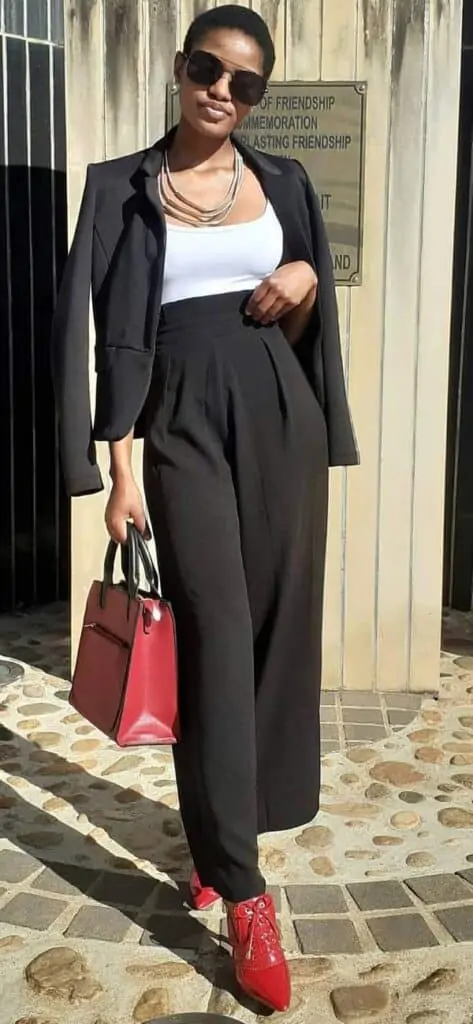 Tembuso (above) wore her black wide-leg pants with a matching blazer and a white top. She completed her look with a pair of red shoes and a matching red bag.
With a statement top
Pairing your statement top with some wide-leg pants is a great way to stand out but in a way that's not overwhelming.
Since printed tops have already been suggested, it's only right that plain statement ones make it to the list too. For you to make a statement with your top, you can choose a plain one in more neutral colors like white, but choose bold designs such as off-shoulders, ruffles or even bell sleeves.
Once again here, the key is in the right fit otherwise you risk having a poorly balanced look.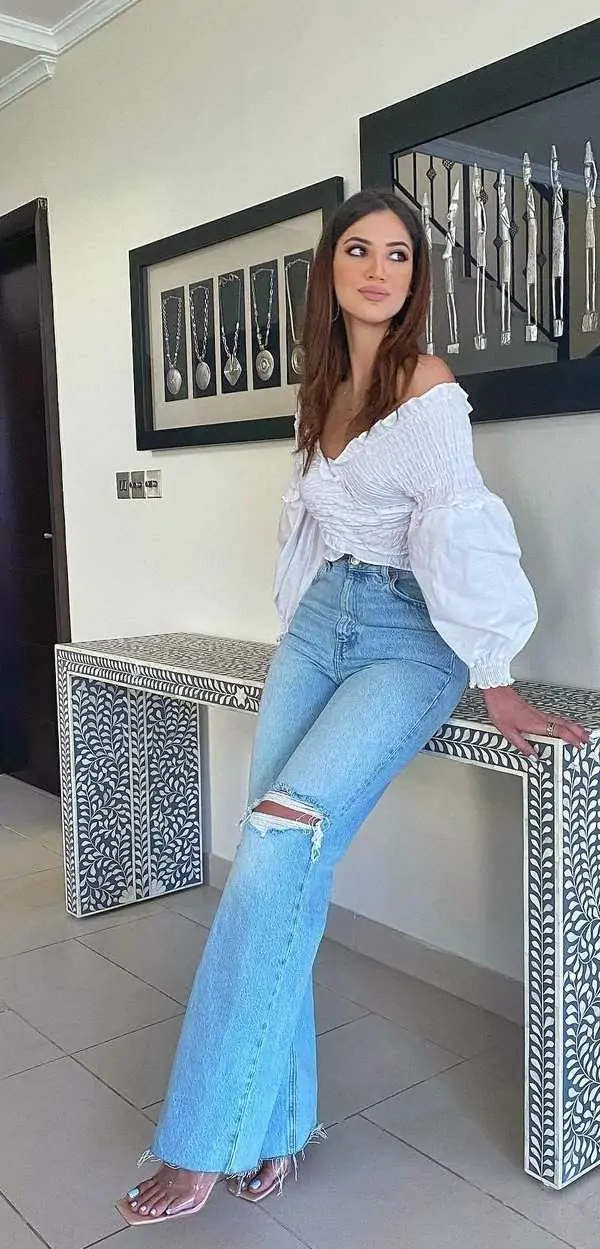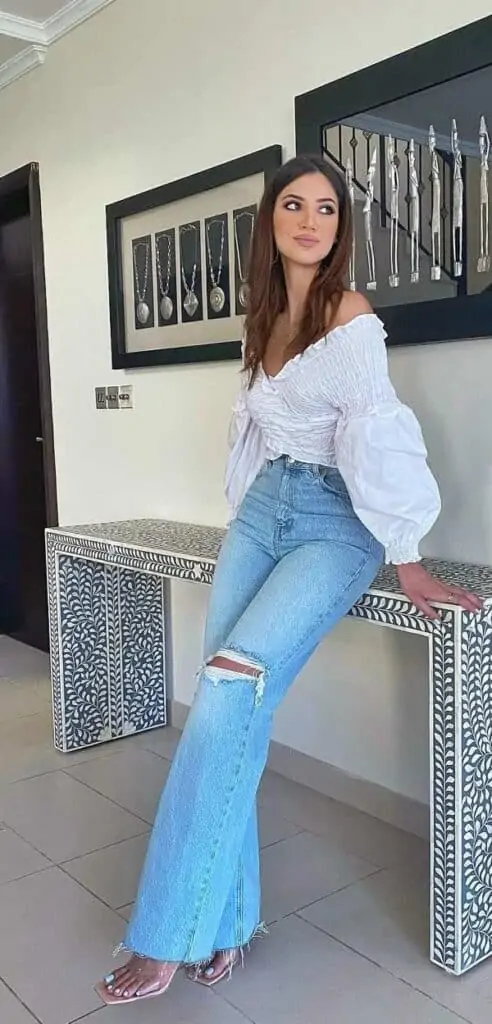 Leila (above) paired her wide-leg pants with a white statement top, one with puffy sleeves, and completed the look with a pair of clear shoes.
A plain statement top will usually go with different types of wide-leg pants ranging from denim to more tailored pieces.
With a trench coat
You can style your trench coat with a pair of wide leg pants for that chic look in the colder days. You can layer it over a button-down, a tank, t-shirt or even a pullover if it's too cold outside.
Trench coats have been around for ages, understandably because aside from being super stylish, they also keep you warm. Some of these come long while others are short, regardless, they dress up an outfit on cooler days.
The look is casual but chic at the same time. Going monochromatic is the easiest way to achieve a chicer look with a trench coat. You can also go with wide-leg pants that contrast or coordinate well with your trench coat. It's a combination that will also elongate your legs and have you looking taller.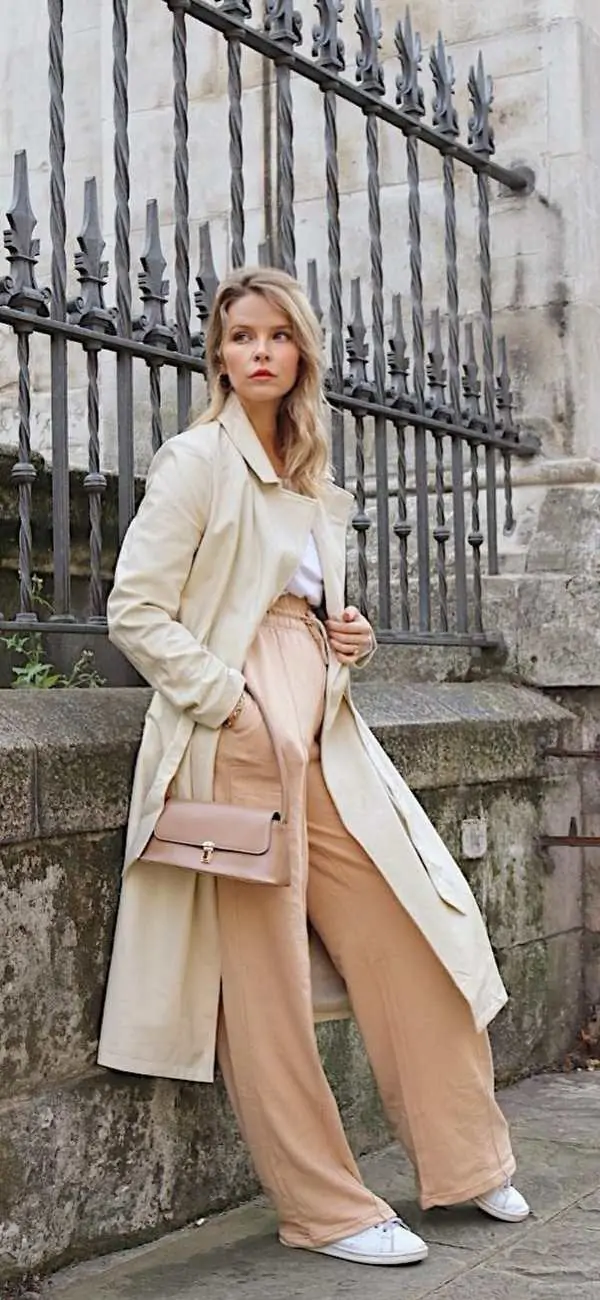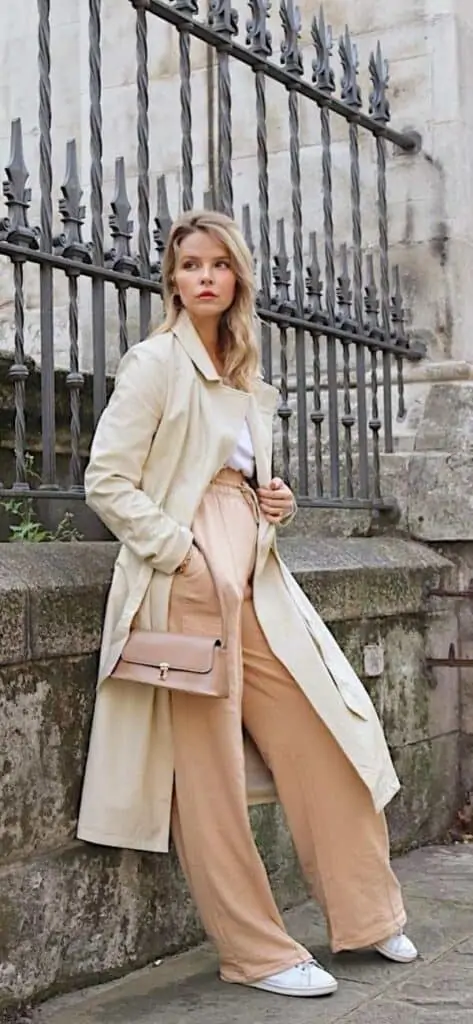 Haylie (above) styled her wide-leg pants with a trench coat and some simple casual shoes.
With a leather jacket
A leather jacket is a timeless must-have. It works when worn over any outfit and just always makes you look like you put in the extra effort to look great while in the real sense, it's effortless.
Leather jackets whether long or cropped can be styled with your wide-leg pants to give the look an edge. It's literally pairing two pieces that have been and will be around for several years. You can have the sleeves fully covering your arms or choose to push them up a bit to show some skin, of course, the one on your arms.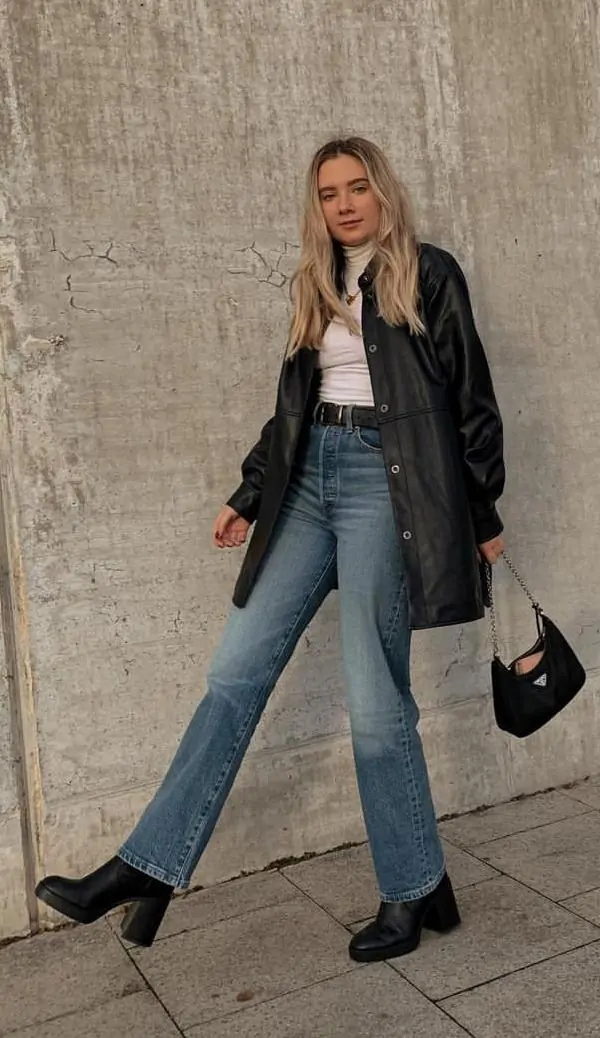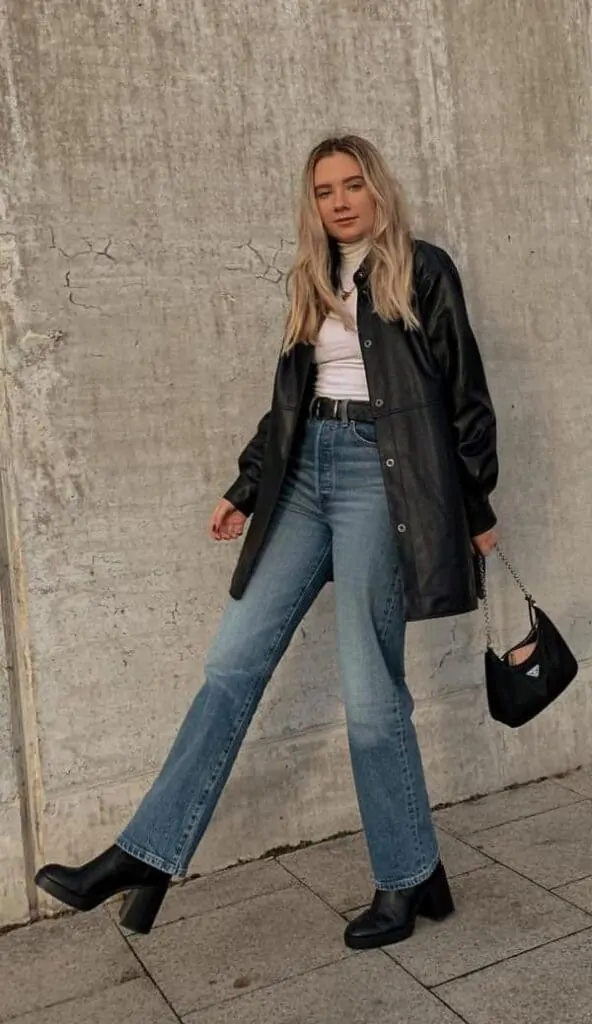 Gosia (above) styled her wide-leg pants with a leather jacket, a plain top, and some boots. If you feel like a longer jacket is a bit overwhelming for your wide-leg pants look, go for a cropped one as it will give you better balance.
With a white button-down
One of the best tops that easily go well with wide leg pants is a white button-down shirt.
It's almost impossible to leave out a white button down when recommending pieces to wear with your wide leg bottoms. This is because a white button-down will dress up any outfit you intend on stepping out. Being white, it gives you the freedom to style it with several other colors.
The shirt will make your look dressy whether you pick denim style wide-leg pants or other fabrics. A high waist pair of wide-leg pants will have you looking even classier.
This is an outfit combination that would work for any woman regardless of their age, or body shape and size. It's also a look that would easily work for a casual Friday at work.
With a Duster
Dusters can be worn with just about anything you can think of including wide-leg pants.
Dusters make for that amazing third elusive piece that will have you stand out when you step out. They're flattering in that they hide most of the bulgy parts (think heavier mid section or wider hips) on your body that you might not feel too comfortable with.
Fortunately they come in different styles, so it's up to you to pick the one that best matches your personality and overall style. You can go for a floor-length duster or just one that hits the knees or calves.
You can always go for a different wide leg pant fabric and go for a lighter color instead. You can also pick a plain top for that instead of one with prints.
With a tunic
Although this might sound a bit unusual, believe it or not, a tunic is a great piece to pair with your wide leg pants.
A tunic is an easy piece of clothing to wear and while it usually falls in the length of between the knees and upper thighs, some designs go even longer, especially the Indian style ones. Aside from being highly versatile, they mostly come in a loose fit that allows you to easily hide parts of your body that you don't like bringing focus to a lot of the time.
You just have to be picky with the design. In most cases, for this to work, you are advised to pick a tunic that has slits on both sides so that the wide leg of your pants doesn't just peak from the bottom, but from the sides.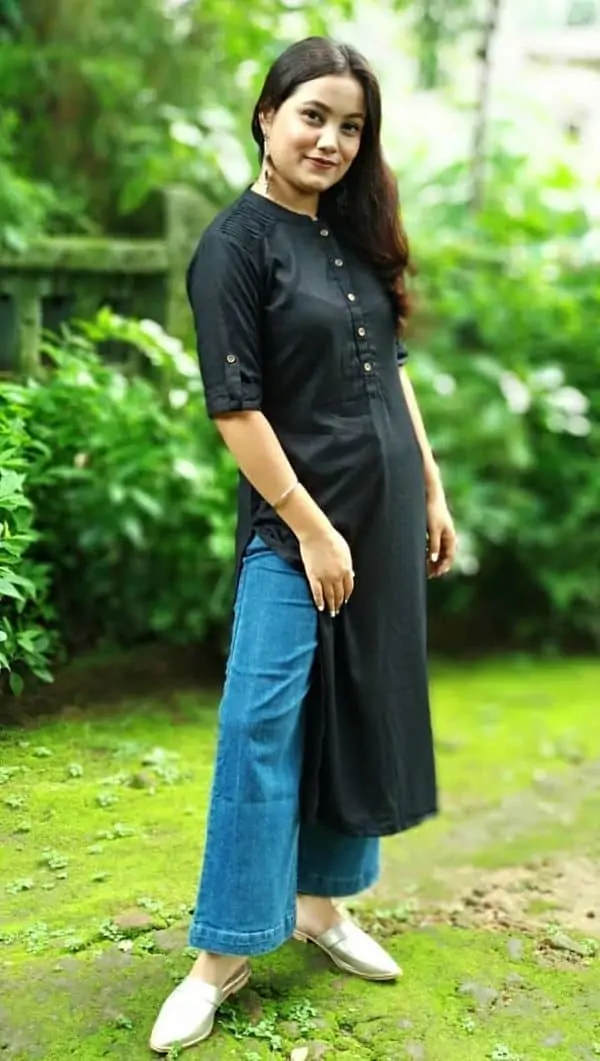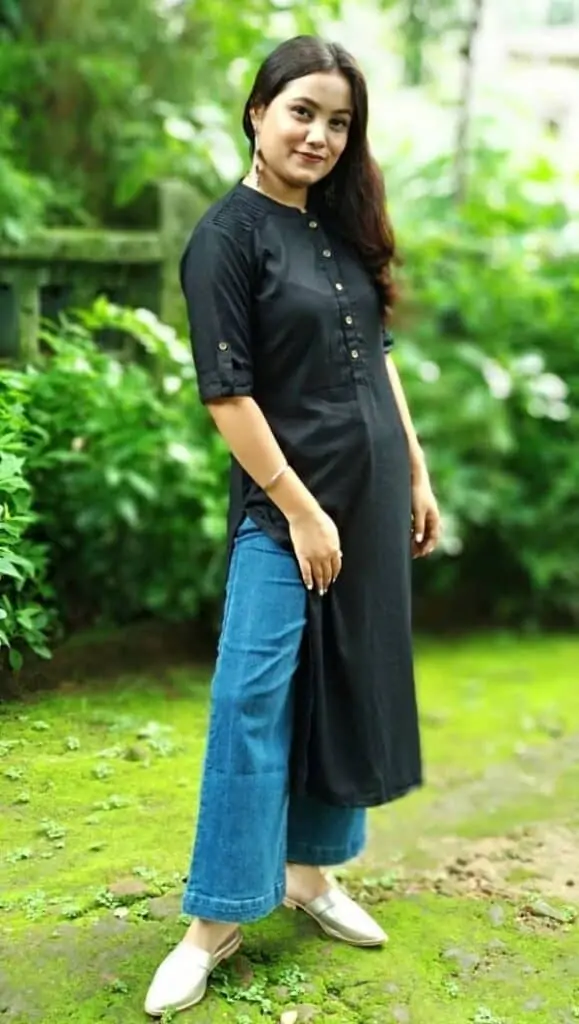 Geetika (above) styled her long tunic with slits on the sides over a denim pair of wide-leg pants and finished the look off with a pair of mules.
For this look, it's best to go for simple colors such as black or white, especially if you're not used to this kind of pairing. You can also switch the mules for a pair of sandals or even strappy heels to dress it up a bit.
As you can see, having a couple of wide-leg pants in your closet is a great thing considering the different pieces you can wear with them. The best part is that most of these tops and outerwear are pieces you can find if you shop your own closet. So, whether you're headed out for a dinner date, a girl's night out, a lunch with friends, to the office, or even church, you can always be sure that there's a great wide-leg pant pairing meant for the place.