Looking feminine is the goal of every girl. For women of any age, being feminine is synonymous with being attractive. Some women are naturally blessed with feminine curves, while others might be less endowed. Regardless of your body traits, there is something every girl can do to look more feminine and feel more like a woman.
Wear Clothes that Fit Properly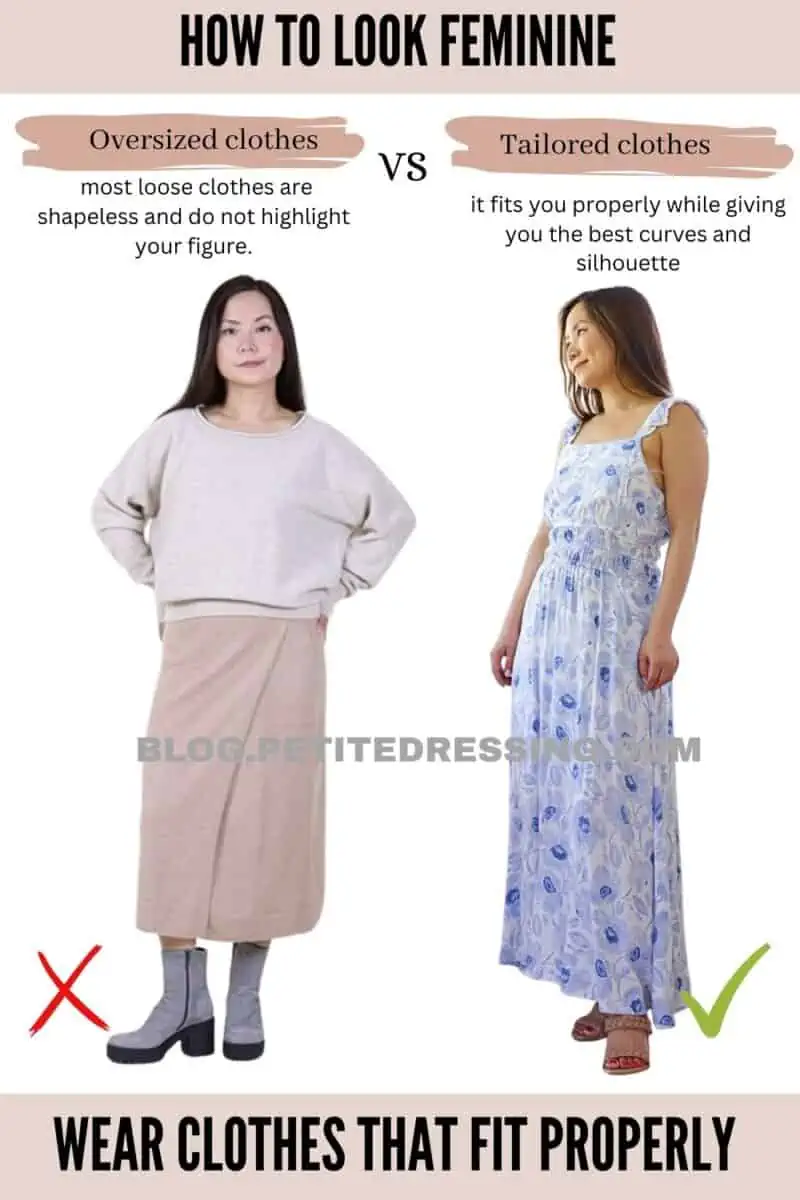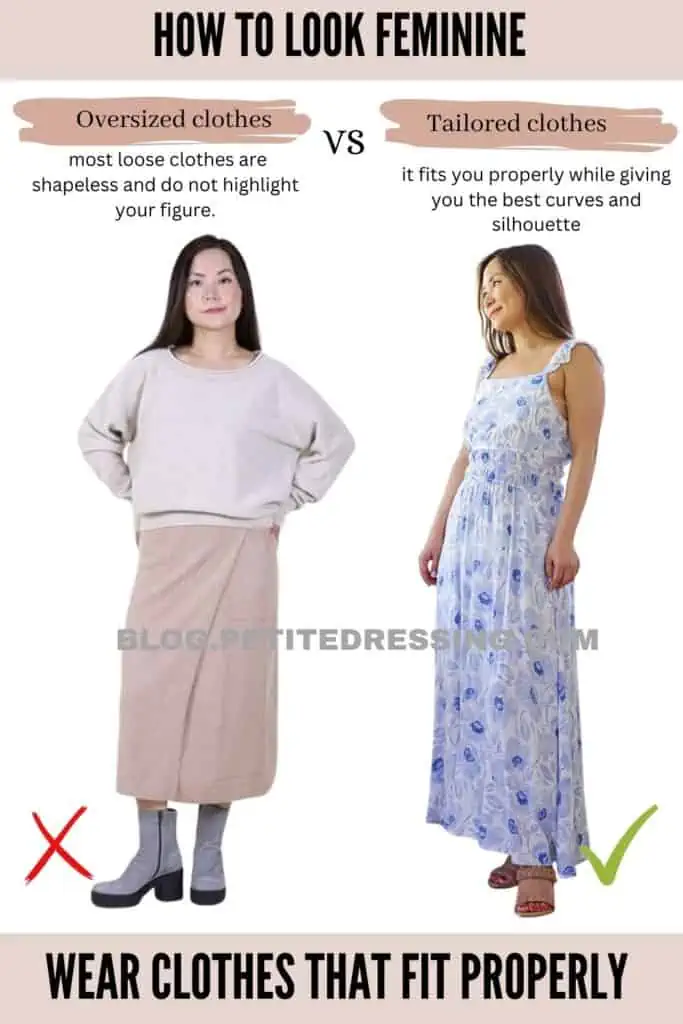 Proper fit is essential to looking feminine. Avoid clothing that is loosely fitted, because most of those clothes are shapeless and do not highlight your figure. Most clothes require some tailoring to achieve a perfect fit, invest in necessary alterations, like this Square Neck Fit and Flare Dress ($52.99).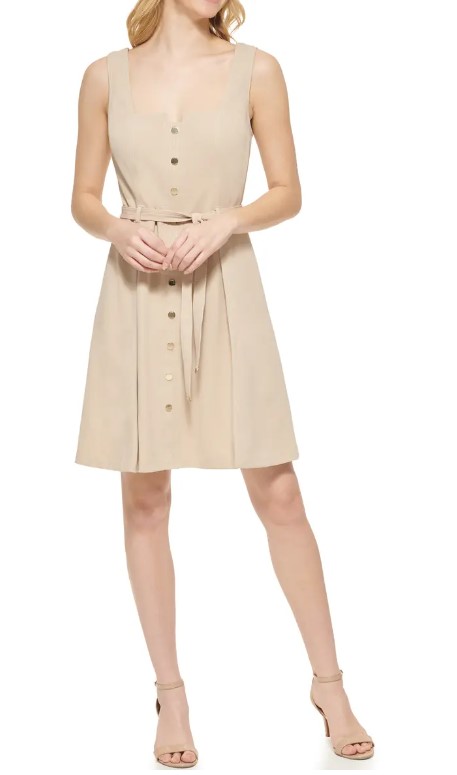 Wear Feminine Fabrics
A sure-fire way to look feminine is by selecting garments made of fabrics that are feminine on their own.Fabrics such as lace, silk, chiffon, etc. are classy and feminine picks,
Different fabrics provide different style aesthetics, like this Satin Long Sleeve Jumpsuit ($358.00)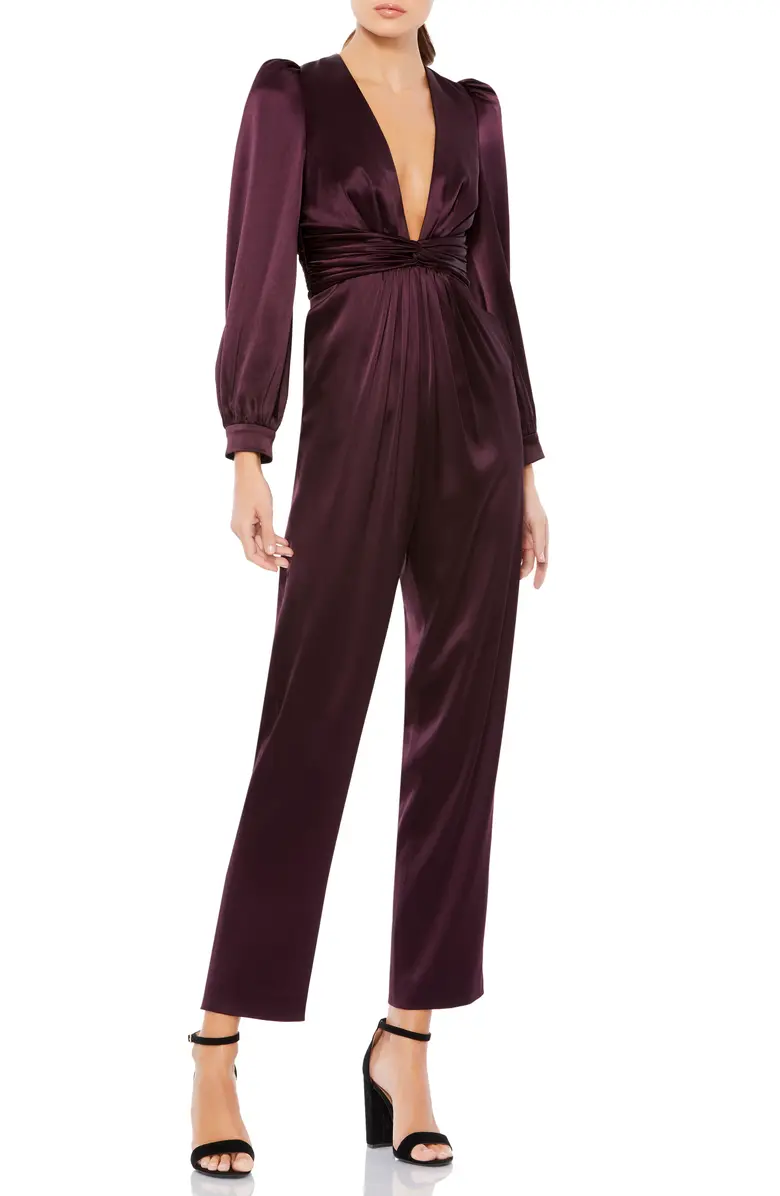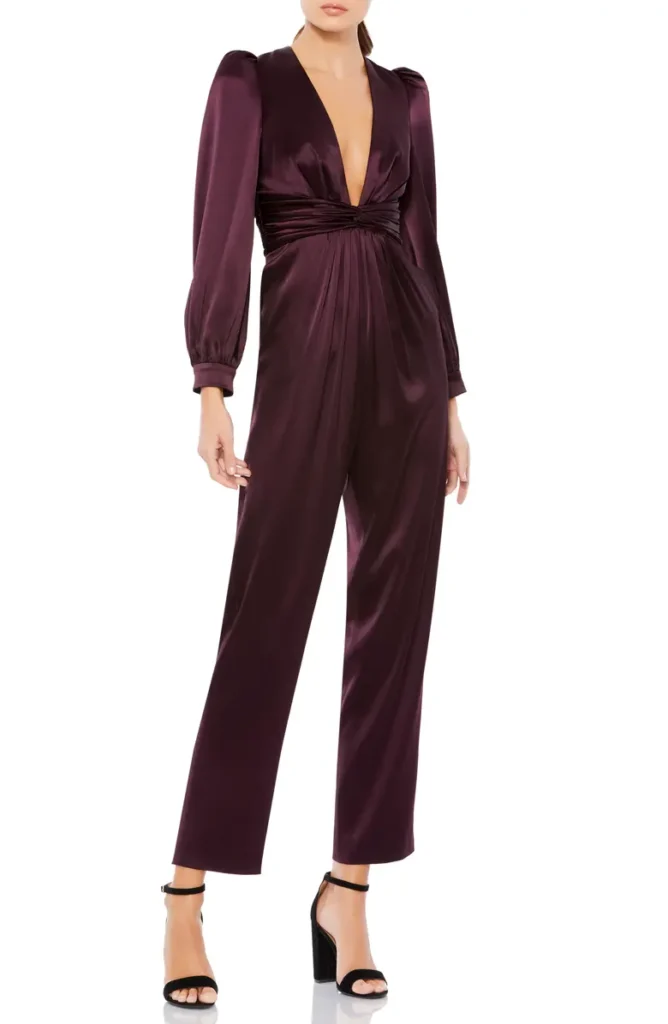 Wear Dresses and Skirts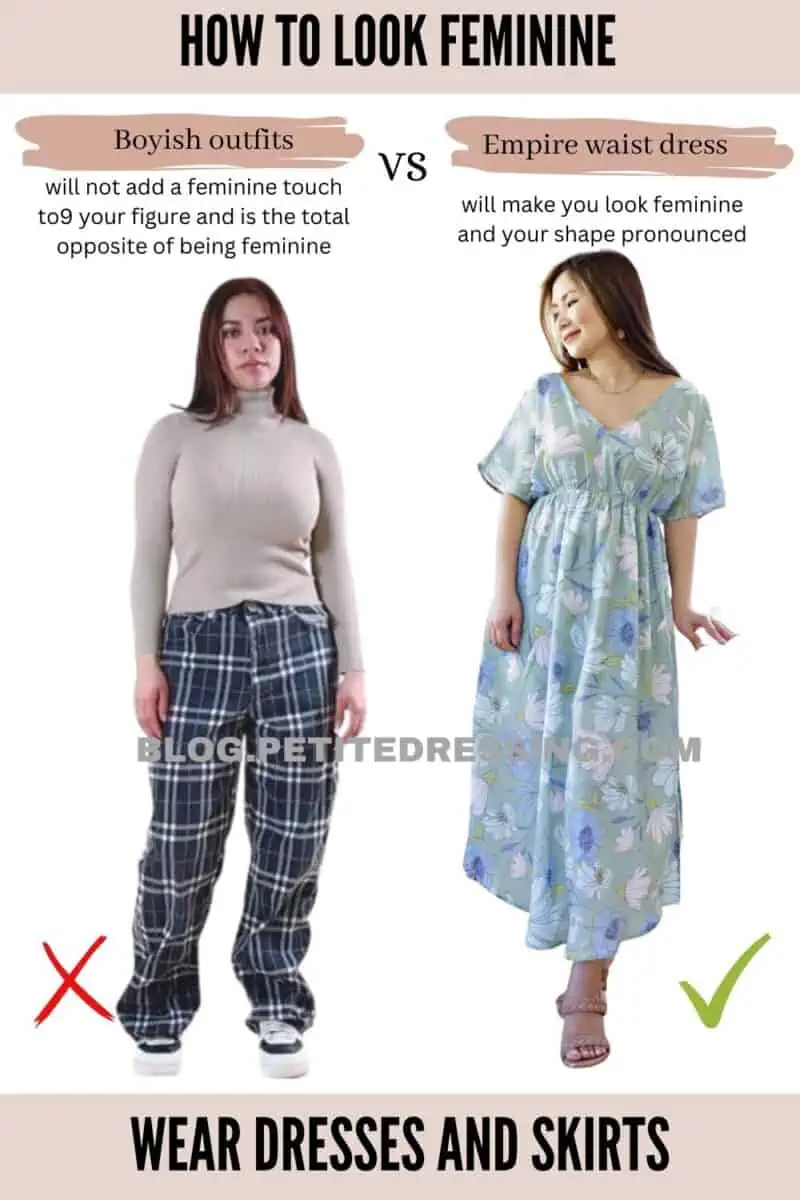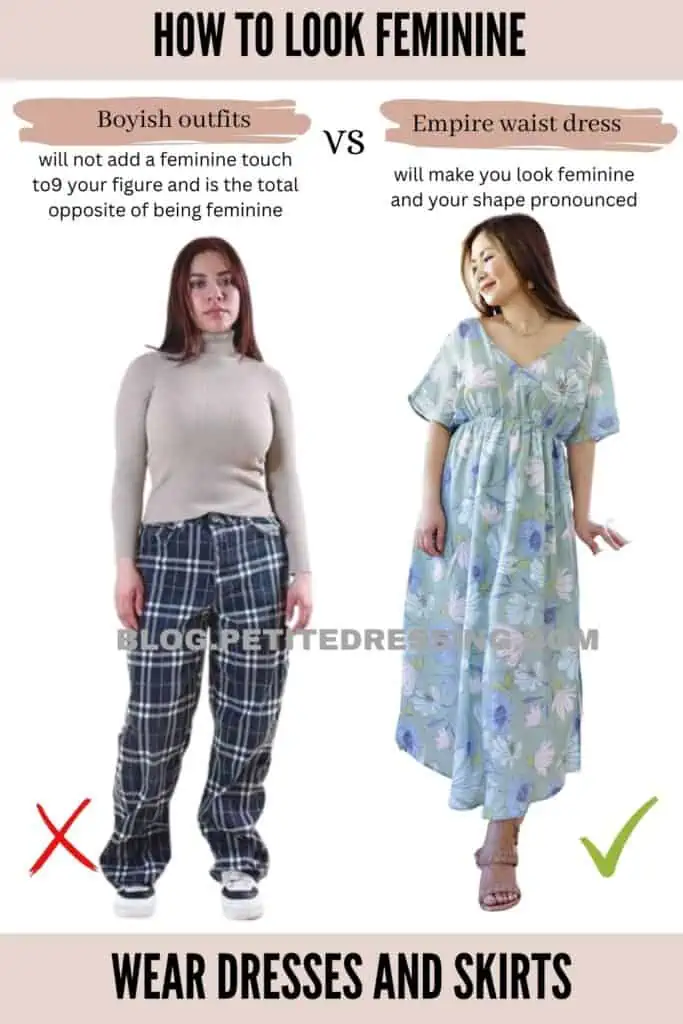 It's no secret that dresses and skirts epitomize feminine style. They're pieces that are exclusive to women's fashion.
Anytime you want to ensure you look feminine in an outfit, opt for a dress or skirt.
Just about any silhouette will look feminine, as long it flatters your body shape and fits properly.
One of my top picks for the dress is this Satin Twist Front Slip Dress ($88.00) from Nordstrom Rack, which I find very feminine, especially for women who have nice curves.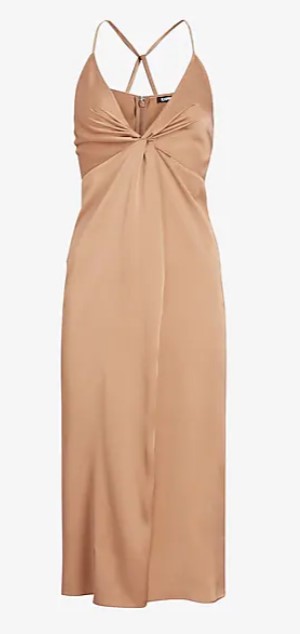 Incorporate Girly Details
Details, in any style aesthetic, play an important role. Look for traditionally feminine details in clothes and accessories. Think bows, ruffles, pearls, and lace just to name a few.
Even wearing these details in small doses can transform your look to feel more feminine. You can try this Halter Tank Blouse ($59.00)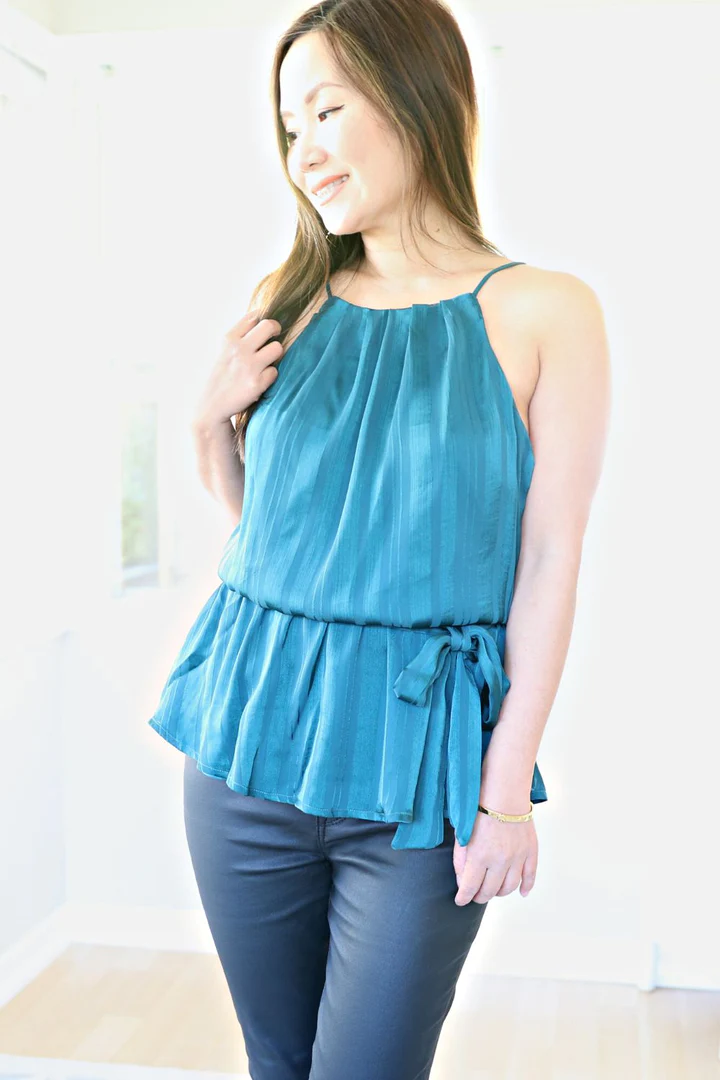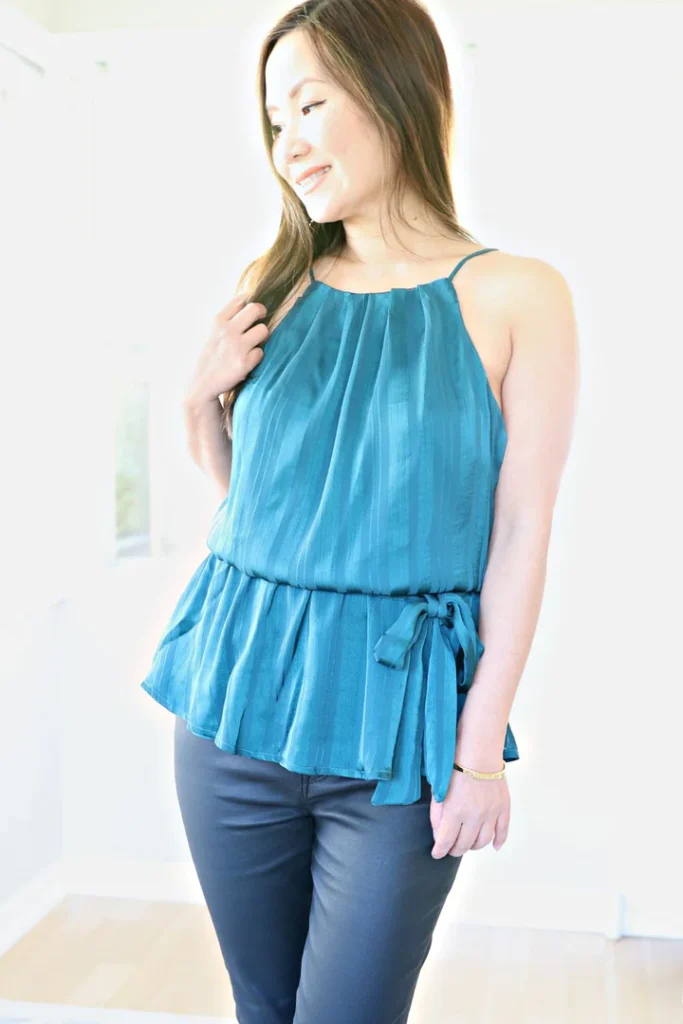 Wear Heels
Shoes can make or break an outfit, they can also help you look more feminine. The easiest way to achieve a feminine look is to wear heels. Traditionally, women would only wear heels with dresses or skirts, but you can totally wear high heels with jeans or pants, to make the otherwise casual outfit look more polished and dressed up.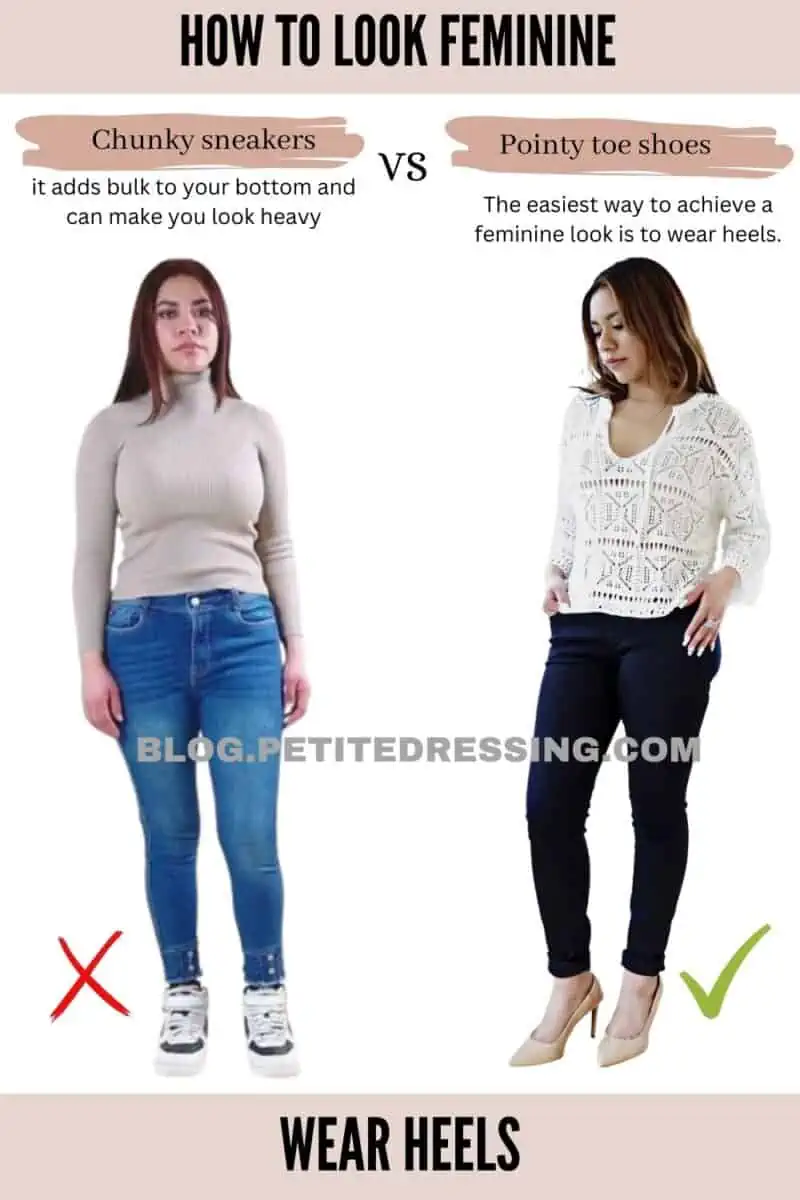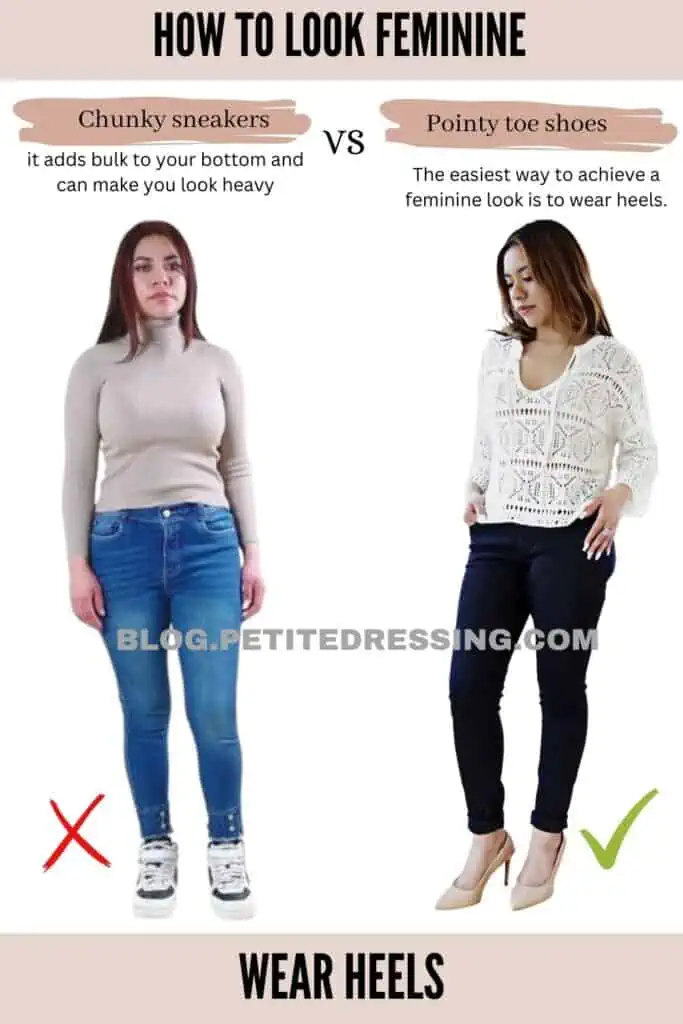 Typically, the more slender the heels are, the more feminine they look. Therefore, a stiletto is generally a good choice to make your outfit look womanly. That doesn't mean you have to wear 5-inch high heels in order to look and feel feminine. A kitten heel is another great choice that achieves a balance between sexy and comfortable, like this Women's Goldie Kitten Heel ($89.99).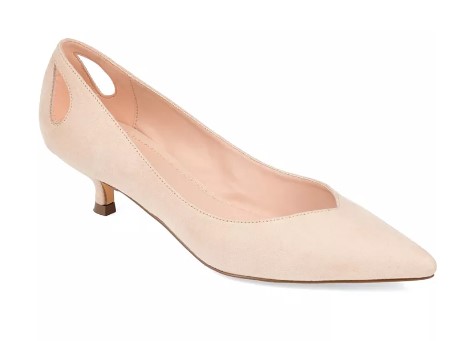 Shoe styles like pumps and strappy sandals are generally flattering to any woman who wants to look feminine.
Wear Mermaid Silhouette
Of all the silhouettes of dresses or skirts, the mermaid shape is the most feminine. This shape accentuates your waist and brings attention to your breasts.Nothing is more womanly than the mermaid silhouette.
Whether you are choosing a dress or a skirt, consider the mermaid shape because this is the ultra-feminine shape, like this Lace Mermaid Dress ($348.00)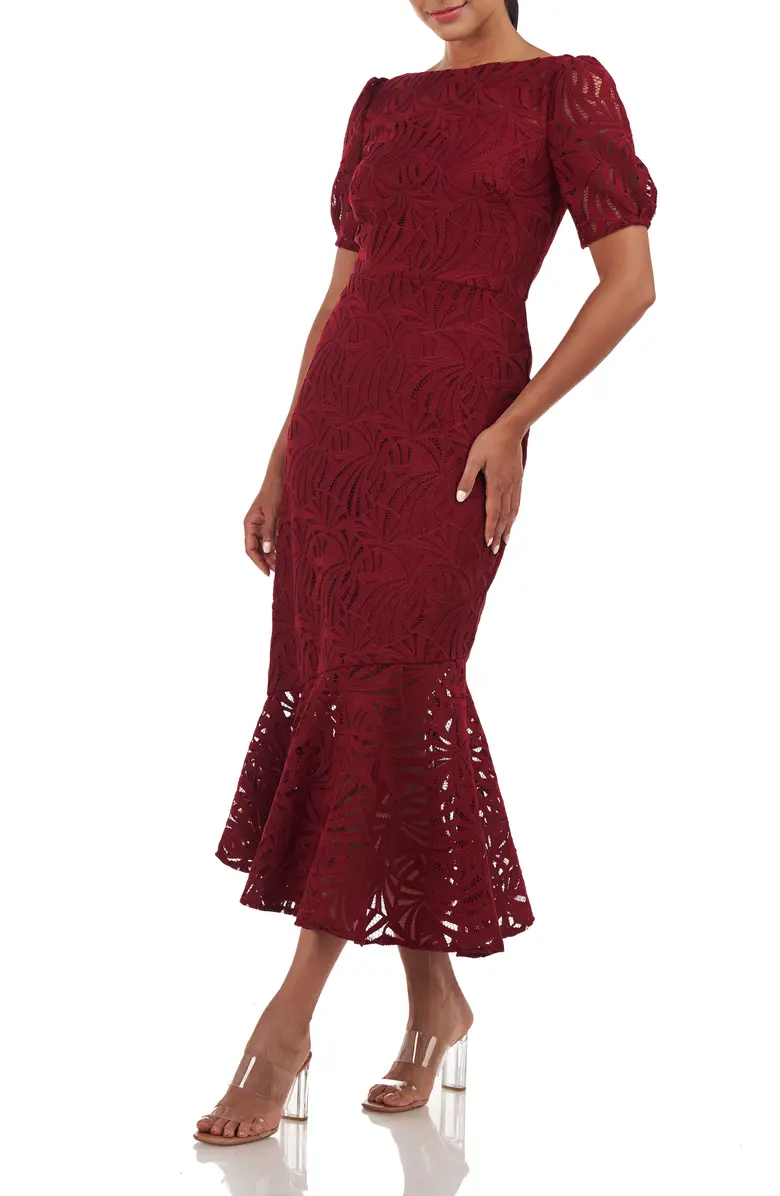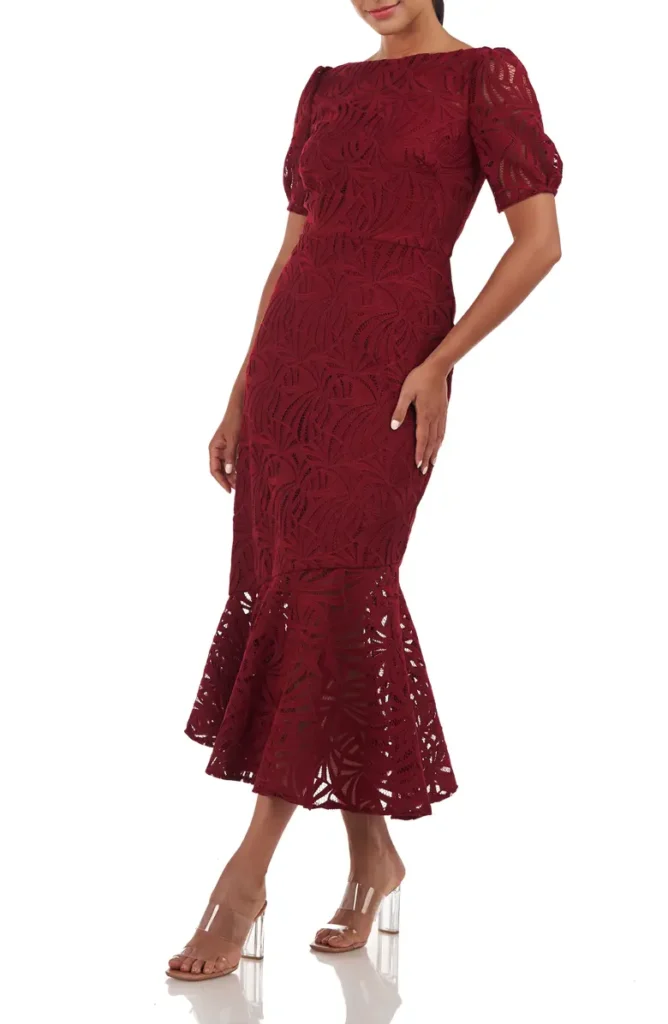 Wear Shoes with Feminine Details
If you for some reason cannot wear heels or do not like to wear heels, then that doesn't mean you can't look feminine. You can focus on flat shoes that offer a feminine feel to them. Go with flats with pointed-toe flats or strappy flat sandals, which are the feminine classics.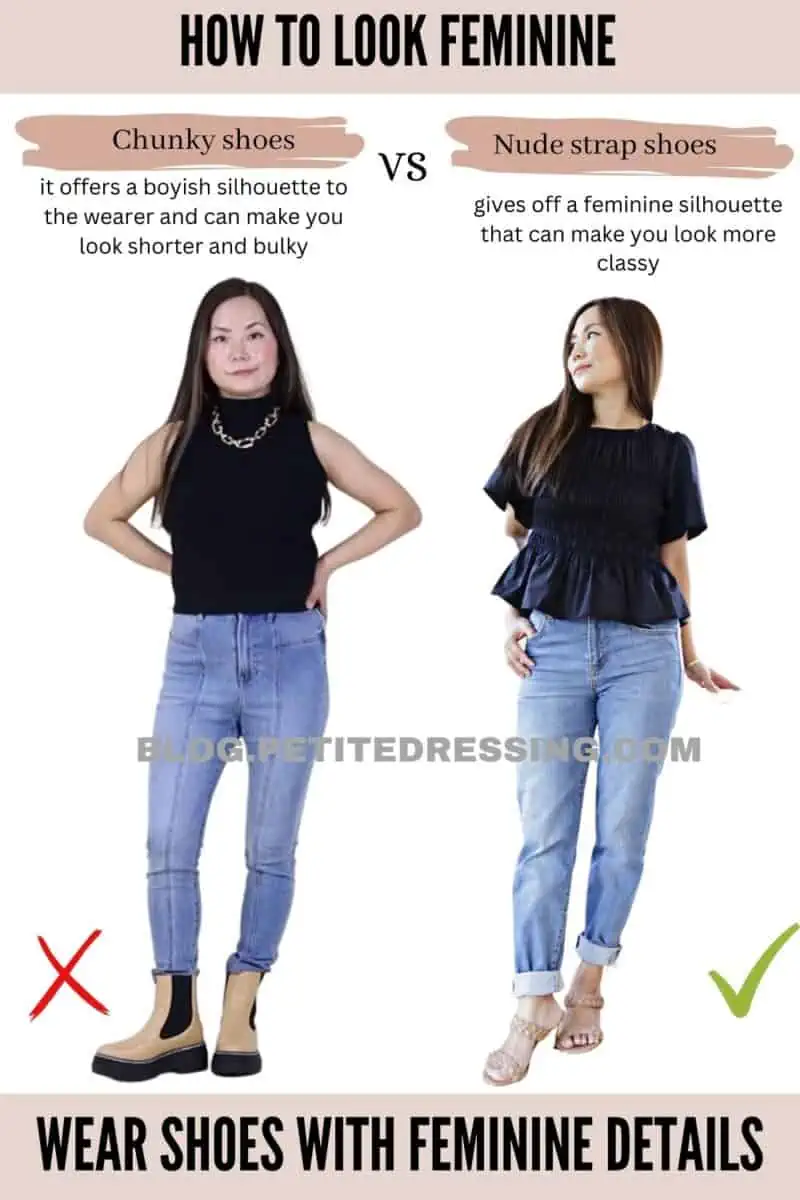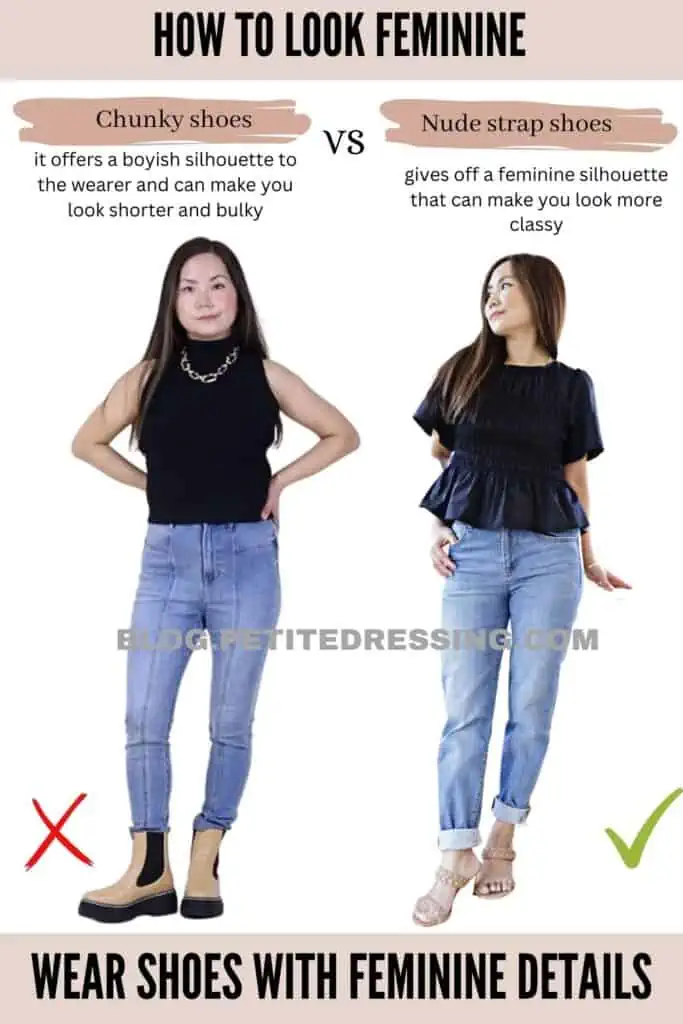 Avoid anything too tight
Looking feminine does not mean you should be wearing skin-tight clothing either.
Some might think bodycon dresses highlight your curves, therefore they must be the most feminine clothes to wear. However, you must strike a balance and not go overboard.
Being feminine means you look classy and appropriate for the occasion. Wearing bodycon dresses might be okay if you are in your 20s or going clubbing, but they might look too much for any other age group.
Some might think bodycon dresses highlight your curves, therefore they must be the most feminine clothes to wear. However, you must strike a balance and not go overboard.
Being feminine means you look classy and appropriate for the occasion. Wearing bodycon dresses might be okay if you are in your 20s or going clubbing, but they might look too much for any other age group.
Avoid too loose or too tight, and the middle ground area is perfect for a feminine aesthetic, like this Wrap Front Peplum Top ($38.40).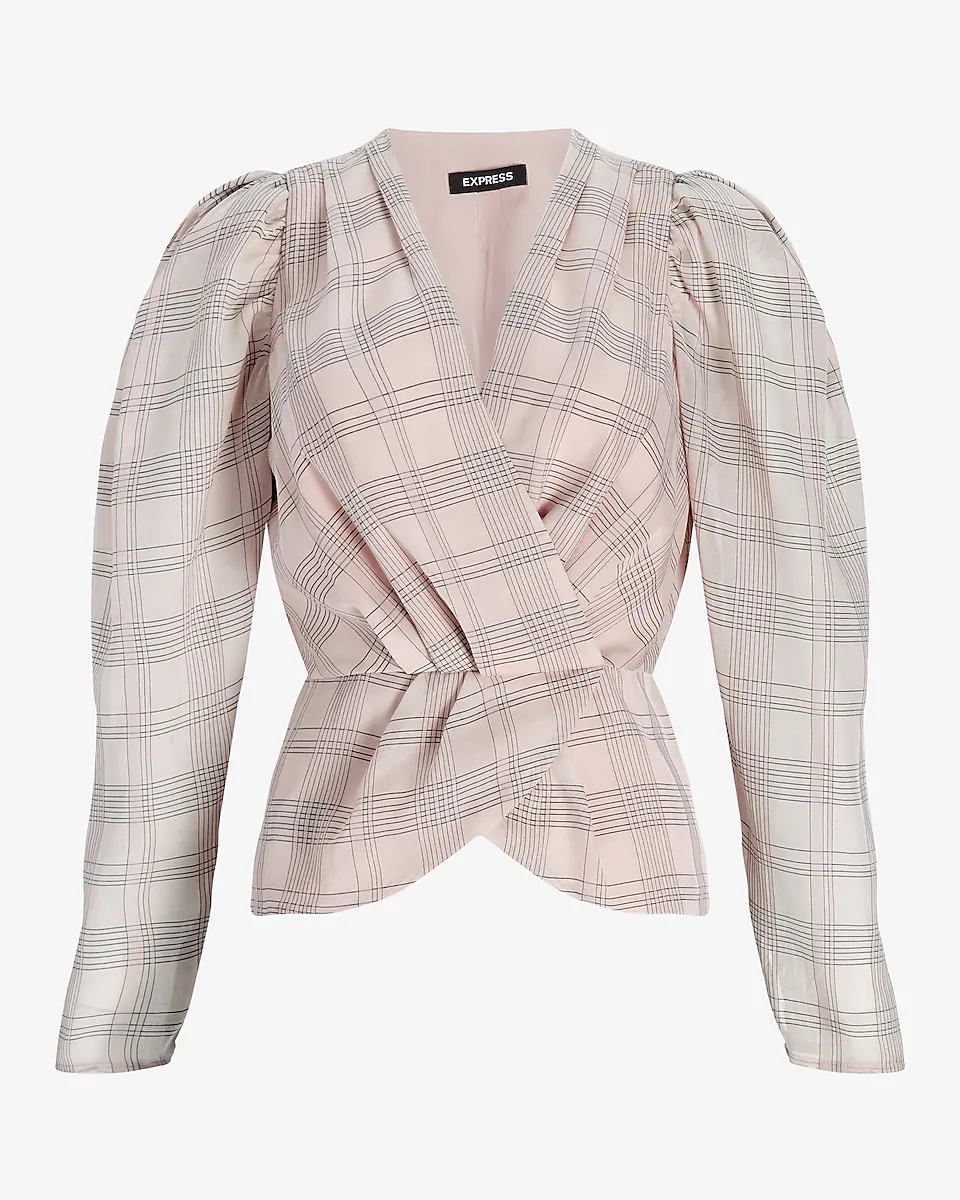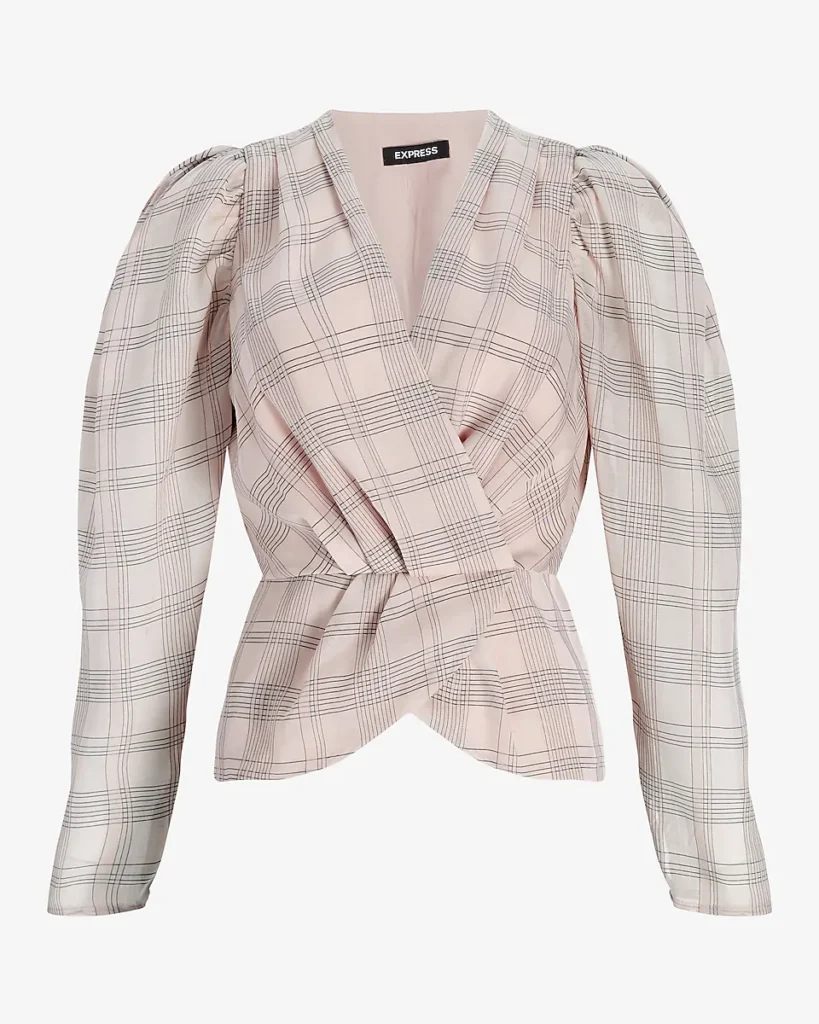 Opt for Delicate Jewelry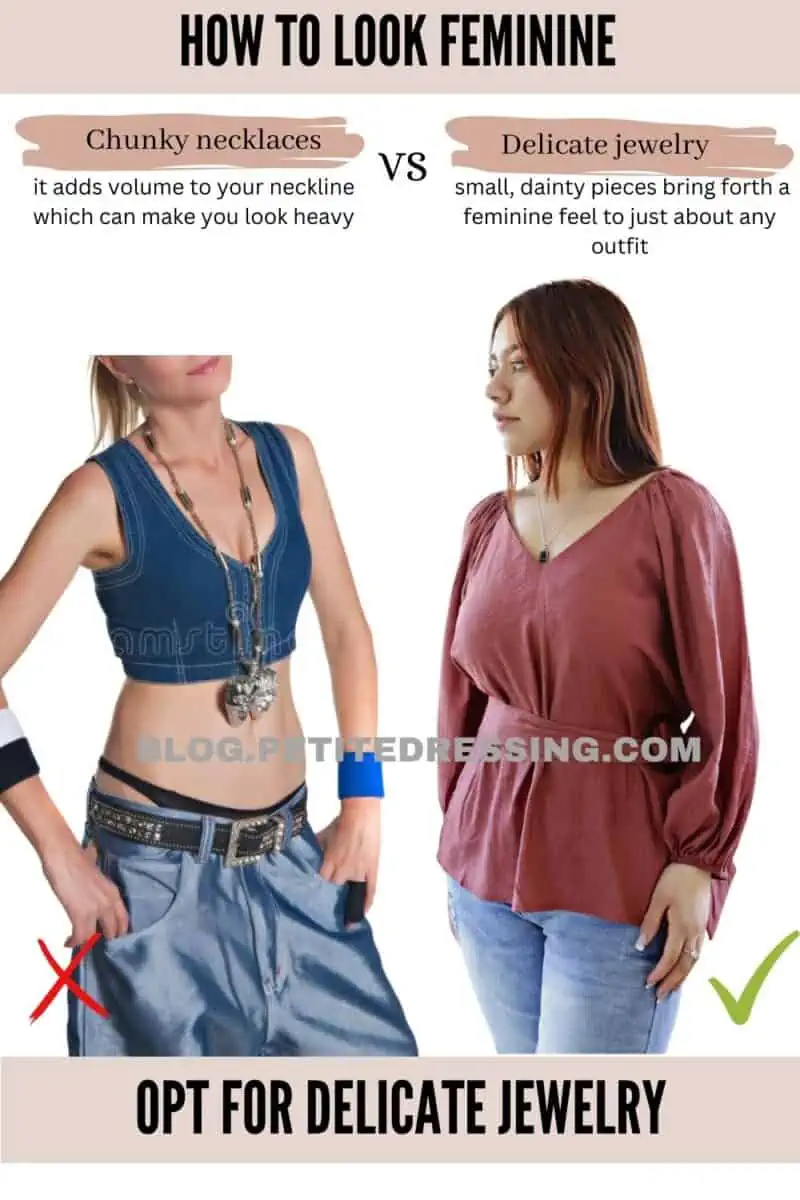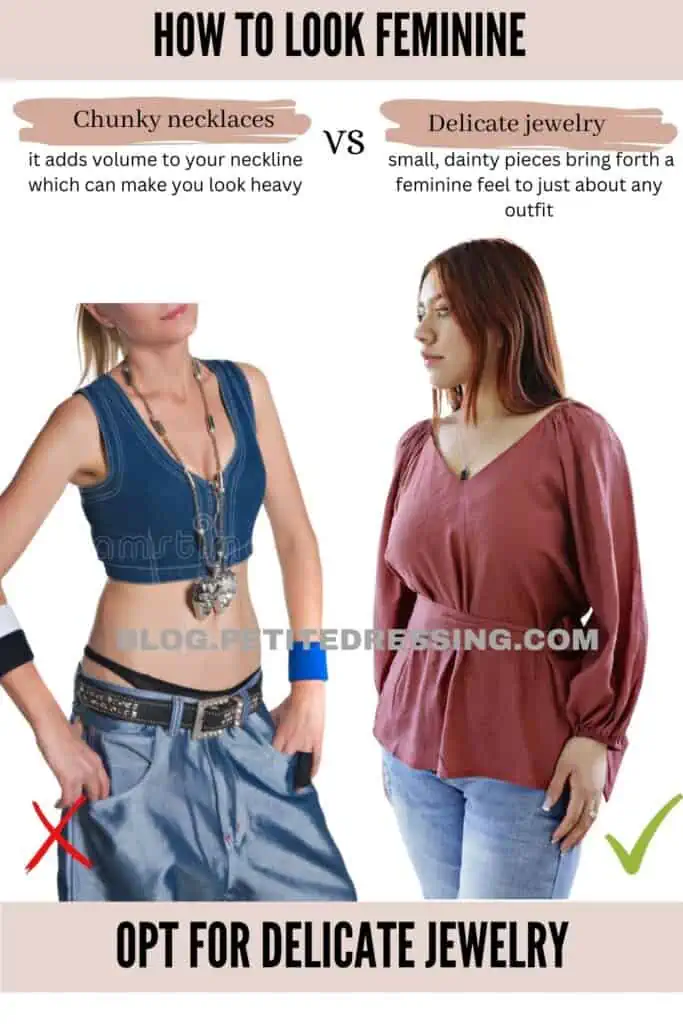 Another element that completely shifts the overall look: jewelry. When you want to look feminine it's wise to opt for pieces that are very delicate. Those small, dainty pieces bring forth a feminine feel to just about any outfit. Even if you wear something simple like a t-shirt and jeans, styling a couple of delicate layering necklaces shifts the feminine touch.
Wear Red Lipstick
If you want to look feminine, then red lipstick is a must.
Even if you are wearing the plainest clothes in the most basic color, once you put on red lipstick, you will immediately look much more feminine.That is the magic of red lips on a woman!
If you only have 5 minutes in the morning and there is only one makeup you can do, then make sure you put on red lipstick. Carry it with you at all times because you never know who you will run into.
Avoid Heavy Makeup
I just talked about how important red lipstick is, but that doesn't mean you need to be wearing heavy makeup doing day time. Contrary to popular belief, super-heavy makeup isn't necessary for achieving a feminine look. Stick with a minimal, natural makeup approach to bring out your natural features.
If your lip is already enough pop of color, then go more natural with your eye shadow. Don't do your makeup overboard is the best way to look feminine and natural.
Refresh your Makeup
This is a common mistake that I see so many women make. They leave the door with perfect makeup, but after lunch, they look totally different. By the time they finish work and come home, they no longer look like the same polished woman this morning.
It is natural that throughout the day our makeup will change, as we sweat. That is why it is important to always bring a mirror, touch-up powder, and lipstick in your bag so that you can fix them up.It is also important to make sure you reapply lipstick after your lunch, or even dinner if you are out with an important client.
The seemingly small things can totally make or break your image of being feminine!
Adapt More Color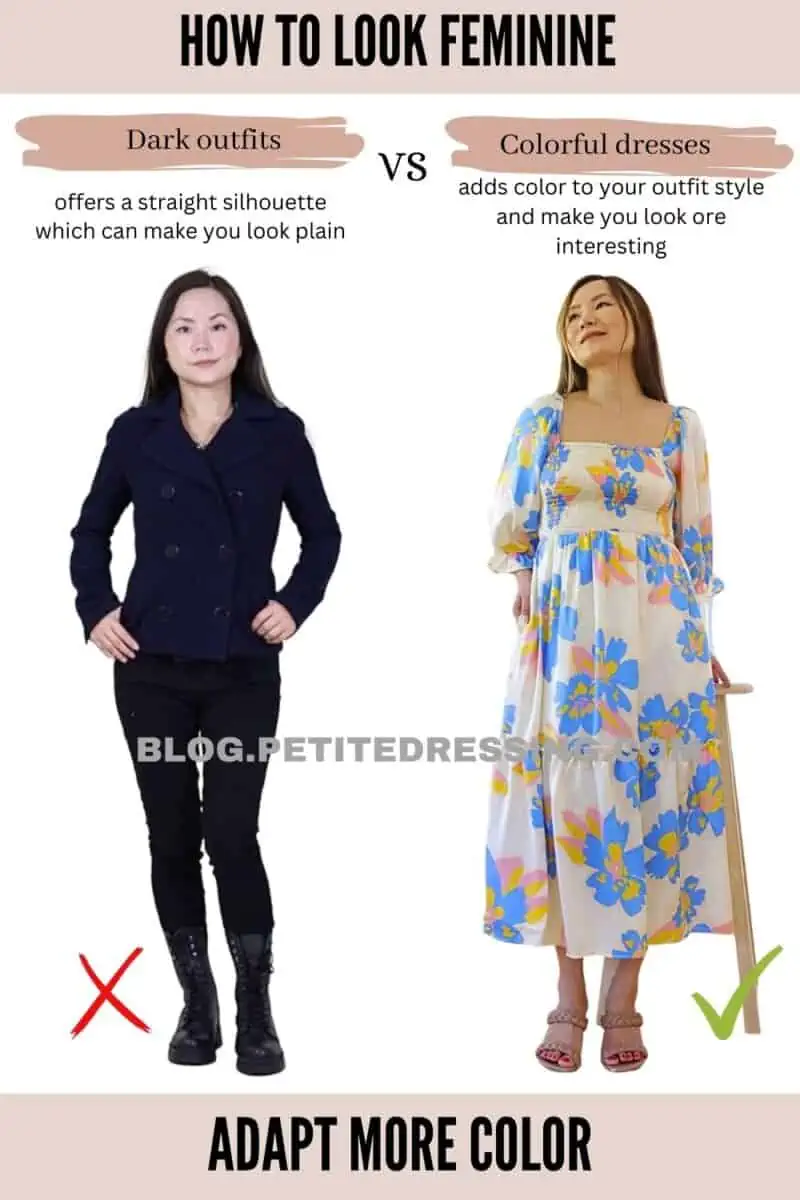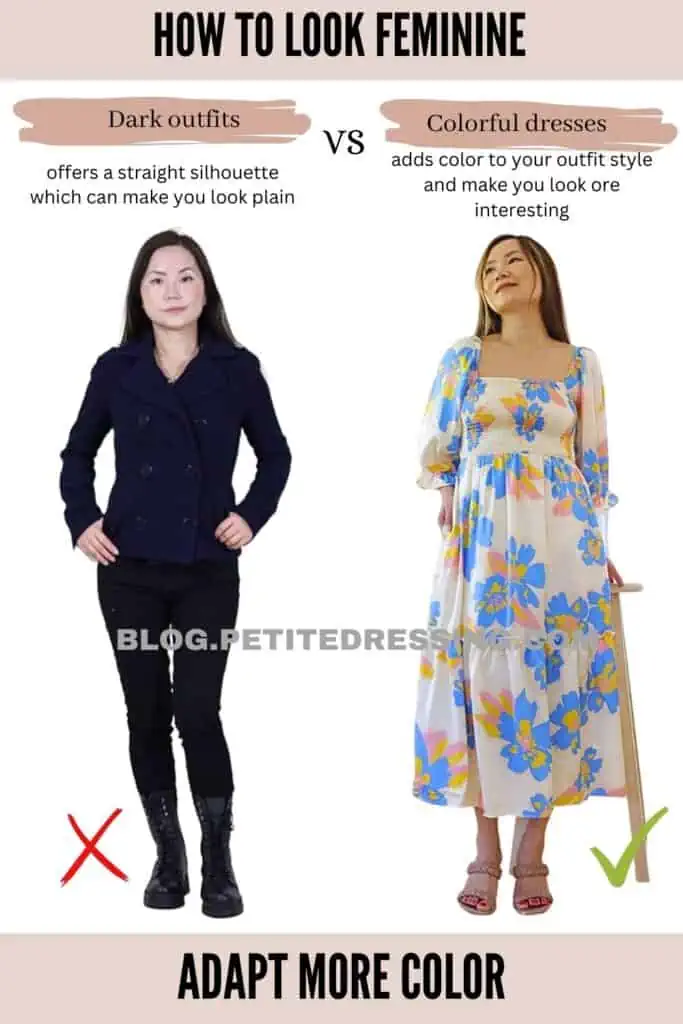 Neutrals are classics, but to add more of a feminine flair to your style you will want to begin incorporating more color. Pink and red are synonymous with feminine style, however, plenty of other colors can do so. Jewel tones and pastels are gorgeous, feminine options.
Refresh your Lingerie
A very common mistake I see many women make is that they invest everything in outfits but do not pay enough attention to their underwear.
The thing about underwear is that they may not necessarily be seen by anyone but you, however, they are very important to make you feel like a woman.
When you are wearing old and dated underwear from 5 years ago, they become just a basic item in your drawer and they do not add any value to make you feel good about yourself.
When you invest in new lingerie with feminine details such as lace or silk, they instantly bring joy to you and you will feel more womanly in any outfit you wear.
Don't Forget to Style your Hair
To look more feminine you will want to complete your entire look by styling your hair. Extremely challenging hairstyles aren't necessary, keep things simple and pretty. Hairstyles like big loose curls or waves with hair worn down or a simple ponytail and headband are perfect.
Avoid Any Boyish Garments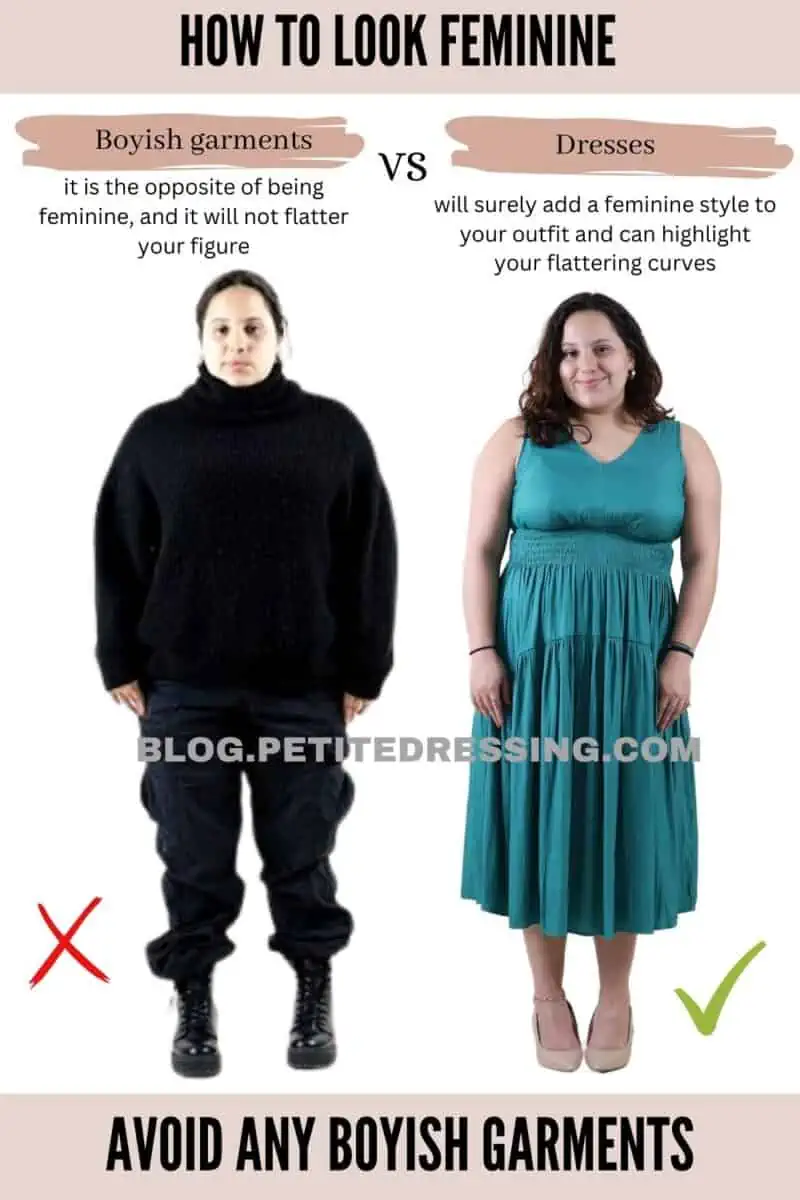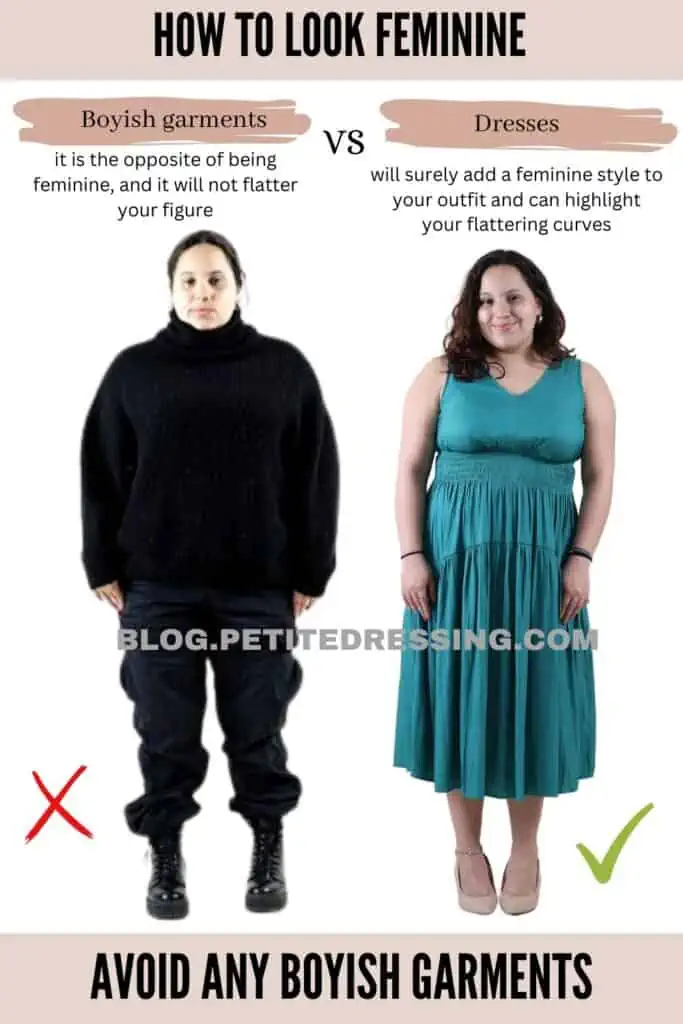 Clothes that have a tomboy aesthetic are pieces to stay away from when you want to look feminine. As fun as those pieces are, they portray a style that's quite opposite of feminine.
One example is boyfriend jeans, which are one of the trends in recent years.Because they are loosely fitted and are usually worn with sneakers and T-shirts for a casual outfit, they are not the best choice if you want to look feminine.
Be Selective with Pantsuit
A pantsuit is one of the signature looks that downplay gender appeal. When women wear pantsuits, they emphasize the authoritative image instead of a feminine image. Certain professionals such as lawyers or investment professionals intentionally request women to wear pantsuits in order to bring focus to their professionalism to win clients' trust.
If your goal is to add a feminine touch to a professional outfit, then go with a skirt suit instead of a pantsuit. If you have to wear a pantsuit, then try a different color than black, grey or navy. If your profession allows, wear a more feminine color such as ivory, cream or beige.
If your profession requires wearing the most traditional pantsuit, then consider wearing a pair of bold color heels to look more feminine.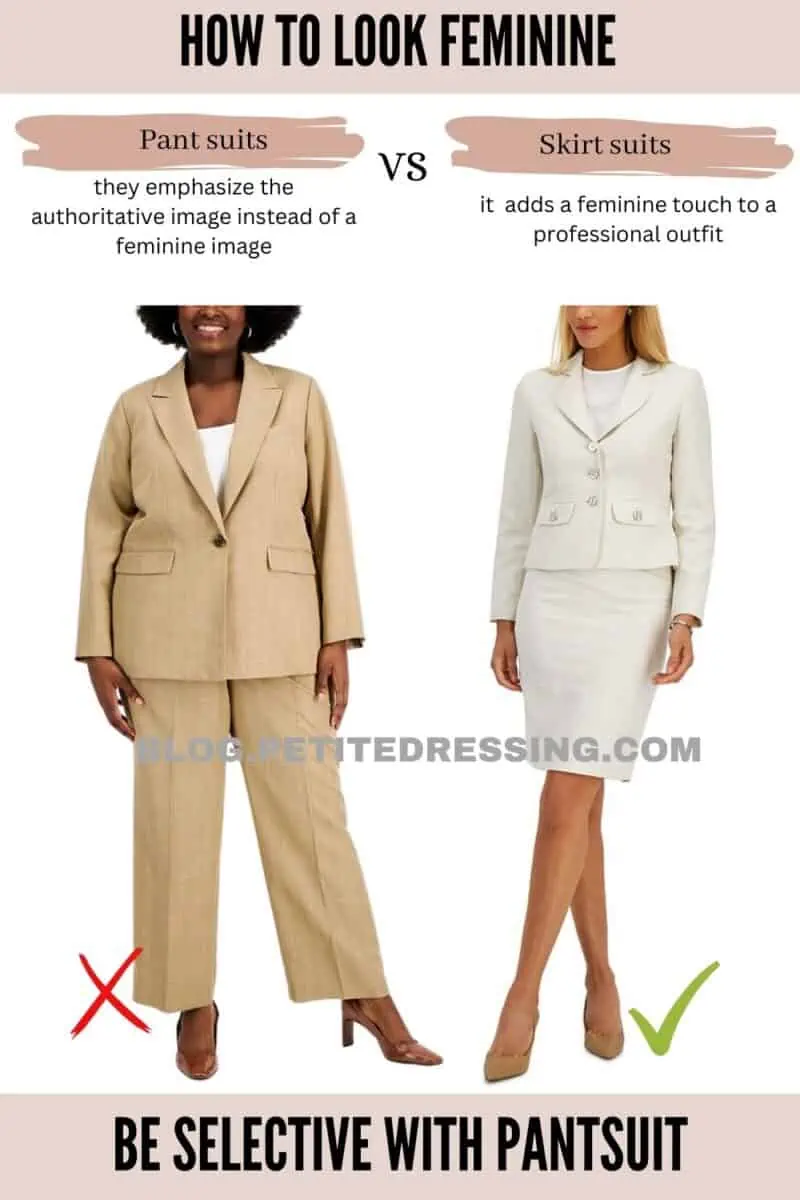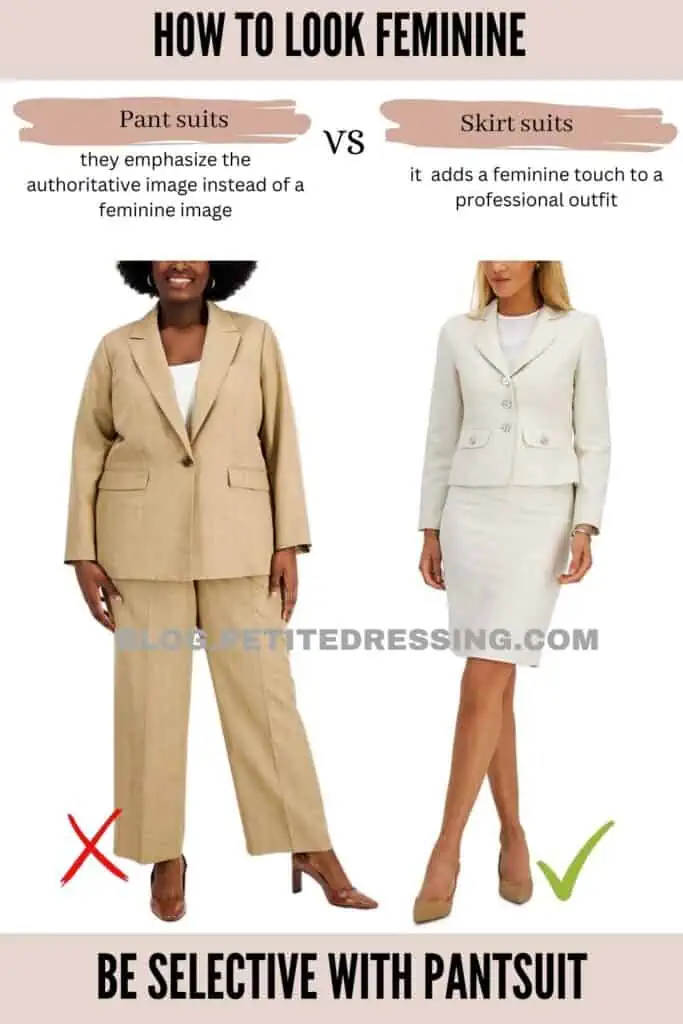 Add Perfume
Don't leave the house without it! The finishing touch to any feminine look is most certainly perfume. Spritz your favorite scent onto the insides of your wrists, nape of the neck, etc. to add just enough perfume to your body without overpowering.
Skip the Gender Neutral Trend
The neutral gender trend has been in the fashion spotlight in recent years. Some gender-neutral staples are oversized coats, loose-fitted blazers, and loafers.
As you can tell from the name of the trend, these clothes are designed so that either women or men can wear them. So, they are the exact opposite of feminine style. If you are interested in looking attractive and womanly, then this trend is not your best friend.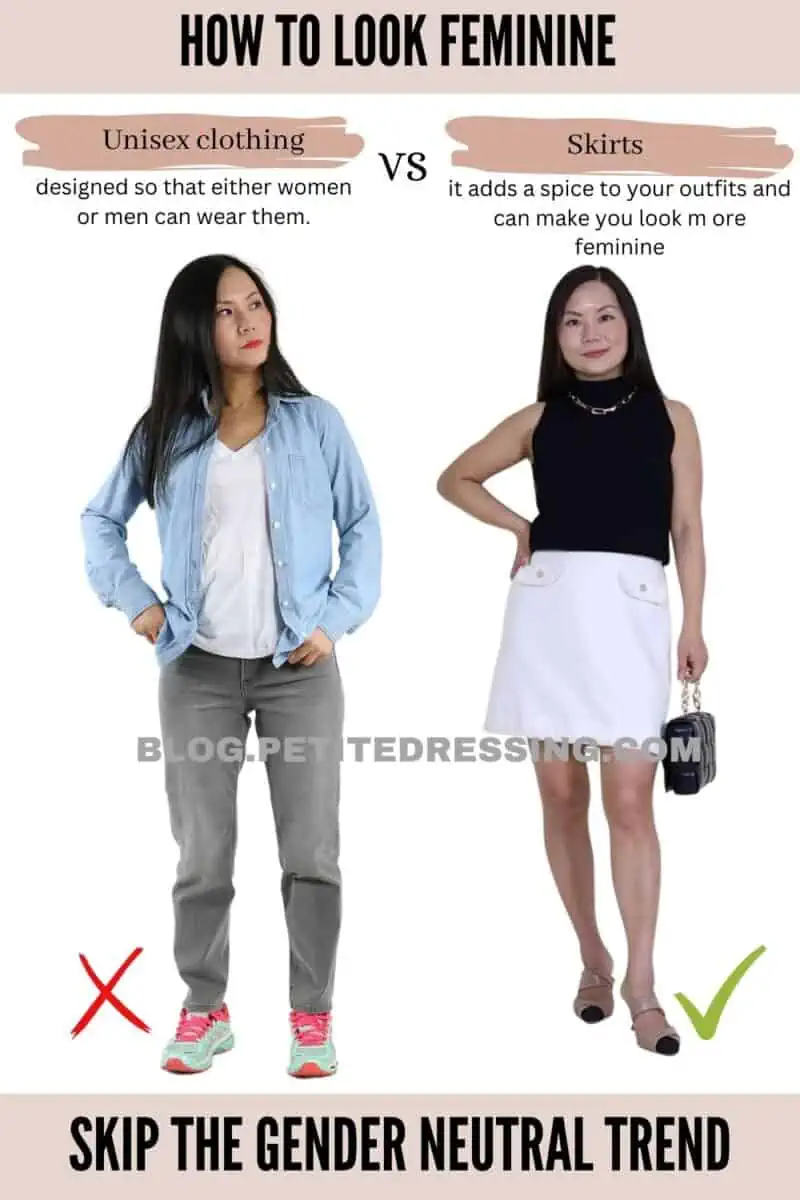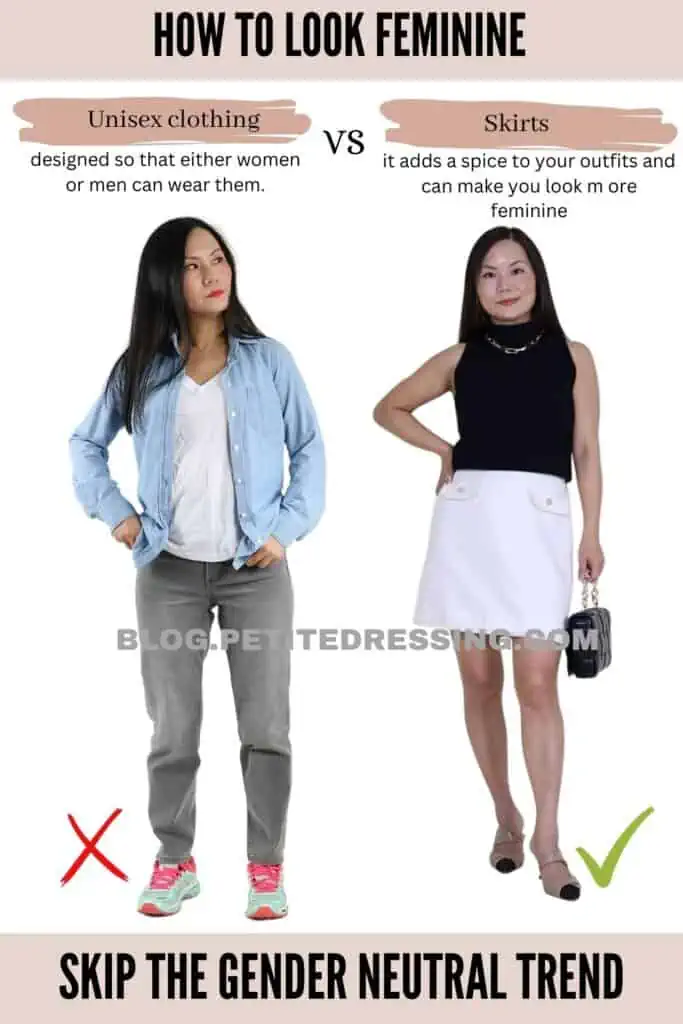 Pay attention to Details
There are some smaller things that many women forget to pay attention to because they focus too much on clothes and shoes. Even though their outfit and make-up are perfect, ignoring these details will leave the impression that is the opposite of being feminine.
Some examples are keeping shoes dust free, making sure no wrinkles on the shirt, and no yellow stein on white tops.These things seem to be very minor, but when you don't pay enough attention to them they can ruin your whole impression of others.
Be Accommodating and Receptive
The last one is not exactly about what you should wear to look feminine, but it is about having a feminine attitude. A feminine woman is someone who is caring and accommodating to others. That doesn't mean you lose your own identity, but it means you are receptive and loving, just like what nature expects in the female gender.