Maxi skirts are one of the classic wardrobe classics every woman should own. While it is tempting to think they are meant for taller women, they can also be one of the most flattering pieces on shorter women because they can elongate your figure and make you look taller.
Traditionally maxi skirt outfits are most commonly worn in the hot weather. Since maxi skirts are made from softer materials which feel great on your skin and will keep you from sweating excessively, they are most popular during summertime as they are comfortable. You can also wear them to the beach as they will give you some extra protection from the sun.
Maxi skirts are highly versatile and can work as transitional pieces for fall and spring outfits, or even well into the winter. Their versatility also makes maxi skirts suitable for different environments such as events and even workplaces. Maxi skirts, despite covering you almost completely on your lower body, can be fun and flirty. Here are some of the best outfit ideas on what to wear with maxi skirts:
With a blouse
A blouse will look flattering with a maxi skirt regardless of the skirt fabrics or style.
A blouse is one of those pieces that work great if what you're after is a ladylike look. They look great for the office but they can also be worn with more casual pieces for a classy finish. Wearing a blouse with a maxi skirt makes one of the most feminine outfits that are easy to put together because the top and bottom are both soft and flowy.
The best maxi skirts for this outfit are the common maxis that flare from your waist downwards. This is because they make your waist look even smaller.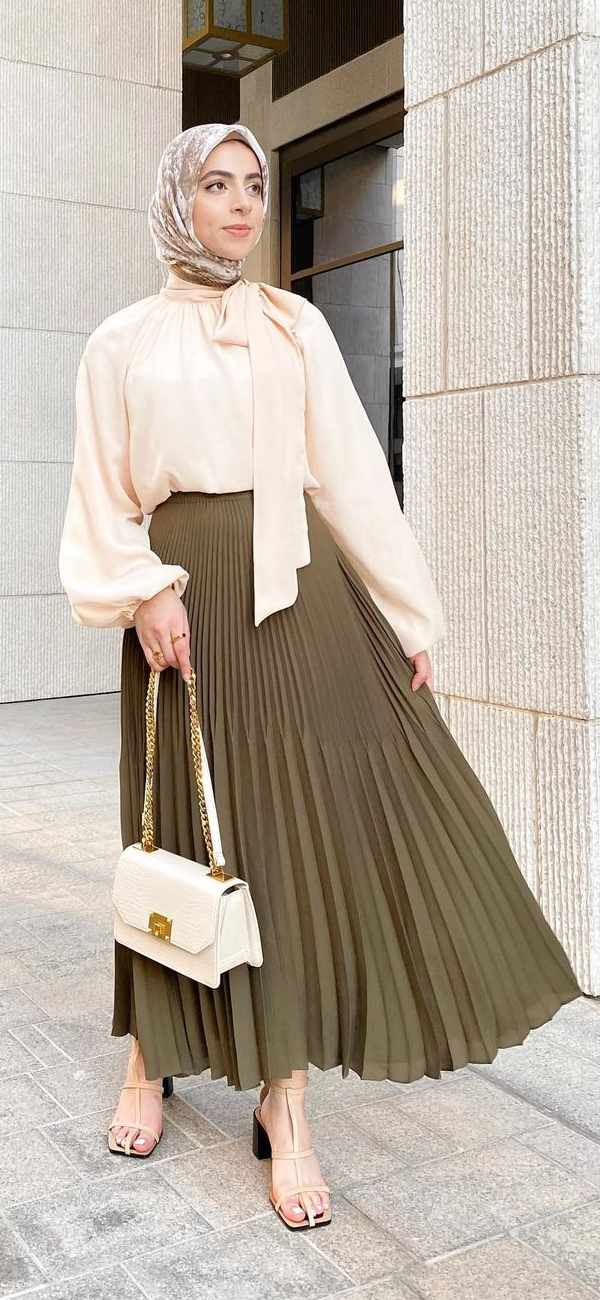 Rowayda (above) styled her green pleated maxi skirt with a blouse. It's a blouse with a bow and long sleeves that gives her a modest look.
You could also go for a short sleeve blouse. If you feel like the bow is too much for you, you could go for one in a simpler style, or better yet, a plain blouse.
With a denim jacket
One of the best pieces you could style with a maxi skirt is a denim jacket.
Denim jackets are comfortable, strong and just never go out of style. They can be worn regardless of the season of the year and are flattering to different women regardless of their body size and shape. Denim jackets are also very versatile so you never really have to think too hard about what to wear them with.
Even though the most common colors for a denim jacket are blue and black, you don't always have to go for just these two. There are different colors for denim jackets such as white and several others.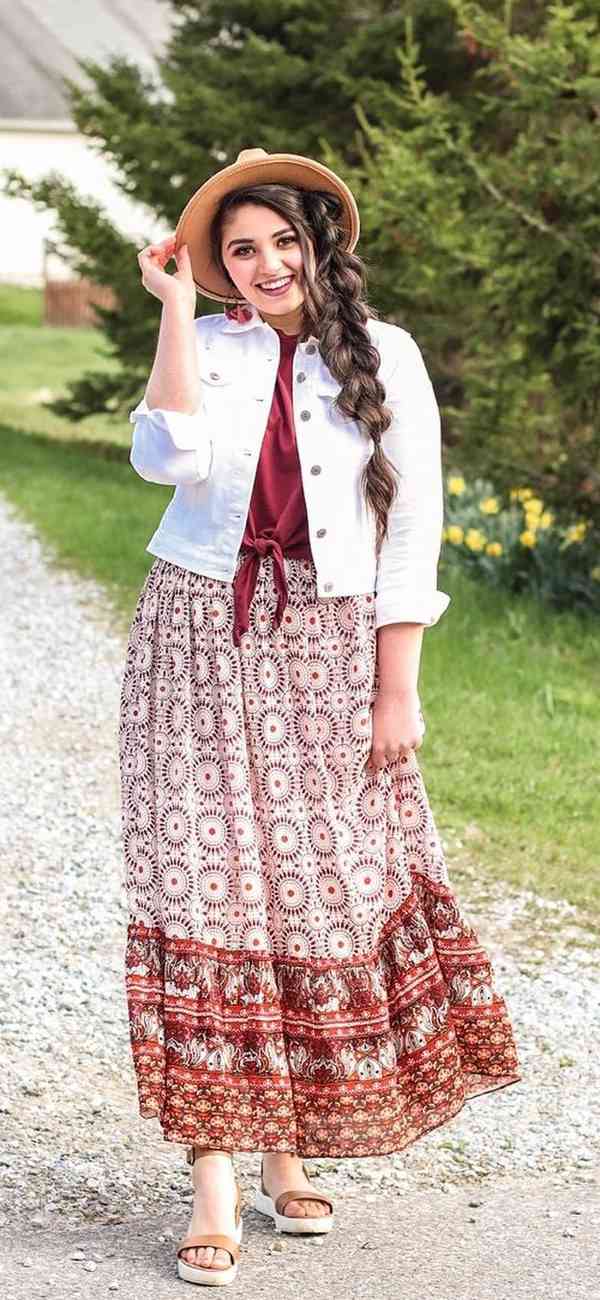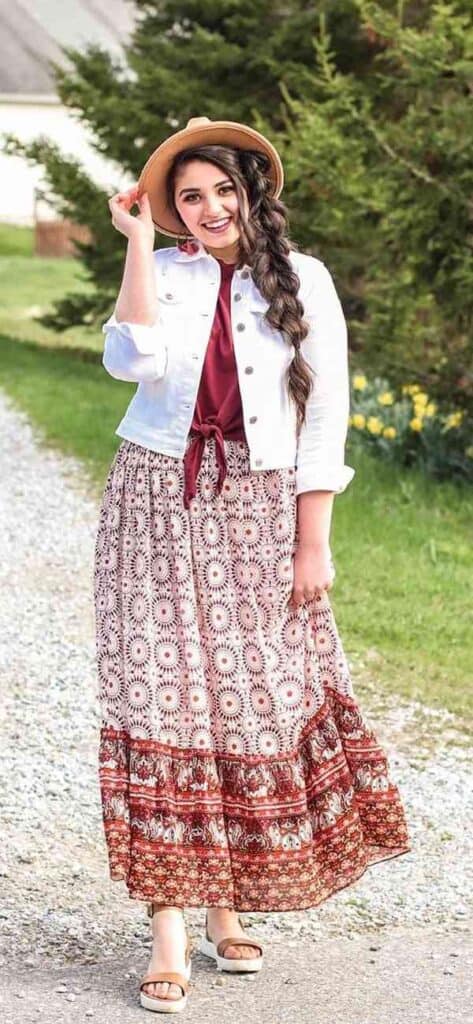 Elizabeth (above) styled her denim jacket with a burgundy top and a printed maxi skirt.
It's always a great idea to pick a top in a color that can be found on your maxi skirt before you layer your denim jacket over it.
With a leather jacket
Wearing leather jacket with maxi skirt is a fashion forward outfit with a cool girl vibe.
A leather jacket is a classic piece and it's also timeless. They come in different colors and designs, which can add an extra edge to an outfit whether it's feminine or a casual one. They are also available in different lengths and a cropped leather jacket works great when styled with a maxi skirt.
You can wear an animal print for a trendier look. However, you can still go for a simpler maxi skirt when wearing a leather jacket. The jacket makes your maxi skirt outfit a great transitional one for fall weather.
With a denim shirt
A denim shirt is a great piece to have in your closet as it goes well with just about anything you can think of wearing, provided you are going to a casual environment. Denim shirts are comfortable and give a young look. The denim fabric also works well with different others such as chiffon, leather, suede, just to name a few.
It's another great transitional look that would work especially before it gets extremely cold outside. If you feel like the boots are a bit too much for this look, then you can switch the shoes for a pair of sandals.
With a cardigan
You can pair a cardigan with a maxi skirt in different ways.
A cardigan, just like a sweater, is a functional piece that will keep you nice and warm. You can go for lighter cardigans in the springtime to wear them all the way until summer.
You could wear a long cardigan with the maxi skirt. Alternatively, you could wear a shorter one and tuck it into your maxi skirt.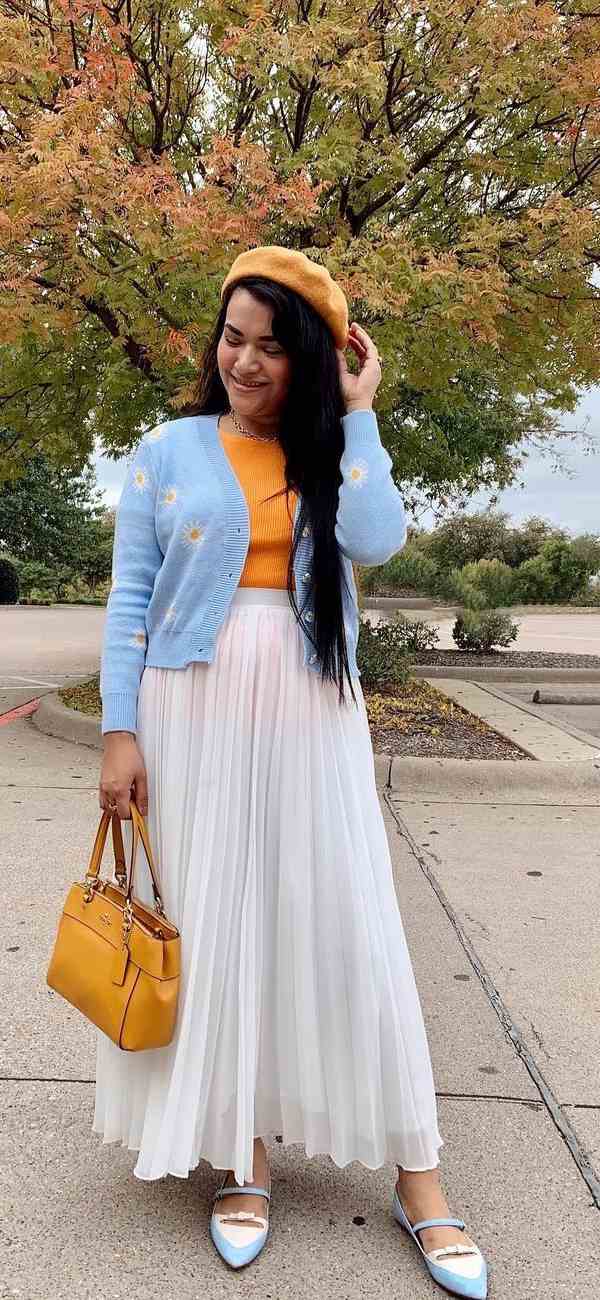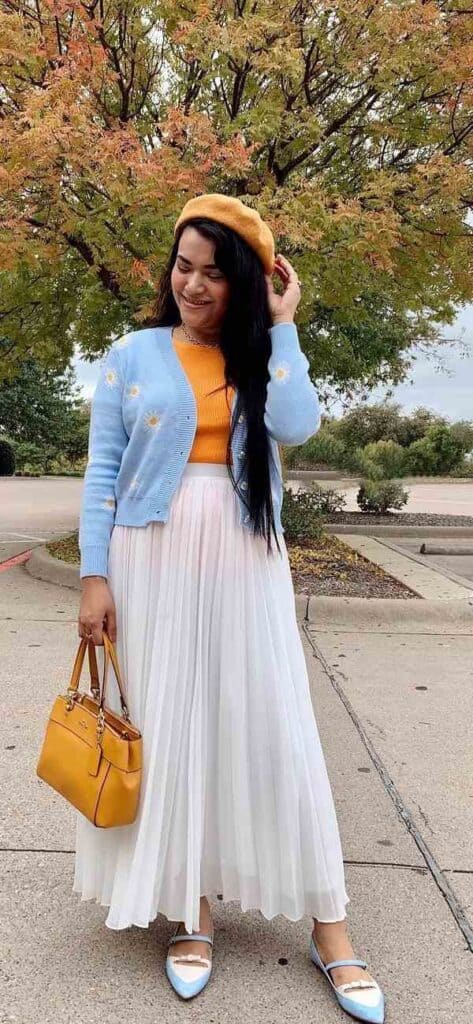 Eunice (above) styled her cardigan with a maxi skirt and a simple top. With a cardigan, you can pick different tops but simpler ones such as camis and tanks work best.
With a crop jacket
Styling your maxi skirt with a simple crop jacket is an easy way to go in early fall.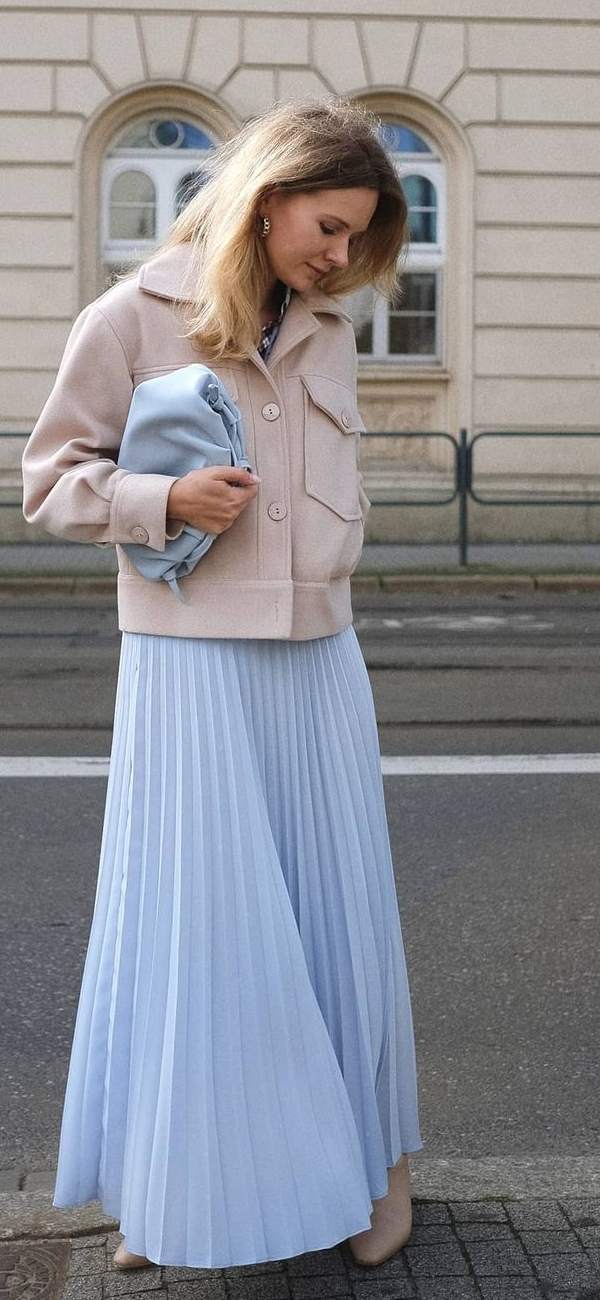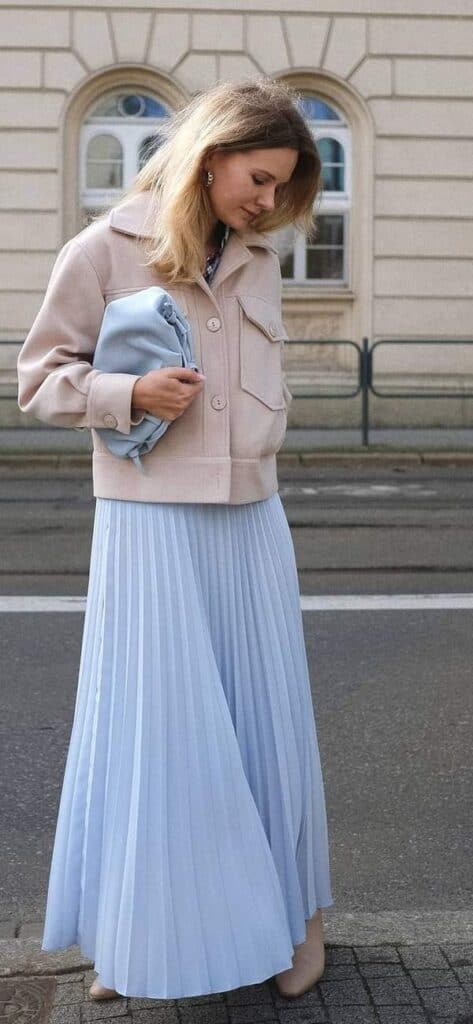 Kamila (above) styled her pleated maxi skirt with a simple jacket and some boots. You can go for a simple jacket in different fabrics such as suede. You can go minimalist like she did but if you like some color, just make sure the colors coordinate.
With a coat
A cropped woolen coat or a long one will work well with a maxi skirt, if you would like to transition your maxi into the colder months.
A coat is a great piece to have on in the colder months, obviously because of its functionality. Whether your coats are long or short, you can easily achieve a chic look, depending on what you choose to wear with yours.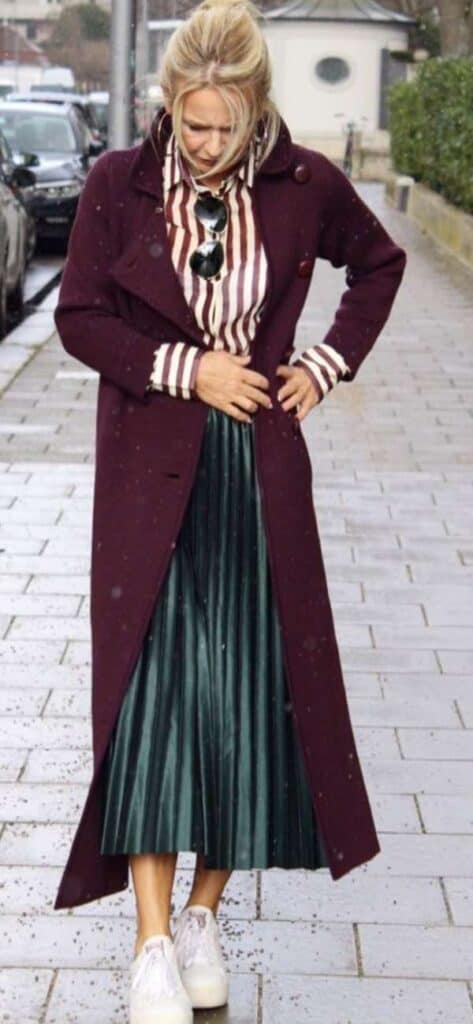 Bibi (above) styled her pleated maxi skirt with a striped top and a long coat. It's a simple look, however if you're not used to this kind of pairing, just choose a cropped coat instead.
With a turtleneck
When the weather gets colder, you can tuck your turtleneck into your maxi skirt and with that, you're ready to step out.
Turtlenecks are one of the wardrobe staples that keep you warm during cooler months. If it's very cold, you can go further and pick a knit turtleneck or you could layer other outerwear pieces over your turtleneck to stay warmer.
Another great thing about turtleneck tops is that you don't have to worry about ironing them every now and then. They're mostly available in ready-to-go fabrics so all you have to do is pull out that maxi skirt, wear it with the top and you're ready.
With a pullover
A pullover is always so nice and snuggly. They come in different styles and when paired with a maxi skirt, they give you a great transitional look.
Since pullovers can come in so many different designs and color, pick the stylish pieces to wear with your favorite maxi skirt.
With a simple girly top
The easiest way to wear a maxi skirt is to pair it with a girly top. It's a perfect combination for the hot summer weather.
A simple girly plain top is a must-have for those days when things such as t-shirts just won't do. They are great when tucked into your maxi skirt as they simply allow your maxi skirt to stand out and give you a classier look. Although they are available in several colors, going for whites, blacks, grays, and nudes are best. However, the key to getting a great look should you go for a colored top is to coordinate your colors properly.
A simple top also allows you to accessorize with simpler pieces or pieces that generally stand out. It also allows you to pick either a printed skirt or a plain one.
With a graphic t-shirt
You can wear your graphics t-shirt with more feminine pieces such as a maxi skirt to create a outfit that is fun and flirty.
Graphics t-shirts are great statement pieces considering the graphics are often a way or means of self expression. While wearing one, you can certainly be sure you'll stand out in a crowd.
Even though a lot of people are used to wearing graphics t-shirts with more casual pieces such as jeans, shorts and the likes, wearing them with maxi skirts can add a softer touch to the top.
Whether your graphic T-shirt is plain solid color or a statement piece on its own, this combination can work quite well.
With a white t-shirt
Everyone has a white t-shirt, and you should wear them with a maxi skirt for that minimalist yet chic look.
A white t-shirt is a must-have. It's that one wardrobe piece that never disappoints, regardless of whether you're going for a formal look or a casual one. White t-shirts give you the best blank canvas to start forming a look. They are versatile and one of the pieces you could style with your maxi skirt.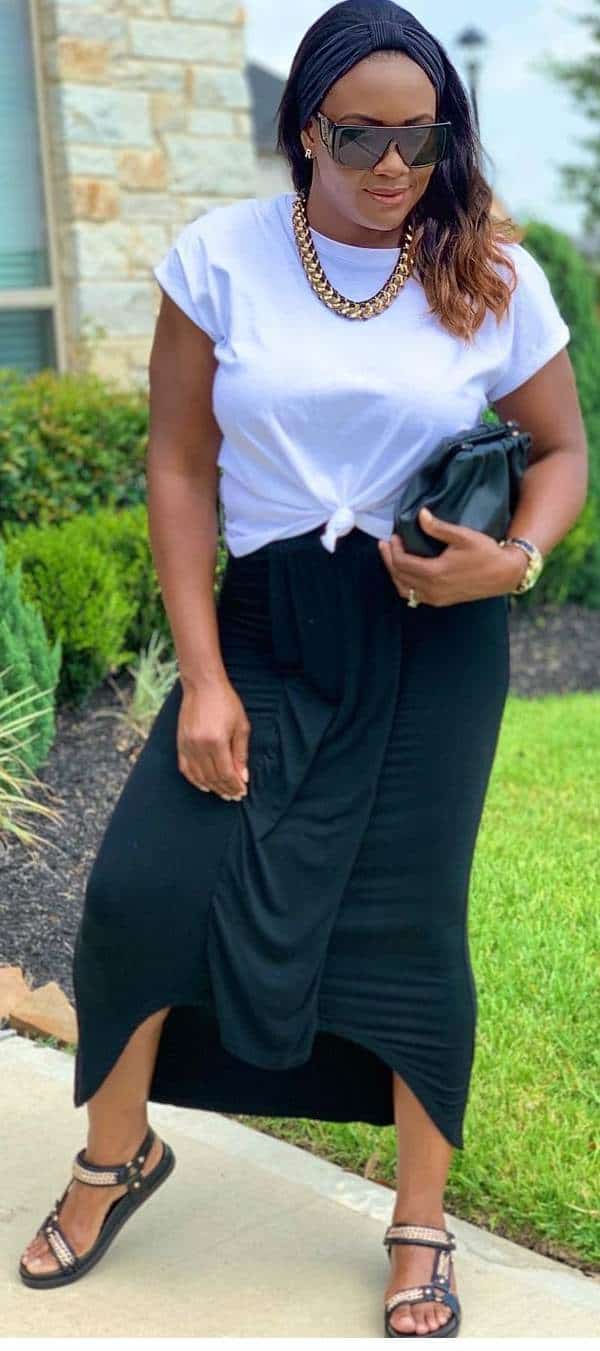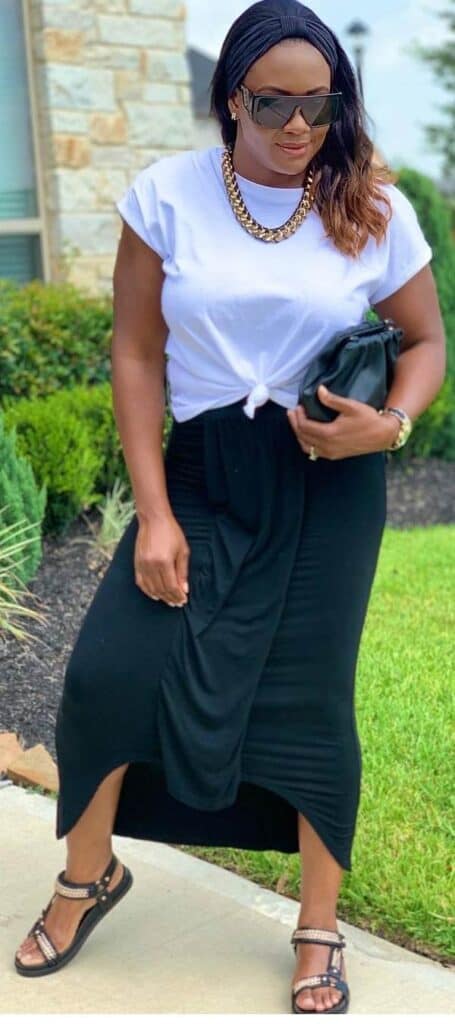 Kim (above) styled her maxi skirt with a plain white t-shirt and a pair of sandals. She tied the t-shirt at the front but you could always tuck yours in instead. Since this t-shirt is simple, you can always pick maxi skirts of different styles. You can also accessorize in different ways.
With a tank top
A plain tank top allows a maxi skirt to stand out.
Tanks are simple tops that can be worn with just about anything. They work great during warmer weather and look great paired with maxi skirts because they are minimalist. They allow your maxi skirts to stand out for all the right reasons. Tanks can also be worn underneath outerwear when it's slightly colder outside.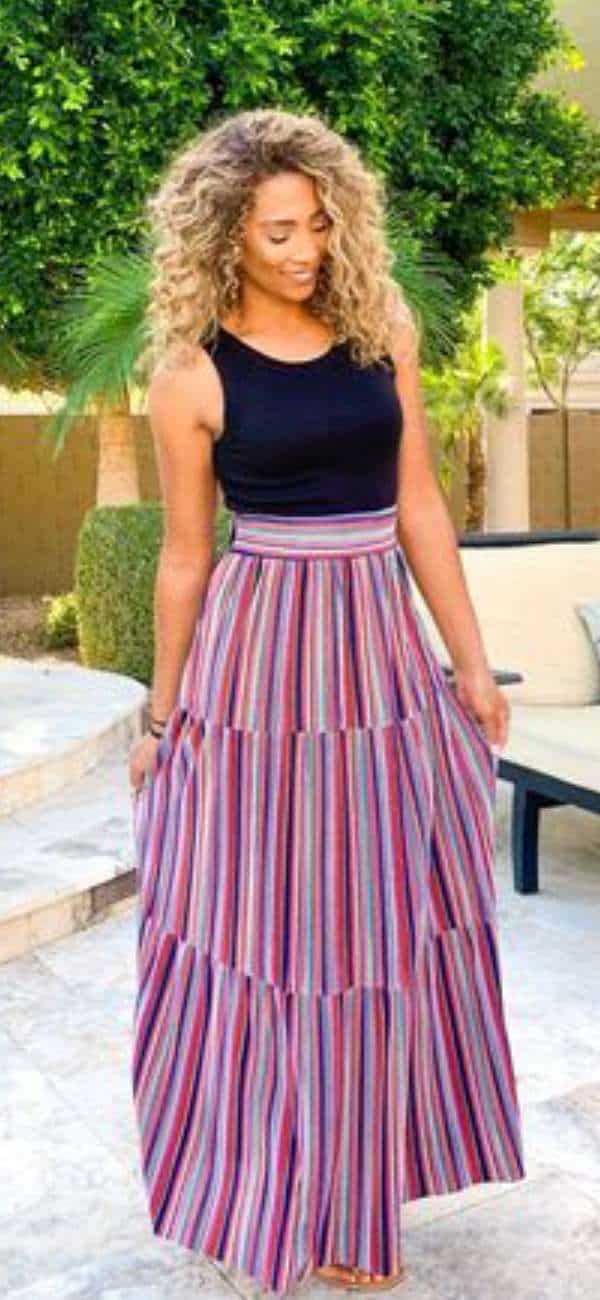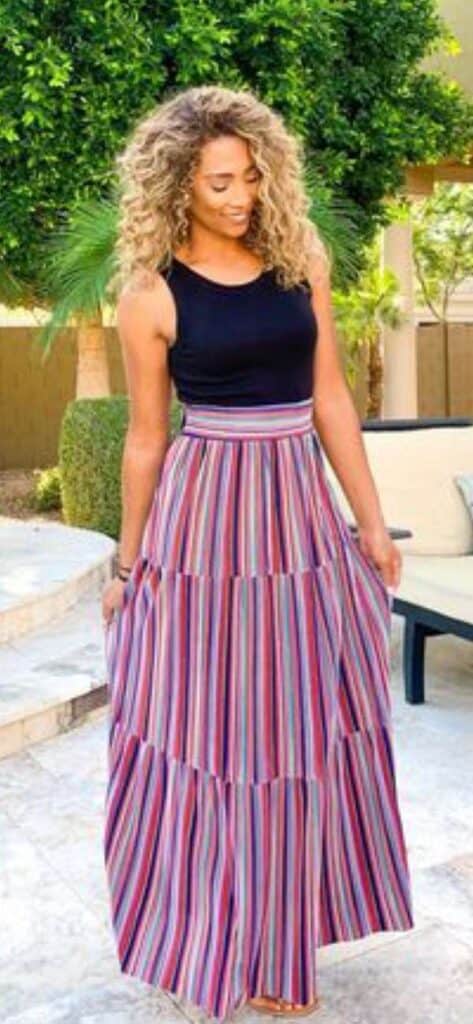 Terah (above) wore a black tank top with a printed maxi skirt. The skirt makes such a statement which is why a plain tank is the best option.
With such a combination, it's easy to pick shoes, accessories and even jewelry because they just need to go well with the skirt.
With a vest
Adding a vest will make a plain maxi skirt outfit look more stylish.
A vest usually makes an otherwise plain look more interesting. It's a great last piece that you can add to your outfit either during summertime or even winters. It all depends with the fabrics you go for. A faux fur vest for example works well during colder months and a chiffon vest would perhaps be more ideal for summertime.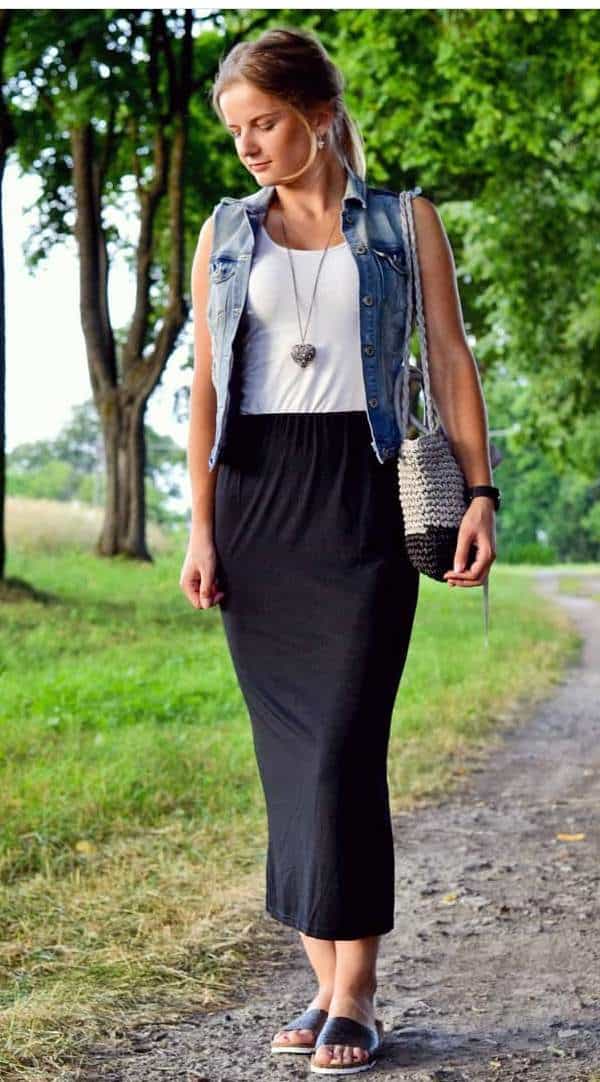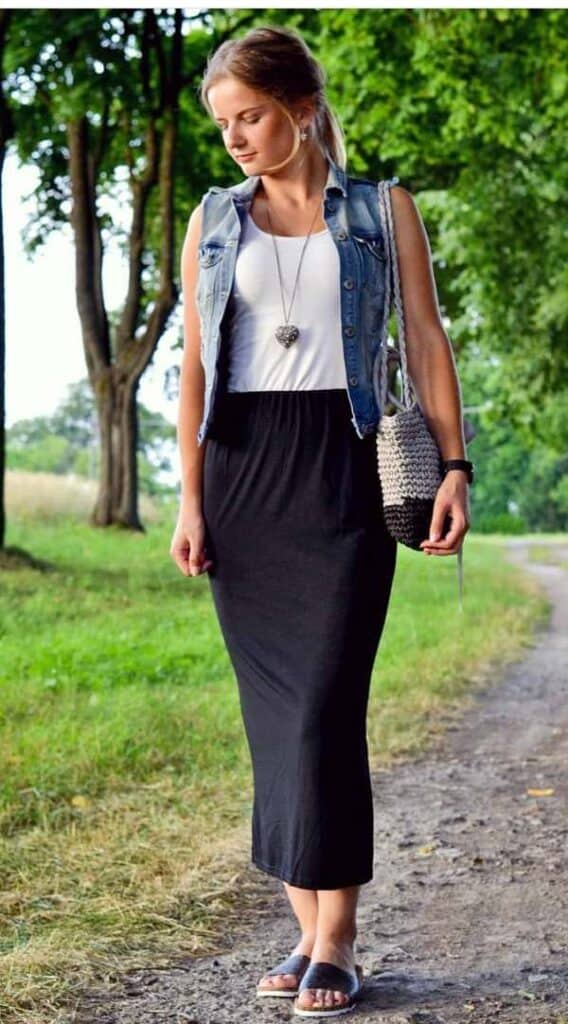 Paulina (above) styled her denim vest with a white top and a black skirt. She finished the look off with a pair of slides. With a vest, you can go for a longer one or a shorter one and the fabric you go for will make the difference on whether you will have an official look, a formal one or a casual look.
With a sweatshirt
A sweatshirt is a great item to wear when you just want to stay at home and lounge around. However, you can also wear it with different feminine pieces such as a maxi skirt so that the sweatshirt looks dressier. It's also a nice way to wear a more masculine piece with a feminine one.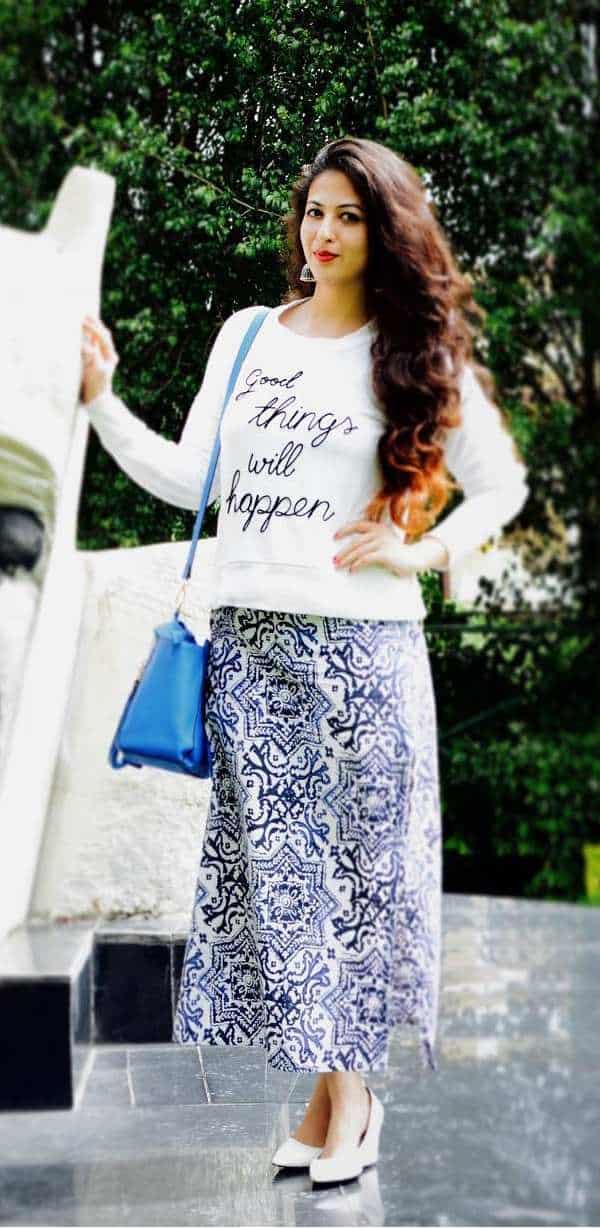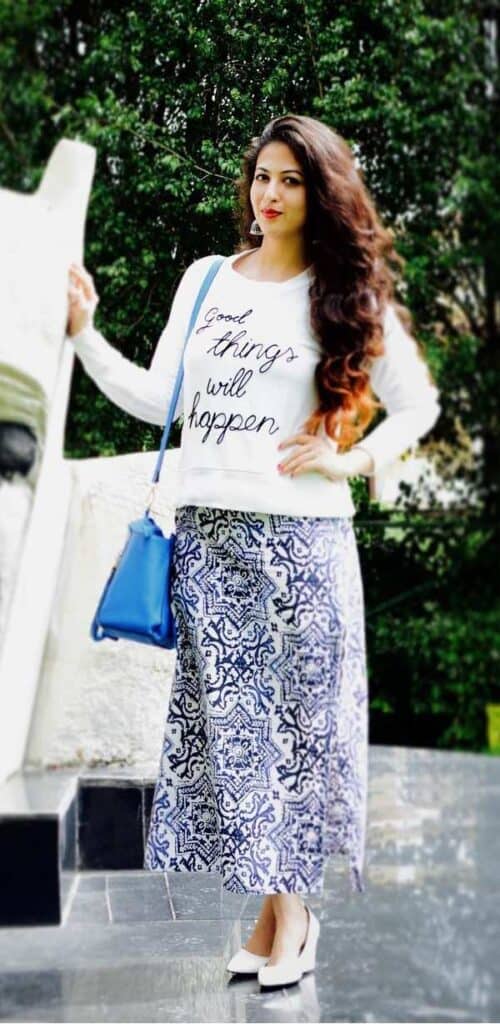 Jagreeti (above) styled her sweatshirt with a printed skirt and a pair of closed pumps. She finished the look off with a pair of closed shoes.
If you feel like the sweatshirt is too chunky to style with the skirt, a great alternative would be to pick a cropped sweatshirt as they are also available.
With a flowy top
In most cases, a maxi skirt is flowy. For this reason, a number of people will be skeptical about wearing a flowy top with a maxi. However, these two really go well together, just as long as you get a flowy top in the right length and style.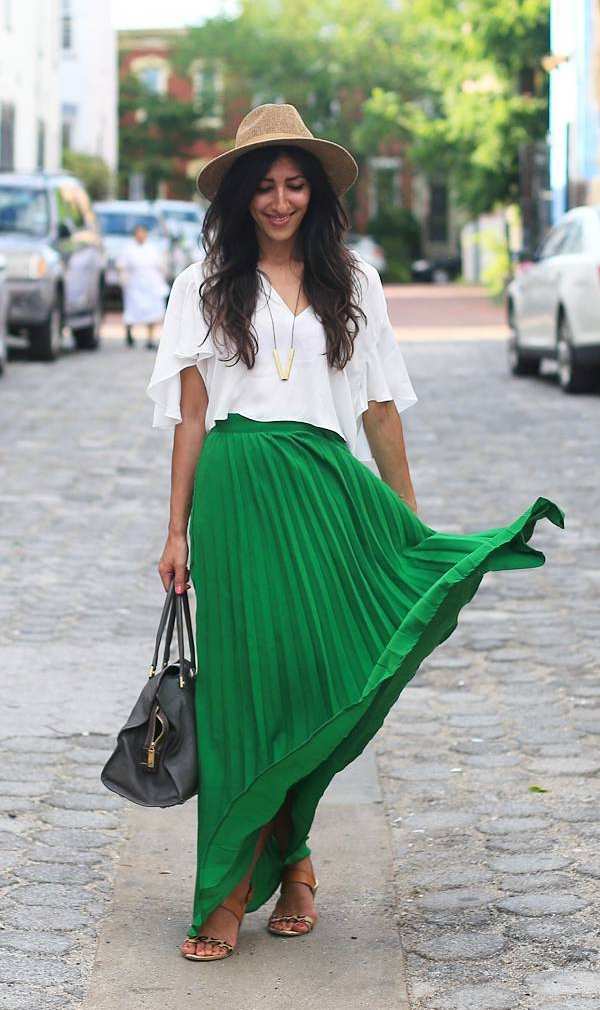 Pari (above) styled her flowy top with a pleated, green flowy maxi for a great feminine look perfect for summertime. With such a look, you also have to be careful with the kinds of accessories you pick. The less the better.
With an off-shoulder top
An off-shoulder top is a great item to style with a maxi skirt.
This is because a maxi skirt has you all covered up from the waist downwards. However, the top allows you to show off your shoulders and clavicles. It's a great option if you're not a huge fan of deep v-necklines or of showing off too much cleavage.
Off-the-shoulder is one of the most flattering necklines which are universally flattering to all body types.
With a matching top
Wearing your maxi skirt with a matching top gives you the ultimate matching set. It's a look that could easily take you from a brunch with friends to an event. It's a classy outfit that works for different women and will certainly give you a confidence boost.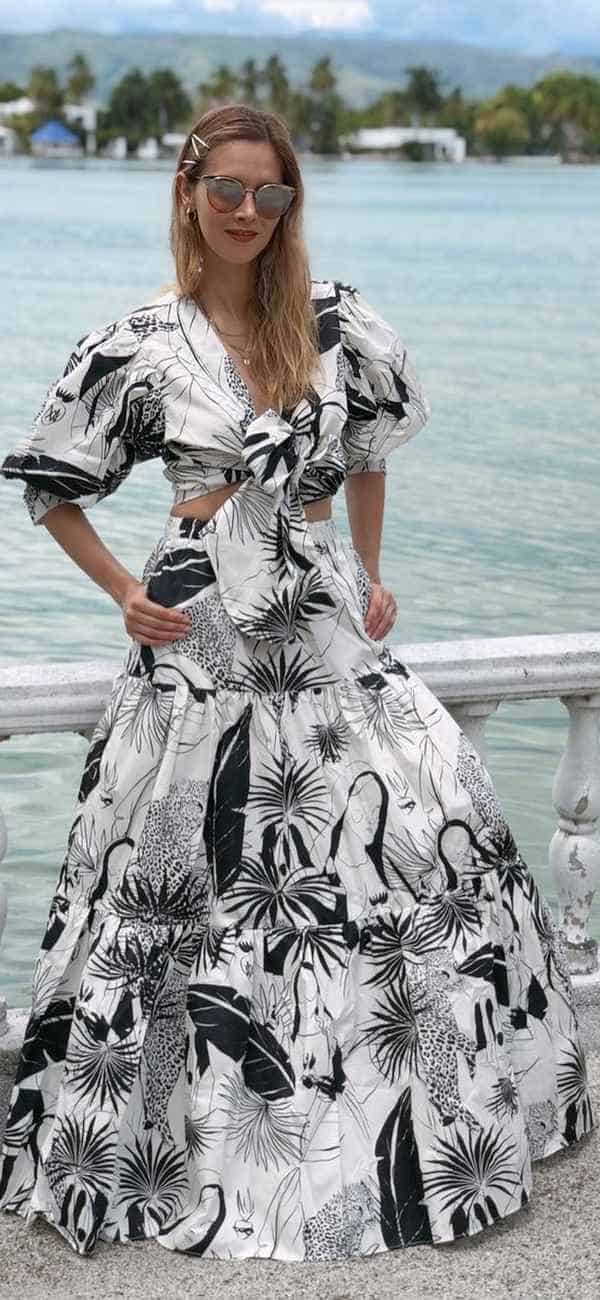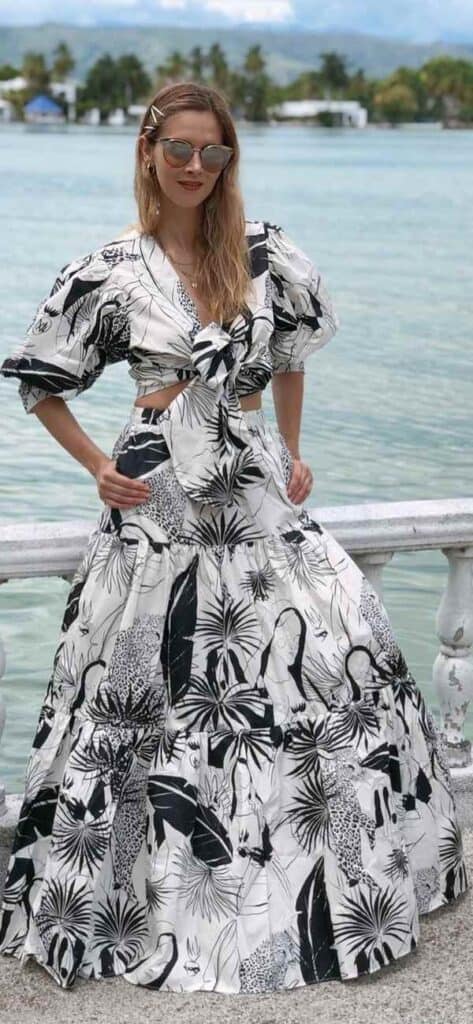 Silvia (above) wore her maxi skirt with a matching top and tied the top at the front. While her look involves a cropped top, you can get a different type of matching top based on your preferences. For example, you could get a matching top that can be tucked in.
With a faux fur coat
You can always be sure that while wearing faux fur coat, your look will turn heads. This is especially going to be the case if you wear your faux fur coat with a maxi skirt.
A faux fur coat is a great one to go for if you're after a high fashion outfit. They're great for cold weather and also events. Faux fur coats are available in a variety of colors and lengths as well.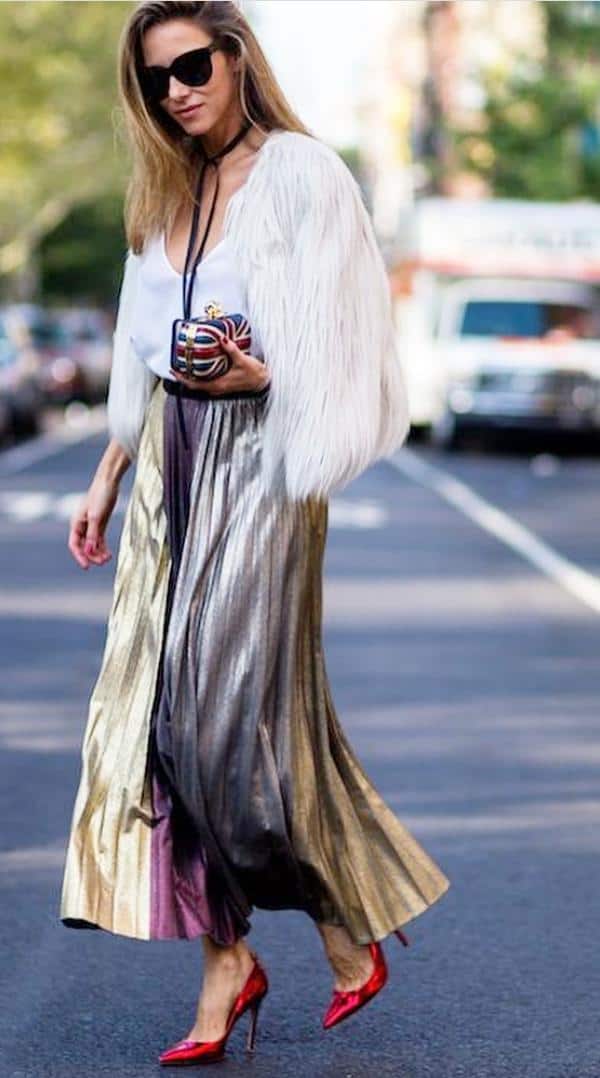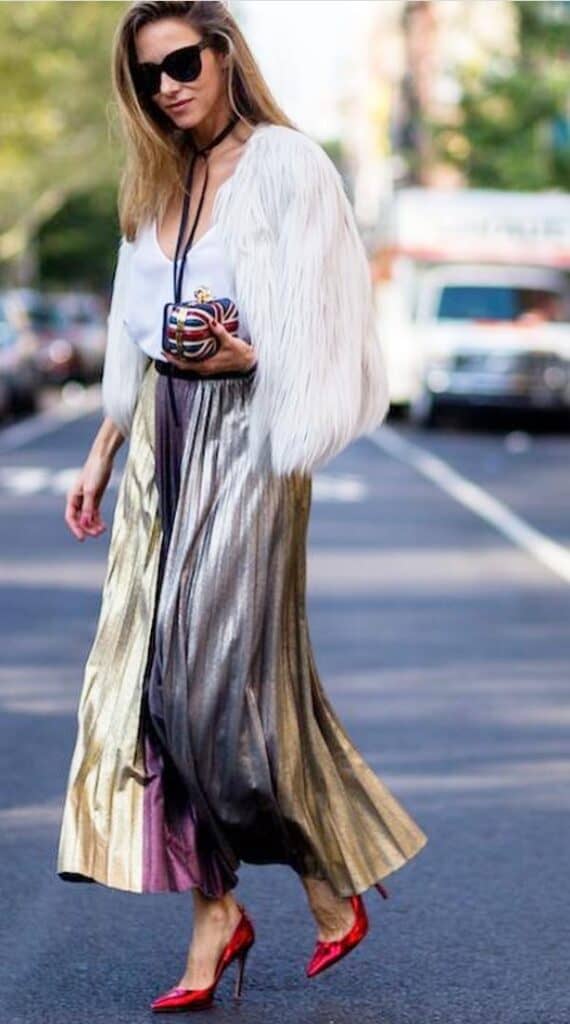 Danielle (above) styled her maxi skirt with a white top and a faux fur coat. She also went for a pair of heels and a clutch bag. This is a chic look and is easily achievable when you pick a black or white faux fur coat and less flashy colors for the different pieces you'll be wearing.
With a one shoulder top
You can style a one shoulder top with a maxi skirt for a fun, festival-like look.
A one-shoulder top is great for people who love something a bit dramatic. Such a top is also a great option if you like showing some skin on top but not with a top that shows cleavage. They can be plain but you could also pick a sleeve that's a bit ruffled for the same.
With a cami
A cami top is another great summer piece that works well with a maxi skirt. It's feminine and just like a tank top, it's simple. When tucked into a maxi skirt, you instantly get a dressed up look that works for a hot summer day. You can also wear a cropped jacket over it if it gets a bit cooler.
The cami can literally go with any other type of maxi skirt. It doesn't necessarily have to be denim. When you do pick a denim skirt, it's worth choosing one that's high-waisted.
With a message t-shirt
You can wear a message t-shirt with a maxi skirt for an artistic look.
A message t-shirt is another great idea of tops to wear with a maxi skirt. Message t-shirts are a bit more subtle than graphics t-shirts. They, however, still help you express yourself through clothes. Get one with words that you can identify with. When worn with a maxi skirt, you will still get the same effect you would have gotten from any other t-shirt, that is, a comfortable look.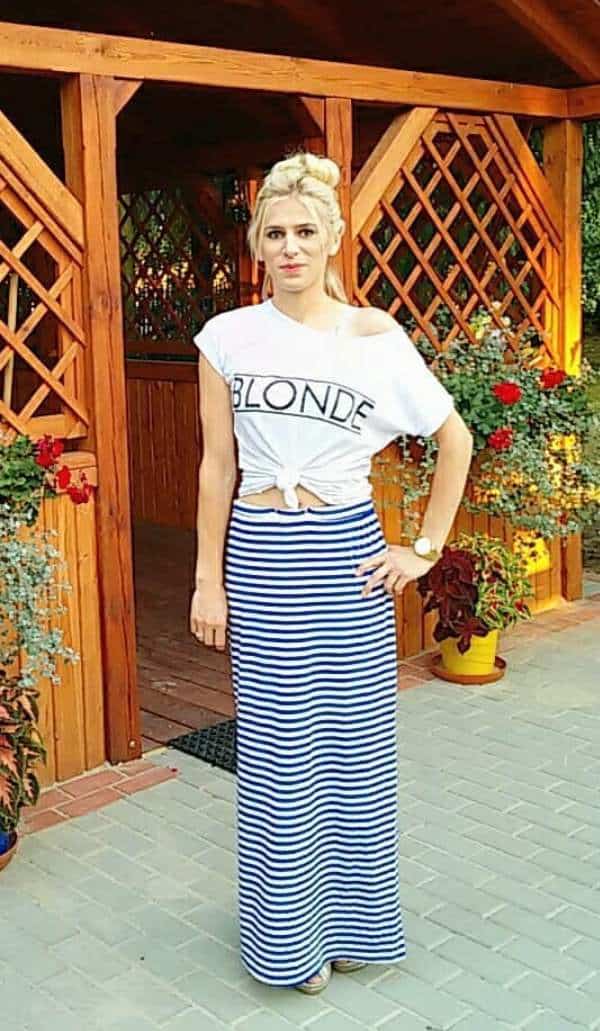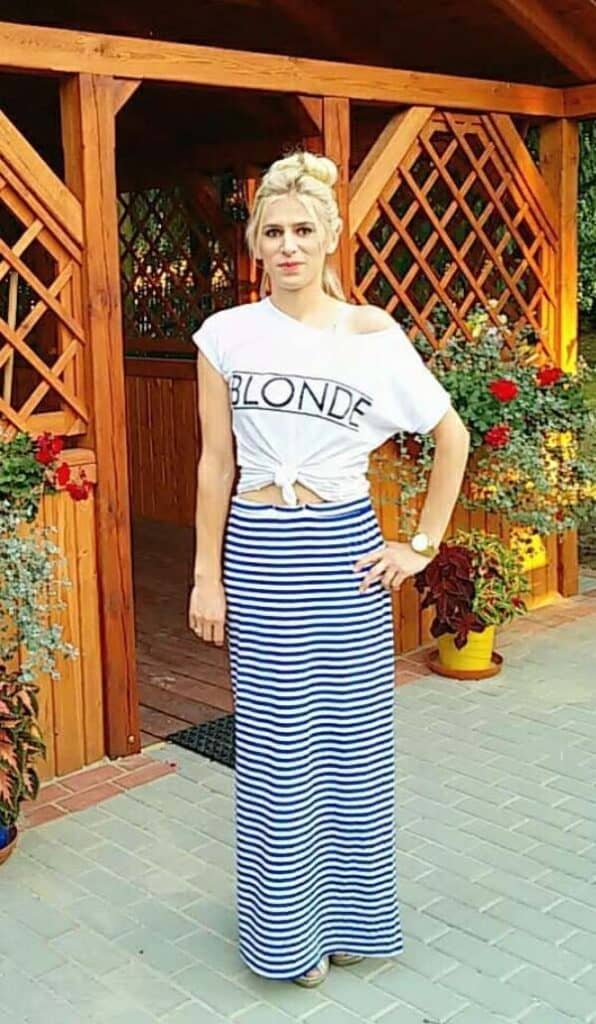 Sylwia (above) styled her maxi skirt with a message t-shirt. While she cropped the t-shirt by tying a knot at the front, you could always just tuck yours in. It will give you a neater look.
With a bell sleeve top
You can wear your bell sleeve top with a maxi skirt too.
Bell sleeve tops are so trendy and fun. The extra volume on the top helps you get a more interesting look. Bell-sleeve tops can be worn with a number of different bottoms for example skinny jeans, jeggings, just to mention a few.
Bell sleeve tops make your outfit even more feminine and flirty. These tops are also great because they flatter any figure. The best way to go about wearing them though is to pick a high-waisted maxi skirt. The high waist gives a better balance and makes your legs look longer.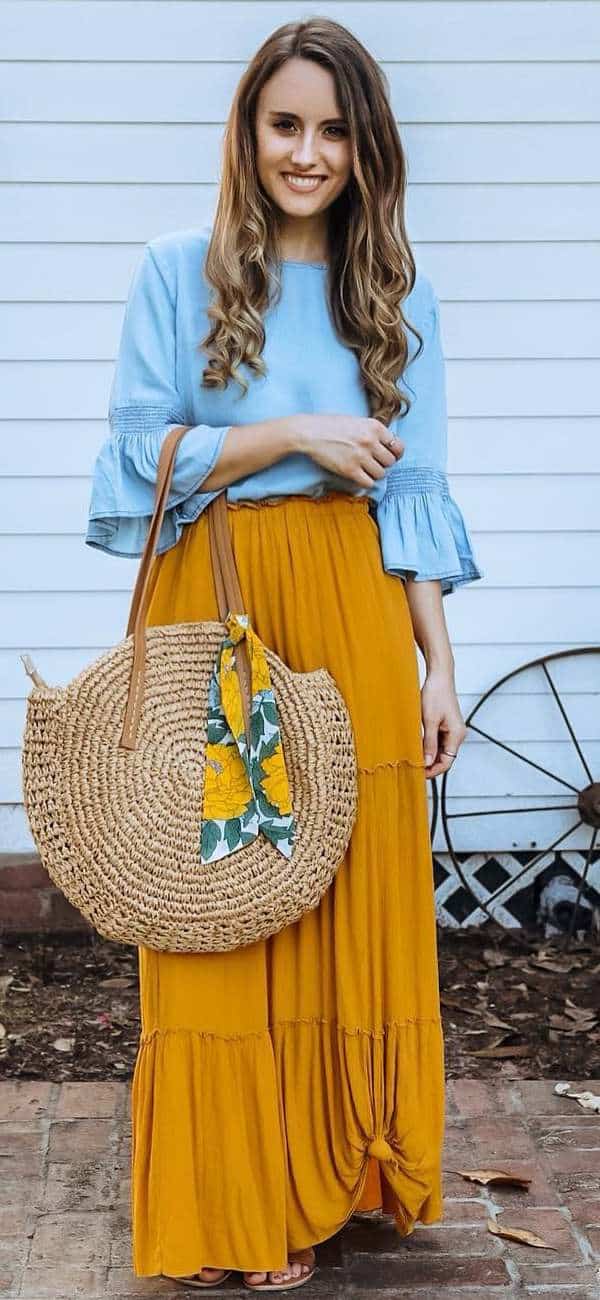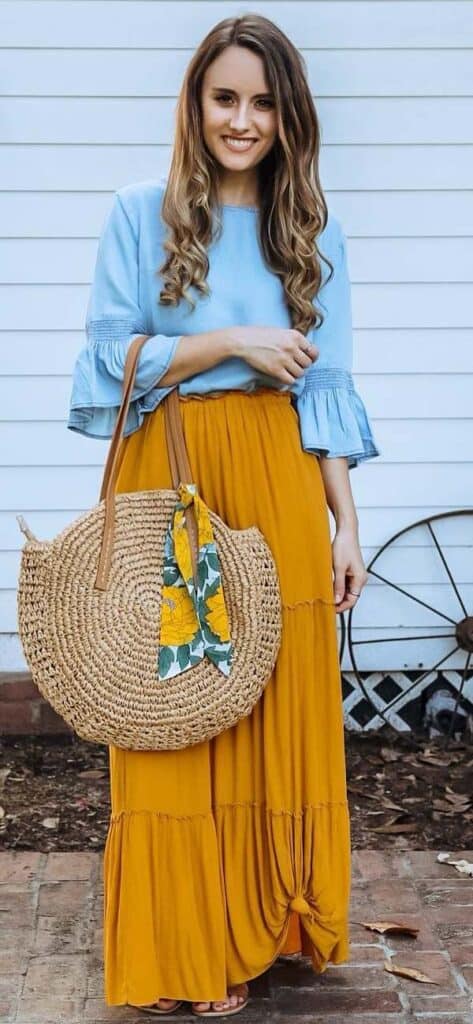 Happy hemlines (above) styled her blue bell sleeve top with a mustard maxi skirt. The blend of colors is great and the flare of the skirt balances out with the flare of the top. In case you prefer more subtle colors, you could pick neutrals.
With a cold-shoulder top
A cold-shoulder top is another interesting one that you can easily wear with a maxi skirt.
It's a great alternative to an off-shoulder because it allows you to still show your shoulders but gives you more coverage around the top. You can find them cropped but they are also available in normal length. Wearing your cold-shoulder top with a maxi skirt gives your maxi skirt look a great twist that you'll love.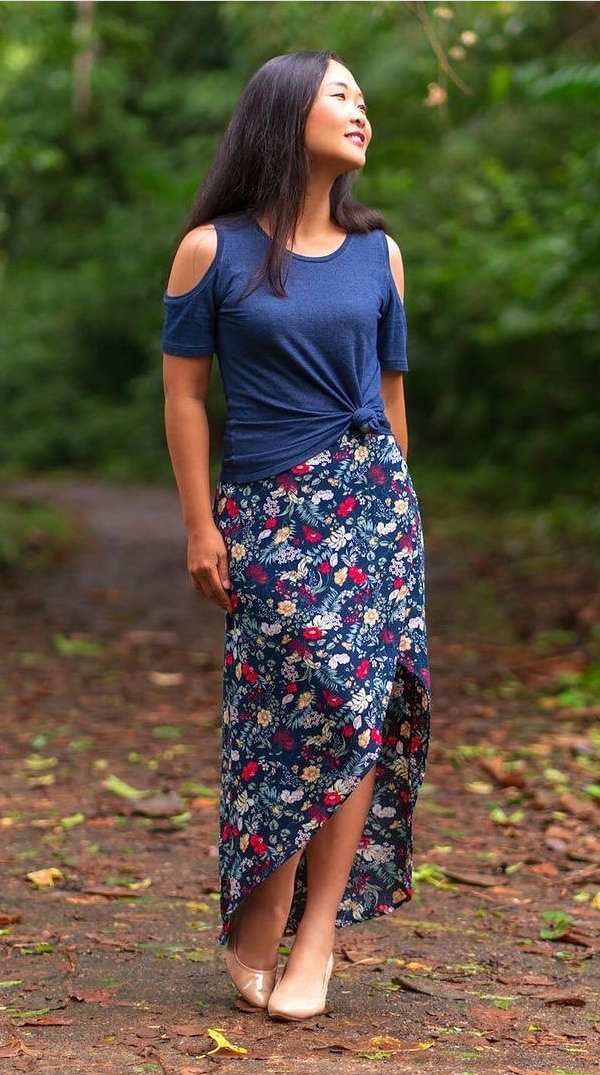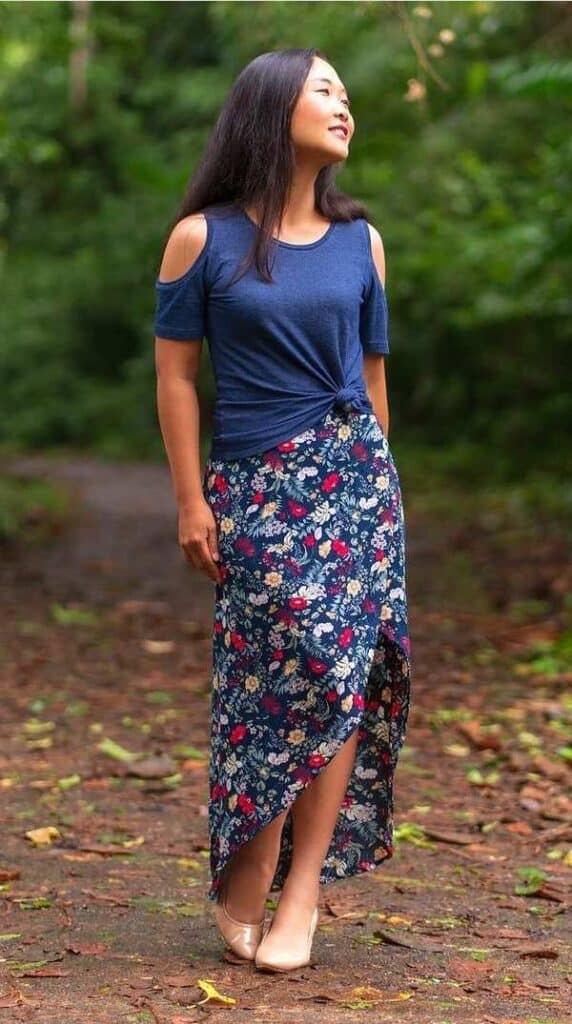 Kennis (above) wore her cold shoulder top with an asymmetrical skirt. She tied the front part of the top into a knot but you can tuck yours in instead. You also don't have to go for a similar maxi skirt. Any other design will do just as long as your cold shoulder top is a simple one.
With a lace top
Lace is always classy and ever so feminine. When paired with a maxi skirt, you get a classy look that can easily take you to a formal event or any other formal environment such as a church, a family get-together, and many other places. It's also easily a wardrobe staple because lace will never go out of style.
They're great for literally any age when paired with your maxi skirts and the best part is that you can get a lace top with different details that will elevate your look.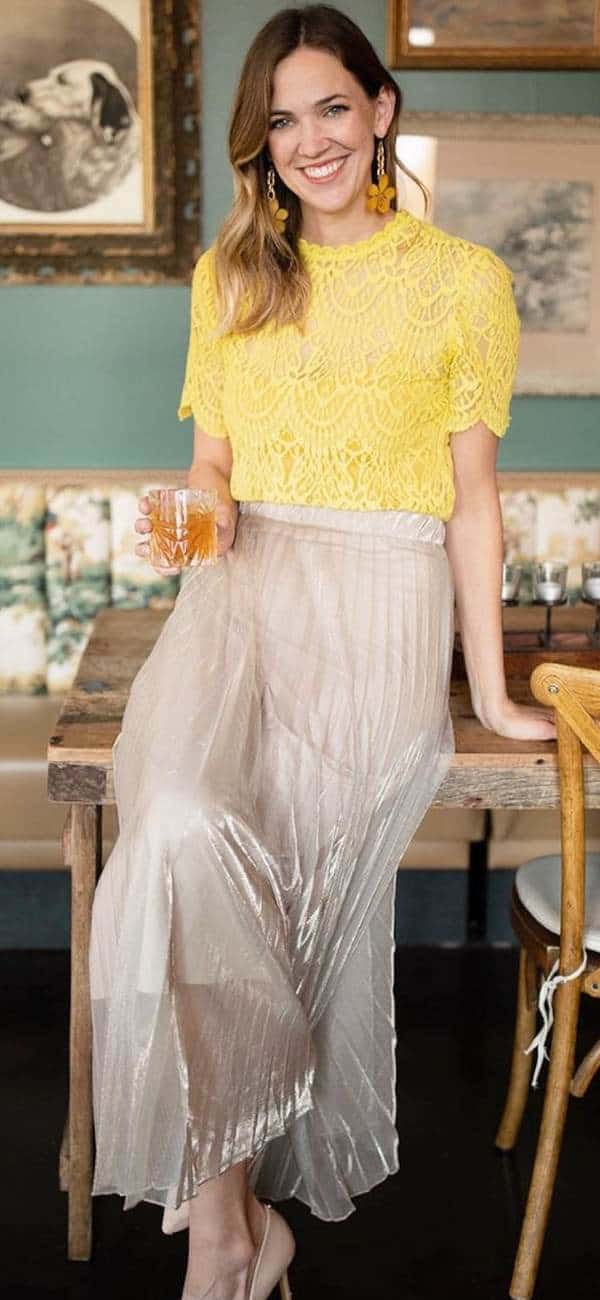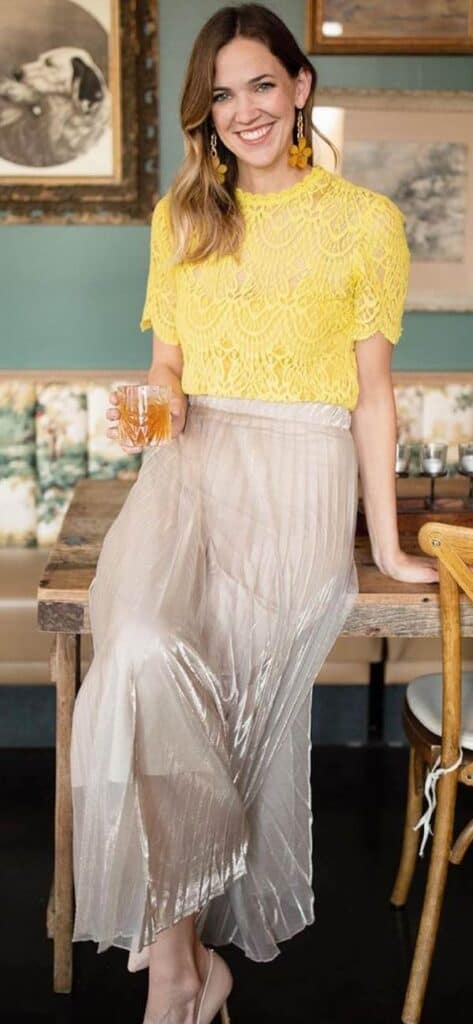 Laurel (above) styled her lace top with a pleated skirt and some closed shoes. Lace is fortunately available in a variety of colors so you can play around with different colored lace tops until you get the one you like most. You can also pick long-sleeved lace tops, short-sleeved ones, and even sleeveless lace tops. In short, a lace top can match your personality thanks to the different colors and array of designs they come in. So with your maxi skirt, you can get a nice bohemian look, classy look, or a casual one.
These 25 ideas are great if you're looking to incorporate maxi skirts into your wardrobe, but in case you need more reasons to get yourself some maxi skirts, here are some more.
Maxi skirts are low maintenance. They don't really need processes like dry cleaning. With them, all you need to do is throw them into a washing machine and they will be alright. You might have to dry some on the hanging lines though but it's nothing hard. A lot of maxis are also resistant to wrinkling. As such, when you're going on your next vacation for example, or maybe a sleepover, all you need to do is roll it up and stuff it into your bag.
With a maxi skirt you can also be sure that you will be appropriately dressed at more conservative events or places like church and many others.
Aside from that, they are classic. While it's nice to follow some trends every now and then, it's even better to have pieces that will certainly serve you for much longer. They save you lots of money because you do not have to keep buying so much every other fashion season, and you'll avoid the worry of wondering if what you're wearing is alright. Maxi skirts are examples of such pieces. Thanks to their staying power and the fact that they come in a variety of patterns you'll have them looking great for years.