Mila Kunis style is classy, feminine and sexy. She is 5'3″, one of Hollywood's sexiest movie stars, and she is also a style icon.  Mila Kunis' style is widely liked by women of any height, but she is especially a great fashion inspiration for other petite women. Whether it's Mila Kunis street style or her looks on the red carpet, she is always impeccably dressed!
I have a Youtube video on the best dressed petite celebrities, and MIla Kunis is one of them!
Mila Kunis understands how to best accentuate her petite frame with the latest trends in fashion, meanwhile keeping a classy look. Here is our take on some fashion tips that all of us short ladies can learn from and copy from these effortlessly chic looks of Mila Kunis style.
Little black dress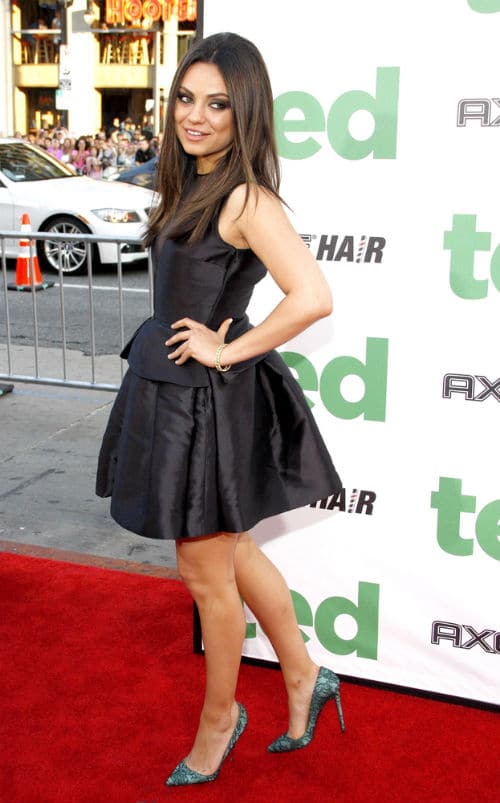 Photo: Shutterstock
This is a classy leg elongating look short girls can all borrow from Mila Kunis style!
The little black dress in the fit and flare shape is ever flattering to petite women of any body shape and any age. When you wear them 4-5 inches above the knee, your legs look so much longer.
Pay attention to these heels on Mila Kunis. This kind of pumps are called "low vamp", and they show a little bit of your toe cleavage. What's magical about them is they elongate your legs to the maximum!
Short Short shorts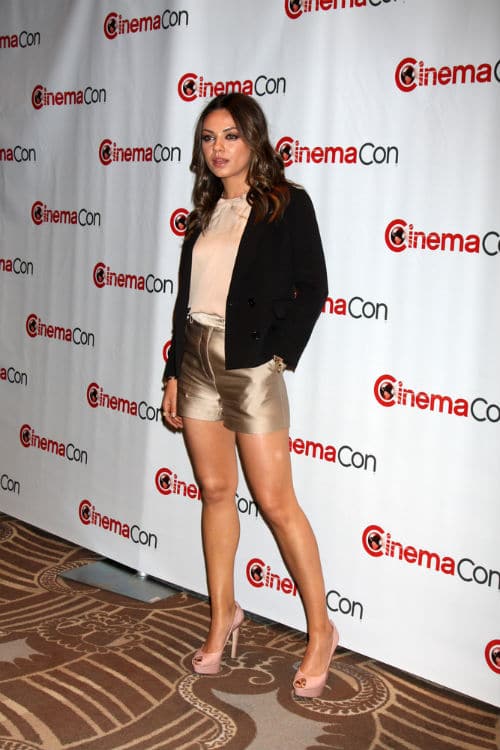 There is so much we can learn from this seemingly effortless outfit of Mila Kunis!
First, we all know that short shorts can make our legs appear longer, but we tend to think they are for the casual occasion like going to beach. When Mila Kunis wore these with a blazer and satin pumps, it became a very sophisticated look that was appropriate for a very dressy event, let alone making her legs look mile long!
Second, with a structured blazer, your upper body looks more defined.  Pay attention to the cropped length of the blazer on Mila Kunis- it is the most flattering length that goes with any bottom. With the cropped length, your body is divided into the most optimal ratio which the eyes find most pleasing. You can learn more about how to achieve the ideal body ratio through your outfit in this post.
Thirdly, the nude shorts and the pink platform pumps are from the same color scheme, i.e. monochromatic styling.  This is an advanced way of styling that every petite girl should master! If you want your fashion sense to go to the next level, you need to learn how to use monochromatic colors to elongate your body frame and look super chic.
Finally, the peep toe platform heels add the extra inches to your legs without making you look bulky.
Monochromatic Style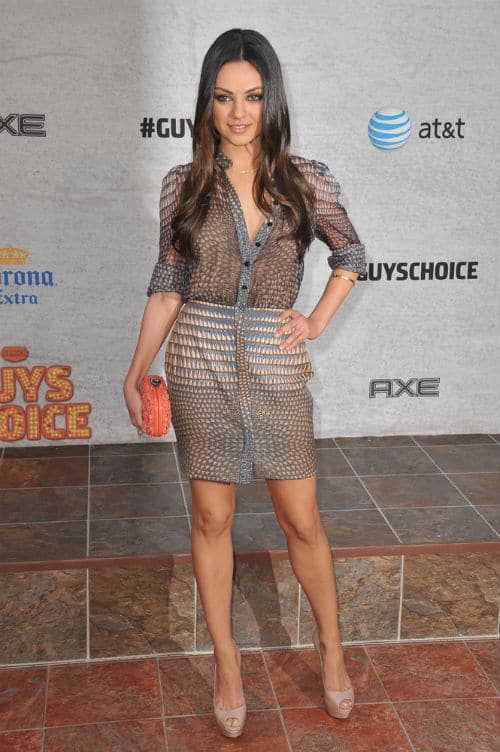 Once again, Mila Kunis' yet another look of monochromatic styling.  Pay attention to how she is using the clutch and pumps from the same color scheme as the dress.
The nude pumps with low vamp are heaven sent for petite women who want to elongate their legs.
You may not have noticed the 3/4 sleeves – believe it or not, they can literally make your legs look longer. Whenever you wear 3/4 sleeves, you are creating space around your arms, which of course make your arms look longer (a good thing since most petite women tend to have shorter arms). Meanwhile, very few people knows that this can also make your legs appear longer instantly! It may sound odd to you, but try it for yourself today with a 3/4 sleeve top or dress and you will discover the magic!
Black Jumpsuit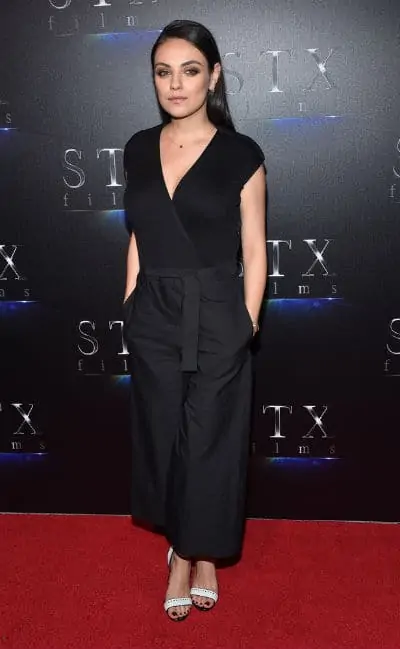 Jumpsuit is one of the most trendy items in recent years, and many are wondering if petites should wear them. As you can see this is another chic and trendy Mila Kunis outfit, so that's great news for shorter women.
Yes, petites can definitely rock jumpsuits, and Mila Kunis is not the only short celebrities who have worn them on the red carpet. So, pay attention to the overall silhouette from the jumpsuit. What can you learn from this Mila Kunis look?
First, Mila Kunis has selected the jumpsuit with a waist tie that is sitting higher than her natural waist- a smart fashion choice that other petite women can all learn from! With the higher belt, the jumpsuit make her legs look even longer!
Second, this is a wide leg jumpsuit, which could be a challenge for shorter women. Mila Kunis is wearing the full length, and that perfectly balance out the volume created by the jumpsuit.
Pantsuits
This looks like a simple pantsuit on Mila Kunis, but there is so much in the details that we can all copy from her style!
First, did you notice the pants are high waisted? That's our number one recommendation of pants for petite women who want to make their legs look longer!
Second, Mila Kunis was wearing the grey shoes with the grey plaid pantsuits, another great example of monochromatic styling!
Third, by wearing the jacket with open front, Mila Kunis looks less bulky, since the blazer is long. That's something else you should consider, when you are wearing pantsuits.
Finally, did you notice the satin cami that Mila Kunis is wearing underneath? The soft and shiny fabrics add so much more femininity to the this look of Mila that perfectly balances out the masculine side of the pant suits. So, when you are putting together your outfit with a pantsuit, wearing a floral blouse or something similar to give it a more feminine touch!
Can't get enough of her style? Here's 5 more looks we picked out for you!
Fitted Jacket
Mila Kunis was wearing a fitted jacket and ankle length pants in this outfit. It creats a long and lean figure. The highlight of this look is the bright color heels, which makes the outfit fun and interesting.
Polka Dot Dress
Mila Kunis casuals style looks just as wonderful as on the red carpet! She looks so chic in this polka dot dress! The key is that she picked the smaller prints which work wonderfully on her 5'3″ height and small frame.
Cropped Blazer
This is another look of Mila Kunis with cropped jacket. Again, she is wearing the crop length blazer with full length pants, the perfect combination to create the ideal body proportion as I mentioned earlier.
Minimal White Shirt
In this Mila Kunis street style shot, she was wearing a simple white shirt and a well fitted cigarette pants. This crates a simple silhouette very flattering to her figure. Paired with nude pumps, this outfit of Mila Kunis looks totally chic and effortless.
Lacey Dress
This dress of Mila Kunis is one of my favorites. It is a perfect length for petite women, and the see through effect of the fabrics is ultra feminine but also classy at the same time!