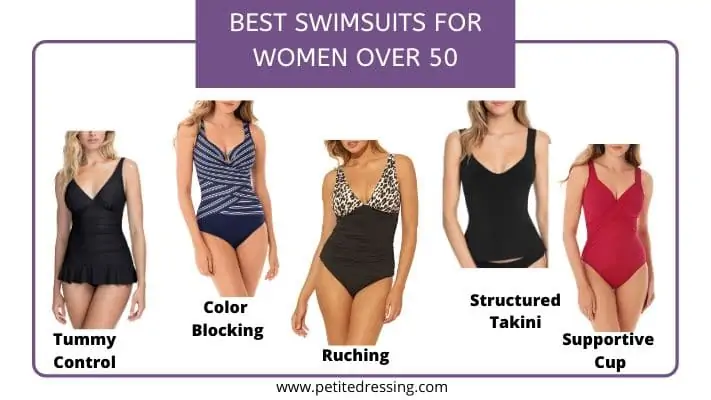 Bathing suits for women over 50 could be a challenge. You want to look/feel age appropriate and our bodies aren't the same as they were in our teens. In essence, as we age, many of us begin to want to cover up a bit more when wearing a bathing suit. These 27 styles will help you look modern, youthful, and sophisticated in your bathing suit, helping you to feel extra confident.
One shoulder swimsuit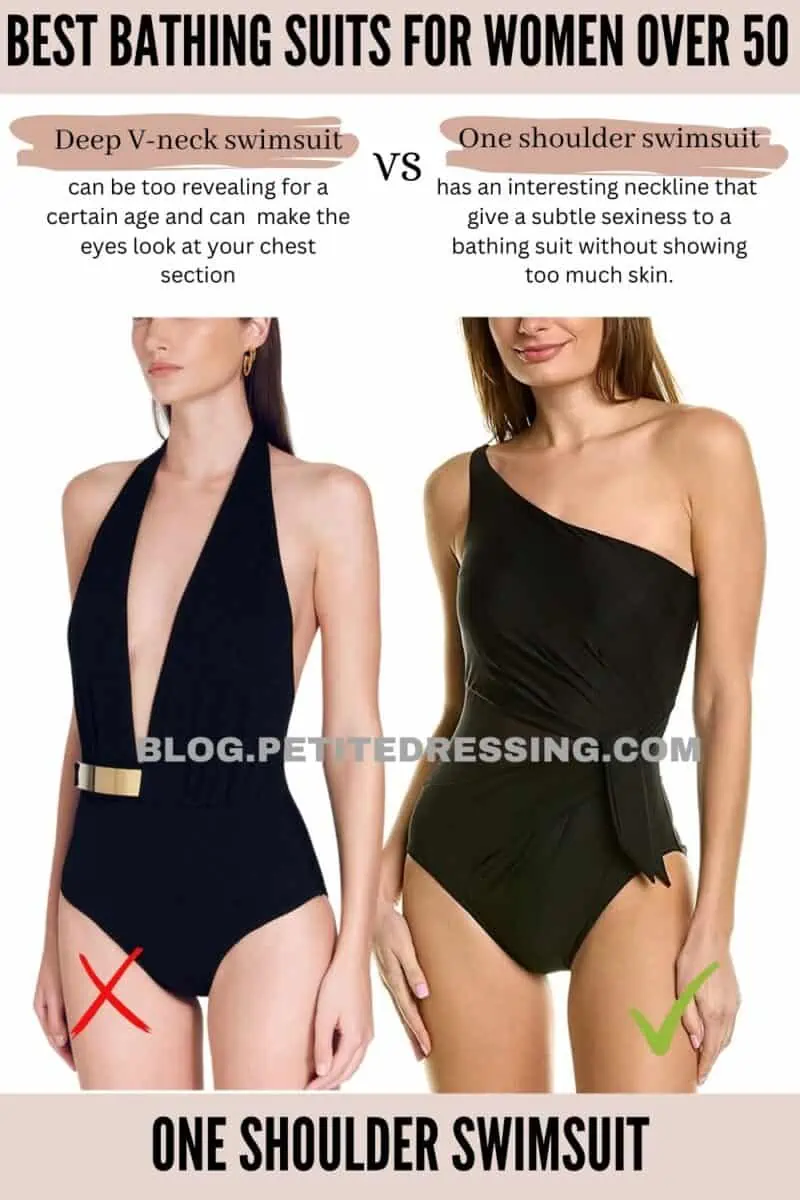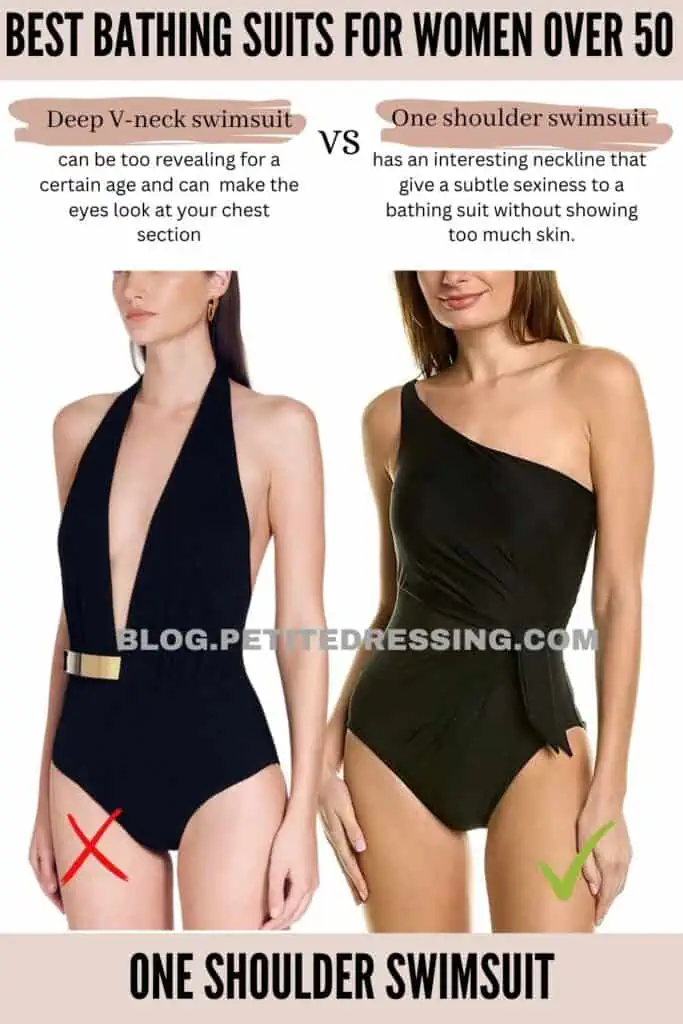 More often than not, women over 50 prefer to wear a one piece bathing suit.
The good news is one piece bathing suits have gotten a major upgrade over the past few years. In fact, one pieces are a big trend for women of all ages. This is good news because it means there are more options than ever before.
Instead of sticking with the standard one piece silhouette, we suggest giving interesting necklines a try.
Think something like a one shoulder silhouette.
The reason these interesting necklines are flattering for women over 50 is that it gives a bathing suit a more modern aesthetic. Not to mention, these updated necklines give a subtle sexiness to a bathing suit without showing too much skin.
Halter one piece
Halter one piece is another great bathingsuit if you are over 50.
The reason halter can be a great alternative to the traditional straps is the added support for women over the age of 50. Ever feel like you're sort of spilling out of the top of your bathing suit? We know first-hand how frustrating that can be.
With the halter neckline you're able to get some additional support and prevent some of that 'spilling' that can happen.
Structured Tankini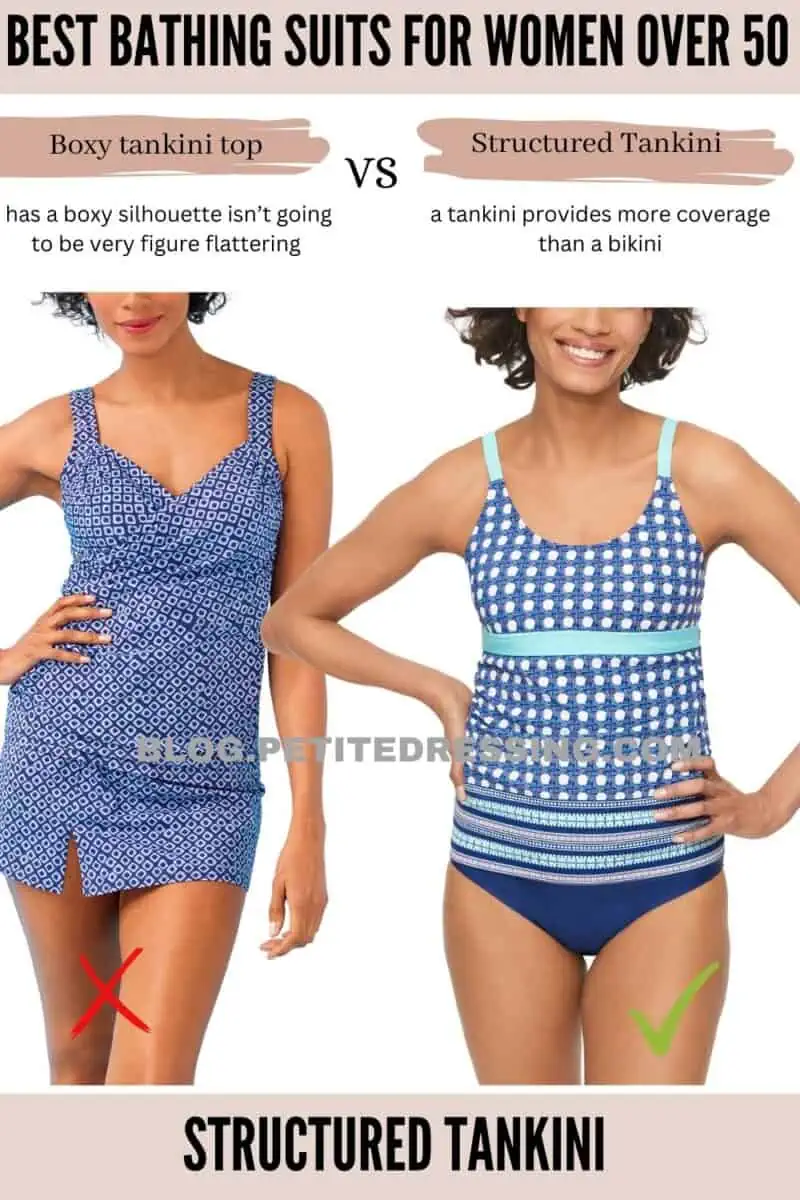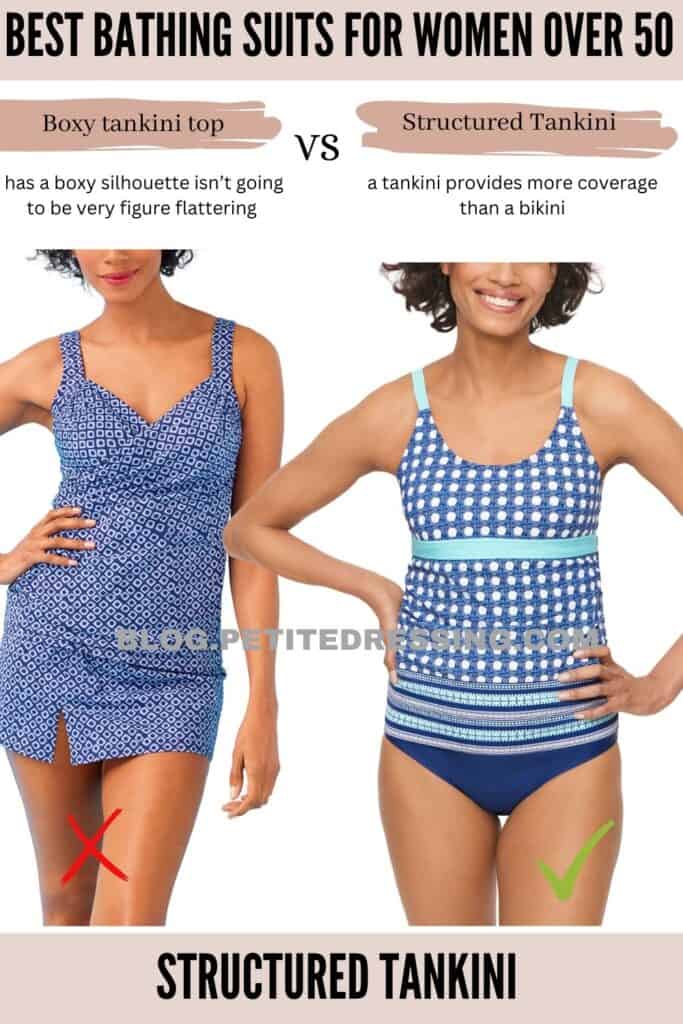 Tankinis are a popular bathing suit style for many women. If a one-piece isn't really your thing, a tankini provides more coverage than a bikini, but many find them more comfortable than a classic one piece.
If you're a tankini kind of woman there's a few things to keep in mind when selecting this type of bathing suit so it's figure flattering.
We suggest you avoid tankini tops that are really square in their silhouette. Similar to the way boxy shirts and dresses make us look, well…boxy. A tankini top that has a boxy silhouette isn't going to be very figure flattering – no matter what your personal body shape is.
Tankini with ties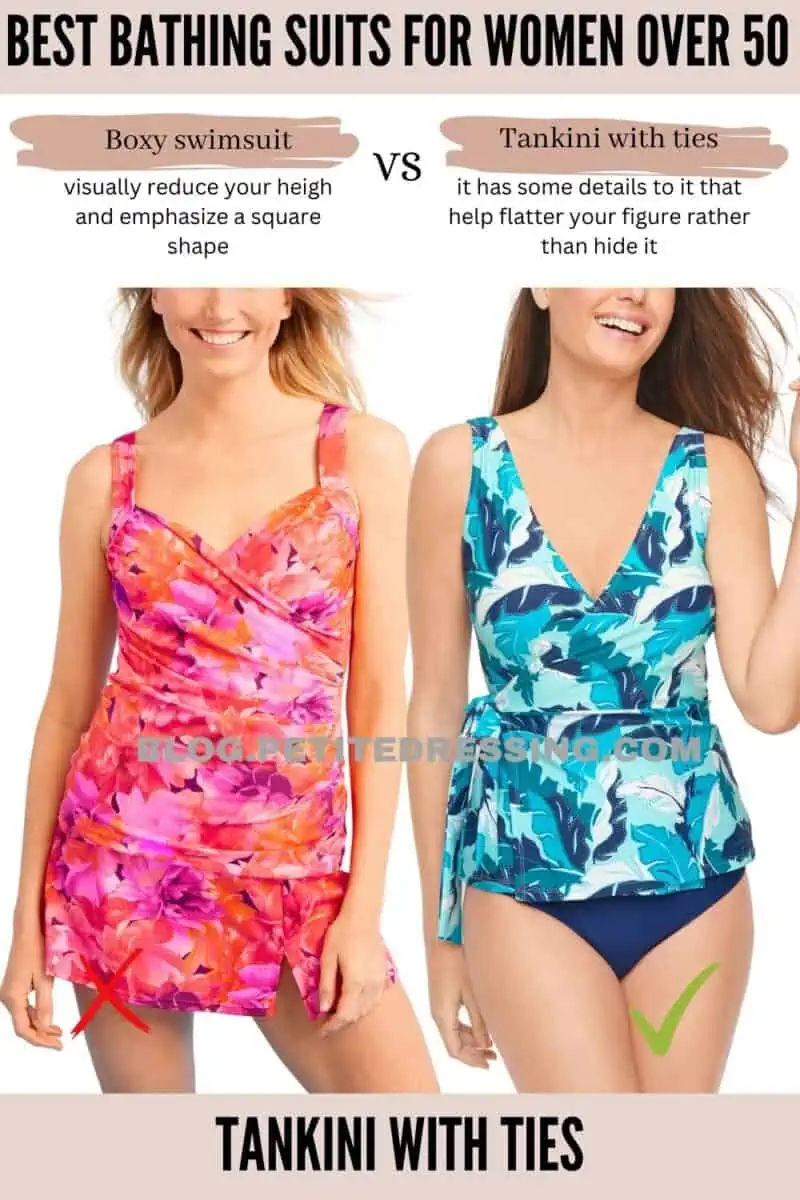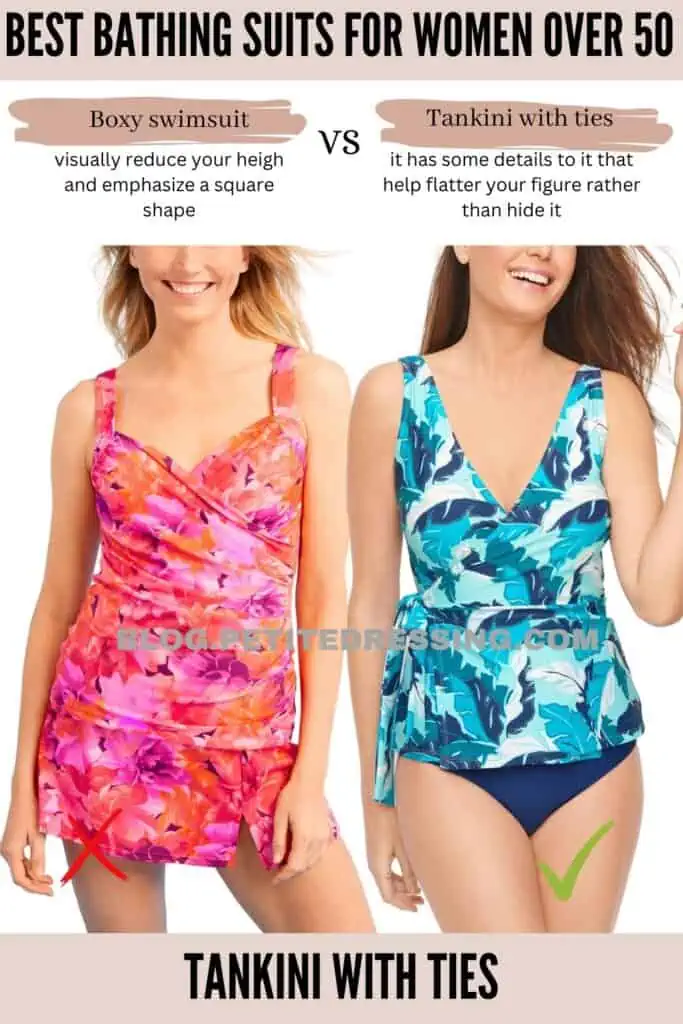 Tankini top that has some shape to it are the most flattering for mature ladies.
Some examples can be a tankini that has ties on each side that can create a ruching type of effect.
Another alternative can be a tankini that has a tie in the front. Essentially, you want to look for a tankini top that has some details to it that help flatter your figure rather than hide it.
Halter tankini top
Another option to support your chest is with a halter style bathing suit. When a bathing suit ties behind your neck, it gives you the option to adjust the support and cater to your own needs in that way.
One-piece swimsuit with Ruching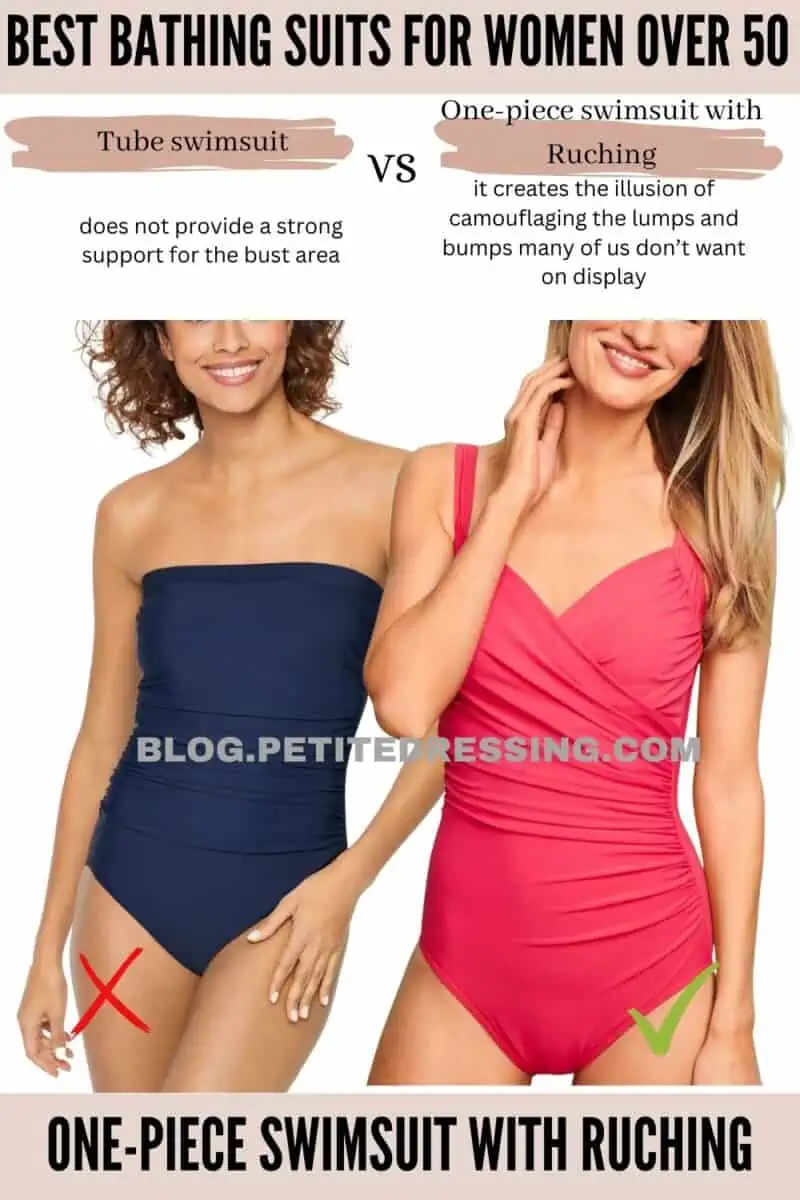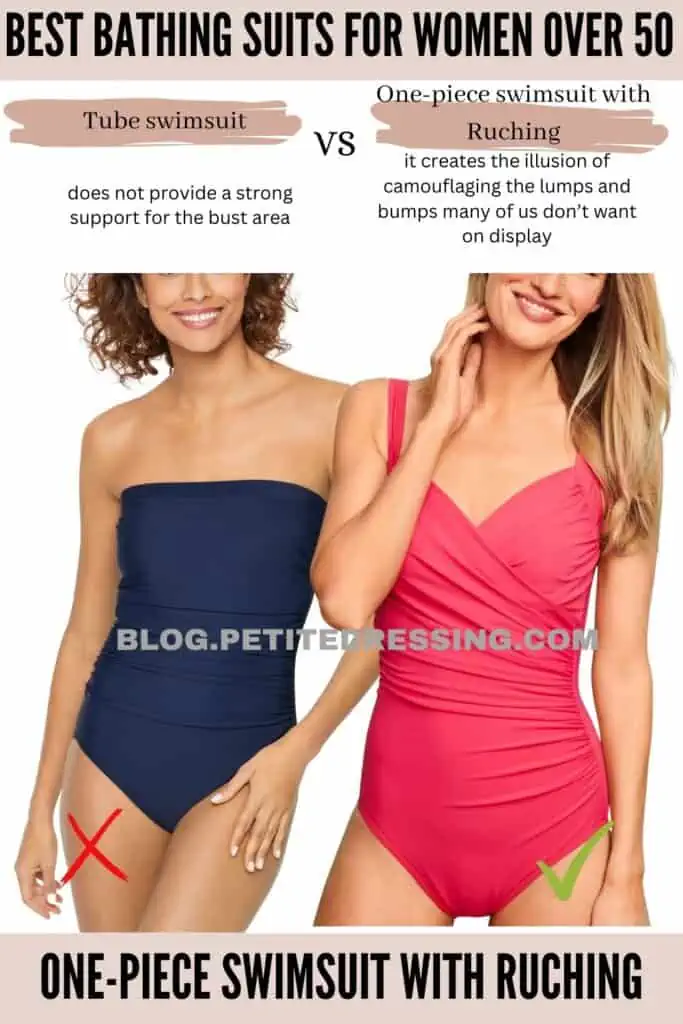 One of the most common 'concerns' we hear from women over 50 when selecting a bathing suit is their desire to mask or flatter their midsection.
The midsection is an area many women struggle to feel super confident about and when wearing a bathing suit it can often feel like there's no easy or stylish way to flatter it. However, there ARE a few ways you can go about flattering your midsection in a way that's actually stylish!
One bathing suit style to consider is a one-piece that has a ruching effect around the entire midsection area. Ruching is great for flattering a midsection because it creates the illusion of camouflaging the lumps and bumps many of us don't want on display in a bathing suit.
Ruching tankini
Just like the one piece, ruched tankini top can also be extremely flattering to women over 50, because it has the same slimming effect for your midsection.
Skirted bottom
The best bottom to pair with a tankini for women over 50 is a skirted bottom. Compared with a bikini bottom or boy shorts, a skirted bottom works the best to make your midsection look more slender. Not to mention, skirted bottom adds another feminine touch to your swimsuit.
Corset style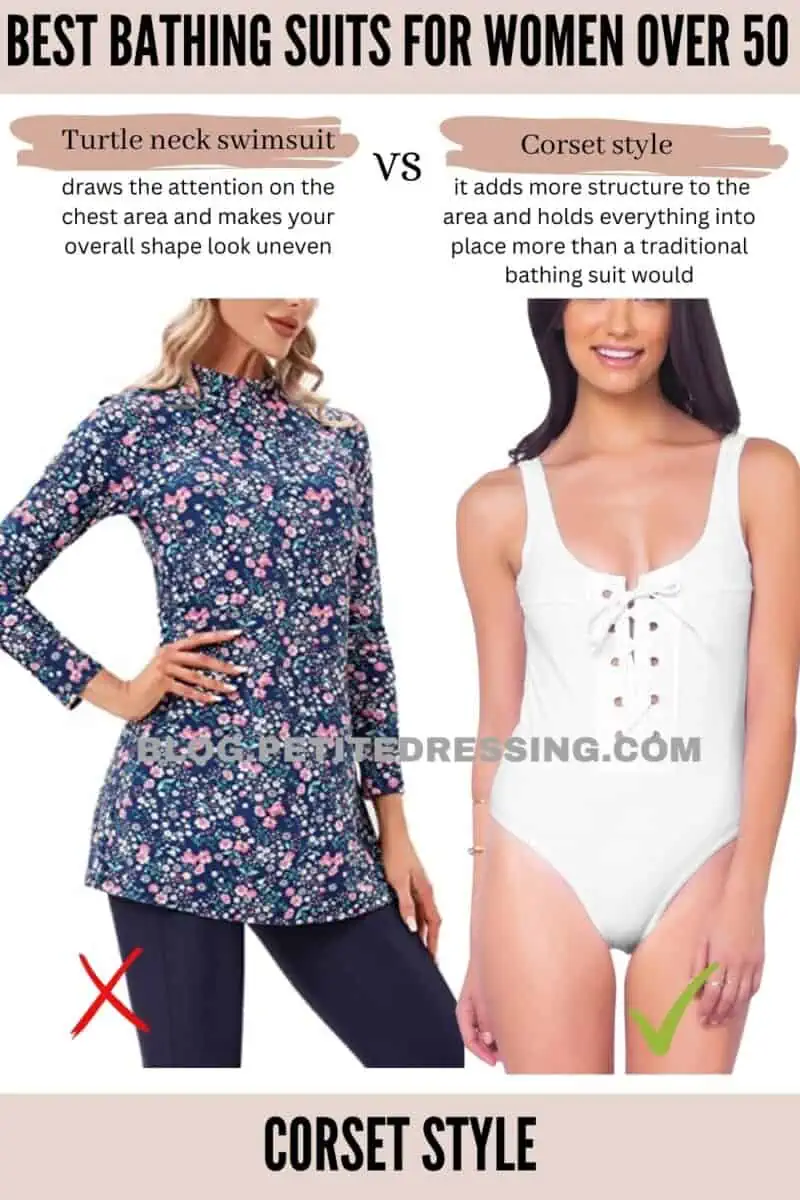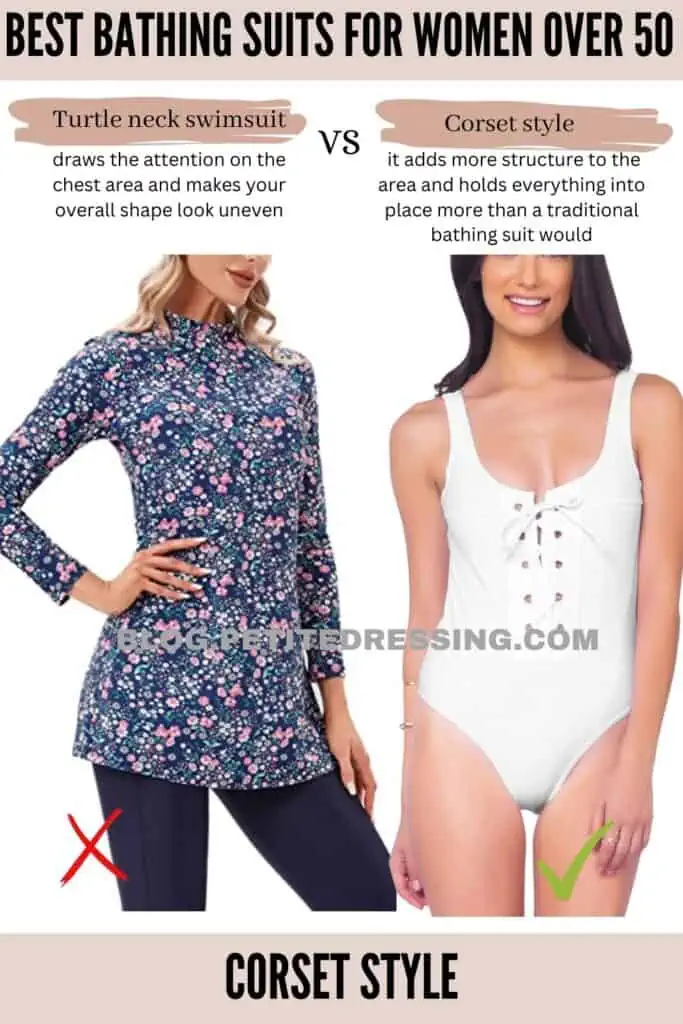 A good option to flatter your midsection can be with a corset style bathing suit. What we mean by this is a bathing suit that offers some seams and a bit more structure around the midsection, creating a corset-like look.
The reason this is flattering to the midsection is that, it adds more structure to the area and holds everything into place more than a traditional bathing suit would. When there are seams in the front of a one piece bathing suit like this it also helps to enhance your shape and creates the illusion of curves.
Color blocking one piece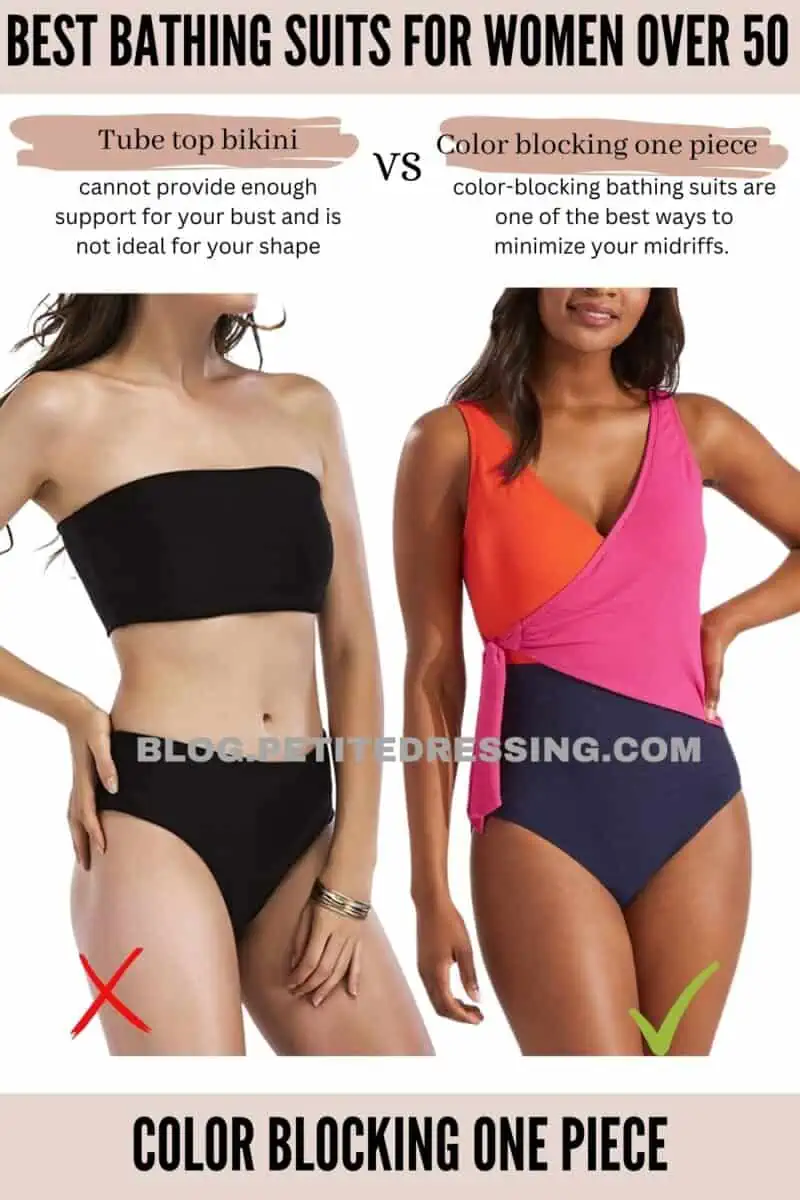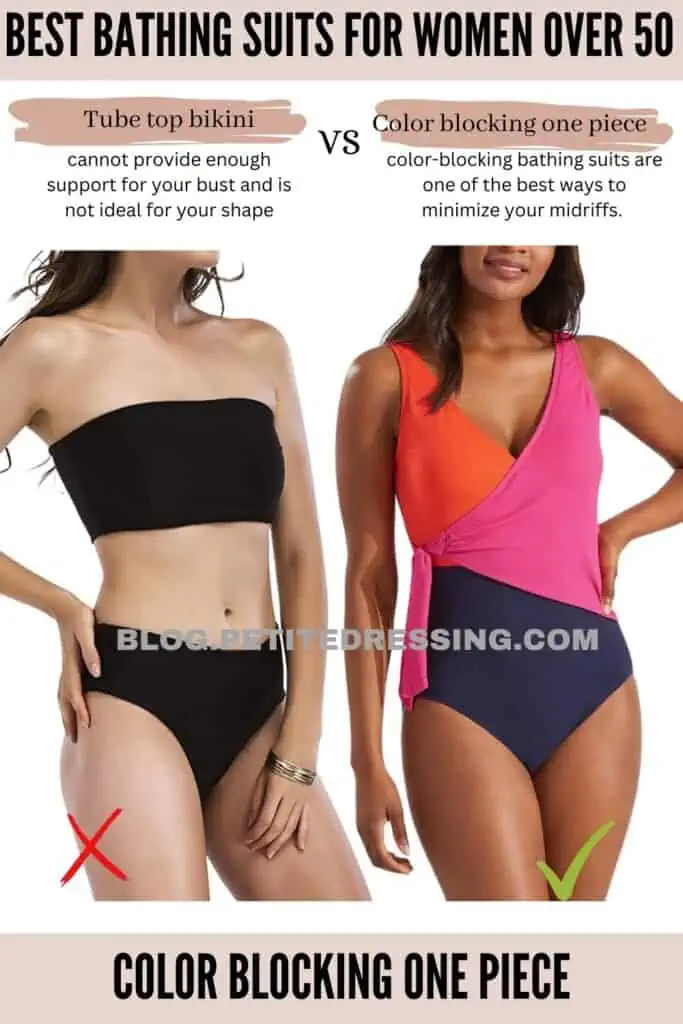 For women over 50, color-blocking bathing suits are one of the best ways to minimize your midriffs.
Here is the general rule of thumb.
Whether you are choosing one piece or separates, make sure the top has prints or bright colors and the bottom have dark color. That will draw more attention to your top, while distracting away from your midriffs.
Color-blocking tankini top
Color blocking works on not just one piece swimsuit, but also on separates. That is why a color blocking tankini is a dream come true for mature women who want to minimize the midsection while showing off the assets of the full bust.
Underwired swimsuit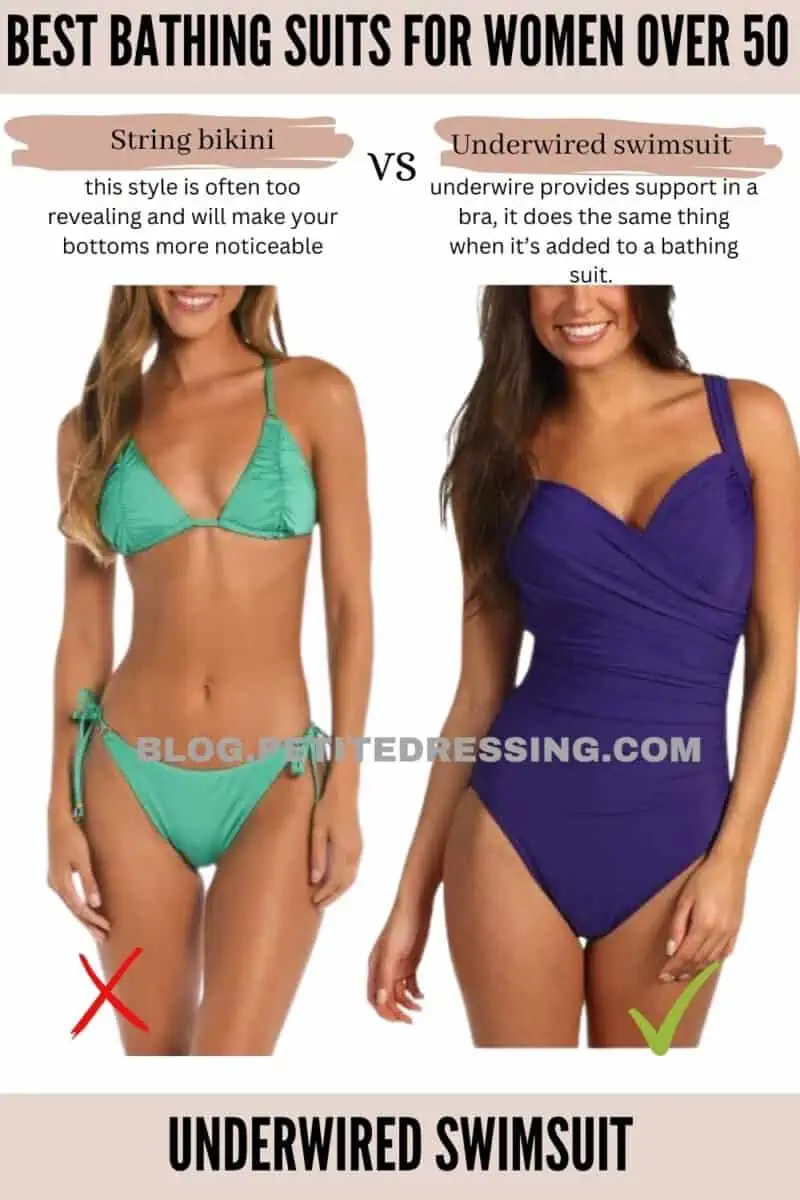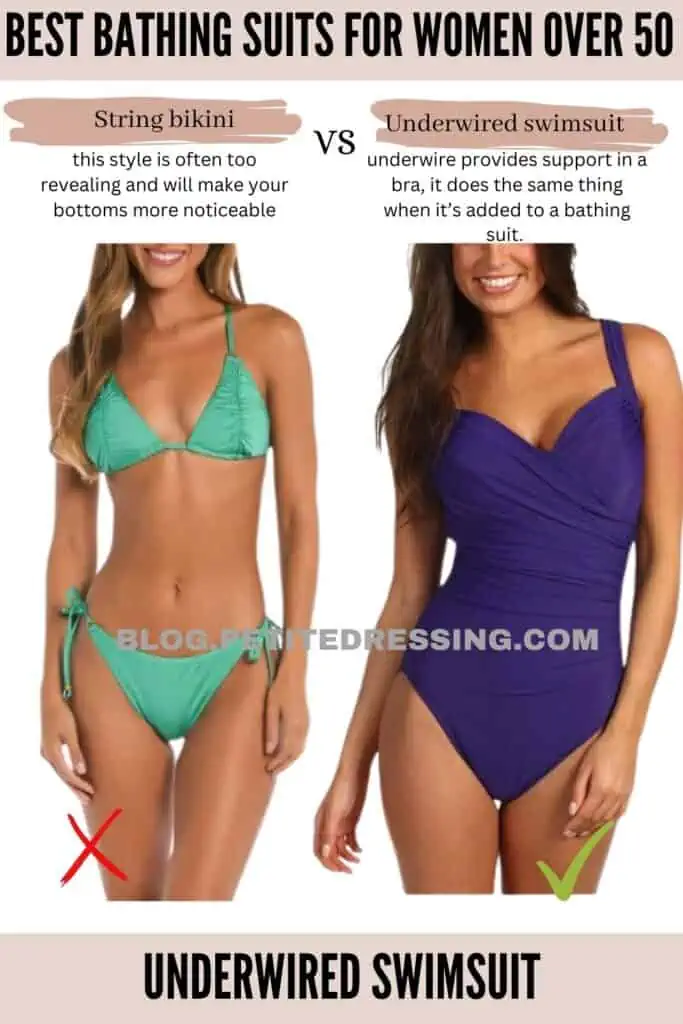 Another common concern we hear from women over 50, in regards to your body and wearing bathing suits, is sagging boobs. Unfortunately, it's one of those things that happens over time, it's part of life! We know it's a big struggle when shopping for bathing suits specifically, however, because it can be difficult to find options that provide adequate support for your chest. If this is a struggle for you with bathing suits, you're going to want to choose a style that offers additional support in that area.
There are a couple of different ways you can go about getting added chest support in a bathing suit, fortunately.
One way is to choose a style with underwire built into the bathing suit. We don't know about you but the idea of underwire in a bathing suit is music to our ears for this struggle. Just like the way underwire provides support in a bra, it does the same thing when it's added to a bathing suit.
Padded bathingsuit
Aside from those attributes in a bathing suit, we also recommend women over 50 opting for styles that have padding. Don't get us wrong, you don't need a bathing suit with a crazy amount of padding in the bra but just a bit will help give you additional support and provides a more flattering aesthetic.
Bathing suits in dark solid colors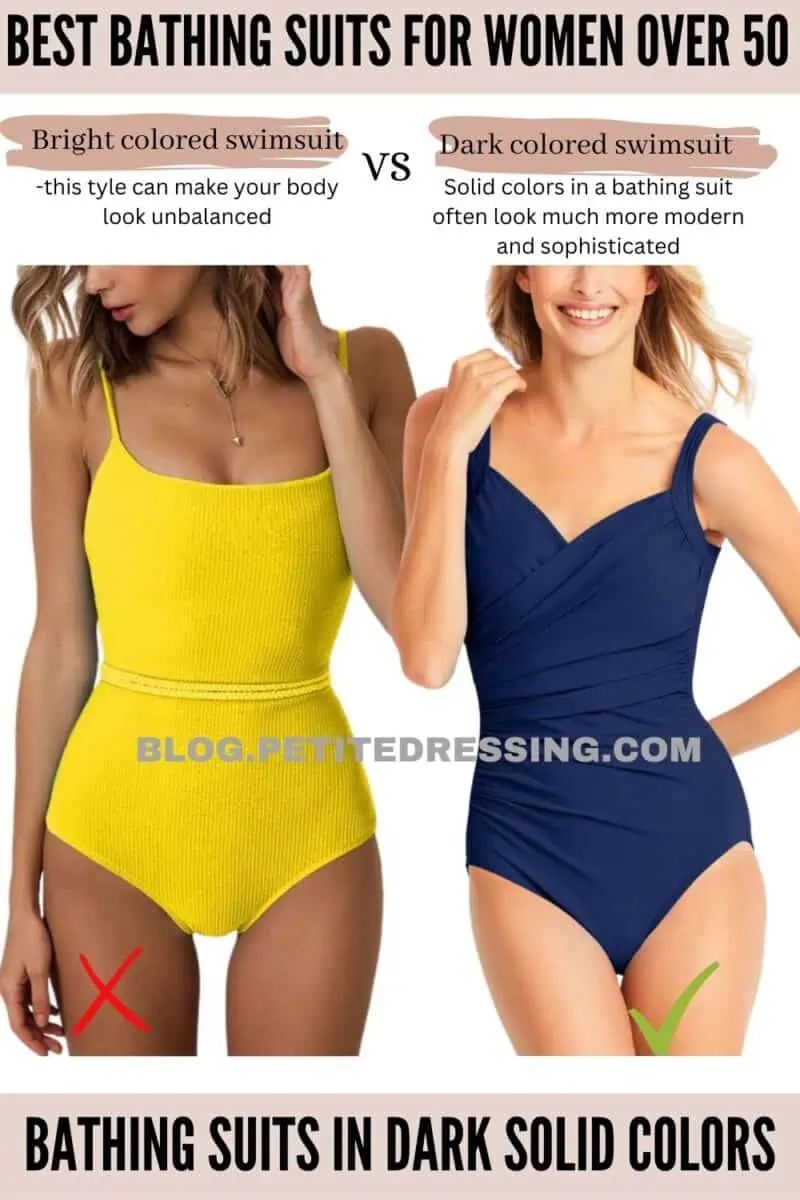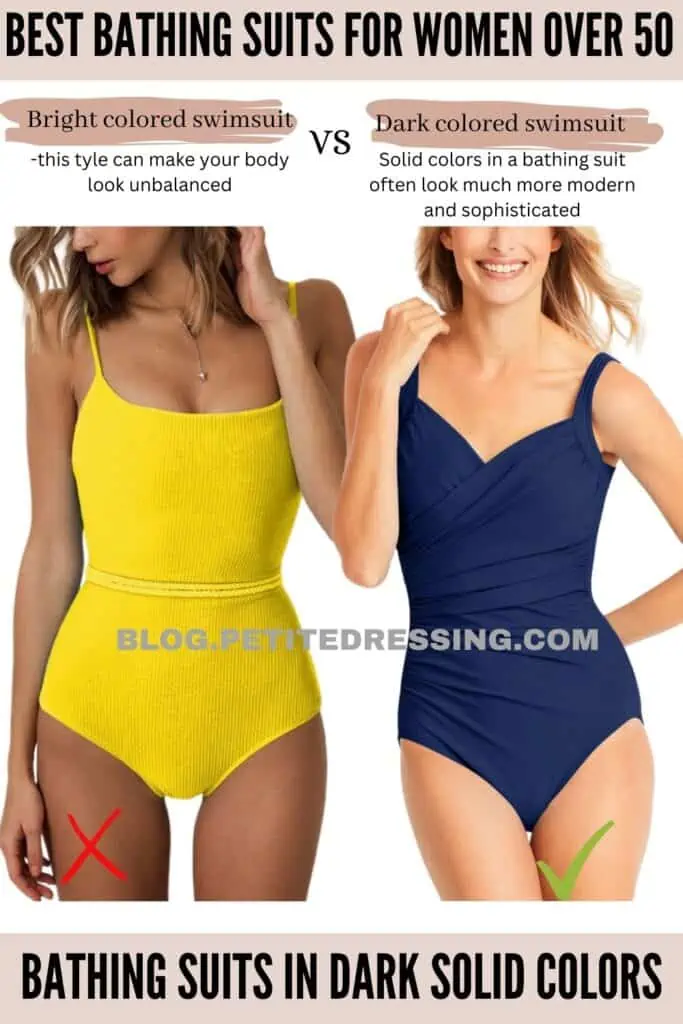 Solid colors in a bathing suit often look much more modern and sophisticated, particularly for our women over 50.
We don't have to tell you bathing suits come in a wide range of colors, prints and textures. It often seems as though there are limitless options out there.
If you are over 50 and need a suit that has some slimming effect, then a dark solid color such as black or navy is one of the best options for you.
Bathingsuit with small prints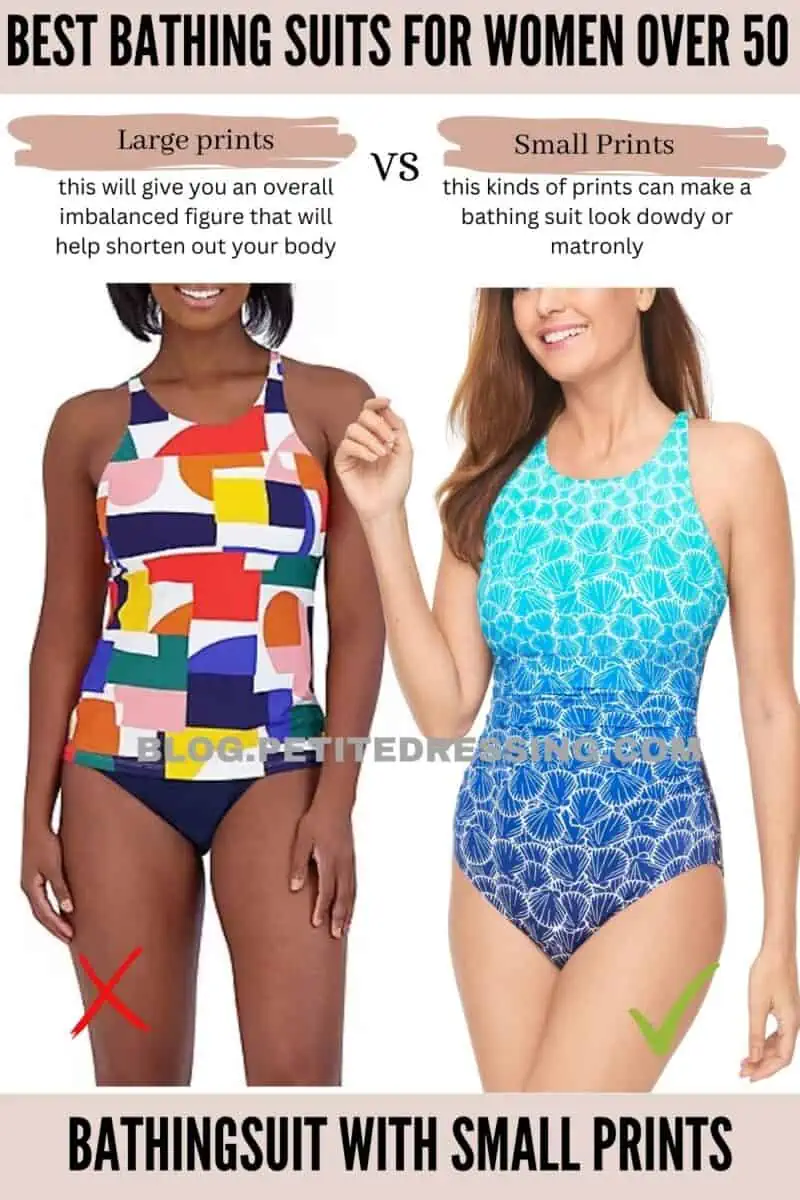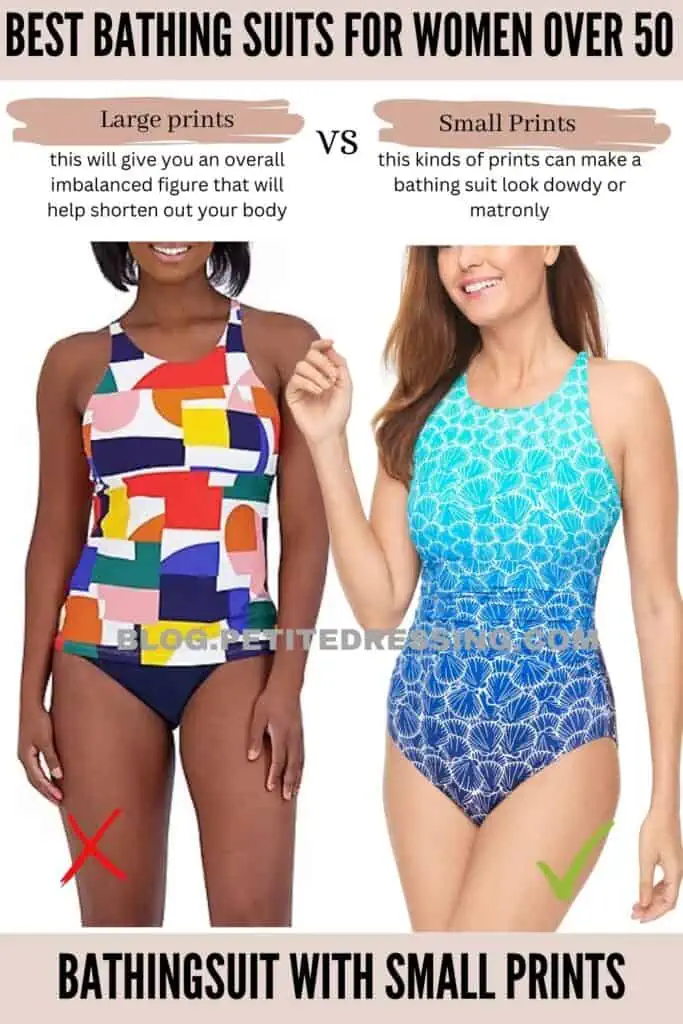 For our women over 50 we suggest selecting bathing suits with prints wisely.
This isn't to say that you can't wear any bathing suit with a print on it, but the problem with some printed suits is they can make a bathing suit look dowdy or matronly. Instead, make sure the bathing suits you're selecting for yourself are minimal in over-the-top prints.
A line one piece
The A line shaped swimsuit is a great choice for women over 50 because of the simple but flattering silhouette. The wide waistband creates the illusion of waistline, for those of you concerned about midriffs and the skirt covers anything you do not want to show.
Structured one piece
A structured swimsuit which is one of the best options for ladies over 50. The vertical lining is elongating and slimming, and the under wired cups provide sufficient support.
Miraclesuit
This is a brand, vs a "style". The reason we list them as a separate recommendation because they incorporate most of the recommended styles in their design. Therefore, they are a very popular choice amongst women over 50.
For example, this swimsuit with smart color blocking design to highlight your assets (chest) and camouflage the belly area. Perfect choice for women over 50 who have full bust and mid section concern.
Vintage prints bathingsuit
Prints or designs with a vintage feel are the best swimsuits to flatter women over the age of 50.
Polka dot is one of the hottest trends this season. This bathing suit captures what's on trend but adds a vintage twist to it at the same time. Not to mention the solid bottom hides anyone who wants to distract from the belly.
Animal prints swimsuit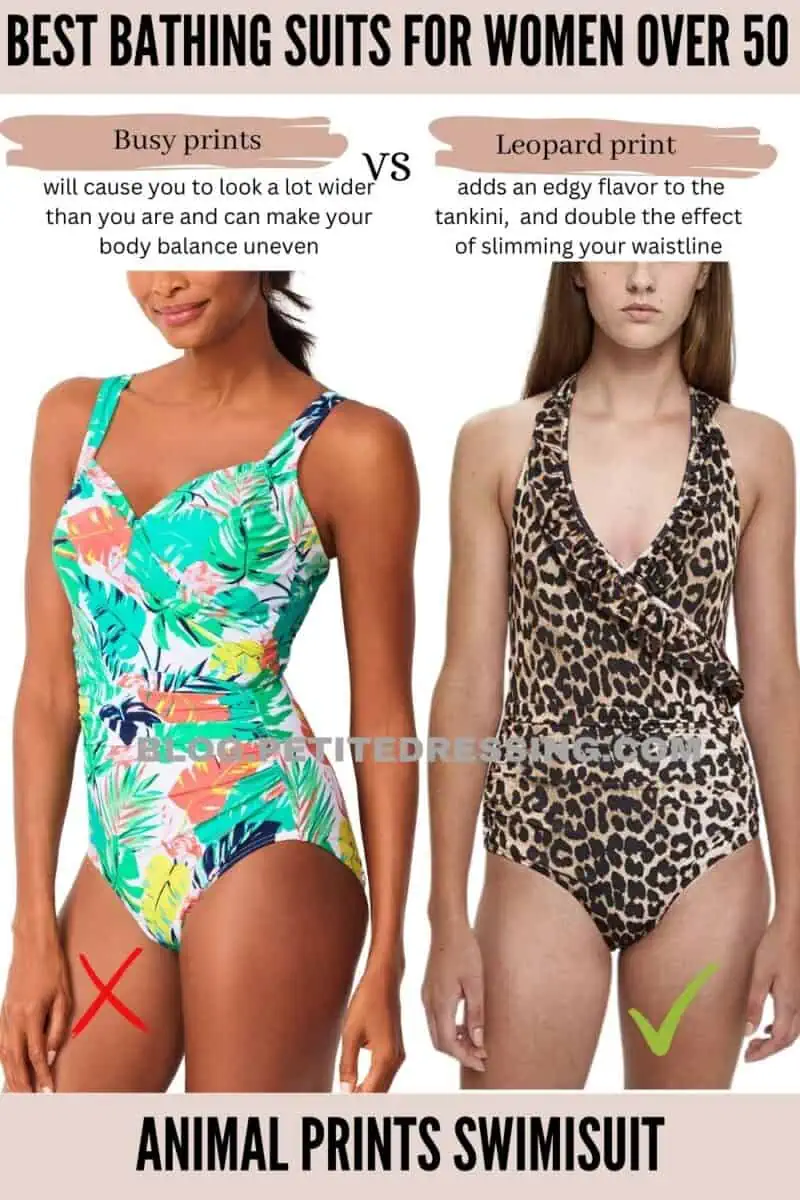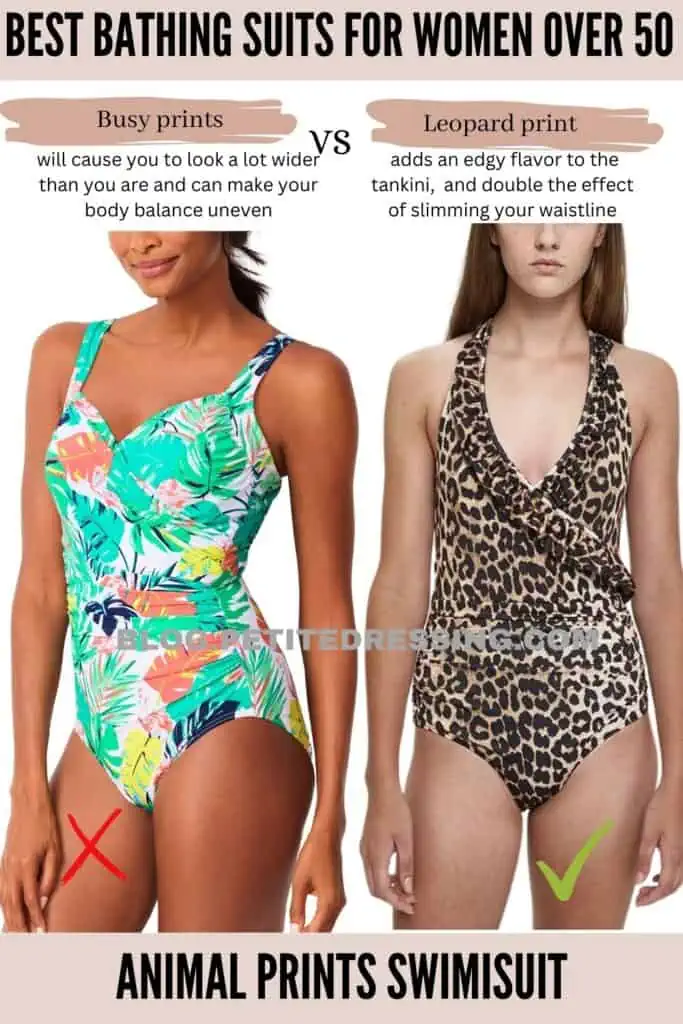 Animal prints are another great option for women over 50.
Animal prints are very popular in recent years, and sometimes that might lead you to think they are not for you because "trendy= young". That is not further away from truth. Animal prints look extremely sophisticated and sensual on women over 50.
The leopard print adds an edgy flavor to the takini, while the ruching and the dark color in the stomach area double the effect of slimming your waistline.
Wide strap one piece
The wide straps provide ample support, a great option for those with full bust. Besides, the beautiful print that adds a youthful vibe to the bathing suit for mature women!
Wide strap bikini
If you are ever interested in a bikini, we suggest you go with the wide straps in order to get the best support for your breasts.
This is especially important for bikinis because they don't provide as much coverage as taninkis or one piece.
Drapery tankini top
You don't have to just wear black swimsuits if you are over 50! This bright color takini looks youthful for anyone who is daring enough to experiment. This takini top is fitted but not skin tight, a perfect option for mature ladies who prefer a relaxed fit.
Tummy control swimsuit
This is a tummy control swim dress, a perfect option for ladies over 50. If you have big chest, the deep V neck cuts your chests in half, giving them a more balanced look. I especially love the textured look of this suit, which makes the one piece interesting and sophisticated. The skirted bottom is fun and girly (yes, it's ok even if you are over 50!)
Swimdress
This bathing suit with a vintage vibe has incorporated the latest design of tummy control, a heaven sent for mature ladies who want to look youthful while showing the best of your body.
Avoid shapeless swimsuits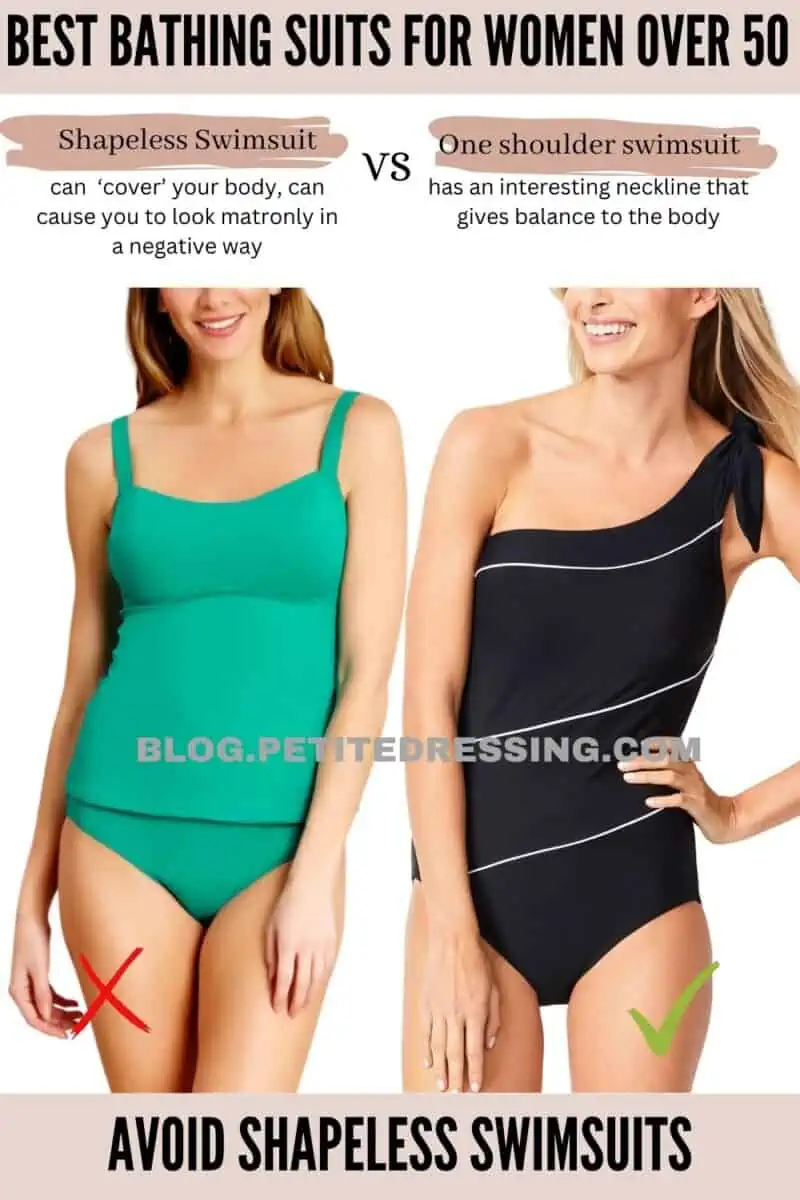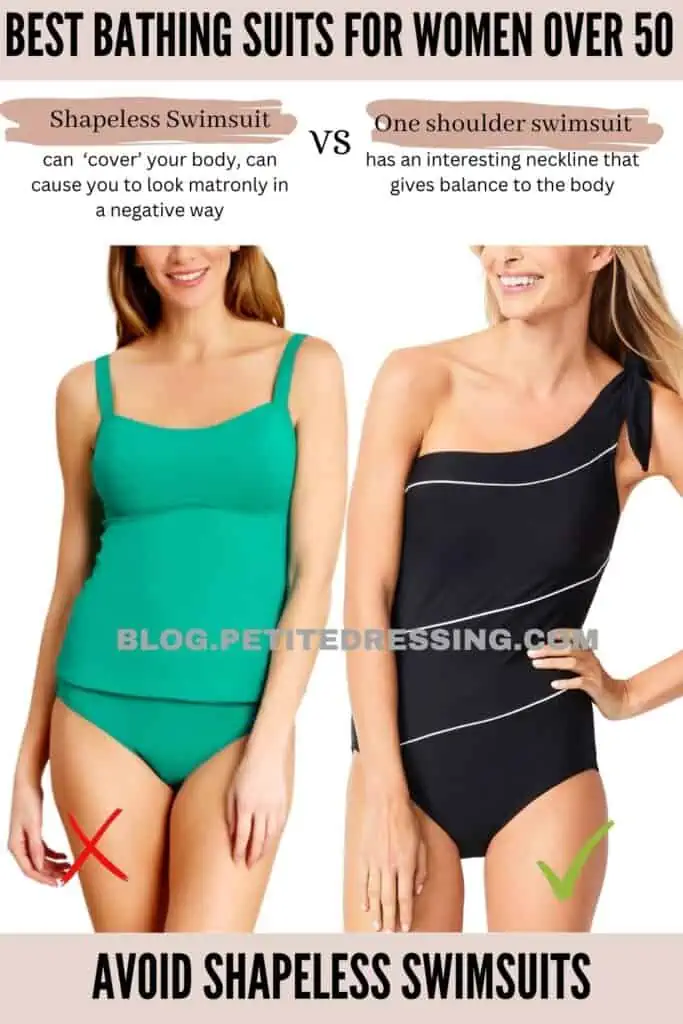 Many women over 50 naturally gravitate towards bathing suits that don't offer much shape or natural silhouette, instead opting for shapeless bathing suits. The problem with this is many of those types of bathing suits, while they 'cover' your body, can cause you to look matronly in a negative way. Choosing suits with more shape to them creates a much more youthful, modern affect.
Utilize Stylish Cover Ups
Finally, let's look at the essential pieces that goes hand in hand with your swimsuit.
Gone are the days of wearing a moo-moo style cover up over your bathing suit. Seriously! We know it's tempting when you're over 50 to just throw on anything you can over your bathing suit to hide your body. In an effort to stay consistent with our previous tips and tricks, and to help you look modern and stylish in your bathing suits, we want to throw those shapeless cover ups to the side.
Instead, we want to encourage you to use stylish cover ups as a part of your overall bathing suit look. When you select a cover up that goes well with the style and aesthetic of your bathing suit it makes it easier to create a whole look – which lends itself to that modern, stylish feel.
Similar to the tips we shared above, keep figure flattery in mind when choosing a cover up to wear over your bathing suit. There are quite a few different style cover ups these days so know your body shape and keep it flattering! Look for details that create a waist/shape for your body when you wear it.
Opt for cover ups that look like they actually match your bathing suit. The great thing about making a cover up a part of your bathing suit look is it can add some additional coverage without completely changing the way you look in your suit. Instead, it makes it look like you have a cohesive outfit.
Final thoughts
Let's face it – it's difficult at ANY age to choose the right swimsuits. In fact, shopping for bathing suits is always one of the most difficult things to do for women!
Most of us feel somewhat self-conscious about some part of our body, when we are wearing the bare minimum in swimming suit season. Of course, as we age, selecting a flattering bathing suit over 50 becomes even more challenging.
Don't get us wrong though, if you want to wear a string bikini by all means – rock it! We're not here to talk about the negatives though, because we know bathing suit shopping is such a struggle for so many women we're sharing some of our go-to tips to help all our women over 50 look and feel great in bathing suits.