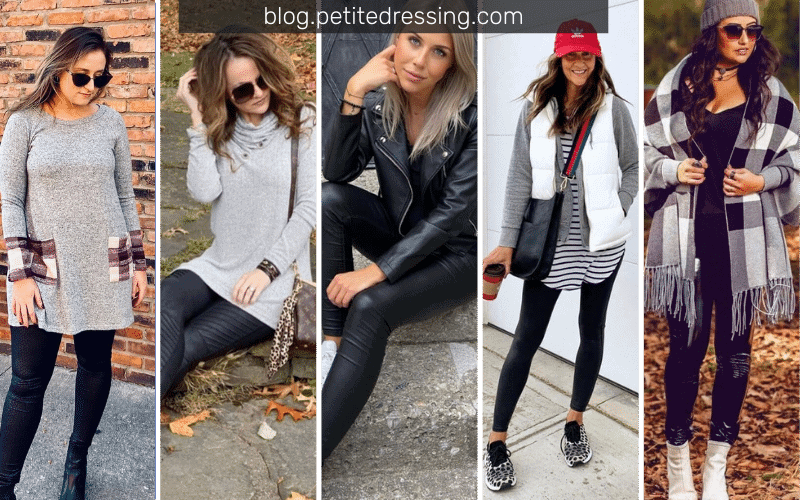 Leather leggings can look great, very flattering and stylish and you'll feel comfortable while wearing them. For many women, wearing leggings is common but wearing leather ones in particular is a bit of a stretch so they'll often shy away from leather leggings. If you're one of them, realize that stepping out of your comfort zone and trying leather leggings is definitely worth it.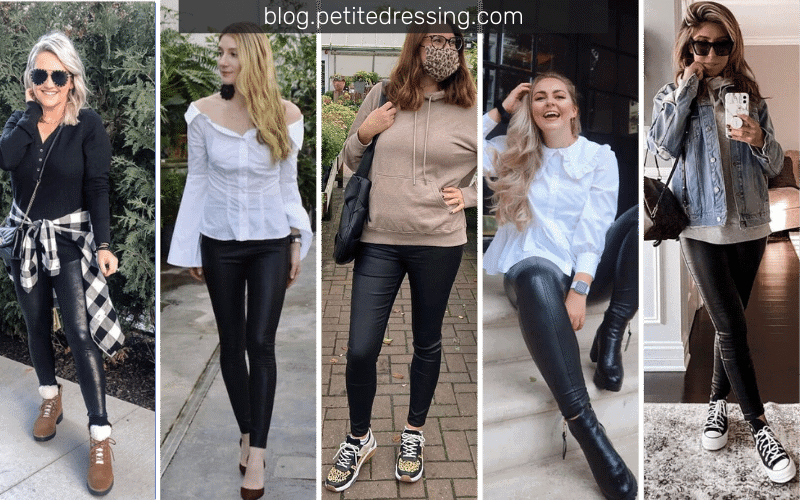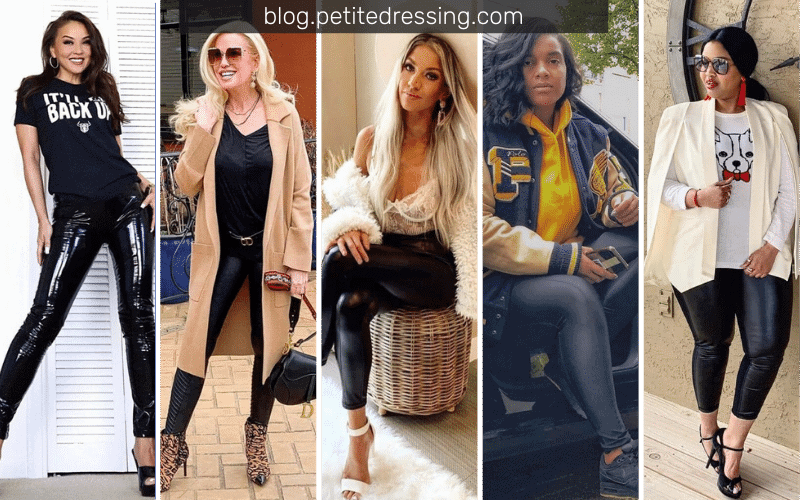 Being dressier than ordinary leggings, the leather (or faux leather) leggings can make you look effortlessly chic or edgy in an instant. However, getting it right highly depends on what you style the leather leggings with. Here's what to wear with leather leggings: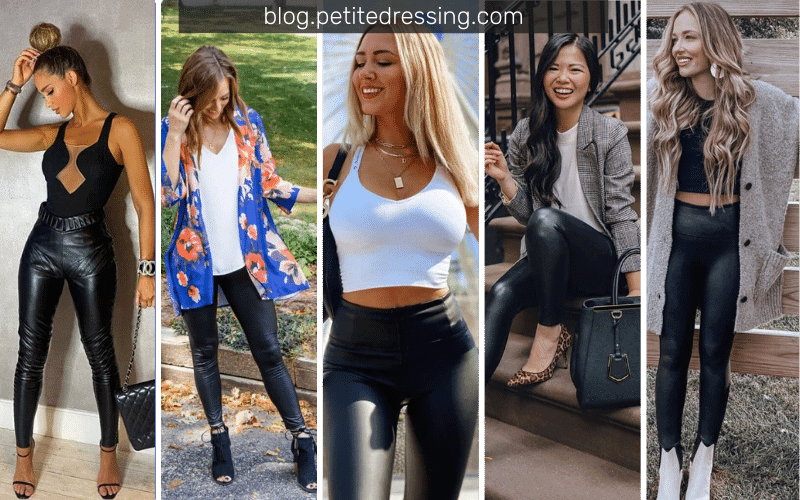 With a tunic
Tunics are usually longer than tops but also shorter than dresses. They're some of the most versatile pieces in a woman's closet which is why they also go well with leather leggings.
Despite the fact that these are leather leggings, they are still leggings which means some women, especially curvier ones (or if you happen to have a pear shaped body) might feel a bit exposed in them since they're lighter than jeans or other normal pants. So, pairing them with something as long as a tunic helps.
With a tunic you can walk around more comfortably as your bum and upper thighs will be covered up. The best tunics to go for with your leather leggings are those that flare out a bit towards the bottom and these are also great if you're after an artsy look.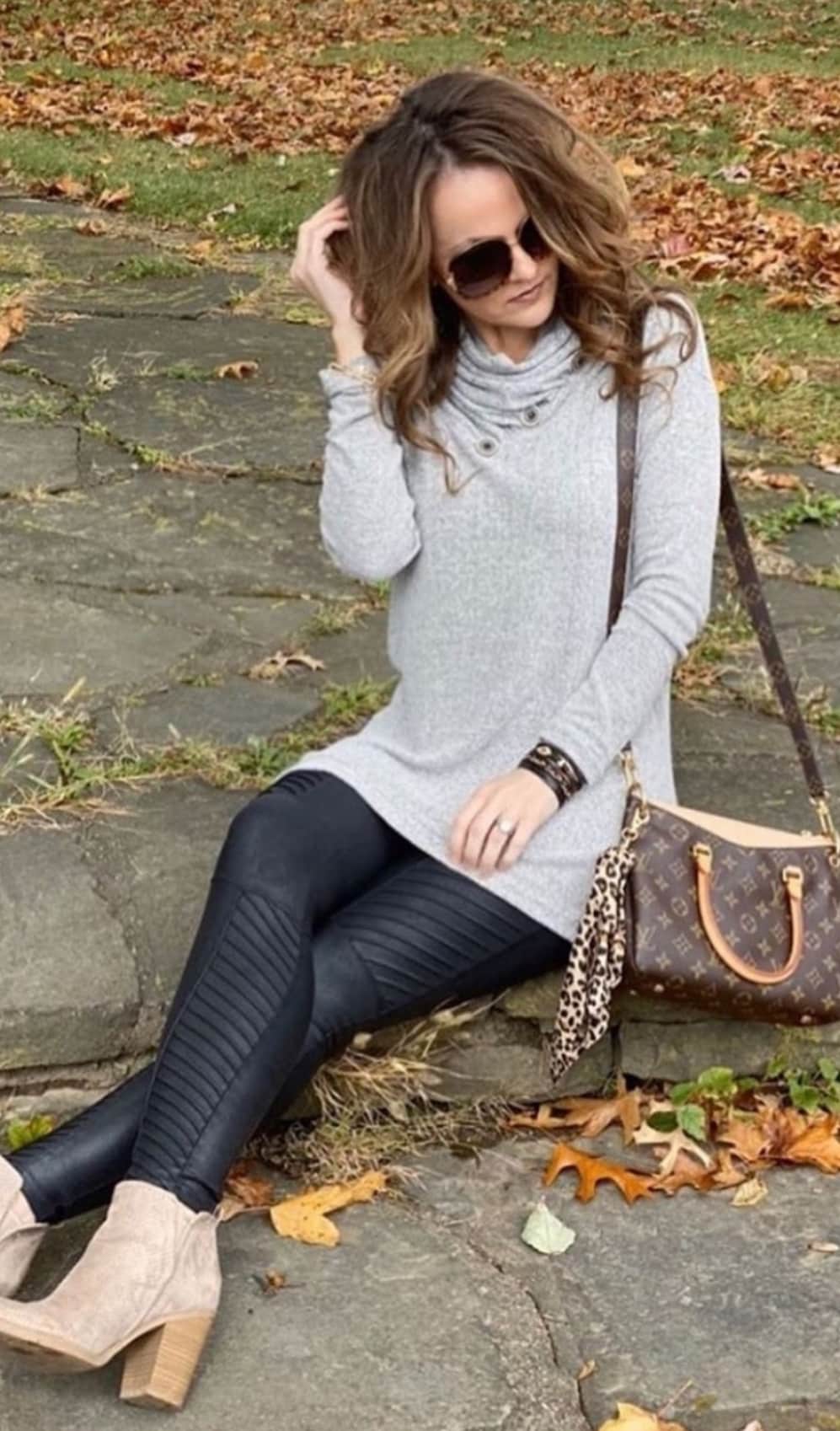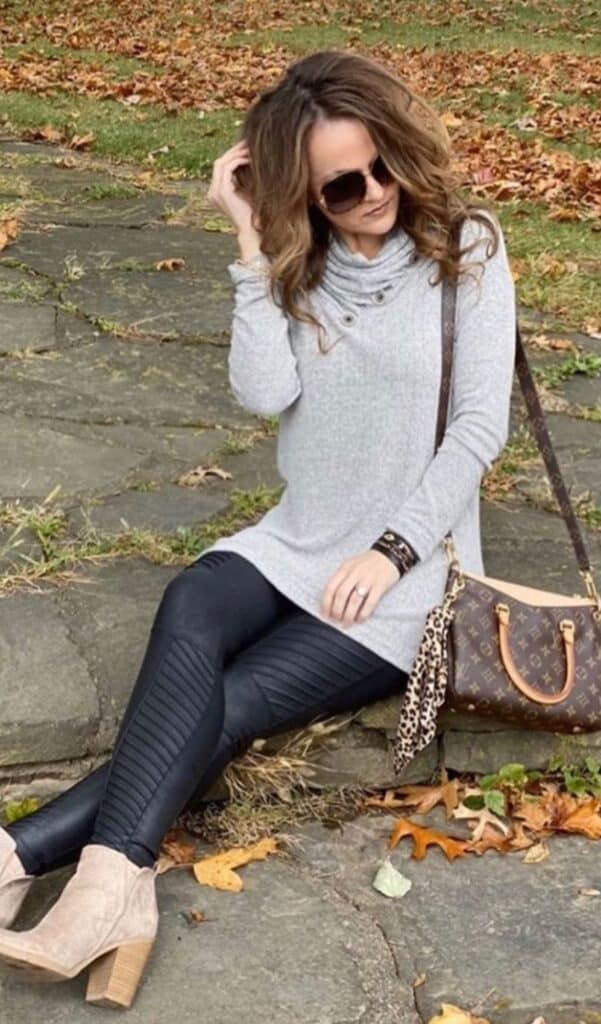 Give me all the pretties (above) is wearing her tunic top with her leather leggings and a pair of boots.
Notice how a black pair of leggings allows you to play around with different colors of tunics and accessories. Choose your shoes for leggings according to your personal preference or the occasions you are dressing for.
With a long cardigan
Long cardigans and sweaters are a nice way to go if you want to look fabulous during the colder months. They are simple, classic and can look very chic too. Pairing your long cardigan with leather leggings will keep you warm during fall season and also in winter time.
You can always layer your cardigan over a tee or a top. For layering, pay close attention to the color of leather leggings you go for. Black is the best option especially if the other pieces are going to be in different colors as they tone down the look and tie everything well together. Black leggings will give your leather leggings-cardigan outfit a touch of elegance.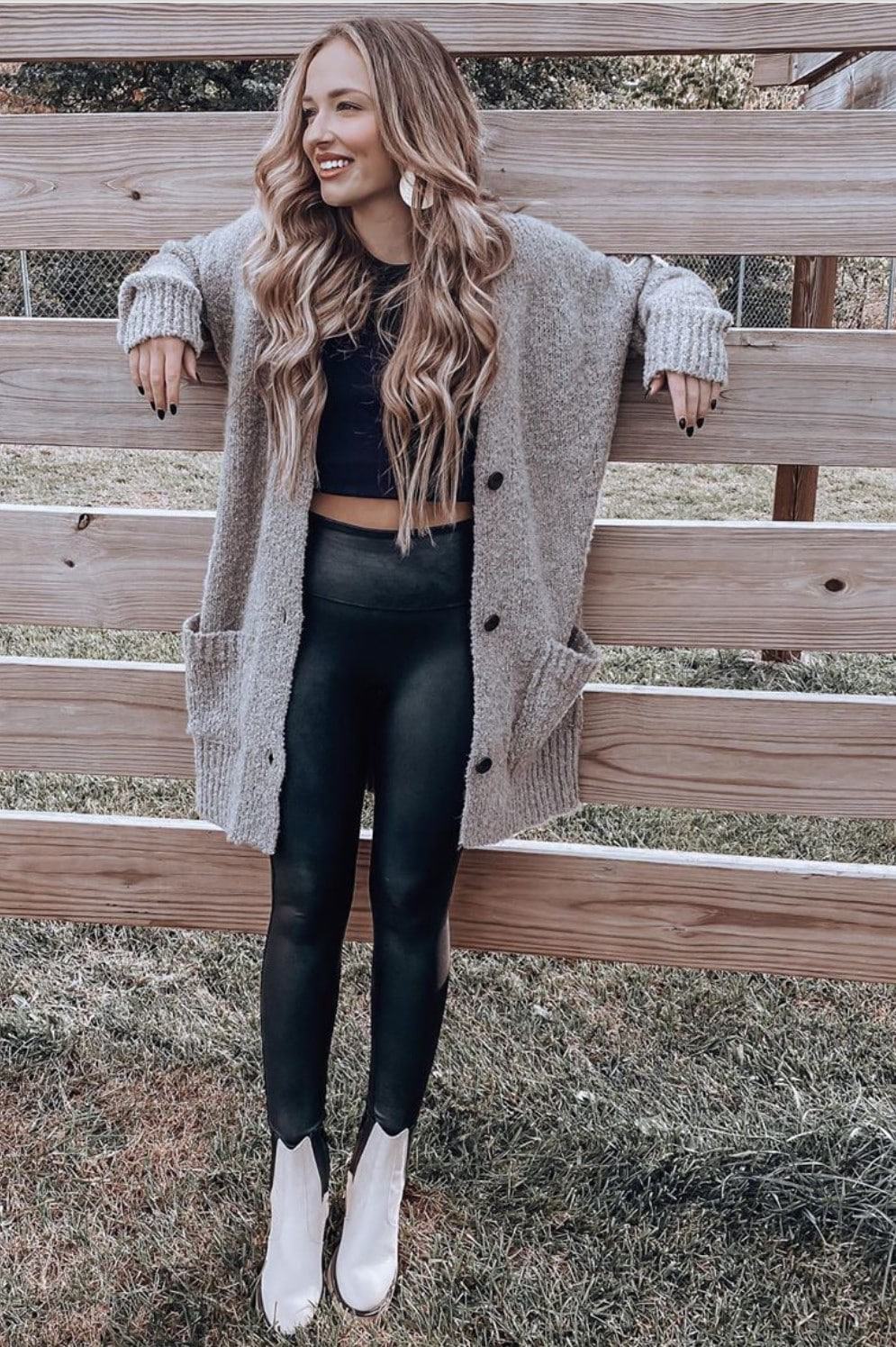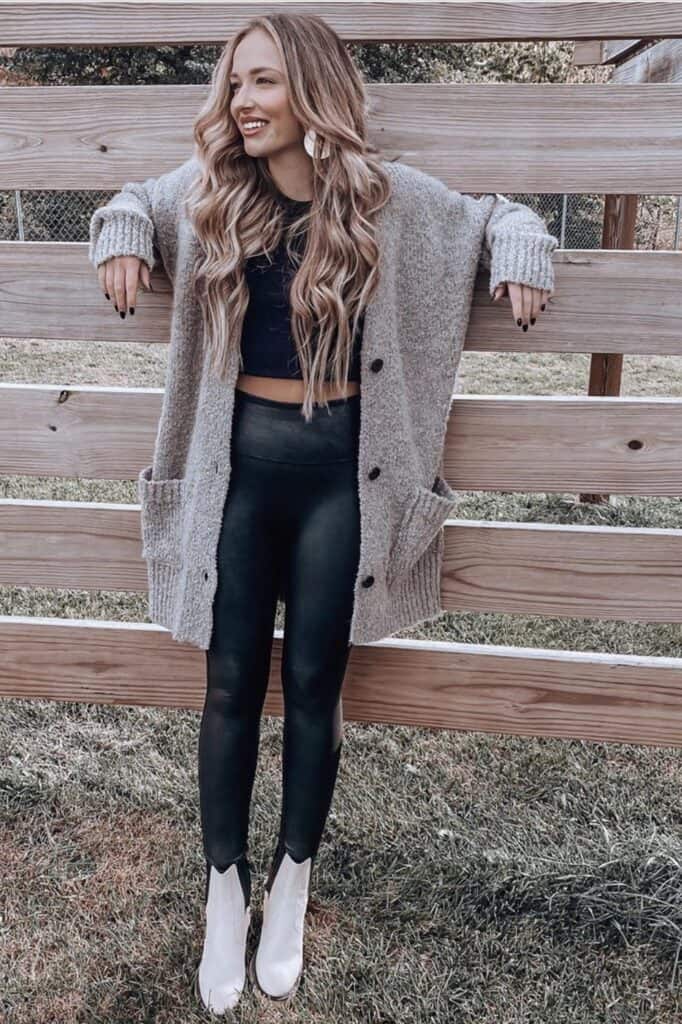 Kristy (above) is wearing her long cardigan with her leather leggings and some booties. It's worth playing around with proportions when you go for long cardigans so a crop top enables one to show some skin since the look is already covered up.
With a poncho
Ponchos are very forgiving considering they're normally loose fitting meaning all those parts of your body that you might feel less confident about (like a heavier mid section or bigger thighs) will easily be covered by the unstructured poncho layers. This lack of structure also makes a poncho not only cozy but also one of the best pieces to wear with your leather leggings.
Remember, leather leggings are quite figure-hugging and sometimes you just need to balance them out with an easy-to-throw-on piece such as a poncho. It gives the leggings an interesting and dramatic effect. The dramatic effect is mostly because of the excessive style of the drape. This leather leggings look also works well for the colder months.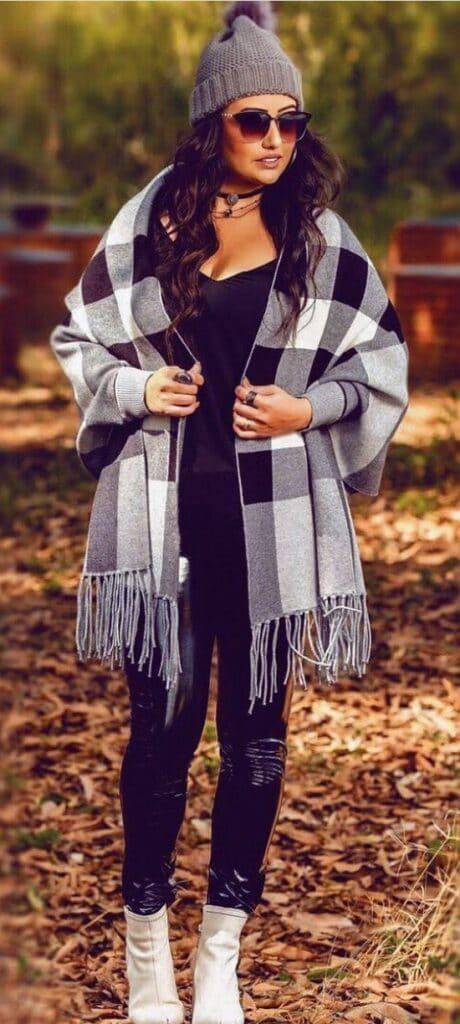 Tamara (above wore her plaid poncho with her leather leggings and boots. For this kind of pairing, you could choose a completely closed poncho or one that's open at the front.
With a bodysuit
Bodysuits have been on the rage lately with many preferring them especially because they go with all sorts of bottoms. Since they're well closed at the bottom, they never get untucked making them a great option to go with when wearing leather leggings. If you're confident enough, you won't feel odd about wearing your leather leggings with something that doesn't quite run long such as a bodysuit.
It's a very model-off-duty kind of look so it suits a particular body type more. The last thing you want is to have things bulging from your leather leggings and a bodysuit solves this quite easily because it gives you a clean look. This kind of outfit is best for a night out especially paired with some heels.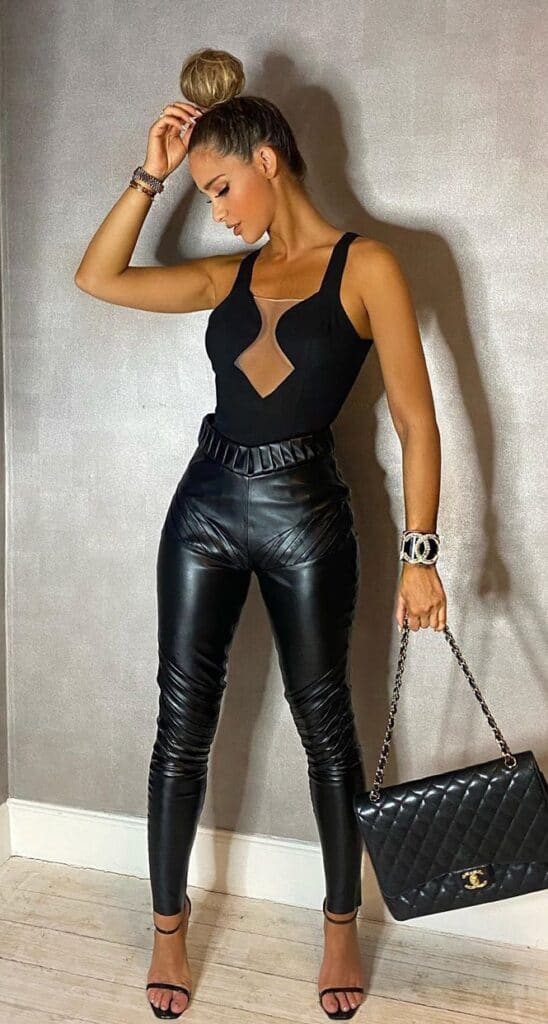 Emily (above) wore her black bodysuit with her leather leggings. Leather leggings do not have to be completely plain. You can find them in different designs.
With a tee
T-shirts are not only versatile but are also very comfortable which would explain why they are the first items that come to mind if you want to feel relaxed. With them, you have the option of going plain or choosing a graphics or message tee. Paired with leather leggings, they give you a nice casual look, although you can also dress this pairing up by wearing a nice pair of strappy heels.
With a plain white tee you can get a dressier look however, if you prefer an edgier look then a graphic t-shirt is a better alternative. You can also go with a longer t-shirt sized up so that it covers your upper thighs just like a tunic would or keep it simple by tucking in a nice well fitted tee.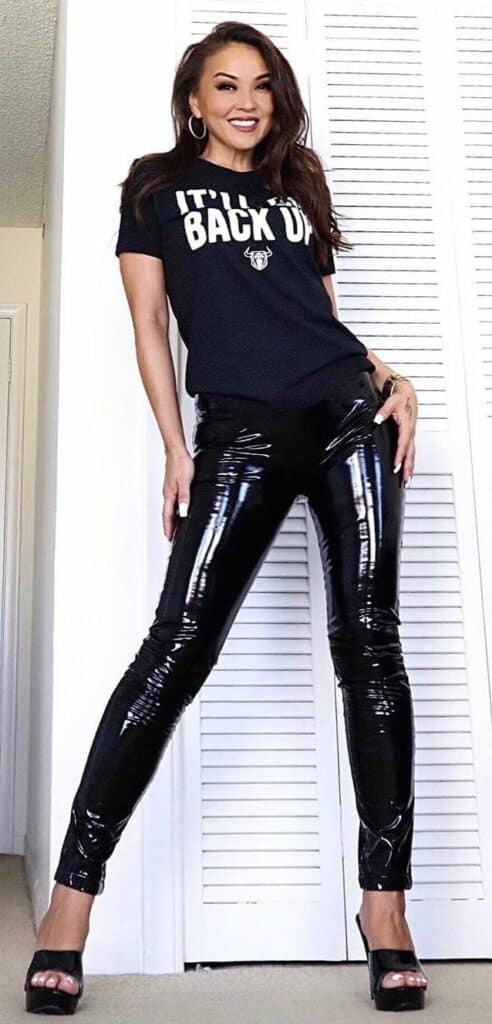 Uyangaekhan (above) wore her leather leggings with a black graphic t-shirt. You can always go for a fully monochromatic look for that extra edge or play around with some color.
With a white button-down shirt
A white button down, just like a white tee is a wardrobe staple regardless of your skin tone, body size, whether you're the girl who spends her day in casual wear or one that likes to look dressy. It works for everyone. You can wear your white button down shirt with your leather leggings in a number of ways to achieve different looks.
First, you could layer a tank or a bodysuit with the leather leggings then throw on the shirt and leave it unbuttoned for a more relaxed look. You could also just go the simple way and button the shirt all the way down to make your leather leggings outfit dressier, of course with some fancy shoes to complete the look.
You could also consider neatly tucking in your white button down shirt into your leather leggings. The best part is that since it's already white, you don't have to worry much about the color of accessories, jewelry, shoes, bag or even the leather leggings themselves.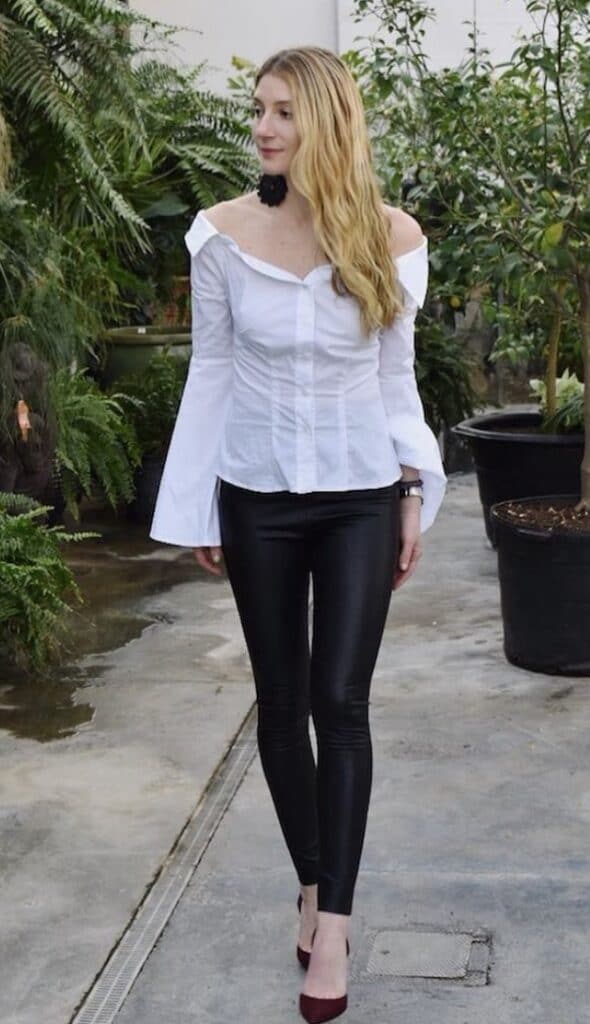 Coco (above) wore her white button down shirt simply with her leather leggings. You can always play around with your shirt like she did. Make it an off-shoulder or roll up the sleeves if you find it too simple.
With a flannel
Flannels are definitely a fall favorite considering just how fun they are and the fact that they are super comfortable. They are also the easiest way to achieve an edgy or grunge look. So why not pair two fall favorites together that is, a flannel shirt and your leather leggings.
Go for a plain pair since the flannel already makes quite the statement on its own. The flannel will give your leather leggings a great contrast. You can button it all the way down, however, you get a more iconic outfit by layering a graphic tee under your flannel and leaving the flannel open.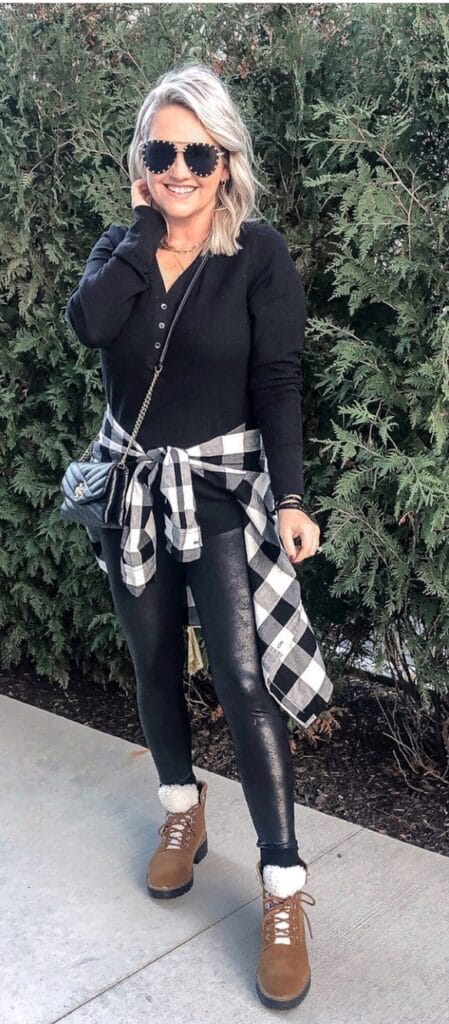 Lindsay (above) is wearing her all black leather leggings look with a black-and-white flannel. For a grungier look, tying your flannel around your waist is an option.
With a denim jacket
Denim might just be the king, or queen of casual dressing. Whether it's a breezy summer evening or a cold winter one, a denim jacket being a classic, is always suitable. A lot of people will wear a leather jacket with denim pants like skinny jeans or Mom jeans during fall but you can also flip it around and have the leather at the bottom in the form of leather leggings and a denim jacket on top.
It's a combination that is undoubtedly easy to rock and never fails.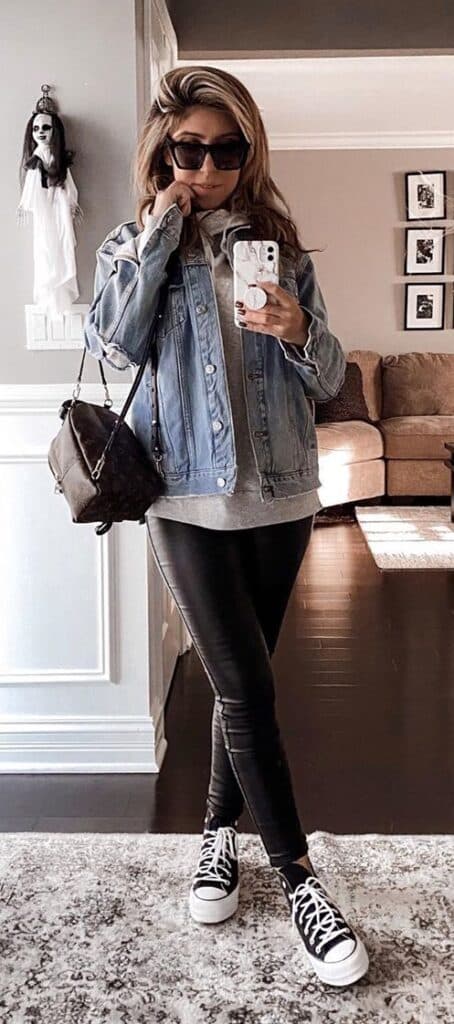 Kady (above) simply styled her denim jacket with her leather leggings and went for a tee and converse. While denim jackets are cool, easy to throw on, and comfortable, the leather leggings balance perfectly with the jacket as they are bold and give you that tough look.
With a leather jacket
Of all the types of women's winter coats, leather jackets give you that sense of edginess and wearing them is a great way to look tough and competent. Wearing leather jacket also gives you that confident attitude without trying too hard. Wearing leather jacket with leather leggings is a great combination if you are particularly a big fan of a biker chic look.
It's a combination that actually makes it to the list of the best street style looks. You can always add a plain white tee under the jacket however, if you feel like going fully edgy, a graphic t-shirt or vest pretty much does it. You can always add statement jewelry pieces such as a choker or layered necklace to add a feminine touch to the already tough look.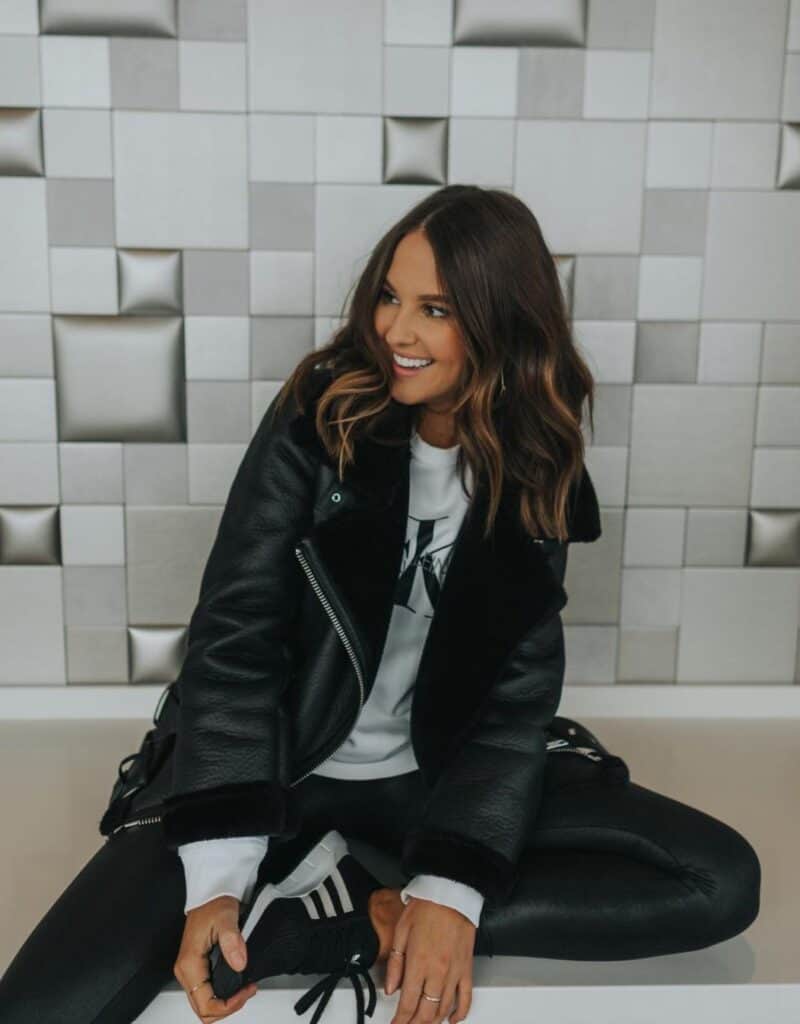 Lauren (above) wore her leather leggings with a leather jacket for a cool and chic look. When pairing the jacket with the leggings you can go for a longer or shorter top.
With a blazer
A good blazer always ads a touch of class to any outfit whether jeans, a skirt or tailored pants. Blazers are very flattering regardless of your body shape or size. Contrary to what most people think, leather leggings can actually be added to your professional or more sophisticated wardrobe.
You can make your leather leggings look more sophisticated, prim, and proper by pairing them with a blazer. There are many different blazer styles you could choose from. Should you want to wear your leather leggings-blazer outfit to work, all you have to do is wear a blouse or simple white button-down shirt underneath the blazer.
Your blazer will give the look that conventional business style. If you are a bit unsure, choose a longer blazer. You will look more fashion-forward and will ooze more confidence.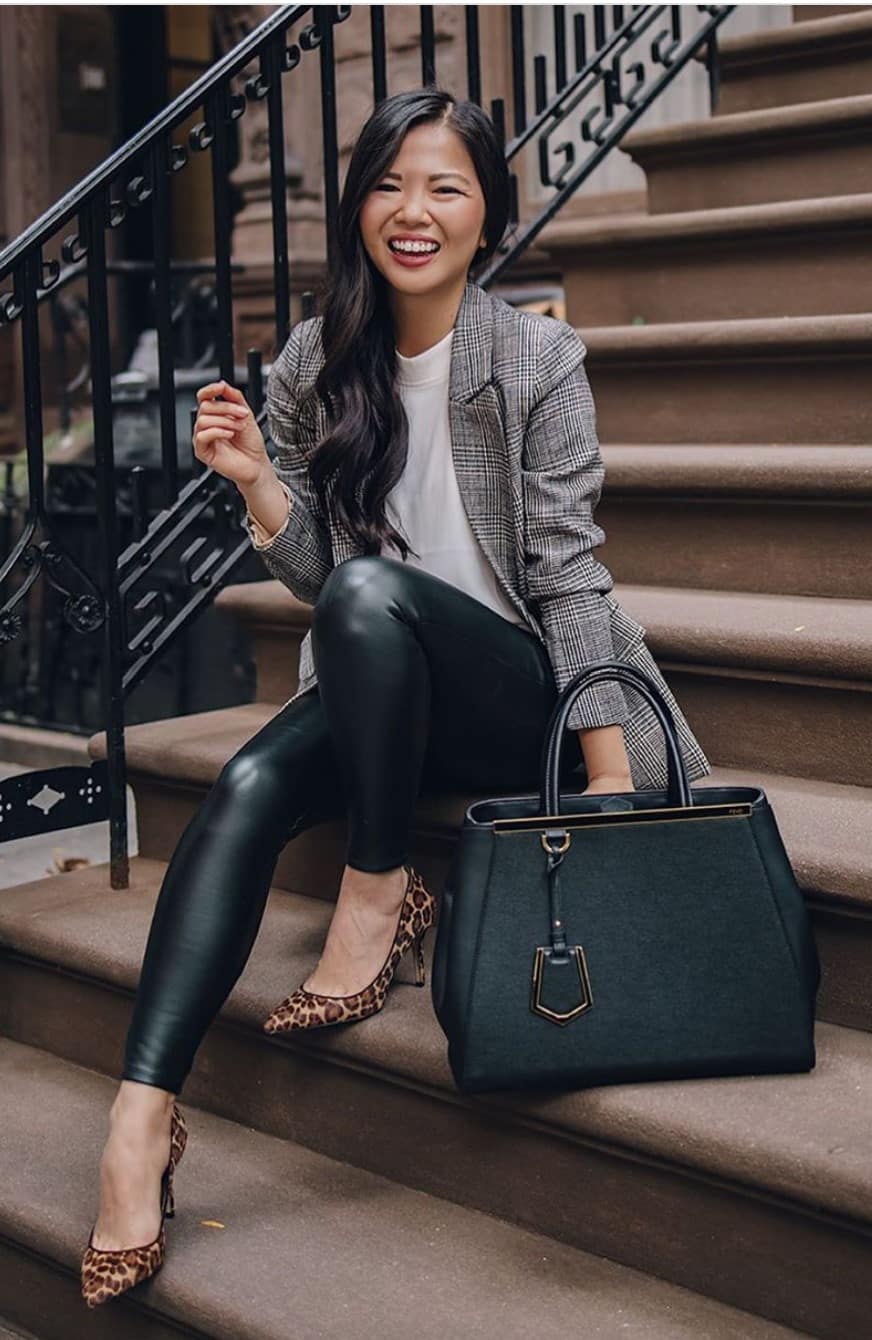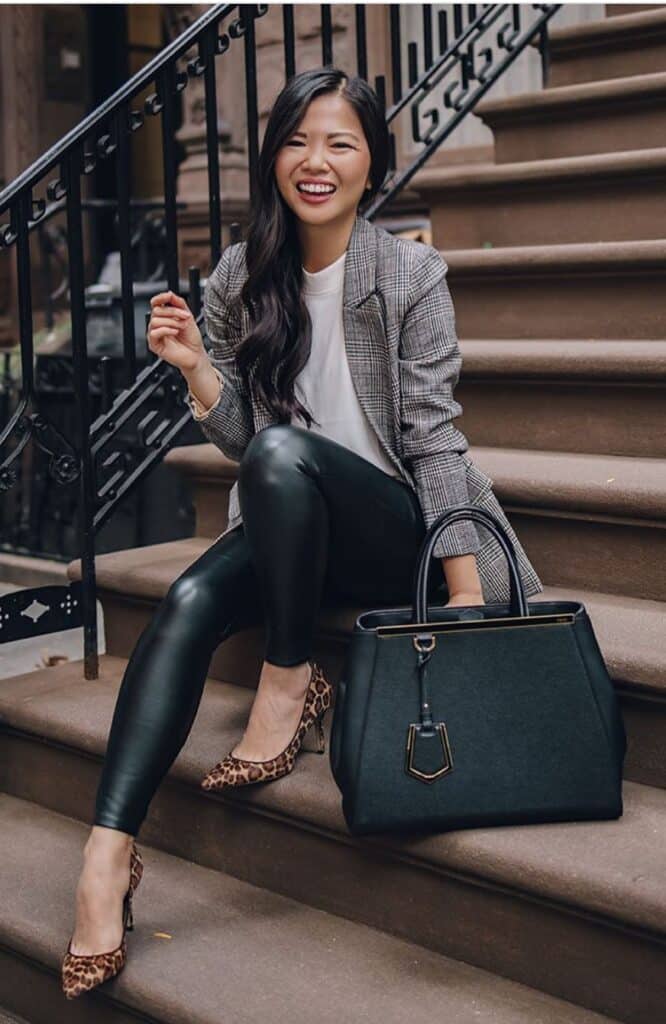 Jen (above) is wearing her leather leggings with a plaid blazer. If you're going to be wearing this pairing to work, go for a pair of closed pumps.
With a duster
Dusters are loose-fitting compared to other ordinary coats although they also make for great layering pieces. They can also keep you warm in the cold and not-so-cold months and are that great elusive third outfit piece.
Since leather leggings give you that tough, tight look, you can soften things up a bit by throwing on a duster. The duster will give your look a nice, flowy feel and will make you look and feel more relaxed if you feel like the leather leggings are a bit harsh. A duster can also add a pop of color to your outfit if you wear brighter ones although you can go for muted tones as well.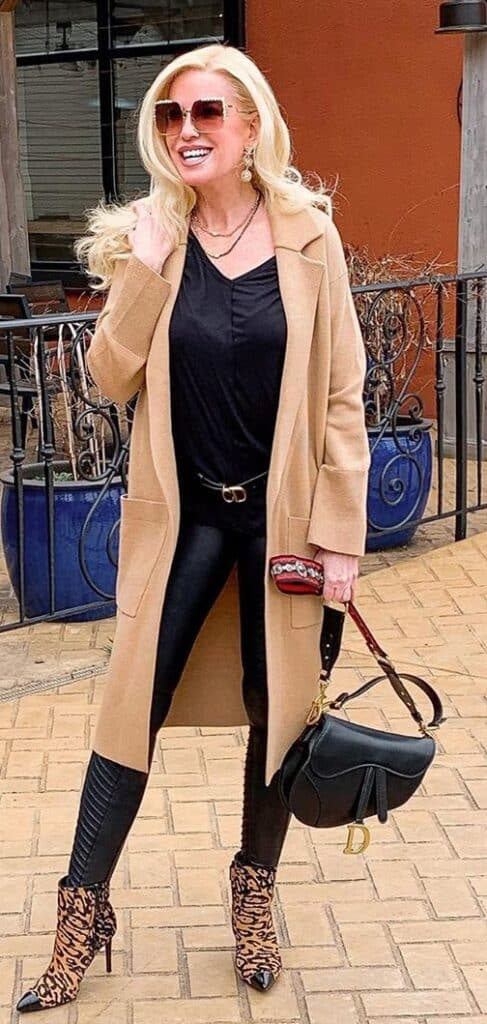 Denise (above) is wearing a duster coat with her faux leather leggings. She also wore them with some boots. While there are more flowy dusters, you can also find duster style coats and cardigans that work well with leather leggings.
With a kimono
There's something about a good kimono that just makes you feel so free. They are great particularly for summertime however, they can act as a transitional piece as the weather gets cooler.
For that great transitional look, you can pair your kimono with some leather leggings. It's a well-balanced combination considering the toughness of the leather leggings and how feminine and flowy kimonos are.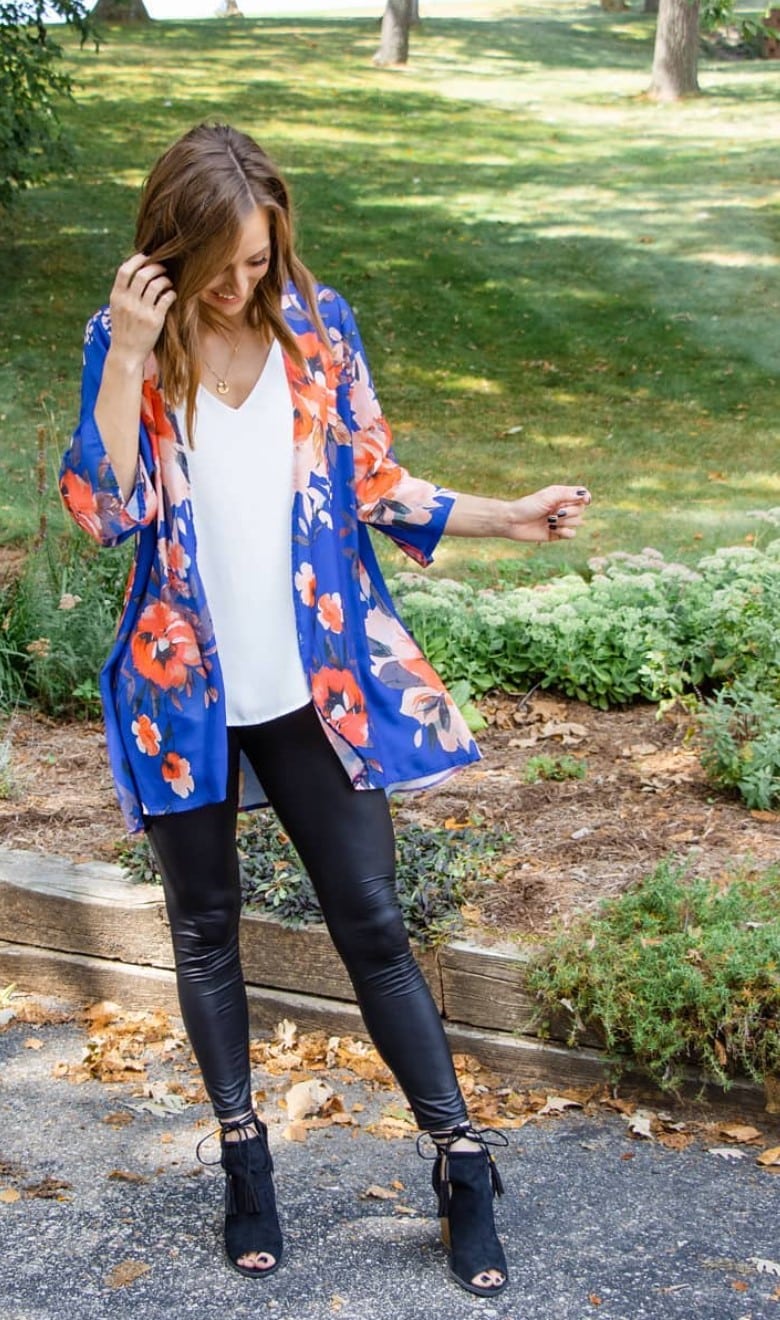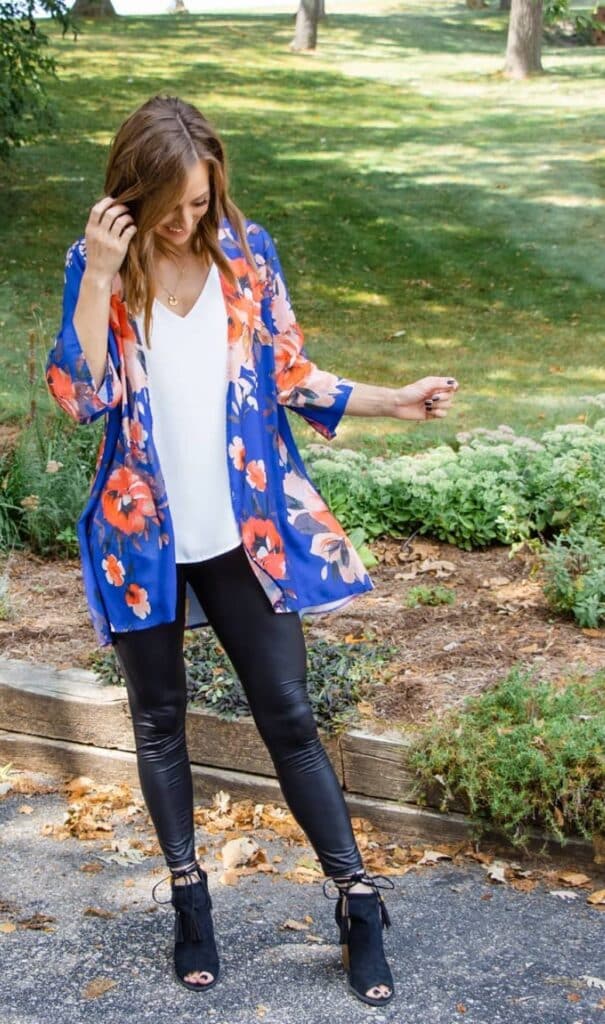 Meagan (above) is wearing her kimono with a white tee, leather leggings and some heels. Kimonos are mostly preferred printed which is great if you're going to be wearing it with black leather leggings. However, you can get plain ones too. You have the option of belting your kimono but since leather leggings already take the shape of your body, there's no need to. You can just allow it to flow whether the kimono is in your size or whether you decided to size up.
With a faux fur coat
Faux fur has become part of winter fashion with designers, stylists and bloggers incorporating them into different outfits. A good faux fur coat is one that's soft and has a striking resemblance to real fur although it's notably easier to clean. The easiest way to make your leather leggings look chic is to add a faux fur coat to the outfit.
You will instantly look fashion week ready and very trendy. This combination will make you turn heads in winter while you keep warm. You can wear this combination to work by adding a simple button-down shirt underneath the faux fur coat or a fancy top instead. The combination also works well for a date during the day or at night.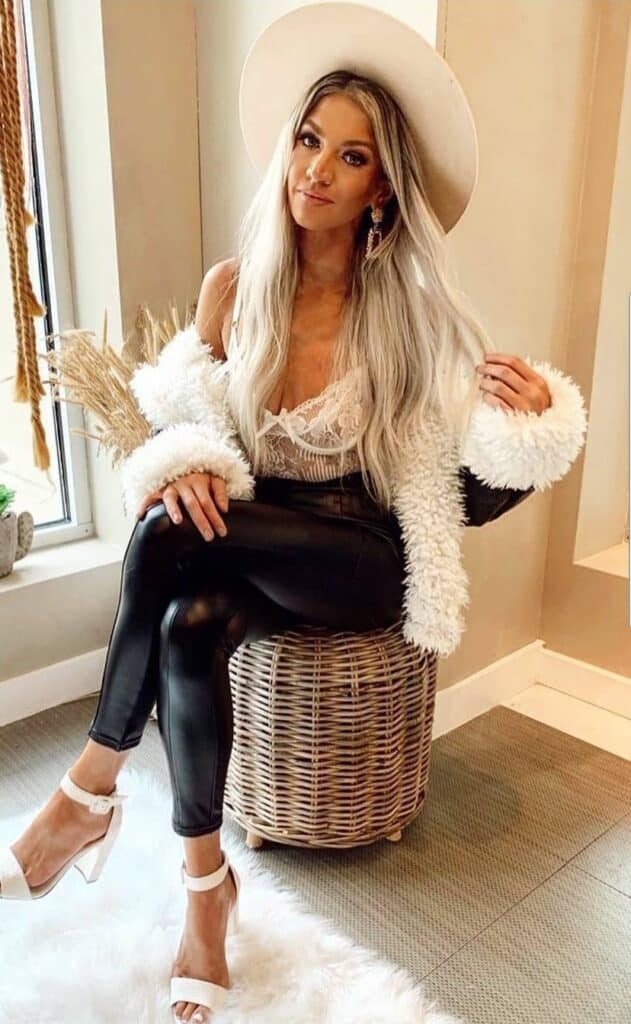 Nicole (above) styled her leather leggings with a faux fur coat. When wearing faux fur, should you feel heavy, you can switch up an ordinary top for something airier and lighter underneath such as a lace top.
With a dress
Yes, you heard right. People have been wearing leggings with dresses for ages and well that includes leather leggings.
A dress is the most feminine wardrobe piece a woman can wear and with how tough leather leggings can be, a nice dress is a great way to balance the look. This leather leggings-dress combination is however suited for a casual environment and you should avoid this pairing if you're headed to venue that requires you to be more dressed up. It's also better to wear a shorter dress instead of a longer one. It's also better to keep things simple by ensuring your leather leggings are black and plain.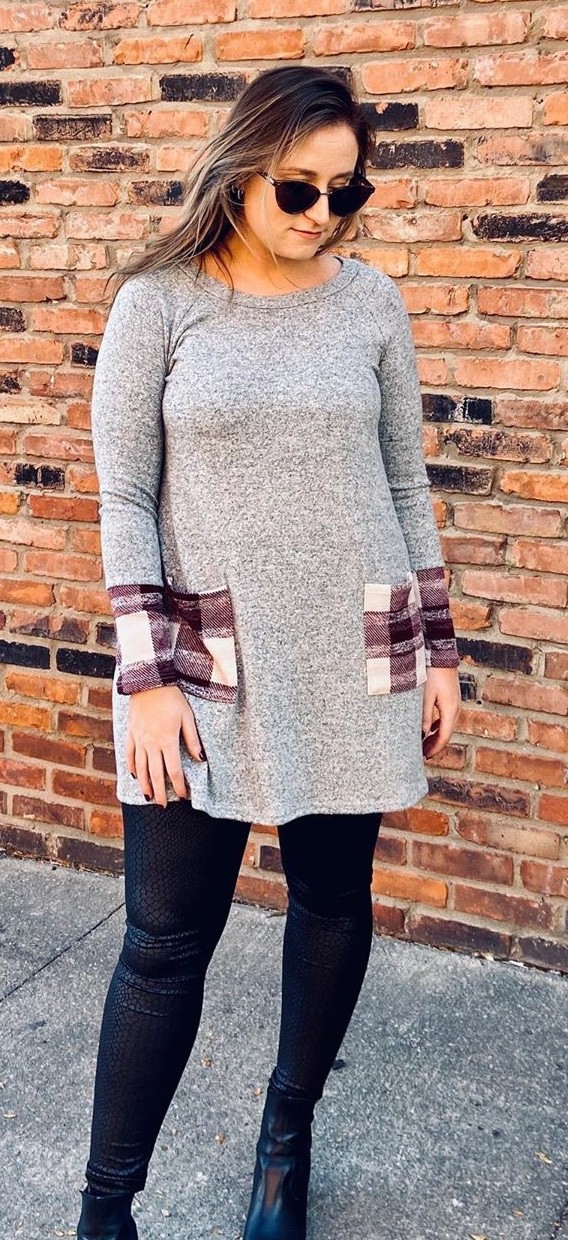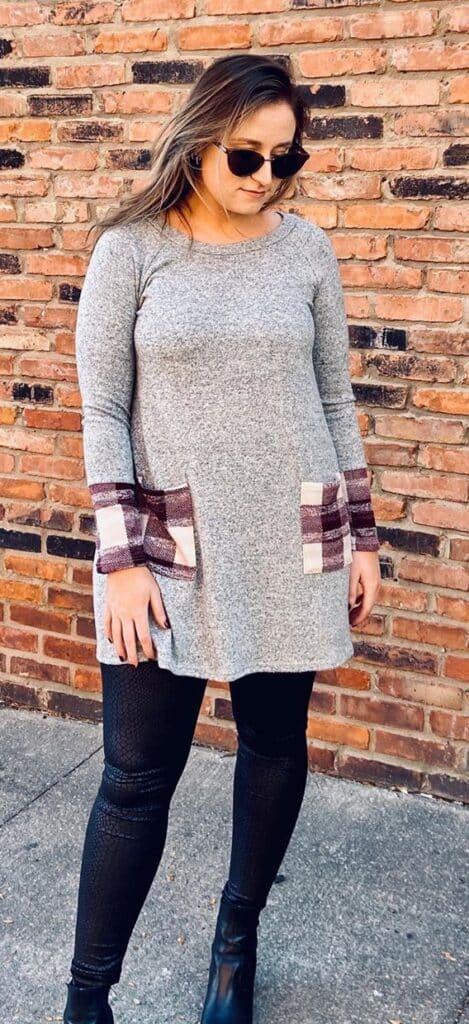 Erin (above) is wearing a simple sweater dress with her snake skin leather leggings. When pairing a dress with leather leggings, it doesn't always have to be the fanciest chiffon dress. Go for whichever is appropriate for the weather.
With a cape
Another great way to make a statement is by wearing a cape. Capes are both functional, fashionable and when worn over a nice blouse, sweater, top or dress, they instantly transform your look. You can also dress up your leather leggings by wearing them with a cape.
Whether you go for a blanket style cape, a knit style one or perhaps a cape blazer, you cannot go wrong when you pair it with your leather leggings. You can choose shorter capes or longer ones but regardless, it makes for great outerwear. This is a combination that's mostly seen in the fashion capitals of the world, among celebrities and many such people, of course worn with some great shoes, bags and accessories. The best thing is that there is no reason why you shouldn't join the bandwagon.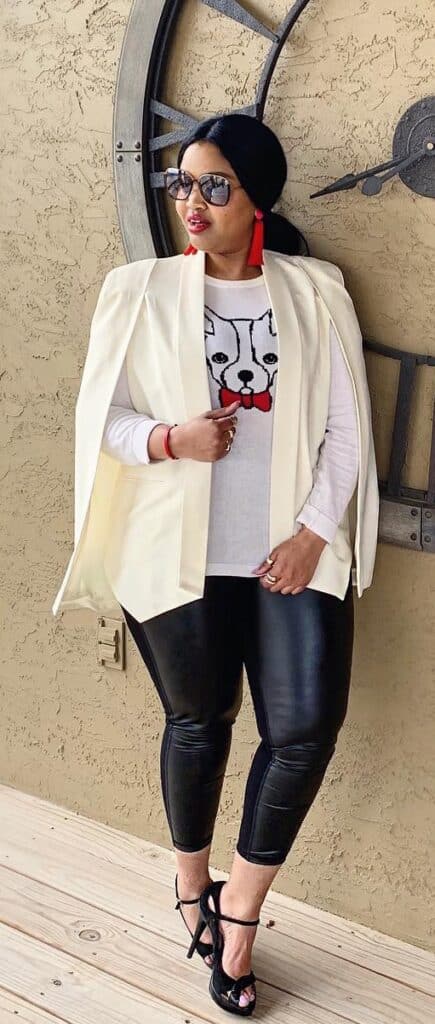 Leila (above) wore her cape blazer, an off white one with her leather leggings. If you feel like your cape is too dressed up, you can always tone it down with a more relaxed top or t-shirt like she did.
With a crop top
Wearing a crop top is easy if you're the kind of girl who does not mind showing some skin. There are different types of crop tops you can choose from and we all know having options is not exactly a bad thing.
You can wear your crop top with some leather leggings for a casual look especially if you're going to be outdoors a lot but this combination is also perfect for a night out. You can go for a low waist pair of leather leggings, however, if you like the idea of longer legs then high waist leather leggings are best. Add some heels to the look and enjoy the illusion of height.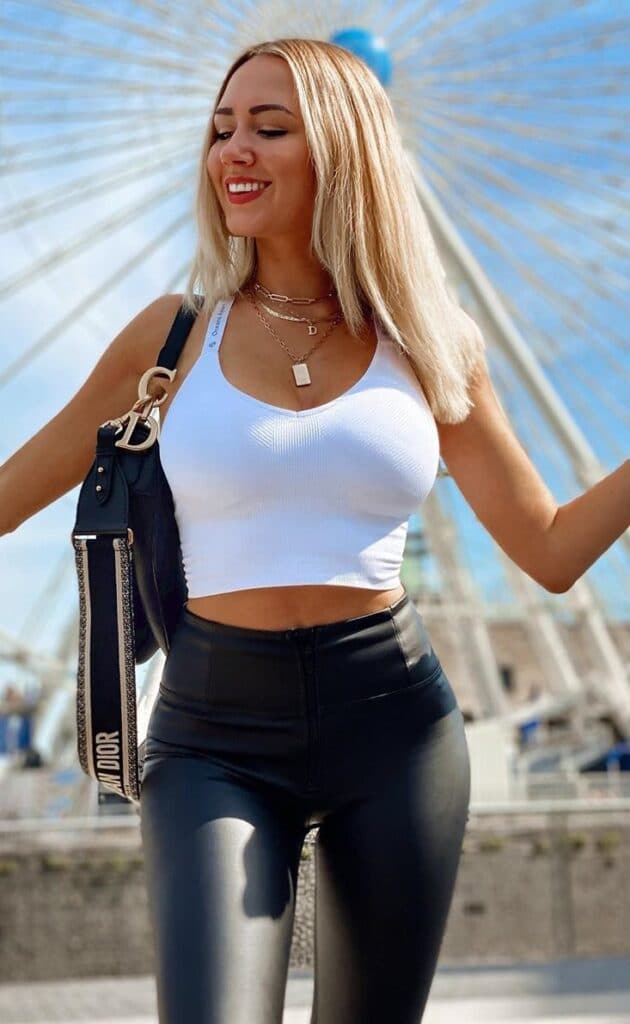 Dominika (above) is wearing her white crop top with her leather leggings. High waist leather leggings make one's waist look even smaller.
With a vest
A vest makes for a great layering piece in any season of the year. You can layer vests over tanks, bodysuits and t-shirts in warmer months but when it's cold, you can layer them over long sleeved clothes such as sweaters. Wearing a vest with leather leggings is a great idea since it gives an instant boost to an otherwise very simple leather leggings outfit.
It helps that vests are made different so you can get one with a casual jacket-like appearance, one with a duster vibe, or one that looks like a sleeveless blazer if you want to look dressier. Whether you get a long or shorter vest, you'll manage to transform your look effortlessly.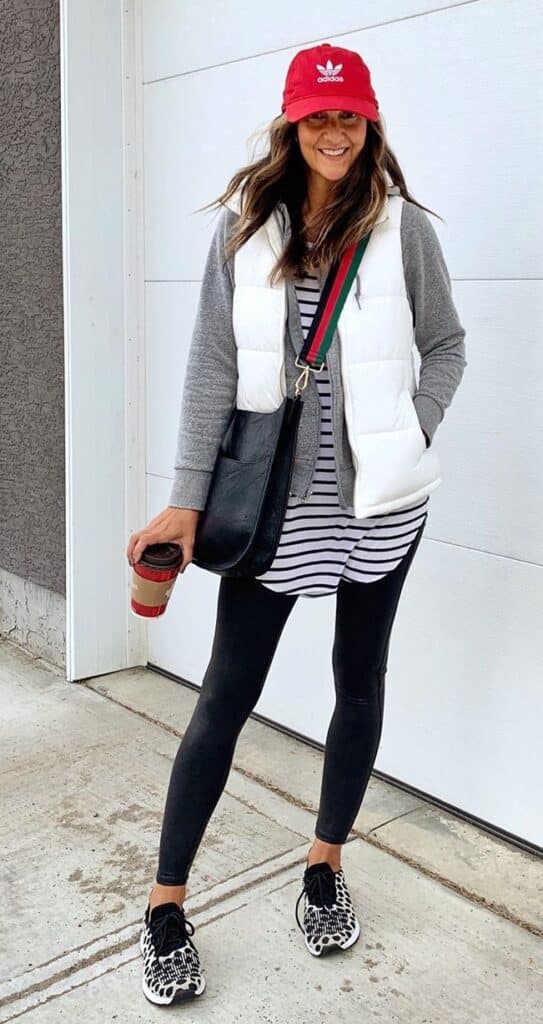 CB Styled (above) wore her leather leggings with a vest layered over a tunic and a hoodie. Layering with a vest makes any leather outfit more interesting regardless of whether your vest is casual or a dressier option.
With a letterman jacket
Letterman jackets are common among students, which would explain why they are at times called college jackets. They are easy to wear considering their simple yet cool style. You don't have to be a student to rock this kind of jacket because when paired with leather leggings, they are flattering for a casual day.
It has a lot to do with the fact that they have a slightly baggy look and are then narrow around the wrists and waist area. They balance out your figure-hugging leather leggings effortlessly. They also come in different colors from darker ones to brighter girlie ones like pink.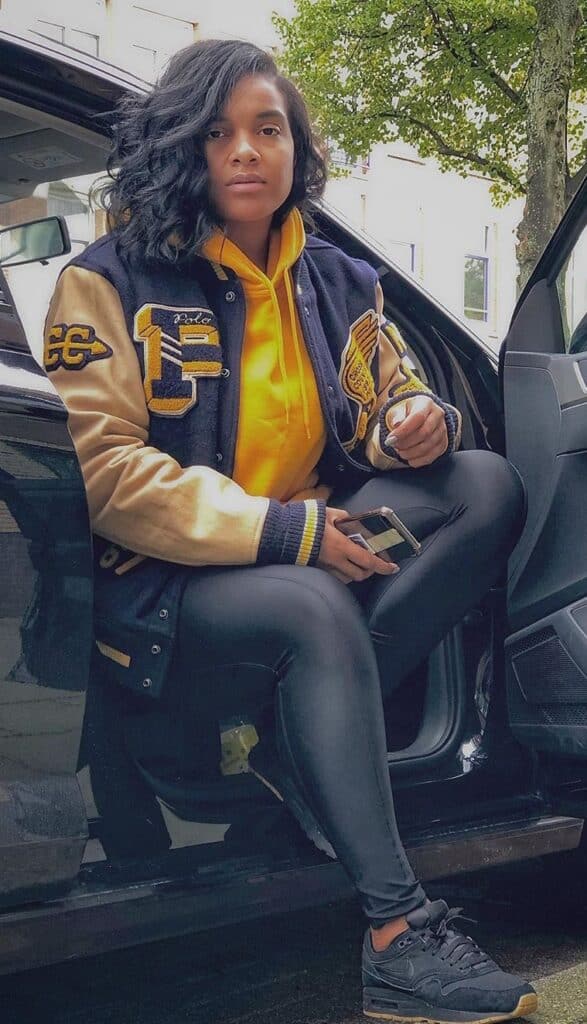 Christina (above) is wearing her letterman jacket with her leather leggings. You can also layer your letterman jacket over a hoodie and match the colors you go for that effortless yet laid back look.
With a fancy top/ blouse
We've talked of t-shirts, flannels and white button-downs but every girl out there owns a couple of fancy tops or blouses. They could be anything from asymmetrical ones to cold-shoulder, off-shoulders among many.
A great fancy top does exactly as the name suggests when paired with leather leggings. It makes the otherwise tough look fancier. As long as your leather leggings are plain and in solid colors such as black or navy, you can get away with a fancy top of any color or design.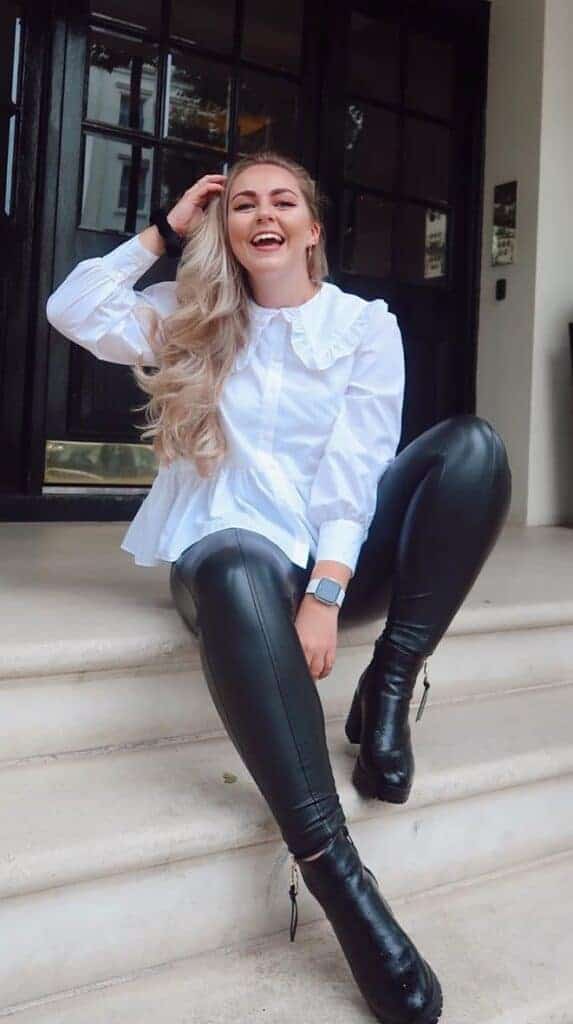 Bella (above) is wearing her leather leggings with a fancy white babydoll-style blouse. Such loose-fitted tops or blouses make a leather leggings outfit more flattering.
With a hoodie
Hoodies are super comfortable and wearing one sometimes feels like wearing a cozy blanket. While they may be great for lazy days, they are also good for those days when you're most active.
Wearing your hoodie with leather leggings makes a great outfit for running errands all over town, especially when paired with sneakers. The best part is that they give you the option of choosing from different sizes. An oversize hoodie will work just as great as a more fitted one. You can also have fun with the colors.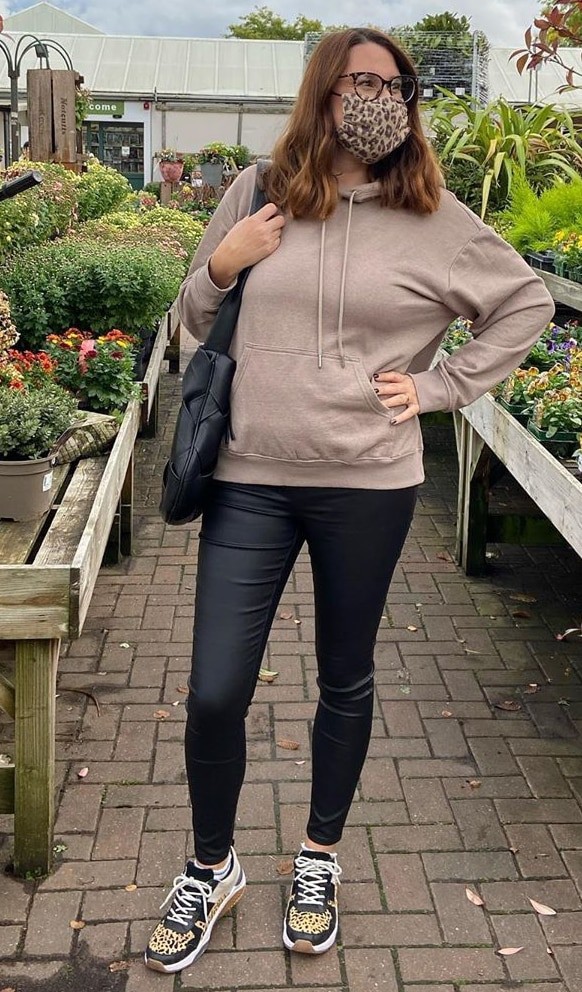 Melissa (above) wore her leather leggings with a brown hoodie. Going for sneakers with a hoodie-leather leggings look allows you to move around with more ease.
The options are endless, so quit being shy about wearing leather leggings and try out one if not all of these pairings sometime.